Enjoy these homeschool resources for learning about Winter Olympics! The Games are a great opportunity for all kinds of hands on art activities and fun around a favorite sport.
Does winter make you want to burrow into a cozy nook and sleep the cold away? For some of us, that's our reaction to the onset of cold and snowy days. But for other people, especially winter sports enthusiasts, winter is time to step into some skis, skates, or other gear and have a great time in the snow and ice!
Even if you do like to huddle close and stay warm, your family can enjoy winter sports as spectators of the Winter Games!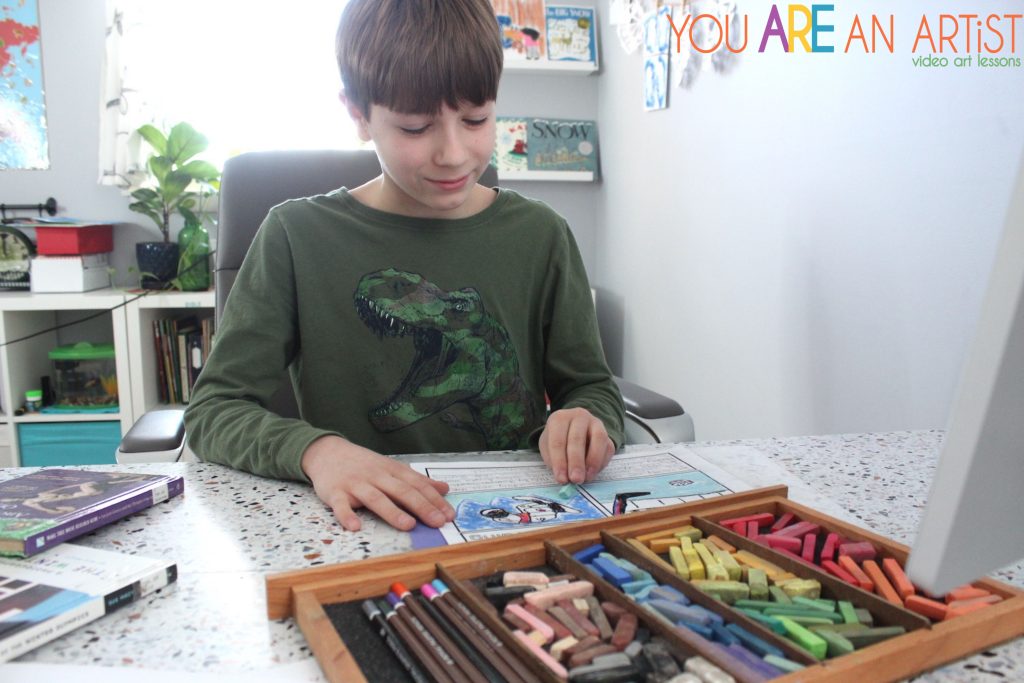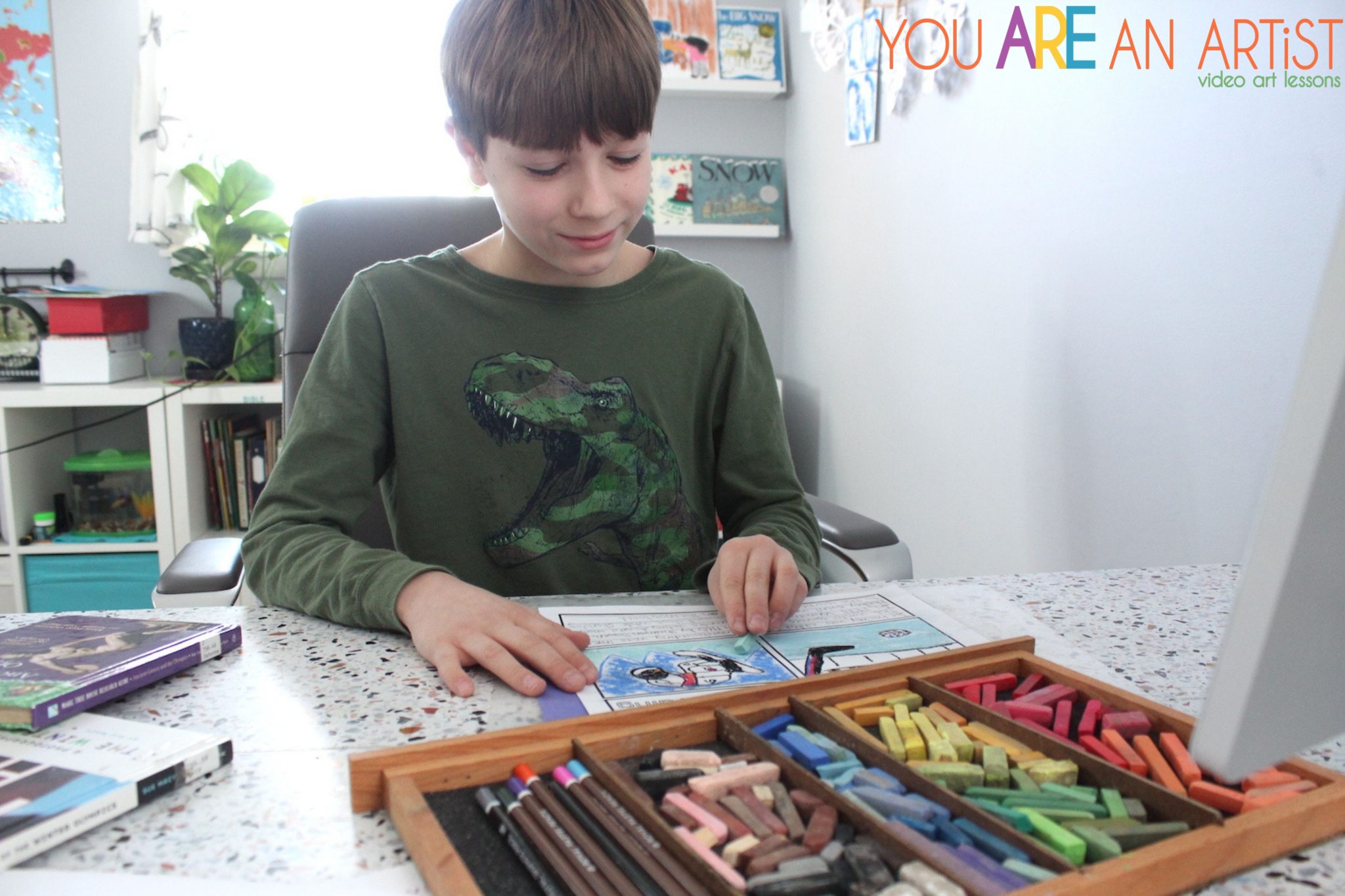 The Winter Games: An Overview
Much like the Summer Games, the Winter Games are held every four years, but staggered on the even years when there are no Summer Games. And in the winter, of course! The focus is on sports played on snow and ice, whether indoors or out!
Although the Summer Games hark way back to ancient times, the Winter Games were first played in 1924. They feature a variety of sports that your children may never have heard of (curling?), and can be a great opportunity to introduce your family to new favorite sports in the snow!
China is the host country of the 2022 Winter Games opening ceremonies and the ice sports competitions will be held in Beijing. The games are numbered with Roman numerals, so this is the XXIV Olympic Winter Games! Two other regions, Yanquing and Zhangjiakou will also host some of the events. You can follow along with this 2022 Winter Olympics Schedule. 
The Winter games is not just fun to watch, but it's also an educational event you can discover in your homeschool! Chalk Pastel has so many video art lessons that serve as wonderful introductions to the Winter Games. Clubhouse members can enjoy the I Drew It Then I Knew It workbook. The workbook offers a planner, questions, and fun facts and interesting details about the most popular Summer and Winter Games events.
If your family plans to enjoy watching the Winter Games, there is also a new Games Medal Count printable in the workbook, so you can track your favorite countries achievements!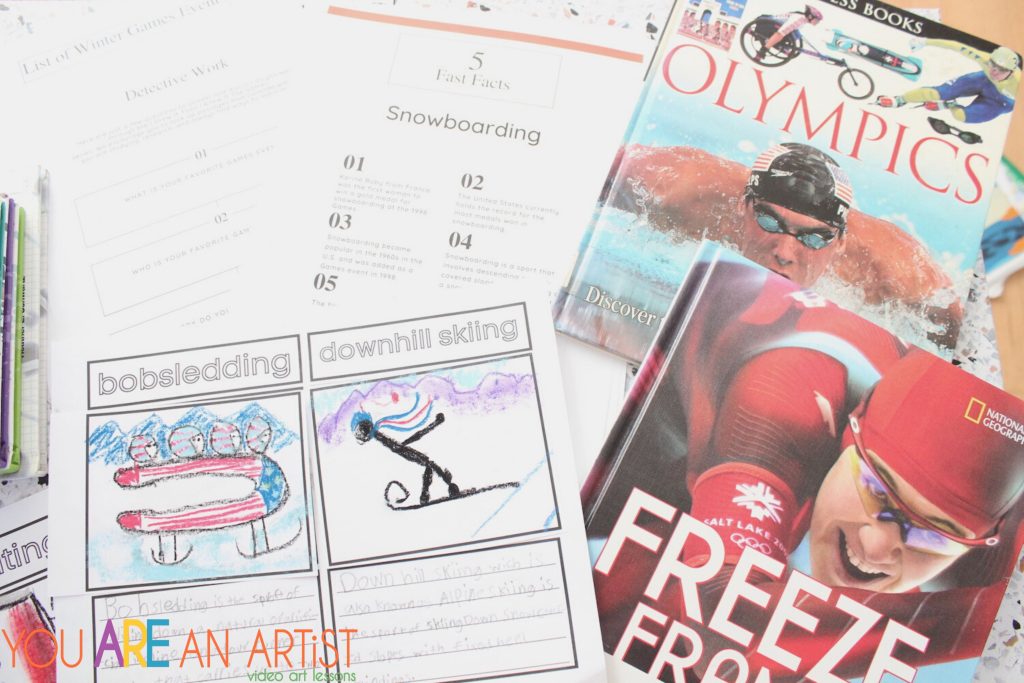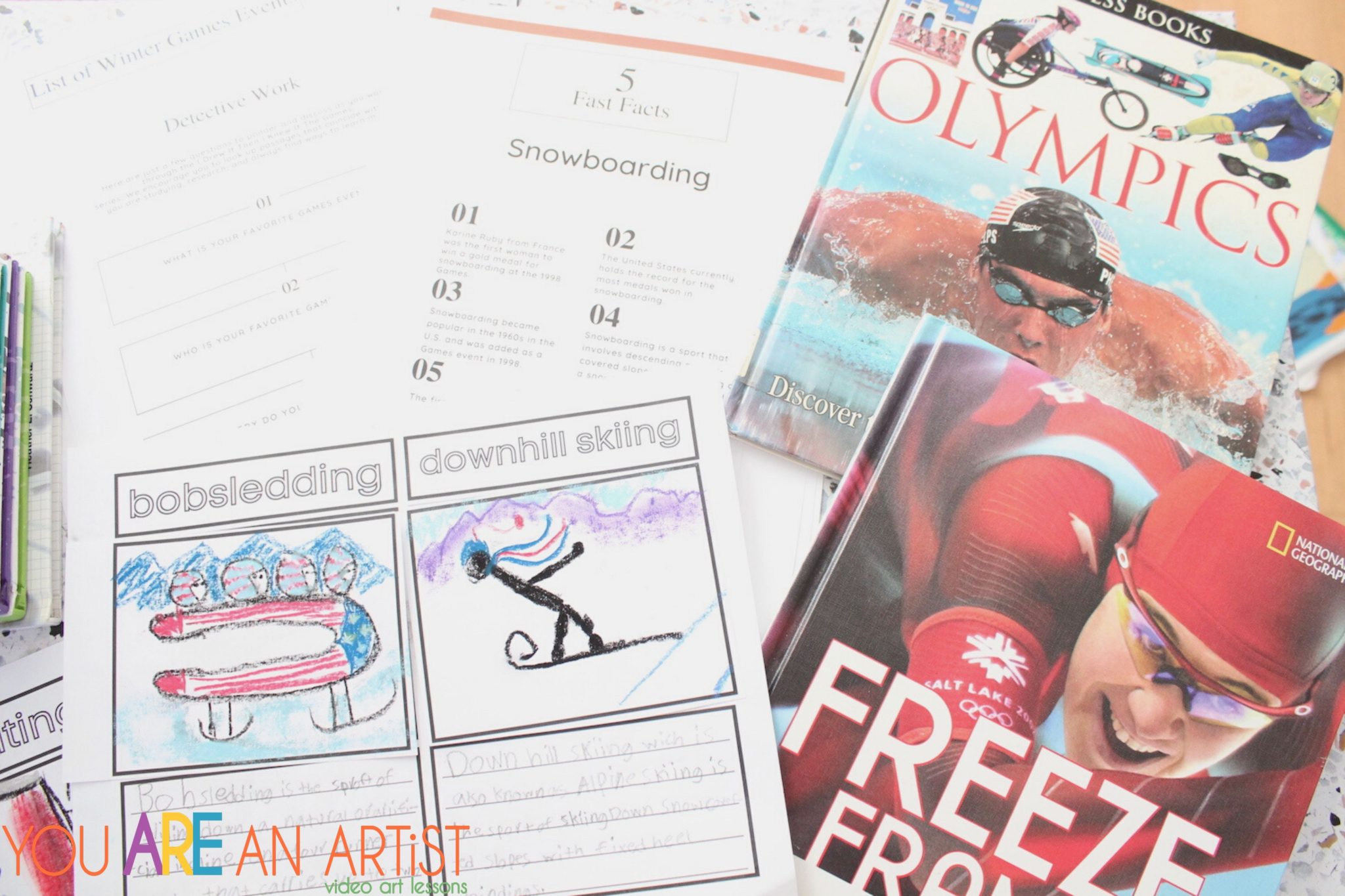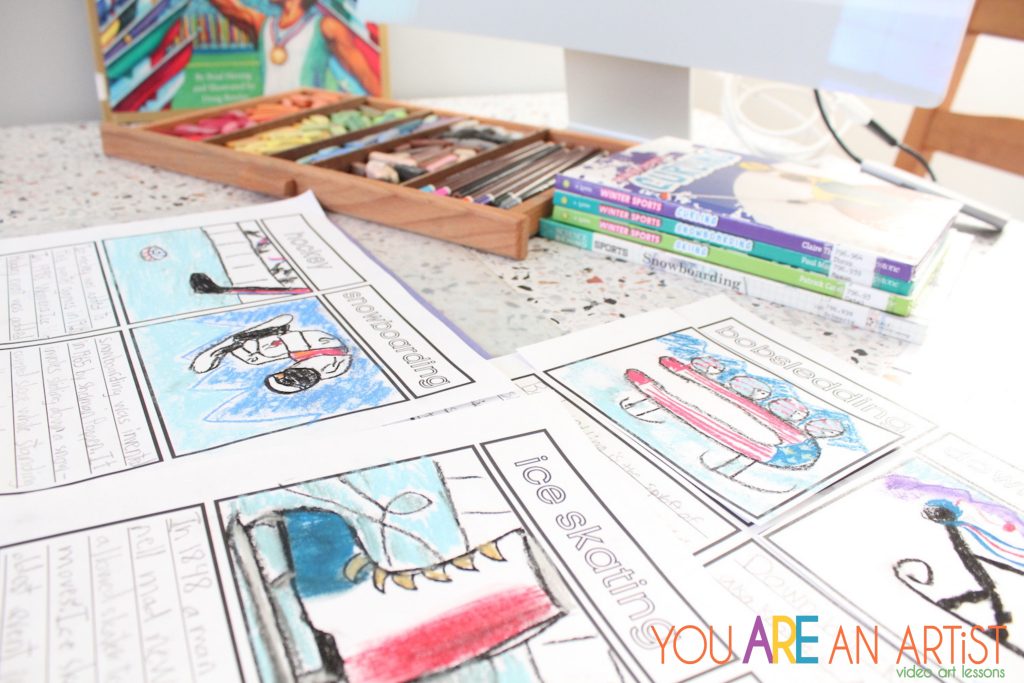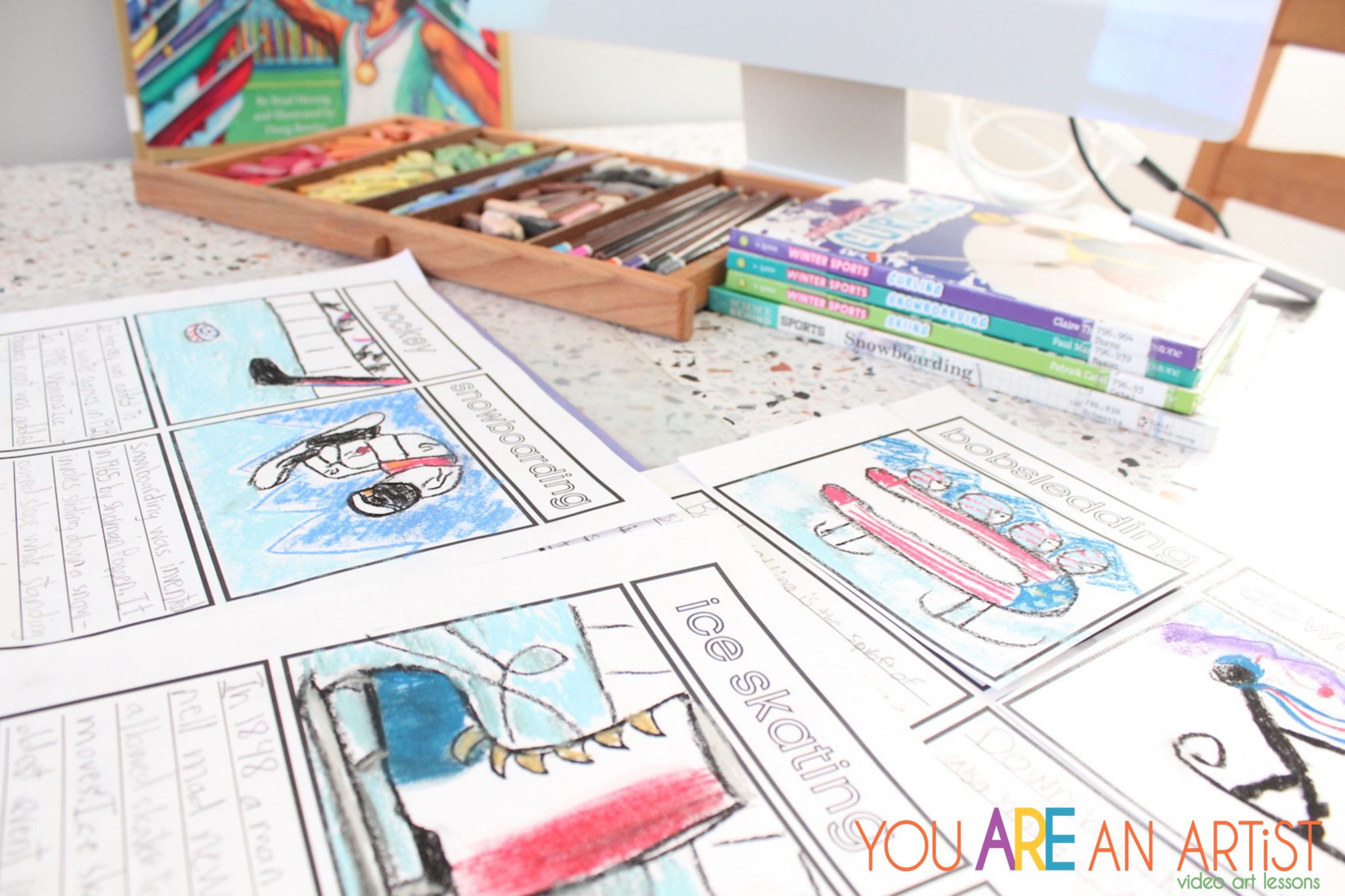 Homeschool Winter Games Video Lessons
Bring out the chalk pastels and get ready to enjoy the Winter Games in the warmth of your dining room or study area. Nana's winter games lessons cover the main ice and snow sports of the Winter Games. The various sports included in the Games have changed slightly over the years, but the fan favorites remain the ones Nana has included in her lessons.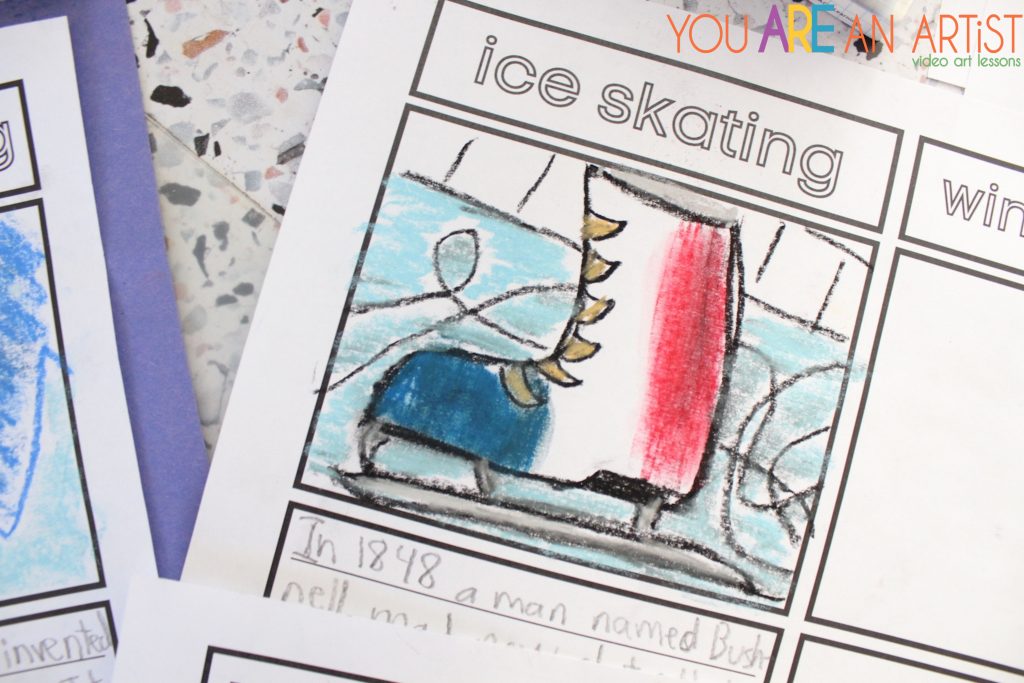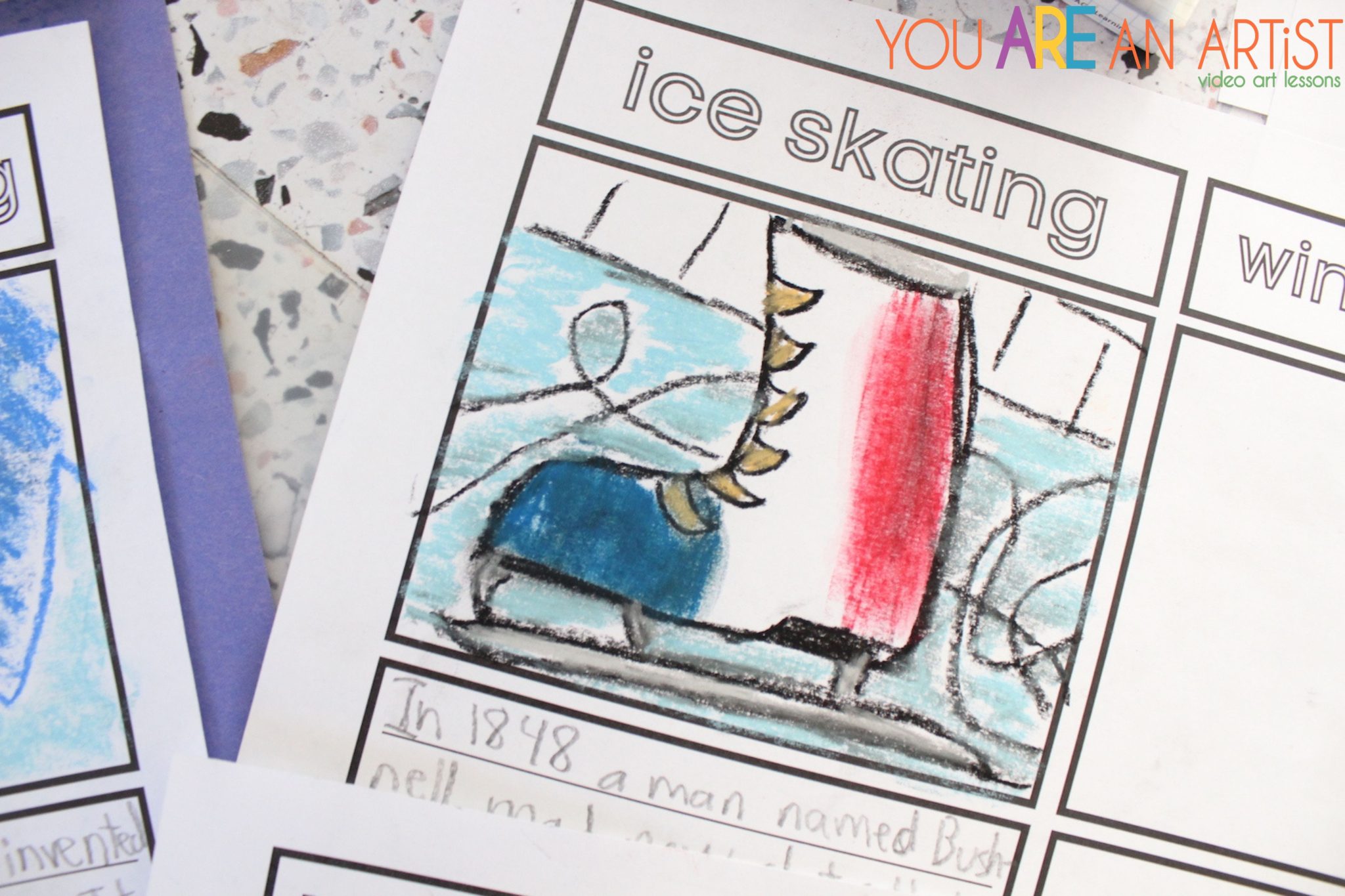 Ice skates are a common piece of equipment in various events at the Winter Games: Figure skating, speed skating, short track skating and hockey. Nana covers how to draw a basic ice skate, and teaches kids about the different parts of a skate: boot, blade, laces. She talks about the special laces competitive skaters use. 
Hockey is one sport that uses ice skates, and Nana has a lesson dedicated to this sport! My kids didn't know much about hockey, but they enjoyed going virtually with Nana to a hockey game to learn about this sport. Nana encourages kids to personalize their drawings by giving "pizzazz" to their hockey stick and puck. I love that although Chalk Pastel lessons are step by step, there are always opportunities to get creative and make the picture your own.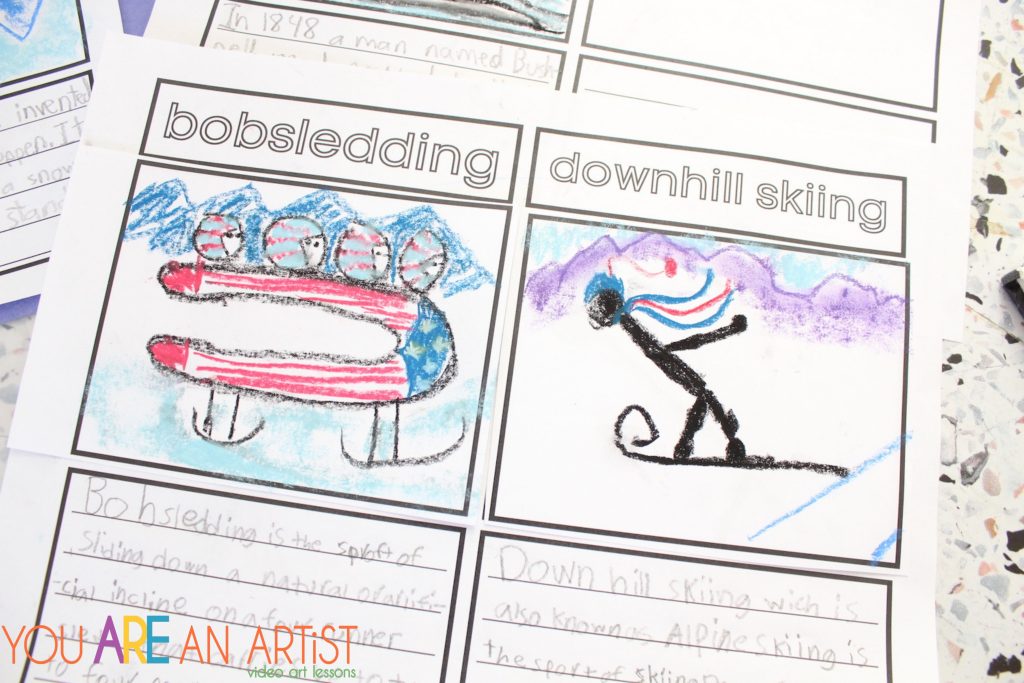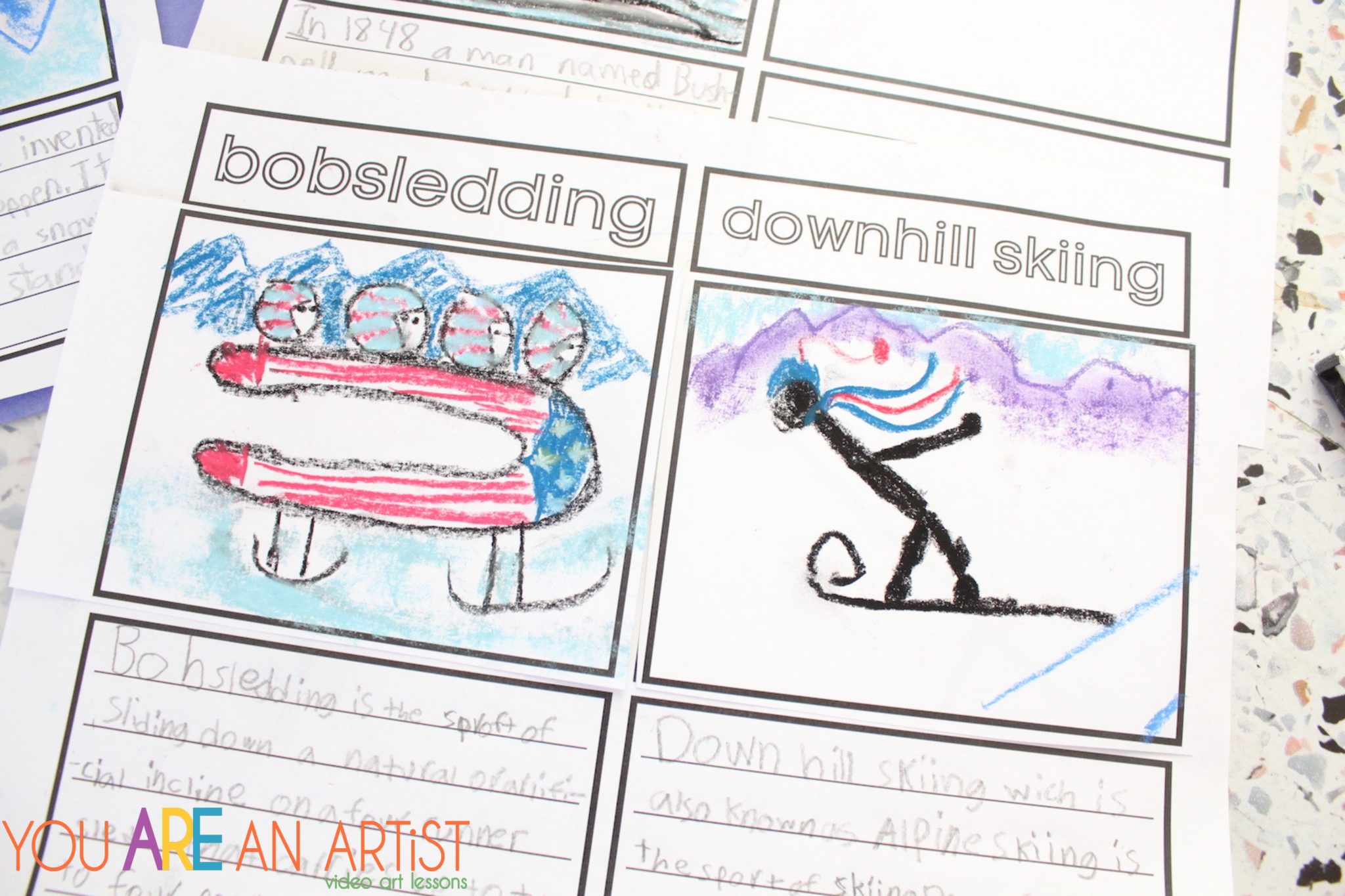 The bobsledding chalk pastel lesson gives kids an opportunity to create their own four-person bobsled team and decorate the helmets and sled to their liking. Or, they can follow Nana's lead and make a Team USA sled! 
For more Winter Games fun, paint the Downhill Skier lesson. This lesson is unique in that artists will paint a silhouette of a skier. This both introduces artists to the concept of the silhouette, and makes drawing people attainable for young artists, because there are no faces or details to draw!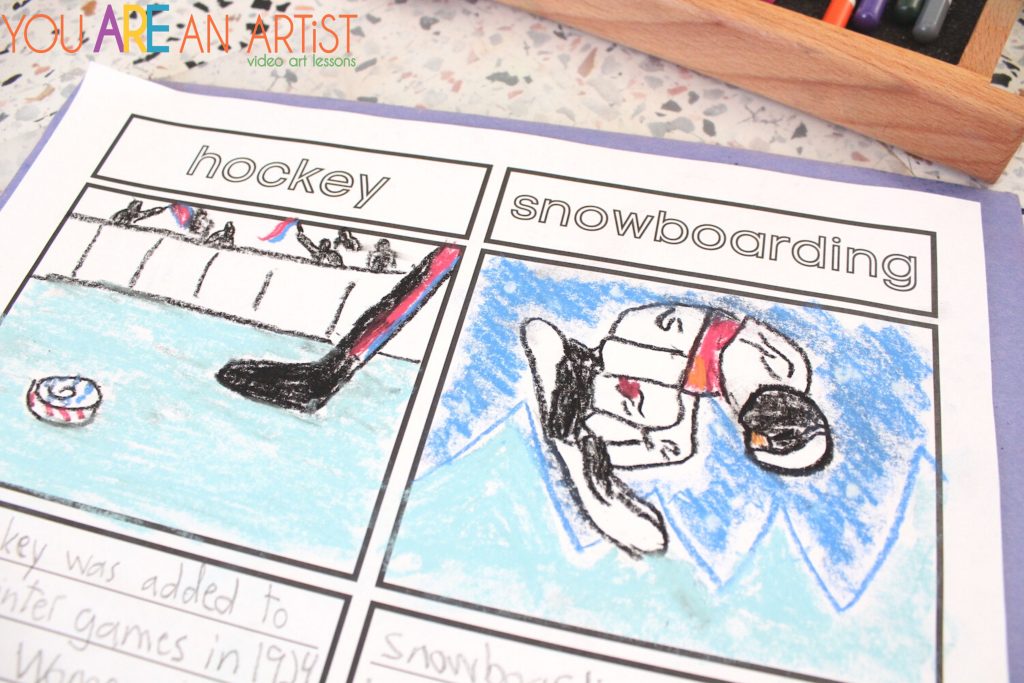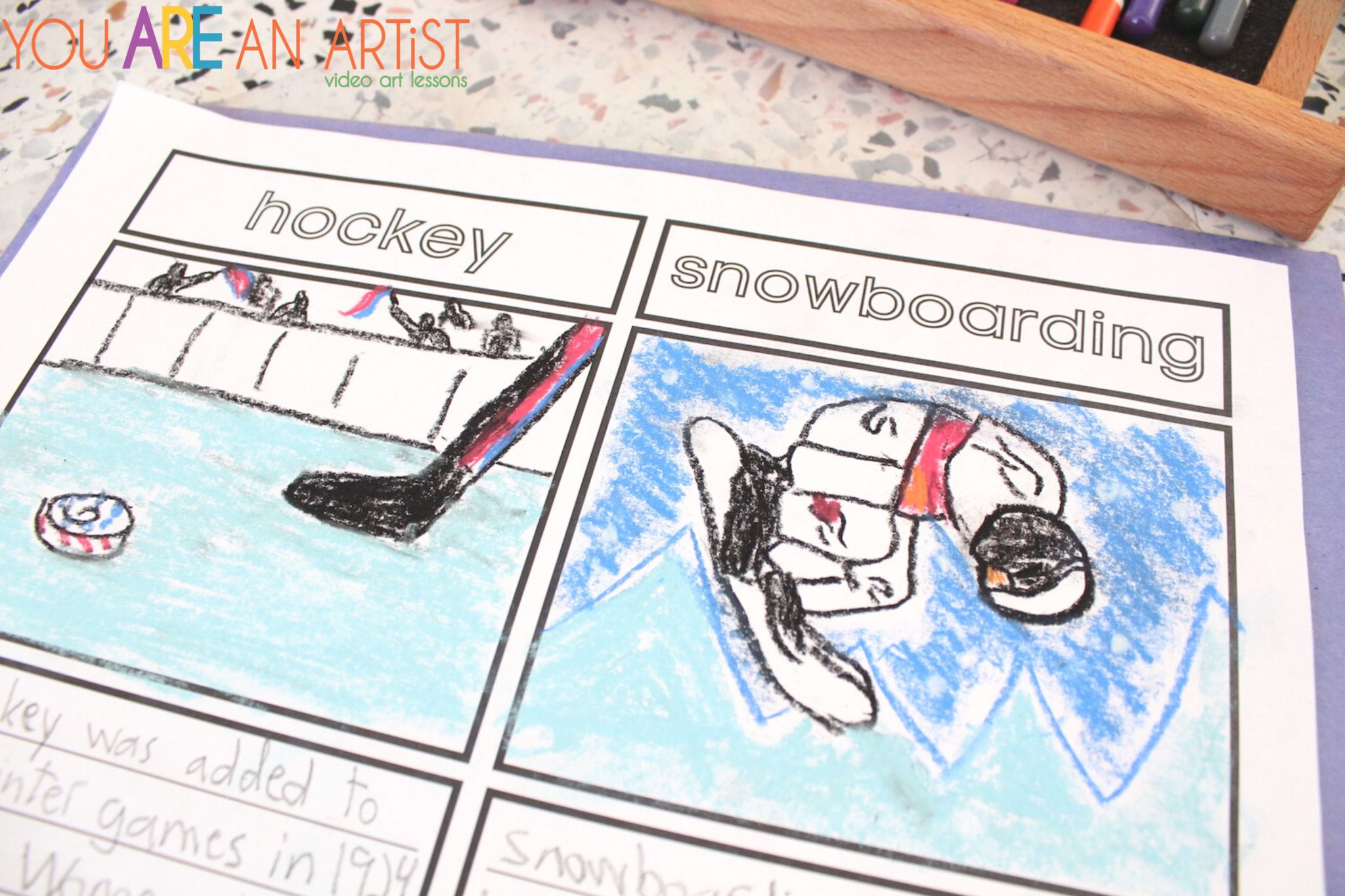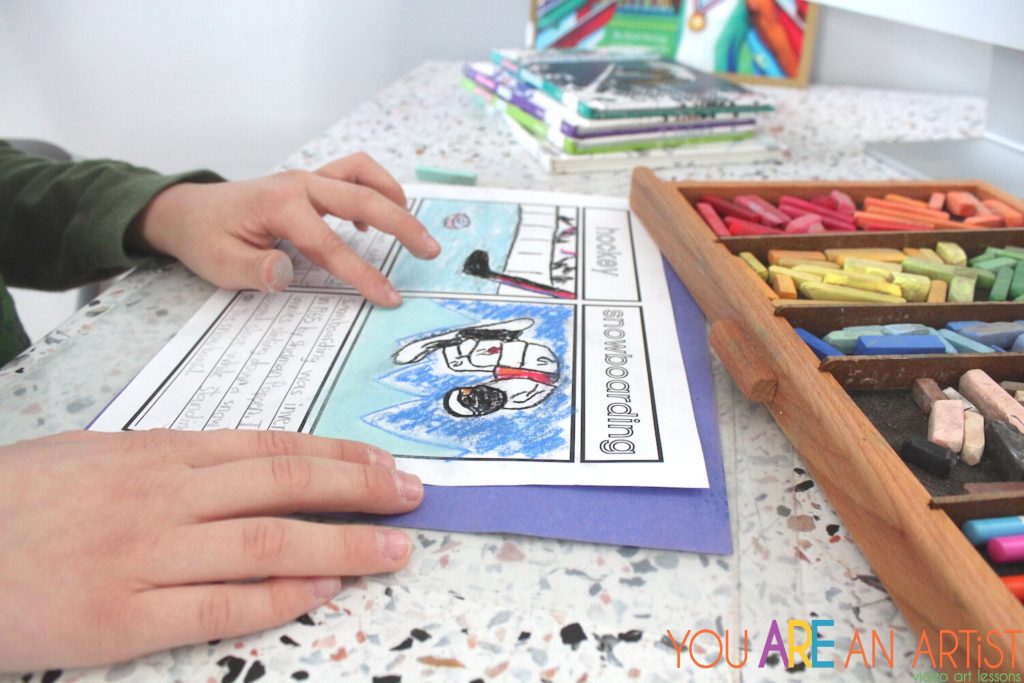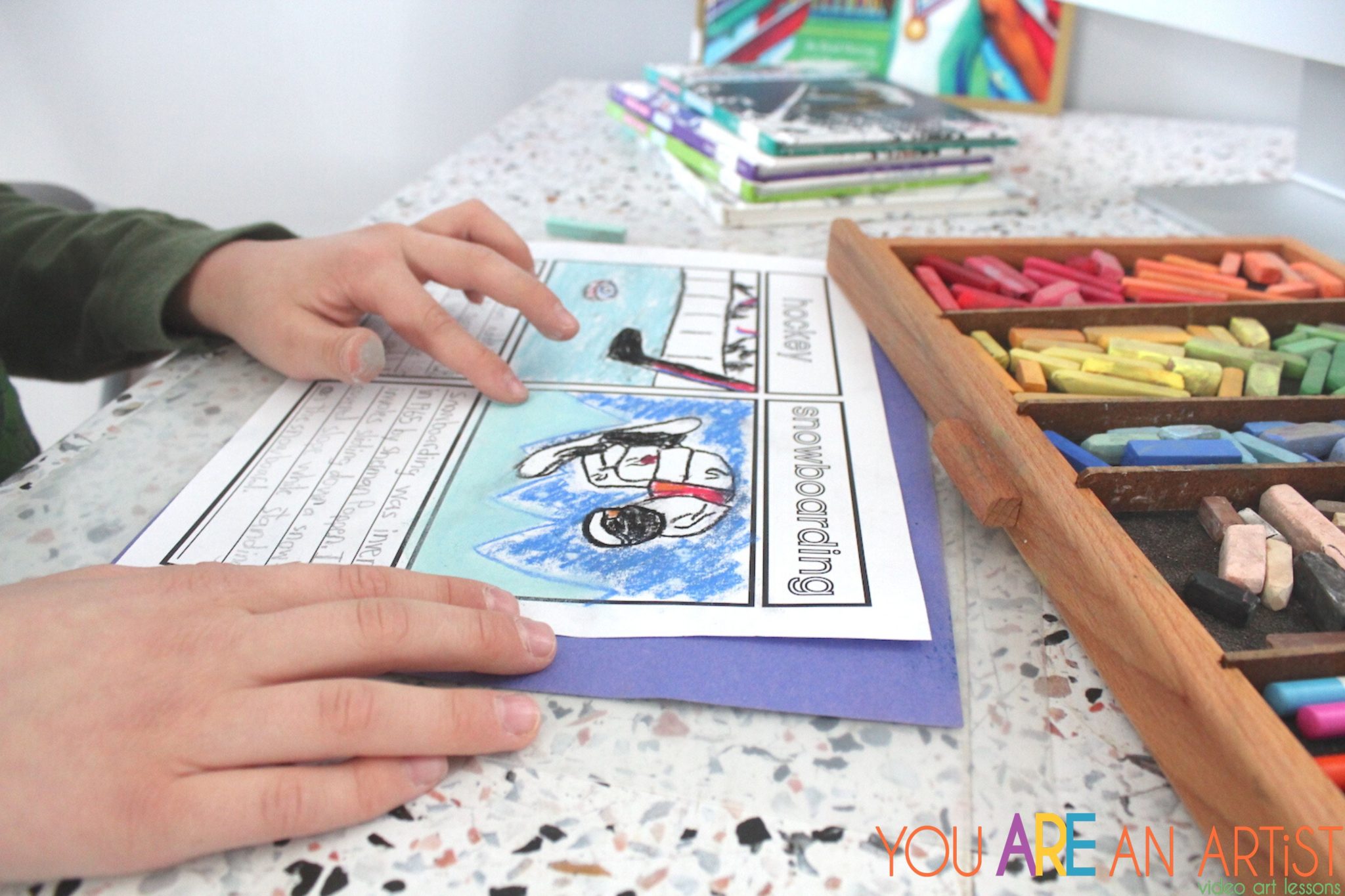 Painting a snowboarder is a bit more detailed and takes a little time. My oldest enjoyed working on his painting of this sport. In this lesson, Nana paints Olympic athlete Shaun White flipping through the air on his snowboard in a previous Winter Games in South Korea! This is an exciting "action shot" painting! 
I love how in many lessons, Nana stresses the importance of being forgiving with your art! This is so helpful to my youngest, who wants his pictures to be so perfect. I love how Nana reassures him that even if we make a small mistake or paint outside the lines, we can be forgiving as we create! Nana's positive influence is very helpful to me as a parent teaching my children art!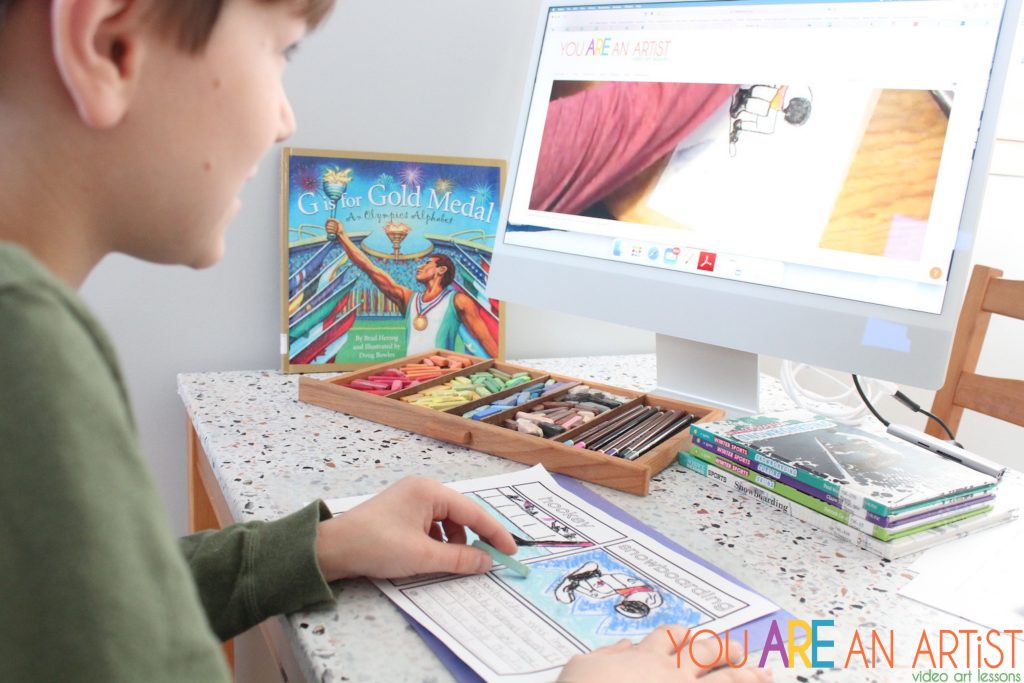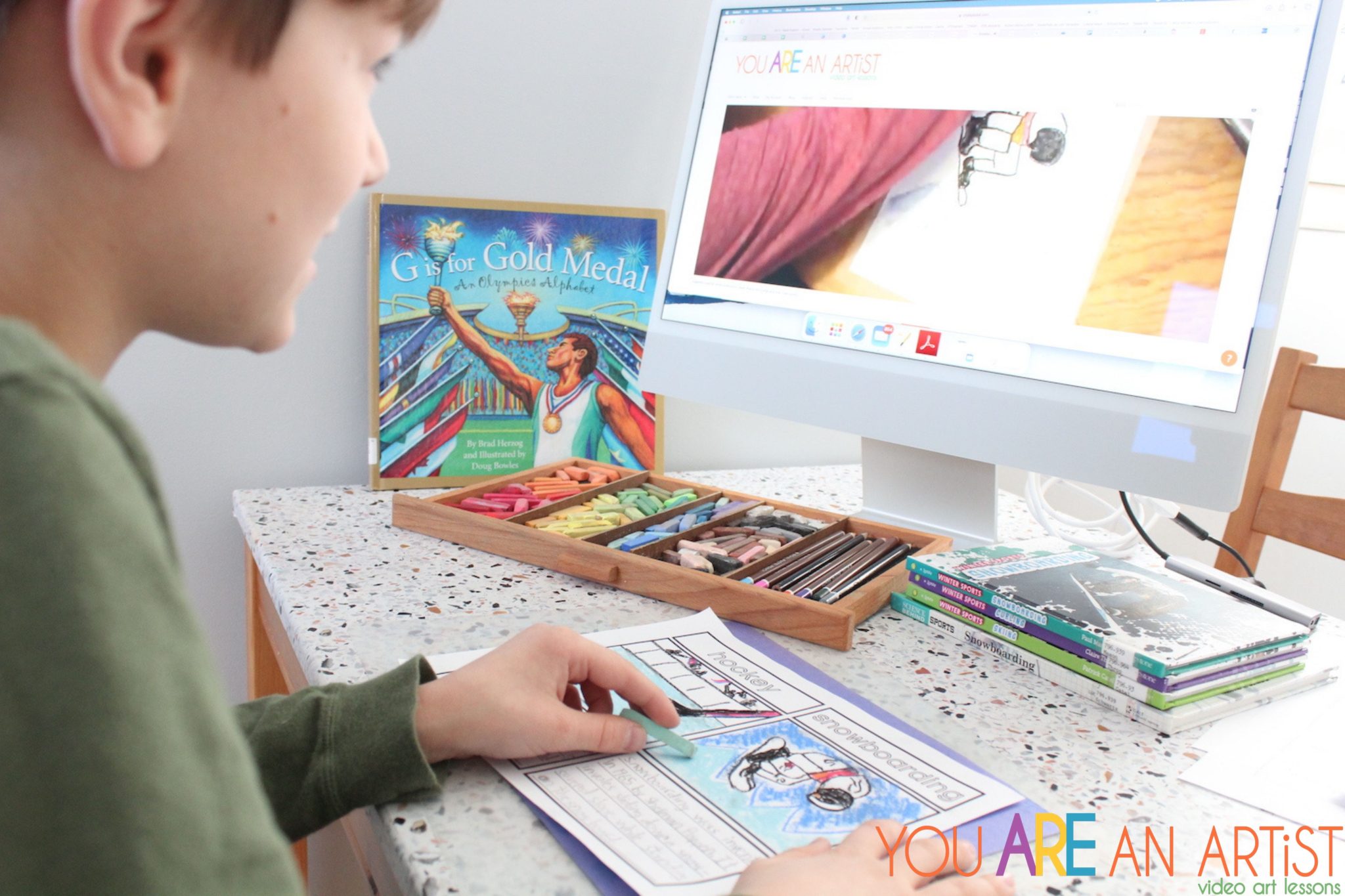 Fun Activities To Help You Learn More About The Winter Olympics
Besides drawing, there are so many winter olympics resources to help your kids learn more about the Winter Olympics!
Check out this Winter Olympics Homeschool Ideas post to find ideas for celebrating the Opening Ceremonies, the geography of different countries represented at the Games, and creating fun decorations or enjoying foods from around the world. The author also has game schooling, history, book and movie recommendations for homeschool moms to pick from and create a delightful diversion from regular lessons.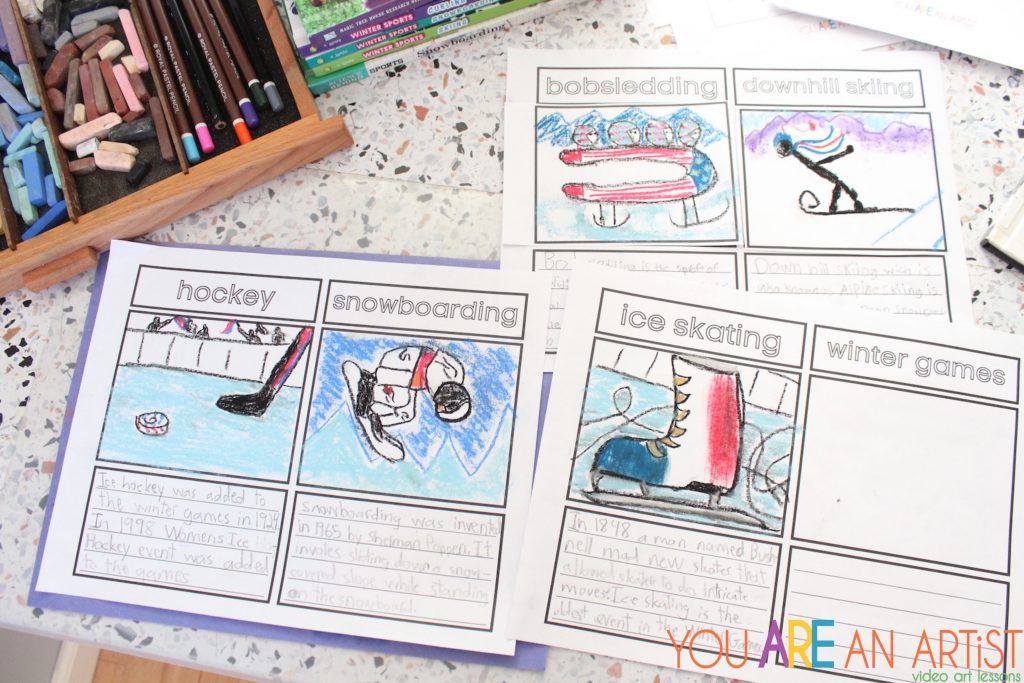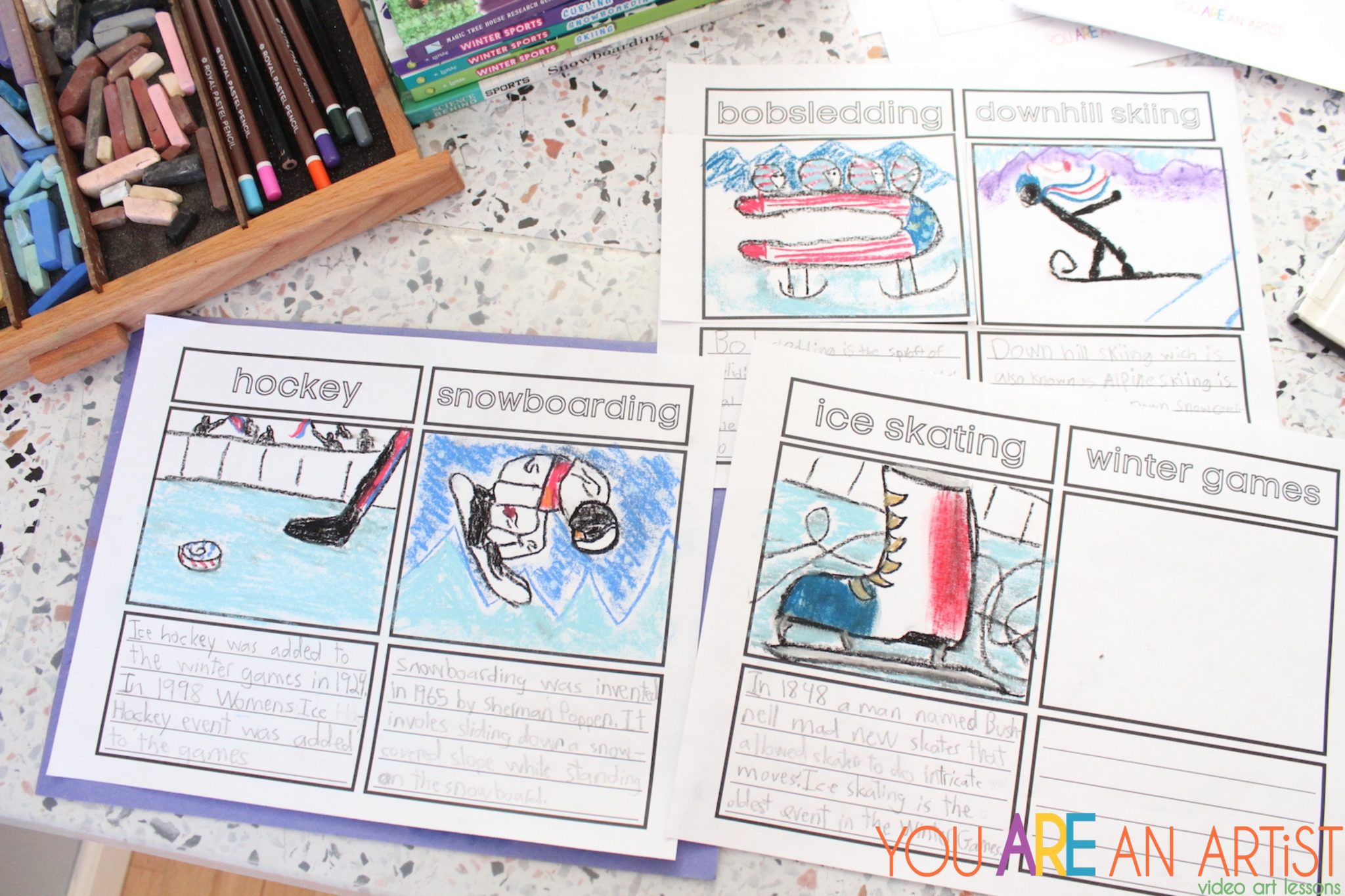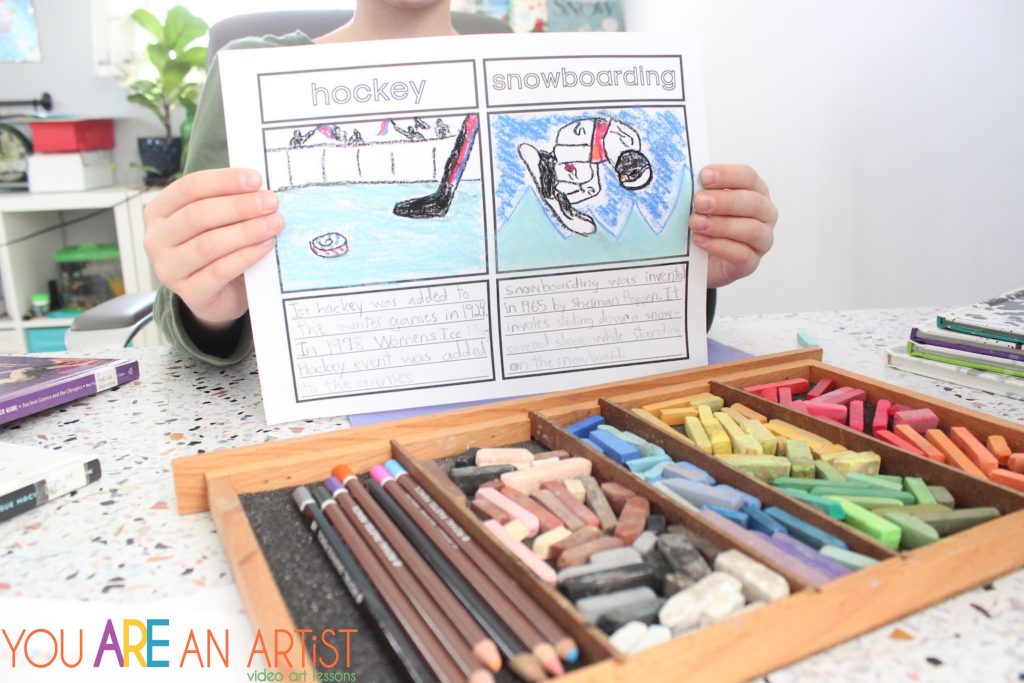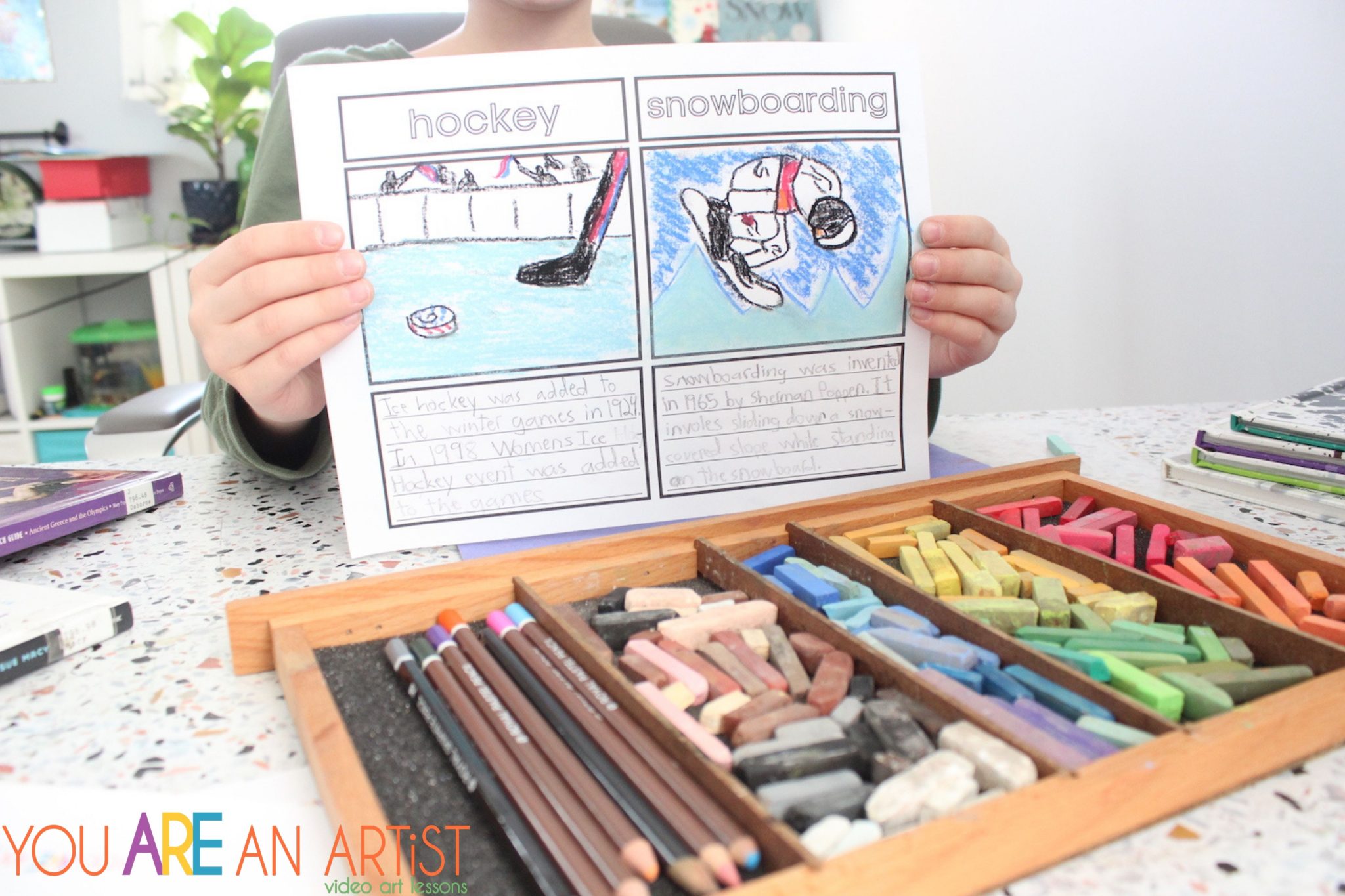 One thing we did to make our Winter Games chalk pastel time a little different than usual, was create Winter Games flashcards to learn the different sports.
I made a simple flashcard template that we used with each Chalk Pastel lesson. Each winter Olympic sport is listed at the top. The boys painted with Nana in the larger box. Then we read through the I Drew It Then I Knew it workbook pages for each of the sports. I had the boys take turns filling in the text box with a one-sentence summary of what they had learned about each sport.
You could laminate these flashcards and cut them apart for some matching fun with younger kids who are more visual.
You can get the flashcards template here to try this out in your homeschool! There is a flashcard labeled for each of Nana's Winter Games lessons, plus a blank page for using this with other events you study.
More Homeschool Video Art Lessons For Your Family
If you're looking for more resources to round out your lesson plans: my Ancient History Reading List can provide a literature component to your Winter Games study. It includes suggestions for fiction and non-fiction about the Greeks. Or, segue from an ancient games study to a study of ancient poetry and art with my Ancient History Classical Morning Menu set!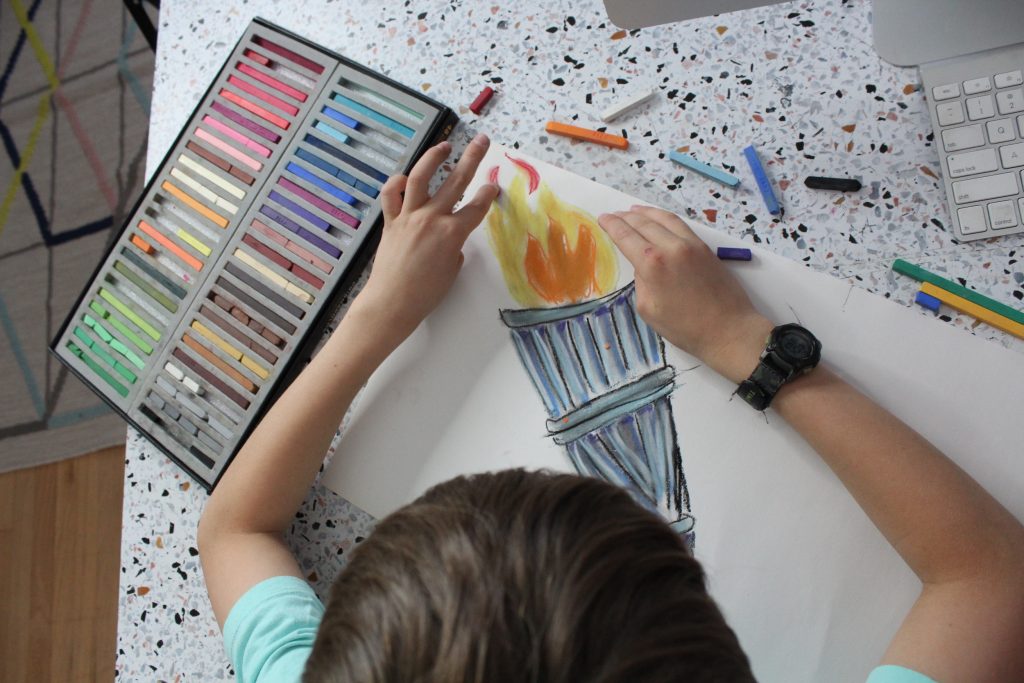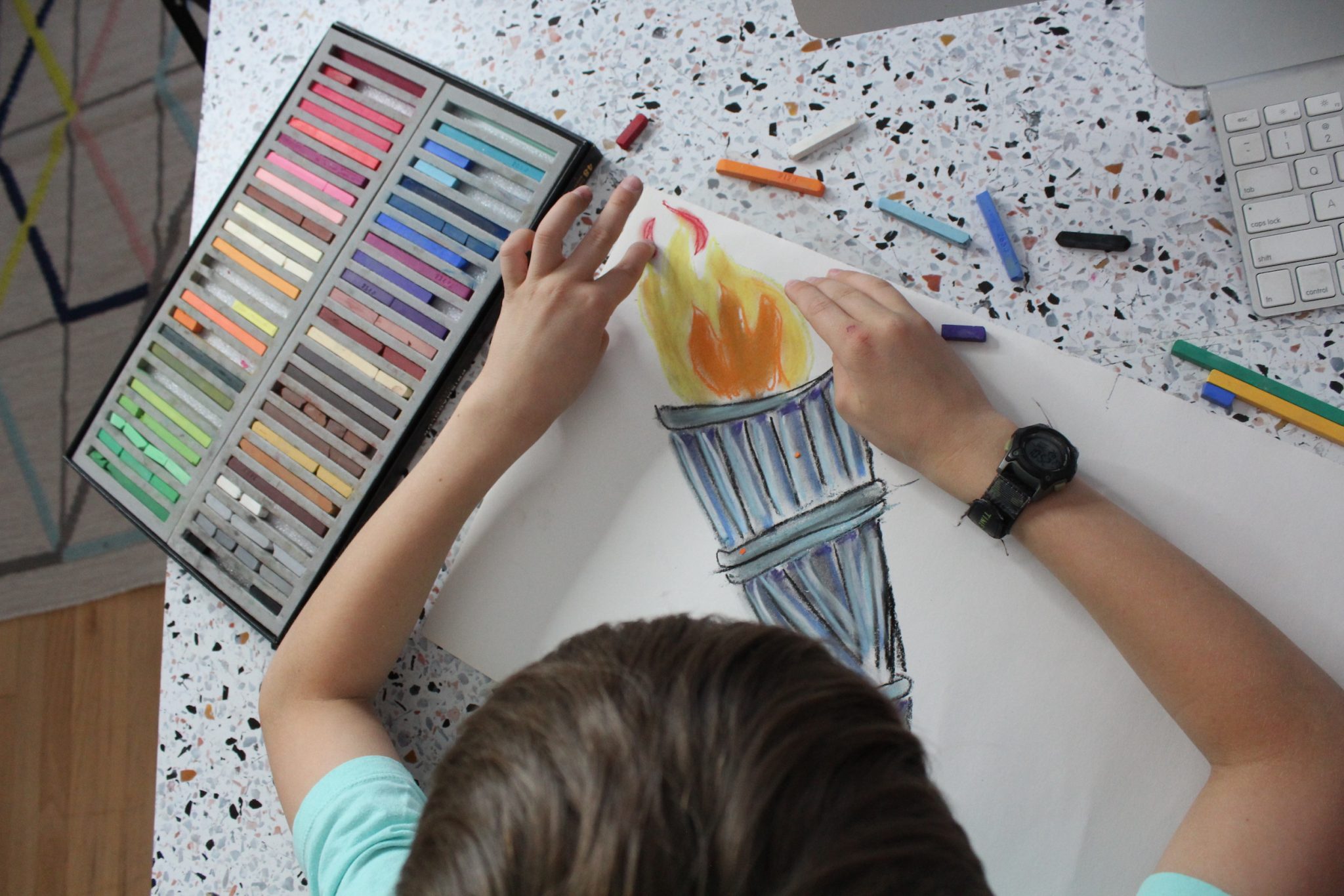 Continue building excitement for the Winter Games before and during the event with Nana's other lessons that coordinate so well:
Kids can create their own Olympic torch relay, or learn about the opening ceremonies with Nana. Since the Games originated in ancient times, explore the ancient olympics and paint the Greek coliseum and a Laurel Wreath.
Sometimes it can be hard for kids to connect to sports that are unfamiliar or events that are far away around the globe. Painting the equipment and athletes of the winter games and including other art projects and hands-on activities about the history of The Games brings kids right into the moment of excitement as these athletes compete for gold medals. With these great Olympic resources, you and your family will celebrate a memorial Winter Games this year!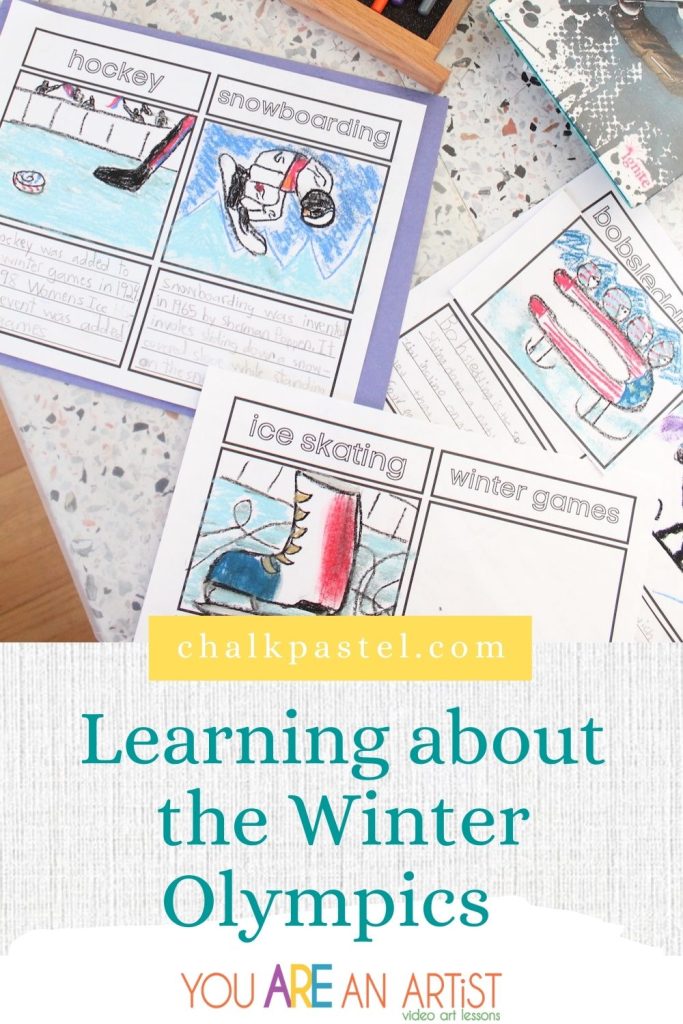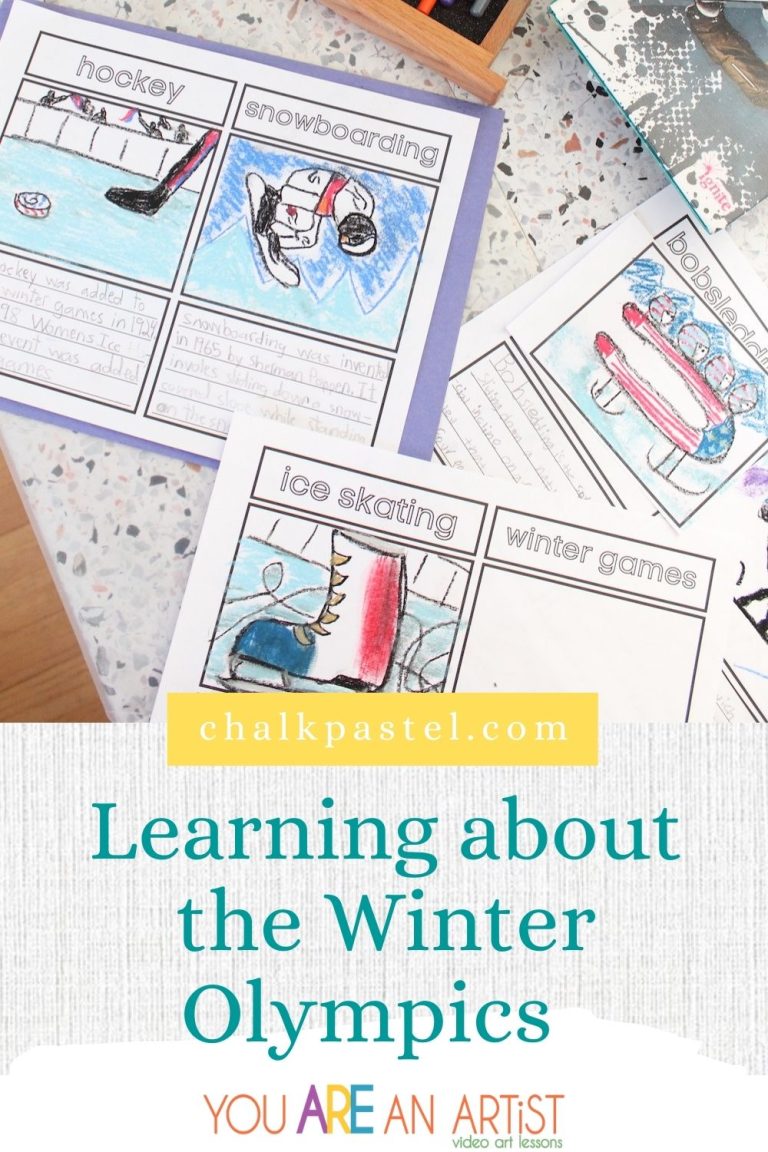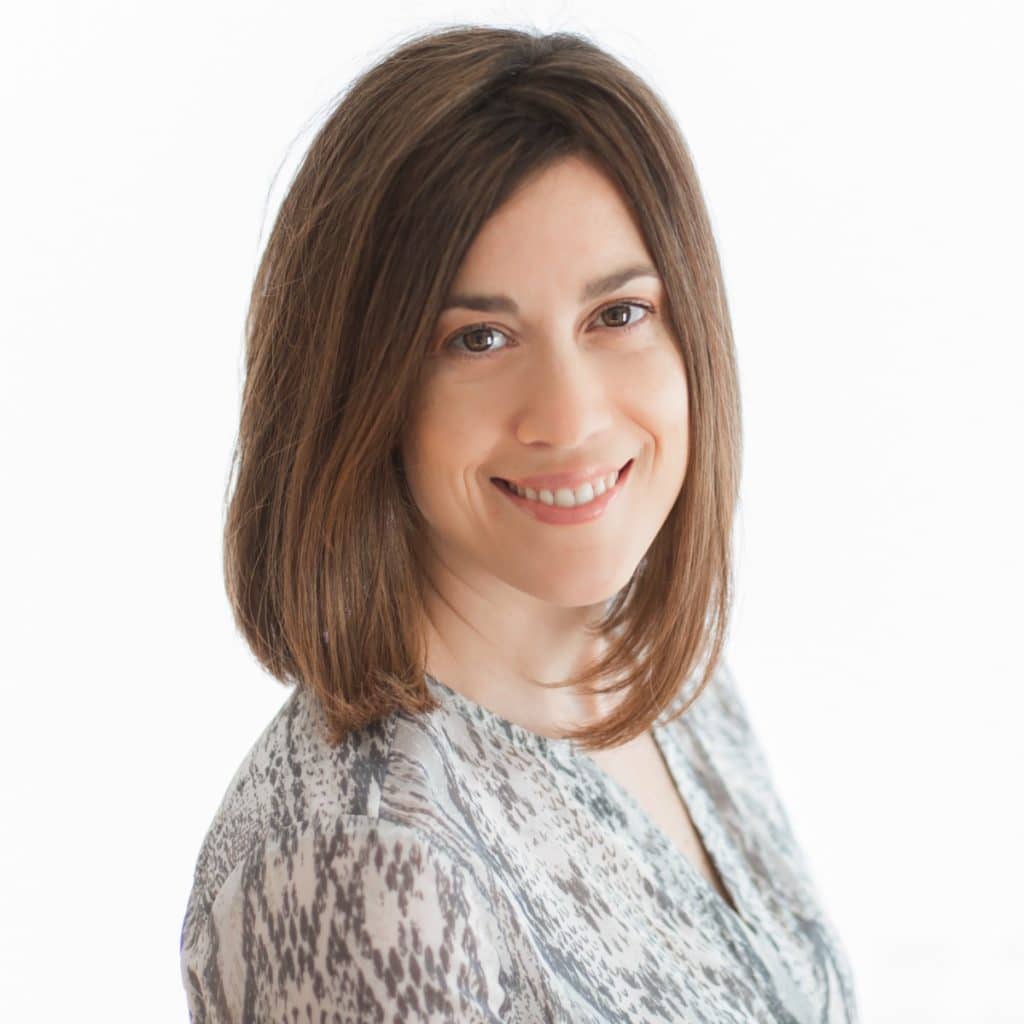 Julie is a teacher, writer and homeschool mom. Her blog Happy Strong Home shares encouragement for cherishing children, enjoying motherhood, and growing strong families. Discover homeschool resources, natural living tips, and family activity ideas. Julie has been featured on Million Praying Moms, The Old Schoolhouse Magazine, and the Melissa and Doug blog. She offers writing workshops and a "homeschool neighborhood" community to support parents in their homeschool adventures. Find Julie on Instagram to be the first to know when new workshops and community events are available.