Now only available in our memberships. Please see details below to enjoy the replay of the special Johnny Appleseed Adventure event hosted by No Sweat Nature Study Live!, SQUILT Music and You ARE an ARTiST Clubhouse!
*PLEASE NOTE: This replay was only available through September 15, 2020. You can enjoy endless access to the replay in our No Sweat Nature Study, SQUILT LIVE! and You ARE an ARTiST Clubhouse memberships.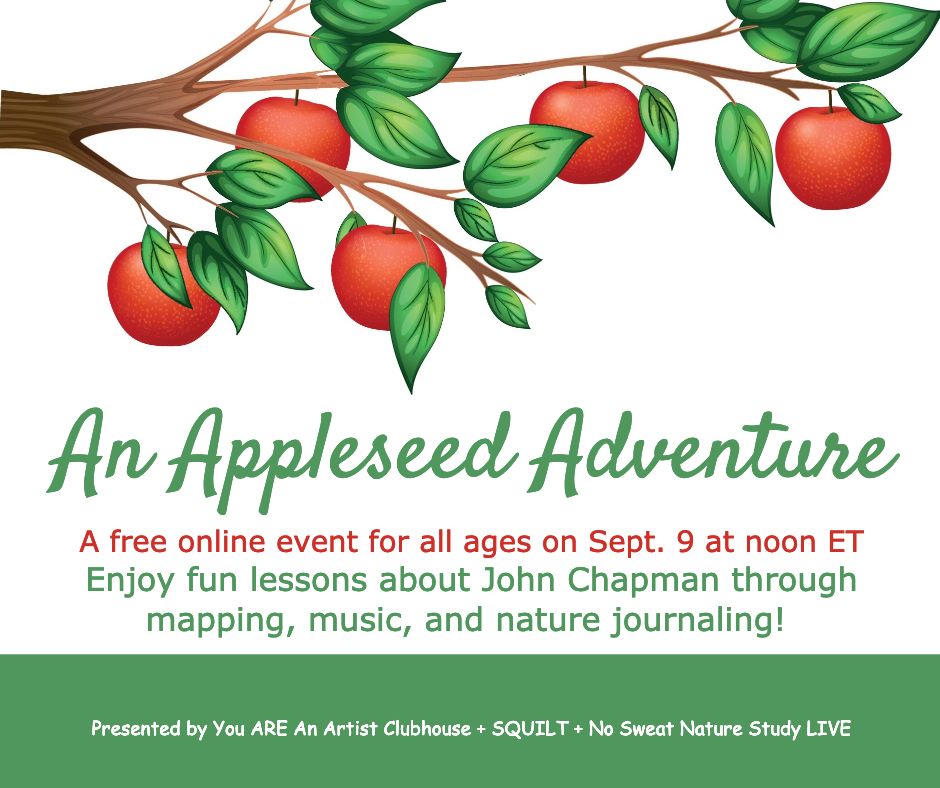 Nana, Miss Cindy, and Miss Mary are looking forward to spending time with you learning about Johnny Appleseed.
The following supplies are suggested for this event:
1. Light colored construction paper (white, yellow or green preferred) or white printer paper.
2. Chalk Pastels (Our favorites here) Suggested: – baby wipes or a couple dampened paper towels for easy clean up.
3. Sketch book or plain paper and pencil/colored pencils
4. Johnny Appleseed printable music resources — (download here)
An Appleseed Adventure Replay Now only available in our memberships
SHARE YOUR MUSIC, NATURE and ART TIME:
After you enjoy our event, we would LOVE for you to share photos of your nature study/notebooking time and your artwork! Share photos on Instagram and tag @SquiltMusic @OurJourneyWestward and @ChalkPastelArt so we won't miss them. We would love to see your learning time and to comment.