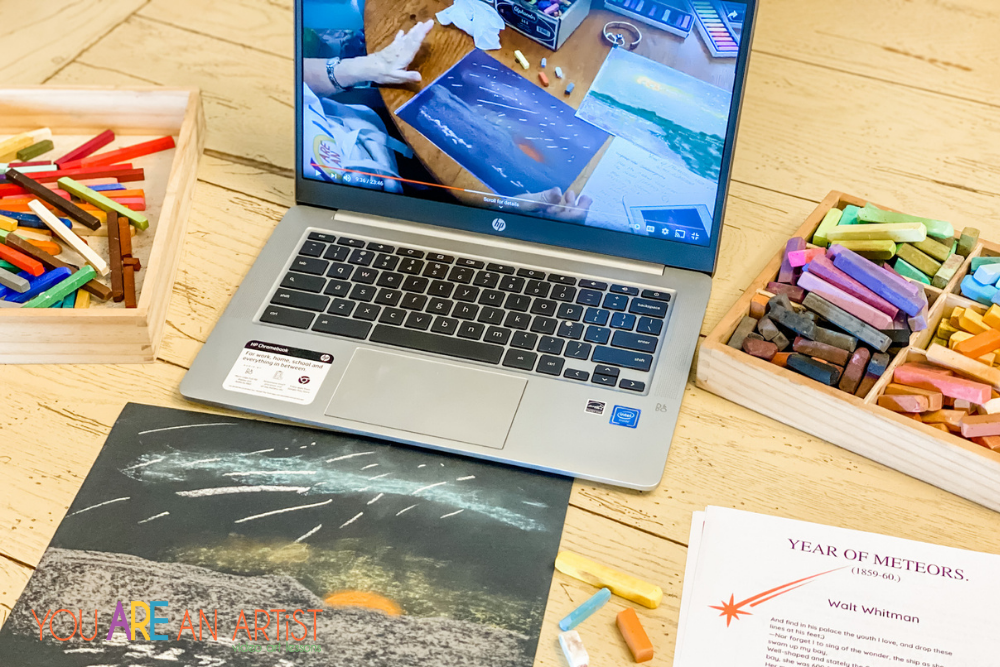 If you have ever wondered how homeschool moms blend multiple subjects with one common topic, you will want to follow me along on this exciting rabbit trail! Oh and, forgive me now because I tend to get overly giddy about this type of learning.
So we have all seen those super cool homeschool moms who can plan their own lessons around interesting topics and mesh together science, literature, history, art, and more! If I am honest, two things would come to mind when I would see or hear about a mom doing this when I was in my first few years of homeschooling:
Wow, that looks incredibly awesome but too hard for me to do.
We don't have time for stuff like that because we have to check off our daily curriculum boxes. We will get behind if we veer from our schedule.
More than likely, you, too, have scrolled through social media or heard another mom at co-op talking about how she plans to present a homeschool lesson in this same manner. And, you might have had some of the same things come to mind. Maybe you felt inadequate, or you may question why teach this way at all? Well, I am so glad you asked!
After more than a decade of homeschooling, I have learned so much about education. My perspective has certainly changed about those seemingly elaborate homeschool lessons, and I believe even if sporadic, they are beneficial for your homeschool and your students. And the best part, putting together a unit study or homeschool lesson, can be super easy!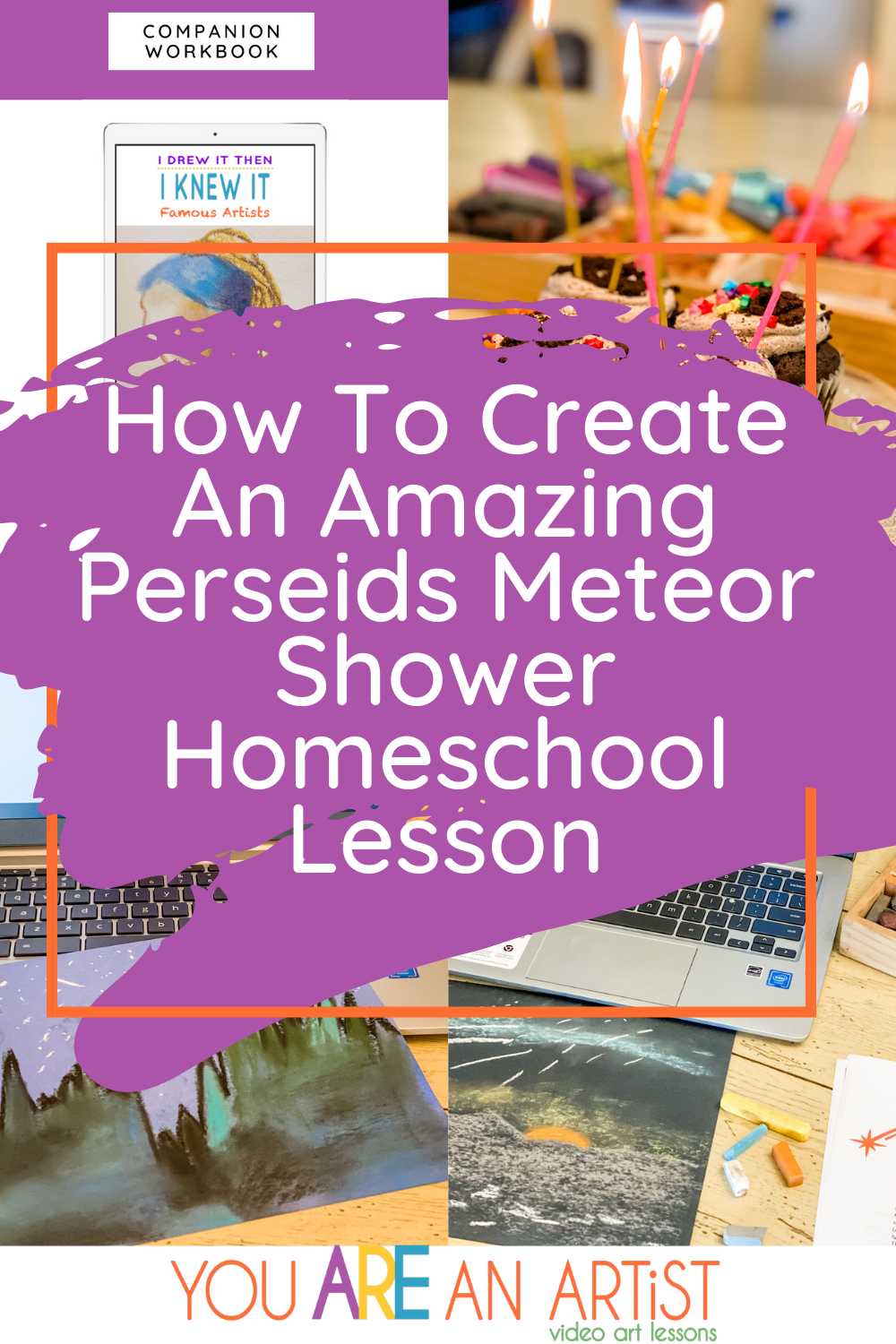 Why Blend Subjects Together When Planning Homeschool Lessons?
You may need a new approach to home educating. One way to really get your children excited about learning is to show them how these subjects can overlap. By approaching education in a way that helps ignite a passion or curiosity about a topic, idea, or lesson – we teach our children how to learn rather than what to learn. Our job is to present lessons to our children that jumpstart their imaginations, inspire them to research more, and enjoy learning. So with all that said, if you have a student that is dreading homeschool every day – try something different! Likely, it might not be the student but the teacher who needs a new home education outlook.
You can show your children just how much fun learning can be. By blending subjects together, we show our children that learning is fluid. It runs from subject to subject and topic to topic; it never stops. That is also the end goal for many homeschool families; we want to cultivate lifelong learners! What better way to demonstrate how exciting education can be than to make the lessons fun and engaging at home? By meshing art, literature, history, science, and more – we aren't putting any boundaries on our education. We are learning in ways that aren't conventional and are definitely more fun. We are homeschoolers, and we can do that!
You can save time home educating multiple ages. Often we think it will be too time-consuming to pull together a homeschool lesson that ties in multiple resources and subjects. But the truth is, it's not that hard, and it can actually end up saving you time. Think of it like a recipe, all you need is a little of this and a little of that, and before you know it, you can have a nourishing meal. Not only are you capable of pulling together a study that your kids will love, but you can also present it to all of your children at once. Rather than homeschooling every subject level every day, you can teach in more of a one-room-classroom type of way. Yes, you may have to tailor things for differing ages, but the overall lesson is the same in the end – thus saving you more time each day or week.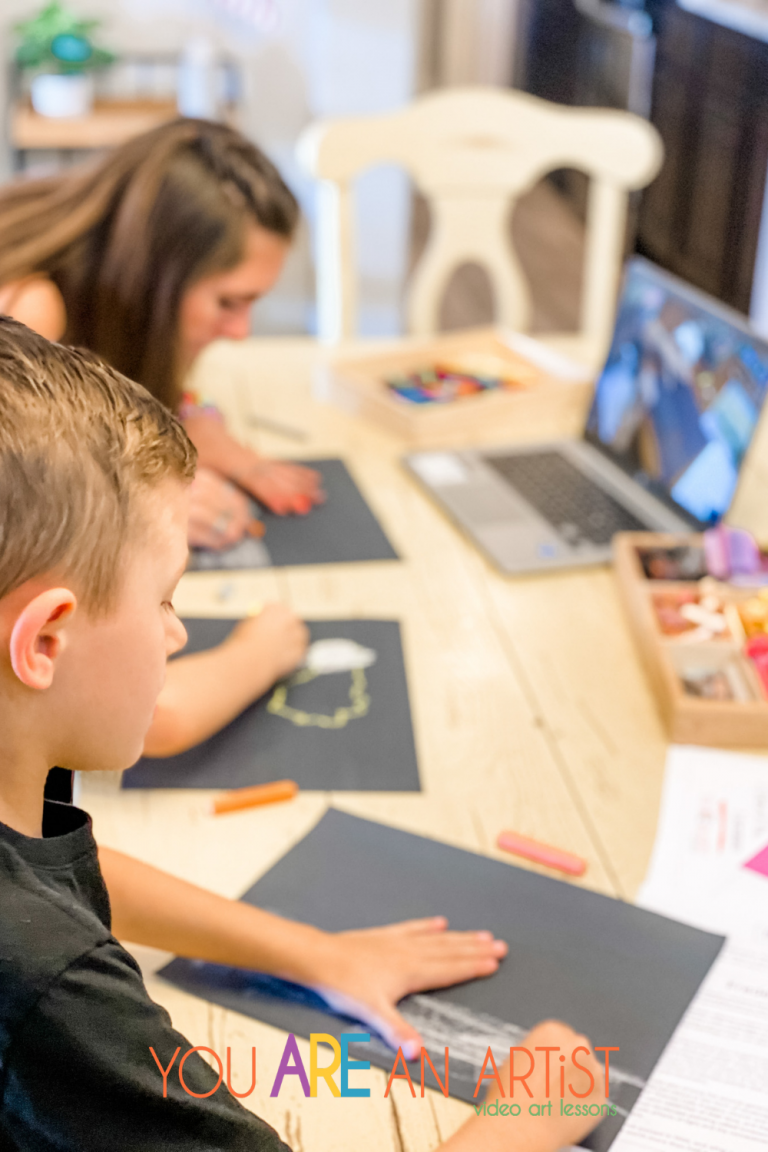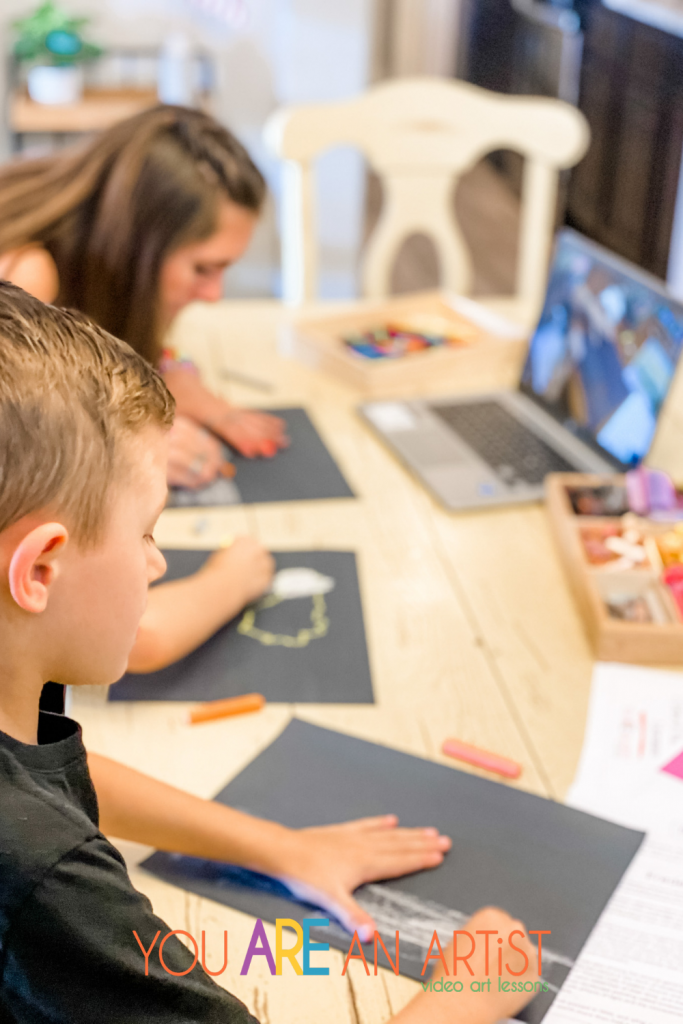 Now On To The Good Stuff… Let's Create An Amazing Perseids Meteor Shower Homeschool Study Together
Ok, now that we have covered a few benefits of overlapping subjects, let's see an example of a stargazing unit study or Perseids meteor shower lesson. (Call it whatever you prefer, the label isn't nearly as important as the content and experience you are creating.)
Remember, I said you might need to follow me on my rabbit trail. Let's blend it all together and make a fun day, week, or month of it! Here is a wonderful example of how one interesting bit of information is linked to another and so on.
If you plan to use our ideas, remember to tailor them to your family, children, and unique homeschool. There is no right or wrong way to do a unit study or homeschool, for that matter.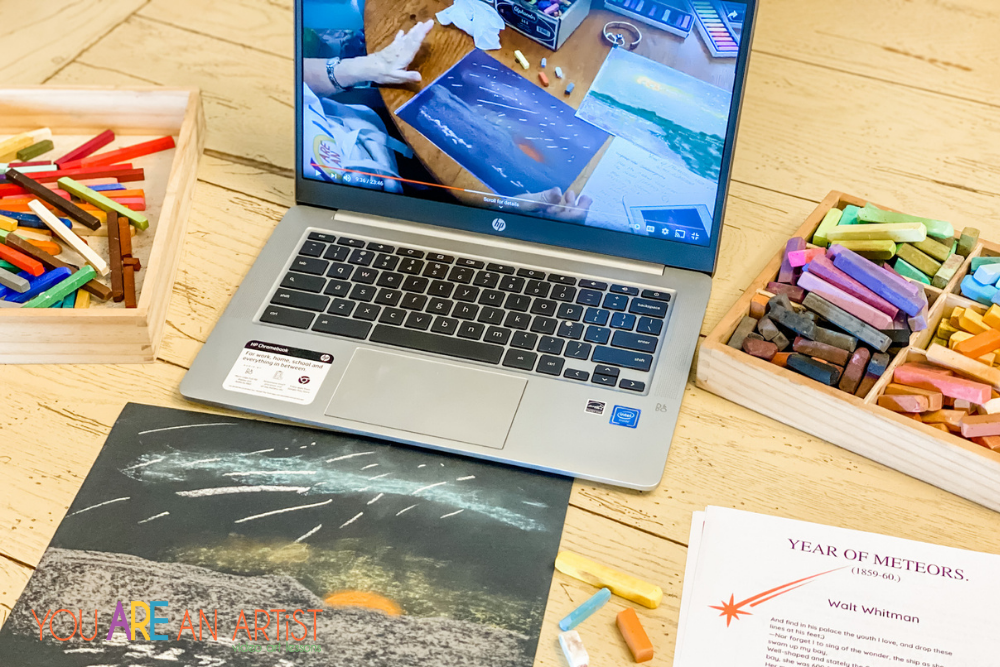 What Is The Annual Perseids Meteor Shower?
The basis of our study is the annual Perseids Meteor Shower. I love the idea of creating a build-up to an event that we can celebrate. It keeps my kids engaged through the study because they know that there will be a celebration of sorts or a reward, if you will, at the end.
If you aren't familiar with the Perseid Meteor Shower, it is one of the brightest and longest-lasting meteor showers. And, it happens in August, so it's usually easy to view because the weather is warm, and the sky is likely to be reasonably clear.
I know! So many fun ways to enjoy a summer meteor shower with the family, right? S'mores, art, and sky-gazing all sound dreamy to me! The best time to catch the peak of all the meteor action is around August 9-14th, but even as early as late July, the start of the showers begins. (If you like ideas like this, you would also love our art summer camp!)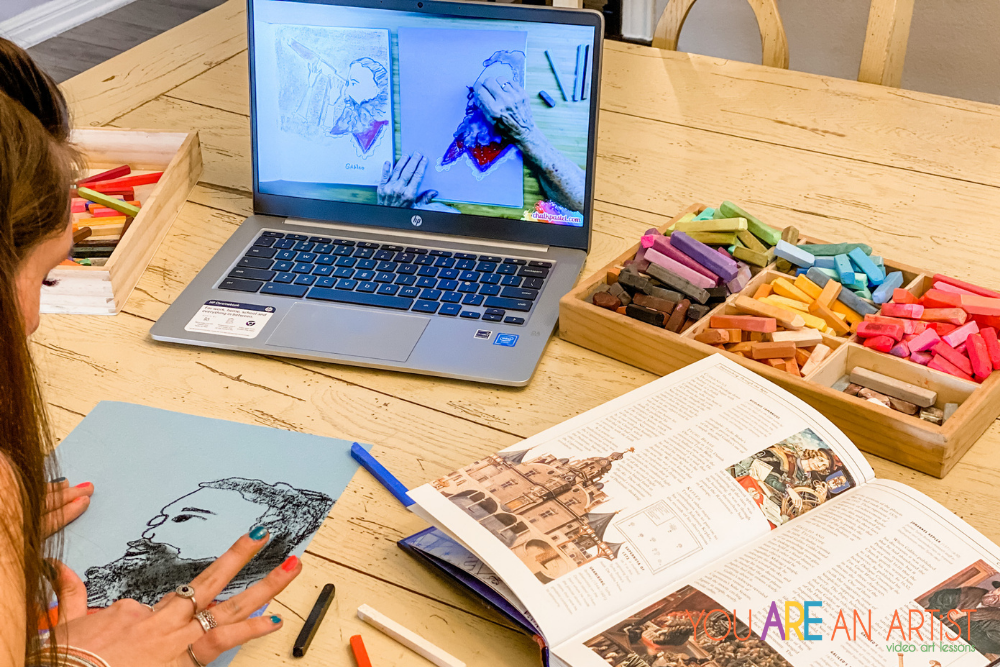 Learning Ideas To Blend Together For An Epic Perseids Meteor Shower Homeschool Lesson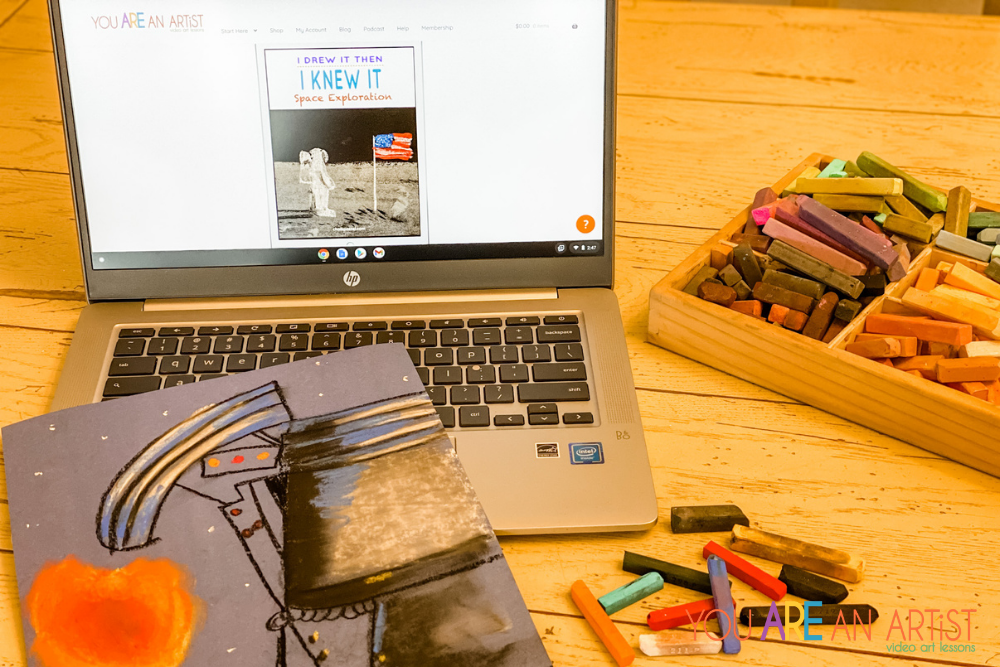 Science: Your students can research what a meteor is, write a list of facts they find, and look up as much as they can about meteors specifically.
Or, if you prefer to give them tasks to complete, you could create a list of questions that they need to find the answers to. Questions like how fast do meteors travel and how many meteors per hour could they potentially see during the upcoming Perseids Shower?
Hubble Telescope Homeschool Art Lesson
Another fun science-based idea that you can tweak so many different ways is to learn about telescopes, space exploration, and star gazing tactics. Nana has some incredible lessons that can tie these things in, and I mention them all below under art. The Hubble Space Telescope and Galileo are perfect for this one!
Don't forget to watch documentaries or videos about the Perseid Shower too.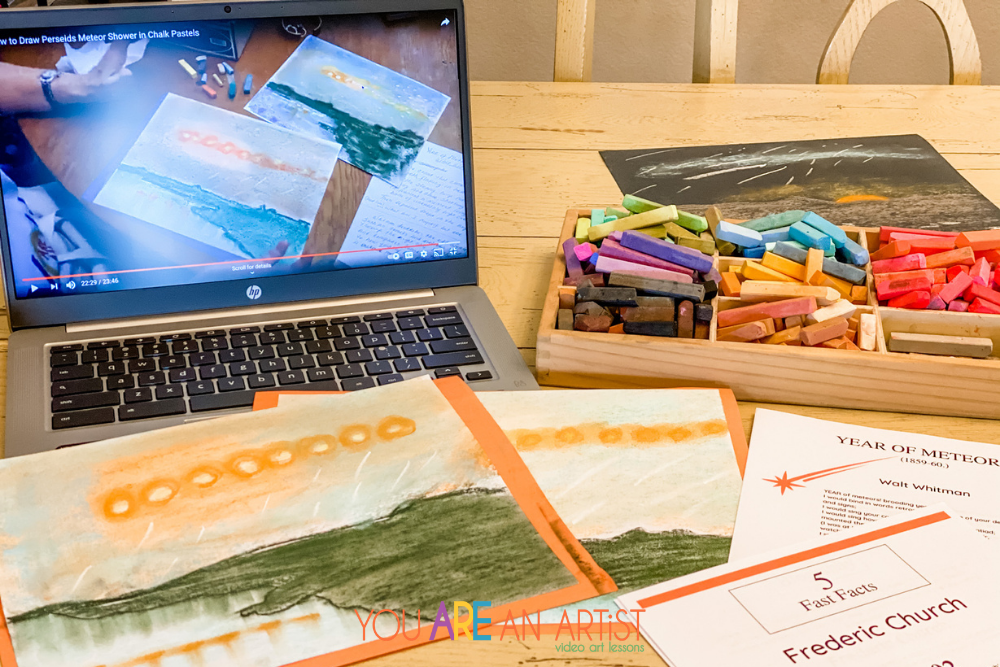 History: Ooooh, this is getting good! The 1860 Great Meteor occurred on July 20, 1860. It was talked about and reported from locations all over the United States. American landscape artist Frederic Church painted the rare but fascinating string of meteors in a now-famous oil painting, The Meteor of 1860. You can tie this all together by doing Nana's accompanying art lesson 1860 Great Meteor. You can also listen to Nana's podcast on the Hudson River School artists which includes another homeschool art lesson.
Don't forget to grab the I Drew It Then I Knew It Famous Artists Companion Workbook for a biography and fun facts about Frederic Church. There is so much more to learn about this famous artist!
Galileo Homeschool Art Lesson
As mentioned in the science portion above, another learning trail you could take on your Perseids meteor shower homeschool lesson might be digging into the history of the telescope. Start with the Galileo lesson from our I Drew It Then I Knew It Inventors Course and research more information about his telescope design. Galileo's telescope was a prototype of the modern-day refractor telescope.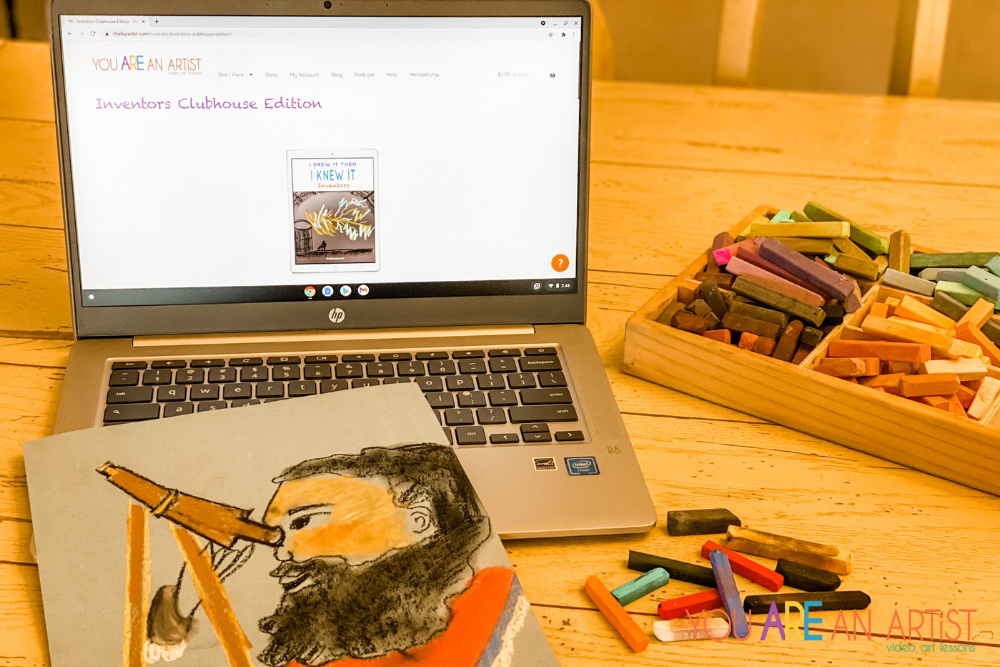 Literature: Ok, here is another interesting link in our chain of stargazing information. Walt Whitman was also inspired by the same 1860 meteor event that Frederic Church painted and wrote the Year Of Meteors poem (1859-60.)
This also could fit under history, and it's even more fantastic when these things overlap in various subjects. You can find the entire poem inside the I Drew It Then I Knew It Literature Companion Workbook. You can read it aloud with all of your children or allow your older students to read it on their own. We enjoyed reading it as we did some art around the dining room table.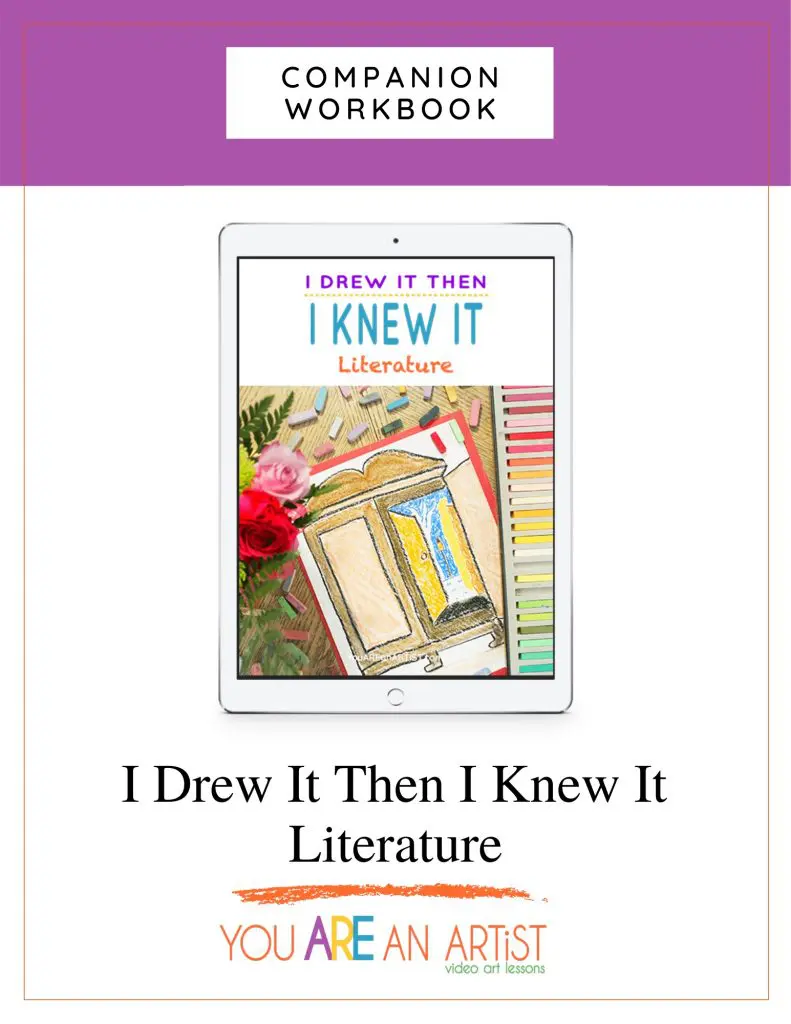 Art: Nana's How to Draw Perseids Meteor Shower in Chalk Pastels is the perfect lesson to either start this study with or finish it! Either way, this is a lesson the whole family will enjoy doing together.
Don't miss all of the other art lessons I have mentioned in our Perseids Meteor Shower Homeschool Lesson & learning ideas here in the post! Look Up Summer Night Sky, Night Sky Lesson, Hubble Telescope, Galileo, and the 1860 Great Meteor, to name a few! You can pick and choose which ones you feel are the best fit for your unit study and your family.
If you want to blend in some art appreciation, make sure to view Frederic Church's oil painting, The Meteor of 1860.
Writing: Have your students write a short report about the Perseid Shower and all they have learned. If your student is a reluctant writer, frame the assignment differently, ask them to write a letter to a friend who has never heard of the meteor shower before, and explain it to them.
If you have older students, you may have them research and write about Frederic Church, The Hudson River School, Walt Whitman, Galileo, or the Hubble Telescope and pair these writing activities with the coordinating art lesson. Since your teens can earn an art credit with chalk pastels, this is the perfect way to pair the two. Not to mention it adds a little fun and creativity to their curriculum too.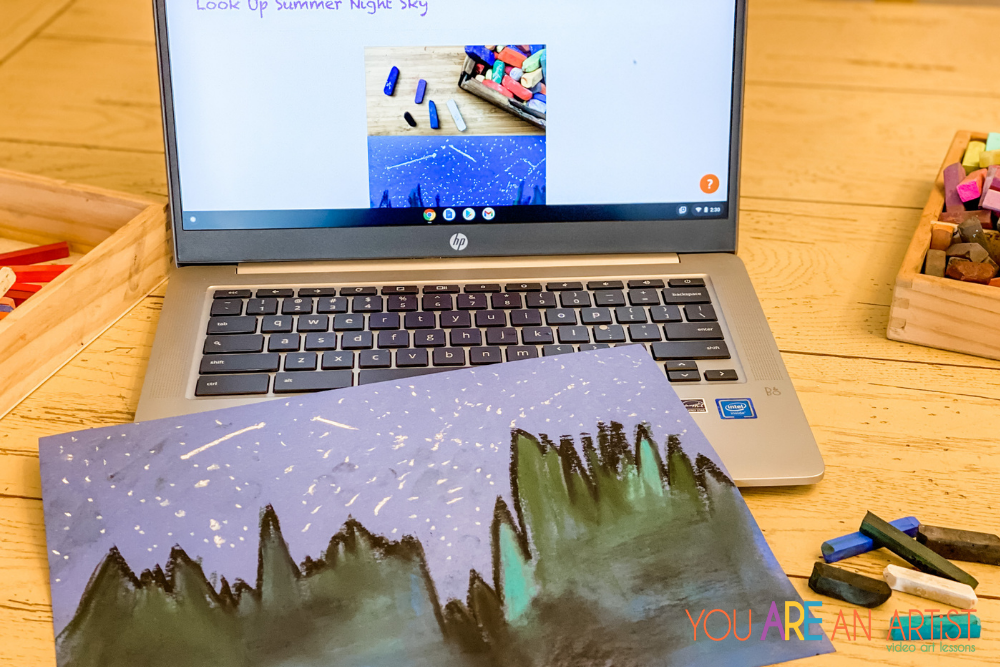 Nature: With Nana's Look Up Summer Night Sky and Night Sky Lesson, you can certainly have some nature-filled fun. Star mapping and sky watching have been done since the beginning of time; not only is it fun to do, it's educational. After you create one of the night sky lessons with Nana, plan a night sky watching party with the family. BBQ for dinner and bring out cozy blankets for dessert while you all watch the night's sky together. This is just another example of how home education also supports family time and bonding.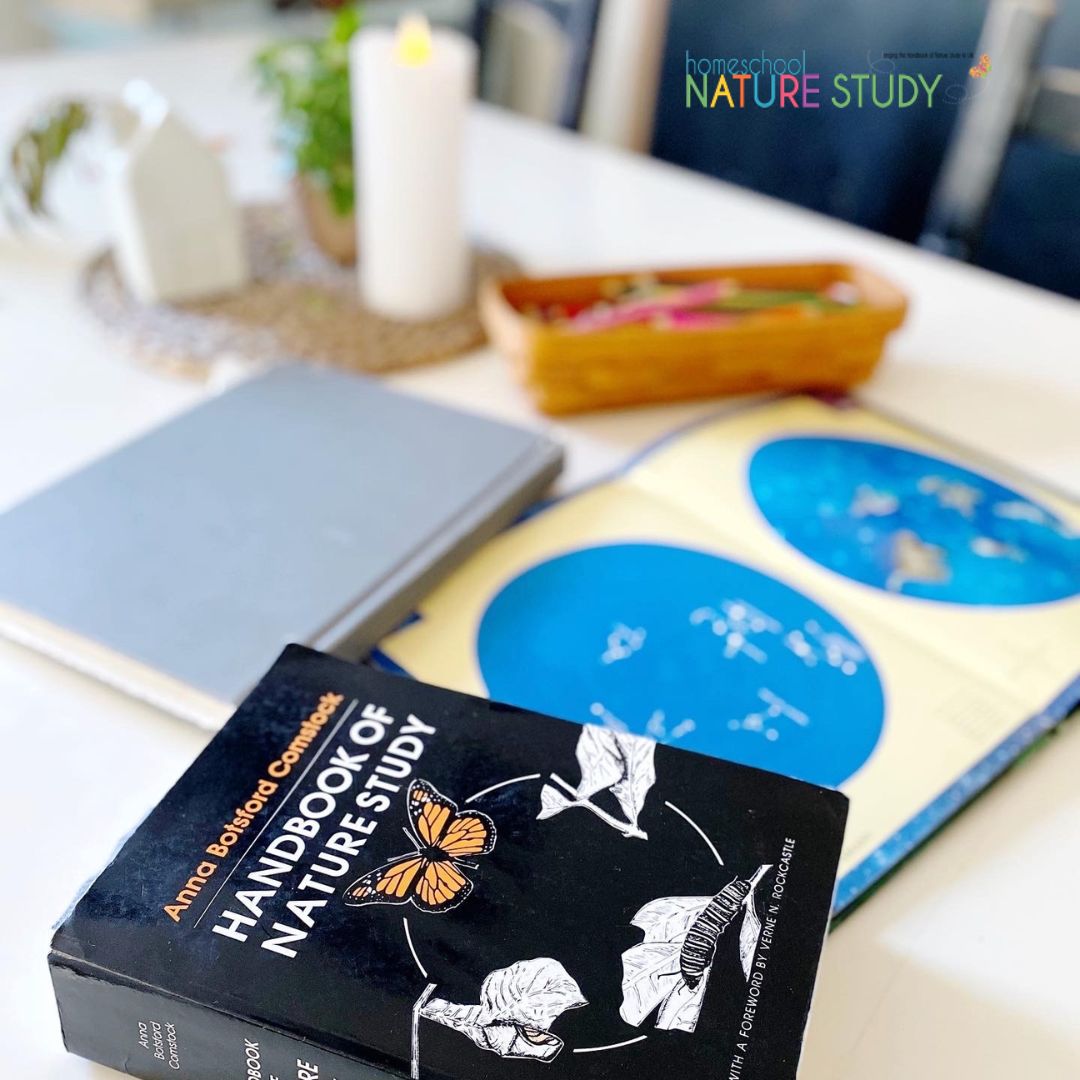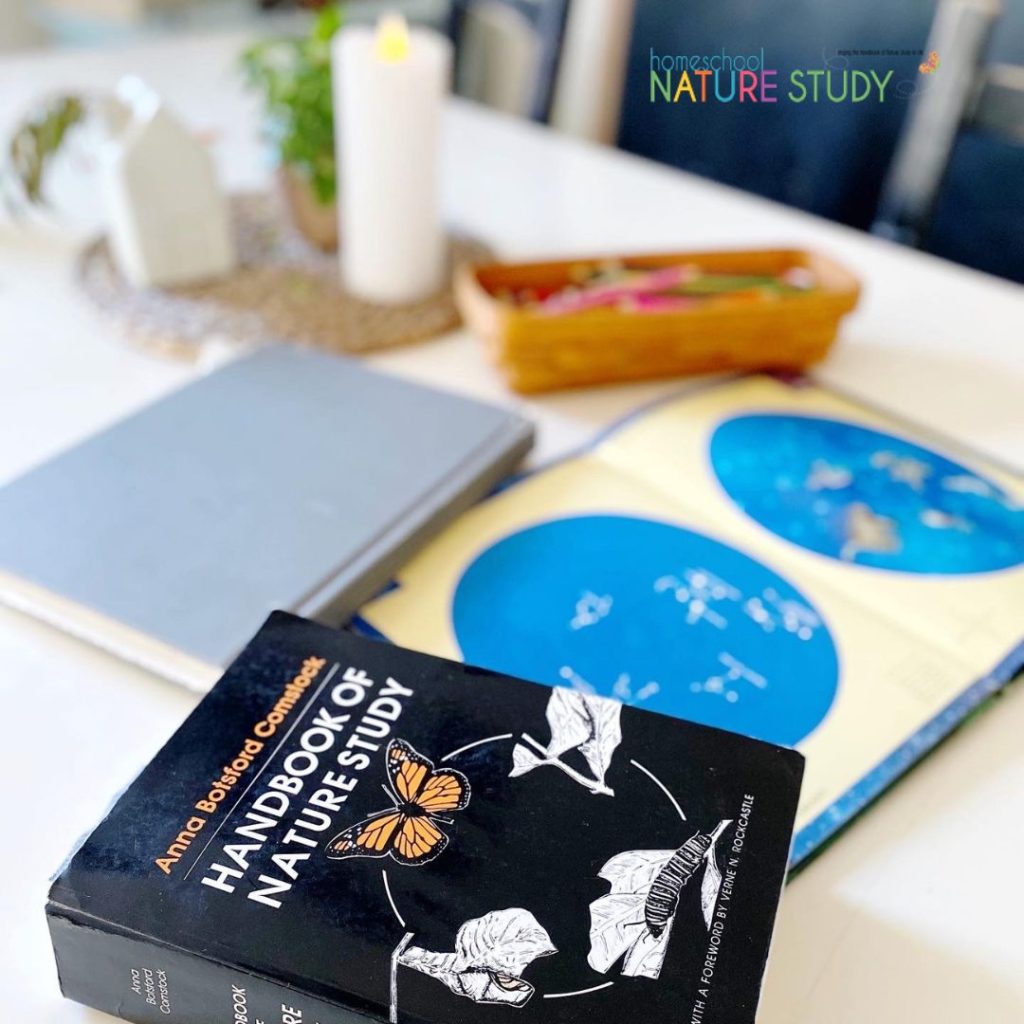 Enjoy Spectacular Night Sky Nature Study Ideas for Your Homeschool from our sister site, Homeschool Nature Study! Includes a free, printable Night Sky nature journal page.
Book Selections: Another fun part of pulling a unit study together is the books! Am I right? Our stargazing unit study is the perfect opportunity to pull in different books that overlap many of our incorporating topics.
One of the things that takes the most time when planning your own homeschool lessons is the book selection. Some of us are intimidated about selecting the right books, and I get it. But I have a hack for choosing high-quality books; use our Companion Workbooks. It's the easiest way to buy or reserve books in advance on any topic you are studying. In every, I Drew It Then I Knew It Companion Workbook, you will find a book list. We carefully curate highly-rated books to use along with your studies, and it will save you a ton of time. We make it incredibly easy to plan ahead and reserve your books from the library. Our book list even tells you what age levels the books are recommended for; we want to make it easy for you!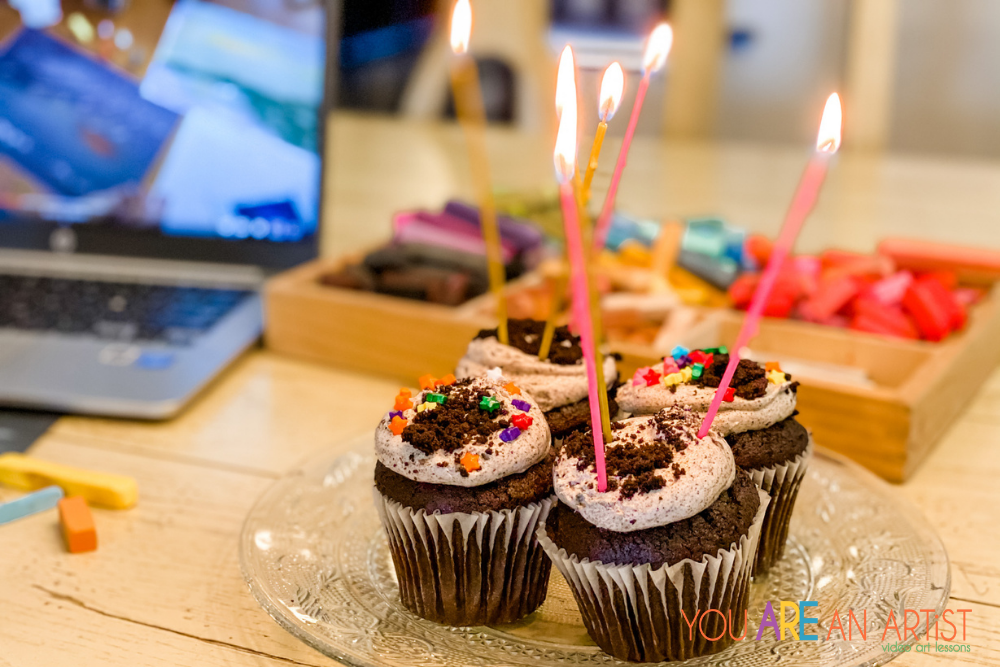 Extras: This is certainly not required, but I like to include treats when we do art. It makes it exciting, and kids love to enjoy a snack or a special something when we are enjoying a relaxed day of learning and creating together. I didn't have time to make homemade cupcakes on this particular day, so we settled for store bought. And for some added oomph, I added sparkler candles to the cupcakes. My photos don't do them justice, but they were the perfect little something we needed for talking about meteors!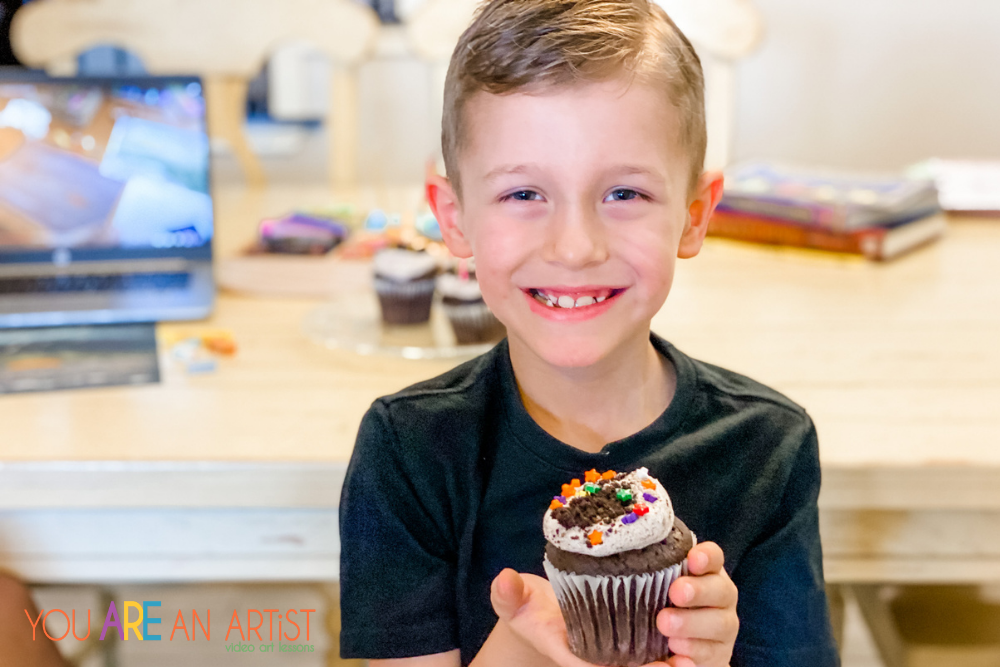 So there you have it, friends! We hope this gives you many ideas and plenty of inspiration to create your own Perseids Meteor Shower homeschool lesson. We would love to hear how you pull yours together too, come back and comment here to let us know or tag us on social media @chalkpastelart. We would love to cheer your artists on!
Courtney is a Jesus-pursuing, native Texan, homeschool mom of three, and she believes homeschooling can be a peaceful and productive rhythm. At Grace, Grow & Edify she helps families create peaceful homeschooling atmospheres through faith, organizational strategies, and cultivating strong roots at home. She is also the founder of Homeschool Mastery Academy.