Give the gift of art to your artists. Any time of the year you may purchase ChalkPastel.com store credit as a gift. You can set the amount for your artist gift certificates.
Buy a gift certificate in the ChalkPastel.com shop.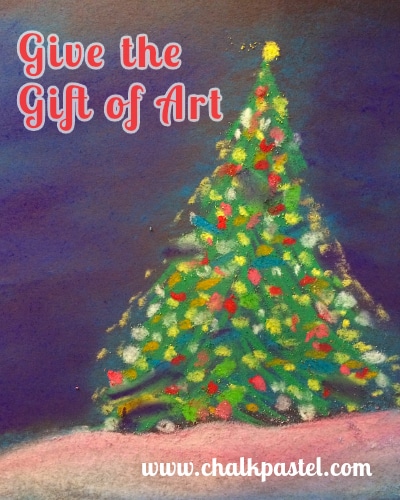 Not sure which set of chalk pastel video art lessons your artist would enjoy most? A gift certificate is the answer!
Just add chalk pastels and paper and you have the gift of art!
Our Favorite Chalk Pastels
These are our affiliate links. If you purchase through these links we receive a small portion at no additional cost to you. That helps us keep ChalkPastel.com running. Thank you for that!
A starter set we recommend is Prismacolor set of 12 chalk pastel sticks.

Once you have tried chalk pastels for a while and decided you love them, you can get a larger set. Or you can go for the Alphacolor set of 144 chalk pastels that Nana gave us as a gift!

What Kind of Paper?
A simple pack of construction paper is what we like best. Construction paper 'holds' the chalk pastel colors very well. You can even use plain, printer paper.
Buy a gift certificate in the ChalkPastel.com shop and give the gift of art!