American Landmarks Video Art Course
$60.00
With your chalk pastels at the ready, let's take a tour of American Landmarks from sea to shining sea! American Landmarks: Chalk Pastel Art for All Ages is a wonderful stand alone art curriculum or a perfect complement to your American history studies. Not only will you grow to love American Landmarks, you will learn to paint them too because you ARE an artist!
Also available in American History Art Subscription or You ARE an Artist Clubhouse memberships.
Description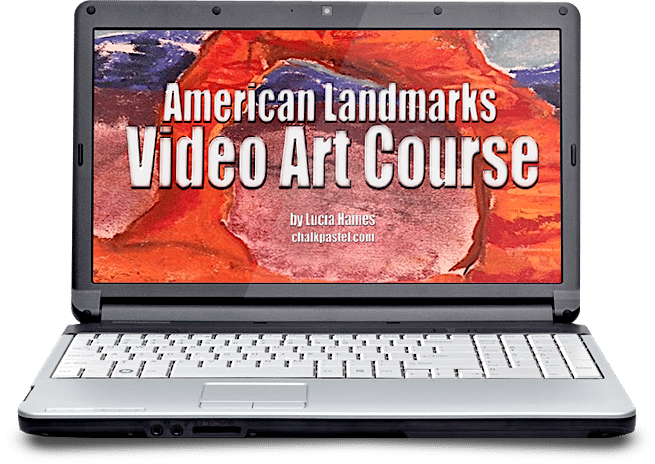 What is included in the American Landmarks Video Art course?
Step-by-step instructions
Techniques encourage both new artists and challenge more advanced ones
Independent learning for older students
Option to join You ARE an Artist Facebook group for sharing art work, asking questions of the teacher and interacting with fellow artists.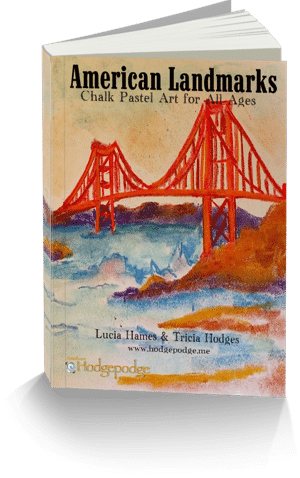 Also included: American Landmarks Chalk Pastel Art for All Ages ebook – with even more art tutorials!
How to view the American Landmarks Video Art  Course?
Each lesson includes an overhead view of Nana leading you through, step-by-step.
View each lesson on any digital device.
Once purchased, you have lifetime access to the course.

The Teacher, Master Artist Lucia Hames
Also known as Nana, Lucia is continually learning and taking lessons herself. Her passion is to help you realize that you ARE an artist! More on the teacher in Get Started in Chalk Pastel Art.
Try a Free American Landmarks Video Art Lesson – Golden Gate Bridge
Enjoy our free Golden Gate Bridge video art tutorial from the course…

Supplies needed: Paper you have on hand, construction paper, a starter set of chalk pastels.
Optional: You may want to have a damp cloth or baby wipes for chalky fingers and easy clean up.

American Landmarks Video Art Course Includes:
Golden Gate Bridge
Liberty Bell
Washington Monument with fireworks
Yellowstone Falls
Delicate Arch
The Grand Tetons
Lincoln Memorial
Niagara Falls
Lighthouse
Civil War Cannon
You ARE an ARTiST Complete Clubhouse members also enjoy: Glacier northern lights, Yellowstone Old Faithful geyser, Volcano National Park and more in a continuing series.
Save
Save
Save
Save
Save