Chalk Pastels Art in Space
$30.00
Chalk Pastels Art in Space ebook is now available! Expand your astronomy study with beautiful space art – planets, comets, nebulae, spiral galaxy and more…
Chalk Pastels Art in Space Tutorials
Mercury
Venus
Earth
Moon
Solar Eclipse
Mars
Saturn
Uranus
The Plutoids
Spiral Galaxy
Nebula
Comet
Night Sky – Big and Little Dipper
Rocket Launch
Imagine Outer Space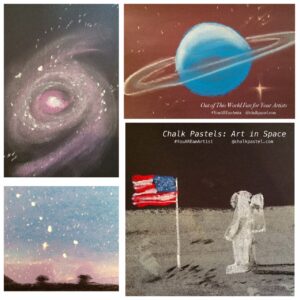 Classic Tutorials
Jupiter
Space Shuttle Lift Off
Harvest Moon
Save
Save
Save
Description
Chalk Pastels Art in Space is for beginning or continuing art lessons in the chalk pastel medium.
Chalk pastels are a wildly successful medium – especially space art! If you have been wanting to add art to your days, now is the time. The galaxy full of art stretches out…
Spiral Galaxy Video Chalk Pastel Art Tutorial in Less Than Three Minutes!