Solar Eclipse Video Art Lessons
$22.00
Solar Eclipse Video Art Lessons are for beginning or continuing art lessons in the chalk pastel medium.
Chalk pastels are a wildly successful medium – especially space art! If you have been wanting to add art to your days, now is the time. The galaxy full of art stretches out…
Also available in You ARE an Artist Clubhouse membership
Description
Celebrate the solar eclipse with art!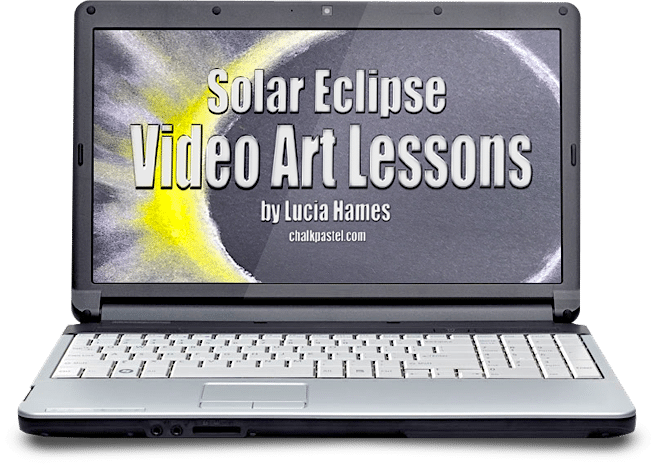 ALL you need to get started! No long, intimidating art list. Just…
Chalk pastels — available online or from any art store for less than $10 for a starter set. You will use quite a bit of white chalk pastel sticks. Ours were just little nubs of pastel when we finished. You might consider getting a package of just white chalk pastels if more than one artist in the family is using this course.
Paper —  You will mostly use black construction paper for this course. Copy or computer paper you have on hand for just a few tutorials as well.
Solar Eclipse Video Art Lessons for What Ages?
Chalk pastels are truly art for all ages. No prior skill level necessary. Chalk pastels are a unique art medium. Younger artists find chalk familiar and fun. Budding artists that are upper elementary aged and older, find such freedom in independent time with chalk tutorials and creating what they please. Artists with much more practice still find chalk pastels challenging because of all the layering and 'painting of light' they can do. The possibilities are endless.

The Teachers, Lucia Hames and Tricia Hodges
Also known as Nana, Master Artist Lucia is continually learning and taking lessons herself. Her passion is to help you realize that you ARE an artist! More on the teacher in Get Started in Chalk Pastel Art.
and..
Homeschool mother of five, Tricia thought she didn't inherit the art gene from her mother. But as she watched Nana teach her children she started building up the courage to try chalk pastels herself. All it took was practice and the Easter Art for All Ages and Art in Space digital art curriculum was born! Yes, chalk pastels are such a fun and successful medium.
What is included in the course?
Step-by-step instructions
Techniques encourage both new artists and challenge more advanced ones
Independent learning for older students
Option to join You ARE an Artist Facebook group for sharing art work and asking questions.
3 Solar Eclipse Video Art Lessons
Diamond Ring stage
Total Solar Eclipse
Baily's Beads stage
Try a Free Art Lesson from our Art in Space Course
How to view the video art lessons?
Each lesson includes an overhead view of Tricia and the children or Nana leading you through, step-by-step.
View each lesson on any digital device.
Once purchased, you have lifetime access to the course.
The Hodges family spent a year studying astronomy and so the resident junior astronomers join in on the total solar eclipse art lesson. They have interesting facts to share along the way.
Start your art journey through the solar eclipse today!
Save
Save
Save
Save
Save