Backyard Nature Video Art Lessons
$37.00
Backyard Nature is a wonderful stand alone art curriculum or a perfect complement to your nature study learning. Not only will you grow to love the nature you see through your window or when you step outside, you will learn to paint nature too because you ARE an artist! We show you how in our Backyard Nature Video Art Lessons.
Also available in You ARE an Artist Clubhouse membership – with exclusive backyard nature lessons, a nature observation printable and access to over 700+ video art lessons with Nana.
Description
All it takes is a starter set of chalk pastels, construction paper (or your nature journal!) and Nana's video art lessons to capture the beauty of nature in your very own backyard! No expensive, intimidating list of art supplies.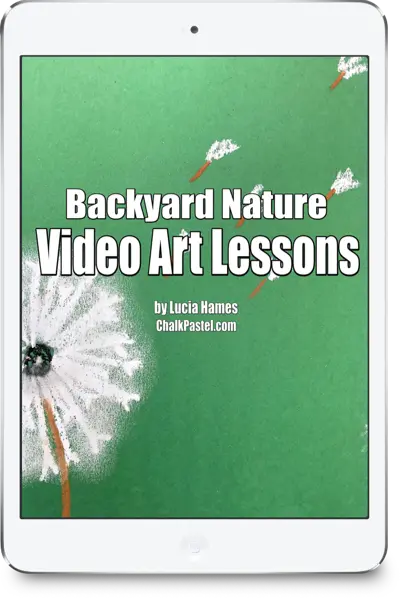 What is included in the Backyard Nature Video Art Lessons?
Step-by-step instructions
Techniques encourage both new artists and challenge more advanced ones
Independent learning for older students
Option to join You ARE an Artist Facebook group for sharing art work and asking questions.
How to view the Backyard Nature online video art lessons?
Each lesson includes an overhead view of Nana leading you through, step-by-step.
View each lesson on any digital device.
Once purchased, you have lifetime access to the course.

 The Teacher, Master Artist Lucia Hames
Also known as Nana, Lucia is continually learning and taking lessons herself. Her passion is to help you realize that you ARE an artist! More on the teacher in Get Started in Chalk Pastel Art.
Try a Sample Art Lesson
What Supplies are Needed? It's as easy as 1, 2, 3

A starter set of chalk pastels
Paper you have on hand (or your favorite nature journal)
Our video art lessons
Optional: You may want to have a damp cloth or baby wipes for chalky fingers and easy clean up.
That's all!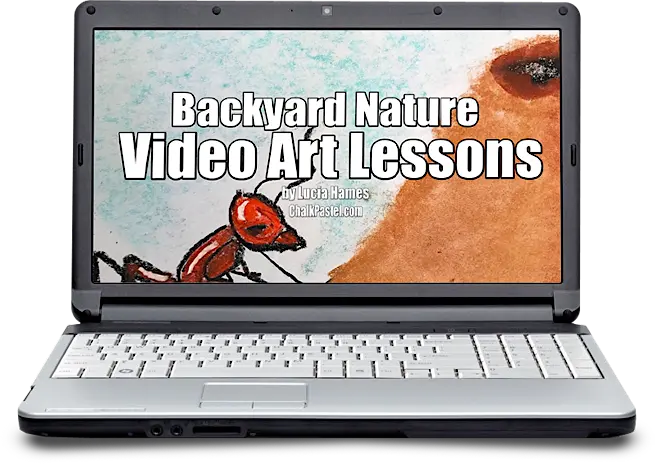 Backyard Nature Video Art Lessons

dandelion
green anole
ant
chipmunk
hummingbirds at the feeder
lightning bug (or firefly)
How Can You Use These Backyard Nature Video Art Lessons?
Supplement your backyard nature learning with art.
New here? Get started in chalk pastel art. These lessons show you what a joy it is!
Gather all your children. No prior skill level necessary – yet tutorials are challenging enough for older students.
Grow a love of art with art lessons that are successful in a short amount of time.
"Their favorite part of our morning time is art lessons with chalk pastel art." – Stephanie Roestel