Help! I'm Homeschooling!
So you've made the decision to homeschool – NOW what?
Practical Homeschool Answers
Help! I'm Homeschooling! will answer these questions and more:
How do you start a homeschool routine?
What about the roaming toddler?
How do you teach multiple ages?
What about basic housekeeping?
Description
Help! I'm Homeschooling! Seasoned Homeschool Advice
For nearly two decades we've turned to our habits as the 'bones' of our day. Our habits help us accomplish a basic school day and get food on the table. With babies, toddlers, stacks of school books, hungry mouths and now towering teens, these are the basic routes I've discovered for seeing results. Help! I'm Homeschooling! is packed with the practical, how to advice to encourage you and build your confidence – whether you are a brand-new homeschooler or a seasoned veteran.
What Others are Saying About Help! I'm Homeschooling!
"Wonderfully easy-to-read, this book is absolutely full of practical wisdom that will boost the success of your homeschool! If you're a new homeschooler, get this book. It will help you set important good habits that will make a huge impact in the years to come. Veteran homeschoolers, this book is for you, too! You'll be amazed at the refreshment to your homeschool and the peacefulness of your day-to-day routine as you implement Tricia's thoughtful suggestions. This will be my go-to book to share with friends who are struggling-to-survive or burned out homeschoolers!" – Cindy West of Our Journey Westward

I could read everything you write over and over and always get a new and good idea! ~ Suzanne Pace

If you are new to homeschooling or just need some practical wisdom – you need this book. Tricia is an absolute wealth of useful tried and true tips and helps! ~ Marianne Sunderland of Abundant Life

Your writing is peace to a homeschooling mom's heart. ~ Renee Brown

Help! I'm Homeschooling! is a small book with a big message…You can homeschool! Up or down, good or bad, take deep breath and let Tricia's practical habits help your homeschool and household run more smoothly…From the littlest little to your college bound high schooler, and even you and hubby! Help! I'm Homeschooling has words of wisdom for all the stages and phases! – Heidi Ciravola of Starts at Eight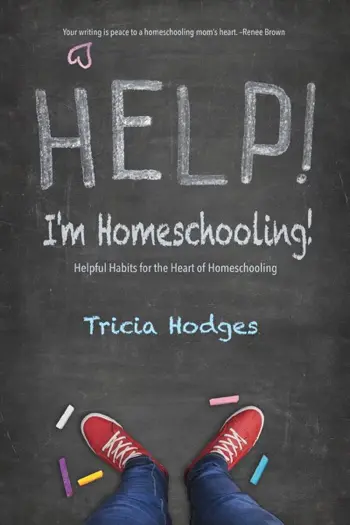 Help! I'm Homeschooling! includes:
Advice I Wish I'd Known Before I Started Homeschooling
How to Celebrate Every Day
Prayer is the Foundation for All
Homeschool Planning and Goal Setting
Our Hodgepodge Homeschool Method
How to Start a Homeschool Routine with Little Ones
The Parts of the Homeschool Schedule
Teaching Multiple Ages – Lasagna Learning
Helpful Homeschool Habits for Multiple Ages
What About the Little Ones?
How Morning Room Time Builds Learning Skills for Later
The Three Rs for Multiple Ages
How to Fit In All The Homeschool Extras
Afternoon Quiet Time for All Ages
Unit Studies with Multiple Ages
The Great Freedoms of Homeschooling
Turn Negatives into Positives
When You Need to Catch Up
Do You Homeschool in December?
The Housekeeping Habits that Bless Our Home
Homeschool Resources
Shareable Graphics – Thank you for sharing!
Simply right click to download and share on social media.