Moon Missions Video Art Lessons
$40.00
Moon Missions Video Art Lessons! It's almost lift off! Are you celebrating the big space anniversary? With these art lessons, artists visit mission control, head to the moon, plant a flag, leave some footprints and take an amazing journey. Chalk pastels are a wildly successful medium – especially space art!
Description
All it takes is a starter set of chalk pastels, construction paper and Nana's video art lessons to capture the excitement of moon missions! No expensive, intimidating list of art supplies. Moon Missions is a wonderful stand alone art curriculum or a perfect complement to your learning!
Chalk Pastels for What Ages?
Chalk pastels are truly art for all ages. No prior skill level necessary. Chalk pastels are a unique art medium. Younger artists find chalk familiar and fun. Budding artists that are upper elementary aged and older, find such freedom in independent time with chalk tutorials and creating what they please. Artists with much more practice still find chalk pastels challenging because of all the layering and 'painting of light' they can do. The possibilities are endless.
What is included in Moon Missions Video Art Lessons?
Step-by-step instructions
Techniques encourage both new artists and challenge more advanced ones
Independent learning for older students
Option to join You ARE an Artist Facebook group for sharing art work and asking questions.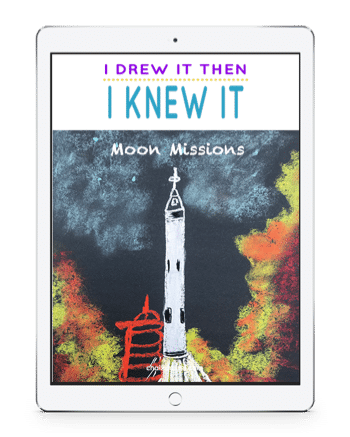 Moon Missions Video Art Lessons
Pad Crawler
Saturn 5 Lift Off
Headed to the Moon
Astronaut with Flag
Mission Control
Footprint on the Moon
Astronaut Helmet with Earth Reflection 'Camp Morning Time' Lesson (You ARE an Artist Clubhouse exclusive)
Try a Sample Video Art Lesson
How to view Moon Missions Video Art Lessons?
Each lesson includes an overhead view of Nana leading you through, step-by-step.
View each lesson on any digital device.
Once purchased, you have lifetime access to the course.
The Teacher, Master Artist Lucia Hames
Also known as Nana, Lucia is continually learning and taking lessons herself. Her passion is to help you realize that you ARE an artist! More on the teacher in Get Started in Chalk Pastel Art.
What Supplies are Needed? It's as easy as 1, 2, 3

A starter set of chalk pastels
Paper you have on hand. Black and white construction paper are used for this course
Our video art lessons
Optional: You may want to have a damp cloth or baby wipes for chalky fingers and easy clean up.
That's all!
With our I Drew It Then I Knew It art lessons, it is all about triggering facts and reinforcing the learning that is already happening in your home.
Start your journey to the moon– with art – today!