Preschool Chalk Pastel Video Art Lessons
$35.00
Also available in You ARE an Artist Clubhouse membership with access to all sets of preschool lessons plus A Simple Start in Chalk Pastels and – at the Complete level – all 600+ video lessons! Preschoolers and parents will love learning about the joy of art. The young artists will create easy, fun chalk pastel paintings while learning how to draw circles, squares, triangles and even a straight line!
Description
Preschool Pastels – Video Art Class for Your Youngest Artists
Invite a Master Artist to teach the joy of art to your preschoolers with these starter chalk pastel art lessons. Enjoy from the comfort of your home at your convenience and on your schedule. Encouragement for getting started with chalk pastels, a simple supply list and…

7 Video Preschool Package
Encouragement and coaching for the parent plus art fun for your preschooler!
"I really appreciate these videos which are targeted to the little learners who are just learning how to use the medium and are learning how to build from shapes." ~ Maureen Spell
3 Encouraging Videos for the Parent
Your youngest artists can join in the learning fun with these videos too!
Preschool Chalk Pastels: An introduction to chalk pastels. The simple and very short supply list plus practical tips for using chalk pastels with preschoolers.
How to Teach Preschool Art: Extra advice for parents and caregivers on how to join the fun of preschool art. Encouragement on how important praise is for a preschooler to develop a lifelong love of art!
How to Build Pictures with Shapes: Simple steps for lines and shapes to show your preschooler how to make familiar, every day items out of shapes.
Try a free preschool art lesson and learn about the simple start in chalk pastels!

4 Preschool Chalk Pastel Video Art Lessons
Build a love of art with the successful and frugal art medium of chalk pastels.
Circle: BIG ones, little ones, red ones, green ones!
Square: Learn how to make straight lines connect and "shake hands" with other lines to make a square!
Triangle: Three lines and you have a volcano with red, fiery lava flowing down a side or a purple mountain with snow on top!
Lines: Oh the places you can go with a straight line – squiggly, short or long!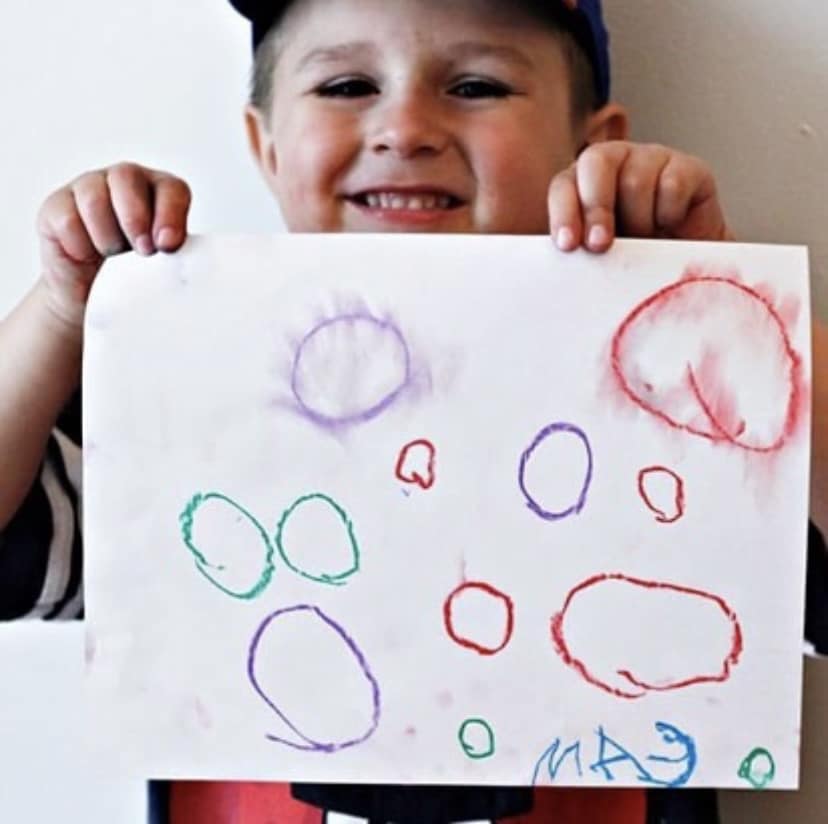 "He was so excited to have his own chalk pastel lessons! I really appreciate these videos which are targeted to the little learners who are just learning how to use the medium and are learning how to build from shapes." – Maureen at Spell Outloud
ALL you need to get started! No long, intimidating art list. Just…
Chalk pastels — available online or from any art store for less than $10 for a starter set. .
Paper —  Copy or computer paper works well. Construction paper is great too. Use what you have!
Chalk Pastels for Preschoolers?
Chalk pastels are truly art for all ages. No prior skill level necessary. Chalk pastels are a unique art medium. Younger artists find chalk familiar and fun. The possibilities are endless.
What is included in the course?
Step-by-step instructions
Simple starting techniques – how to hold the chalk pastel, how to turn the pastel on its side for more art
Option to join You ARE an Artist Facebook group for sharing art work and asking questions.

The Teacher, Master Artist Lucia Hames
Also known as Nana, Lucia is continually learning and taking lessons herself. Her passion is to help you realize that you ARE an artist! More on the teacher in Get Started in Chalk Pastel Art.
How to view the course?
Each lesson includes an overhead view of Nana leading you through, step-by-step.
View each lesson on any digital device.
Once purchased, you have lifetime access to the course.
Start your preschooler on a journey with chalk pastels and grow a love of art!

Save
Save
Save
Save
Save
Save
Save
Save
Save
Save
Save
Save
Save
Save
Save
Save
Save
Save