Preschool Winter Video Art Lessons
$26.00
ALL sets of preschool video art lessons are also available in You ARE an Artist Clubhouse membership! Invite a Master Artist to teach the joy of art to your preschoolers with these starter chalk pastel art lessons in a winter theme. Enjoy from the comfort of your home at your convenience and on your schedule. Encouragement for getting started with chalk pastels, a simple supply list and…
Description

4 Video Preschool Package
Fun, winter themed art lessons!
"I really appreciate these videos which are targeted to the little learners who are just learning how to use the medium and are learning how to build from shapes." ~ Maureen Spell
Try a free preschool art lesson and learn how to paint an apple in chalk pastels!
4 Preschool Winter Video Art Lessons
Build a love of art with the successful and frugal art medium of chalk pastels.
Snowman – simple lines and circles help you paint a fun snowman!
Snow – what you might see floating slowly outside your window. Each snowflake is unique!
Winter Scene – it's fun to 'paint' a winter wonderland with triangles and circles!
Star – learn how to paint a star – step-by-step! Yes you can!
ALL you need to get started! No long, intimidating art list. Just…
Chalk pastels — available online or from any art store for less than $10 for a starter set. .
Paper —  Copy or computer paper works well. Construction paper is great too. Use what you have!
Chalk Pastels for Preschoolers?
Chalk pastels are truly art for all ages. No prior skill level necessary. Chalk pastels are a unique art medium. Younger artists find chalk familiar and fun. The possibilities are endless.
What is included in the course?
Step-by-step instructions
Simple starting techniques – how to hold the chalk pastel, how to turn the pastel on its side for more art
Option to join You ARE an Artist Facebook group for sharing art work and asking questions.

The Teacher, Master Artist Lucia Hames
Also known as Nana, Lucia is continually learning and taking lessons herself. Her passion is to help you realize that you ARE an artist! More on the teacher in Get Started in Chalk Pastel Art.
How to view the course?
Each lesson includes an overhead view of Nana leading you through, step-by-step.
View each lesson on any digital device.
Once purchased, you have lifetime access to the course.
Start your preschooler on a journey with chalk pastels and grow a love of art!
What Others are Saying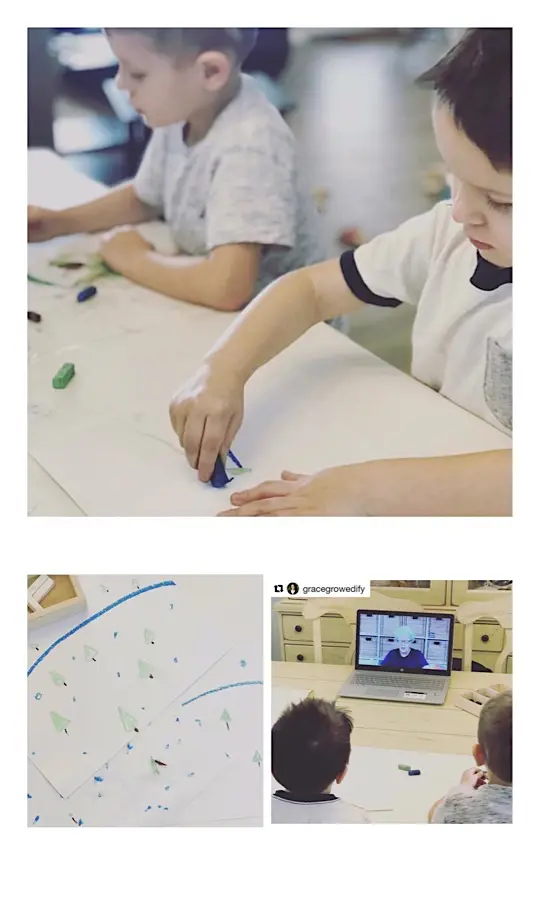 "I am always so impressed with how Nana teaches the kids to learn how to draw at this age. We are learning to simply use triangles and circles to create trees and snow. Laying a good foundation for little artists!" – Courtney at Grace, Grow & Edify
Save