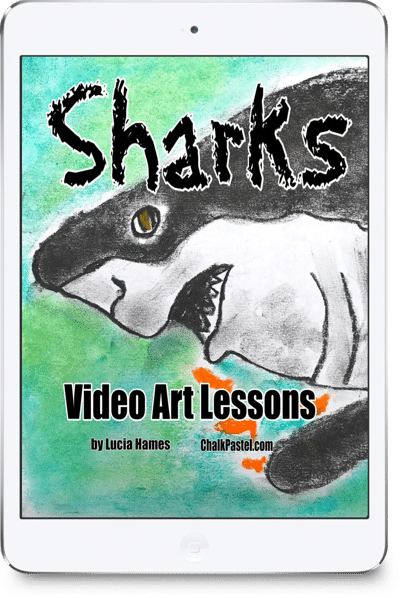 As always – it's art for all ages.
What is included in the Sharks Video Art Lessons?
10 Sharks Video Art Lessons
20 step-by-step written art tutorials – in two Shark ebook volumes
Step-by-step instructions
Techniques encourage both new artists and challenge more advanced ones
Independent learning for older students
FAQs
Glossary of art techniques
Option to join You ARE an Artist Facebook group for sharing art work and asking questions.
How to view the Sharks Video Art Lessons?
Each lesson includes an overhead view of Nana leading you through, step-by-step.
View each lesson on any digital device.
Once purchased, you have lifetime access to the course.

 The Teacher, Master Artist Lucia Hames
Also known as Nana, Lucia is continually learning and taking lessons herself. Her passion is to help you realize that you ARE an artist with this fun and successful medium!
Try a Sample Video Art Lesson
What Supplies are Needed? It's as easy as 1, 2, 3

A starter set of chalk pastels
Paper you have on hand (or your favorite nature journal)
Our video art lessons
Optional: You may want to have a damp cloth or baby wipes for chalky fingers and easy clean up.
That's all!
10 Sharks Video Art Lessons

Great White Shark Smiling
Hammerhead
Zebra Shark
Night Shark
Black Tip Reef Shark
Flying Sharks
Shark Fin
School of Sharks
Nurse Shark
Megaladon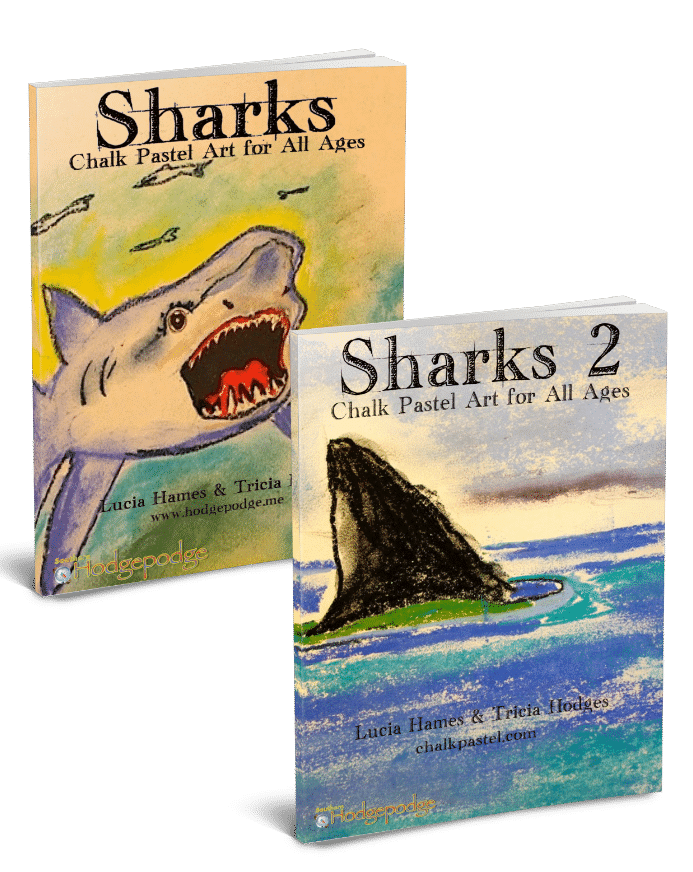 20 Shark Art Lessons in Two Shark Art Lesson ebooks
20 exciting, written, step-by-step shark art lessons with photo tutorials. All kinds of sharks!
School of sharks
Great white shark smiling
Bull Shark
Nurse Shark
Striped catshark
Angel shark
Shark close up
Megaladon
Basking shark
Sharks at night
Hammerhead
Zebra shark
White (or black) tip reef shark
Night shark
Flying sharks
Shark fin
Cookiecutter shark
Goblin shark
Whale shark
Bonus – shark fin video tutorial
Bonus – Great white video tutorial
How Can You Use These Sharks Video Art Lessons?
Supplement your marine biology studies! Celebrate Shark Week.
Gather all your children. No prior skill level necessary – yet tutorials are challenging enough for older students.
Grow a love of art with art lessons that are successful in a short amount of time.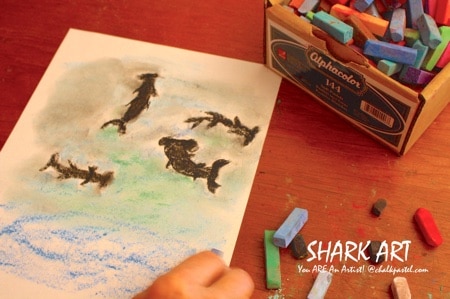 What Others Are Saying
"Oh you guys, just look at the joy on her face! This girl loves her art and we are currently obsessed with sharks!" "I had fun with the shark pastel art too! It's one of the the things I love about this medium…it's perfect all ages." – Erin Vincent