Ancient History Video Art Lessons
$50.00
Also available in You ARE an Artist Complete Clubhouse membership with access to exclusive history lessons and – at the Complete level – all of Nana's 700+ video art lessons! Or available for purchase as a course. History and art are a beautiful combination. Expand your ancient history studies and make them come alive with chalk pastel art. Not only will you know history, you will learn to paint parts of history too because you ARE an artist with Ancient History video art lessons! I Drew It Then I Knew It! Plus, with just chalk pastels and construction paper there is no expensive, intimidating list of art supplies.
Description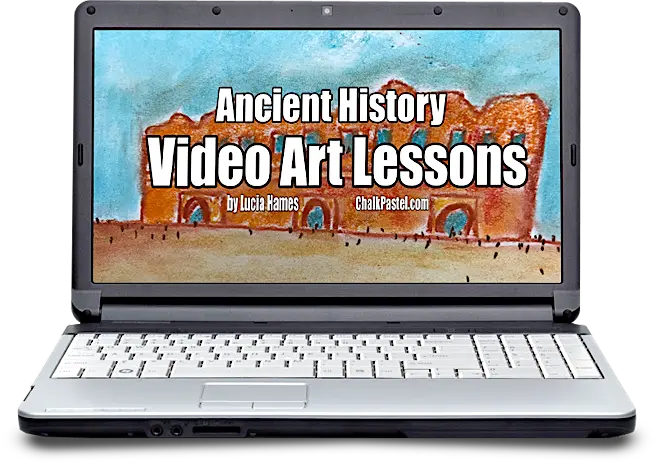 What is included in the course?
Step-by-step instructions
Techniques encourage both new artists and challenge more advanced ones
Independent learning for older students
Option to join You ARE an Artist Facebook group for sharing art work, asking questions of the teacher and interacting with fellow artists.
How to view the course?
Each lesson includes an overhead view of Nana leading you through, step-by-step.
View each lesson on any digital device.
Once purchased, you have lifetime access to the course.

The Teacher, Master Artist Lucia Hames
Also known as Nana, Lucia is continually learning and taking lessons herself. Her passion is to help you realize that you ARE an artist! More on the teacher in Get Started in Chalk Pastel Art.
Try a Free Art Lesson
Enjoy our free coliseum video art lesson from the course…


What Supplies are Needed? It's as easy as 1, 2, 3

A starter set of chalk pastels
Paper you have on hand
Our video art lessons
Optional: You may want to have a damp cloth or baby wipes for chalky fingers and easy clean up.
That's all!
Ancient History Video Art Lessons Include:
Greek philosopher
Chinese Emperor
Ancient Buddha under Bodhi tree
Alexander the Great: helmet
Ancient Rome: Coliseum
Peloponnesian Wars: Spartan & Athenian soldiers
The Roman Empire: Caesar
The Life of Jesus: Sermon on the Mount
"We just LOVE your videos and your books! We've never had much success with art or drawing in our house, but your videos have changed that for us!" – Karla Canon
You ARE an ARTiST Complete Clubhouse Members also enjoy:
Ancient Egypt lessons: pyramids, hieroglyphics, map of the Nile and Egypt