You ARE an Artist Clubhouse Video Art Lessons Sampler
$50.00
Description
Now you can sample the You ARE an Artist Clubhouse with Nana's art lessons in the Clubhouse Video Art Lessons Sampler. Seasonal art, nature, science, history, preschool and more! All of these are just a taste of what you will enjoy in the You ARE an Artist Clubhouse with your annual, quarterly or monthly subscription! However, for the price of the sampler, you can join the Complete Clubhouse and receive access to all of Nana's lessons. You have full control over your subscription – cancel at any time.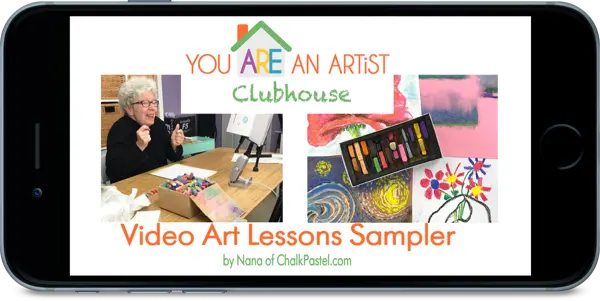 All it takes is a starter set of chalk pastels, construction paper and these video art lessons to enjoy learning! No expensive, intimidating list of supplies.
What is included in the Artist Clubhouse Video Art Lessons Sampler?
Step-by-step instructions
Techniques encourage both new artists and challenge more advanced ones
Independent learning for older students
Option to join You ARE an Artist Facebook group for sharing art work, asking questions of the teacher and interacting with fellow artists.
How to view the Artist Clubhouse Video Art Lessons Sampler?
Each lesson includes an overhead view of Nana leading you through, step-by-step.
View each lesson on any digital device.

The Teacher, Master Artist Lucia Hames
Also known as Nana, Lucia is continually learning and taking lessons herself. Her passion is to help you realize that you ARE an artist!
Artist Clubhouse Video Art Lessons Sampler for What Ages?
Chalk pastels are truly art for all ages. No prior skill level necessary. Younger artists find chalk familiar and fun. Budding artists that are upper elementary aged and older, find such freedom in independent time with chalk tutorials and creating what they please. Artists with much more practice still find chalk pastels challenging because of all the layering and 'painting of light' they can do. The possibilities are endless.
ALL you need to get started! No long, intimidating art list. Just…
Chalk pastels — available online or from any art store for less than $10 for a starter set. Our favorites are here.
Paper —  You will mostly use construction paper for this course. Copy or computer paper you have on hand for just a few tutorials as well.
Optional: You may want to have a damp cloth or baby wipes for chalky fingers and easy clean up.
That's all!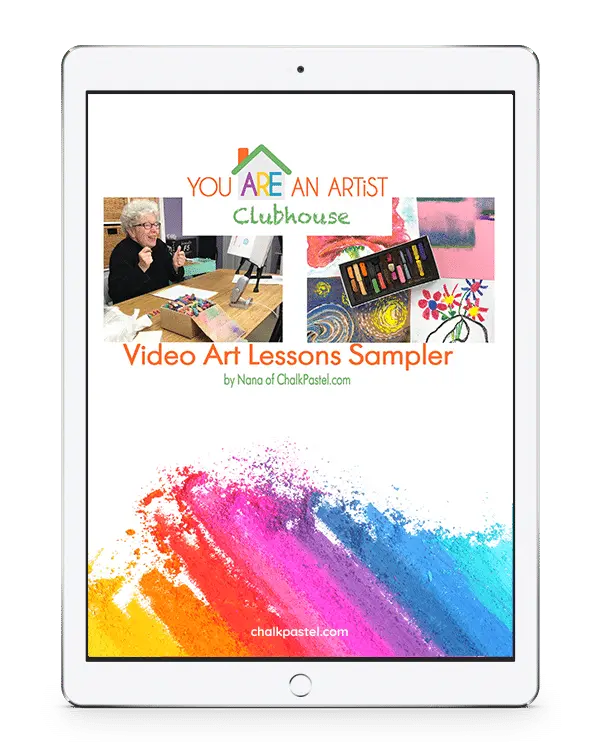 Artist Clubhouse Video Art Lessons Sampler
One video from each of the following video art courses:
American Landmarks – Golden Gate Bridge
Art Techniques – Introduction to
Backyard Nature – Hummingbirds
Bible Stories: Old Testament – Creation
Christmas – Christmas Star
Fall – Pumpkin
Forest Nature – Snail
Preschool Chalk Pastels
Sharks – Great White
Spring – Bird's Nest
Summer Art Camp – Summer Camping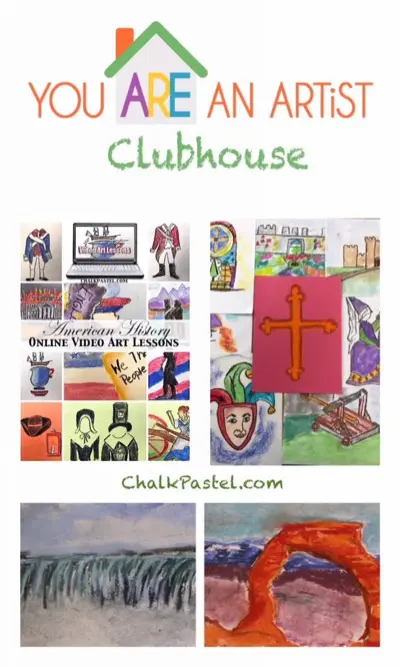 Plus history art lessons with samples from our You ARE an Artist Complete Clubhouse and all four of our history art lesson subscriptions:
Ancients – Roman Coliseum
Medieval – Crown
American History – George Washington
Modern – Electric Light Bulb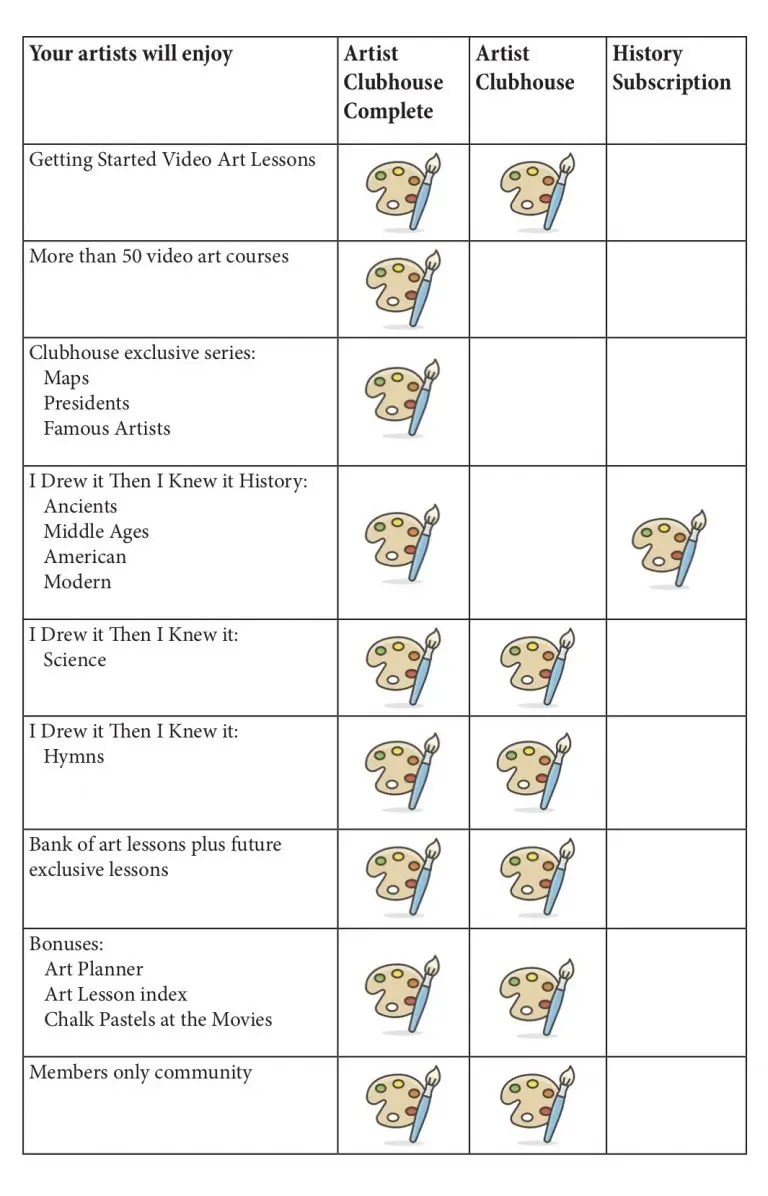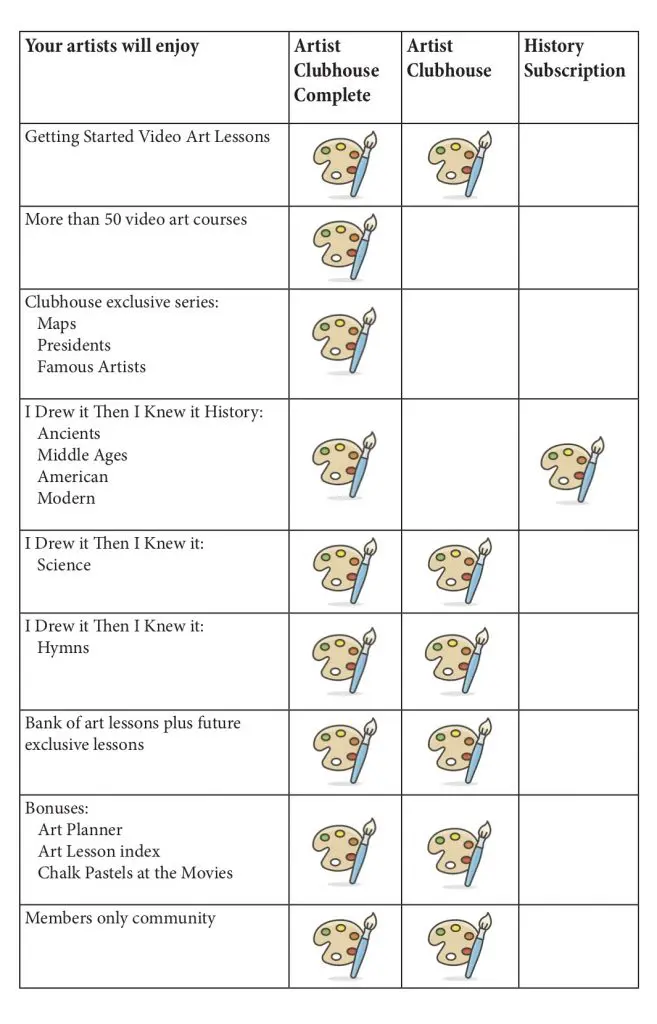 Please be sure to let us know what you think! You can share a photo of your painting in the You ARE an Artist Community (
request to join here
). Or share a photo on Instagram. Be sure to tag @ChalkPastelArt and/or use the hashtag #YouAREanArtist so we won't miss it. Yes you ARE an artist!