Do you remember learning about the Bible as a child? I do. I still remember powerful Bible stories like David and Goliath or Jesus walking on water from hearing them at five years old. These stories stuck with me forever.
As Christian parents, we want this for our children too. We want them to hear stories of the Bible and be amazed. I hate to admit that we can occasionally share these stories and lack the child-like awe to make them come alive. And the truth is, we should present the Bible to our children with excitement, wonder, and honor.
God left us a book filled with incredible stories to share with our children, so why not go all out? I want my children to hear the amazing things God has done, and it leave an impression on them for life, just as it did for me.
Many of these stories impacted my mind and memory because they were presented to me using creative visual tools and delivered by a good storyteller.
Yes, reading straight from the Bible with our family is fantastic! But it doesn't hurt to add resources that visually stimulate our children. Visuals are excellent teaching tools for children of all learning styles. It also doesn't hurt to tie in hands-on experiences that will help them never to forget. We can help bring the Bible to life as they hear the retellings.
For that reason, I am beyond thrilled to share with you the ultimate Bible story companion. Art.
Whether you are teaching Bible in your homeschool as a daily or weekly lesson, or perhaps you are creating a church-at-home experience for your family, you will love how effective it is to add art along with your Biblical teachings.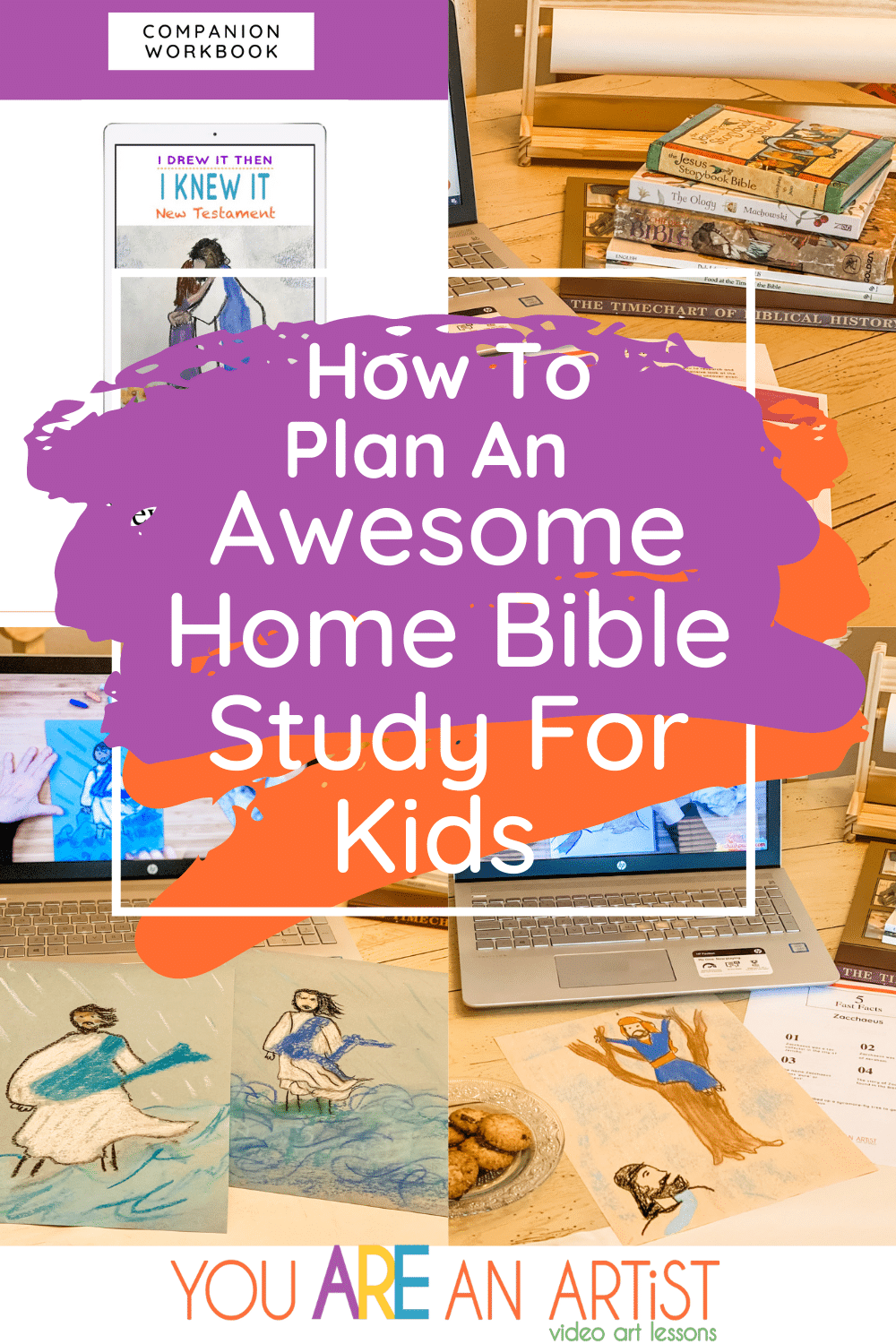 I Drew It Then I Knew It Bible Series Companion Workbooks
I am also thrilled to announce another new I Drew It And I Knew It Companion Workbook – New Testament Series! If you haven't heard yet, we are adding these excellent companion workbooks to all of our I Drew It And I Knew It Series.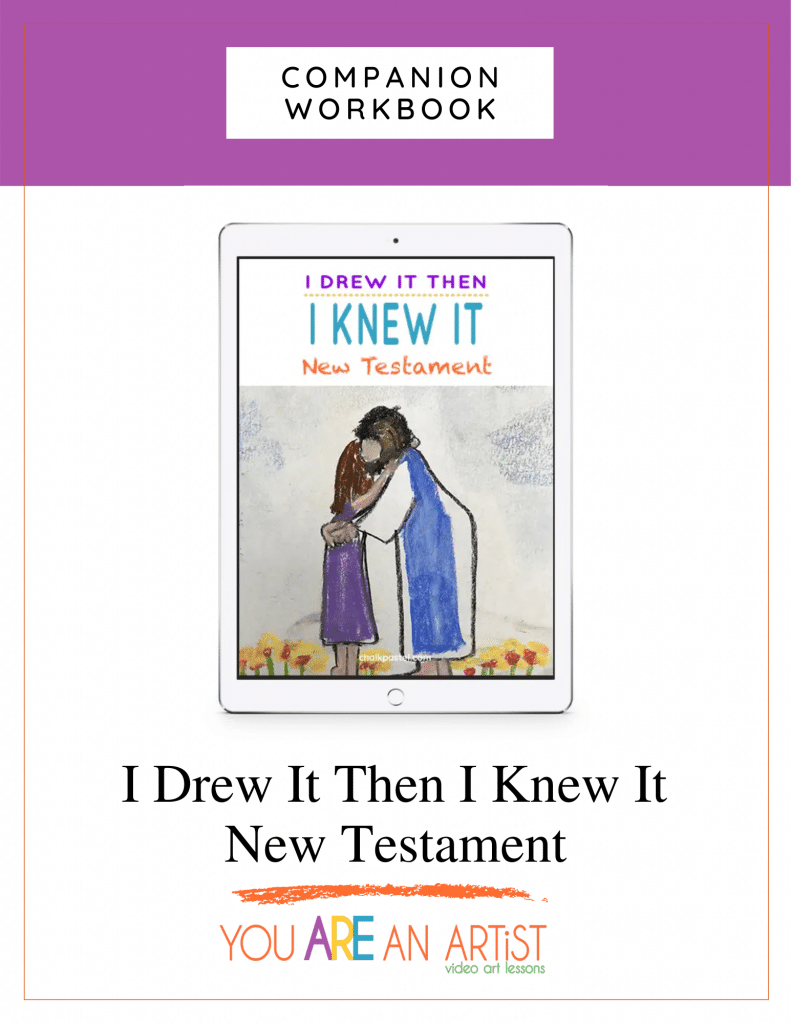 The workbooks include planners, book recommendation lists, fact sheets, overviews, or biographies to help you make the most of your learning time together! No hunting down all of the right resources. Our companion workbooks do the work for you so you can spend more time learning alongside your children. The best part, they are included in the Complete Clubhouse Membership!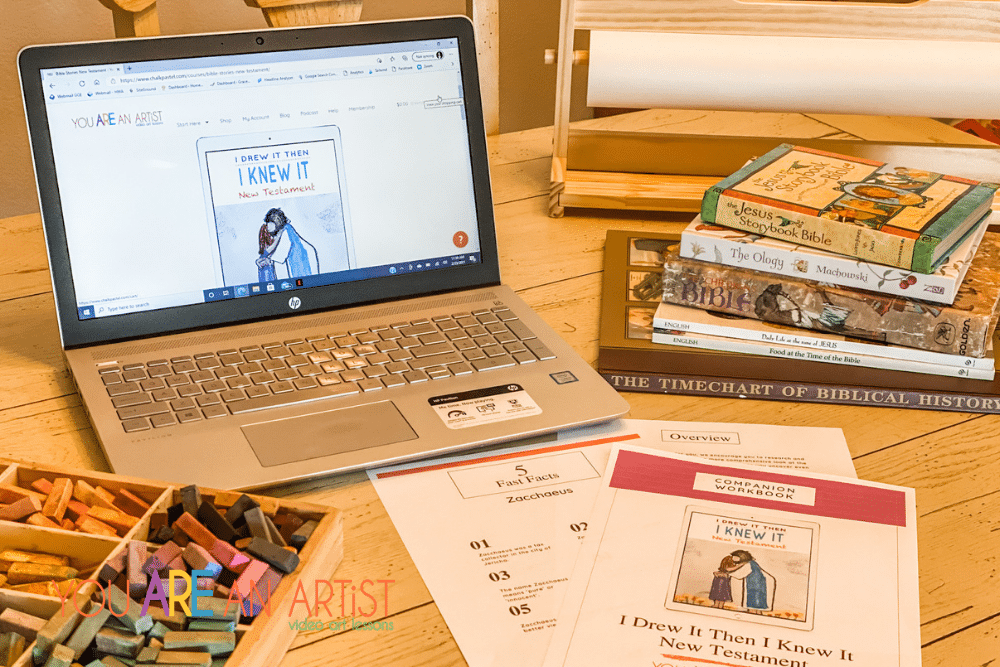 Home Bible Study for Kids – Tips & Ideas
Sometimes, we parents think if laughing and fun are included, it can't be educational. But, the truth is, if we make learning about Jesus engaging, our kids will enjoy it enough to keep trying.
Have you ever tried to teach your children something super dull? If you aren't excited, neither are they. But, when you share something with an activity, like art, and deliver it with some passion…sparks! Right?
If you don't know what I am talking about, try it. See how your children react differently when you create an experience or make it more fun with hands-on activities. Art has that effect on kids.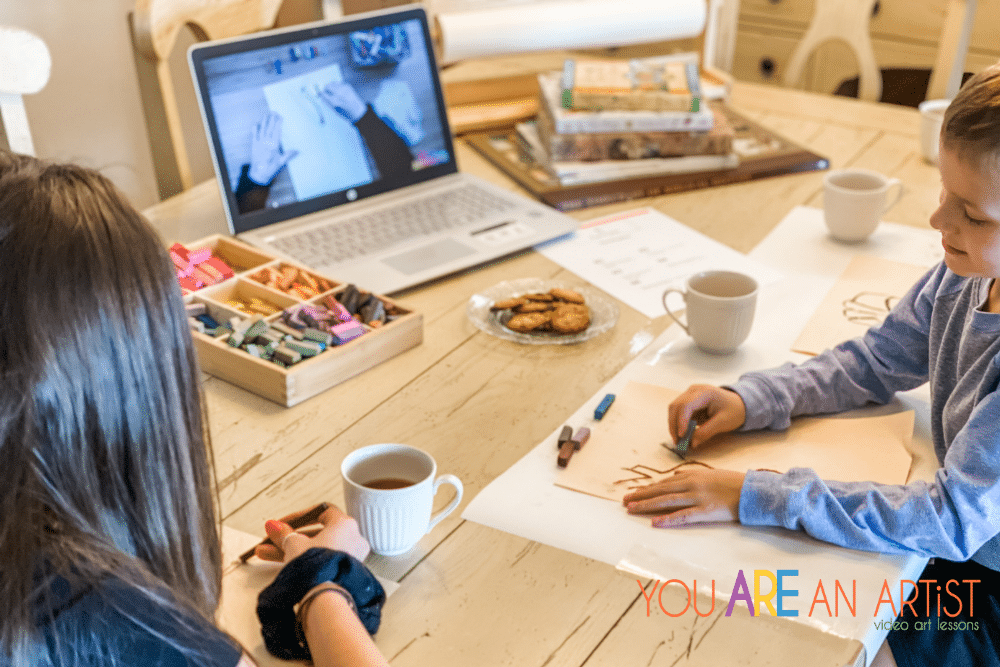 Here are a few ideas to help you maximize your teaching efforts:
Bible Tea Time with Art: (Or, you might enjoy Bible, coffee, and art if you have teens.)
We are big advocates of tea time here at You ARE An Artist. You can elevate any lesson at home by adding tea and treats. Kids love the extras and will look forward to each time you tell them you are doing an art tea time.
Connecting with your teens can sometimes be a challenge, but try a coffee date at home with the Bible and art! It may take a few minutes to ease into it, but art is therapeutic, and the mental health benefits are great for teens. By the way, did you know your teens can earn an art credit with chalk pastels?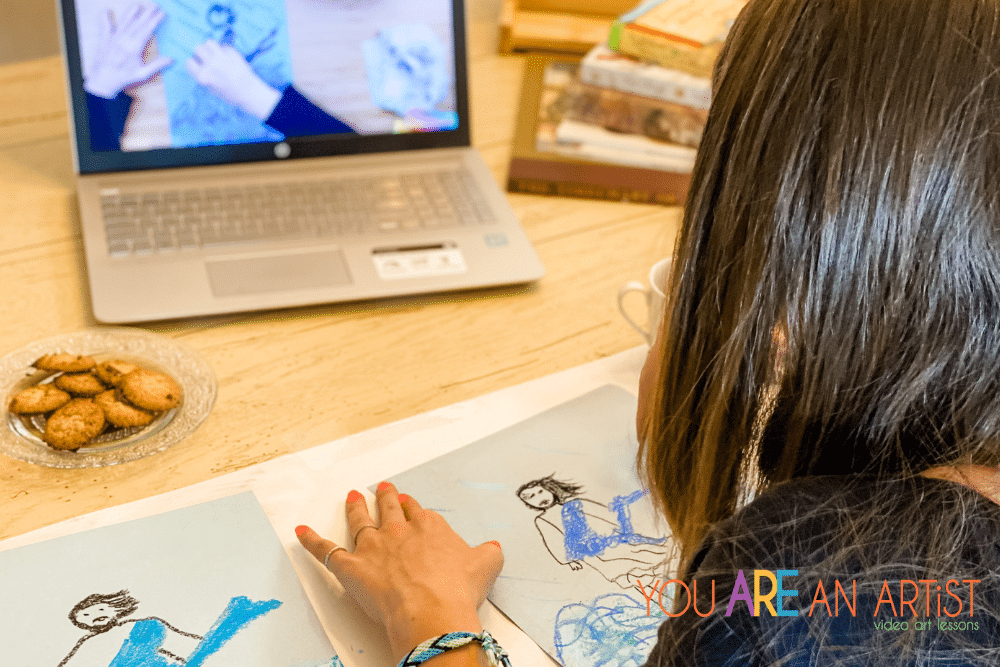 Create a Church-at-Home Experience:
If church-at-home is more your speed, you could make Sundays awesome! It could be a family experience to draw a Bible story altogether each Sunday for church-at-home.
Luckily, You ARE An Artist includes the whole family, children of all ages through adults. Grandma and grandpa would probably love an invitation to participate. Church-at-home could be as simple as this:
Tell your children a Bible story while they have some snacks or tea time.
Do an art project together.
Follow that up with fun kids worship music. Seeds Family Worship has some beautiful songs to help kids memorize scripture while worshipping as a family.
Close with prayer.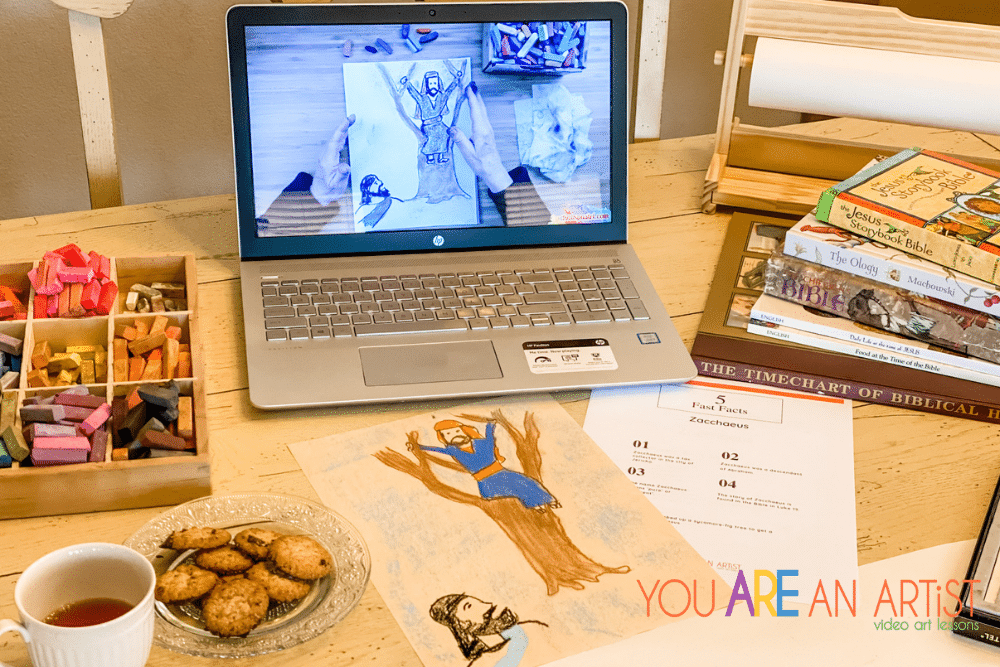 Create a Homeschool Bible Study Routine:
You could spread the Bible lesson out over the week if you homeschool and want to break it down into digestible chunks each day. Here is an example –
Monday, read the Bible story.
Tuesday, do scripture memorization orally.
Wednesday, do scripture memory copy work.
Thursday, ask your children to narrate the Bible story back to you aloud.
Make Friday a day to look forward to, and execute a fun art lesson that compliments the Bible story you shared.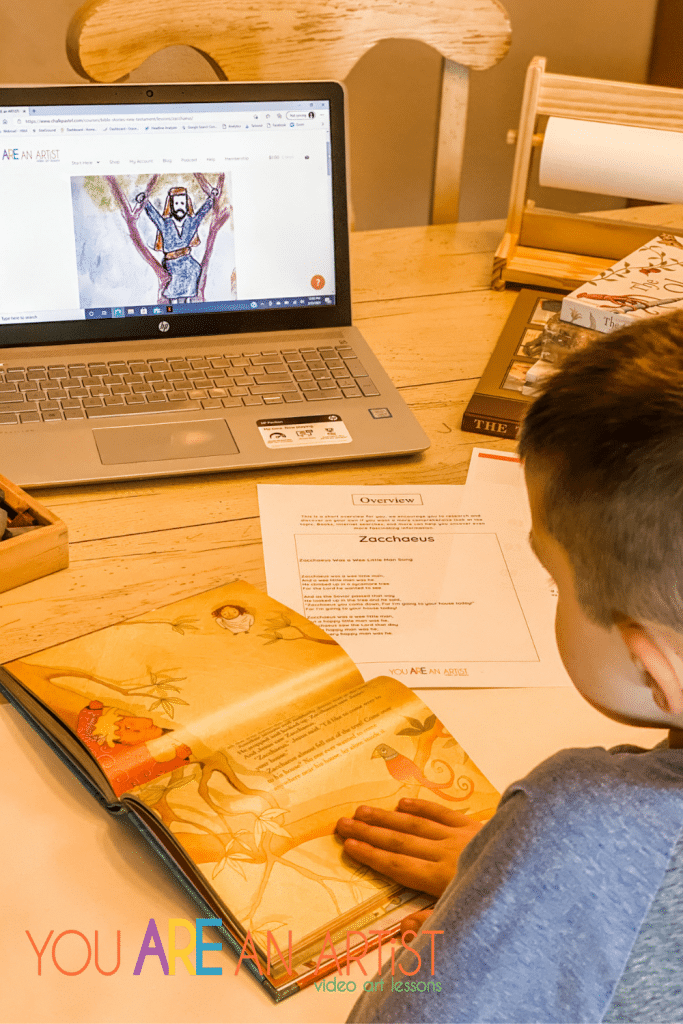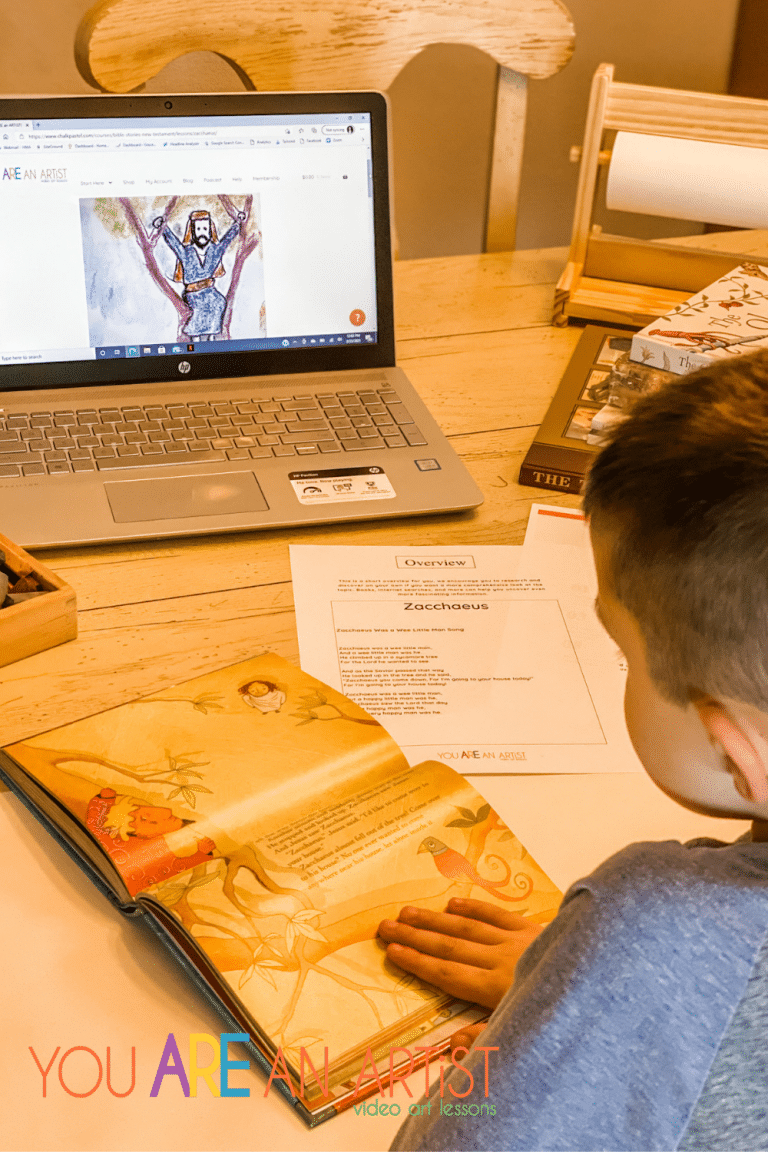 With Our I Drew It Then I Knew It New Testament Series, Your Family Can Paint:
Jesus Blesses the Children
Zacchaeus
Jesus Walks on the Water
Jesus Feeds the 5,000
Garden of Gethsemane
Jesus Washes the Disciples Feet
The Last Supper
Paul and Silas Jail Earthquake
Behold, I Stand at the Door and Knock
And that is just the New Testament! We have an Old Testament Series too.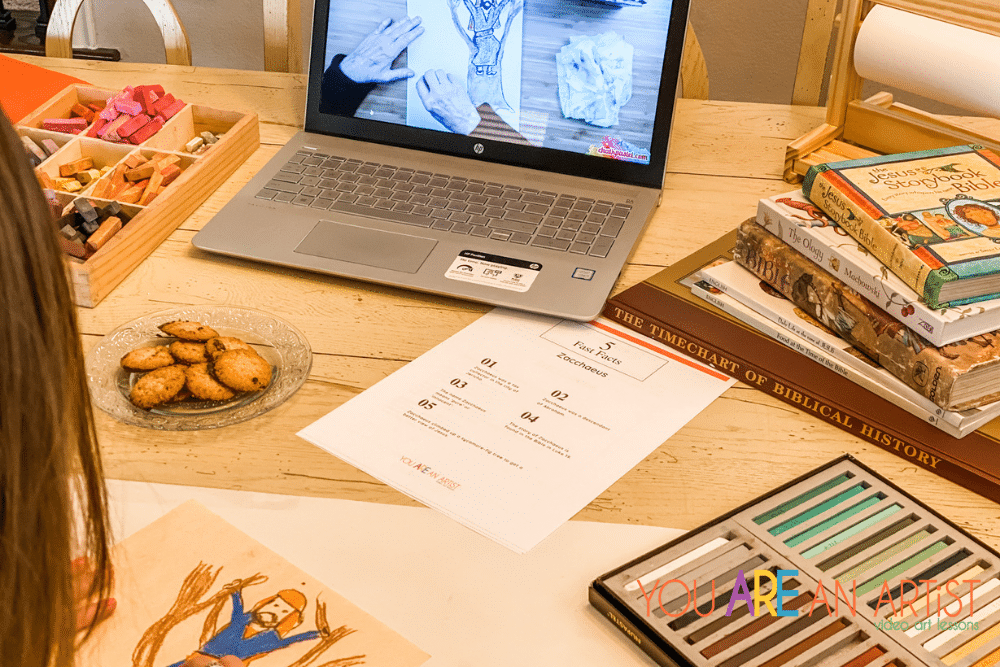 I hope the wheels turn as you think of creative ways to incorporate the Bible at home with your kids. There is no right way to do home Bible study for kids. Do what works best with your family rhythm.
If you are wondering how you can get started, it's easy! All you need is a Complete Clubhouse Membership here at You ARE An Artist, an affordable set of chalk pastels and computer or construction paper.
Courtney is a Jesus-pursuing, native Texan, homeschool mom of three, and she believes homeschooling can be a peaceful and productive rhythm. At Grace, Grow & Edify she helps families create peaceful homeschooling atmospheres through faith, organizational strategies, and cultivating strong roots at home. She is also the founder of Homeschool Mastery Academy.