Do you incorporate nature study into your homeschool? What about art and music appreciation? Learning art and music history is very important, as is learning about the world right outside our door. Now you can quickly and seamlessly include the beauty of art, music, and nature in your homeschool.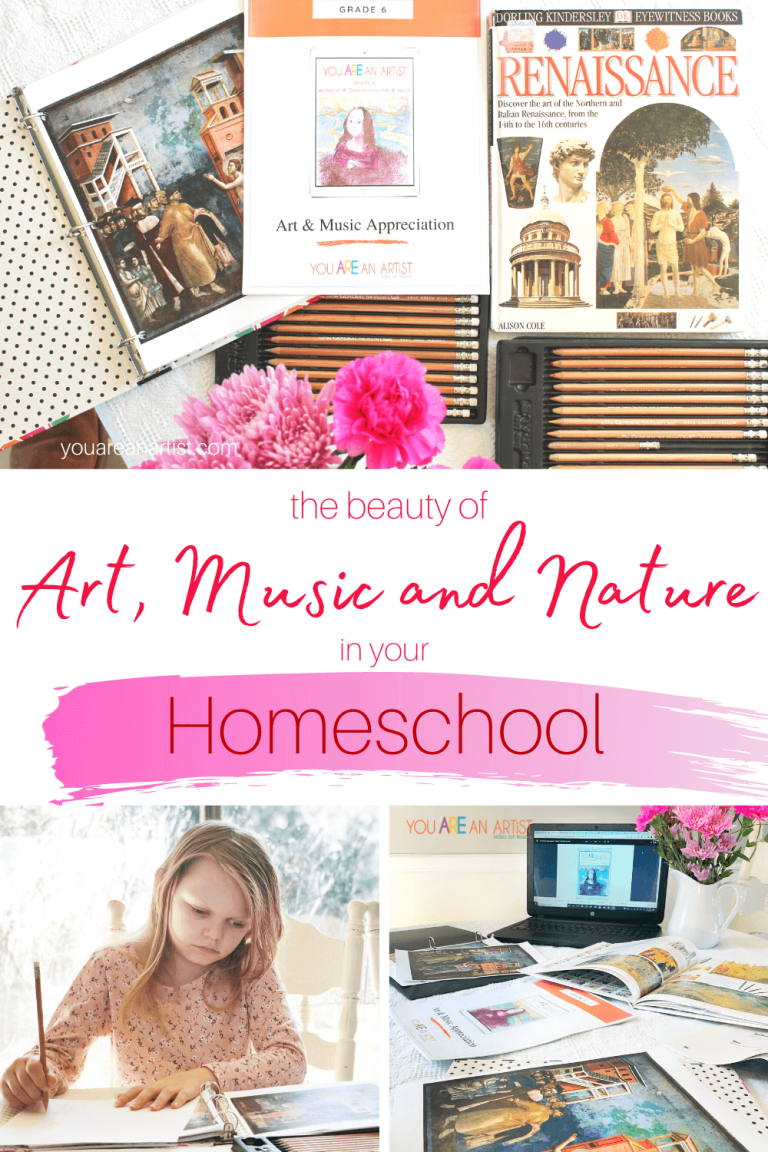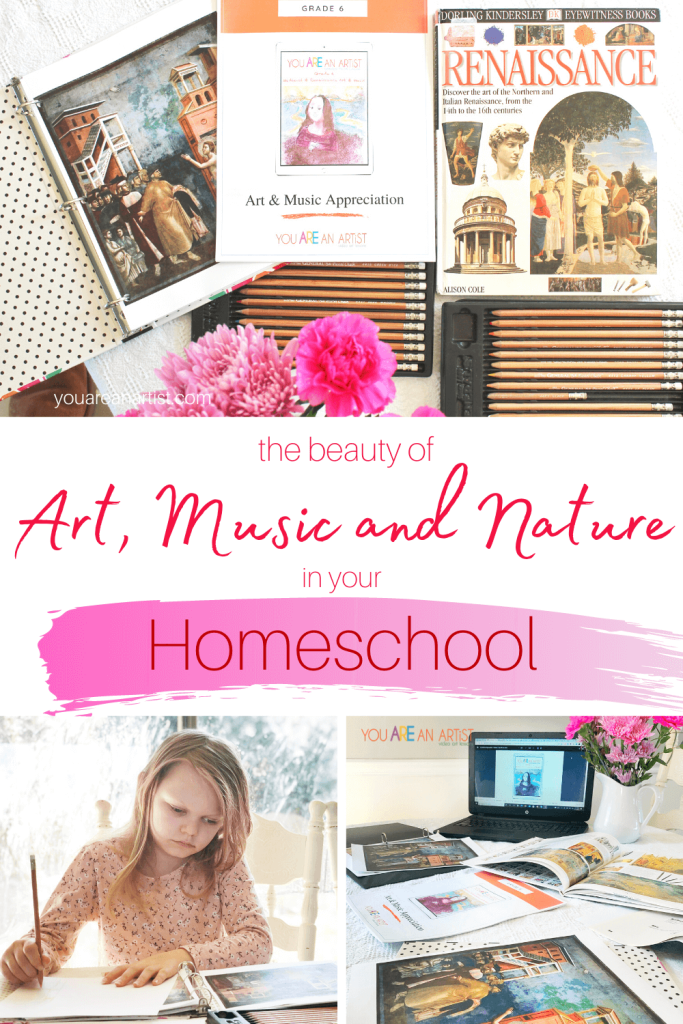 The Value Of Art, Music and Nature In Your Homeschool

I admit I've been lacking when it comes to fine arts and music in our homeschool. Sure my kids knew who Picasso and Monet were, but if you asked them about Giotto or Bruegel, they would have given you a blank stare. The same goes for music appreciation. My kids knew of Beethoven and Mozart but had no clue who Vivaldi, Corelli, or Handel was.
And that was just the tip of the iceberg, folks. Please don't take my homeschool mom card away!
How could I possibly have time to incorporate these AND nature studies into an already full homeschool schedule?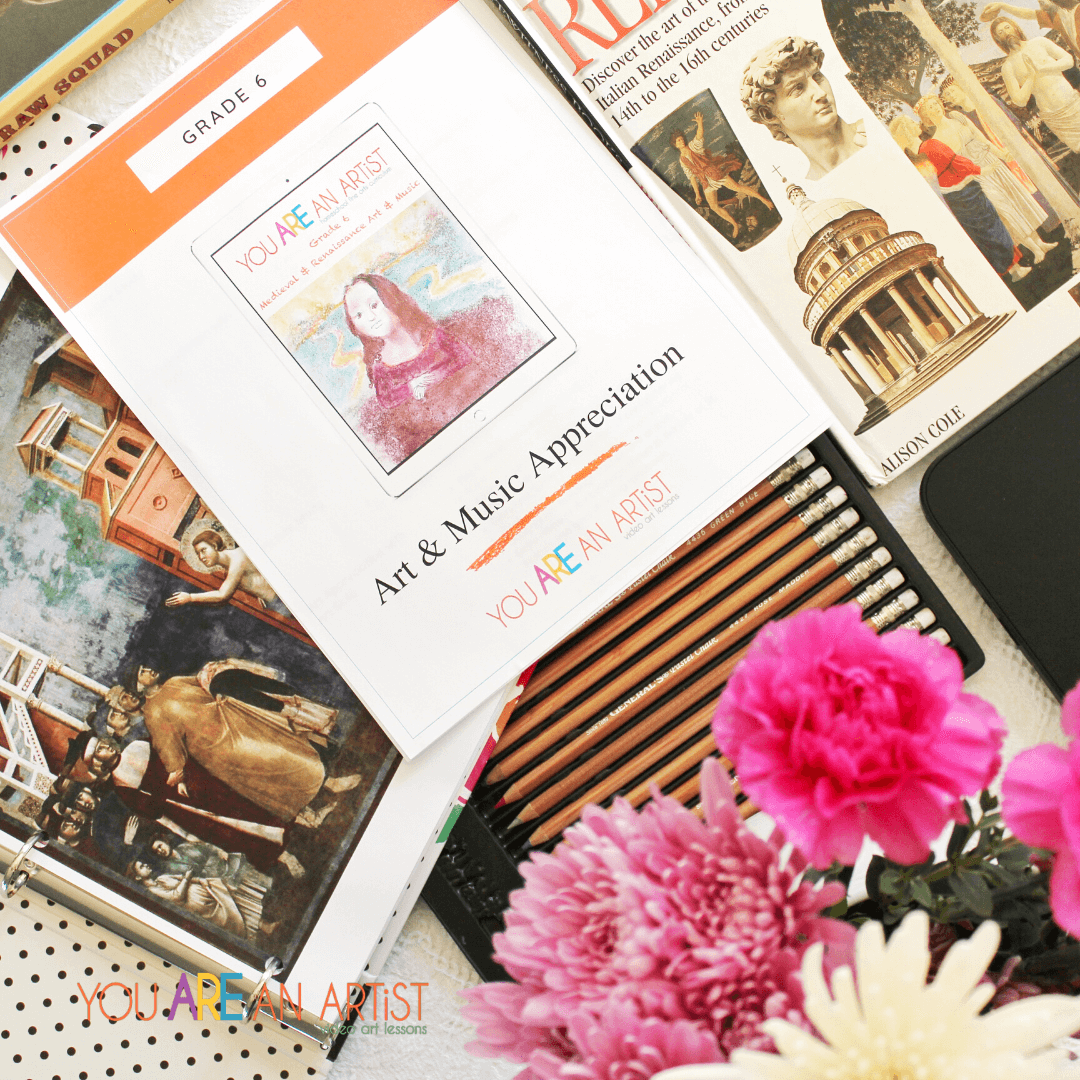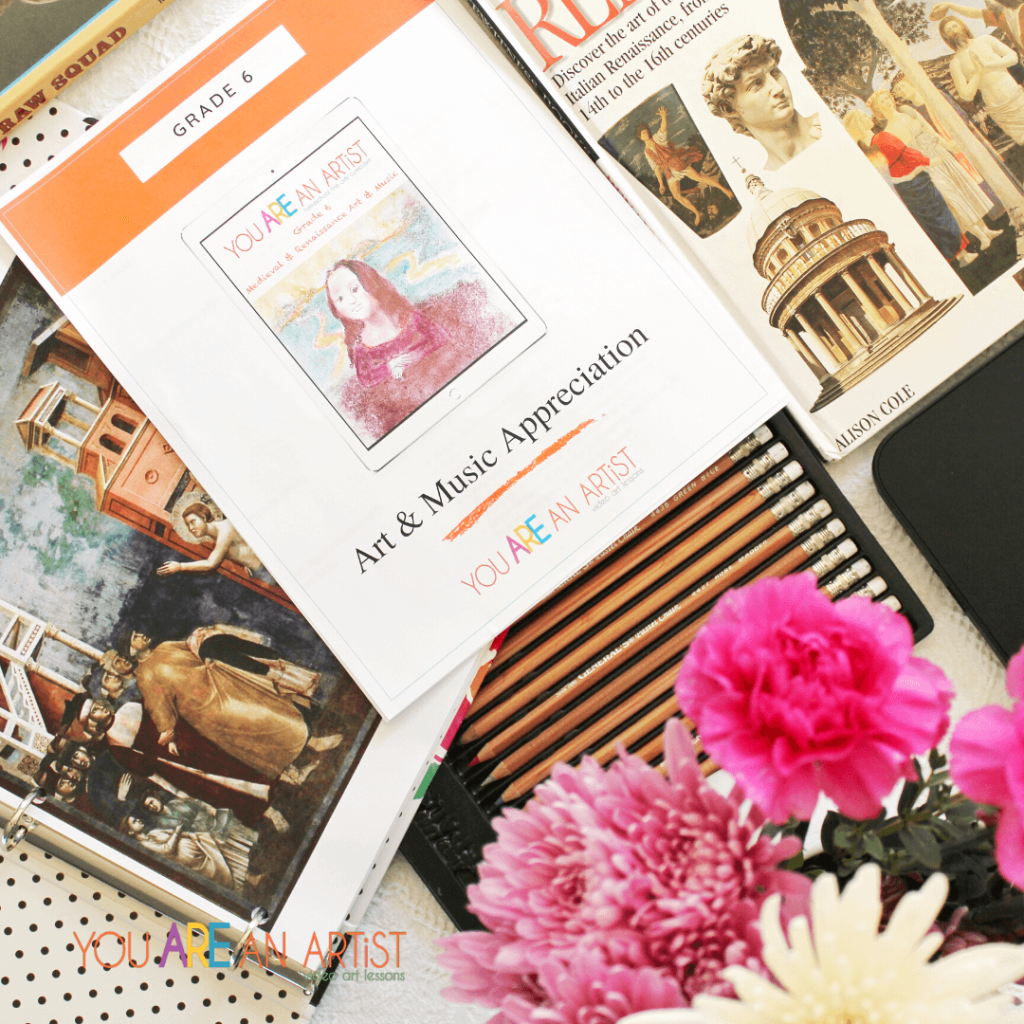 It was pretty easy!
You ARE An Artist has created an Art and Music Appreciation study called Homeschool Fine Arts! And now they have a new site called the Homeschool Nature Study! They have interwoven these incredible resources so that they complement each other and only take 45 minutes to an hour per week.
I decided to take our love of Nana's chalk pastels we usually do on Fridays and name it Fine Arts Friday with some nature study thrown in too!
You ARE an ARTiST's art and music appreciation program is designed for busy homeschooling families. The art & music appreciation plans organize a variety of resources so you can open the schedule and, with little preparation, offer your children experiences with great artists and composers!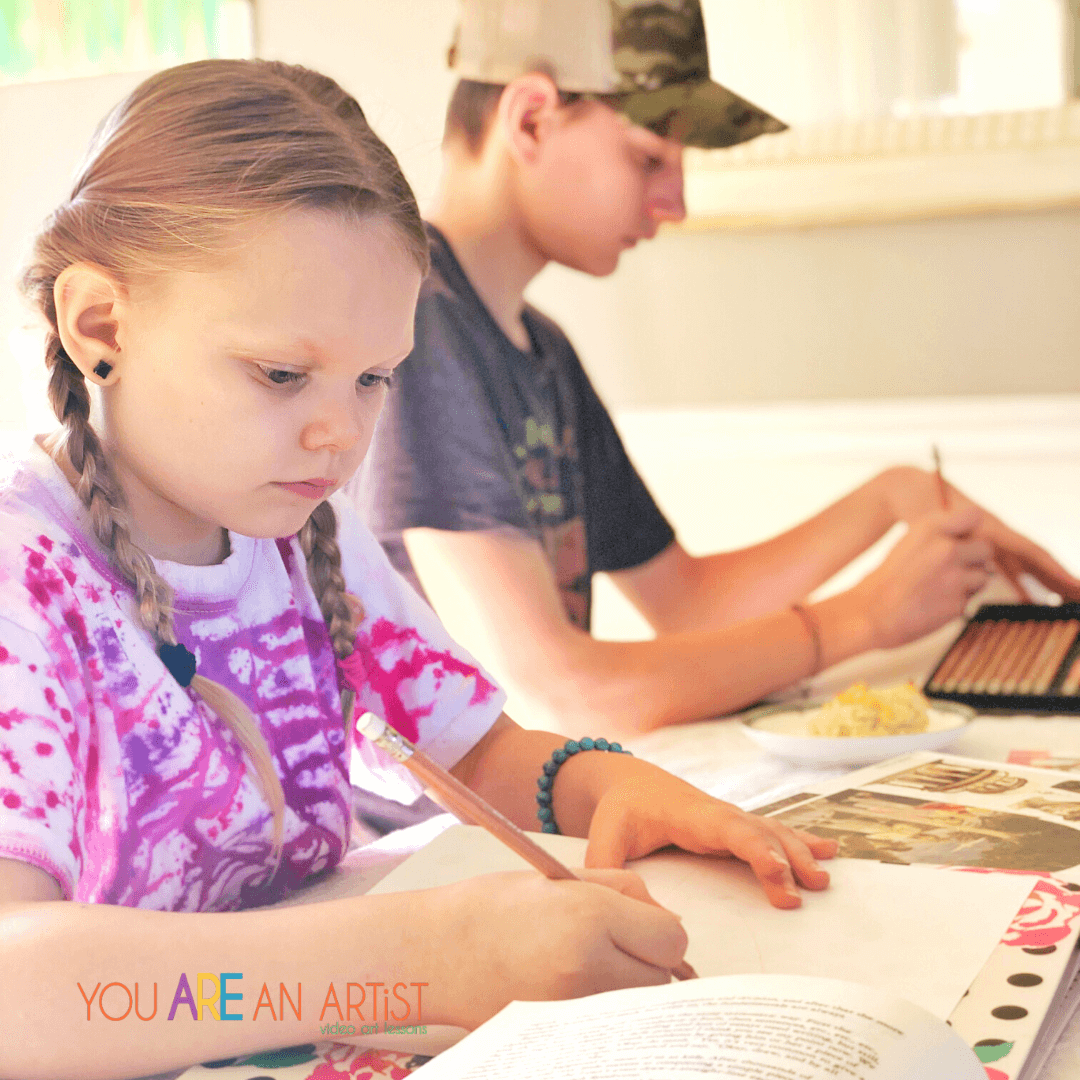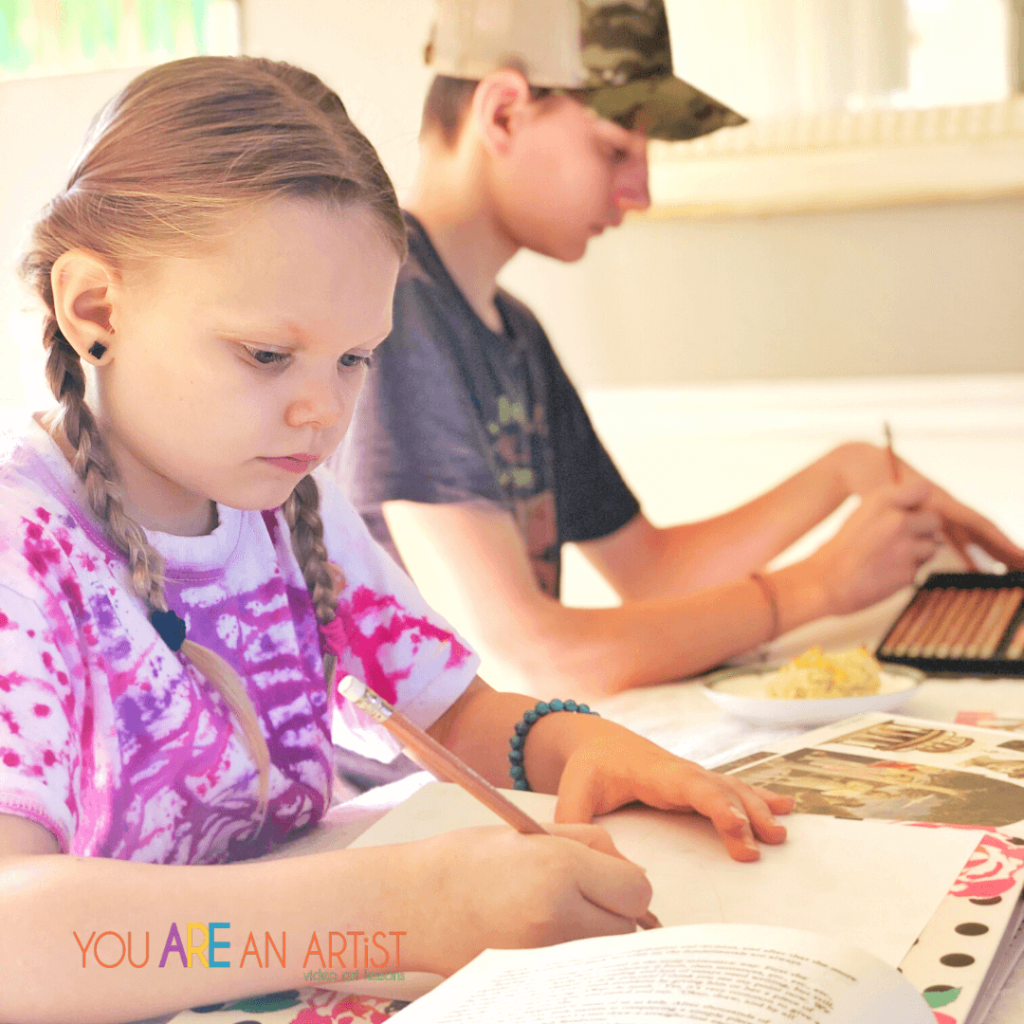 Homeschool Fine Arts and Nature Study
We are currently using Homeschool Fine Arts Plans Grade 6: Medieval and Renaissance Art and Music.
Artists Included in Grade 6
Giotto di Bondone
Fra Angelico
Leonardo da Vinci
Raphael
Sandro Botticelli
Michelangelo
Pieter Bruegel, the Elder
Albrecht Durer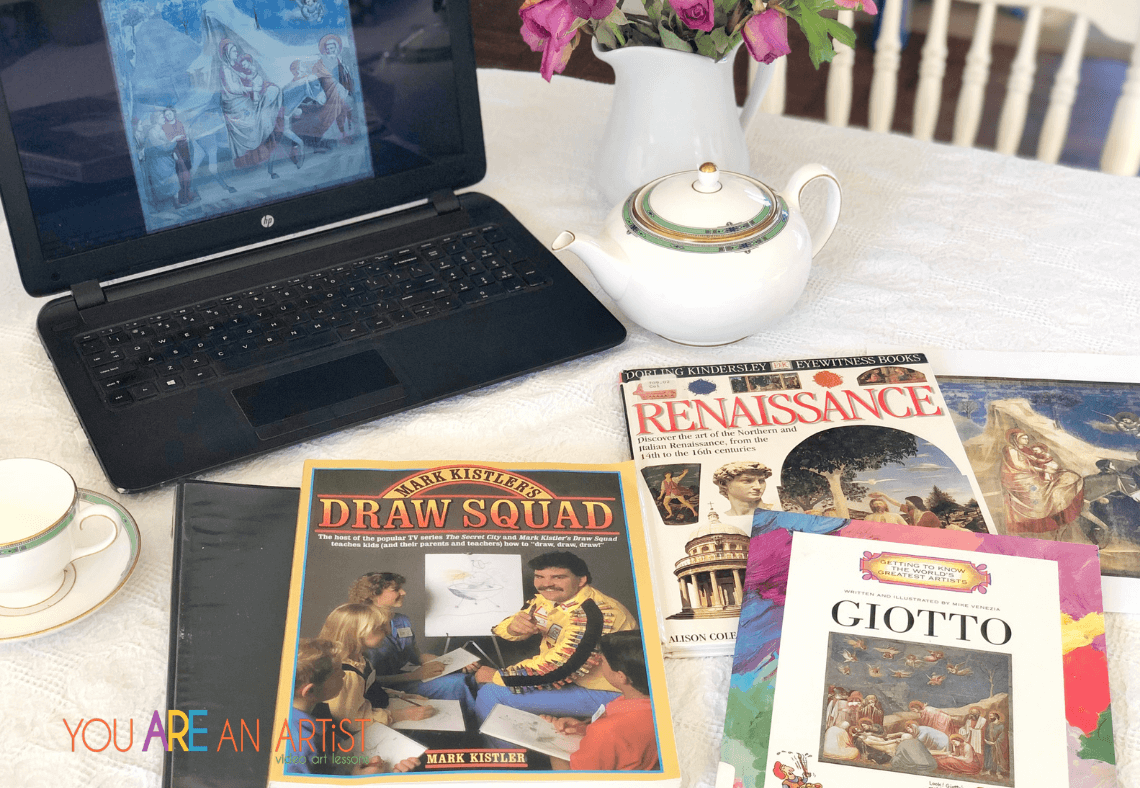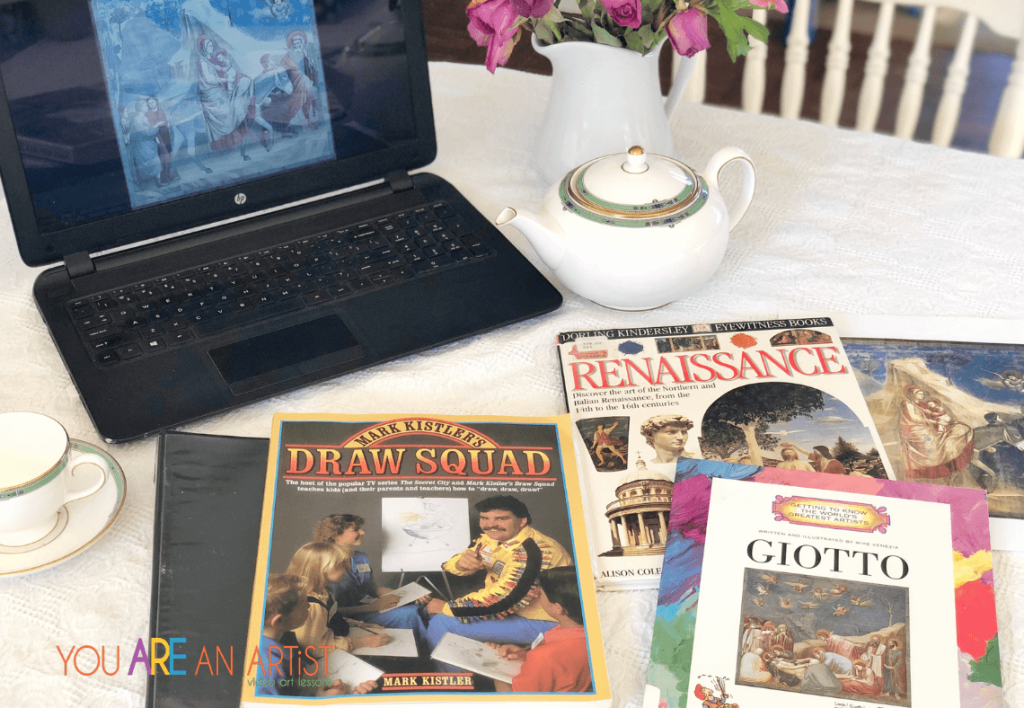 Composers Included in Grade 6
Antonio Vivaldi
Johann Sebastian Bach
George Frideric Handel
Joseph Haydn
Wolfgang Amadeus Mozart
Ludwig von Beethoven
Franz Schubert
Hector Berlioz

By creating a habit of viewing paintings each week and listening to carefully curated music, my children are getting to know various artists and composers within a particular period. We've already had a ton of fun observing works such as:
Flight into Egypt
Life of St. Francis Renunciation to Wealth
The Dream of Joachim
Lamentation of Christ

You ARE An Artist Fine Arts Appreciation plans are listed by grade, but you can also use them family-style! There is so much flexibility with this program. Use it, however, works best for your family.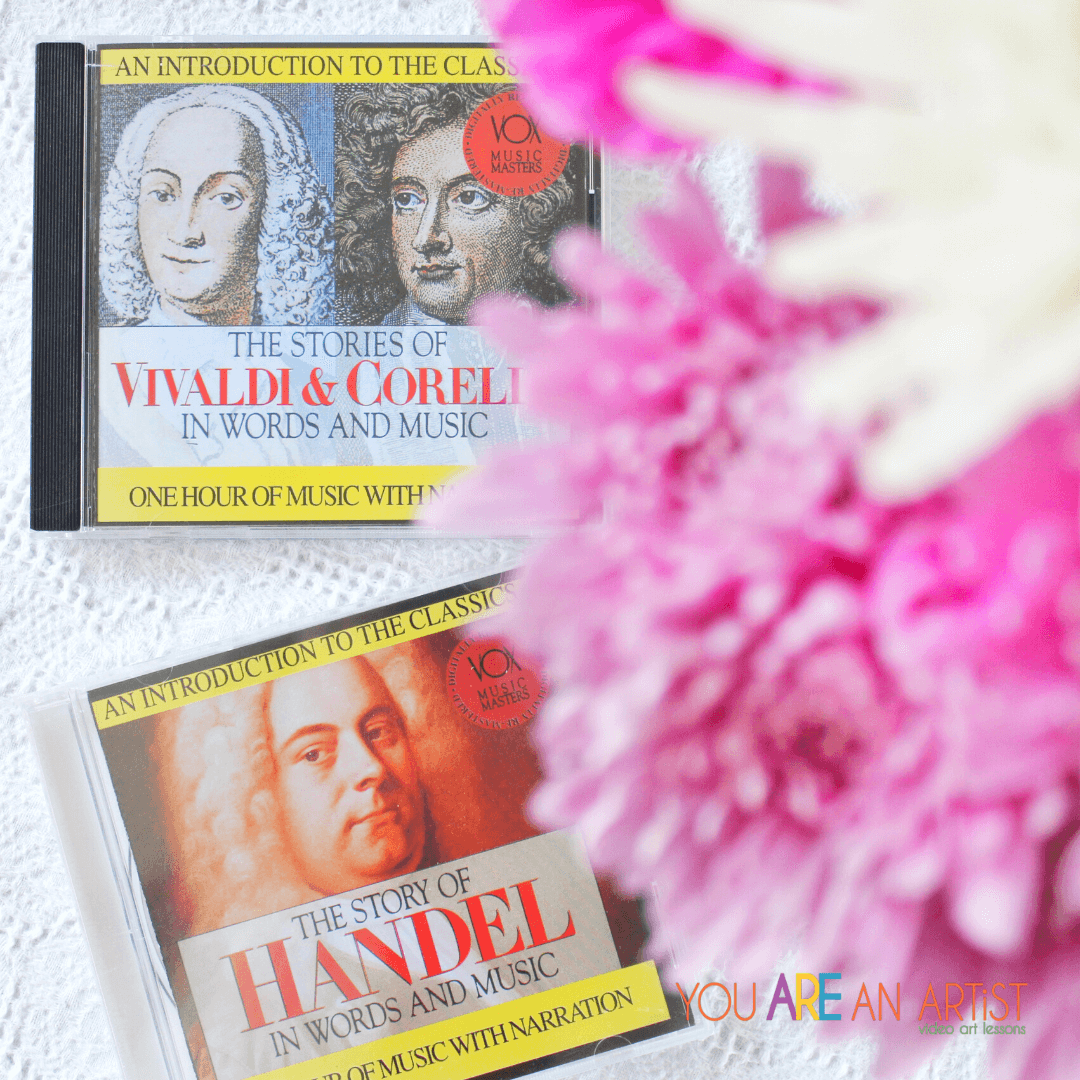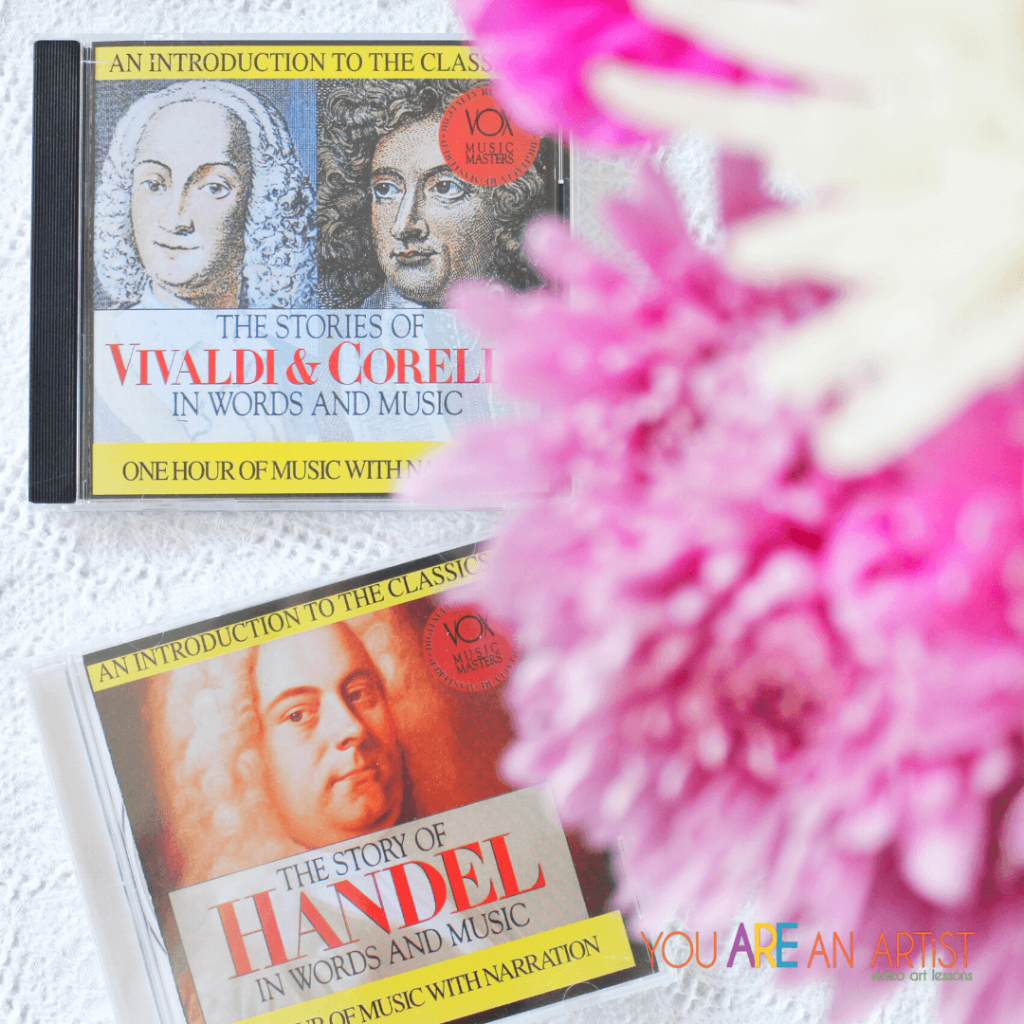 The new Nature Study Membership works seamlessly with the art and music appreciation. There are over 20 Nature Courses to take AND a remarkable Nature Study with Art and Music Appreciation for all Seasons!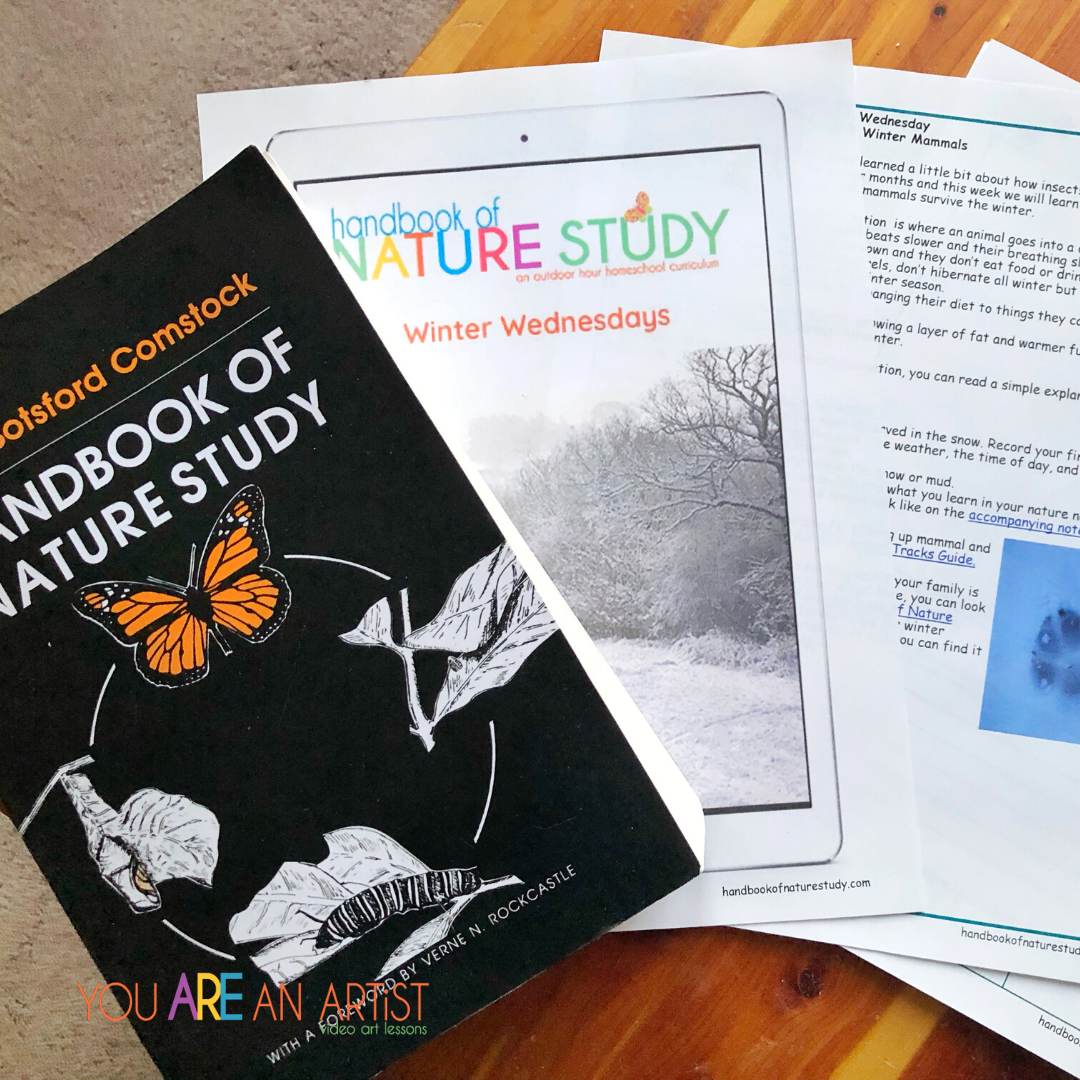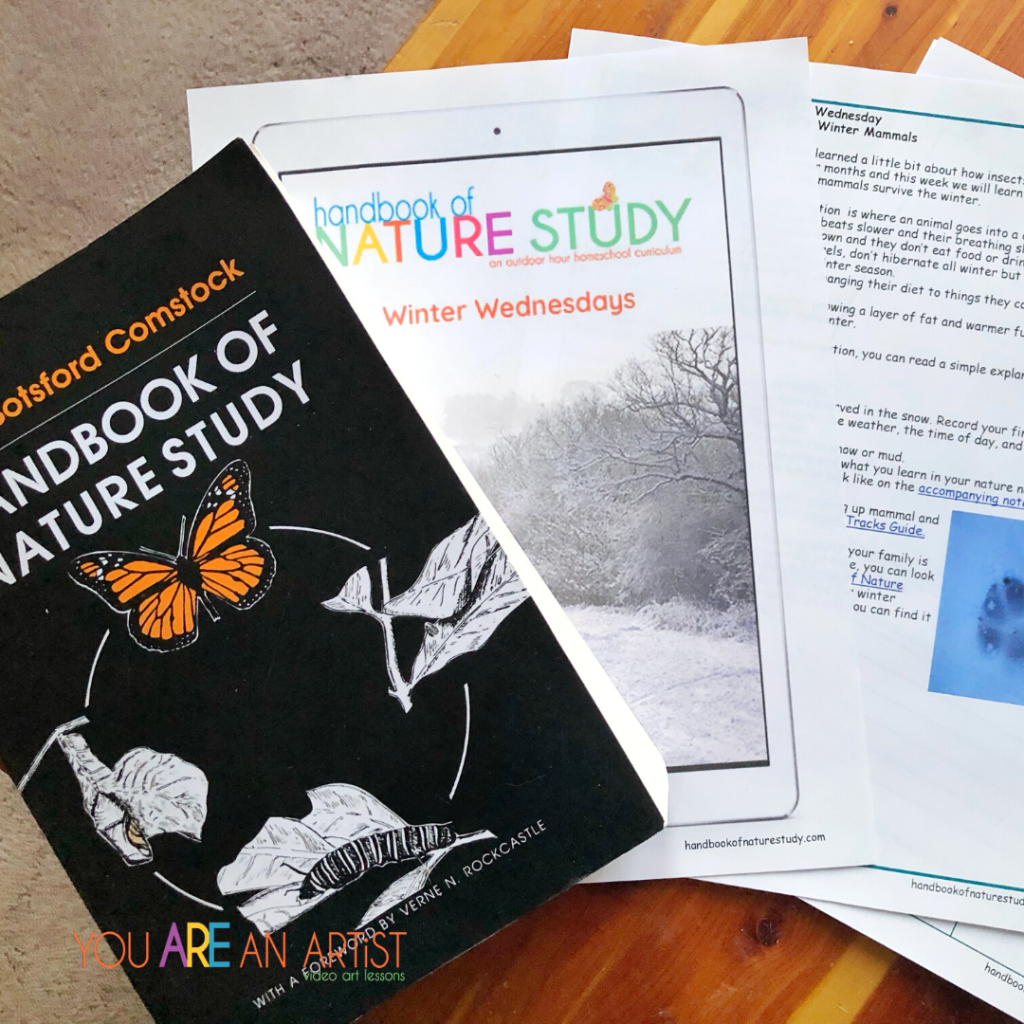 Homeschool Lessons For Art, Music And Nature Studies
Homeschool Fine Arts Curriculum by Grade
Each fine arts curriculum offers additional art appreciation books, music, and podcasts that you can use as you have time available. They also encourage you to incorporate hands-on famous artists' art lessons with Nana. These plans pull together affordably priced materials along with internet links so you can have a reasonably priced art and music appreciation program. There are 32-36 weeks planned at each level, and this allows your family plenty of flexibility to complete the curriculum in one homeschool year.
If you don't feel that a full year of fine arts appreciation is for you, you can also choose from a collection of unique art and music appreciation unit studies which typically last 6-9 weeks.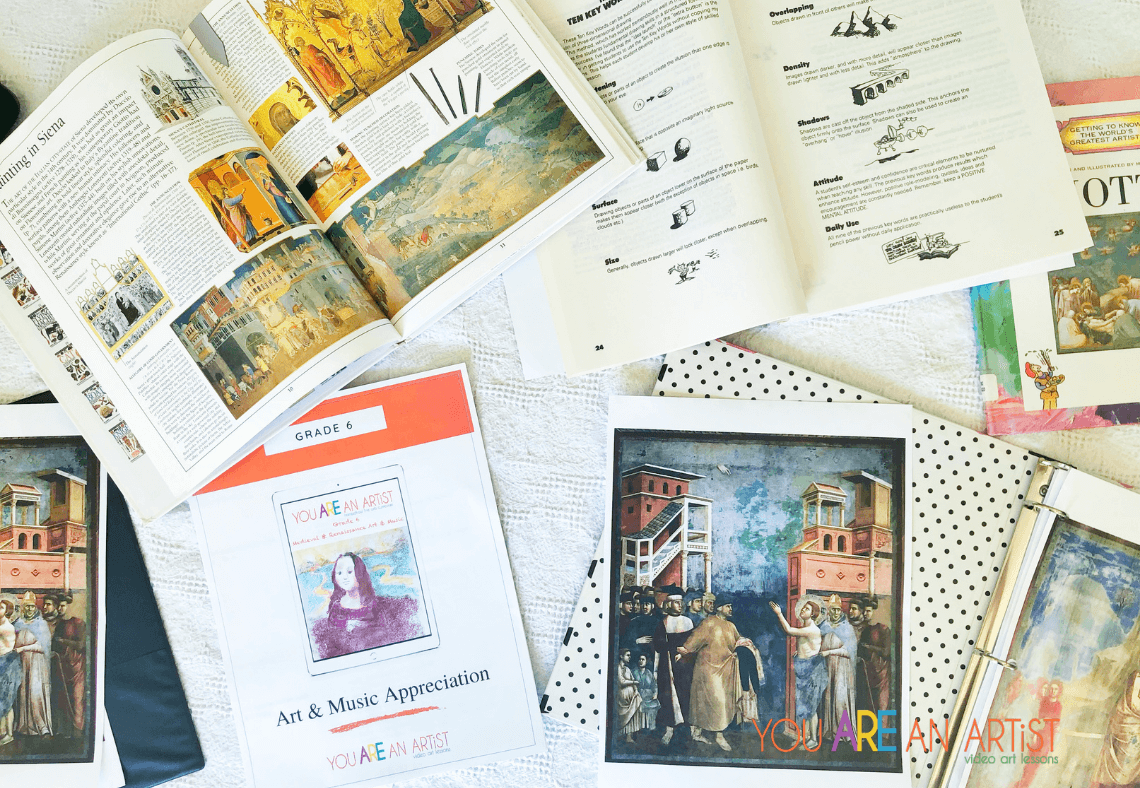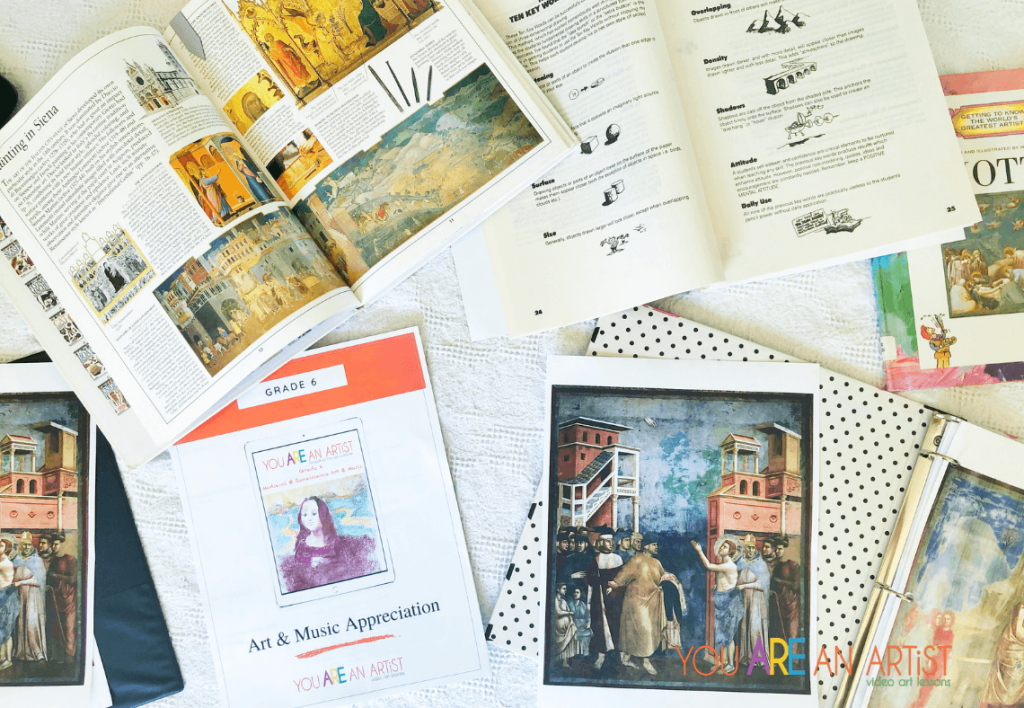 Homeschool Nature Study and Outdoor Hour Challenge
The Homeschool Nature Study Membership encourages you to get outdoors with the #outdoorhourchallenge. It also uses the Handbook of Nature Study to help bring life to your nature studies. With the Nature Study Membership, you'll be enrolled in ALL of the nature study courses, including:
Autumn
Birds
Creepy Things
Forest Fun
Garden
Getting Started
Herbs
High Desert
Insects
Mammals
Moss, Fungi, and Lichen
Nature Crafts
Nature Journaling
Nature Study with Art and Music Appreciation – All Seasons of Curriculum
Planning Resources
Pond
Rocks
Seashore
Spring
Summer
The Outdoor Mom
Trees
Weather
Wildflowers
Winter
Winter Wednesdays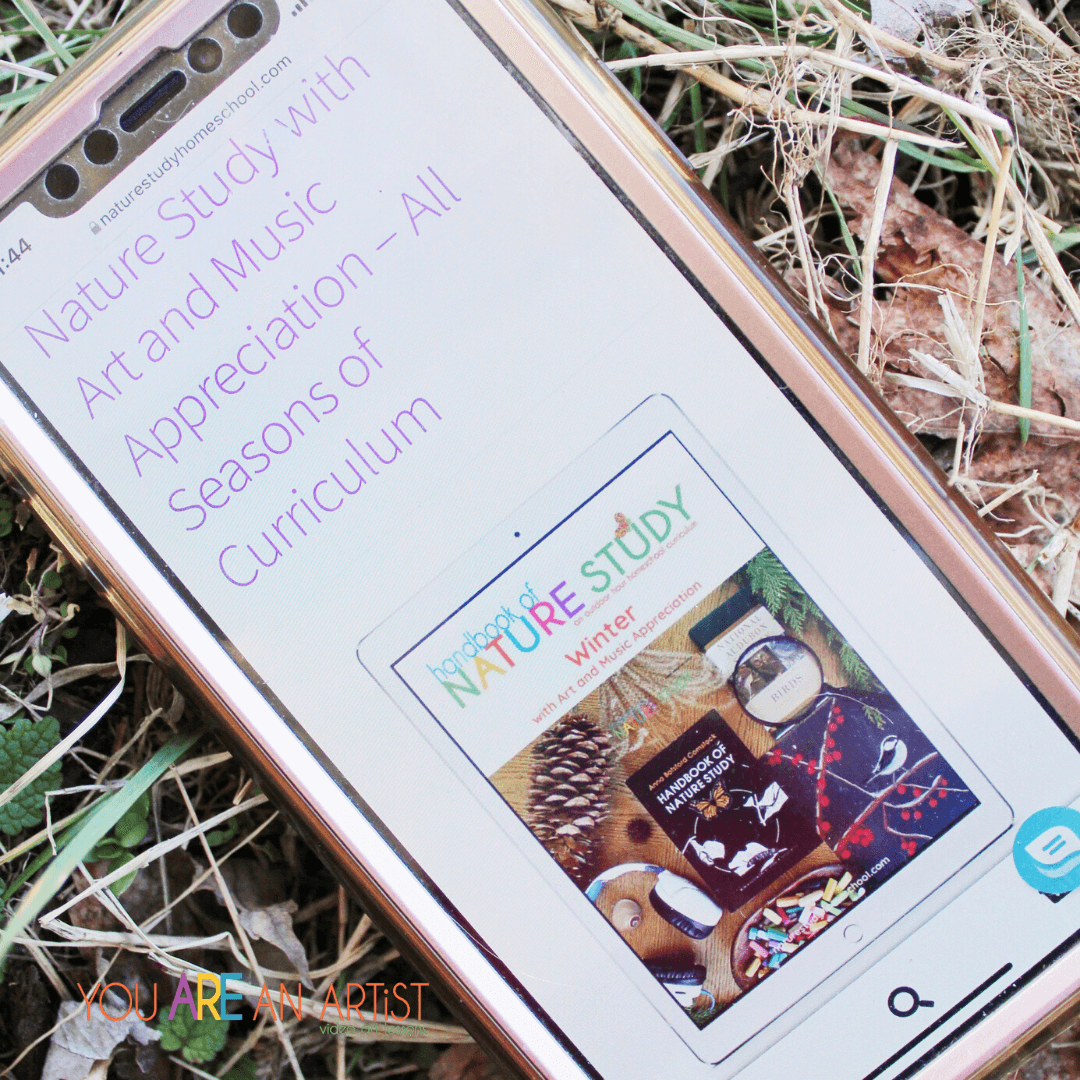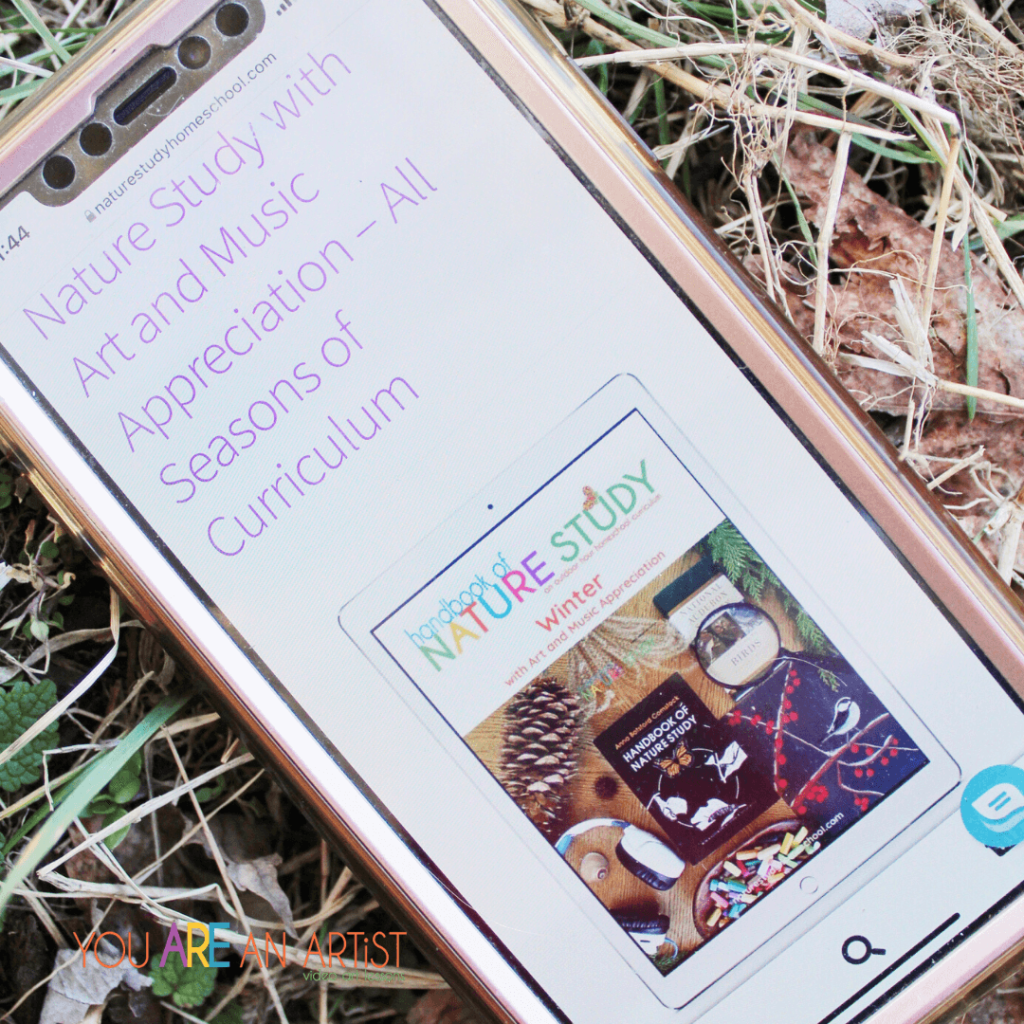 There is even a handy calendar with daily prompts so you can choose what bite-size chunks of nature works best for you and your family. The nature calendar provided us with YouTube videos, photos, and notebooking pages for each day of the month!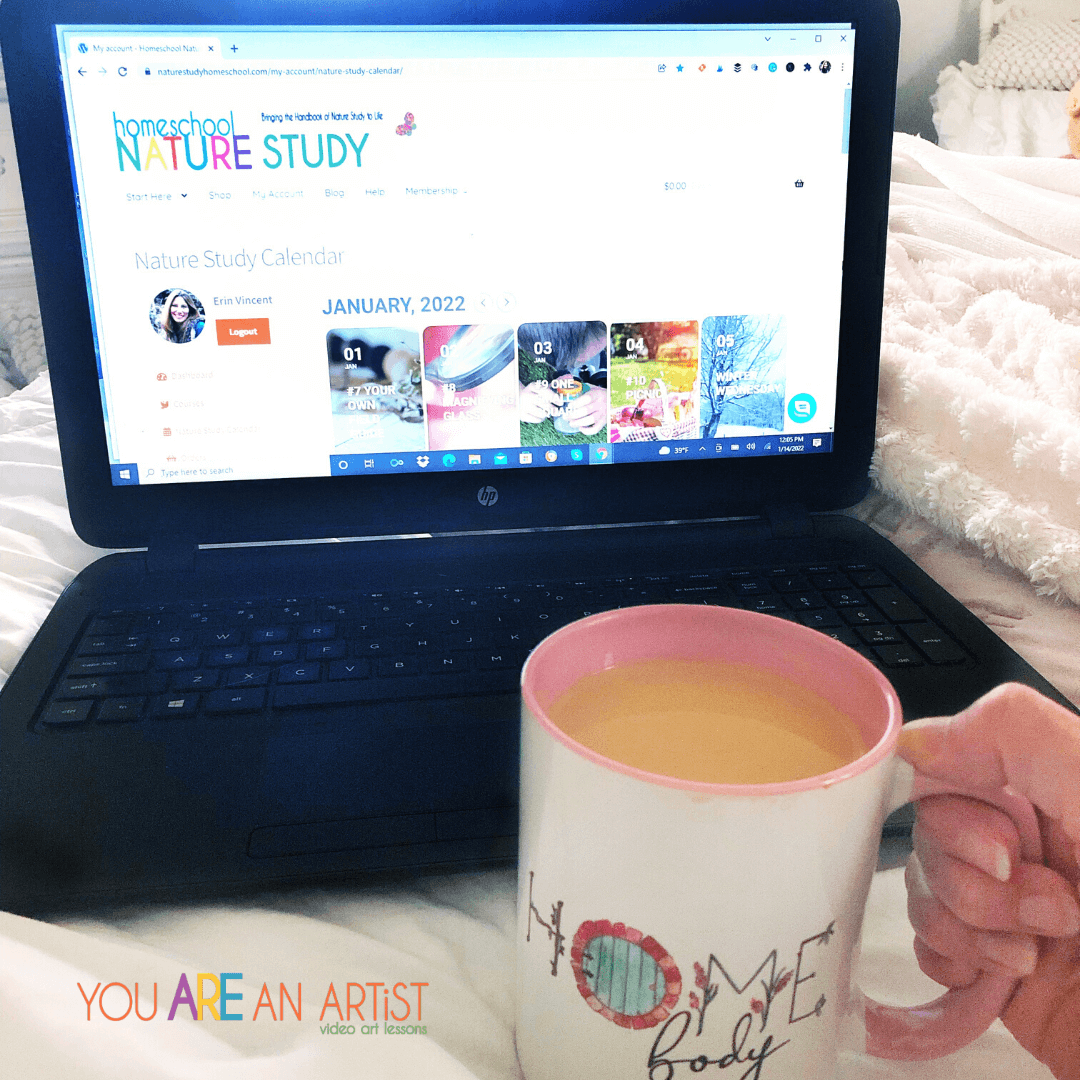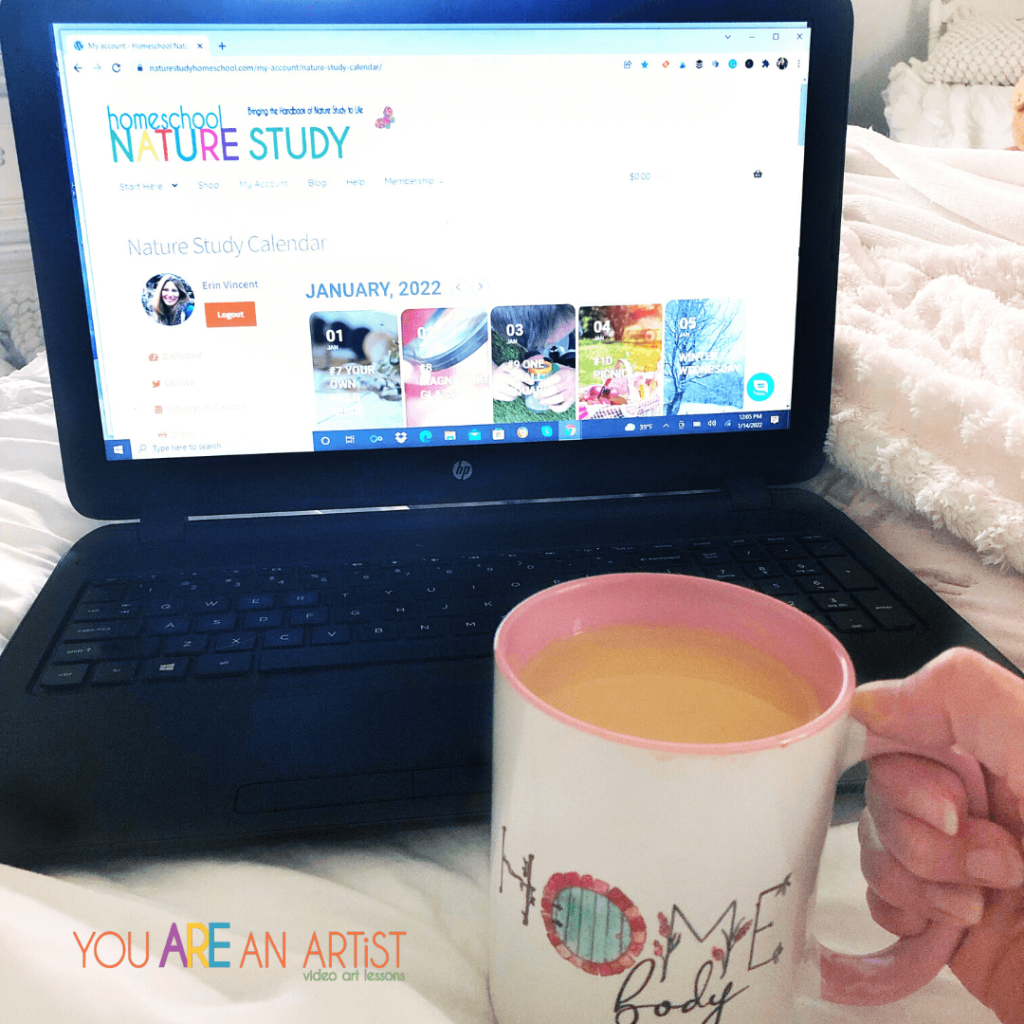 The Homeschool Fine Arts and the Homeschool Nature Study Membership ARE separate from the You ARE An Artist Clubhouse membership. But clubhouse members get 50% off and receive a Van Gogh and Handel 6-9 week unit study as a sample of this curriculum.
You ARE An Artist Clubhouse members also receive another Winter Nature Study with Art and Music Appreciation from the Homeschool Nature Study website. This nature study is roughly three months' worth of materials!
That's a load of resources, folks!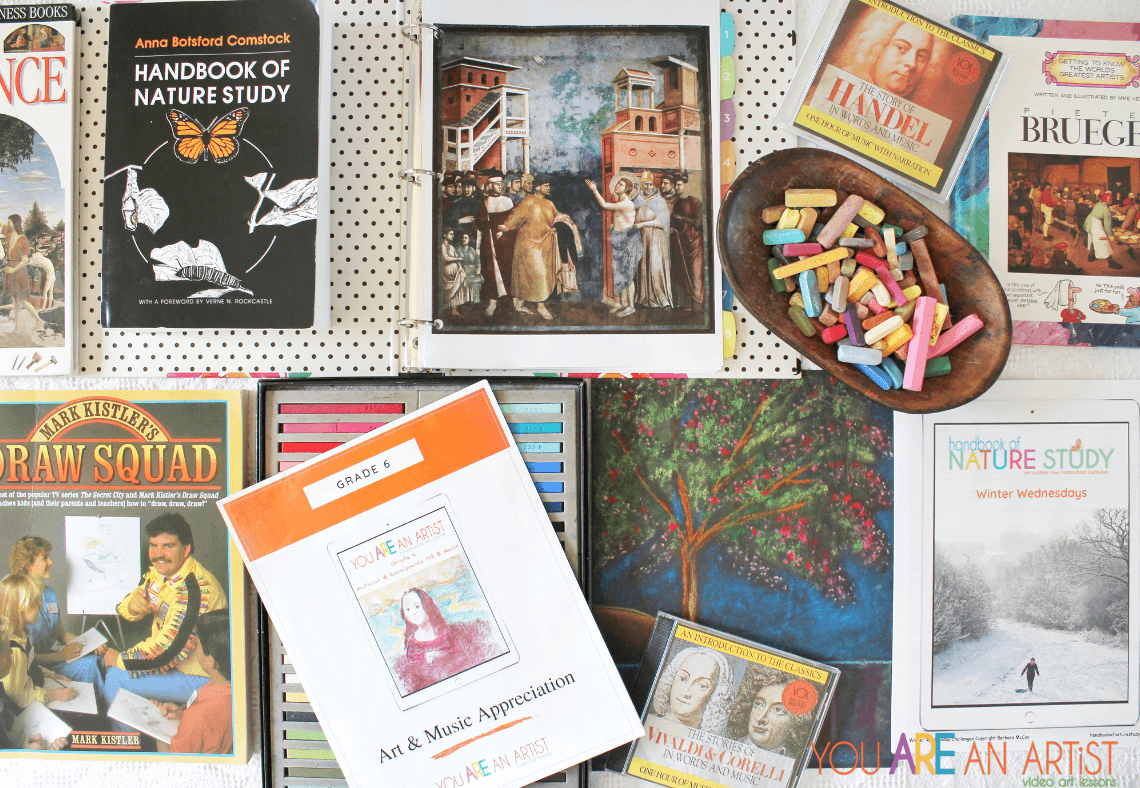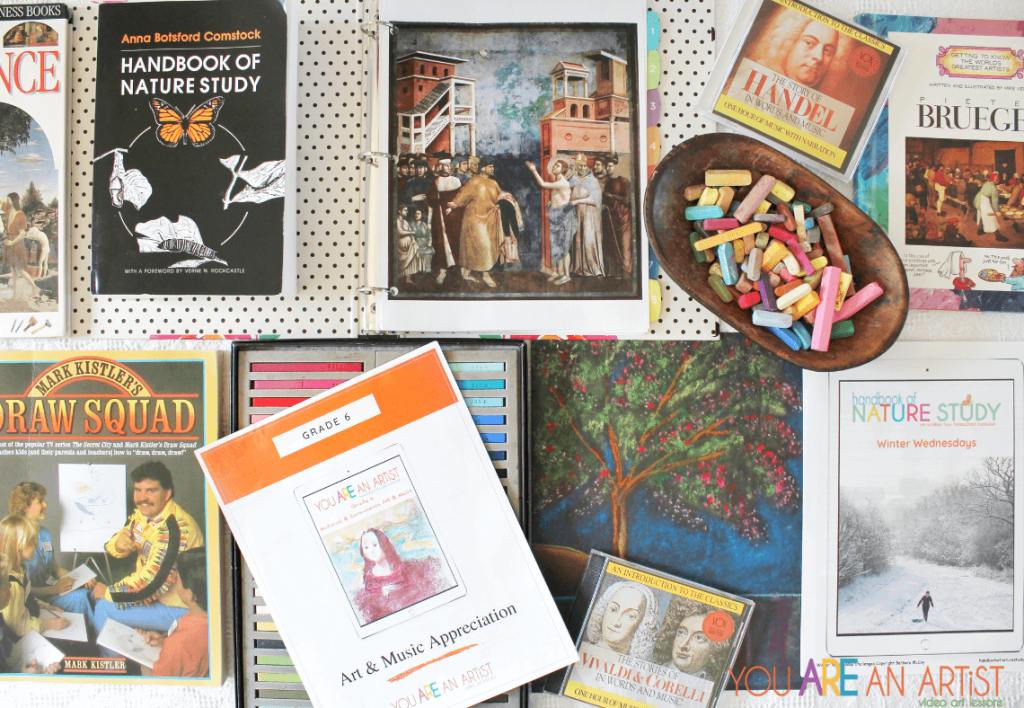 How To Incorporate Art, Music And Nature Into Your Homeschool Routine
Art and Music Appreciation

With our Art and Music Appreciation, my kids are learning the basics of drawing with the Draw Squad. We are learning about different famous artist and their artwork each week, and that has been quite entertaining. Don't think that art appreciation must be serious and dry, especially when you've got kids.
At least my kids like to find the exciting and weird subject matter in each piece. Like clouds that look like UFOs or floating heads or faces that look like they have indigestion. Oh, yes, it's true. But by pointing out some of these funny and unique bits of each artwork, my kids remember the artist, the time period, and the artwork themselves.
Why yes, the Madonna and Child, by Berlinghiero, does have alien qualities!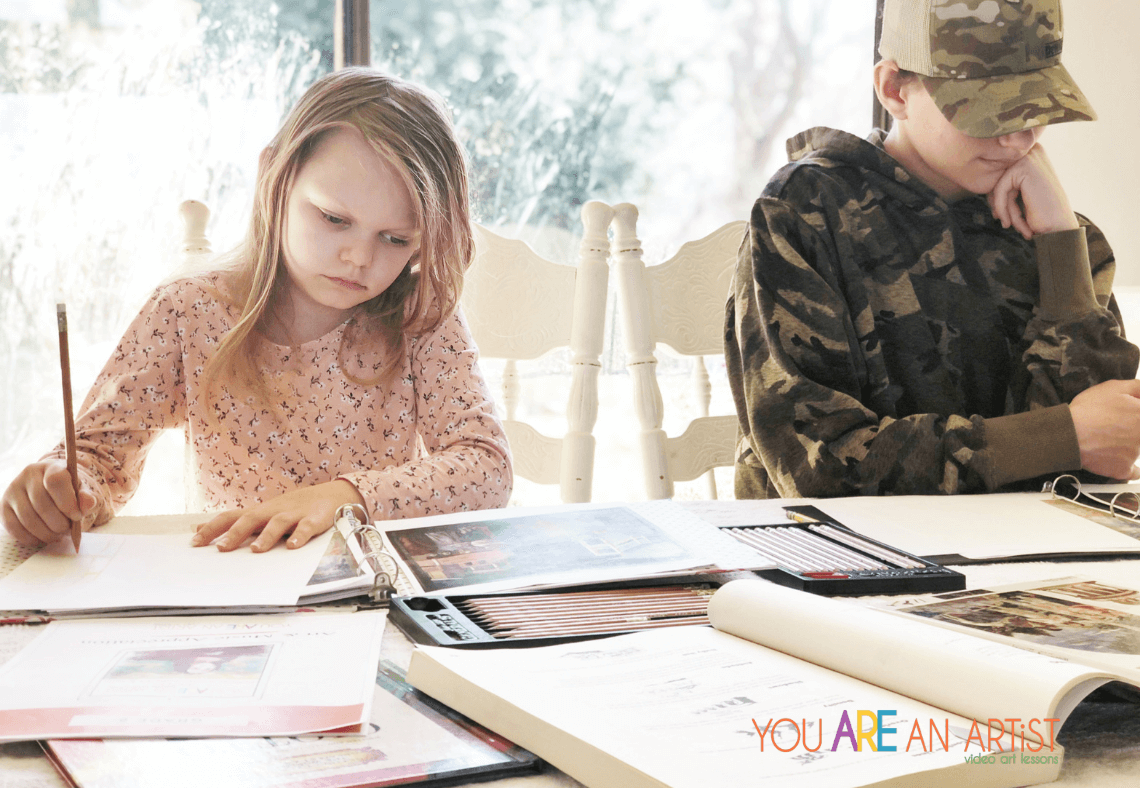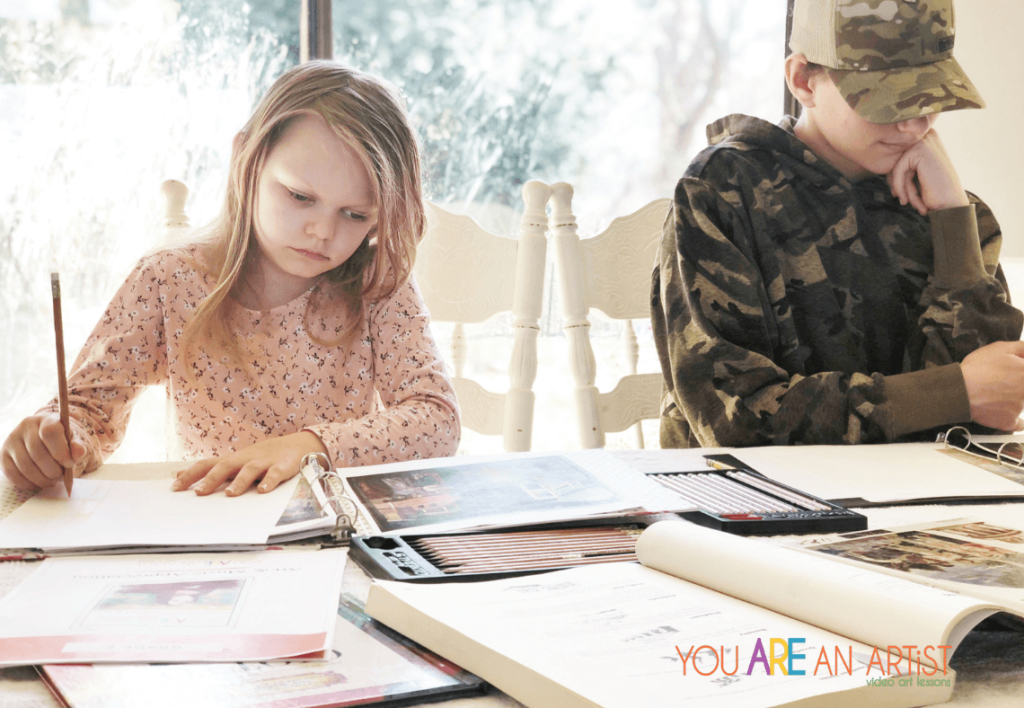 For Music Appreciation, we've been learning and listening to Vivaldi:
Spring (Four Seasons)
Summer (Four Seasons)
Concerto for Two Trumpets
Sovente il Sole
Concerto in D for Piano and Guitar
Our favorite piece so far is his Four Seasons. My son said the Summer was quite "morose." We did Nana's Vivaldi Spring Tree chalk pastel and have added Vivaldi to our notebook timeline.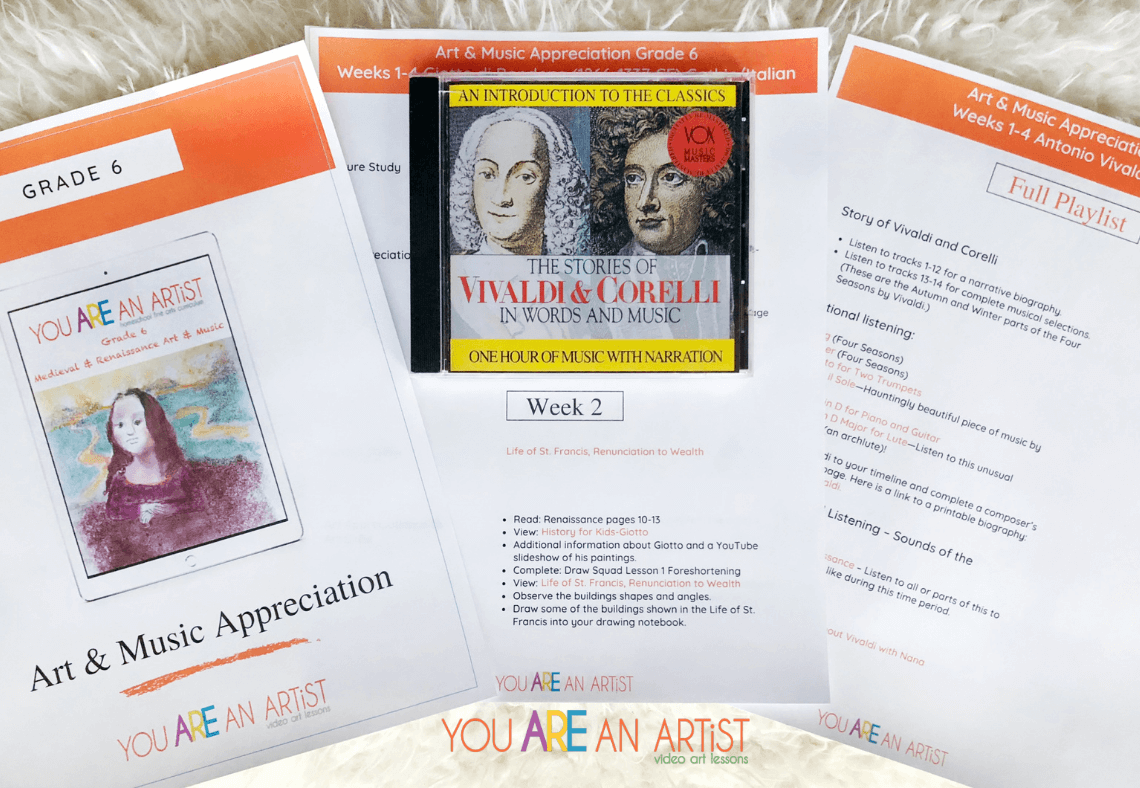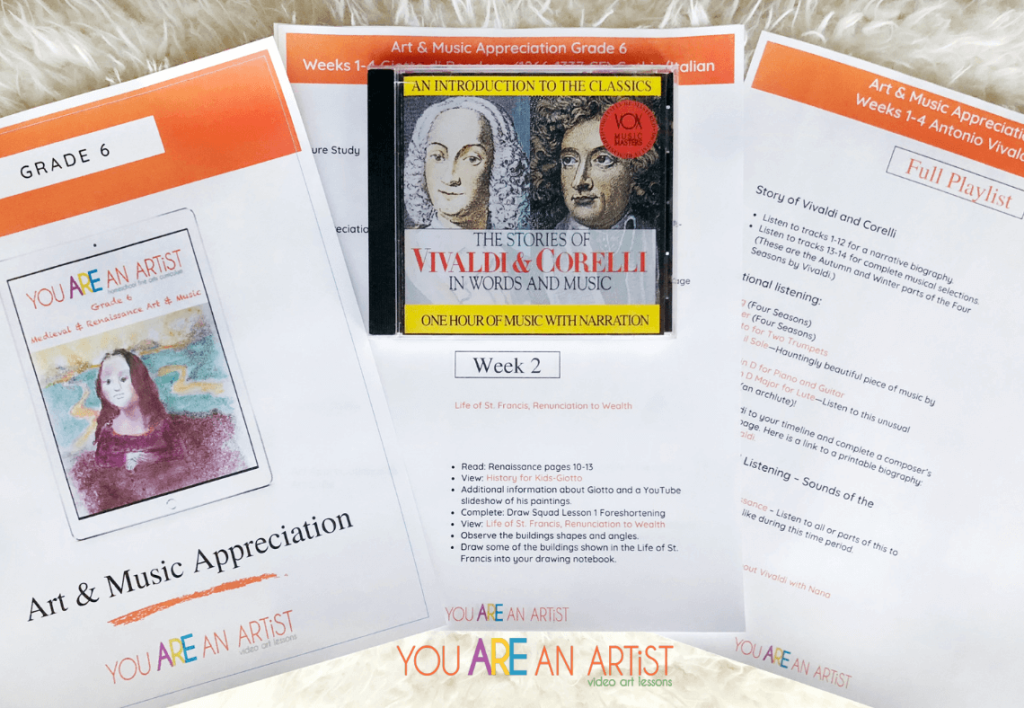 Nature Study
Nature study has contained more about Vivaldi and a composer notebooking page! He goes beautifully with any season really. We've studied snowflakes, winter birds, winter mammals, the winter night sky, and most recently, bulbs because our daffodils are in full bloom, and our tulips are emerging!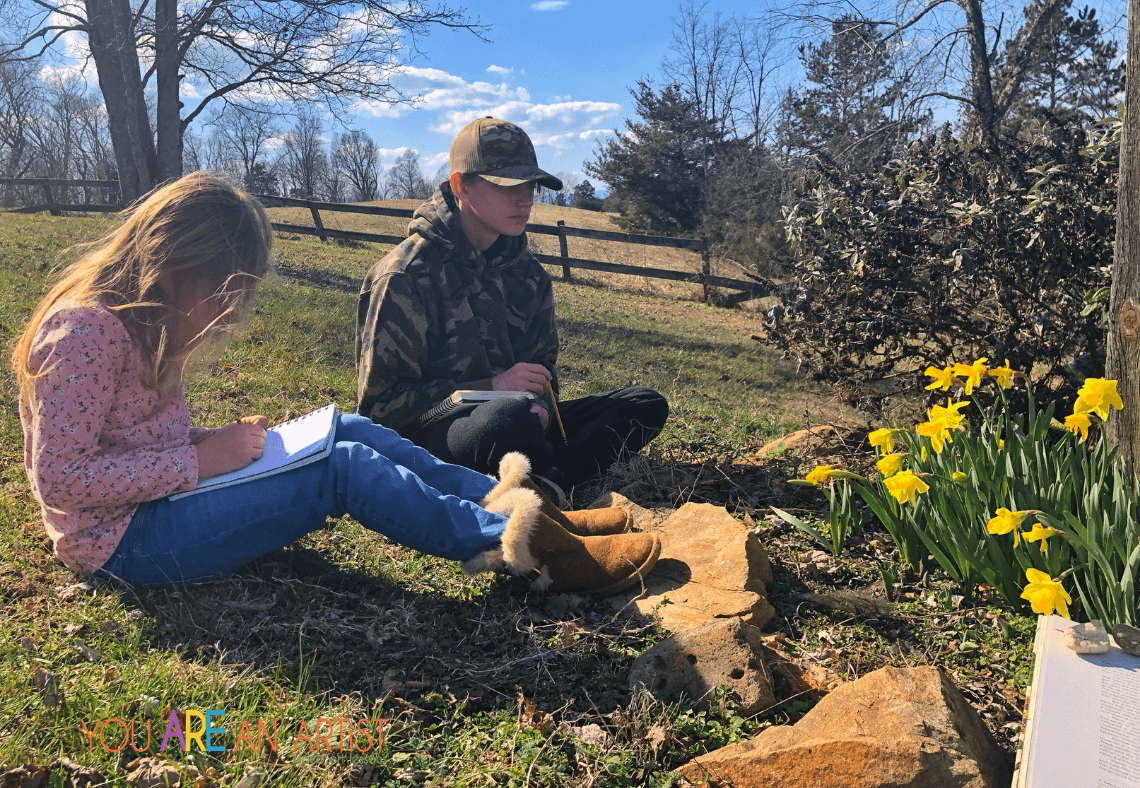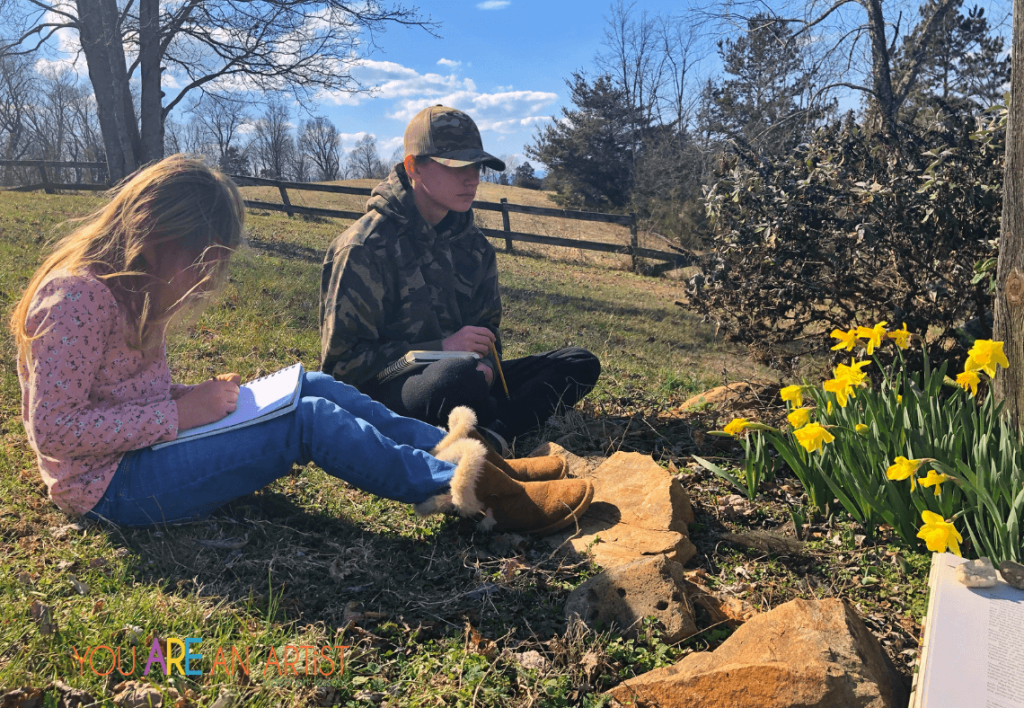 My children have become acquainted with winter nature study, Vivaldi, Corelli, and Giotto within a few short months! Our Fine Arts Friday has become a fun and hands-on way of learning about great art and exciting time periods. Afterward, we head outside for our nature study and #outdoorhourchallenge. Fridays have become a rich, full day of beauty and learning like never before! Won't you join us?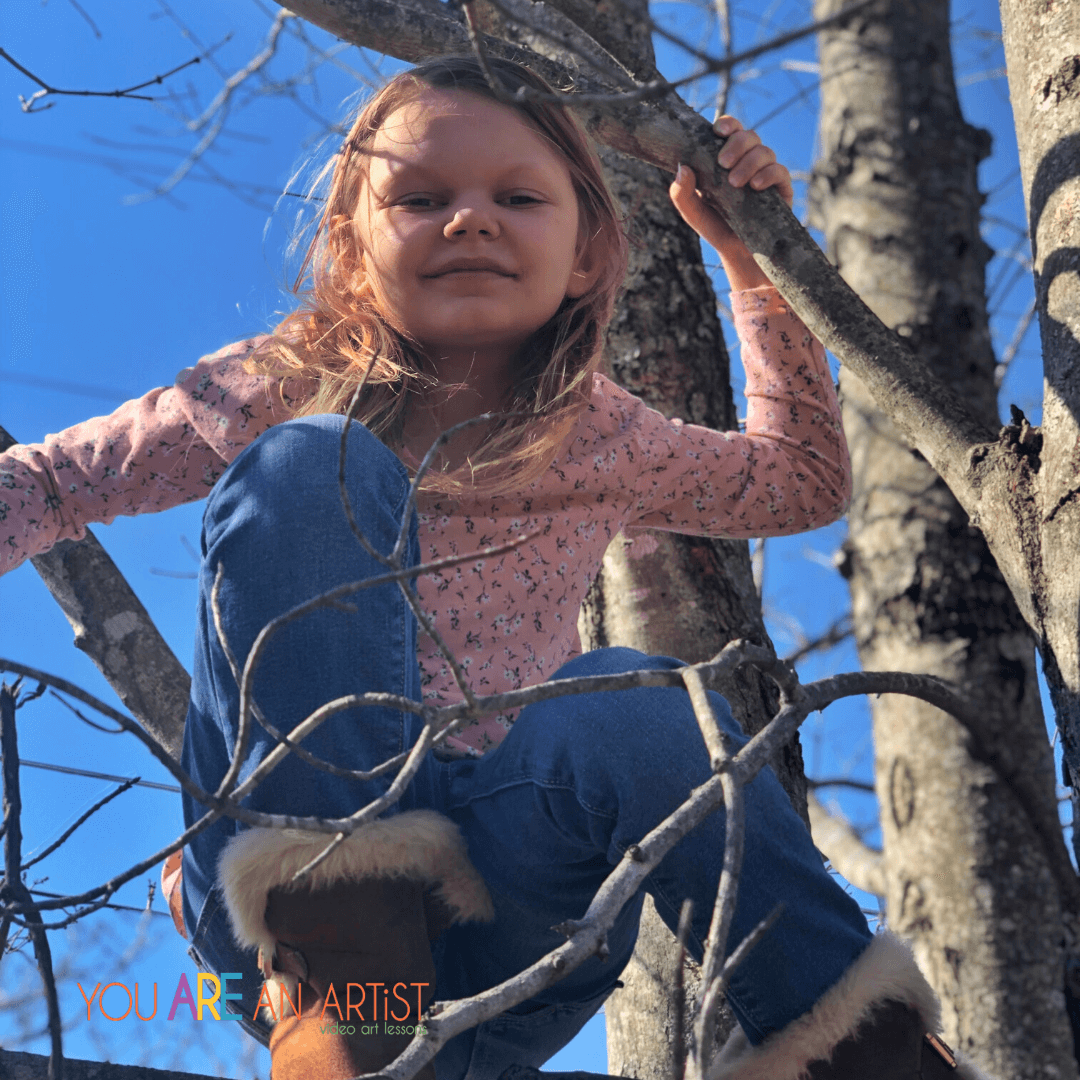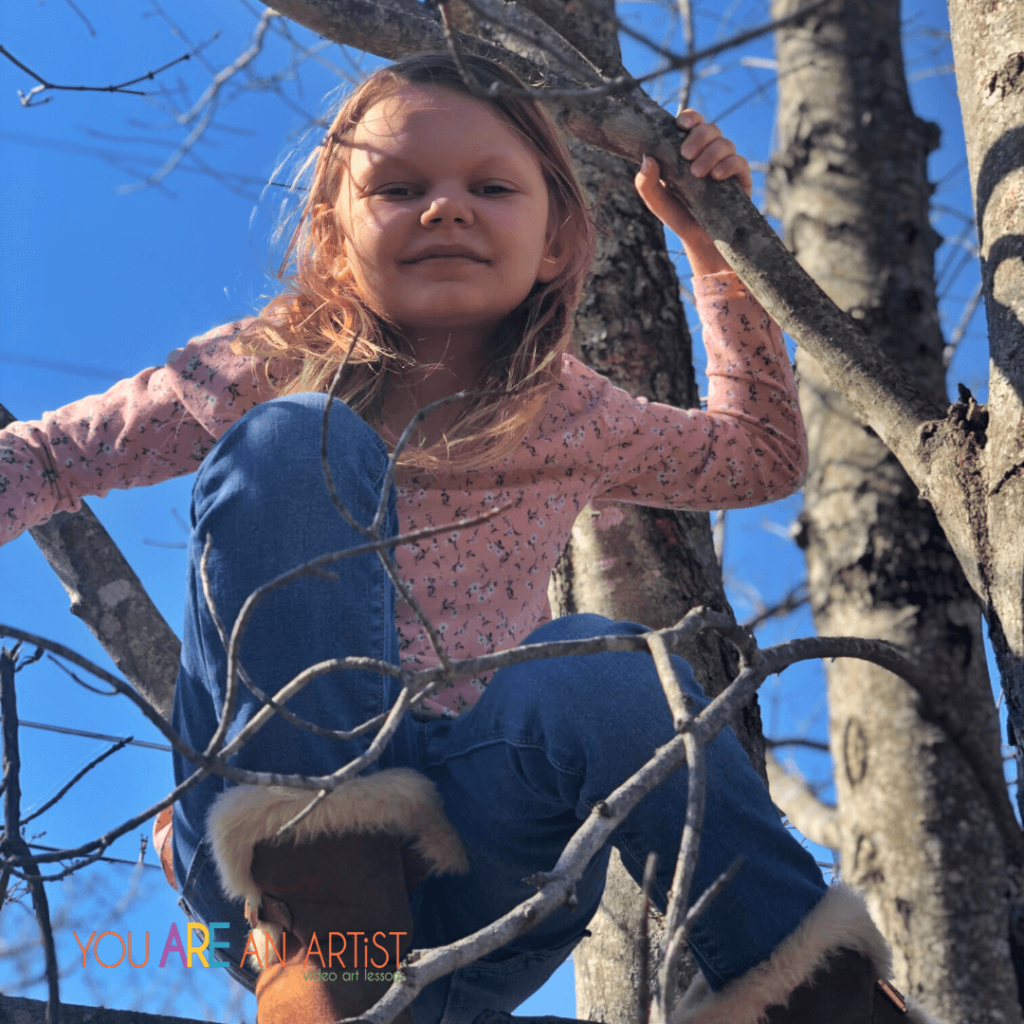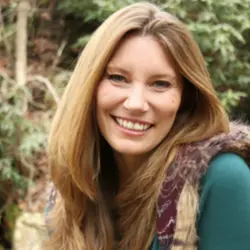 Erin is a writer, blogger, and homeschooler to two intense kids. Her blog is filled with information to help you explore a child led education while making meaningful connections with your children. Discover favorite read alouds, seasonal books, games, art projects, hands-on activities, and learn to just breathe through the ups and downs of life. She loves nature, farm life, good books, knitting, new pens, and hot coffee. Erin is a contributing writer for Weird Unsocialized Homeschoolers. Her work has also been featured on Simple Homeschool and Book Shark.