Grade 4 Impressionists and Post-Impressionists
$47.00
Grade 4: Impressionists and Post-Impressionists – features homeschool art and music plans for Modern (or 20th Century) period art and music. These plans are appropriate for students in grades 1-4 or for family-style learning.
Description
You ARE an ARTiST's art, and music appreciation program is designed for busy homeschooling families. Our art & music appreciation plans organize a variety of resources so you can open the schedule and, with little preparation, offer your child experiences with famous artists and composers.
We offer the artists, composers, and resources organized in a curriculum that is easy to use and flexible. As with all of our resources here at You ARE an ARTiST, our plans are only a suggestion. Please use the curriculum however it fits your family and homeschool routine best.
In addition to picture and music study, the plans offer additional art appreciation books, music, and podcasts that you can use as you have time available. We also encourage you to incorporate hands-on art lessons with Nana. Children learn best by doing, and creating the art is always the most fun part! By creating a habit of viewing paintings each week and listening to carefully curated music, your children can get to know a variety of artists and composers within a particular time period.
You ARE an ARTiST's plans pull together affordably priced materials along with internet links so you can have a reasonably priced art and music appreciation program. There are 32-36 weeks planned at each level, and this allows your family plenty of flexibility to complete the curriculum in one homeschool year.
The plans are listed by grade, but you can also use them family-style if you have multiple children at home.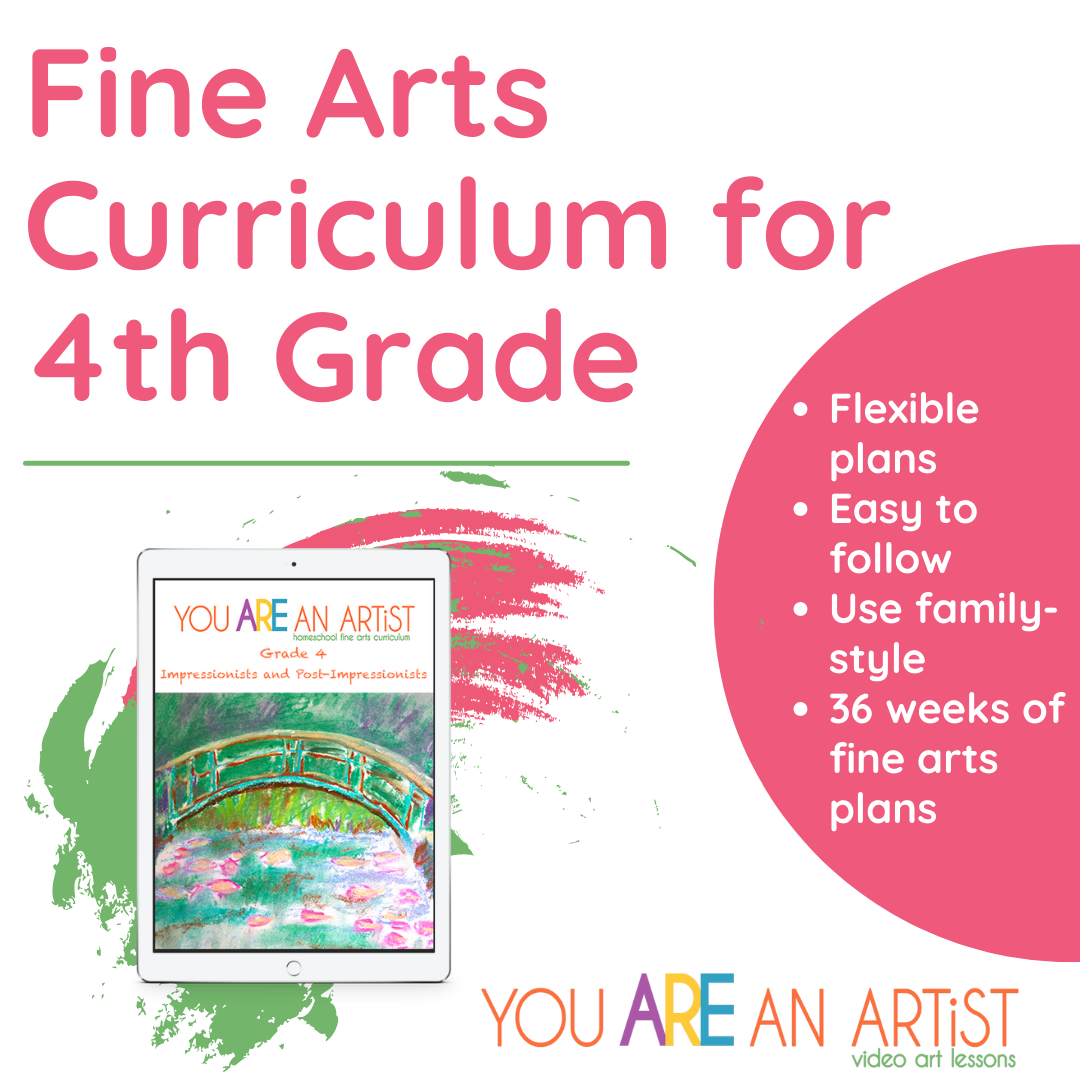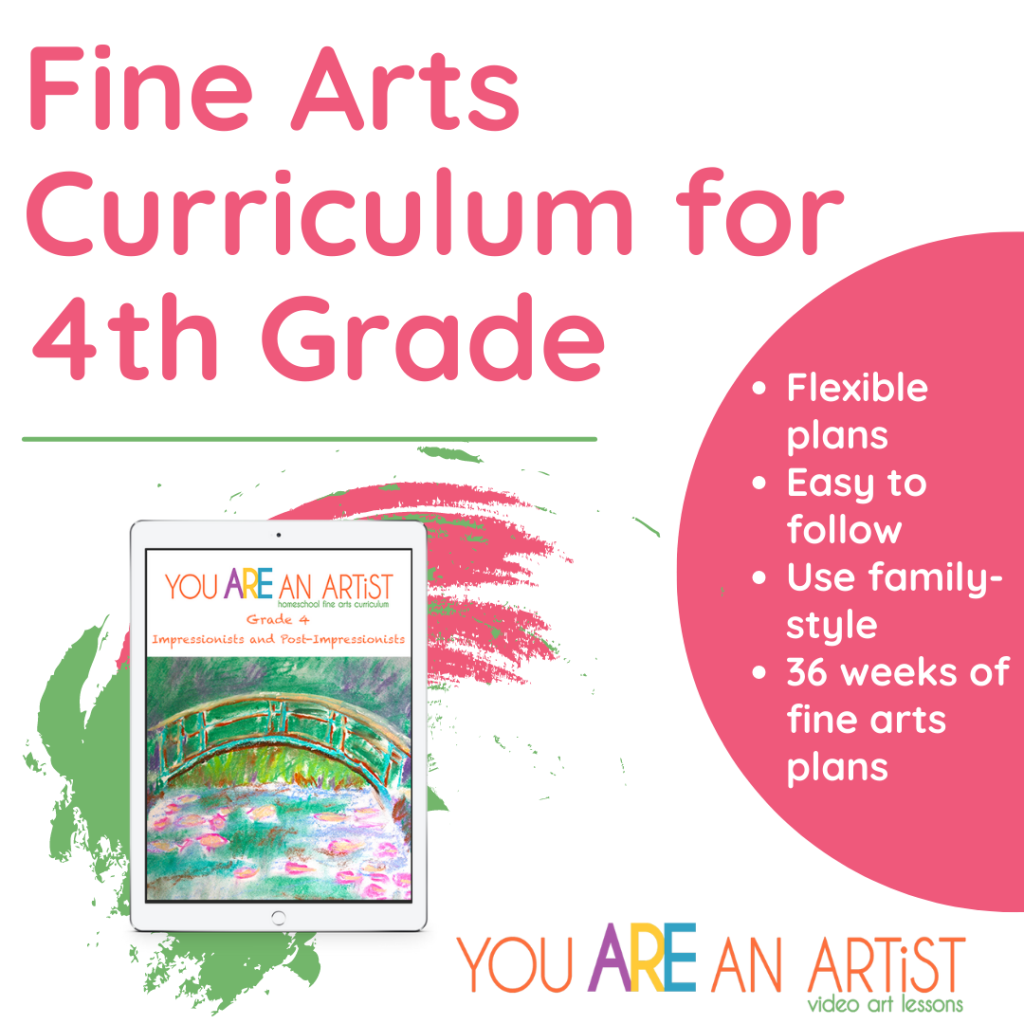 Learn About Impressionists and Post-Impressionists in Your Homeschool
You ARE an ARTiST Fine Arts Grade 4 plans feature Modern (or 20th Century) period art and music. If you have older children, there are also middle school level art and music appreciation plans for Modern Era Art and Music (Grade 8). Please note that Grade 4 and Grade 8 have different artists and composers so they will not "match" except in covering the same time period.
Art Option 1: All the artwork is linked to internet sources and you can view them online or you can print the paintings out to view and then add them to your art notebooks.
Art Option 2: This option will schedule a variety of activities including viewing artwork, reading about artists, completing notebook pages, and art projects. Coloring pages for the artists are included for you to print or copy.
Art Option 3: Option three will guide you through Mona Brookes' Drawing With Children. Along with these plans you will also be completing many of the same activities as Option two. (YouTube slideshows, notebook pages, and coloring pages.)
Grade 4 Artists
Edgar Degas
Childe Hassam
Claude Monet
Gustave Caillebotte
Berthe Morisot
Paul Cezanne
Paul Gauguin
Vincent Van Gogh
Georges Seurat
Grade 4 Composers
Franz Liszt
Georges Bizet
Gabriel Faure
Emmanuel Chabrier
Edward Elgar
Erik Satie
Maurice Ravel
Jean Sibelius
Claude Debussy
Composer Study: The Homeschool Fine Arts plans for this level include six composers.
36 Weeks of Plans – 9 artists and 9 composers.
Ebook format includes links to internet sources for viewing artwork, additional activities, and YouTube listening and viewing.
Ebook includes notebook pages and coloring pages to use as a follow-up to your study.
Ebook format includes art prints to view and/or print out for your personal use.
Plans for Drawing With Children….more in-depth with extra projects scheduled for each section.
*Please note: Homeschool Fine Arts curriculum is designed for use by one family. Please see co-op information under the Start Here tab.
Please Note: 
This homeschool fine arts curriculum includes suggestions for including Nana's video art lessons but her art lessons are not included in the pdf. Because of the nature of digital products, we do not offer refunds. All sales are final.