Grade 8 Modern Era Art and Music Appreciation
$47.00
Homeschool Fine Arts Plans Grade 8: Modern Era plans tackle 20th Century artists and composers in a way that brings out all the unique qualities and style of that time period. Impressionism to Abstract Art, these artists can be exciting and confusing but the resources used in this grade level will help your student get the most out of their artist study. This is also an interesting period for composers and the plans line up a great list of music to listen to in simple weekly plans. Includes plans for six composer studies.
Description
Ready for Modern Era art? Homeschool Fine arts and music appreciation program for grade eight has it covered. Renoir, Cassatt, Matisse and more are all planned out for you to view and discuss with your whole family. Do you want to listen to a little Tchaikovsky, Prokofiev, Copland, Bernstein and a few more composers during your school year? The homeschool plan is all outlined for you. You will have the freedom and flexibility to use You ARE an ARTiST Homeschool Fine Arts for your whole family – and at a pace that suits your lifestyle.
You ARE an ARTiST's art and music appreciation program is designed for busy homeschooling families. Our art and music appreciation plans organize a variety of resources so you can open the schedule and, with little preparation, offer your child experiences with great artists and composers.
We offer the artists, composers, and resources organized in a curriculum that is easy to use and flexible. As with all of our resources here at You ARE an ARTiST, our plans are only a suggestion. Please use the curriculum however it fits your family and homeschool routine best.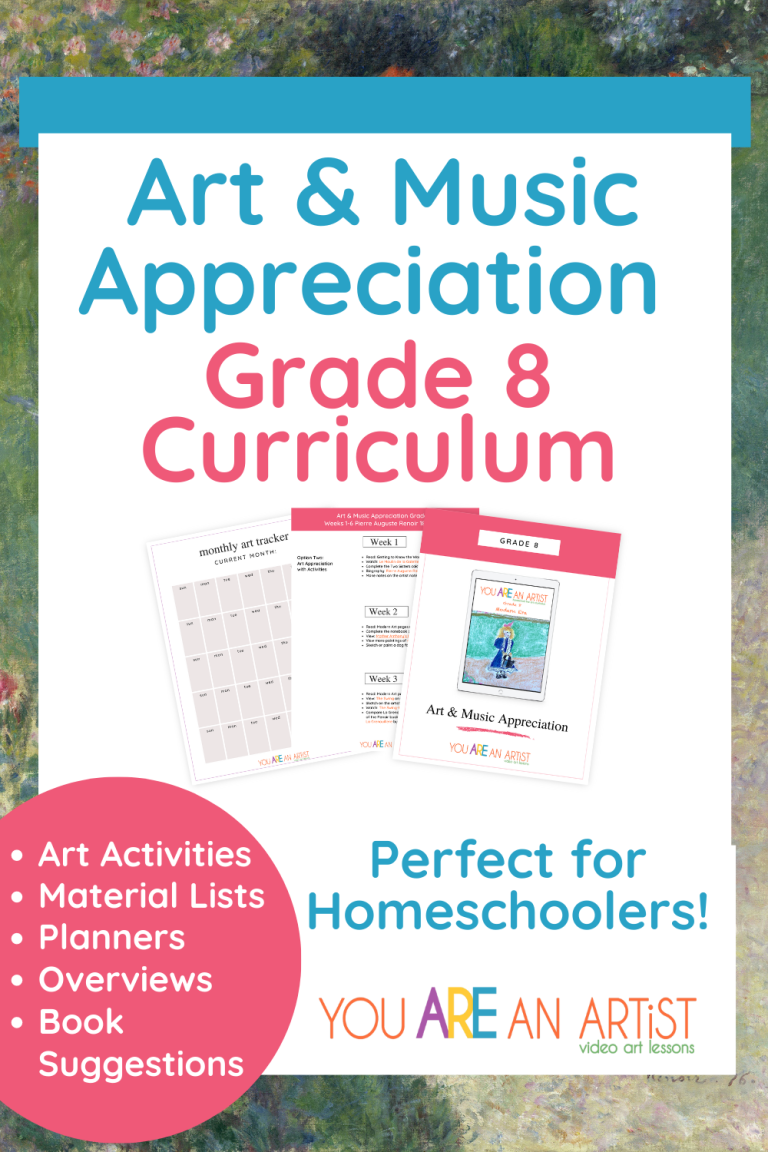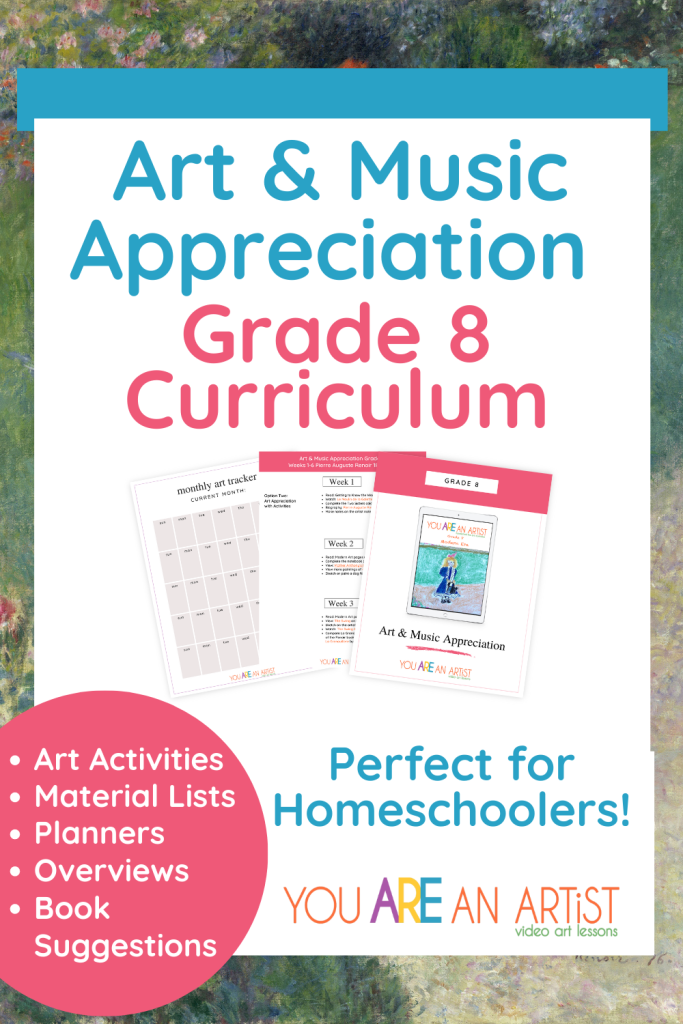 In addition to picture and music study, the plans offer additional art appreciation books, music, and podcasts that you can use as you have time available. We also encourage you to incorporate hands-on art lessons with Nana. Children learn best by doing, and creating the art is always the most fun part! By creating a habit of viewing paintings each week and listening to carefully curated music, your children can get to know a variety of artists and composers within a particular time period.
You ARE an ARTiST's plans pull together affordably priced materials along with internet links so you can have a reasonably priced art and music appreciation program. There are 32-36 weeks planned at each level, and this allows your family plenty of flexibility to complete the curriculum in one homeschool year. The plans are listed by grade, but you can also use them family-style if you have multiple children at home.
Artists Included
Pierre Auguste Renoir
Mary Cassatt
Paul Gauguin
John Singer Sargent
Henri Matisse
Jackson Pollock
Composers Included
Pyotr Illyich Tchaikovsky
Sergei Prokofiev
Francis Poulenc
Aaron Copland
Dmitry Kabalevsky
Leonard Bernstein
Grade 8: Modern Era Art and Music Homeschool Lessons Plans
There are two different options for art study in this curriculum.
Option 1:
This option schedules an artist along with approximately six suggested pieces of art to view. All of the suggestions are linked to internet sources and you can view the paintings online or you can print the paintings out to view and then add them to your art notebooks.
Option 2:
This option offers a variety of activities including viewing artwork, reading about artists, completing notebook pages, and follow-up art projects. Artist coloring pages for some of the plan's artists are included for you to print or copy as well.
Composer Study:
Fine Arts Grade 8 includes one composer for each six-week period. The suggested CDs are planned to give both a background in the composer's life story as well as full length selections of their music. You can add in additional CDs that you have available at any time to enhance the weekly plans. The Grade 8 YouTube and Spotify playlists are included.
*Please note: Homeschool Fine Arts curriculum is designed for use by one family. Please see co-op information under the Start Here tab.
*Nana's art lessons are suggested in these plans but not included. Some art lessons are only available to You ARE an ARTiST Complete Clubhouse members.
*Because of the nature of digital products, we do not offer refunds. All sales are final.