Grade 2 Studying Great Art and Great Music
$47.00
Homeschool Fine Arts Curriculum for Grade 2 focuses on looking at great art and listening to great music. Uses many Disney movie scores for the music portion!
Description
You ARE an ARTiST's art, and music appreciation program is designed for busy homeschooling families. Our art and music appreciation plans organize a variety of resources so you can open the schedule and, with little preparation, offer your child experiences with great artists and composers.
We offer the artists, composers, and resources organized in a curriculum that is easy to use and flexible. As with all of our resources here at You ARE an ARTiST, our plans are only a suggestion. Please use the curriculum however it fits your family and homeschool routine best.
In addition to picture and music study, the plans offer additional art appreciation books, music, and podcasts that you can use as you have time available. We also encourage you to incorporate hands-on art lessons with Nana. Children learn best by doing, and creating the art is always the most fun part! By creating a habit of viewing paintings each week and listening to carefully curated music, your children can get to know a variety of artists and composers within a particular time period.
You ARE an ARTiST's plans pull together affordably priced materials along with internet links so you can have a reasonably priced art and music appreciation program. There are 32-36 weeks planned at each level, and this allows your family plenty of flexibility to complete the curriculum in one homeschool year. The plans are listed by grade, but you can also use them family-style if you have multiple children at home.
*Art lessons with Nana are suggested in this plan but not all are included. Some art lessons are only available to You ARE an ARTiST Complete Clubhouse members.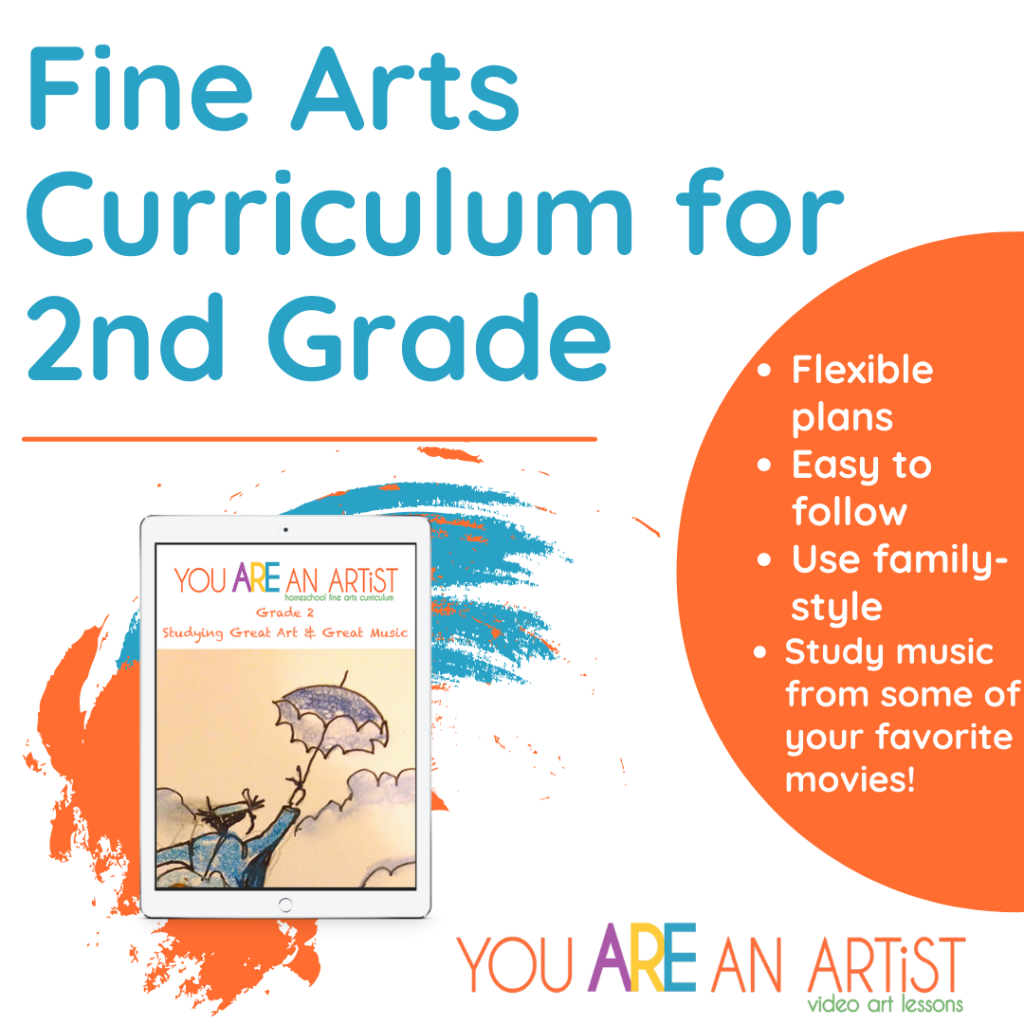 Looking at Great Art and Listening to Great Music in Your Homeschool
This year of fine arts will expose your young artist to 32 different artists, one in each week. Please note these artists are from various time periods and present a variety of artistic styles. Many of the artists will be featured in the later years of our Fine Arts Curriculum as well. The Old Masters Rock—How to Look at Art with Children book will guide you through each painting and artist with things to look for and facts about the time period and the artist.
The paintings are grouped into four themes: animals, people, landscapes, and things people do. This year of fine arts aims to have your child sample some of the great art and artists that will inspire them to desire to learn more and enjoy creating their own art.
Composers included:
Johann Sebastian Bach
Wolfgang Amadeus Mozart
Ludwig van Beethoven
Johannes Brahms
Pyotr Ilyich Tchaikovsky
George Frideric Handel
Igor Stravinsky
John Adams
Please note that there are other composers you will listen to during your music appreciation time, but the ones listed above are the ones whose biographies will be read as part of your study.
Grade 2 Homeschool Art and Music Appreciation Curriculum Includes:
36 Weeks of Plans – 32 different artists and 8 composers (+ additional composers included).
The plans include links to internet sources for viewing artwork, additional activities, and YouTube listening.

Two Homeschool Art Appreciation Tracks to Choose From:
Option 1: All artwork is linked to internet sources, and you can view them online. The Old Masters Rock book pages will guide you through your viewing each piece of artwork.
Option 2: This option is centered on projects from the Paint Lab for Kids by Stephanie Corfee. There will be suggestions for tying the Option 1 paintings to the activity in this book.
Homeschool Music Appreciation and Composer Study
The YOU ARE AN ARTiST Fine Arts plans for this level combine a brief study of the orchestra and several classical composers. In addition, the plans use music from movie soundtracks to introduce children to the idea that music can tell a story and set a mood for a movie. The bulk of the movies are from the Disney collection, and much of the music is from Disney Goes Classical. There are links to YouTube for each of the selected musical pieces.
This homeschool fine arts curriculum includes suggestions for including Nana's video art lessons but her art lessons are not included in the pdf. Because of the nature of digital products, we do not offer refunds. All sales are final.
*Please note: Homeschool Fine Arts curriculum is designed for use by one family. Please see co-op information under the Start Here tab.