Today we welcome Stef Layton. Stef has a wonderful family that I like to say, 'grew up' with us. Her children started chalk pastel lessons with Nana when they were very young. And she helped us realize that our, now older, artists needed more challenging art lessons. So Nana's I Drew It Then I Knew It was born to meet that need. We are so encouraged by Stef's story! I wish I could remember how I first came across Hodgepodge and Chalk Pastel. Almost a decade ago I had read Hodgepodge blog a few times being part of the "online homeschool world". She was a wise homeschool veteran a few years ahead of me and I was thirsty for direction. Yet I had zero knowledge of this chalk pastels thing she shared. Still, today, I share my family's story of chalk pastels through the years and what raising an artist looks like.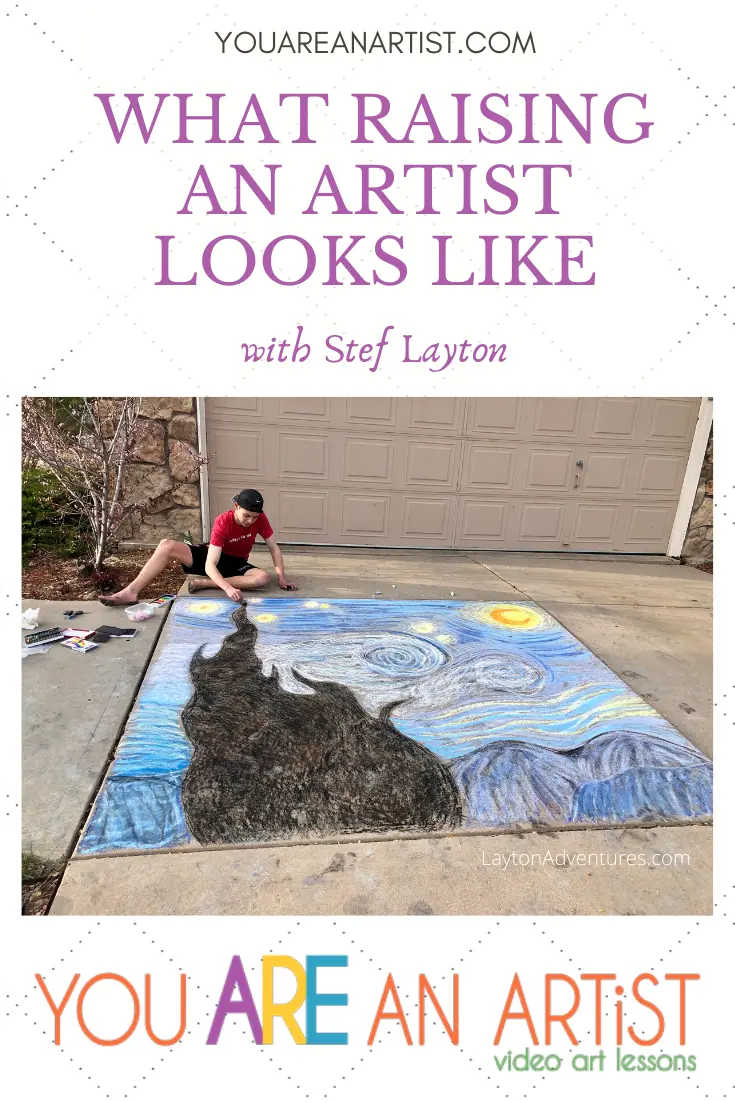 What Raising an Artist Looks Like – Chalk Art Yesterday
I was familiar with sidewalk chalk raising my boys on endless games of outside tic-tac-toe and hangman. But this unique art medium was far beyond my pathetic art knowledge which consisted of gluing my fingers together in elementary school. I was happy with a large set of colored pencils and markers. However my oldest son, Jake, at the time in 4th grade, wanted to do "real art". Markers, crayons, and watercolors were for little kids mostly because his younger brother started using them. This chalk stuff was new territory and honestly I was hoping my son didn't like it. It was more expensive than markers. It was a bit messy. It required some work blending. Why did we always run out of black construction paper? Chalk pastels were intimidating just when I was finding my homeschool mama stride.

We started chalking slowly. I remember adding chalk art after our history lessons. Chalking a ship for a Christopher Columbus history lesson. Then adding chalk during science. Smudging a red cardinal as he listened to Apologia's Flying Creatures. Jake, being highly tactile, loved chalk art. We weren't serious chalkers – yet. If the art fit easily into something we were already doing, then I'd add it to a lesson at least once a week. Once a week magically became every other day as we couldn't wait to try out another chalk art tutorial. Volcanoes, waterfalls, beaches, tornadoes, and super cool castles – it all came to life on our dining room table. This is what raising an artist looks like.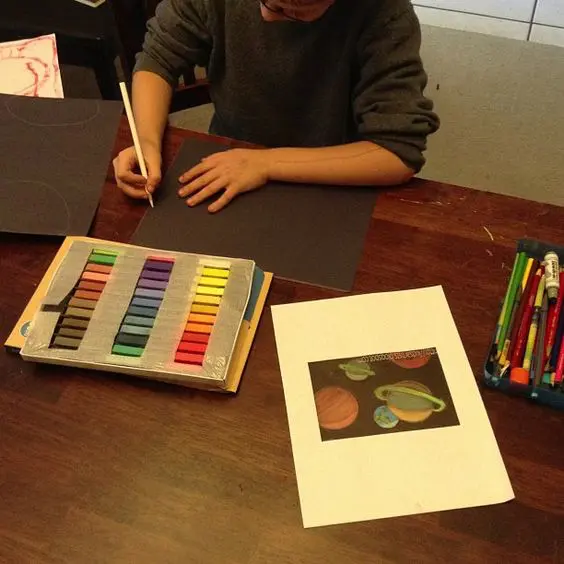 Eventually when Jake started high school he stopped using chalk pastels and started sketching pen and copic markers, his favorite medium. He enjoyed digital videography and film editing.

Then #YouAreAnArtist started trending and I quickly jumped to support with a membership. My youngest son, Henry, struggled with delayed fine motor skills. He was not thrilled to use chalk pastels. Trying to keep Nana a part of our homeschool art time, I allowed him to draw along with the tutorials using thick markers. The artwork definitely looked different but it was easy to pair I Drew It Then I Knew It with the Classical Conversations timeline. Nana does a great job walking students step-by-baby-step through the art process, so with markers or chalk we still created fun pieces of artwork. Eventually Henry's dexterity improved and we added a space unit with our Astronomy lessons. Although he still proclaims to be more of an "engineer builder than artist", he still enjoys a chalk lesson. Another instance of what raising an artist looks like.

We are thankful to find such a loveable art teacher. Nana is a peach and not just because they're in Georgia! I want to bottle up Nana and adopt her for myself. Her southern charm and love for art are endearing. Bless her heart she has made art fun for the Layton family and taught me to stop fearing "art". To relax and enjoy creating.
Chalk Art Today
Since our very first tutorial many years ago, I have always kept a box of chalk pastels around the house. When the quarantine happened here in Colorado I sent my bored children outside to chalk up the driveway. (lesson learned: black chalk pastels do not like to leave a concrete driveway, ever). I realized my mistake of using chalk pastels on the concrete and ordered a ridiculous bulk supply of generic "side-walk-chalk".

The different chalk did not stop my oldest son from being creative.  I thought it'd be a fantastic idea to provide the neighbors with something to uplift spirits. First we left dad jokes then we'd put down a little sun or rainbow. Eventually Jake started chalking half the driveway. From Snoopy to Gumball, the Easter Bunny, and butterflies. He'd sketch the outline and we'd fill it in together.

One day I saw on Nana's Chalk Pastels Facebook Page she was going to create Starry Night. I sent Jake outside with a bucket of blues, yellows, whites, and blacks. He created a 5ft x 7ft masterpiece, something the neighbors stopped to admire.

Minutes after Starry Night was completed on my driveway, when we were covered in chalk dust from head to toes – I hopped into the shower thinking about a long distance friend's recent "drive by parade". Her daughter was celebrating five years cancer free. The Facebook video of all their family and friends driving by with balloons and honking – hanging out their windows waving and blowing kisses – it makes me cry just remembering it. I thought to myself, wouldn't it be cool if Starry Night was on Kim's driveway as everyone drove by? She deserved it! We could make birthday drive bys a chalk business!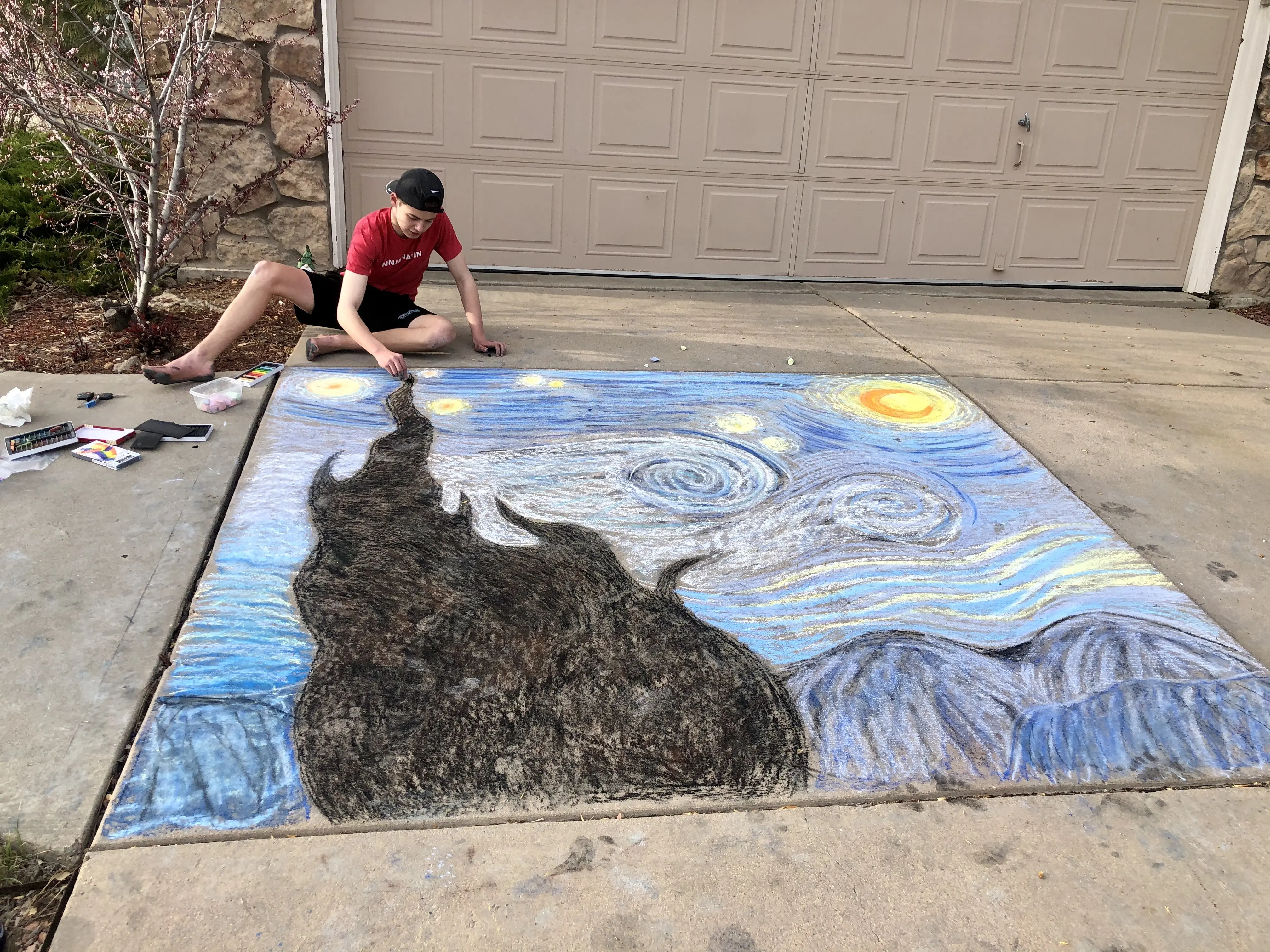 Not more than 10 minutes later I was walking outside to see if my boys wanted dessert. A neighbor, I had never met before and haven't seen since, jogged by slow enough to shout that she loved my artwork. MY artwork – not in a million years! For weeks everyone assumed the artwork was done by an adult. I laughed and told her it was my teen. She called back over her shoulder, "I might have to hire him to come do that in my yard". That angel ran off never to hire my son, but to spark a business idea instead.

Of course my teen couldn't understand why anyone on this planet would ever in a million years want to hire him. "It's not a big deal. Everyone can do it. I'm not that good". He kept debating me. I recognized the rejection in his voice from all the job applications he had been filling out lately. He was desperate to find a job to start saving for next year – college! The rejection was really starting to get to his heart. Also, my son does not believe he's a good artist because he's comparing himself to Van Gogh. Who would think they were a good artist compared to that high bar?

Frustrated, I went to the laptop and pulled up his old Facebook page we created for an Art Festival. He sold over $150 worth of ink & marker drawings. I uploaded new chalk photos I had taken over the last few weeks. Then I shared the page in the local neighborhood Facebook Group. "Looking for a birthday, good luck, congratulations, happy anniversary message? Support a teen artist & order a Chalk Driveway Message". I tagged his page and walked away. If it was going to be of interest all we had to do was wait.

Well, we didn't have to wait long. He was hired for two jobs 15 minutes after that post. We laughed together and high-fived each other, but he was incredibly skeptical he'd make enough money to even cover the chalk supplies. The next morning we woke up to eight more job inquiries. Requests from Disney balloons to Fortnite characters. Another Starry Night for an autistic boy and a Bob Ross sunset for a 70yr old woman. Those eight jobs quickly doubled and then tripled.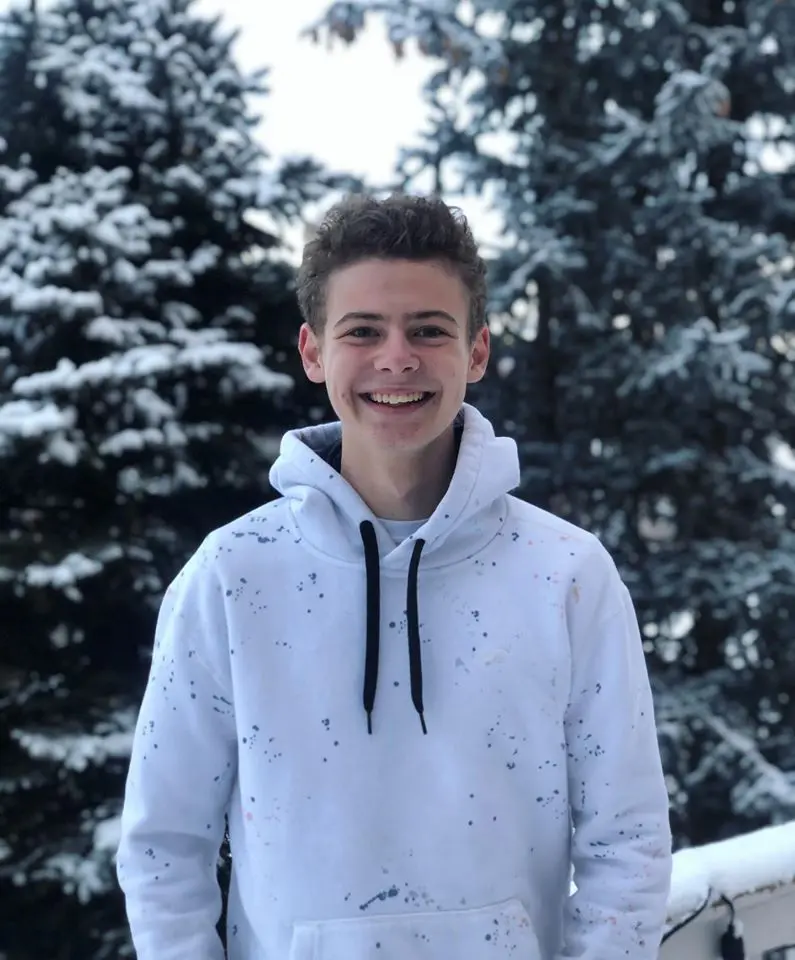 Since the DMV closed and Jake still does not have a Colorado driver's license, I offered to be his first employee, mostly so I can ride shotgun on the way to his job. Each morning we wake up early and get to the job by 8am. He sketches the outline in white chalk then we fill in the colors. I usually paint over the chalk with water to blend and spread it better (a little sidewalk trade secret) while he likes to rub it in with his palm. I've rubbed off two fingerprints because blending on concrete is far different than construction paper. This is what raising an artist looks like.
Once the color is down Jake goes back over the artwork for details. It takes us about an hour to do a large 5 ft character. After the job is complete he takes me out for Smoothie King because he knows he has to pay for employee help. And let's be honest, he's thankful this crazy hair-brained idea his mother had is actually becoming a legitimate part time job. We work together just about every morning and we're home within two hours before my youngest son wakes up. Not too bad for a kid who doesn't think he's talented.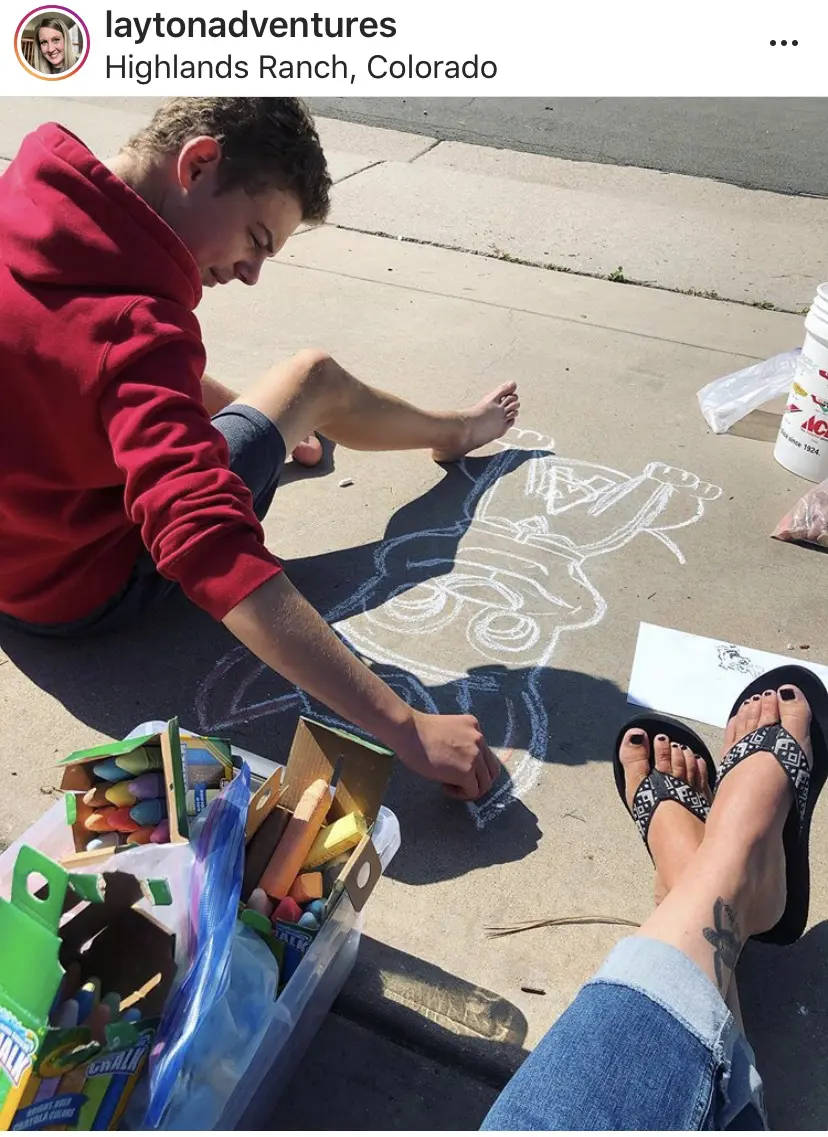 One day while we were chalking a driveway I was overcome with giggles. Jake looked at me curiously. I told him, "A few weeks ago I was thinking how this is your last year at home. It made me a bit sad and I missed the sweet days of bubbles and sidewalk chalk." Holding up dusty dirty hands I wiggled them and laughed, "be careful what you wish for, huh"?
Truly, I am thankful for this time together. We're outside in the cool Colorado mornings. We laugh and sometimes get onto each other for mistakes or the fact that someone forgot to measure the letters – again. He takes his gifts for granted and all of these jobs just reinforce the fact that the man-child is talented! What a treat I get to watch it dawn on his face every single time we are finished with a job. As he steps back and declares, "that's really good". THIS is what raising an artist looks like.

This quality time together – quality time, his love language … I see it as a gift. The quarantine practically created birthday car parades forcing parents to plan special ways to celebrate birthdays. Had it not been for Tricia and Nana all those years ago reminding us You Are An Artist – blessing us with knowledge, chalk lessons, encouragement and creativity … he'd be downstairs playing video games instead of saving for college. I am overwhelmed with gratitude.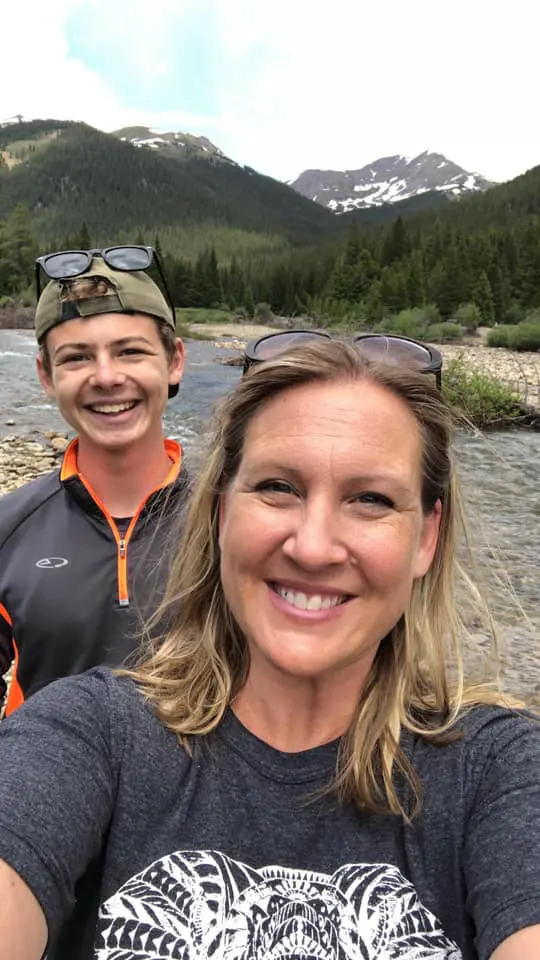 Stef Layton started homeschooling her boys in 2008. She spends most days hiking, bird watching, and picking Colorado wild flowers. @LaytonAdventures.
Jake Layton is a high school senior. He likes to sketch, play guitar, and do parkour. Together they run JTL Sketches in Highlands Ranch, Colorado.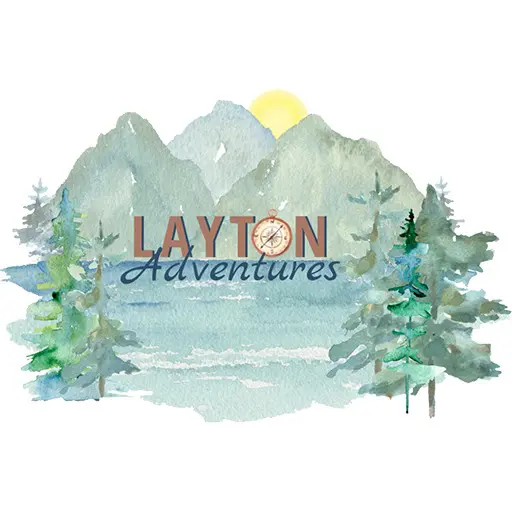 You might also like: