Are you homeschooling high school? Then as you know, it is a beautiful time to cherish memories made with your teen. You may also be at the point in your homeschool journey where necessary credits are getting completed. High school is the time to make sure that your student's transcript is coming together nicely for whatever may be in store for them in the future.
So, if you are in the process of completing high school credits for homeschool, you may need an art credit. Many states require one visual art credit for the completion of high school. If that's the case for you, we will show you how simple it is to use You Are An Artist to obtain your student's visual art credit.
As fellow homeschoolers, we know that homeschool families like to plan their own way! That's why You Are An Artist is an excellent fit for your visual art credit needs. Our flexible path to a visual art credit with chalk pastels allows you the freedom to plan; however it best suits your student.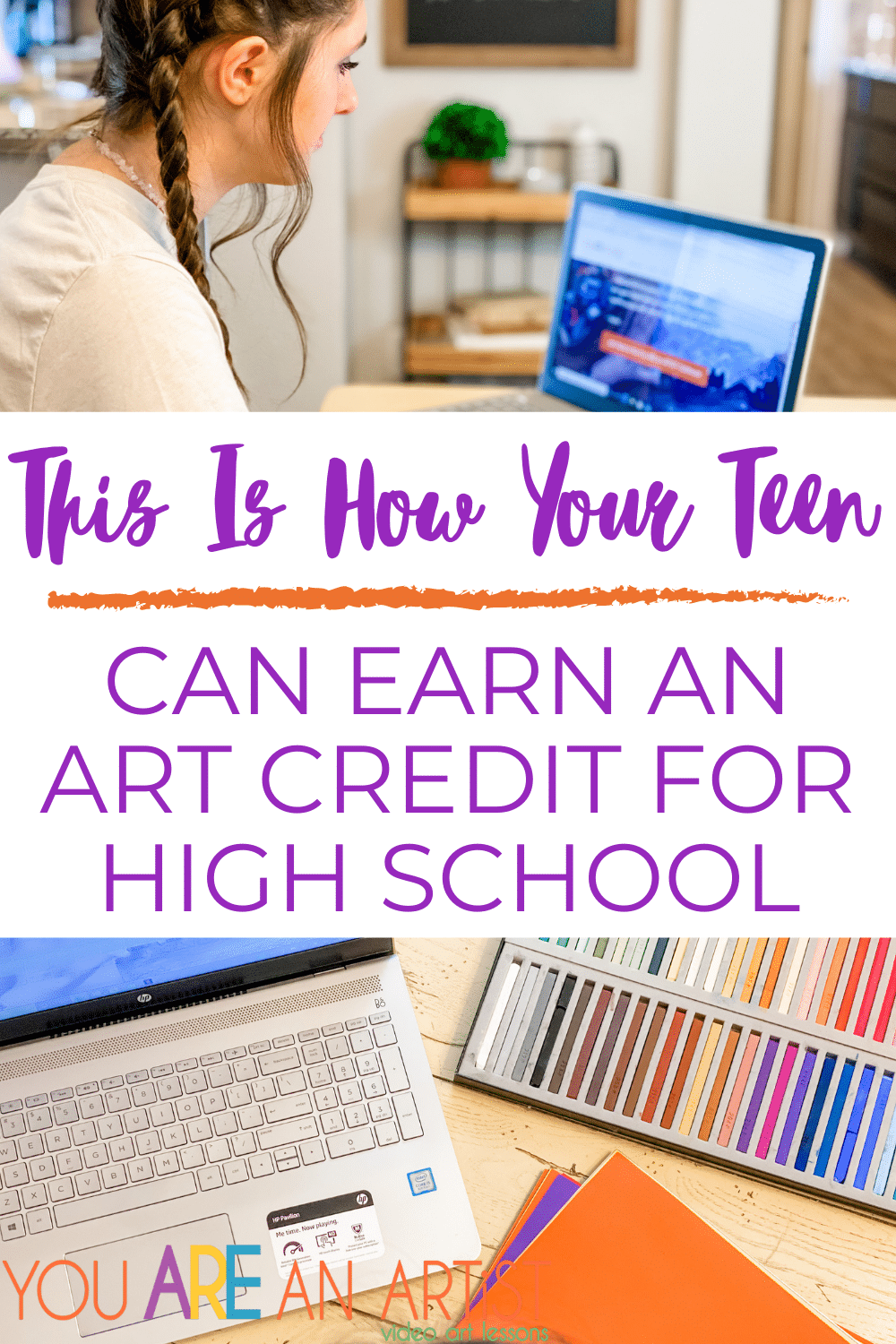 Visual art is not only the process of creating art. The education goes far beyond that. Visual art with chalk pastels also encompasses learning about art history, culture, nature, and more. Luckily, here at ChalkPastel.com, we have over 700 chalk pastel lessons to choose from, including all of those very things!
No searching for the right projects or spending hours trying to map out your visual art curriculum! We have simplified earning an art credit for high school for you. We offer a Visual Art 1 pathway to either a full or half-credit.
And if you are a homeschool parent, you can appreciate the combination of subjects. It's a win-win when you can combine art and history, art and geography, and better yet – when you can include multiple students. Yes, you can do that with a Clubhouse Membership!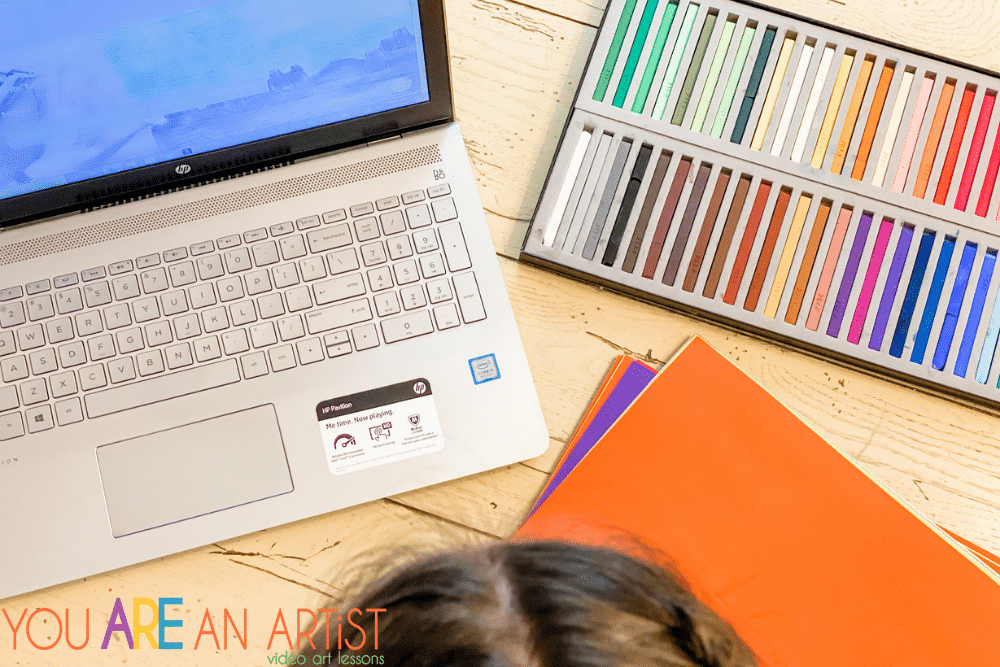 How To Use You Are An Artist For a Visual Arts Homeschool High School Credit
First, check your local requirements to find out how many hours you need for a full or half credit. You will likely find your state requires somewhere between 120-150 hours of study for a full credit and 60-75 hours or a half credit.
Once you have your requirements handy, you may want to map out your semester or year. An easy way to do that would be with our Visual Art 1 Credit Planner and Tracker. The planner and tracker are also perfect additions to your portfolio if record keeping is required in your state.
You can plan art lessons to coincide with what you may be learning or books you may be reading this year – with over 600 available lessons to choose from in the Clubhouse Membership, planning out your art credit for high school with chalk pastels is super simple.
Plus, choosing to pursue a visual art credit is affordable. Unlike many other electives, the supplies for chalk pastel art are minimal. So if your family is watching the budget like many of us are, it's an economical option that requires few supplies.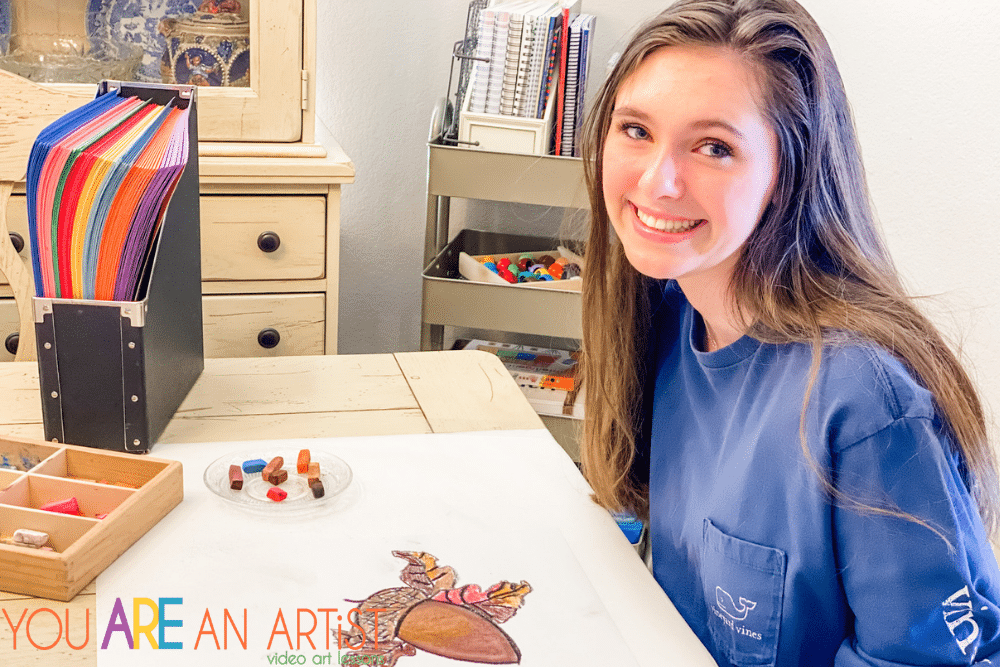 What Can I Count As Visual Art Hours On Our Homeschool Transcript?
What can you count as hours towards your visual art credit? That's a great question, and accumulating hours is easier than you think! Here are plenty of ideas and ways you can make all of your educational moments count.
Chalk Pastel Projects: The projects themselves will take time, and the time per project will vary. Each project's time will be different from student to student, depending on your child's skill level. However, all of the time spent creating counts! Your teens will likely love this course; chalk pastel art is easy to enjoy.
Art Vocabulary List: Create an art vocabulary list to help your students learn all of the art terms you can find. You could use this list for learning definitions and even test or quiz your student. Another idea may be to have them research particular art terms and the history behind them. Where did the art term originate and when? The possibilities are endless.
Chalk Techniques Definition List: We have a Chalk Techniques Definition List inside the Clubhouse to help your students get familiar with all chalk techniques. We recommend your student become familiar with this list. Like the vocabulary list above, you could quiz your teen on the list of definitions or do more extensive research on the terms if you choose.
Field Trips: Yes, of course, field trips count too! And they happen to be a highlight for the whole family to enjoy. Plan a weekly or monthly outing to a nearby art museum, art fair, or art exhibit. Field trips are a fantastic way to experience art in real life. Take a camera to snap photos of your favorites or to try and recreate them later at home with pastels. Have your student bring a journal on the trip and make notes about what they saw. Or bring some chalk pastels along to draw while you are at the museum. You can get extremely creative in using this time for exciting learning opportunities.
Art History: Watch documentaries about a particular artist or piece of art. Visit the library and check out books that cover art history, culture, and showcase works of art. Your students might veer off onto a rabbit trail as they begin to research the history of pastels themselves. Chalk and oil pastels can be traced back to the renaissance. Yep! The history is fascinating, and some of our most famous artists used chalk pastels.
Critique Famous Chalk Works: Along with your art history studies, you will find that many famous works of art were created using pastels. Another exciting activity to assign your teen is to critique the pieces. You can dive as deeply into critiquing as you like, but there are some basic questions you can cover. What is the history behind the work? What sort of artwork is it? Ex. Portrait, nature, still life, landscape, abstract, etc. What kind of lines, shapes, and forms do you see? What colors do you see? Discuss space, light vs. dark, and focal points. You can also talk about interpretation; what is the artist trying to convey? Lastly, evaluate. How does the artwork make you feel? Do you like it? Why or why not?
Submissions: Submissions are another fantastic way to challenge your budding artist and still calculate hours towards your visual art credit. Encourage your student to submit their own works of chalk pastel art into local contests. You can often find competitions to enter posted in your local library or college campuses. A simple Google search will produce all sorts of opportunities where your high school student can enter their art. You might even find fun entry opportunities at your state fair!
Final Project: Assign a final project for each semester or year-end. To determine a final art project, you may want to combine techniques or styles covered over the year. A final art project is a fantastic way to assess everything your teen has learned throughout the curriculum. It is also a fun way for your student to showcase all that he or she has absorbed.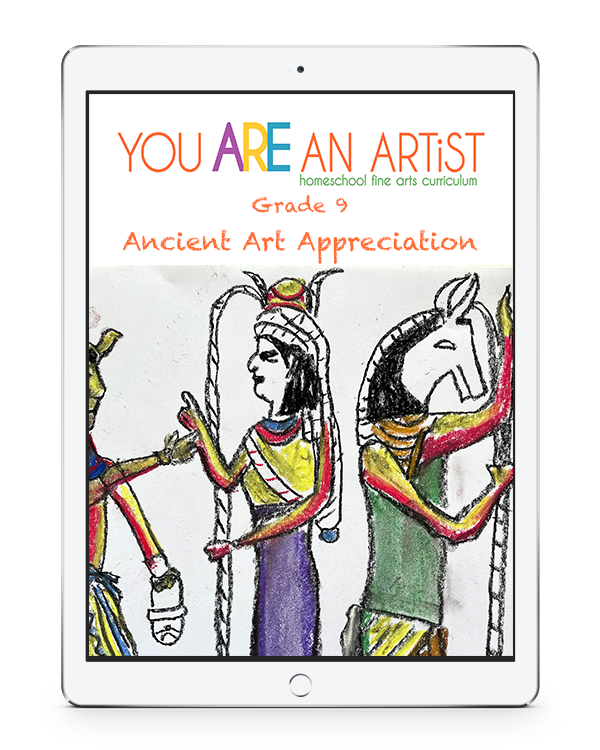 Coming early 2022! Homeschool High School Art and Music Appreciation
The You ARE an ARTiST Homeschool Fine Arts at Home art and music appreciation plans for the rhetorical stage of education were created to be used by high school students. It is organized in a four year history cycle. Provided in these plans are week by week suggestions for readings in The Annotated Mona Lisa and The Story of Painting. The plan also gives optional assignments for watching The Story of Painting series.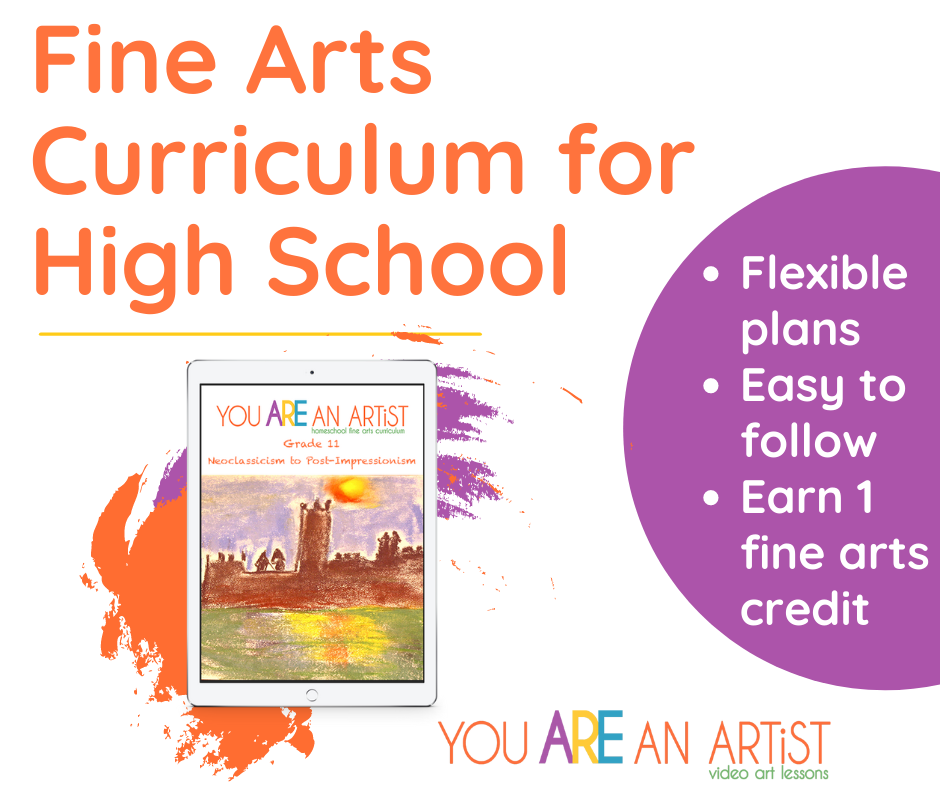 The plan makes use of online sources for viewing artwork for each time period studied. The links are provided to supplement your reading.
In addition to reading and viewing the artwork, the student is directed to write a one to two page summary for each time period or topic covered.
Spine Texts for all four high school years of the Harmony Fine Arts art appreciation plan are The Annotated Mona Lisa: A Crash Course in Art History From Prehistoric to Post-Modern and Sister Wendy's The Story of Painting.
You ARE an ARTiST Homeschool Fine Arts music appreciation plans for the high school years are included as part of each high school lesson plan. These music appreciation plans are designed for high school students looking for an organized way to listen to classical music in the four-year cycle of history as outlined in The Well-Trained Mind classical education plan. Each plan gives week by week suggestions for readings in Classical Music Experience, suggestions for listening to related music, and links to additional information about the composers and the time periods under study. In addition to reading and listening, the student is directed to write a one to two page biography for each composer studied and a one to two paragraph opinion of the composer. The student is also asked to keep a list of the musical selections he has listened to during the study period in a notebook.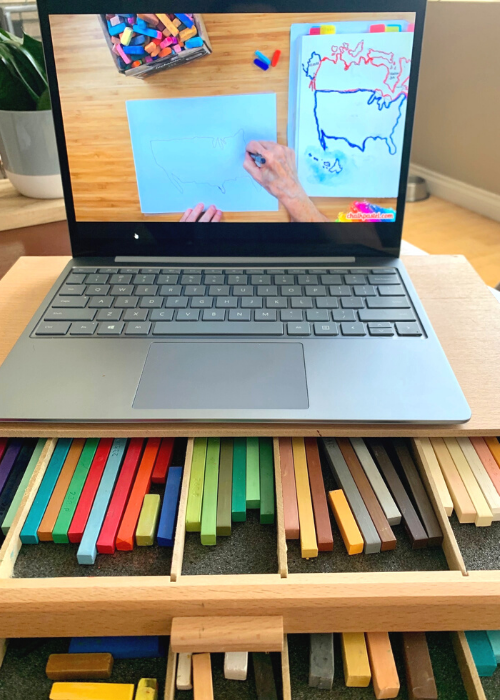 Integrated Art for Homeschooling High School
Are you looking for ways to create a more dynamic learning environment for your high schooler? Homeschooling with an integrated art approach may be exactly what you need! Find out more from Shawna in Integrated Art for Homeschooling High School.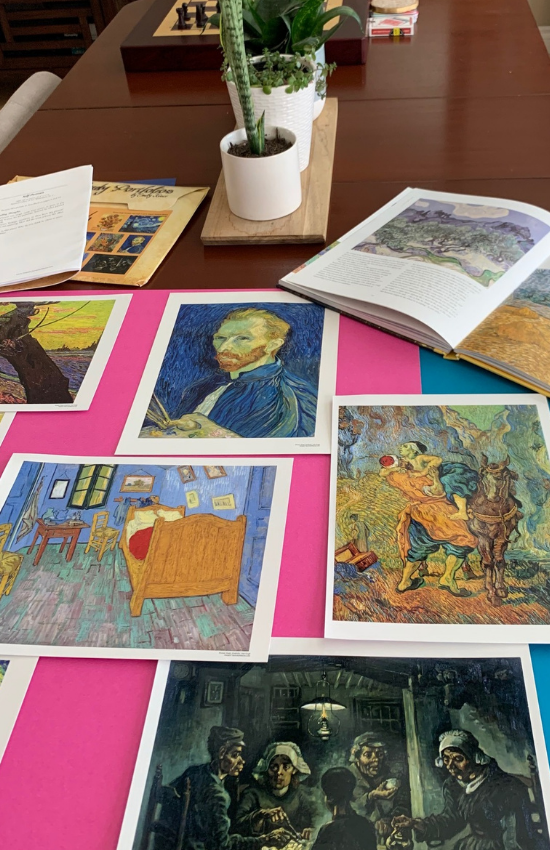 Fine Arts Credit for Your High School Transcript: A Homeschooler's Quick Guide
Fine arts credits are required in most states for high school graduation. Are you looking for compelling ways to satisfy this requirement in your homeschool? This quick guide has everything you need to add fine arts credit for your high school transcript.
You might also like: Homeschool Art Curriculum for High School: Everything You Need For Your Teen
A Complete Visual Art Curriculum For Your High School Homeschool
We hope this helps you easily plan your child's Visual Art 1 curriculum for the year or semester. Make sure to get a Clubhouse Membership to access your Visual Art 1 Credit Planner and Tracker, along with the Chalk Techniques Definition List.
We also invite you to join our private group. Inside of the, You ARE An Artist Community, you will find art submission opportunities for your teen along with plenty of art activities that the whole family can enjoy. See you inside!
Courtney is a Jesus-pursuing, native Texan, homeschool mom of three, and she believes homeschooling can be a peaceful and productive rhythm. At Grace, Grow & Edify she helps families create peaceful homeschooling atmospheres through faith, organizational strategies, and cultivating strong roots at home. She is also the founder of Homeschool Mastery Academy.