Combining poetry and art in your homeschool is a wonderful way to help your child learn. Enjoy these tips for getting started and a free worksheet!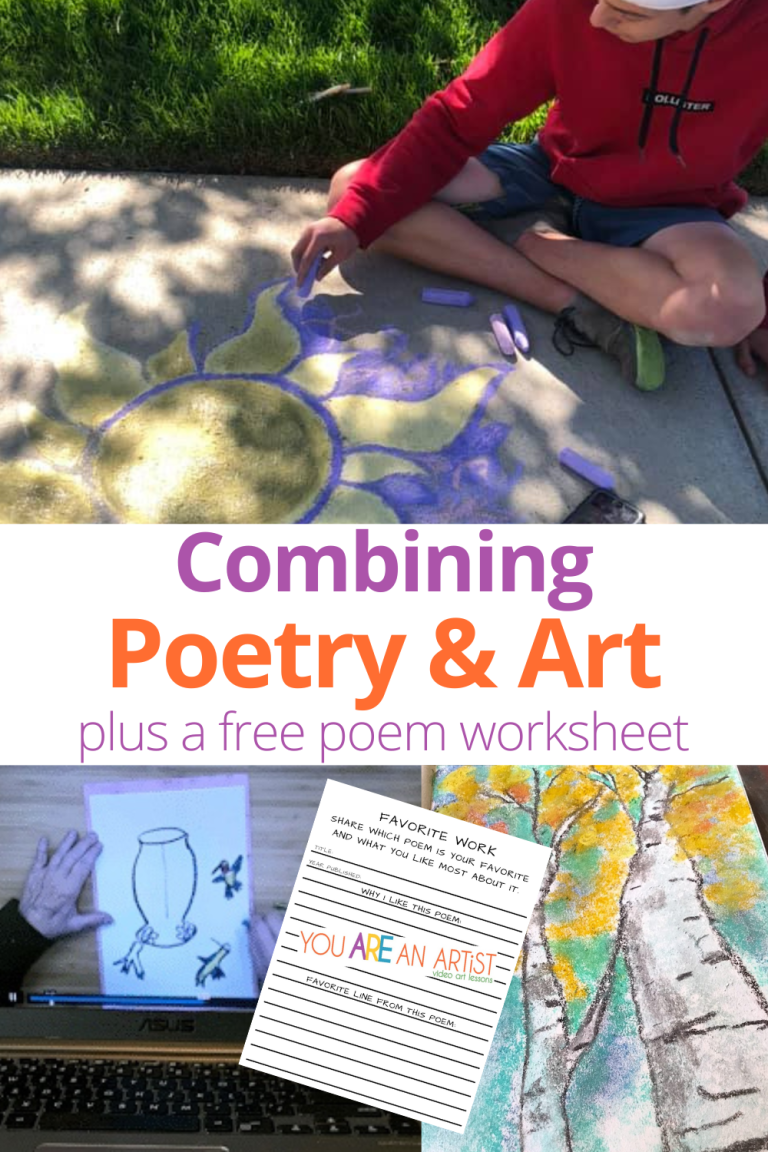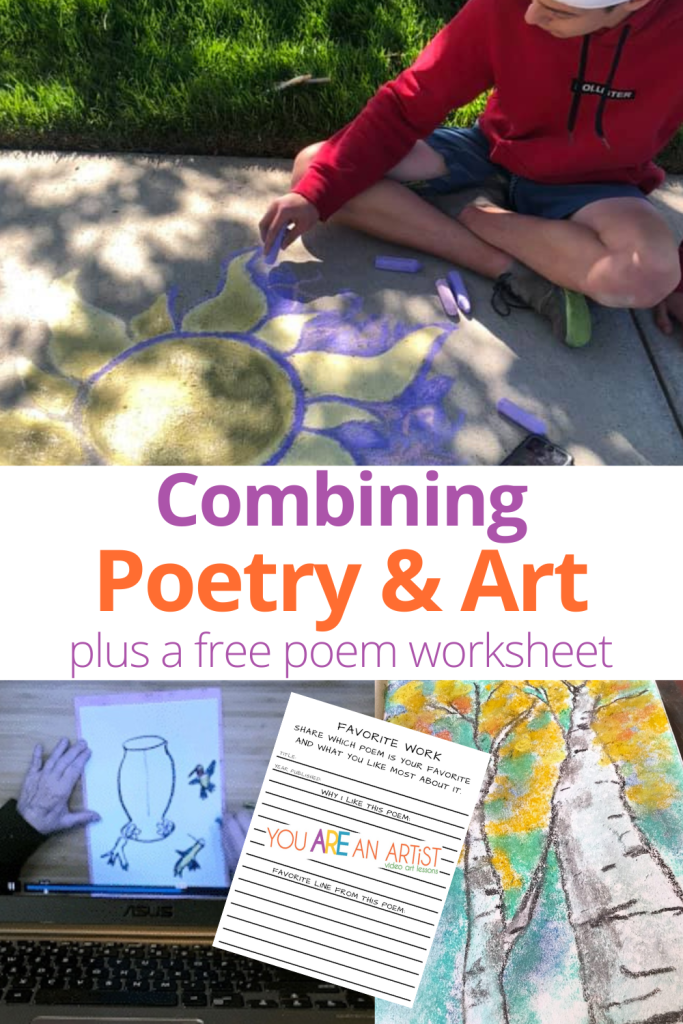 I believe poetry paints beautiful pictures. Poems are descriptive. Emotional. Word art for the ears. But if your student isn't an auditory learner, poetry can be heavy, confusing, and just a bunch of jumbled metaphors. This is why I believe it's wise to start combining poetry and art in your homeschool!
My oldest son needed to "see" everything. He is a visual learner. I decided to let him practice listening by sketching what was being read. Of course we had to incorporate some rules – no superhero drawings. After he got a few good Batman sketches out of his system, we finally hit our poetry and art stride. Some days he sketched the literal words, some days the metaphors. Some poetry left him feeling like drawing a wildfire of colors. While other poems lead to science lessons and nature walks. But that's homeschooling. Exhausting a subject and learning all the things!

The Value Of Combining Poetry And Art In Your Homeschool
You might feel overwhelmed trying to combine art and poetry. I'm not a fan of sketching any of Edgar Allan Poe's poor victims. But a clock or raven isn't too intimidating. My husband asked me the other day …

Q. What happens when Edgar Allan Poe paints his rhymes?
A. He makes Poe-ART-Ry.

Maybe we should just stick to drawing. If you're wondering how we paired Nana's great tutorials with poetry, it's easy! You ARE an ARTiST Clubhouse Members can head to their dashboard and use the SEARCH function. If you're reading about nature, seasons, animals, etc. you can search all the tutorials by topic! Here are a few of our favorites:
Nothing Gold Can Stay by Robert Frost & Fall Aspen Tree
Robert Frost wrote Nothing Gold Can Stay in 1923. Did you know Robert Frost never graduated college, but received over 40 honorary degrees?
Nature's first green is gold,
Her hardest hue to hold.
Her early leaf's a flower;
But only so an hour.
Then leaf subsides to leaf.
So Eden sank to grief,
So dawn goes down to day.
Nothing gold can stay.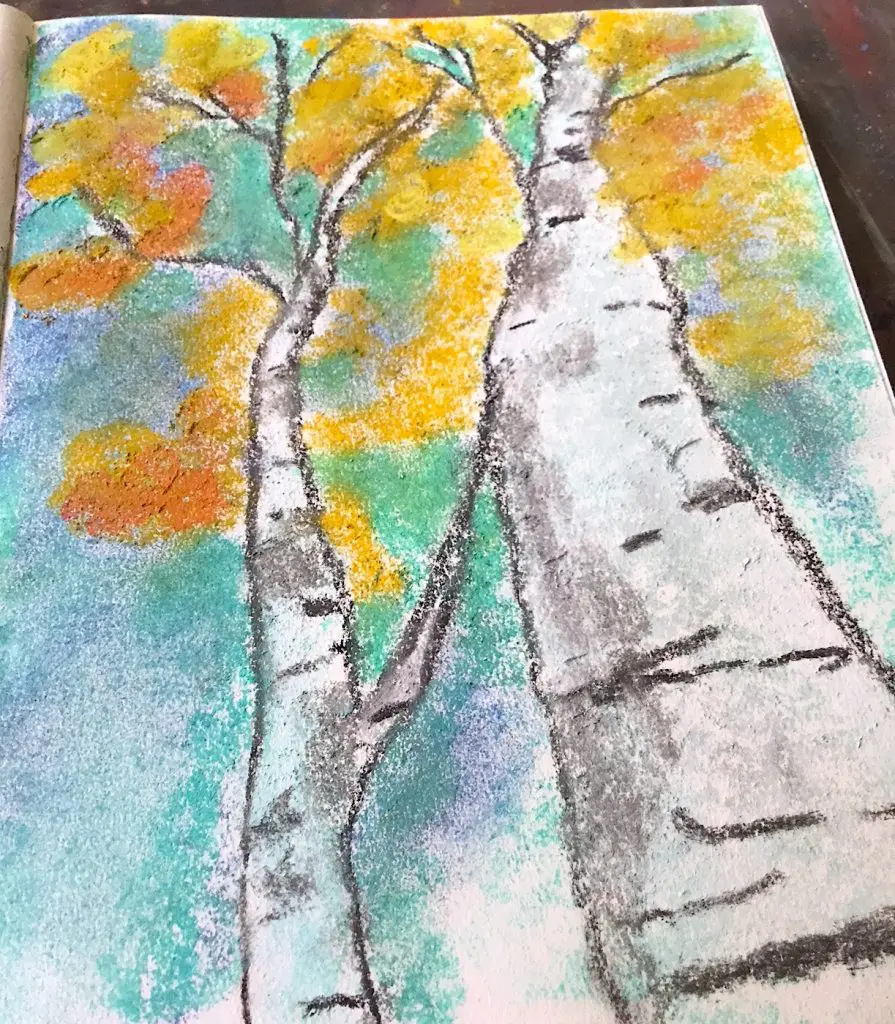 Out in Colorado, gold is the aspen tree in fall. It's a beautiful sight. One worth chalking as you read Robert Frost. If you're studying this great American poet, be sure to read Stopping By Woods on a Snowy Evening.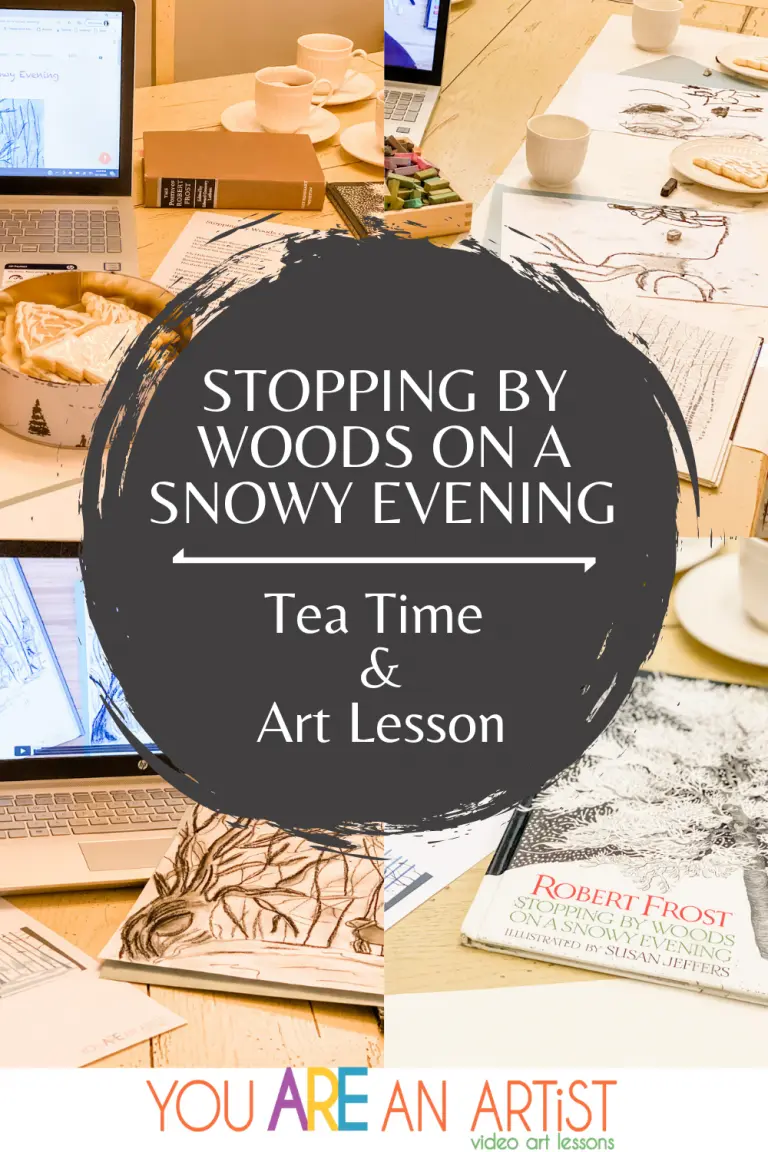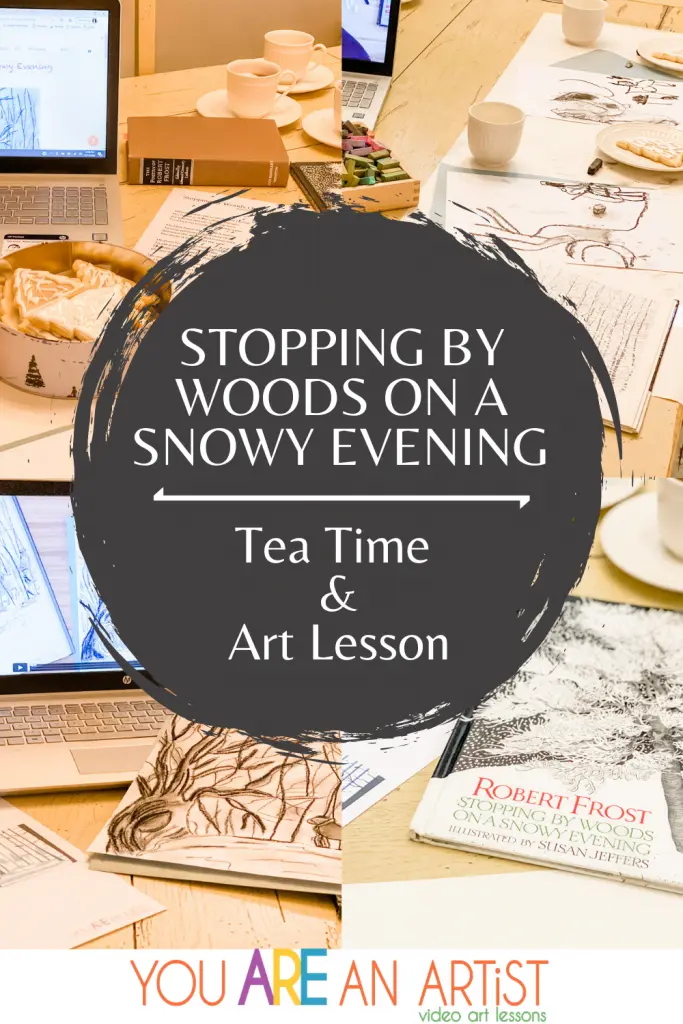 Hope by Emily Dickinson and Hummingbirds
I am a huge Emily Dickinson fan. The fact that she hid her poetry away in a trunk because she didn't think it was any good … I think as moms we can all relate to doubting ourselves. Am I good enough to homeschool these children? Are we doing the right thing? Yes sweet mama, you're doing an amazing job! Thankfully shortly after Emily's death her sister found 1,800 poems and had them published. Hope is my very favorite poem. It is believed to have been written in 1861.
"Hope" is the thing with feathers
That perches in the soul
And sings the tune without the words
And never stops – at all –
And sweetest – in the Gale
is heard -And sore must be the storm
That could abash the little Bird
That kept so many warm –
I've heard it in the chillest land
And on the strangest Sea
Yet – never – in Extremity
It asked a crumb – of me.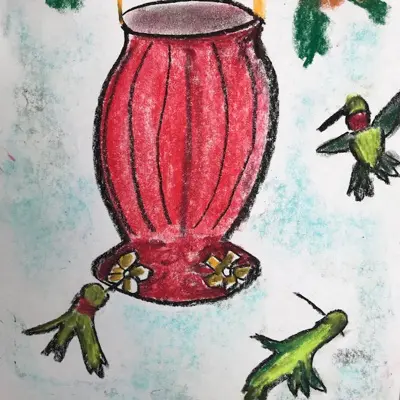 Did you know hummingbirds migrate in the winter? They are the only birds that fly backwards and have no sense of smell. Things you learn while reading poetry.
The Mountain & The Squirrel by Emerson and a Squirrel
The mountain and the squirrel
Had a quarrel,
And the former called the latter
"Little prig."
Bun replied,
"You are doubtless very big;
But all sorts of things and weather
Must be taken in together
To make up a year
And a sphere.
And I think it no disgrace
To occupy my place.
If I'm not so large as you,
You are not so small as I,
And not half so spry:
I'll not deny you make
A very pretty squirrel track.
Talents differ; all is well and wisely put;
If I cannot carry forests on my back,
Neither can you crack a nut."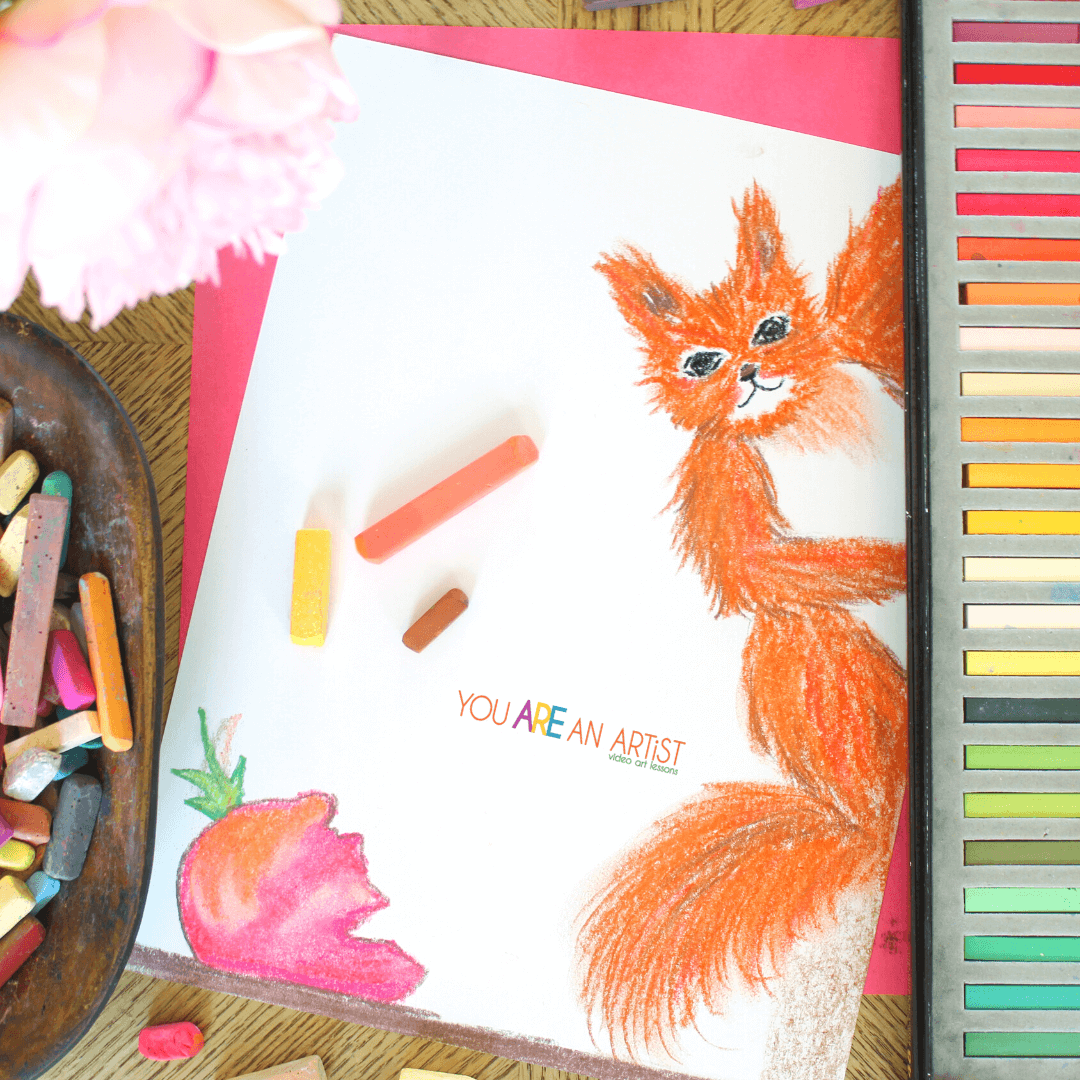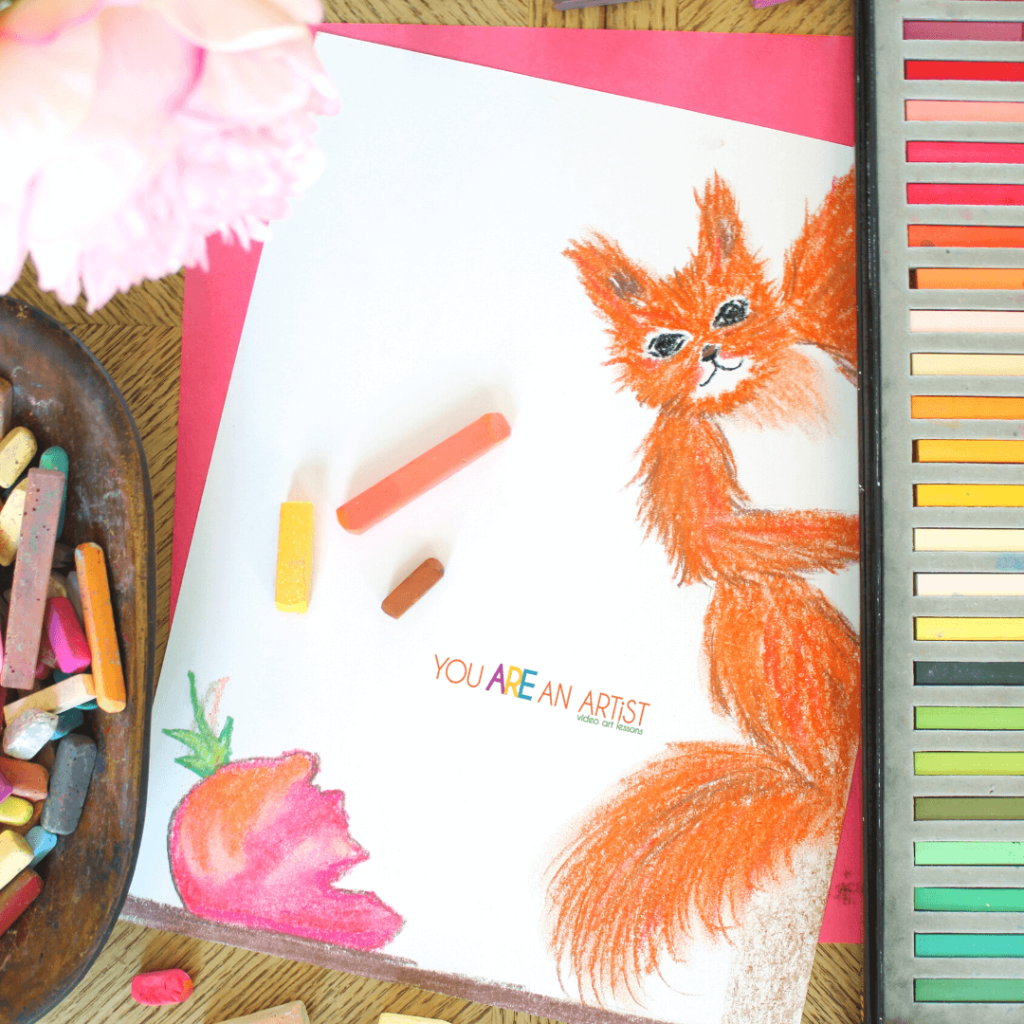 Our favorite Emerson line has become our family motto: Live in the sunshine. Swim the Sea. Drink the Wild Air.
The Beauty Of Combining Poetry and Art
Poetry is much more than reading some ridiculous rhyming words. Unless you're Dr. Seuss and then it's just cool. The poets behind these stories have stories of their own! You ARE an ARTiST Complete Clubhouse Members will find Poet Biography Pages (20 total, plus a blank page and the My Favorite Poem Worksheet) in their membership dashboard. These pages give your students an opportunity to learn more about the people behind the prose.

Poet Pack includes:
Mark Twain
Sara Teasadale
Christina Rossetti
Emily Bronte
Sarojini Naidu
Elizabeth Barrett Browning
Maya Angelou
Emily Dickinson
Ralph Waldo Emerson
Henry David Thoreau
Lord Byron
Henry Wadsworth Longfellow
T.S. Eliot,
John Keats
Langston Hughes
William Shakespeare
William Butler Yeats
William Wordsworth
ee cummings
Edgar Allan Poe
and Robert Frost.
Free Favorite Poem Worksheet
You can download this free Favorite Poem pdf now. Sometimes we (maybe just me?) harp on the reading and memorization of poetry. But we forget one of the most important questions: why do you like this poem. How does this make you feel? Which line is your favorite?
Memorizing dozens of lines can be a lot for a student. Rather than memorizing the entire poem, ask them to memorize their favorite lines. Full disclosure, I only have the first 4 lines of Hope memorized. And I'm okay with that.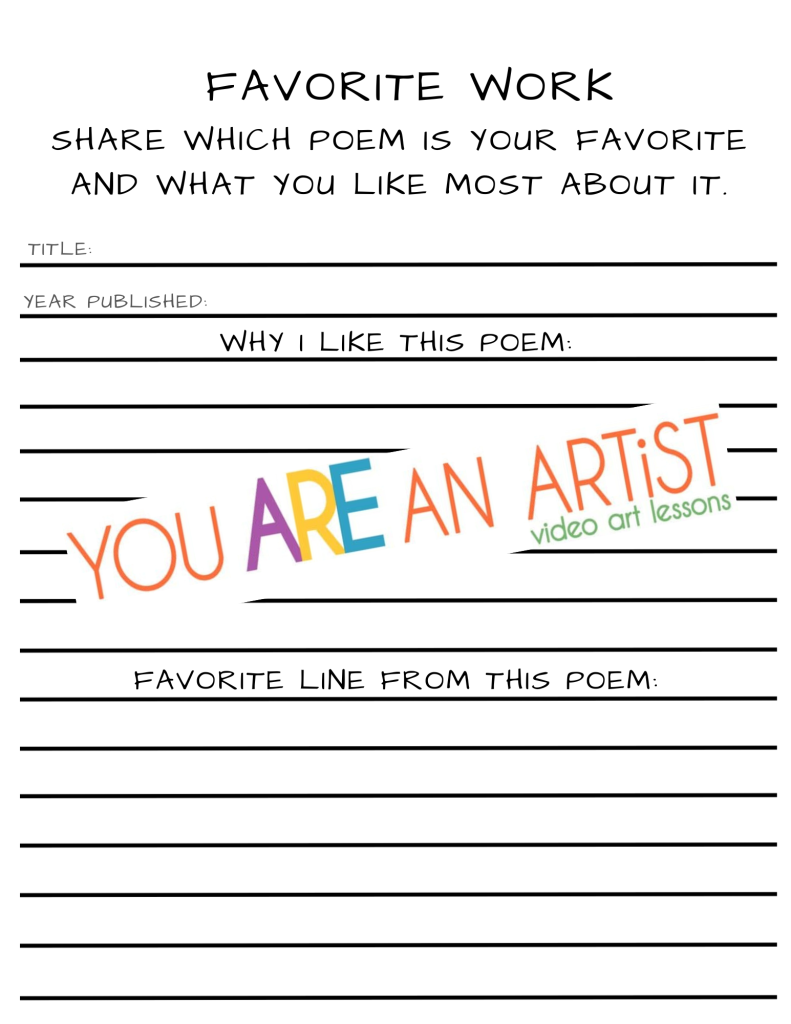 Maybe you have a student like mine who hates poetry. He is a bit more logical and didn't appreciate all the metaphors. Go ahead and cross out "Like" and write "Dislike". Those opinions are valid too!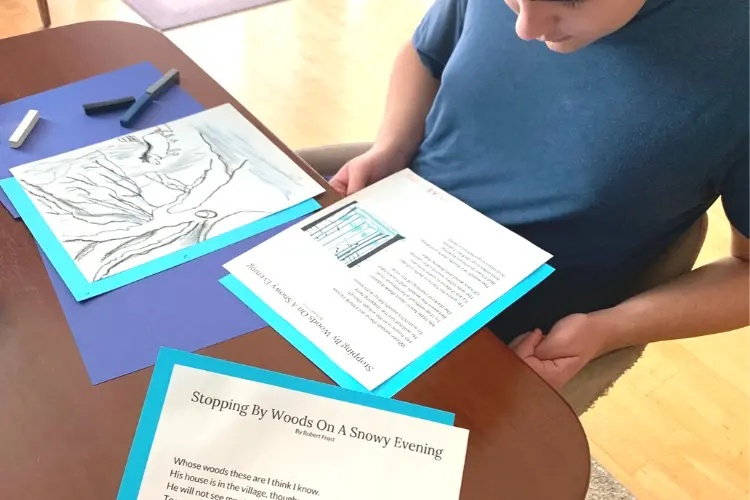 Poetry and Art Inspiration
Looking for inspiration for all those nature focused poems? Read this: How to Make Your Backyard a Natural Habitat for Wildlife from Outdoor Hour Challenge.
The Curriculum Choice has a round up of poetry resources in The Poetry Homeschool.
Then explore these poetry and literature ideas: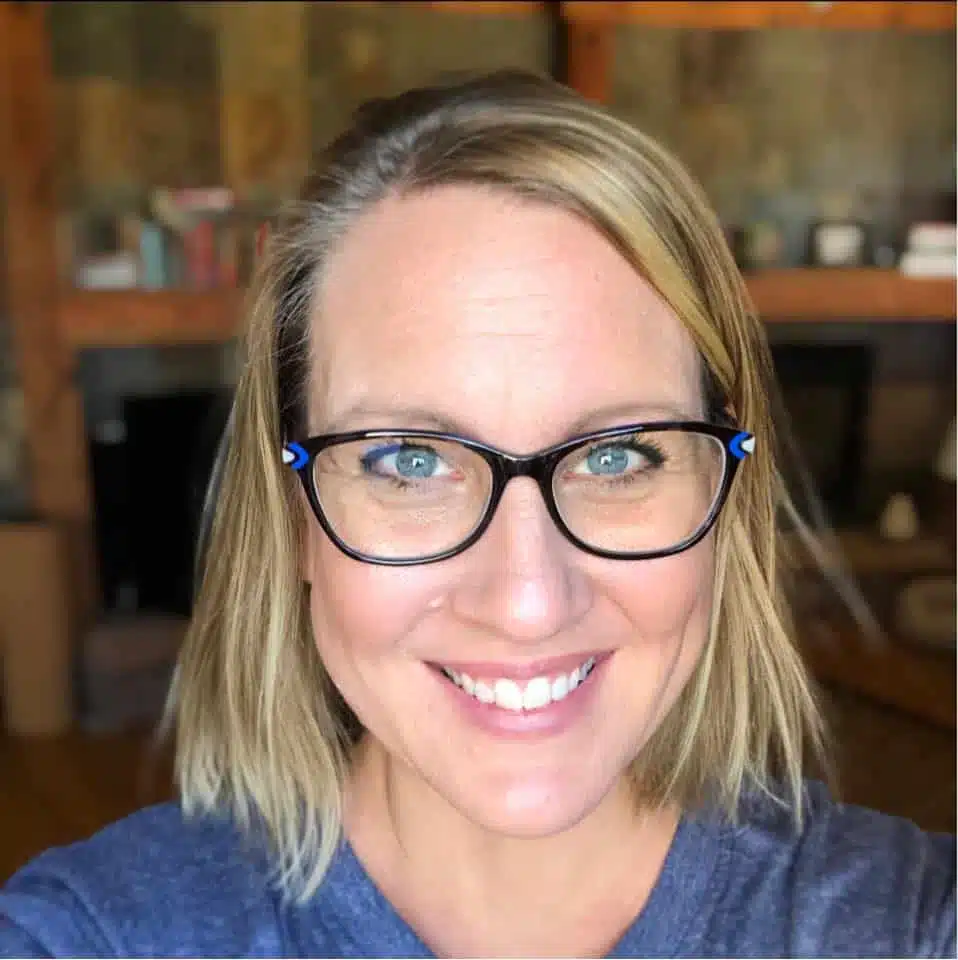 Stef started homeschooling her boys in 2008. She quickly adopted a hands-on learning homeschool style and graduated her oldest tactile learner in 2021. Stef started the Hands-On Learning column in Homeschooling Today magazine. The Laytons currently reside in the foothills of Colorado where Stef also teaches yoga. The family loves to hike trails, stand-up paddle board, and chase sunsets. Stef shares travel and homeschool tips on IG at @LaytonAdventures.