This is a perfect time of year to learn about the moon in your homeschool. Here is everything you need to create a homeschool moon missions unit study that will blast off!
---
"I see the moon,
And the moon sees me;
God bless the moon,
And God bless me!"
From a young age, children learn nursery rhymes about the moon like the one above or,
"Hey diddle diddle, the cat and the fiddle, The cow jumped over the moon."
"God made two great lights—the greater light to govern the day and the lesser light to govern the night." (Genesis 1:16) The lesser light dominates the night; moon rhythms and cycles keep time, track seasons, and control the sea tides. Its influence on us is inescapable.
We can see the moon outside almost every night. It can seem so strange and mysterious as it moves through the sky and changes shape.
It makes sense that children would be interested in learning more about such a beautiful and mysterious object. Adults have been equally interested in studying the moon and its impact on us. Of course, we have even gone so far as to send astronauts to walk on and explore the moon.
"Mystery creates wonder and wonder is the basis of man's desire to understand."

Neil Armstrong
Moon Missions Anniversaries For Your Homeschool Study
Each July, there are Apollo Moon Missions anniversaries to learn about. This makes July a great month to spend a little time focused on the moon missions. For example:
July 20, marks the anniversary of the first moon landing in 1969.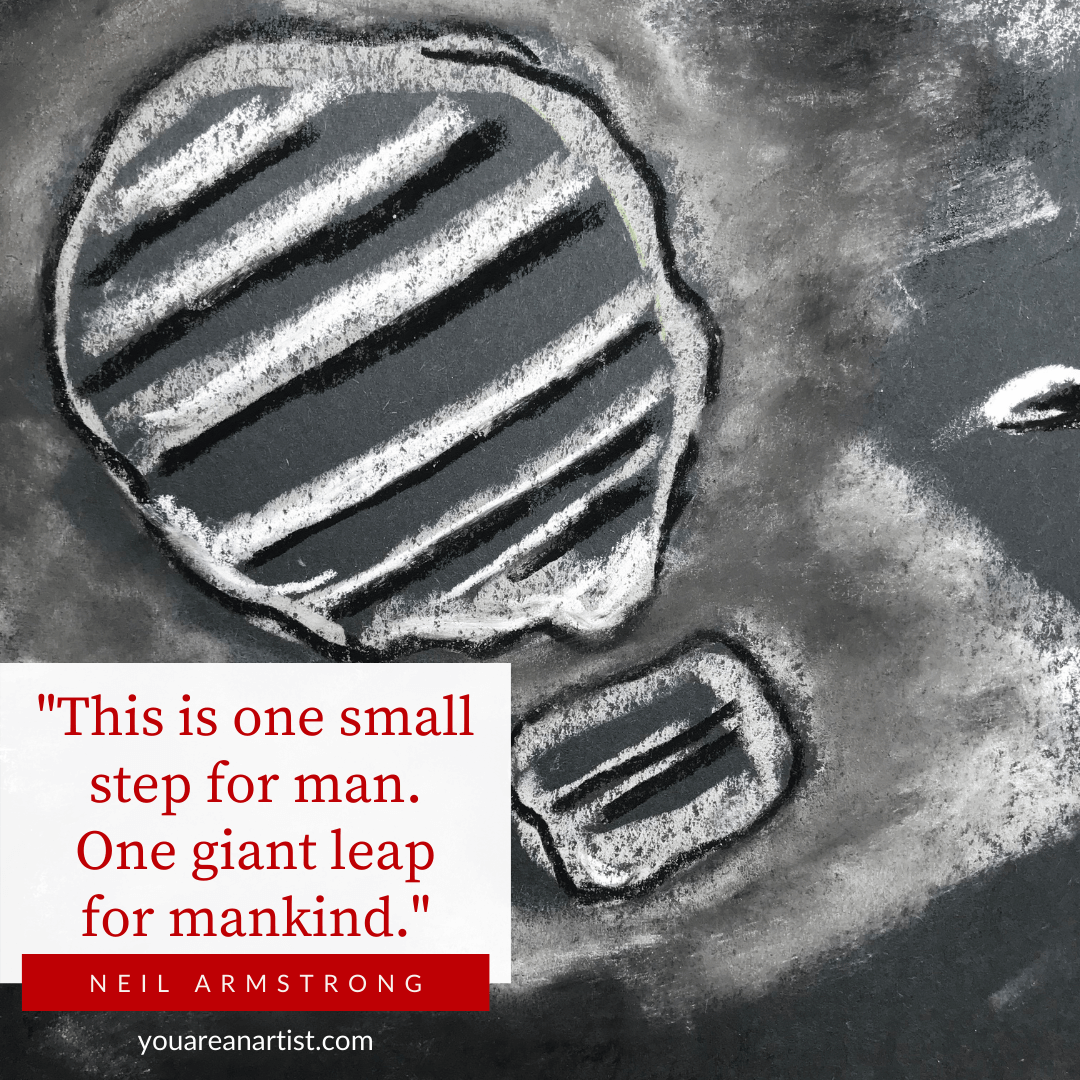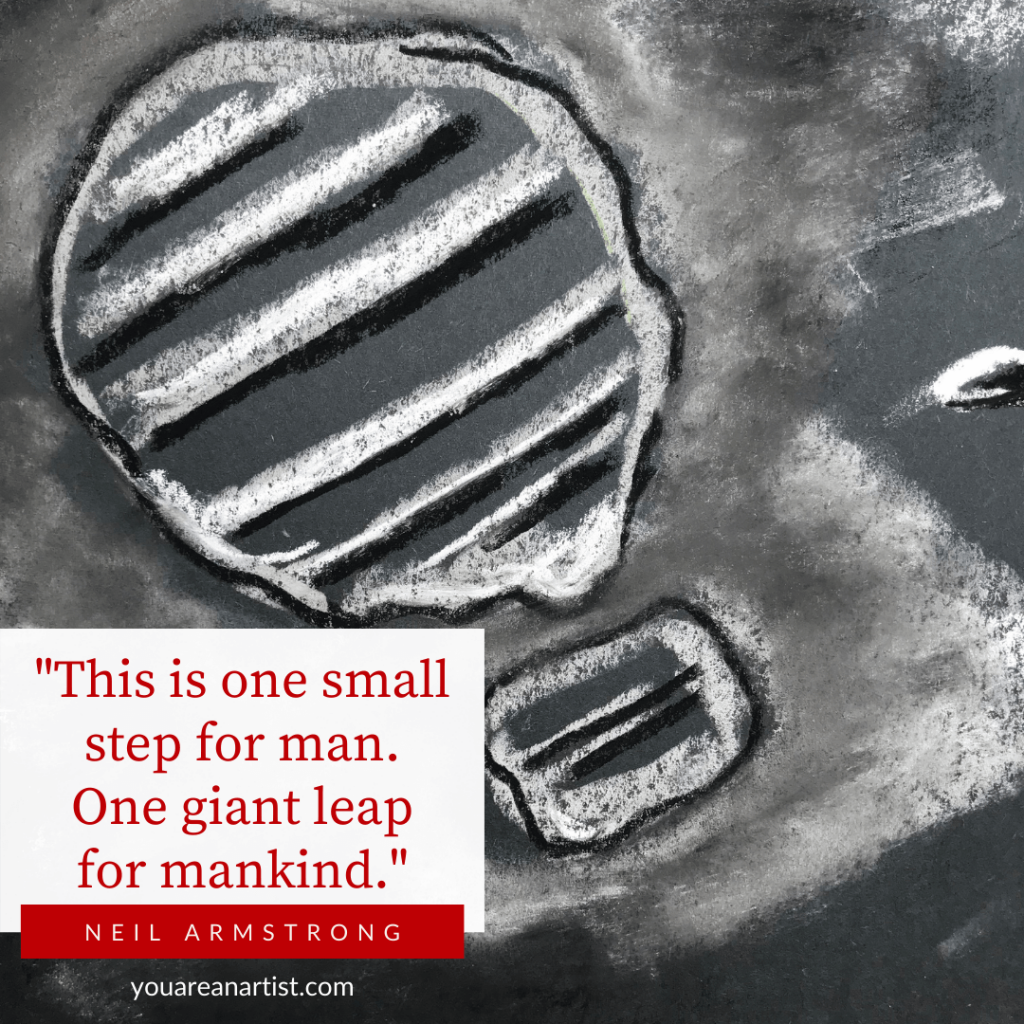 "This is one small step for man. One giant leap for mankind."

Neil Armstrong
The 50th anniversary of the Apollo 15 Lunar Rover mission is 7/31/21.
There are so many fun resources for learning more about the moon and space exploration. You can read books, do art projects, enjoy fun snacks, explore with a telescope or good binoculars, and there are many virtual learning opportunities.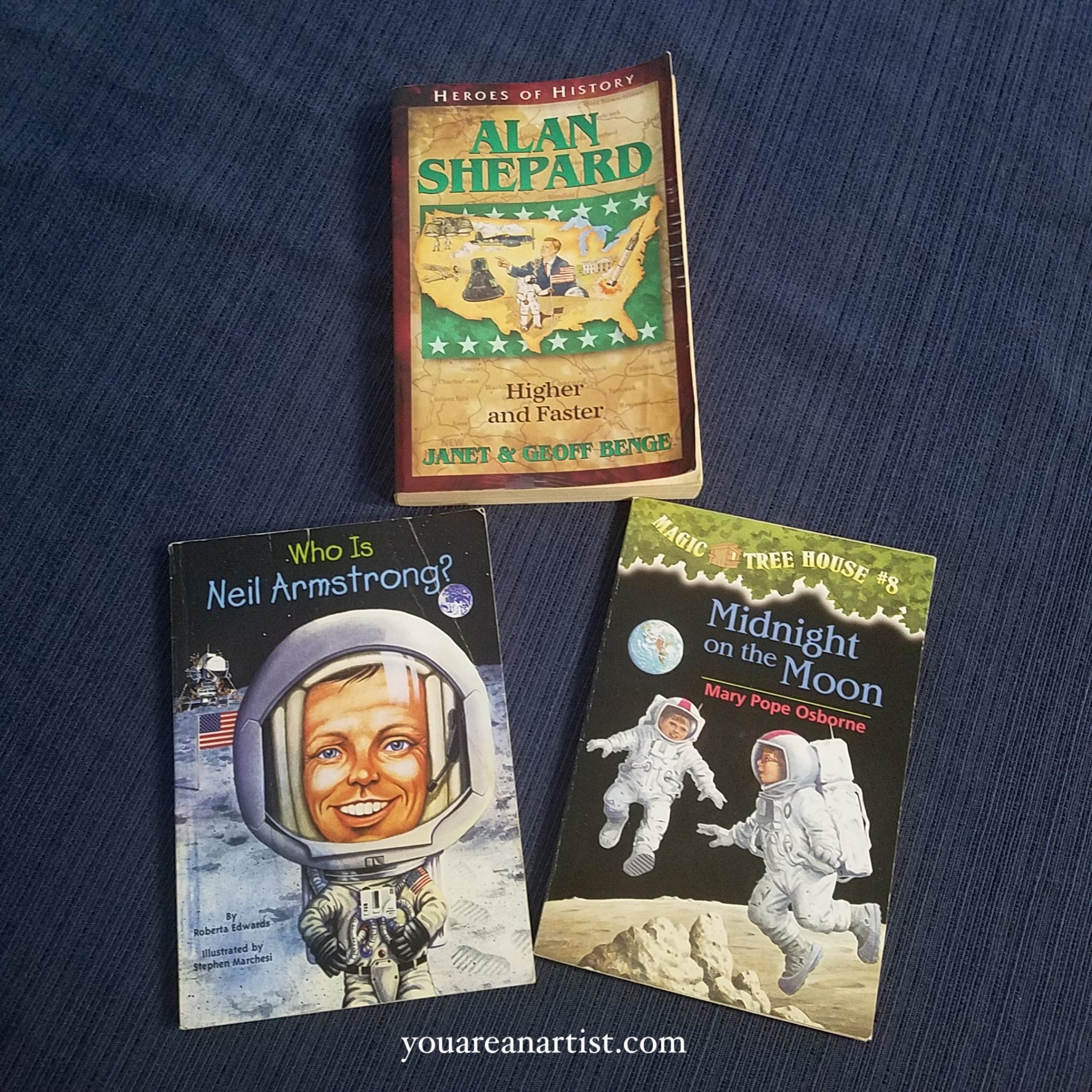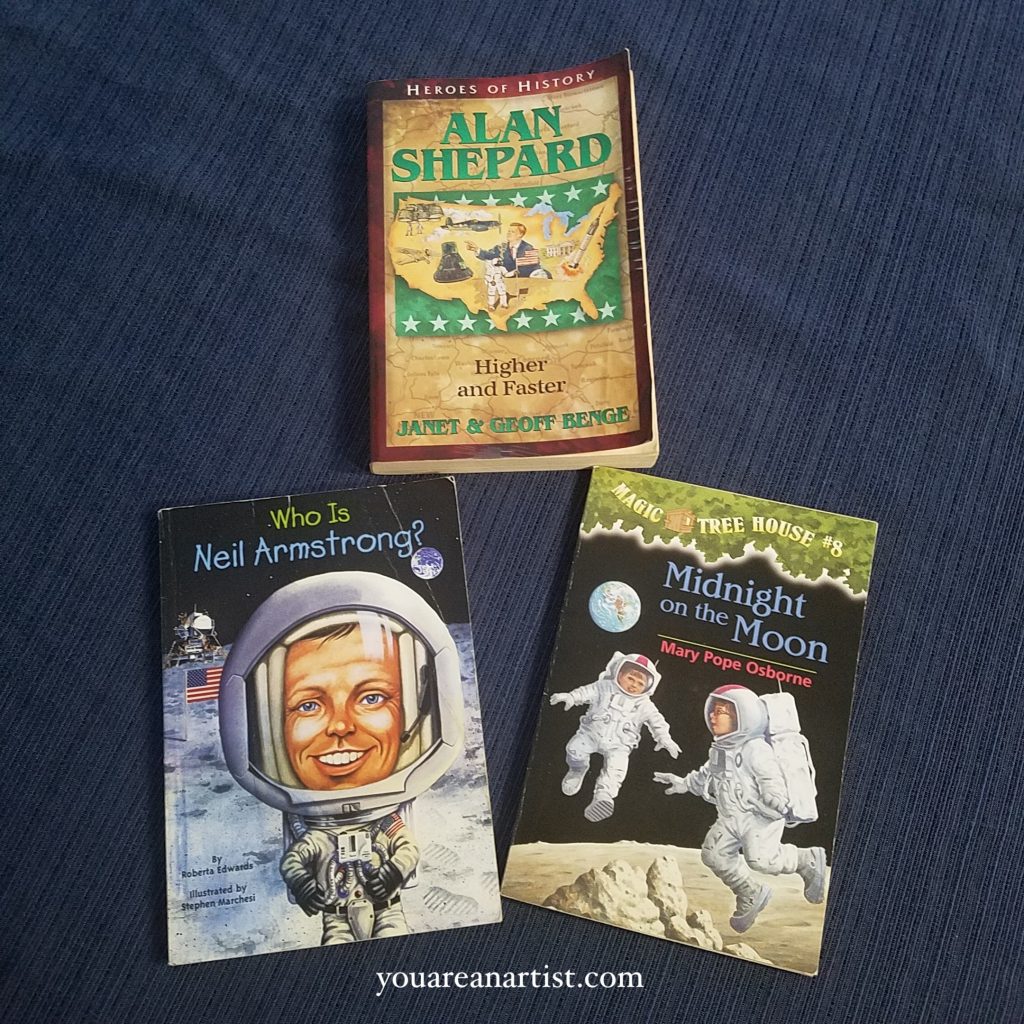 Books About Moon Missions For Your Unit Study
The affiliate links included are for resources we absolutely love. Please see our disclosure policy.
We visited Kennedy Space Center Visitor Complex during a family trip to Florida several years ago. We love listening to audiobooks on long car rides, and ever the homeschool mom, I decided that we should listen to Alan Shepard: Higher and Faster to go along with our visit.
All of my children loved the book, but it sparked a big interest in my then five-year-old son. He has been learning all he could about astronauts and the moon ever since.
One of the books he enjoyed after we got home was To the Moon – The True Story of the American Heroes on the Apollo 8 Spaceship. He listened to the audio repetitively and learned so much, even though it is a chapter book recommended for middle and high school students.
More Moon Missions Unit Study Books
Who was Neil Armstrong is another great biography, that is good for a family read-aloud or independent reading for children reading chapter books.
Magic Tree House Midnight on the Moon is one that elementary students can read independently.
Younger children may really enjoy The Moon Book by Gail Gibbons or On The Moon by Anna Milbourne
No matter what you decide, books are a great place to start your homeschool moon missions study.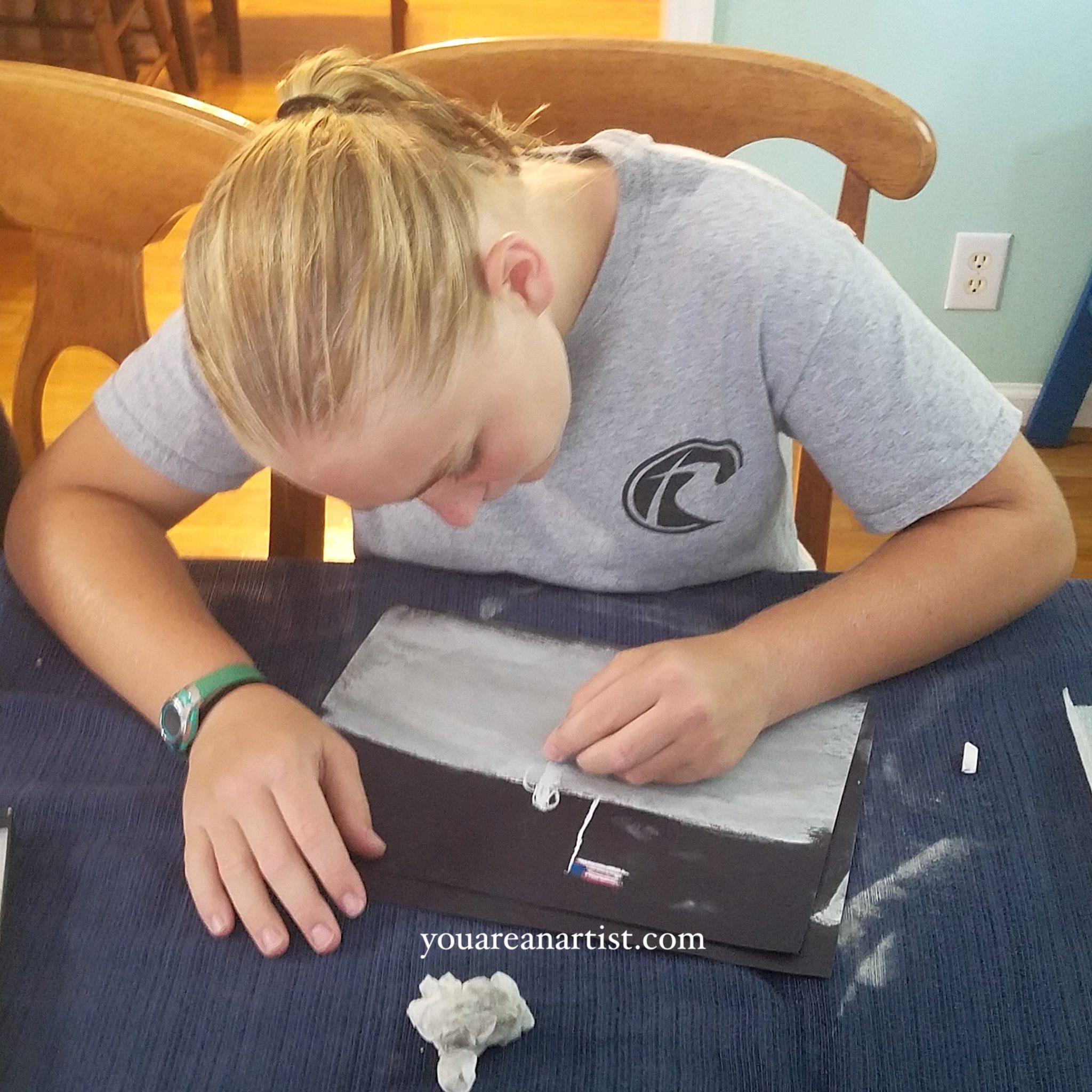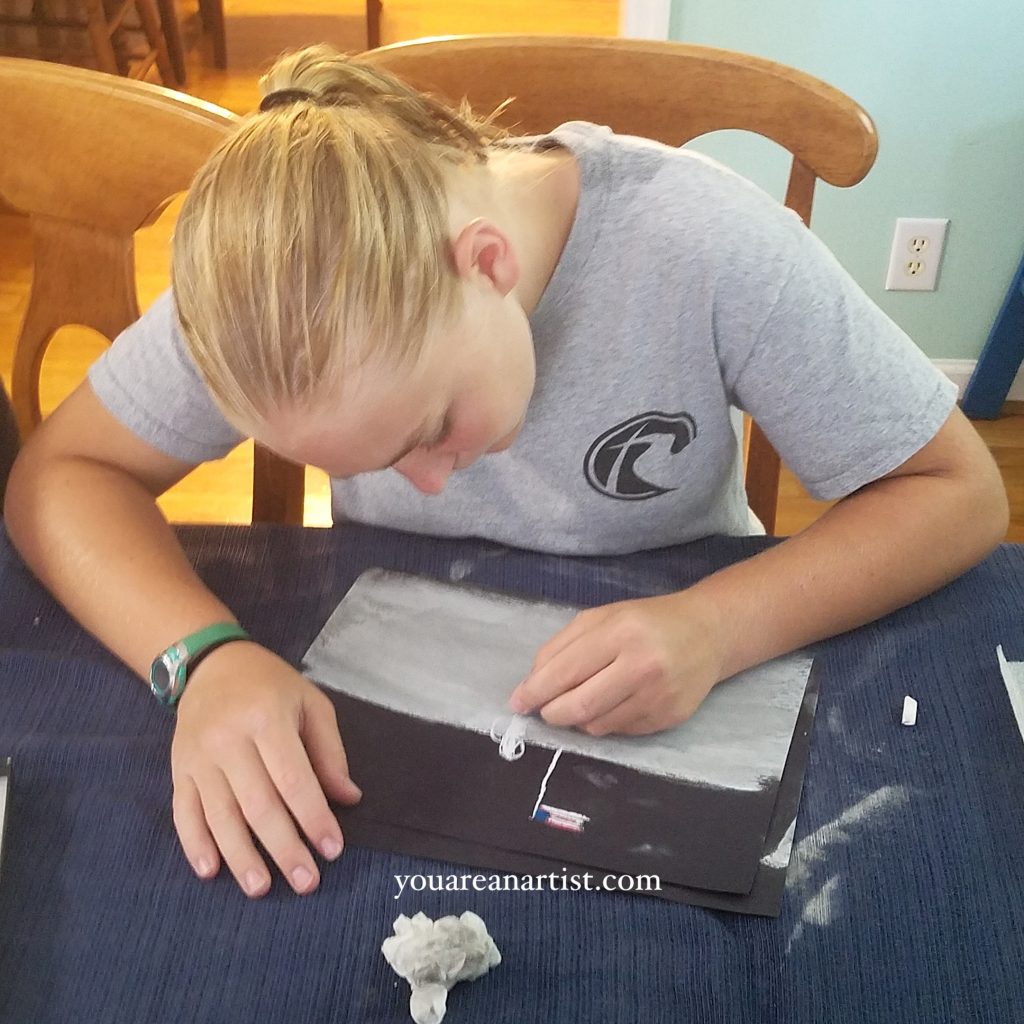 Art Lessons Perfect For Learning All About Moon Missions
Art is such a wonderful way to engage in creative learning. It can help the brain connect to the information that you are learning and help students engage in ways they otherwise might not. NASA spared no expense in video and photography equipment during their nine manned moon missions they took thousands of photographs. You can view many in NASA archives and use them as inspiration for artists.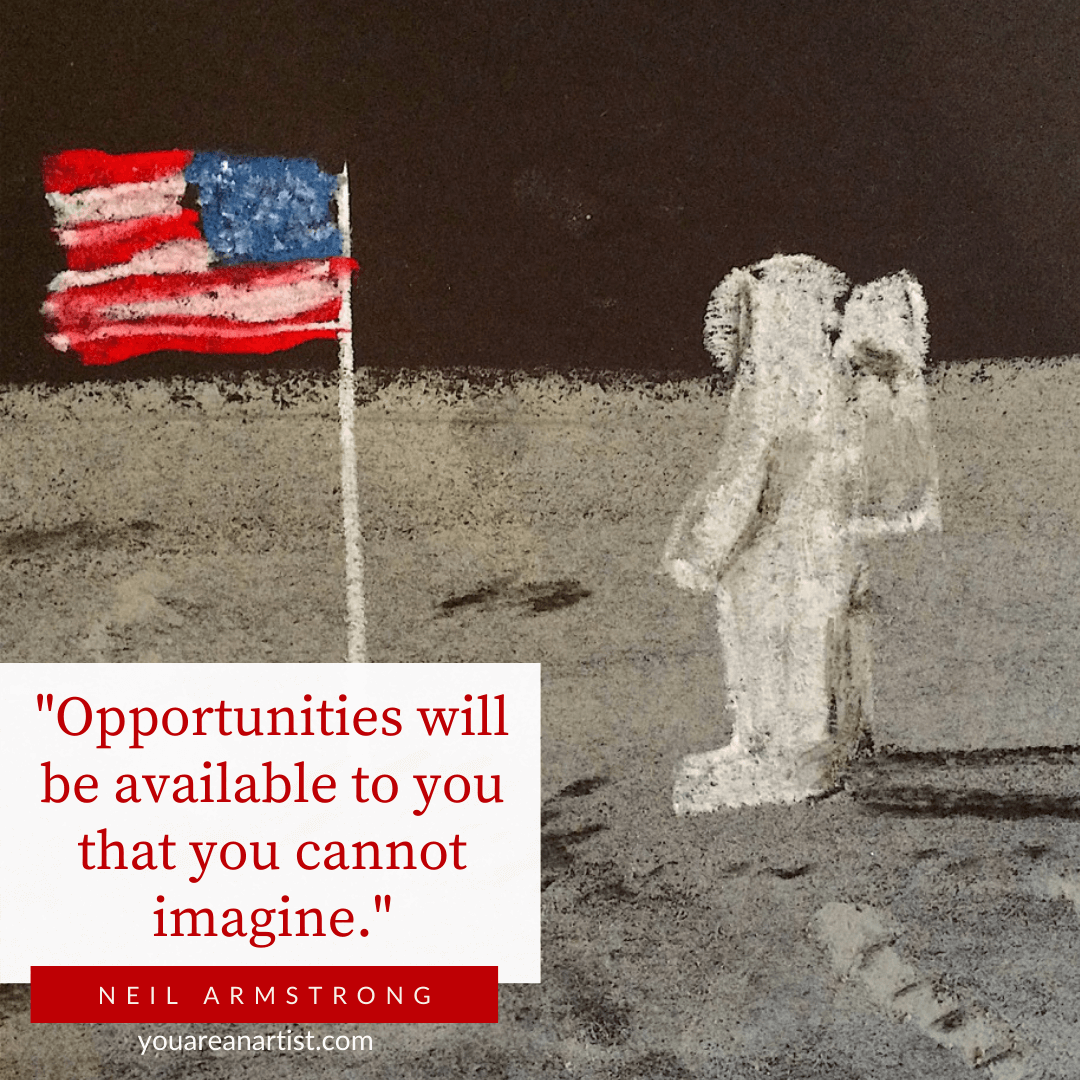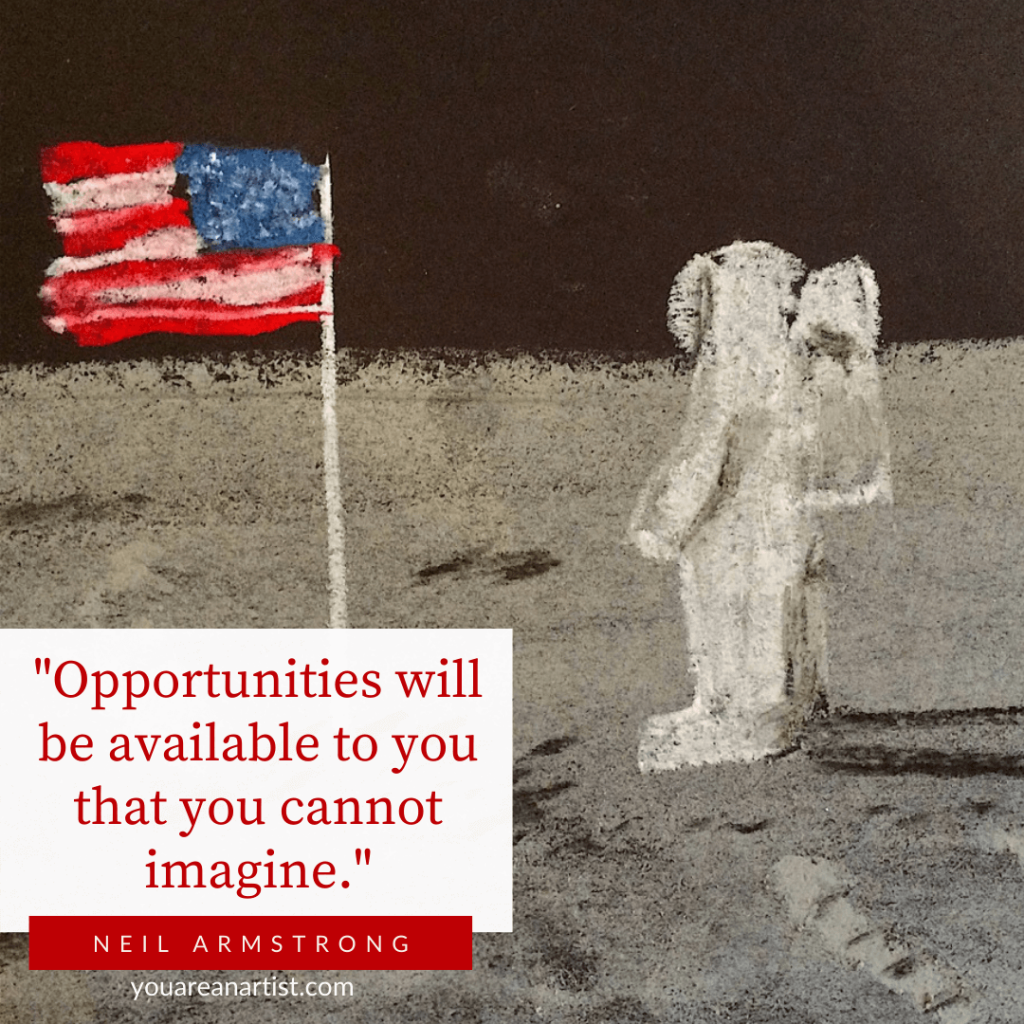 When we think about the moon missions, this Man on the Moon painting which celebrates the moon landing and placement of a United States flag is one of my favorites! It is so easy to do but looks great finished.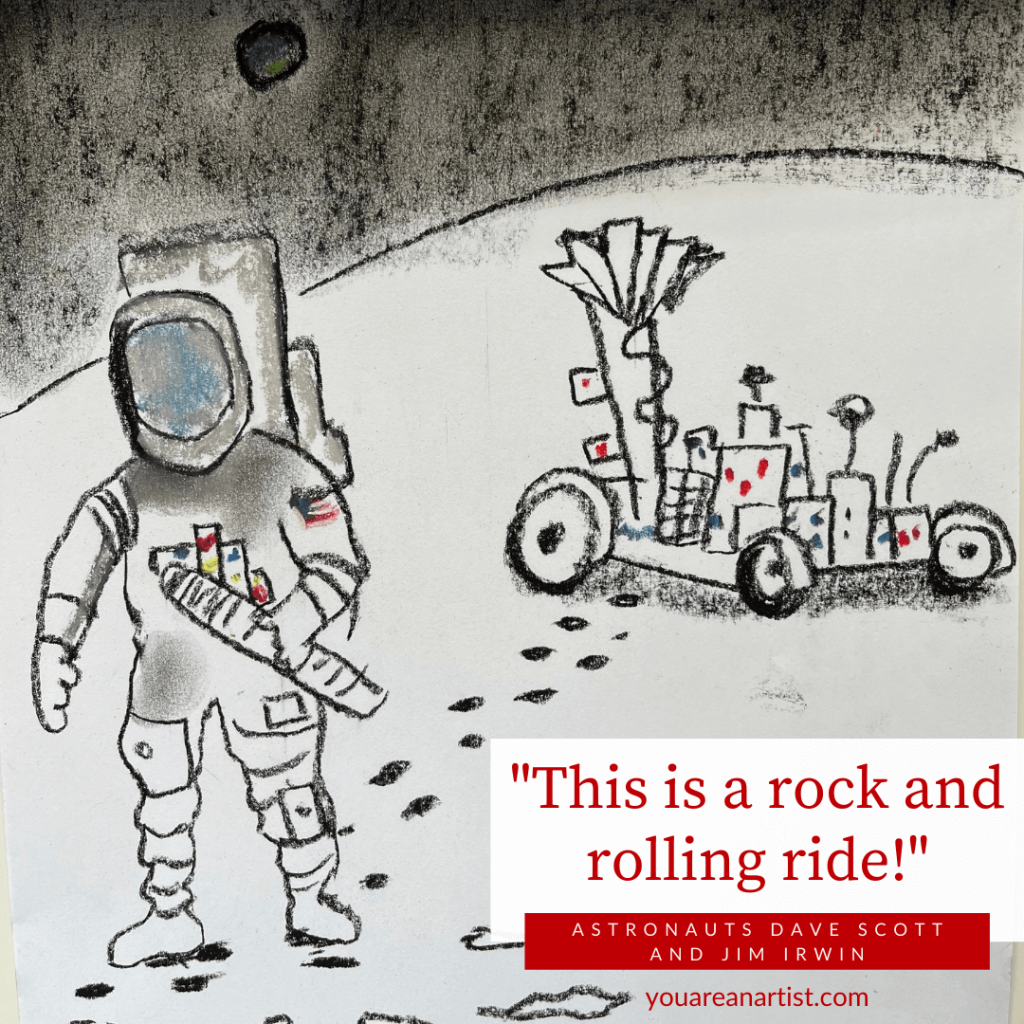 Nana's new Apollo 15 Lunar Rover lesson in the Moon Mission course is a great one for students that want something a little more detailed. As always, Nana does it step by step so that even beginners can use it but the details in this painting are perfect for those students that want something a little more challenging.
Celebrate Neil Armstrong's birthday on August 5th (or any of the other astronauts your child is interested in) with The Astronaut Helmet lesson.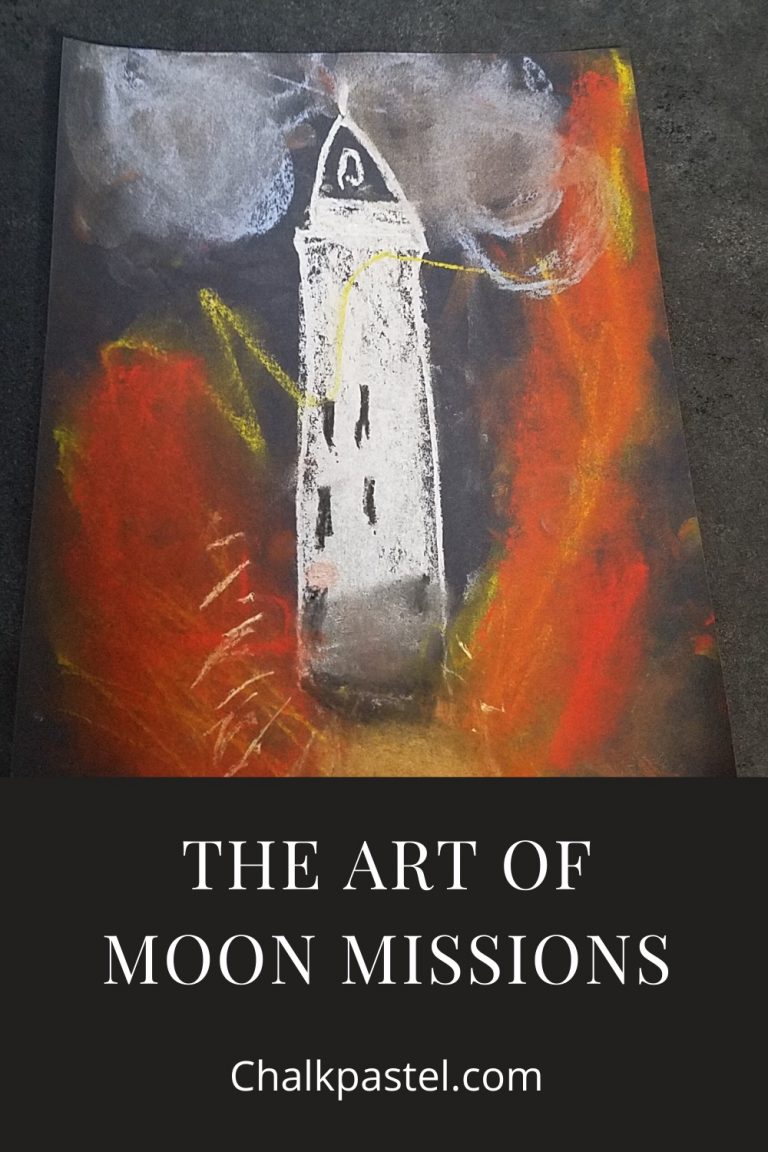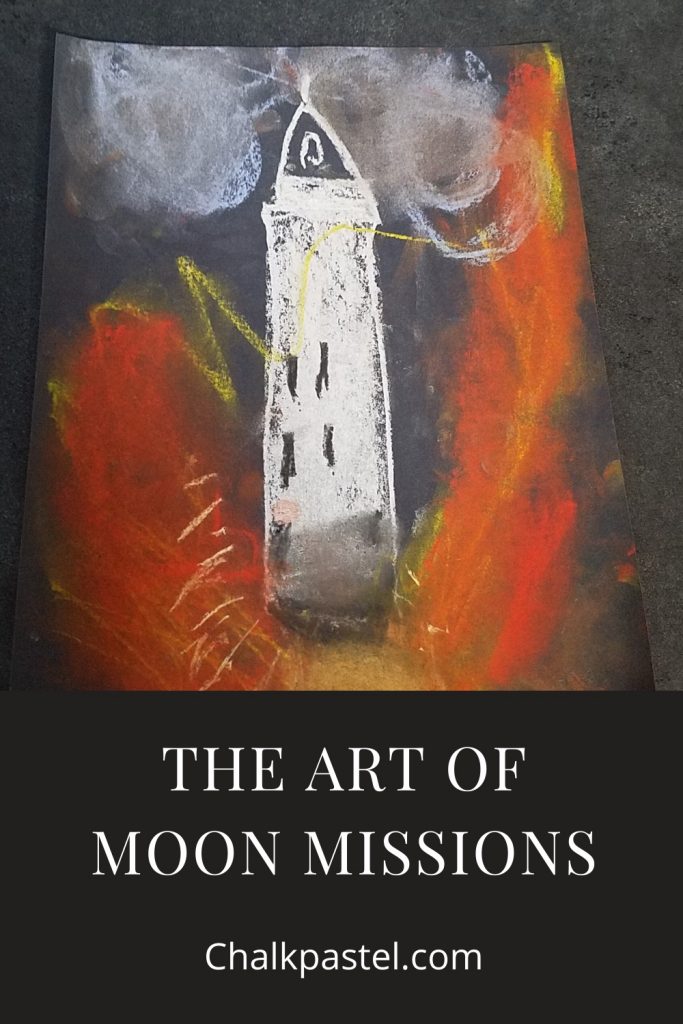 My son's favorite lesson was this exciting painting of the Saturn V Lift Off, which is also in the Moon Mission course. Having stood under one of the three remaining Saturn V's in Florida really helped put this painting into perspective. The rockets used to reach the moon were huge! The launch must have been amazing.
There are so many great options for your homeschool in both the Moon Missions Course and the Space Exploration course. You can let your student pick their favorites or do a different one each day of your study. If you wanted to go a step further than the moon, you could even try out the Mars Rover lesson!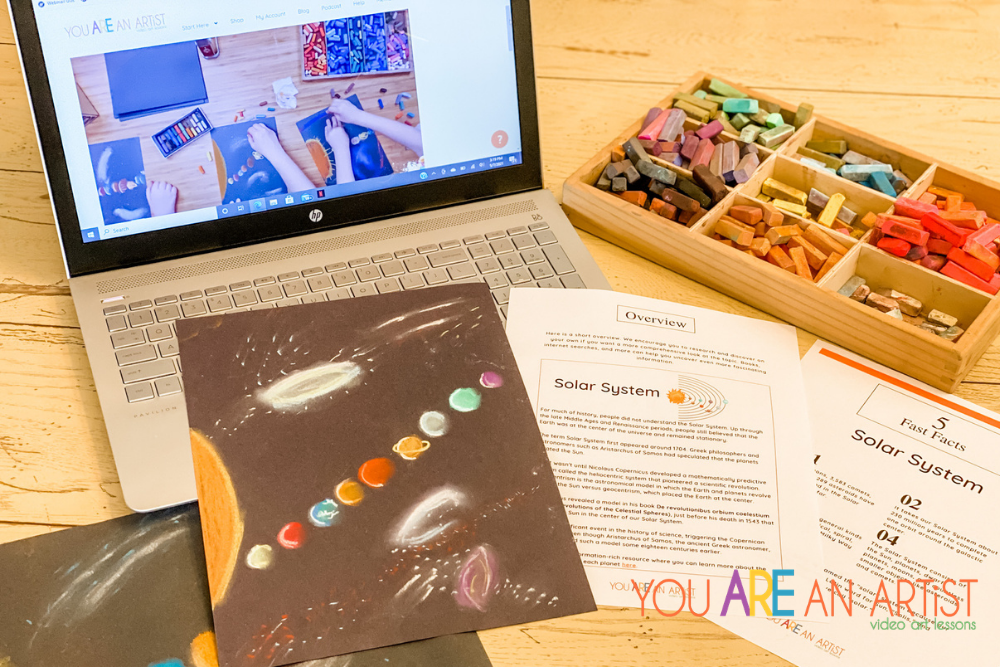 You can even spend time with Nana's lessons creating a Space Camp at Home with Art. With so many space courses, you can enjoy several weeks worth of lessons as your explore the solar system and beyond!
Add Fun Astronaut Snacks To Your Homeschool Day
After all that hard work reading and painting, you might just be ready for a little snack. I know that my children always seem to remember the fun foods we ate when we did a unit study.
There are many different ideas for moon snacks:
The rocket made from fruit and this moon surface snack made from rice cakes and bananas are my favorites. Both are super easy to put together and healthy!
Another fun option (though maybe not quite as healthy) is this snack which makes the moon phases out of cookies!
There's also the classic astronaut ice cream. Ice cream is far better than the Tang and dehydrated beef and vegetables mix the Apollo 11 crew ate out of packets.
Online Lessons For More Moon Learning
If you want to learn even more about the moon missions in your homeschool, then be sure to check out these resources:
Enjoy this fun NASA STEM activity page. There are lots of virtual science experiments and ideas that you can do at home to learn more.
You can get a closer look at the surface of the moon with Google Moon (like Google Earth but for the moon).
Finally, you can experience the Apollo 11 mission in real-time with this virtual learning experience. It uses all real historical information and "original historical missions' material".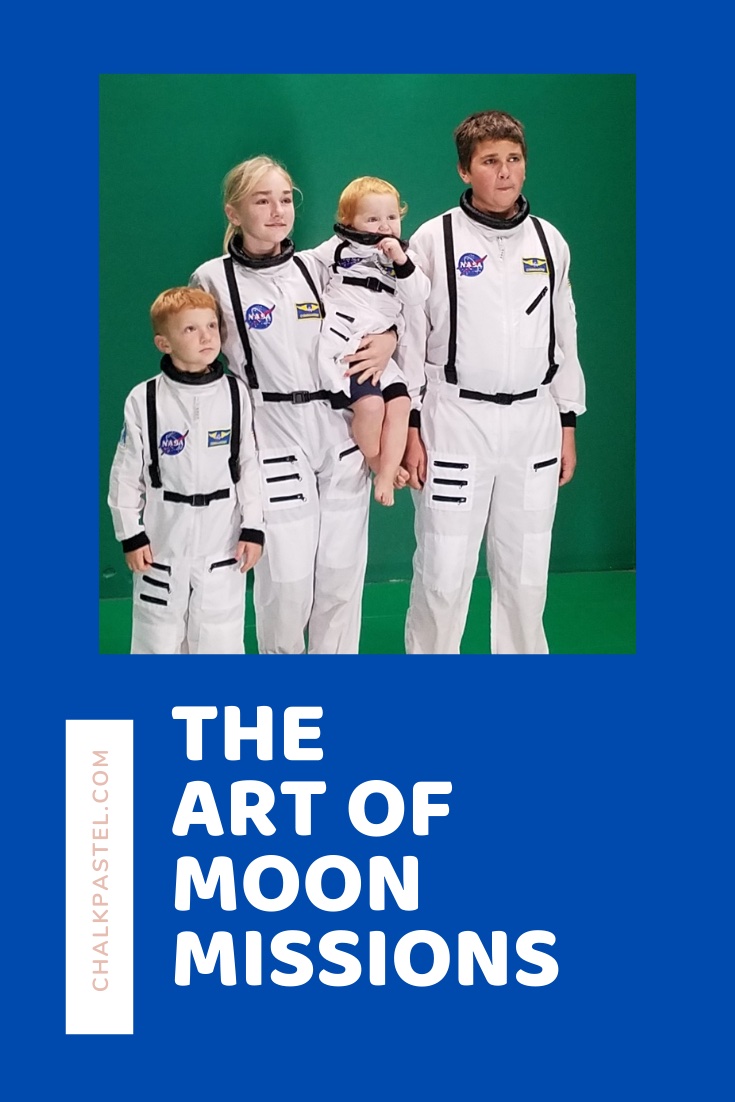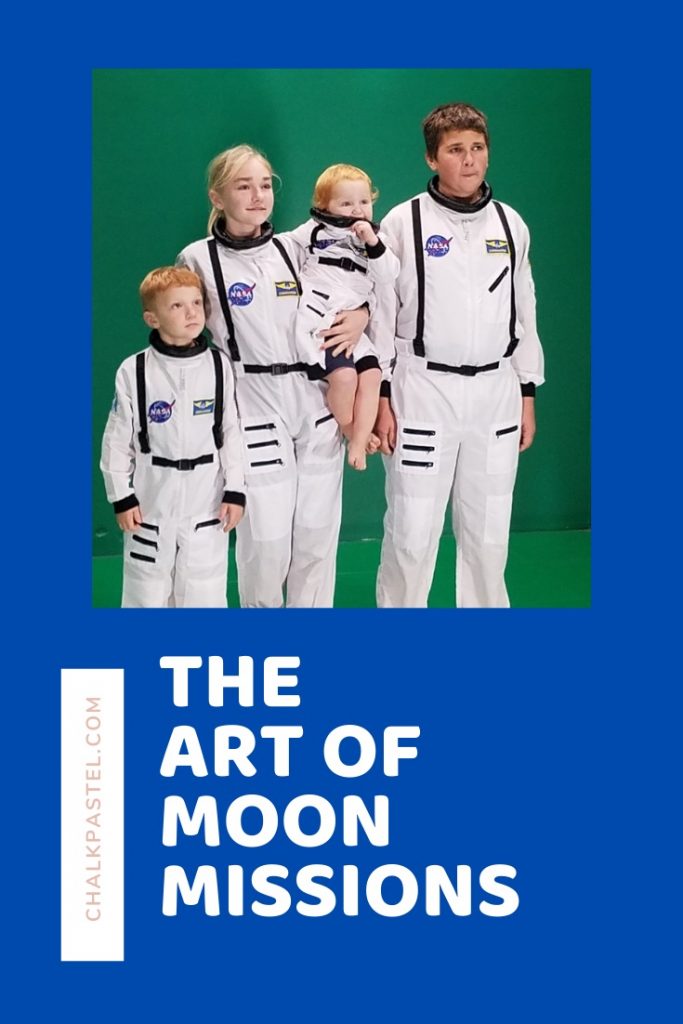 Moon Mission Study For Your Homeschool
Moon missions are fun to explore with any age from preschool up to adults. NASA, and mankind, have learned so much over the years and there is still more to be explored. NASA is well on the way with its Artemis Program, which aims to land "the first woman and next man" on the Moon by 2024.
Long the venue of science fiction, our children, or perhaps grandchildren, will likely grow up as part of an interplanetary species with plans well underway for both lunar and Martian manned stations.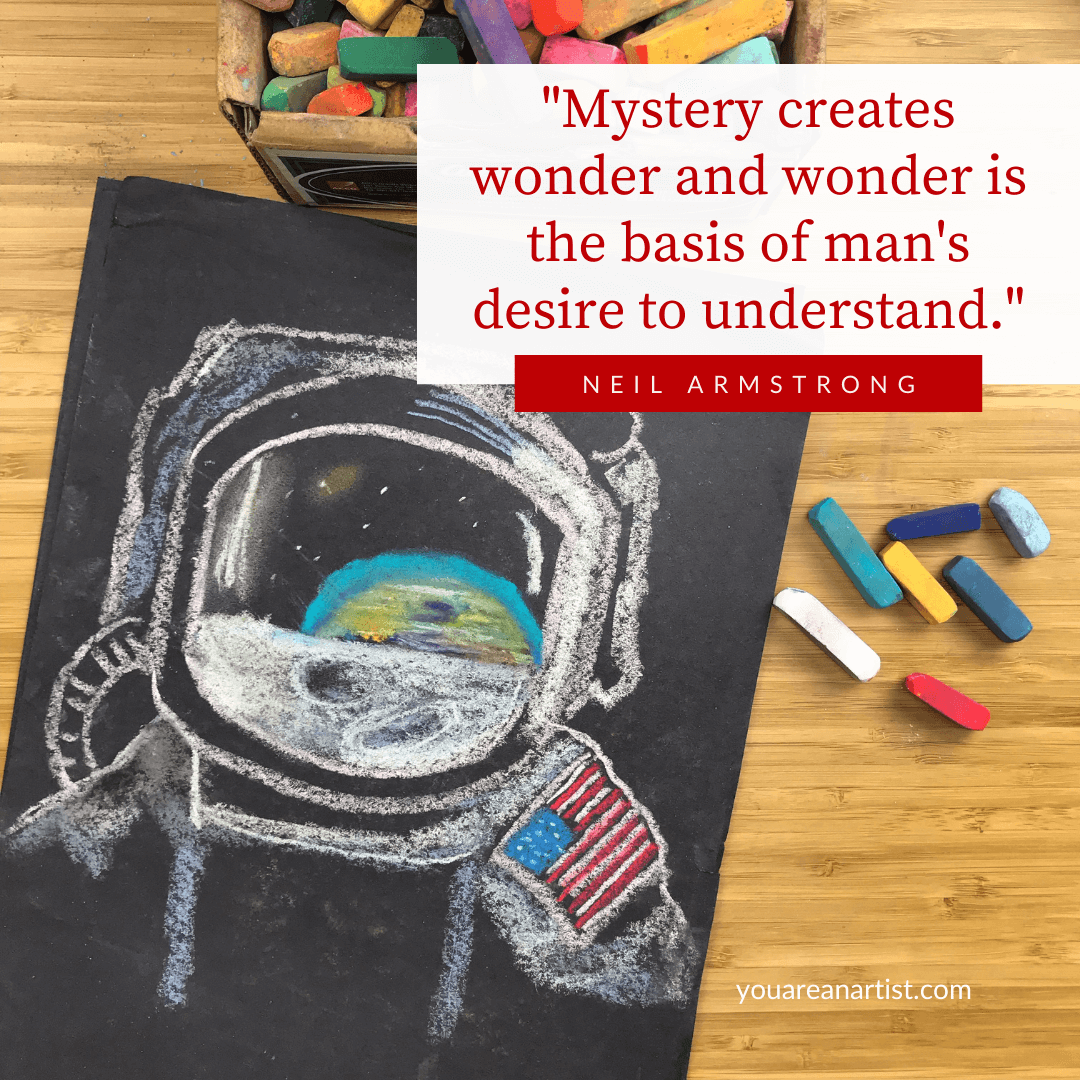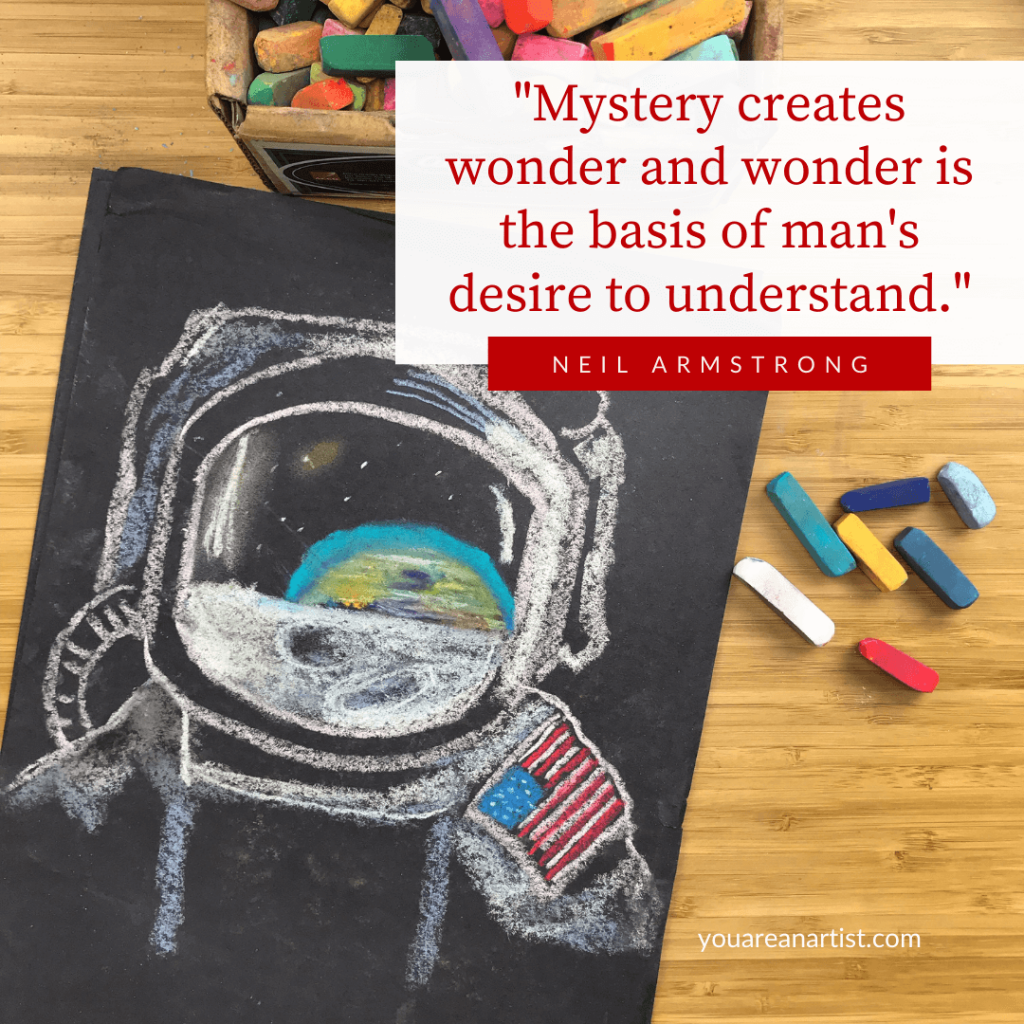 "Opportunities will be available to you that you cannot imagine."

Neil Armstrong
You could spend a day, a week, or even a school year learning about the moon missions and studying space in your homeschool. Your young artist today could be a future rocket scientist, or terraforming engineer helping to settle a new world.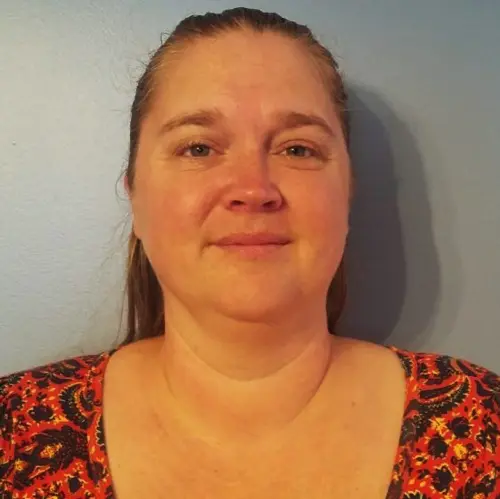 Dawn is a passionate follower of Jesus, wife to Chris, and homeschool mom of four. In her spare time she loves to read, hike, and write on her blog Schoolin' Swag. She enjoys reviewing curriculum and helping moms find the right fit for their family.