Are your kids fascinated by the idea of space? Mine too! The solar system can be such an exciting area of study. Most of us still remember learning about all of the planets and space exploration when we were kids.
Isn't it funny how you remember certain things you learned as a child? Usually, we recall the things that stuck out the most because the lessons were exciting or had an element of hands-on education included.
That is precisely what we are going to help you create at home! We have some exciting and affordable ideas to help you create a space camp with art in your homeschool or maybe for fun this summer at home.
Here at You ARE An Artist, we will be hosting a week of space camp, and we sure do hope you join us. But, luckily you can also use our clubhouse membership to do an art camp based on space anytime!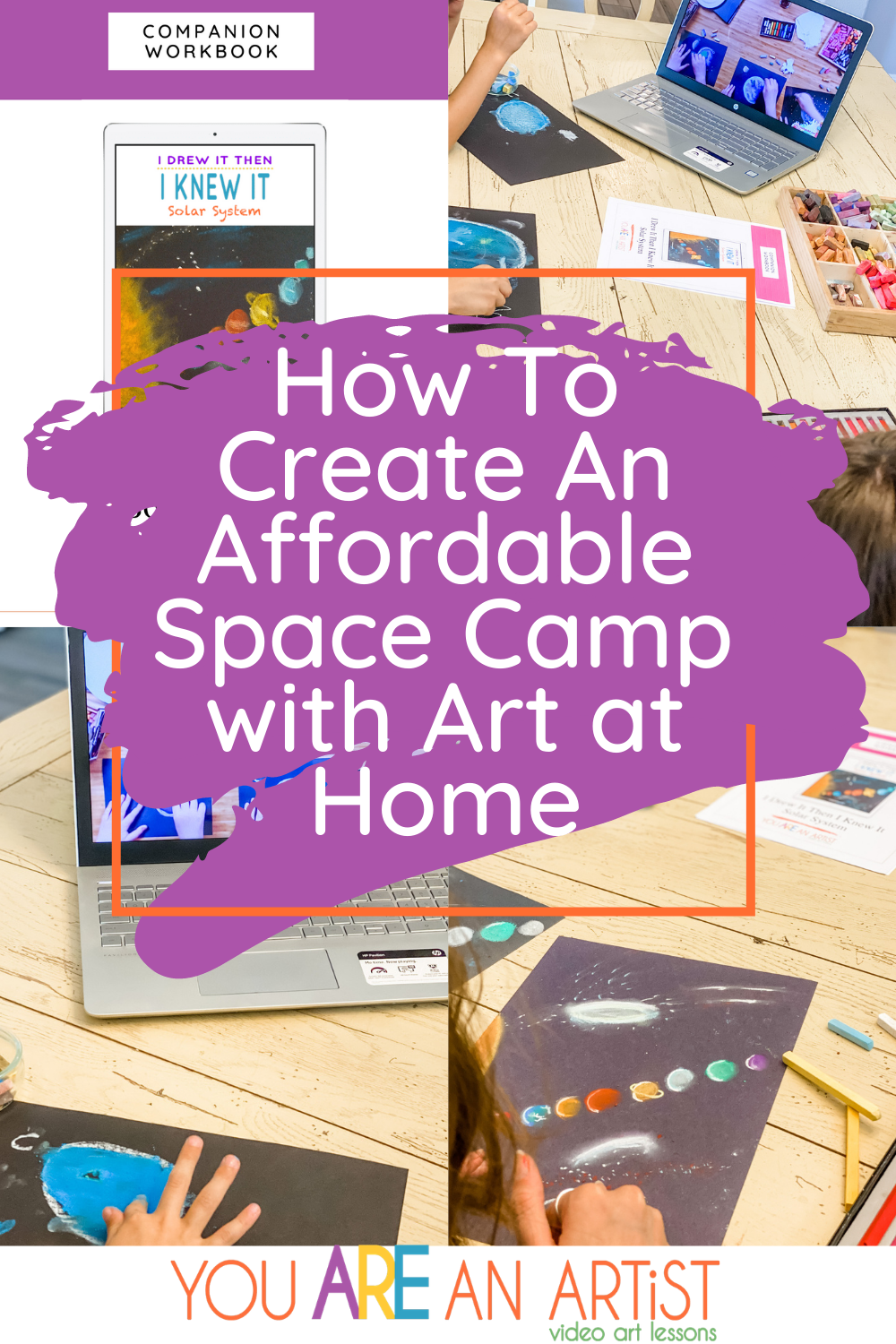 5 Steps To Create An Awesome Space Camp At Home
Grab your clubhouse membership here if you don't have one yet to get started. Tip: One week of traditional art camp or space camp for just one child can easily cost $200-250. But get this – your entire family can enjoy a full year of over 700+ art lessons along with our companion workbooks with planners, book recommendations, fast facts, biographies, and overviews for the same investment. With our clubhouse membership, you get more value for your money! Plus, you never have to leave home, and you can access all of our art lessons at your convenience.
Make sure you have your supplies ready. You will need a starter set of chalk pastels and copy or construction paper. Yes! That's all you need to get started. Super affordable!
Choose when you will host your art camp. Honestly, art camp is perfect any time of year, but a few ideas to help you choose may be: summer, spring break, or kick off the first week of school with art camp (that is an easy way to ease into the homeschool year and get the kids excited to learn). Or you can join us for summer camp together! During summer camp, we will create traditional summer camp art projects in addition to travel camp with landmarks, space camp, and so much more.
Pick your art lessons. This is the fun part! We have so many space art lessons to choose from; you could be busy for a while! You could even block out an entire 4-6 weeks in your homeschool to study space with our Solar System, Space Exploration, Solar Eclipse, and Moon Missions art courses.
Add the fun stuff. Here is where you can get creative! It may be fun to decorate solar system sugar cookies, make a galaxy cake, or planet cake pops. There are so many creative ways to incorporate snacks while you are learning together.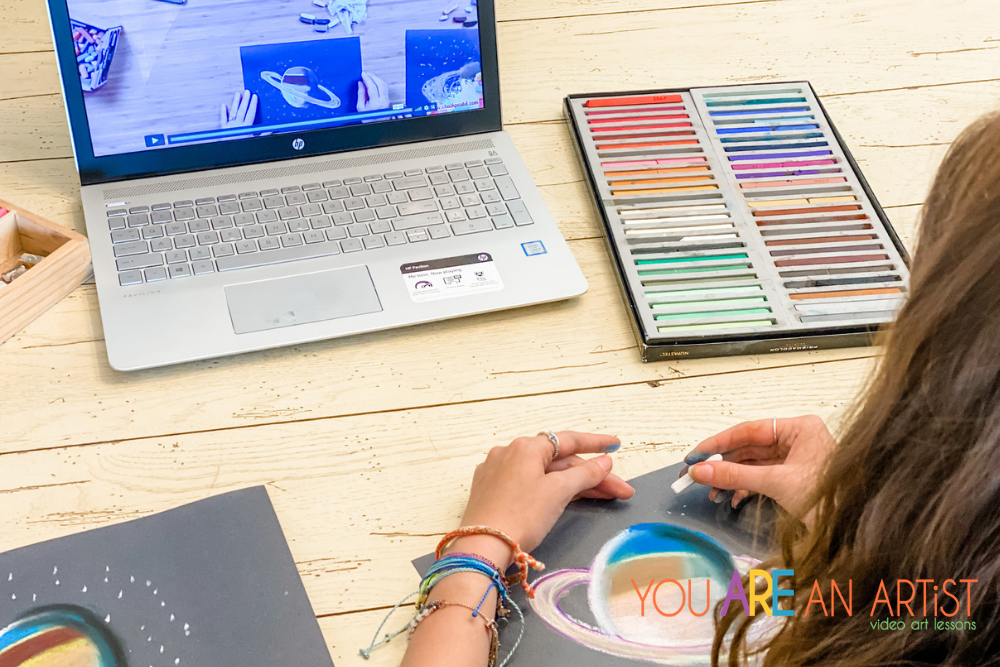 Blast Off With These Exciting Summer Space Camp Lessons
I Drew It Then I Knew It Moon Missions Art Course
Pad Crawler
Saturn 5 Lift Off
Headed to the Moon
Flag on the Moon
Mission Control
Footprint on the Moon
I Drew It Then I Knew It Solar Eclipse Art Course
Diamond Ring
Total Solar Eclipse
Baily's Beads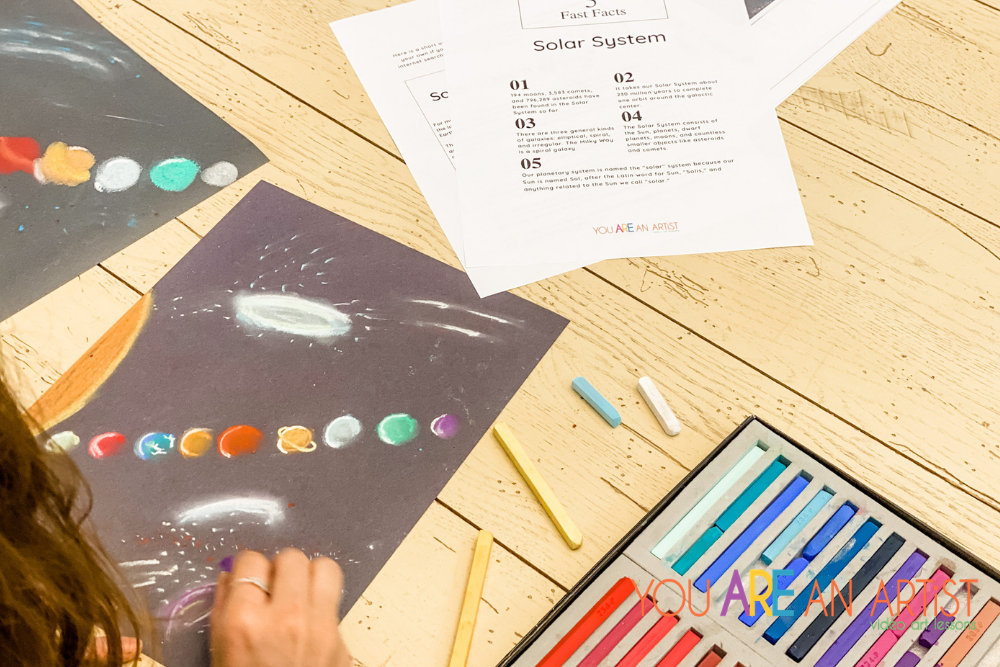 I Drew It Then I Knew It Solar System Art Course
Solar System
Earth
Mars
Venus
Uranus
Saturn
Jupiter
The Plutoids
Neptune
Solar Eclipse
Mercury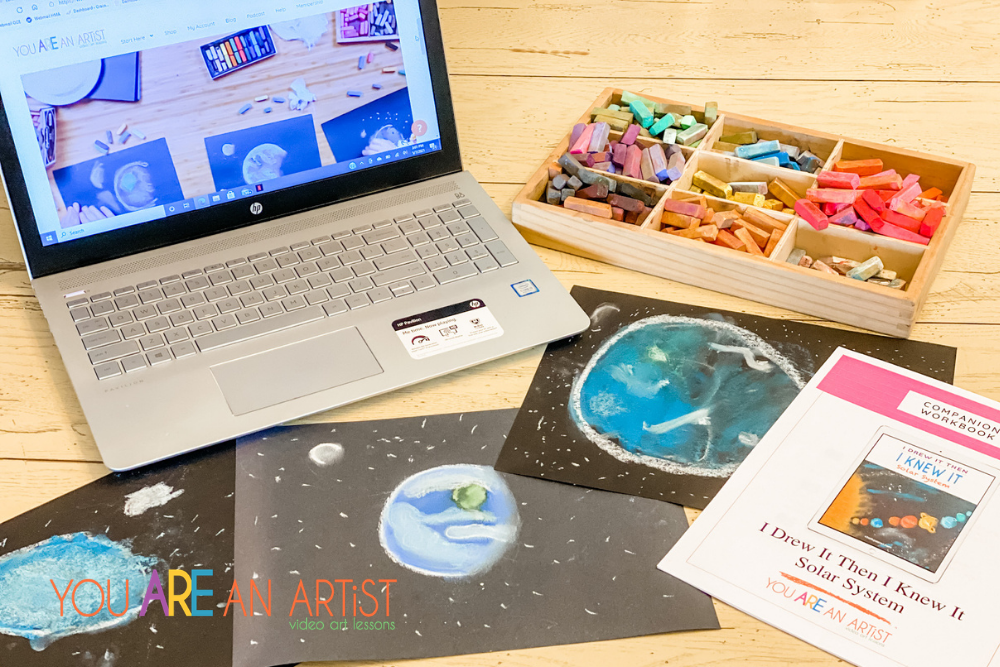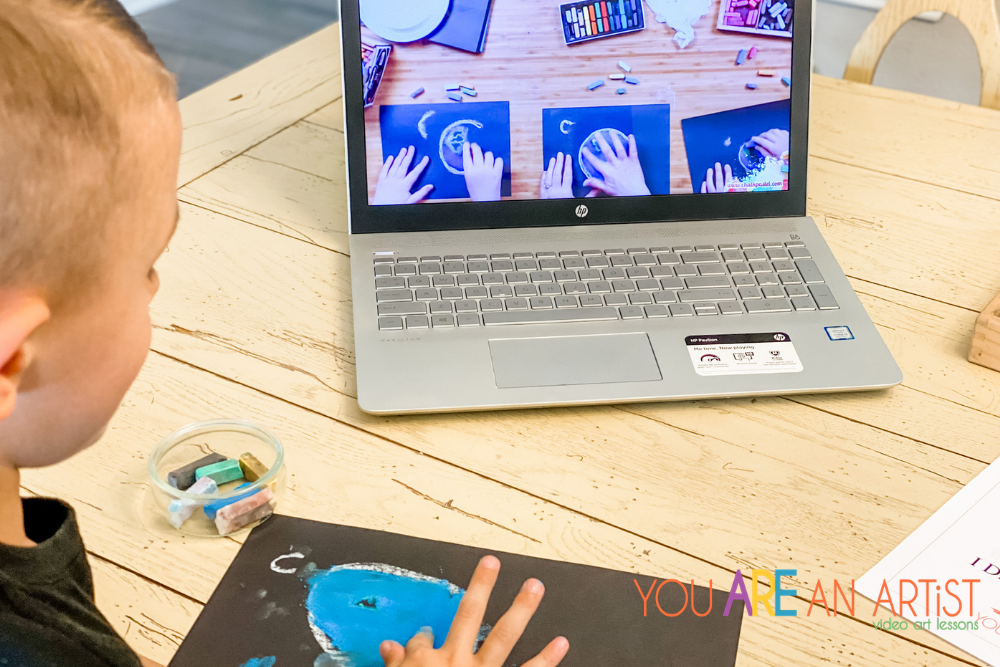 I Drew It Then I Knew It Space Exploration Clubhouse Edition Art Course
Space Shuttle Lift Off
Man on the Moon
Night Sky
Comet
Spiral Galaxy
Nebula
Mars Rover
Astronaut Helmet
I know! So much art to do and exciting ways to learn about space!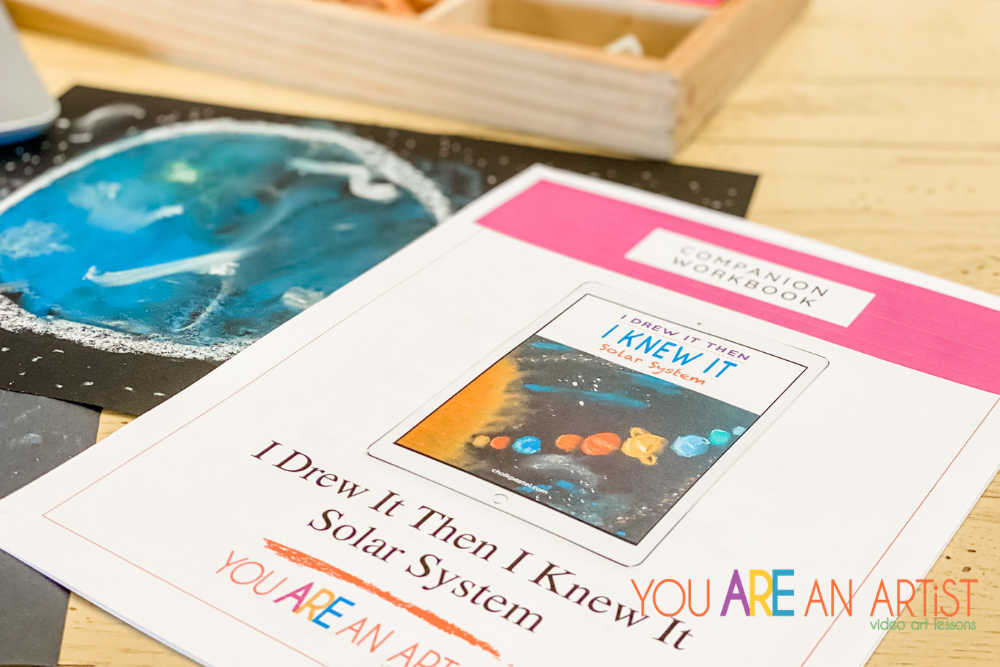 We followed along with the I Drew It Then I Knew It Solar System Course and Companion Workbook. If you introduce your students to the solar system for the first time, the companion workbook is perfect for guiding you from planet to planet. But even kids who have covered the solar system before will learn something new!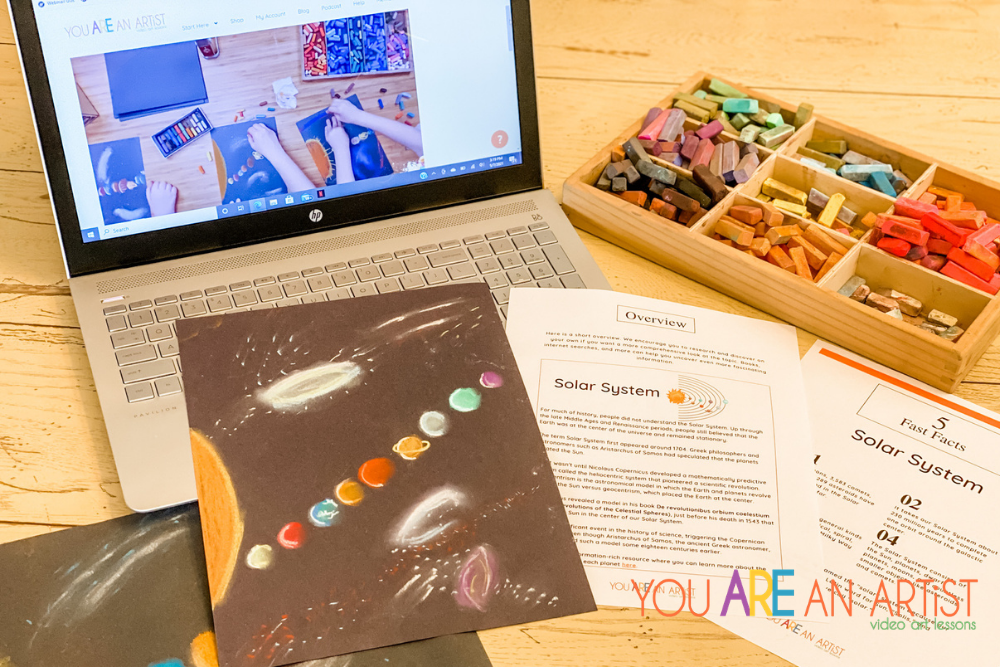 We had a blast drawing our way through the Solar System. Earth was another must-do art lesson for us, and then we dove into the beautiful rings of Saturn. We are still working our way through all of these exciting lessons and learning a lot along the way.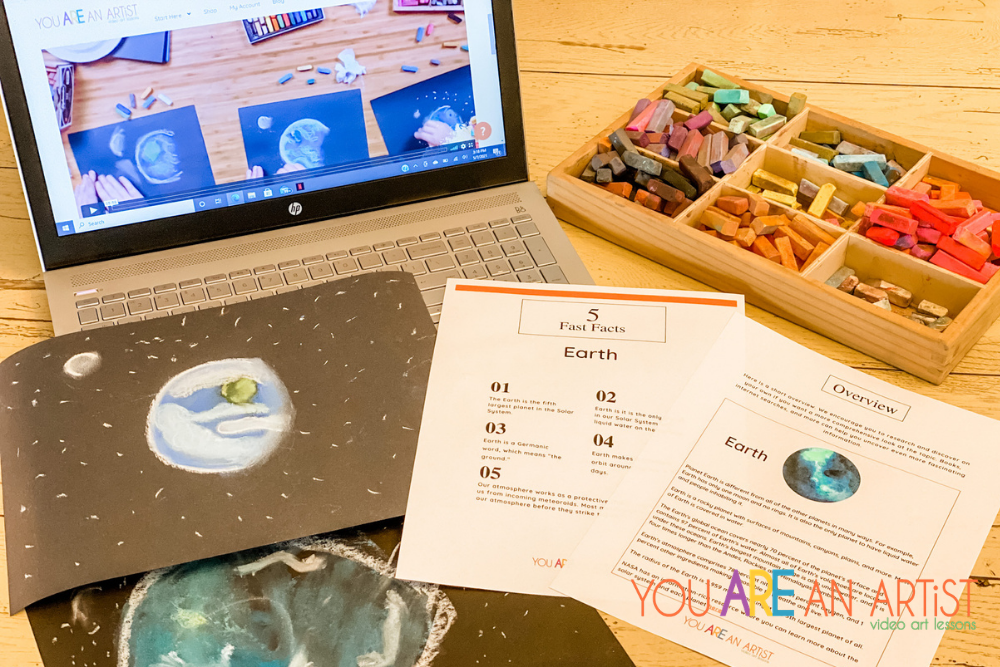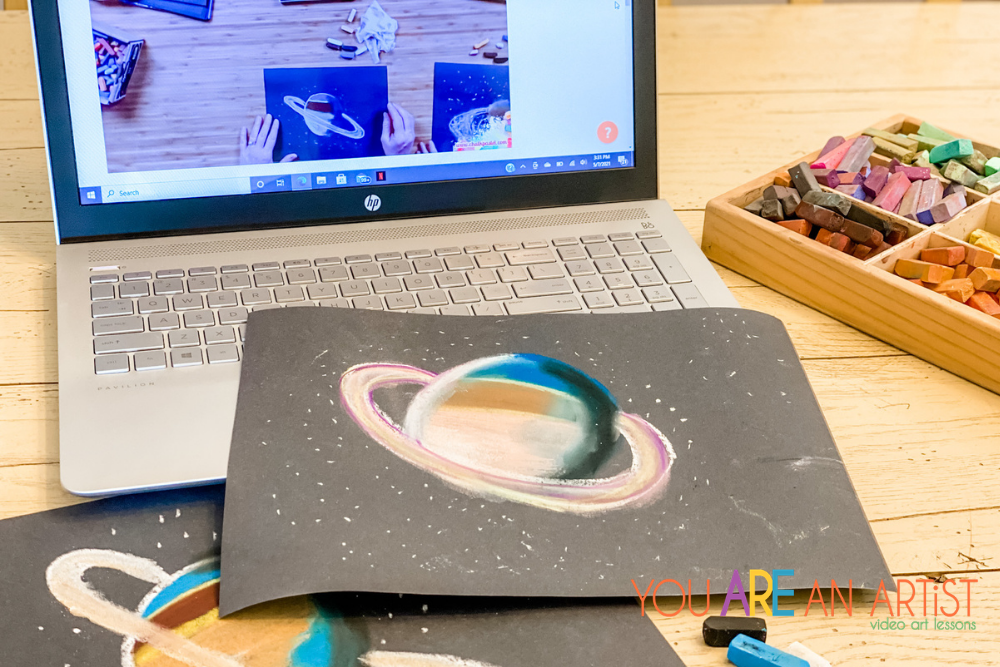 Remember, there is no right way to enjoy art camp, but there are endless ways to have fun with it! You don't have to start with any particular lesson; begin with whatever interests your kids the most.
Please join us for Space Camp! You can try out a sample lesson here.
Once you join the clubhouse, tag us on social media @chalkpastelart and use #YouAREAnArtistClubhouse so that Nana can see your artwork! She loves to encourage your artists.
Courtney is a Jesus-pursuing, native Texan, homeschool mom of three, and she believes homeschooling can be a peaceful and productive rhythm. At Grace, Grow & Edify she helps families create peaceful homeschooling atmospheres through faith, organizational strategies, and cultivating strong roots at home. She is also the founder of Homeschool Mastery Academy.