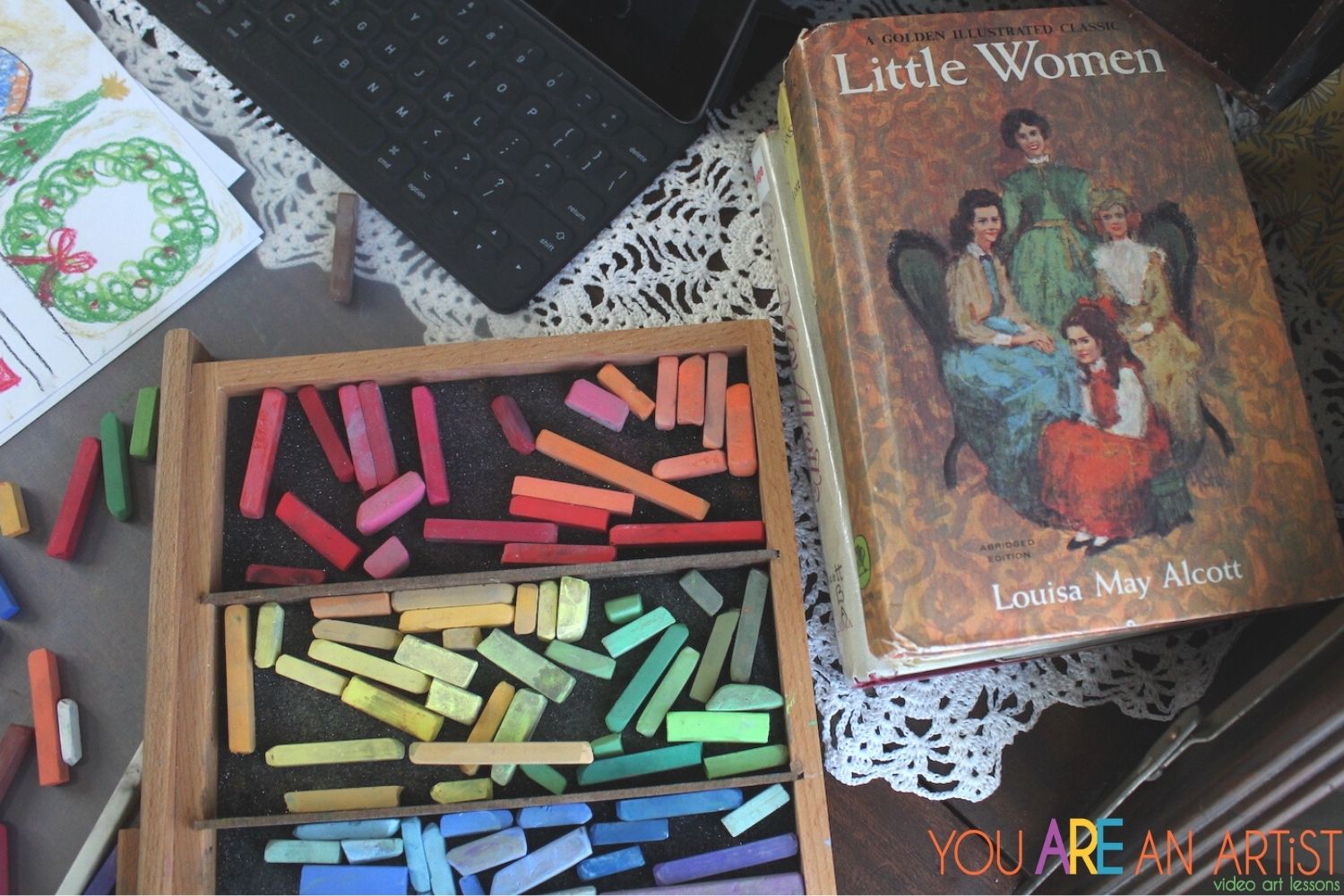 If you have never read the novel Little Women by Louisa May Alcott, then you certainly are missing out on one of the most heartwarming, beloved stories of American literature! This homeschool unit study will help you and your family get started.
Whether it's the cherished characters, the story of perseverance through difficulties, or the warm setting of home and hearth, Little Women will quickly become a favorite.
When I was young, I read through Alcott's classic books regularly, as I was drawn to the quiet grit (and fiery spirit, in the case of Jo March!) of the characters. The fact that one character is a writer didn't hurt this aspiring young writer!
Children will love hearing the way families back home during the American Civil War contributed, survived, and rallied. Marmee's gentle mothering seems to reach through the pages to ask you to put up your feet, wrap a quilt around your shoulders, and enjoy a cup of tea by a humble fire.
One thing I love about Alcott's novels is how they are accessible for younger children and delightful for adults. Adding Little Women to your homeschool literature study is sure to engage the whole family with this beloved novel.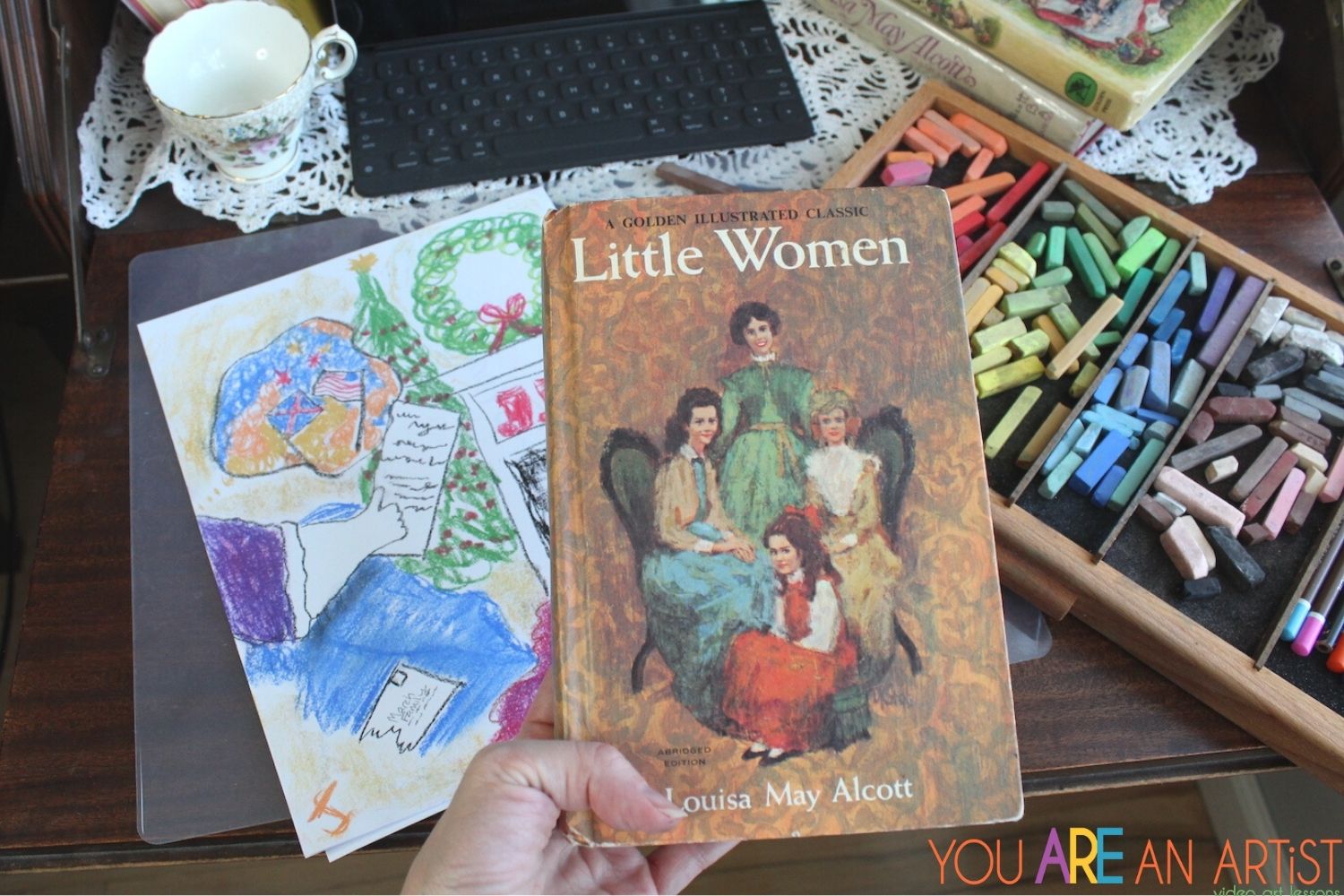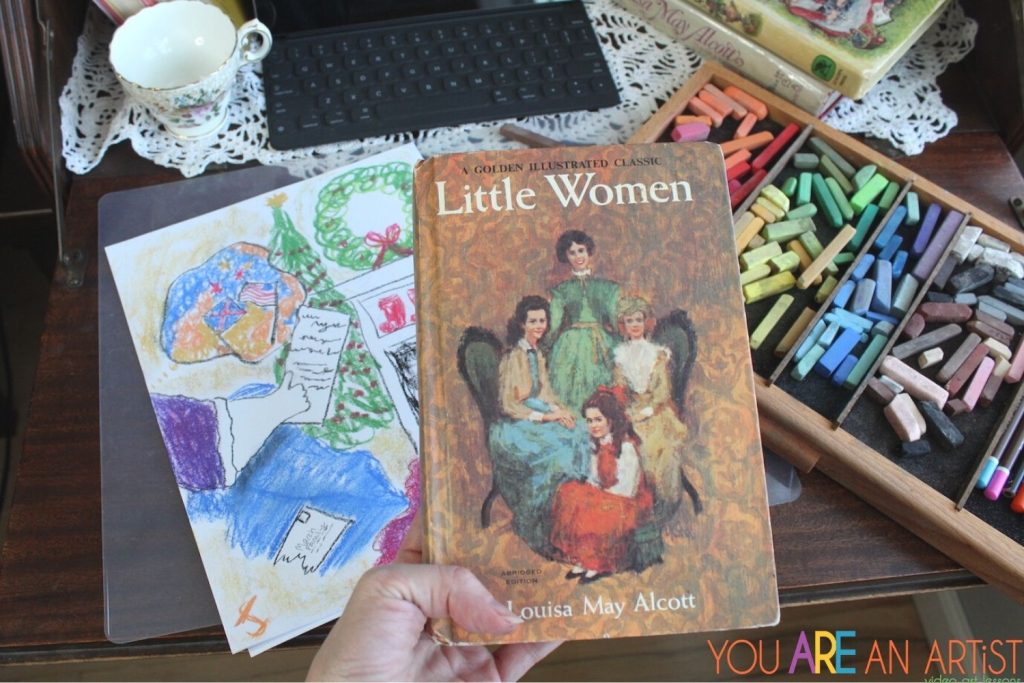 Language Arts In Your Homeschool and Mother Culture
I'm trying to be more intentional about "mother culture" this year, which simply means to cultivate your own growth and spiritual/intellectual nourishment so you can pour into your children. I thought, what better place to start than with Little Women, and the literary mom, Marmee, who loves her family so well. So I have been gathering materials and books to do an author study of Louisa May Alcott, and re-read some of her novels.
As part of my mother culture study, I decided to complete the Letters to Home Little Women video art lesson by Nana! Usually I would have my children do these art lessons as part of our homeschool curriculum. During the art lessons, I'm busy nearby to help with selecting chalks, cleaning smudges, guiding through any trouble spots, and clean up. But I don't often get to complete a whole painting.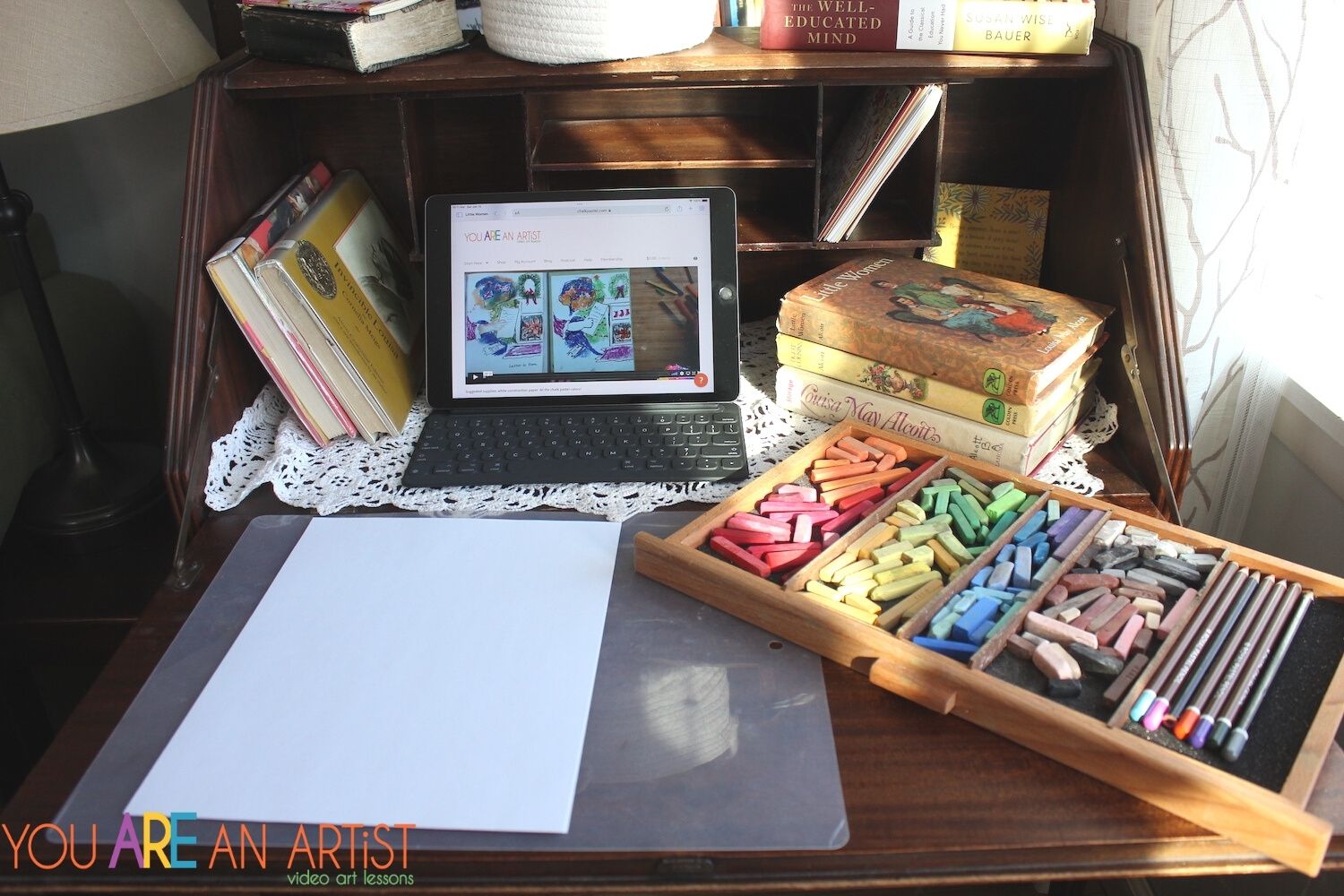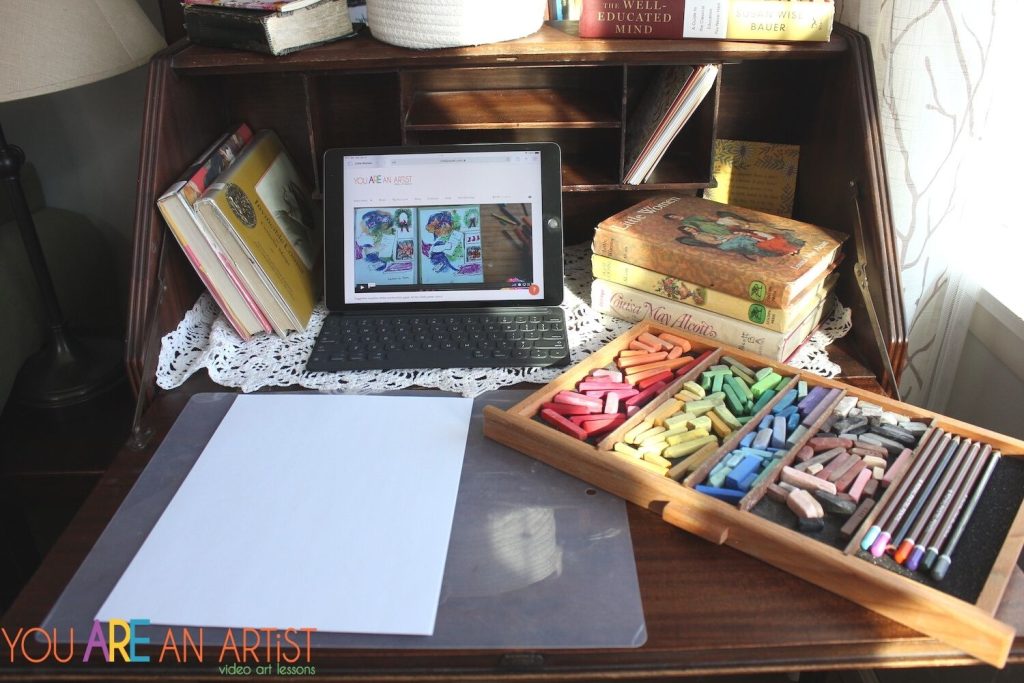 I didn't realize what a rare treat it would be for me to sit down by myself and paint the scene from Little Women where Marmee and the girls receive a letter from their father, who is away fighting in the Civil War.
This lesson, filled with small details and summaries from the book, is a bit more detailed and perfect for upper elementary and older students.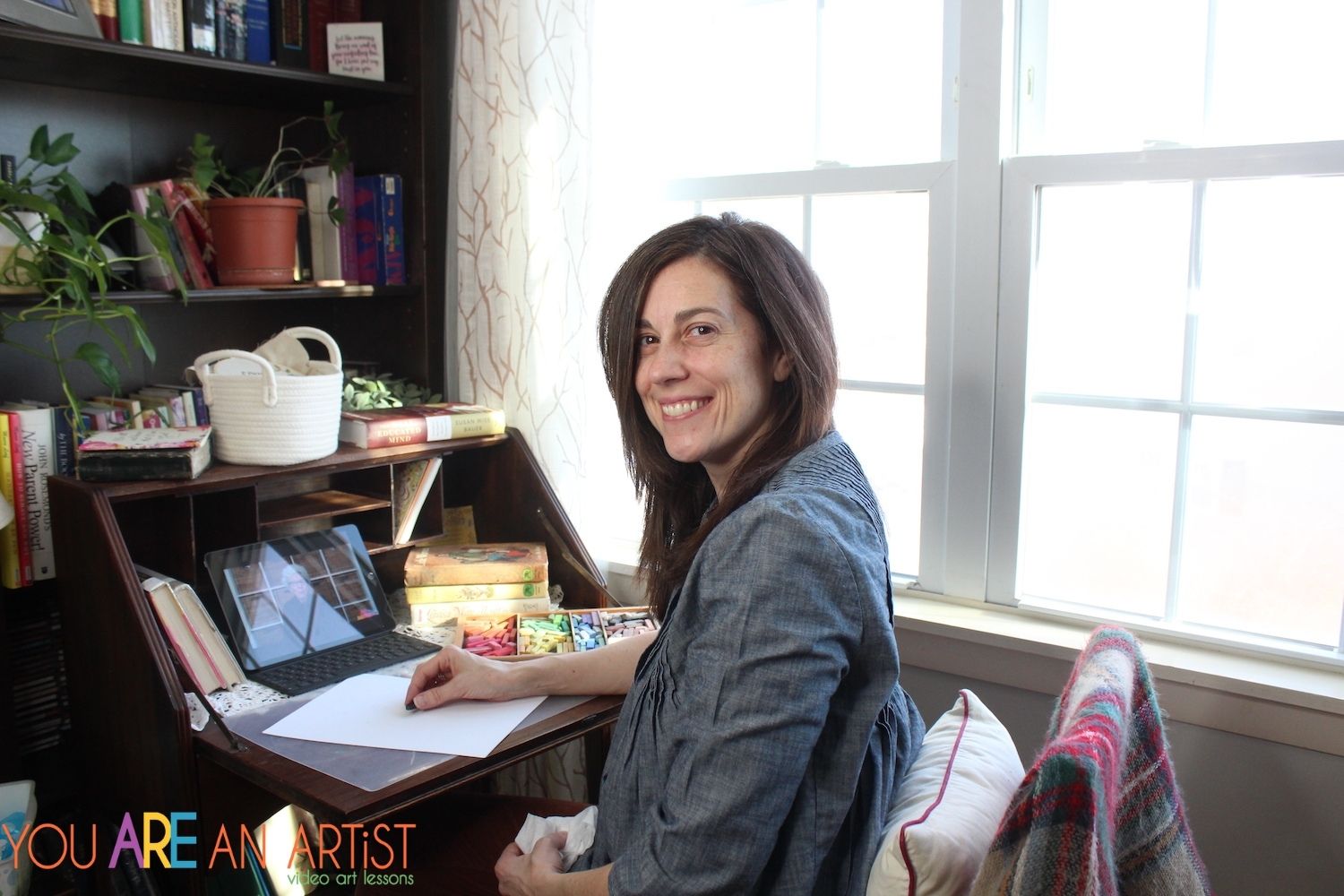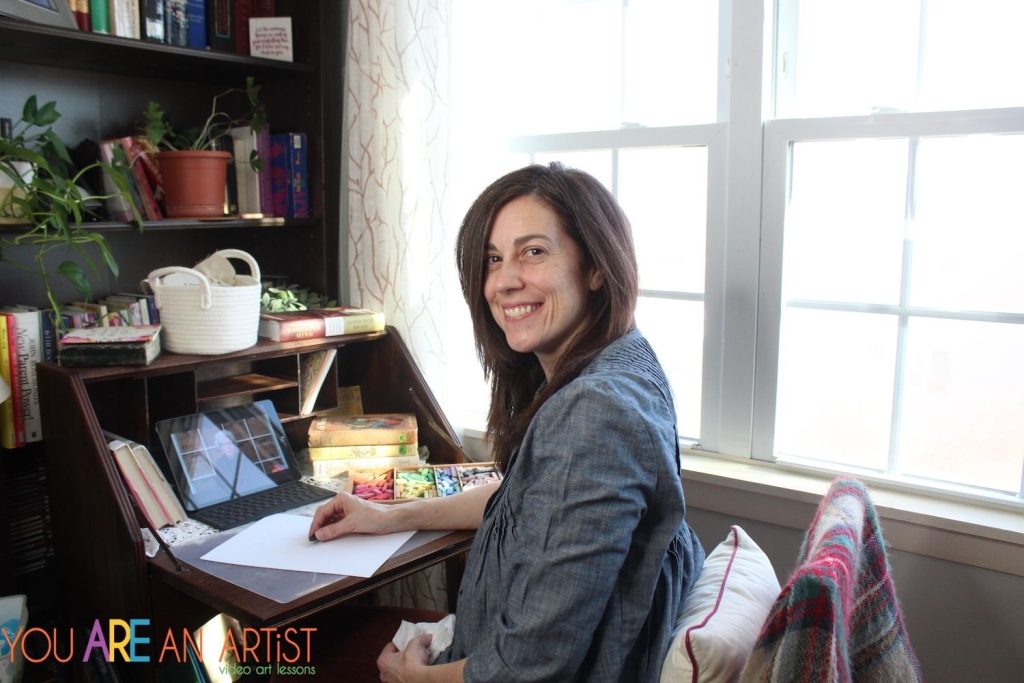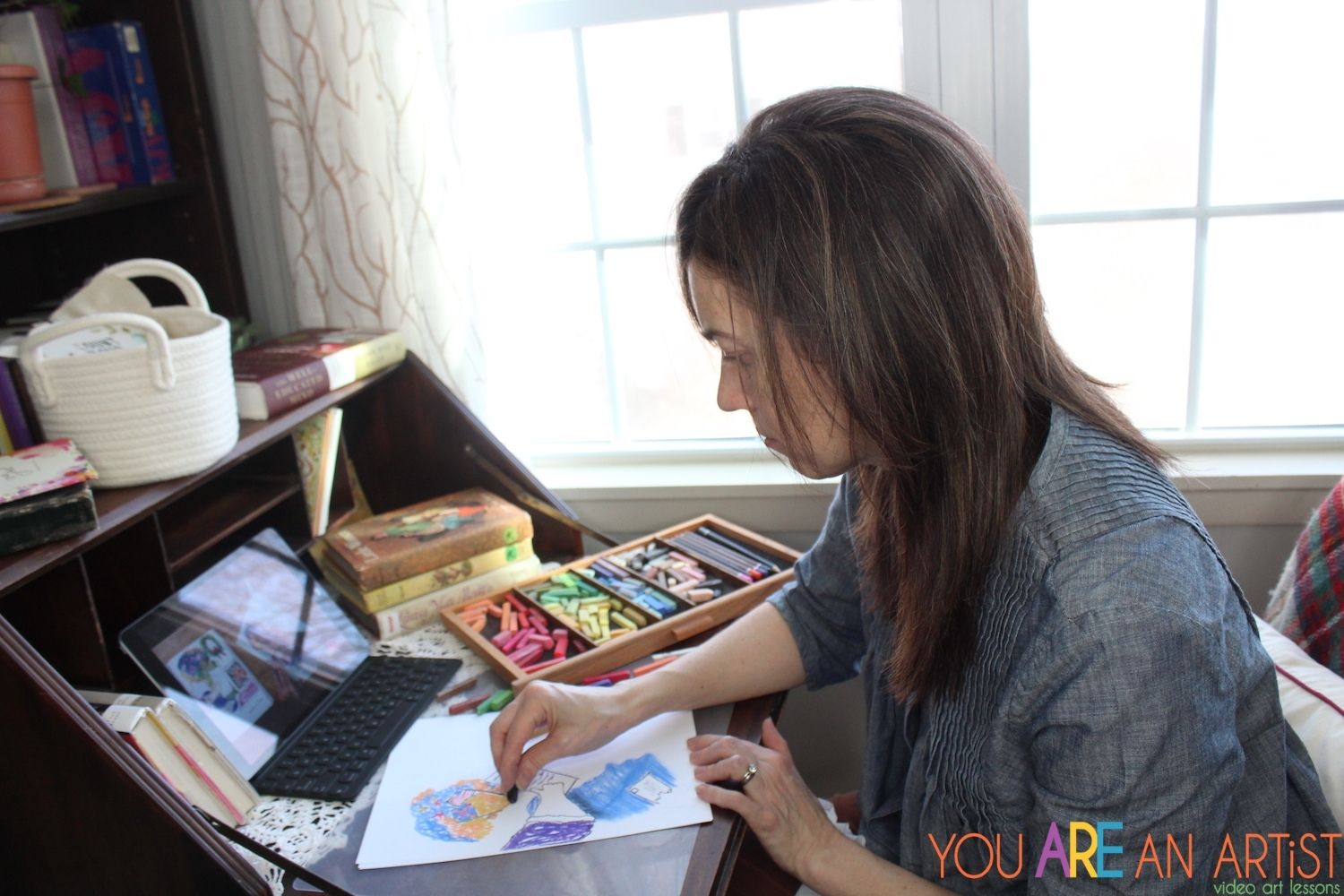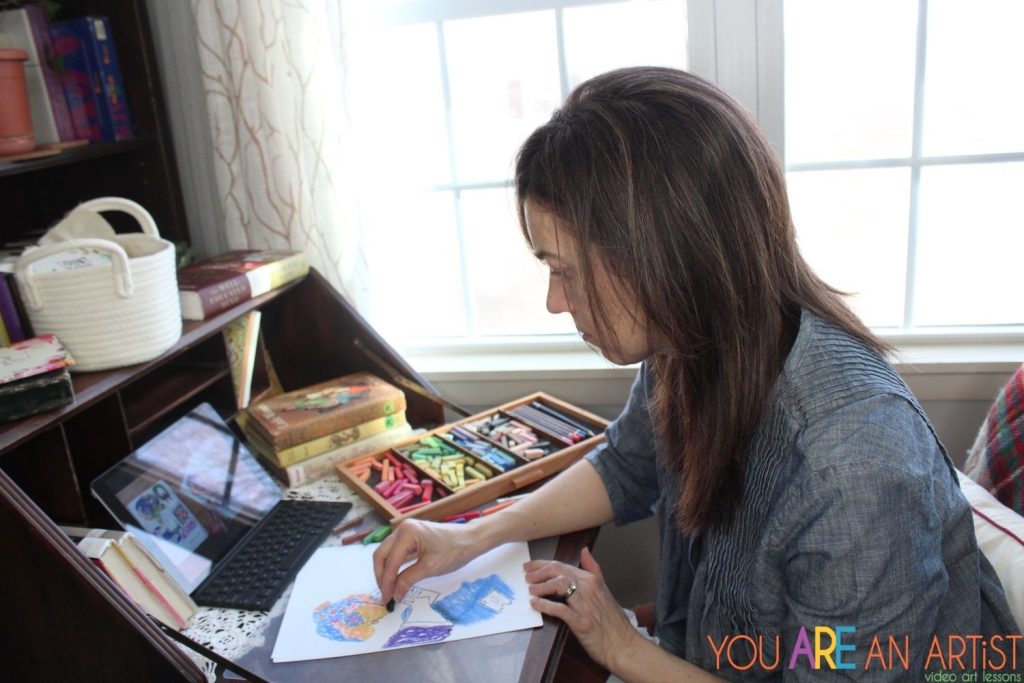 As I sat and drew with Nana, I experienced first-hand why "I Drew It Then I Knew It" is the mantra of so many of the ChalkPastel.com series! When you draw and listen to Nana's explanations, you really do become immersed in the learning. The facts become more memorable because you engage many senses at once: visual, auditory, kinesthetic.
I think it is easy for us as parents, especially homeschool parents, to be more of a learning "manager" than join in as a student in the learning process. Yet, we are all lifelong learners, and need to make time to experience the learning process for ourselves from time to time. There's no better place to start a culture of family learning than with the March family who are shining literary examples of family life.
I encourage parents to complete a chalk pastel homeschool art lesson on your own. Just for yourself! (And I even just realized that Nana has a "parent track" of lessons just for us! Go check it out starting with the adventure Tea Cup!). You might also like to see how Erin uses chalk pastels for mini moments for mom.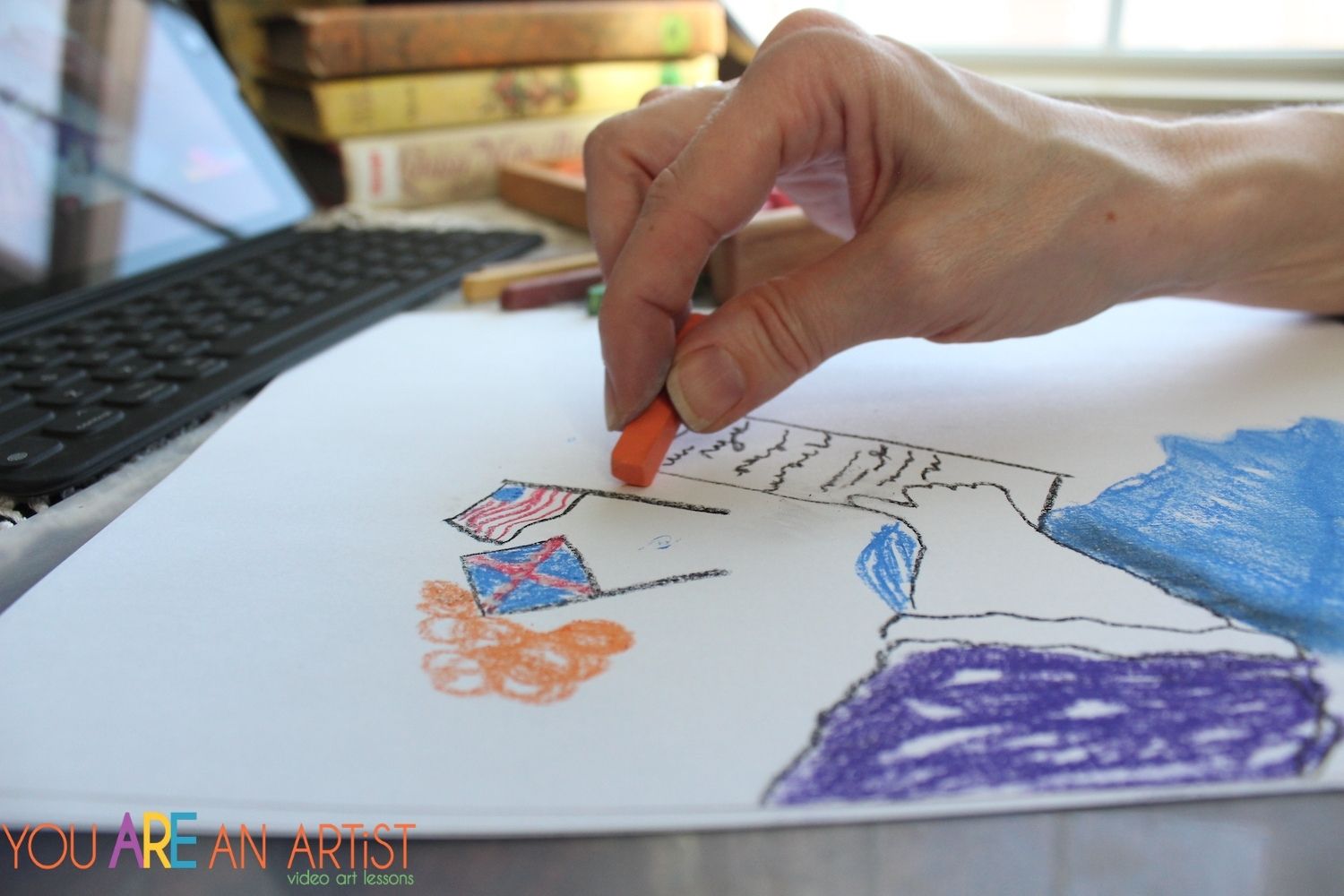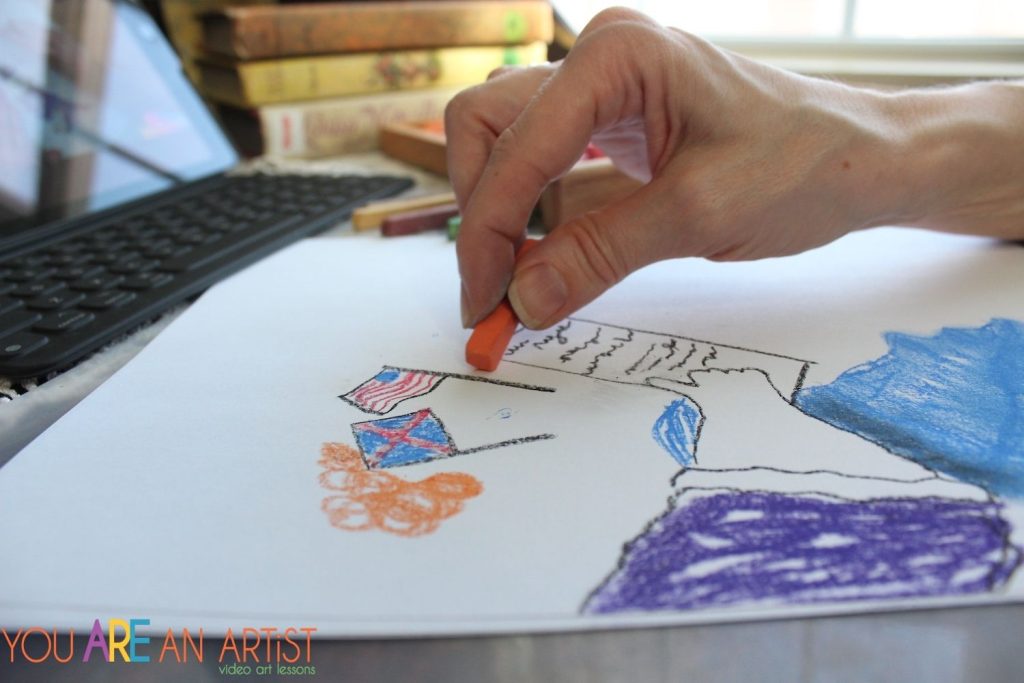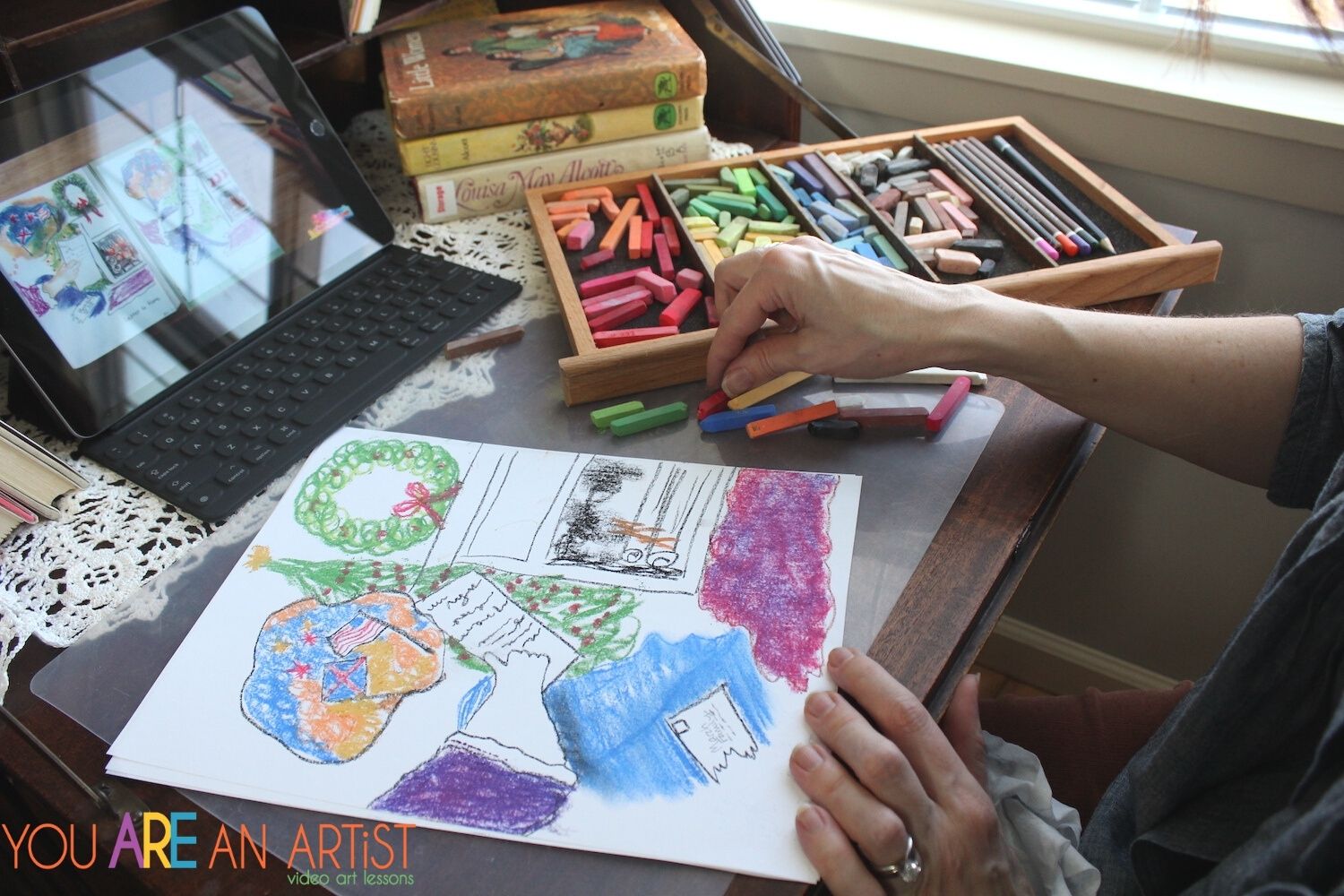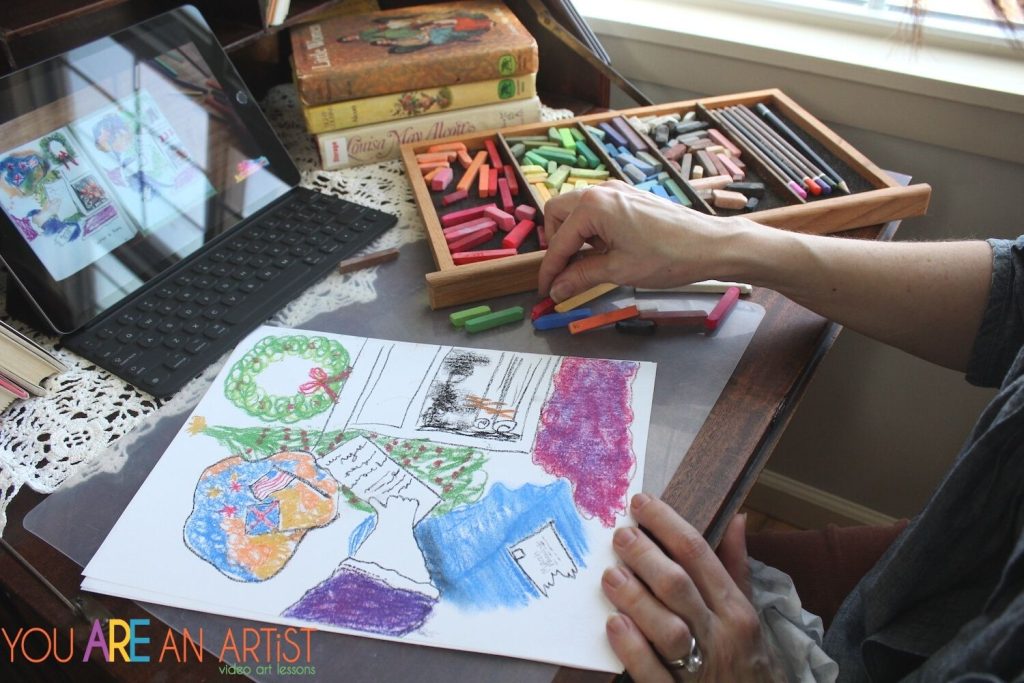 Little Women Homeschool Art Lessons
Whether you complete a Little Women literature study for yourself or with your children, ChalkPastel.com has many lessons that coordinate with the novel!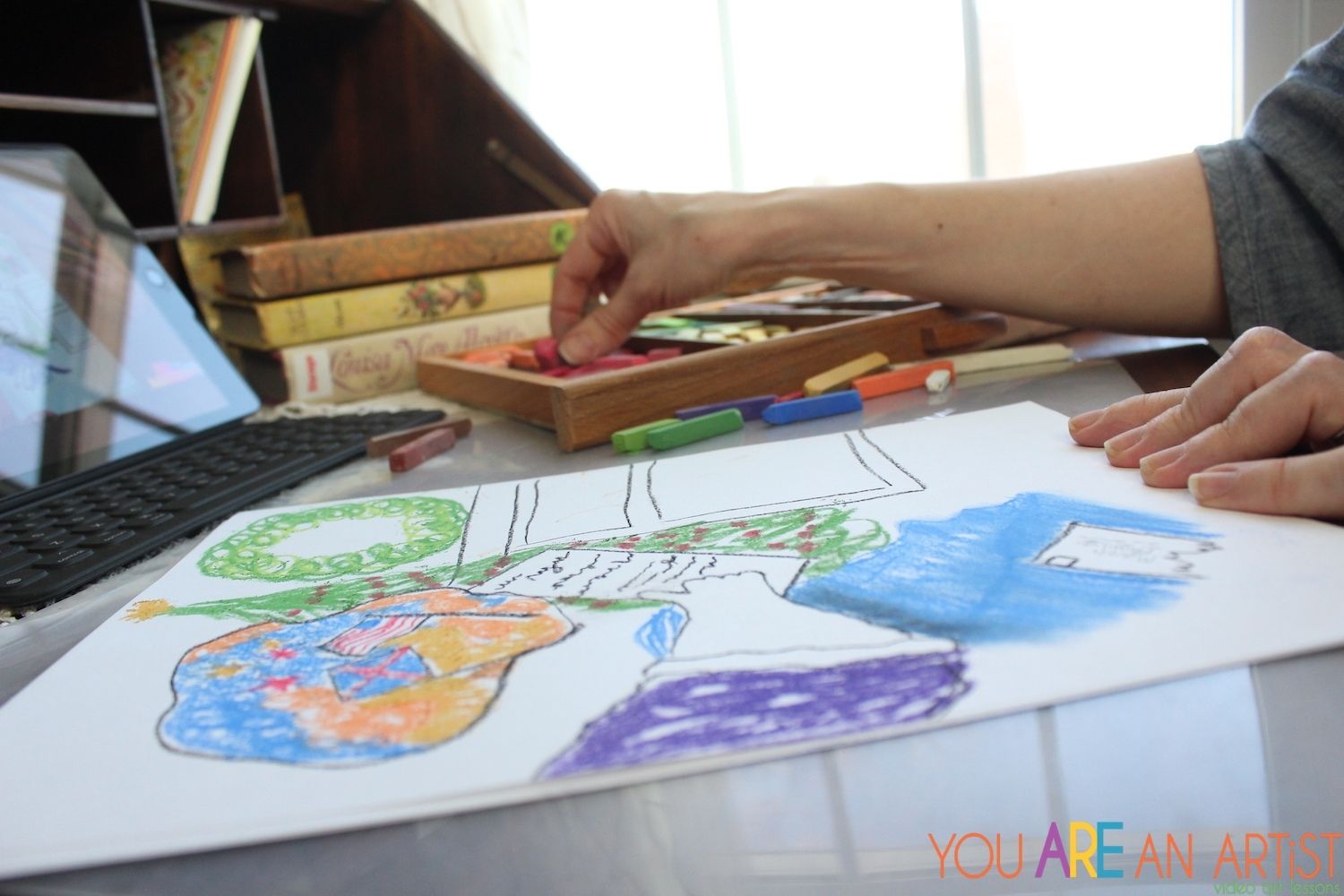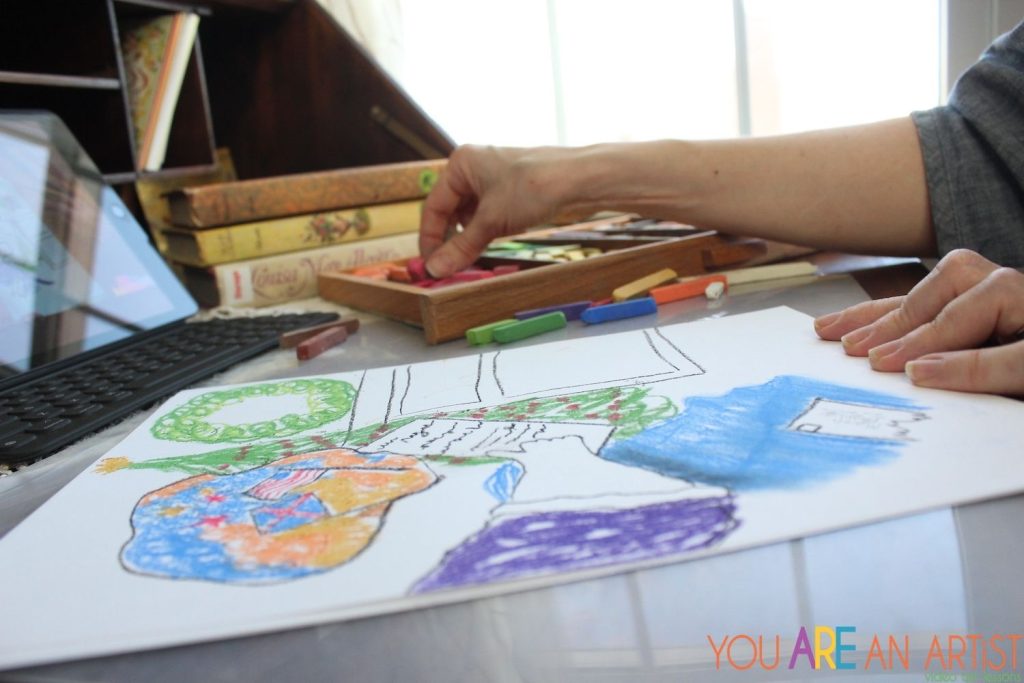 The Letters to Home video art lesson is a wonderful introduction to the story, setting the scene and introducing many of the characters.
Arguably, the most dynamic character is Jo March, daughter, sister, writer, and friend. Draw this beloved character with a focus on her wild and well-known mess of beautiful hair, along with her quote about "good strong words." Nana shares her favorite "Jo" moments from the book as she paints.
The video art lesson of all four March Sisters would be a great painting lesson for when you finish reading the book. By then, your kids will recognize all the sister characters. Nana likes to leave the decision up to you about which figure is which sister, and that would be a fun discussion to check for understanding after reading. Families will enjoy this overview of each of the March girls.
Speaking of the I Drew It Then I Knew It study guides, the Companion Workbook for Literature includes several pages of facts and discussion questions for Little Women that will be valuable to any language arts unit study or read-aloud time!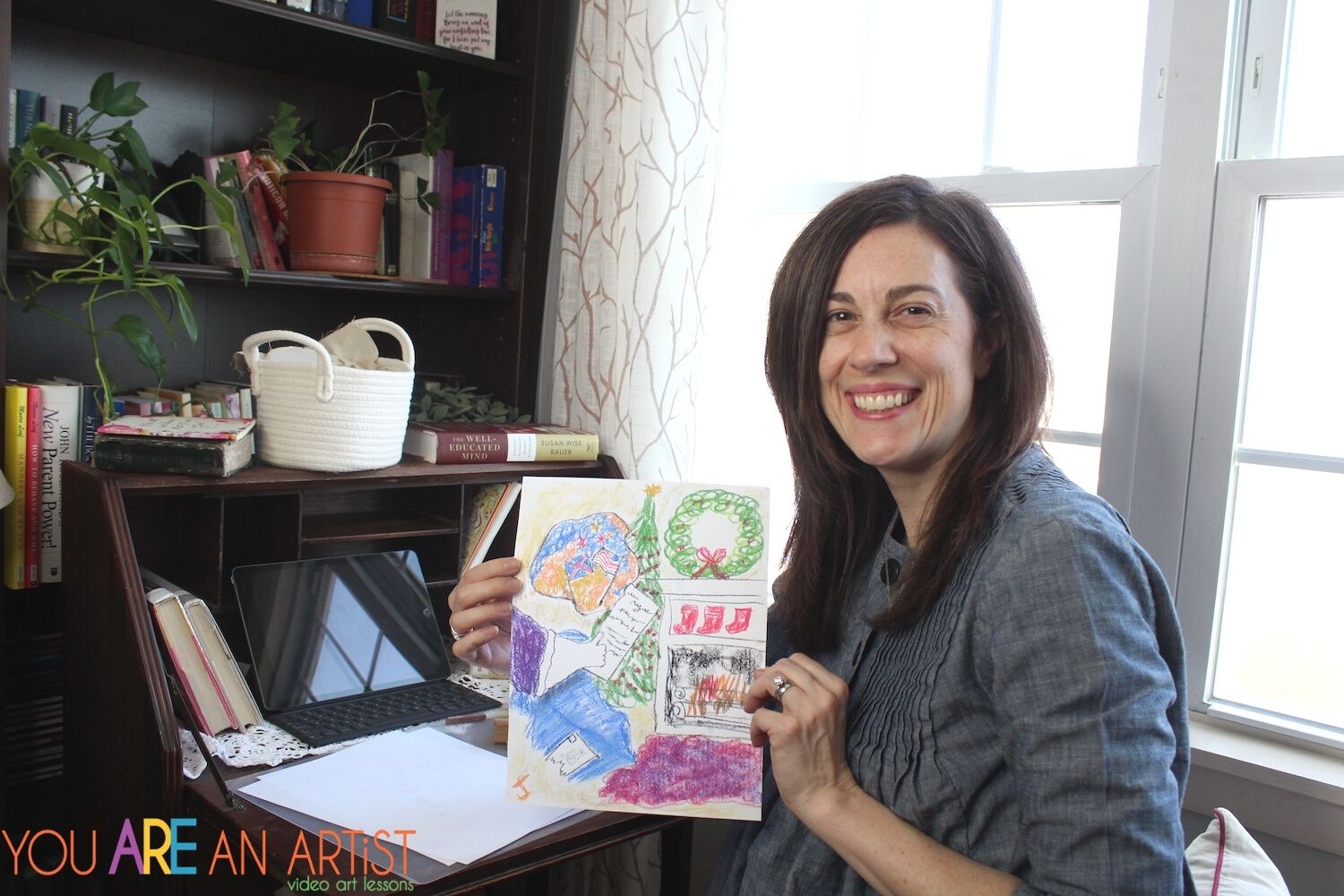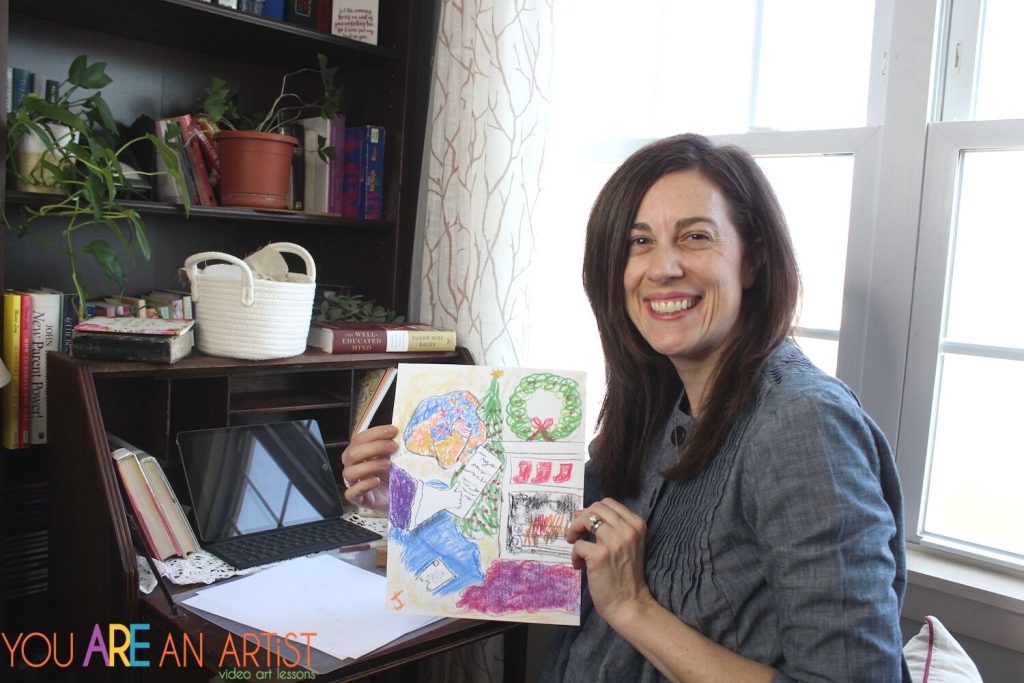 Additional Resources For Homeschool Literature Study
What else can you add to a Little Women literature study? Here are a few supplemental ideas:
Tea Time with the March Family. Hold a tea party at some point while you do a read-aloud. And invite someone over! Visitors were common at the March home, so you can practice hospitality while you sip and read!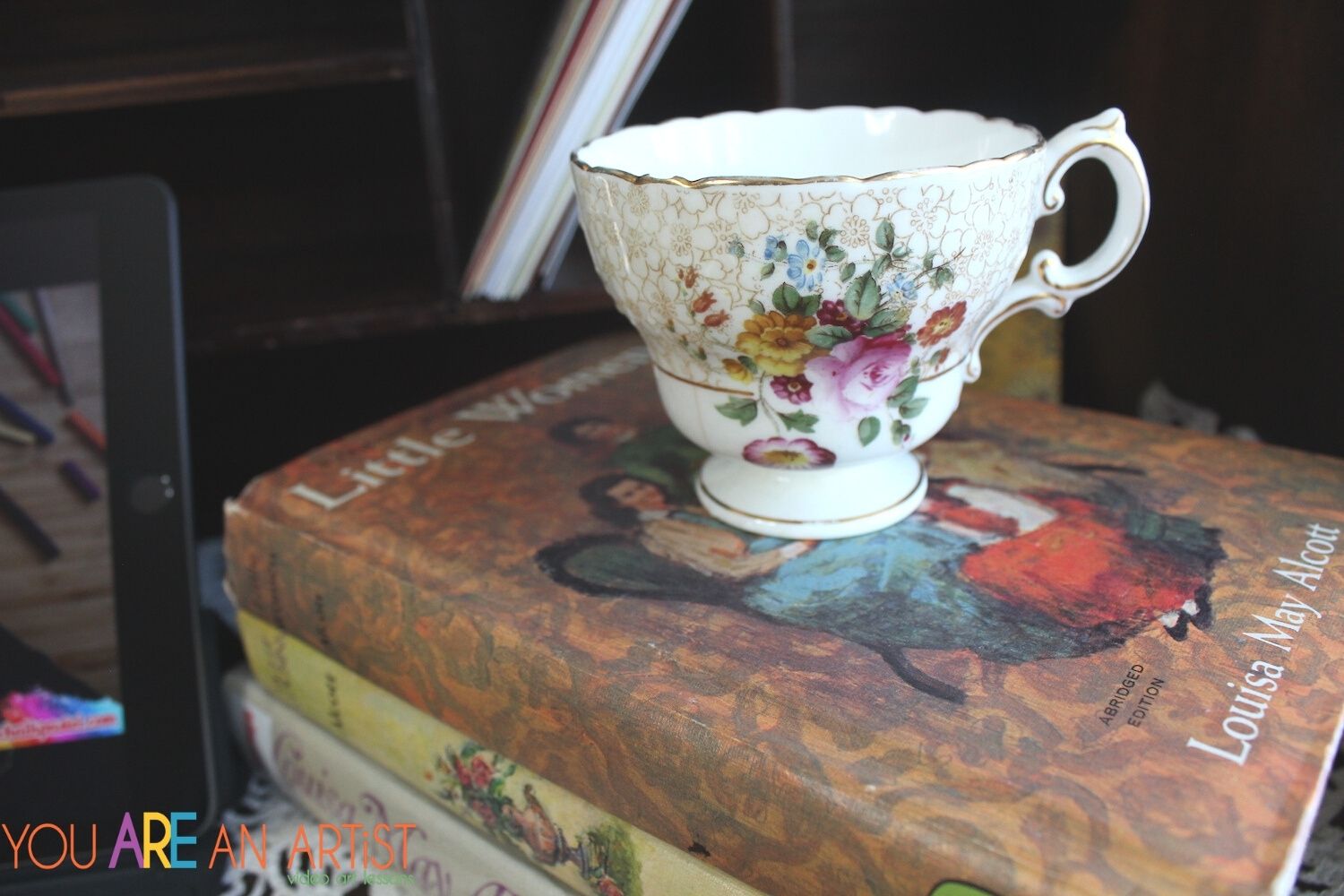 Hands on Handiwork. Have your children try out some handiwork activities. Get a small embroidery kit, learn how to sew on buttons, or complete a decoupage project. Monogramming clothing or belongings was popular during the time period of Little Women. Try this easy simple button sewing project to make a Monogrammed Button Bag with your kids.
Build in home economics tasks. Bake bread, create a shopping list and shop on a small budget.
Practice Acts of Service. The March family repeatedly served others throughout the novel. In fact, it was Beth's selflessness that eventually led to her tragic end. Complete an act of service like creating a care package for a sick friend or neighbor. Write letters to military members, like the sisters wrote to their father in the Army. Donate clothing and toys. If the March family were real and alive today, no doubt they would be examples of overflowing hospitality we could follow.
Explore the Orchard House. If you're in the New England area, you can visit the Louisa May Alcott homestead, the Orchard House in person in Massachusetts. If you're too far, a Virtual Tour is available for purchase! Or read this summary of the Alcott home and family members.
Enrich yourself as a parent. For parents interested in pursuing more Mother Culture as you provide a home education to your children, consider reading biographies about Louisa May Alcott. You'll feel equipped to add details to your family discussions.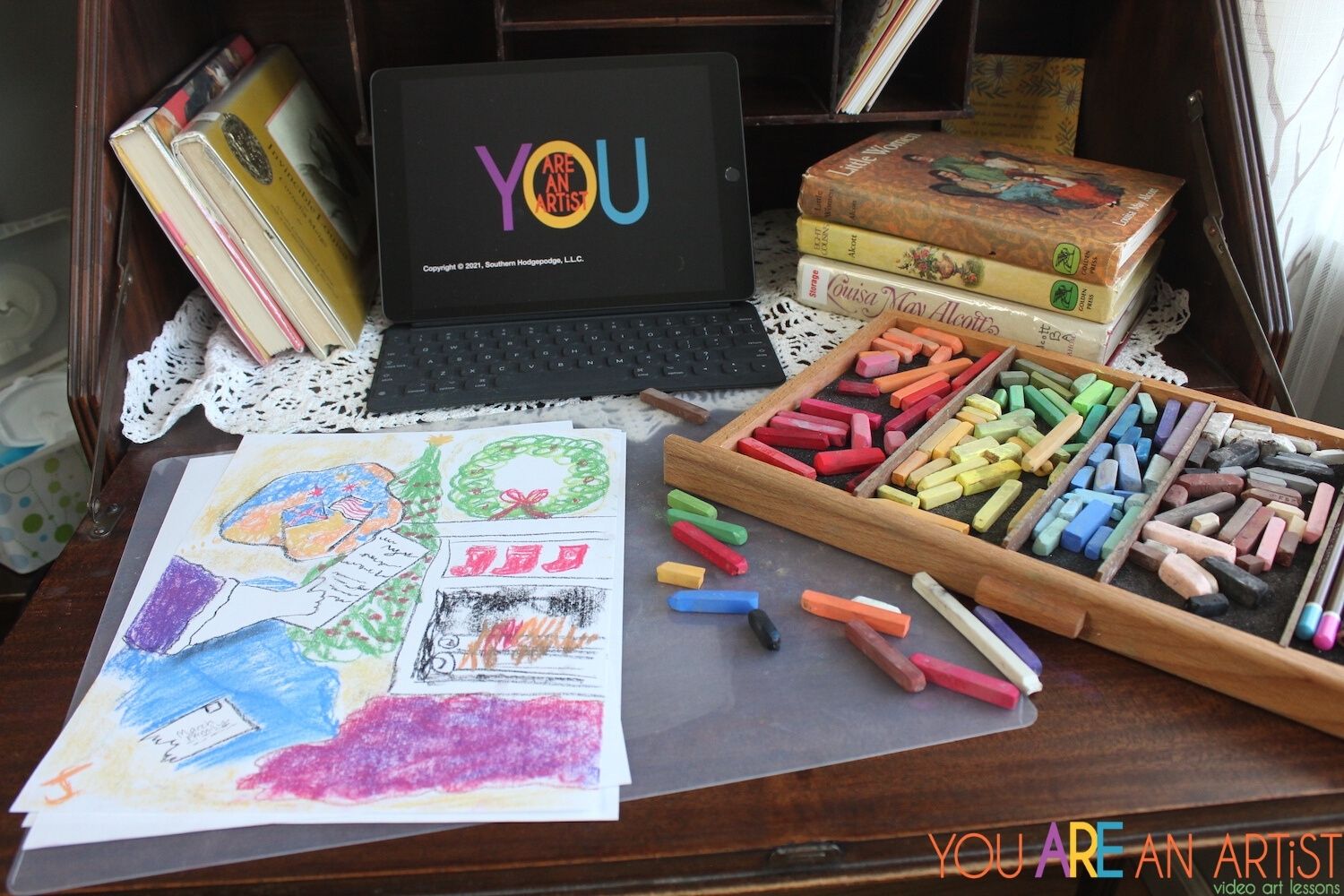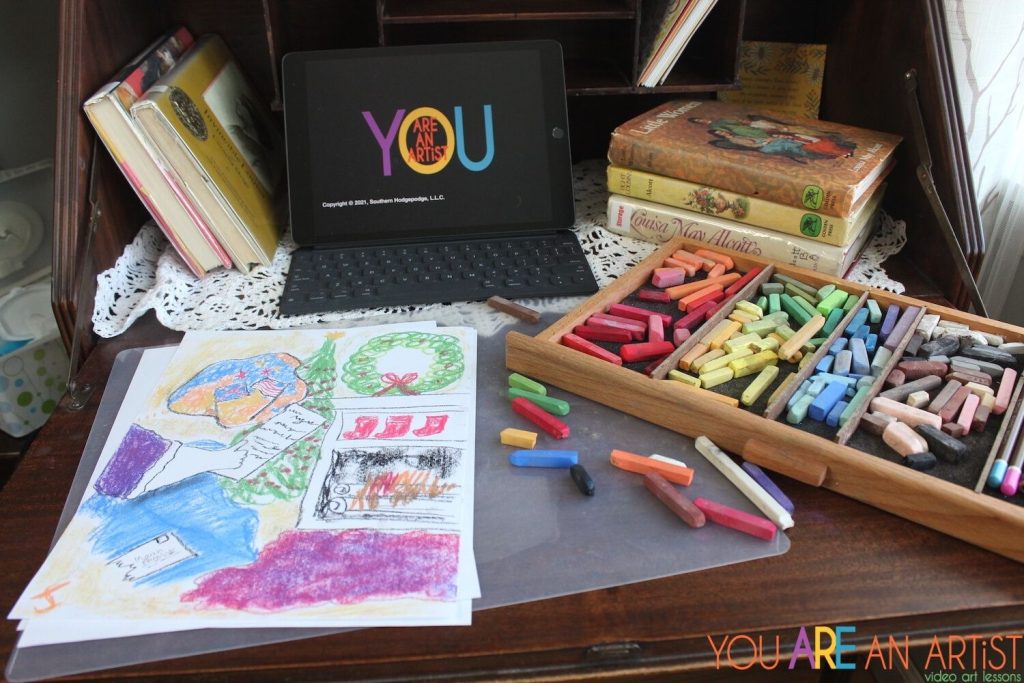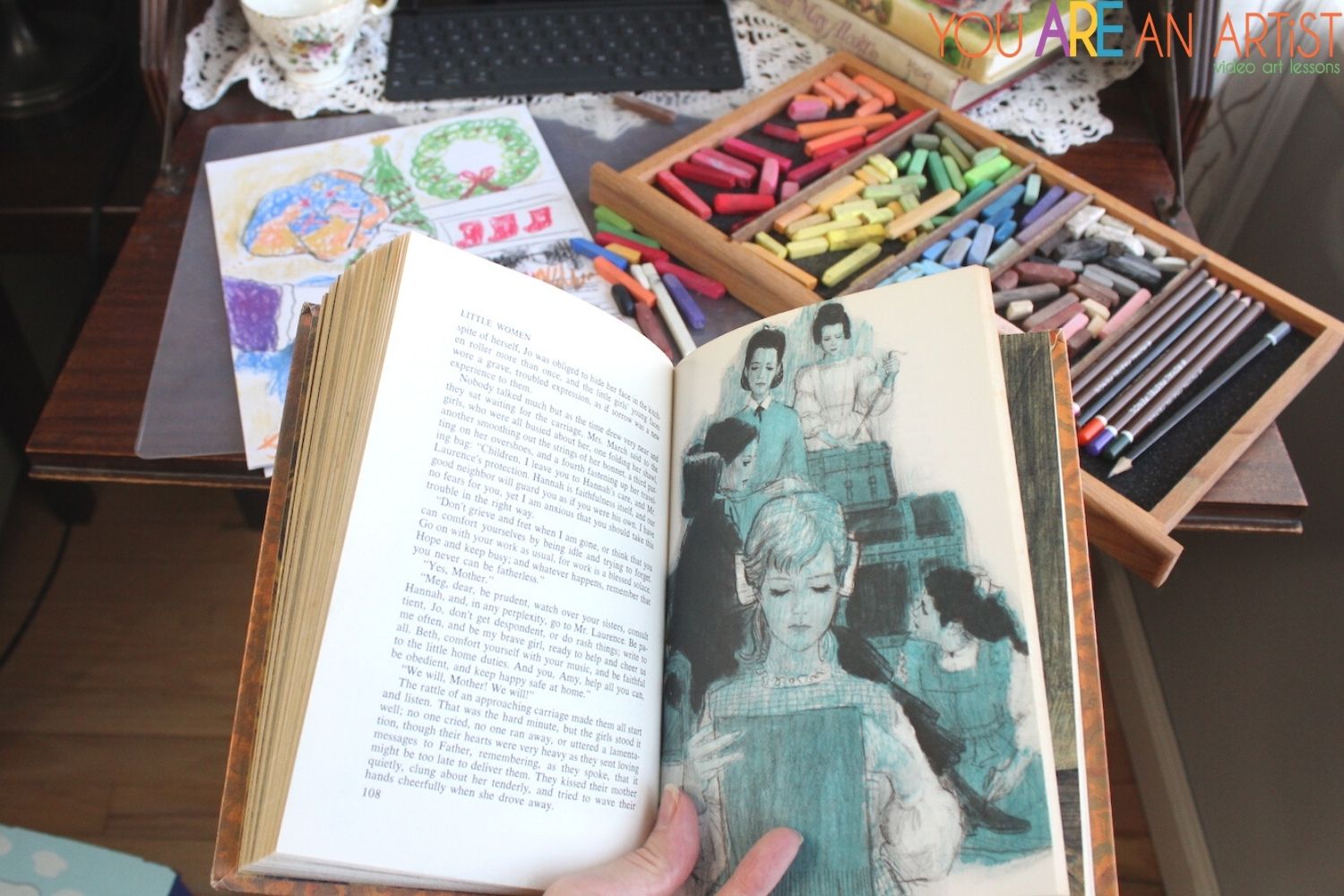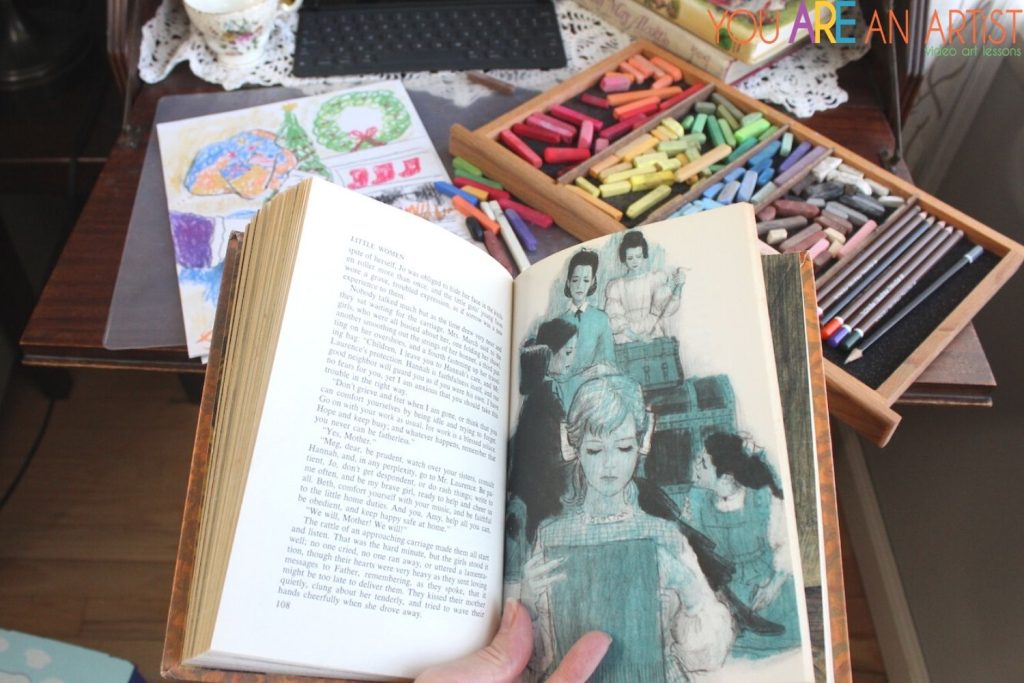 And perhaps carve out some time to sit down with a cup of tea and an art lesson like I did, and give yourself the treat of an afternoon of art with Alcott.
However you choose to include art and Little Women's timeless tale of home, you will certainly walk away richer in heart and spirit. Time spent with the fictional March family is always rewarding.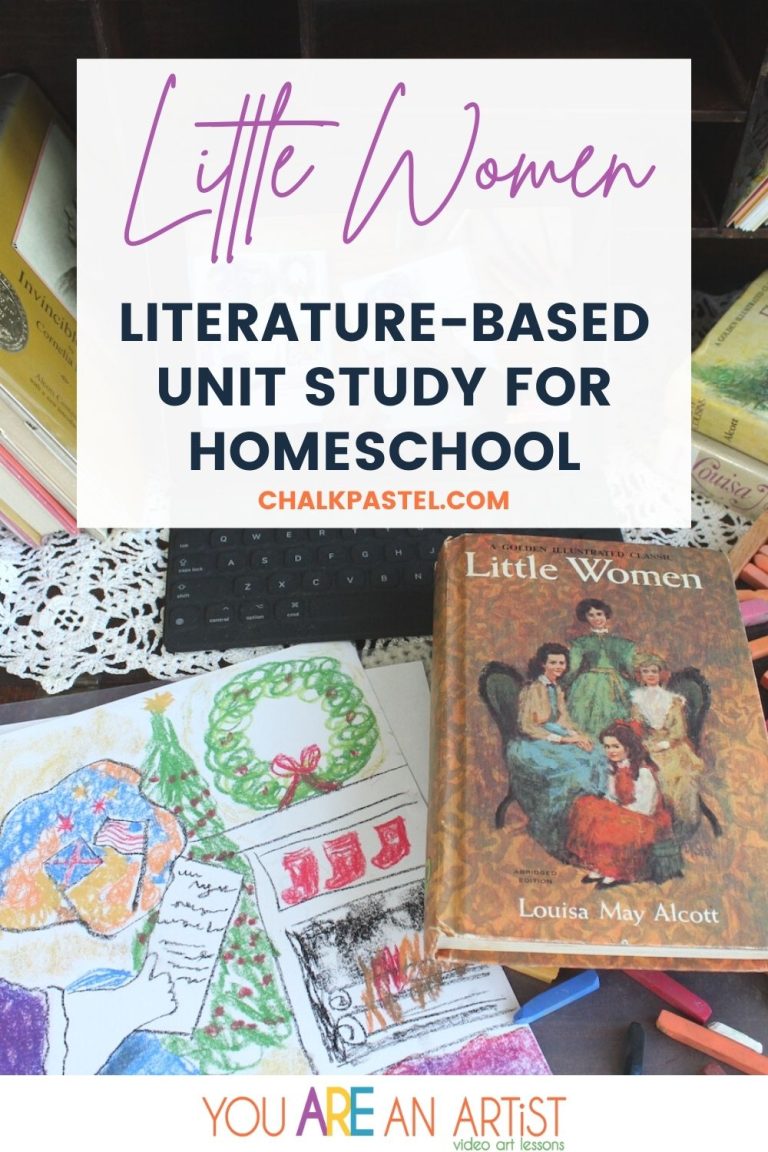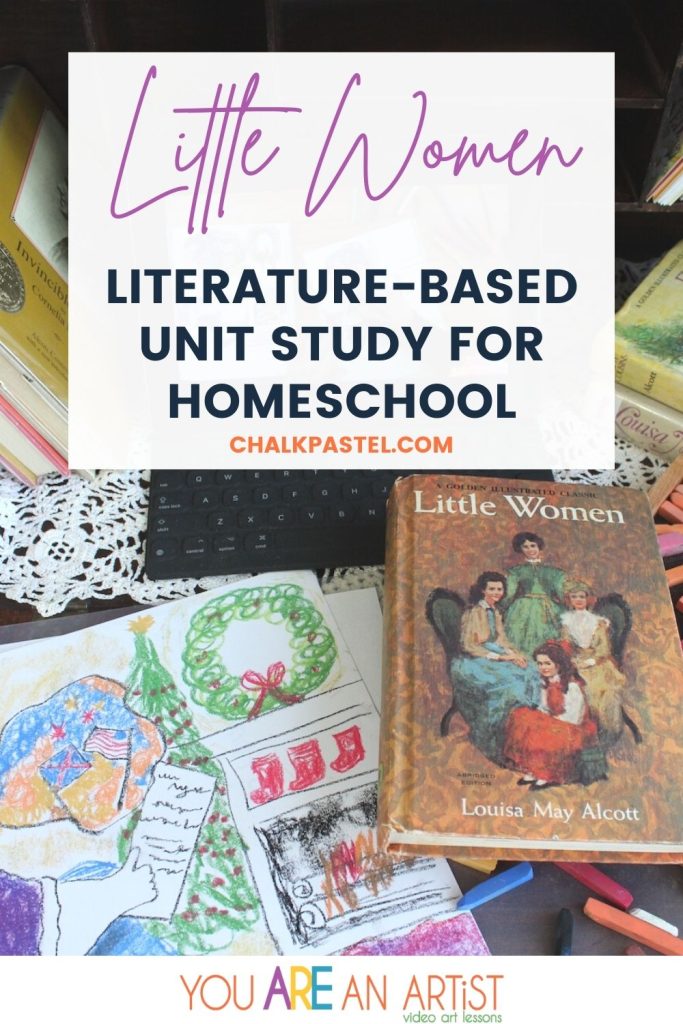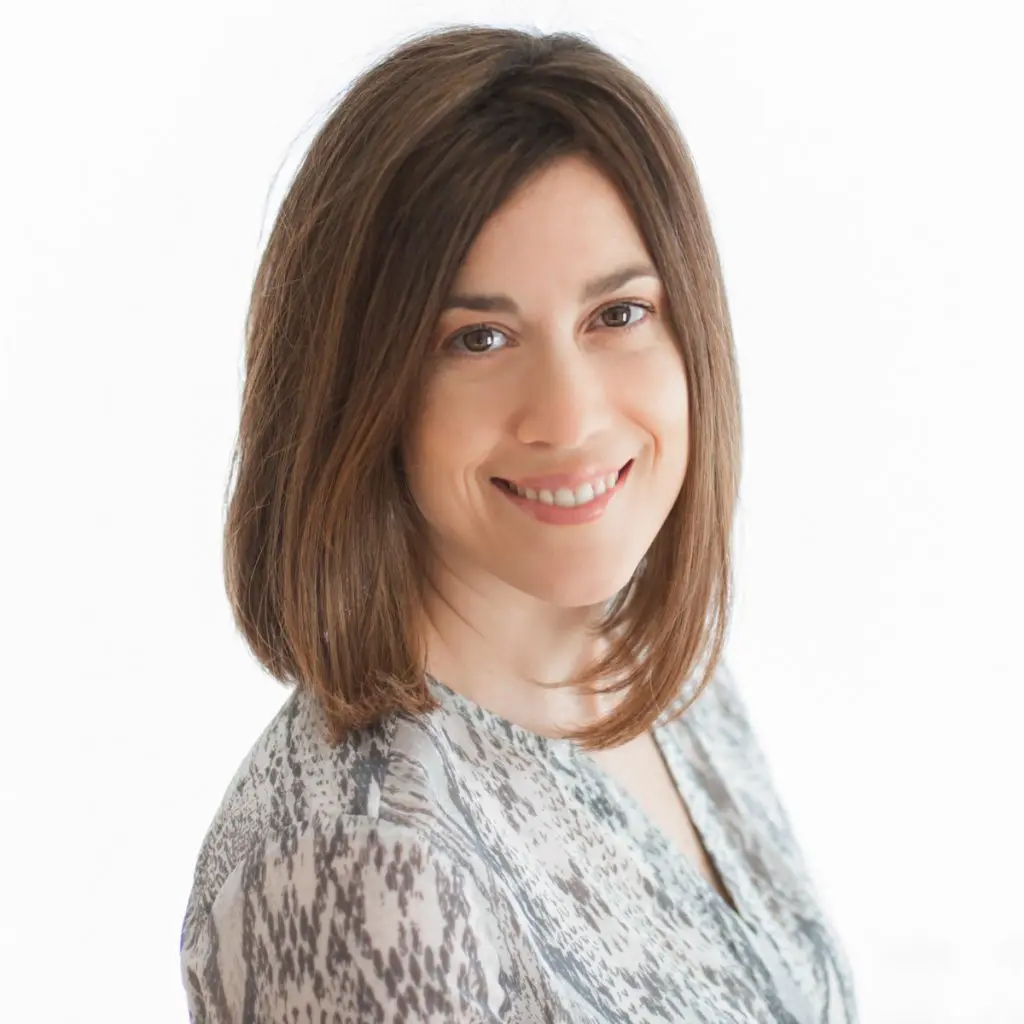 Julie is a teacher, writer and homeschool mom. Her blog Happy Strong Home shares encouragement for cherishing children, enjoying motherhood, and growing strong families. Discover homeschool resources, natural living tips, and family activity ideas. Julie has been featured on Million Praying Moms, The Old Schoolhouse Magazine, and the Melissa and Doug blog. She offers writing workshops and a "homeschool neighborhood" community to support parents in their homeschool adventures. Find Julie on Instagram to be the first to know when new workshops and community events are available.