Learning to read with art embraces more than meets the eye. Let's take a peek at these creative sight word activities for your homeschool. It's a fun activity for the whole family!
Learning To Read With Art
What if you could combine all the four major learning styles into one lesson? What if a multi-sensory approach helped your out of the box learner retain information and build confidence in a no fuss, enjoyable way? Even more so, what if you found a hands-on activity that encouraged relationships and fostered bonding in your very own homeschool? You have come to the right place!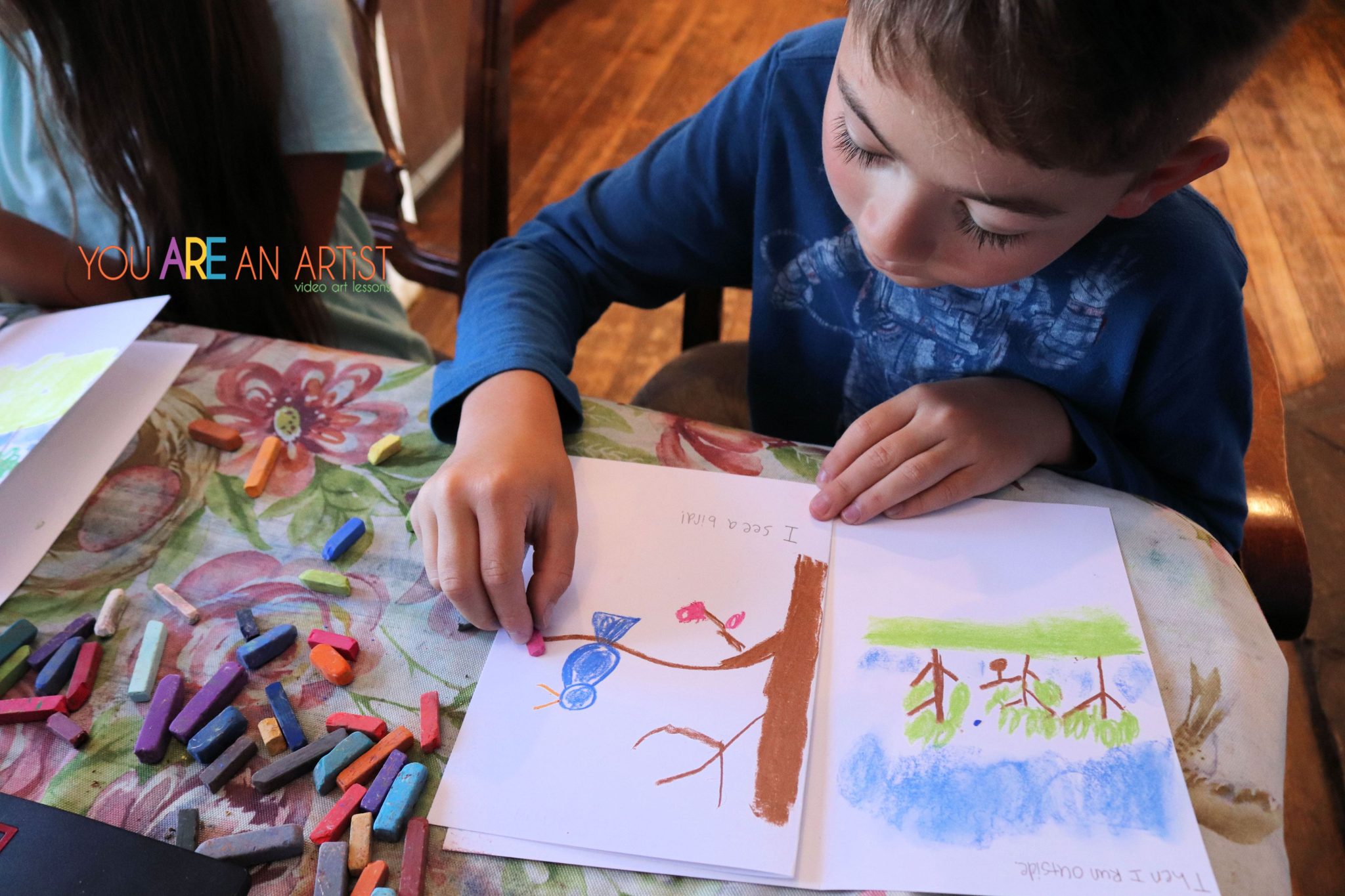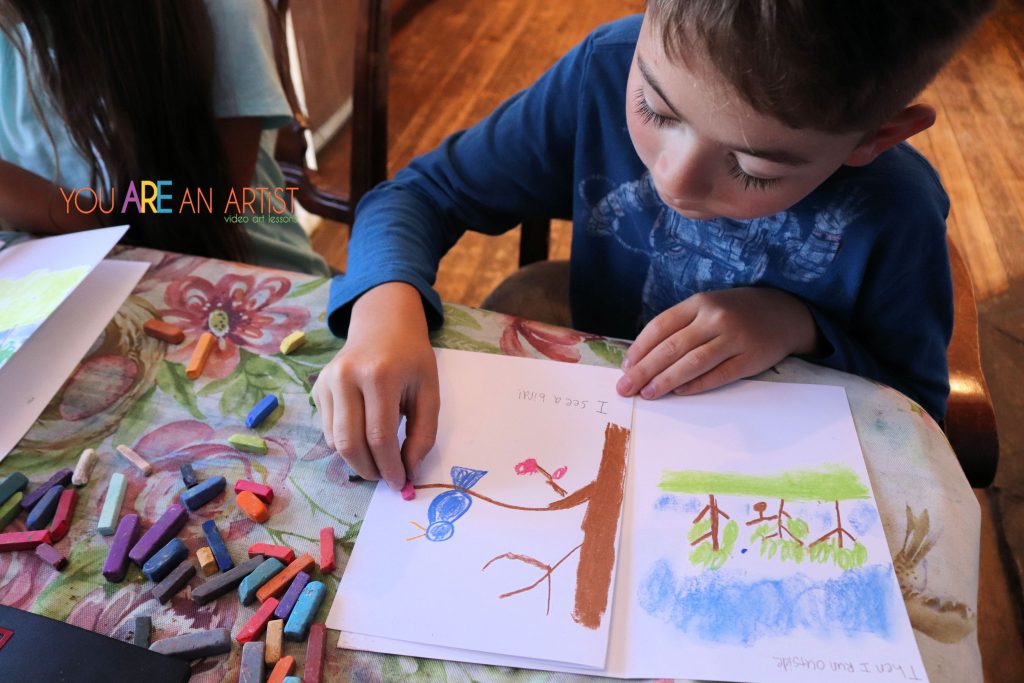 Sight Word Activities For Your Homeschool
Do you have a cozy reading corner? Or maybe you just decorated your dining room table with a floral table cloth, and a few fresh picked wild flowers. You just baked warm chocolate chip cookies to fit perfectly in tiny hands. All you need is a good little book to read with those yummy cookies. Now little miss is eyeing you and the cookies, eagerly waiting to see the book you chose for this bonding moment…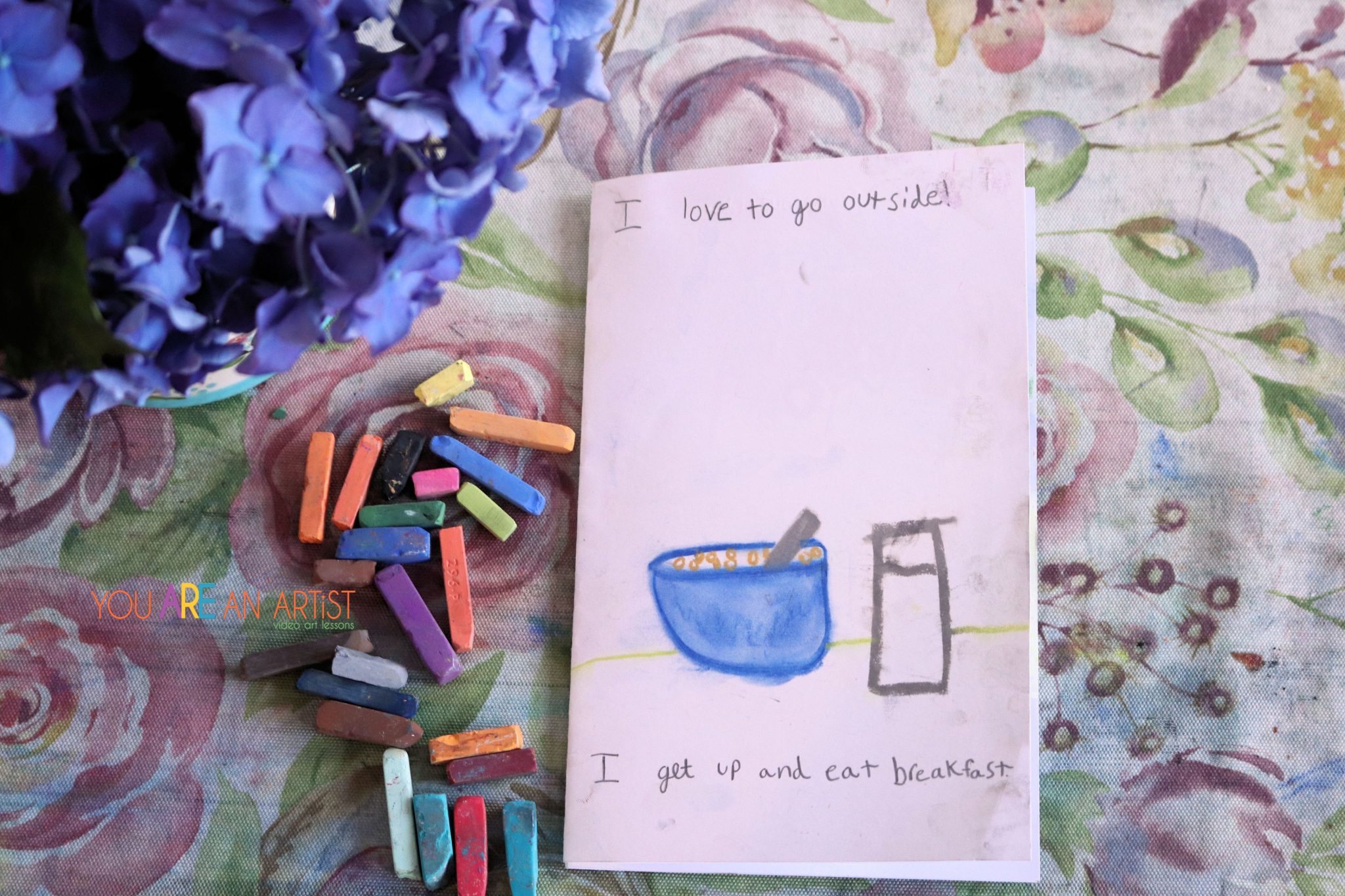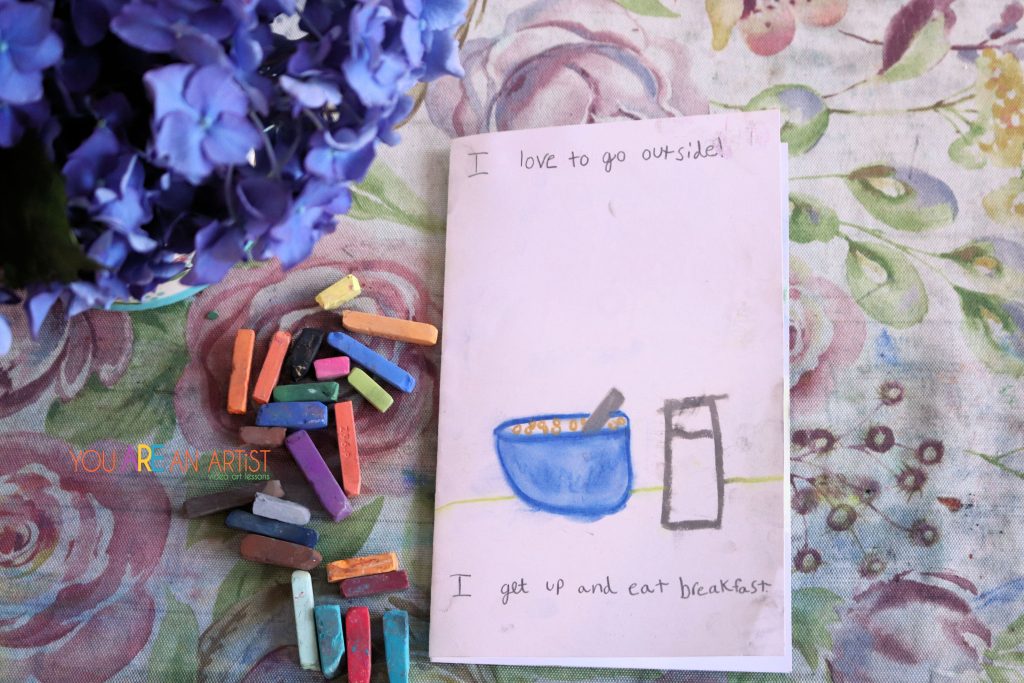 This multi-sensory Learn to Read book, combines all four of the major learning styles into creative sight word activities:
auditory
kinesthetic
tactile
and visual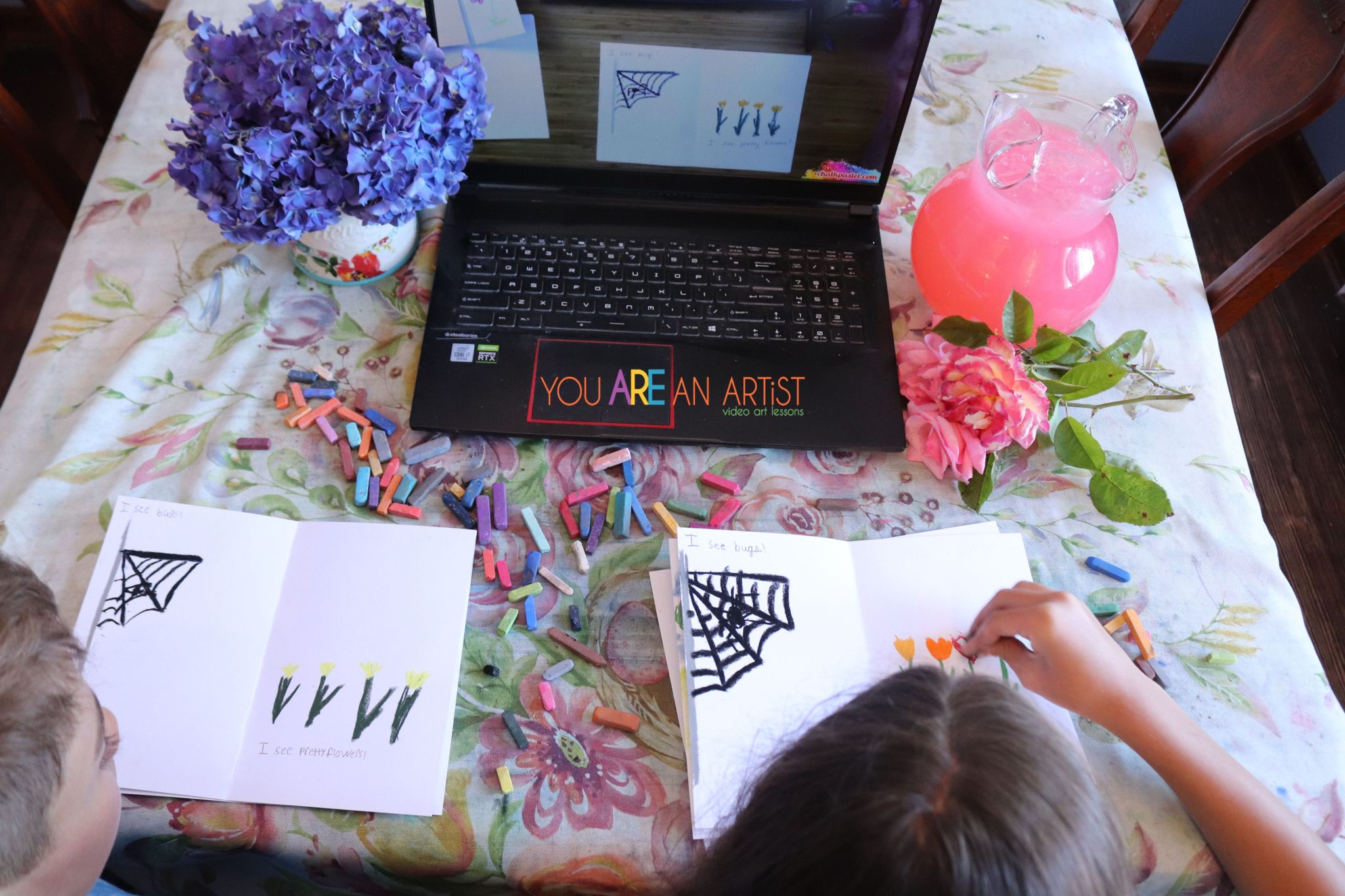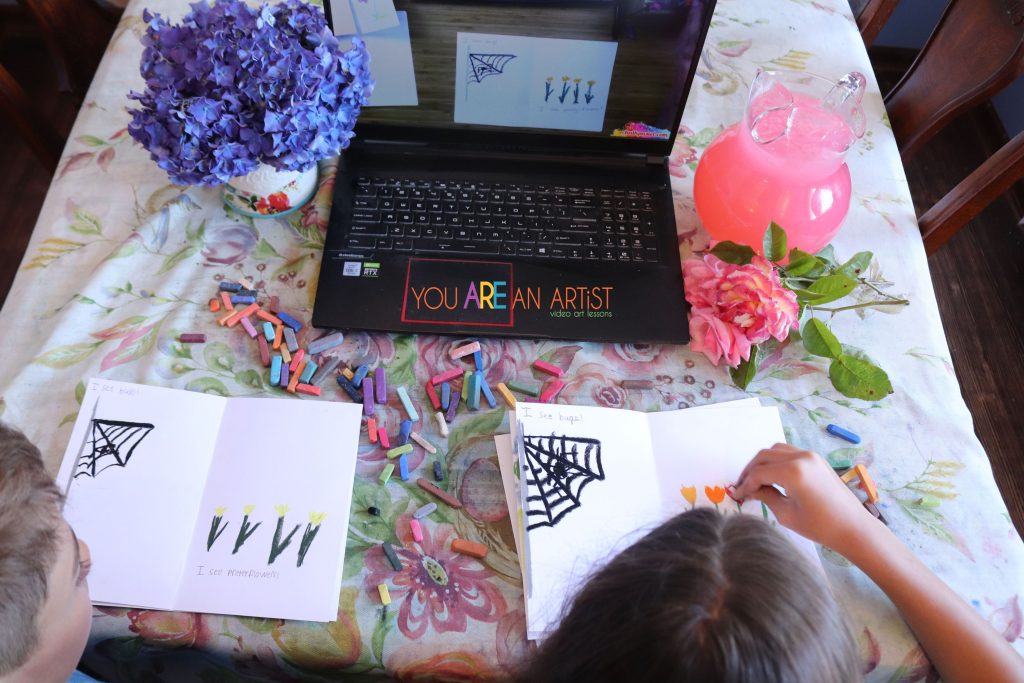 It also includes multiple subjects:
art
reading
writing
sight words
and nature!
That's not all! Nana surely brings inspiration to a realm of learners, perfect for any family!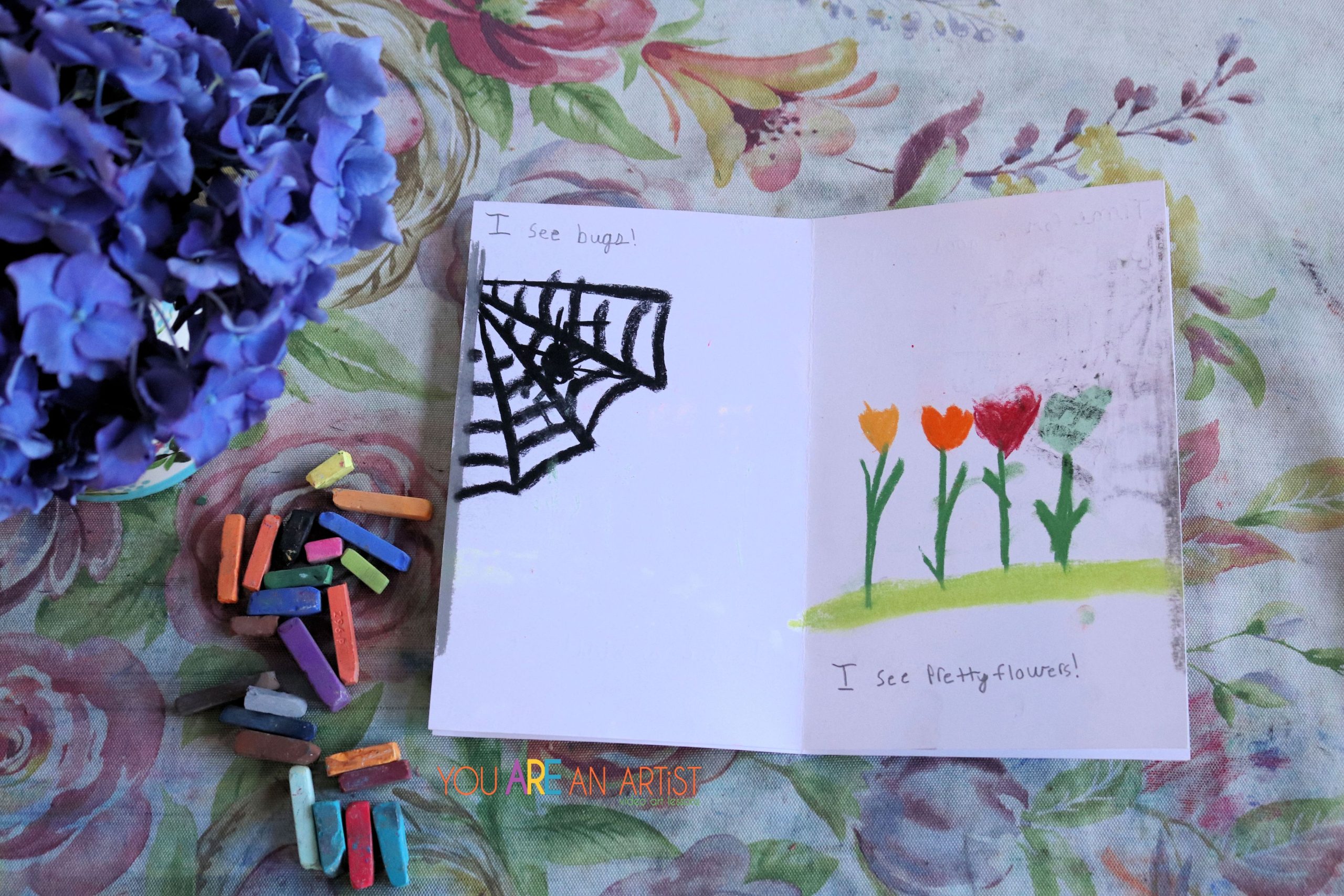 Let's begin with those adorable early learners who show an interest in reading. Or maybe, you're early learner is already picking up on a few letters, sounds, and sight words. When exposed to high frequency words that make up a high percentage of reading material, children can memorize them for reading fluency!
This Learn to Read book immerses a learner in sight words such as: I, and, see, a. This brings exposure and encourages early reading. The Learn to Read book is also filled with bright art that will engage your preschooler and hold their attention.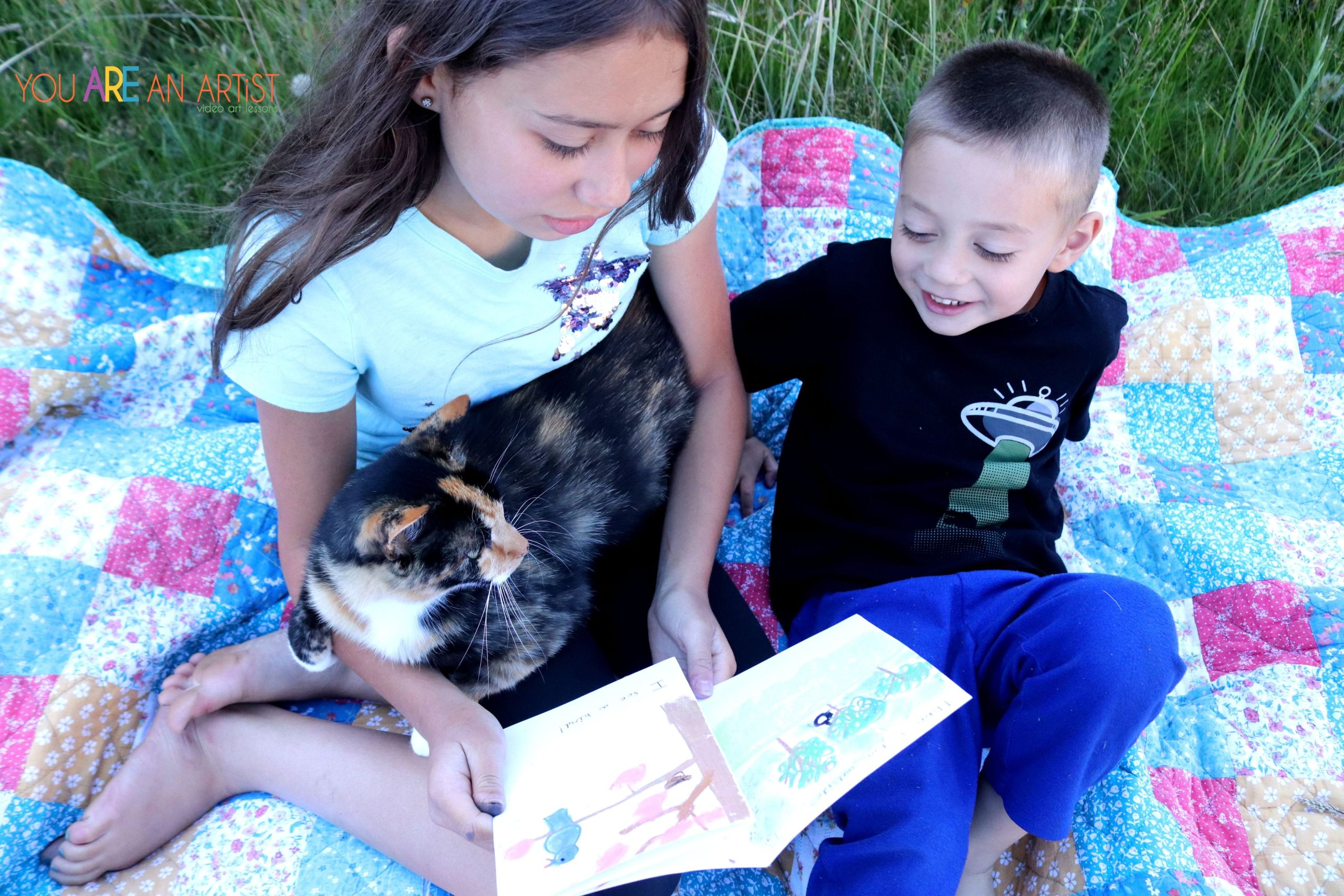 The Learn to Read book also provides an opportunity for seasoned learners to create something tangible and useful for their younger siblings; a wonderful serving opportunity. My middle schooler and upcoming junior higher took delight in becoming an aspiring author and illustrator as they gleaned encouragement from Nana through this thoughtful lesson.
After painting, the outdoors combined with the cool summer breezes called our names. We took our favorite quilt, spread it across the green grass, and my older ones read to their younger brothers. This encouraged sibling bonding, fostered relationships, and an exposure to those high frequency words.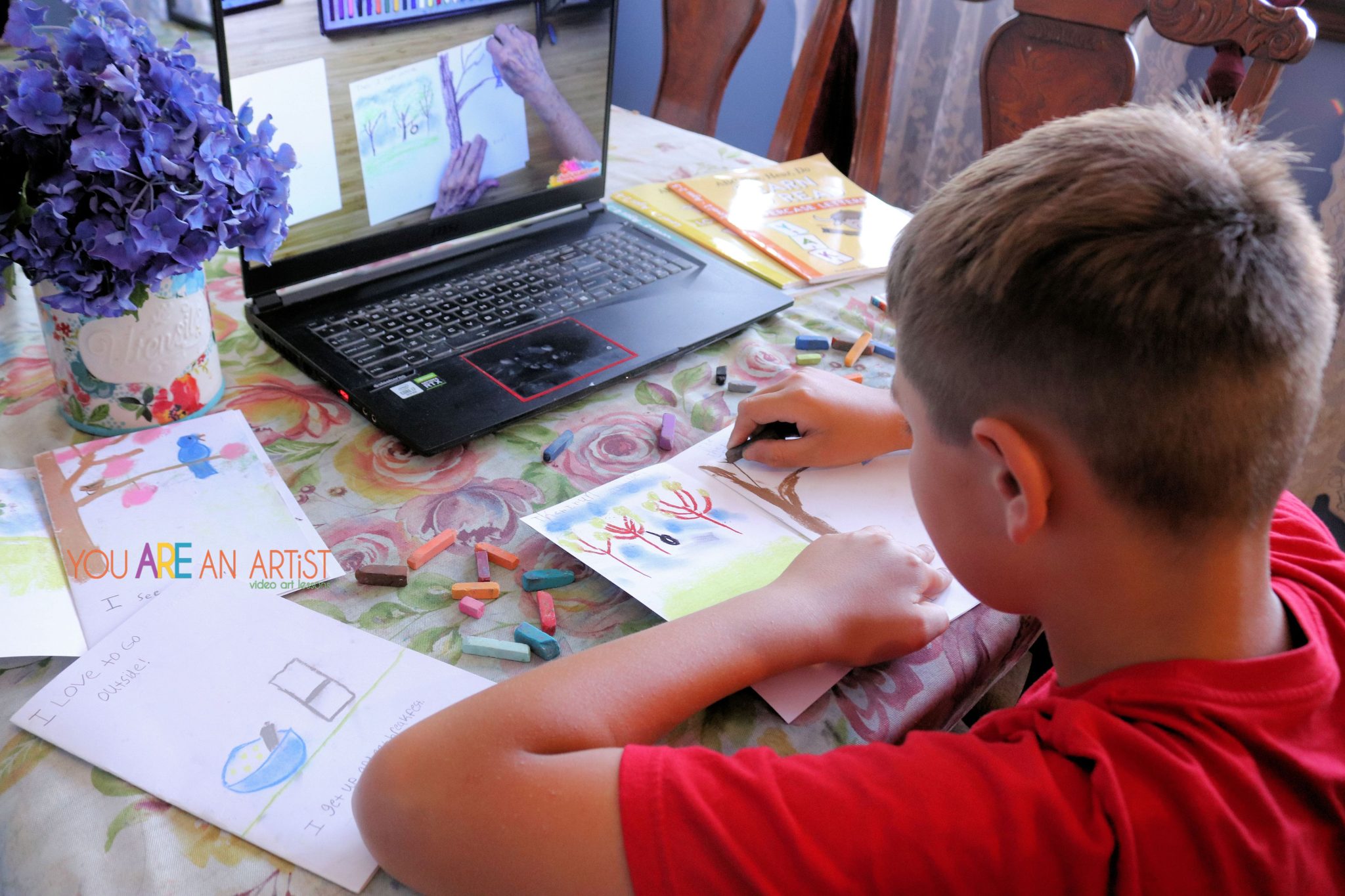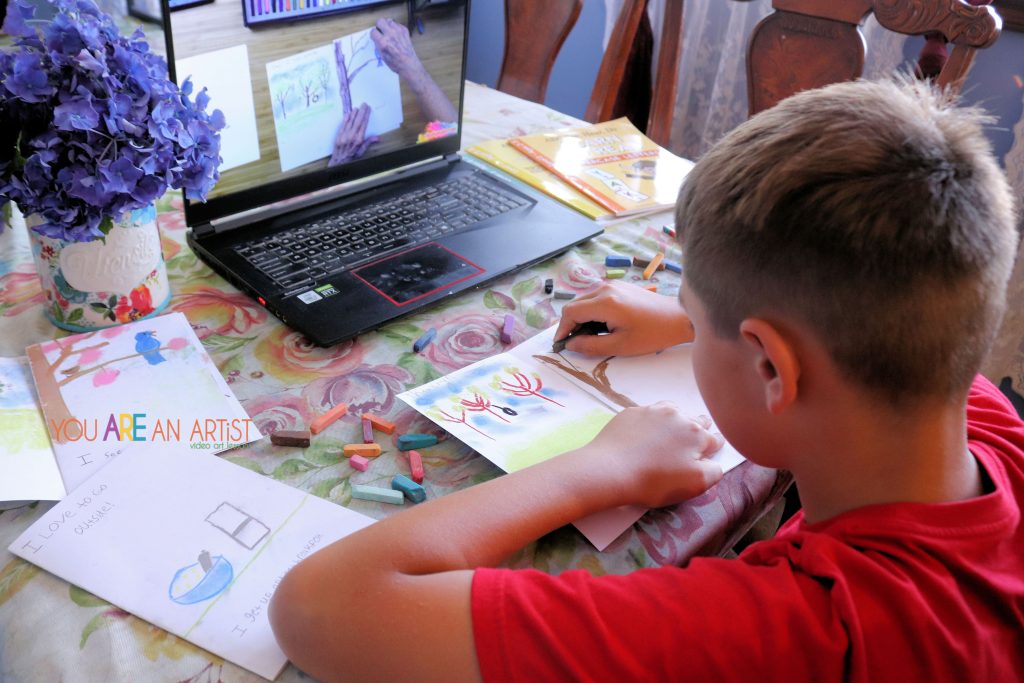 Do you have a child with learning differences? This art lesson embraces auditory, tactile, and visual learning styles. An out of the box learner writes the words (tactile) and paints the illustrations (tactile again). Afterwards, reading takes place. The book may be read by the child, sibling, or parent. Either way, the reading provides the auditory learning style.
The finished product then delivers an appealing visual. To make this Learn To Read book kinesthetic, we joined movement while reading. For example, we acted out "I", "see", "bird", "bugs", "eating breakfast". This multi-sensory learning teaches the same concepts in multiple ways, giving extra support for retaining information.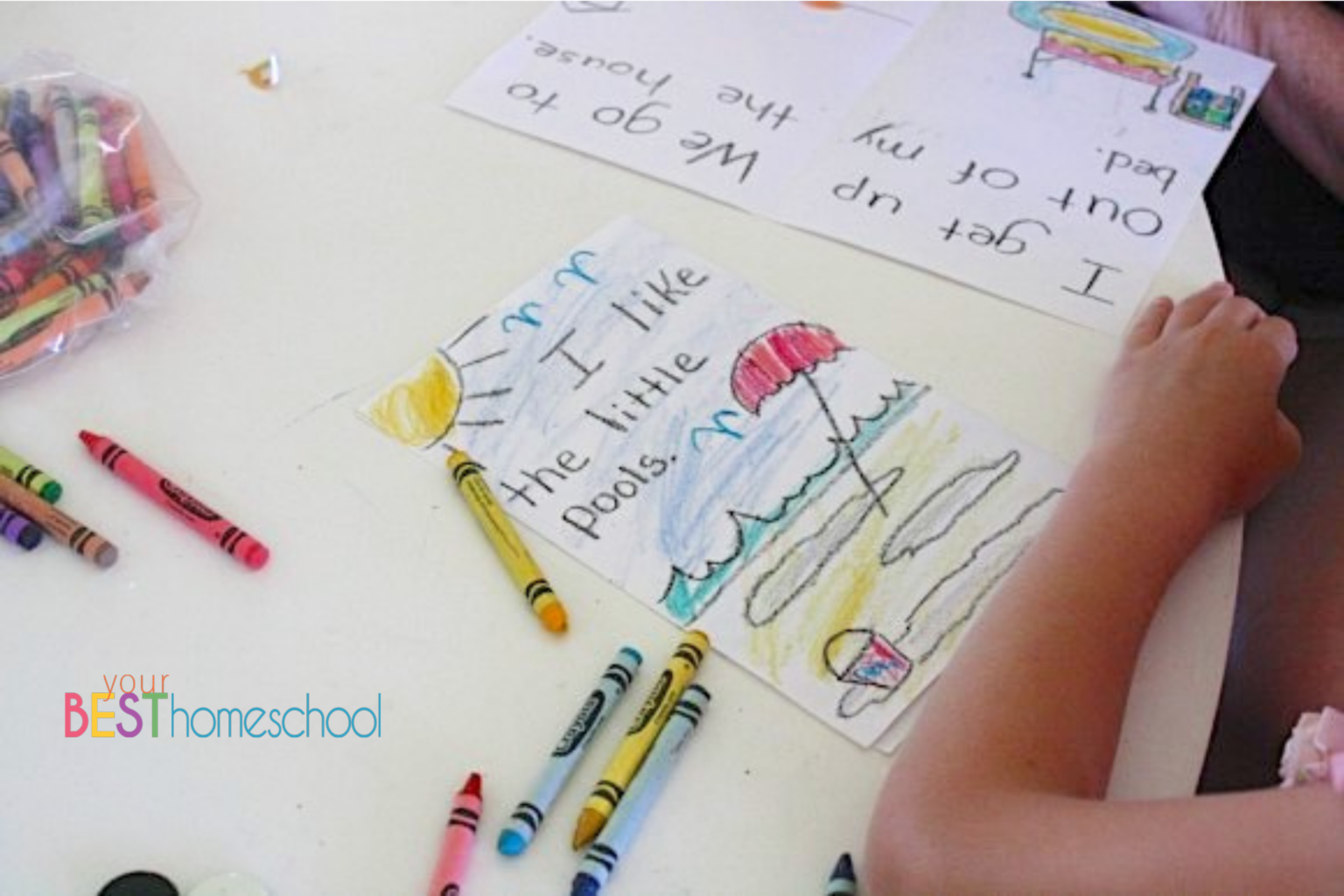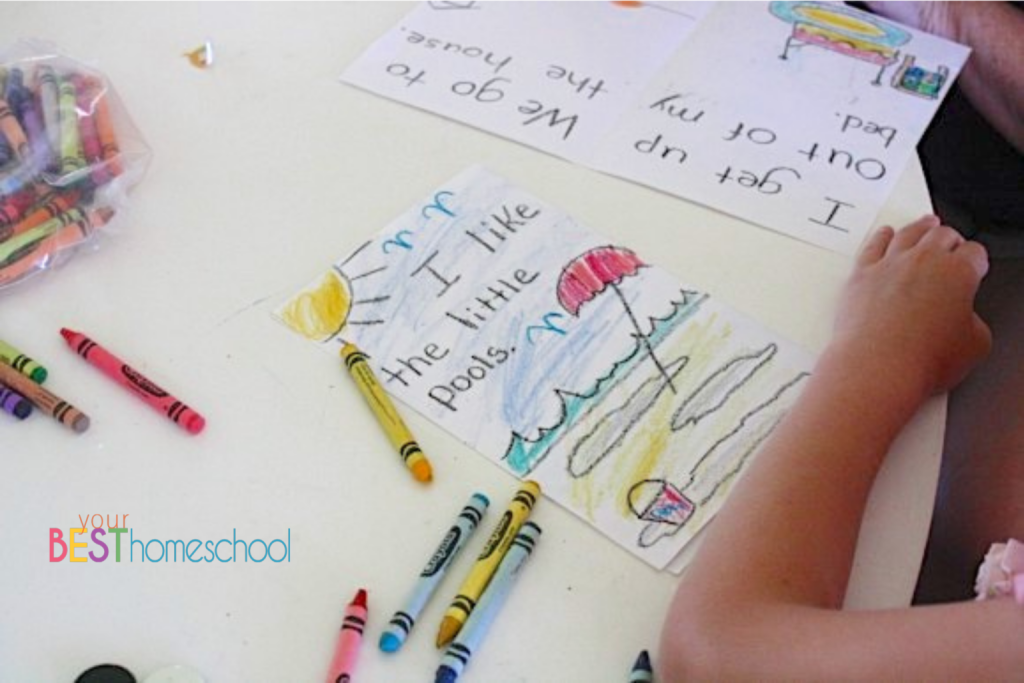 Interested in creating another Learn to Read book? Check out Tricia's delightful post about creating your own learn to read book. Tricia uses their exciting beach days as an example. She shares how to make a book by tailoring it to your child's interests. Fun for reading, fun for bonding, fun creatives sight word activities for everyone!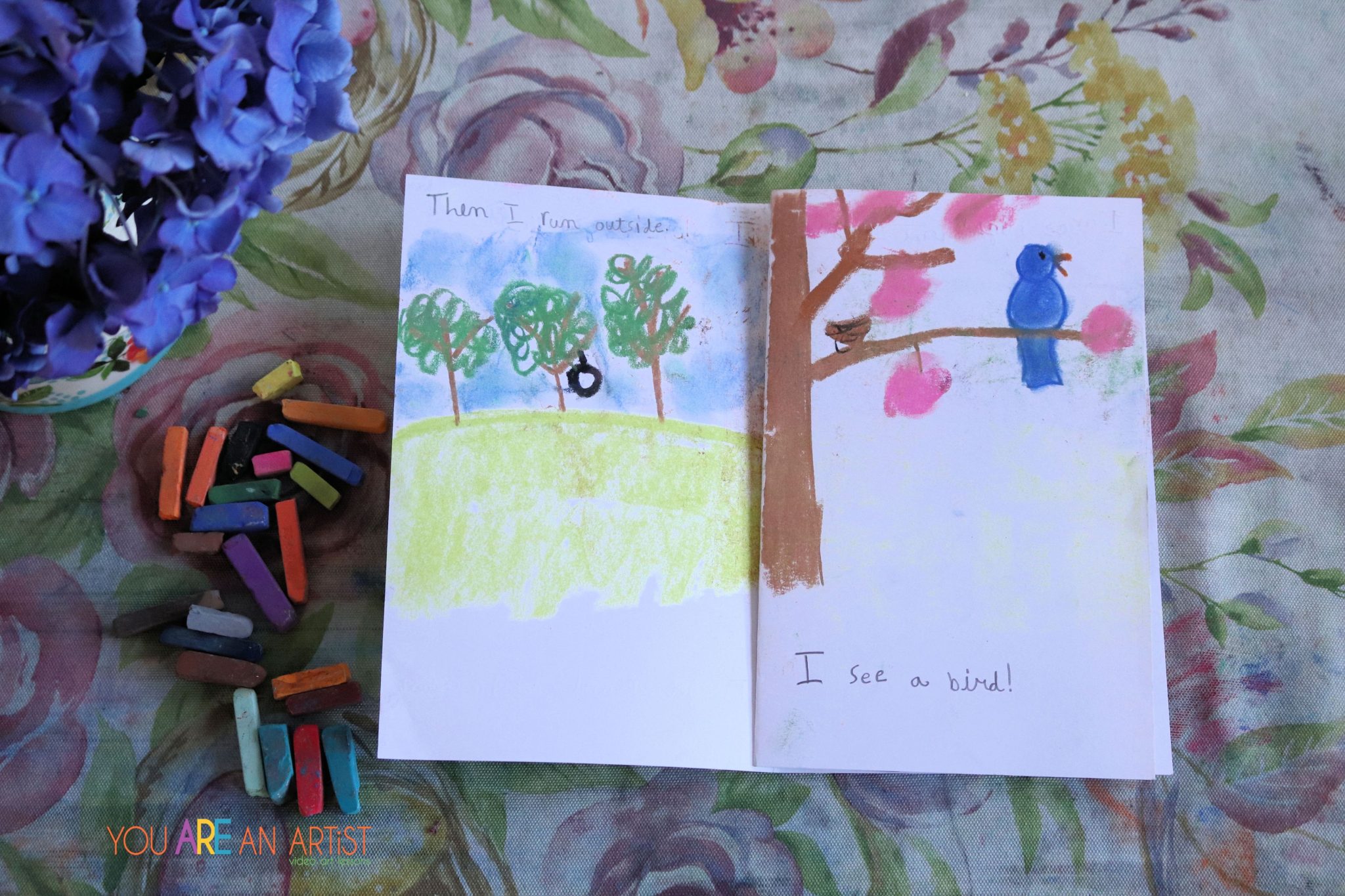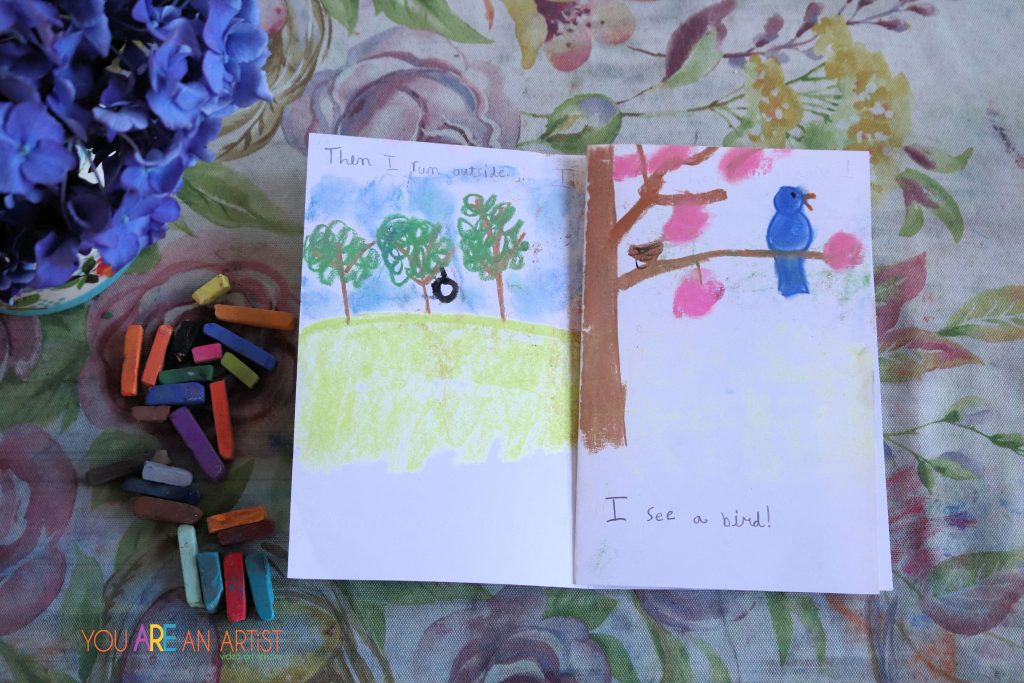 Creative Sight Word Activities: Resources For Homeschool Preschool
I love the early years. This tender age brings so much curiosity and so much laughter in the little things. They love simplicity and it's such a beautiful time of bonding, building relationships, and connecting with our children. Learning naturally takes hold of their tiny hearts, especially when play or exploring is involved. Children love hands-on activities, outdoor fun, and stories at this age. Preschool learners love connection.
Did you know Nana has a collection of preschool fun? Chalk Pastel Art offers gentle art from painting circles, simple lines, to backyard animals, tractors, and so much more! Nana really understands this tender age and you can tell through her wise words through her lessons. She has taught all of her grandchildren when they were preschool age. Nana uses her expertise in this area to softly teach and encourage the littles and us parents!
Picture books are an outstanding resource for preschool age children. Eric Carle is one of our favorites! Chalk Pastel Art offers several art lessons for all ages that combine perfectly with Eric Carle's stories! Check out Dawn's wonderful post about Eric Carle and all the art lessons that pair so well with his picture books.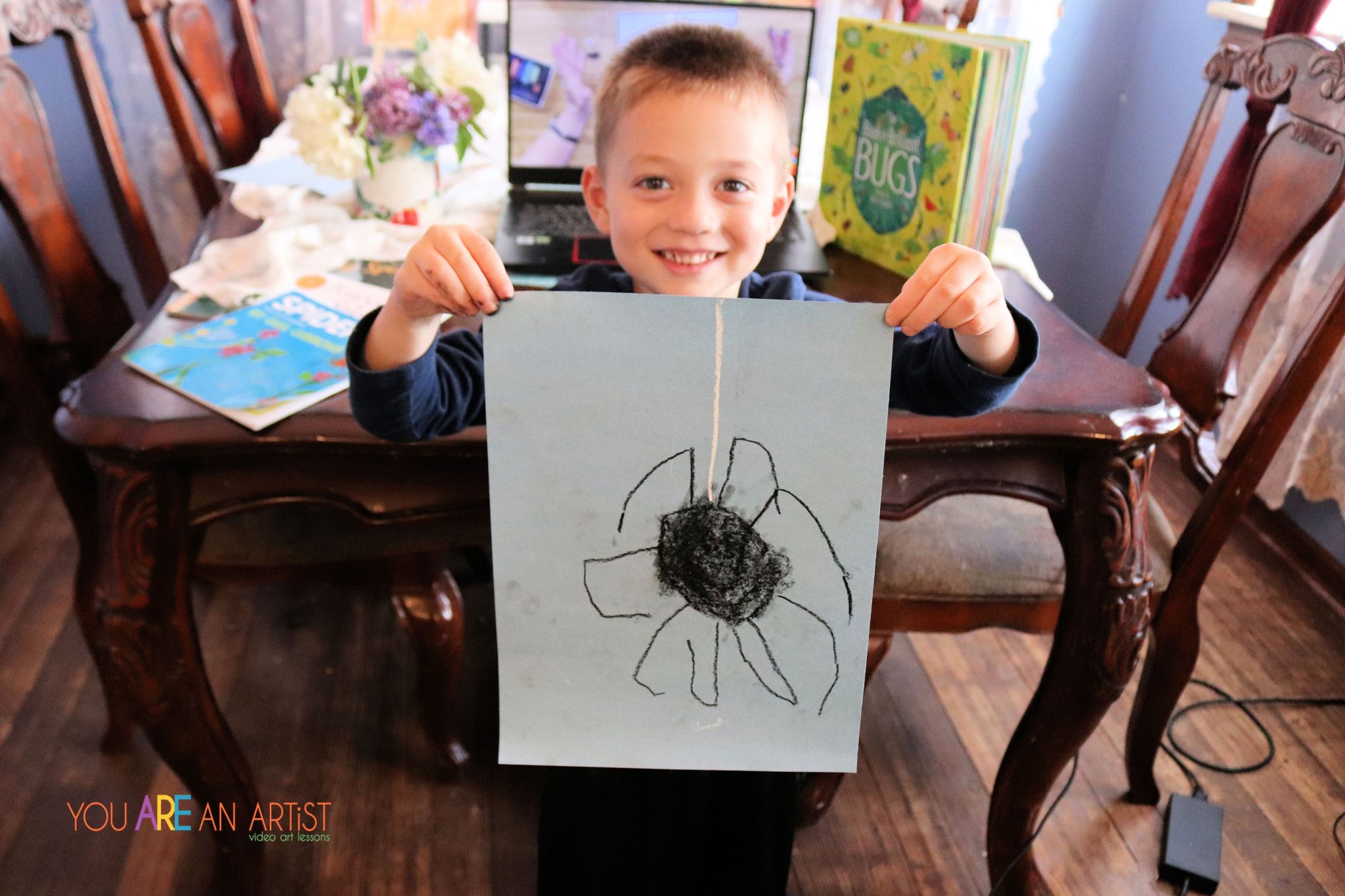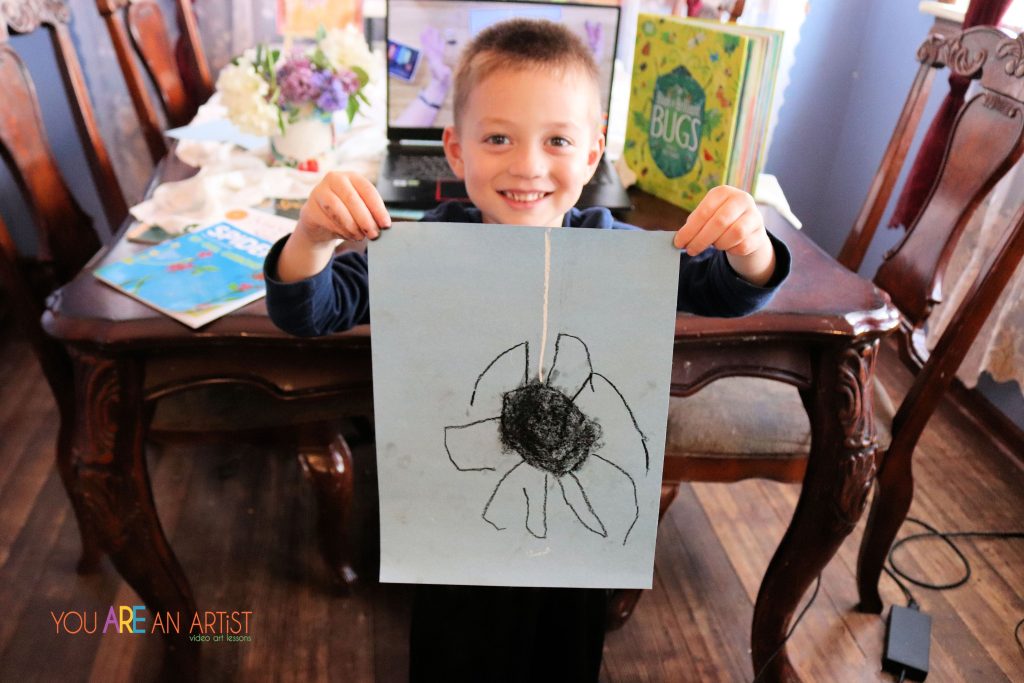 My three and five year old adore The Very Busy Spider so much! Paint this cute little spider along with this popular picture book! You can even read Charlotte's Web by E.B. White to your older students, (my three and five year olds call every spider they see "Chaw-lette") and create a Barnyard themed study, while your older artists paint Wilbur! Enjoy a Charlotte's Web Study!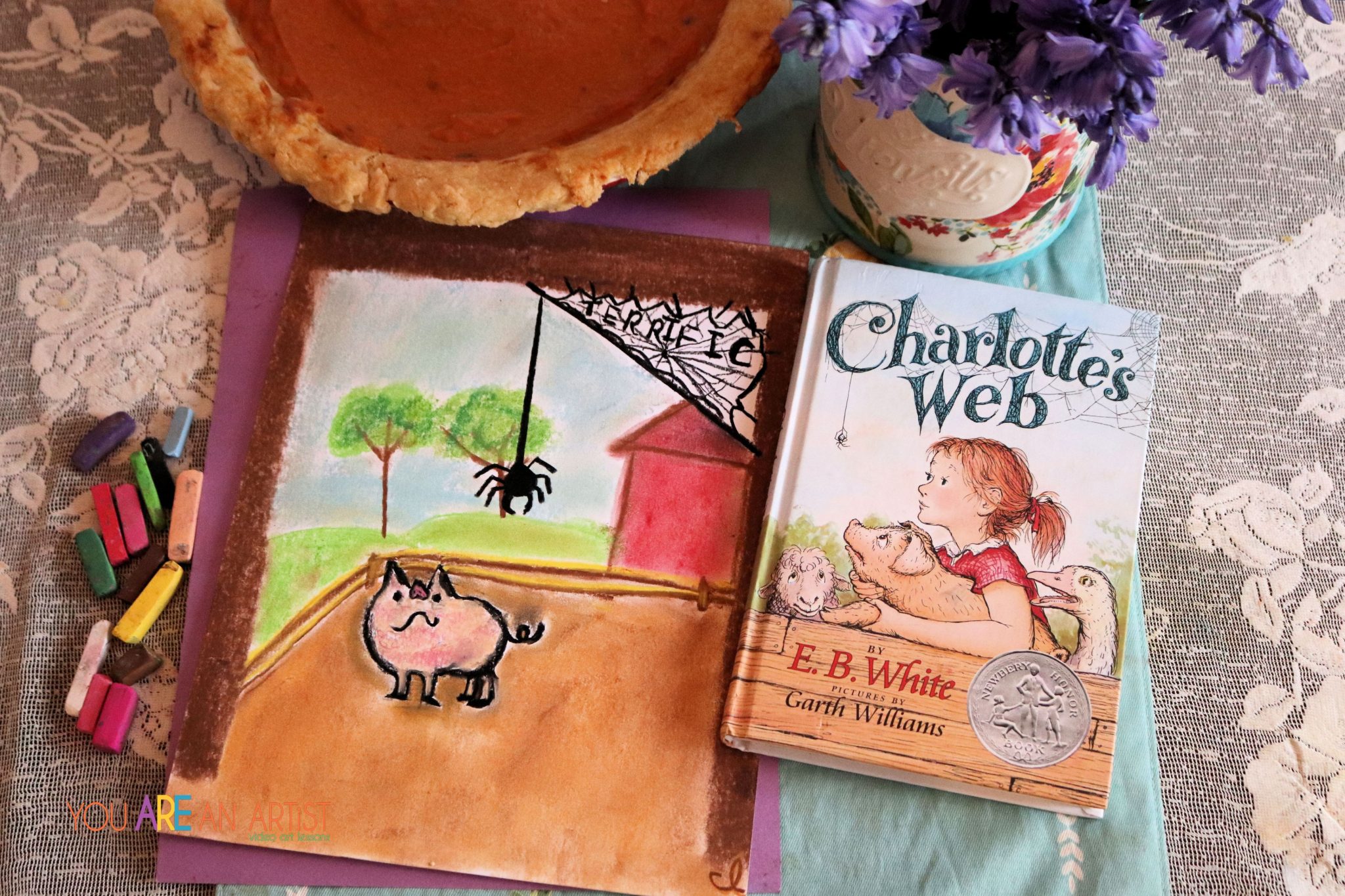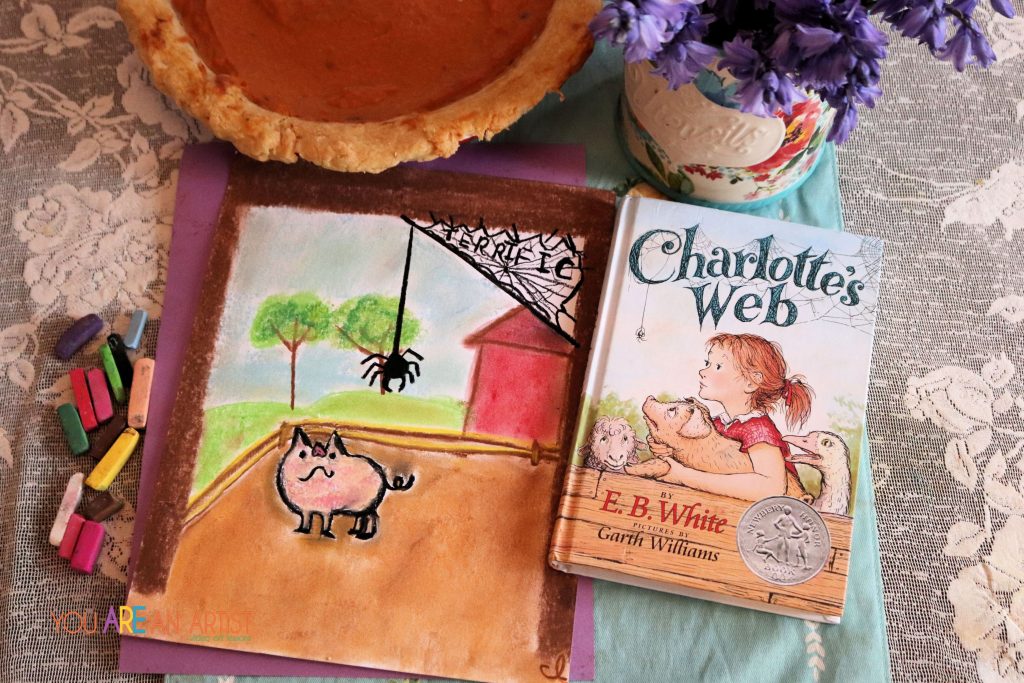 Do you love painting through the seasons? We surely enjoyed a fall apple study, while painting these cute little red apples! I love the joy on my son's face when he paints with Nana!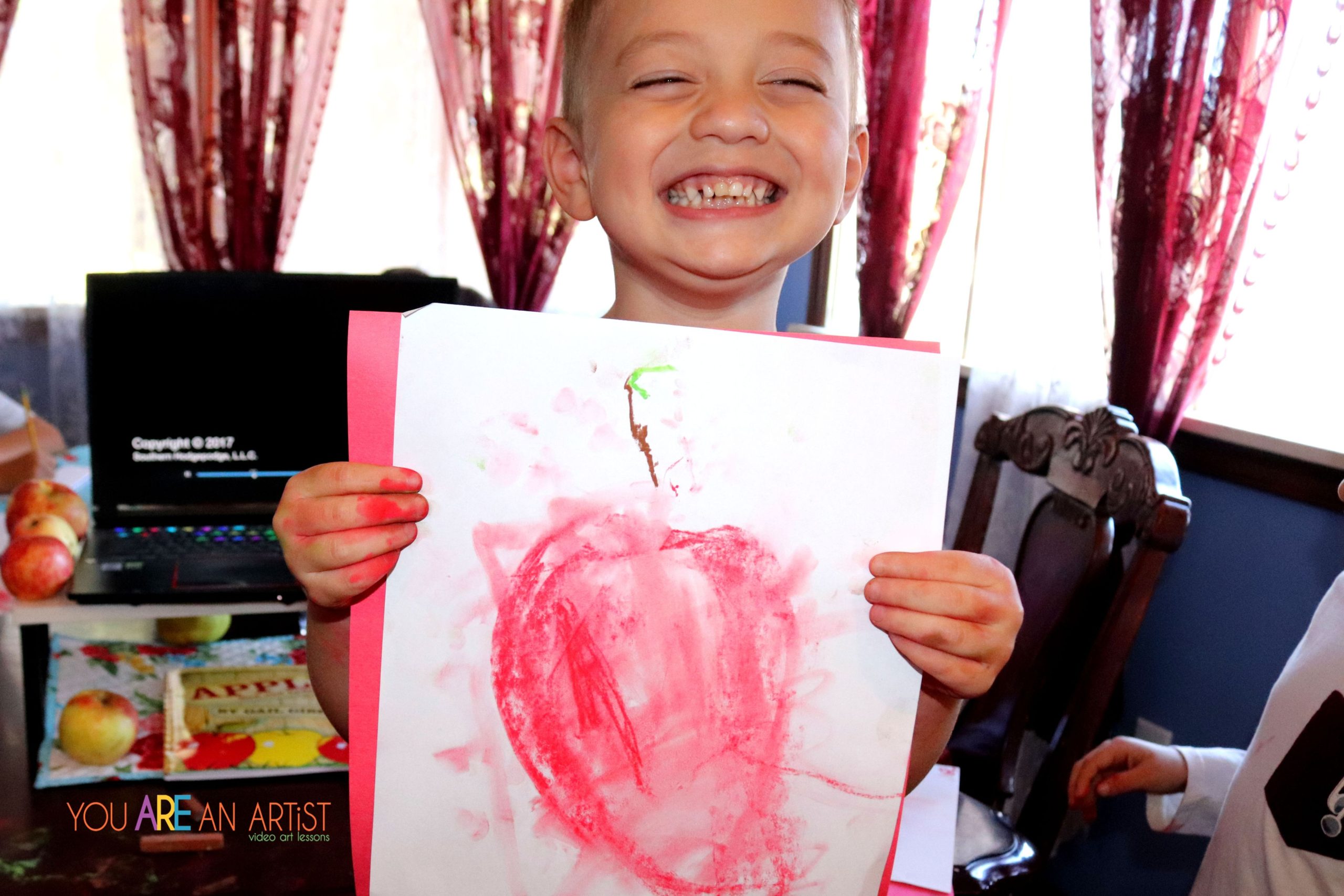 To see how we incorporated Chalk Pastel Art and the books we included in our Apple Study, check out my blog. I have included a detailed explanation of how we put it all together!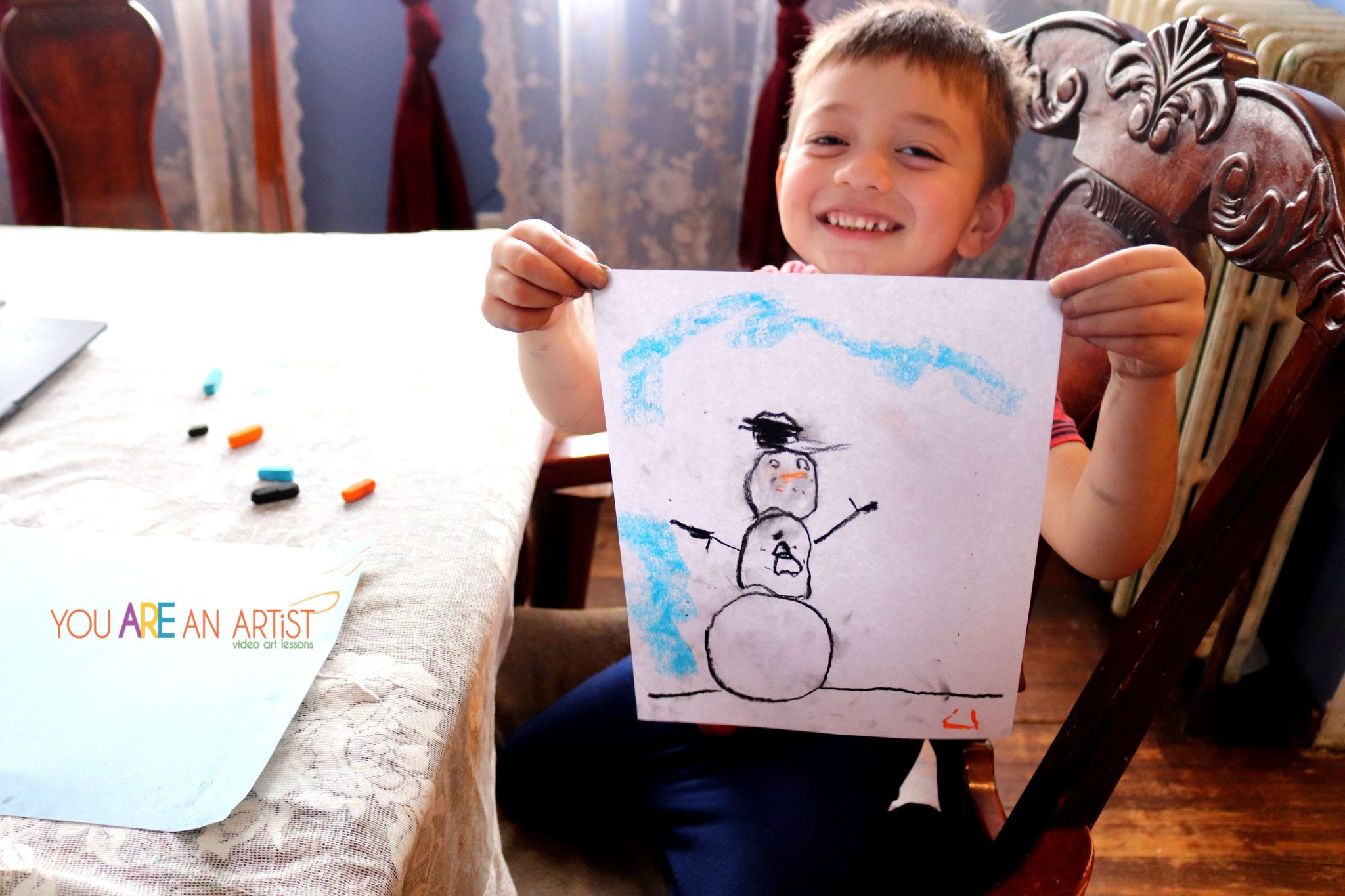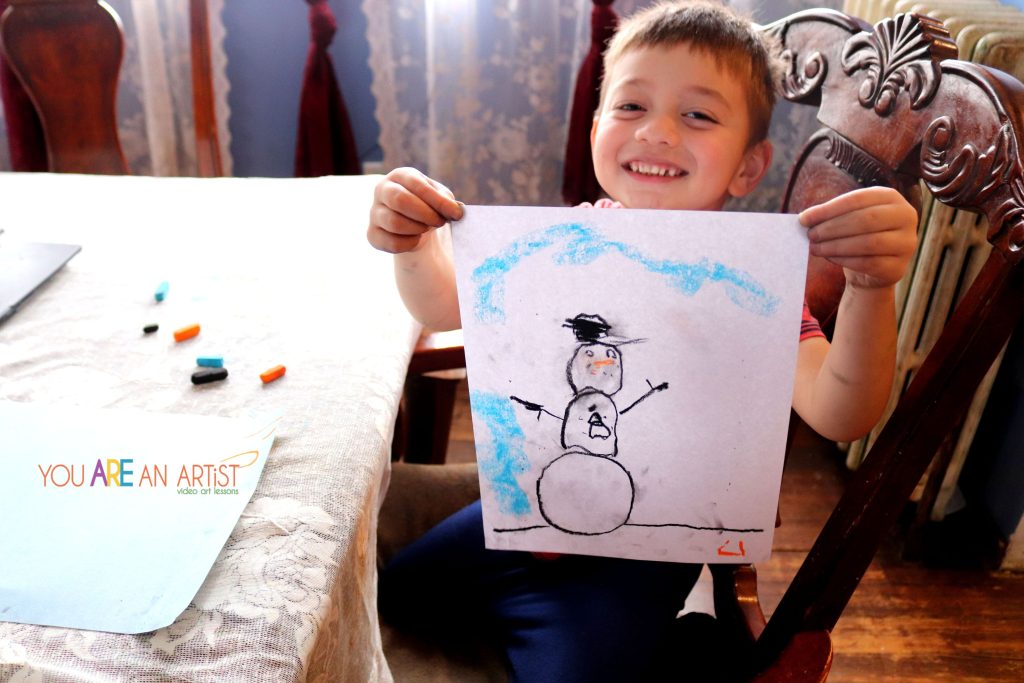 We love snowmen around here! They bring such cheer in the winter!
Having trouble fitting art time into your schedule? Don't miss Courtney's seven tips on how to make time for preschool art in your homeschool day!
Chalk Pastel Art even offers a homeschool fine arts curriculum from grades 1-12! Dawn's helpful post, Preschool Art and Music Curriculum shares the benefits of adding art and music into your homeschool. "Preschool art and music curriculum for your homeschool has everything you need to foster an early love and appreciation of art and music."
You can also combine all of Nana's art with Outdoor Hour Challenge's Homeschool Nature Study! This is a wonderful resource for all ages and stages! Barb wrote a wonderful post relating to nature study and preschoolers!
Additional Preschool Resources with Creative Sight Word Activities
The preschool resources listed below are resources I truly love. I would say that they can serve preschool aged children and kindergarten! I have included a wide range of materials from picture books to curricula. Tricia also encourages preschool moms with simple habits to teach your little ones as you homeschool!
First School Preschool Activities and Crafts for Homeschool
This is a FREE preschool resource! This website is packed full of preschool themed material for ages 2-6! You will find worksheets for the alphabet, animals, coloring pages, crafts, and so much more!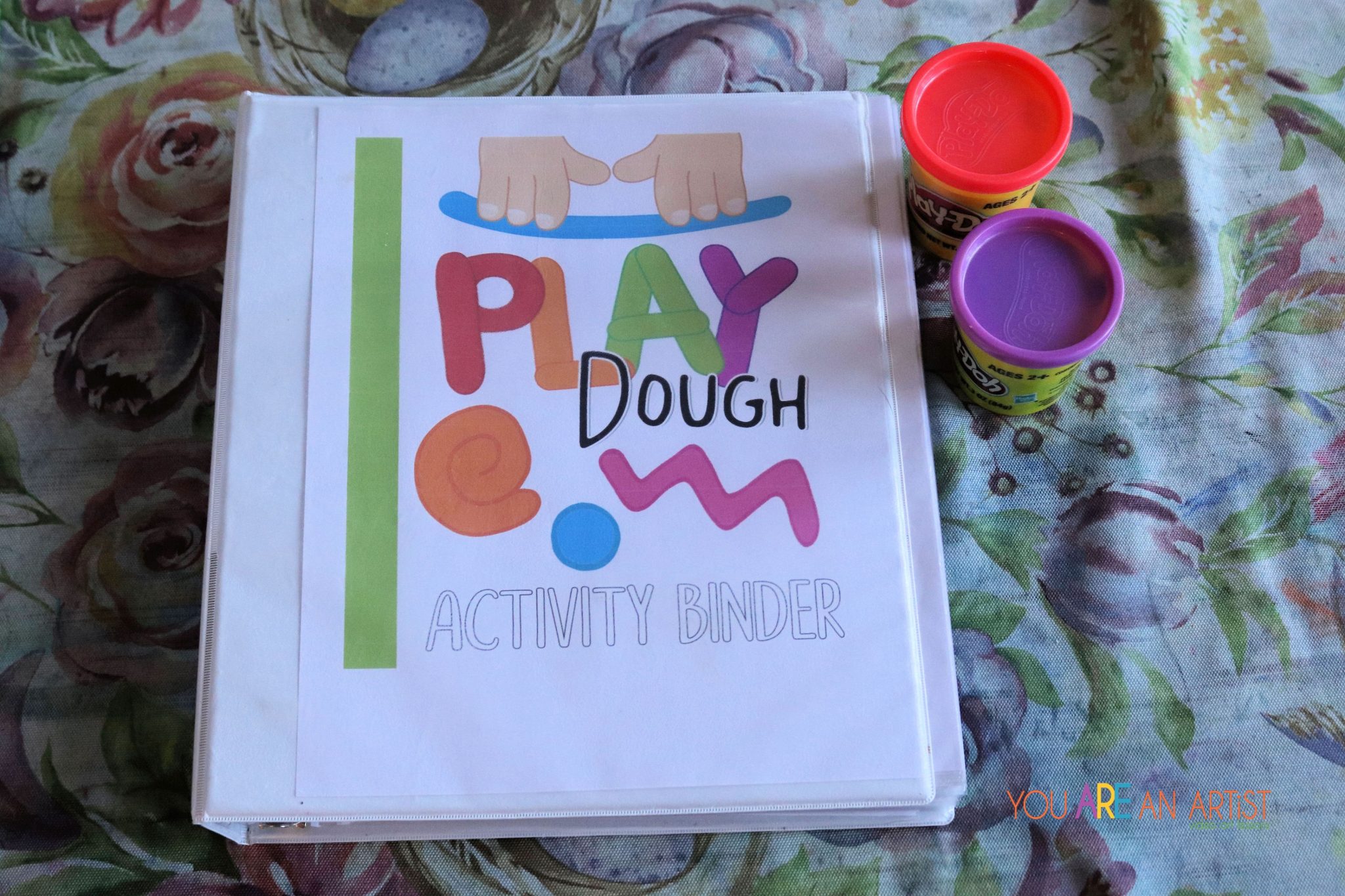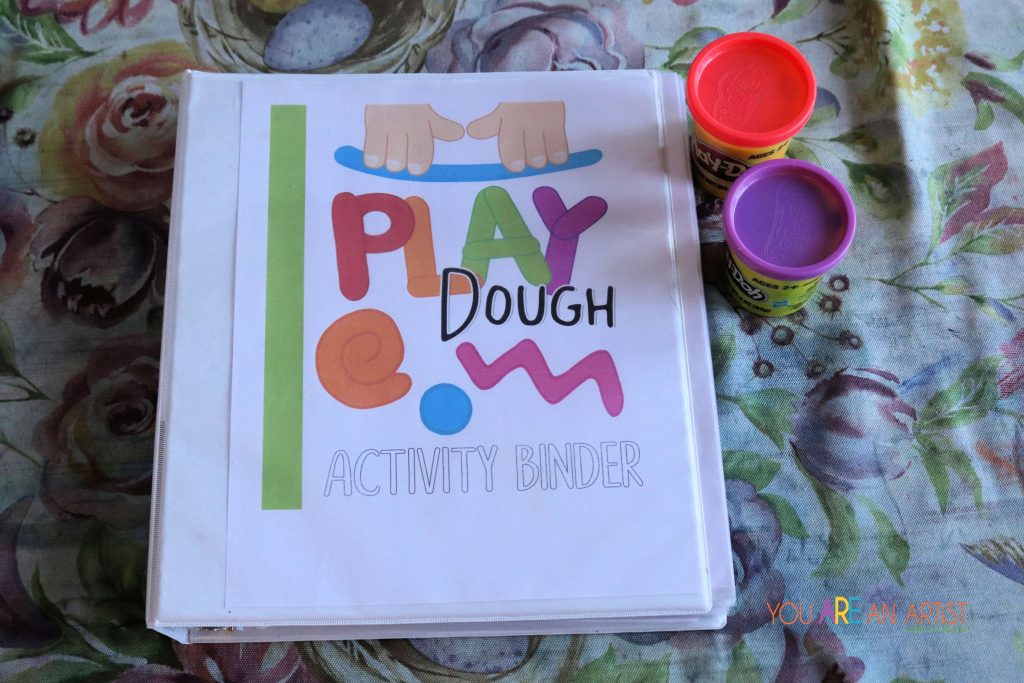 Homeschool Preschool with Play Dough Activity Binder
Preschool Mom contains a plethora of preschool resources from letters, shapes, numbers, and more! My children love the Play Dough Activity Binder. We printed all the "mats", placed them in sheet protectors, then stuck it all in a white binder. All you need is play dough to create your letters!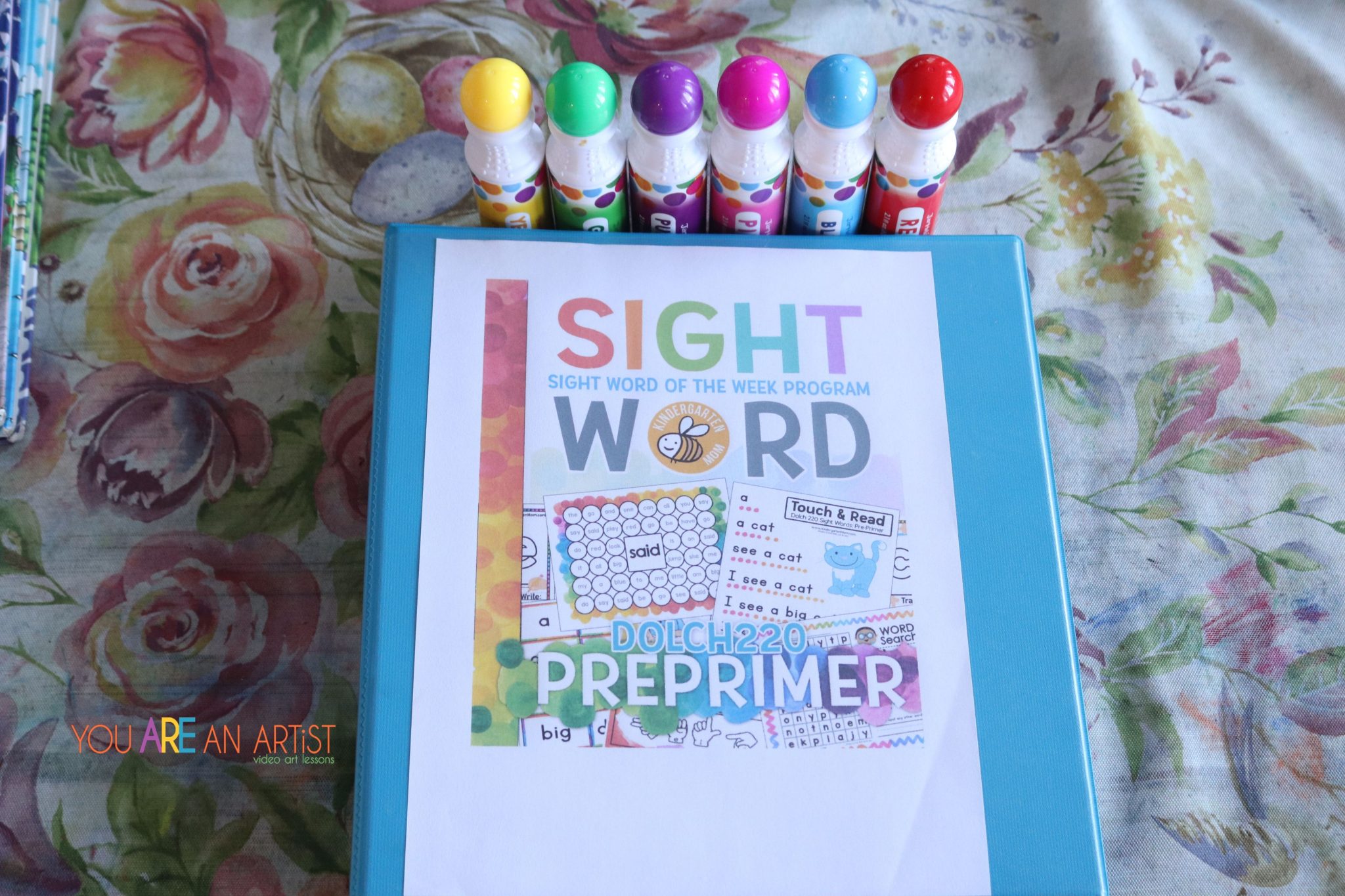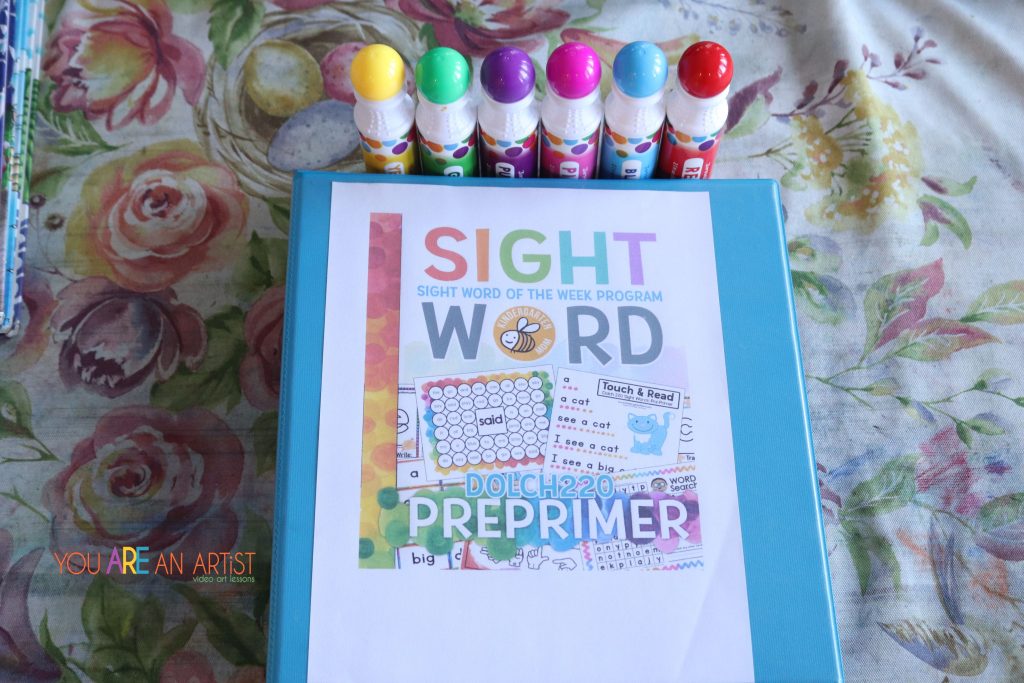 Sight Word of the Week Program for Preschool
Kindergarten Mom has multiple kindergarten resources found on her site! We use the Sight Word of the Week Program. It is multi-sensory with a lot of repetition involved. Each day contains activities for one sight word a week. For example: Day 1 -Sign Language, Day 2-Fishing for Sight Words, Day 3 Sight Word Dab with paint, and so on.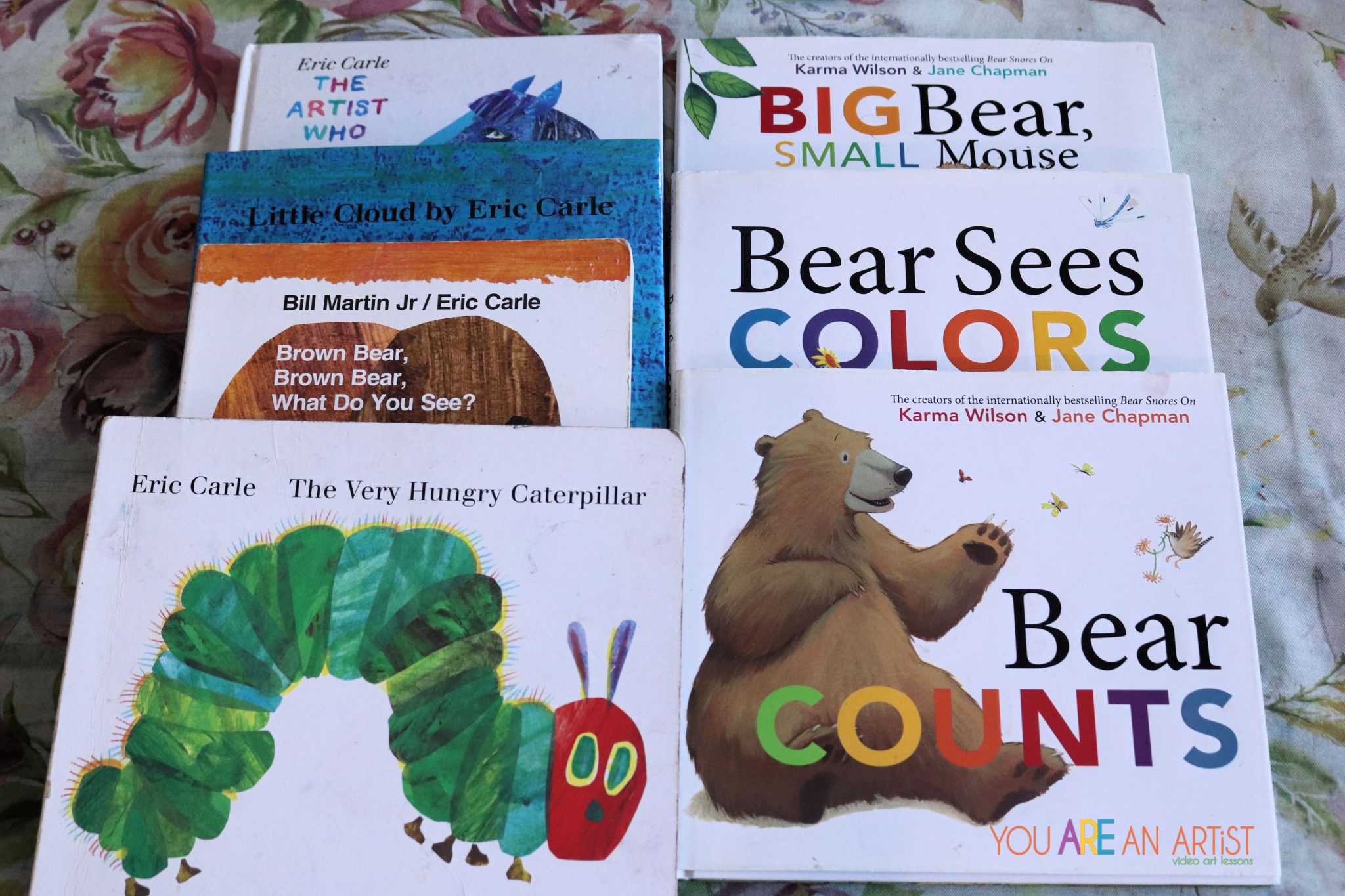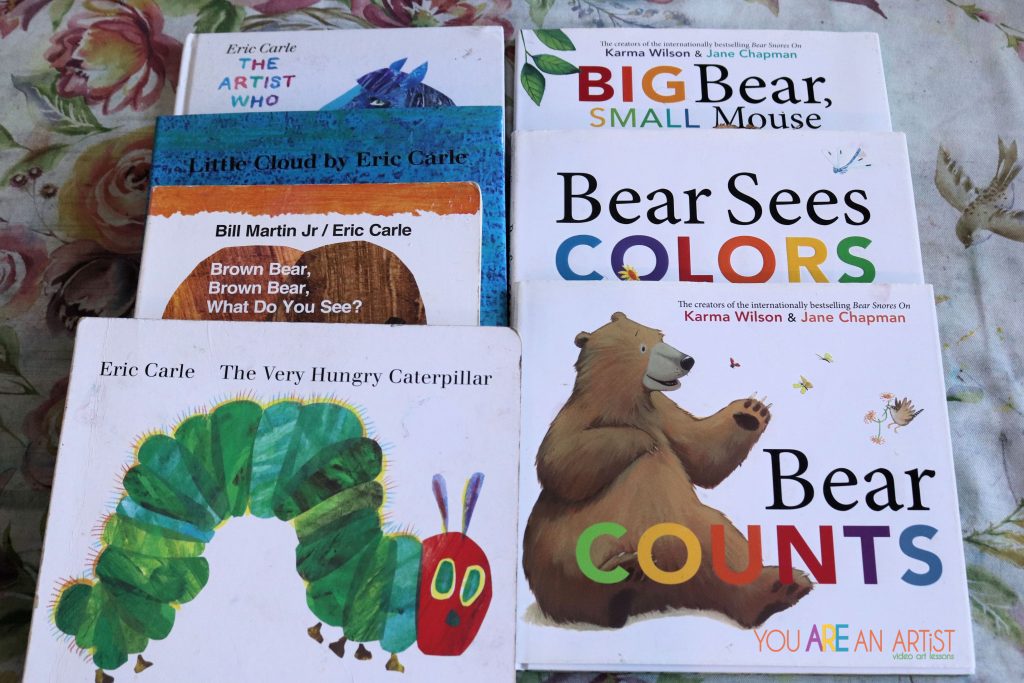 Picture Books for Homeschool Preschool
Preschoolers love picture books. Especially ones with eye-catching illustrations and an appealing rhyming pattern! Two of my absolute favorite authors for this age is the famous Eric Carle and beloved Karma Wilson. Children learn so much from books that catch their interests. Both authors have written stories that are multi-disciplinary. For example, many of their book contain high frequency words, days of the week, numbers, colors, and the alphabet. I especially loved to incorporate sign language with their stories. The characters in their picture books are usually animals or insects found in nature. Snuggle up with your preschooler, make those memories and strengthen those bonds while reading a wonderful picture book.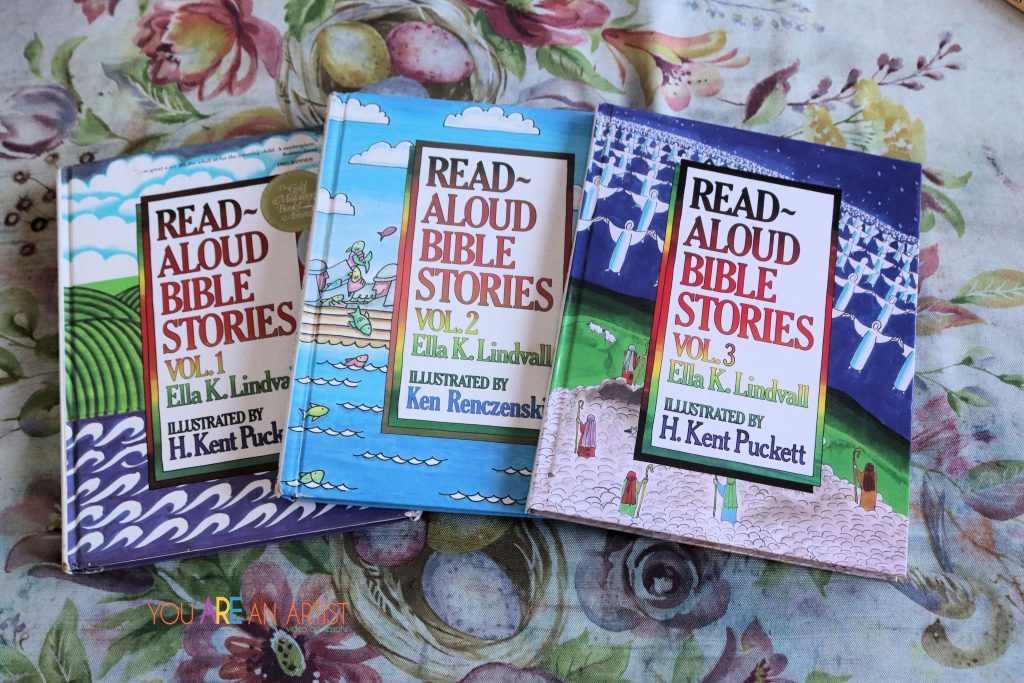 Read Aloud Bible Stories Vol. 1, 2, and 3 by Ella K. Lindvall
Can I say this bible series is my favorite for preschoolers? I have read this series to all of my children! This Bible series contains large print and wonderful, colorful illustrations. It is simple. Here is a list of Bible stories found in the entire series: (Vol 1.)The Man Who Was Too Little, The Man Who Couldn't See, The Boys and Girls and Jesus, The Wind That Obeyed, The Man Who Said, "Thank You", (Vol. 2) Simon and His Boat, The Boy Who Went Away, The Boy Who Shared His Lunch, The Man Who Helped, A Sad Day and a Happy Day, (Vol. 3) How God Made the World, Noah's Big Boat, God Gives His People Bread to Eat, Daniel and the Lions, Baby Jesus and the Good News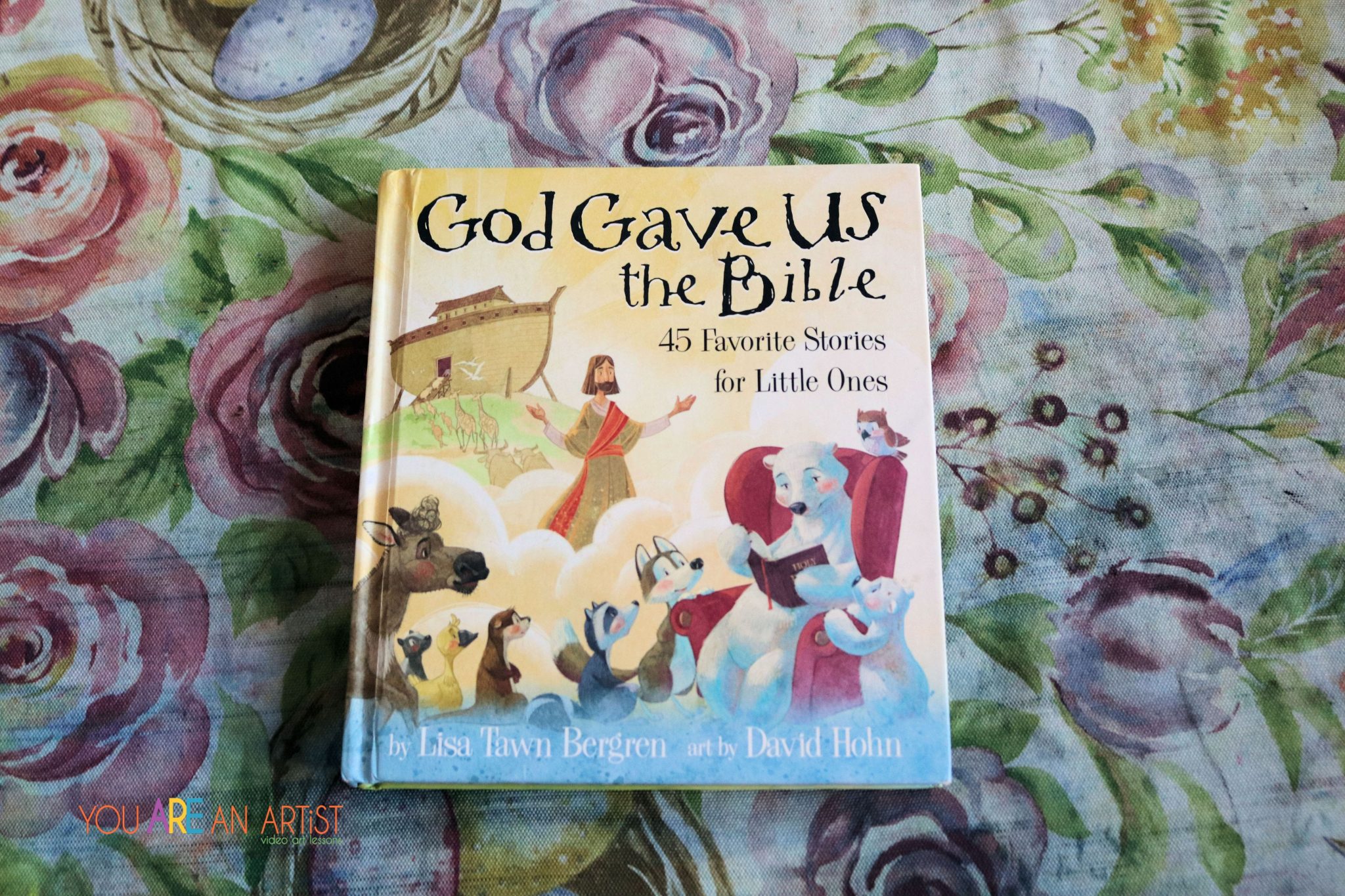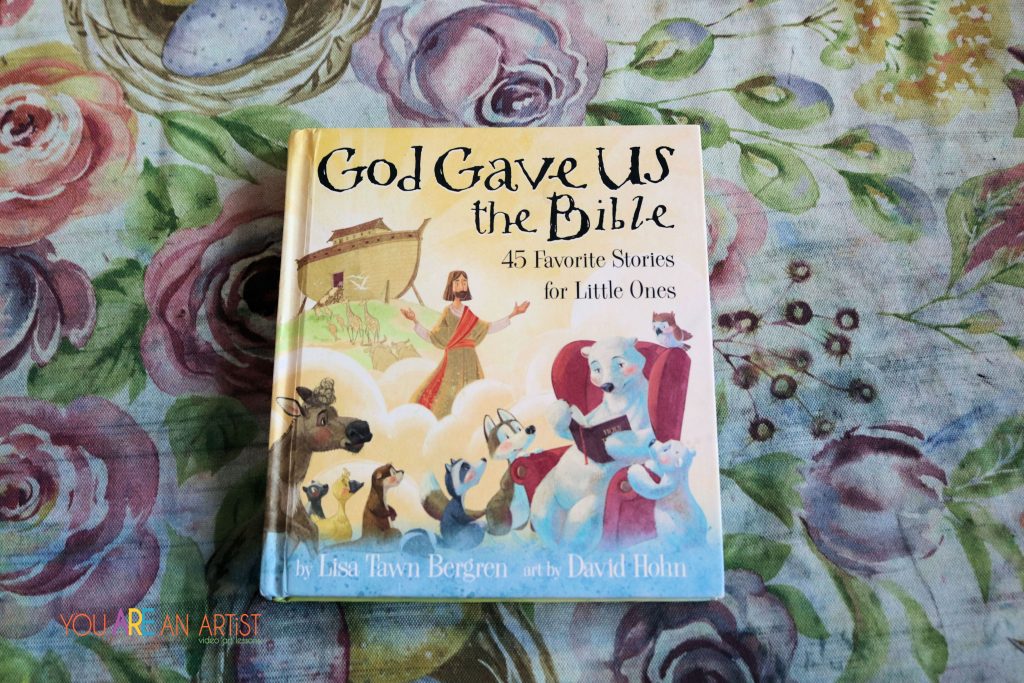 God Gave Us the Bible 45 Favorite Stories for Little Ones
The illustrations by David Hohn are amazing! The way the author writes the Bible stories makes it easy to understand for children. What I absolutely love is that after the short stories, Little Cub and her friends have questions. Mama does such a wonderful job explaining and answering them in such a wonderful age appropriate way! This one is a keeper and will be used for all the littles!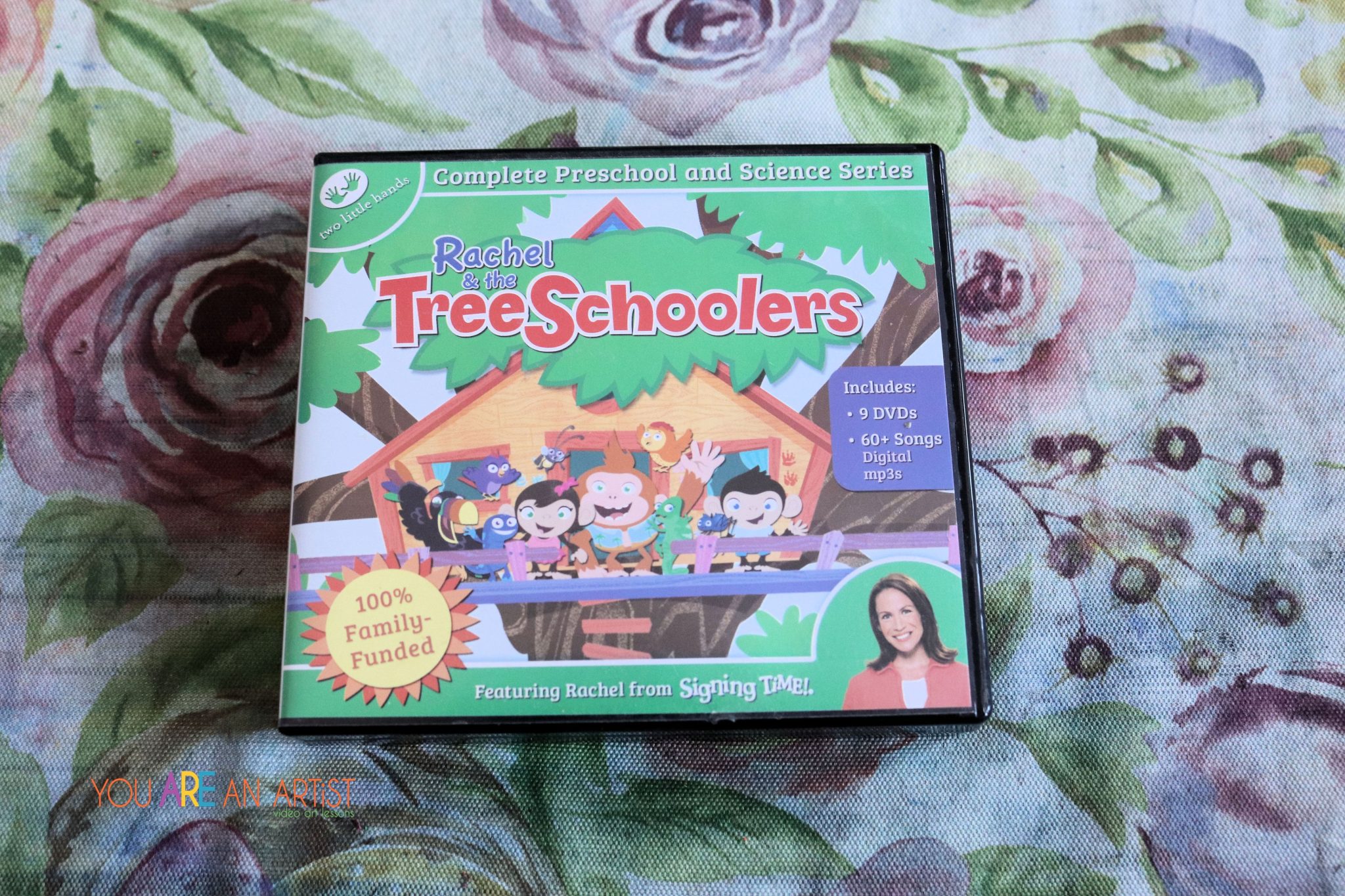 Signing Time Treeschoolers for Creative Sight Word Activities
This is an incredible preschool resource! Including all four of the major learning styles, this is a science series that involves sign language, dancing, and preschool skills! Nine DVDs are included in this set with over sixty songs! They also have a brand new series titled Phonetica!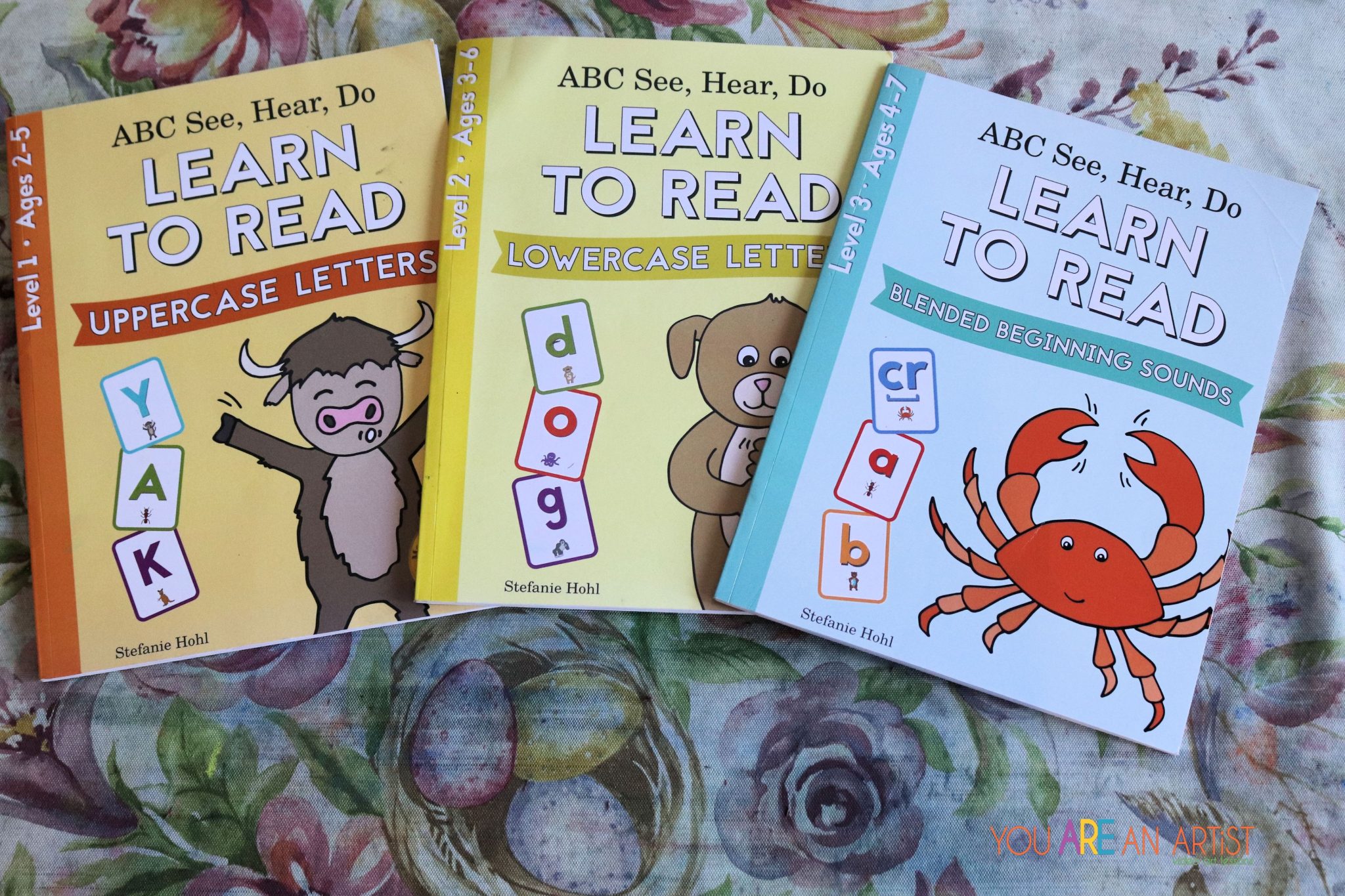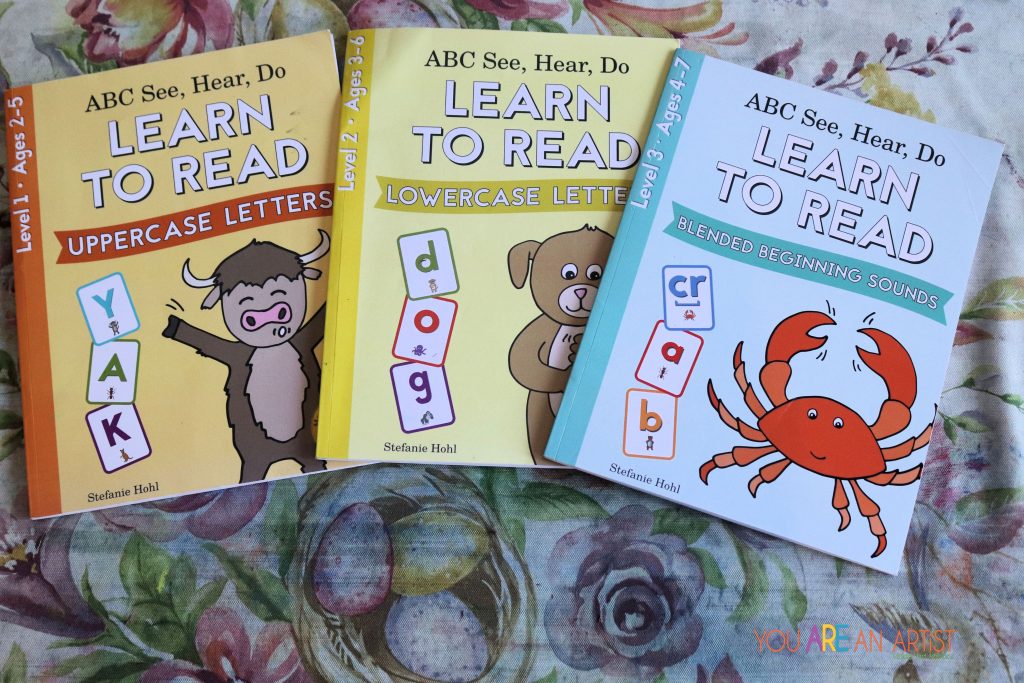 ABC See, Hear, Do Learn to Read Uppercase Letters, ABC See, Hear, Do Learn to Read Lowercase Letters
My three and five yr. olds adore Stefanie Hol's books. They are geared towards ages 2-5 and 3-6. Both books work wonderfully for special needs children as well. This book takes a child through strictly the sounds of each letter makes. Coupled with movement, a visual, and letter, my children love going through this book with me. We make it silly. I was shocked at how much my boys learned!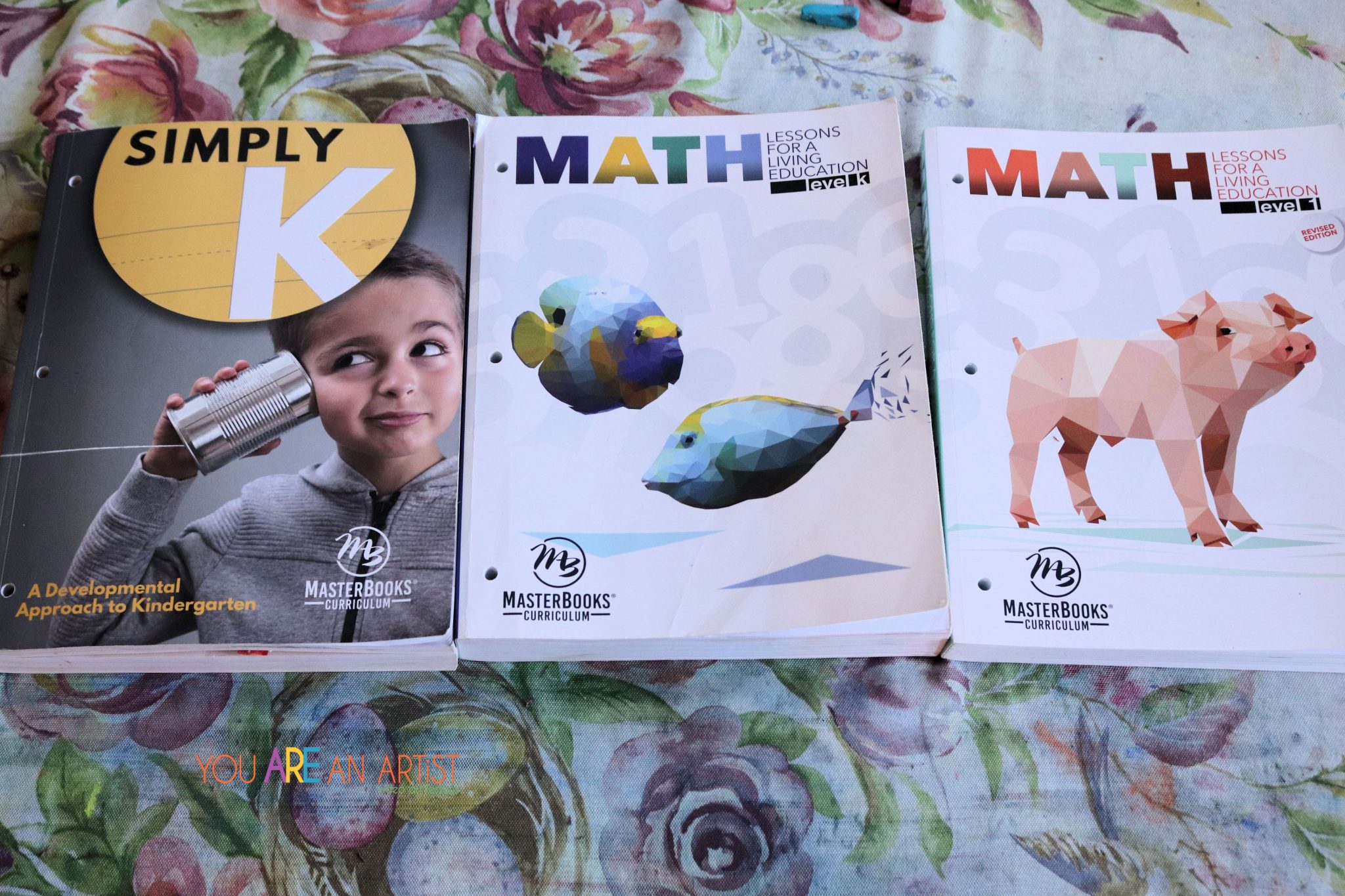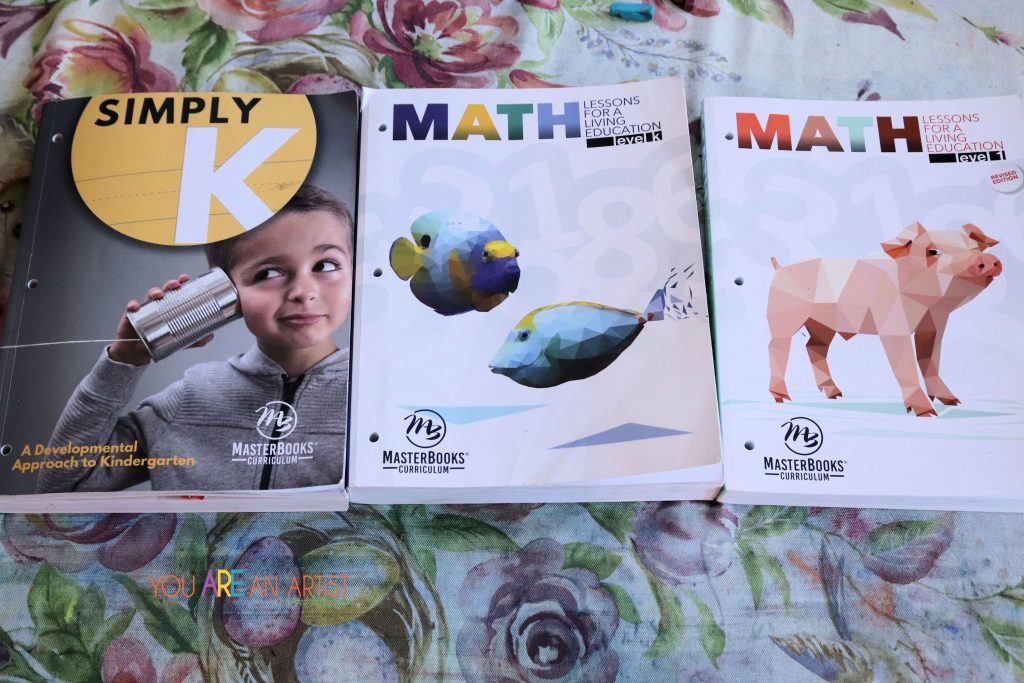 Simply K A Developmental Approach to Kindergarten by Carrie Bailey from Masterbooks
Simply K brings a gentle introduction to the letters of the alphabet, Bible time, and life skills. This open and go workbook arrives with a Scope & Sequence, and supply list. The pages are laid out nicely for easy navigation. I love the Bible memory verses , Bible stories, and mini booklets for each letter of the alphabet.
Math Lessons for a Living Education K Masterbooks
If your early learner is ready for counting to 10, learning basic shapes, and patterns, Math Lessons for a Living Education K is a wonderful option. This workbook by Masterbooks is equipped with daily lessons, open and go, and fully colored pages. My 5yr old son absolutely loved this workbook!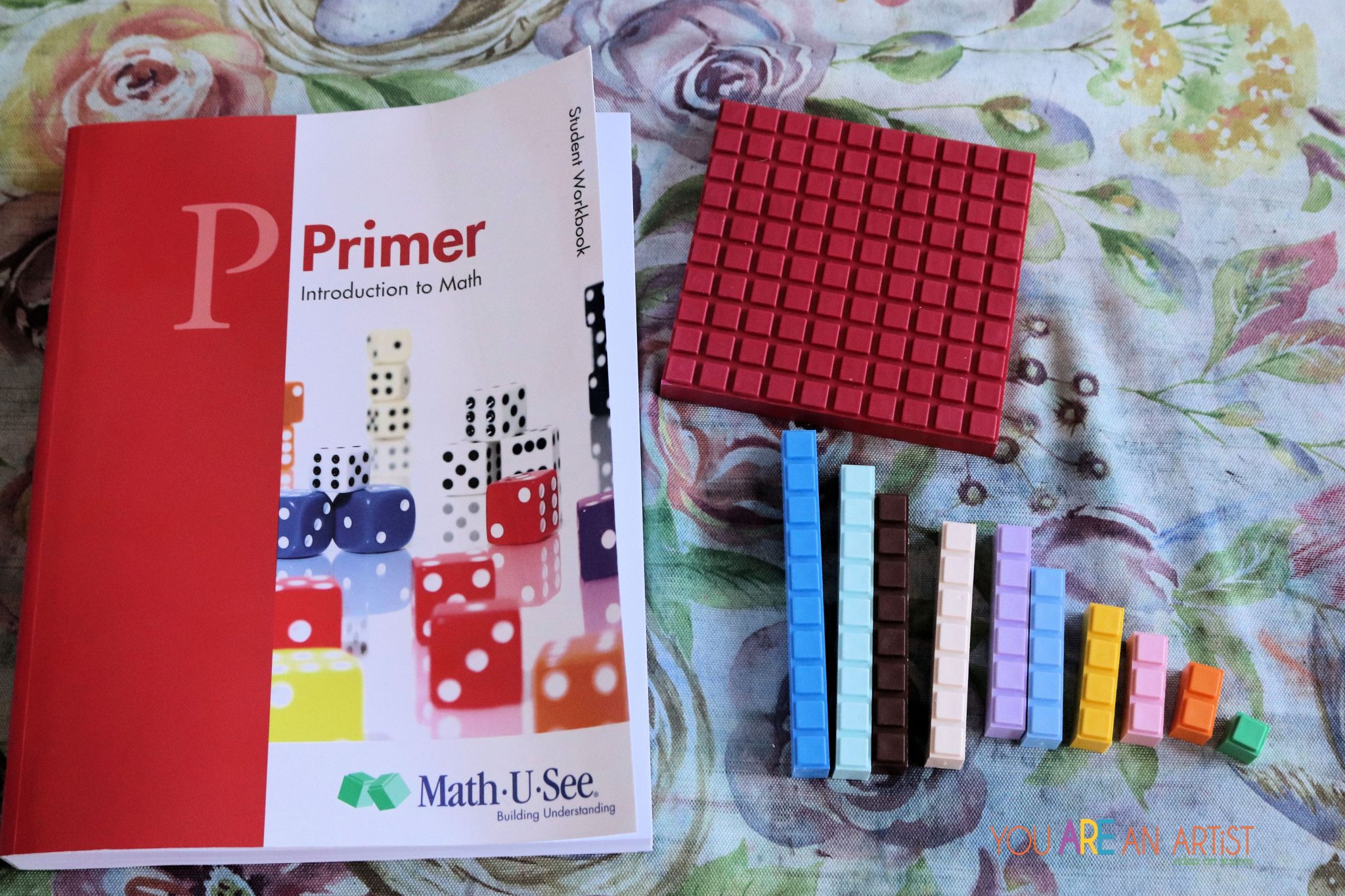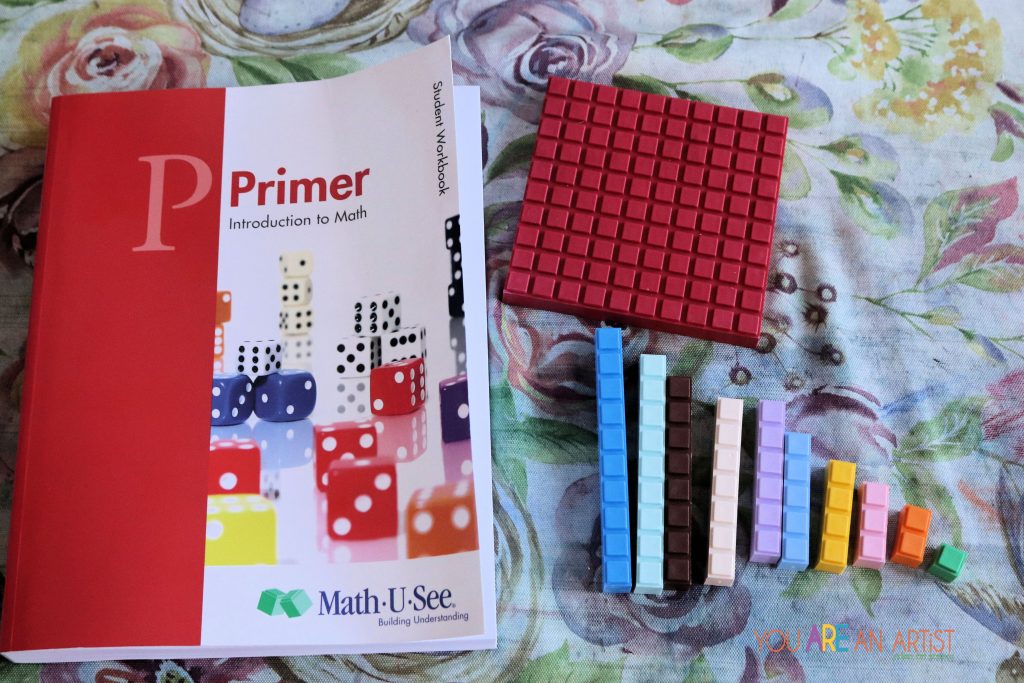 Primer Introduction to Math by Math U See Demme Learning
I have started all of my children with this book by Demme Learning. This rich curriculum is very basic with simple black and white photos. Along with the Primer comes with multi-colored hands-on math blocks. All of my children were fruitful in this multi-sensory math experience. It begins with basic counting and identifying numbers, writing numbers, understanding place value, basic addition problems, and skip counting.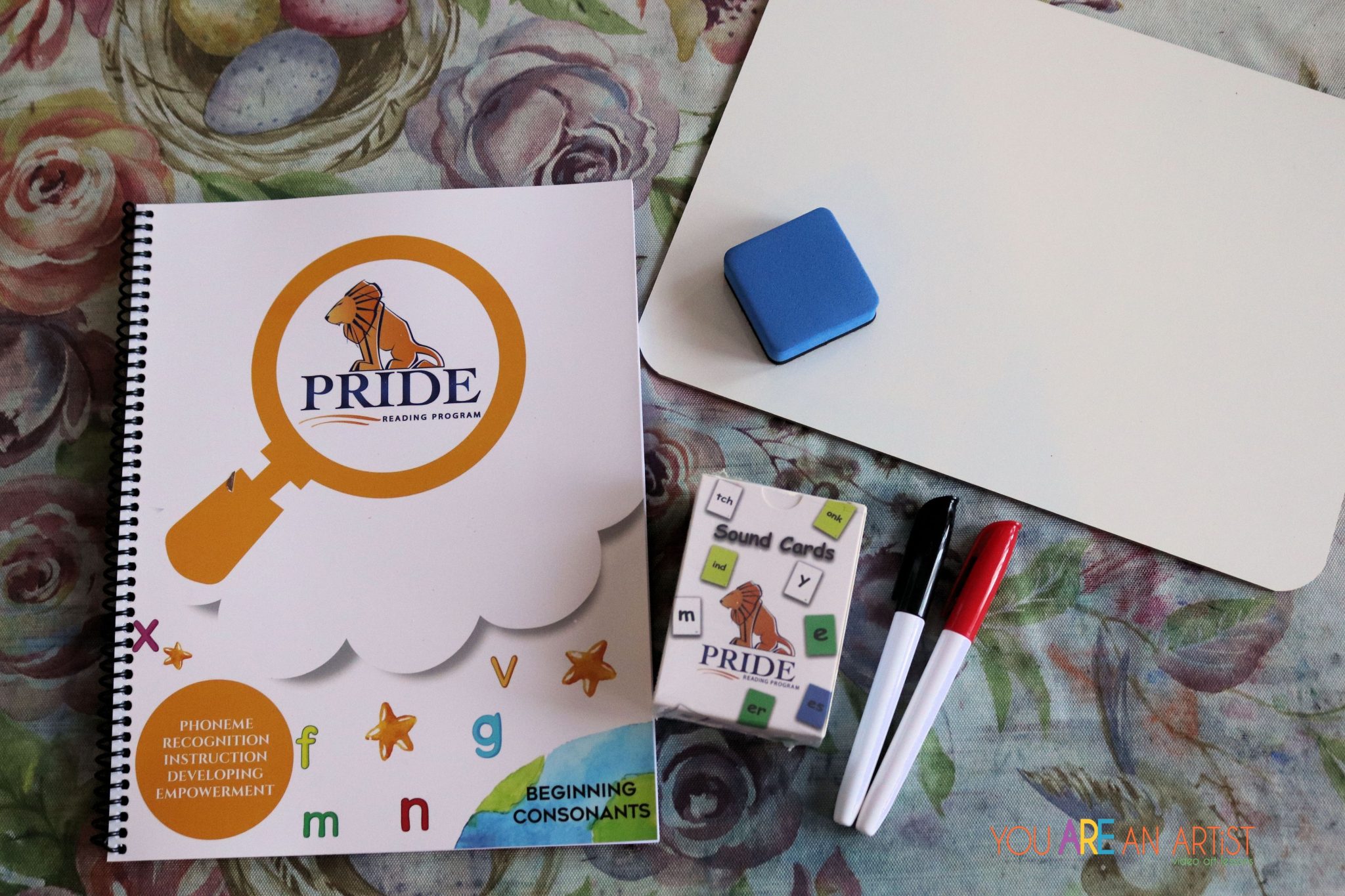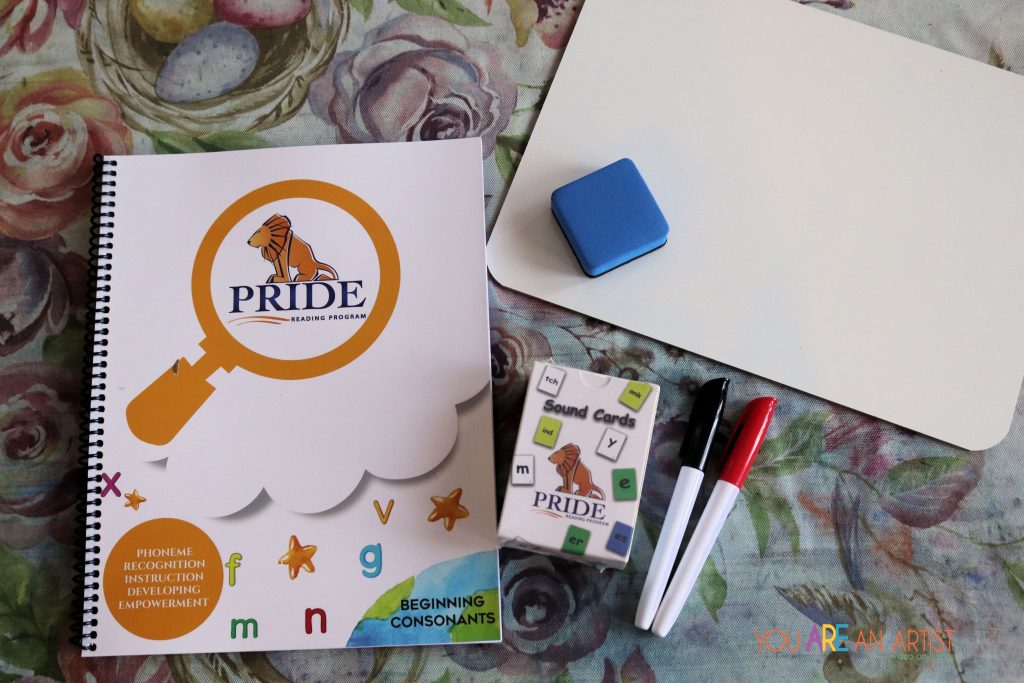 Pride Reading Program
Pride Reading Program Beginning Consonants P.R.I.D.E. is an acronym for Phonemic Recognition Instruction Delivering Empowerment. This is an Orton-Gillingham reading instruction program geared towards students with learning differences. I have used PRIDE Reading with my son with special needs and my boys without learning differences. If you want a beginning consonant program that is hands-on and multi-sensory, this is a wonderful resource. It arrives with a workbook, online teacher's guide, white board, and sound cards.
There are so many precious preschool resources available for your little learners. A few art supplies can bring wonders to your homeschool in so many ways! It's simple, easy clean up, and preschoolers love it! Multi-sensory, multi-disciplinary, and fruitful for all ages and stages-Learning to Read with art and creative sight word activities are just a few of the MANY hands on lessons Chalk Pastel Art offers. Nana's gentle art always carry contagious giggles, and sweet smiles….. the colorful memories will last a lifetime!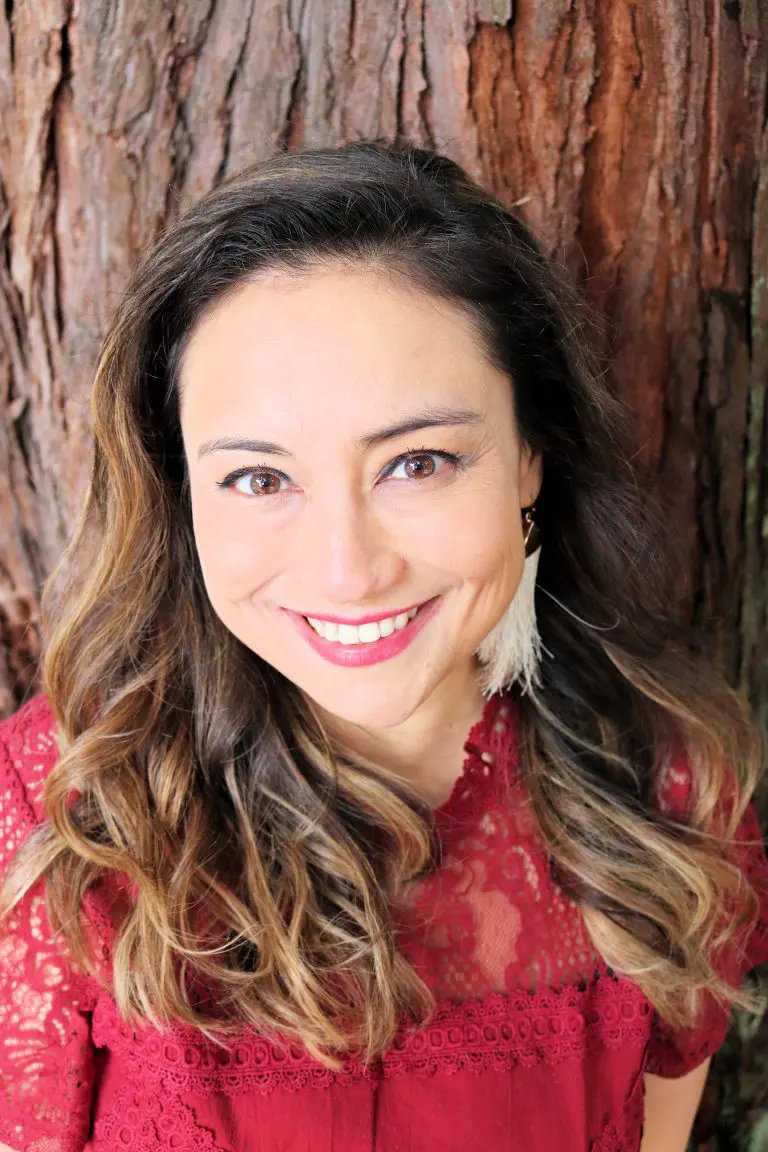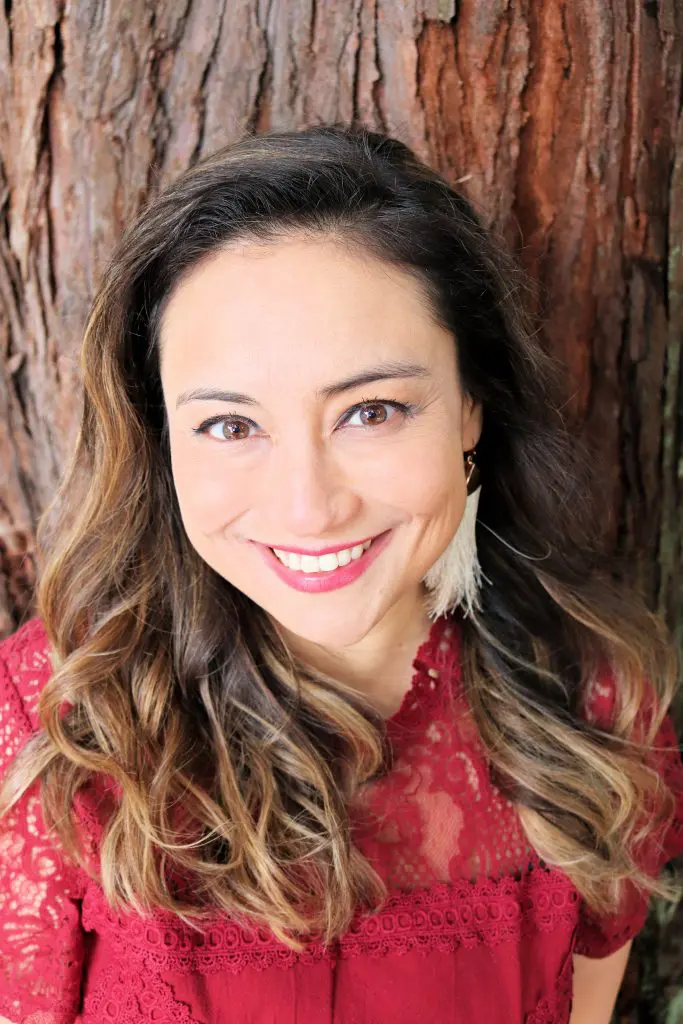 Jamie is the author of A Brown Bear's Language Arts Study, a literature-inspired homeschool mom of eight, and a former educator. She enjoys a bookshelf bursting with colorful picture books and children's stories of all genres. Indulging in a read aloud with all of her children around her is one of Jamie's favorite moments of her days. Be sure to find Jamie on Instagram and visit her blog, Treasuring the Tiny Moments Homeschool, to be encouraged by all her learning adventures with her wonderful family.