When your child struggles to read, language arts can be a difficult, and often stressful subject. Adding art to literature lessons has completely changed my son's ability to engage in and enjoy the stories without the pressure of struggling to read them.
What I've learned is that this is a powerful approach to learning, no matter what your child's reading ability!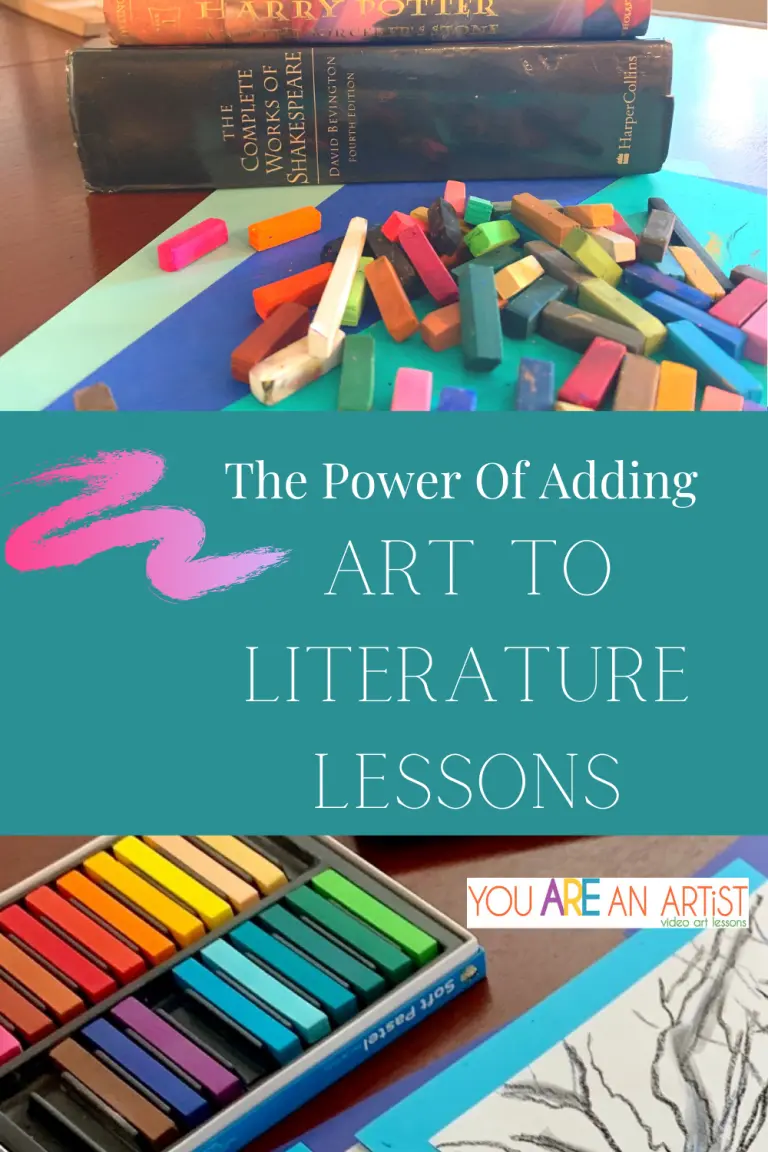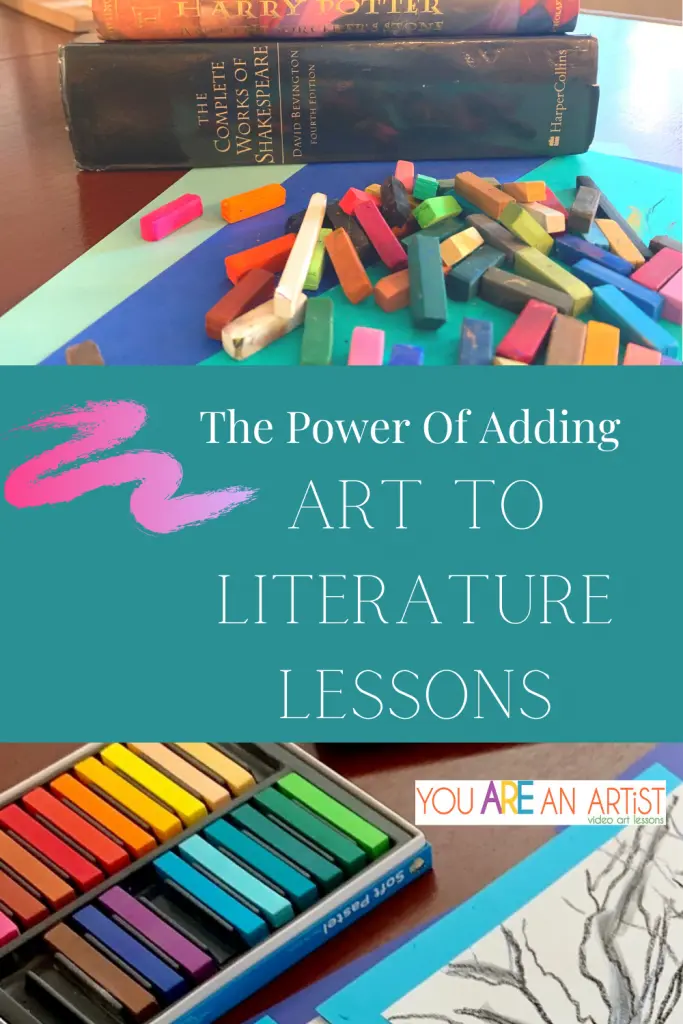 Art Brings Story To Life
I don't know why it didn't occur to me before.
Of course art makes a difference in how we can connect with literature! Bringing a story or poem to life in this most accessible way, allows a learner to not only understand the learning, but retain it as well.
For example, drawing The Globe Theatre as a part of our Shakespeare study gave my son an immediate visual reference whenever it came again in the 39 Clues Book series. He knew it because he drew it!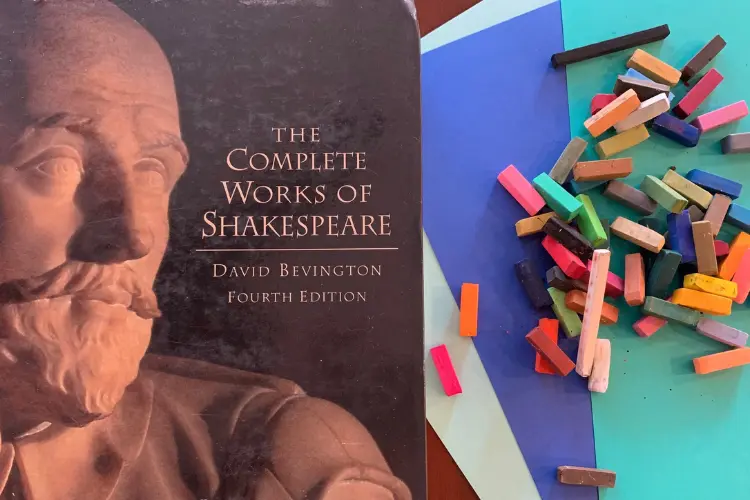 The Connection Between Art And Language Arts
One of the first times I experienced this connection between art and language arts was when my youngest was only seven. We had just read a Ramona Quimby book, together as a family, and we were discussing her antics.
Without promoting, my son went over to our art supplies and began drawing a picture or Ramona squeezing toothpaste into the sink. It was a highlight of the series for my son, mostly because he had always wanted to do it himself!
When he was done with the picture, he brought it over to me, curled up on my lap, and recounted the story itself. It was a small glimmer of what I would come to know about the relationship between language arts and art for my child.
He retained the highlights of the story itself and was able to communicate his comprehension and character analysis after he committed his thoughts to the page in the form of artistic expression.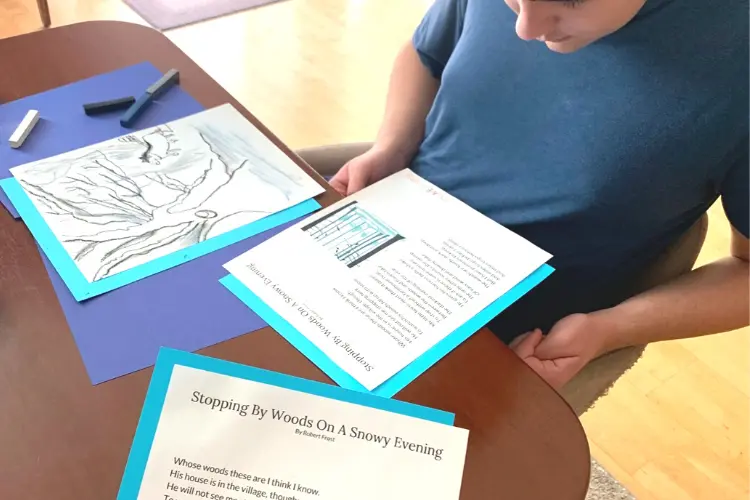 The Power Of Adding Art To Literature Lessons
Because this has been such an important part of his learning, I want to share with you an example of how this practically works in a real life homeschool lesson.
Earlier this year, Robert Frost came up in conversation as we discussed poetry. As I mentioned, my son struggles with reading. Poetry is actually easier for him to read because he can anticipate the words based on the cadence and flow of the language.
I knew Robert Frost was next in our homeschool learning plan.
You Are An Artist Homeschool Literature Lessons
Because You Are An Artist features a Robert Frost Lesson, we were able to get started right away.
Even the poem itself was included as a download, so I didn't have to go searching on the internet. We simply printed the poem, pulled Nana up on the screen, got our art supplies and relaxed into an afternoon of poetry and art.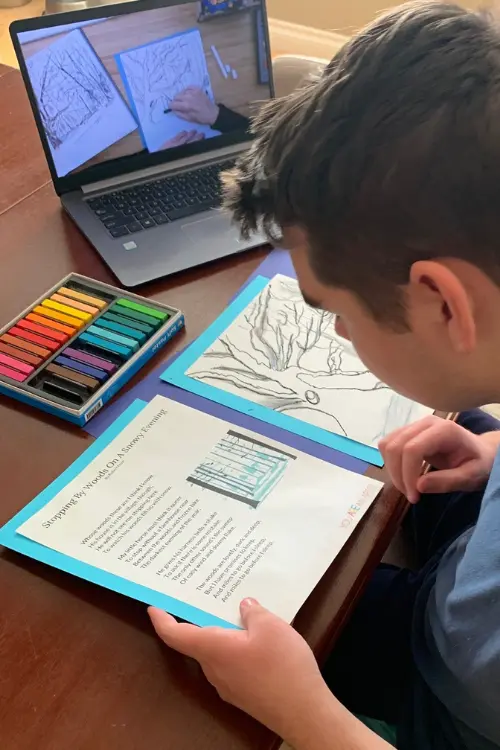 Here is how we tackled the learning:
We read the poem together out loud.
We listened to Nana and each drew our own Snowy Woods.
My son read the poem to me on his own, and we laughed at my crazy horse drawing.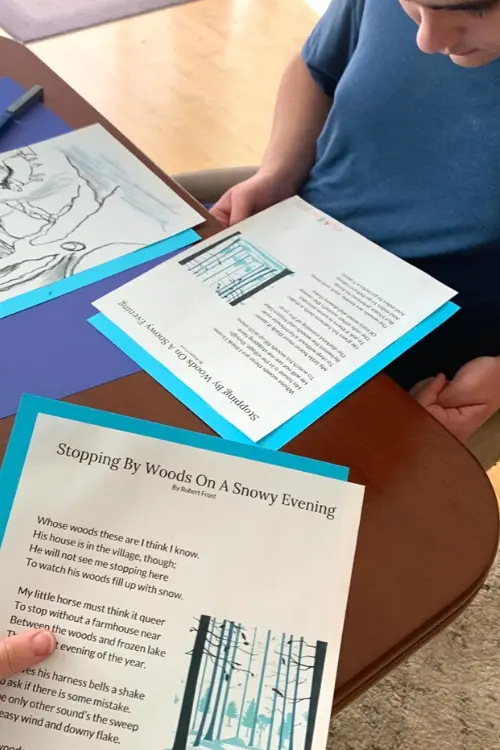 It was so simple, so easy, and it was one of the most productive lessons we've had together in a while. He practiced reading. We enjoyed poetry together. He engaged his senses in a hands-on learning activity. It was a total win.
I found myself wishing every homeschool afternoon could be like this one.
The good news is, maybe they can!
You Are An Artist has a wealth of literature lessons to chose from.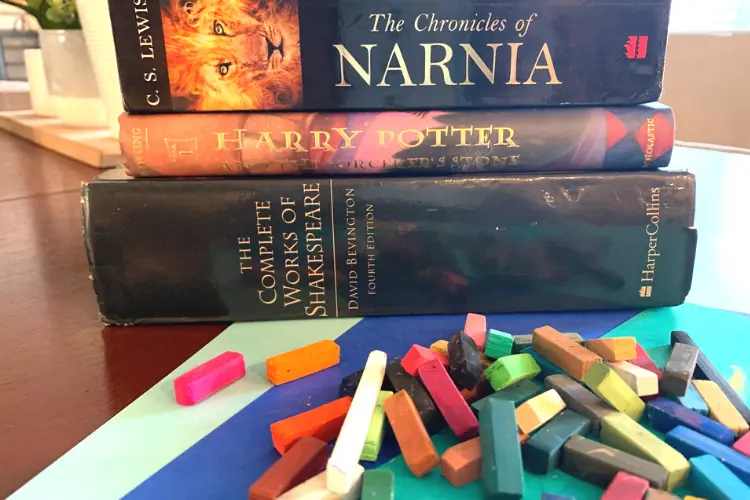 Did you know that with the You ARE An Artist Clubhouse Membership you'll have exclusive access to the You ARE An Artist Clubhouse Literature Video Art Lessons? And with these lessons, members receive an I Drew It Then I Knew It Literature Companion workbook filled with writing prompts, fun facts and more!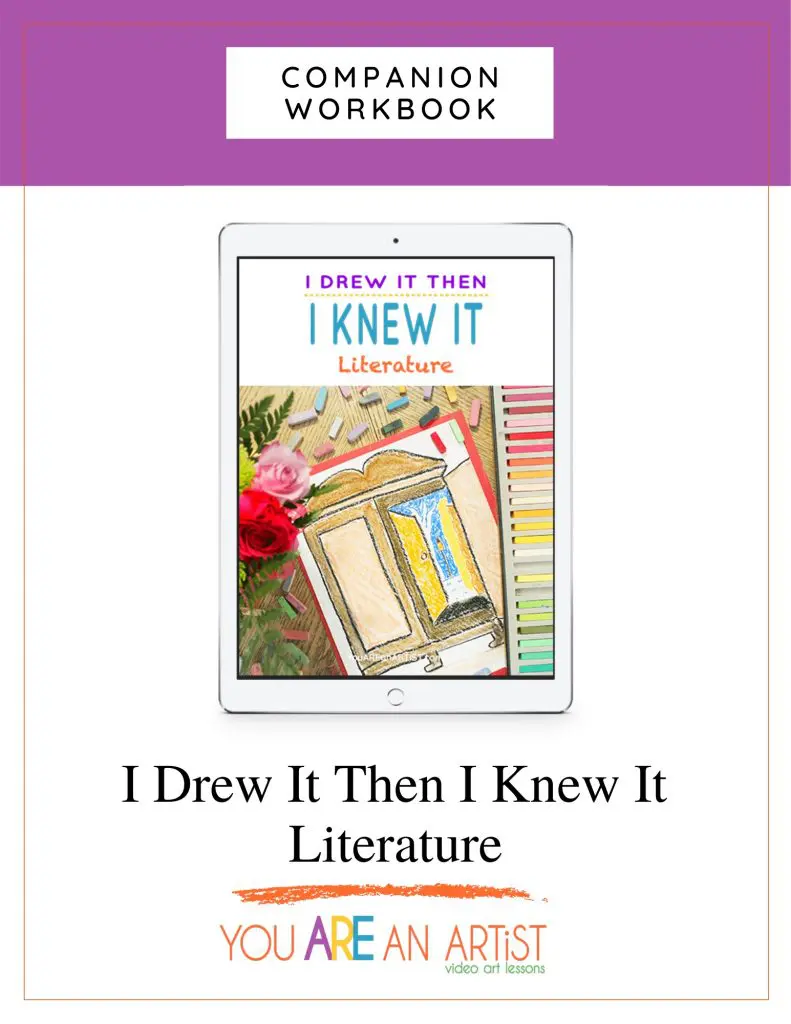 Literature Lessons For your Homeschool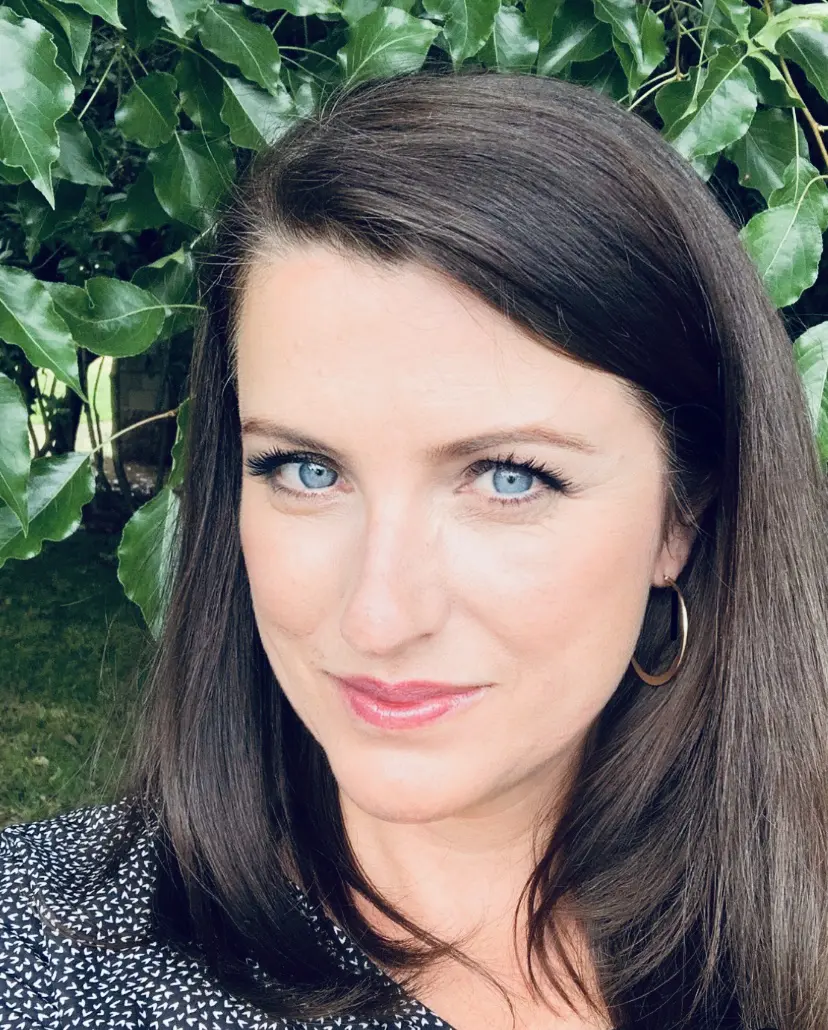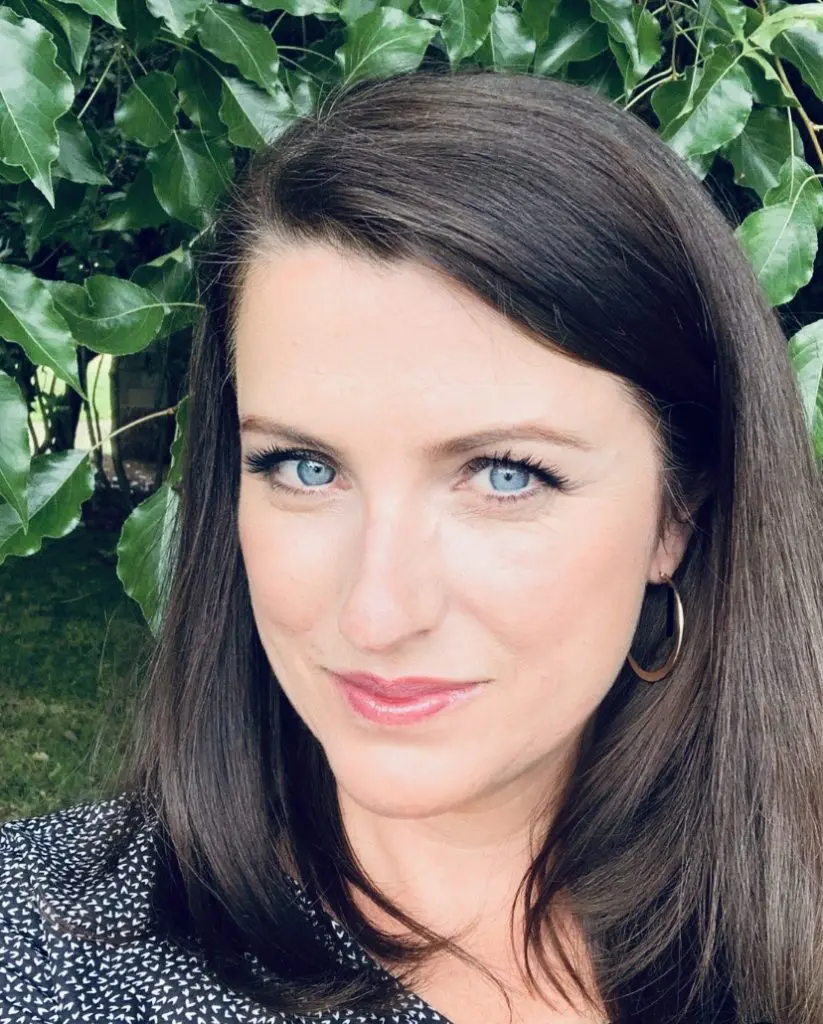 Shawna Wingert is a special education teacher turned writer, speaker and consultant. She is also a homeschooling mom of two brilliant boys with differences and special needs. Shawna has written four books for parents – Everyday Autism, Special Education at Home, Parenting Chaos and her latest, Homeschooling Your Child With Special Needs. She helps parents of children with learning differences, behavioral challenges and special needs every day at DifferentByDesignLearning.com.