Science, it's one of those love-it-or-hate-it subjects in homeschooling. Teaching homeschool science and facilitating experiments at home might make you feel a little overwhelmed. There are so many exciting ways to teach and learn about science together at home. This microscopic world study is a great example!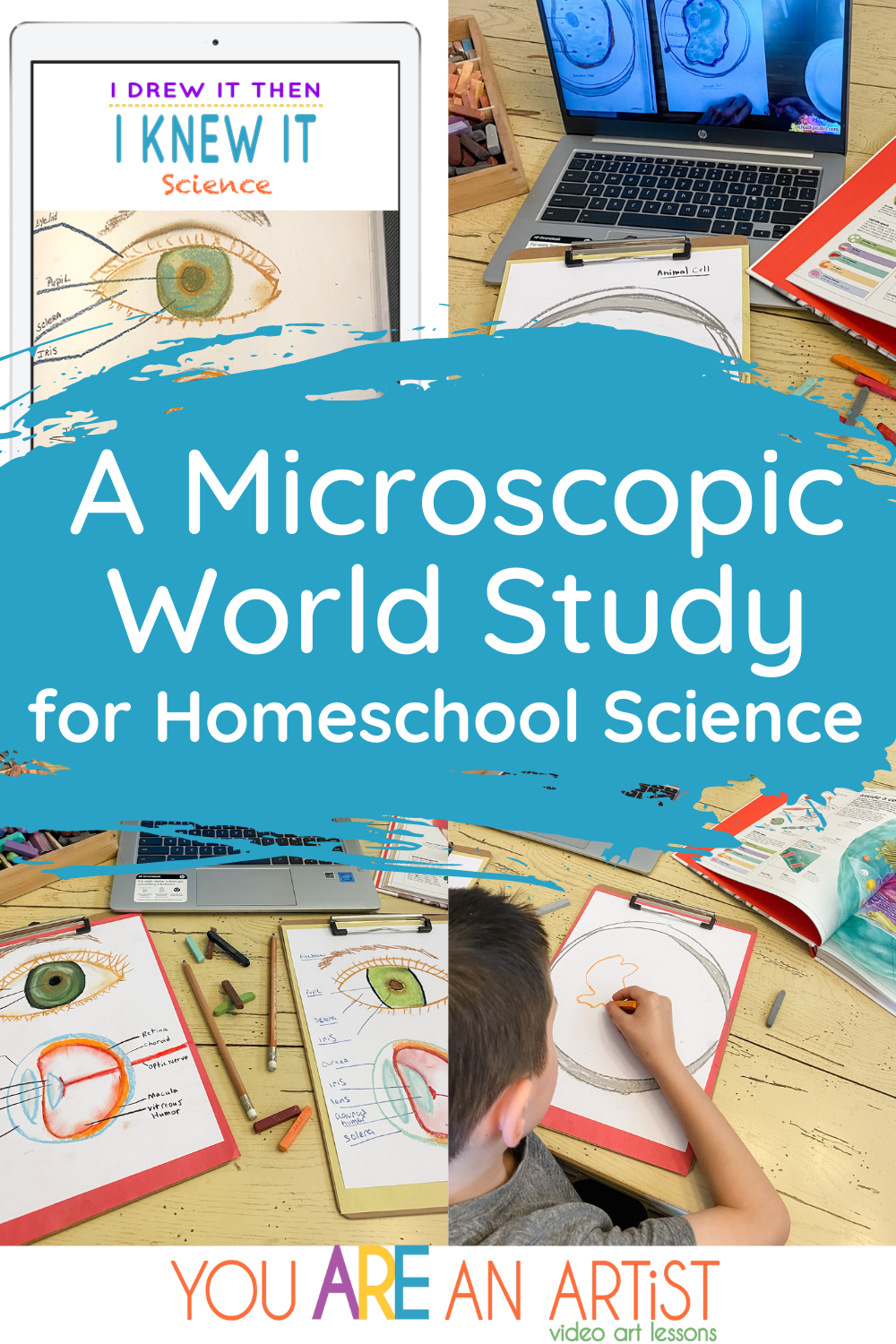 Seeing Our World Through The Microscope
An excellent way to get your children excited about science can be through exploring the microscopic world. Seeing things through a microscope opens a whole new world of scientific knowledge for children.
Since most children have a visual or kinesthetic (hands-on) learning style, studying with microscopes and diagramming is an excellent way to learn science. Not only that, it's a lot of fun!
So if homeschool science experiments aren't your thing yet, you should try an exploration of the microscopic world. Your kids are sure to love it and learn so much along the way.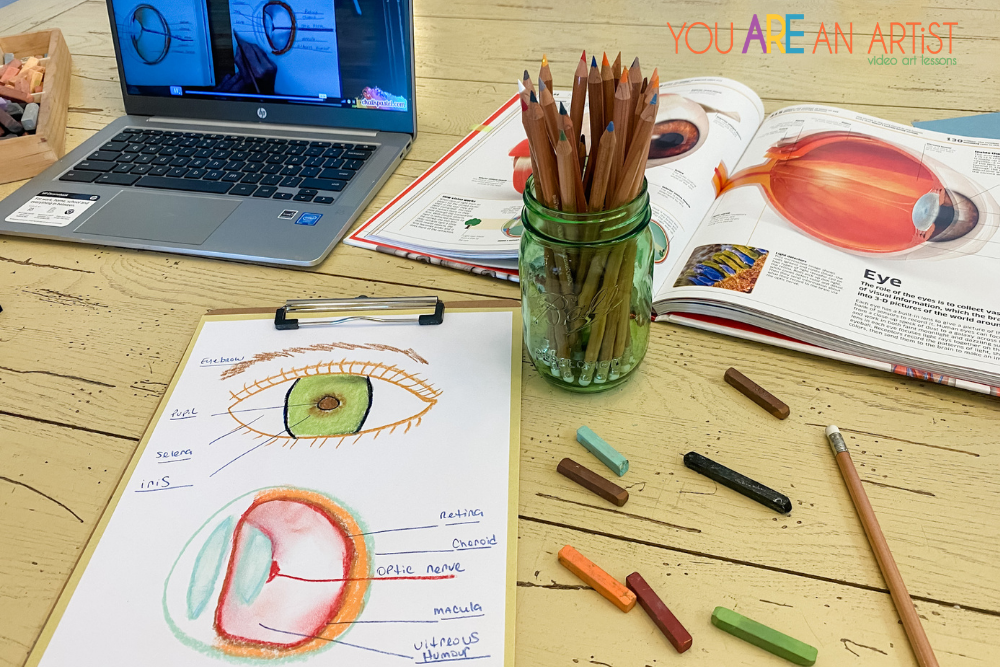 The best part is that you don't even need a microscope at home to enjoy these studies. If you have one handy, that's awesome! But don't fret if you don't. Nowadays, you can effortlessly search for what you want to see through a microscopic lens, and you can likely find images and even videos of it on the internet.
You may want to set up a microscopic world study and look closely at all of these marvelous things the human eye can not see. There are many options to explore under a microscope, insects, cells, salt, hair, onion, mold, flower parts, leaves, sea sponge, spider webs, pond water, and tons more!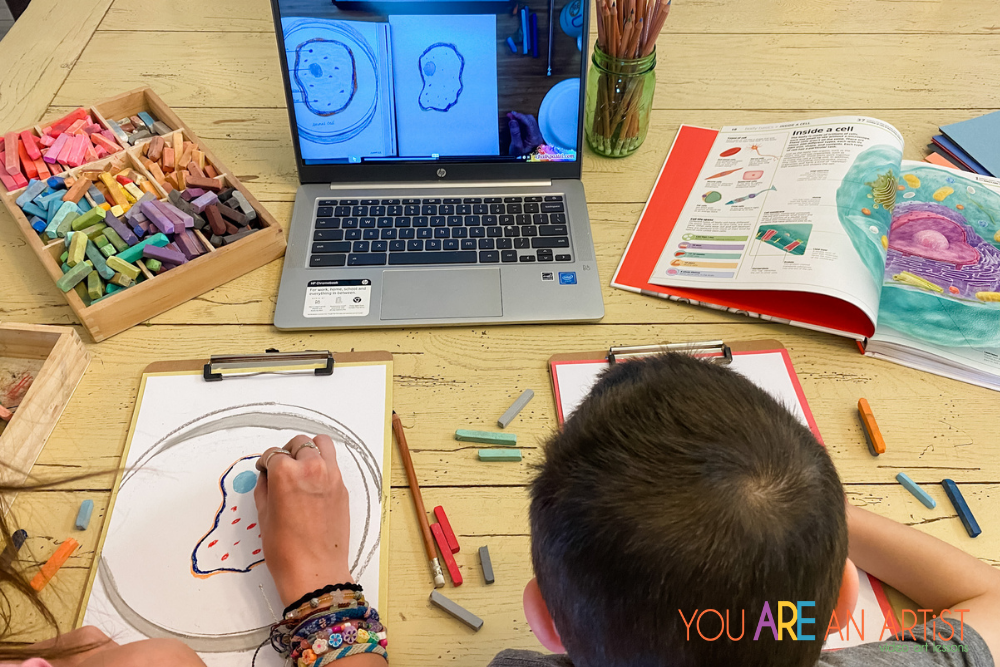 Microscopic World Study And Exploration For Your Homeschool
If you are ready to embark on a scientific journey with Nana, she is waiting with some unique new lessons that are sure to please. Nana has created the perfect homeschool science art lessons to add an artistic and hands-on element to your science studies. Who says science is boring? It's definitely not with Nana in the I Drew It Then I Knew It Clubhouse.
We love how YOU ARE AN ARTiST keeps adding fun hands-on art lessons to pair with everything we are learning in our homeschools. (If you don't have a membership yet, I highly recommend adding one to your homeschool. You will get so much value from it for almost every subject in your homeschool, including science.) It's one of my favorite ways to keep our homeschool fun and exciting for all of my kids.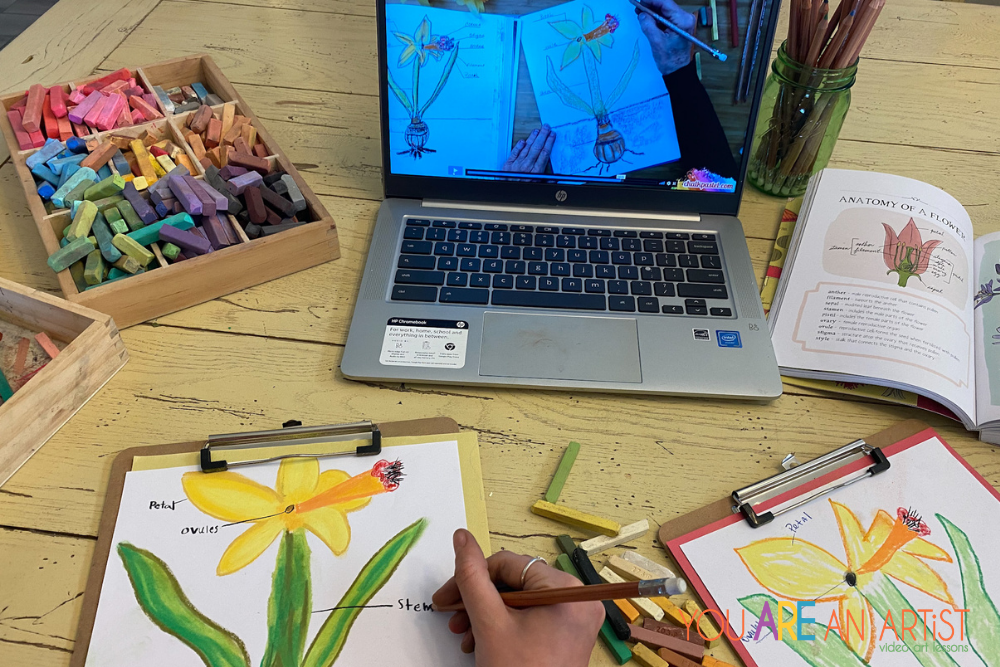 So whether you have a complete science curriculum or no science curriculum at all, you can use these hands-on homeschool science lessons. You can pair these microscopic homeschool science diagramming lessons with your science curriculum. Or use a resource that allows you to explore your particular interests and pair Nana's homeschool science lessons with them! Either way, these are easy to do, and your kids will be so glad that you did.
Nana loves maps, and diagramming is like maps for anatomy and cells. Combining art and science by diagramming is brilliant because you can also expand on vocabulary, handwriting, and spelling for elementary.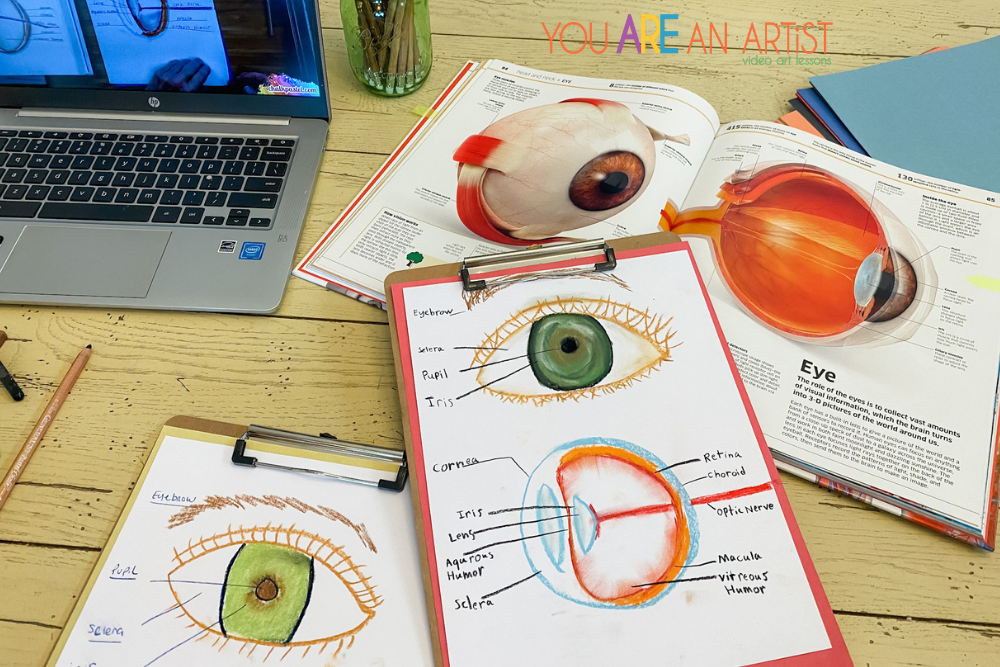 Diagram of a Cell
There are many creative ways to learn about cells for all ages, and this Diagram of a Cell art lesson is perfect as a stand-alone lesson or to accompany that cell cake or cells made of jello. It's a wonderful way to learn more about cells, and if you don't like all the messy aspects of cell cakes and the like, you can just stick with paper and chalk pastels.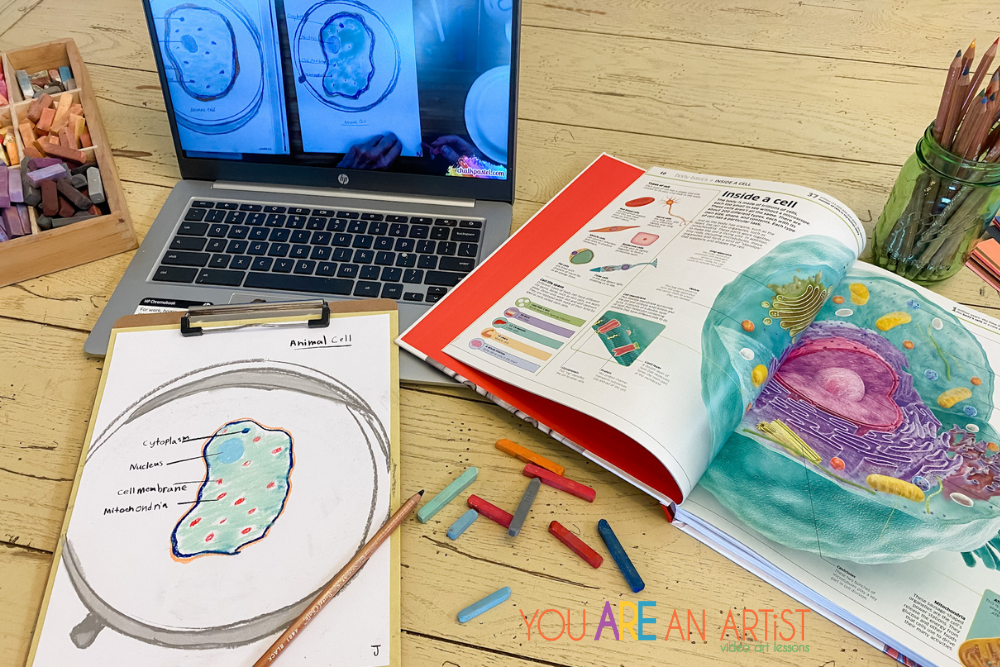 Diagram of a Bacterium
Another easy way to learn more about homeschool science is to add a Diagram of a Bacterium art lesson. Learning about science through text or your curriculum is great but adding a hands-on element like art boosts your kids' science knowledge.
Diagram of the Eye & Eyeball
My kids loved this one! Diagramming the eye is such an exciting way to bring your science lesson to life! We added the DK Smithsonian Human Body Book to our science studies; it has fantastic images to explore as you learn together. It is one of those resources that are great to use in place of an entire science curriculum if you haven't chosen one yet or to allow the kids to find their own interests to pursue.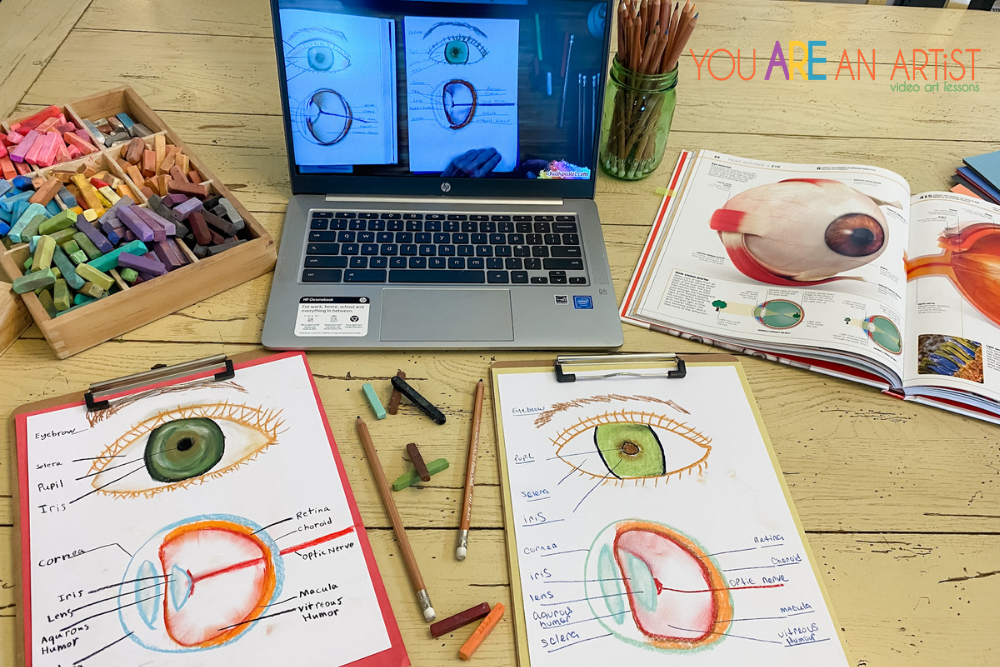 Diagram of a Daffodil
The Diagram of a Daffodil was also a favorite in our homeschool this week! We love to explore nature, and combining art makes it even more delightful. It is always a treat to revisit the parts of a flower and we included Julia Rothman's Nature Anatomy book for this one too!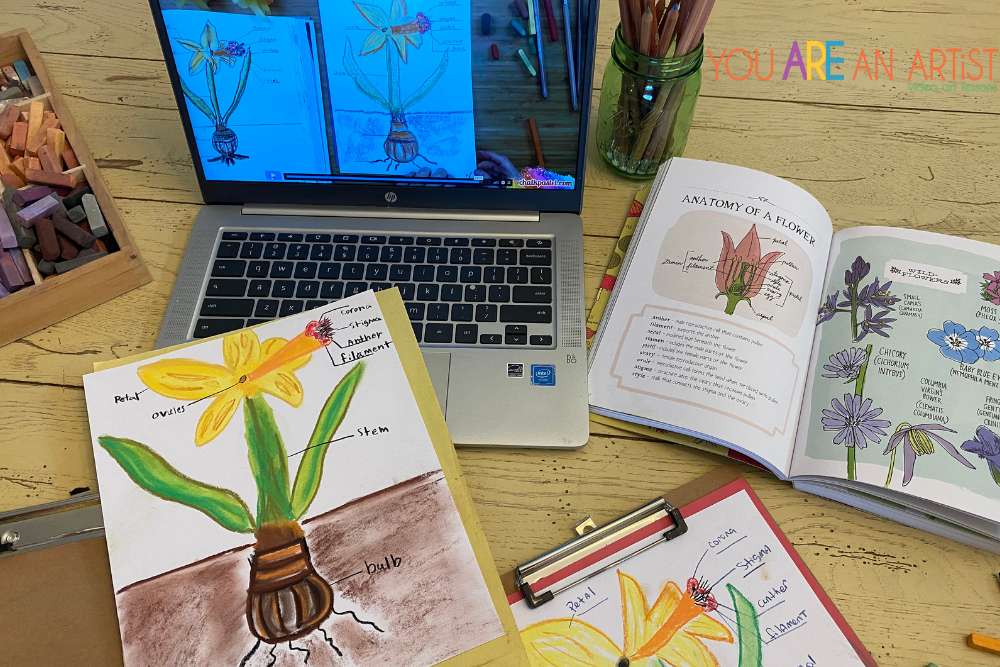 More Online Homeschool Science Lessons
Here are even more homeschool art lessons you can add to your homeschool science studies. Remember, there is no right or wrong way to study anything. Keep it simple and have fun learning together!
Vitruvian Man – Leonardo da Vinci
Light Prism – Sir Isaac Newton
Lab-Coated Scientist
Total Solar Eclipse
Through the Telescope
Moon Missions
Comet
Spiral Galaxy
and many, many more!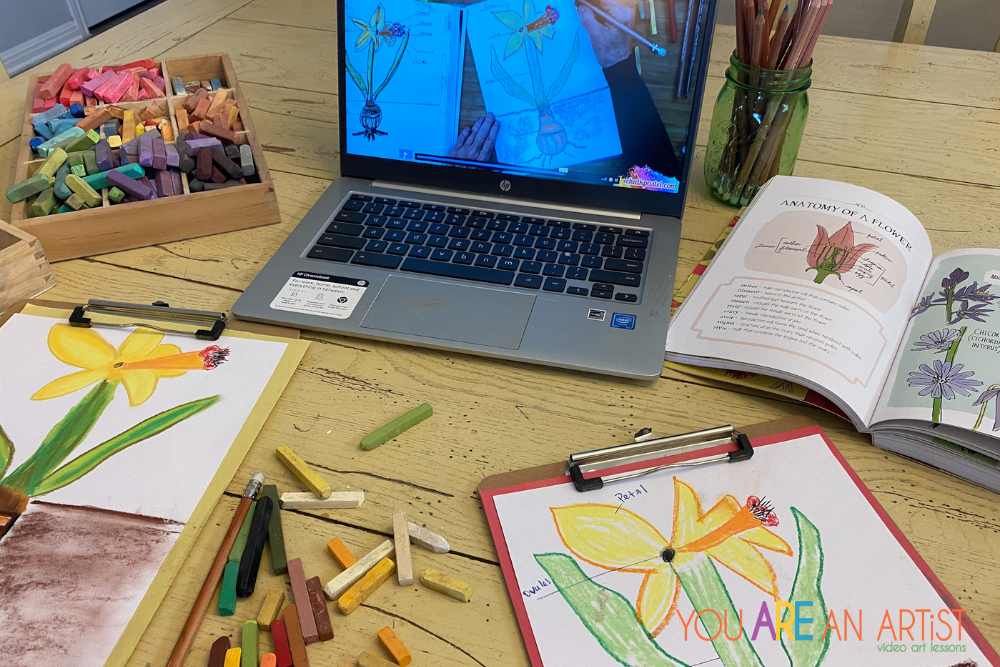 Nature Science Art Lessons
Red-Eyed Tree Frog
Snail
Deer in the Forest
Rat Snake
Eagle's Nest
Dandelion
Ant
Cicada
Sharks
Courtney is a Jesus-pursuing, native Texan, homeschool mom of three, and she believes homeschooling can be a peaceful and productive rhythm. At Grace, Grow & Edify she helps families create peaceful homeschooling atmospheres through faith, organizational strategies, and cultivating strong roots at home. She is also the founder of Homeschool Mastery Academy.