Celebrate the winter solstice with your kids with chalk pastels winter themed art! They are easy and fun for the whole family. A perfect addition to your winter homeschooling!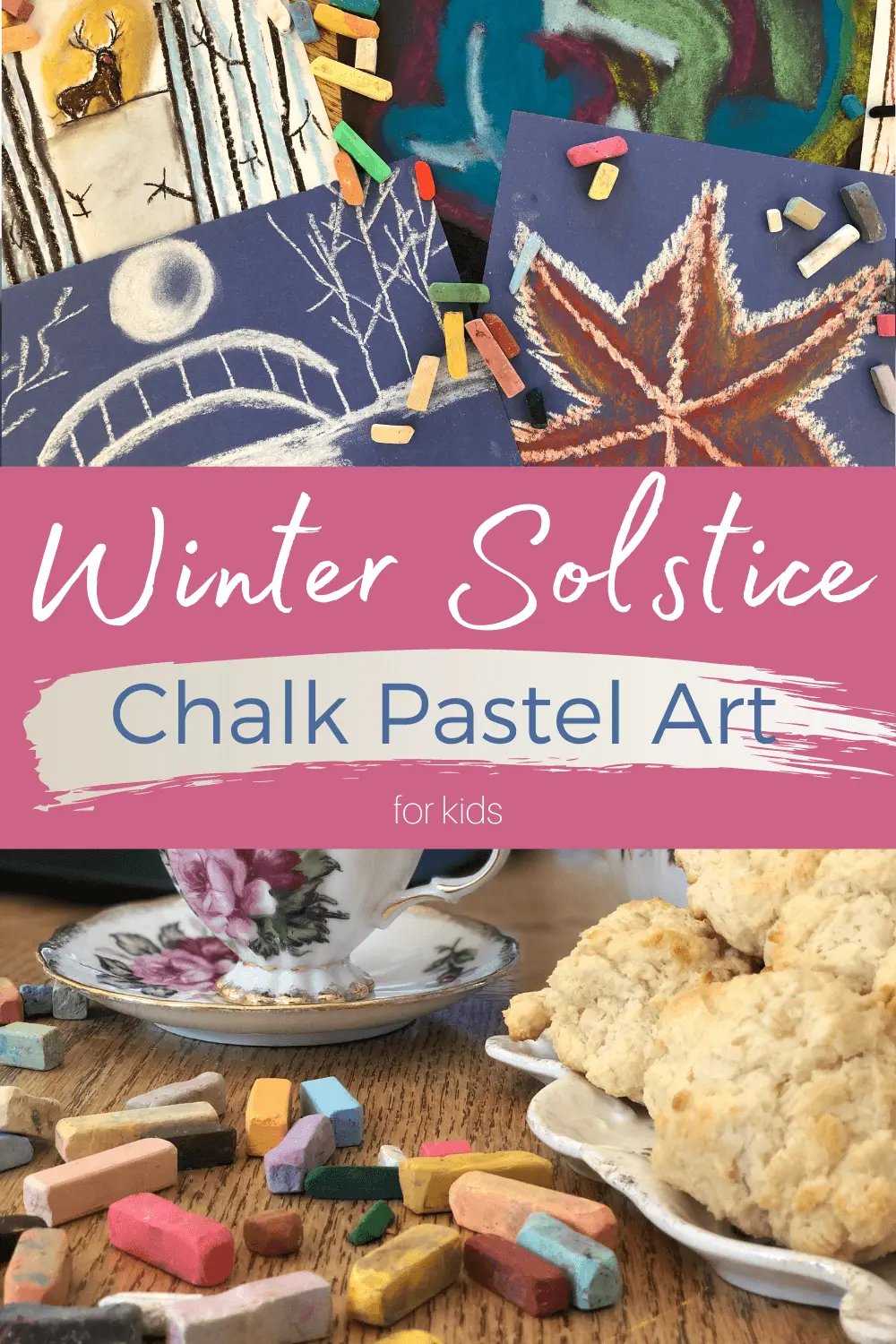 For years we have made a tradition of celebrating the shortest day and longest night of the year. These Winter Solstice Activities & Books have been perfect as we learned the science behind the winter solstice while making orange pomanders, orange garland, and delicious sun bread. With the winter solstice marking the first day of winter I thought, "why not add a little winter themed art this year?"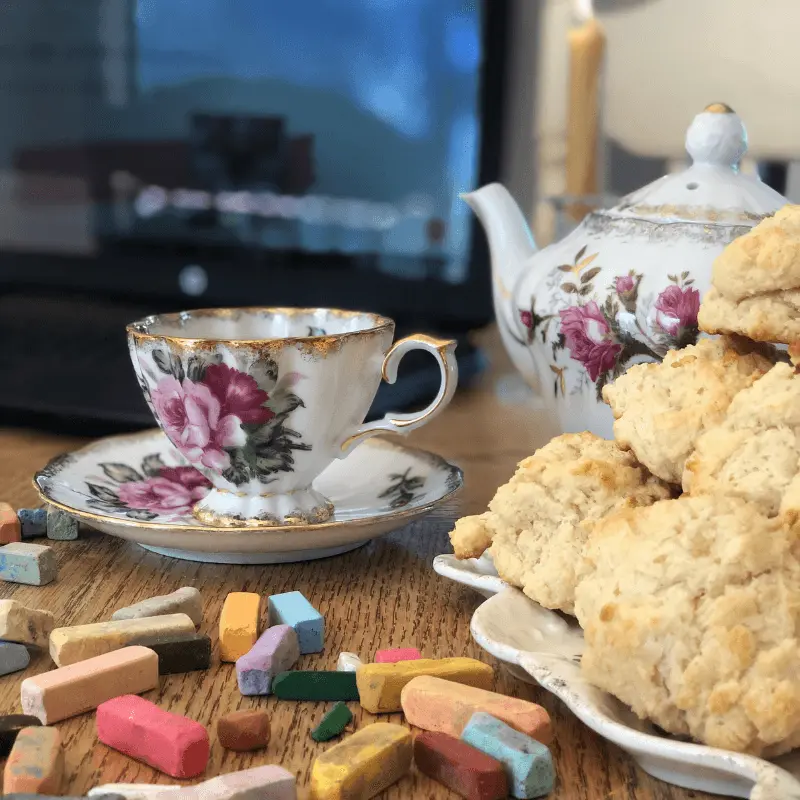 How about making some scones and tea to go along with our winter solstice art time? My son and daughter helped me prepare the scones and steep the tea. We set the table and logged into our clubhouse membership. I simply searched for "winter" and a whole slew of options popped up! The kiddos decided to start with the frost-covered leaf.
My daughter made her frosted leaf magical. She said it was touched by the autumn and winter fairies! Can you see the magic swirling around it?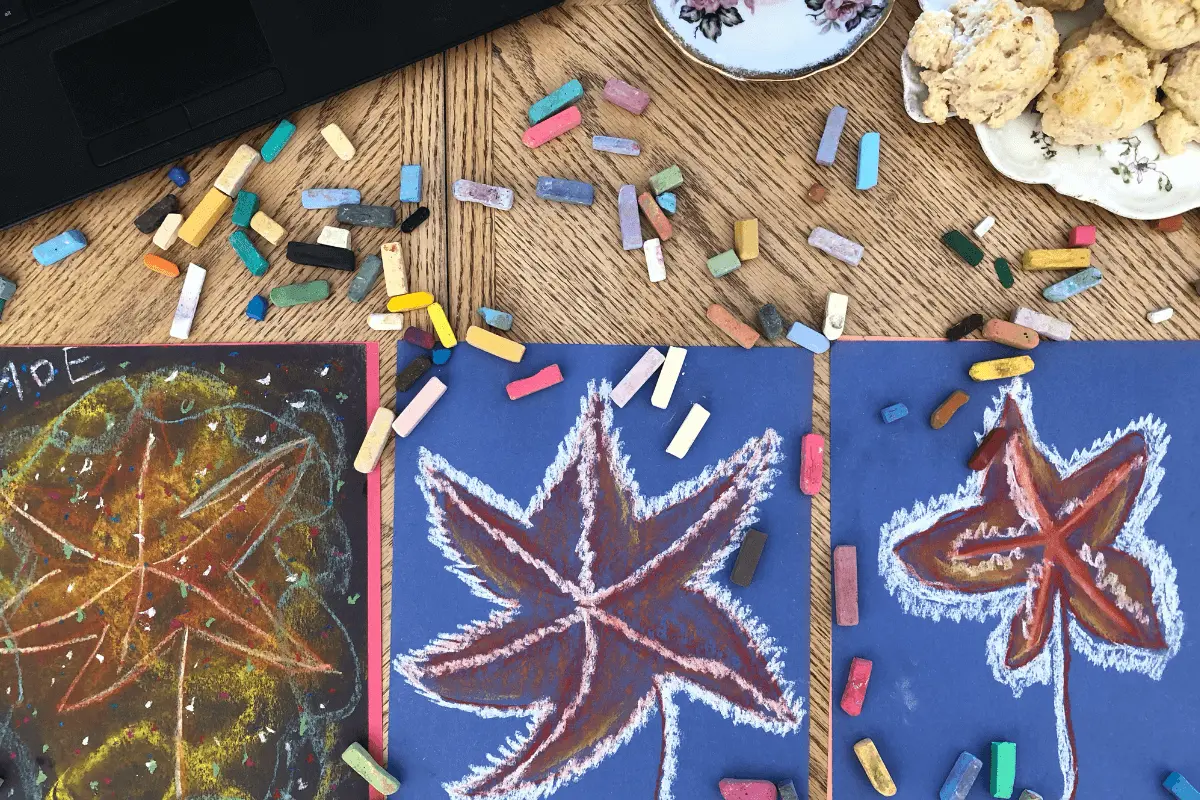 Winter Solstice Art Lessons
Next, we chose a moonlit bridge and frozen lake while continuing to sip tea and slather extra butter on our scones. It was a big hit! And nothing says winter like winter landscape scenes!
We just adore how "Nana" walks us through step-by-step in creating these snowy works of art! She always reminds us that we are the artist and that we don't have to choose the same colors she does or add the same trees where she does. She encourages us to make it our own.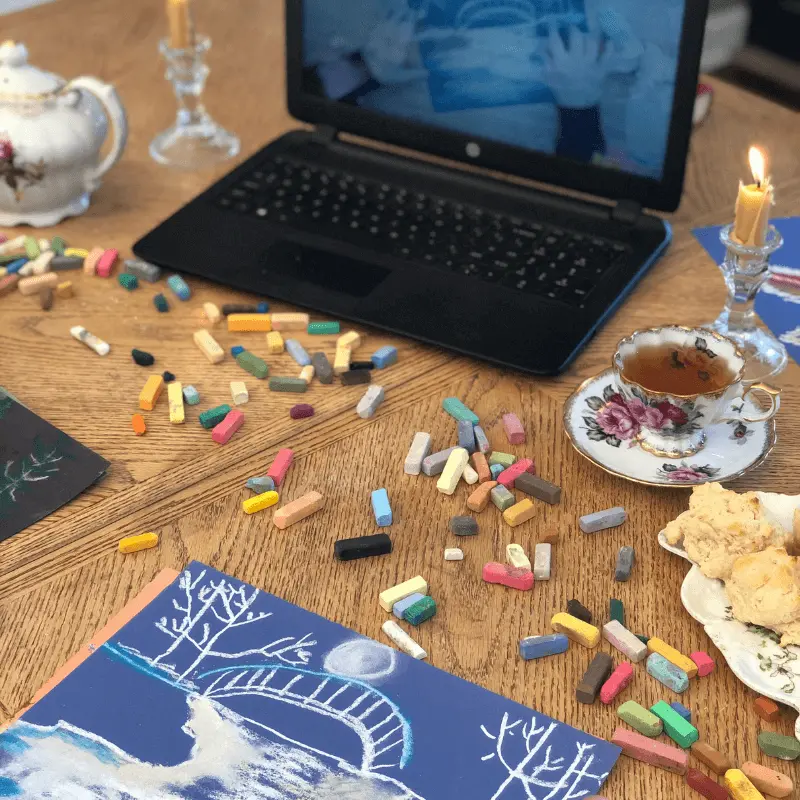 My daughter added holiday lights to her bridge and a lovely reflection of the moon to her frozen lake. Can you tell which one is hers?
I just love her creativity!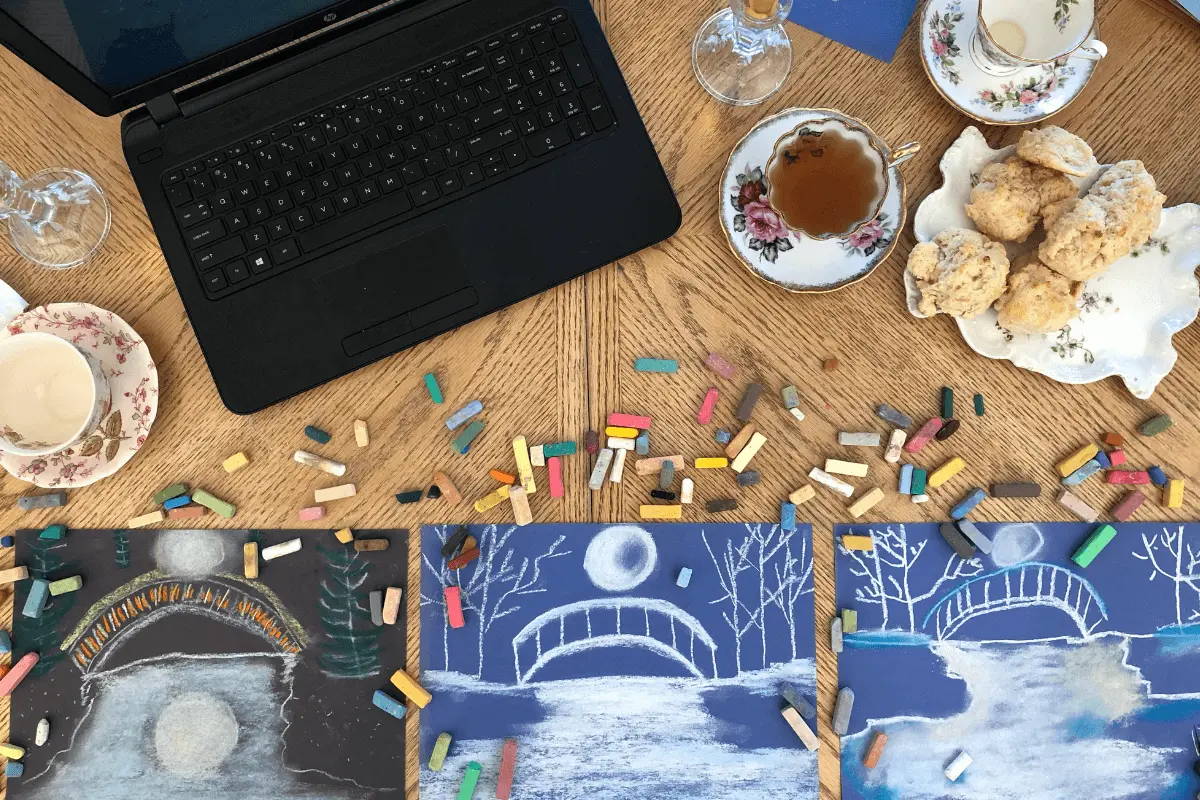 Celebrating the Winter Solstice In Your Homeschool
How about a deer standing in the snowy woods for a first day of winter creative project? Although initially, my son said his looked more like a silver-back gorilla, ha! I thought they turned out lovely.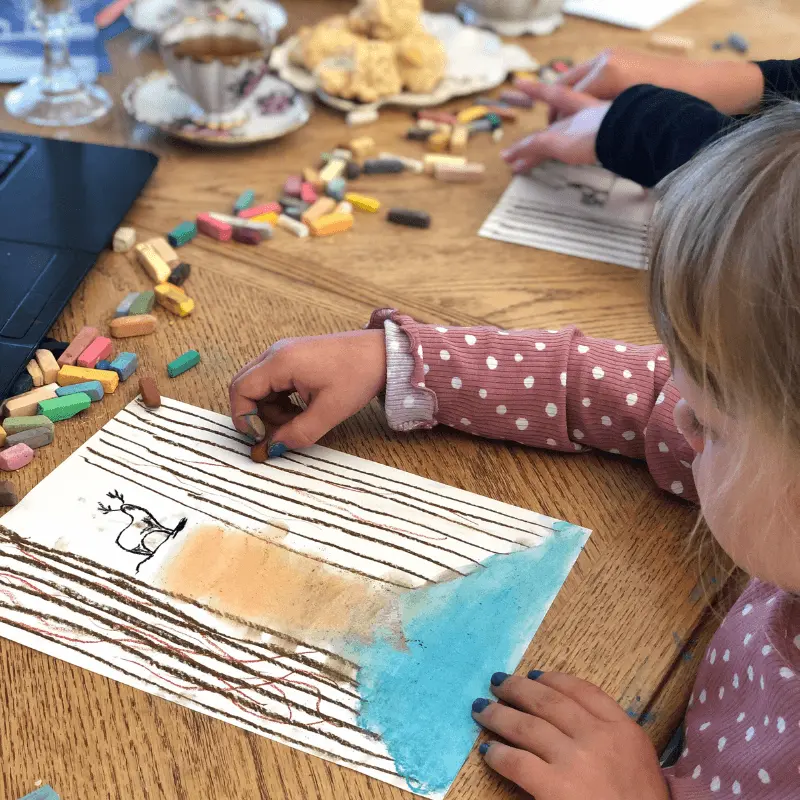 Winter Solstice Chalk Pastel Art wouldn't be complete without the beautiful northern lights! After creating these magnificent works of art, we watched a video all about them. It was a great way to mix in a bit of extra science and beauty!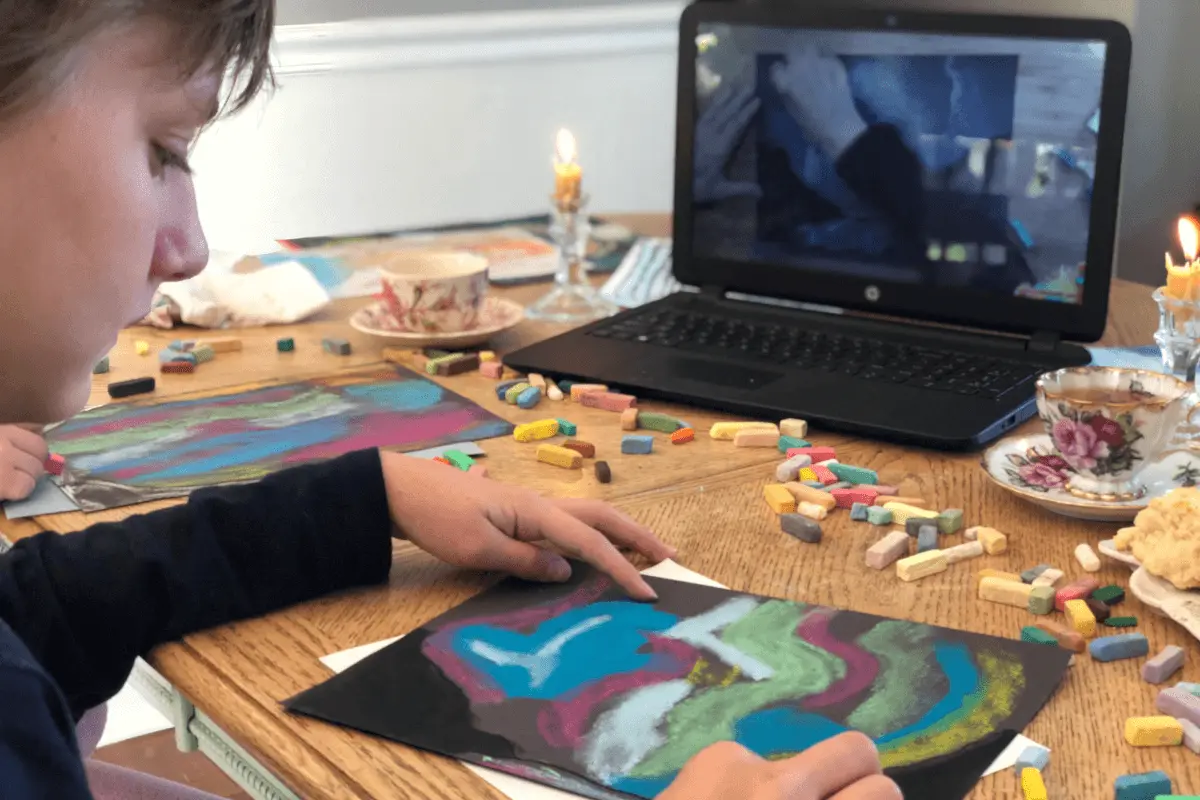 Chalk Pastels Clubhouse Winter Art Lessons For Your Homeschool
Did you know that with the Chalk Pastels Clubhouse you have access to ALL of their winter-themed art along with 600+ other art lessons? It's true! Here are just some of the winter art course lessons you can do with the clubhouse membership:
Fireplace (A Simple Start)
Frost (Winter)
Icicles (Winter)
Frozen lake (Winter)
Winter forest scene with deer (Winter)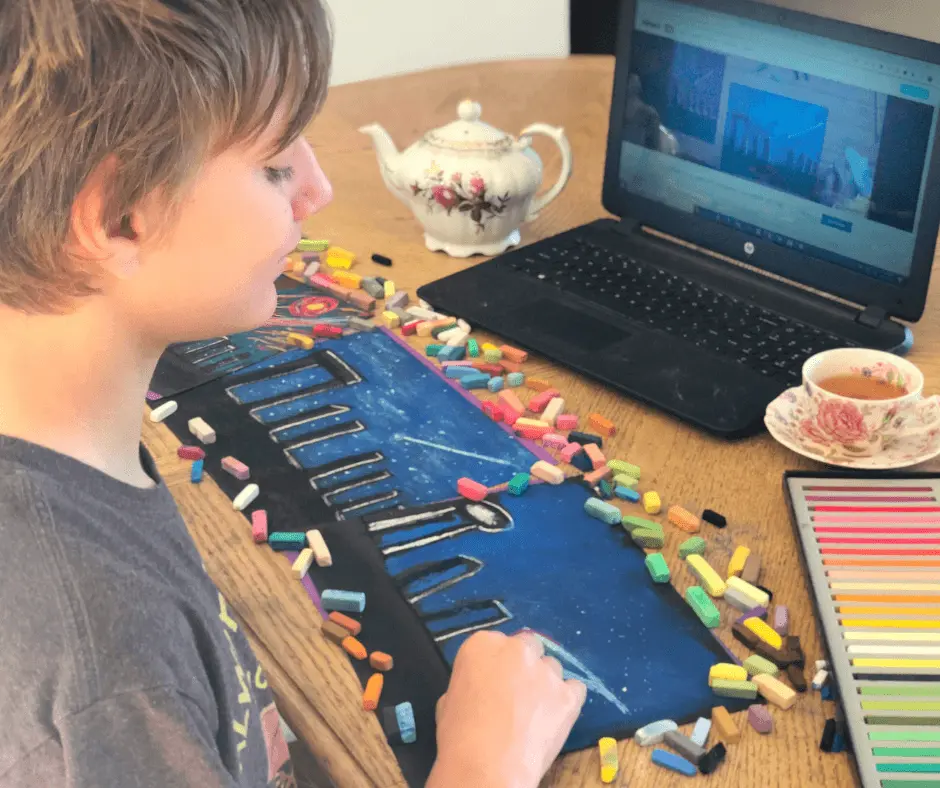 Stonehenge winter solstice (World Landmarks)
Bird in snow (Winter)
Northern Lights (Essential Oils)
Stopping By the Woods on a Snowy Evening (Master Classes)
Winter Tree Reflection Acrylic (Master Classes)
Snowman (Preschool)
Skate (Winter Games)
You might also like Winter Art Fun with Artist Express (and enjoy the Polar Express with it!)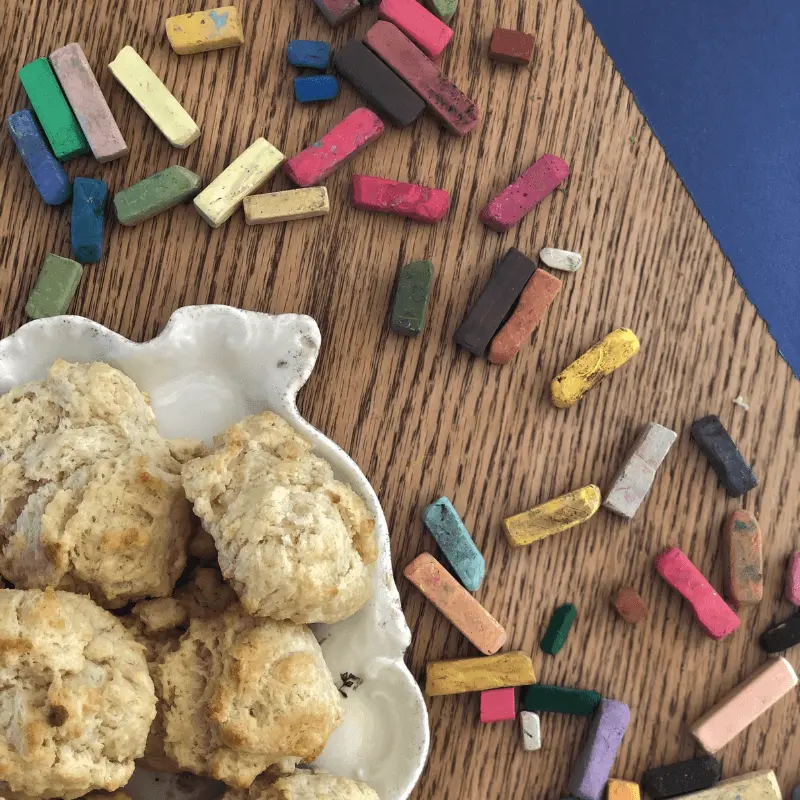 Winter Solstice Art for Kids
We thoroughly enjoyed our buttered scones, tea, and winter art time. My son declared that homeschool art days are his favorite days! I think that's saying something, folks. Though winter can be cold and dreary, art, it seems, warms our hearts and souls. Why not give the shortest day and longest night of the year the warmth of art this year?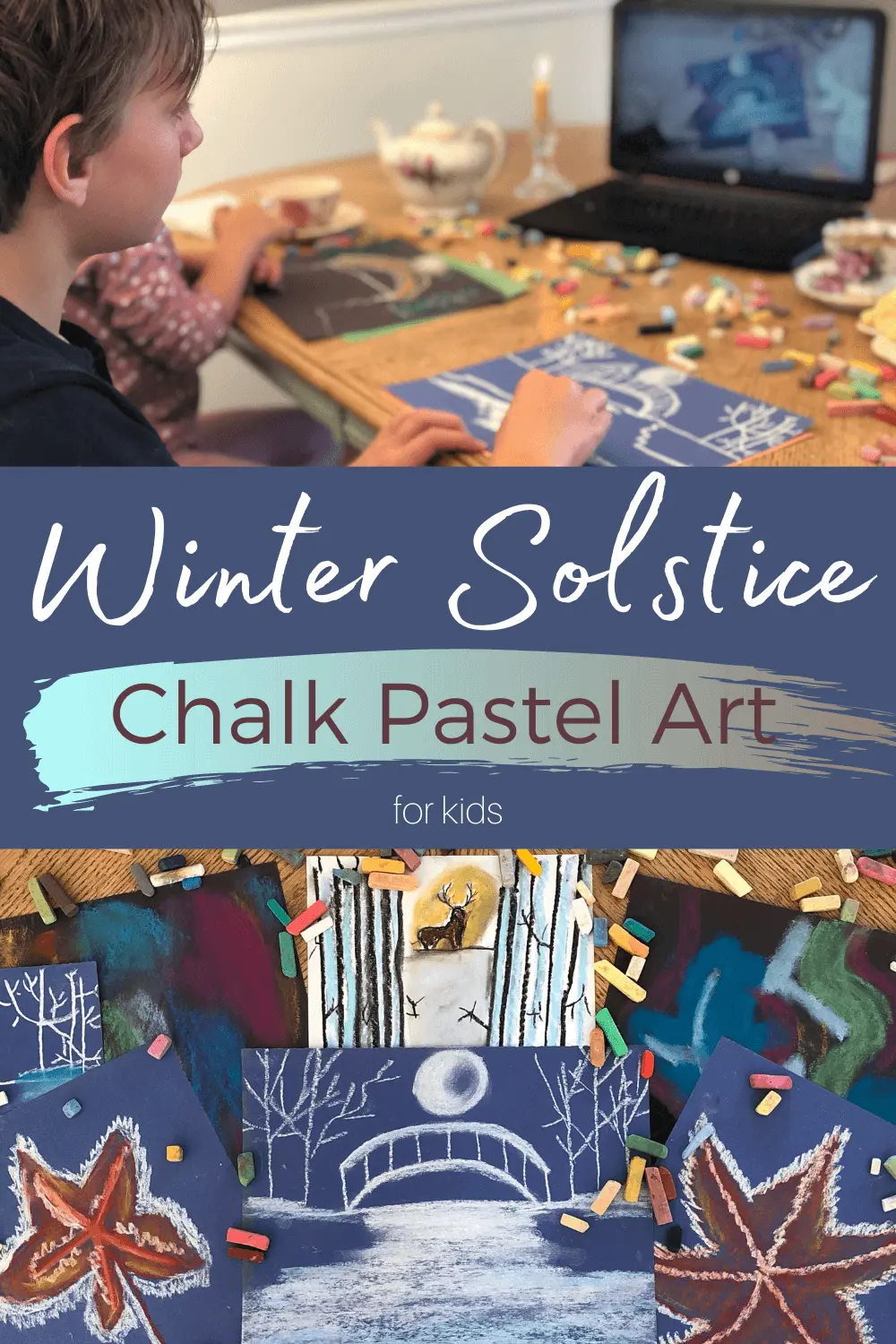 Erin is a writer, blogger, and homeschooler to two intense kids. Her blog is filled with information to help you explore a child led education while making meaningful connections with your children. Discover favorite read alouds, seasonal books, games, art projects, hands-on activities, and learn to just breathe through the ups and downs of life. She loves nature, farm life, good books, knitting, new pens, and hot coffee. Erin is a contributing writer for Weird Unsocialized Homeschoolers. Her work has also been featured on Simple Homeschool and Book Shark.