Oh Anne, how we love her! Her personality, wit, and genuine ways have hooked us all. As a young girl, I daydreamed of Anne's adventures and country lifestyle. I have desperately wanted to share Anne with my daughter, and I am thrilled to get started. So, I am calling all of my fellow Anne of Green Gables fans to celebrate Anne with a literature-based art & tea time today! Anne of Green Gables is undoubtedly one of my top choices of books to get lost in for either upper elementary or high school.
Around my daughter's fourth grade homeschool year, I was so excited to dive into Anne of Green Gables, yet my daughter wasn't thrilled at all. I hate to admit it, but I was so disappointed. I wanted her to love it as much as I did at that age, but here we are in high school, revisiting it with fresh enthusiasm. If you have a high school teen, see how you can use art lessons like these to earn an art credit! I also want to encourage you to wait and try again if you have been attempting to introduce your children to Anne of Green Gables and they haven't taken to it.
So if you are ready to celebrate our beloved Anne or maybe revisit her, let's plan some exciting homeschool lessons around art and literature.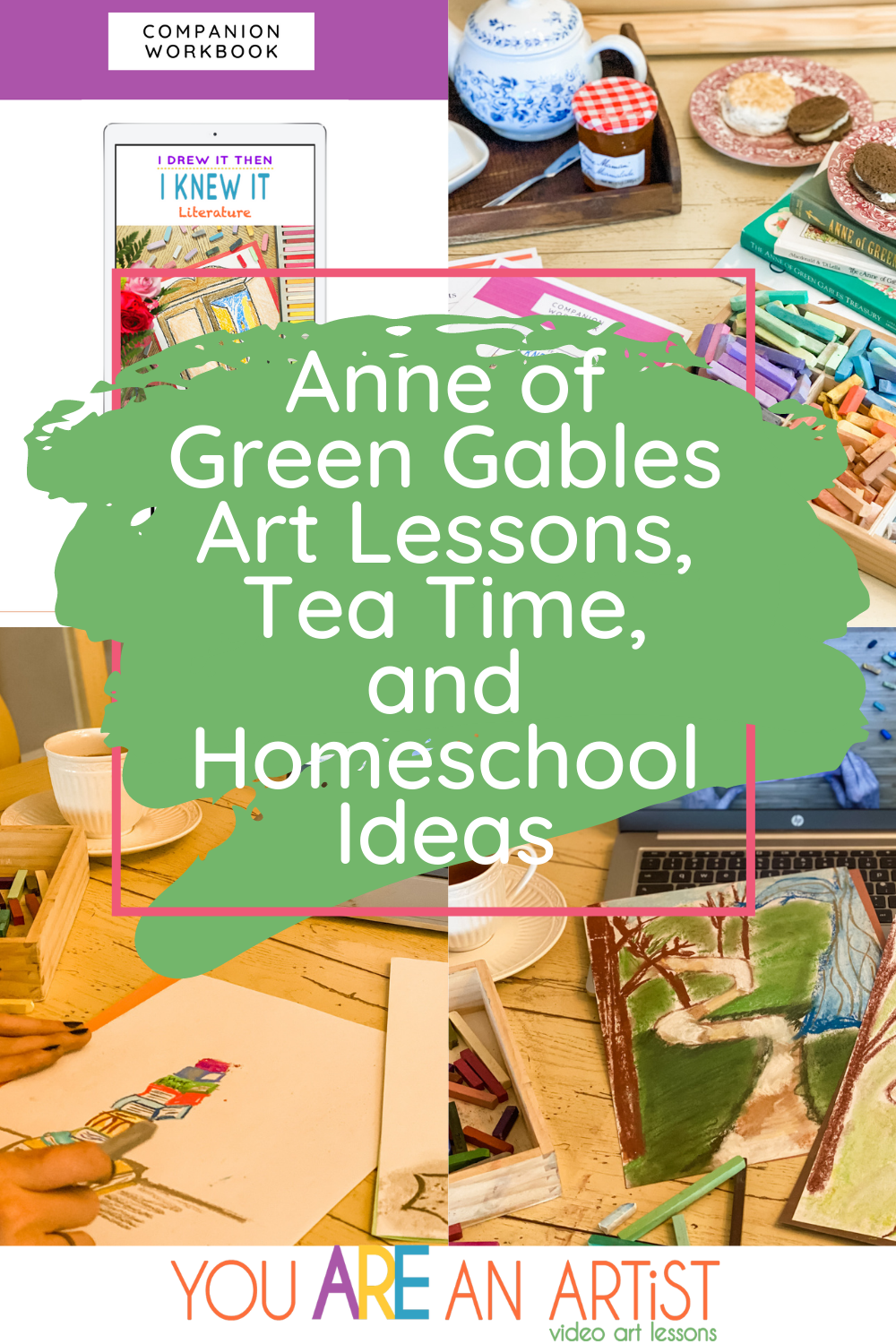 Why Blend Art With a Homeschool Anne of Green Gables Study?
So I mentioned above that I am revisiting Anne of Green Gables with my oldest this year. She was less than enthusiastic when we attempted to read the book around her fourth-grade year. I probably had overdone it with Heidi, Little House, and other literature that I was overly excited to dive into. In addition to me pushing too many of my favorite books on her that year, I hadn't figured out how to get my children excited about reading back then. So I will share my little secret with you now, art. Yep. It's that simple. We incorporate hands-on art lessons with Nana into just about everything that we are learning in our homeschool.
Once I learned how to add an element of excitement and fun to our homeschool, home educating shifted for us. We add art to all of our homeschool lessons, books, tea times, and more! Plus, I have a couple of hands-on and auditory kiddos that crave art, so it fills their cups in so many ways.
Last week we celebrated the end of Charlotte's Web with an art celebration, but we are kicking off the start of Anne of Green Gables with an art celebration and tea time this week. I thought this would be a great way to get my oldest super excited about diving headfirst into Anne of Green Gables.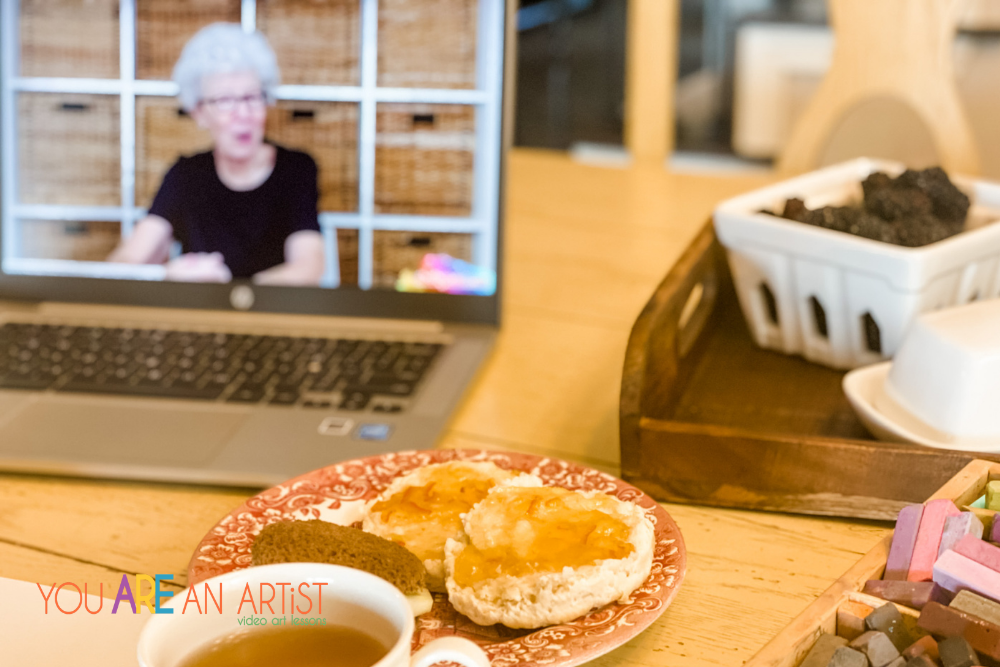 Anne of Green Gables Art Lessons for Tea Time
We decided to kick things off with a Stack of Modern Literature art lesson. Anne loved books too, so it seems fitting. You can use this art tutorial for so many different subjects and lessons.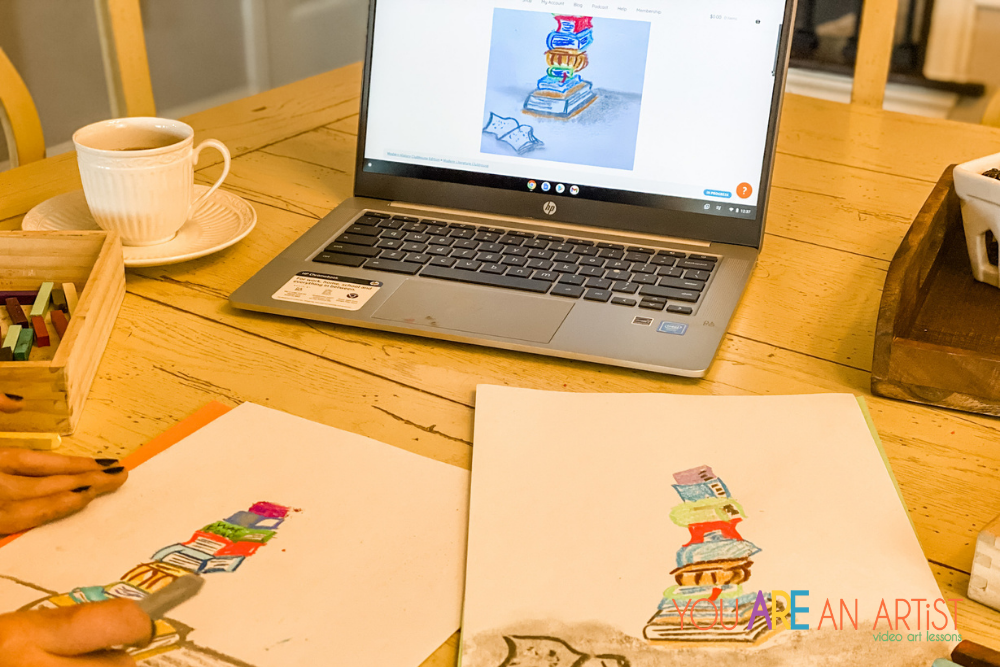 Another lesson that we couldn't pass up for Anne of Green Gables art is Nana's Quilts art tutorial. The quilts lesson feels nostalgic to the time period and lifestyle of Anne of Green Gables, right?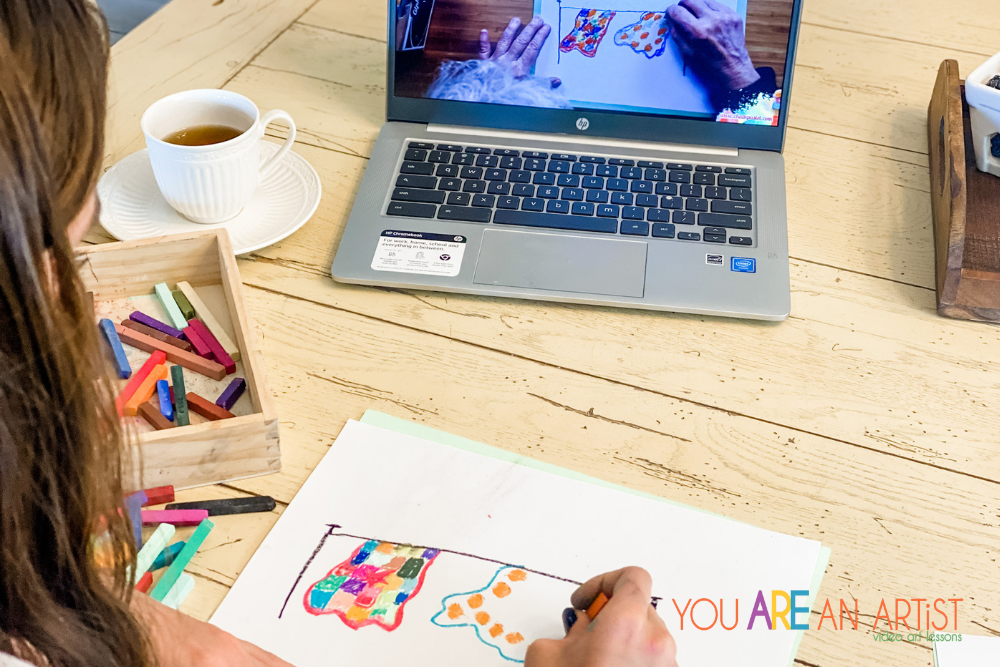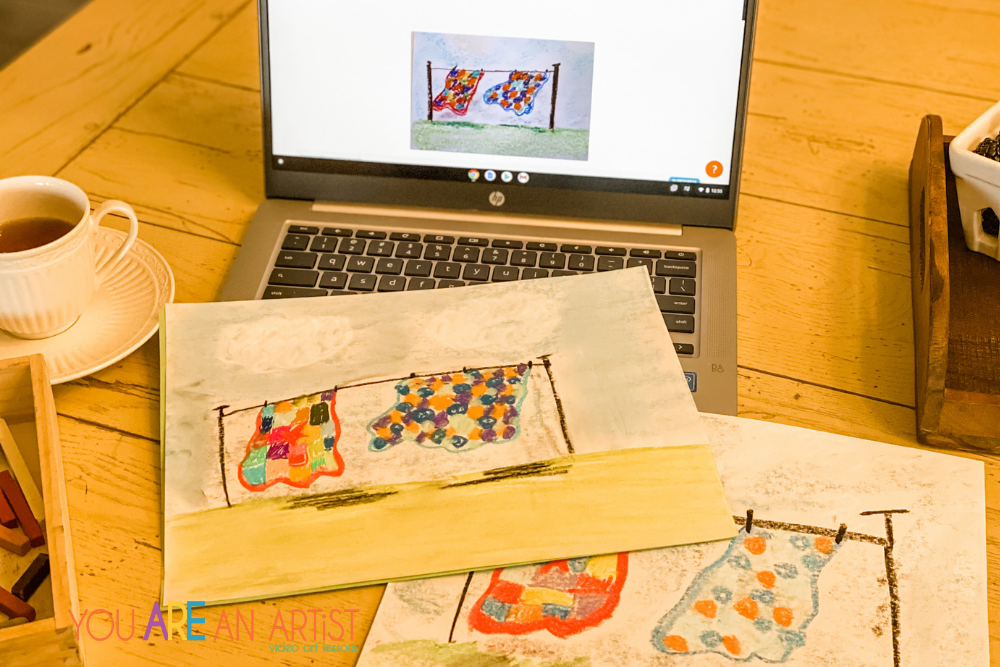 Forest Walk in the Woods is another great lesson that we incorporated, and you might want to do the same. Nature was a huge part of Anne's life, and this lovely nature walk just seems to fit.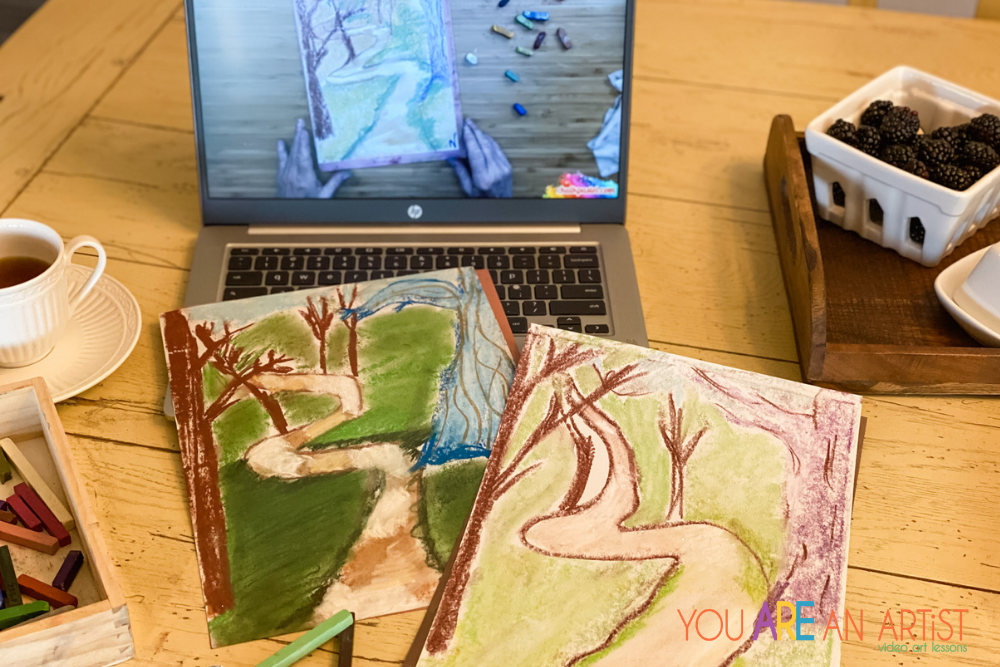 Nana created a special art lesson dedicated to Anne of Green Gables. It's a real treat! Which reminds me, if you haven't joined the YOU ARE AN ARTiST Clubhouse, now is the perfect time to join.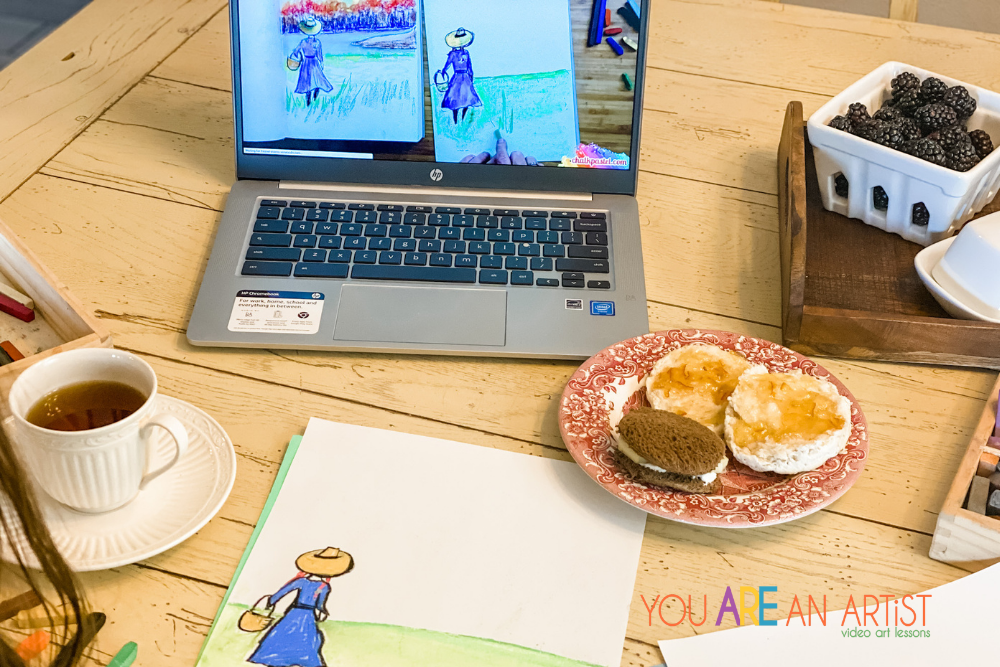 Additional Anne of Green Gables Homeschool Resources for Your Book Study
If you are about to dive into Anne of Green Gables, like us, here are a few resources that might give you some inspiration.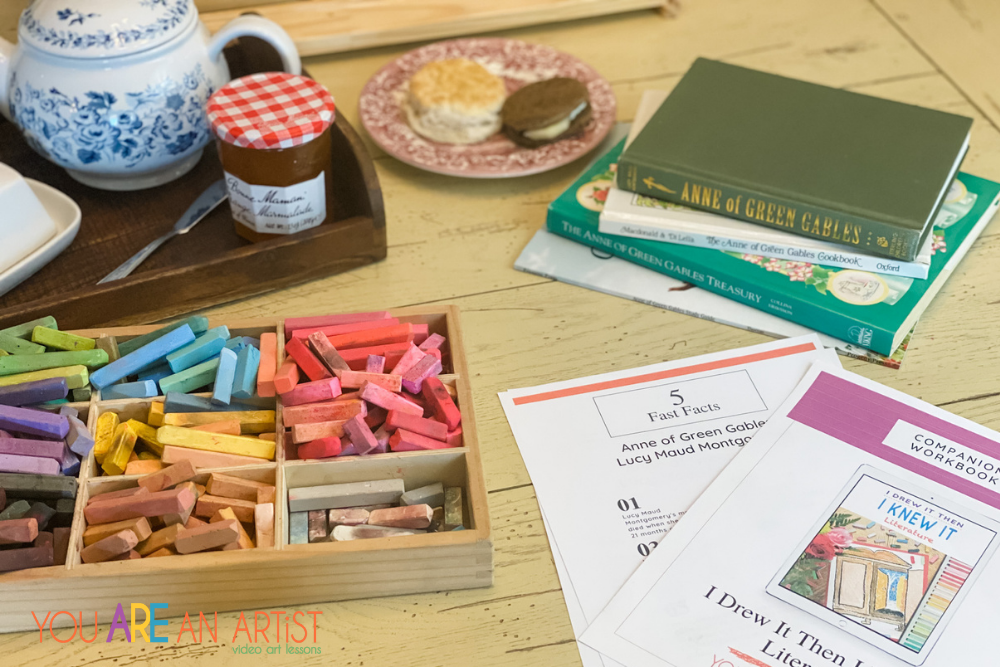 If you didn't know, when you become a complete member here at YOU ARE AN ARTiST, you will get access to Companion Workbooks like this Literature one. The Literature Companion Workbook has five fast facts for Anne of Green Gables, two writing prompts, and a research project idea. We always cover our fast fact sheet aloud during art and tea time. The writing prompts and project ideas we use as we work through the book. The best part, the Companion Workbooks are incredibly versatile, so you can use them for all ages and even combine your children for family-style schooling. They also come complete with extension ideas, planners, and more!
You can add plenty of life skills to your homeschool lessons with these precious books. Of course, you don't need these exact books to enjoy Anne of Green Gables. But, they may give you some ideas and inspiration to amplify tea time, learn new life skills, and read some interesting commentary about the time period. There is even etiquette, sewing, and craft ideas.
The Anne of Green Gables Treasury and The Anne of Green Gables Cookbook are both wonderful resources worth checking out if you want to dive full in.
An Anne of Green Gables study guide might also be of value to you if you want to follow a spine of study and comprehension questions. We plan to use ours for discussion questions, vocabulary, and essay projects. But it also has some great extension activities in the back that are helpful for ideas too.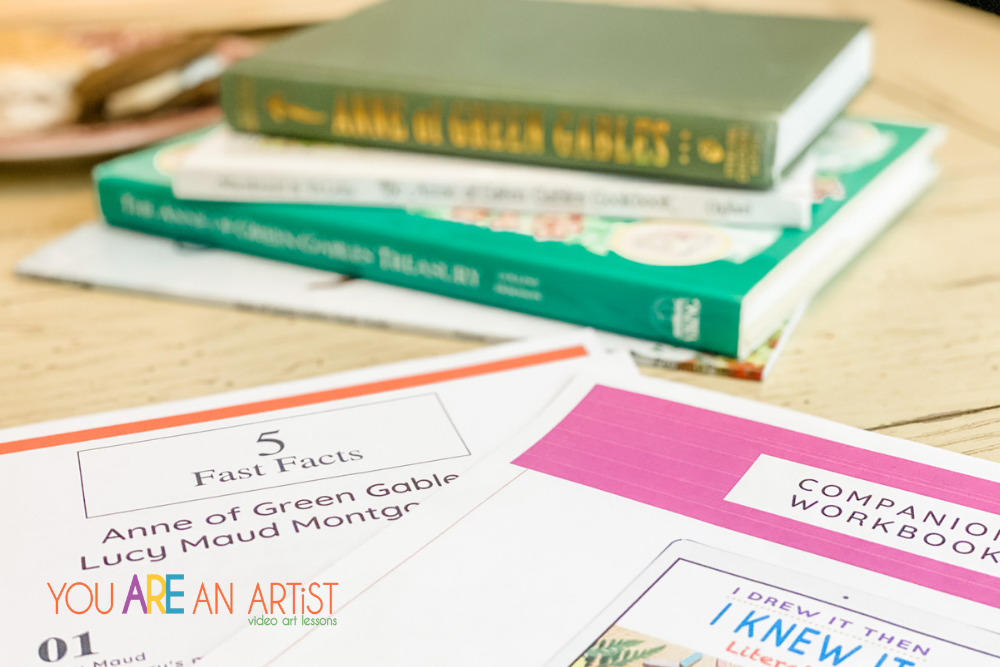 Tea Time Ideas to Blend with Your Art Lessons
We chose traditional tea recipes for our Anne of Green Gable's art lessons and tea time. Tea, cucumber sandwiches, blackberries, and biscuits with orange marmalade are just a few of the items we chose. I think hosting tea, making these traditional recipes, and learning tea etiquette are important life skills for young girls and women. Homemaking is an act of service to others, so character training is another aspect you could combine in all of this rich learning.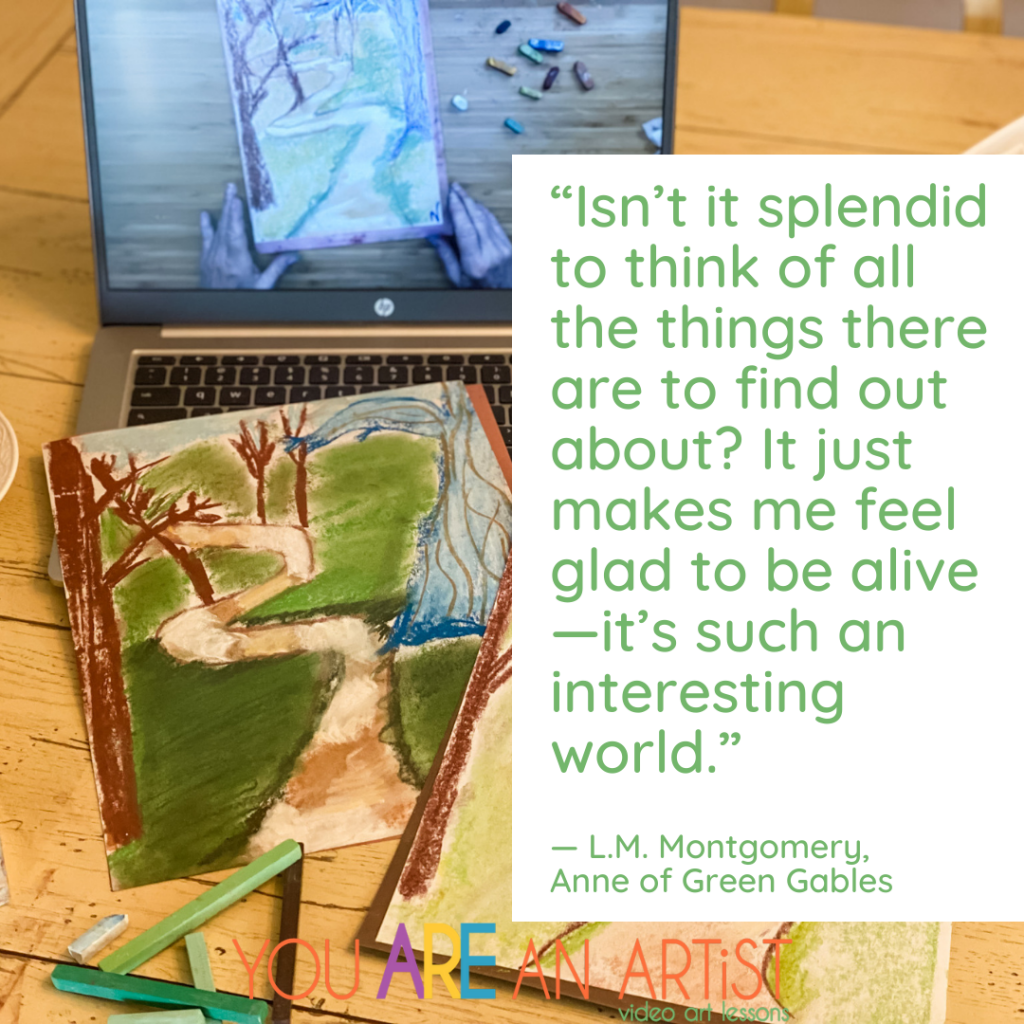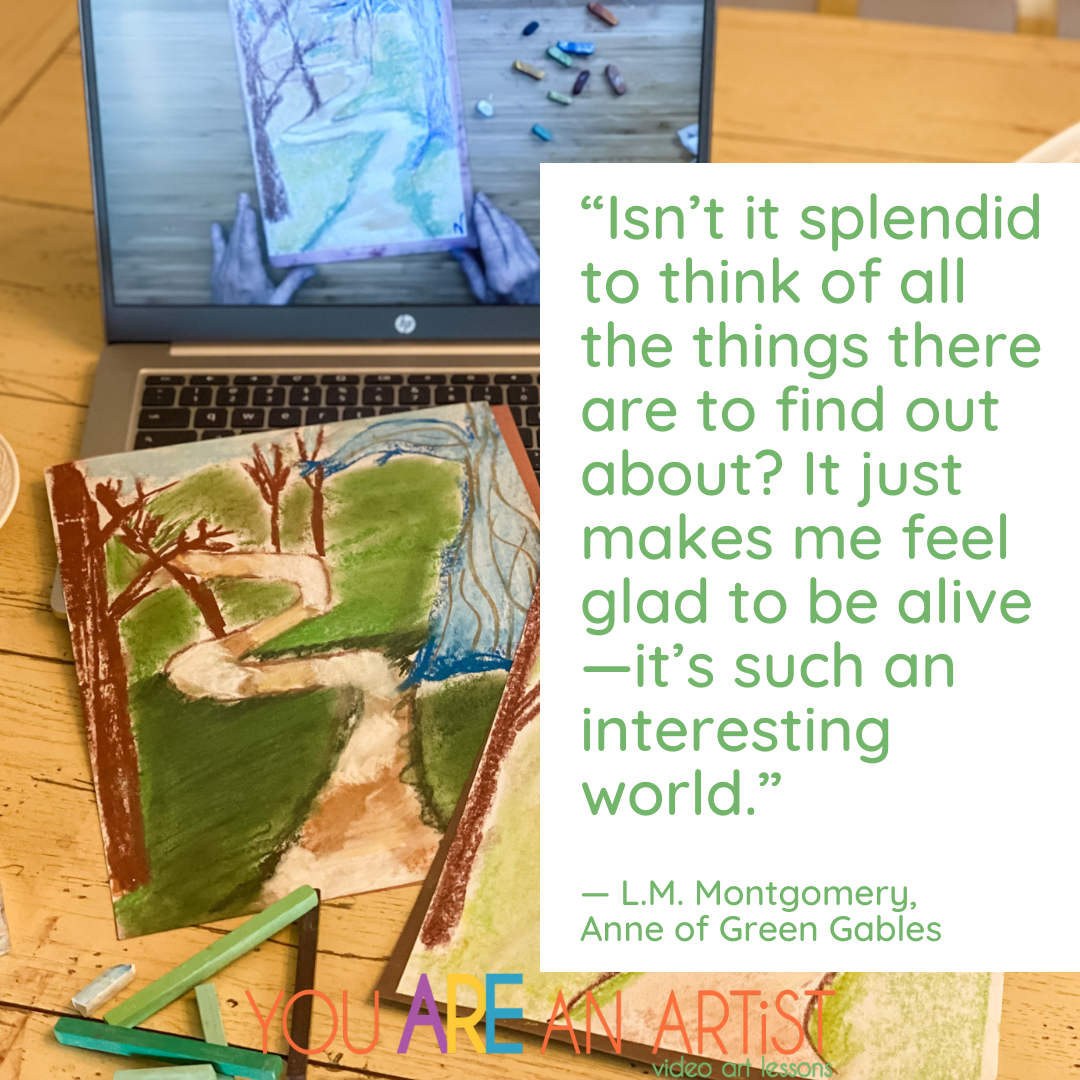 Of course, you don't need to make everything from scratch, but I think cooking and baking add to the fun of it all. Other ideas might include shortbread, chicken salad sandwiches, or a pie – and you can do all store-bought. No pressure. Remember that above all things, have a good time together! The food, art, and atmosphere do not need to be perfect to be enjoyable and memorable.
I hope this gives you some inspiration and ideas to make the most of your art lessons with Nana. Don't forget to grab a membership so you can access all that YOU ARE AN ARTiST has to offer.
Courtney is a Jesus-pursuing, native Texan, homeschool mom of three, and she believes homeschooling can be a peaceful and productive rhythm. At Grace, Grow & Edify she helps families create peaceful homeschooling atmospheres through faith, organizational strategies, and cultivating strong roots at home. She is also the founder of Homeschool Mastery Academy.