Are there any homeschoolers out there that don't hop on the Little House on the Prairie wagon? I mean, seriously, how can you not love Little House? There is something about Lara Ingalls Wilder's Little House series that is easy to obsess over.
The pioneer lifestyle was terribly rough, but she somehow makes it feel desirable, and even a bit idealistic in her books, doesn't she? That simplistic way of life I think we are all secretly yearning for in our modern days. Or wait, maybe just pieces of it! I sure do love running water.
But seriously, if your family hasn't fallen headfirst into a Little House book, we highly recommend it. You will quickly fall in love with the storyline and the family, for that matter.
So with that said, we have some wonderful ideas to help you tie the loveable series into your homeschool. Whether tea time is your thing, or maybe you prefer an entire unit study, and as always, you have to add art, we have a few Little House on the Prairie homeschool ideas to help you plan.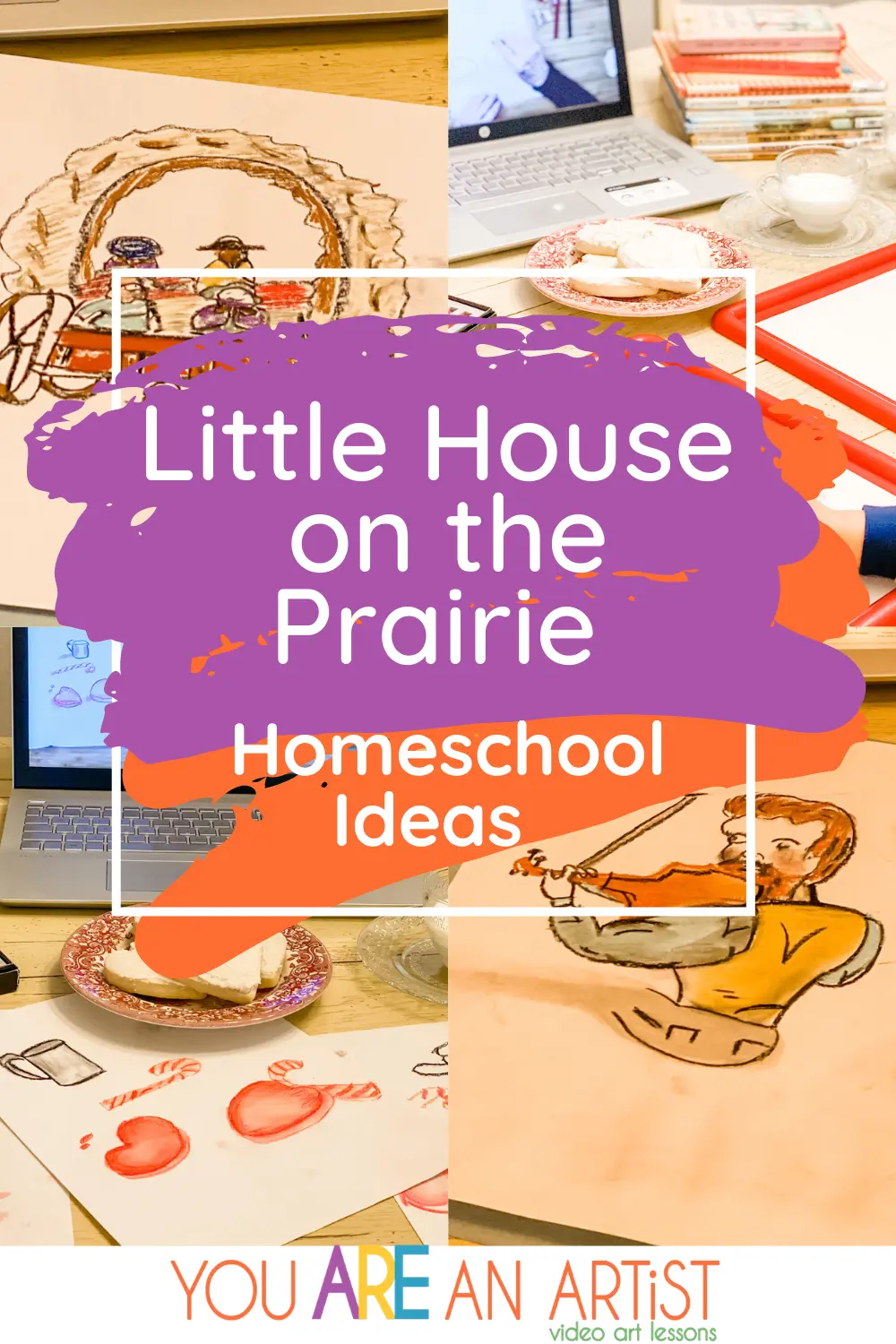 Little House On The Prairie Homeschool Art + Tea Time
When you don't have time for an entire unit study on a subject, tea time is a fantastic alternative. Choose your favorite Little House book and begin reading aloud with your family. It's that easy! Once you have read to your heart's content, you can top it off with a little art.
Kids sure do look forward to reading aloud and learning about pretty much anything when you can incorporate art. Oh, and snacks, of course.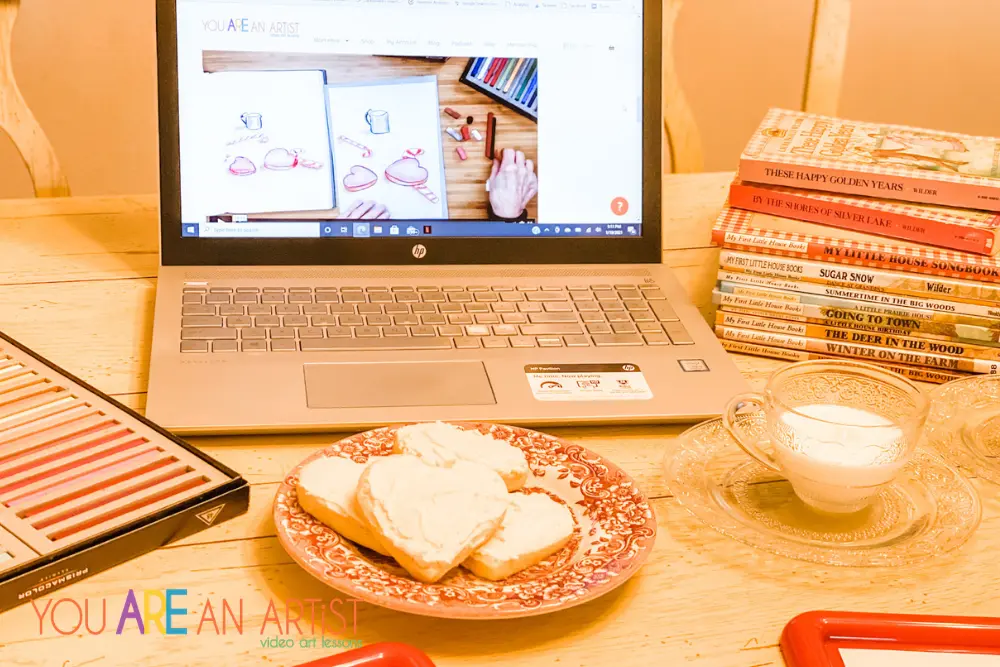 You can pair some heart-shaped sugar cookies and tea or milk with this sweet Little House art tutorial with Nana. We think this one is perfect for a Valentine's Day tea too. You can find it in Nana's Master Classes, it's included in a complete Clubhouse Membership.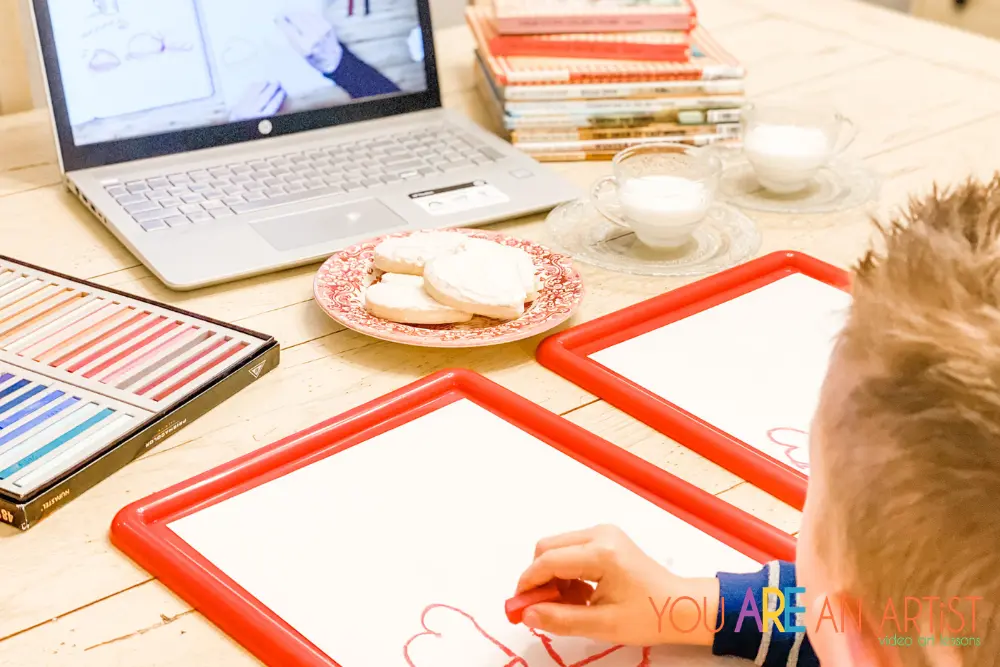 Little House On The Prairie Homeschool Ideas Are Not Just For Girls
I adored going through the Little House series with my oldest years ago, and I wasn't going to skip it just because my youngest two are male. Hopefully, you won't miss it either, just because you have boys in the mix!
There is so much about the Little House on the Prairie series that appeals to boys too! Think pioneers and Indians, farm life, woodworking, nature, cooking, and more. The entire family can enjoy Little House altogether, so it's another book series that is family-friendly and all ages enjoy.
Little House On The Prairie Homeschool Unit Study Ideas
The Little House series is excellent for a unit study because the books are so rich in everything! Faith, science, literature, writing, cooking, history, music, and you can use You ARE An Artist to pull in the art.
Start reading the beginning of the series, if you can. Reading aloud, cuddled on the couch, is a lovely place to be. Or add some hot tea and art lessons, and it is even better!
You can pull together a unit study on your own, or you can also search out resources like The Prairie Primer by Margie Gray. It is a literature-based unit study spine for children ages 8-12 that will save you from planning everything independently.
But, if you like to pull your own resources together, here are some ideas to spark inspiration. Or pick and choose from our Little House on the Prairie Homeschool ideas, that is ok too! The freedom to choose what you study is one of the best parts of homeschooling.
Cooking
One of the most fun and memorable hands-on experiences you can learn from pioneer days is to make your butter at home. This activity your kids will remember forever, and it's easy. Grab some heavy cream and shake it in a mason jar till you have butter. Too much fun! Your kids will love making this and putting it on toast or biscuits.
You can also find The Little House Cookbook online and My Little House Cookbook from My First Little House Books for younger kids if you want more recipes to try at home together.
Nature/Science
Find things as you read through the books your children are curious about and research them together. You can find complimentary videos online, look up topics in encyclopedias, or research online.
For example, my boys are fascinated with maple trees now. We learned that maple syrup is made from the sap of sugar maple, red maple, or black maple trees.
Other ideas might include studying how the weather affected farming, various animal studies, and medicines. You ARE An Artist has a wide variety of nature-based art lessons to choose from too.
Music
One part of our complimentary Little House art also includes the hymn "The Sweet By And By" that Pa Ingalls loved. You can learn the hymn history and then enjoy the art tutorial of Pa playing his violin.
You can even find the My Little House Songbook and sing many of the Ingalls' favorite songs together. If your children play an instrument, you can use the sheet music in the book to play them all!
If you love old hymns, you also get access to an entire hymn study and art tutorials with our I Drew It And I Knew It series in a complete membership to the You ARE an Artist Clubhouse.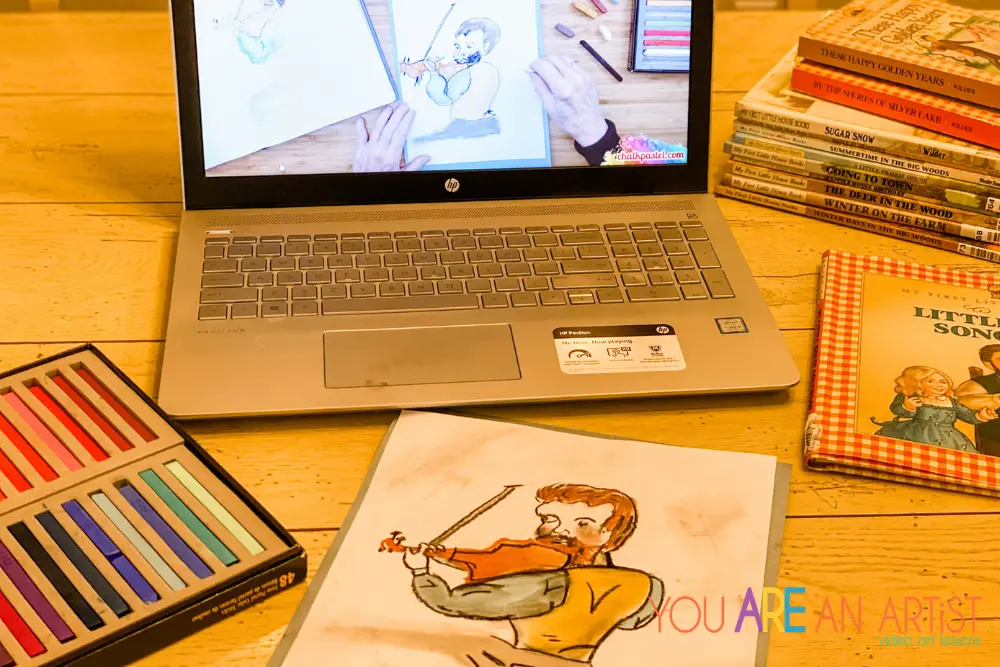 Bible
Faith was a vital part of many pioneer family's days and lives. This is a wonderful opportunity to begin daily Bible readings with your family around the breakfast or dinner table.
Art
We have you covered. Grab your membership to get started today!
Literature
You are covering it by reading the books, but if you want to dive further in or if you have an older student, you can research the life and history of the author, Lara Ingalls Wilder. She has other works to explore and plenty to research about her career as an author.
Writing
Ooooh, the writing ideas! There are too many to mention, but you might want to begin with some fun writing prompts for elementary children. Here are a few to start with.
What would my daily life be like living as a pioneer boy/girl?
What toys would I play with if I lived in pioneer times?
What kind of birthday celebration would I have as a pioneer boy/girl?
You get the idea. Some of these ideas also include a little fun research!
Older students like these types of writing prompts too. They can expand on them. Or give them comprehensive research assignments about; history, nature, time-period relevance, or anything they find curious. Often, the best papers come from a topic that your students are keen on researching.
History
So many rabbit trails, am I right? It is not uncommon for me to count history for the day complete from all the moments we decide to look something up as we are reading.
Besides all of the exciting research topics you can probably already think of, we like to Google things as we read. When you read aloud, and your kids stop to ask, why did they do that? Or what does that mean? Just pause and look it up together, it counts as research and many times pertains to history or the period.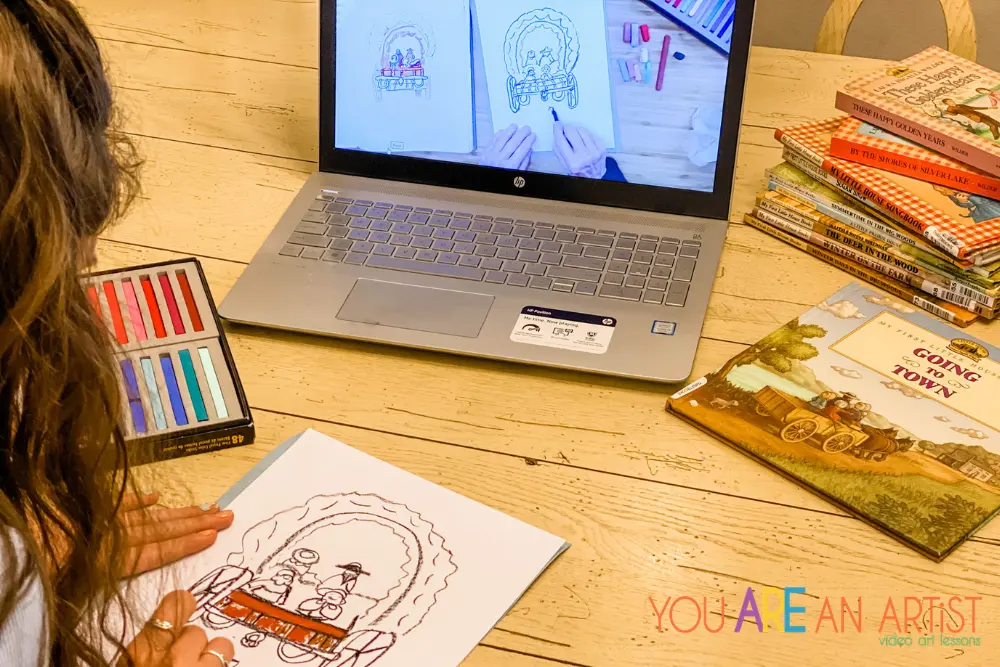 An interesting rabbit trail to follow may be the history of the covered wagon? How long did people use it for transport? What were the other travel alternatives at the time? How hard would a long trip be in a covered wagon? (These also would work for writing and research ideas.)
All work and no play? Nope! Add art to keep your kids engaged and loving these ideas by drawing the covered wagon! Adding art to these studies makes it fun and shows our children that learning CAN be exciting.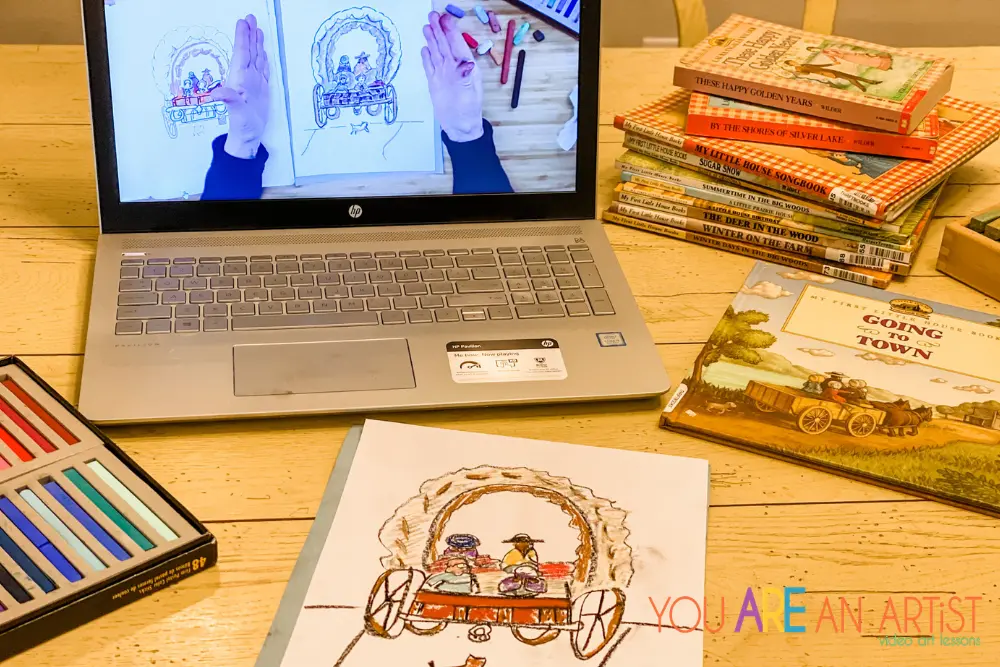 Another interesting idea that would easily pair with Little House history would be President Ulysses S. Grant's study. We have a fantastic resource to help you learn all about the presidents and draw them! A fun fact to research, Ulysses S. Grant was a cousin of the Ingalls family.
Geography
The most fun geography project you can incorporate into your Little House unit studies is mapping The Little House on the Prairie family travels. Your kids will love this one!
This would also be a great time to study the geography and landscape of the American Midwest, American frontier maps, and early settlements.
Little House on the Prairie Homeschool Ideas for Younger Students
As I mentioned above, Little House is family-friendly, and younger siblings are welcome while you read aloud. But, if you want to introduce The Little House on the Prairie to your early learners before diving into the novels, try the My First Little House Books.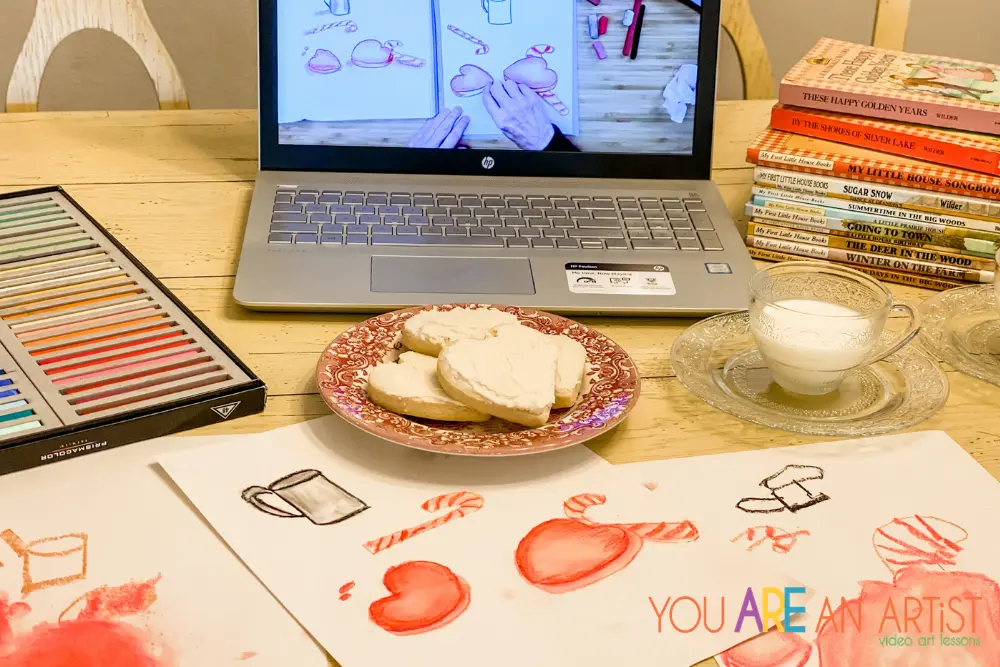 They are snippets of the same loved stories but created for younger children. We adore these books; they are perfect for your preschool and up age range. You might even prefer using the audiobooks for read-aloud time. Do what works for your family!
Some fantastic art lessons to tie in Little House for your littles might be farm animals for preschool, preschool winter art, or preschool spring art. These are age-appropriate for your earliest learners, and they can join in all of the art fun too!
By grabbing a Complete Clubhouse Membership, your whole family can get access to all of the art tutorials I mentioned.
Enjoy making some beautiful memories with your children as you experience the much-beloved Little House series paired with our art tutorials!
Courtney is a Jesus-pursuing, native Texan, homeschool mom of three, and she believes homeschooling can be a peaceful and productive rhythm. At Grace, Grow & Edify she helps families create peaceful homeschooling atmospheres through faith, organizational strategies, and cultivating strong roots at home. She is also the founder of Homeschool Mastery Academy.