Here you will find everything you need for a famous artist Eric Carle homeschool study. "Eric Carle is acclaimed and beloved as the creator of brilliantly illustrated and designed picture books children. His best known book, The Very Hungry Caterpillar, has eaten it's way into the hearts of millions of children all over the world and has been translated into 66 languages and sold over 50 million copies. Since The Very Hungry Caterpillar was was published in 1969, Eric Carle has illustrated more than 70 books. This includes many best sellers which he wrote. More than 152 million copies of his books have sold around the world!" – Nana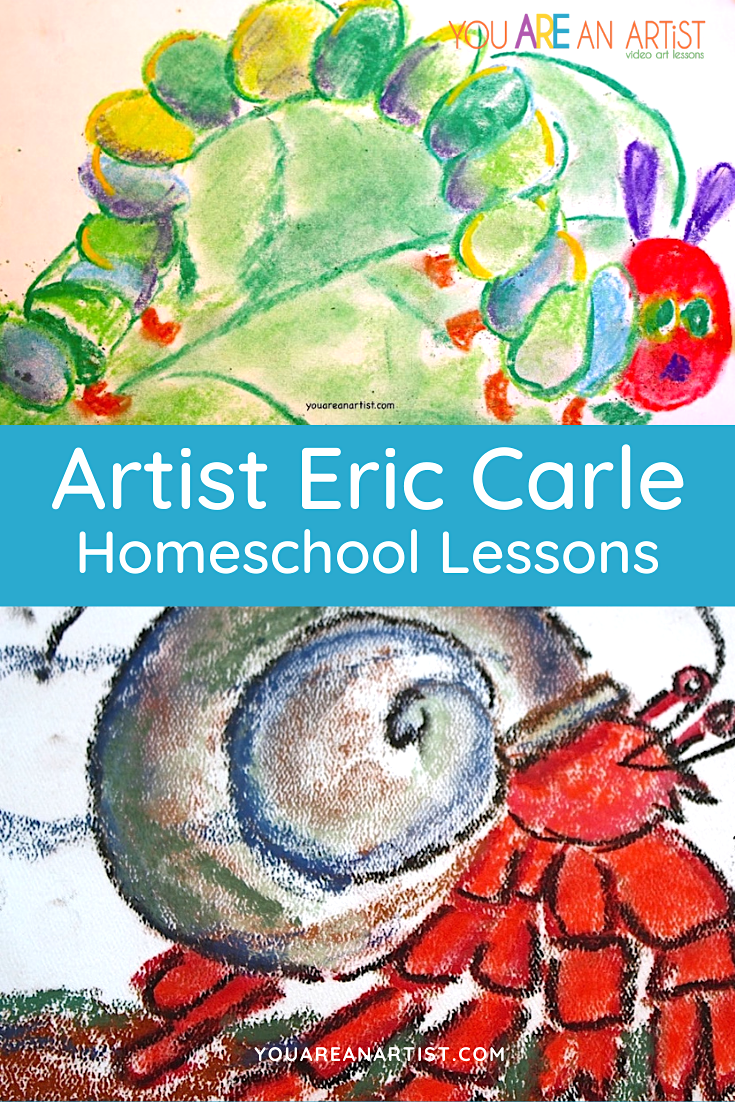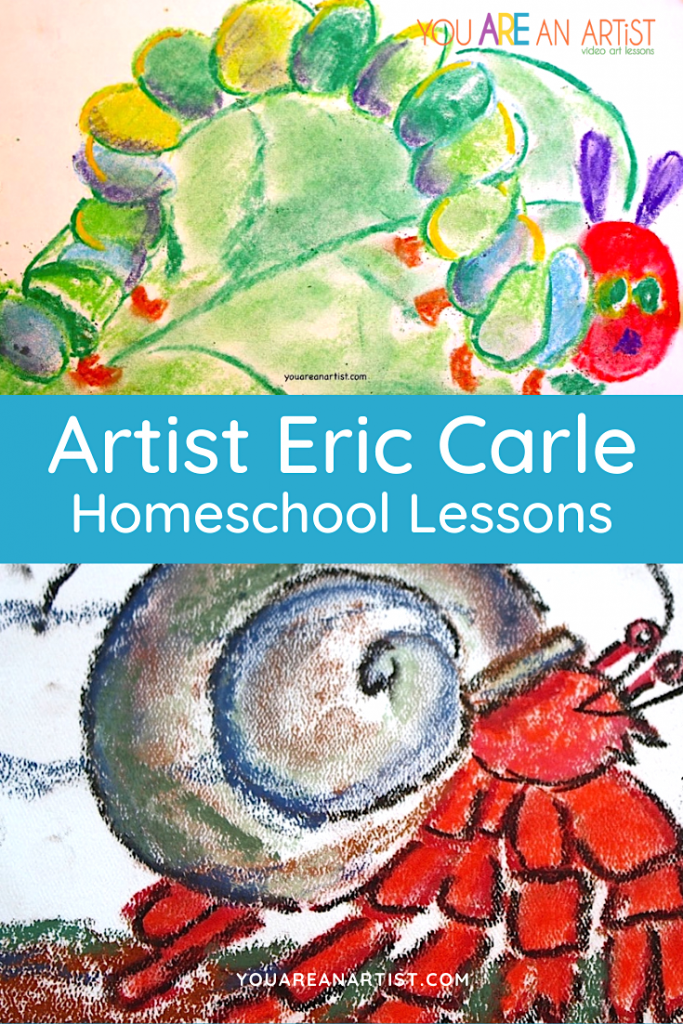 "And the child in me was joyfully coming to life."

Eric Carle
Listen to Nana's Artist Eric Carle Homeschool Study
Read Nana's Famous Artist Eric Carle Podcast TRANSCRIPT HERE.
An Overview of Our Eric Carle Homeschool Study
1:29 The Very Hungry Caterpillar
2:20 Eric Carle's early life and WWII
4:30 The influence of Pablo Picasso, Henri Matisse and modern painters
5:25 Advertising career
5:40 Brown Bear, Brown Bear, What Do You See?
6:34 The hidden story of The Very Hungry Caterpillar
7:20 The thousands of letters Eric Carle received from children
Listen to Nana's Artist Eric Carle Podcast on YouTube
"The child I am helping might just be me."

Eric Carle, about responding to children's letters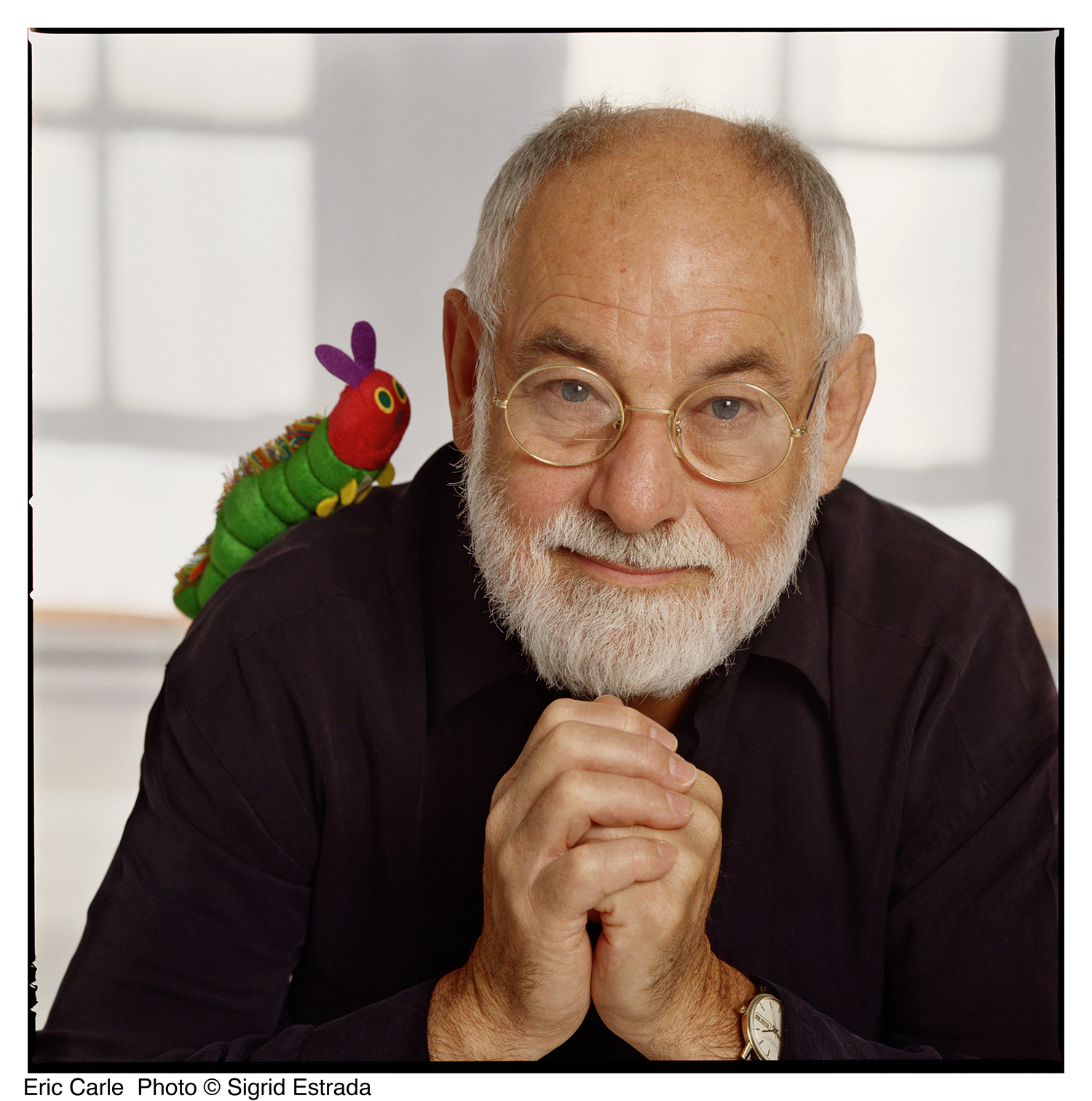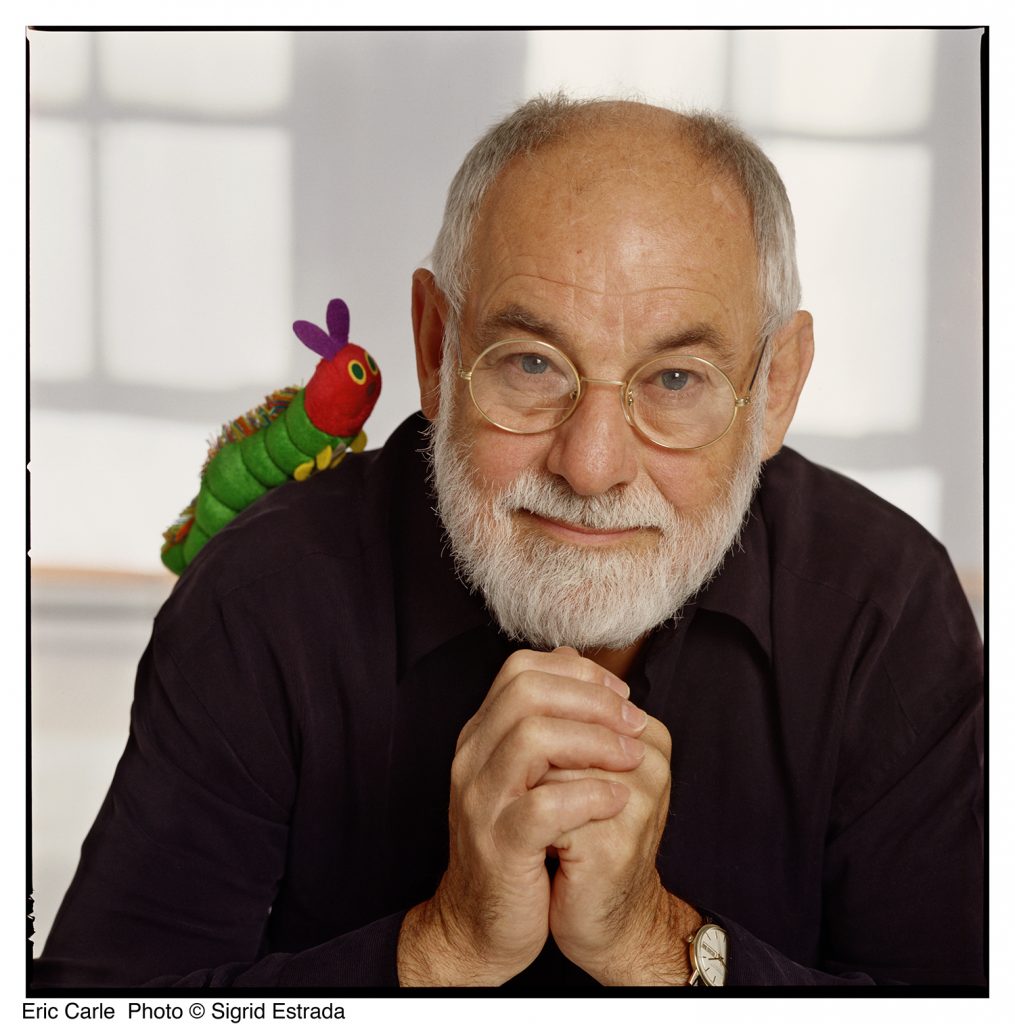 Homeschool Study of Artist Eric Carle
Who Was Eric Carle?
When you think of Eric Carle, you may first think of him as an author, but he was an incredible artist. He wrote and illustrated over 70 children's books. Carle was born in New York (June 25, 1929) but moved to Germany as a young child. While in Germany, he attended a prestigious art school and thus began his career in art and design. He moved back to New York as an adult and began working in graphic design and advertising.
I knew even as a child that, when I grew up, I would be an artist of some kind.

-Eric Carle
It was not until 1967 that he published his first book, Brown Bear, Brown Bear, which he did in collaboration with Bill Martin Jr. In 1968, he wrote and illustrated 1, 2, 3 to the Zoo. He quickly followed that with his most famous book, The Very Hungry Caterpillar.
In addition to his many books, he created The Eric Carle Museum of Picture Book Art to showcase national and international picture book art. Other museums also have exhibits dedicated to Eric Carle's illustrations.
In May of 2021, Eric Carle died and left behind two grown children and a legacy in books and art that children worldwide will love for many years to come.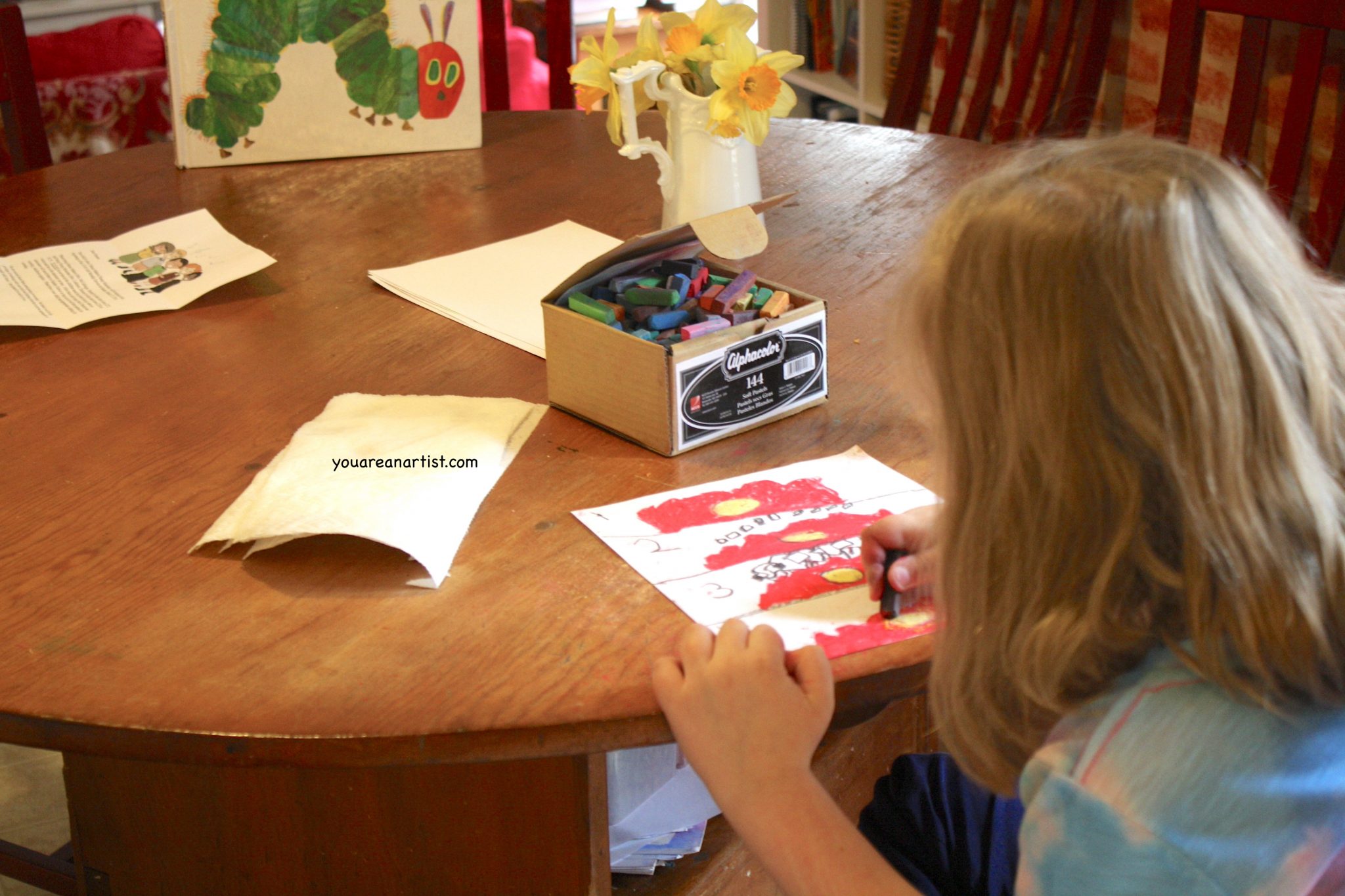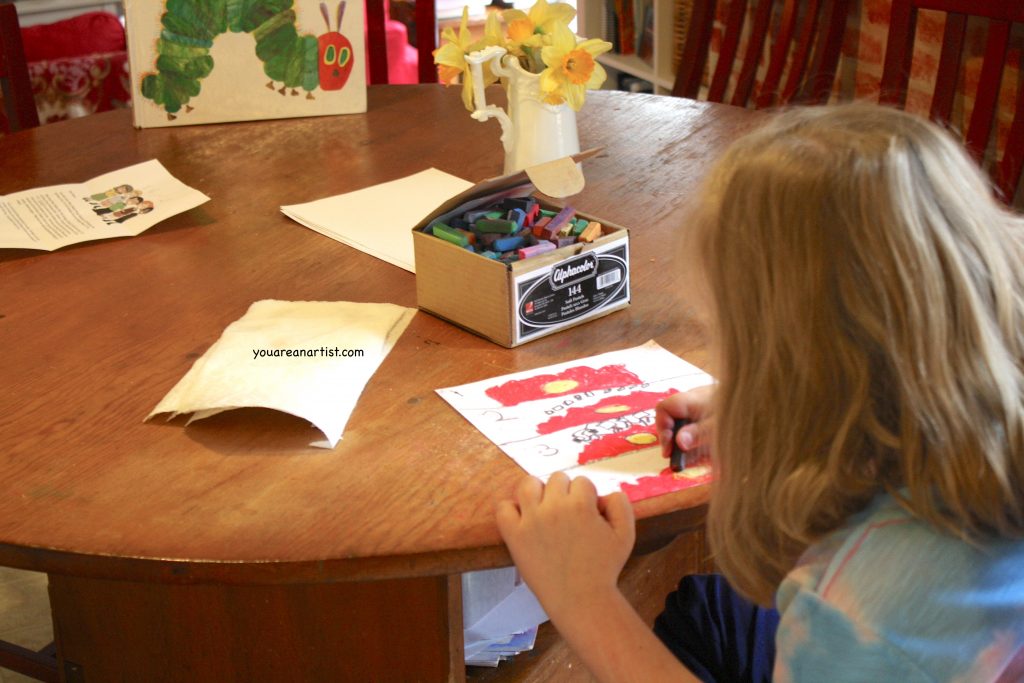 Eric Carle's Books and Art Work
The Very Hungry Caterpillar is his most famous book, but my son loved "Slowly, Slowly, Slowly," said the Sloth so much that we both had all the words memorized. We own over a dozen Eric Carle books and have borrowed others from the library.
Eric Carle's books are well known and loved by children and adults alike. They tell fun and silly stories with stunning illustrations.
Many of them are also educational and teach numbers, shapes, letters, or other early concepts.
"When I was a small boy, my father would take me on walks across meadows and through woods… in my books, I honor my father by writing about small living things."

-Eric Carle
Eric Carle mainly wrote for younger children, but he wrote a book of short stories about his own life: Flora and Tiger, for older children.
I try to express the essence of my stories and ideals very clearly, using simple shapes.

-Eric Carle
Carle had an engaging style for his illustrations. He loved rich colors and created all of his images using collages. He would paint the colors onto large sheets of paper and then hand cut the pieces to put together to create the illustrations.
This unique style makes his illustrations easy to identify and gives the pictures a fun, playful style.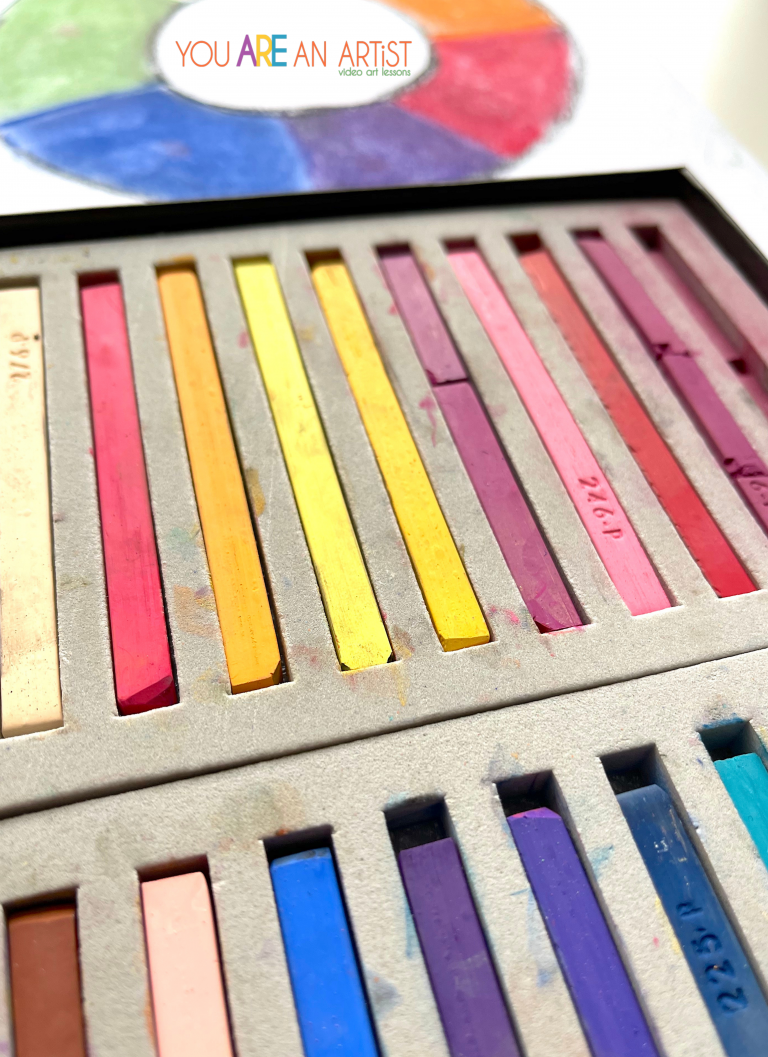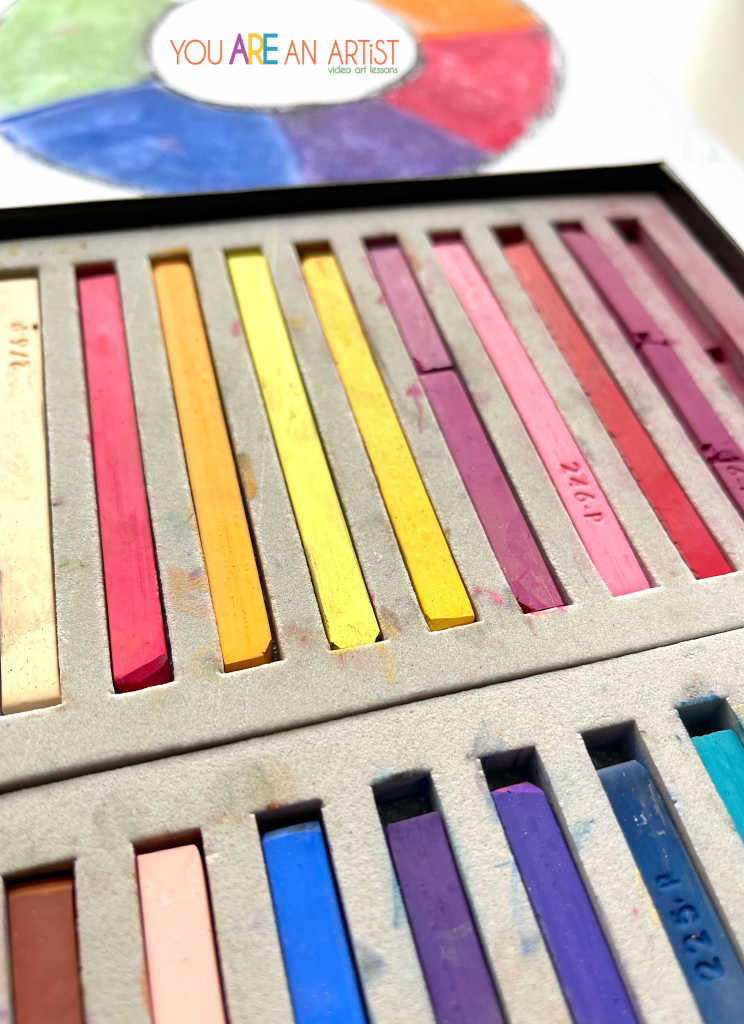 Eric Carle Homeschool Art Lessons
There are so many delightful ways to include art lessons in your homeschool study of artist Eric Carle. Children tend to love his passion for color and his fun animals.
Color Wheel Homeschool Art Lesson in the Style of Eric Carle
First, Eric Carle has a book titled, Hello, Red Fox. This book helps students learn about and understand the color wheel and complementary colors. It would be an excellent book to pair with Nana's Color Wheel lesson that honor's Eric Carle. (This lesson would be easy enough for younger students and still teach older students a lot about colors.)
Second, what better way to combine artist study, literature, and art than to do projects based on the main concepts in some of Carle's most beloved picture books.
For example, you could read A House for Hermit Crab and then try this fun Hermit Crab lesson.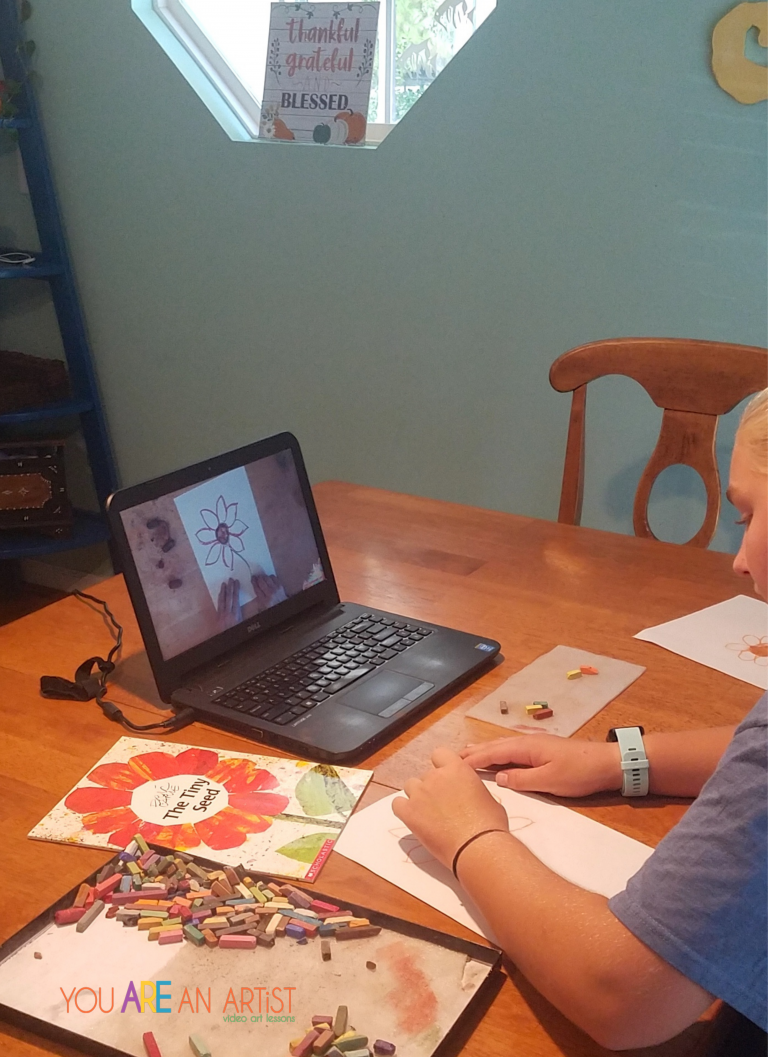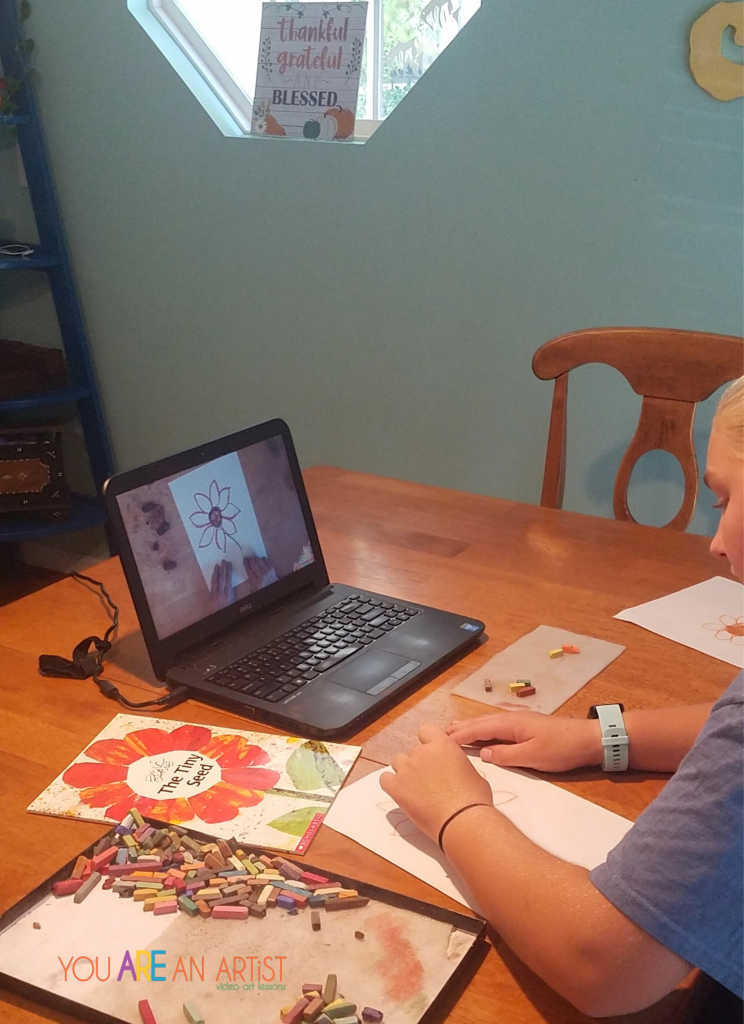 There are many other great pairings from the You Are an Artist Membership courses. You could pick your favorite or do a whole series, including:
Eric Carle Book
Chalk Pastel Art Lesson
The Very Hungry Caterpillar
Caterpillar and Butterfly
The Very Lonely Firefly
Jar of Fireflies or Firefly Lesson
Papa, Please Get the Moon for Me
Moon
The Tiny Seed
Any of Nana's Flower Lessons
The Grouchy Ladybug
Ladybug
Brown Bear, Brown Bear

The Very Busy Spider
Bear

Spider, Spider Web, Charlotte's Web

For more great ideas (including the ever-popular Very Hungry Caterpillar), check out Celebrating The Art of Eric Carle.
For older students, you could even have them try their hand at writing their own short picture books complete with illustrations. They could use the chalk pastel lessons and Eric Carle illustrations as inspiration to help them get started.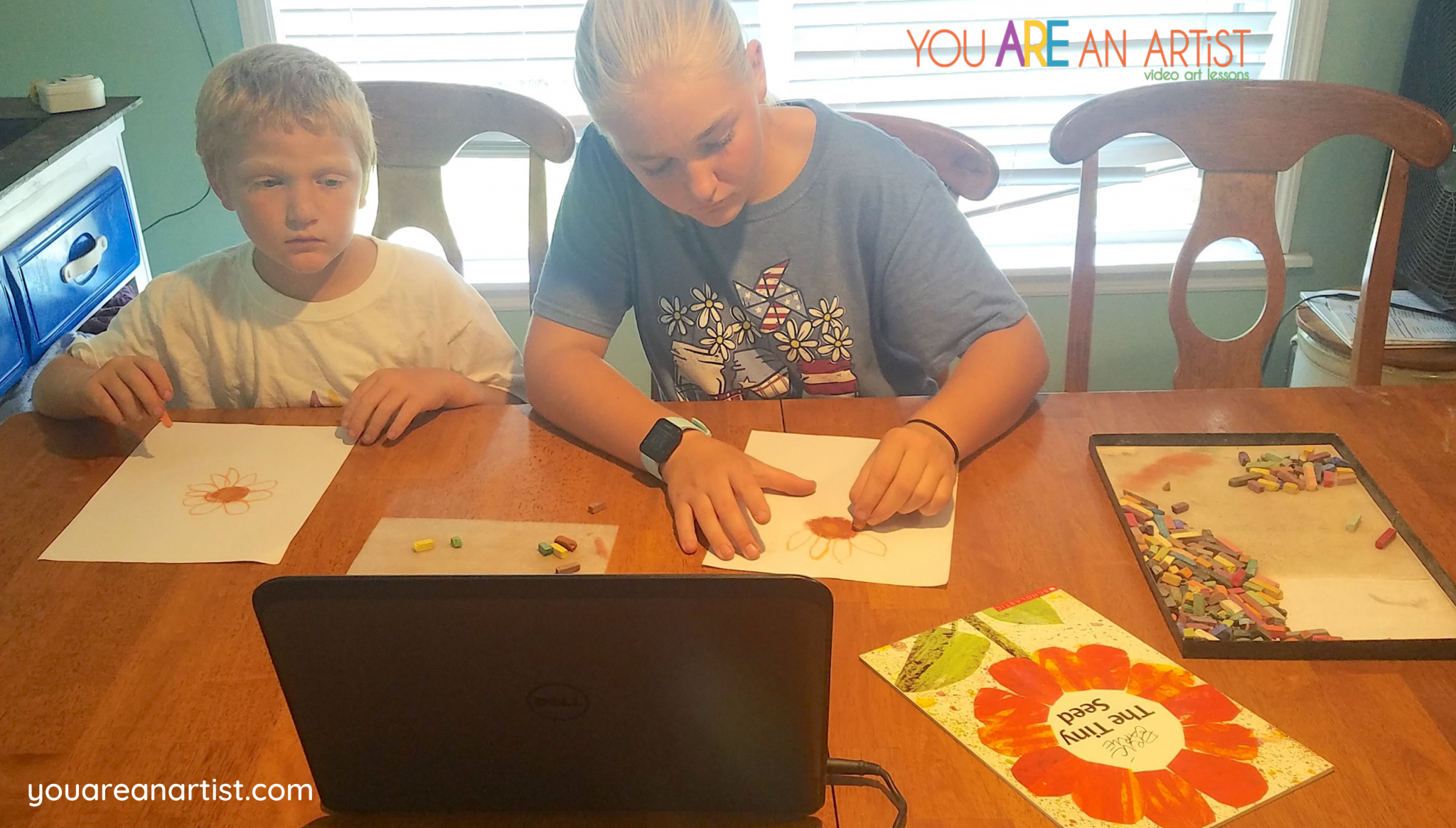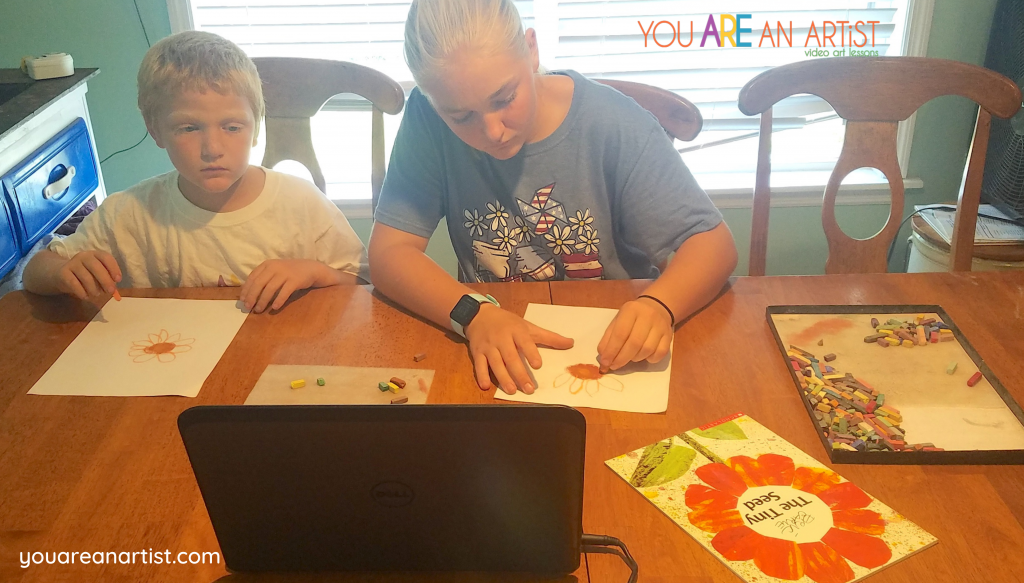 Additional Eric Carle Resources
You can visit the Eric Carle website to find out more about his life, see a list of all of his books, and read fascinating answers to some of his more frequently asked questions. There are also some free downloadable games and activities to go along with many of his books.
Another great resource is the thirty-minute video, Eric Carle, Picture Writer. Our family was able to watch the video for free using Hoopla. (Hoopla is a free service offered through many public libraries that allows you to borrow digital materials.)
Additional Resources for Studying Famous Artists in Your Homeschool
Nana's Eric Carle lesson is a part of our Famous Artists Series. We offer 47 famous artists video lessons for your homeschool including:
Vermeer
Michelangelo
da Vinci
Warhol
Monet
Rockwell
Rembrandt
Lichtenstein
Audubon
Beatrix Potter
… and a new one added about once a month!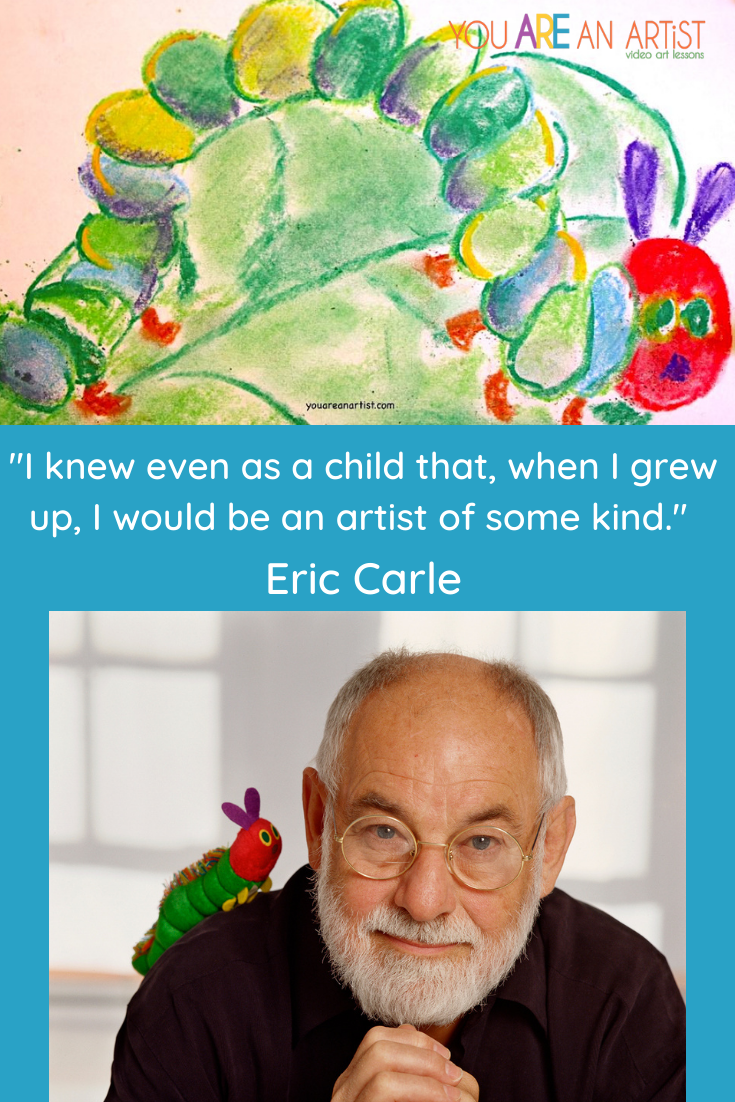 The Famous Artists series is exclusive to the You ARE an Artist Complete Clubhouse.
And be sure to join Nana in our FREE You ARE an Artist Facebook group and our community on Instagram and all the social media as well.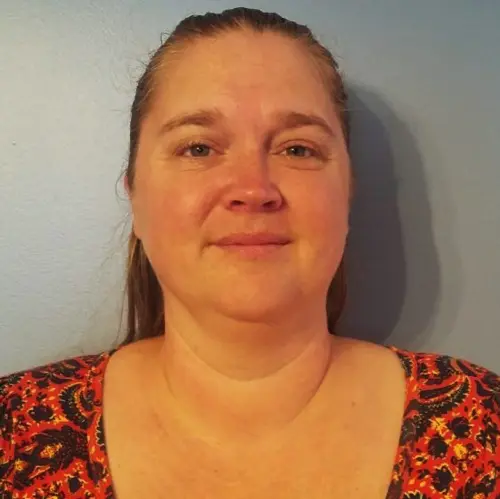 Dawn is a passionate follower of Jesus, wife to Chris, and homeschool mom of four. In her spare time she loves to read, hike, and write on her blog Schoolin' Swag. She enjoys reviewing curriculum and helping moms find the right fit for their family.