Delight in a bears art and book study for your homeschool! This is a beautiful combination of art, nature study, and living books to grow a gentle learning adventure about the world around us.
Bears Art and Book Study For Your Homeschool
" 'I would like to see a bear, said Jonathan. 'I would rather see a bear than anything in the world."'

The Bears on Hemlock Mountain, Alice Dalgliesh
Studying Bears
Bears! Brown bears…black bears…..polar bears… For our bears art and book study, we asked: why are these mammals so intriguing to the flourishing minds of children? Is it the way a momma bear dressed in ruffled fur, proudly saunters out of her den, revealing her two secrets to the awakened forest? Perhaps it's the way their swift paws quickly catch a shimmering fish as the rippling waters sing a vibrant melody. Or maybe it's the creatures' dignified stature combined with powerful strength that leaves a child in endless wonder. Whatever the case may be, these majestic animals brought a "beary" delightful experience to our homeschool.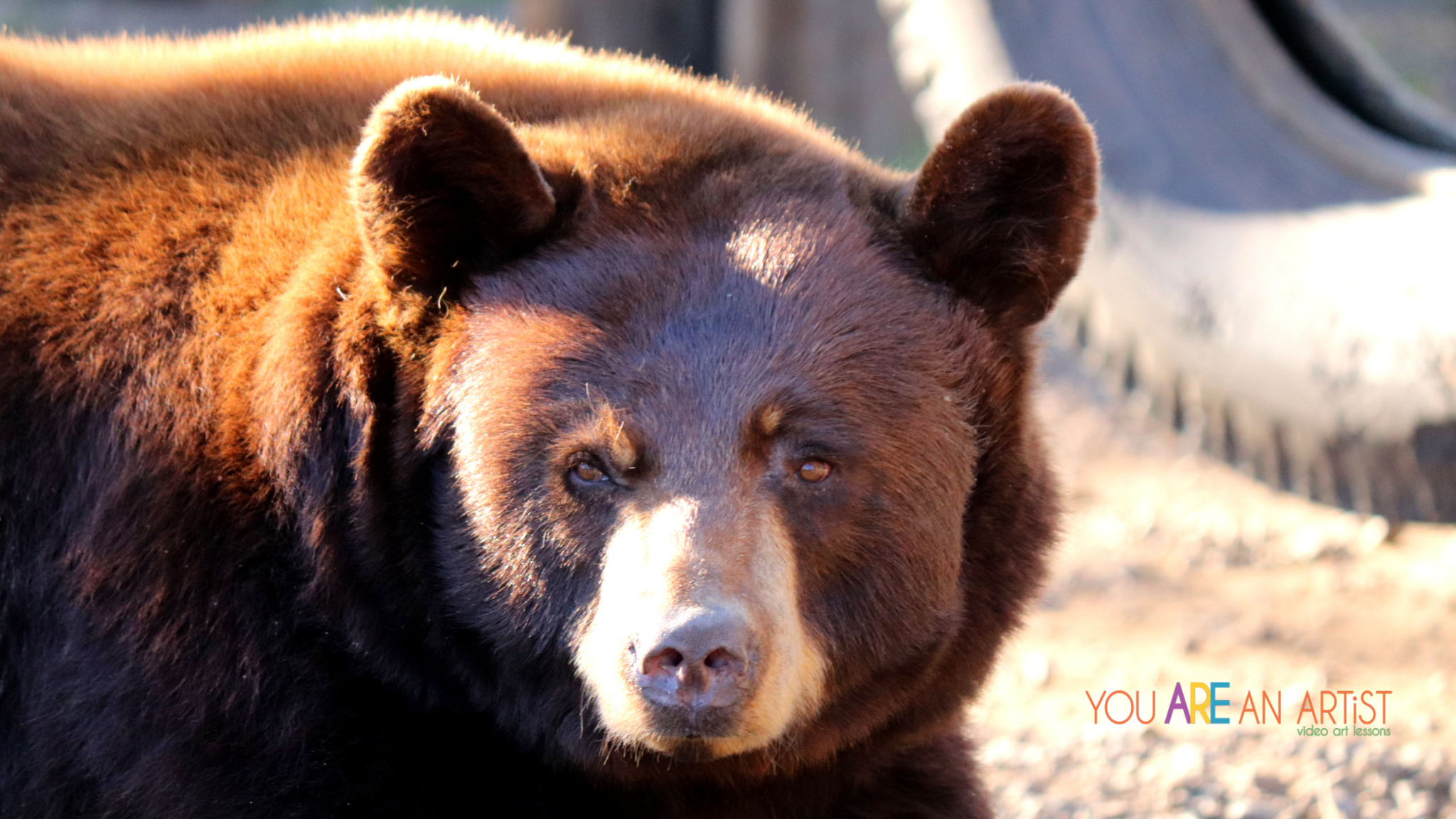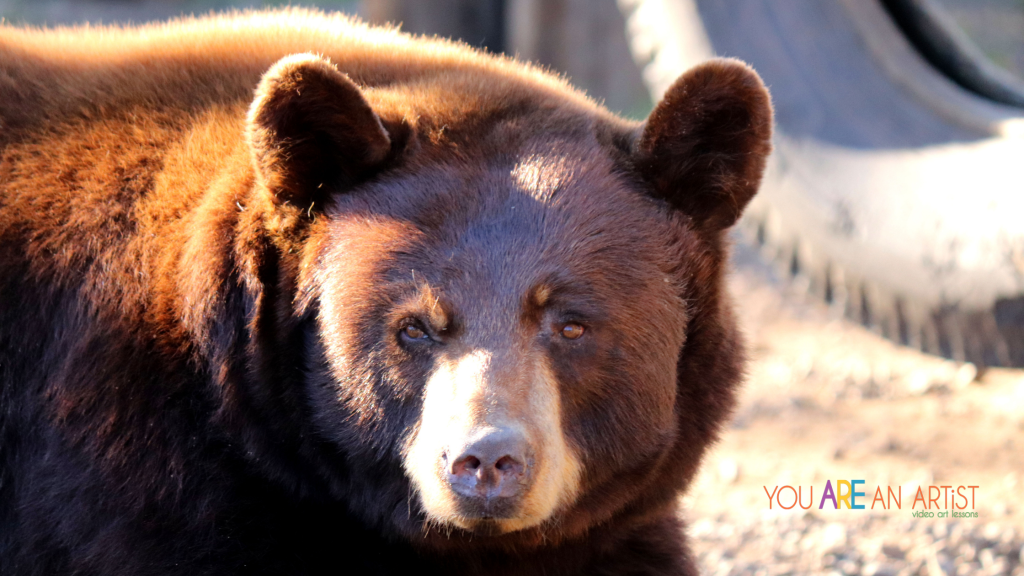 Animal studies in our homeschool began with my oldest son and daughter's high interest in the natural world around them. Hours of continuous exploring outdoors led to gathering green tree frogs, wriggly worms, slimy snails, and carnivorous praying mantises. With proud expressions and smiles, one by one, each child brought a little critter to my attention. They squealed with such delight as they witnessed my squeamish reactions. As this interest led learning grew like wild blackberry vines; critter habitats, many insect anatomy drawings, and animal studies collectively came to fruition.
I found myself setting aside my rushed homeschool plans. I witnessed the beauty of learning right alongside my children. While I watched my children delight in animal studies, a beautiful combination of fine art, creative writing, and living books began to flourish in our homeschool, causing wholesome roots to grow in many of Ms. Charlotte Mason's ideals of education.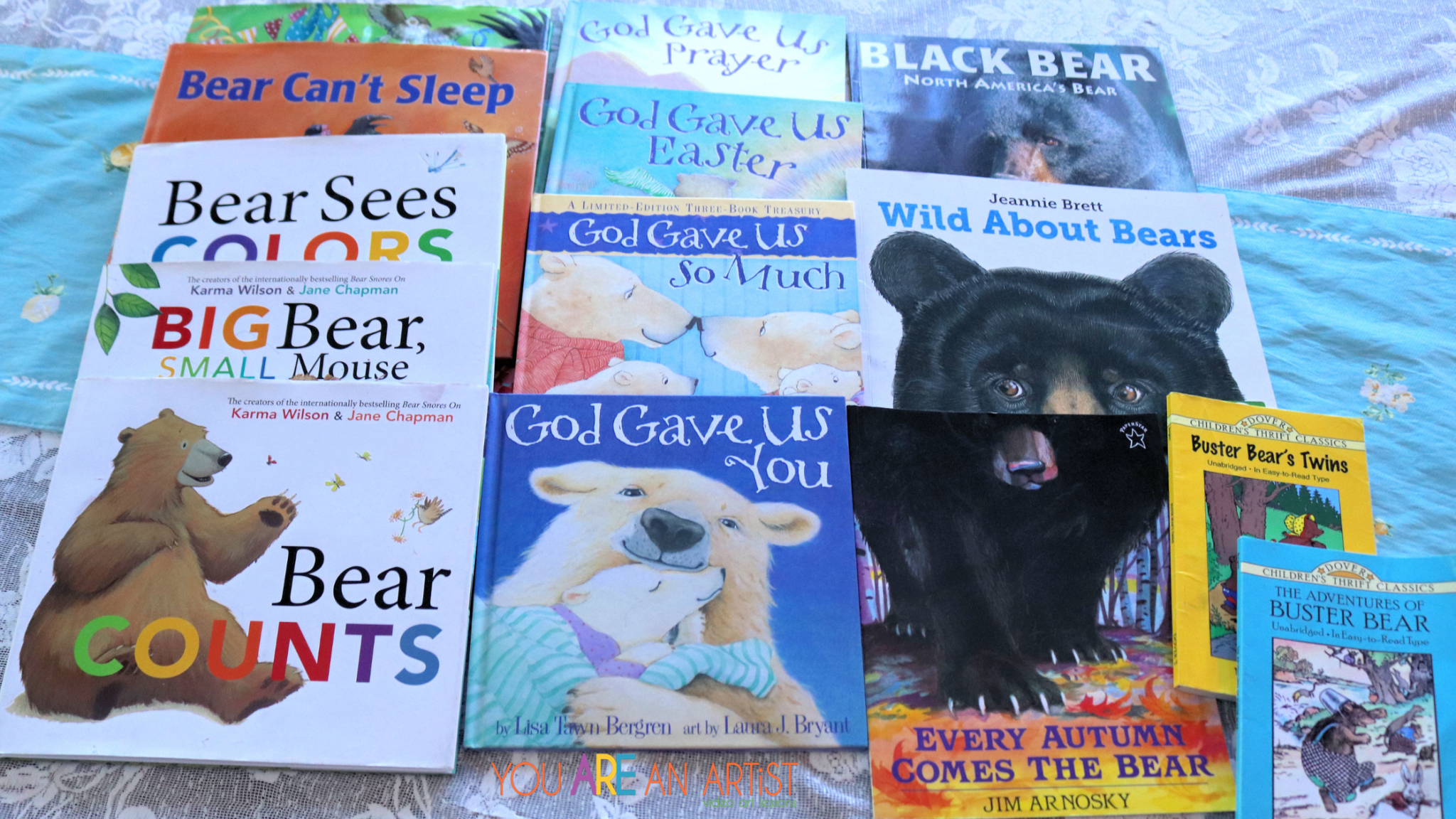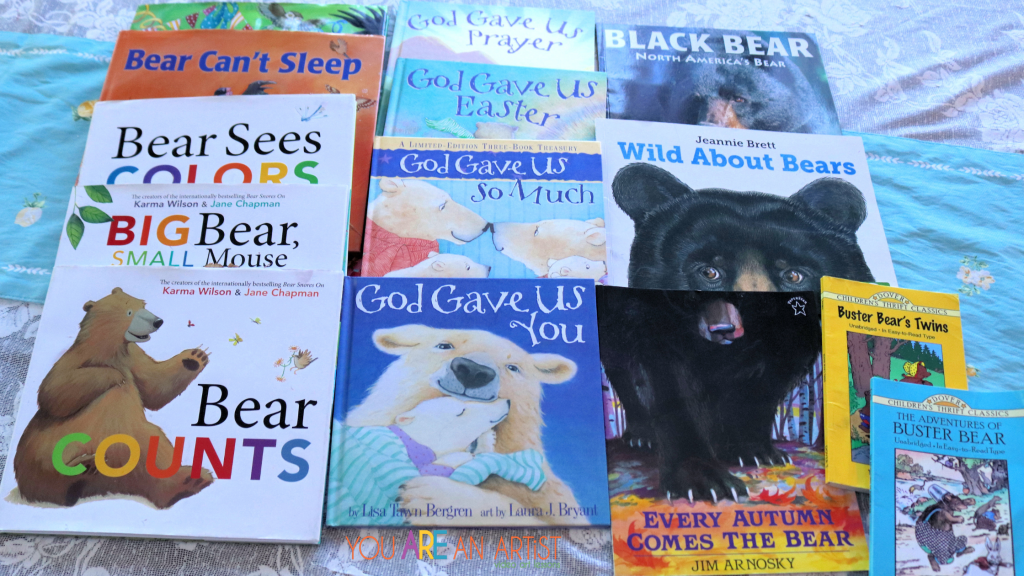 Our Favorite Books About Bears for Your Homeschool Bear Study
Animal books by Thornton Burgess are a sure favorite in our homeschool. Whether its for a bedtime read loud or used for oral narration, Burgess books have a way of blending facts about creatures into a story that brings delight to my children. Here are two of our favorite bear books by this remarkable author: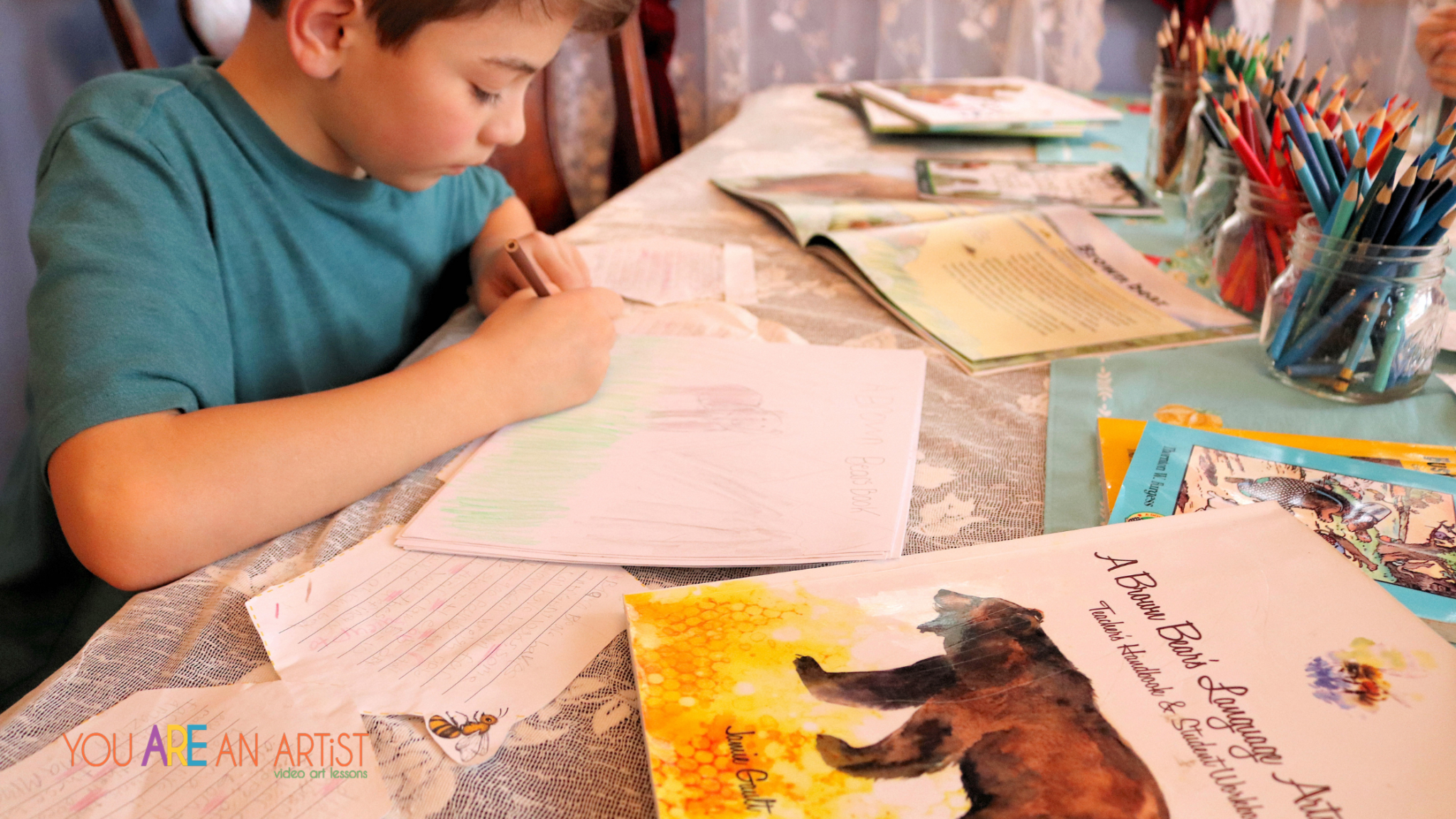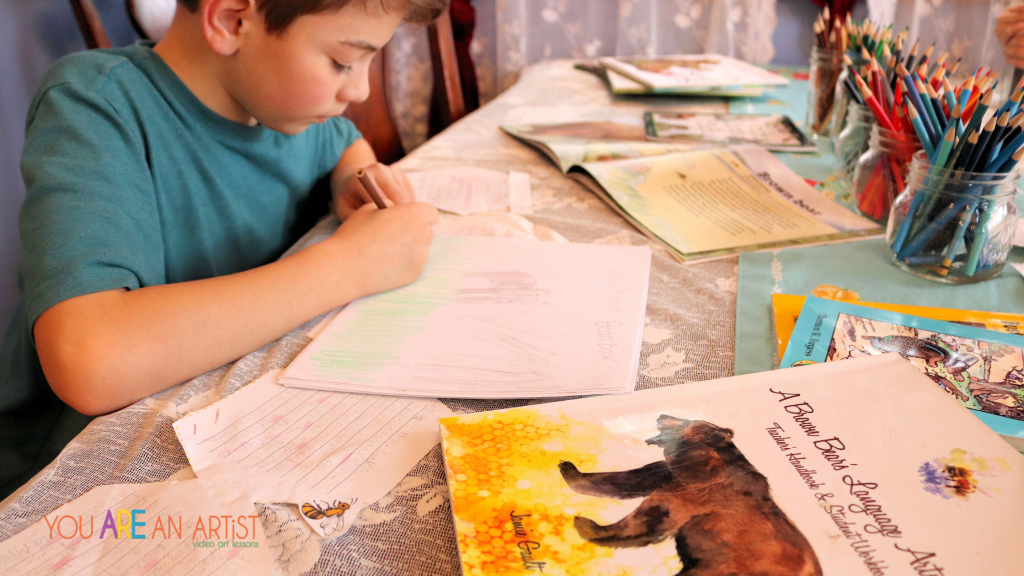 The Adventures of Buster Bear – Farmer Brown's boy suspects that a bear is in the forest. His dad is sure that bears are only found in the Great Woods. But there IS a bear in the Green Forest! Join Buster and his friends as they embark on whimsical adventures in the Green Forest. Find out what makes Farmer Brown boy's hair rise and see what happens when Buster comes face to face with a boy while "berry-ing"! For a character study, we painted some of Buster's favorite foods and his habitat. Interested in a character response journal?
You ARE an ARTiST Clubhouse members enjoy a printable that complements The Adventures of Buster Bear. In it are suggestions on how to create a Character Response Journal and a space to for your writer to record their responses. (This Character Response Journal is available to You ARE an ARTiST Clubhouse members!)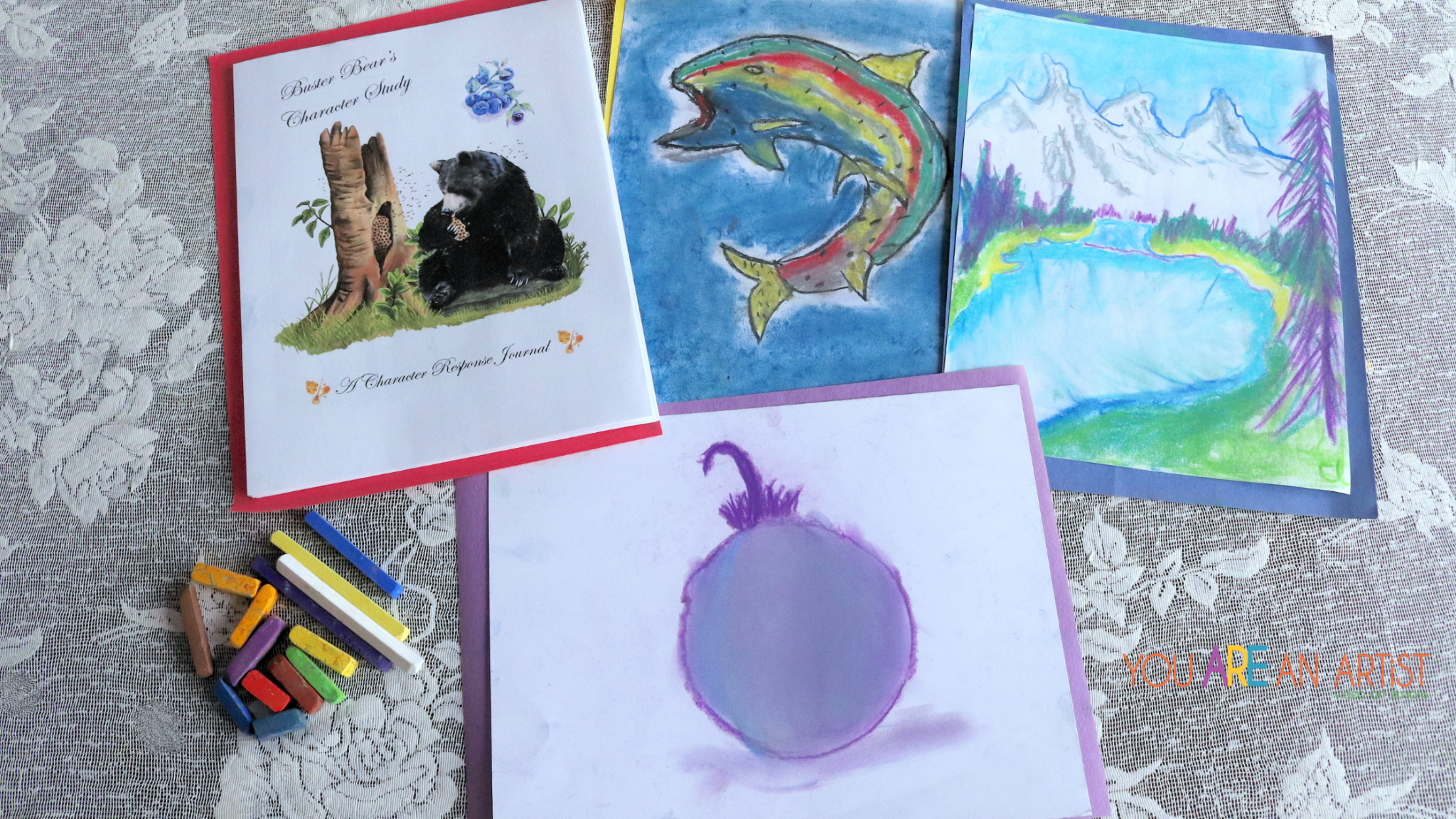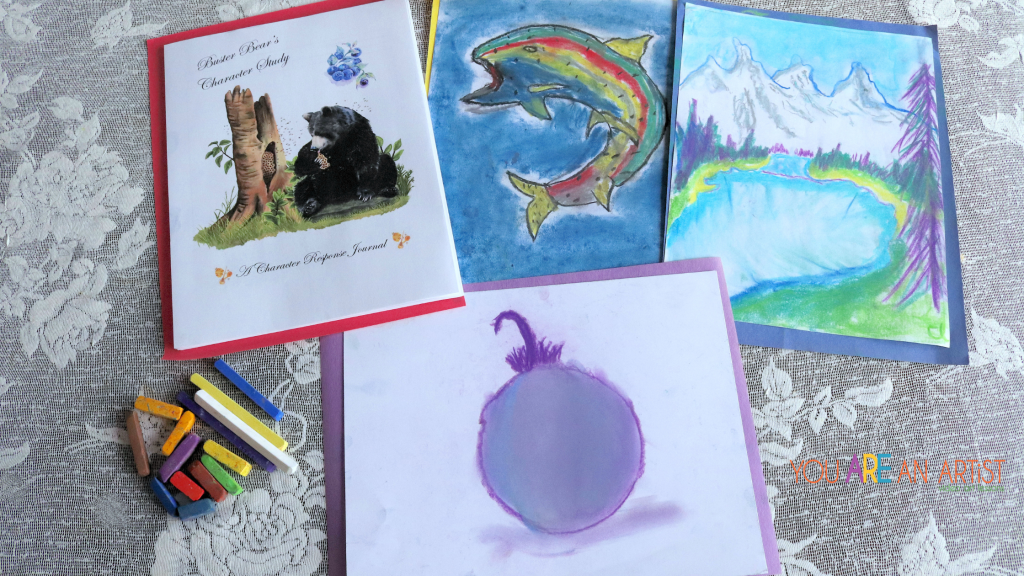 Buster Bear's Twins – Buster Bear has twins? Well, yes he does! Mother Bear kept a secret hidden in her den for a very long time. But one day, while spring made its sweet entrance, Peter Rabbit spotted two heads emerge from Mrs. Bear's home! Boxer and Woof-Woof sure have a lot of learning to do in the big Green Forest! Join Mother Bear as she teaches her furry cubs a few life lessons that will make you laugh.
"There are no bears on Hemlock Mountain
No bears at all
Of course there are no bears on Hemlock Mountain
No bears, no bears, no bears at all" 
The Bears on Hemlock Mountain by Alice Dalgliesh
The Bears on Hemlock Mountain by Alice Dalgliesh – Are there really bears on Hemlock Mountain? Jonathan's mother is preparing for the entire family to visit. Jonathan is sent over the hill (Hemlock Mountain) to his aunt's house to borrow a big iron pot. On his way home, Jonathan discovers whether or not bears live on Hemlock Mountain. Find out how the big iron pot kept him safe!
When we study animals, we like to combine fiction and nonfiction books together. Here are a few nonfiction picture books that work well for a bear study.
Wild About Bears by Jeannie Brett – This wonderful picture book covers the eight bear species: giant panda, sloth bear, North American black bear, polar bear, brown bear, sun bear, spectacled bear, and Asiatic black bear. Stunning illustrations accompany each bear description along with the scientific name, common names, and size. A map of the world shows where each bear species live and a habitat glossary with colorful illustrations can be found at the back of the book.
Black Bear North America's Bear by Stephen R. Swinburne – A thought-provoking nonfiction read with real-life photos in black and white and color. Filled with fascinating black bear facts and a little bit of bear history at Yellowstone Park. Reading about the black bear cubs and the bear signs we can look for in the forest was an absolute favorite!
Our Favorite Brown Bear Picture Books for Homeschool
Karma Wilson's beloved bear books will forever leave an imprint on my heart! I began reading Bear Wants More, Bear Snores On, Bear Says Thanks, Bear Feels Scared, and Bear Feels Sick to my oldest son when he was two years old. I used these books to teach my nonverbal child (at that time) how to sign "more", "thank you", "want", "bear", "scared", and "sick". Each bear story is filled with colorful, eye-catching illustrations that children love by Jane Chapman. The lyrical pattern brought by rhyming couplets and quatrains holds a child's attention, and the brilliantly written story line of Bear and his friends brings many smiles and cheers for more! Other delightful bear picture books by Karma Wilson: Bear Can't Wait, Bear Can't Sleep, Bear's New Friend, Bear's Loose Tooth, Bear Stays Up, Bear Counts, Bear Sees Colors, Big Bear and Small Mouse.
Our Favorite Polar Bear Picture Books by Lisa Tawn Bergren
God Gave Us You – A stunning picture book that shares the welcoming of new life. This adoring story, full of captivating polar bear illustrations by Laura J. Bryant, expresses the value of children and the priceless gifts they are from our Heavenly Father.
God Gave Us Love – This is a lovely little book that holds the treasures of love. Grampa and little cub taking a fishing trip together. Little Cub asks many questions and Grampa explains the true meaning of love and the different kinds of love. More fabulous books by Lisa Tawn Bergren: God Gave Us the World, God Gave Us Heaven, God Gave Us Easter, God Gave Us Christmas
More fabulous books by Lisa Tawn Bergren: God Gave Us the World, God Gave Us Heaven, God Gave Us Easter, God Gave Us Christmas.
Bear Art Activities For Your Homeschool
"It really should not be surprising that science and drawing go well together. Leonardo Da Vinci thought the pair made congenial companions."

A Charlotte Mason's Companion The Gentle Art of Learning by Karen Andreola, p. 13-14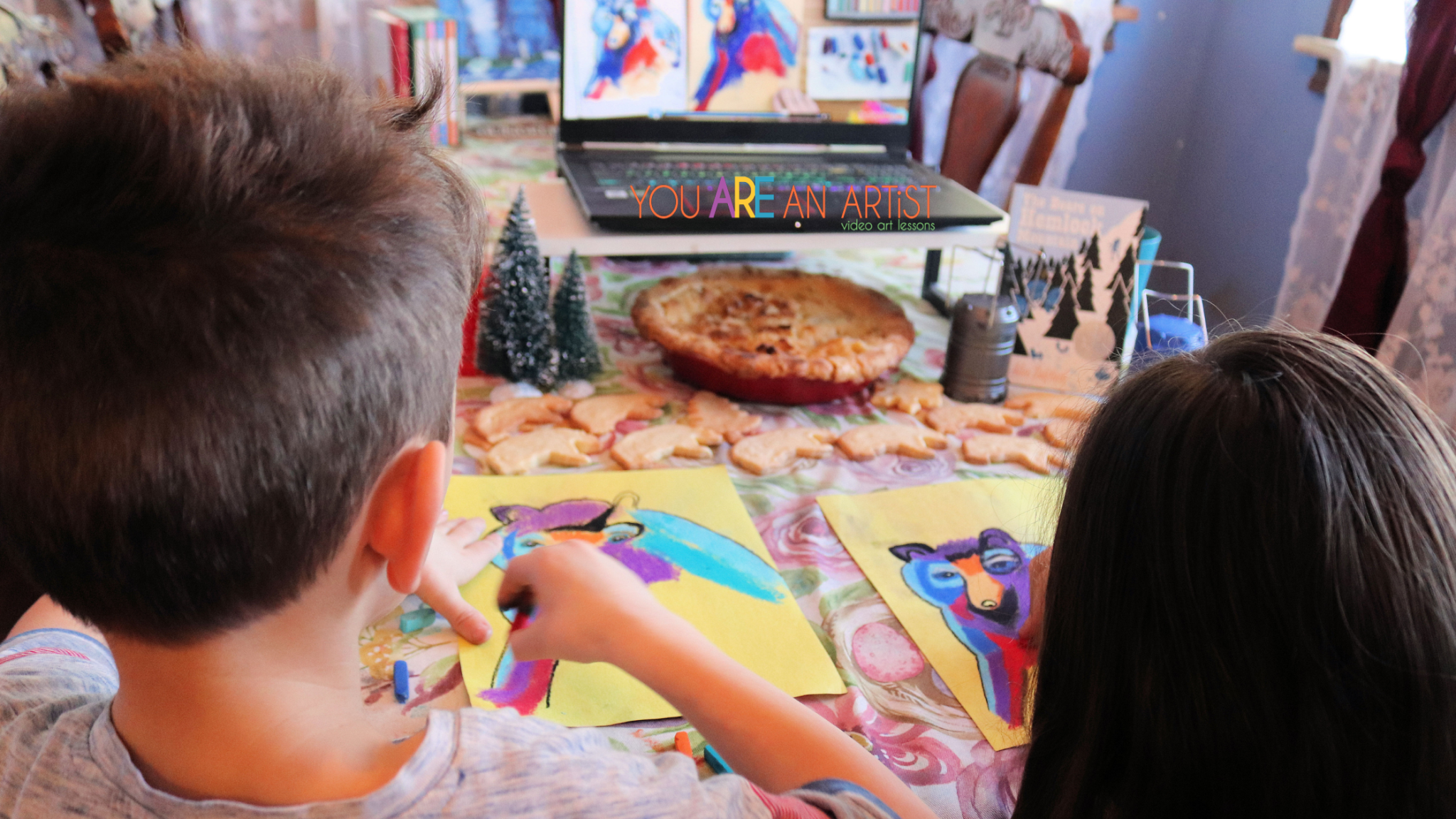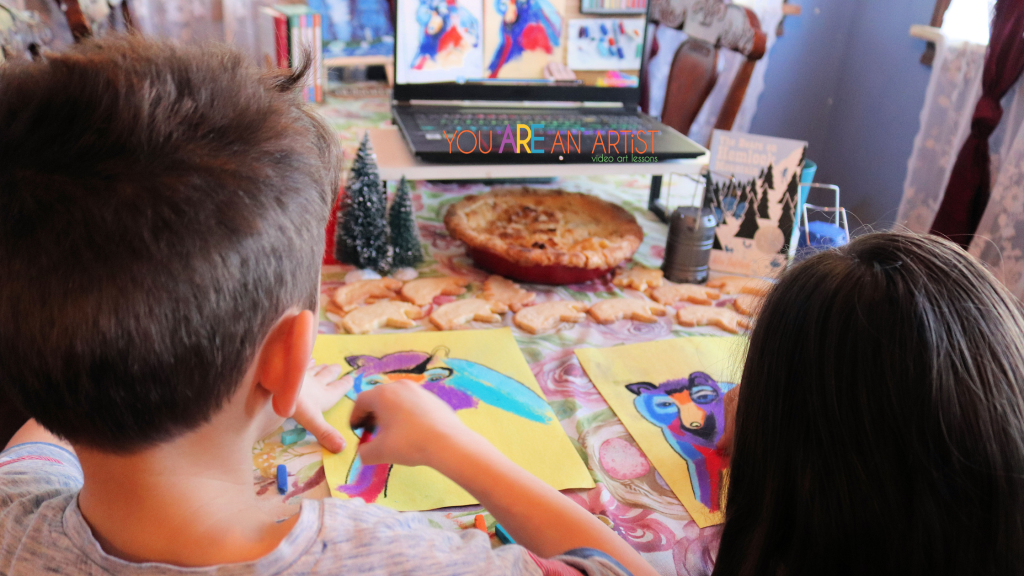 Have you heard about the very large black bear that jumped over Nana's white picket fence and into her very own backyard? Can you even imagine seeing such a sight? We absolutely loved painting this beautiful black bear and hearing all about Nana's exciting experience. Make sure you have all the colors of the rainbow handy…you will surely need them! Clubhouse members will find this lesson in the Animals course.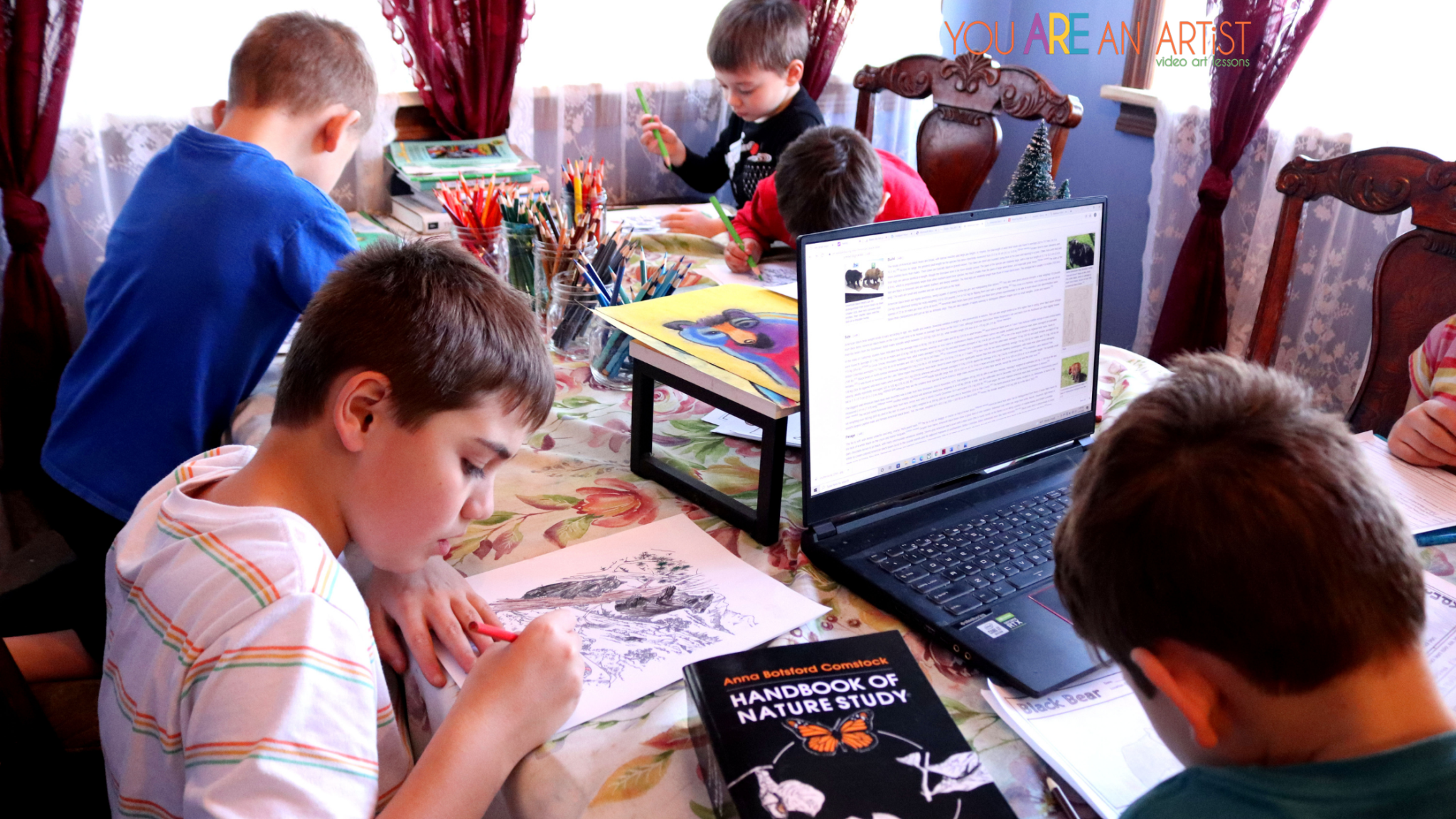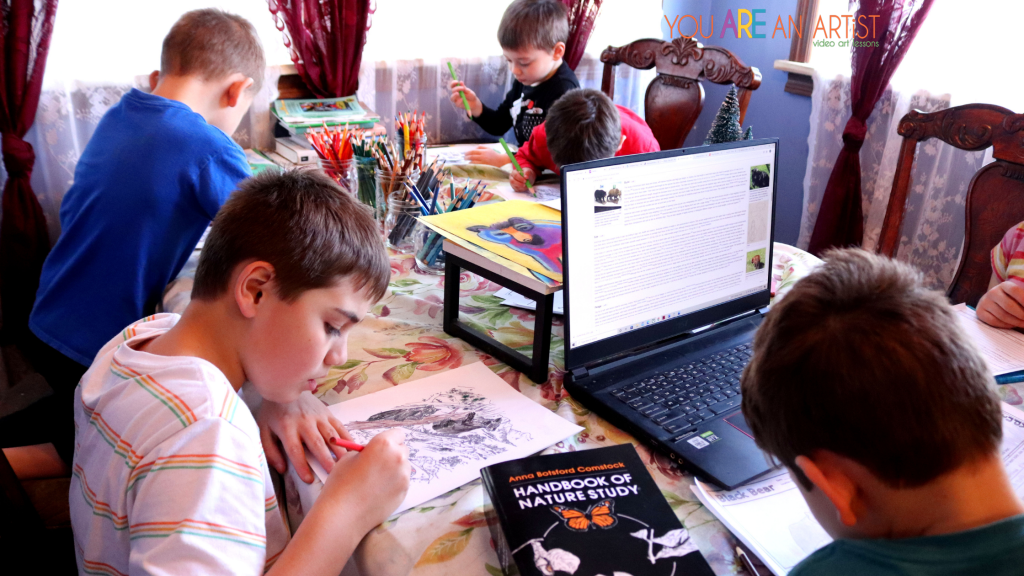 Sister site, Homeschool Nature Study, provides a brilliant Forest Fun Handbook of Nature Study curriculum. Tucked inside is a black bear study! It contains helpful links for research and audio books. Note booking pages and coloring pages are also offered to meet the various needs of your learners. That's not all! Forest Fun lives up to its name and is filled with the study of our forest friends: flowers, birds, and animals. The Inside Preparation Work, Outdoor Hour Time, and Follow-up Activities found in each nature study makes the Forest Fun Handbook enjoyable, engaging, and easy to use.
A Brown Bear's Language Arts Study is a literature-inspired unit that immerses your learner in a step by step process of writing structured paragraphs. Using hexagons as a visual for each paragraph, helps your student see each paragraph in a simple and organized way, laying a strong foundation for future essay writing. The engaging research of brown bears results in a five paragraph informational piece. The paragraphs are transformed into a creative nonfiction picture book. Wholesome Bible lessons and scripture memorization aid in character development. Alliteration, the four types of sentences, common and proper nouns, and writing with a strong lead are common language arts principles taught in this bear unit study. Included is a teacher's handbook with an answer key, read aloud schedule, and discussion guide for Thornton Burgess' charming story, The Adventures of Buster Bear. This living study pairs well with third through sixth grade language arts curricula.
Read a full review of A Brown Bear's Language Arts Study on our sister site, The Curriculum Choice.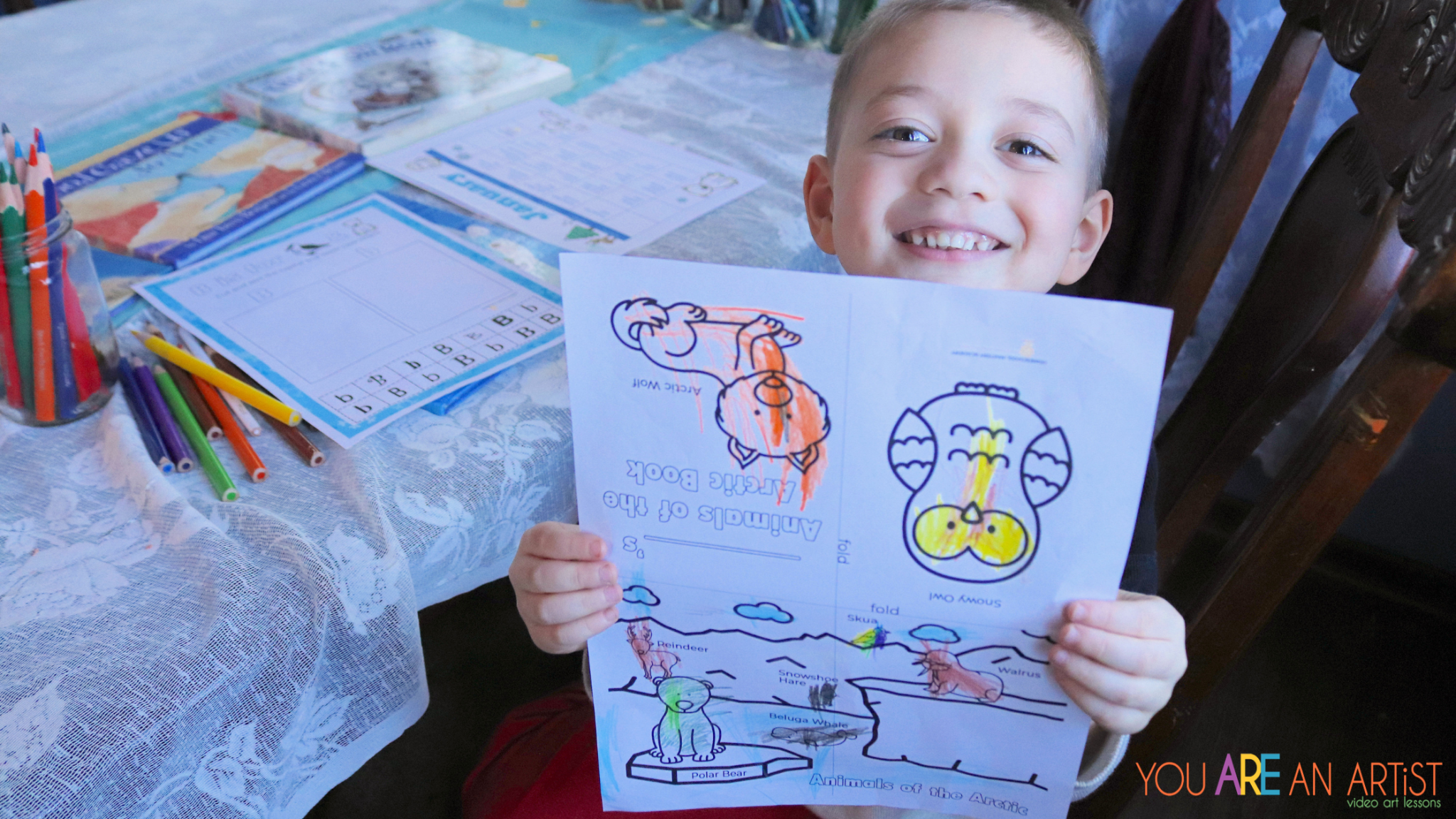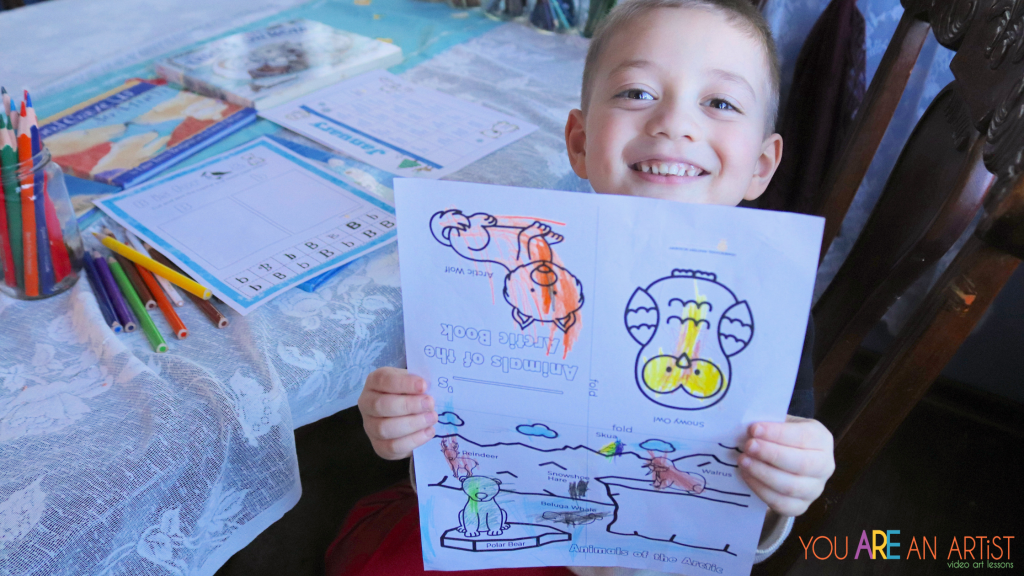 B is for bear! I've found in our homeschool that my little learners want to do everything their big brothers and big sister are doing. Here is an Arctic Animals Preschool Activity pack by Courtney at Homeschool Mastery Academy. Learn about polar bears, penguins, snowy owls, and arctic foxes with a calendar full of age appropriate multi-sensory activities.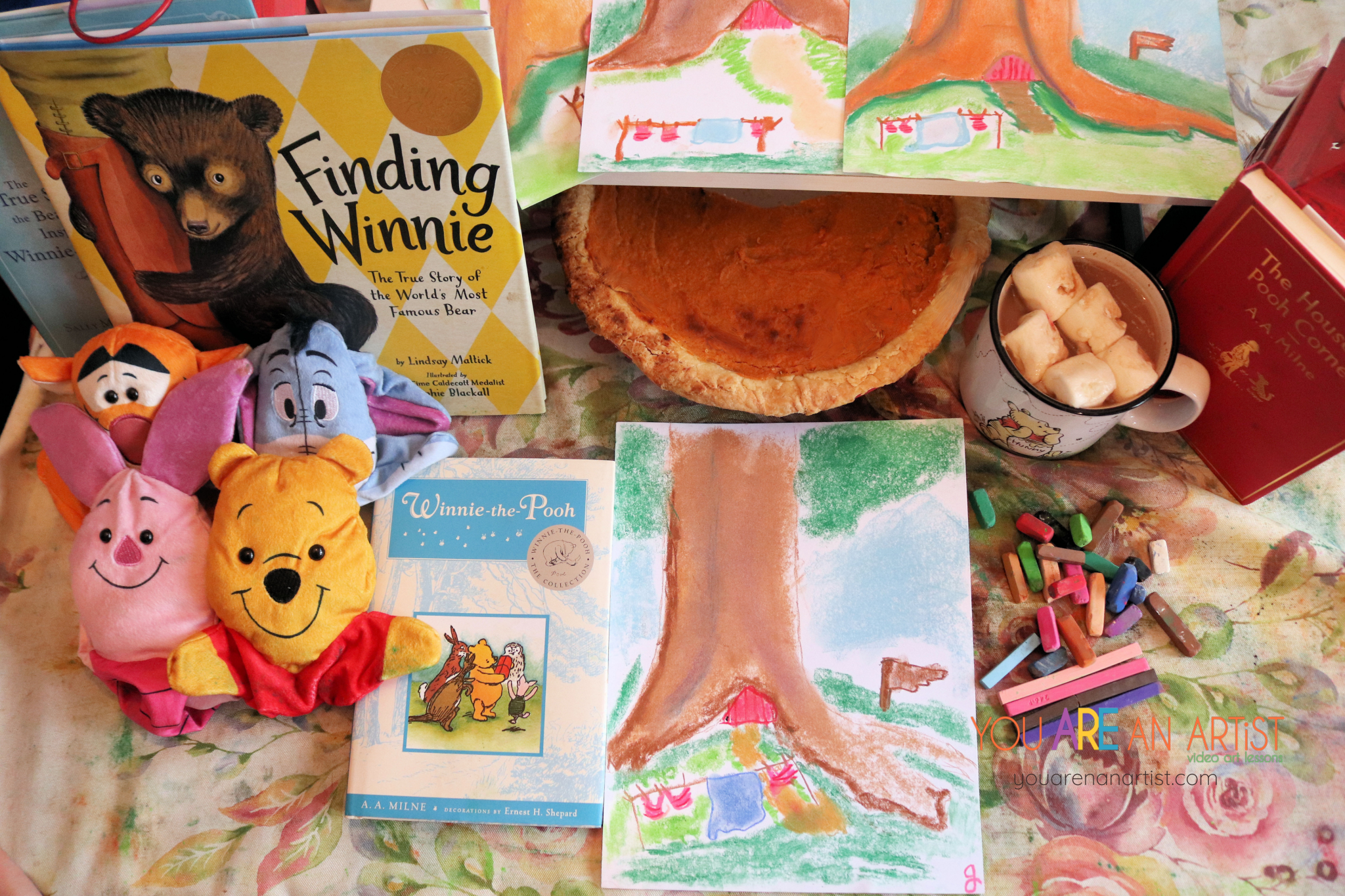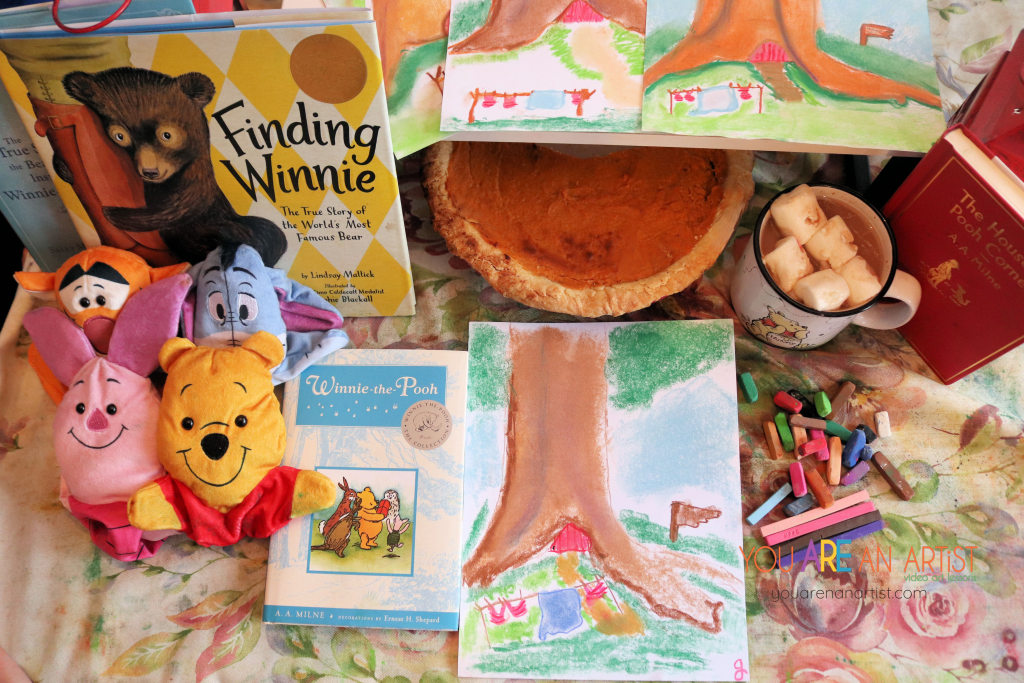 A Homeschool Nature Study with Winnie the Pooh's Hundred Acre Wood – Talk about a bears art and book study! What a favorite with Winnie the Pooh! This delightful homeschool nature study is all about Winnie The Pooh's Hundred Acre Wood. It includes book references and online art lessons, perfect for the entire family.
Additional Animal and Nature Art Homeschool Resources
More adventures await us to complement our bears art and book study! Let's step into the woods with Nana and see what other animals we can find. Do you have your binoculars? How about those colorful chalk pastels? You will need those rich colors for this animal adventure!
Here is a painting of a path with beautiful trees! I wonder where this path will lead us…..and what kind of creatures await us? To the Woods!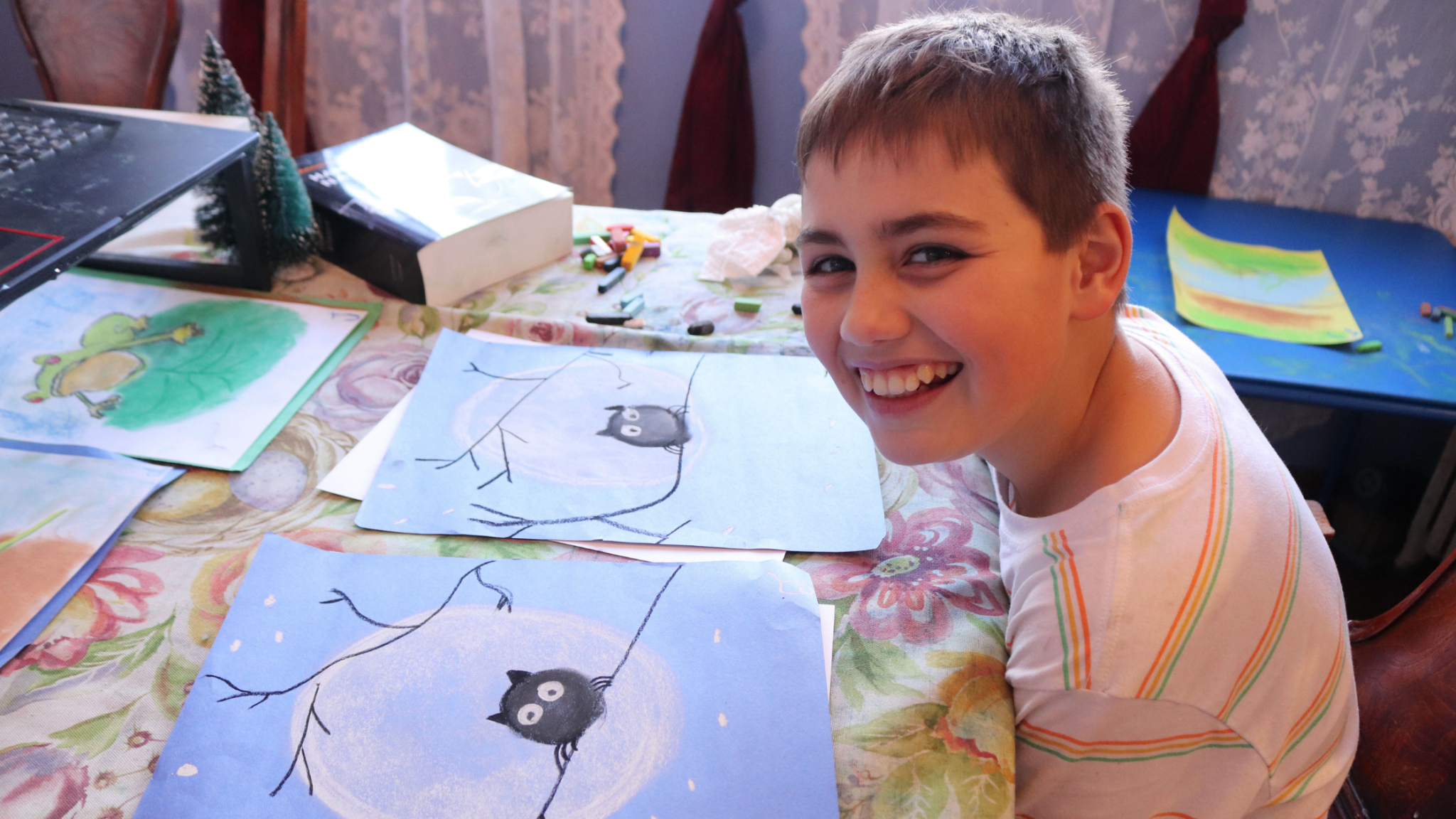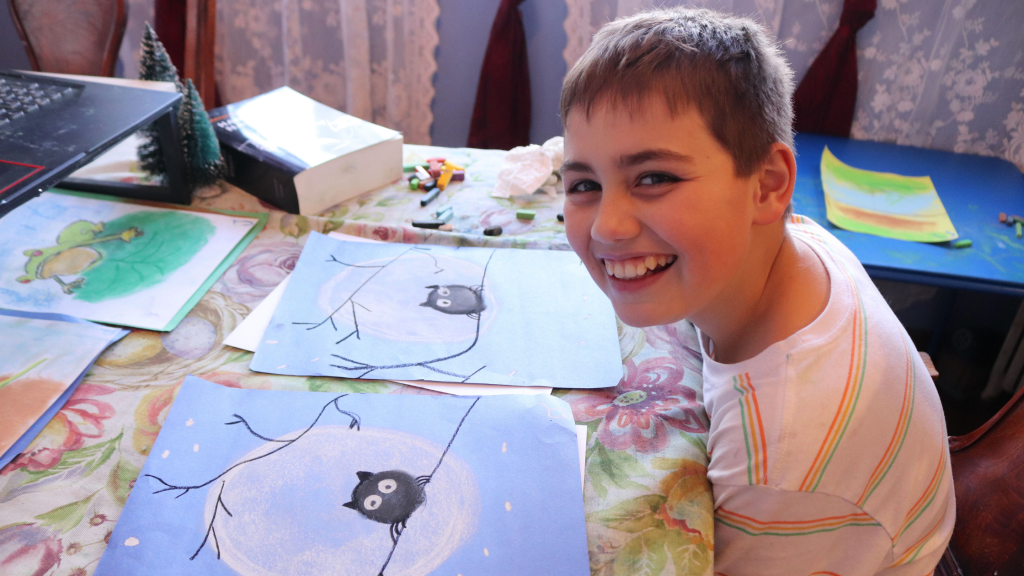 Let's remember to look up into the trees! We might see a little owl or a tree frog.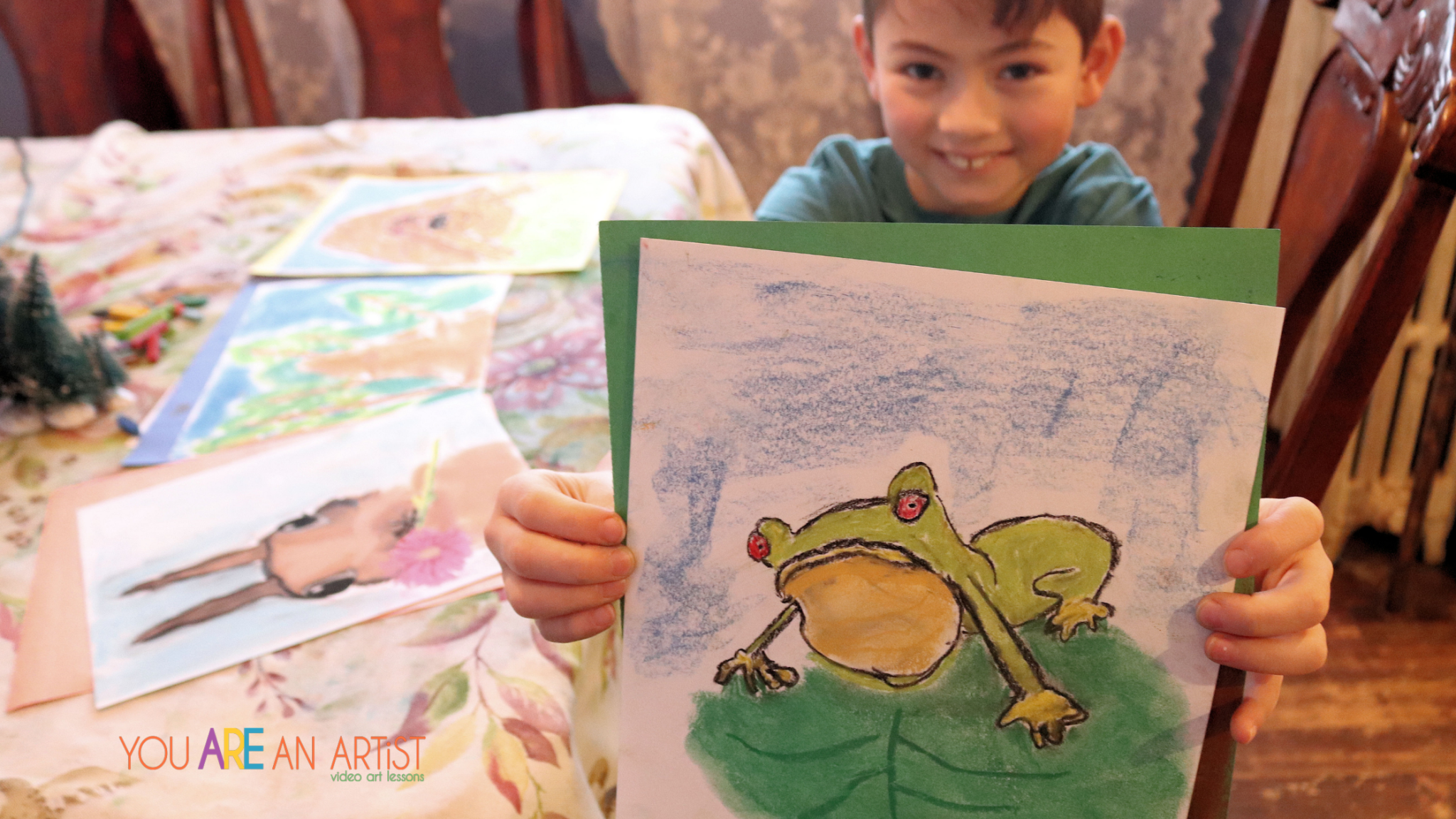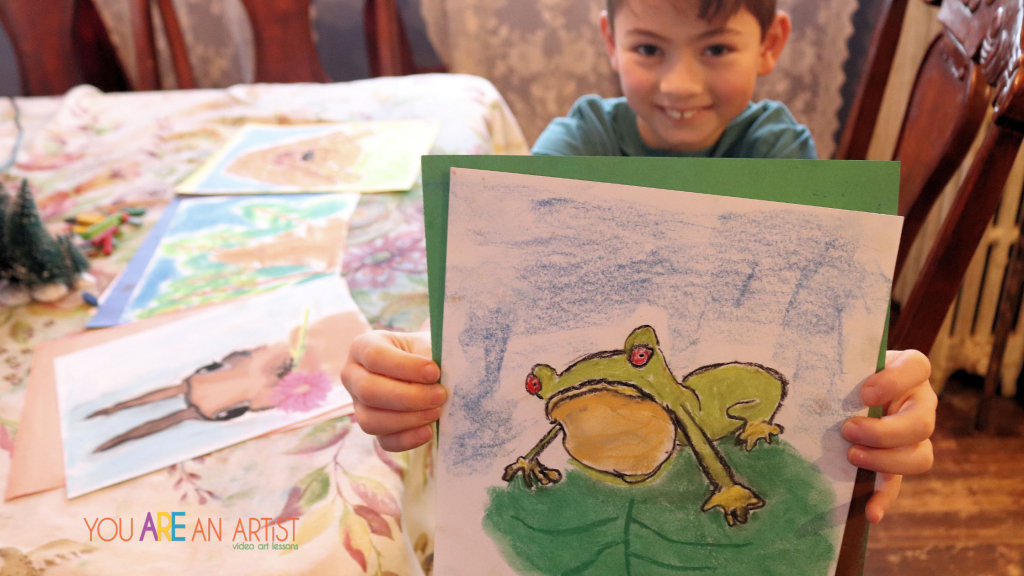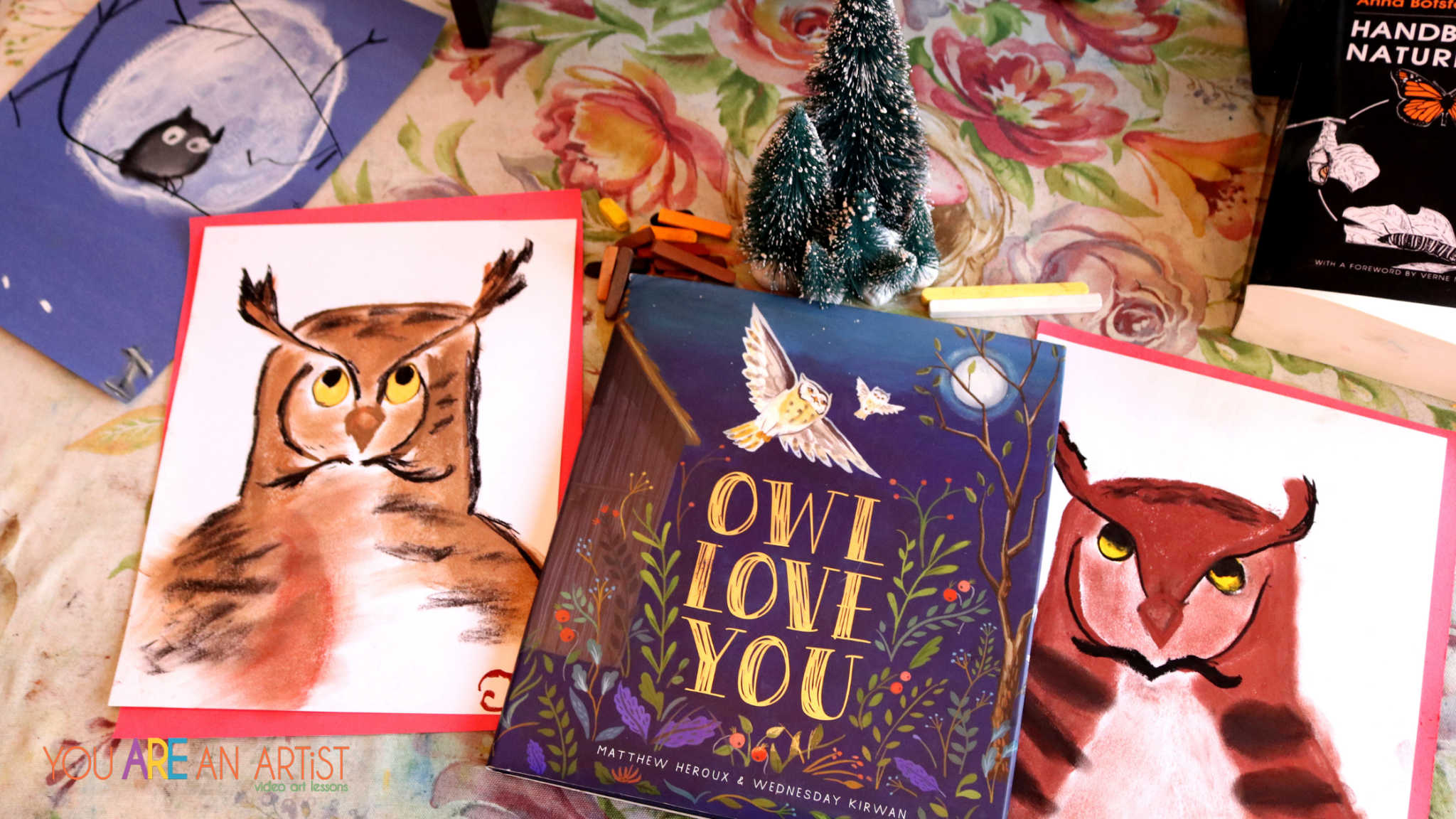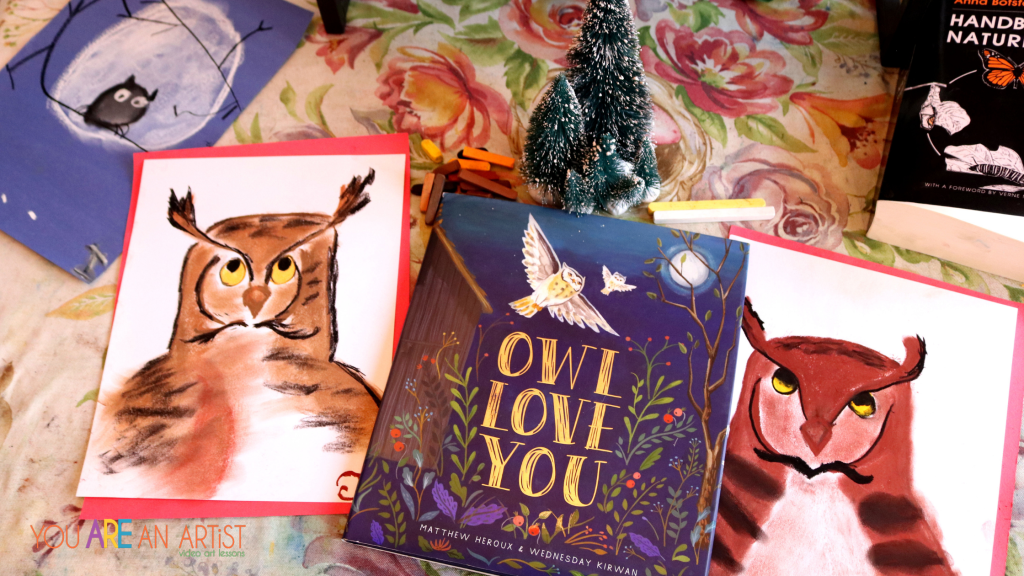 Or a stunning Great Horned Owl staring right at us with those big, yellow eyes!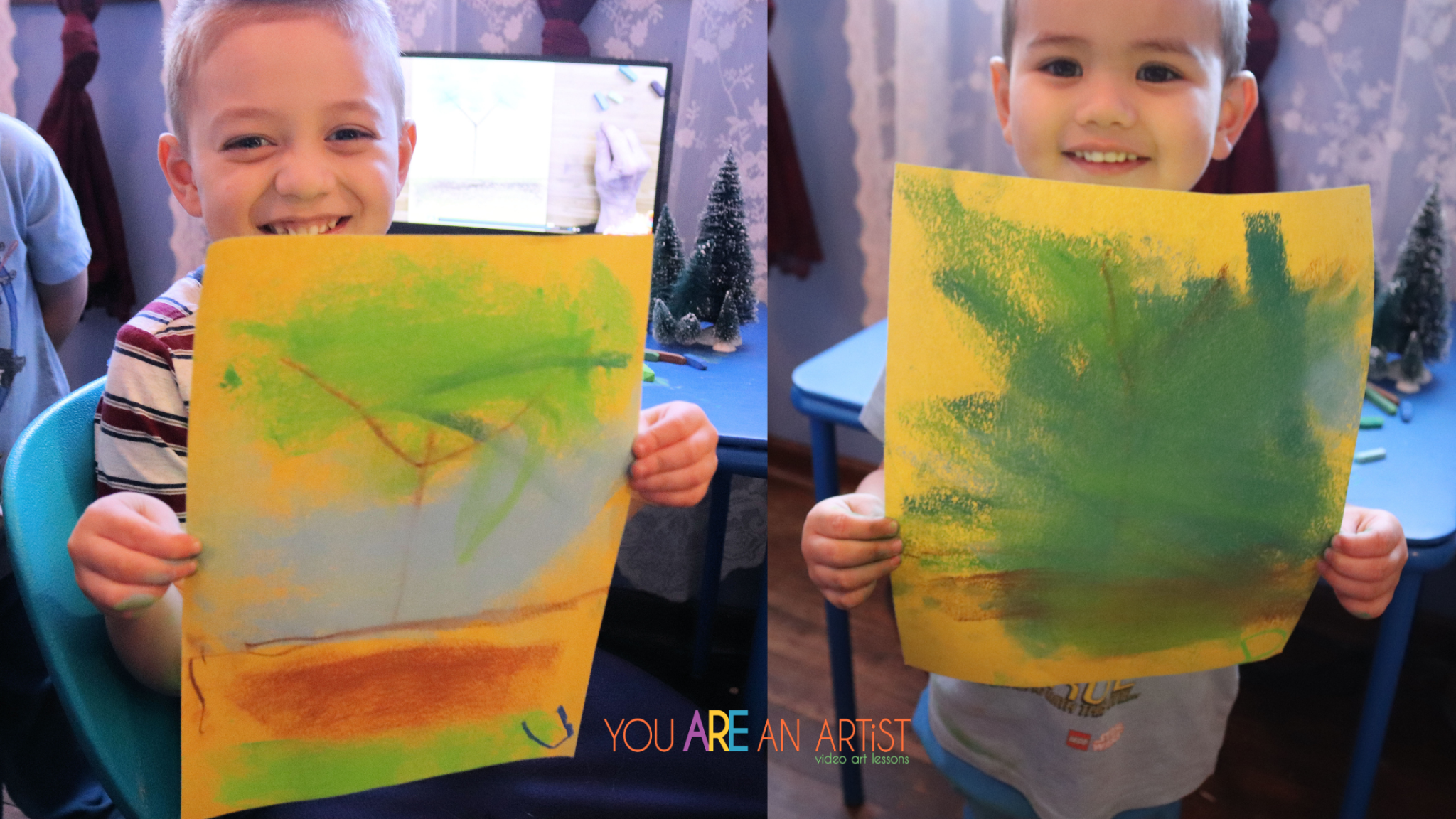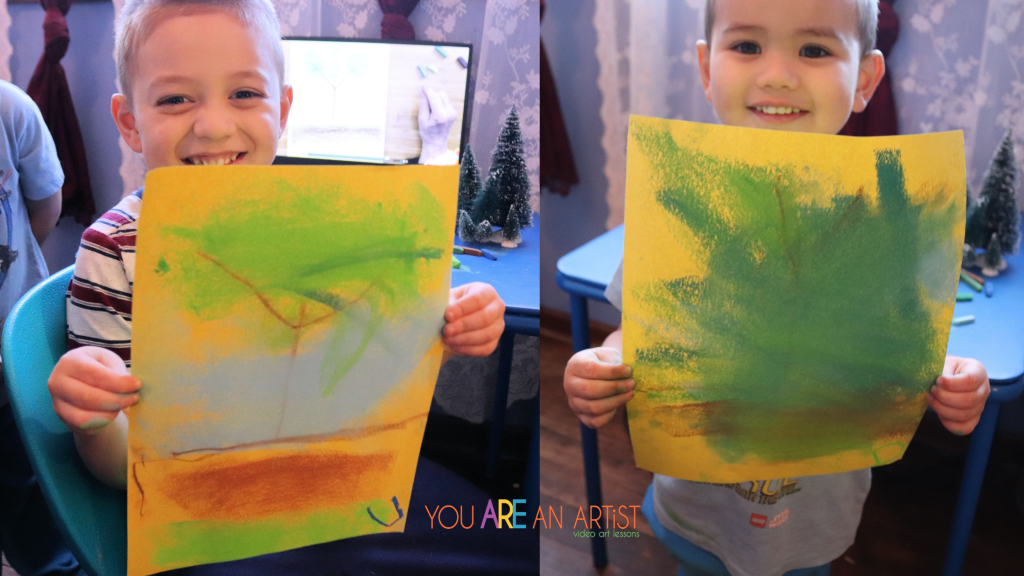 Those excited little learners sure think trees are magnificent! Nana paints a simple tree, perfect for those tiny hands to explore the world of chalk pastels.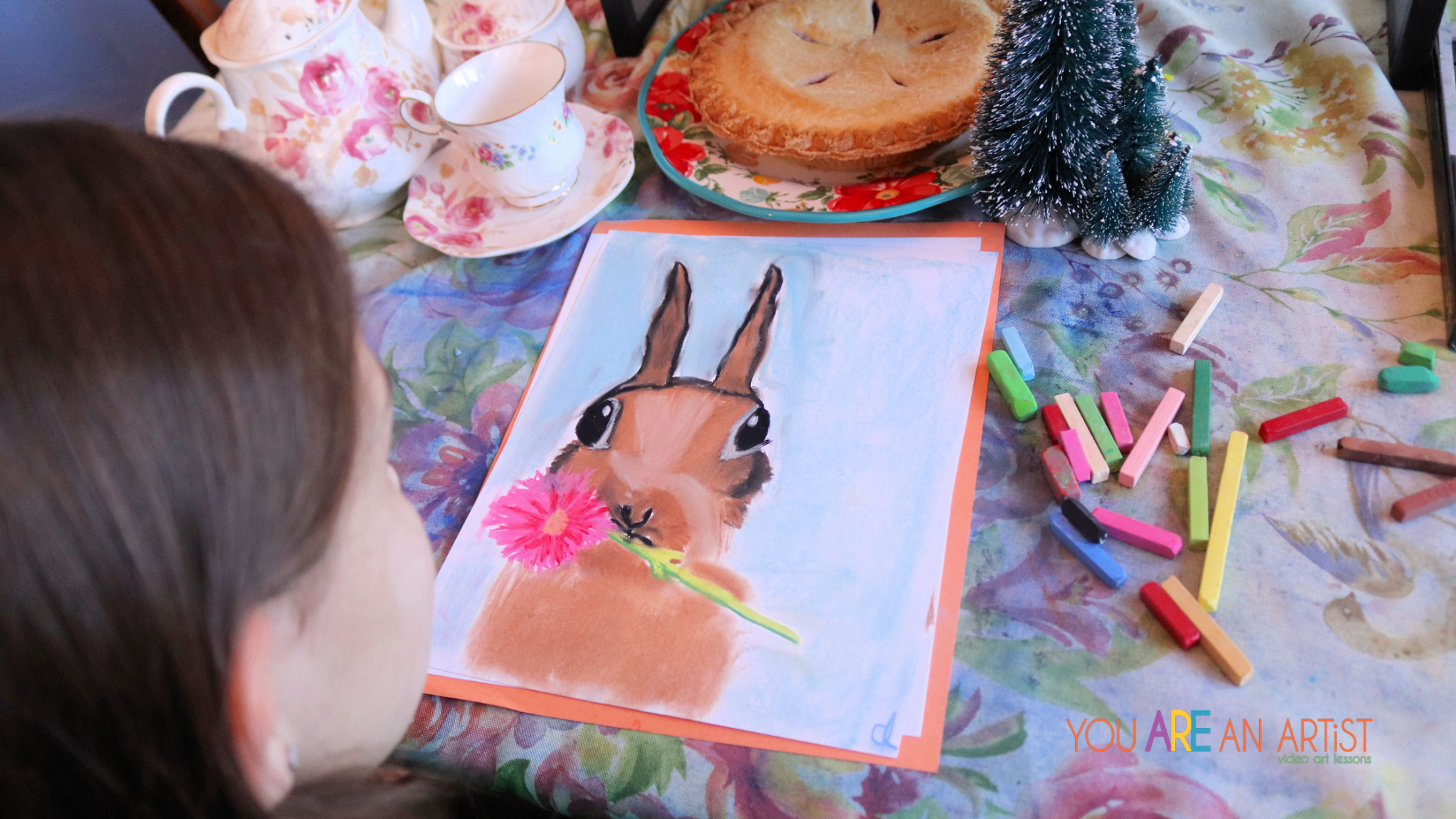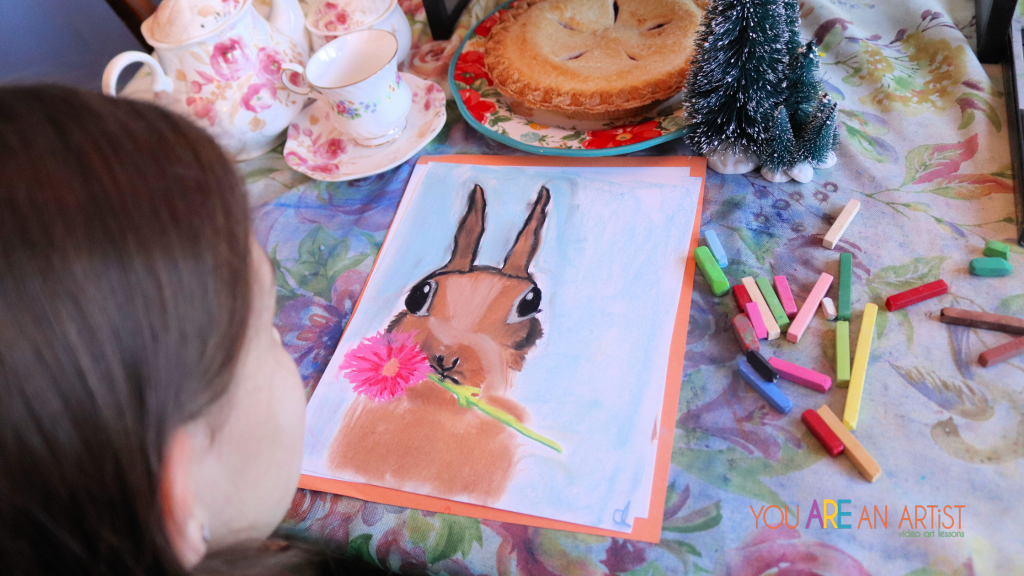 Did you just see that fluffy, brown bunny hop by with the flower in its mouth? How wonderful it would be to paint her beautiful eyes and fluffy fur! Garden Bunny Clubhouse
I see a pond! What slow critter might we find there? I spy something with a hard shell! It's a turtle calmly crawling through the tall grass!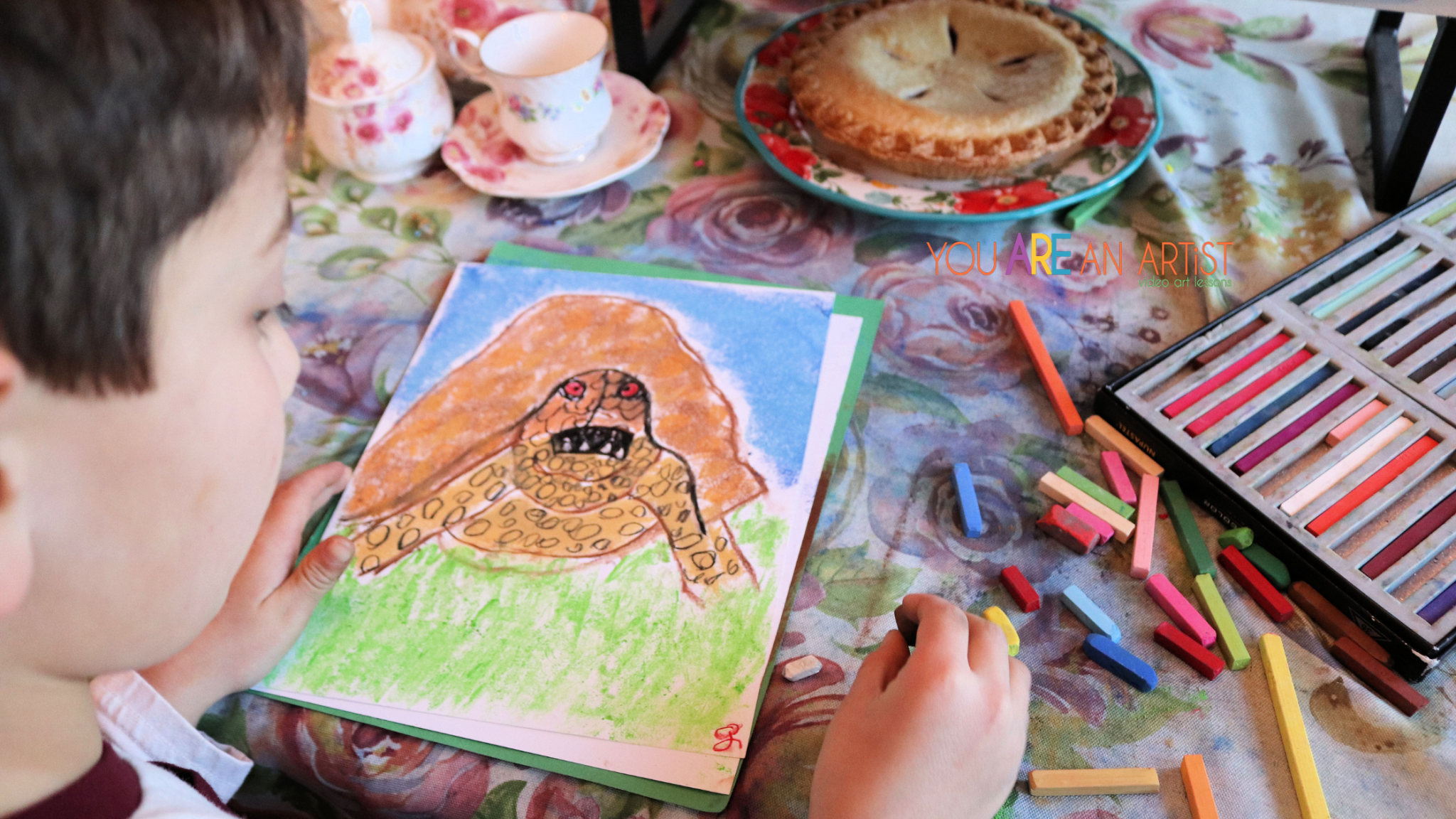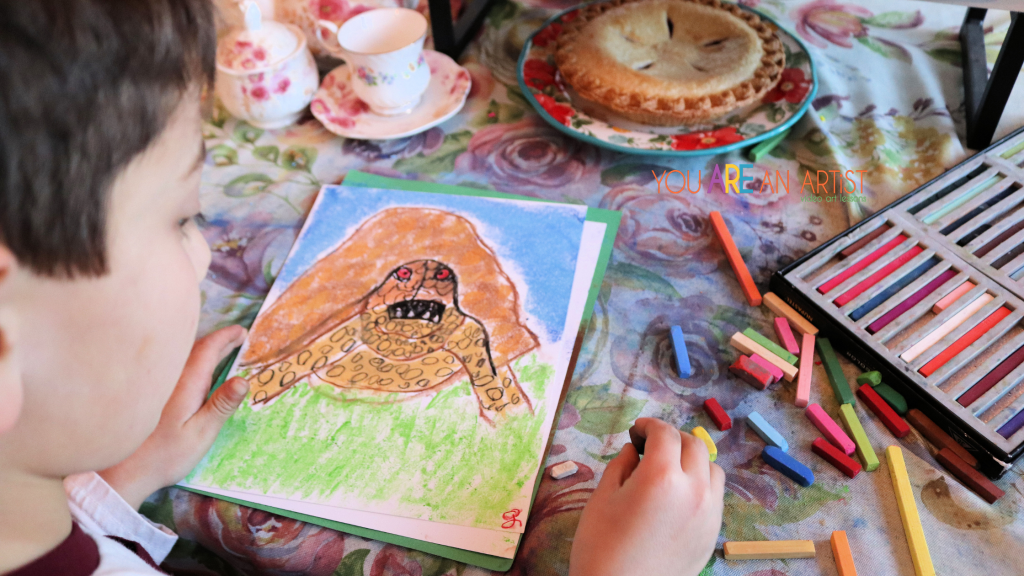 Wondering what kind of animals roam the lands of Africa? Grab your black, orange, and yellow chalk pastels. You might find a trumpeting elephant or a magnificent lion.
Animals of Africa
Map of Africa – Geography always pairs well with animal studies. See just where those land animals live!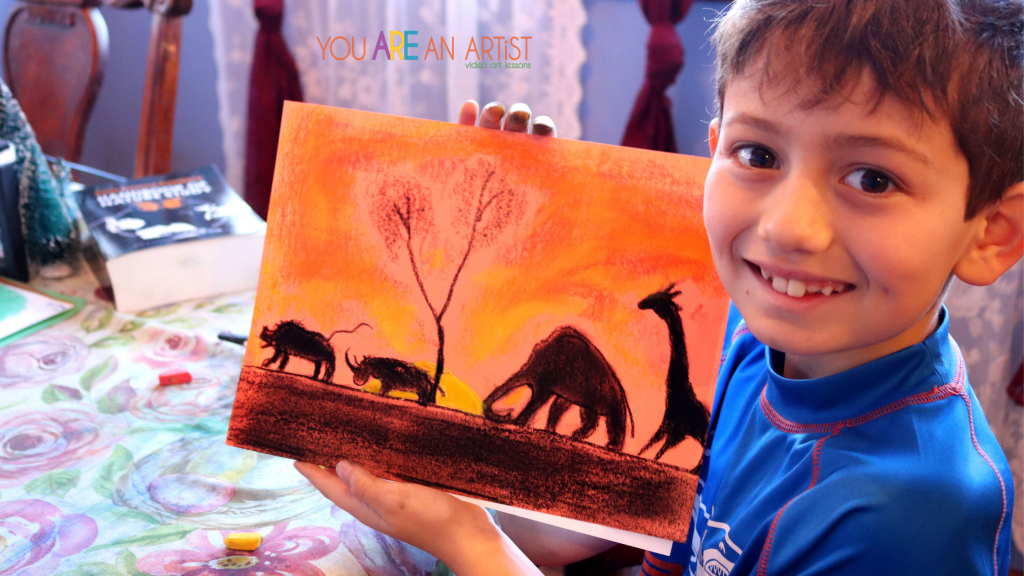 Let's make one more stop to the deep sea and visit a cute little baby seal pup!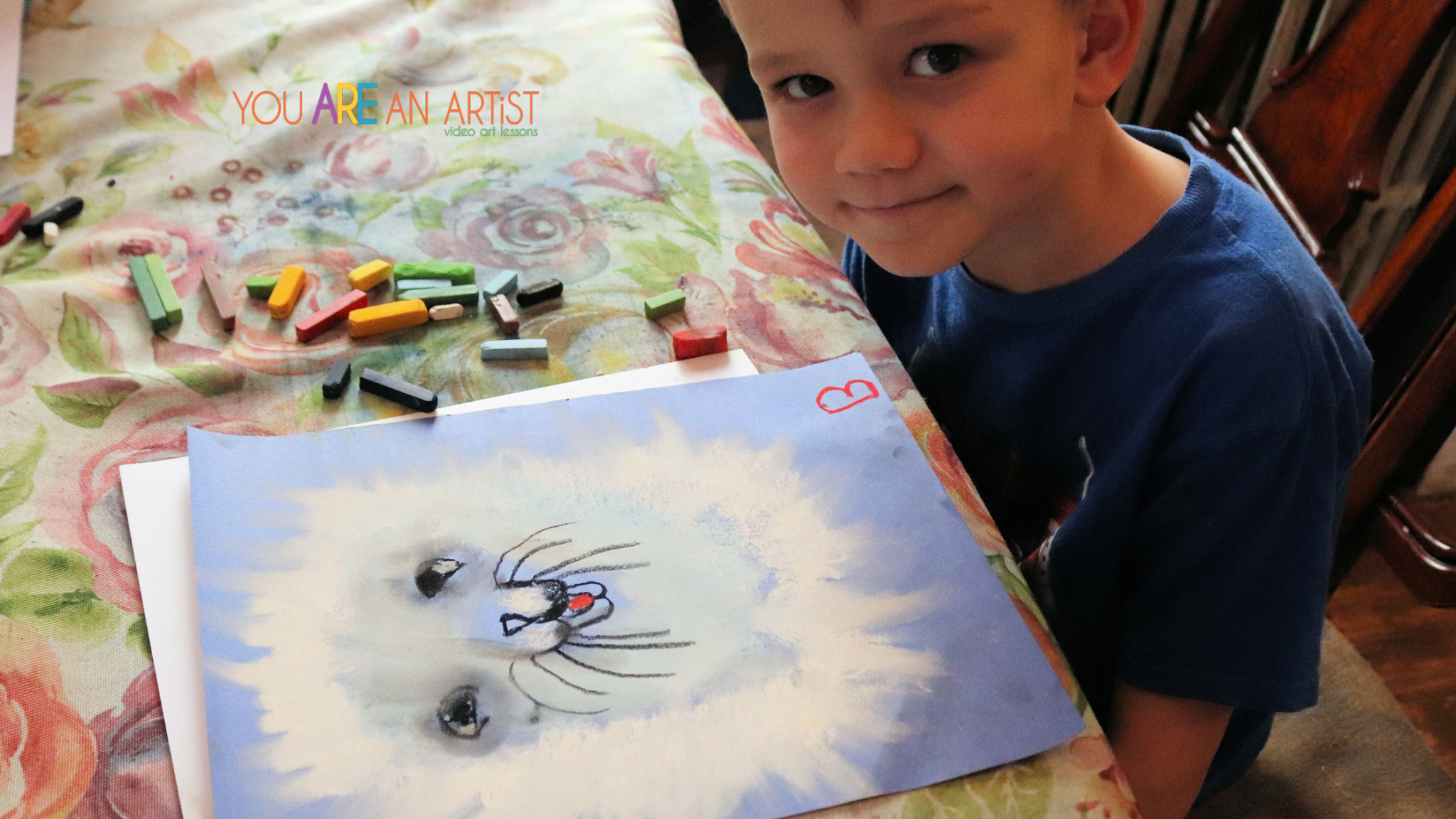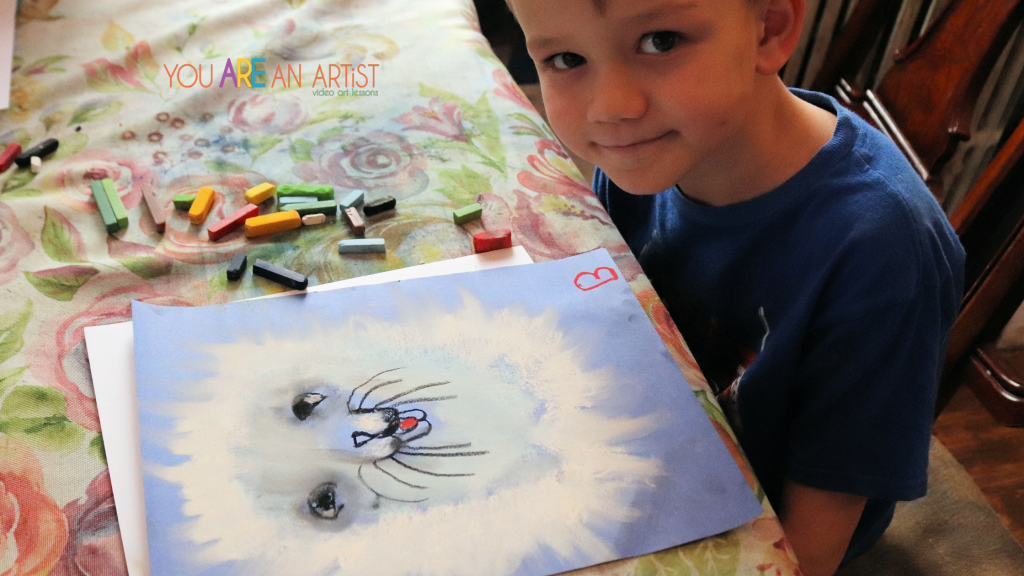 Enjoy Art for Your Homeschool Family with You ARE an ARTiST Clubhouse
Besides a bears art and book study, if you want to add more creative ways to learn in your homeschool, grab a You ARE An Artist membership. With over 800 art tutorials, you will never run out of exciting ways to add a bit of artistic fun to your homeschool.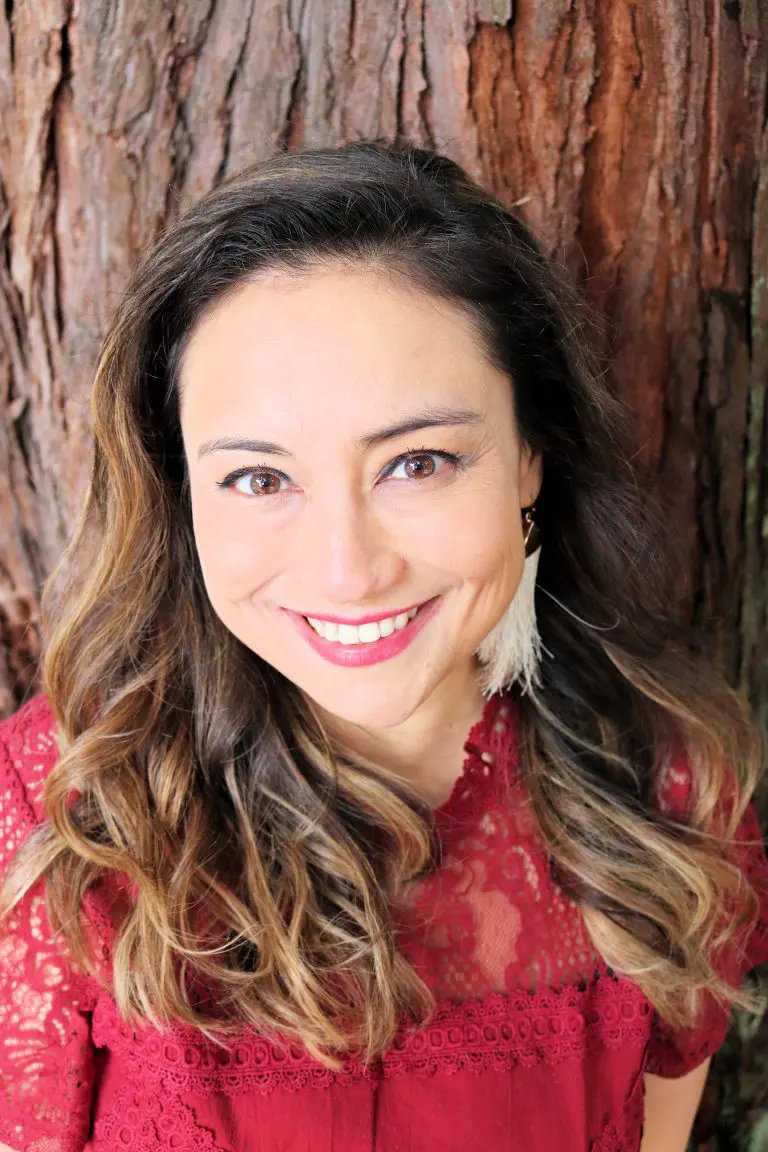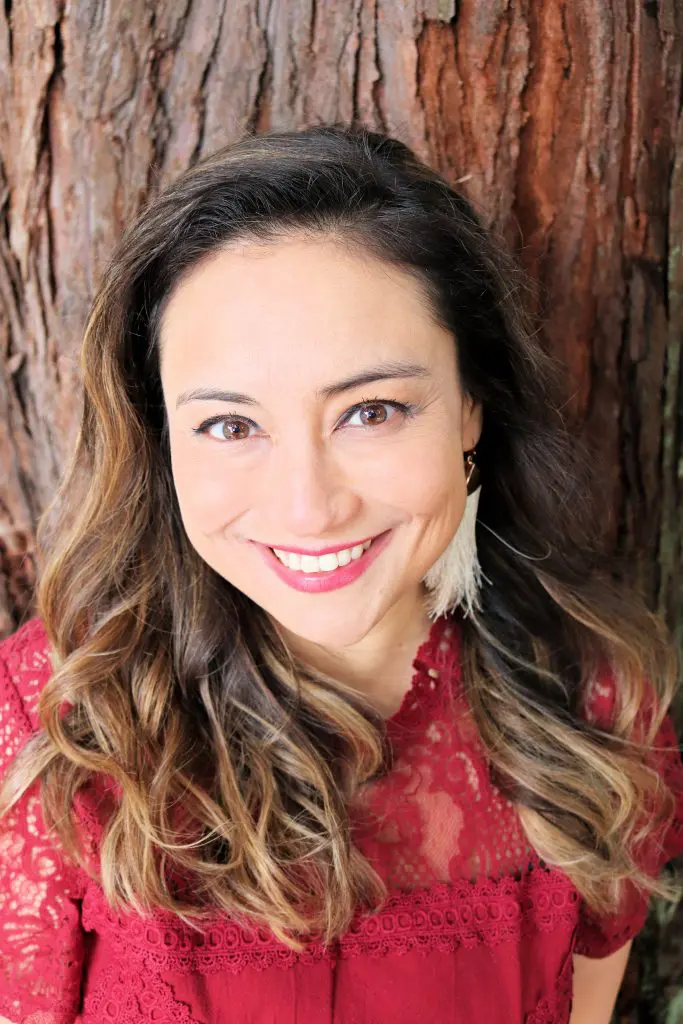 Jamie is the author of A Brown Bear's Language Arts Study, a literature-inspired homeschool mom of eight, and a former educator. She enjoys a bookshelf bursting with colorful picture books and children's stories of all genres. Indulging in a read aloud with all of her children around her is one of Jamie's favorite moments of her days. Be sure to find Jamie on Instagram and visit her blog, Treasuring the Tiny Moments Homeschool, to be encouraged by all her learning adventures with her wonderful family.