There are many important lessons and truths to be learned from the Civil War. With Nana's Civil War Hands-On Homeschool Lessons and the accompanying I Drew It Then I Knew It American History workbook, you can reinforce all that you are learning in your homeschool. Don't miss Nana's podcast on Sojourner Truth, included below!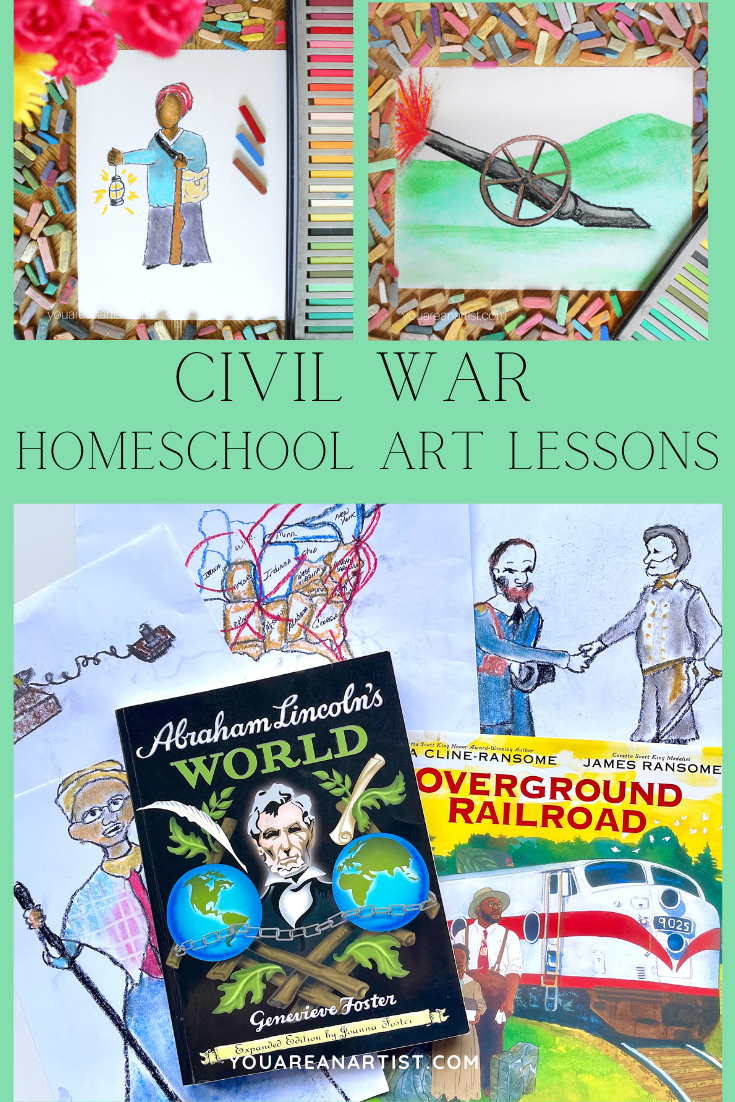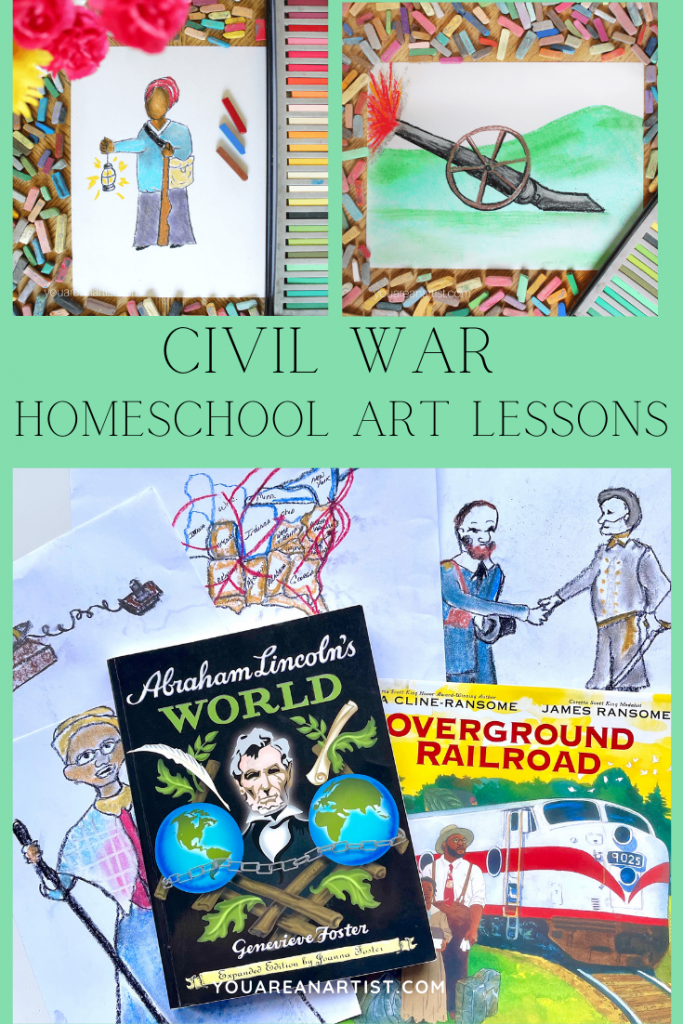 While there are Civil War field trips to take to study battlefields, finding Civil War hands-on homeschool lessons for your American history studies may be a challenge. That is simply because there are not very many of these type of resources available. Fortunately, Nana has many Civil War homeschool art lessons to match your studies – from famous people of the Civil War to maps to war equipment and tools. All you need is a starter set of chalk pastels, a pack of construction paper, and your You ARE AN Artist Complete Clubhouse Membership.
Civil War Hands-On Homeschool Lessons And Workbook
"While there were many tragedies, there were also mercies. Many soldiers in both Union and Confederate armies were won to Christ as the Great Revival swept through both camps, mainly during the last, horrific year of 1864. As we read about the close of the war this week, be looking for the hand of God, whose ways are always altogether good and righteous, and who in in the course of this war revealed both His judgment and His mercy." ~ Tapestry of Grace introduction to week 24, Year 3
Let me share with you the many lessons you can enjoy to make your Civil War homeschool studies more meaningful and memorable! But first, enjoy Nana's Sojourner Truth homeschool study podcast.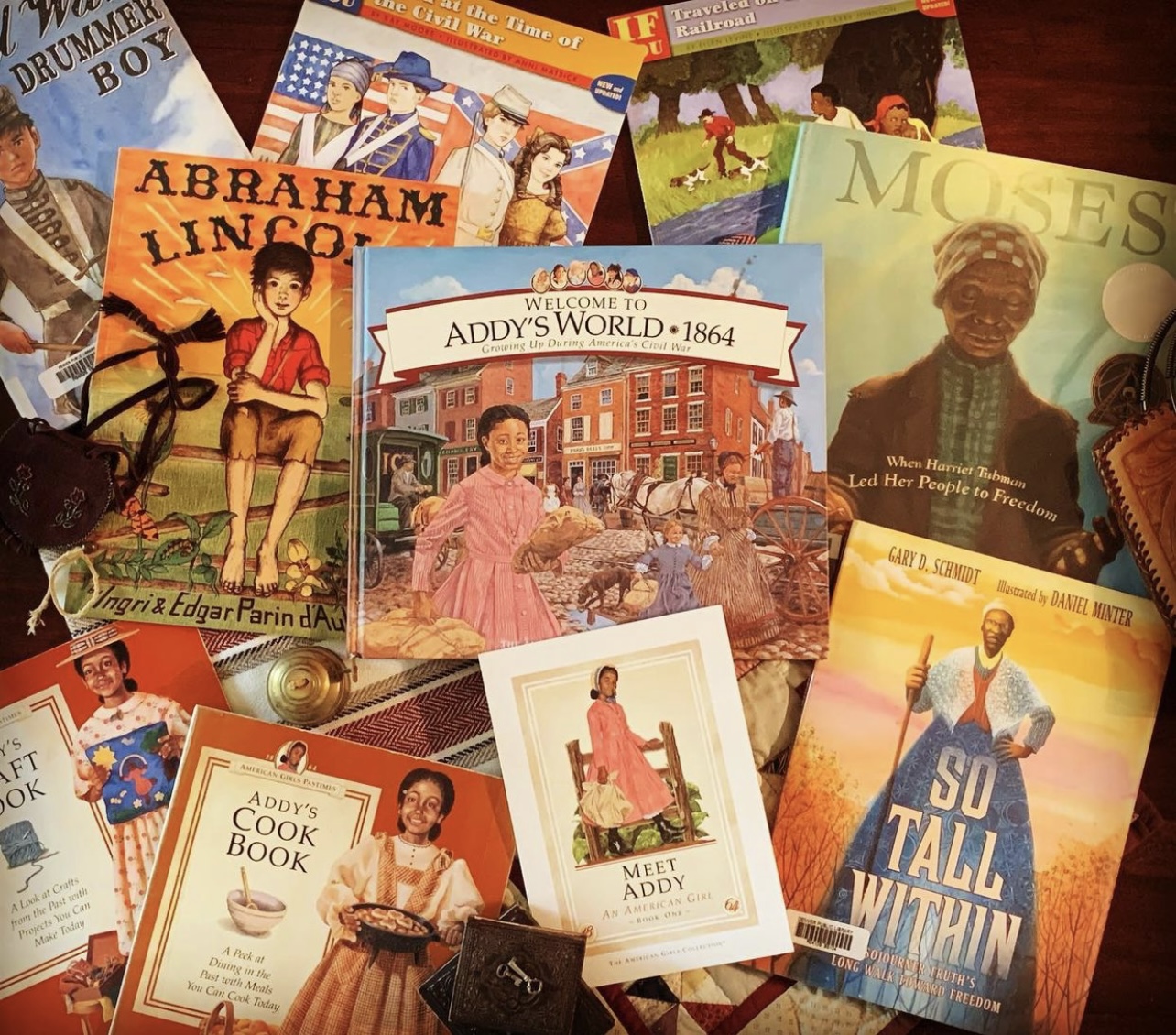 Sojourner Truth Homeschool Study
Paint Sojourner Truth as part of your Civil War hands-on homeschool lessons and learn more about this important woman in American history. In the accompanying I Drew It Then I Knew It American History workbook, learn five fast facts and a biography overview of Sojourner Truth. In addition, you can listen to Nana's Sojourner Truth podcast or read her the podcast transcript.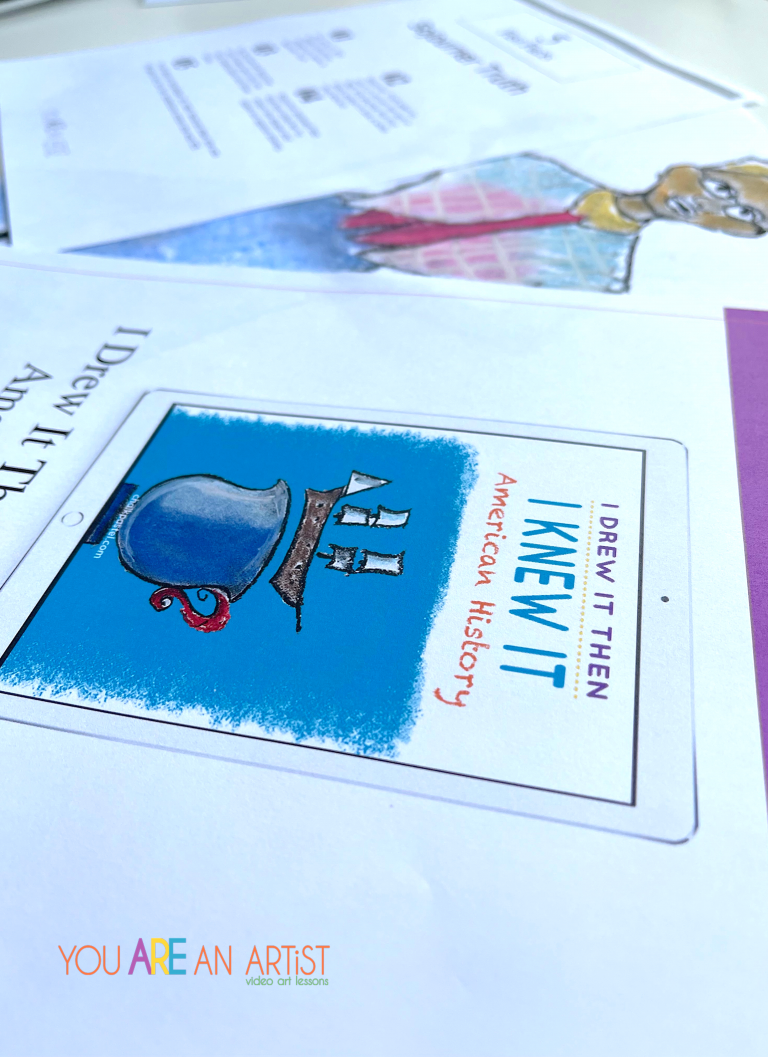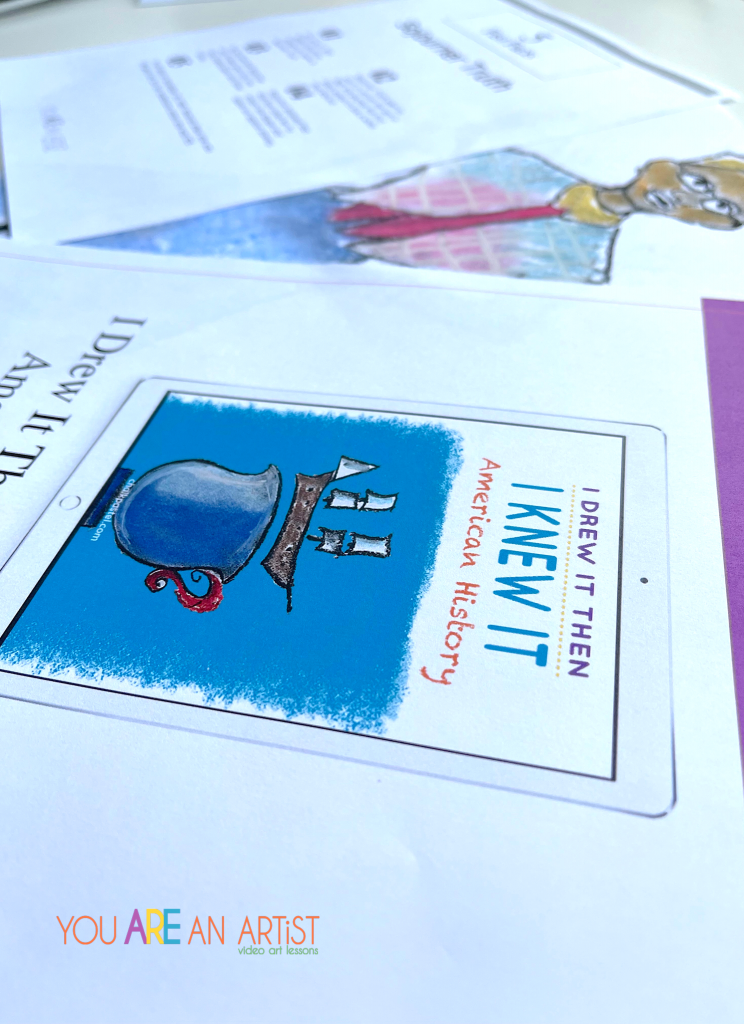 Learn More About Sojourner Truth with Nana's Podcast
"We're going to be speaking about one of America's most iconic women. Now, I know that sometimes you might think that I use the word iconic a lot. And in fact, I think I do, because we are so fortunate in this country to have important and iconic men and women. And today I want to recognize Sojourner Truth.
Sojourner was born with a different name. Her name was Isabella Bomfree. She later changed her name because she believed that God had told her to travel and speak the truth about slavery." – Nana
Overview of Sojourner Truth Study
1:19 Sojourner's Name Change
3:30 Sojourner's Fight to End Slavery
4:11 Sojourner Mars Rover (enjoy this lesson in Nana's Space Exploration course!)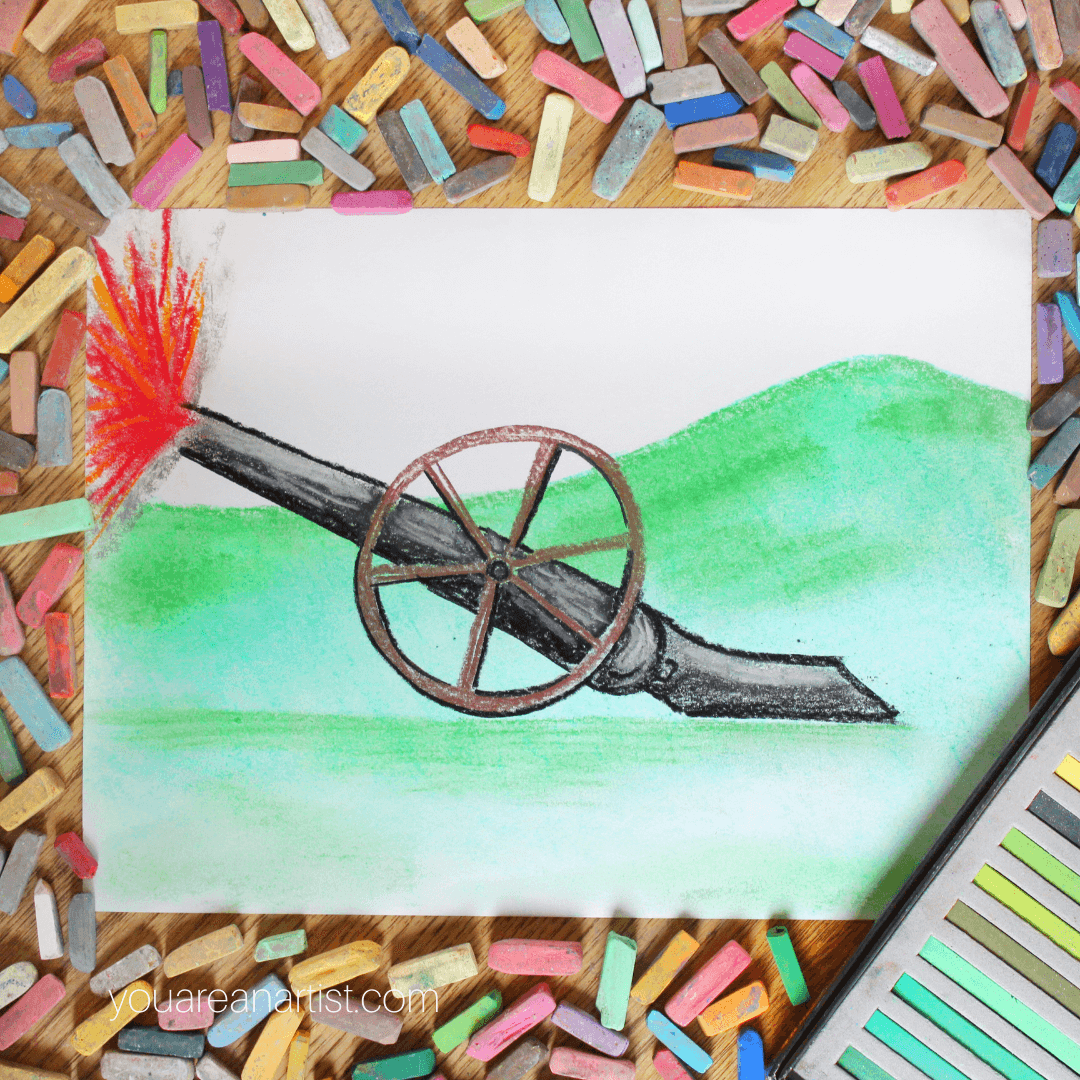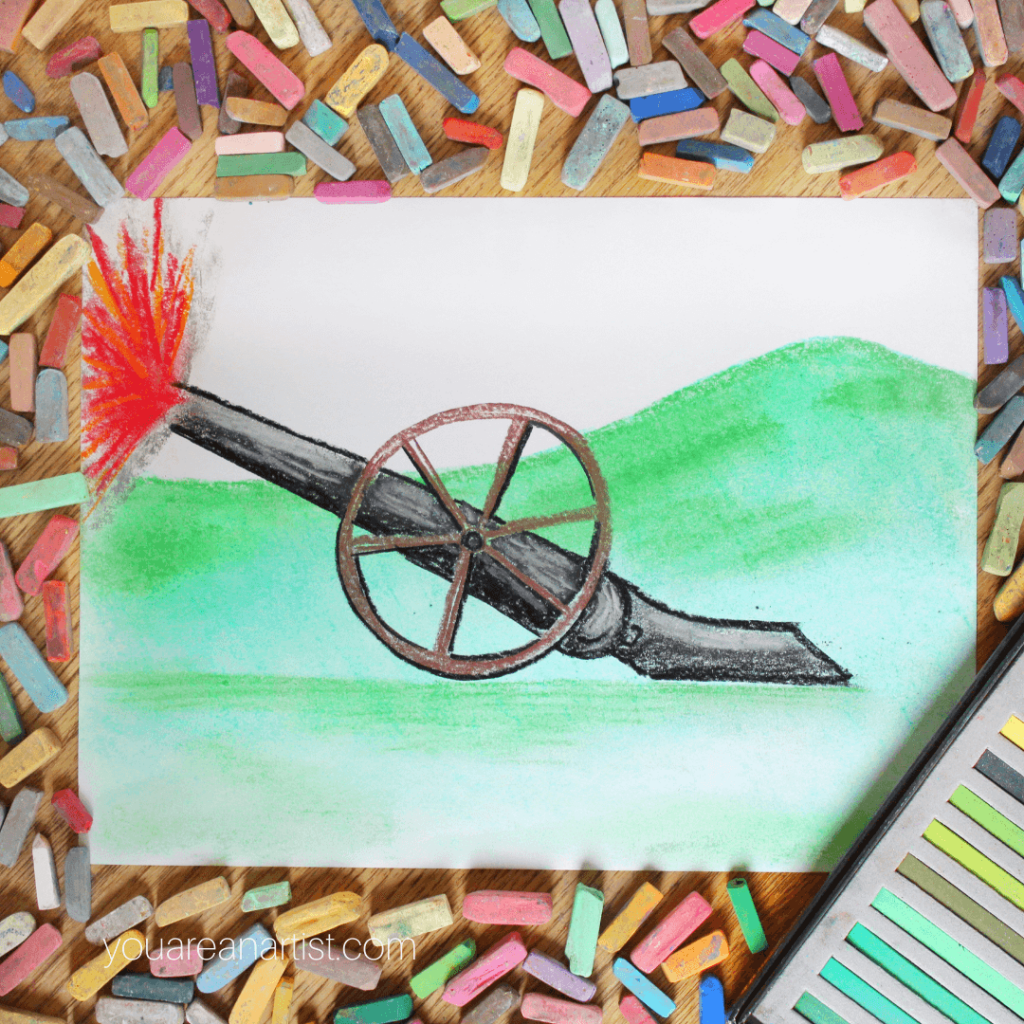 Civil War Cannon Art Lesson
This American history lesson is art in action and can represent all the battles of the American Civil War. You are the artist, so you can add Union or Confederate soldiers.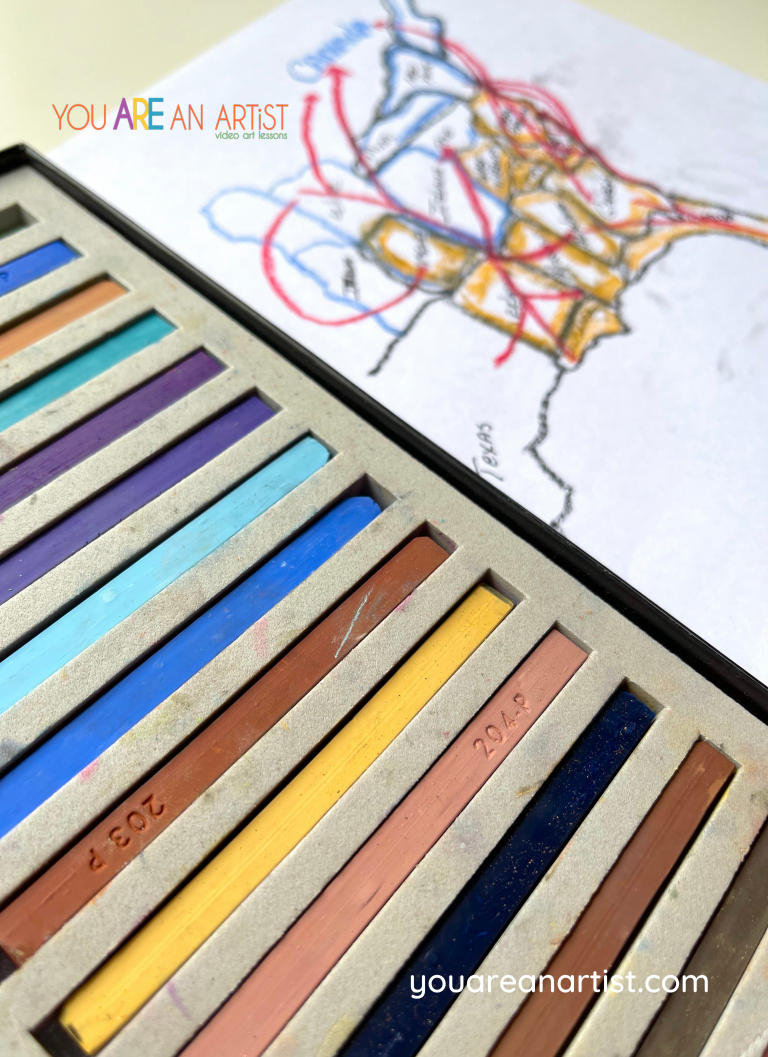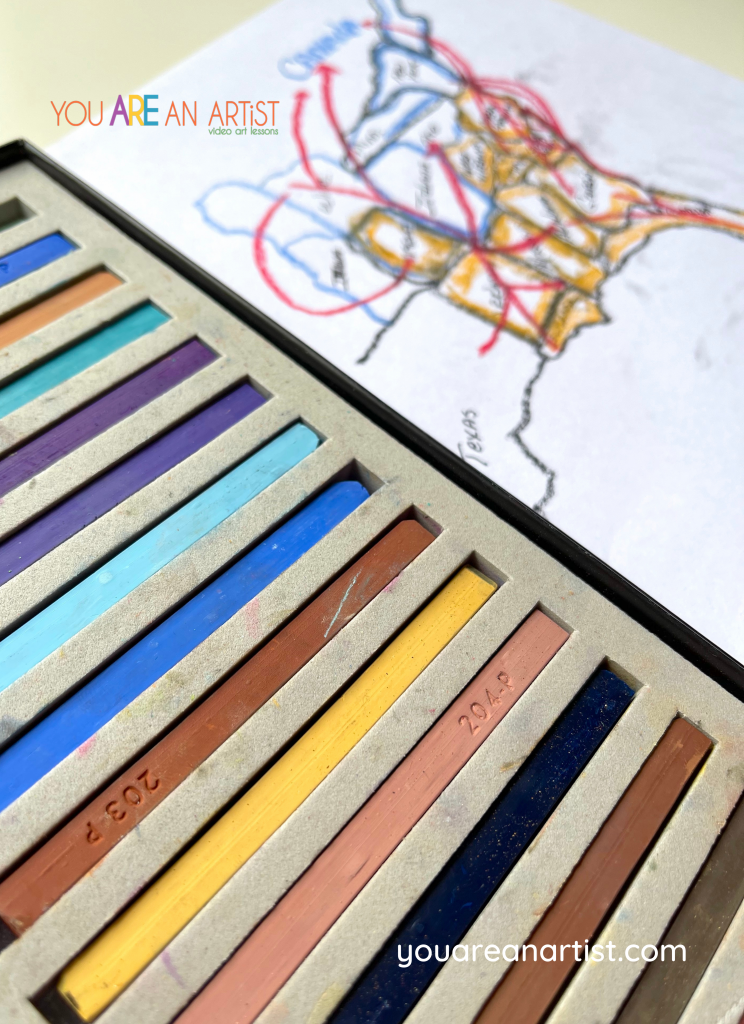 Underground Railroad Homeschool Lesson
There were many routes that enslaved African Americans would take to escape on the Underground Railroad. You can map out the intricate 'railroad' routes with Nana's maps lesson. Then, to complement your underground railroad lesson, paint Harriet Tubman.
"Twant me, 'twas the Lord. I always told him, "I trust you. I don't know where to go or what to do, but I expect you to lead me," and he always did.

Harriet Tubman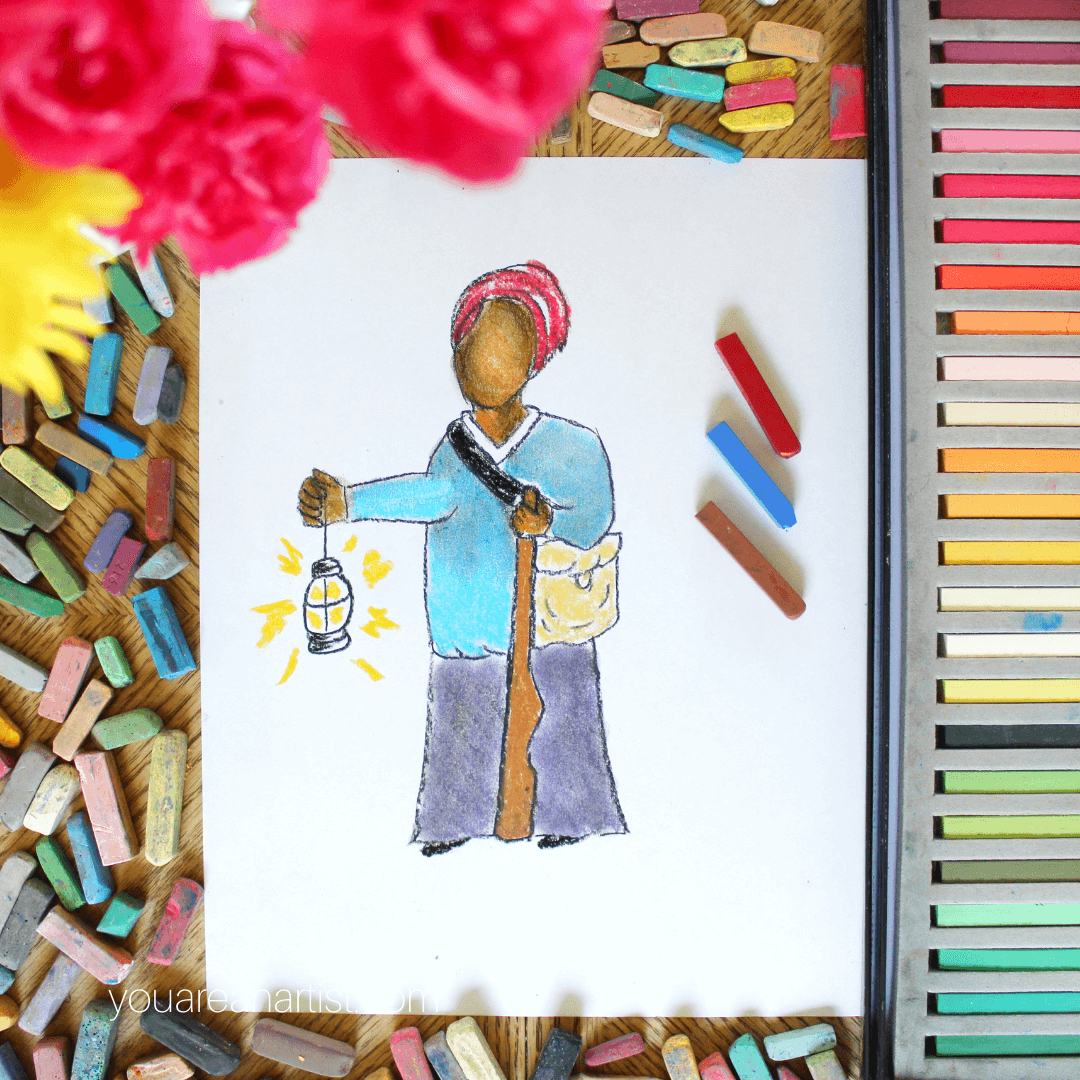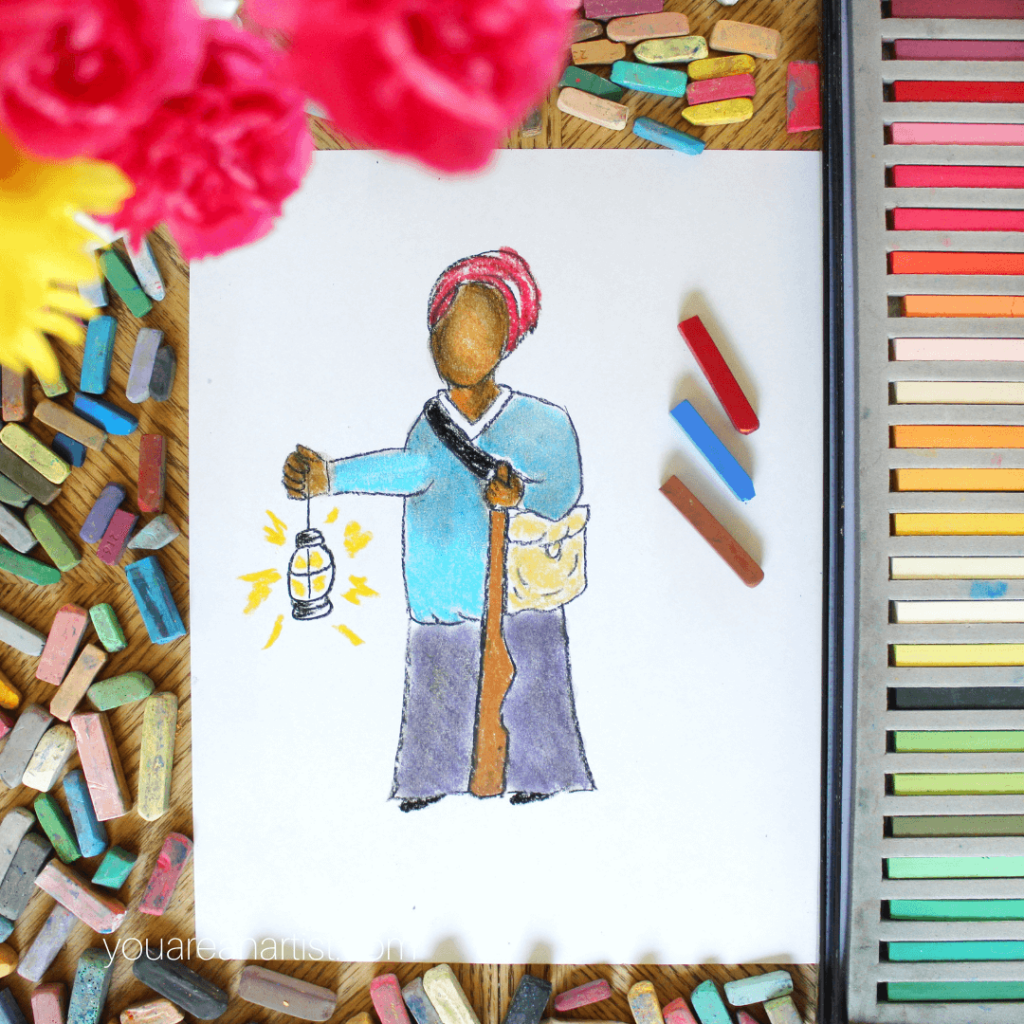 Harriet Tubman Lesson for Homeschool
Erin and her artists recently enjoyed Nana's Harriet Tubman art lesson in their homeschool. Erin says, "Are you looking for fun ways to incorporate American history homeschool lessons? Maybe you already have a history curriculum, but you're looking for ways to make it more hands-on and engaging. Chalk pastels may be just what you need to get your kids to fall in love with history!"
"Every great dream begins with a dreamer. Always remember, you have within you the strength, the patience, and the passion to reach for the stars to change the world."

-Harriet Tubman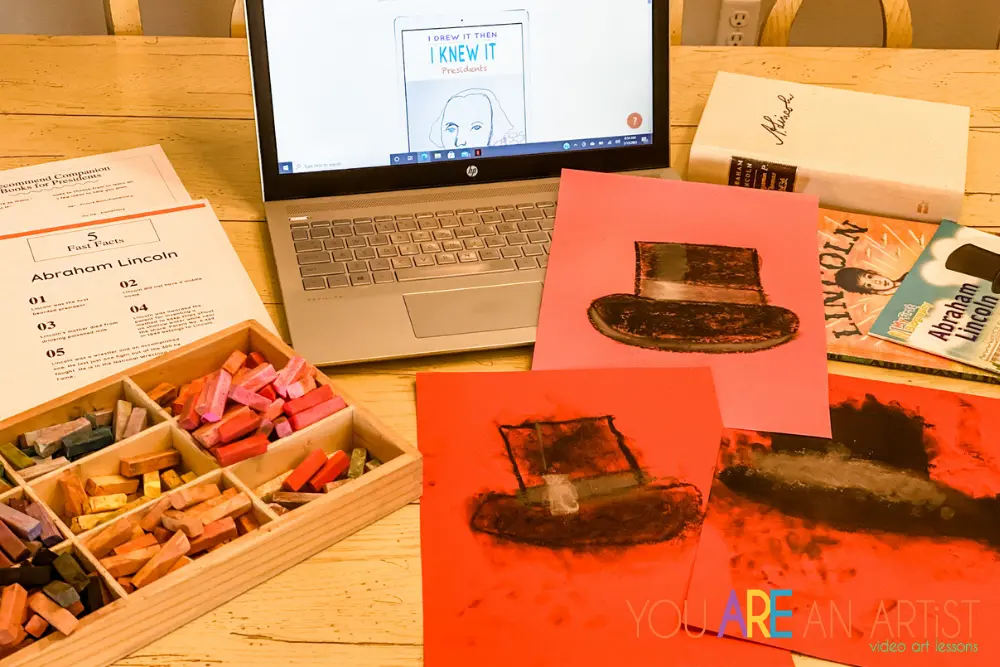 President Abraham Lincoln Homeschool Lesson
No Civil War hands-on homeschool lessons would be complete without an in-depth look at President Abraham Lincoln. Courtney and her students shared an excellent art time for Presidents Day. It is full of fun learning ideas for President Lincoln! Nana has a President Abraham Lincoln lesson, Abraham Lincoln's hat and a Thanksgiving Day Proclamation lesson with Abraham Lincoln. So many ways to learn about American Civil War president.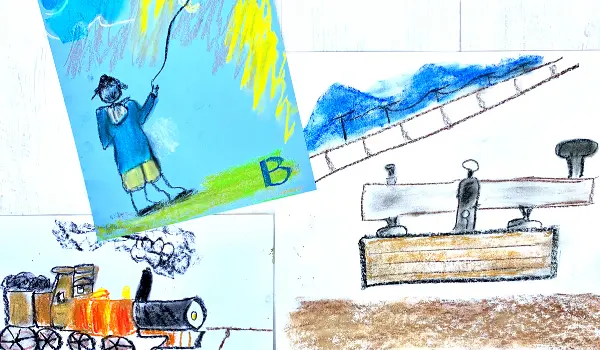 Telegraph Inventors Homeschool Lesson
The telegraph was an instrumental tool for communication during the Civil War. Learn more with this lesson and more in Nana's Inventors homeschool art lessons.
Civil War Hands-On Homeschool Lessons in the You ARE an ARTiST Clubhouse
Take a look at this sampling of Nana's art lessons available in the You ARE an ARTiST Complete Clubhouse that you can pair with your American history studies to create Civil War hands-on homeschool studies.
Harriet Tubman
Underground Railroad (Map)
Sojourner Truth
Civil War Cannon
President Abraham Lincoln
President Ulysses S. Grant (a general during the Civil War)
United States (North America) map
Telegraph (Inventors)
I Drew It Then I Knew It American History Homeschool Workbook
This resource, available to our Complete Clubhouse members, can be such a valuable tool for your Civil War hands-on homeschool lessons for your American history studies. Workbook series author, Courtney Messick, shares, "In each workbook, you will find a Book List with varying reading levels, 5 Fast Facts, an Overview, Biography, or Writing Prompts, Planners, and Ideas for How To Use our Curriculum. Everything you need for a quick lesson can be found inside. Or use all of the planners included to map out a more extensive study. I also love that the Companion Workbooks help me combine my oldest to youngest learners all in one place over a central topic. There is something special about family-style learning and all of us creating together.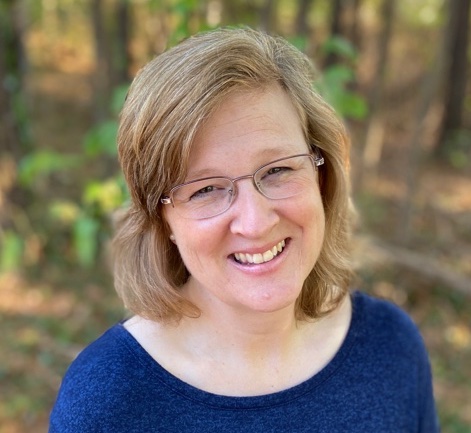 Growing a love of art at You ARE an ARTiST is a multi-generational passion! Tricia is Nana's daughter and a mama of five children. Nana shared her first chalk pastel art lessons with her grandchildren around Tricia's kitchen table. Homeschooling since 2000, Tricia has seen the fruits of home education with three homeschool grads so far! She shares the art and heart of homeschooling at Hodgepodge and is author of the book, Help! I'm Homeschooling! She and her husband, Steve, are also owners of The Curriculum Choice.