This delightful homeschool nature study is all about Winnie The Pooh's Hundred Acre Wood. It includes book references and online art lessons, perfect for the entire family.
Winnie the Pooh: A Classic Read Aloud
"So they went off together. But wherever they go, and whatever happens to them on the way, in that enchanted place on the top of the Forest, a little boy and his Bear will always be playing." A.A Milne The House at Pooh Corner, p. 180
A playful Roo,
A shy Piglet too.
A melancholy donkey,
It's Eeyore, you see.
A Christopher Robin, the benevolent boy,
On the 100 Acre Wood with all of his toys.
And the poetic bear, who has a round tummy,
Gladly plays Pooh Sticks and loves to eat honey!
95 years later, that beloved bear, Winnie the Pooh, still lives on in the hearts and homes of many readers. Penned by the remarkable author, A.A. Milne,  the Pooh stories leave a masterpiece of hilarity, childhood expression, and charm. Curious minds are invited deeper into the wholesome adventures of the 100 Acre Wood awakening a longing for the simple days. The tender wordplay sprinkled across these classic tales bring laughter and a light-hearted cheer. And while Milne's whimsical talking animals stir a child's wonder, the affectionate memories the famous bear brings, will stir a mother's heart, forever.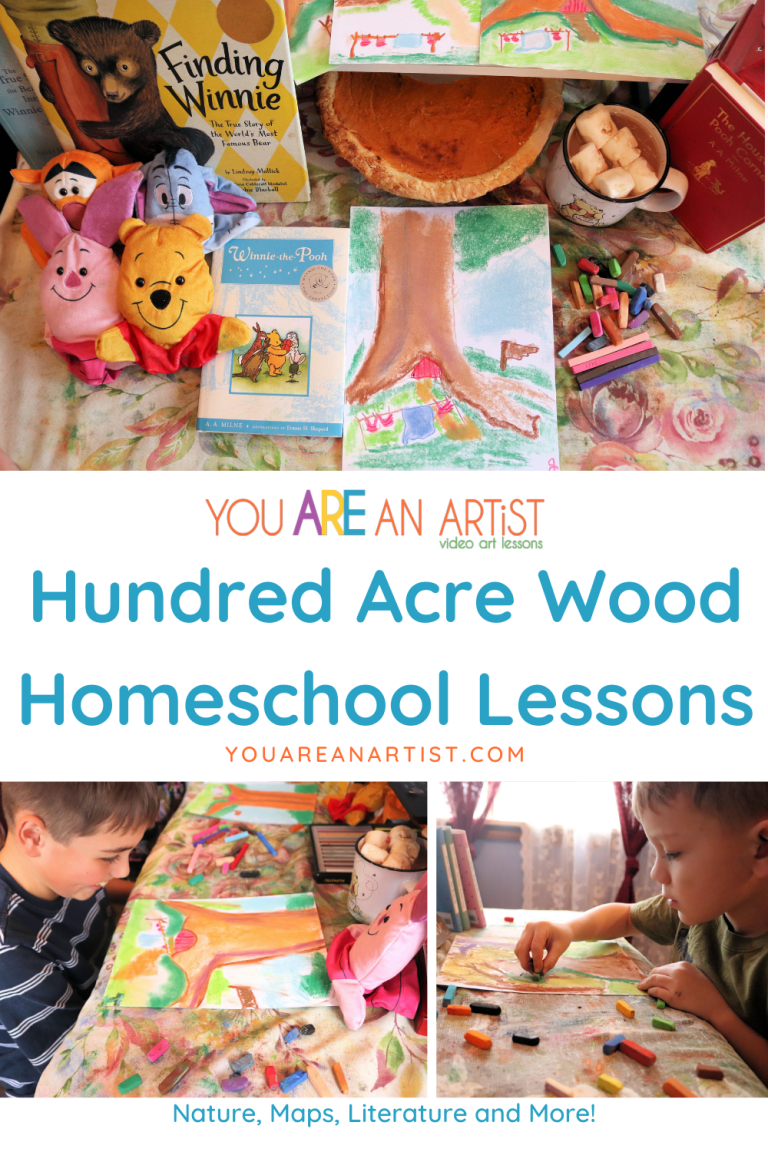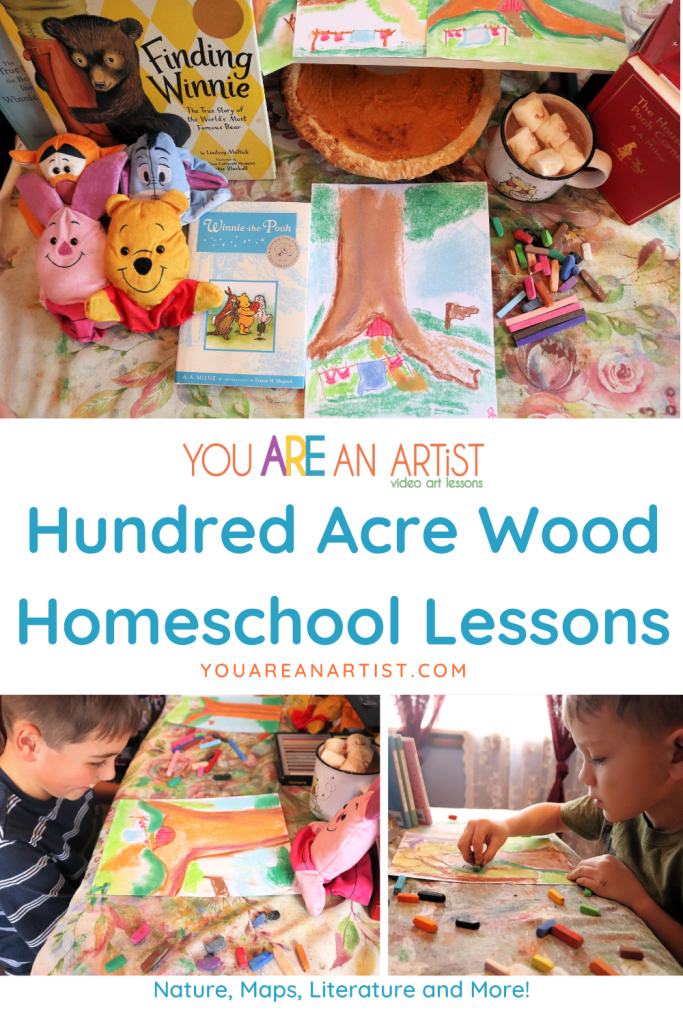 Winnie the Pooh is 100 Years Old in 2021
In 1921, A.A Milne gave Winnie the Pooh to his son, Christopher Robin Milne for his first birthday. That makes Pooh Bear 100 years old! His first name was Edward Bear and then renamed after a black bear, Winnipeg, Winnie for short. Mr. Harry Colebourn, a veterinarian, purchased Winnie for twenty dollars while traveling to serve in World War 1. This black bear served as a mascot for the Canadian Army and was later rehomed at the London Zoo where Christopher Robin Milne visited. The name "Pooh" is said to be from a swan.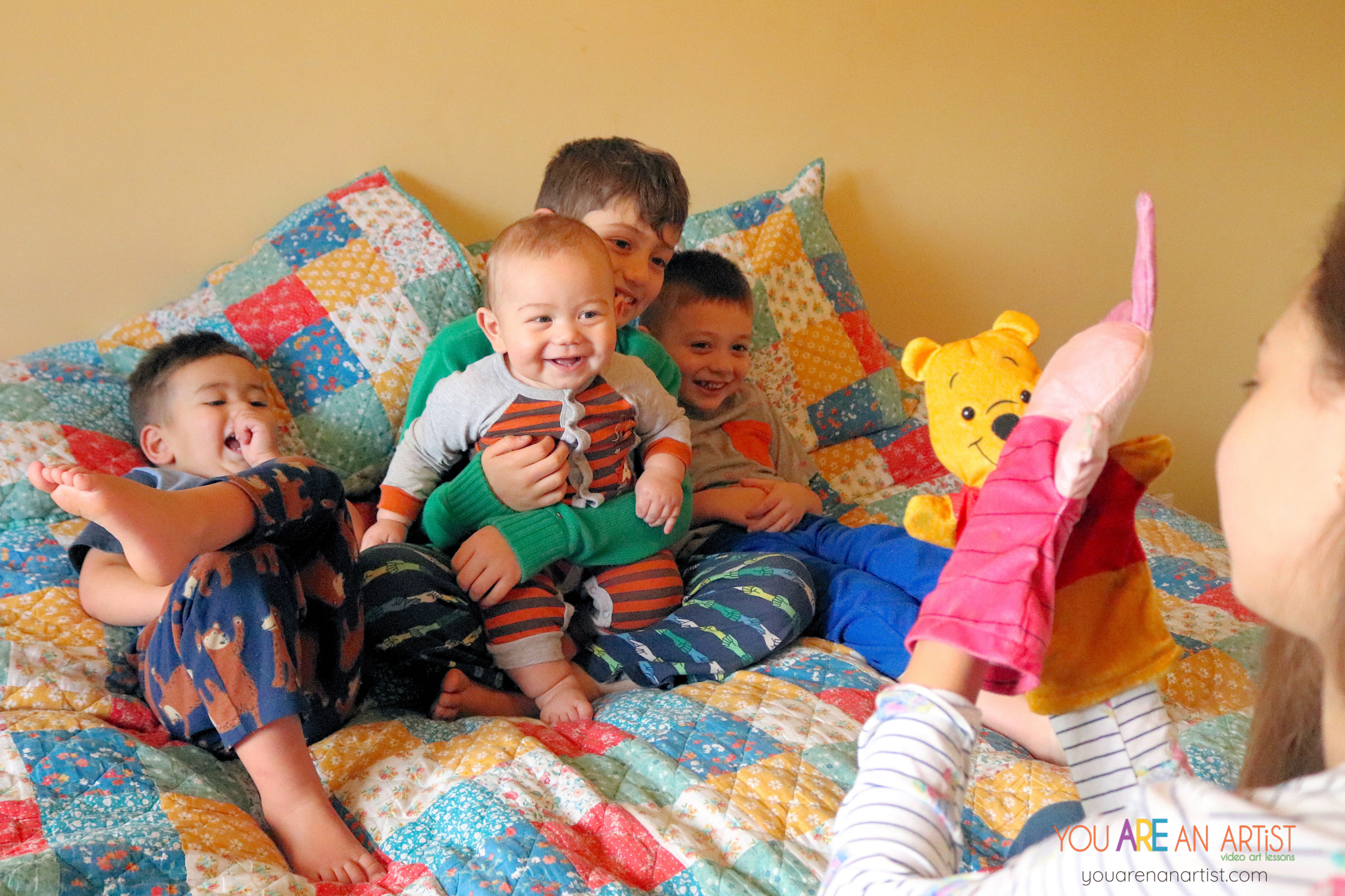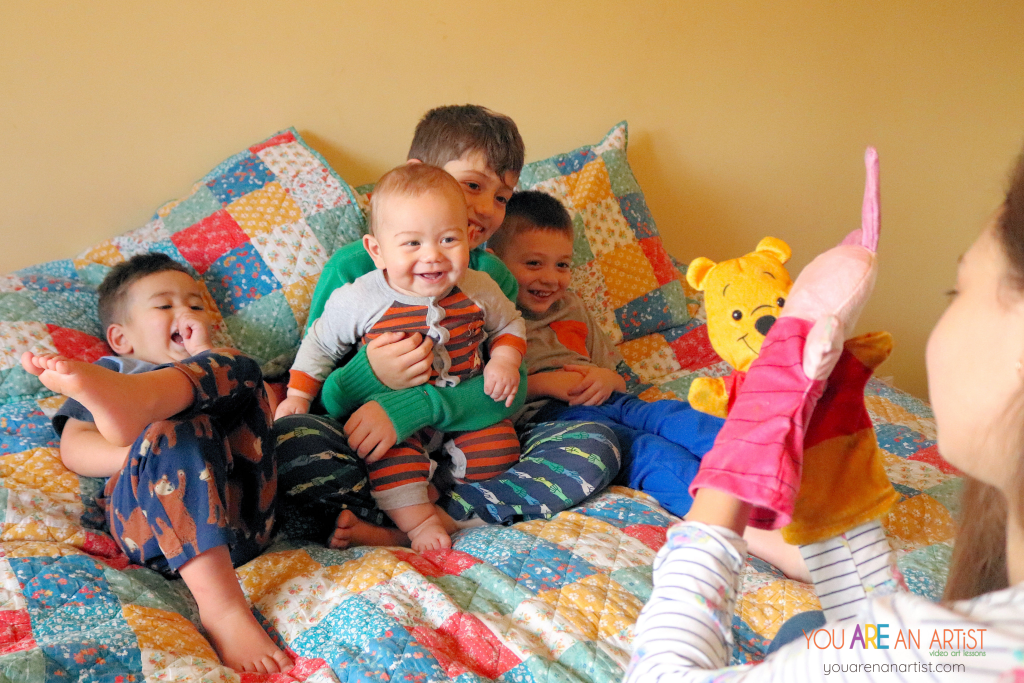 A.A. Milne's inspiration for such winning stories about a melancholy donkey who once lost his tail, a dandelion-blowing Piglet, and a Tigger who loves a "golollop" of Strengthening Medicine is based on his one and only son, Christopher Robin Milne and his stuffed toys. Pooh's endearing adventures have been translated into over fifty languages with more than 20 million copies sold! Winnie the Pooh and his friends, Piglet, Tigger, Eeyore, and Kanga live at the New York Public Library for all to see. This poetic bear devoted to honey, kindness, and gentle humor continues to fill the hearts of parents and children all over the world.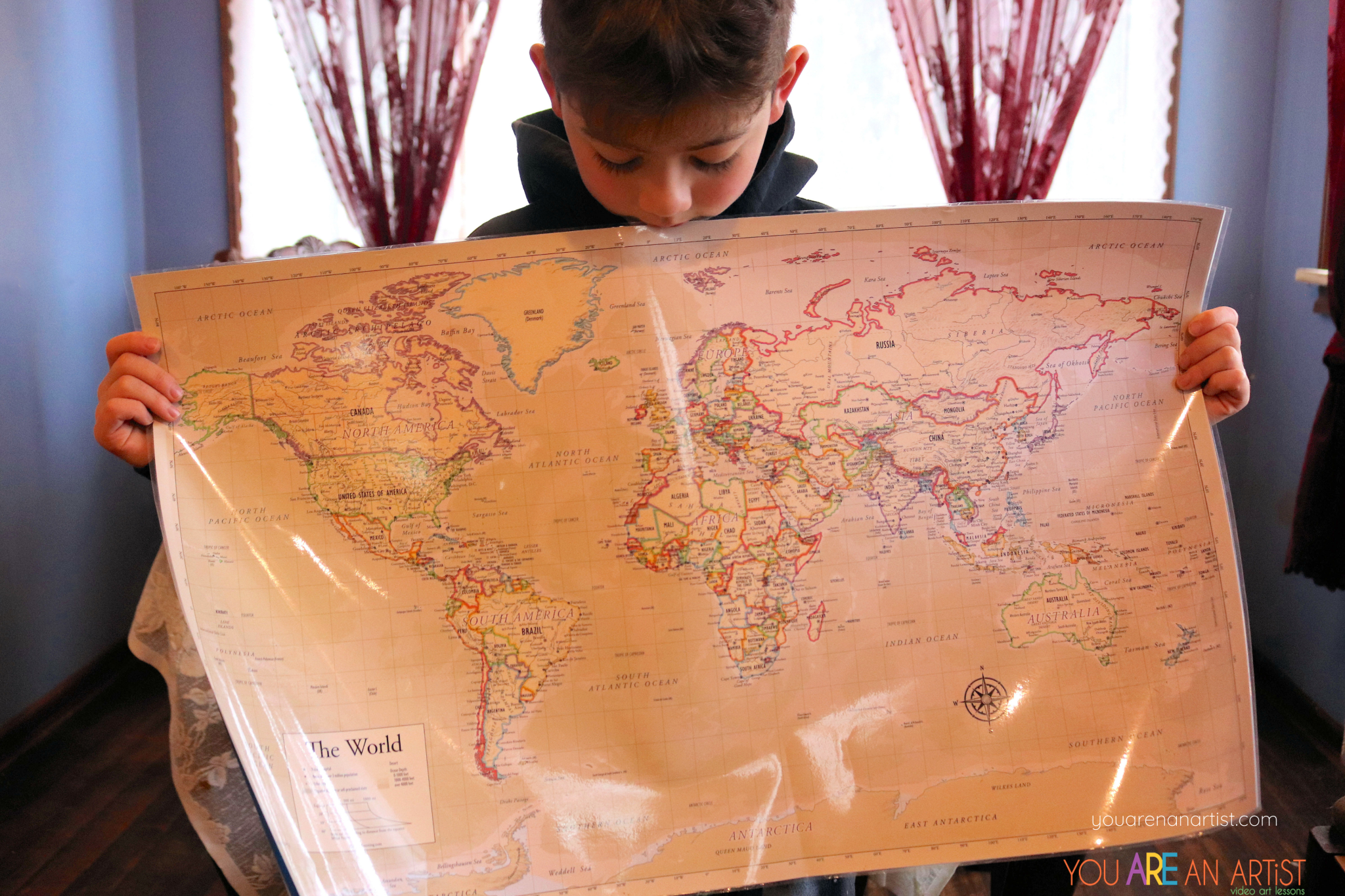 The Real 100 Acre Wood: A Homeschool Nature Study
Did you know that the 100 Acre Wood actually exists? It is nestled in Sussex, England, called Ashdown Forest. This spectacular forest dressed in heathland and trees is the place that brought inspiration for A.A Milne's Pooh stories and the illustrations by Ernest H. Shepherd. Ashdown forest also homes many wildlife such as deer, birds, and butterflies. We tied in a bit of geography by locating Europe, the United Kingdom, London, and Sussex, England on a map. To see what the 100 Acre Wood is called in Ashdown Forest, visit Where Is The Hundred Acre Wood? Wonderopolis is kid-friendly, offers informational reading, rich vocabulary, and fun writing activities!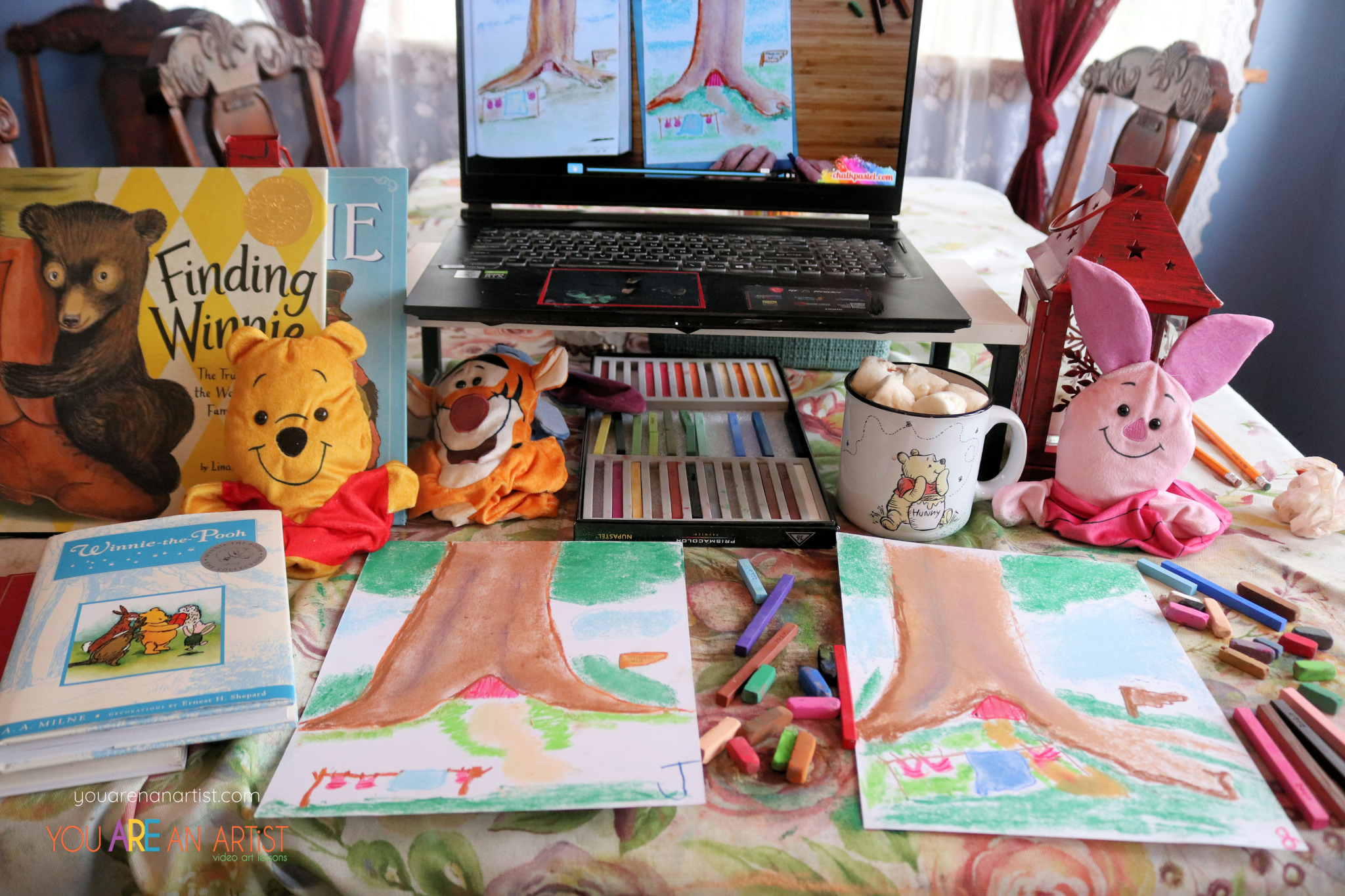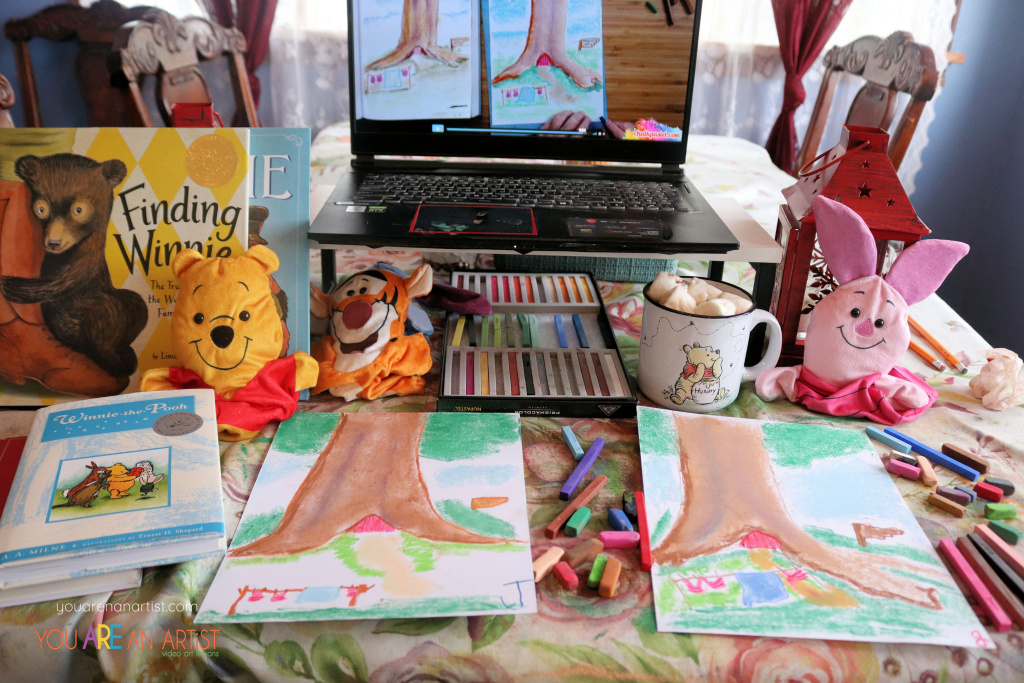 A Winnie The Pooh Hundred Acre Wood Homeschool Lessons
January 18th is Winnie the Pooh Day! It is also A.A. Milne's birthday. Painting with Nana is the perfect way to honor the notable author and the famous Pooh Bear! Maybe baking a delicious Sweet Potato pie using Nana's recipe will add a little extra sweetness to your art time and "delicious colors". Chalk Pastel Art has always enhanced my children's learning experiences. One of my absolute favorite ways to incorporate art with Nana is either right before a read aloud or right after. The artwork serves as wonderful visuals for oral narration, and they are so beautiful on our walls! Coupling living books with art is such an effective way to create a unit study with minimal prep. Let's take a look at the engaging art lessons that sharpened my children's creativity for our Winnie the Pooh unit study! All of these can be found in You ARE an ARTiST Clubhouse Complete membership in Nana's Literature course, which is a continuing series. The Hundred Acre Wood Map is included in the Maps section.
…And it was eleven o' clock. Which was Time-for-a-little-something…"

Winnie the Pooh, A.A. Milne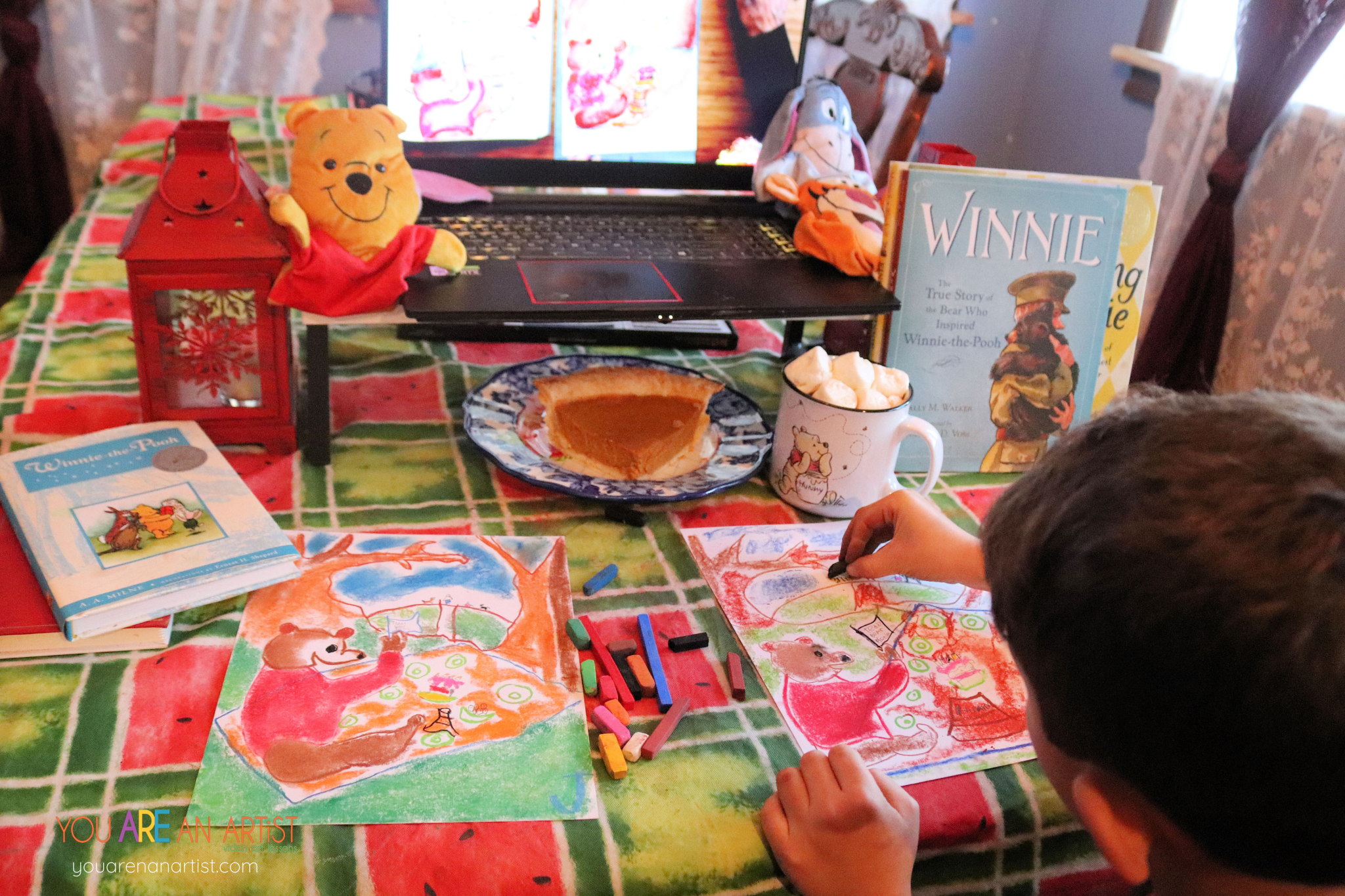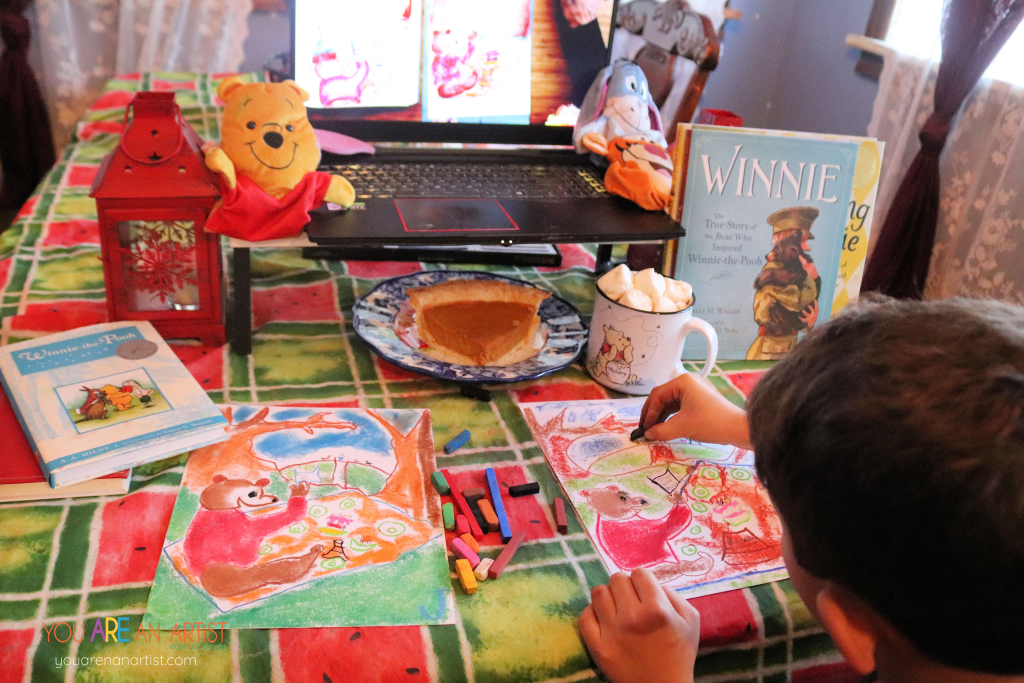 Why not go on a picnic with Nana and a teddy bear? Grab your red gingham blanket, bring your favorite yummy snacks, maybe some "hunny", a refreshing drink, and don't forget those colorful chalk pastels! You will need those for this fun lesson! We joined two lovely picture books, Finding Winnie The True Story of the World's Famous Bear by Lindsay Mattick and Winnie The True Story of the Bear Who Inspired Winnie-the-Pooh by Salley M. Walker with Nana's lesson. These picture books were loved by my younger and older children. While my three and four-year-olds loved the colorful illustrations, my older children enjoyed the inspiration behind Winnie the Pooh's name. They were also fascinated with the real black and white photos, and the real black bear, Winnie.
Home in the Tree Homeschool Art Lesson
Aw, that beautiful beech tree where shy Piglet lives! Nana surely uses "delicious colors" in this lesson with the different shades of green, pinks and reds! I can just picture sweet Piglet hanging his clothes on the laundry line.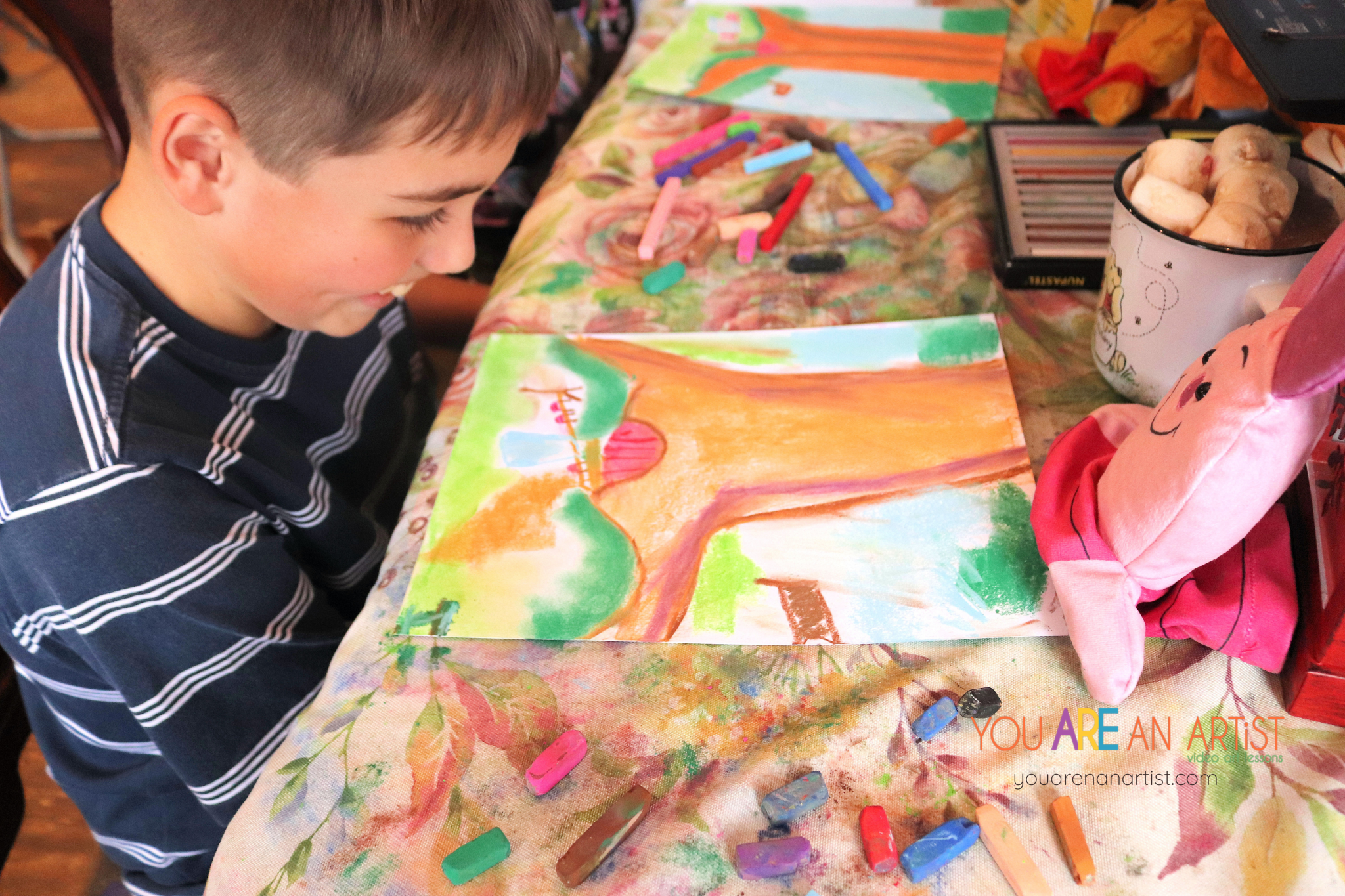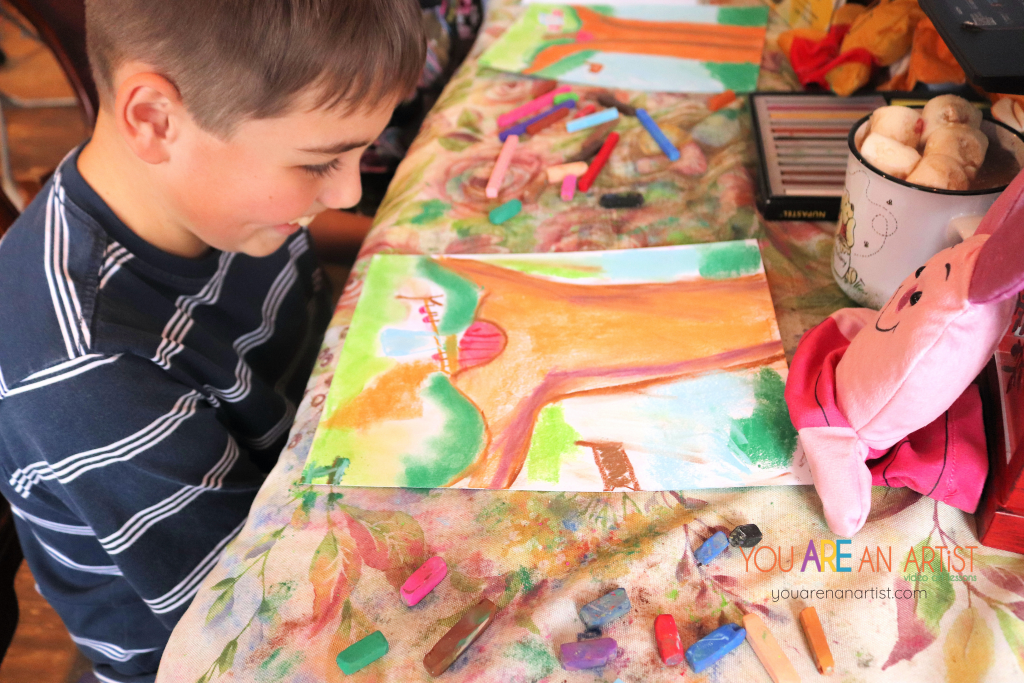 And that broken sign that reads, "Trespassers Will" brought a few befuddled looks and giggles in our household. We had to talk about how "Trespassers Will" was Piglet's grandfather's name, and Piglet's grandfather had two names, just in case he lost one-at least that is what Piglet told Christopher Robin.
We coupled Piglet's art lesson with a classic read aloud by , A.A. Milne, Winnie the Pooh. This book is a wonderful collection of short stories packed with adventures on the 100 Acre Wood! From Piglet ending up in Kanga's pouch, to Piglet's house being surrounded by water, Eeyore losing his tail, Pooh getting stuck at Rabbit's house, and so much more!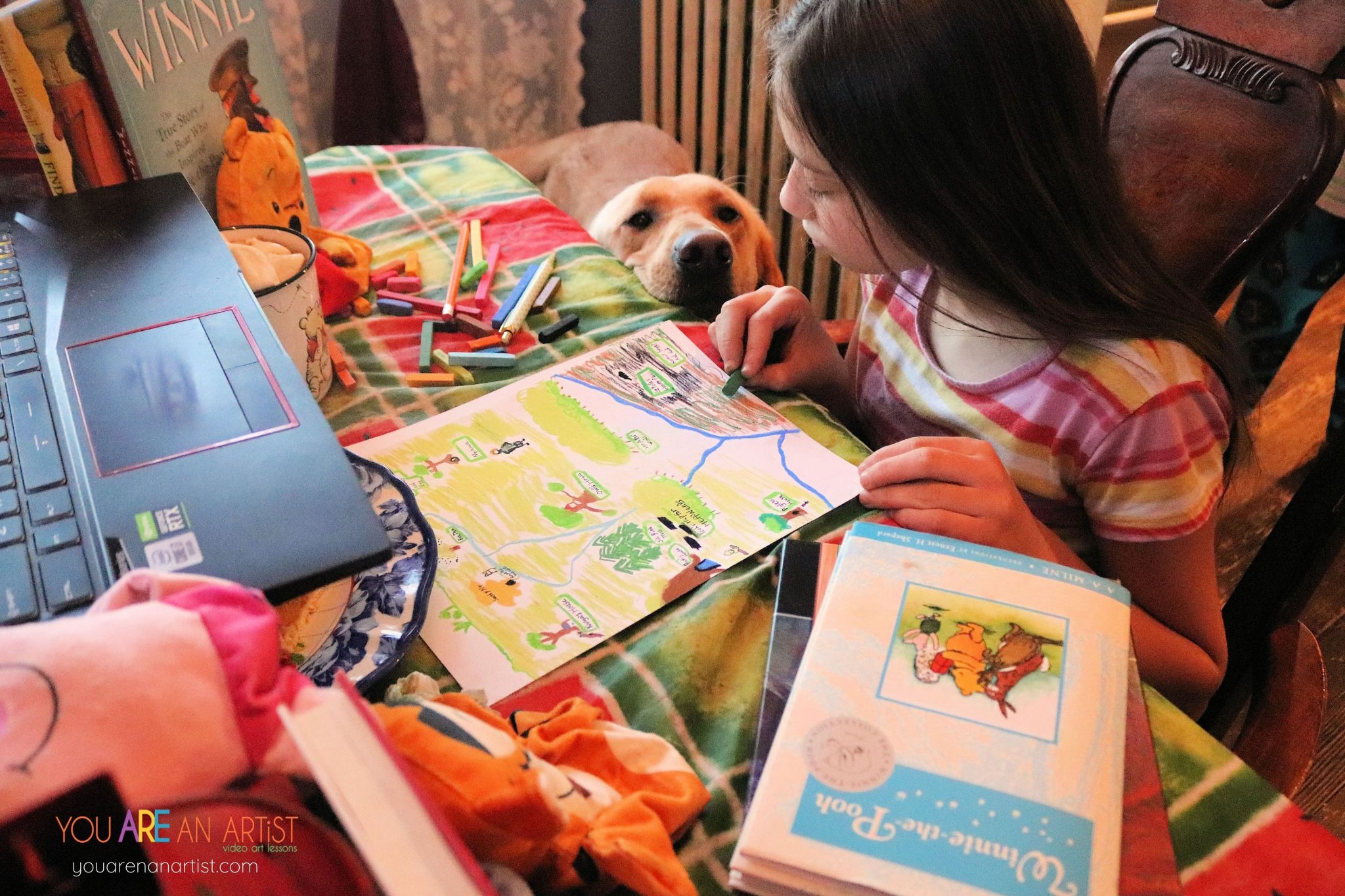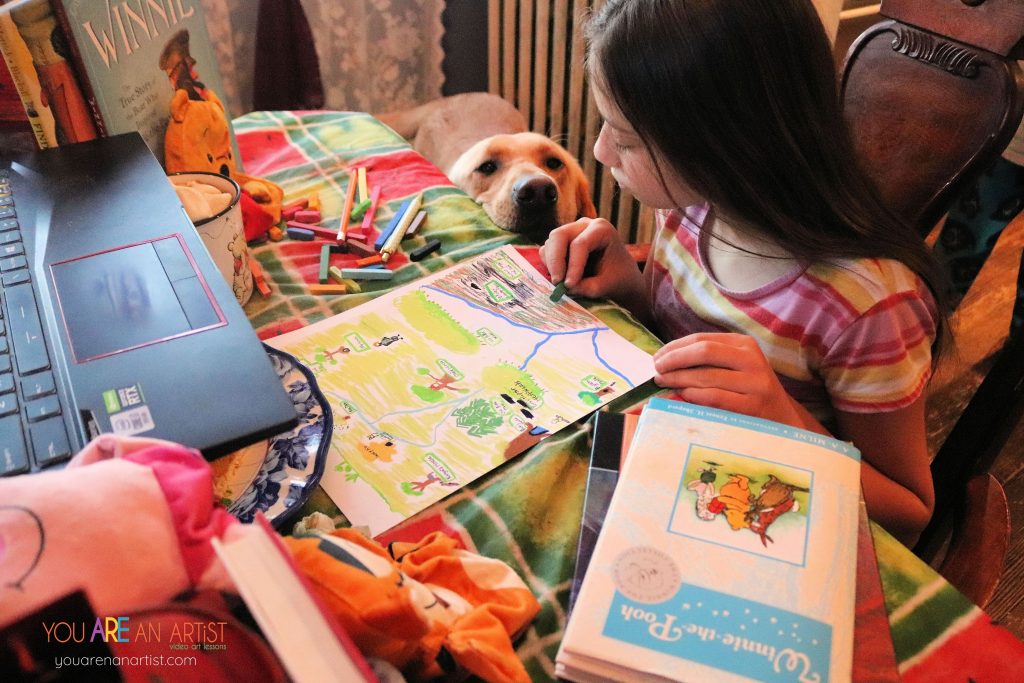 The Hundred Acre Wood Map Art Lesson for Your Homeschool
Painting the Hundred Acre Wood map provided a perfect visual that satisfied my children's curious minds while imagining Pooh's fanciful adventures. This delightful art lesson complements both stories by A.A. Milne, The House at Pooh Corner and Winnie the Pooh.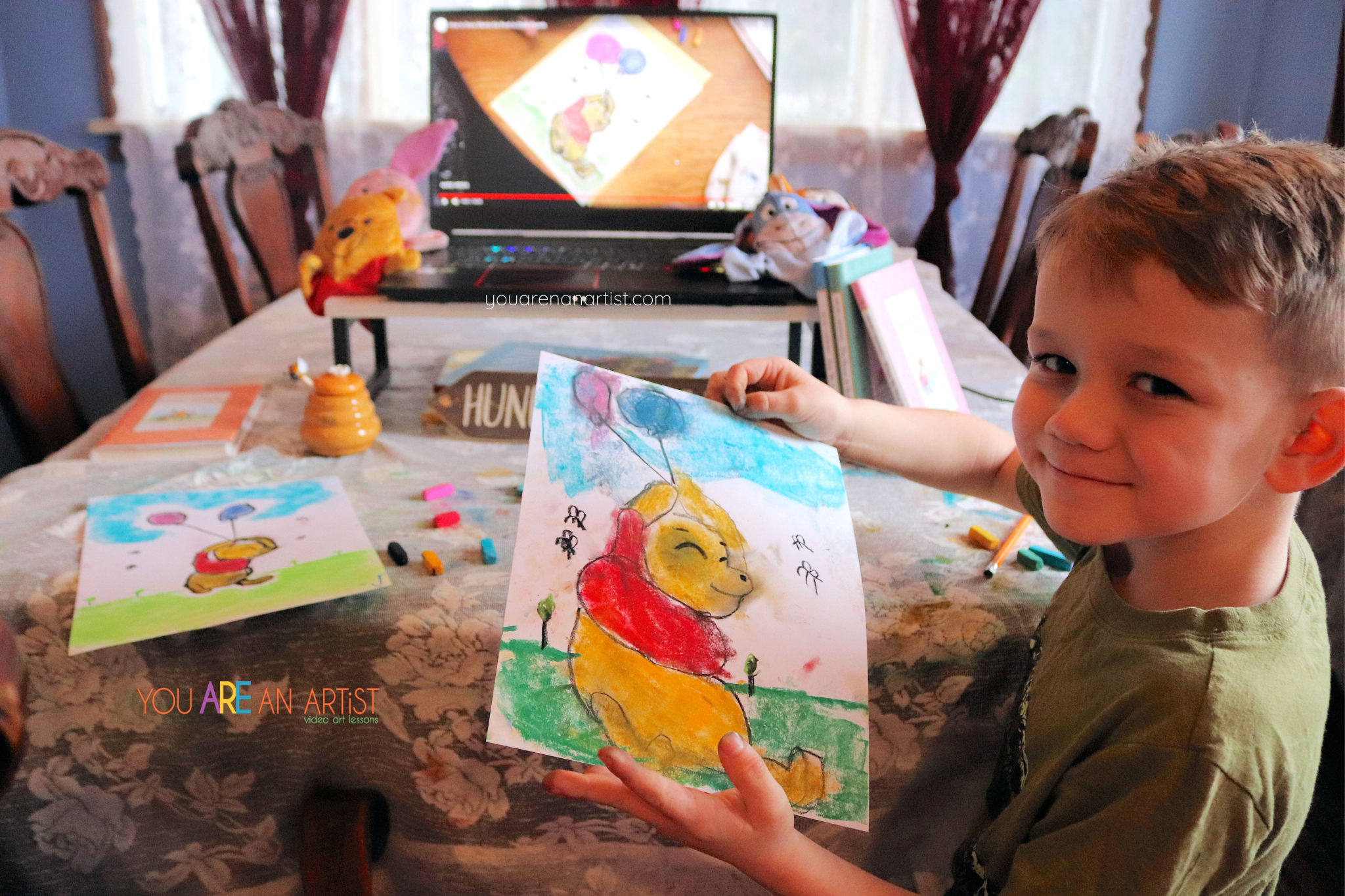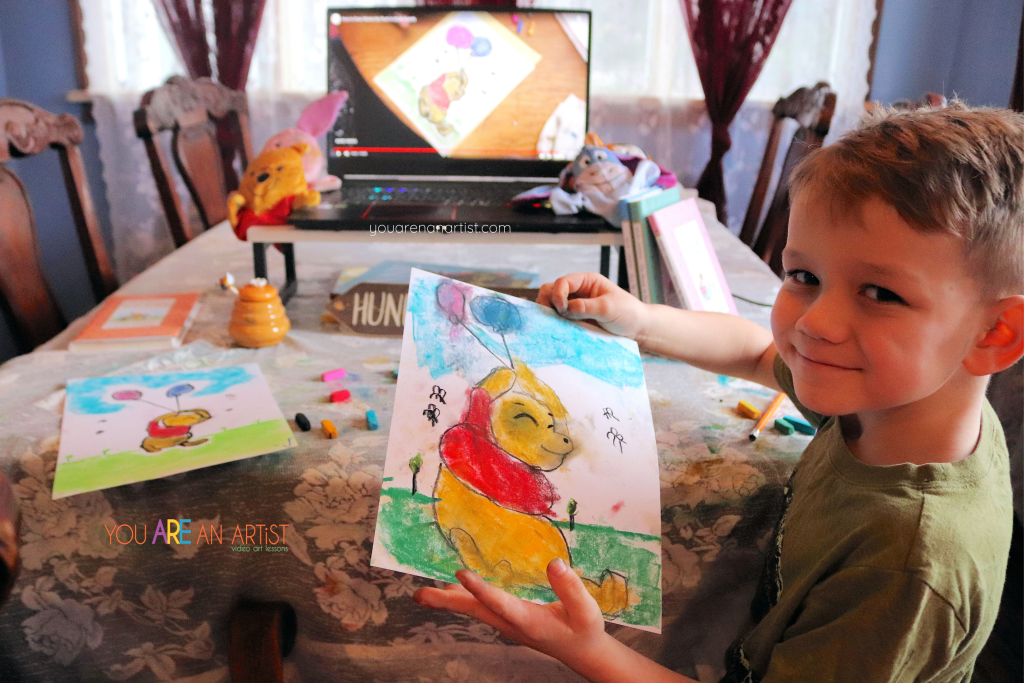 Pooh and the Honey Tree Homeschool Lesson
We saved this painting for last! I wanted to save this one until we were all finished with our books so my children could really grasp Pooh's character. By the time we finished the stories, my children couldn't wait to paint this colorful classic with Nana!
"People say nothing is impossible. But I do nothing every day."

Winnie the Pooh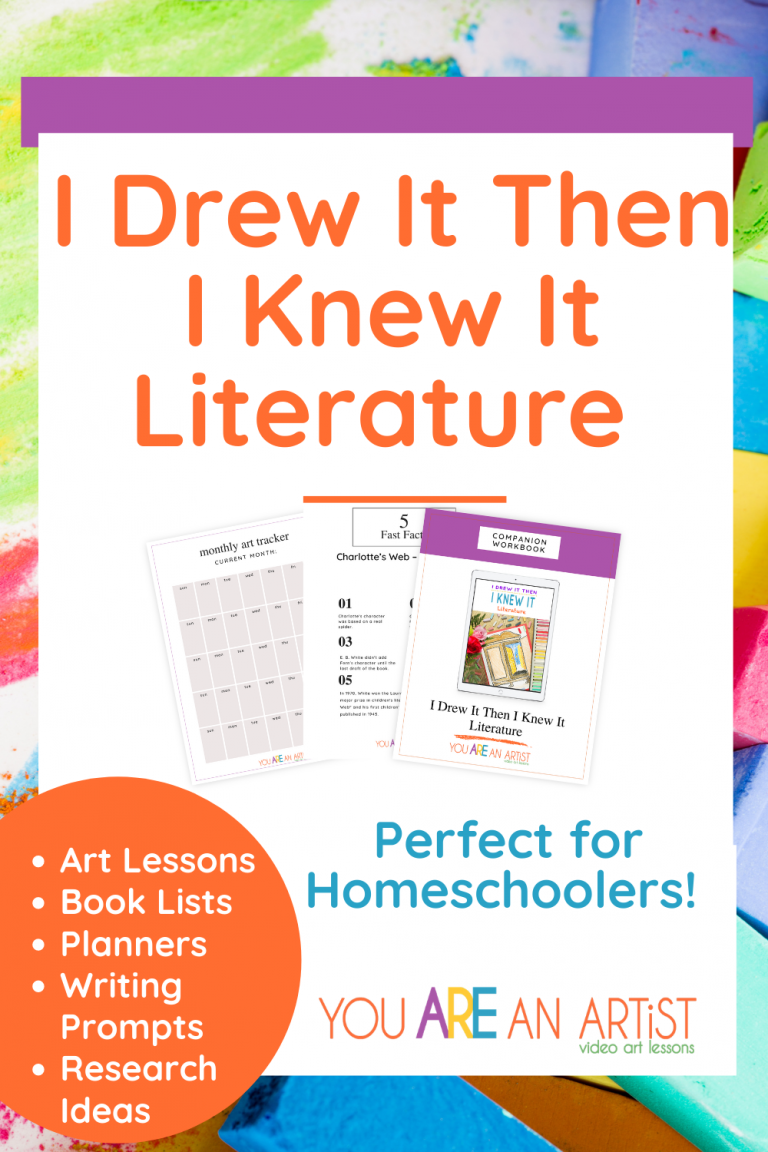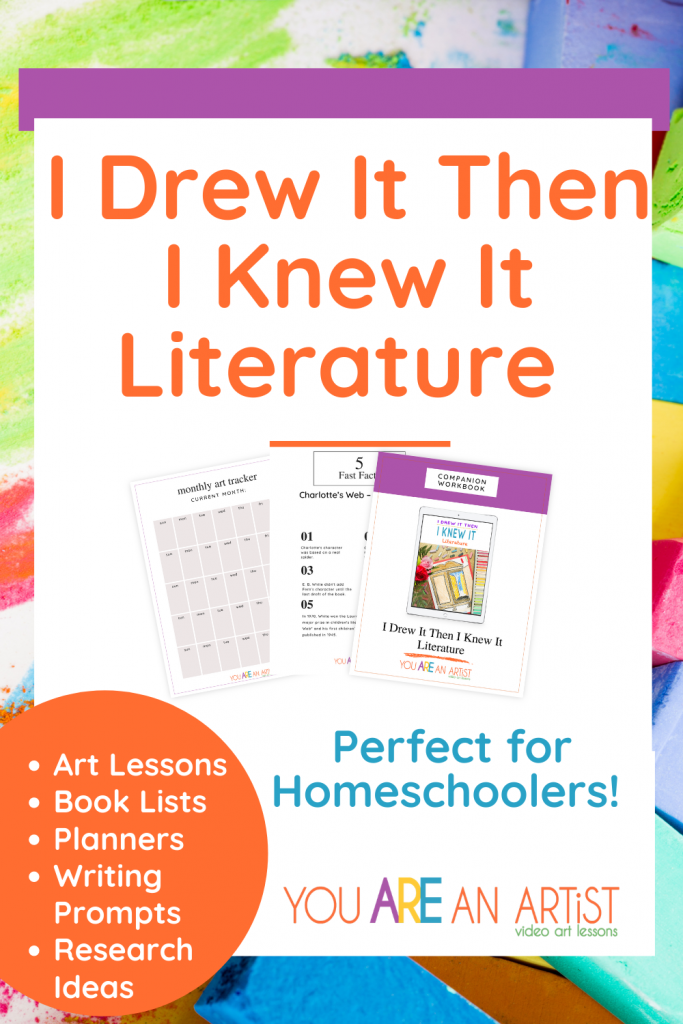 Homeschool Literature Writing Prompts with Art Lessons!
Did you know that You ARE an ARTiST Clubhouse members enjoy accompanying curriculum with Fast Facts, writing prompts and more?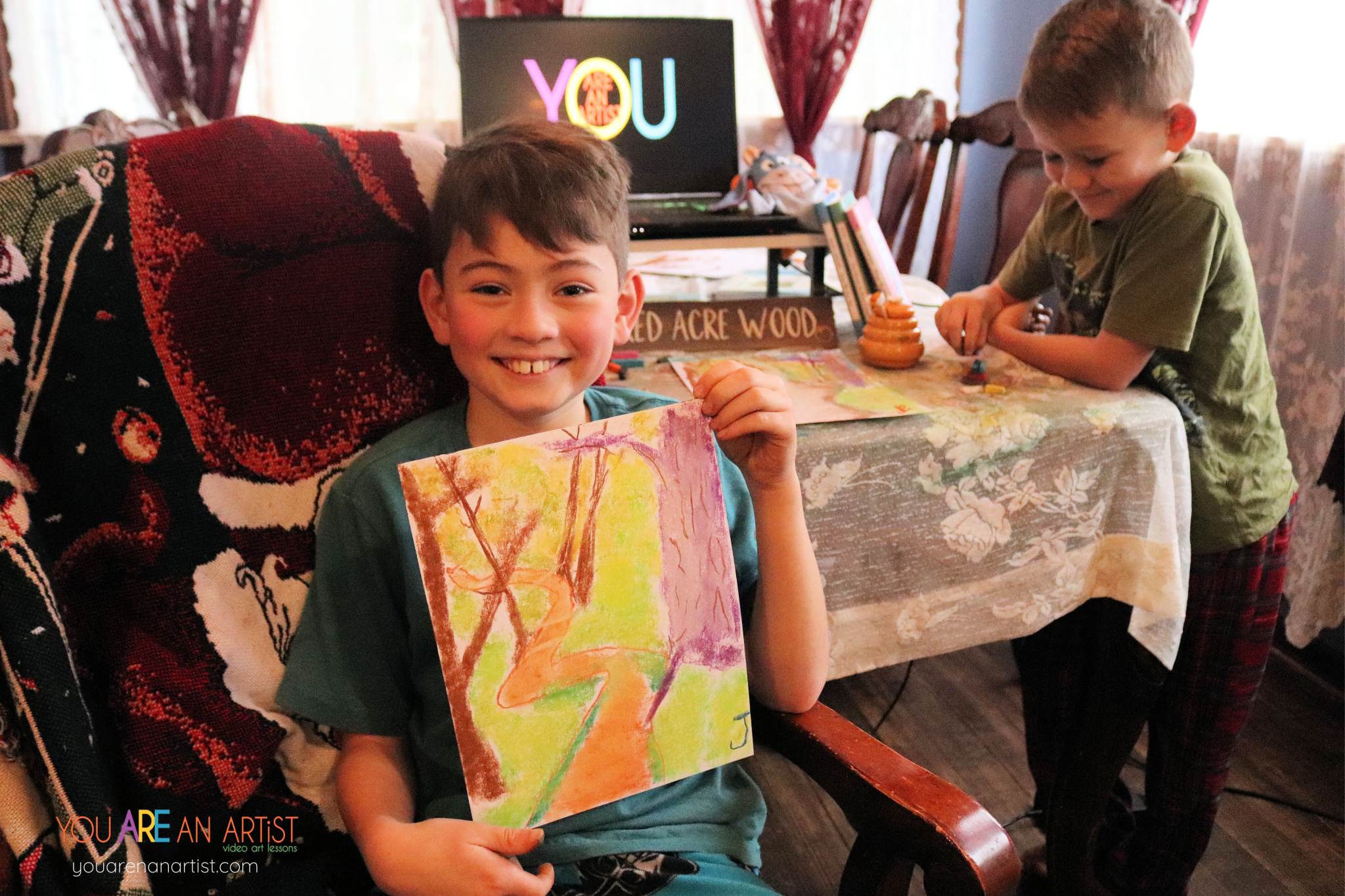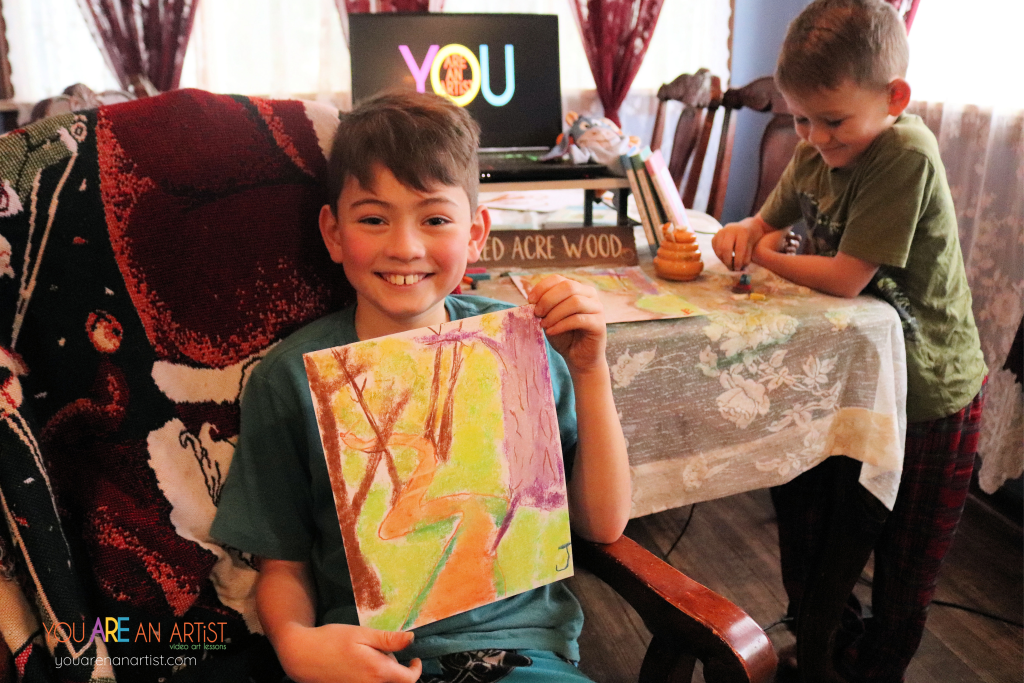 Additional Nature Study Resources

Chalk Pastel Art offers so many additional nature study resources that pair well with Winnie the Pooh and the Hundred Acre Wood! Combine Nana's art lesson, with a nature walk, a little bit of geography, a read aloud, and there you have it! A Pooh homeschool nature study hundred acre wood style! Check out the homeschool art lessons that are available!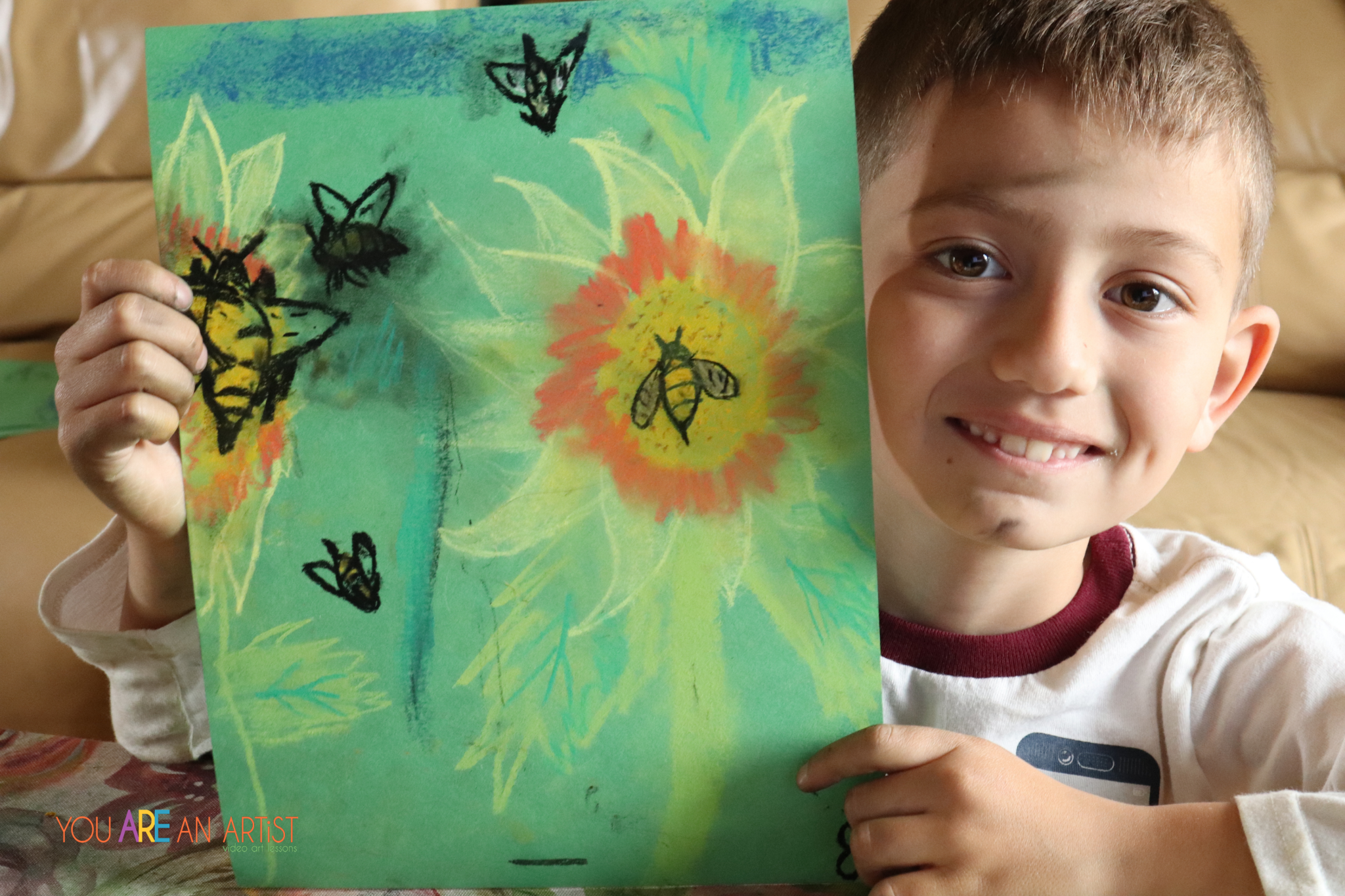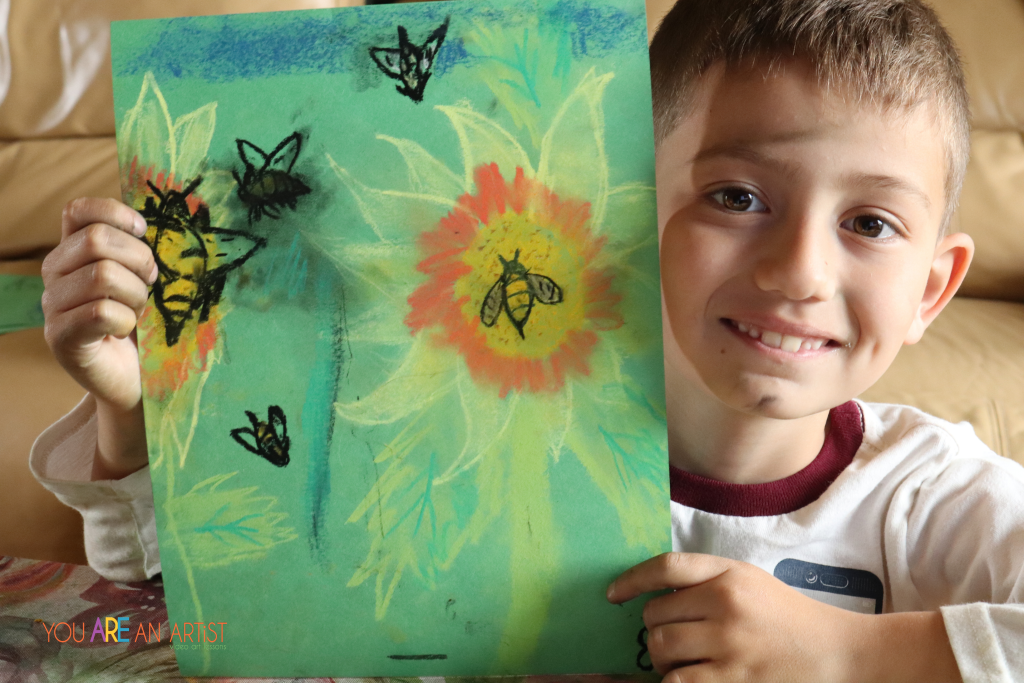 The 100 Acre Wood is located on Ashdown Forest in Sussex, England, not too far from London. Ashdown forest houses many deer, birds, butterflies, and invertebrates! Enjoy art lessons with a forest theme: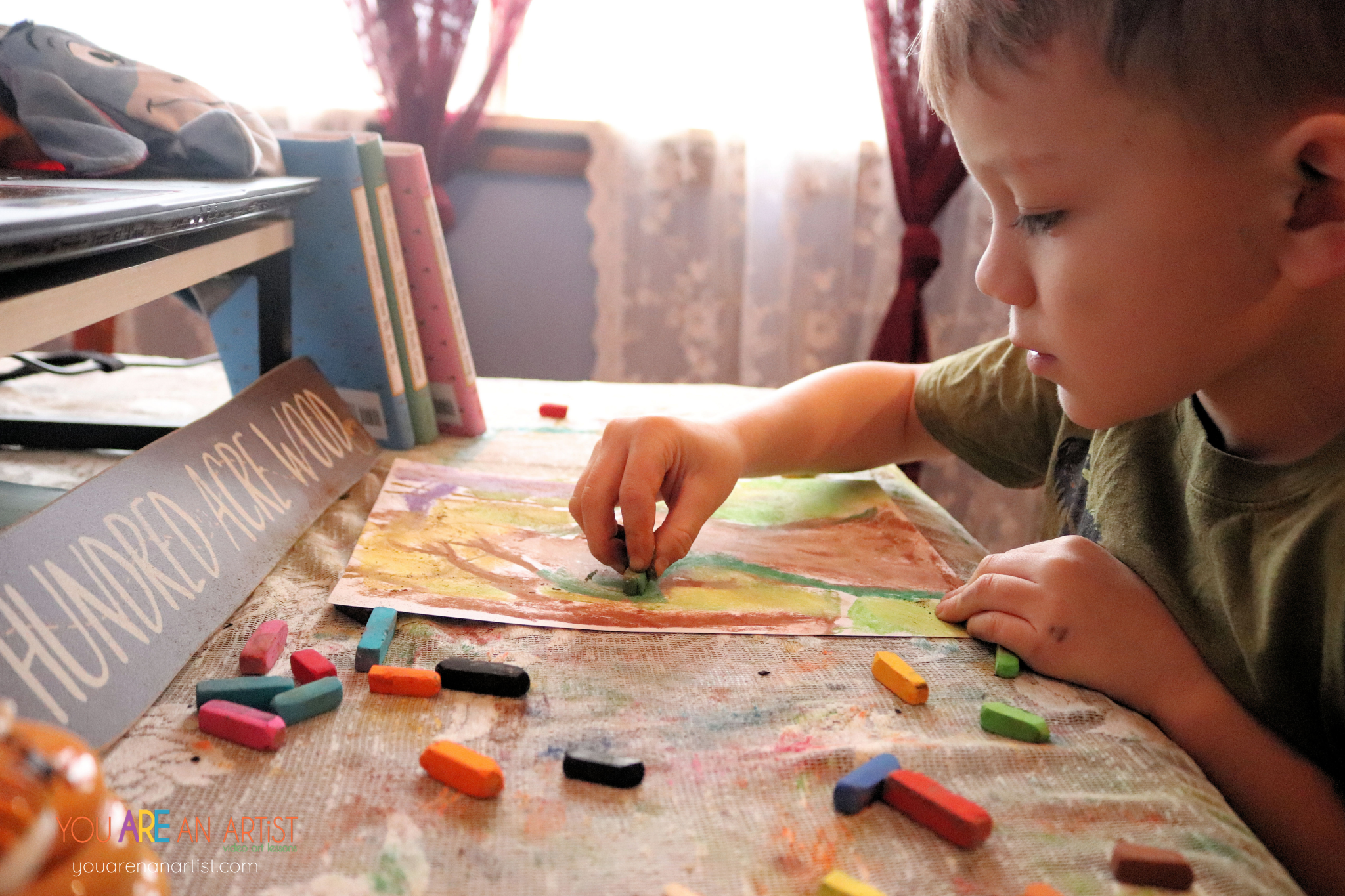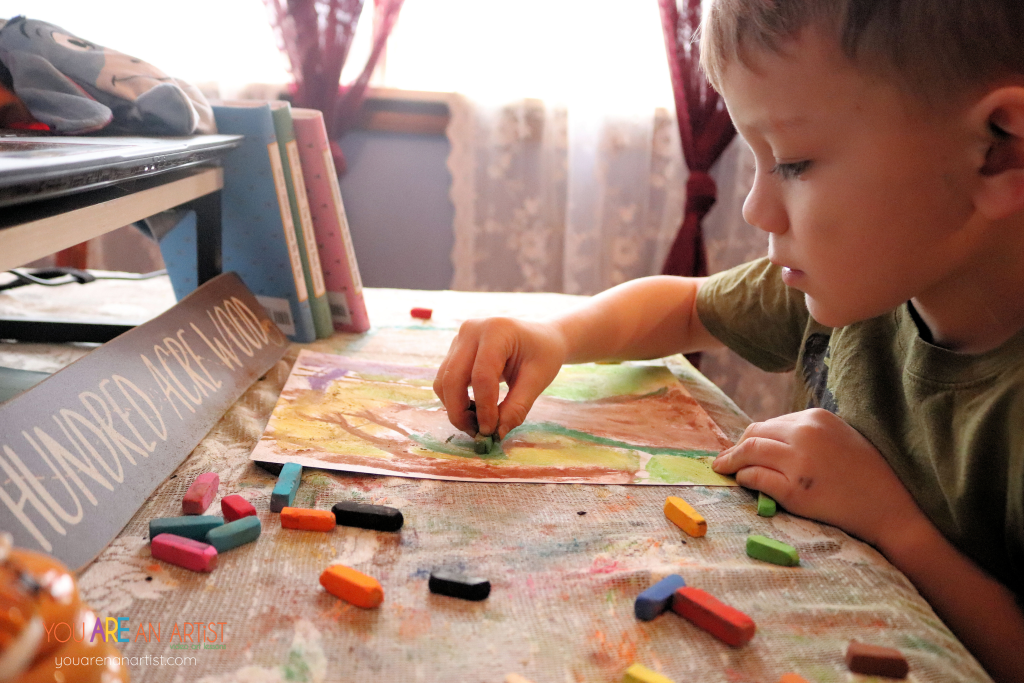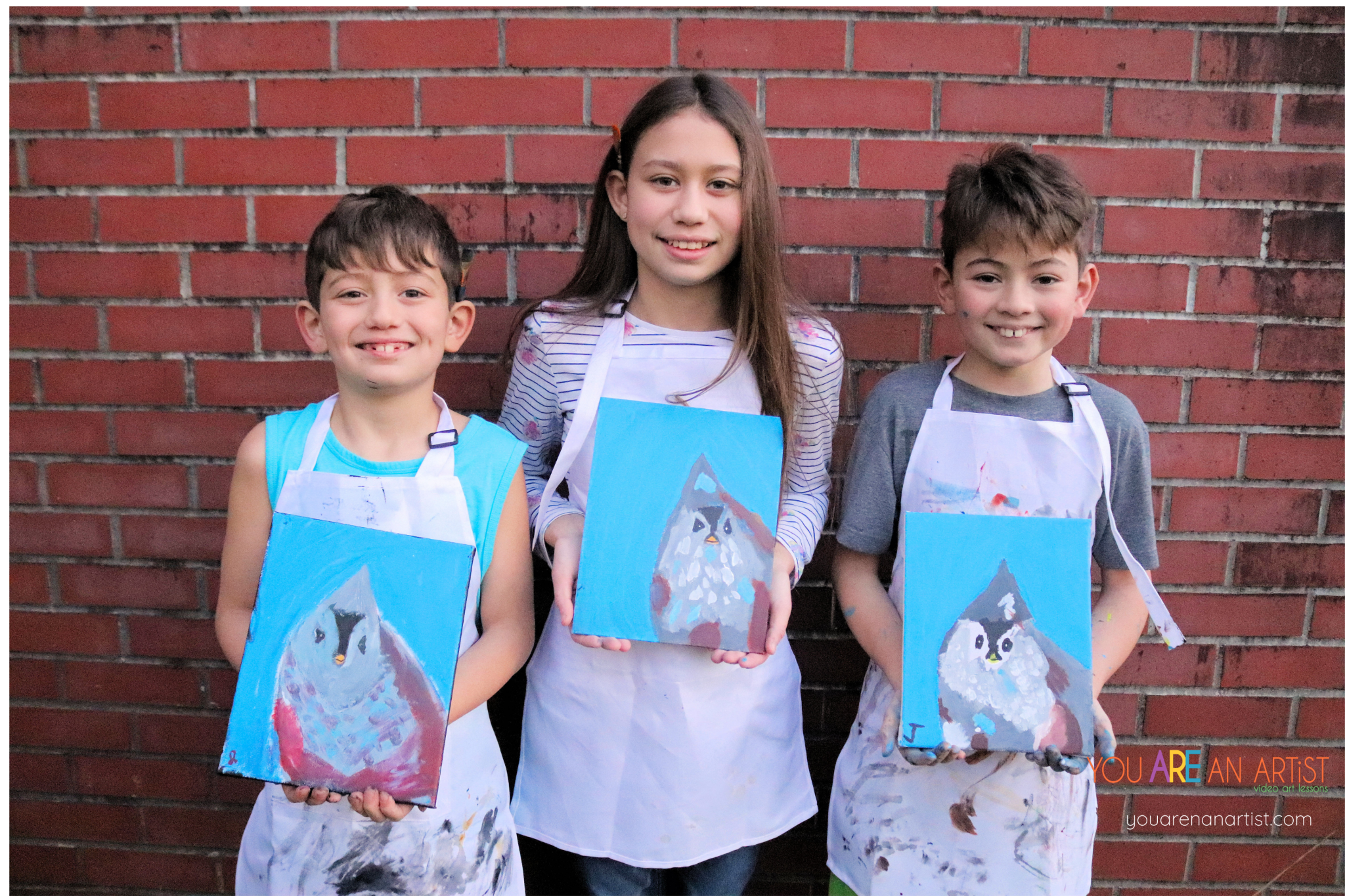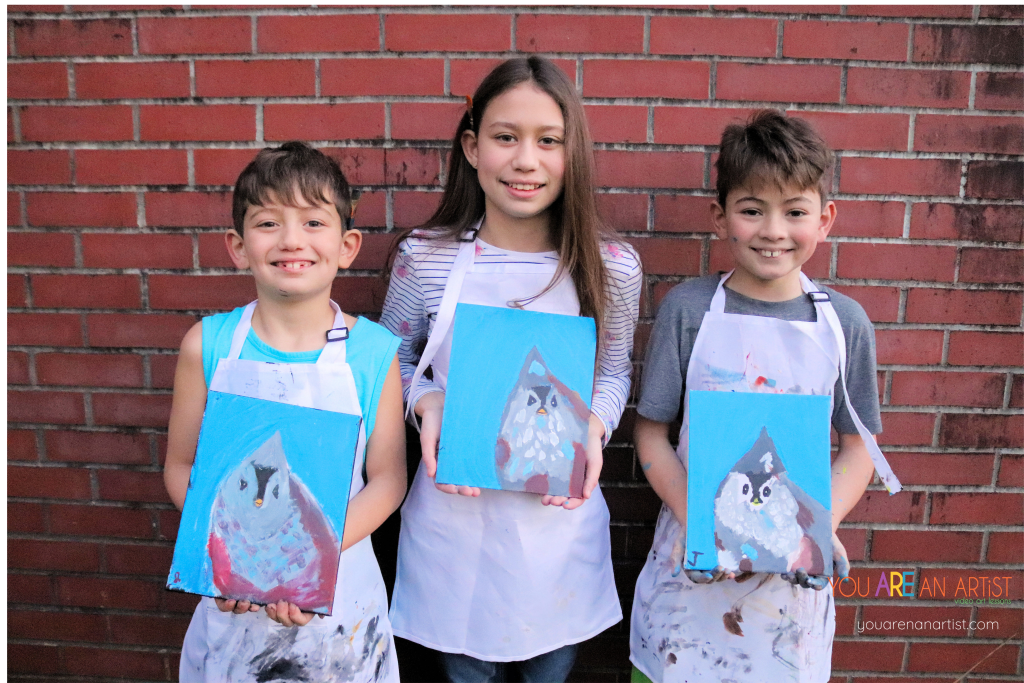 Piglet loves "haycorns' and was found by Pooh cheerfully blowing a dandelion. Nana's acorn lesson with those gorgeous shades of brown!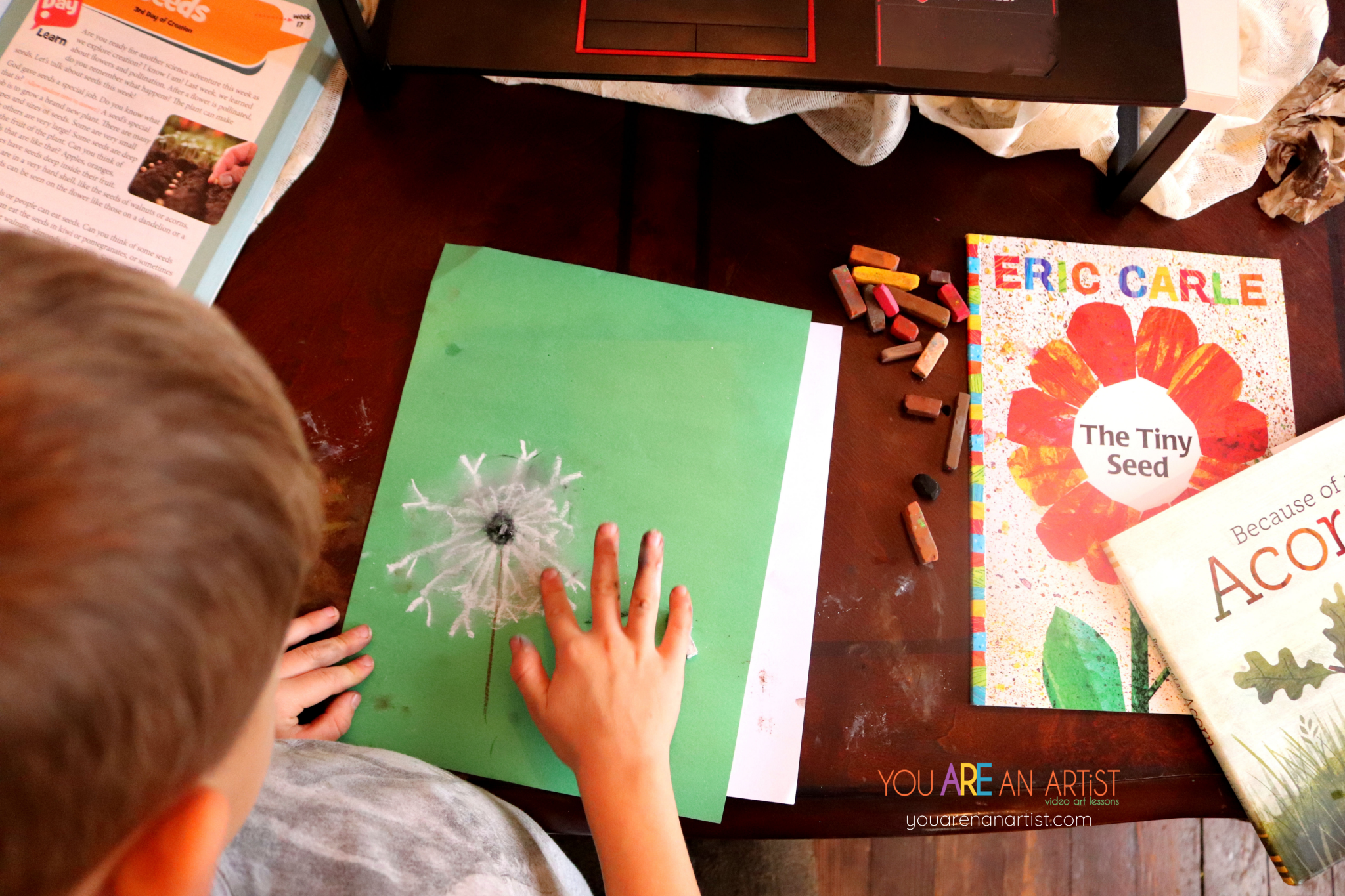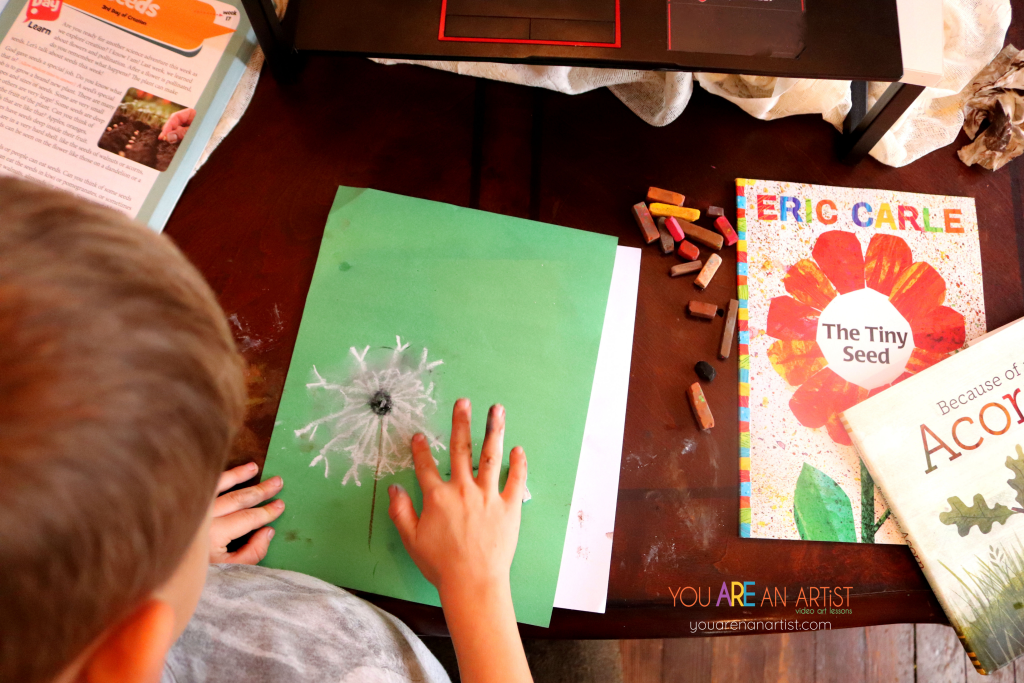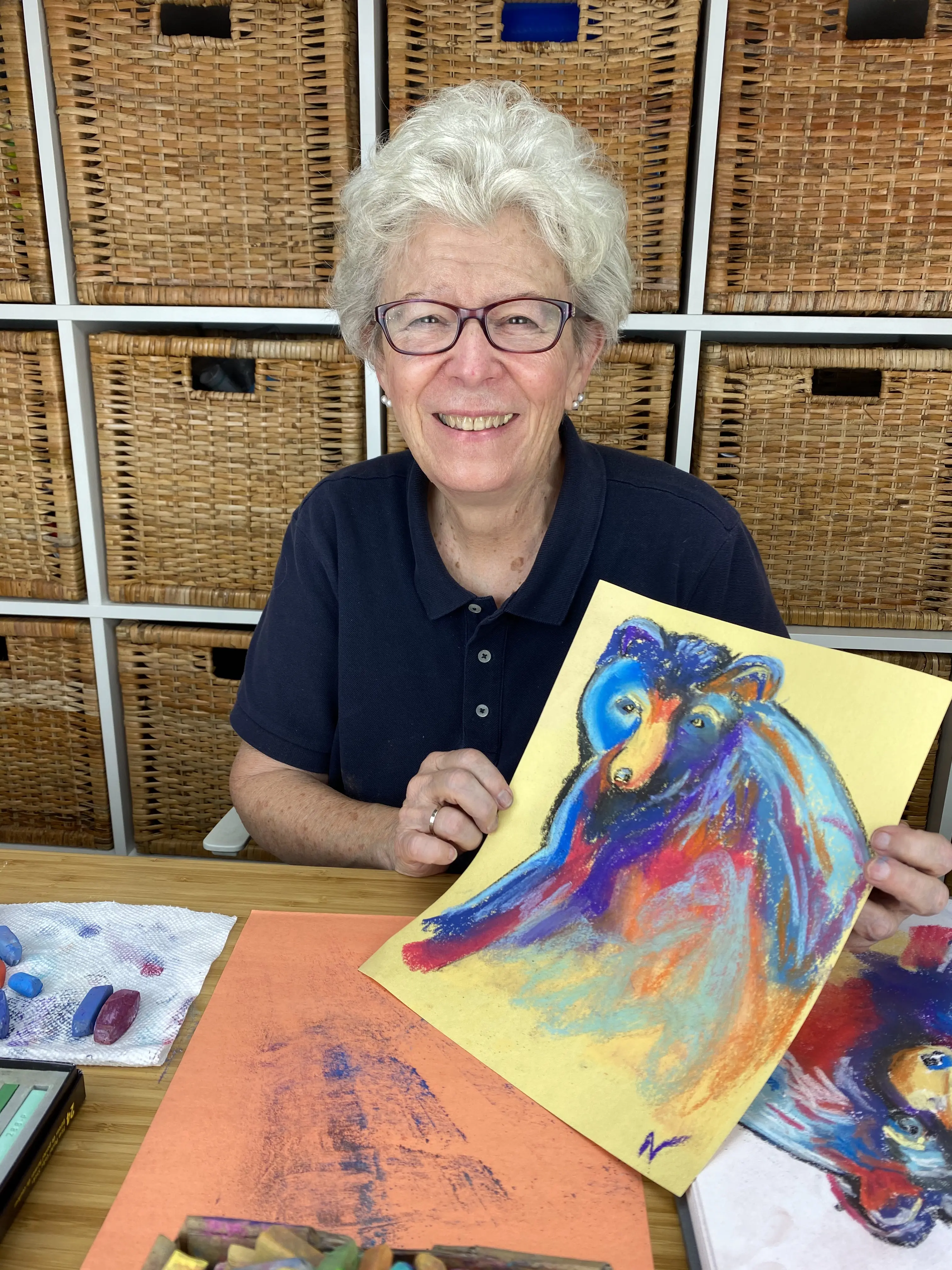 For your Winnie the Pooh fan, you can take a deep dive and learn with all of Nana's lessons – with a homeschool nature study hundred acre wood style, a literature focus or both! Chalk pastel art has been a wonderful addition to our homeschool learning. Our art time has benefited my son with learning differences.
Did you know that Nana also has Lord of the Rings, Little Women, Snowflake Bentley and more in the Literature Clubhouse course for her January Literature emphasis? What a joy to learn in a hands on way in your homeschool.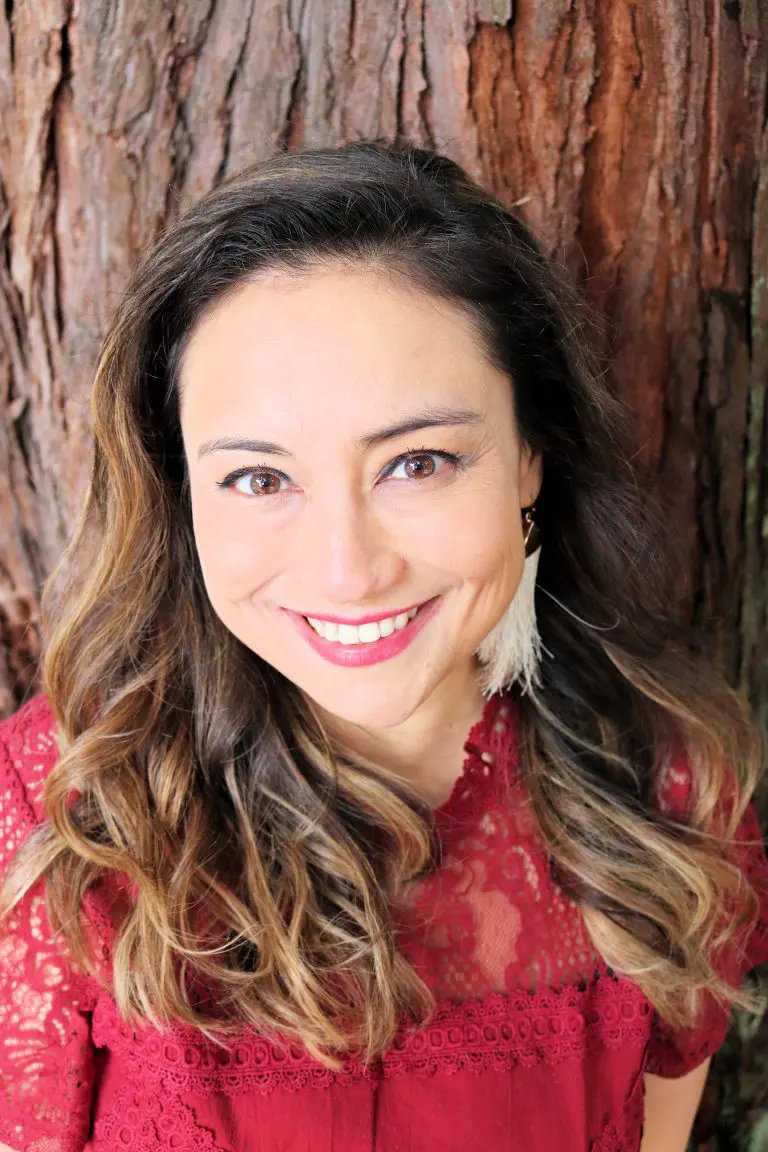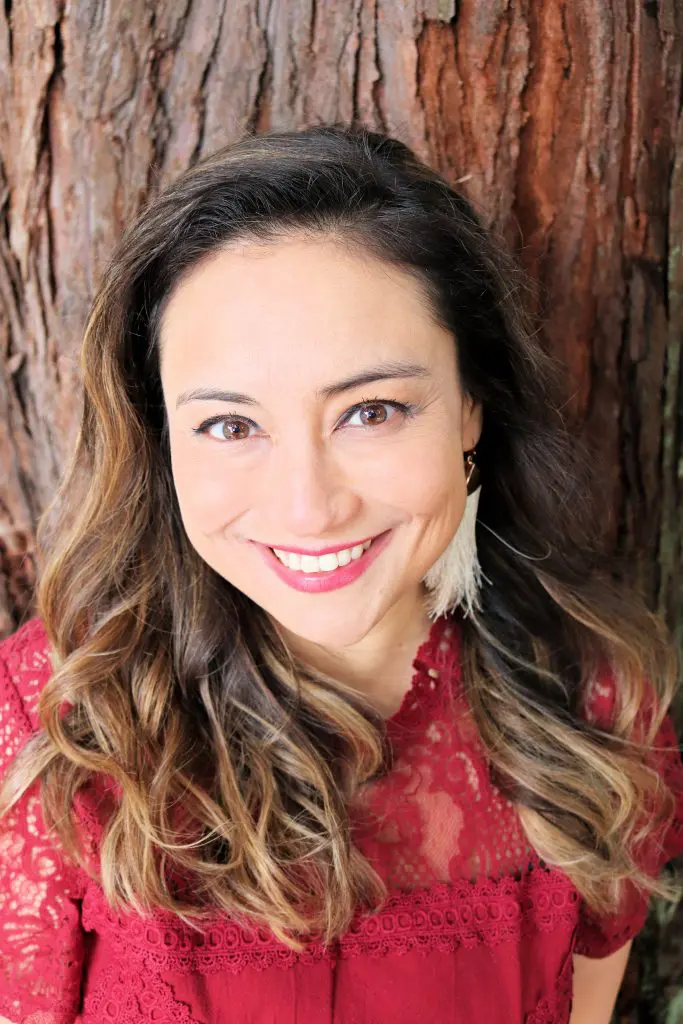 Jamie is the author of A Brown Bear's Language Arts Study, a literature-inspired homeschool mom of eight, and a former educator. She enjoys a bookshelf bursting with colorful picture books and children's stories of all genres. Indulging in a read aloud with all of her children around her is one of Jamie's favorite moments of her days. Be sure to find Jamie on Instagram and visit her blog, Treasuring the Tiny Moments Homeschool, to be encouraged by all her learning adventures with her wonderful family.