If you haven't heard of Christmas school yet, let me fill you in, dear friend! Christmas homeschooling can happen anywhere between now and the new year. You can get festive with your homeschool plans, get educational, lean into Advent, or create a lovely combination of things. My absolute favorite part of Christmas schooling is the time spent preparing our hearts for Christ with our families.
If that isn't a homeschool perk, I don't know what is!
Many of you may be planning for Advent, and what I will share with you today would be the perfect addition to your plans. If you don't have any specific Christmas schooling plans, you will love these ideas to homeschool through the holiday season too.
Either way, we have got some excellent resources to add to your Christmas school plans today. The best part is that these Christmas school plans can be done anytime and require little planning on your part. Because keeping it simple surely helps around the holidays.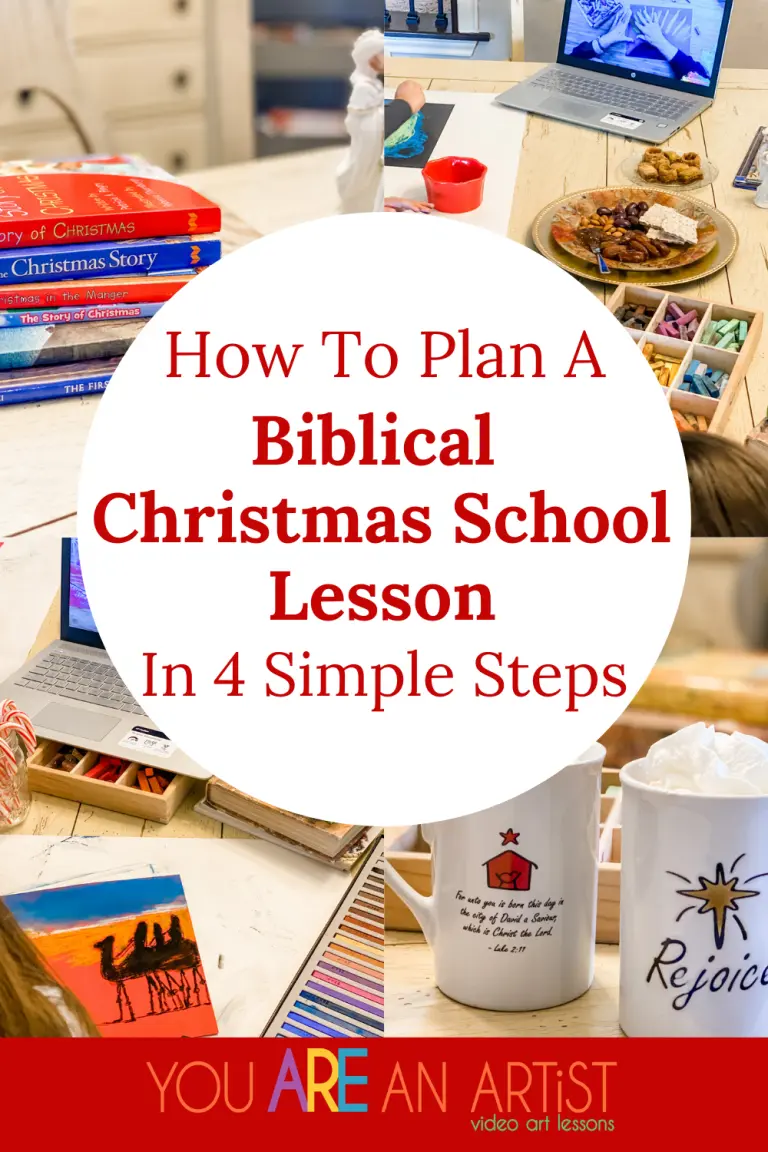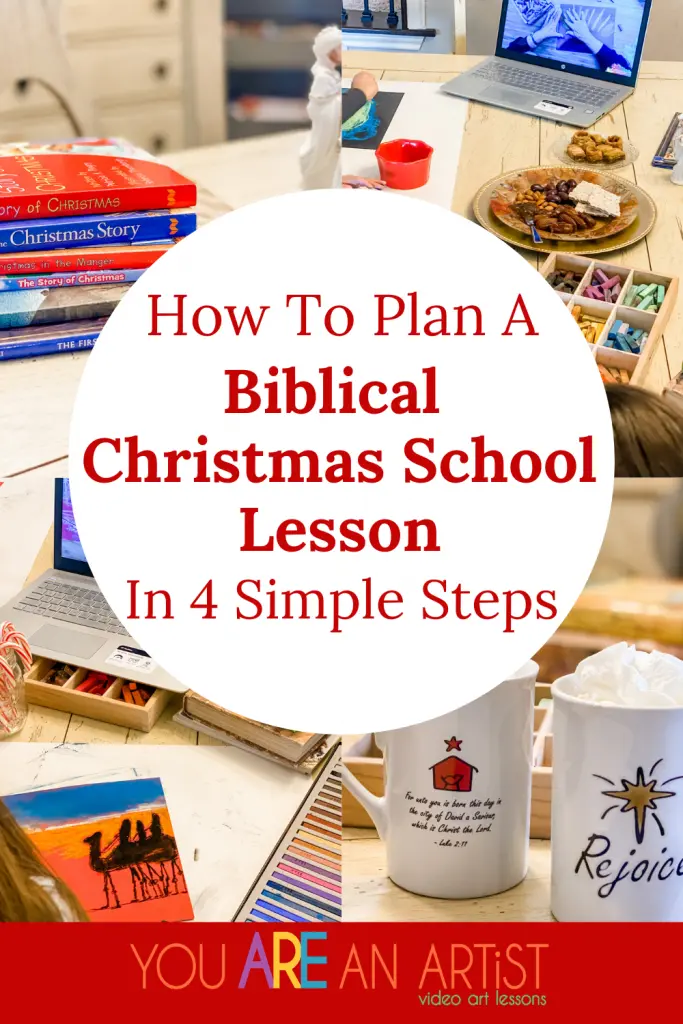 What Exactly Is Biblical Christmas Homeschool?
Christmas schooling is whatever you want it to be! Right? We are homeschoolers, and we love the freedom to customize our lessons and homeschool days.
But in short, Christmas homesschooling allows us to focus on the real reason for the season. And you can do that in so many ways. We will give many resources to choose from and help you customize your perfect Christmas school day, week, or month.
Christmas homeschooling is also unique in that you might want to plan with the whole family in mind. Learning about Christ's birth, reading Bible stories, and spending time together is perfect for the entire family. So remember to plan family-style when Christmas schooling. You may even want to add dad or the grandparents in on some of these excellent projects. Including the whole family is a wonderful way to make memories and get lots of great photos ops too!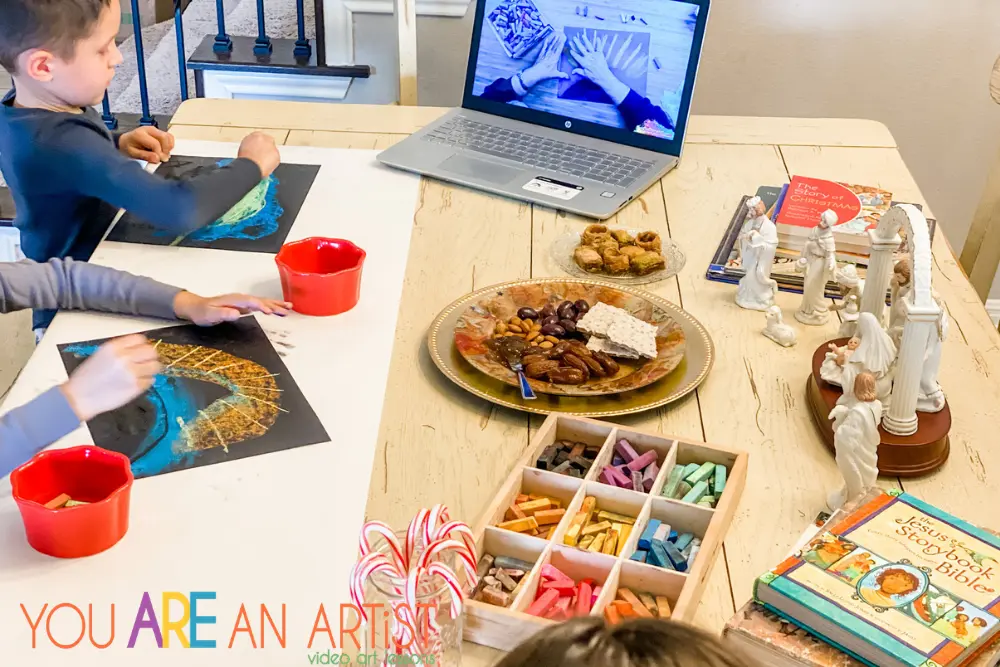 Planning Your Ideal Christmas Homeschool Lessons In Just 4 Steps
Step 1: Decide when you would like to block out your Christmas school time.
You may want to plan one epic day of Christmas activities in your homeschool. Or you may want to add little snippets all month long. I have done it both ways, and I am here to tell you that your kids will love it either way. No pressure, plan what you can. It's supposed to be fun!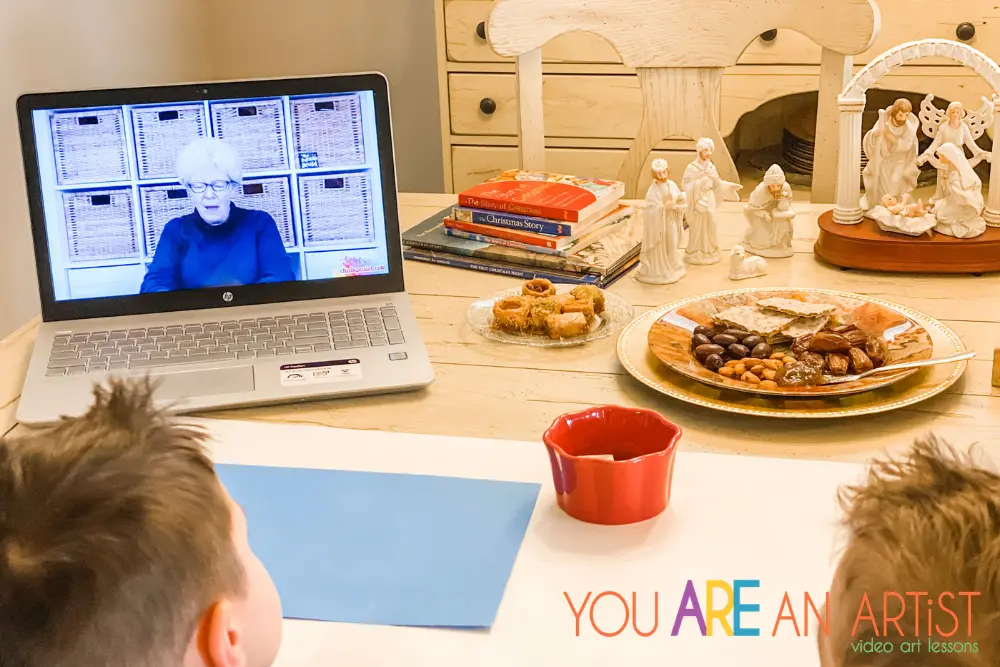 Step 2: Decide what you will include.
For us, that's an easy one. Art! Every homeschool lesson is more fun with art. But I also want to include some educational aspects too, of course. It's still homeschooling because education can be found in everything.
One of my favorite aspects of the Clubhouse Membership with You Are An Artist is that there is hardly any planning required for homeschool moms to put together incredible homeschool lessons. All you have to do is find the Christmas course in the membership area, and you will see all of the available tutorials in one spot. It's that easy.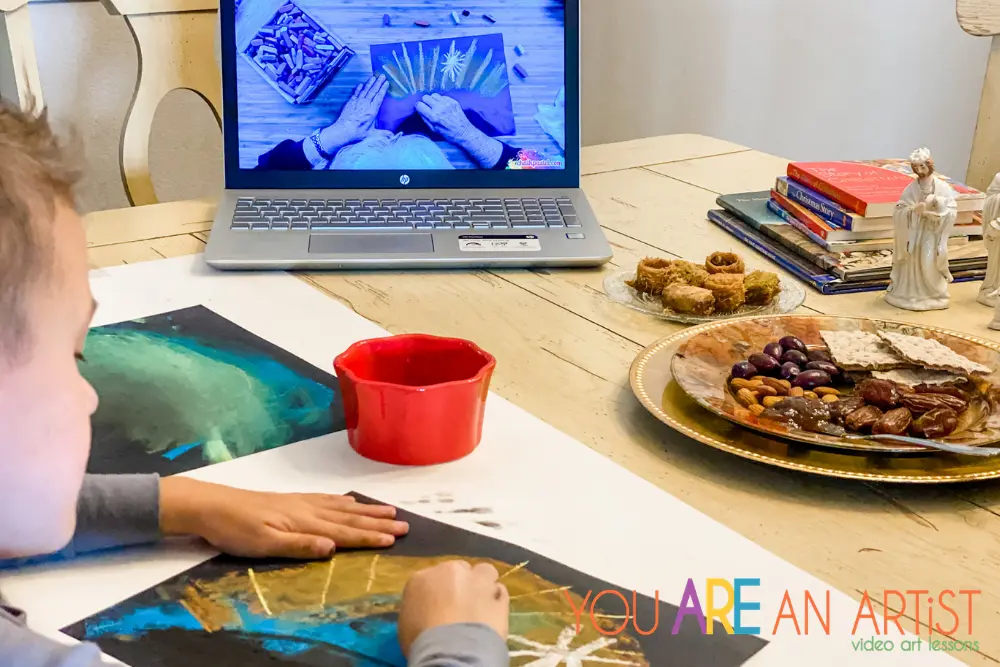 Christmas Art Lessons In Our Homeschool
Onto the Christmas art lessons we chose for our family. Keep in mind; we prefer to enjoy all of these activities family-school style. I have a wide range of ages in my homeschool, and You Are An Artist is perfect for activities the entire family can enjoy!
According to your children's skill level, a quick tip for planning your art lessons is to start with the easier lessons first. I have found that my younger artists might be ready for a break sooner than myself and my oldest. That way, we save the more advanced projects for after they have moved on to another activity.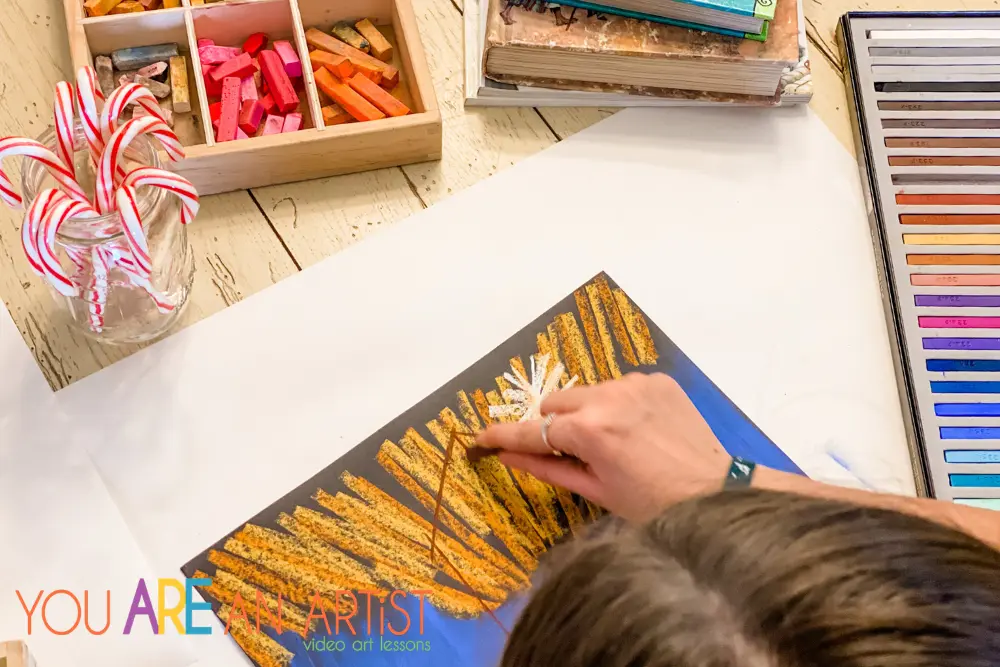 One of the fantastic educational resources you may want to include, as we have, is a Biblical Map to Bethlehem. Mapping is the perfect way to add geography to your Christmas plans. You may want to read the story of Jesus's birth before mapping, so your children have a good understanding of it before you begin.
Another cool idea to add to these Christmas plans is the Wise Men's Star Chart! Yep, your kids will love this.
I also wanted to include the We Three Kings tutorial because it pairs perfectly with the whole lesson. We did something similar for Thanksgiving by including hymns into our day, and the kids enjoy listening to music as they create. And Christmas music, need I say more?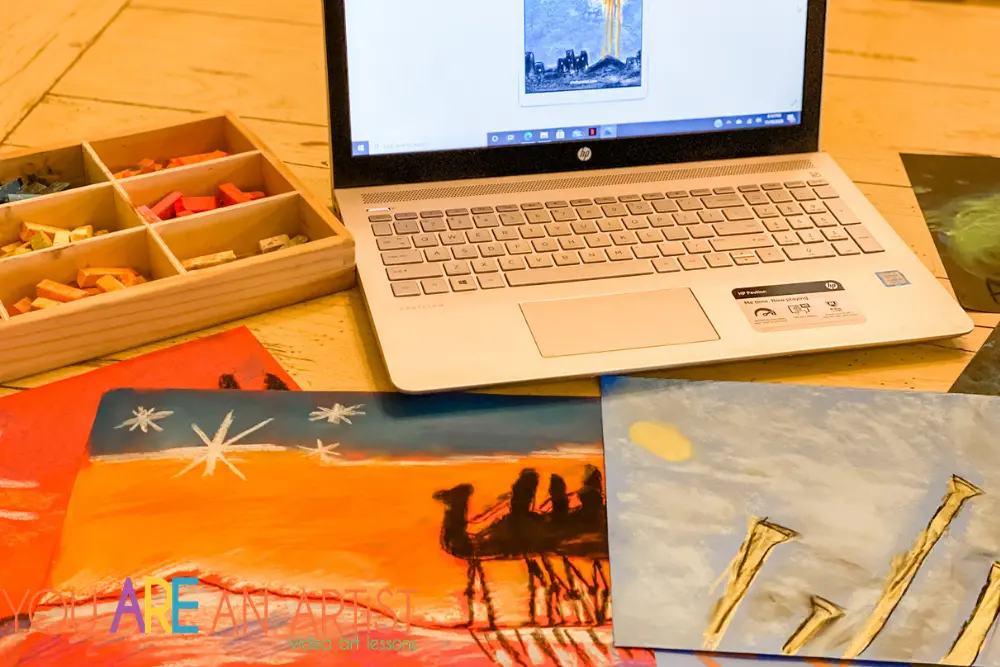 You may also want to add The Messiah Lessons – Angels Announce Messiah – This one is a beautiful lesson that also covers Handel, the composer, and has a lot of musical information & appreciation. The Messiah Lessons are incredibly fun and educational on its own. My kids really enjoyed this one, add a little hot cocoa, and they were all ears.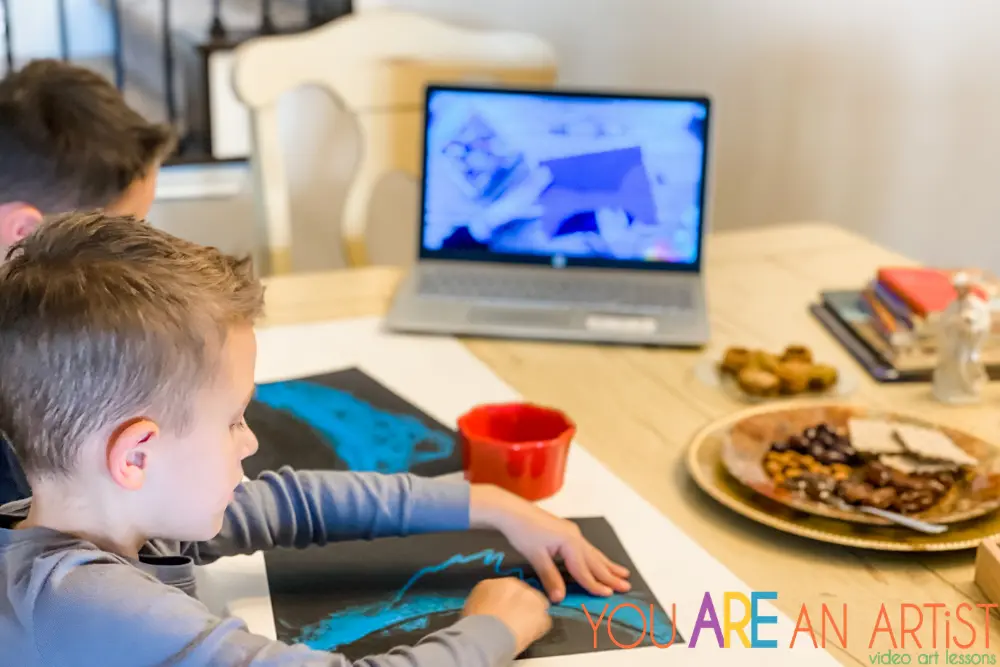 Some other fantastic Biblical Christmas art tutorials to add are Unto Us A Child Is Born, Nativity/Away In A Manger, Christmas Star, or Dream of Joseph, to name a few. Remember, these are all available within the Christmas Course section of your You Are An Artist Complete Clubhouse Membership.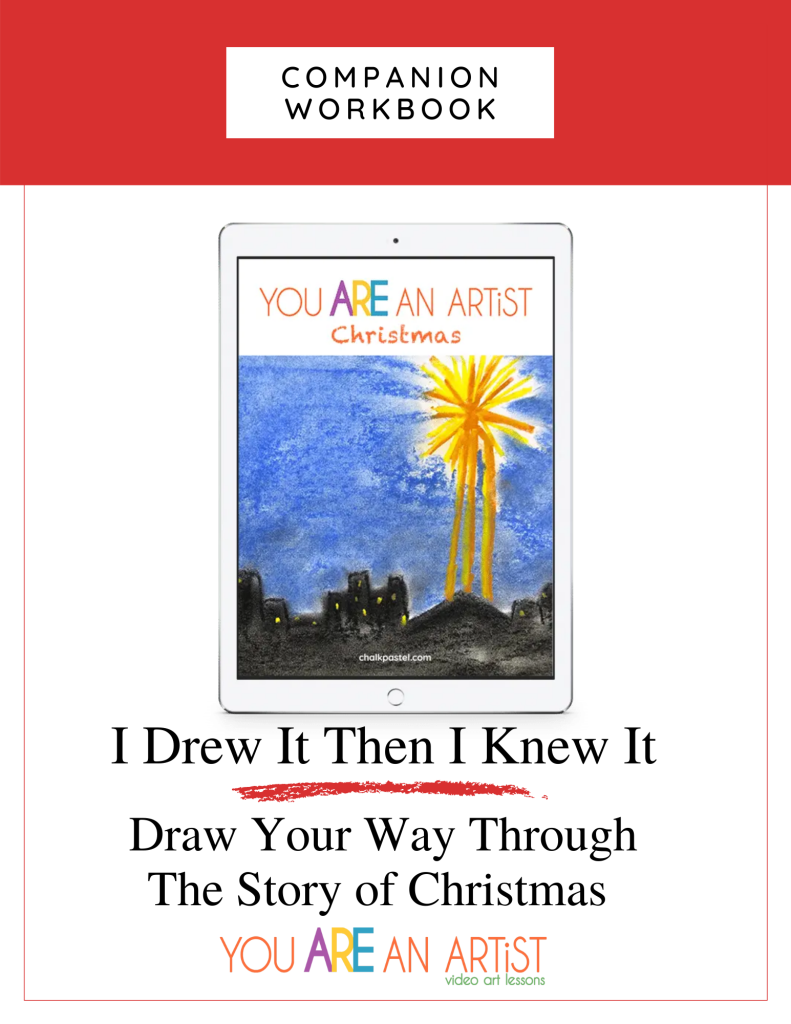 Step 3: Besides the Bible, what books would you like to include for your Christmas Homeschool?
If you are only planning for a day, you may want a few essential picture books, and if you are planning to work through all of this over a more extended period, you may want to include some chapter books. Remember to reserve them from the library now or jot them down on a list so you can pull them out later.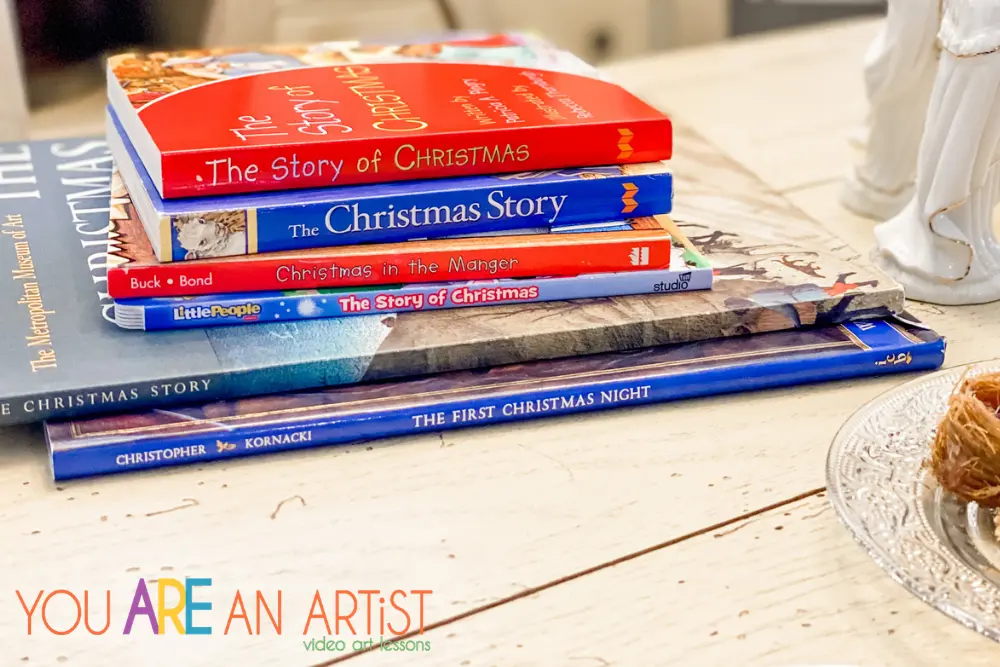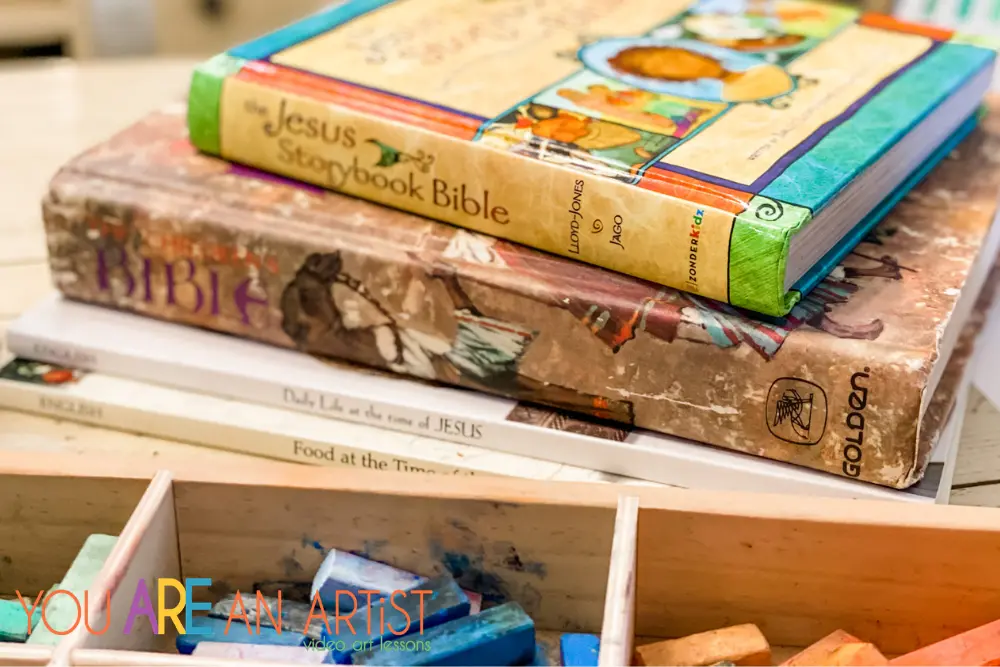 Step 4: This is a must. What will we eat?
Come on; we are homeschoolers. We never stop snacking. Ok, but seriously, my kids will linger through any lessons longer with food. There are so many great ideas; you can plan a tea complete with baked goods or a lovely kid-friendly charcuterie board. What would be fun, and we decided to add it to our plans is a few food items from Biblical times. You can make this as educational as you please; there are so many exciting choices to include!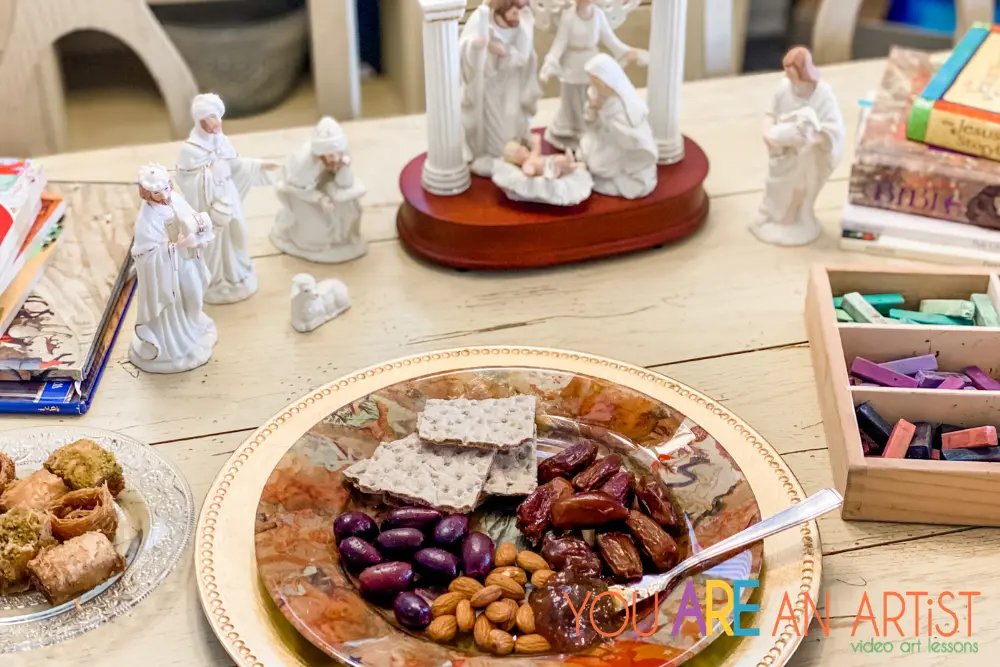 More Ideas For Christmas Homeschooling
Another idea to think about adding in may be some holiday crafts or seasonal handcrafts. You could make a dried orange garland, bake cookies together and decorate, or paint ornaments all while listening to beautiful Christmas carols. You could even decorate the tree!
We hope that this gives you lots of inspiration for your Christmas school plans this year! Remember, you don't have to do it all this year. Advent is all about preparing our hearts and dwelling in his perfect peace. Christmas school is an opportunity not only for creativity and education but for making lasting memories together.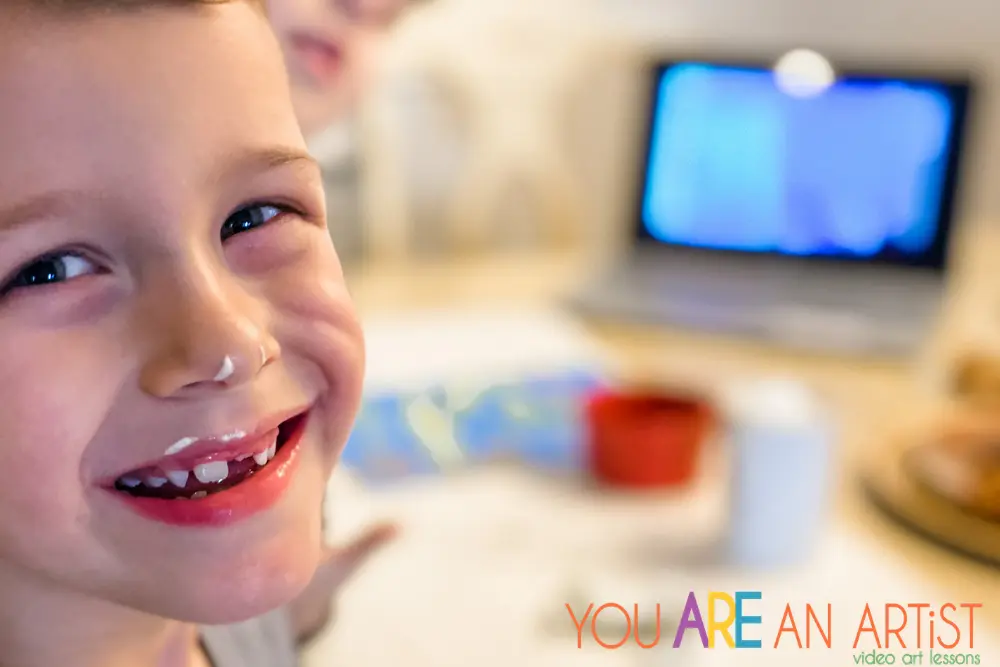 Courtney is a Jesus-pursuing, native Texan, homeschool mom of three, and she believes homeschooling can be a peaceful and productive rhythm. At Grace, Grow & Edify she helps families create peaceful homeschooling atmospheres through faith, organizational strategies, and cultivating strong roots at home. She is also the founder of Homeschool Mastery Academy.