Thanksgiving is a perfect time to create learning experiences that blend family and fun. These are thanksgiving homeschool activities you'll be grateful for!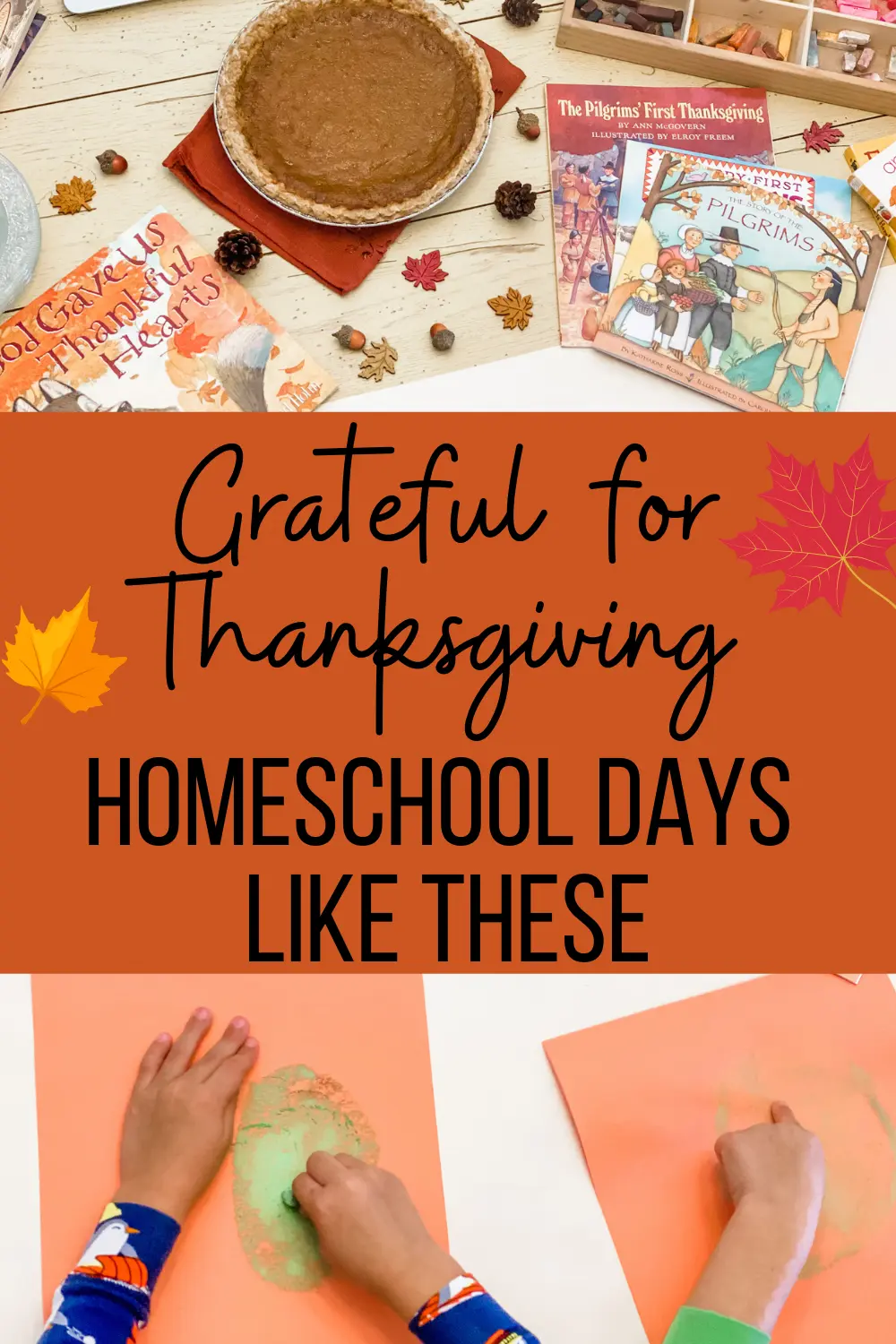 Years ago, I used to be so busy checking off homeschool lesson boxes that I missed the true meaning of homeschooling. Holidays would pass me by because we were so caught up with staying on track with our curriculum.
I am beyond grateful that these days are quite the opposite! I take pleasure in slowing down and savoring the sweet moments without sacrificing education.
It did take me a few years to figure out how to blend learning, family, and fun creatively. But once you learn how to make it all come together, you can have the most magical time learning together.
Thanksgiving and Fall are some of the best opportunities to create these types of learning experiences too!
Thanksgiving Homeschool Activities
For the record, we don't do this on the daily. I would never want you to look at some of our best times and think this is what our homeschool looks like every day. But, I do try to make something special happen at least once every two weeks or so. I find it helps to keep our homeschool fun, and my kids enjoy looking forward to our next special homeschool occasion.
For this particular experience, we chose to get some mileage out of our You ARE an Artist Complete Clubhouse Membership at ChalkPastel.com. Our homeschool has been so blessed by our membership that I can't stress enough how much you need one too!
The membership does more than just add art to your homeschool. A membership with You ARE An Artist enhances the learning that is already going on in your homeschool. Think of it as upsizing your homeschool!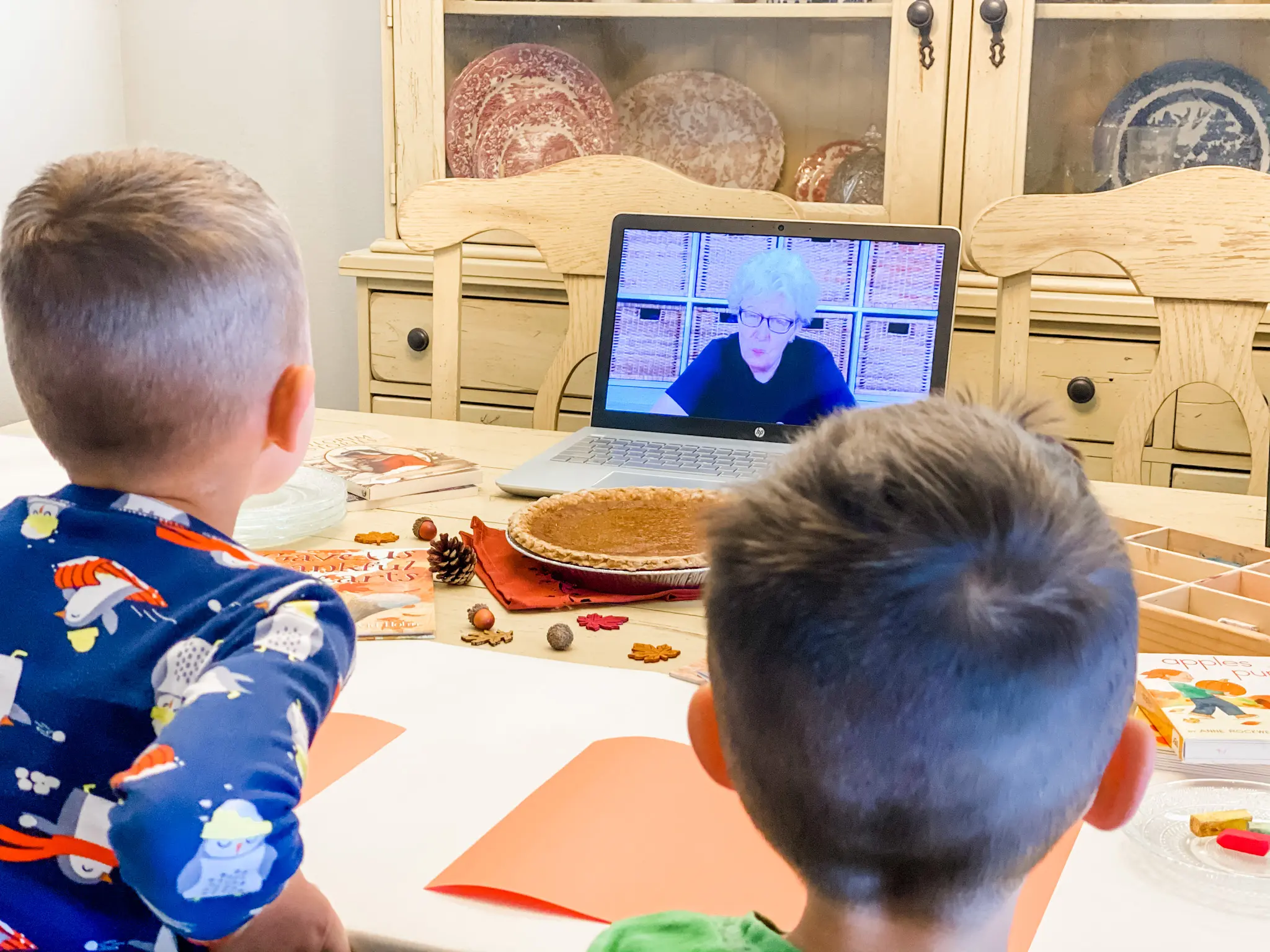 Homeschool Resources For Every Day Of The Year
•Plan art into practically any homeschool lesson.
•Enjoy tea times with art.
•Use a daily clickable calendar with art prompts.
•Utilize resources like the Curriculum Match-Up Checklist and add art to all of your homeschool history and science lessons.
•Never miss celebrating a holiday or season in your homeschool with art.
•Say goodbye to dull homeschool days.
•Create custom unit studies – here is a wonderful example of our day filled with Johnny Appleseed activities.
•Incorporate the entire family. (I love family-style homeschooling opportunities!)
You really can look like the fun mom with a Clubhouse Membership, especially if you struggle with adding excitement to your homeschool days! I speak from personal experience.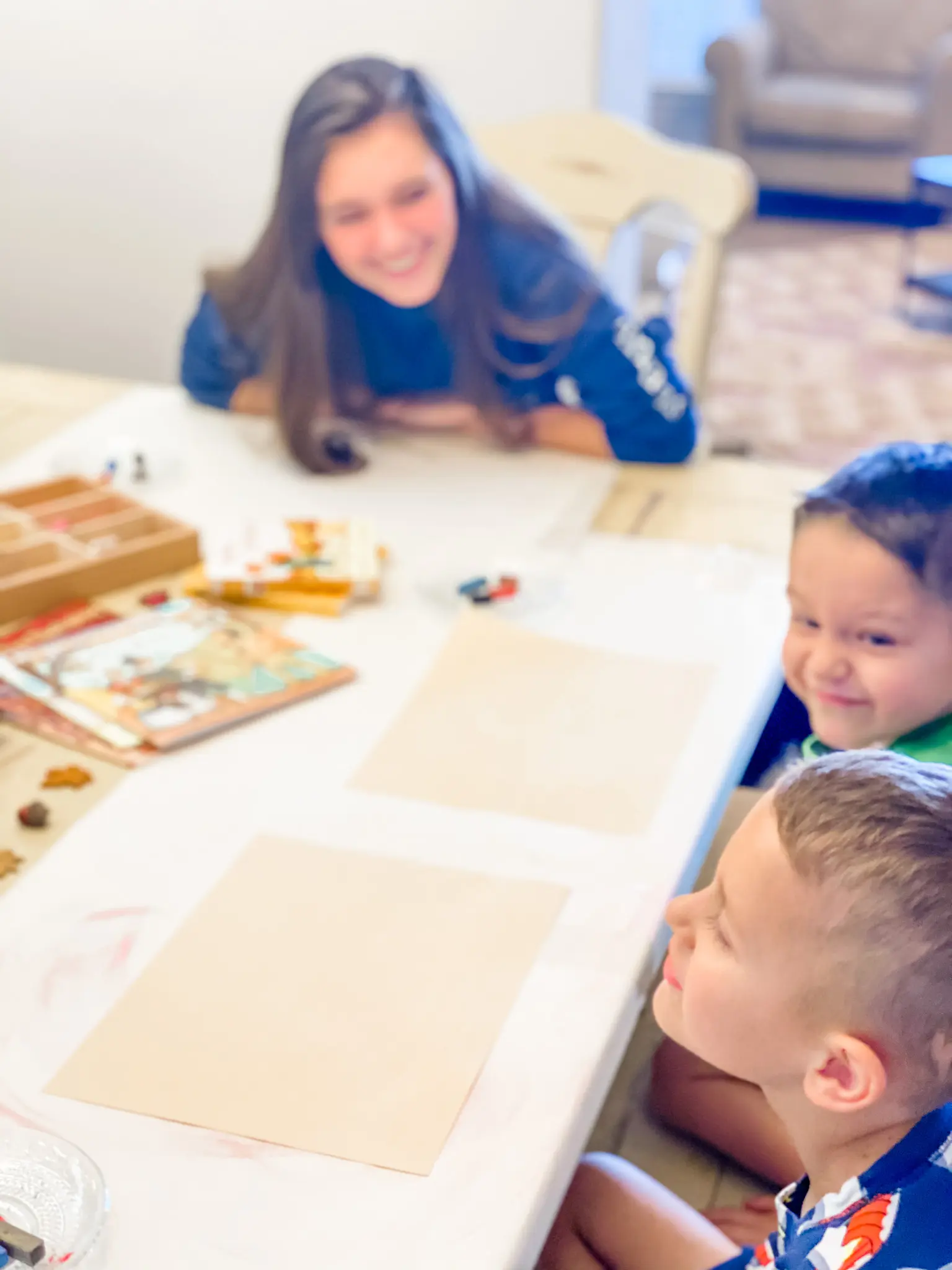 Our Thanksgiving Homeschool Lesson Plans
I plan to share with you all of the resources we used and hope you are inspired to plan a day unique to your homeschool. It's an example of an easy way to make a simple unit study. We are incorporating an excellent array of fall nature, Thanksgiving, and history.
Usually, I will block out the entire day to have fun around these themed type homeschool lessons. It gives us plenty of time to bake because you have to have treats, right? And the baking allows for some hands-on fun too! So it's fitting that the featured treat for this day should be pumpkin pie.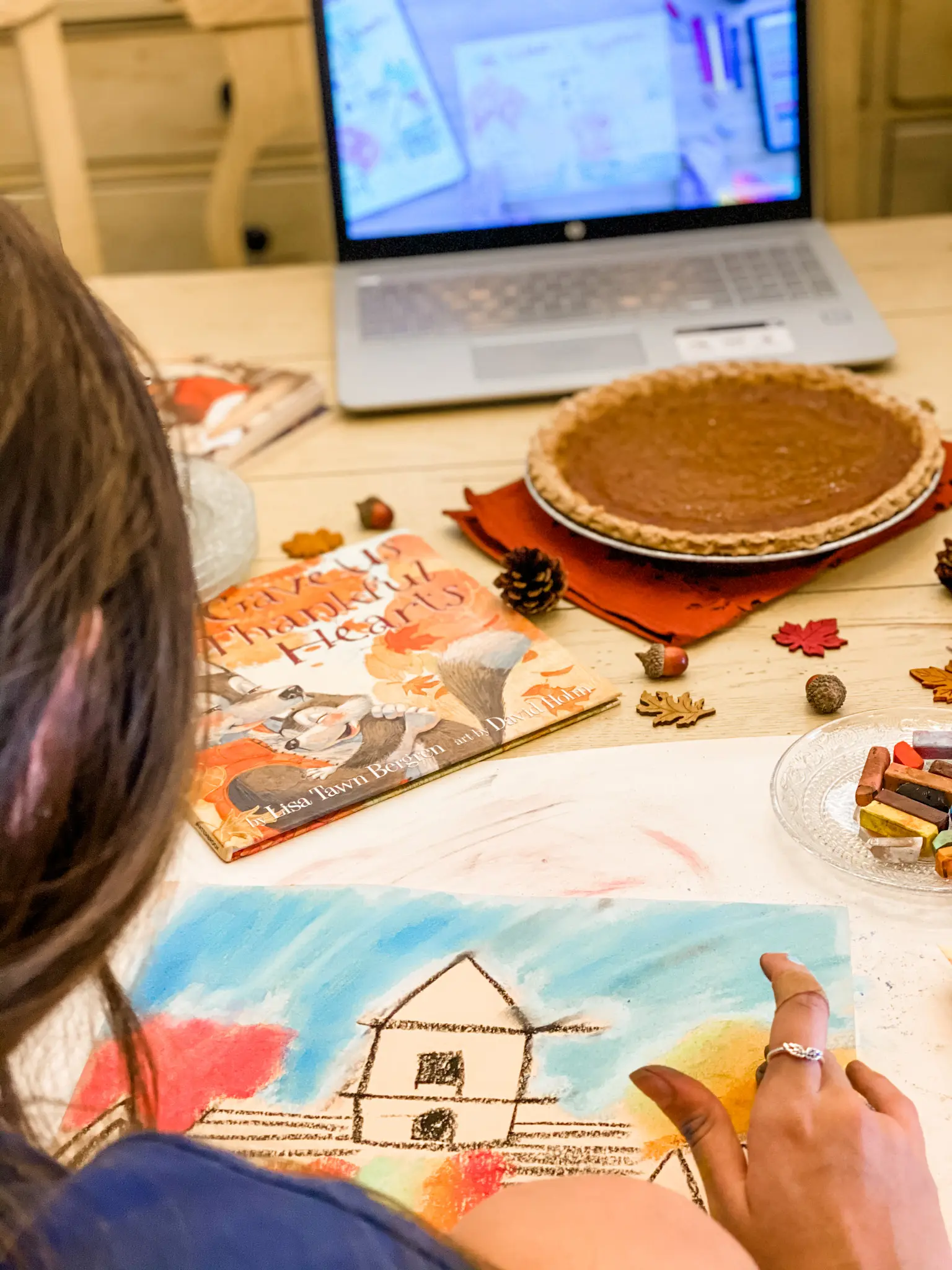 We are currently exploring the season with a nature journal that's perfect for autumn. The journal is packed full of information, including seeds, migration, autumn, and nature tracking. It also has hands-on ideas, writing prompts, and so much more. These fall art lessons pair so well with what we are learning through our informative nature journal.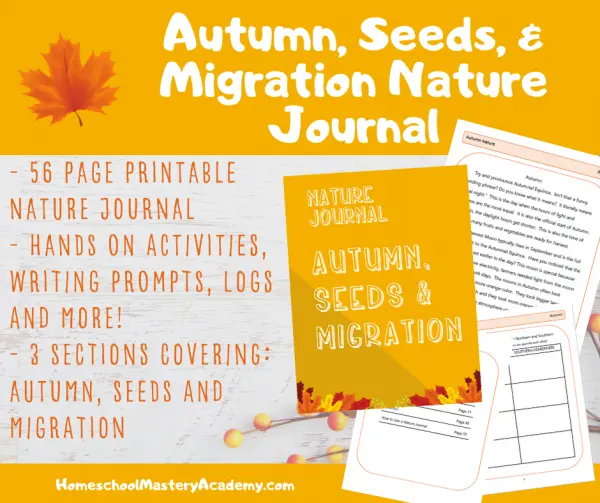 I love including all of my children on days like these. So I try to mix a balances blend of things they can all do together, along with a few more advanced things for my oldest and more age-appropriate activities for the younger ones.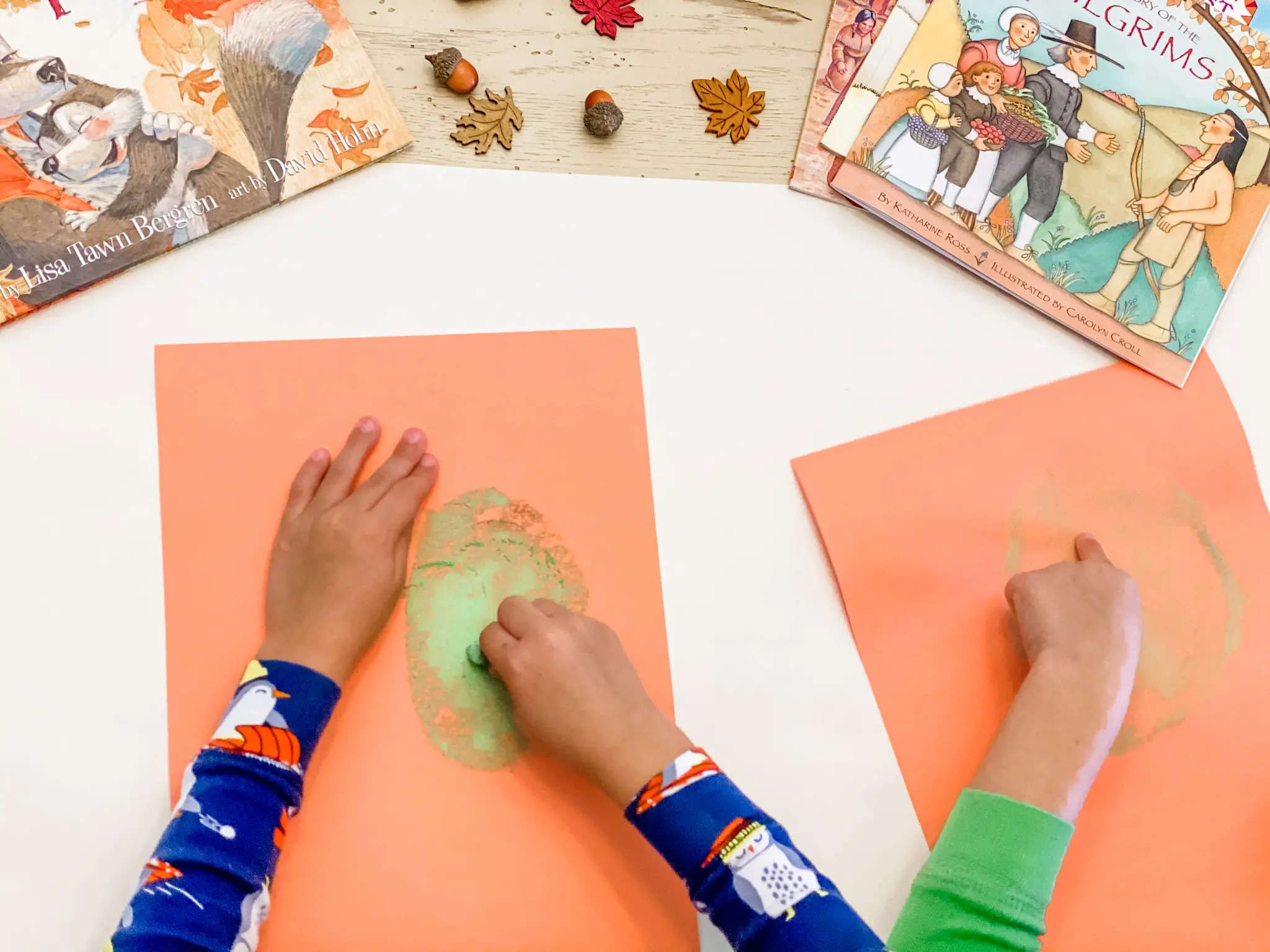 With that said, we are using the Fall Leaves art tutorial for early learners and the Acorn and Wind in the Tree art lessons that are a bit more challenging. These all blend nicely with our nature journal activities and what we have been learning.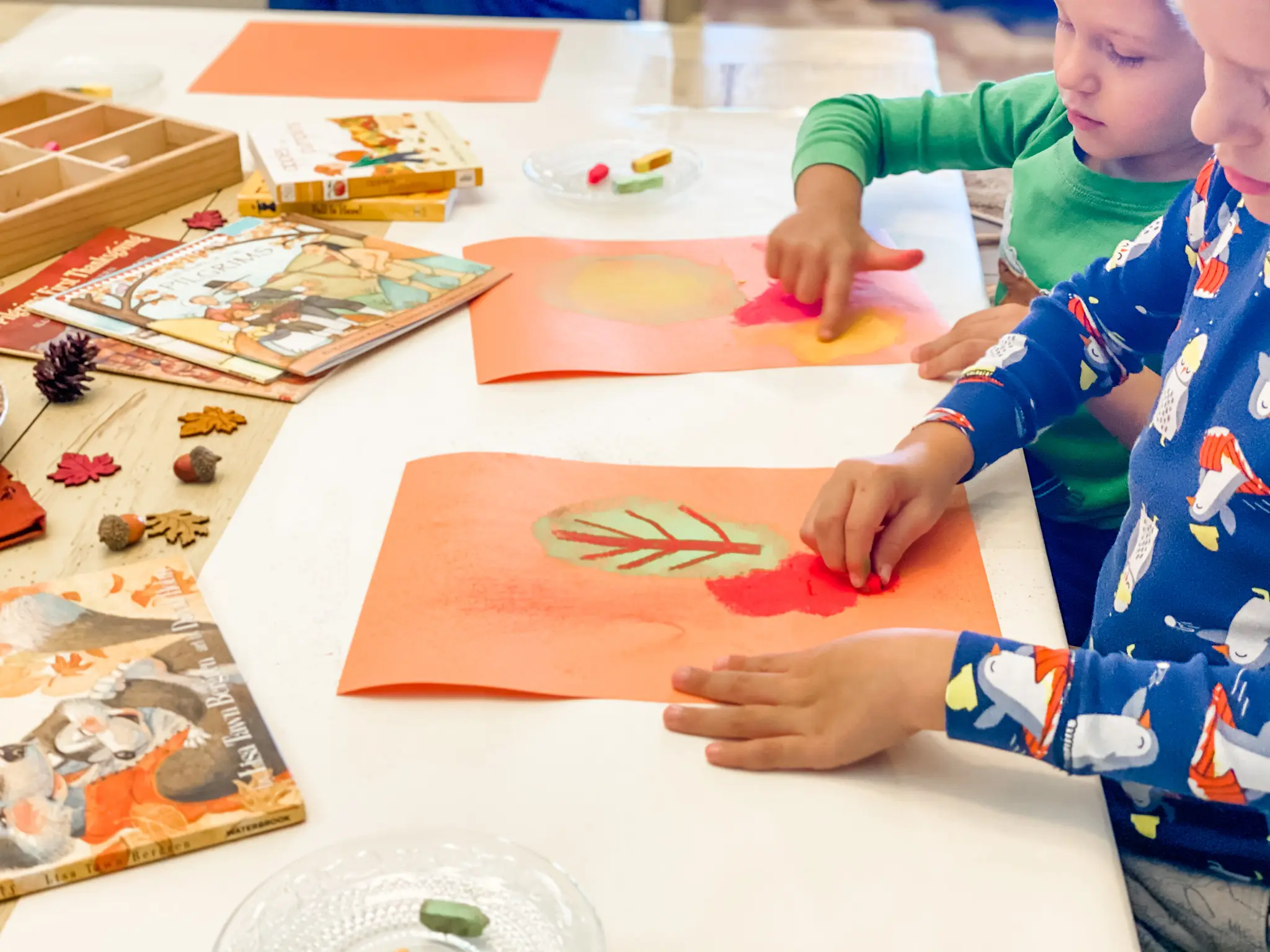 You could also add The Voyage of the First Thanksgiving art lesson because it's a perfect match for early American History. Long gone are the days of boring mapping lessons in your homeschool. You ARE An Artist takes mapping to a whole other level! Your kids are guaranteed to love this one. It's a must-add to your Thanksgiving homeschool lessons.
And with saving the best for last, we are forever grateful because of HIM. Our homeschool keeps God at the center, and I love old hymns. I had to include the We Gather Together art tutorial; it helped tie everything together with thankfulness and gratitude.
We did our art lesson as we listened to various versions of the hymn We Gather Together. The hymn is a fantastic reminder about bringing family and friends together to give thanks to God.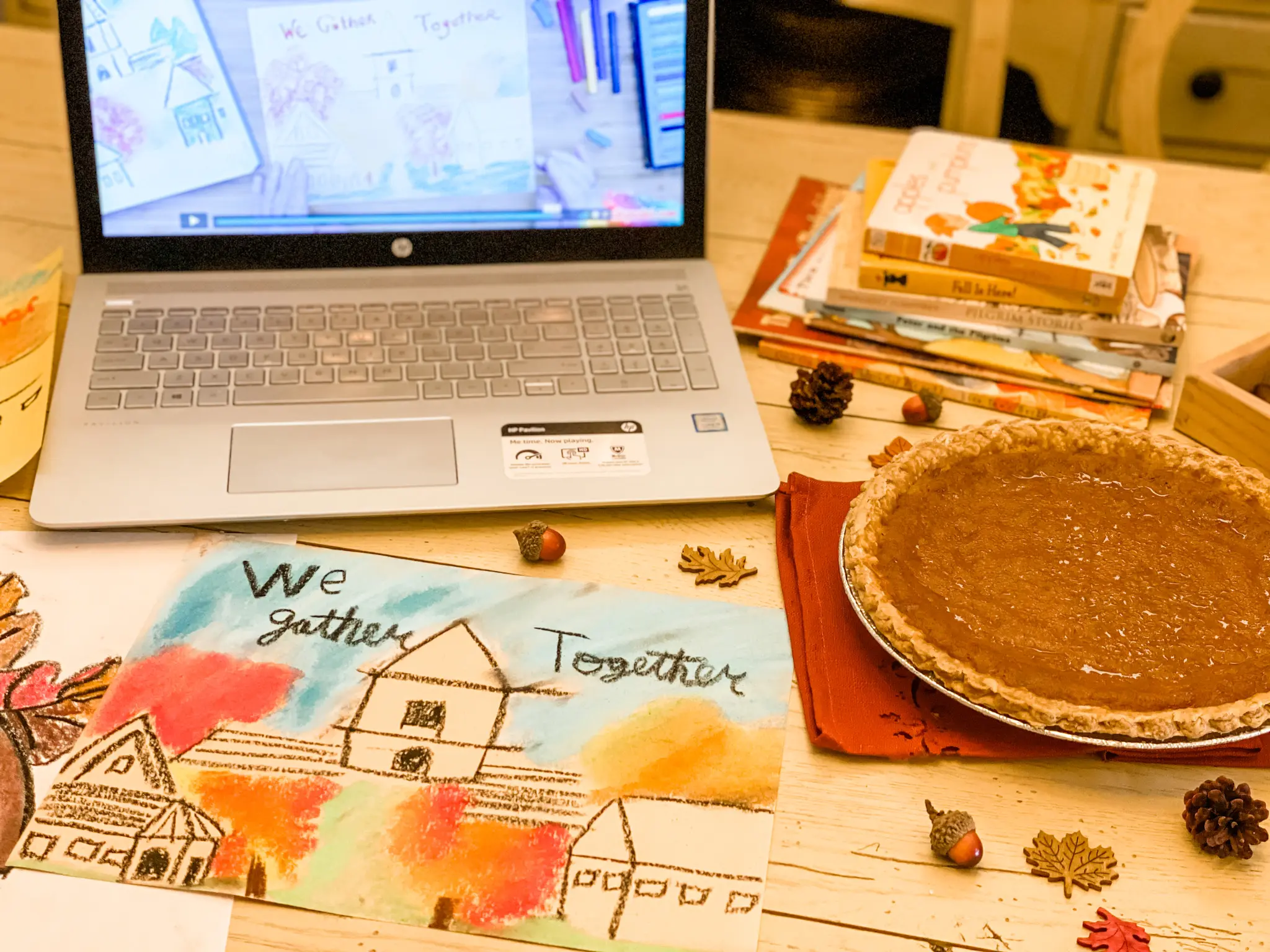 I encourage you to introduce this hymn to your children. You ARE An Artist also included a link to a hymn study on the song if your kids want to research the history behind the hymn too. If you are anything like me, I find such value in these little additions to our learning.
Don't forget to pull out some of your favorite read alouds to enjoy too!
Resources For Your Own Thanksgiving Homeschool Experience
Here is a quick recap of everything we used and a few others you may want to incorporate too!
The Voyage of the First Thanksgiving Art Tutorial from the Maps Clubhouse Complete Exclusive
Preschool Fall Leaves Art Tutorial from the Preschool Fall Video Art Lessons Clubhouse Edition
Wind in the Tree and Acorn Art Tutorials from the Fall Video Chalk Art Lessons Clubhouse Edition
We Gather Together Art Tutorial from the Hymns Clubhouse Edition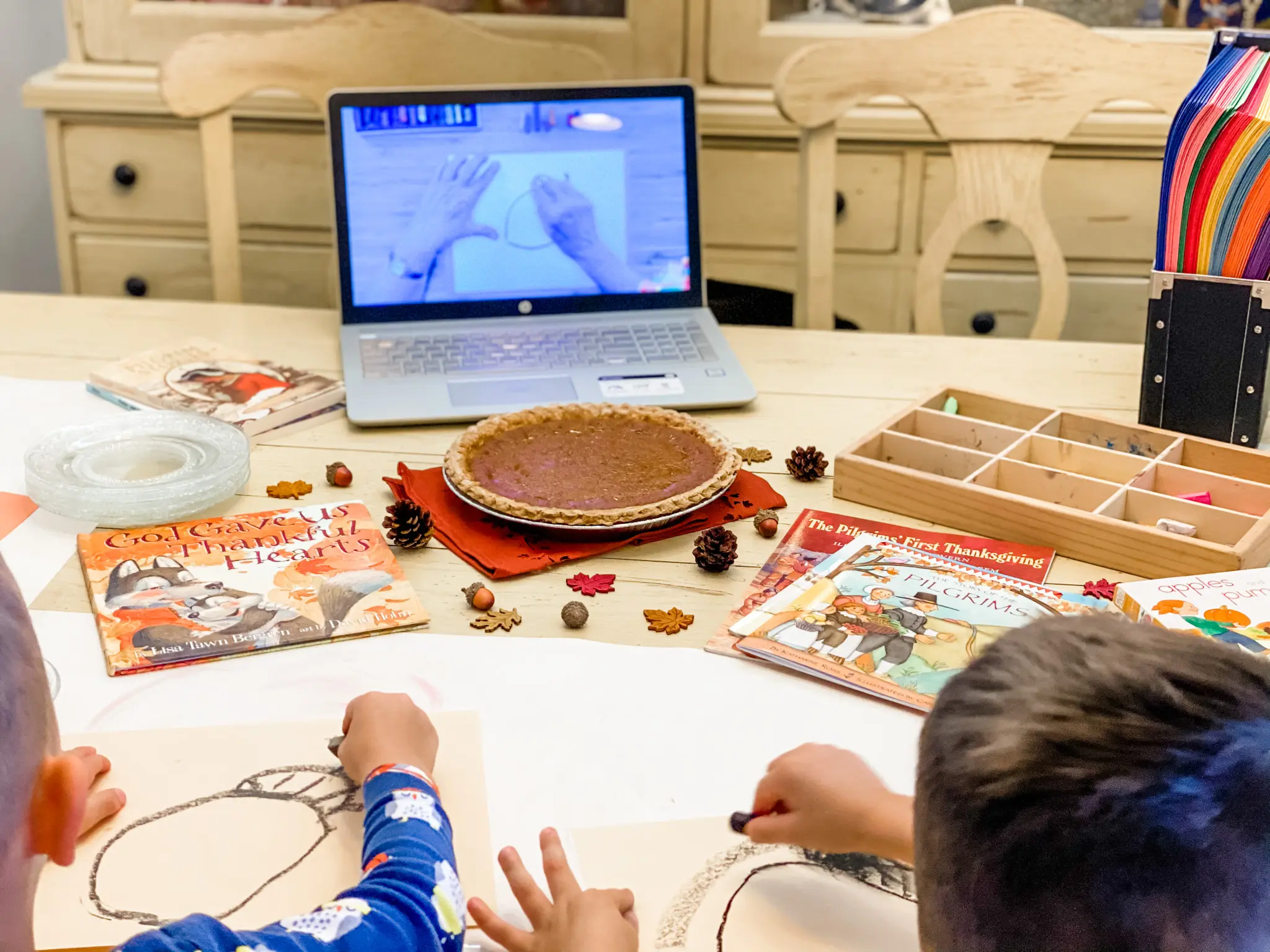 A few other art tutorials that you might want to include in your Thanksgiving unit study: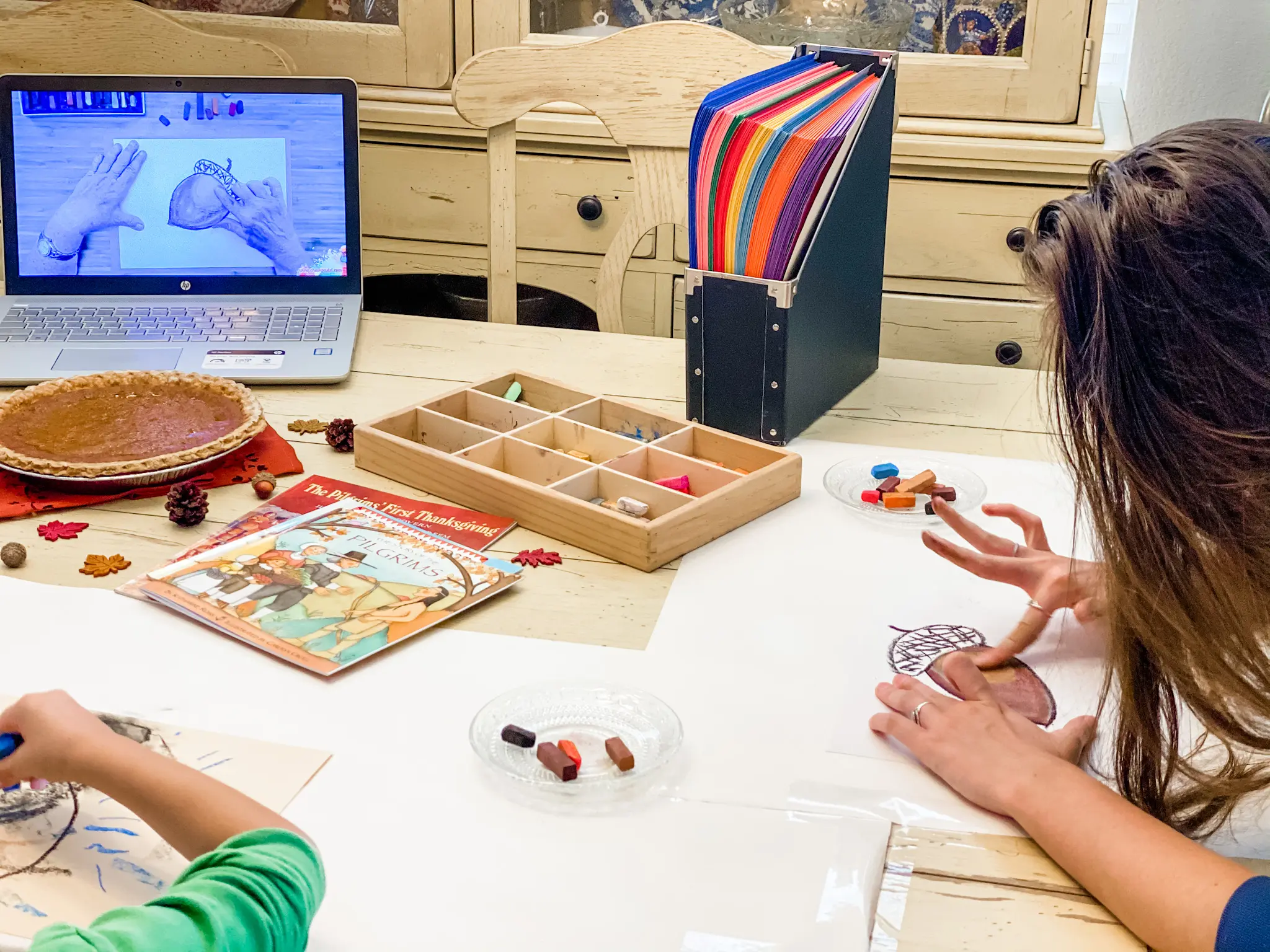 Quick Tips: Don't feel like you have to squeeze it all in one day. Spread these lessons out over a week or a month, but don't rush them! Enjoy this time with your family, learning and creating together, savor these sweet moments.
And if you don't fit it all in, there is always next year! Homeschooling isn't a race; it's a journey.
I hope that this gives you some ideas to expand on and plan around. Our plans were simple yet packed full of goodness and education.
You ARE an ARTiST Clubhouse members enjoy a Thanksgiving companion workbook with Fast Facts, Overviews, Gratitude Prompts, a Thanksgiving Planner and MORE!
Courtney is a Jesus-pursuing, native Texan, homeschool mom of three, and she believes homeschooling can be a peaceful and productive rhythm. At Grace, Grow & Edify she helps families create peaceful homeschooling atmospheres through faith, organizational strategies, and cultivating strong roots at home. She is also the founder of Homeschool Mastery Academy.