It is a very special time of year to focus on the hope we have in Christ. As a gift to our artists, Nana shares Easter Video Art Lessons to complement your celebrations and learning.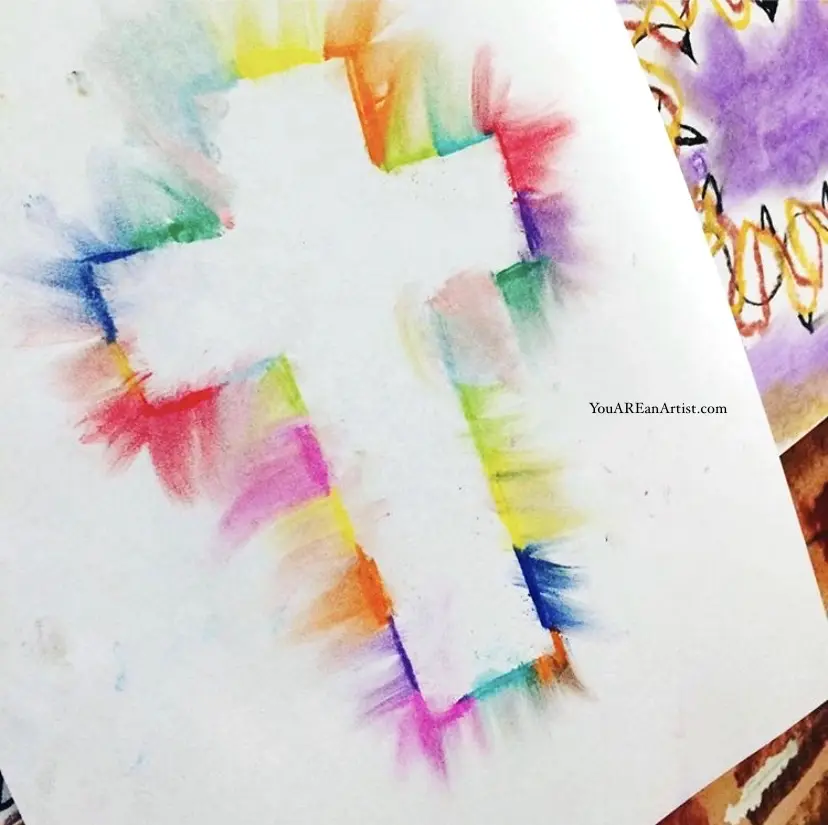 A Week of Easter Video Art Lessons
Day 1 – Palm Branch  – Let's start the week in celebration! All ages will enjoy this Palm Branch video art lesson from our set of Easter Video Art Lessons. You may be surprised at who shows you how to do this step-by-step lesson! Gather some yellow construction paper or a plain, white piece of paper (or whatever you have on hand) and your set of chalk pastels. Find the art lesson on this page (Scroll down just a ways). It is super quick: Easter Palm Branch
Day 2 – Rainbow Cross – This is such a beautiful lesson to enjoy with ALL the colors. Enjoy Nana's video art lesson she shared as part of Unit Studies by Amanda Bennett's Easter Co-Op. We love her Easter Unit Studies! Fast forward the video to about 20 minutes in. (This video also includes an Easter cross lesson with Easter lilies. I encourage you to save that one for later this week).
Day 3 – Crown of Thorns live replay at noon EDT on Wednesday, 4/8. Find the lesson on our Live Lesson page at the tab, above. You can also enjoy the video on our You ARE an Artist YouTube channel. Crown of Thorns.
Day 4 – Hand Print Easter Lamb – find this step-by-step lesson on our sister site, Hodgepodge. Nana says, "I absolutely love any craft that makes use of children's handprints. They are an enduring testimony of the child's growth over the years. Almost every mother and grandmother would treasure a gift of a handprint. I still carry a laminated handprint that my son made for me over 30 years ago, tucked into my Bible!"
Day 5 – Easter Cross with lilies. Find this in the video art lesson, from Day 2, above. A beautiful cross surrounded by lilies plus an Easter rainbow cross art lesson in chalk pastels. You can paint a wonderful Easter painting with chalk pastels that you can share with your family and friends during this blessed season!
You ARE an Artist!
We can't wait to see your chalk pastel paintings! After you finish your lesson, please be sure to share a photo of your art work right to the comments here so Nana and Tricia can comment. Or you can share on Instagram. (Just be sure to tag
@ChalkPastelArt
and use the hashtag #YouAREanArtist so we won't miss it on Instagram).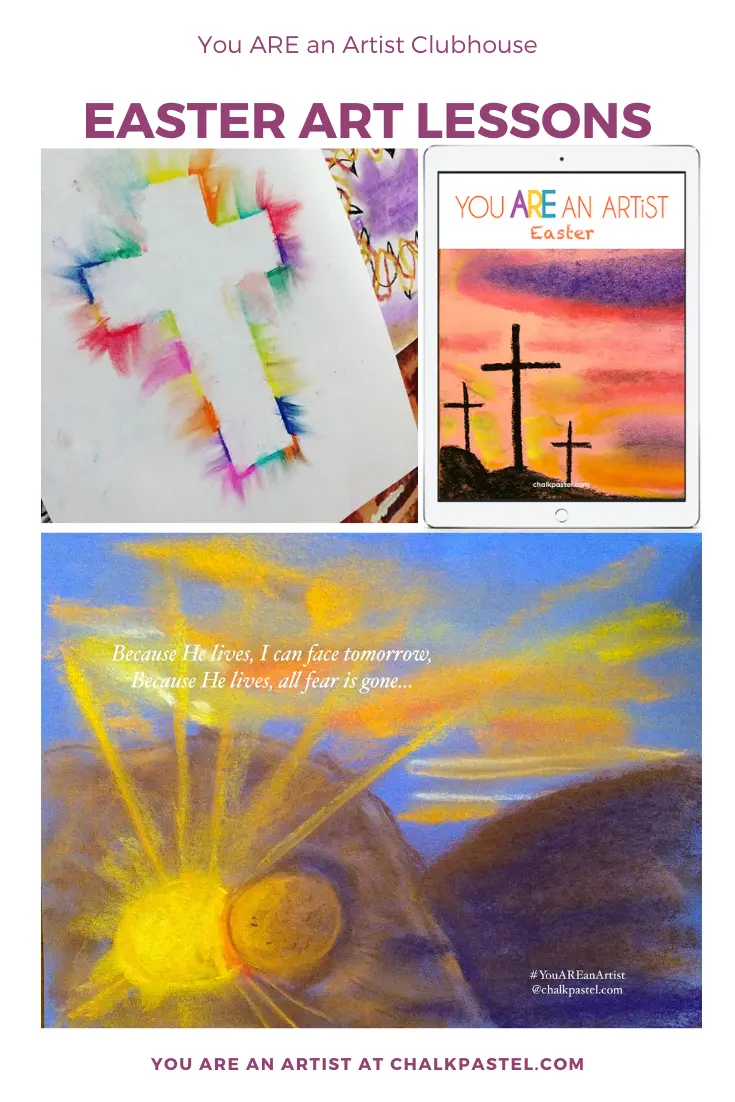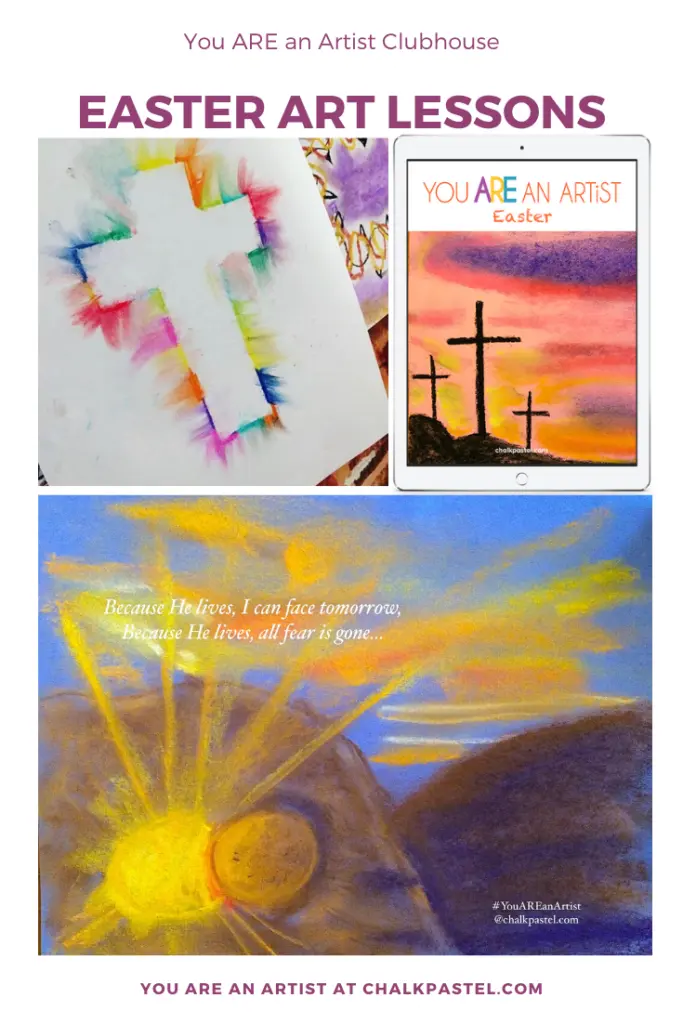 Our You ARE an Artist Clubhouse members are enjoying a clickable calendar for the whole month of April. All 30 days! The calendar has an art lesson for each week day, master classes plus special messages from Nana on the weekends. It is a perfect way to organize your April homeschool plan! There are links directly to Nana's lessons from her Easter Video Art Lessons:
Three crosses
Crown of thorns
Easter cross
The stone rolled away
Easter lily
Palm branch
Easter eggs
The Lord's Supper bread and cup
Church stained glass window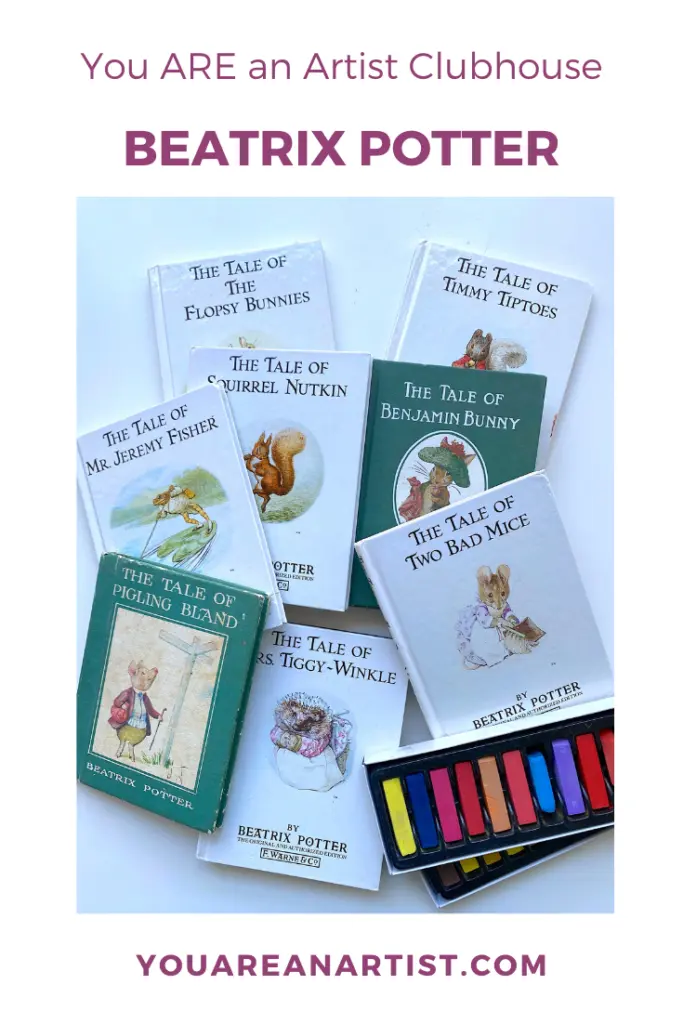 More Online Art Lessons For Your Homeschool
Just be sure to join us for ALL of these and more in the You ARE an Artist Complete Clubhouse at ChalkPastel.com!​ Artist Clubhouse members will also enjoy a new Famous Artist Beatrix Potter lesson, a surprise lesson Nana recorded herself from her studio (it is such fun!) and the replay of the Green Ember Gala.
You might also like: