Some of the best times you can have with your homeschool group or co-op include art. Art is a crowd-pleasing subject that is extremely versatile. All ages and skill levels can participate in the fun, which can often be harder to manage with other subjects. Not to mention, art is entirely flexible when it comes to planning educational lessons. Here are some easy and engaging art classes for your homeschool co-op.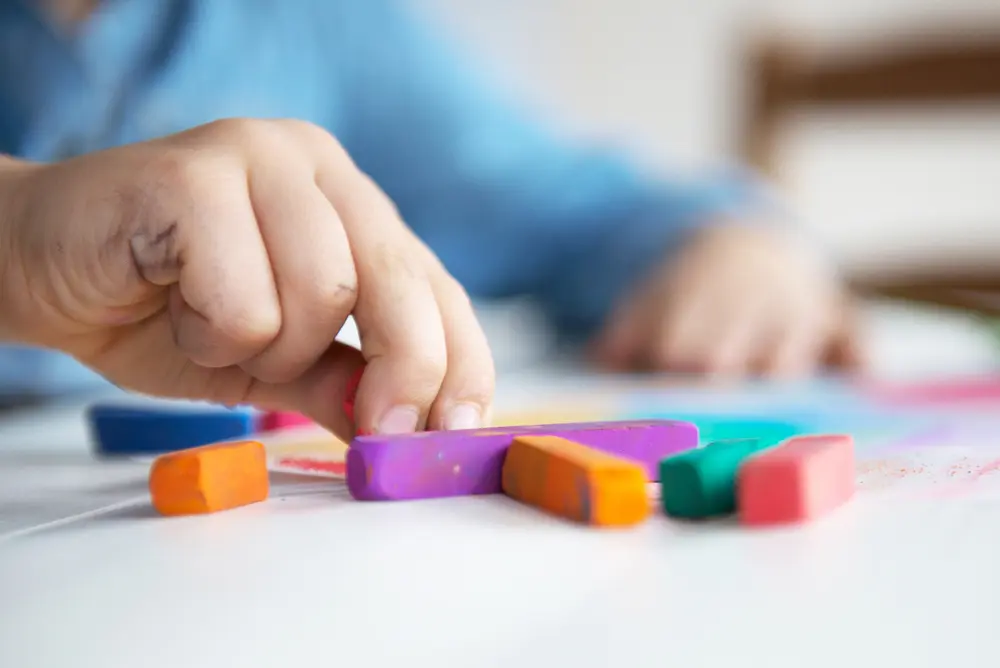 Why Chalk Pastels Are Perfect For Your Homeschool Art Class
Chalk pastels are perfect for group art projects. Chalk pastels are affordable and reusable. The supplies you will need for a chalk pastel art workshop are minimal. All you NEED to complete multiple chalk pastel art projects are only the chalk pastels themselves and construction paper.
No mess. Chalk pastels are not messy like paint, for example. Which makes them easy to pack, use, and clean up. A damp cloth or baby wipe will easily wipe away any residue left behind.
Hands-on. All kids love using chalk pastels. Chalk pastels are easy to manipulate with their hands, and children love the hands-on sensory-like experience of drawing and creating with chalk pastels.

Easy And Engaging Art Classes For Your Homeschool Co-op
Choosing an Art Lesson
Depending on the age level and objective of your group, you can choose from a range of seasonal, holiday, or educational art projects.
Luckily, You Are An Artist makes it simple for you to choose a project that everyone will love. With everything from preschool art lessons, historical options, seasonal, holiday, STEM, inventors, and so much more – you are sure to find something for your group.
With seasonal lessons, you can tie in nature study, poetry, and botany, for example. Choose the seasonal lesson you want to use, and plan to read poems from that season as well. You can add in some nature study fun outdoors before or after your art lessons too!
Plan something fun like eating pumpkin pie after you create a slice of yummy pumpkin pie from the fall lessons, or set up a fun hot chocolate bar to have a holiday party after drawing a mug of hot cocoa with Nana.
If you want to design a workshop with more of an educational aspect, you have a ton of lessons to choose from at You Are An Artist. With the "I Drew It And I Knew It" series, you can select a historical period and enjoy multiple art lessons all from that time.
Better yet, if you have studied a period of history, the perfect way to end your semester or course is by having an art workshop! Invite your students to all dress up from that time, bring snacks, and have an art party to celebrate everything they learned.
You Are An Artist makes our jobs as homeschool group and co-op leaders easier. With the curriculum match up printable, you can find art lessons to accompany just about anything you may be studying at co-op. (The curriculum match up is totally FREE by the way, go snag it now!) You can incorporate lessons throughout your studies or celebrate the completion of specific topics with an art workshop. Either way, add some art because your students will love it.

Top Tips For Setting Up A Chalk Pastel Art Workshop For Your Group Or Co-op
Secure a Venue
If you don't have a permanent space, you will want to secure a venue complete with tables, chairs, and a visual screen big enough for your students to all see.
A great place to look for space could be your local church, community centers, or your local library. If you have a small group, this would also work at the dining room table with a laptop.
Plan Ahead
For the best turn out make sure you give your group plenty of time to RVSP. At least three weeks to a month gives everyone time to plan accordingly, and time for you to plan the event. Send emails or post on social media a few times leading up to your event to remind students that they can join. If you need a headcount, give your group a cut off date, so they know when they need to respond by.
Collect Money
If you are a co-op, you may already have the means necessary to fund an art workshop. However, if you are a homeschool group that does not have an annual budget, you may need to collect everyone's payment ahead of time. The need to collect payments is another good reason to promote your event at least 30 days in advance, so your families have time to budget appropriately.
Pack Up
In all my years of leading a homeschool group, the chalk pastel art workshops were by far the easiest to pack and plan for.
Make sure you have the right color construction paper for each project you plan to complete (you can find this in each video lesson) and plenty of it.
Pack up your chalk pastels, I recommend baby wipes for easy cleanup, and butcher paper to line the tables with. The butcher paper and baby wipes will make for the most effortless clean up ever.
Make sure you bookmark the link to your chosen chalk pastel video lessons for easy set-up and don't forget an HDMI cord. The HDMI cord is for connecting your laptop to the screen/TV you plan to use. (Or whatever necessary equipment you need to connect.) You may want to check with your venue in advance for access to the wi-fi as well. You will also need your laptop.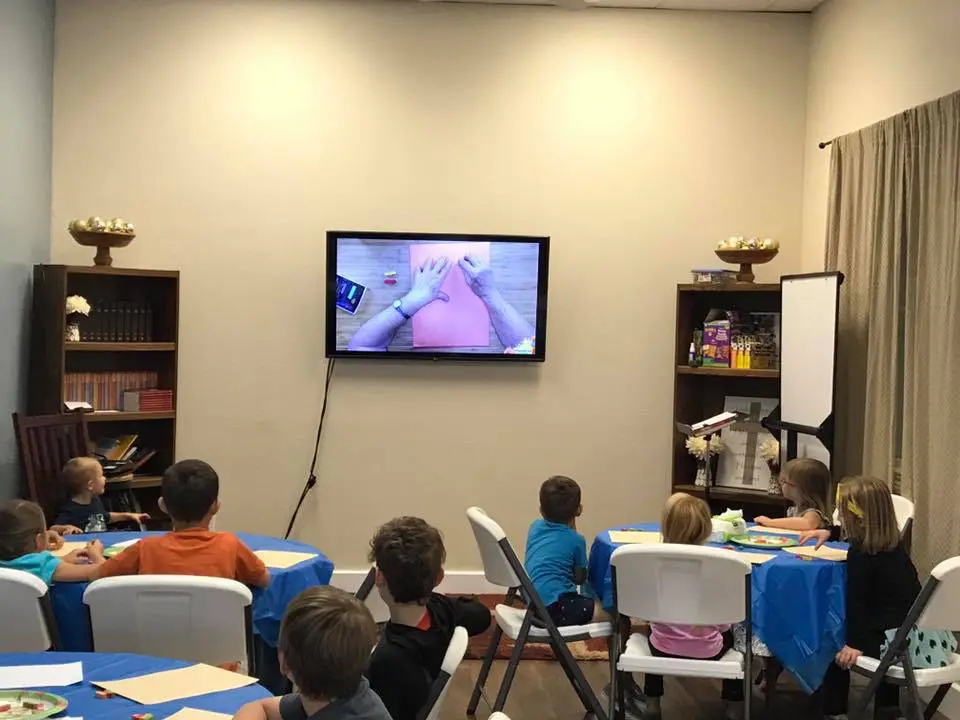 Set-Up
I recommend arriving at the venue early to connect your computer and set up the room.
Check your wi-fi connection, test the audio, and pause the first art video lesson until you are ready to begin.
The most efficient way I have found to quickly set-up the room is to cover each table with butcher paper. Make sure the tables are all close enough to the tv or monitor screen so that each student can see the videos in full view if you can. Place one package of baby wipes in the center of each table. The kids will want to wipe their fingers in-between projects. Place the construction paper on each table and the chalk pastels. You can put the chalk pastels that they will need for the day on paper plates in the center of the tables, as well.
Art Workshop Time
If you have a wide range of ages, start with the preschool or the less challenging projects first.
The attention span of the younger kiddos will run out sooner, so that allows time for them to participate and then leave the tables to go play or read nearby. Then the older children can work on slightly more skilled projects.
Invite parents to join in too! There is no age limit to who can and will enjoy art with chalk pastels.
We hope this gives you some new fresh ideas for how you can add some art to your homeschool group or co-ops. Your students will be begging to do it again! For more information on how you can use You Are An Artist with your homeschool group or co-op click here.
Courtney
Courtney is a Jesus-pursuing, native Texan, homeschool mom of three, who believes homeschooling can be a peaceful and productive rhythm. At Grace, Grow & Edify she helps families create peaceful homeschooling atmospheres through faith, organizational strategies, and cultivating strong roots at home.
You might also be interested in: