Do you and your kids read "A Christmas Carol" each year? What about watching one of the many movie adaptations? Exploring A Christmas Carol in your homeschool is an easy and fun way to combine the rich literature of Charles Dickens, the excitement of cinema, and the glory of art this Christmas season!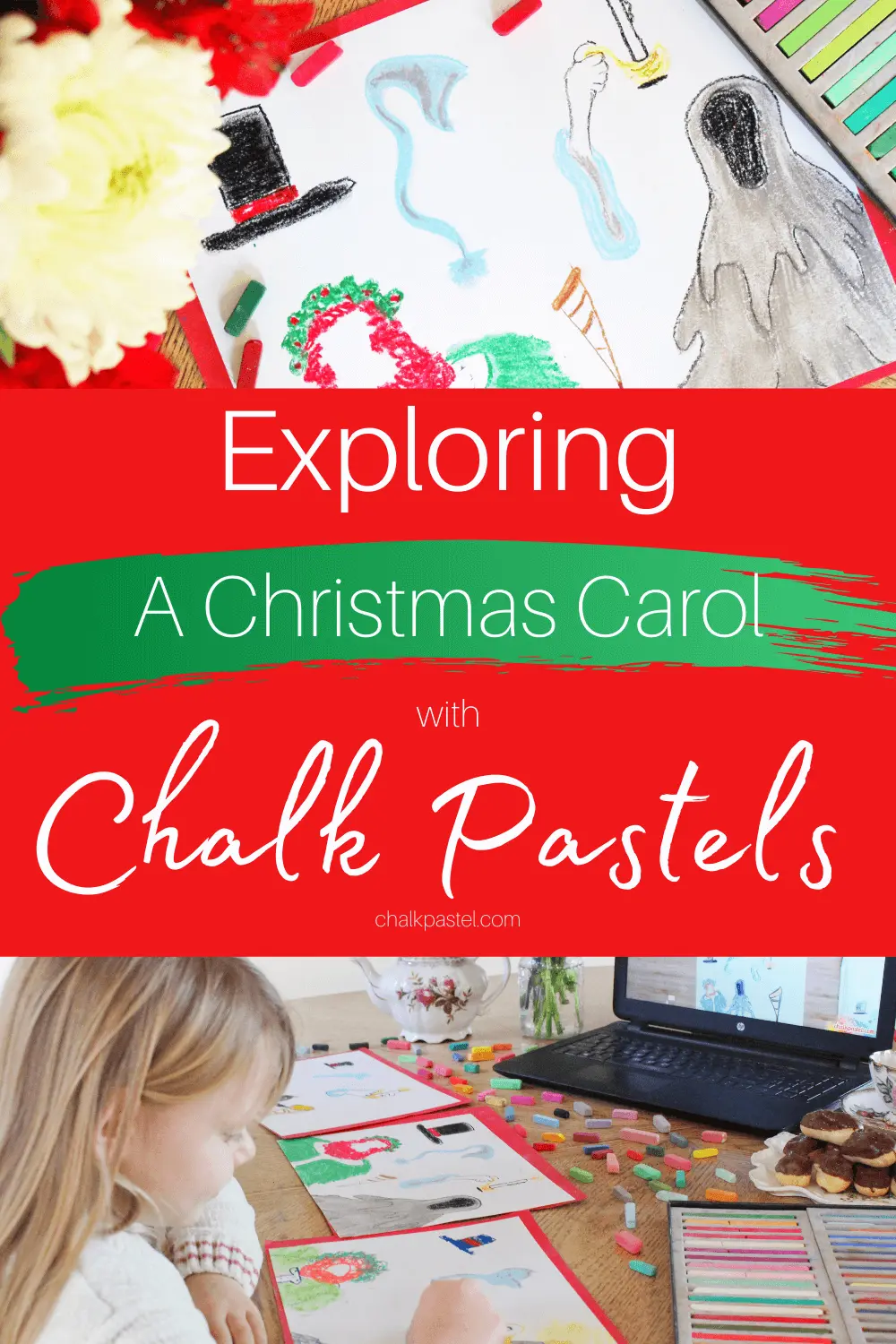 "Reflect upon your present blessings – of which every man has many – not on your past misfortunes, of which all men have some."

Charles Dickens
An Overview Of A Christmas Carol
"A Christmas Carol," written by Charles Dickens in 1843 has become synonymous with the holiday season. It is filled with charity, goodwill, inspiration, redemption, and repentance during the Christmas season.
That's one of the main reasons we read it aloud each year! It's one of the many ways we pursue a slow December.
A Christmas Carol Book, Movie, & Art Activities
There are so many lessons to be gleaned from this famous story. After reading it aloud we usually pick one of the many movie adaptions to watch as a family. Comparing the book to the movies always leads to lively discussions about what was different in the movie versus the book. The audiobook also makes a great alternative if you can't manage a read aloud.
This year, we also added a chalk pastel Christmas Carol teatime to the mix! Adding an art element like chalk pastels can help your kids get even more out of this famous book.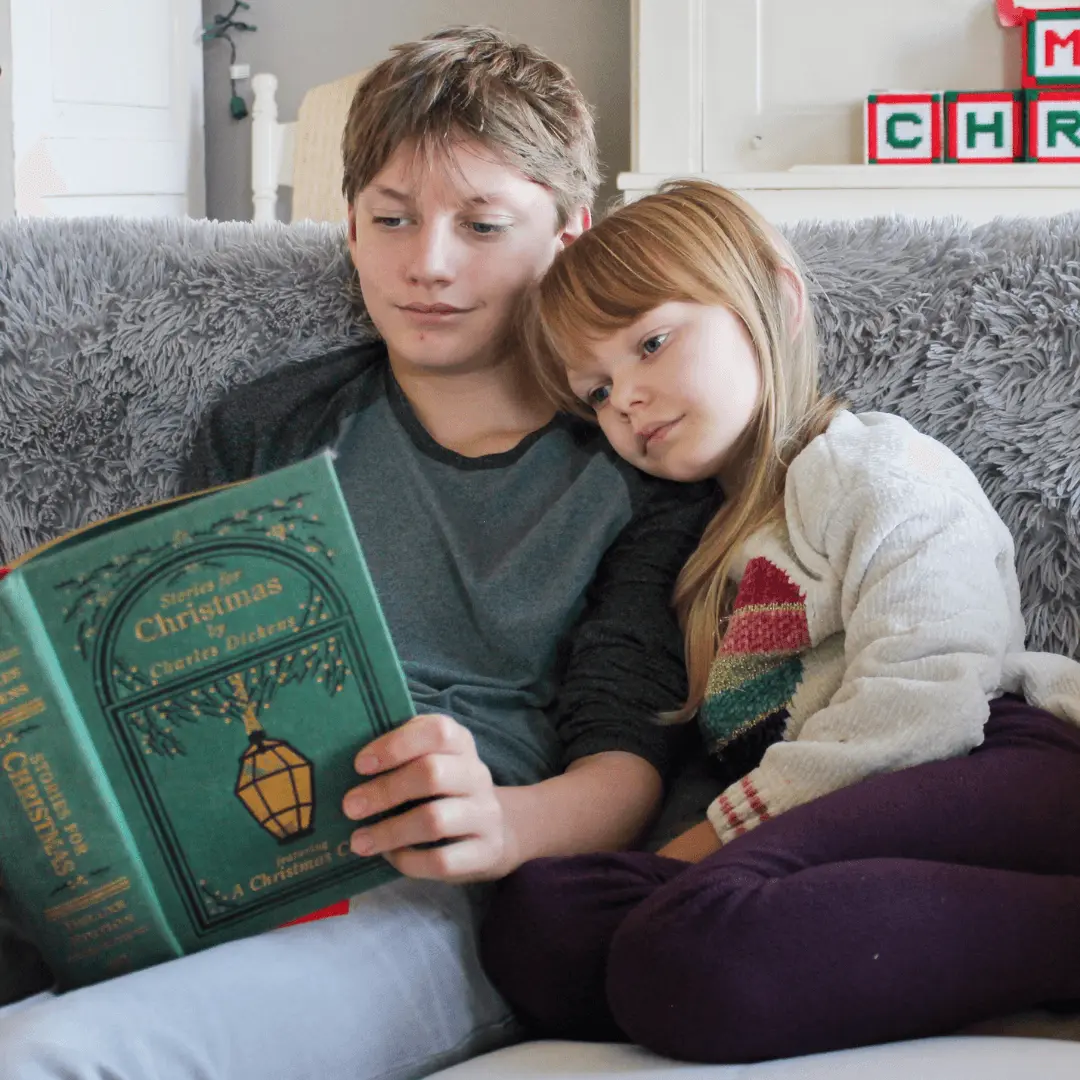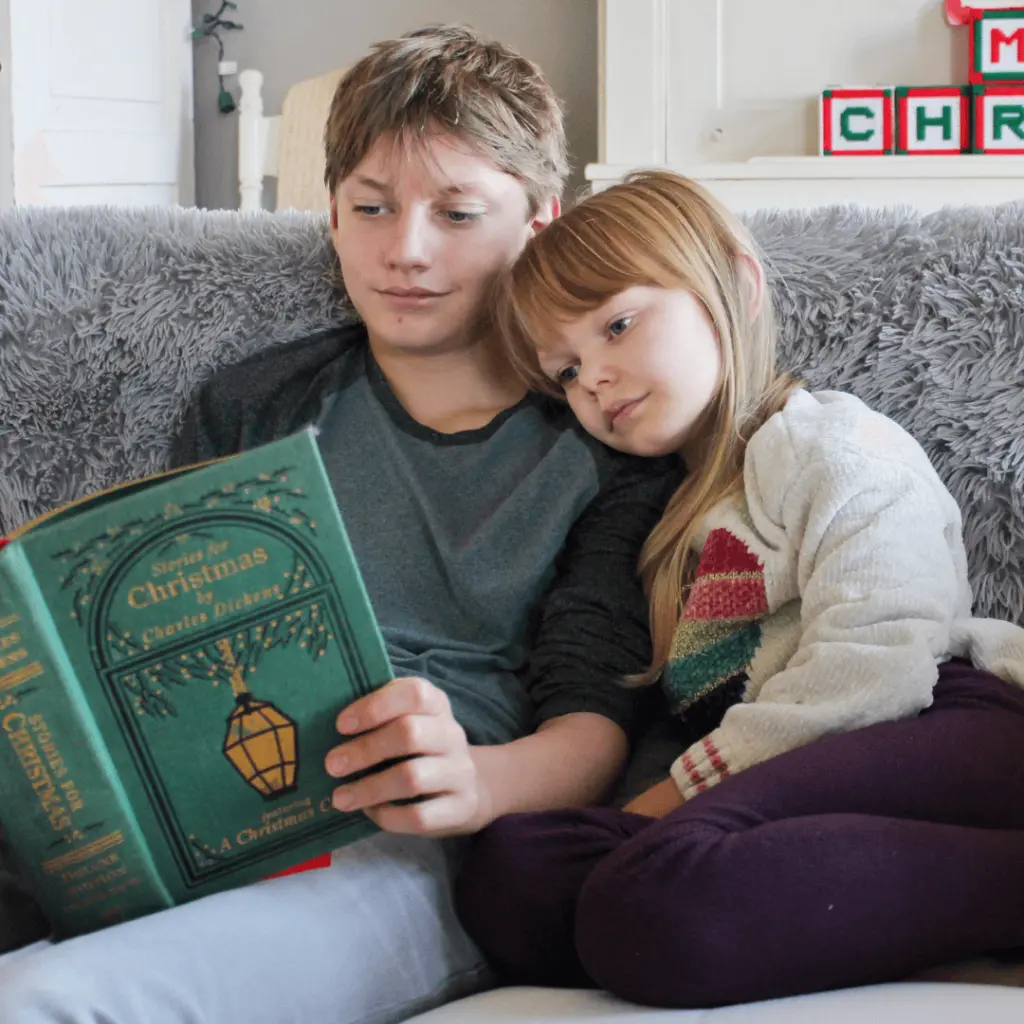 A Christmas Carol Homeschool Teatime
First, I set the table with all of the needed items for a successful chalk pastel teatime:
chalk pastels
construction paper
computer or tablet for watching the video lesson
teapot and cups filled with our favorite tea
a scrumptious treat ( this time we chose chocolate eclairs)
vase of flowers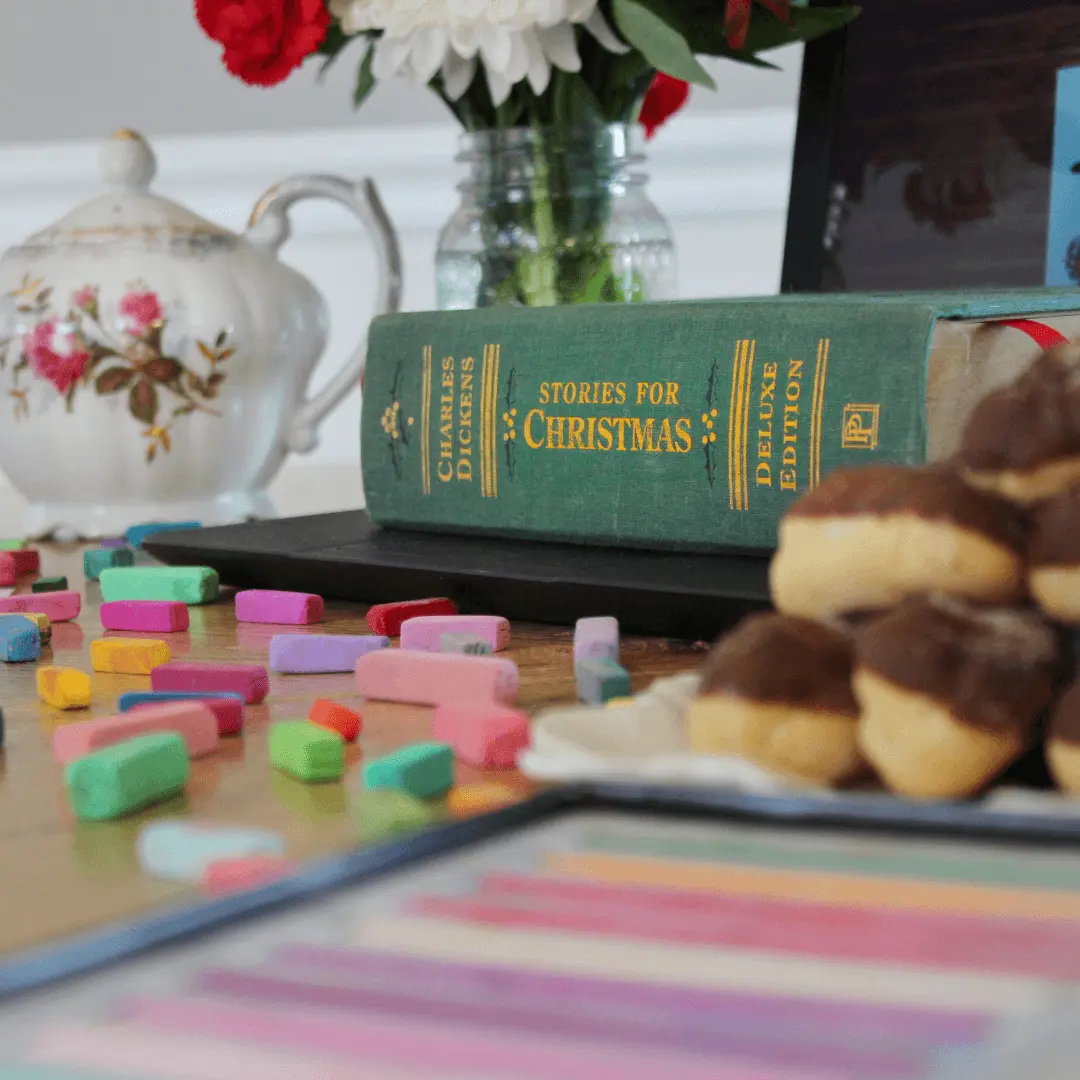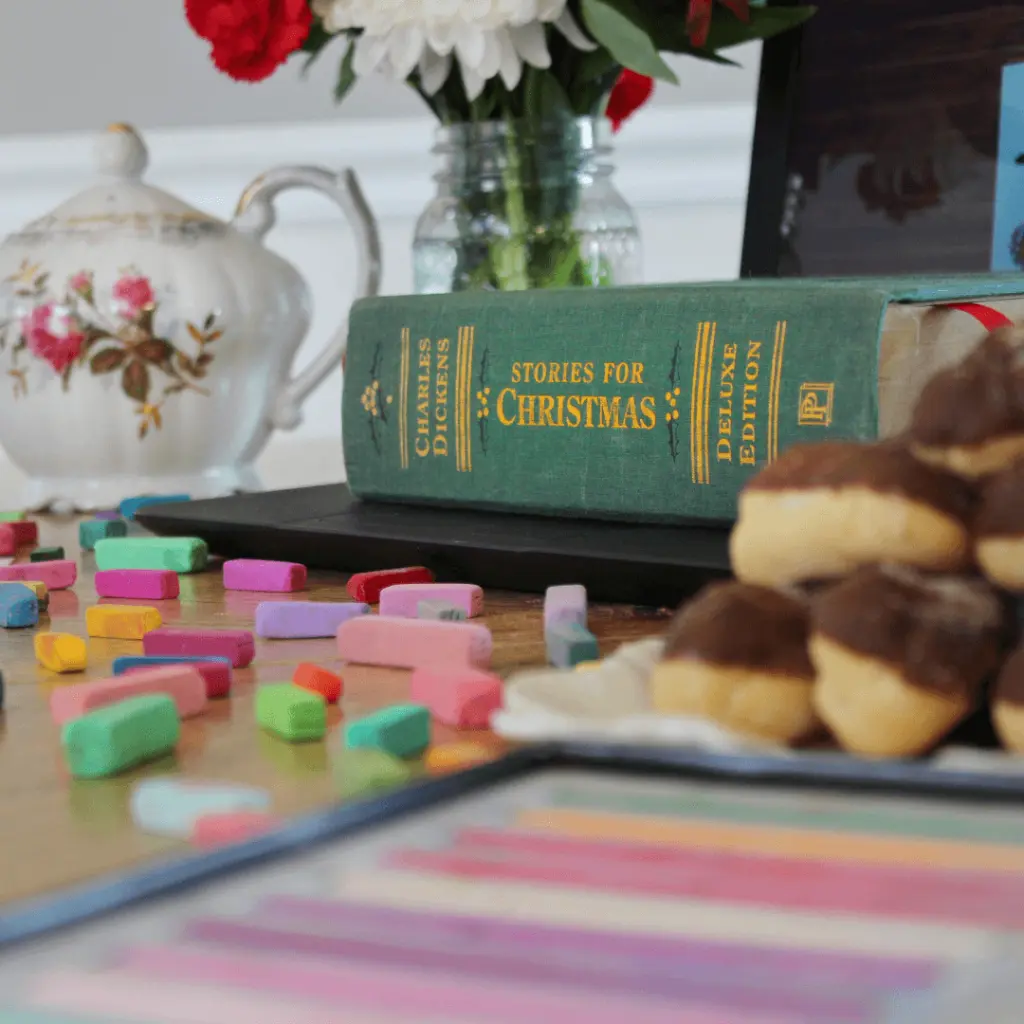 More Christmas Learning Resources
Then, I pull up our You ARE AN Artist Clubhouse Membership. It provides over 600+ chalk pastel lessons for all ages plus new art lessons from Nana and themed art events throughout the year! In addition to the Christmas Carol lesson you'll also have access to these other Christmas and holiday lessons:
Christmas Star
Away in a Manger
Christmas Tree
Winter Fun
Gingerbread Man and Holly Leaf
Christmas Angel
What's Under Your Christmas Tree?
Christmas Ornaments
Christmas Lights
Nutcracker
Clara and the Christmas Tree
Sugar Plum Fairy
Chinese Tea Dance
Mouse King
Arctic Express
Plus so much more!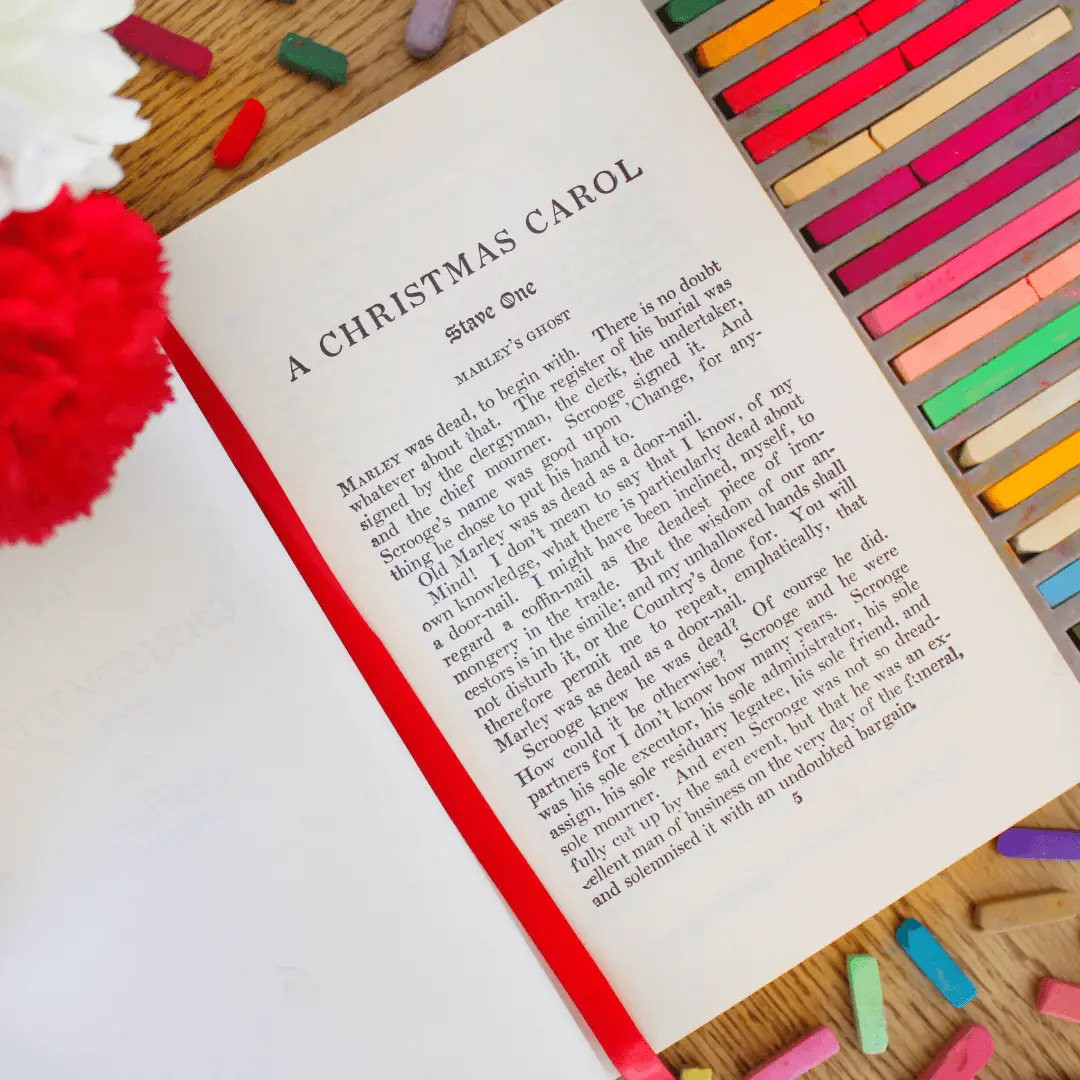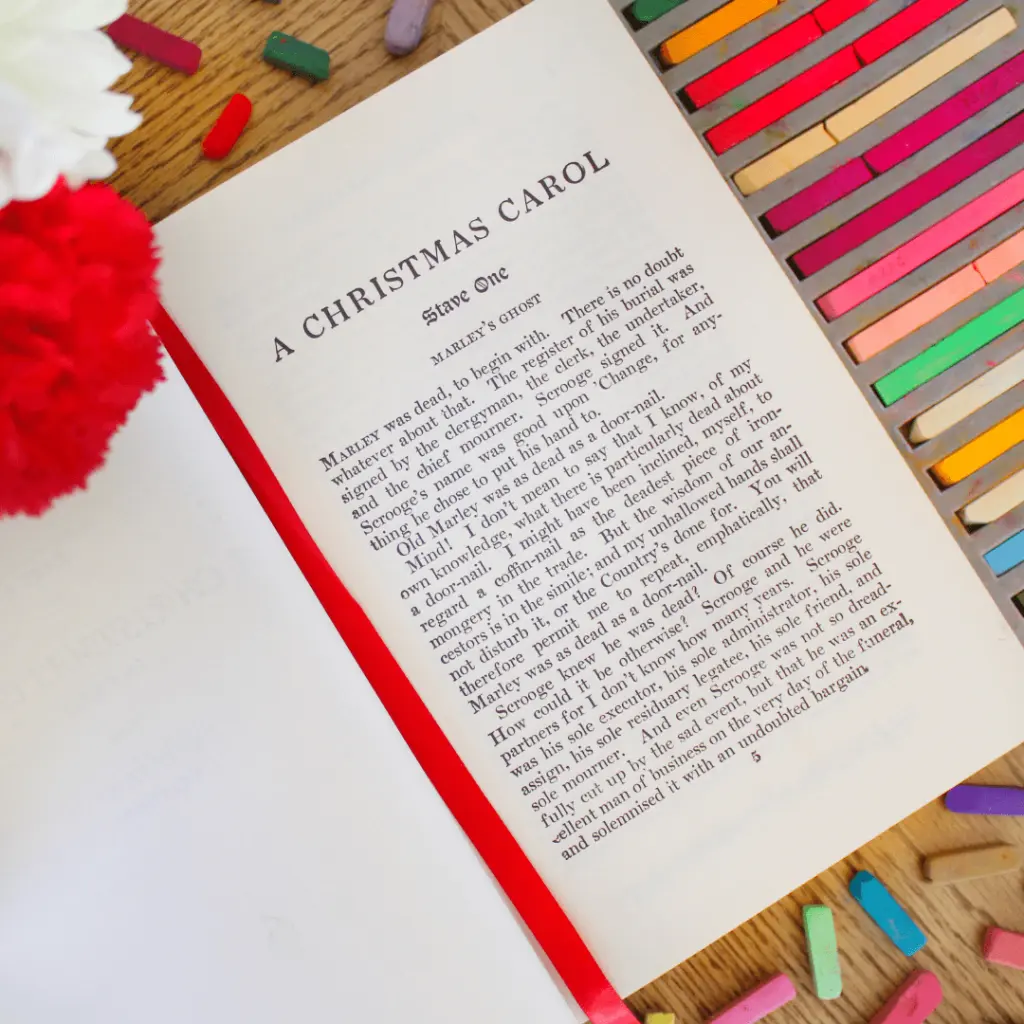 A Christmas Carol Homeschool Study
With the Christmas Carol chalk pastel lesson Nana takes you and your kids step-by-step in creating:
Scrooge's Top Hat
Scrooge's Night Cap
The Ghost of Christmas Past's Candle
The Ghost of Christmas Present
Tiny Tim's Crutch
The Ghost of Christmas Future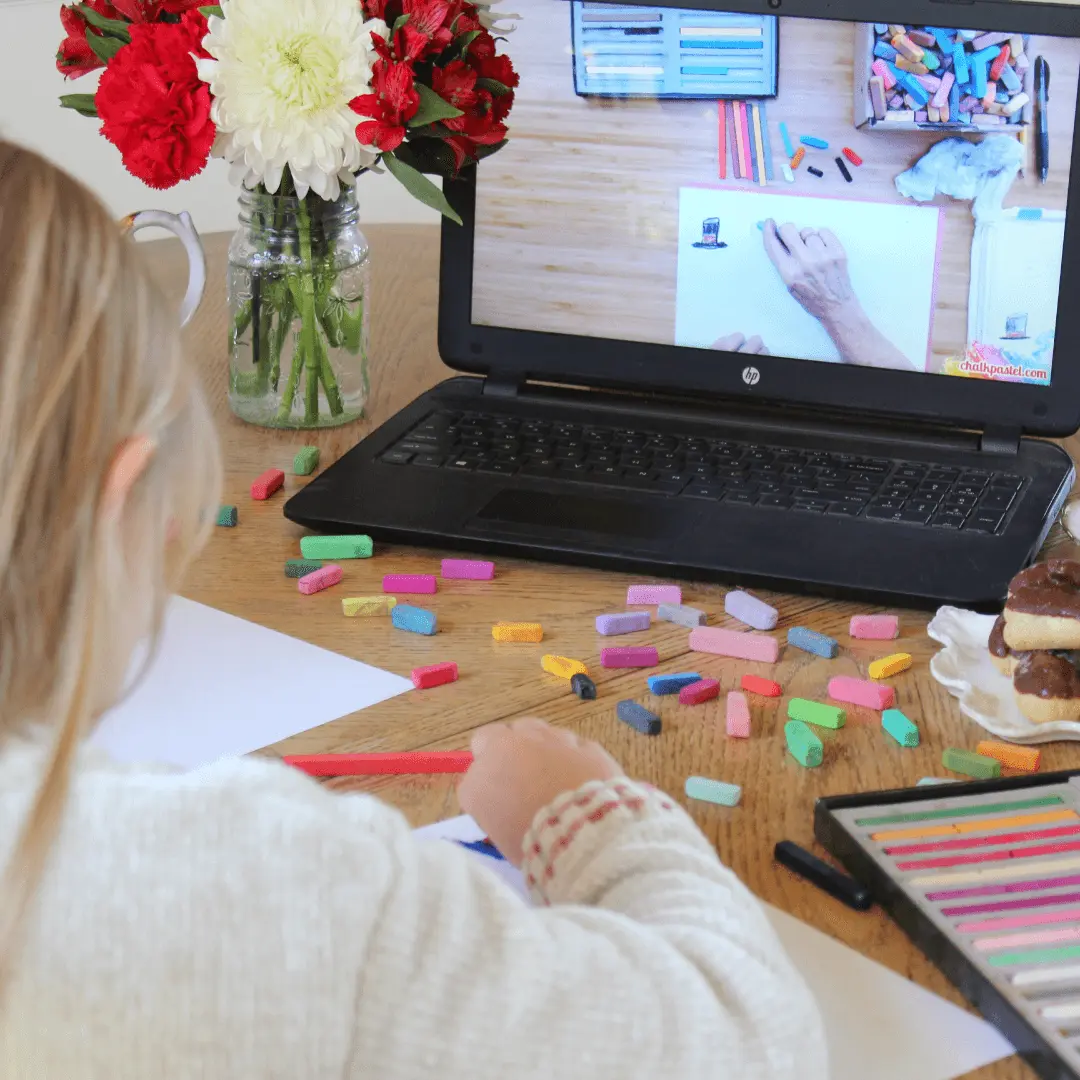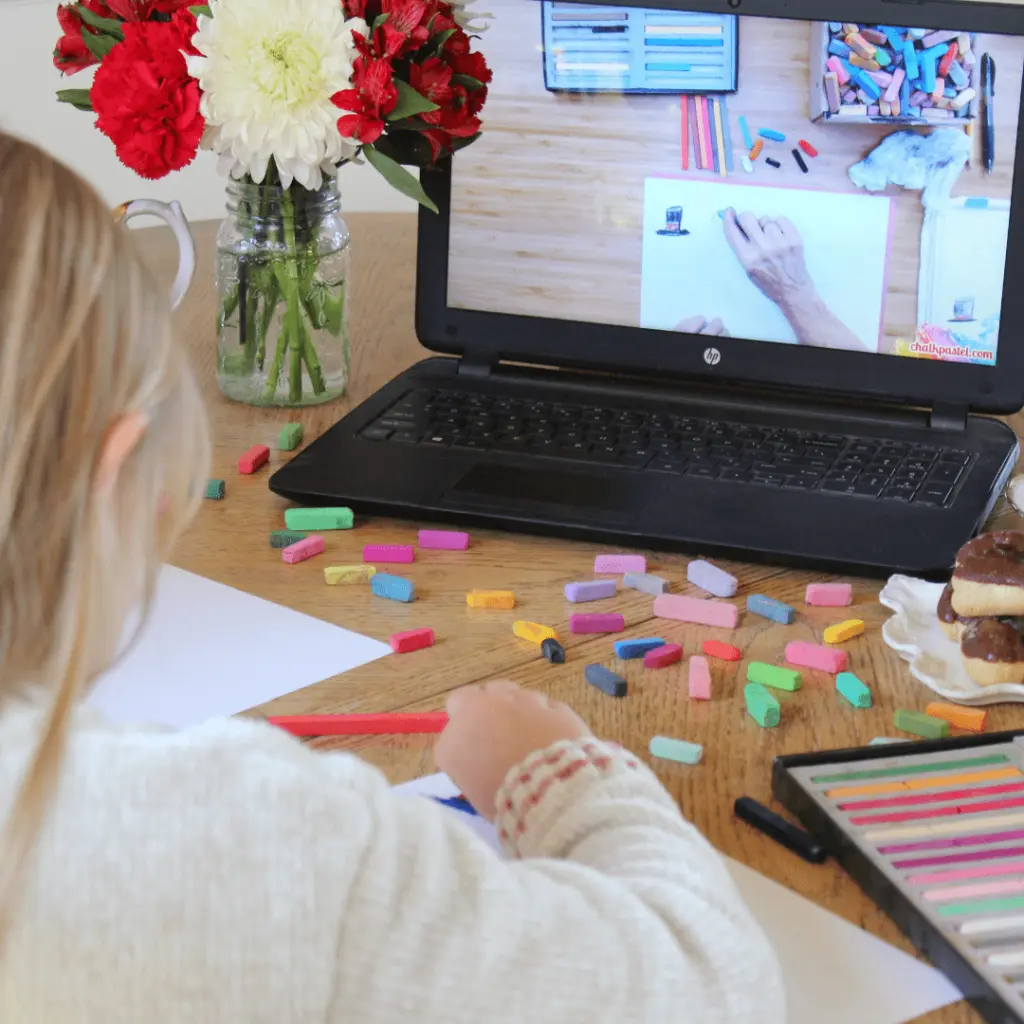 I must add that when Nana mentioned that the Ghost of Christmas Future reminded her of Harry Potter's Dementors, she earned major cool points with my Harry Potter loving kiddos! My daughter's eyes got as round as saucers and she squealed, "Nana's read Harry Potter!"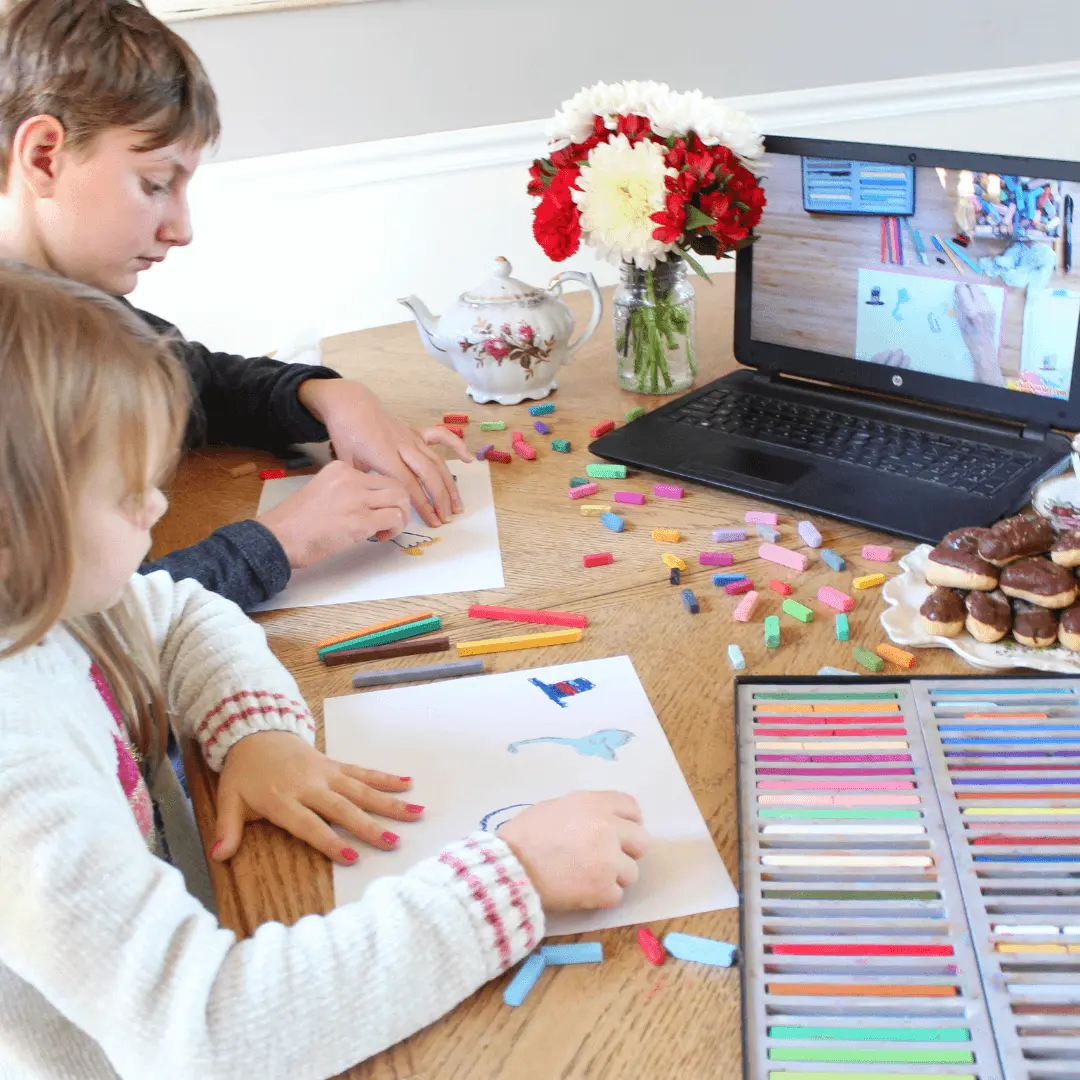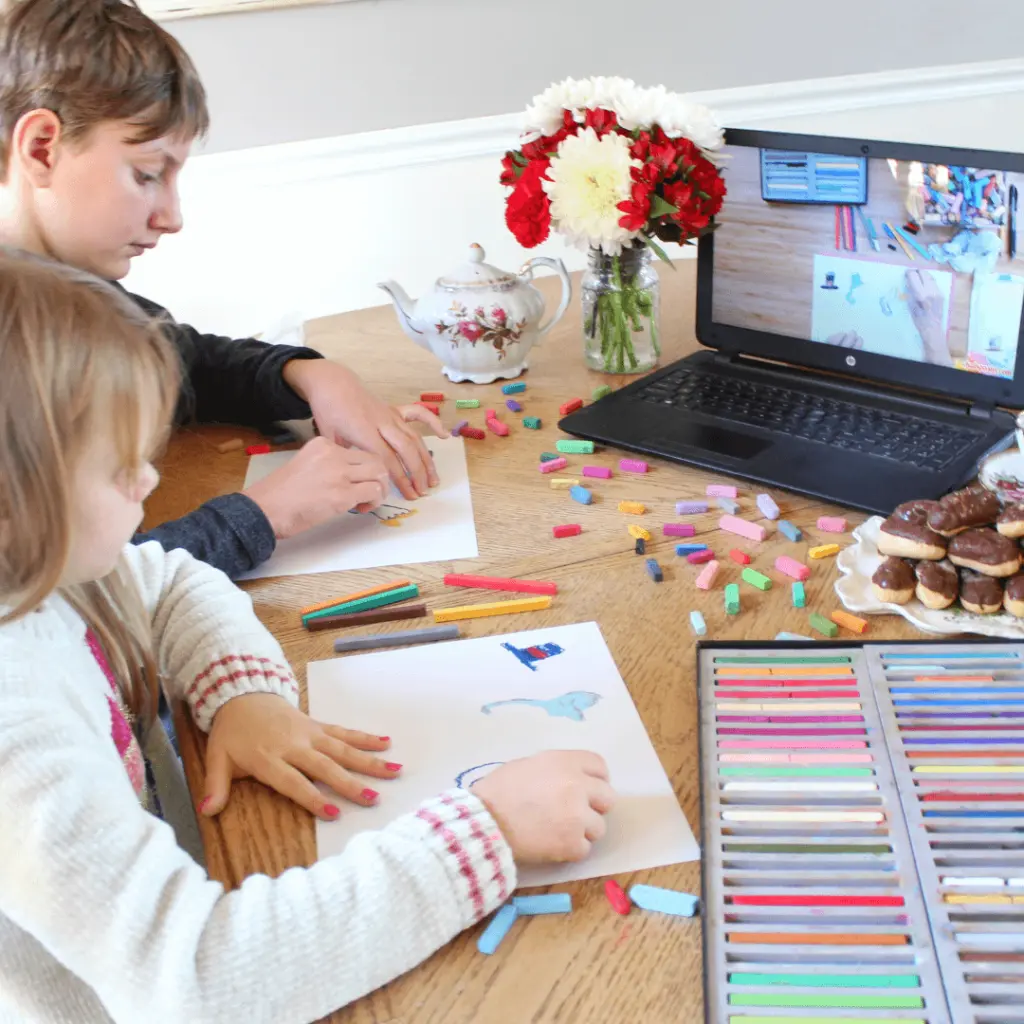 The Christmas Carol lesson also sparked interest in Charles Dickens's life. So, my son and I looked up his biography! It's so interesting to learn more about the time and place that Dickens lived as well as the hardships he faced. It seems we also covered a bit of history, and geography with this lesson too!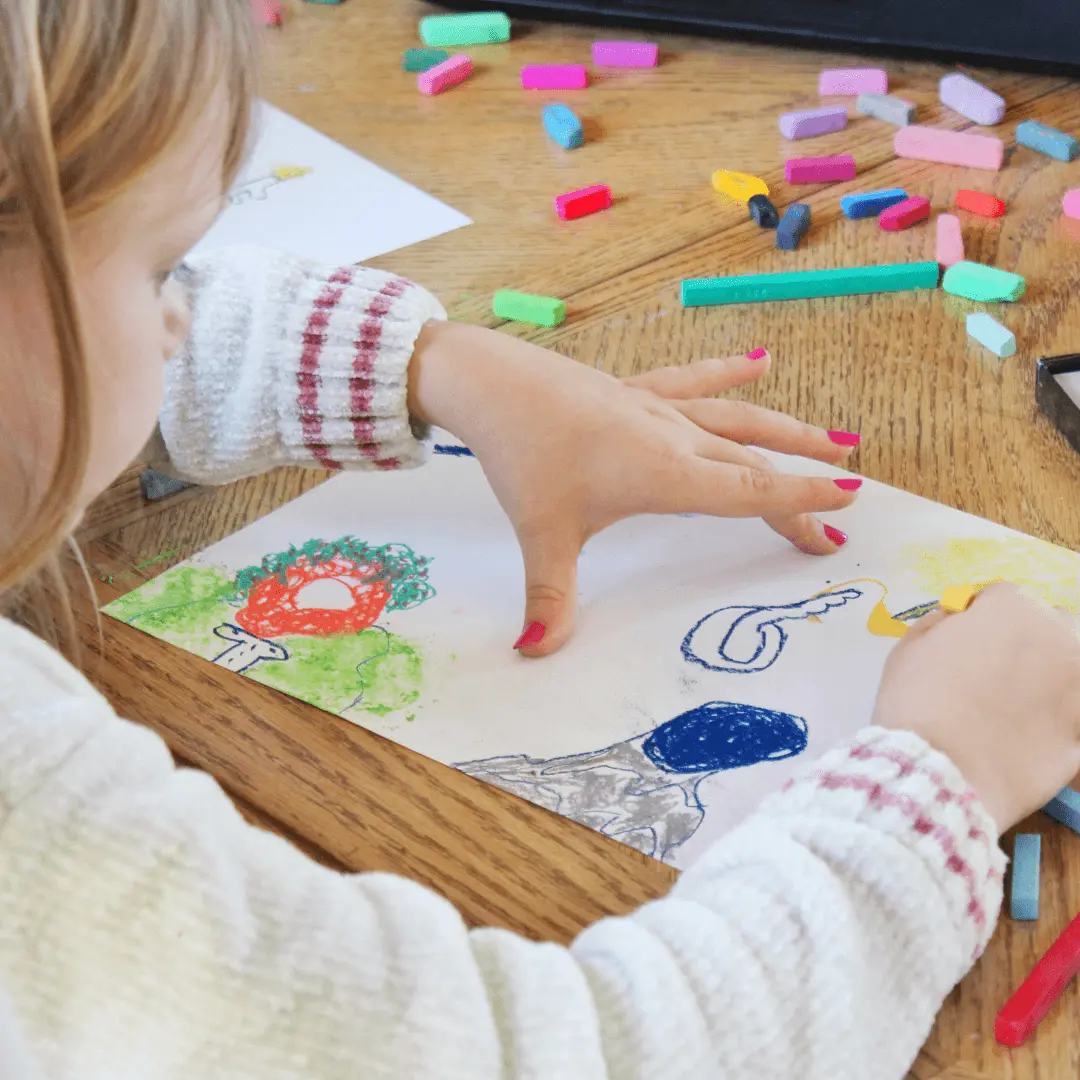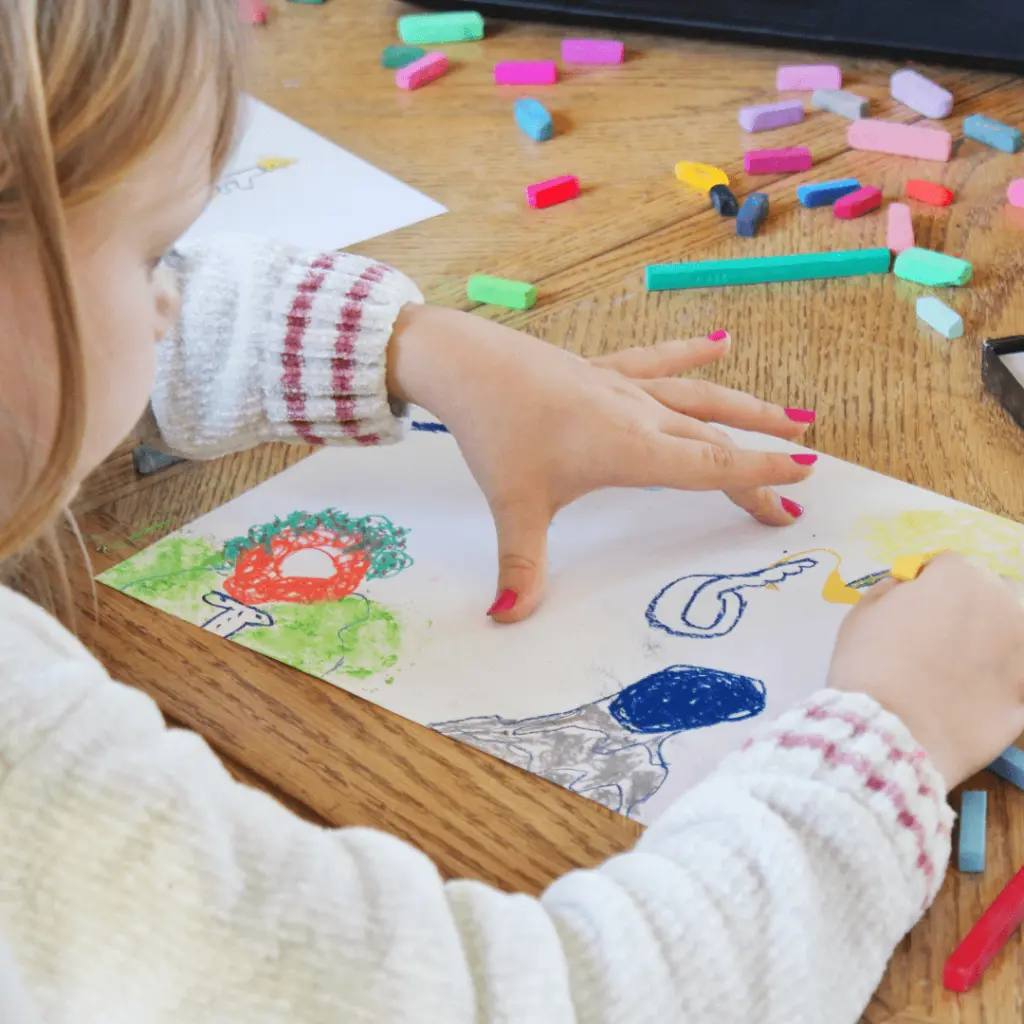 After all the tea was drunk, all the eclairs eaten, and all the pastels used we settled in to watched Mickey's Christmas Carol together.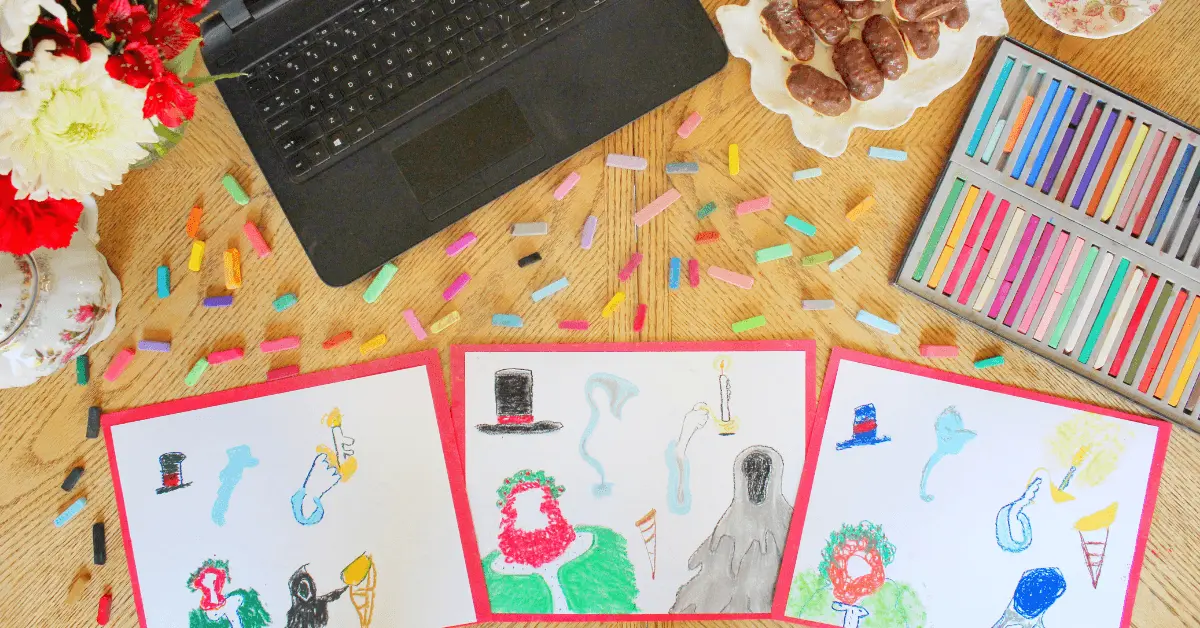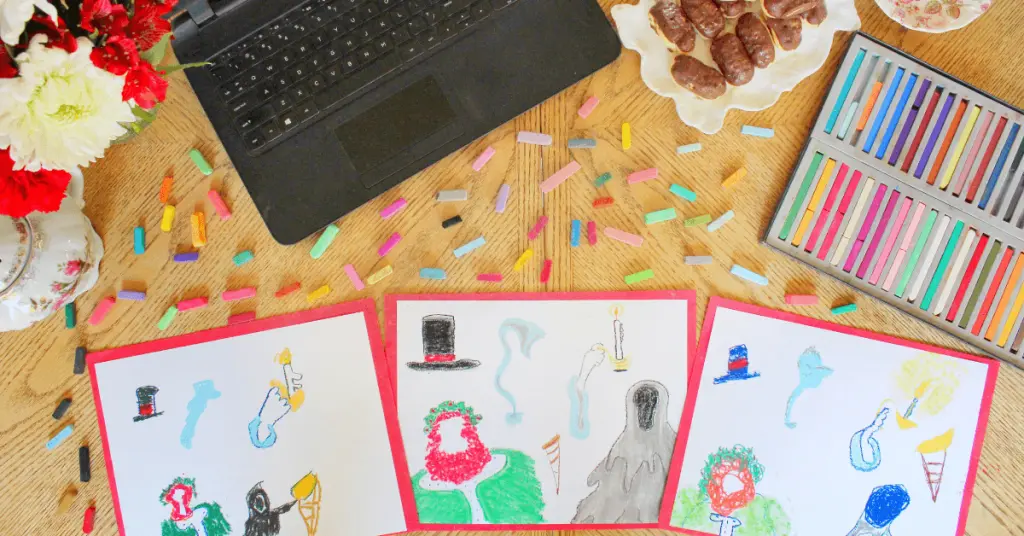 Exploring A Christmas Carol In Your Homeschool
"I will honour Christmas in my heart, and try to keep it all the year. I will live in the Future. The Spirits of all Three shall strive within me. I will not shut out the lessons that they teach."

Ebenezer Scrooge, A Christmas Carol
The Christmas Carol chalk pastel lesson and teatime was a wonderful addition to our yearly tradition of "A Christmas Carol" book and a movie! I really LOVE this tradition and so do my kids. I highly recommend adding a bit of your own Christmas magic with chalk pastels to your Christmas tradition.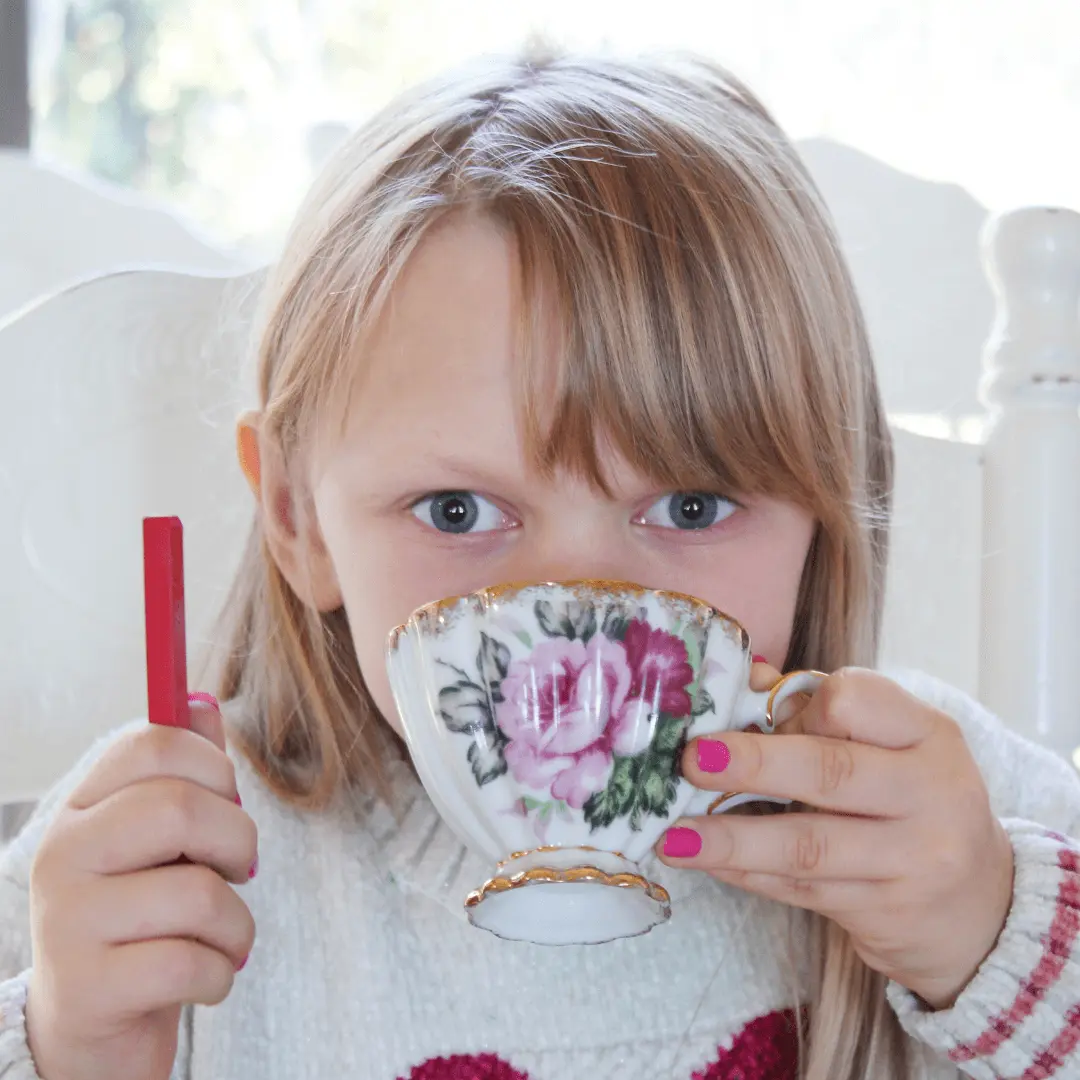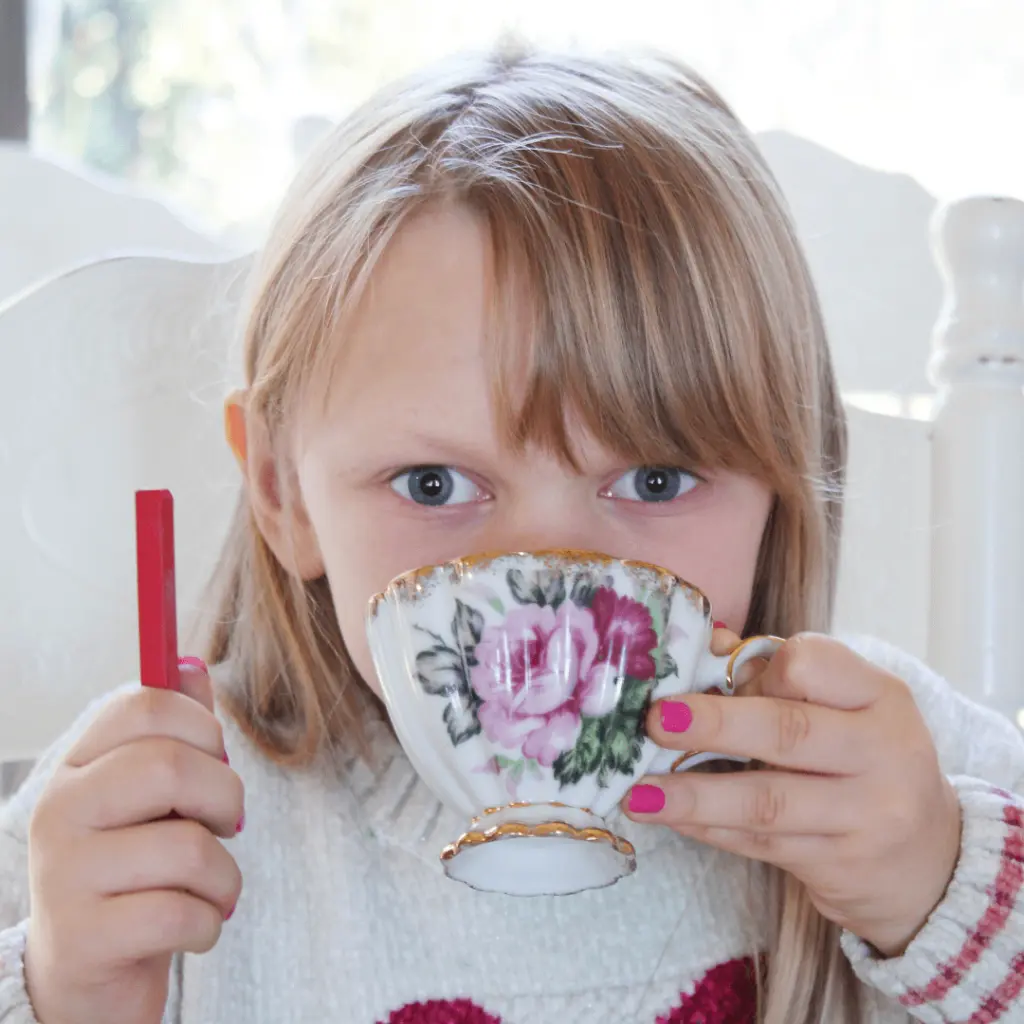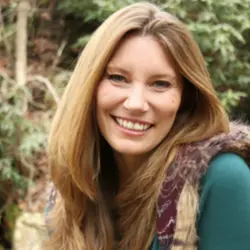 Erin is a writer, blogger, and homeschooler to two intense kids. Her blog is filled with information to help you explore a child led education while making meaningful connections with your children. Discover favorite read alouds, seasonal books, games, art projects, hands-on activities, and learn to just breathe through the ups and downs of life. She loves nature, farm life, good books, knitting, new pens, and hot coffee. Erin is a contributing writer for Weird Unsocialized Homeschoolers. Her work has also been featured on Simple Homeschool and Book Shark.