There are so many ways to integrate art into your homeschool! Use this guide to fun art projects to add a beautiful layer of learning and joy to your homeschool.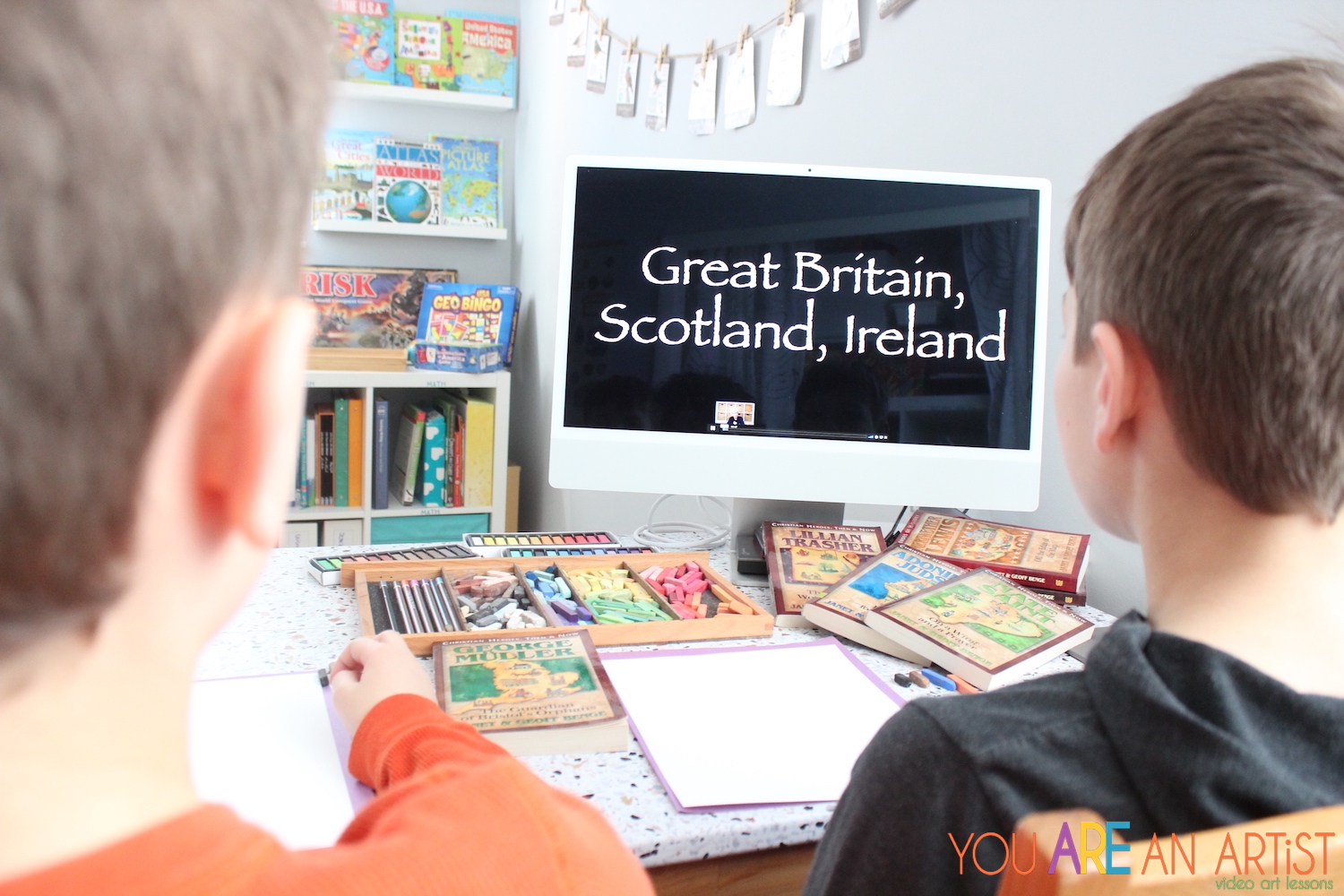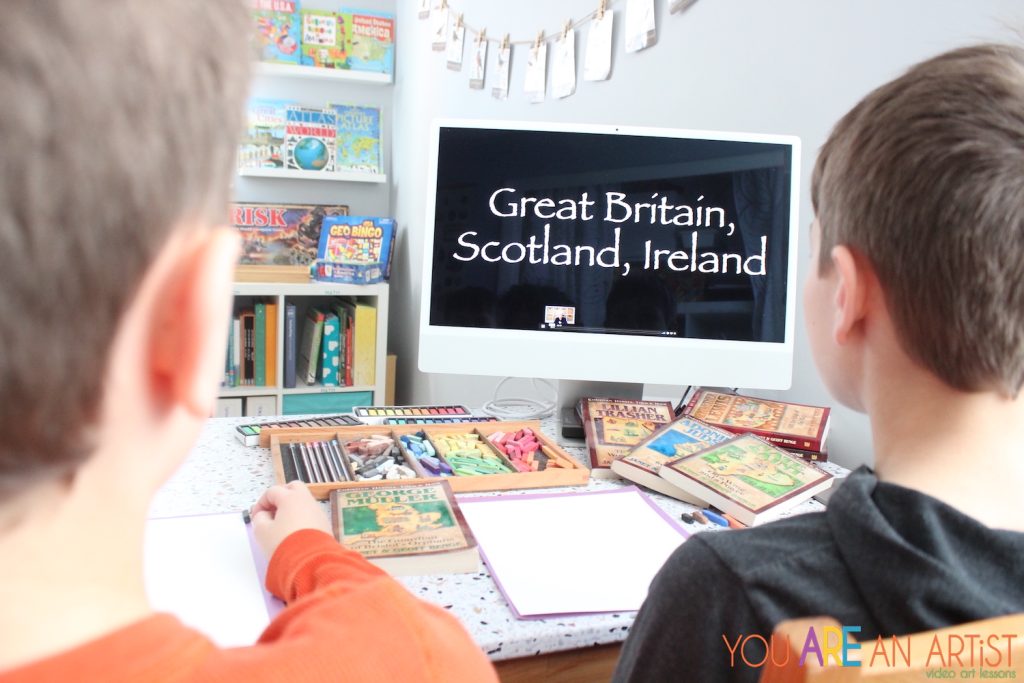 Art Projects by Grade Level
First Grade Art and Music Curriculum for Your Homeschool – Creating a love for beautiful art and music in your homeschool can start from birth. It doesn't take much effort to surround your family with the great artists and classical composers from the very start of a child's life. Weave experiences into your everyday routine by using our Homeschool Fine Arts first grade art and music plans as a framework.
Online Art Lessons Perfect for Grades K-3 – Art is an essential part of our elementary learners' development. Online art lessons are a great option for grades K-3 and are easily incorporated into any homeschool lesson plan.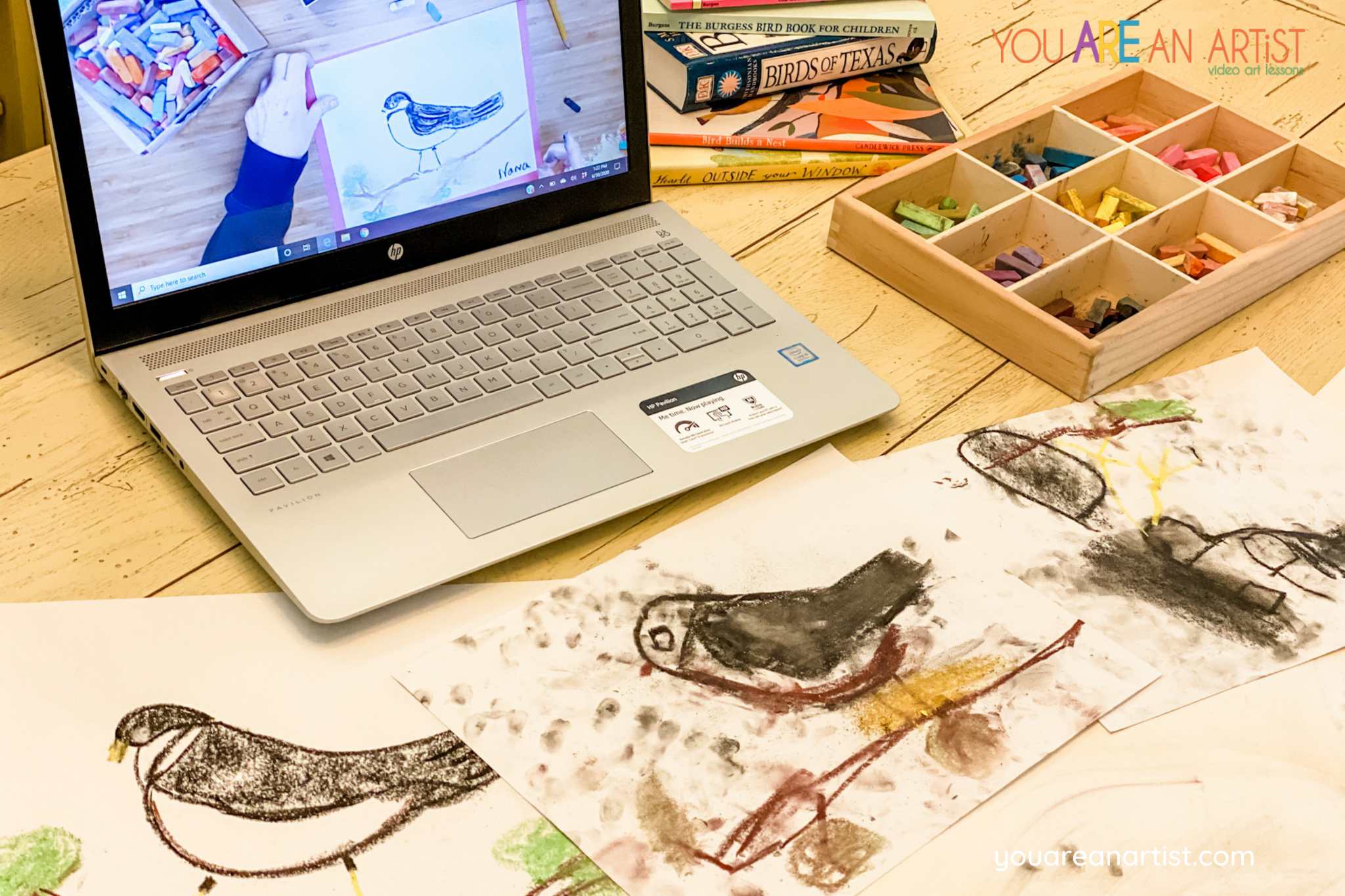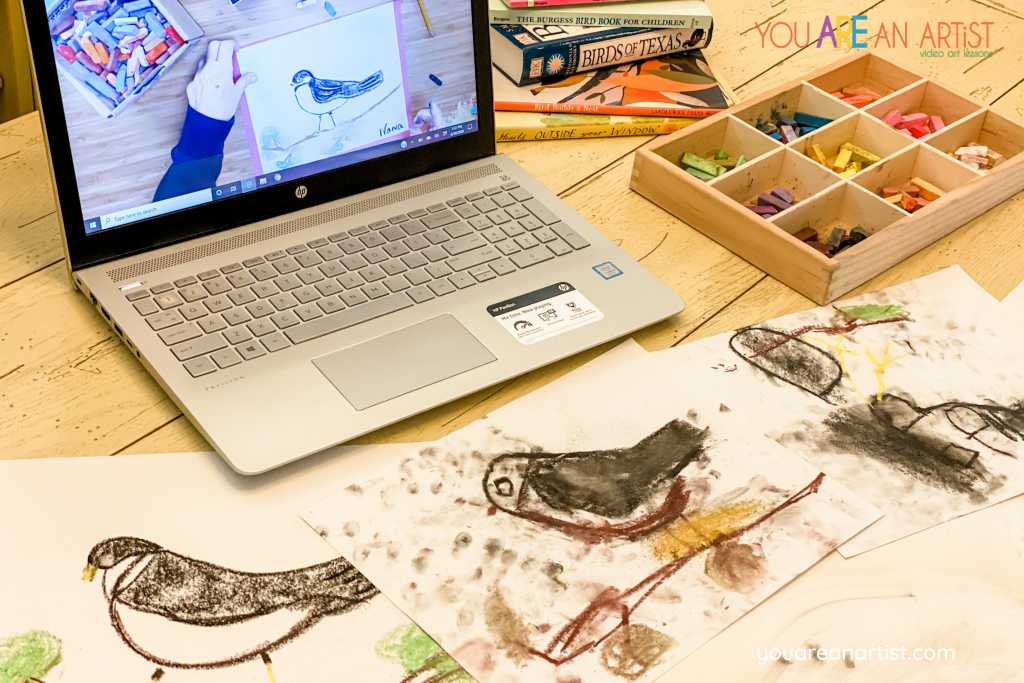 Homeschool Art Lessons Perfect for Grades 4-6 – Studies have shown, time and time again, that adding art to learning adds value across academic subjects. This educational approach is appropriate and helpful across all grade levels, including the late elementary grades 4-6.
Why Homeschooling Middle School is Better with Hands on Learning – Study after study has shown that learners of all ages do best when the material is presented in a multisensory format. Text combined with video, hands-on creative activities, and even art as a way to demonstrate understanding have all been proven to contribute to more successful learner outcomes.
Integrated Art for Homeschooling High School – Are you looking for ways to create a more dynamic learning environment for your high schooler? Homeschooling with an integrated art approach may be exactly what you need!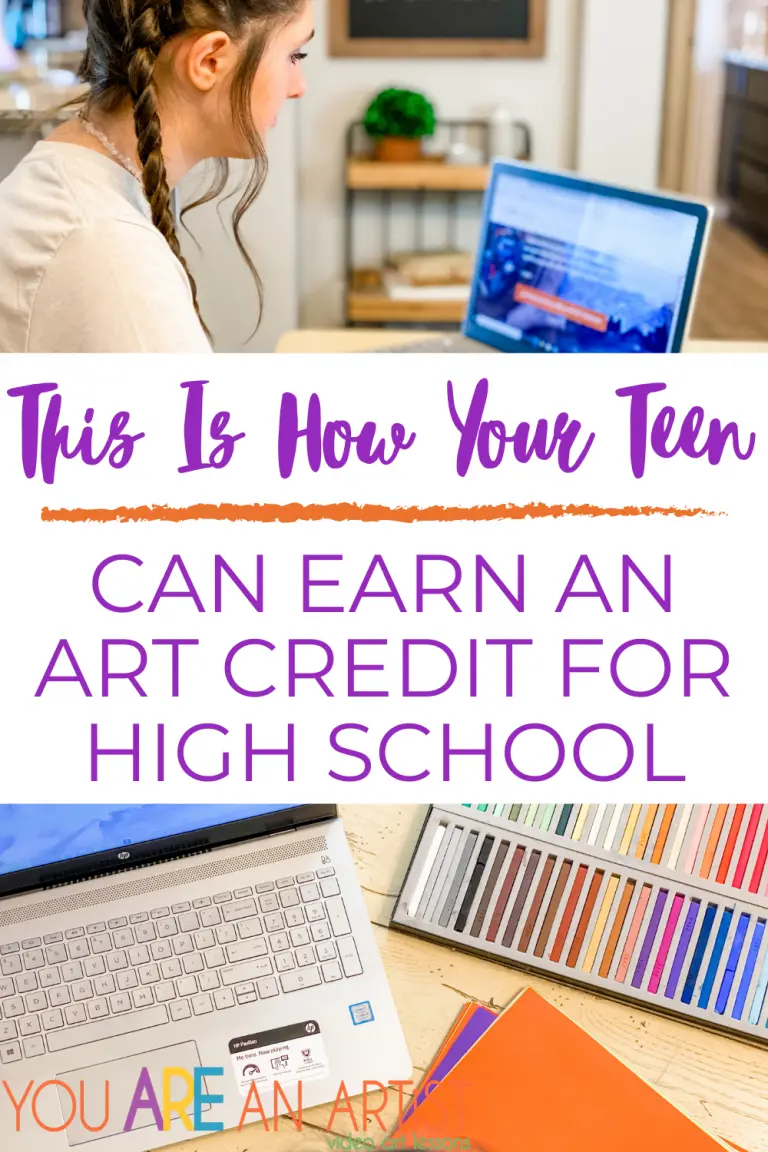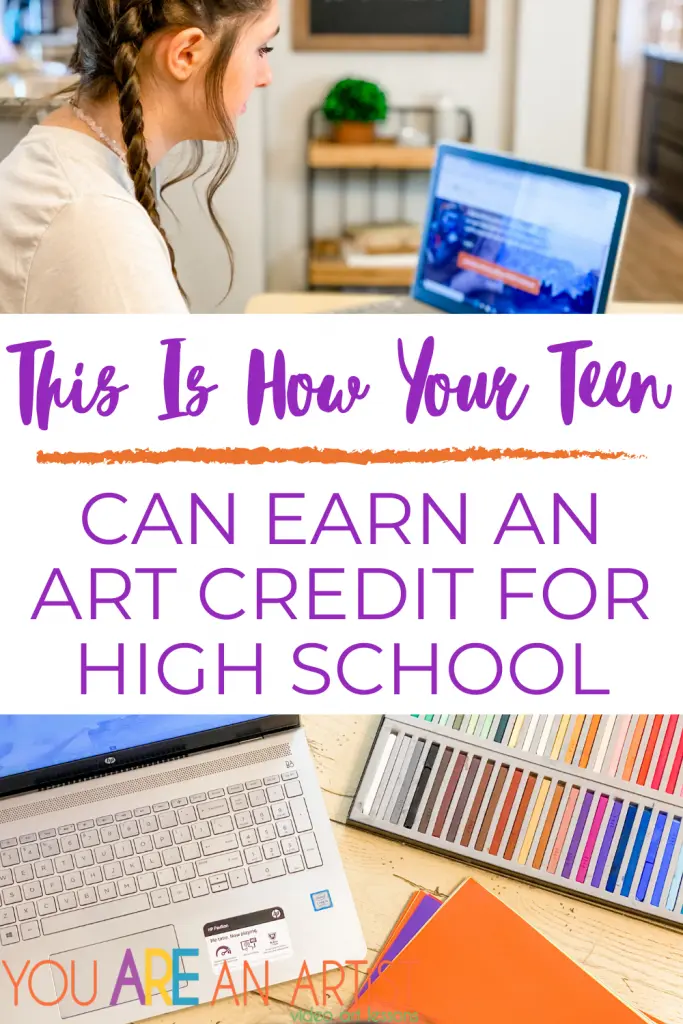 Here Is How You Can Earn an Art Credit for High School – As fellow homeschoolers, we know that homeschool families like to plan their own way! That's why You Are An Artist is an excellent fit for your visual art credit needs. Our flexible path to a visual art credit with chalk pastels allows you the freedom to plan; however it best suits your student.
Classical Music Appreciation Lessons for All Grades – There is no right or wrong way to start classical music homeschool lessons. The most important thing is that you start! Learn the simple steps to building a love of classical music and a knowledge of great composers.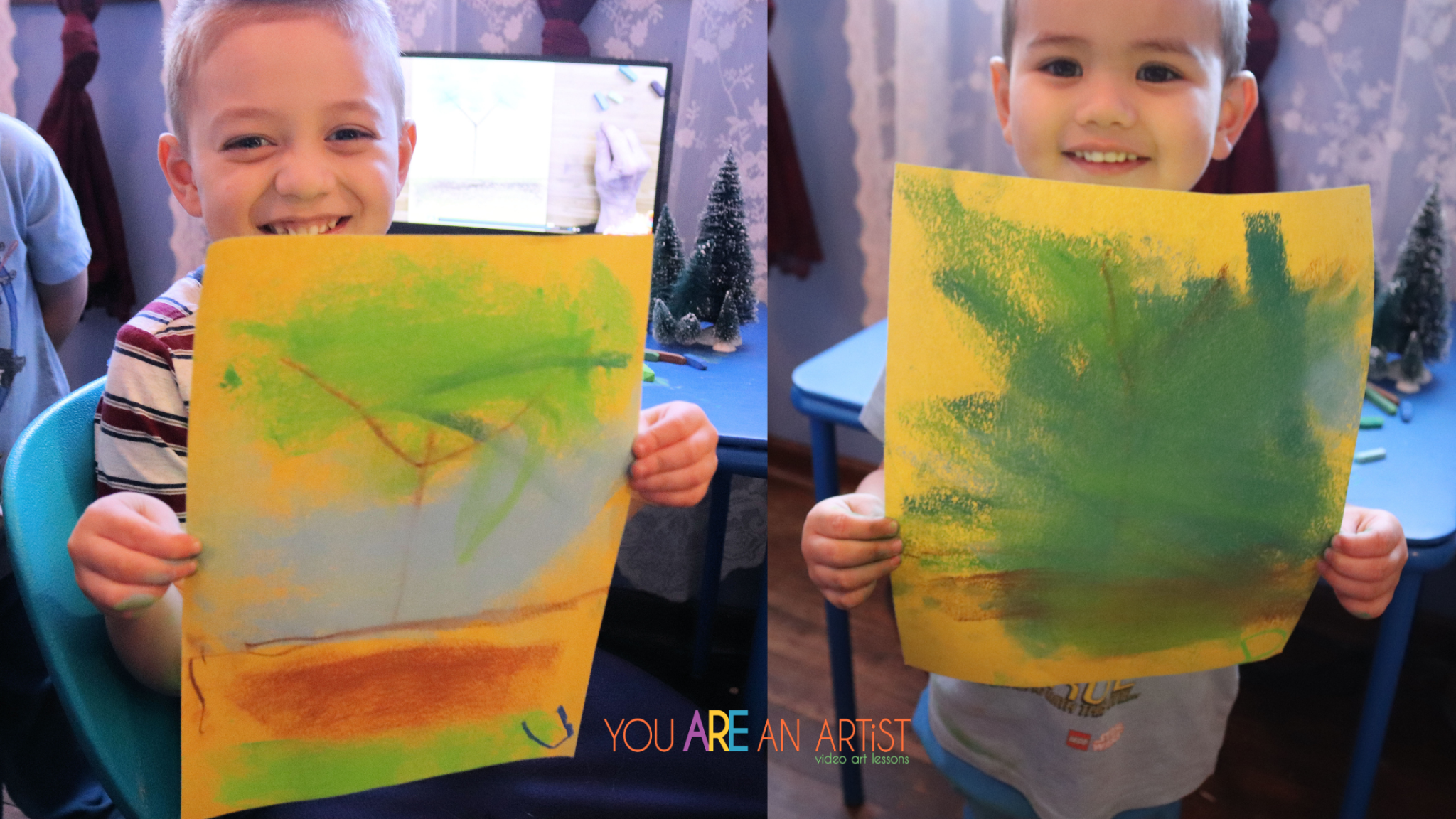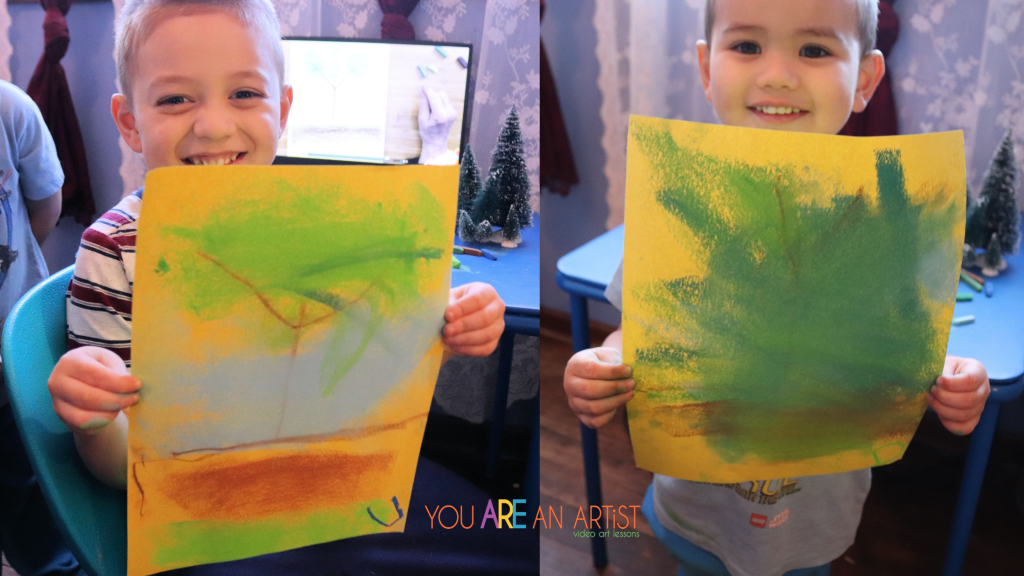 Preschool Homeschool Art Activities
Early learners need lots of play-based learning and time creating. We have to make time for preschool art in our homes and homeschools. Art is essential to the mental, social, and emotional growth of our early learners. Art is also a fantastic way to satisfy children's natural curiosity for exploration and experimentation.
Art Projects By Academic Subject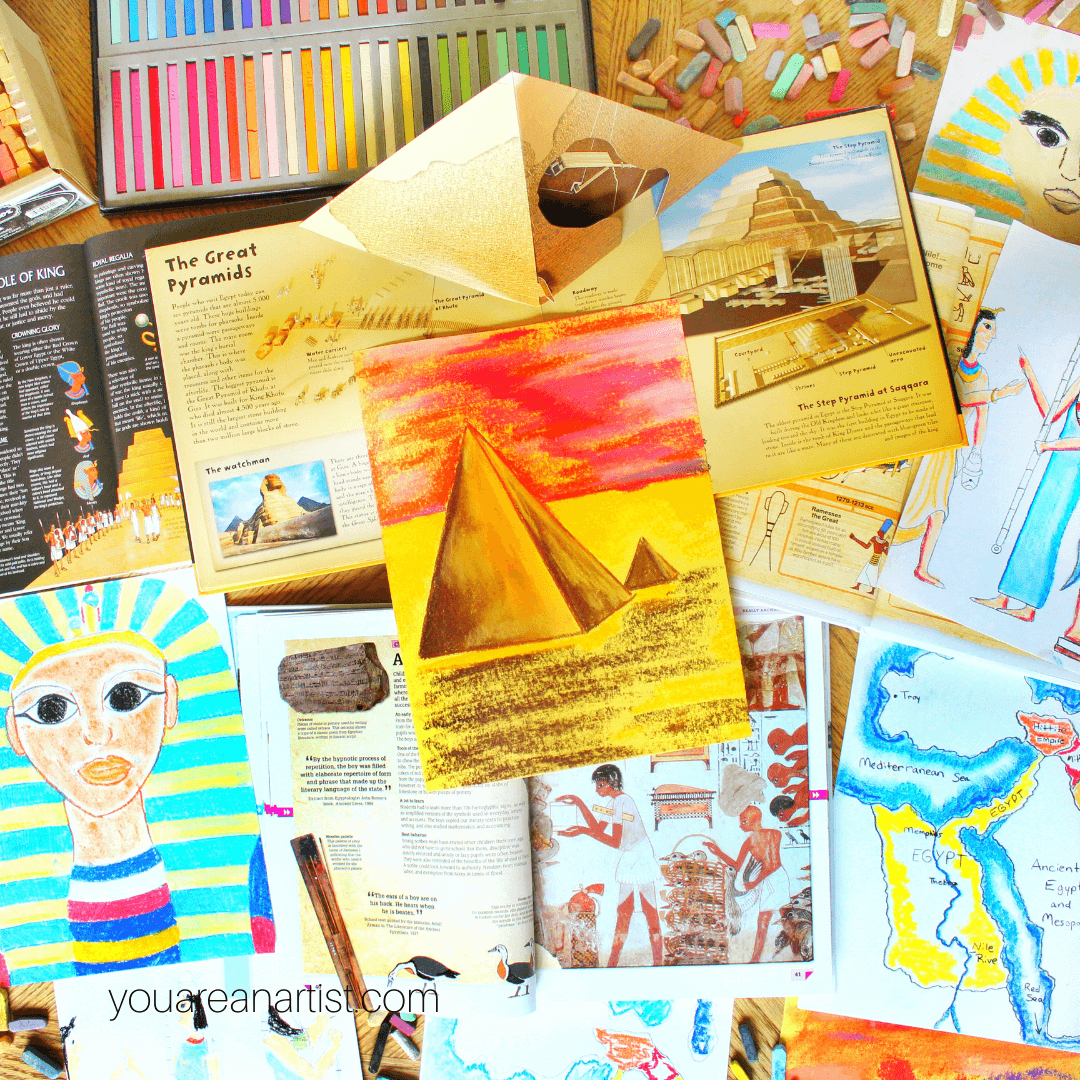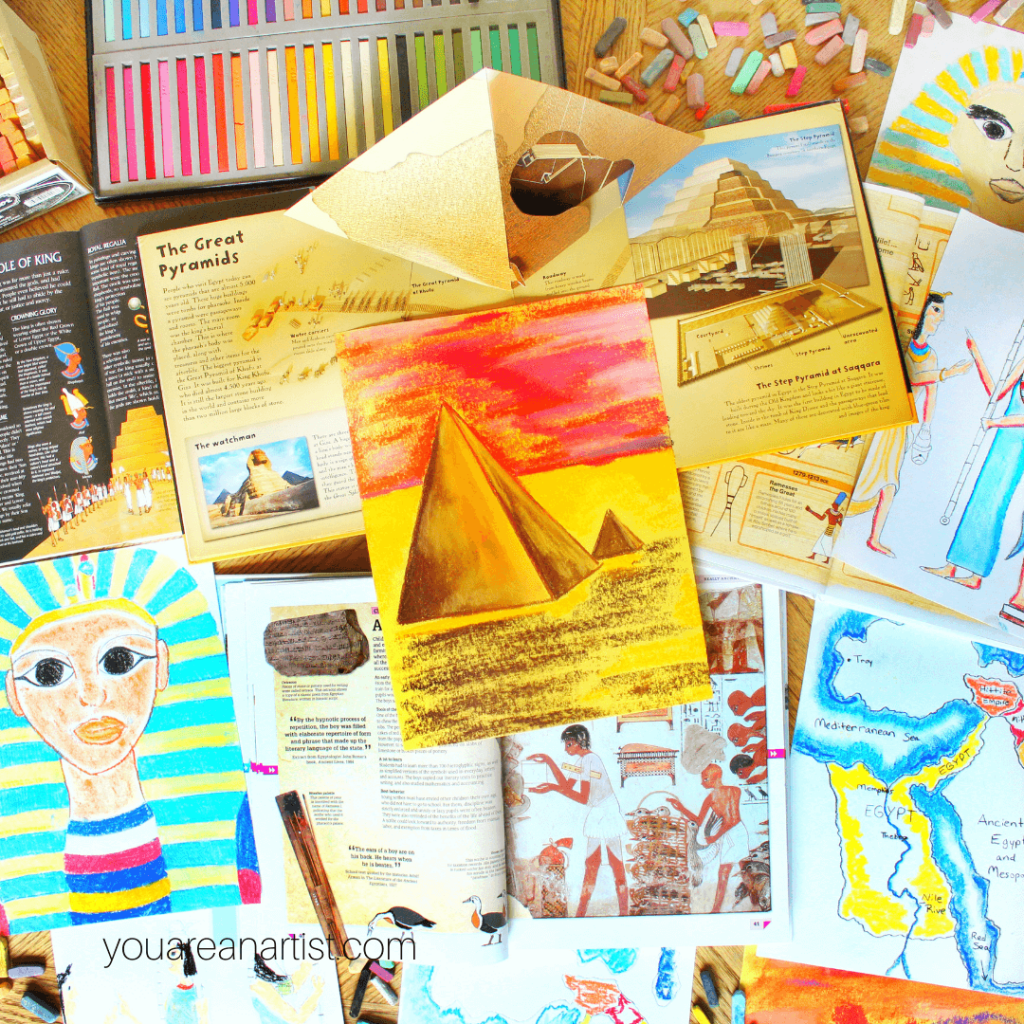 Art Lessons for Your Homeschool History Curriculum
Yes, you can use art to teach history! No matter what time period you are studying in your homeschool history curriculum, Nana's I Drew It then I Knew It video lessons are the easy – and fun – way to learn important parts of history. Enjoy a library of history video art lessons to match all four history cycles no matter what homeschool history curriculum you are using. Nana does the teaching and all you need are very minimal supplies. It is super easy to get started in chalk pastel art with The Best Art Lessons for Your Homeschool History Curriculum.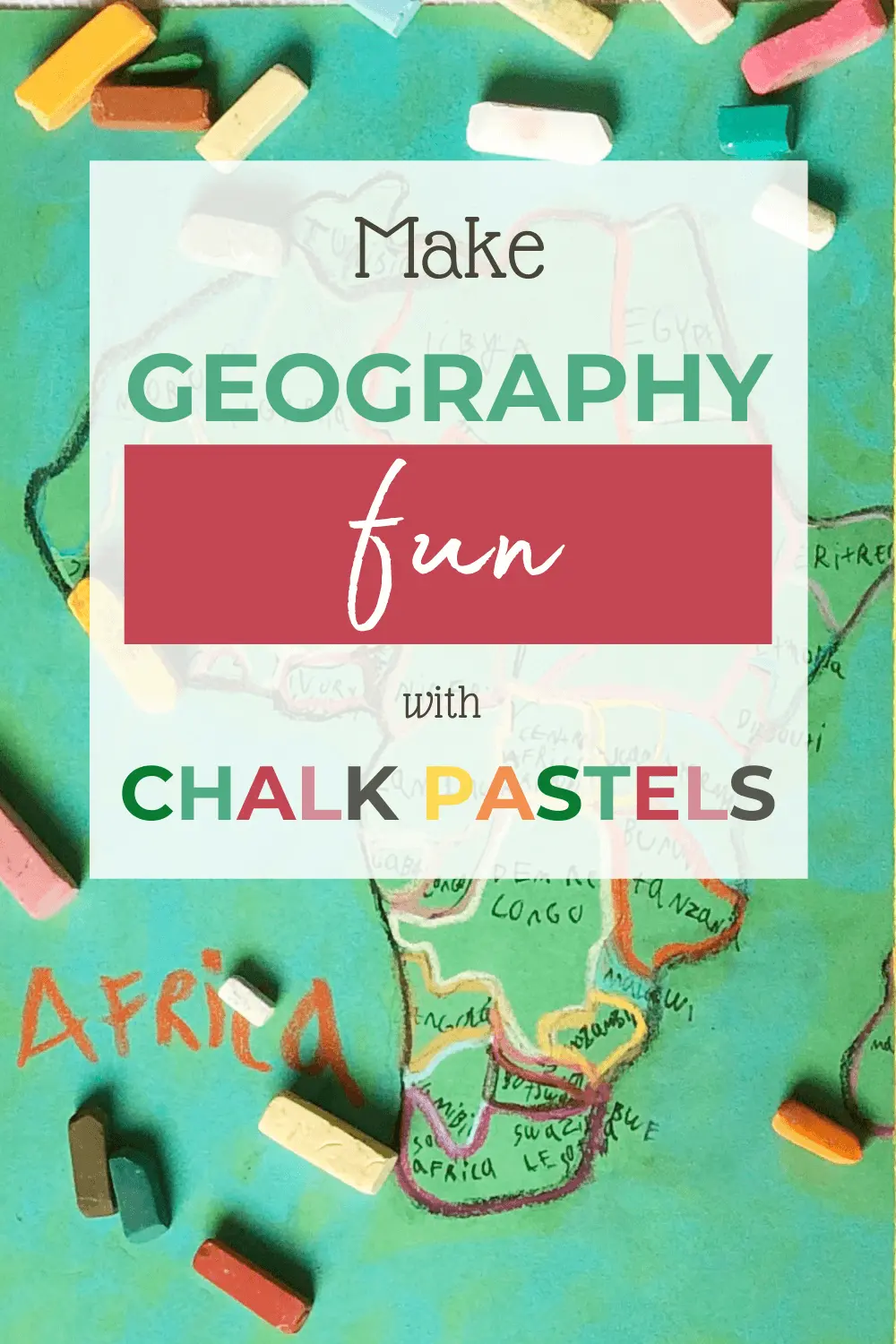 Make Homeschool Geography Fun!
Are you looking for a unique way to get your kids excited about their homeschool geography? Maybe you have a hands-on learner that just needs something a little extra for their cartography lesson. Here is a unique way to learn about maps, continents, countries and world landmarks. Now you can make geography fun with chalk pastels!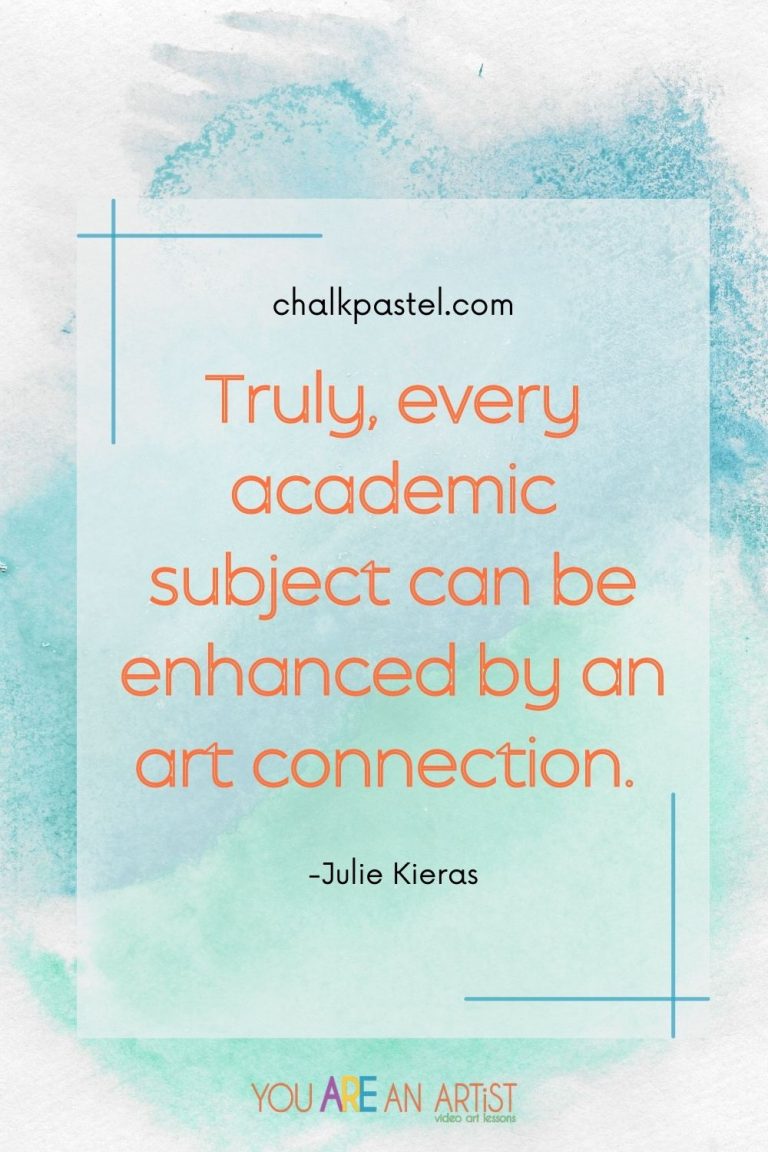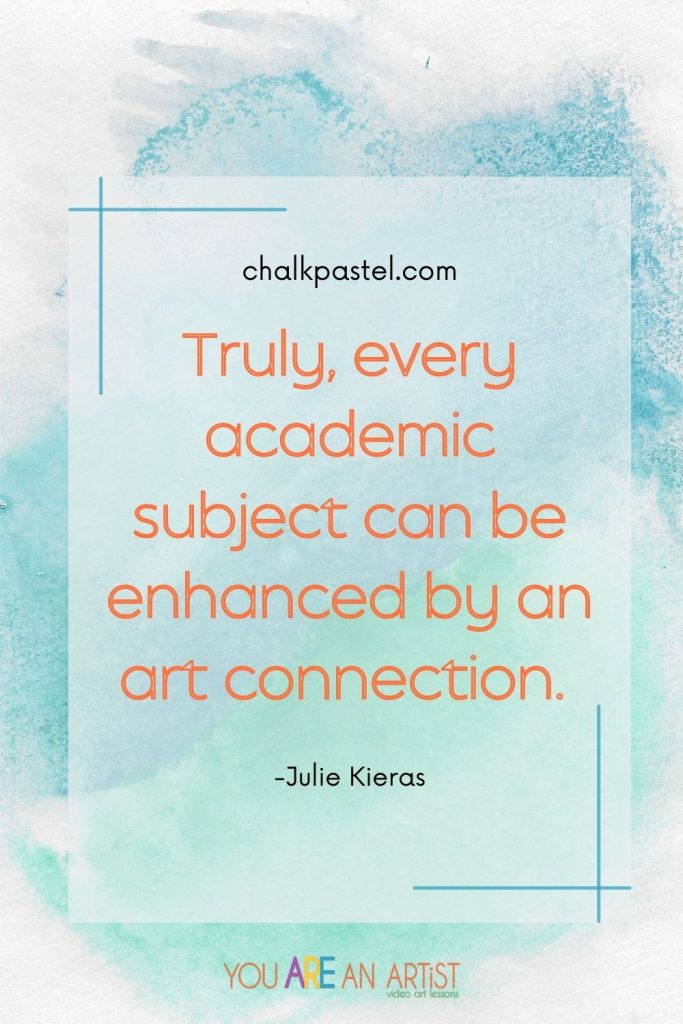 Literature and Art Are a Perfect Combination!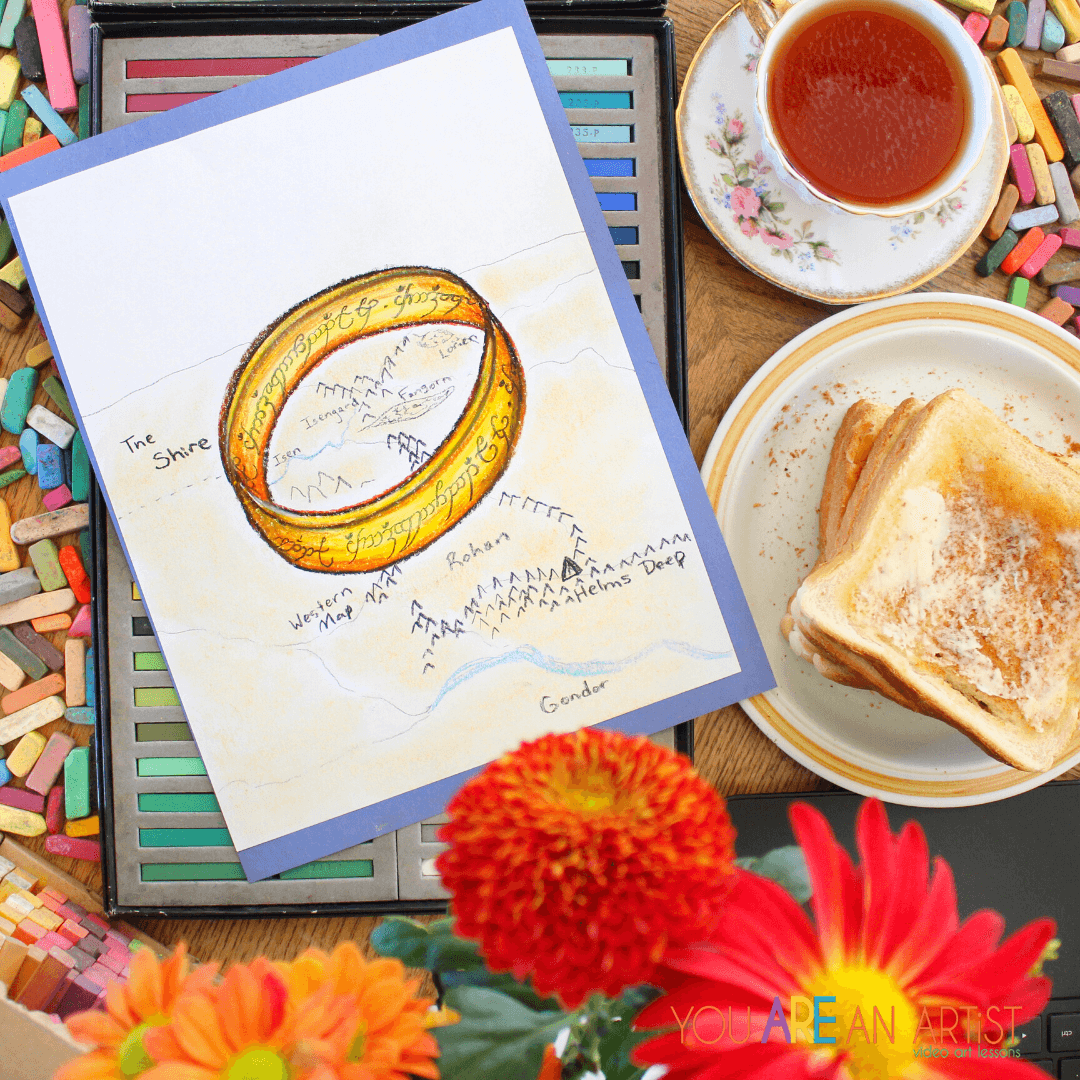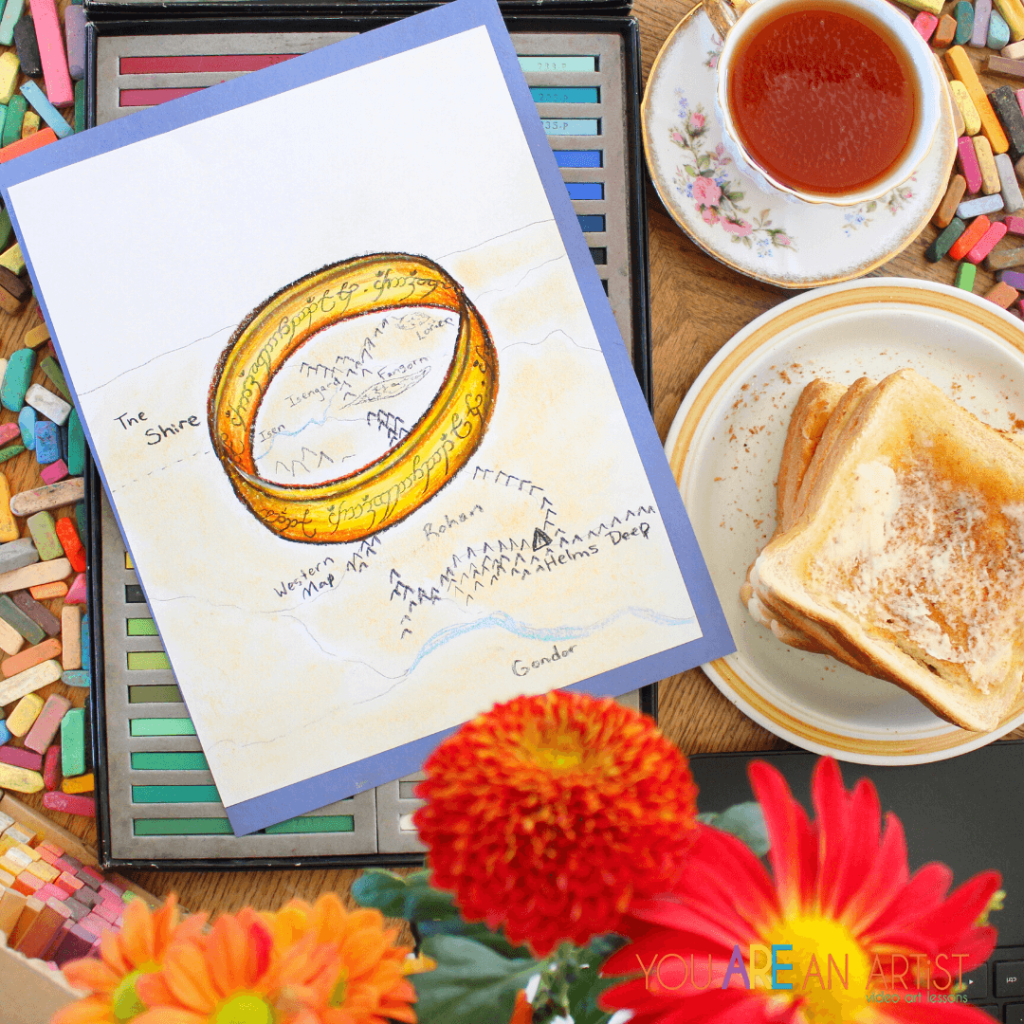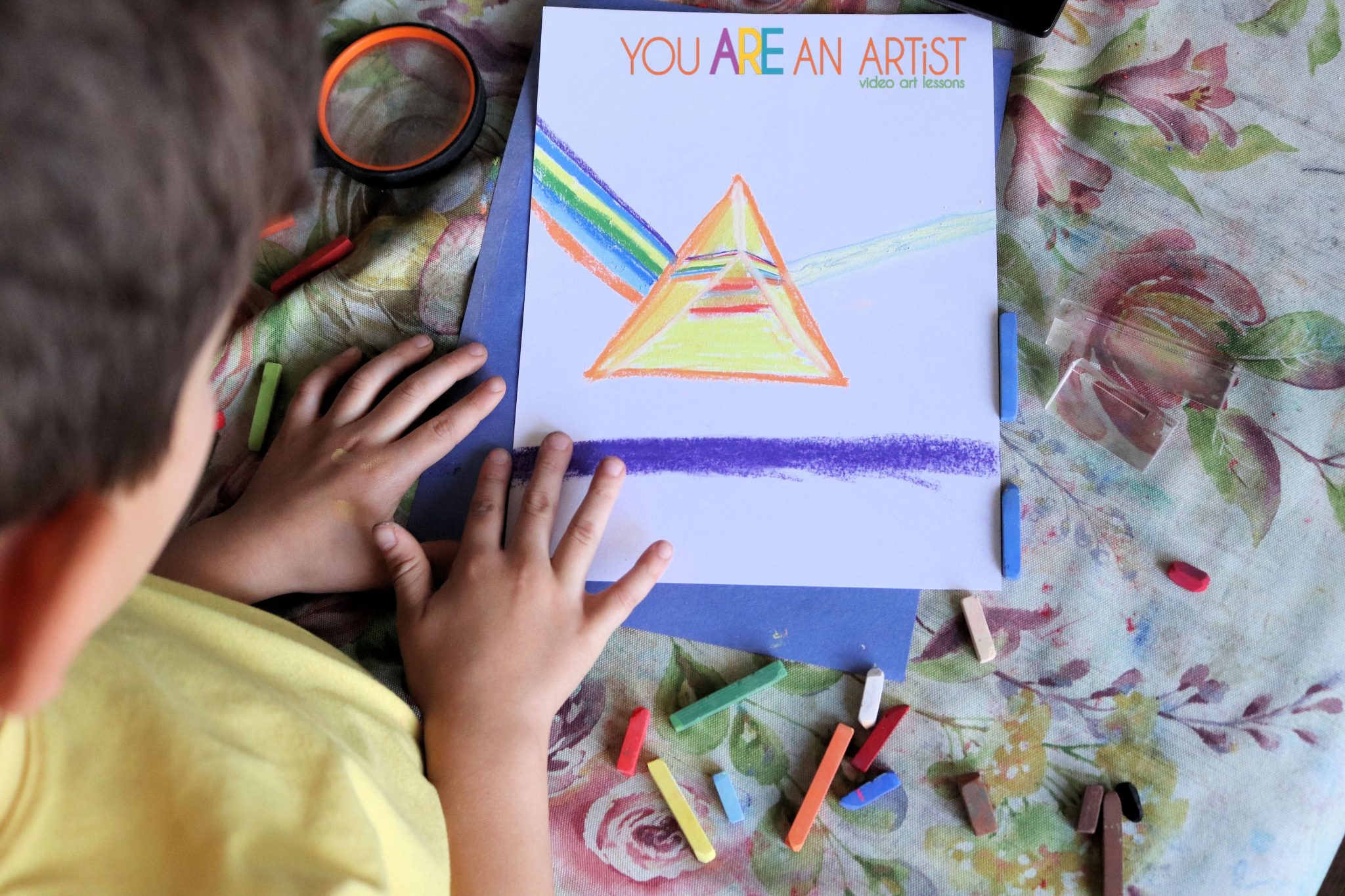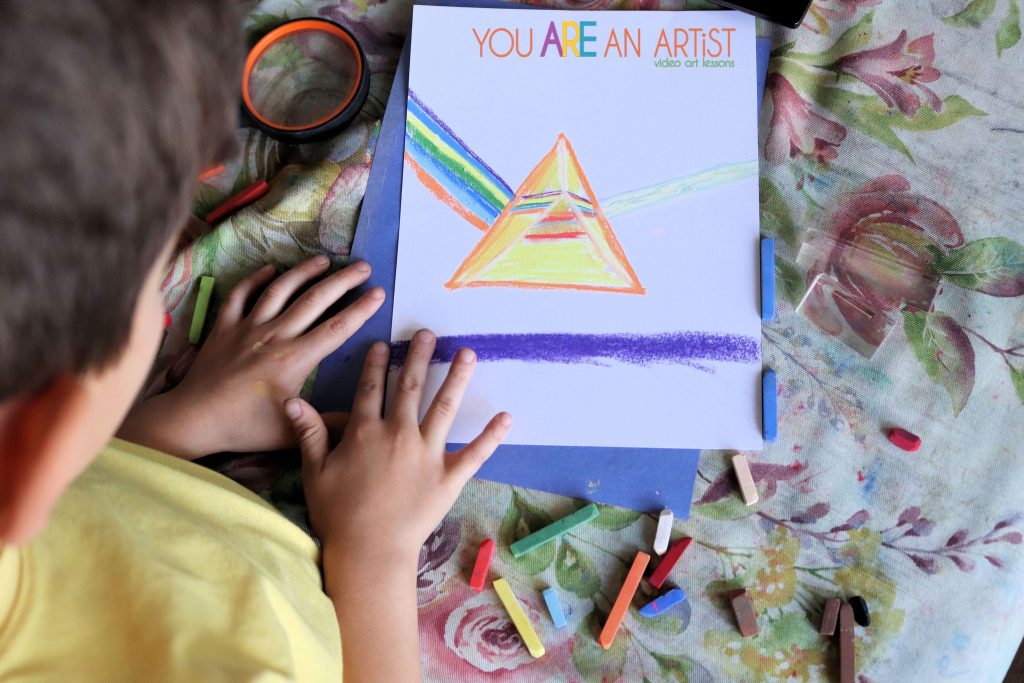 STEAM and Science Activities Make Learning Fun!
Why STEAM Learning Matters in Your Homeschool – STEAM learning has become a popular topic in education today. The good news is, a STEAM approach to learning can add creativity and innovation to your child's education. This summary of STEAM learning includes ideas and resources for how to easily and effectively incorporate it into your homeschool.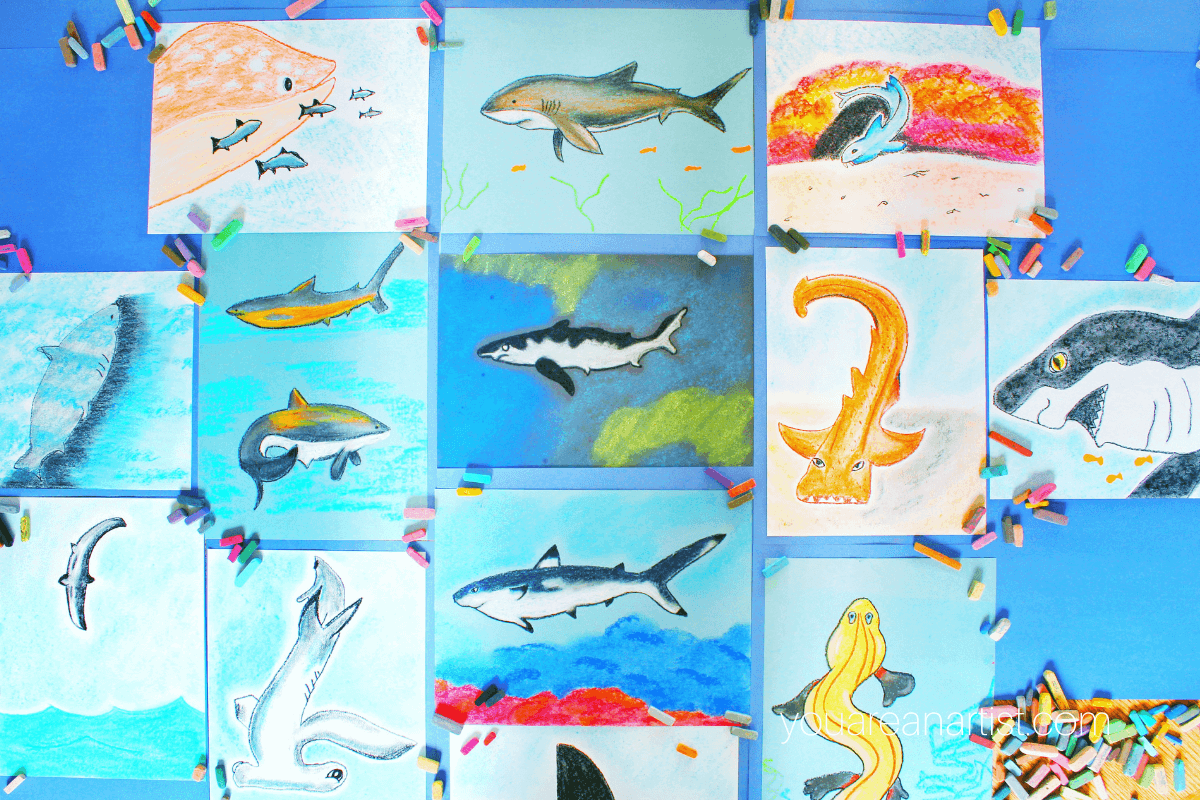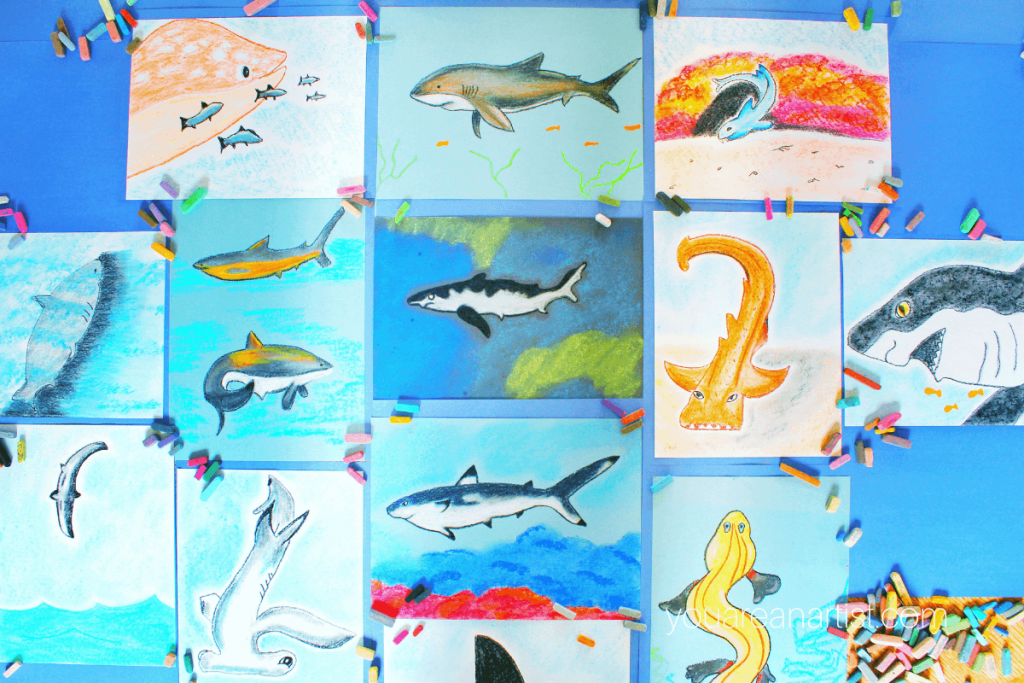 A Shark Week Homeschool Study for Kids – Do your kids love sharks? Are you getting ready for shark week? Then let Nana take you under the sea with chalk pastels shark art for kids! These easy-to-follow video homeschool lessons will teach you and your child how to draw some of the most exciting sharks using chalk pastels.
Dive into a Shark Study This Summer! – This homeschool study all about sharks is perfect for summer learning. It includes a shark tracking activity, online lessons, book lists, and so much more!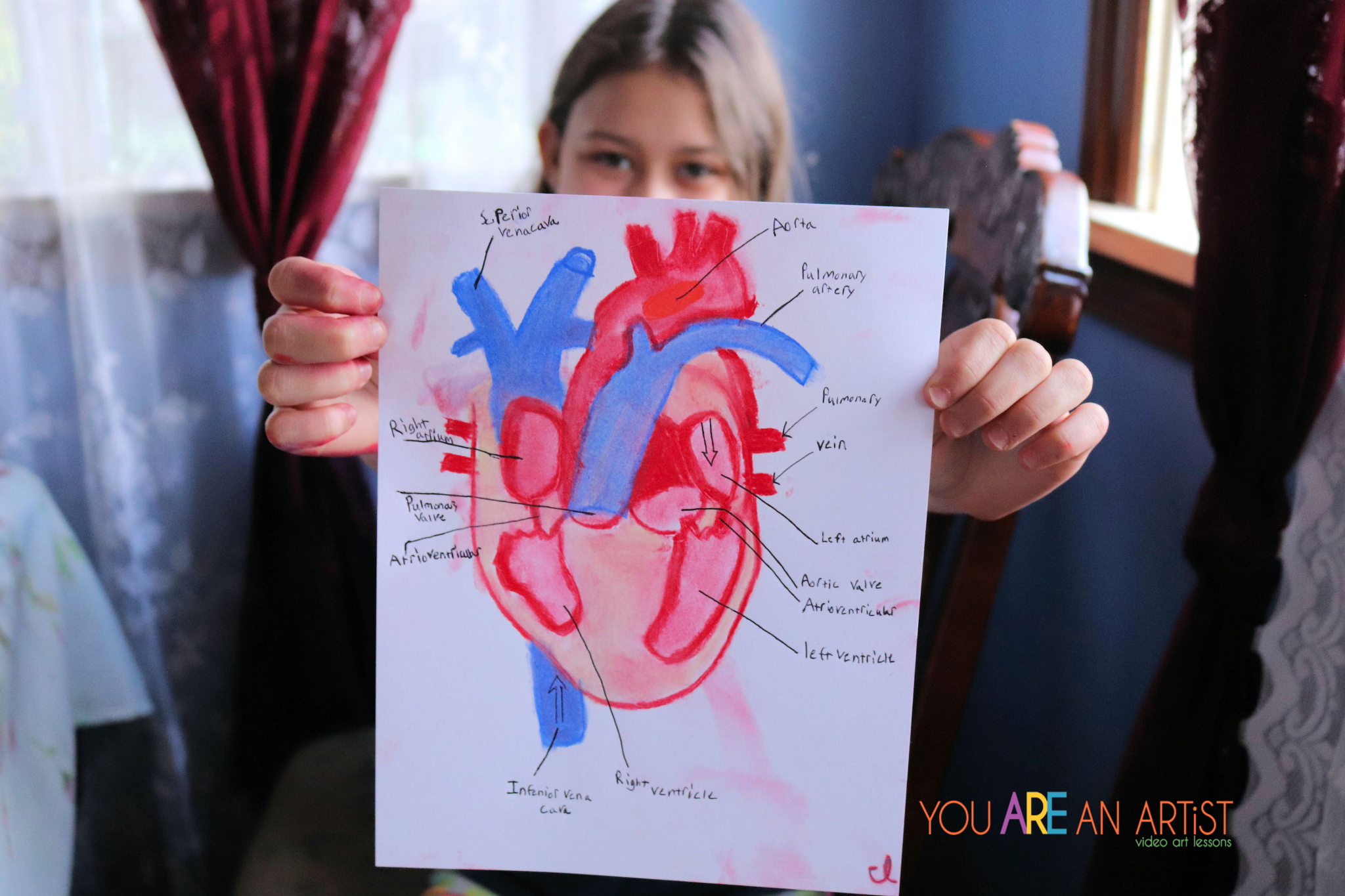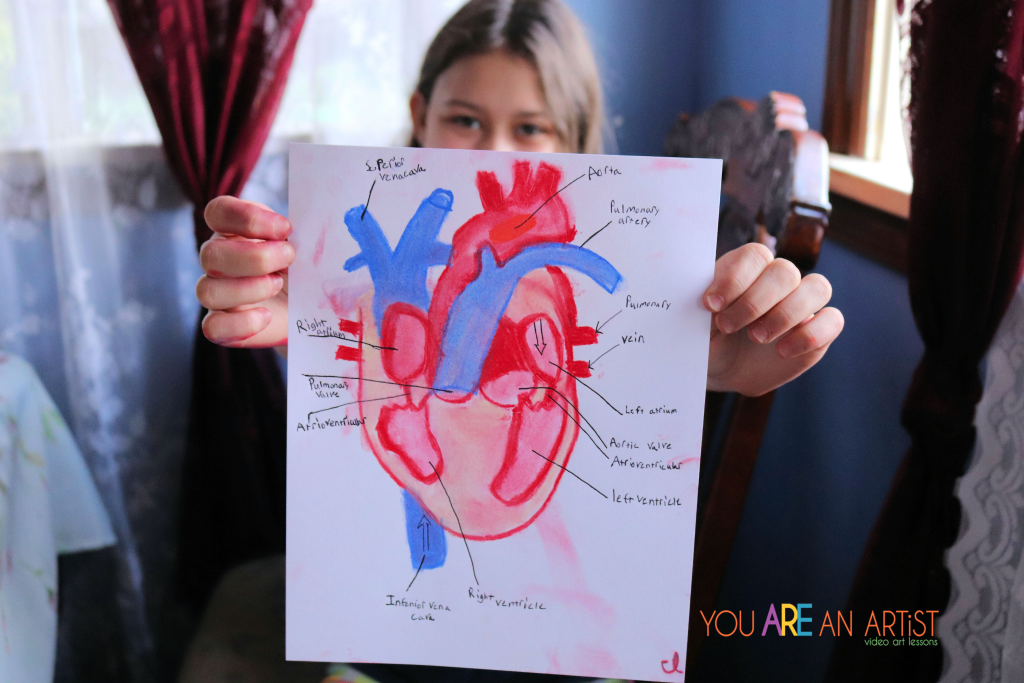 Human Heart Activity for Kids: Hands-On Science – Nana's human heart activity for kids is a great hands-on homeschool science experience that highlights art, writing, diagramming, plus an exposure to brand new vocabulary. It's a combination of multiple subjects all in one spot!
Solar System Art Projects – Are your kids fascinated by the idea of space? Mine too! The solar system can be such an exciting area of study. Most of us still remember learning about all of the planets and space exploration when we were kids.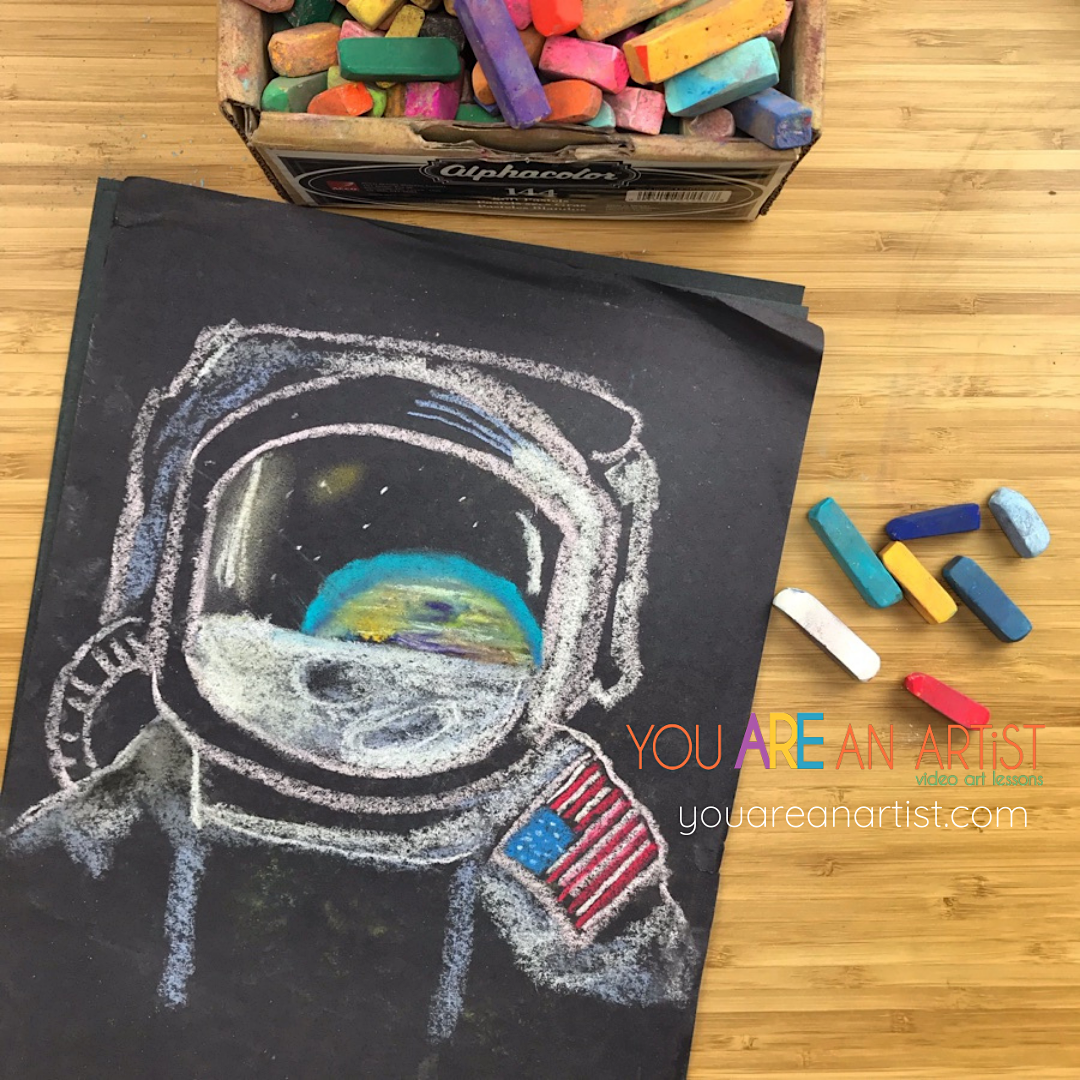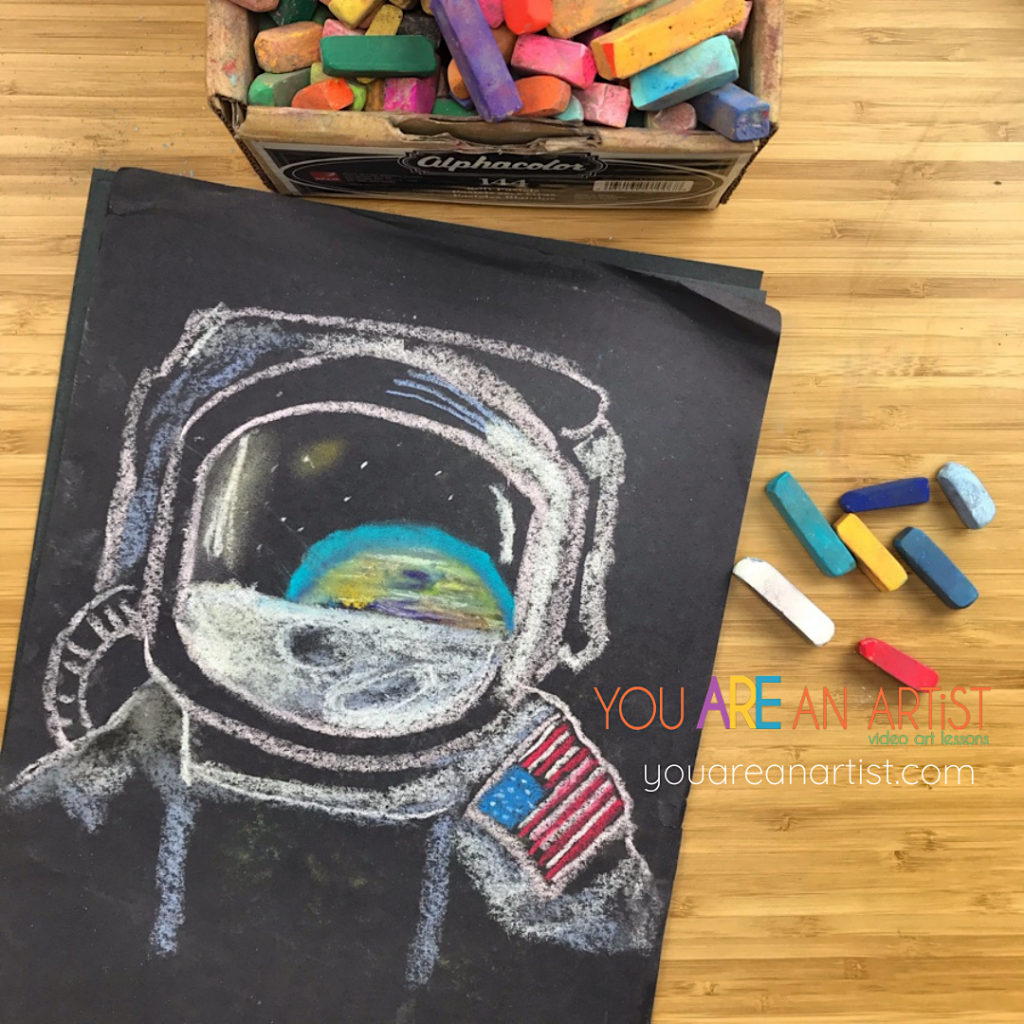 Everything You Need For A Moon Missions Unit Study – This is a perfect time of year to learn about the moon in your homeschool. Here is everything you need to create a homeschool moon missions unit study that will blast off!
This Homeschool Moon Study Is Out of This World – Moon activities, books, and fun art lessons for all ages! Learn about moon phases and more with this homeschool moon unit study!
Small But Mighty Cell Activities for Your Homeschool – These online cell activities for your homeschool are multi-sensory and appropriate for all ages. In fact, online cellular biology lessons are an excellent addition for your homeschool science. Take a look!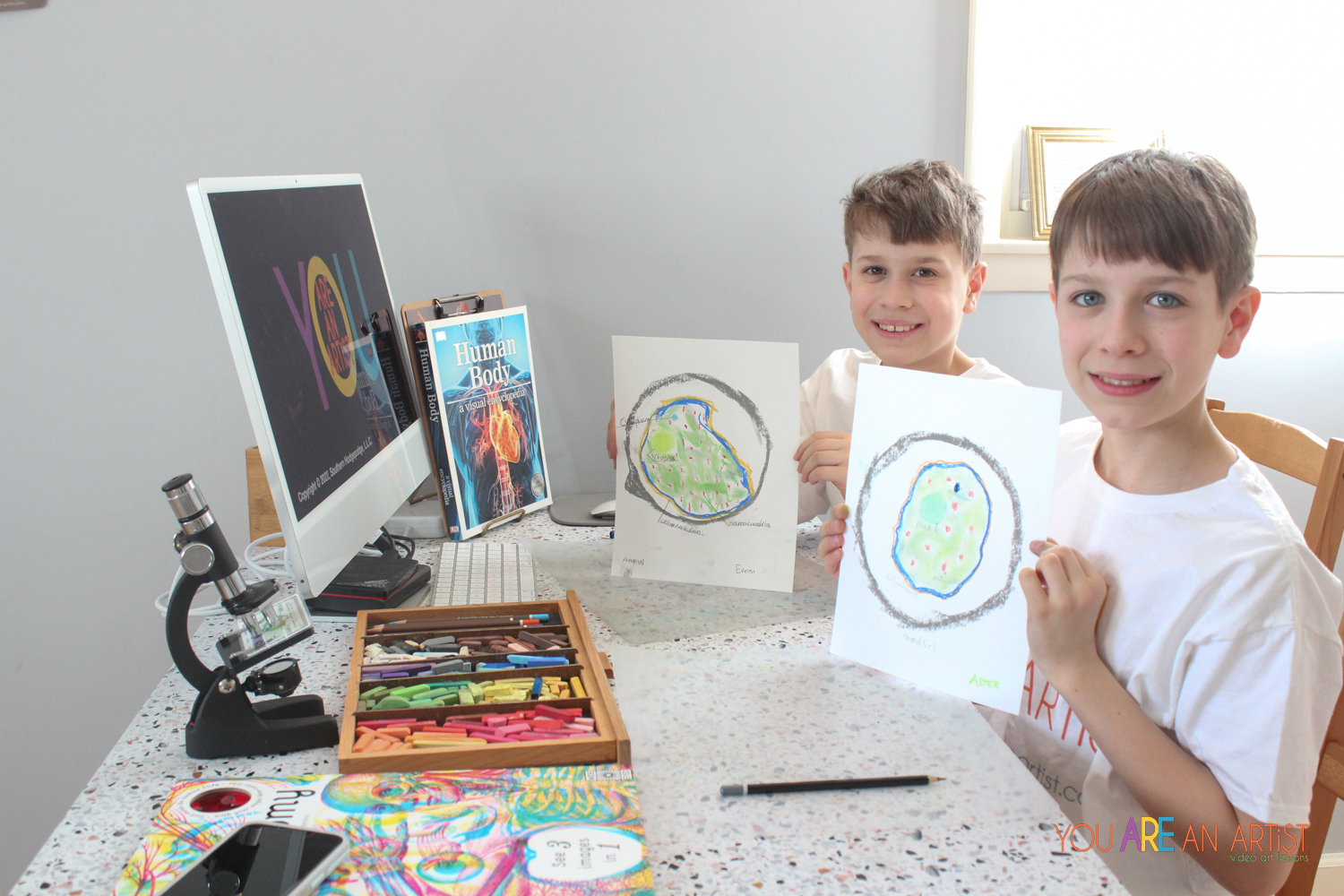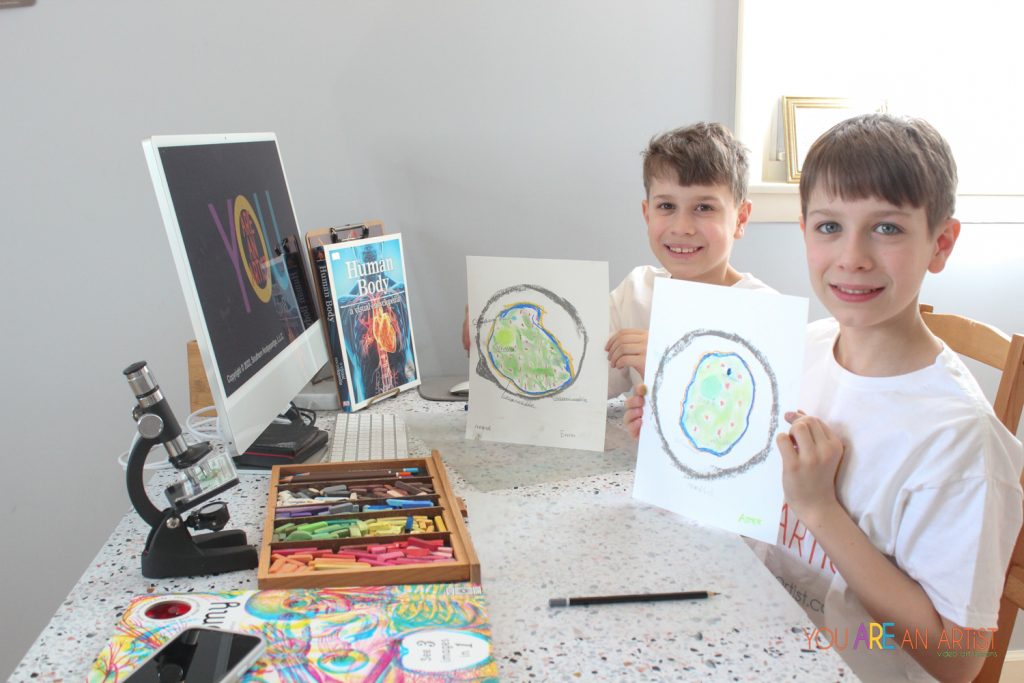 STEAM Art Projects – A STEAM approach encourages students to ask questions and think creatively. It is also a great way to help children who typically shy away from topics related to mathematics and technology to engage and learn in a different way!
A Microscopic World Study for Homeschool Science – Science, it's one of those love-it-or-hate-it subjects in homeschooling. Teaching homeschool science and facilitating experiments at home might make you feel a little overwhelmed. There are so many exciting ways to teach and learn about science together at home. This microscopic world study is a great example!
Take Flight with These Famous Aviators Homeschool Lessons – With the Wright Brothers, Amelia Earhart, Neil Armstrong and more, you can take flight in your homeschool with these famous aviators activities.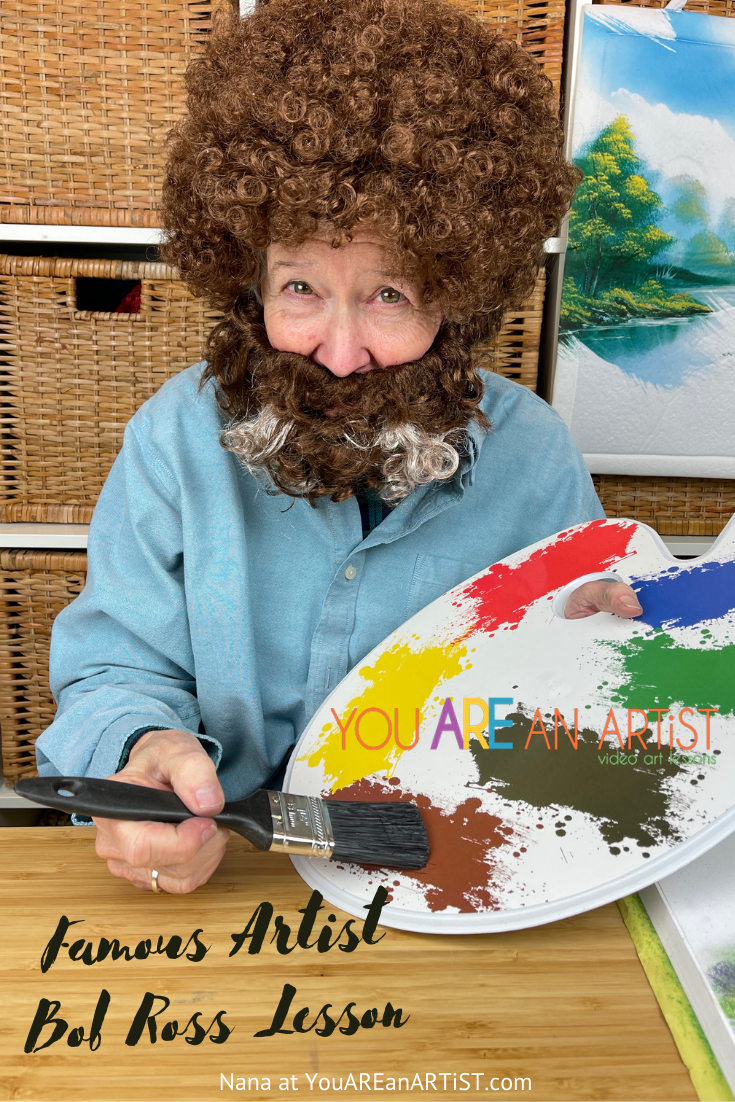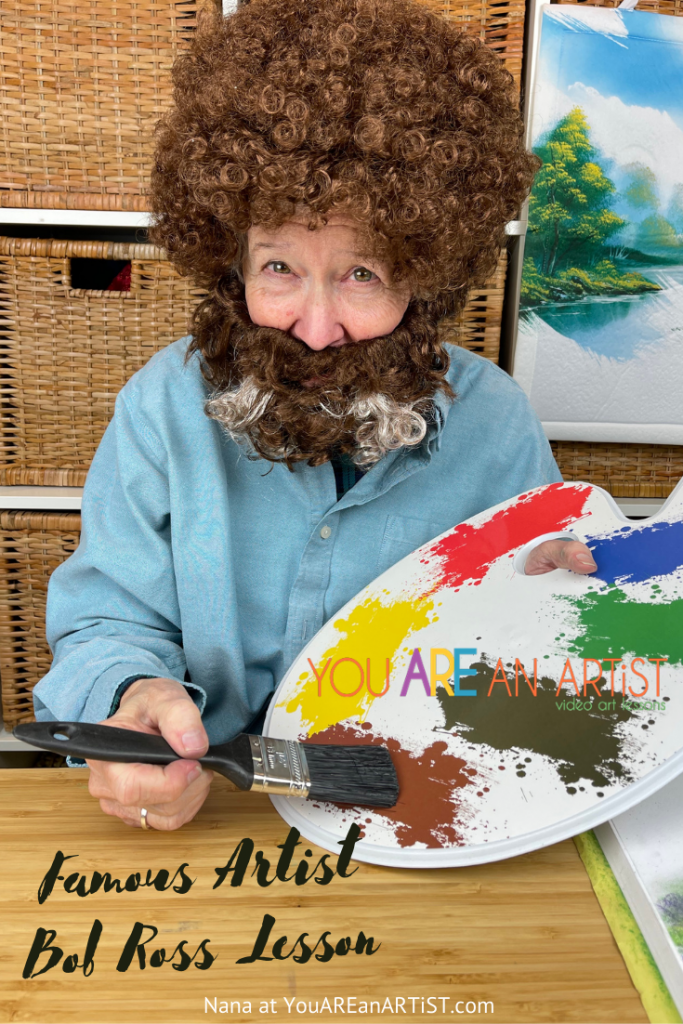 Famous Artists and Art Appreciation
Exploring famous artists with your children has never been easier! Now you can expose your children to the glory and wonder of master artists like da Vinci, Michelangelo, Monet, Rembrandt, Vermeer, and so many more with chalk pastels!
Most of the links below include Nana's mini podcast on the artist!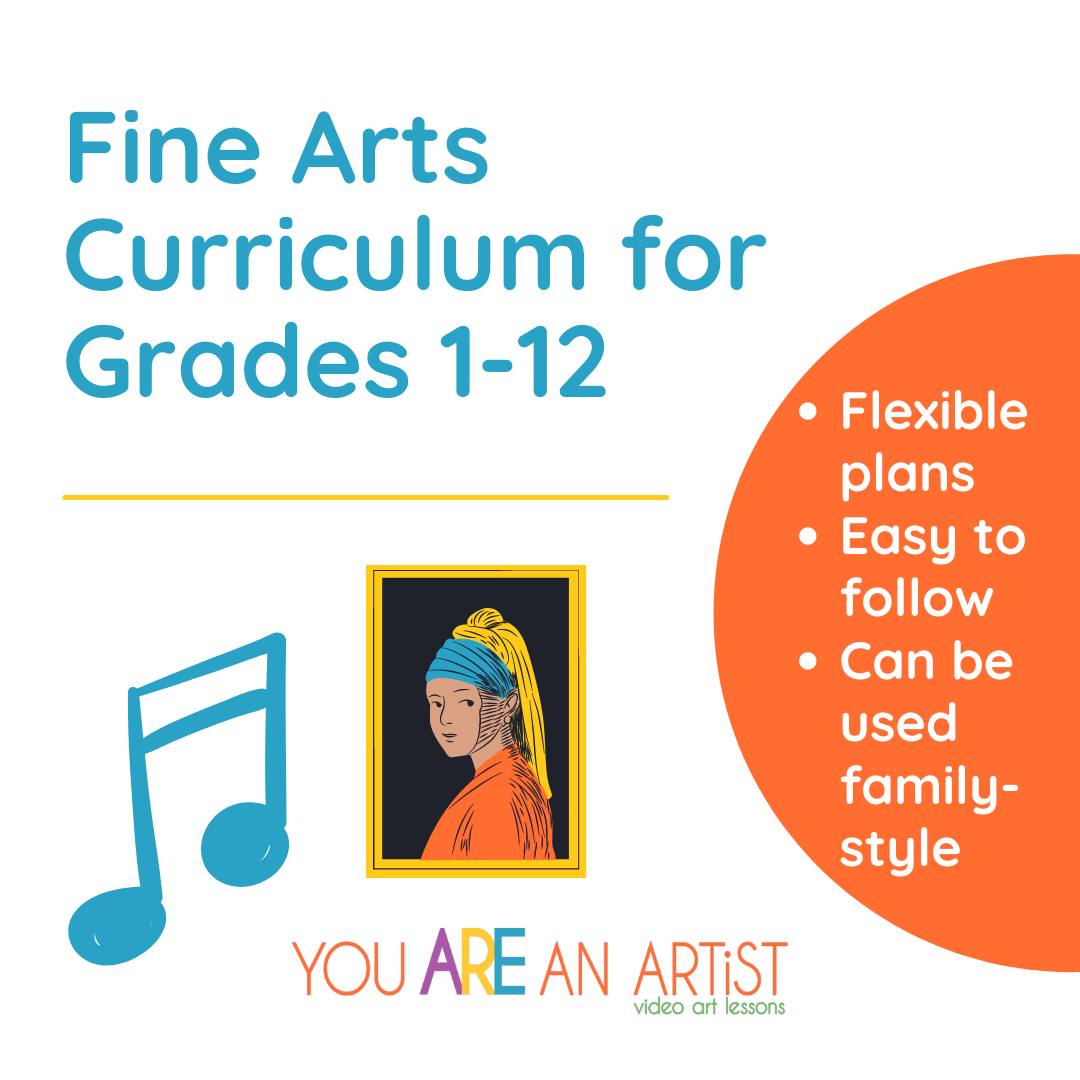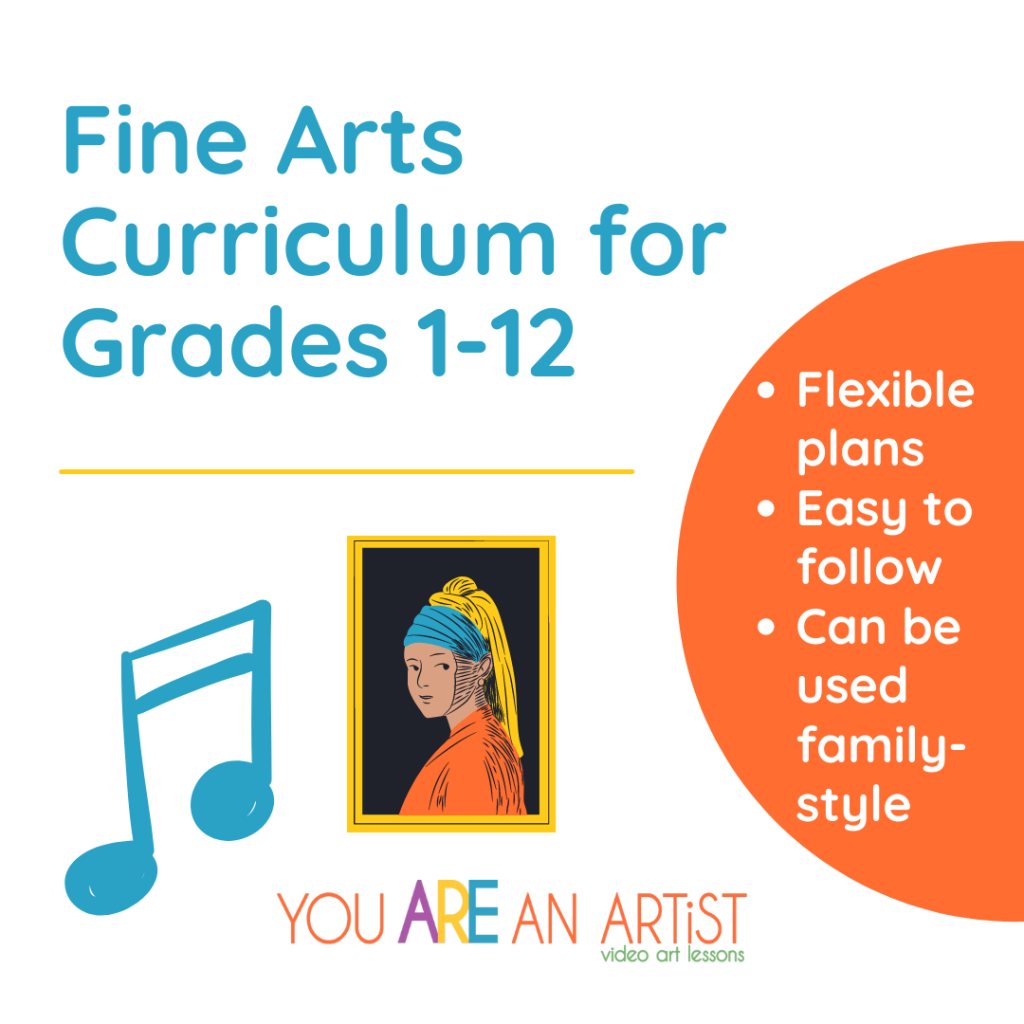 Homeschool Fine Arts for Learning About Artists and Composers
You ARE an ARTiST Homeschool Fine Arts lesson plans organize great art and music appreciation resources into the classical four-year cycle of history and seasons each week with a Charlotte Mason flavor. Here you will find homeschool fine arts curriculum for the whole family!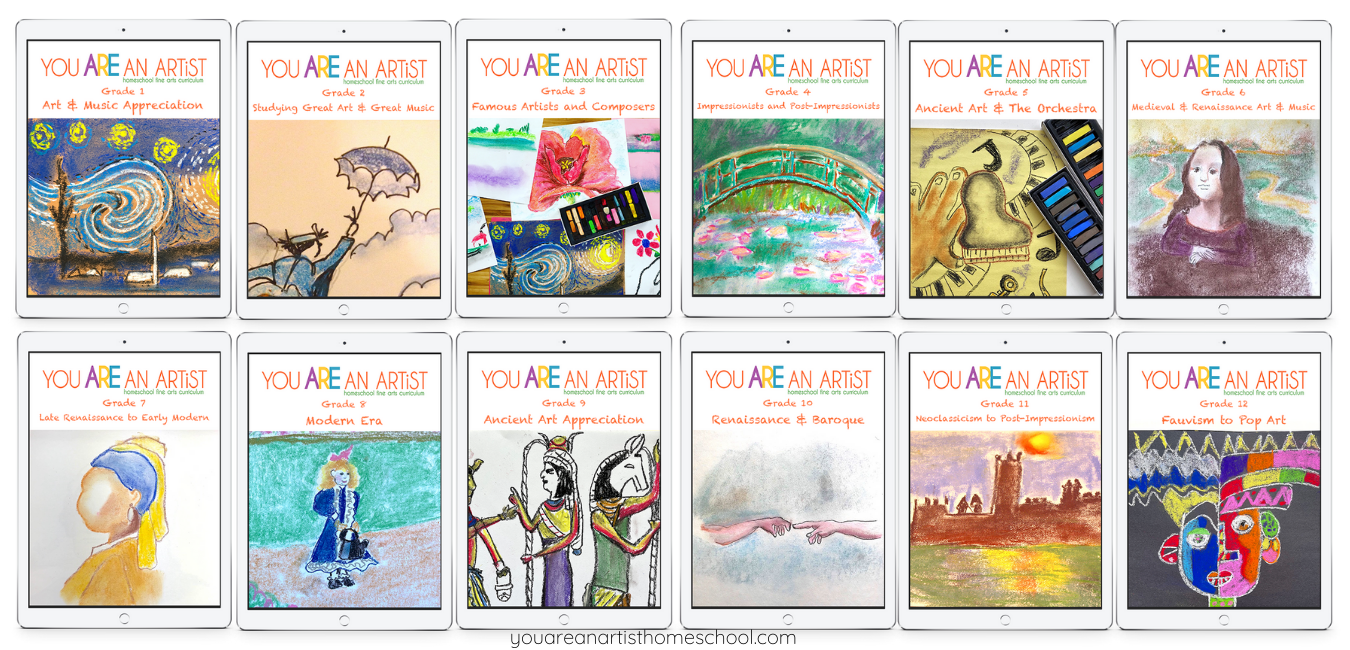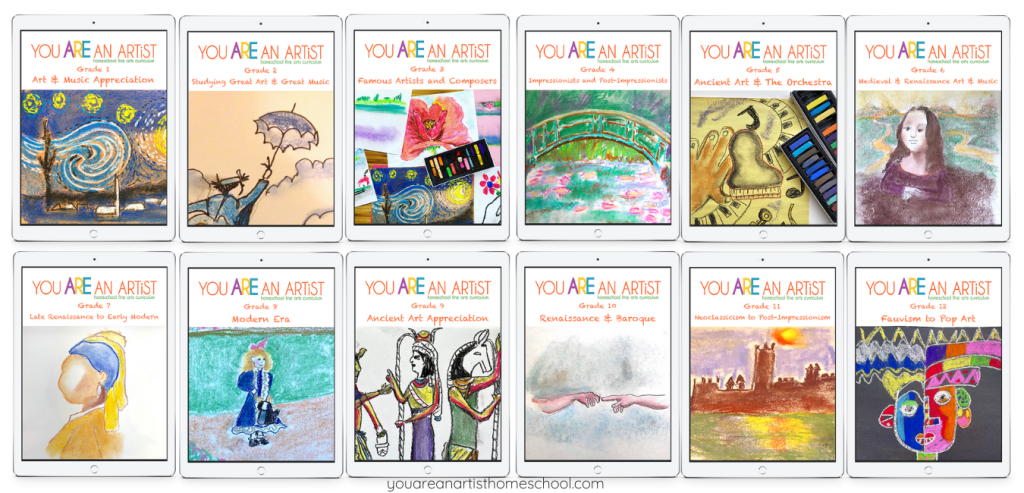 These lesson plans are available for Grades 1-12 and will offer families three different options for art study and a detailed plan for music appreciation.
Each flexible and easy to use 32-36 week plan includes notebooking pages, coloring pages and YouTube links for art tutorials and listening to classical music.
View more about these Comprehensive Plans for Families.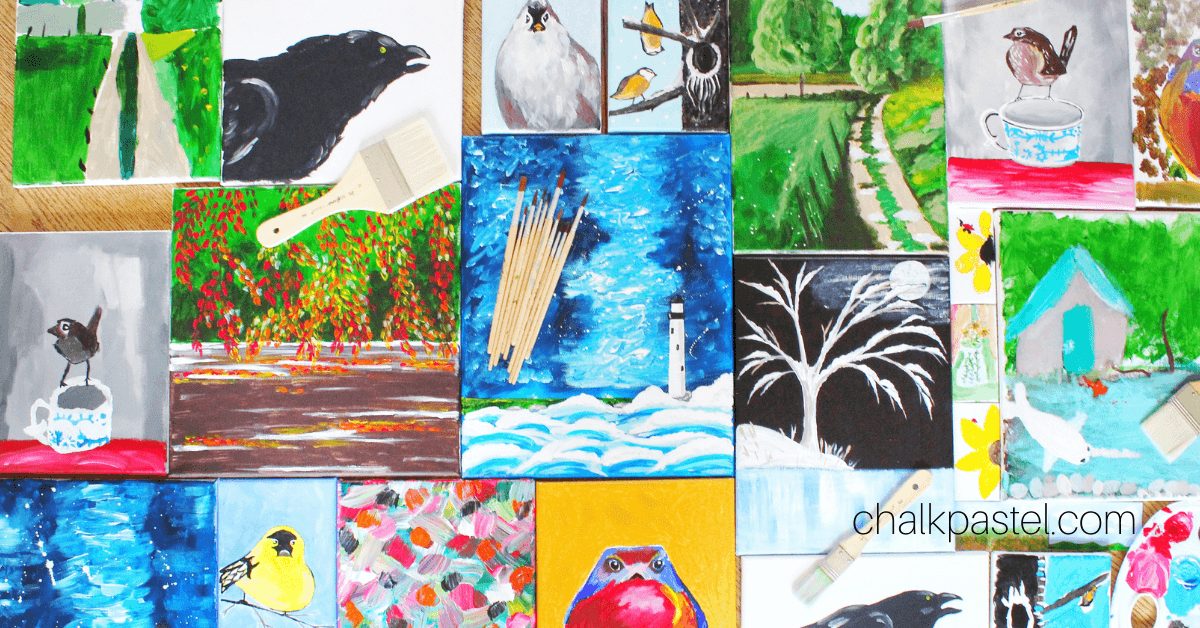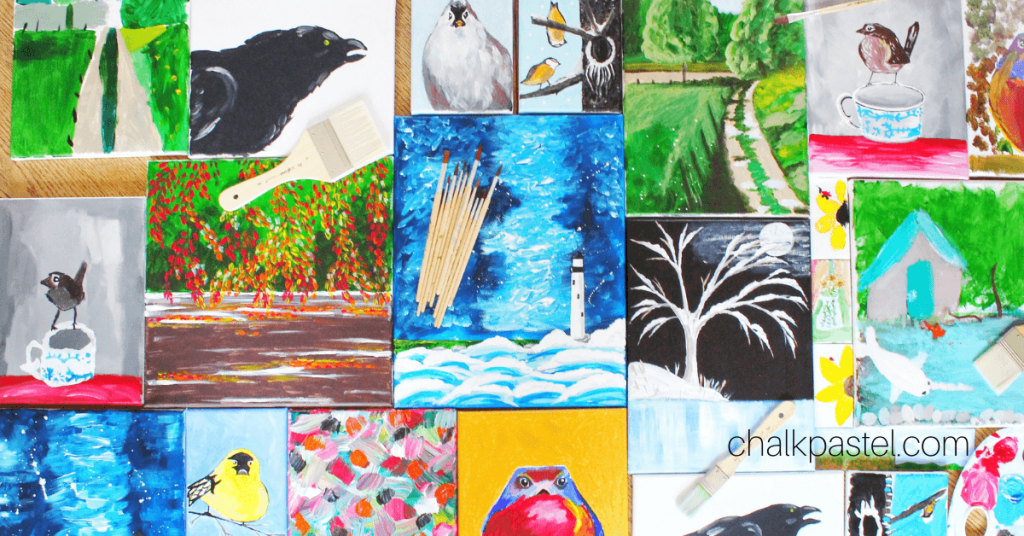 Fun Acrylic Art Projects
Let Nana help you as you embark on this easy acrylic painting journey. Learn some simple tips about color, and brush strokes. You'll be amazed at how much fun you and your kids will have! It's easier than you might expect! Easy Acrylic Painting with Nana!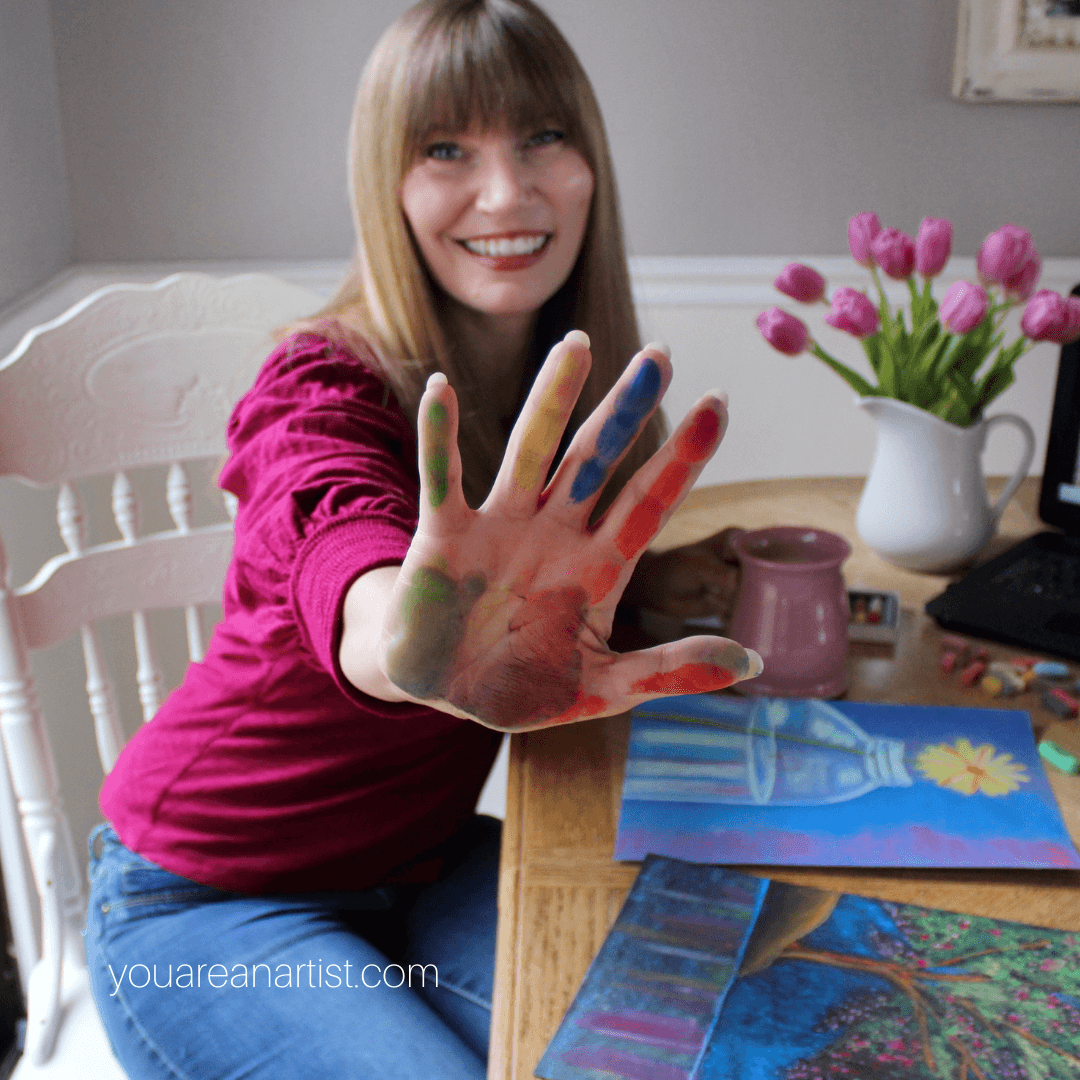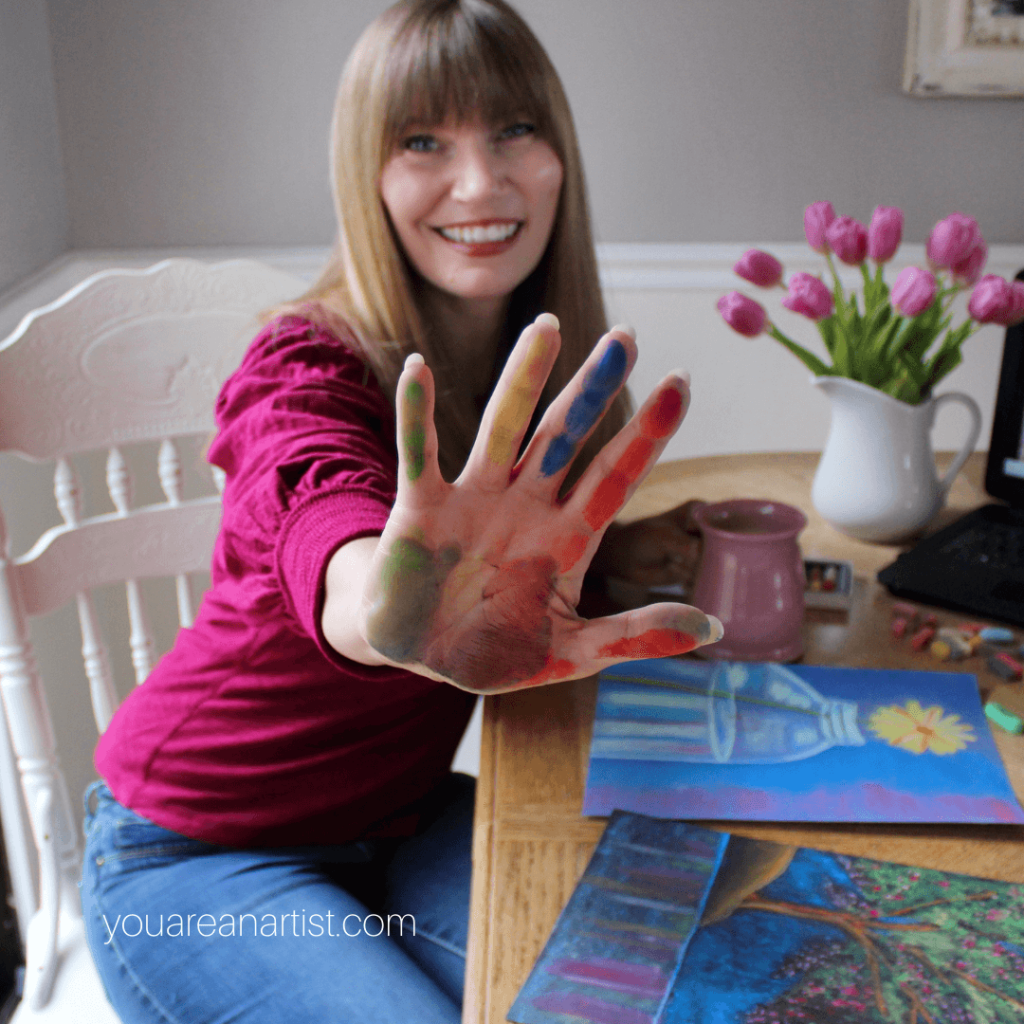 Art Projects for the Homeschool Mom
Mini Moments for the Homeschool Mom with Chalk Pastels – Whether you have 5 minutes, 10 minutes, 20 minutes, or more, take the time to recharge your spirit with these mini moments for the homeschool mom. Even busy moms can appreciate the simplicity and ease of chalk pastels.
Easy Mommy and Me Art Time – Taking the time to create art with your kids shows them that it is worth doing. As you connect with your child, they will see that art is interesting and fun. It shows them that you are engaged while also building your relationship through an easy and fun shared activity.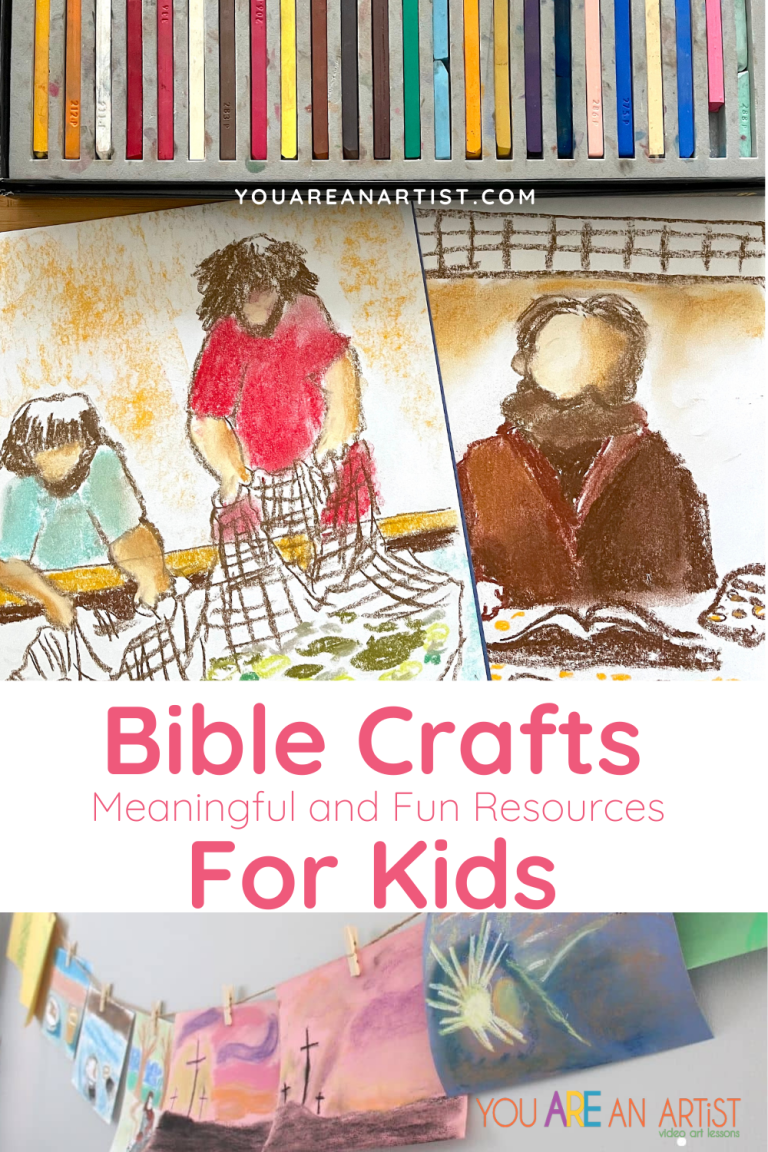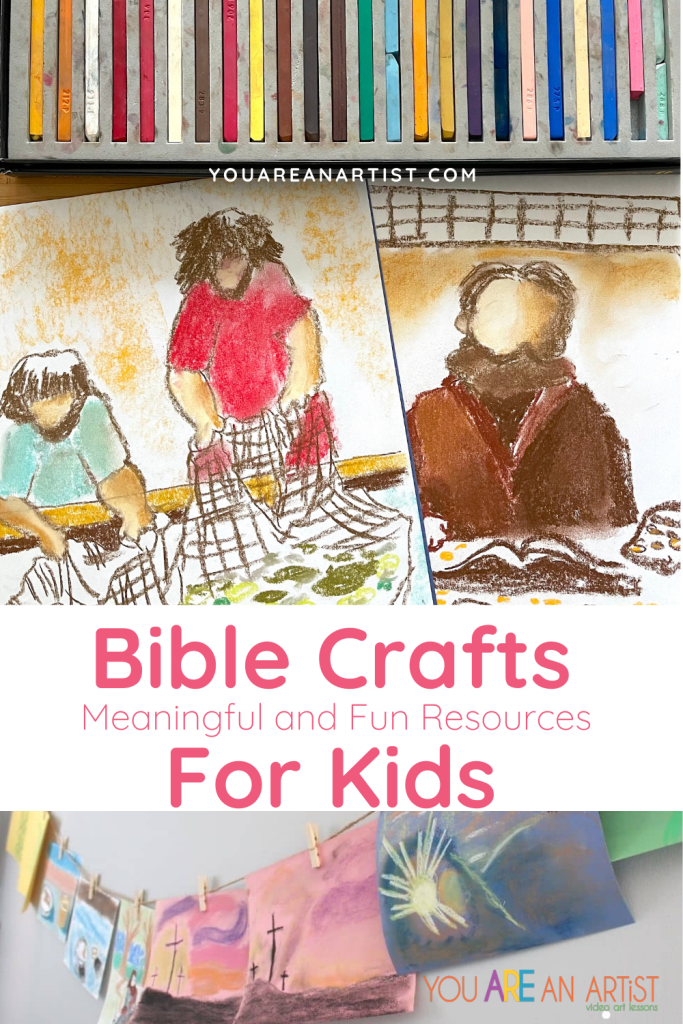 Bible Stories Art Activities
Bible Crafts for Kids: Meaningful and Fun Resources – A really fun way to bring the Bible to life in your homeschool is with these Bible crafts for kids. You can build memories, pass on your faith to your children and create hands on art projects that are meaningful and fun!
A Disciples of Christ Unit Study – Homeschooling is such a unique privilege for Christian families, and it is such a sweet blessing to pass along the Word of God to our children. We have, as parents, an incredible opportunity to mold our children into disciples for Jesus, and educating at home is a powerful tool for that. And what better way to experience personal discipleship with our children at home than to study the Disciples of Christ.
Easter Art Projects – You can easily count the Easter art lessons as homeschool because you will also learn facts and history behind each topic. We give you just enough for an all-in-one lesson that is the perfect fit for homeschool or church-at-home. If your kids are anything like mine, you will find yourselves researching more exciting facts on your own. Or access all of our extension ideas inside the companion workbook to continue the learning.
Beautiful Easter Hymn Study – Join us for a beautiful Easter hymn study for your homeschool and video art lessons to match! Music and art help us all to connect learning with a special holiday plus build sweet memories together as a family.
How to Plan an Awesome Home Bible Study for Kids – Whether you are teaching Bible in your homeschool as a daily or weekly lesson, or perhaps you are creating a church-at-home experience for your family, you will love how effective it is to add art along with your Biblical teachings. With an I Drew It Then I Knew It New Testament Guide!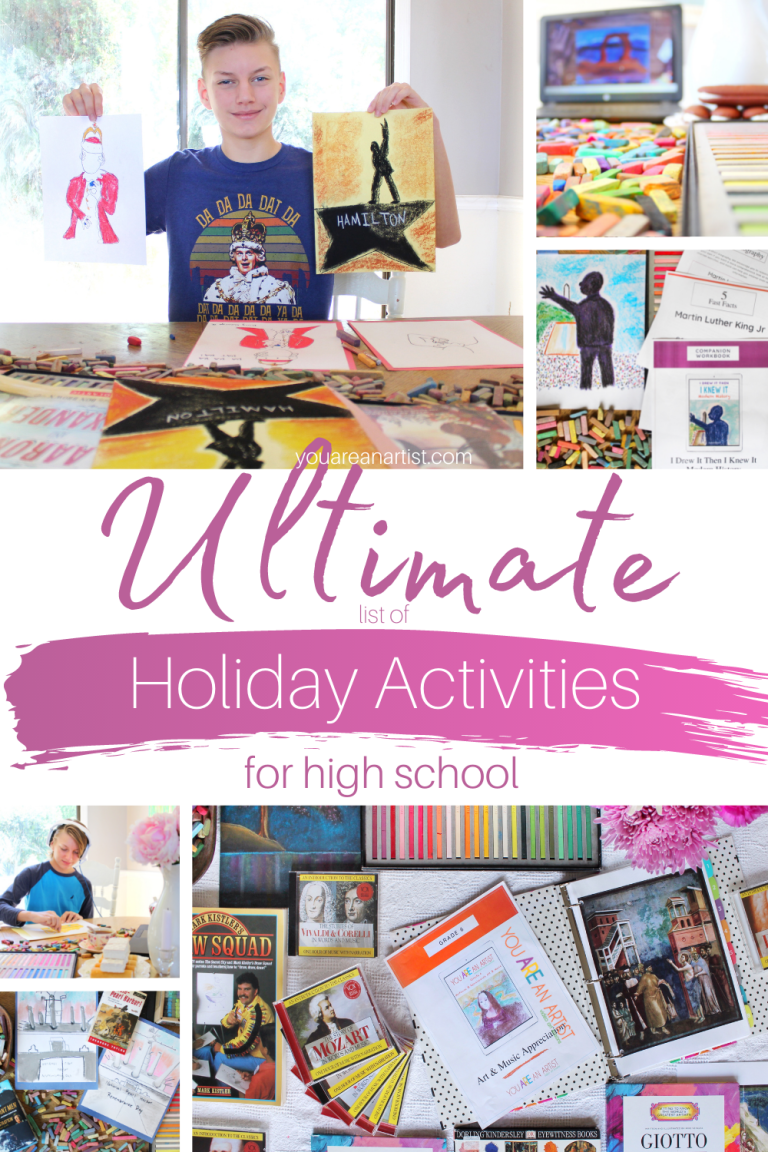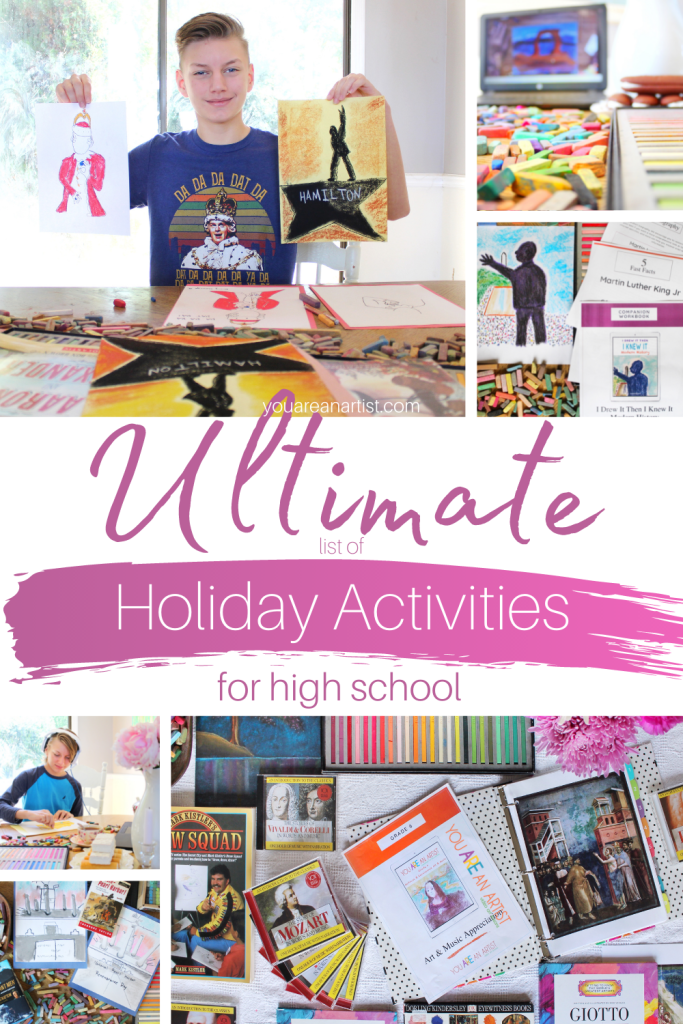 Holiday Art Projects For Throughout the Homeschool Year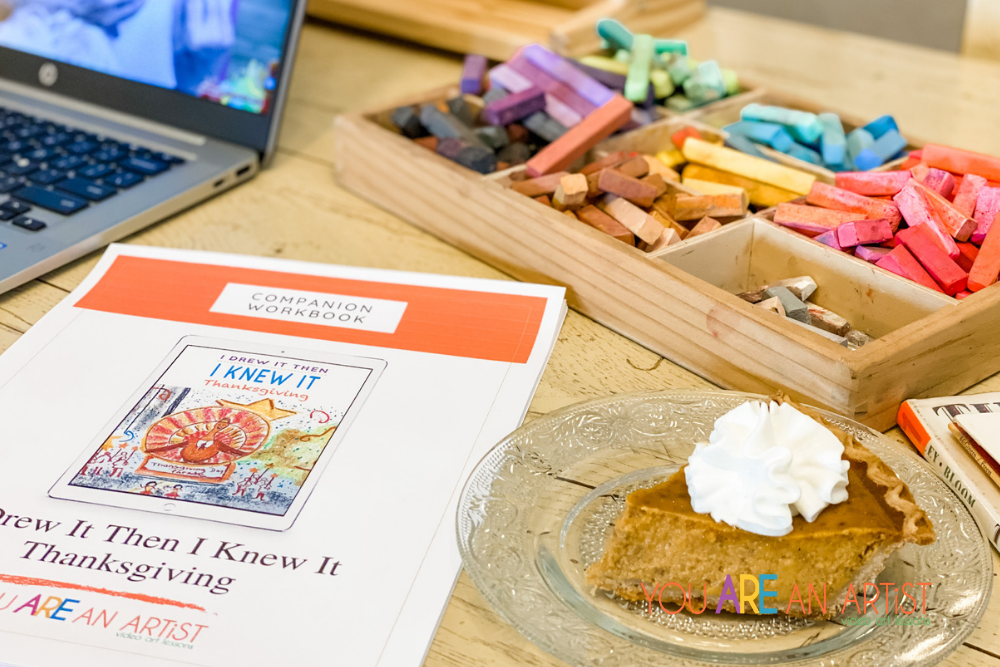 Thanksgiving Art Activities
Nana has all sorts of Thanksgiving homeschool lessons to fill the whole month. Abraham Lincoln, Aaron Copland, pilgrims, the Mayflower voyage, a map of the very first Thanksgiving, Cranberry Thanksgiving and more!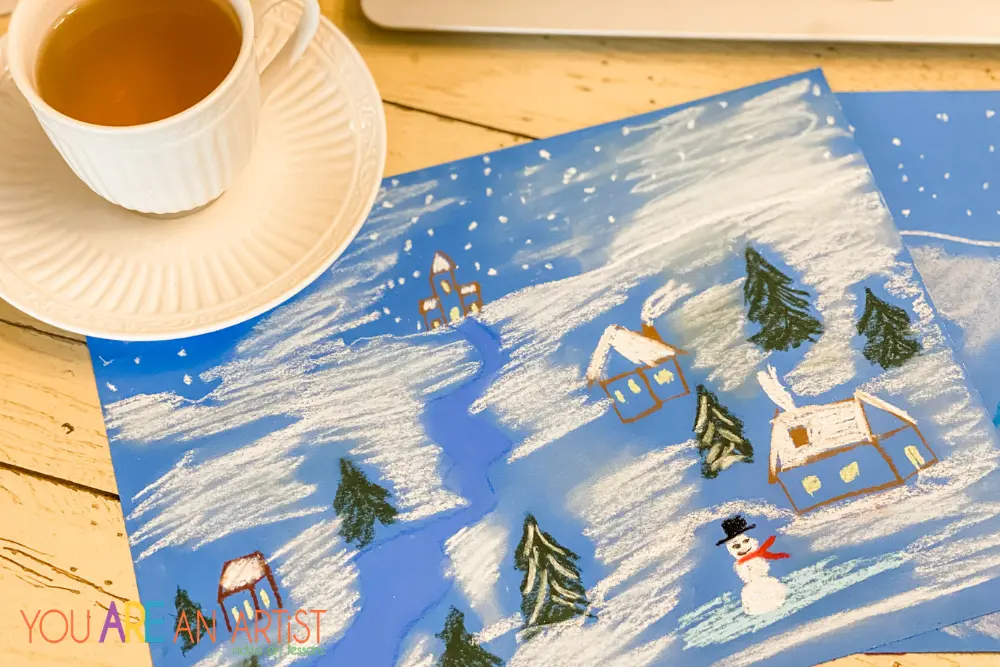 Christmas Art Lessons for All Ages
Enjoy this ultimate list of Christmas Homeschool Art Lessons! Christmas homeschooling allows us to focus on the real reason for the season. And you can do that in so many ways. We will give many resources to choose from and help you customize your perfect Christmas school day, week, or month.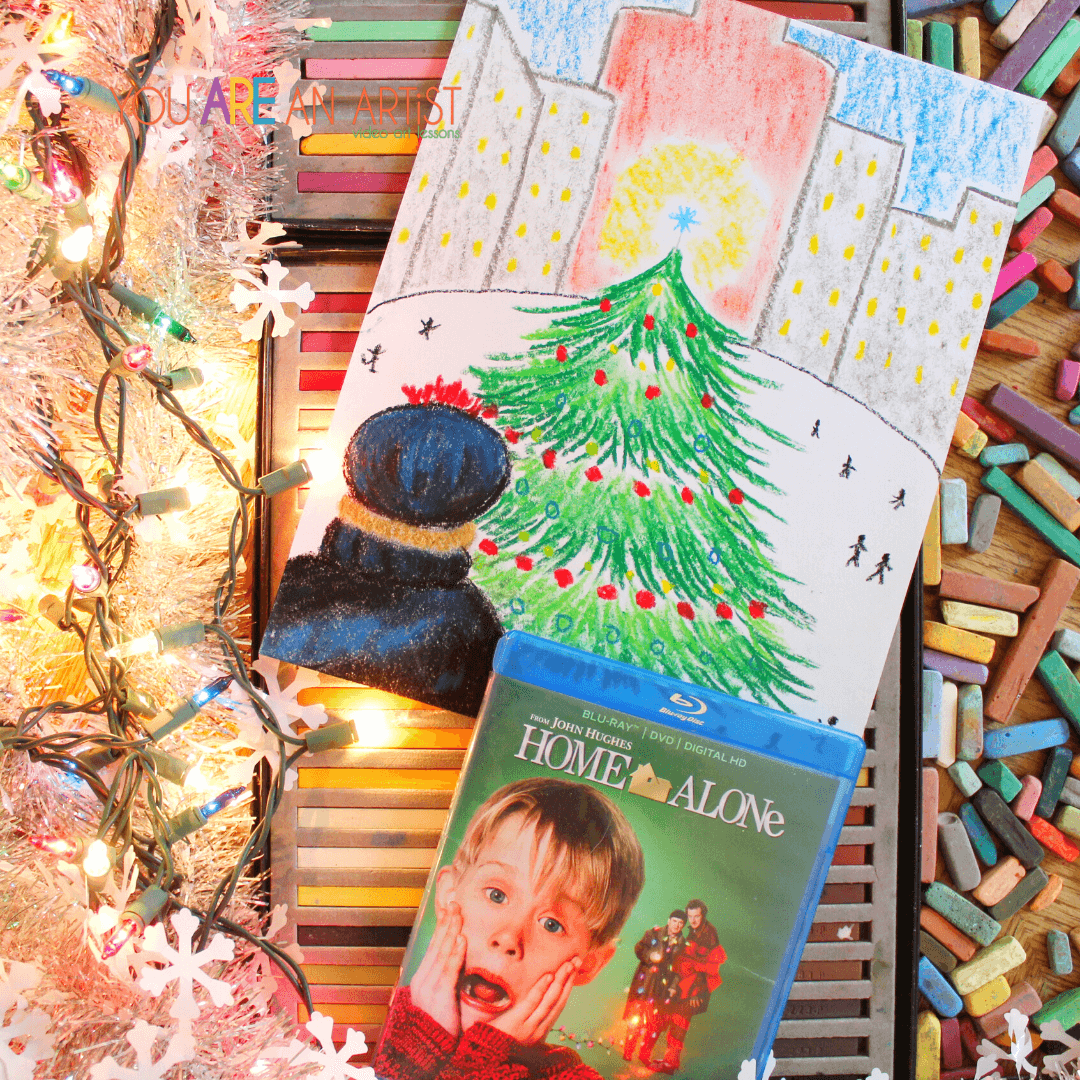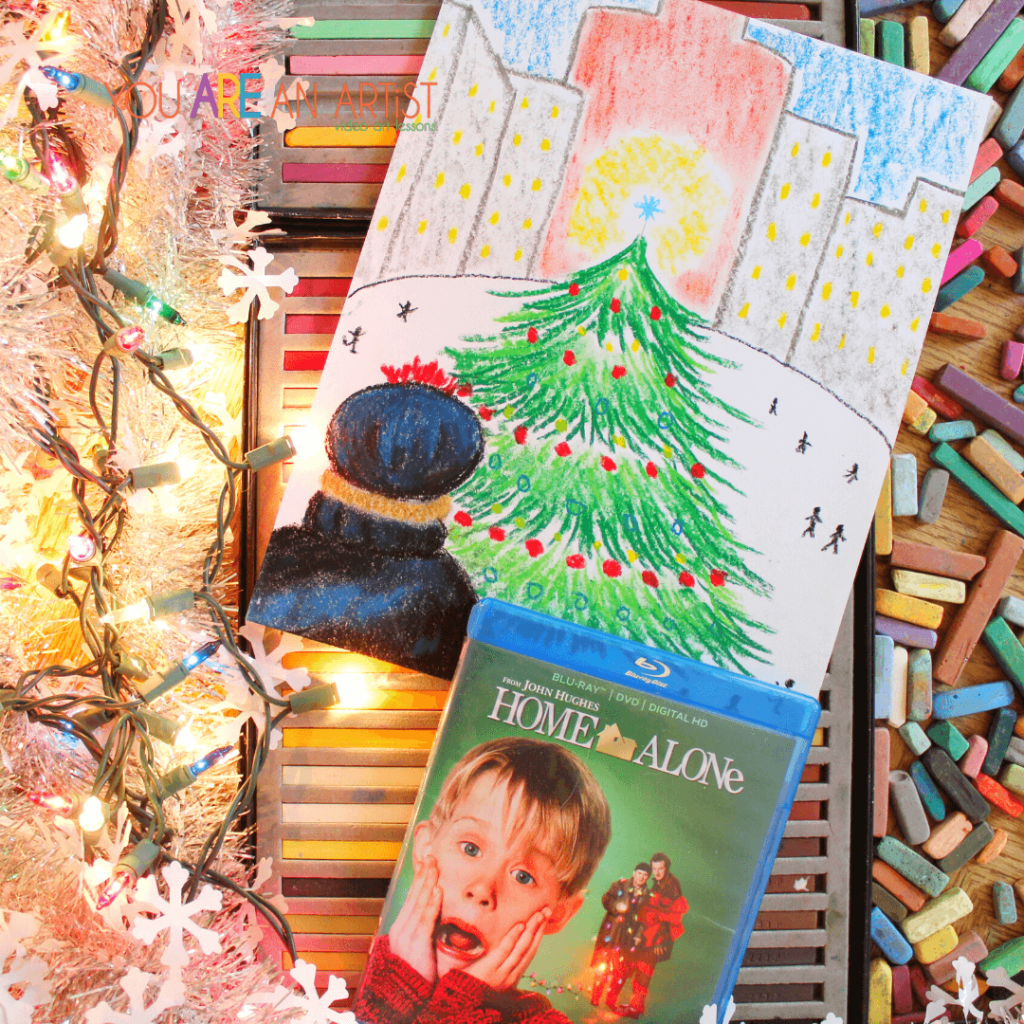 Christmas Book to Movie Homeschool Activities – Check out this festive list of Christmas books made into movies – with homeschool activities your kids will love! Now your kids can re-create their favorite book characters and movie scenes with chalk pastels!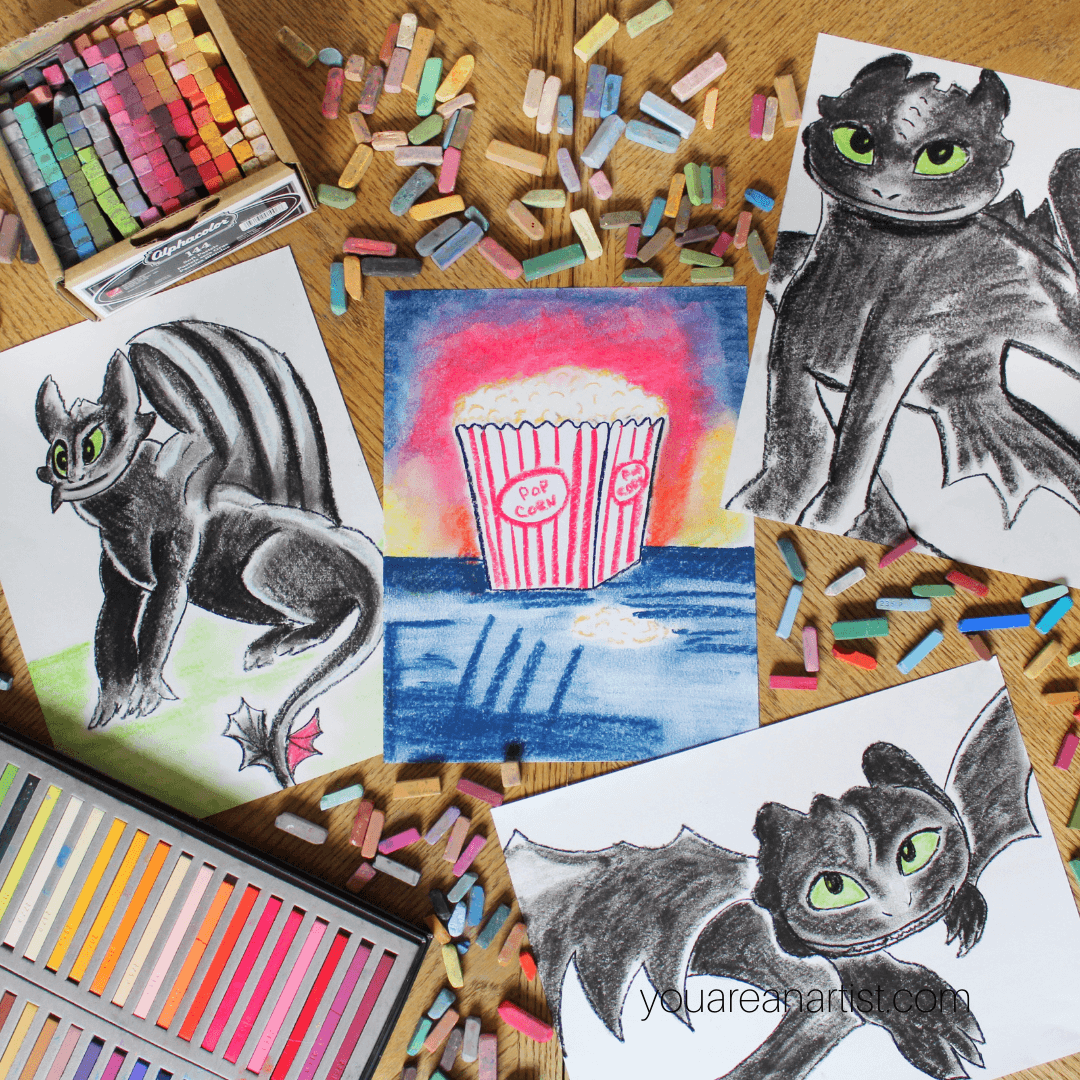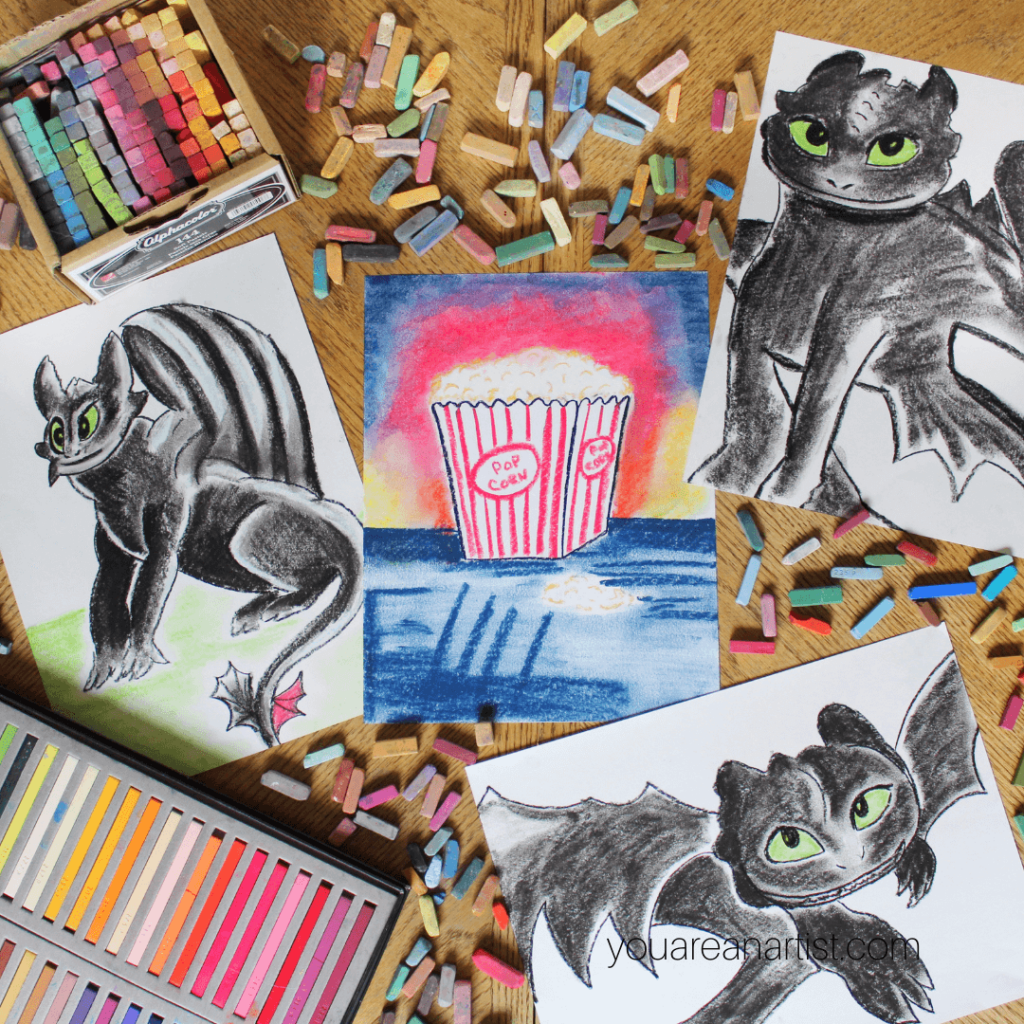 Movies Art Projects
Favorite Movies Homeschool Art Lessons – Don't let family movie night become boring! Bring some excitement back with these chalk pastel art lessons. All you'll need is a pack of construction paper and a set of chalk pastels. So grab your favorite movie snacks or make some of your own and join Nana for some of your family's favorite movies.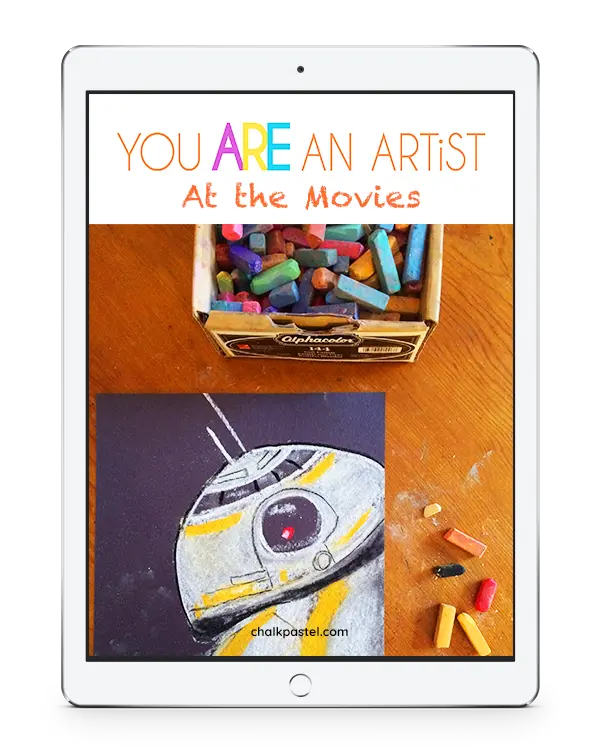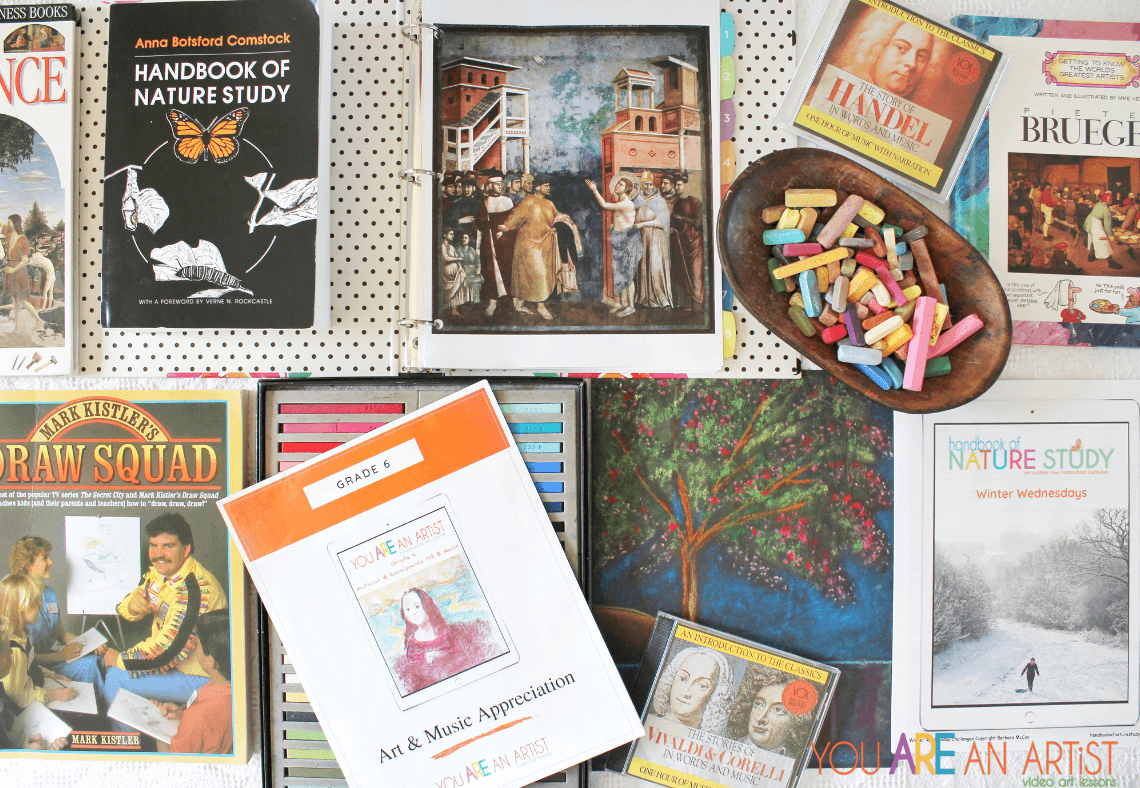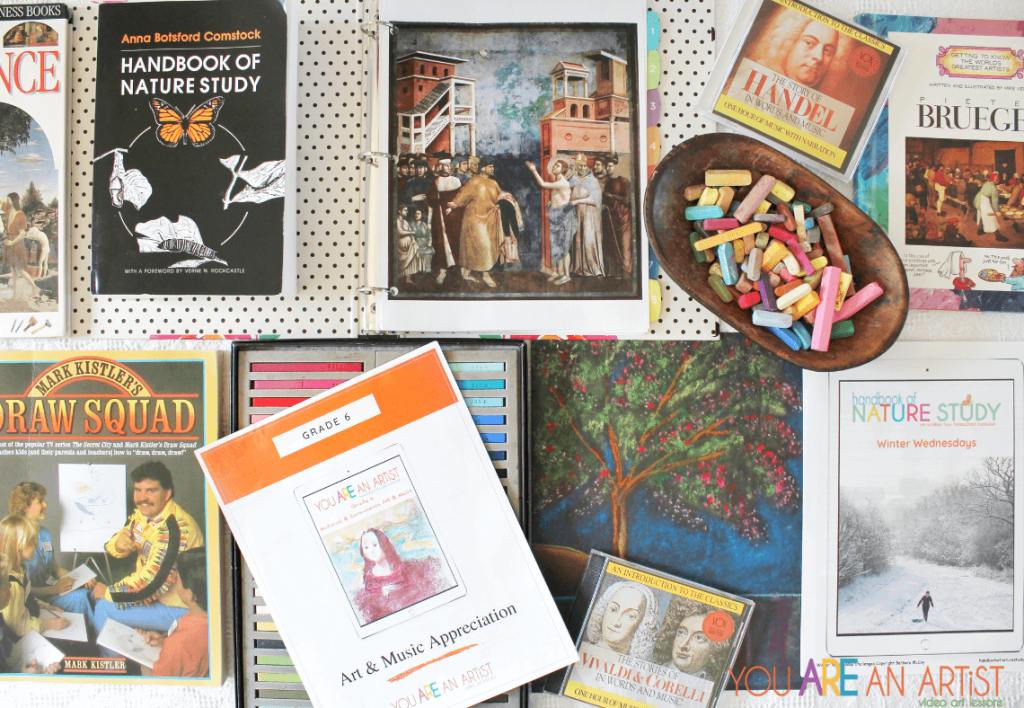 Art Lessons for Nature Study and The Seasons
The Beauty of Art and Nature Study in Your Homeschool! Discover the beauty of art and nature study in your homeschool and help your children explore the simple joys of the outdoors. There is so much to marvel about in God's great creation!
Art Activities for Every Month of the Year
Look ahead to ALL the art activities for homeschooling you can enjoy every month of the year: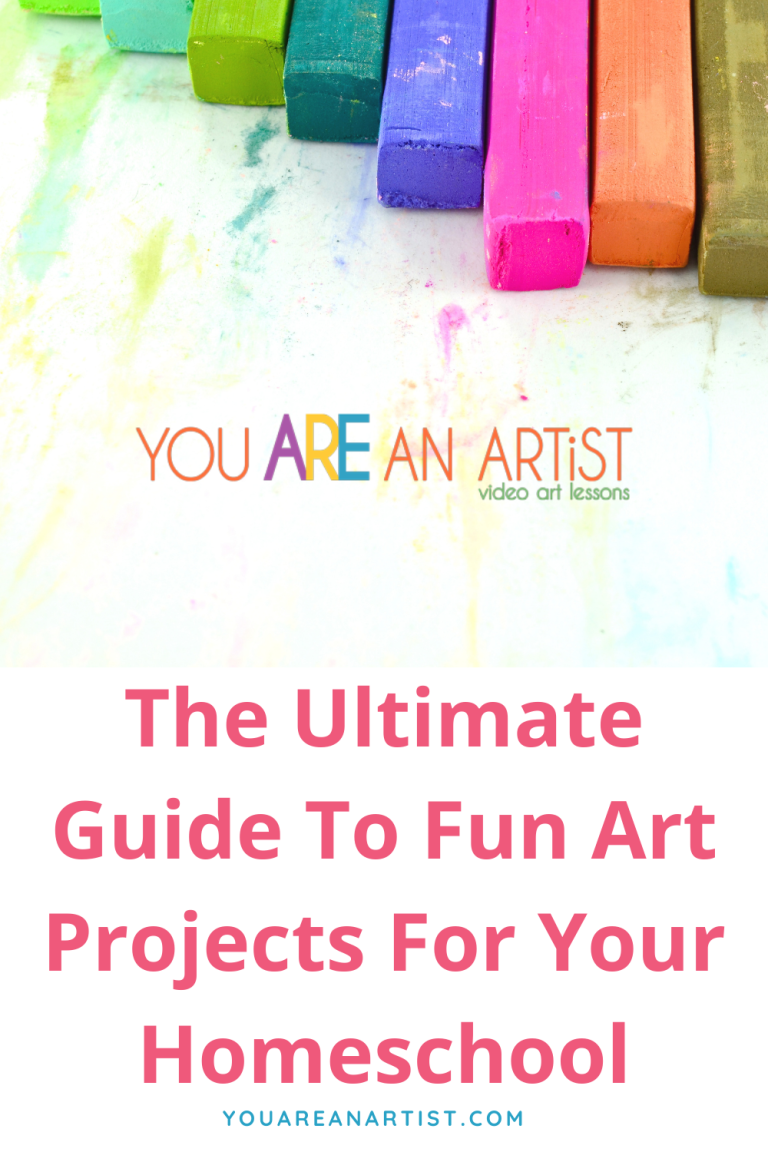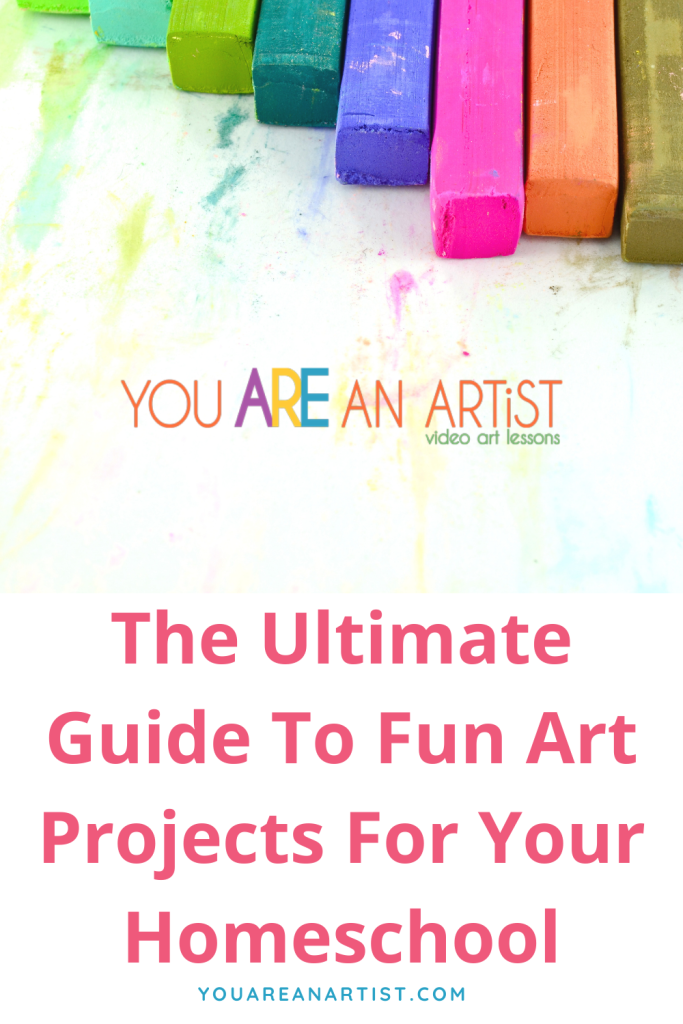 Nana has all of these Homeschool Art Projects ready for you in the You ARE an ARTiST Complete Clubhouse, along with 700+ video art lessons and an art lesson calendar with art for every day of the year!
It is all done for you!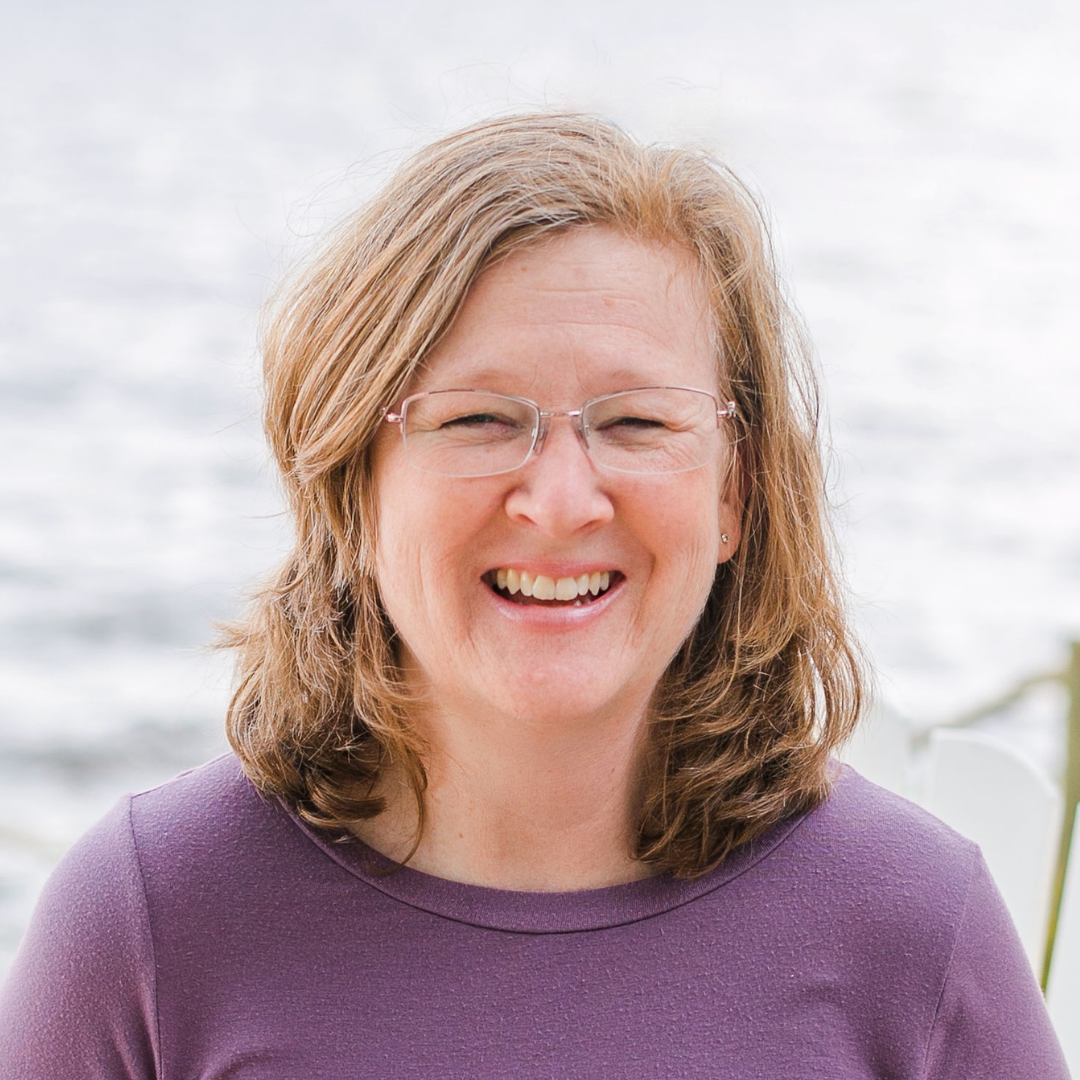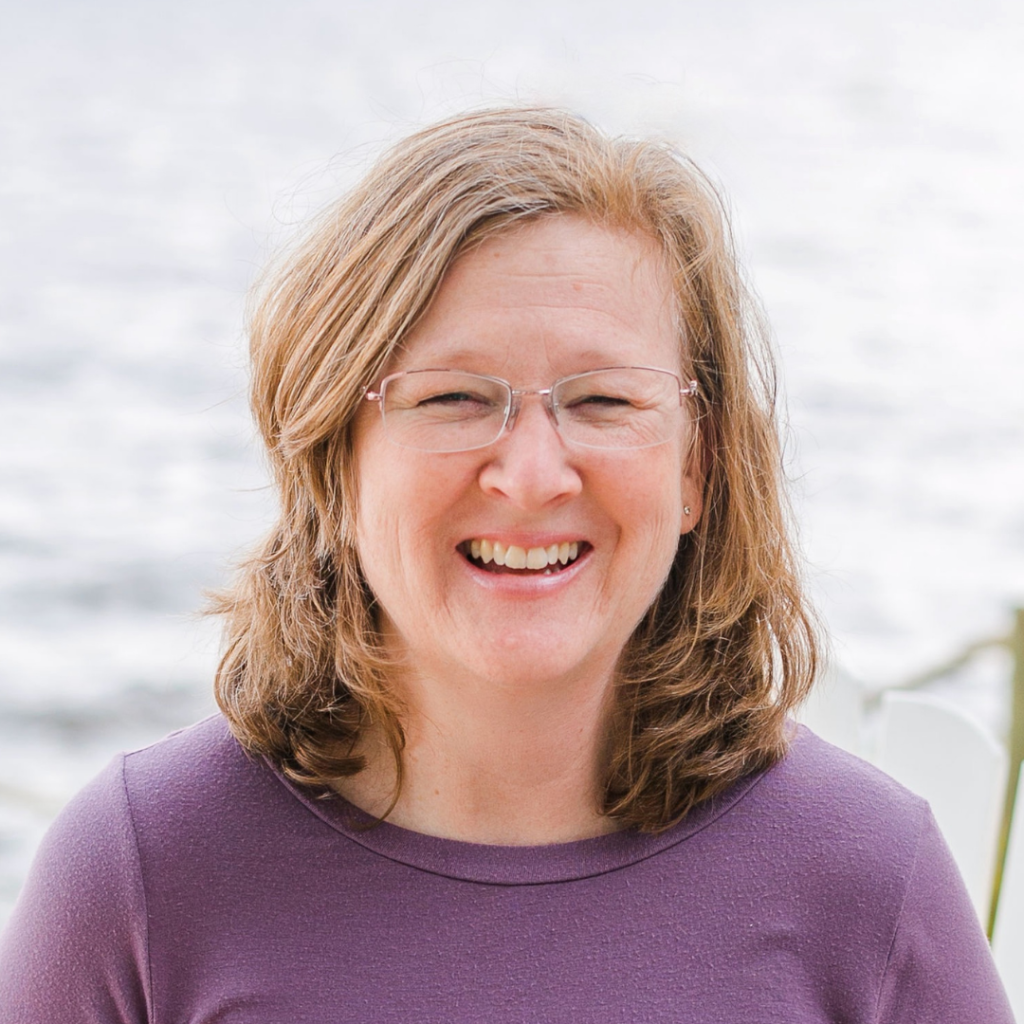 Growing a love of art at You ARE an ARTiST is a multi-generational passion! Tricia is Nana's daughter and a mama of five children. Nana shared the fun of her first chalk pastel art lessons with her grandchildren around Tricia's kitchen table. Homeschooling since 2000, Tricia has seen the fruits of home education with three homeschool grads so far! She shares the art and heart of homeschooling at Your Best Homeschool and is author of the book, Help! I'm Homeschooling! She and her husband, Steve, are also owners of sister sites Homeschool Nature Study and The Curriculum Choice.