Are you looking for ways to bring the revolutionary war to life? Do your older kids love music? Did you know you could combine the two with books and chalk pastel art to provide a hands-on learning experience? Use these ideas to create your own Hamilton the musical homeschool study! And don't miss the free Hamilton the Musical art lesson included, below.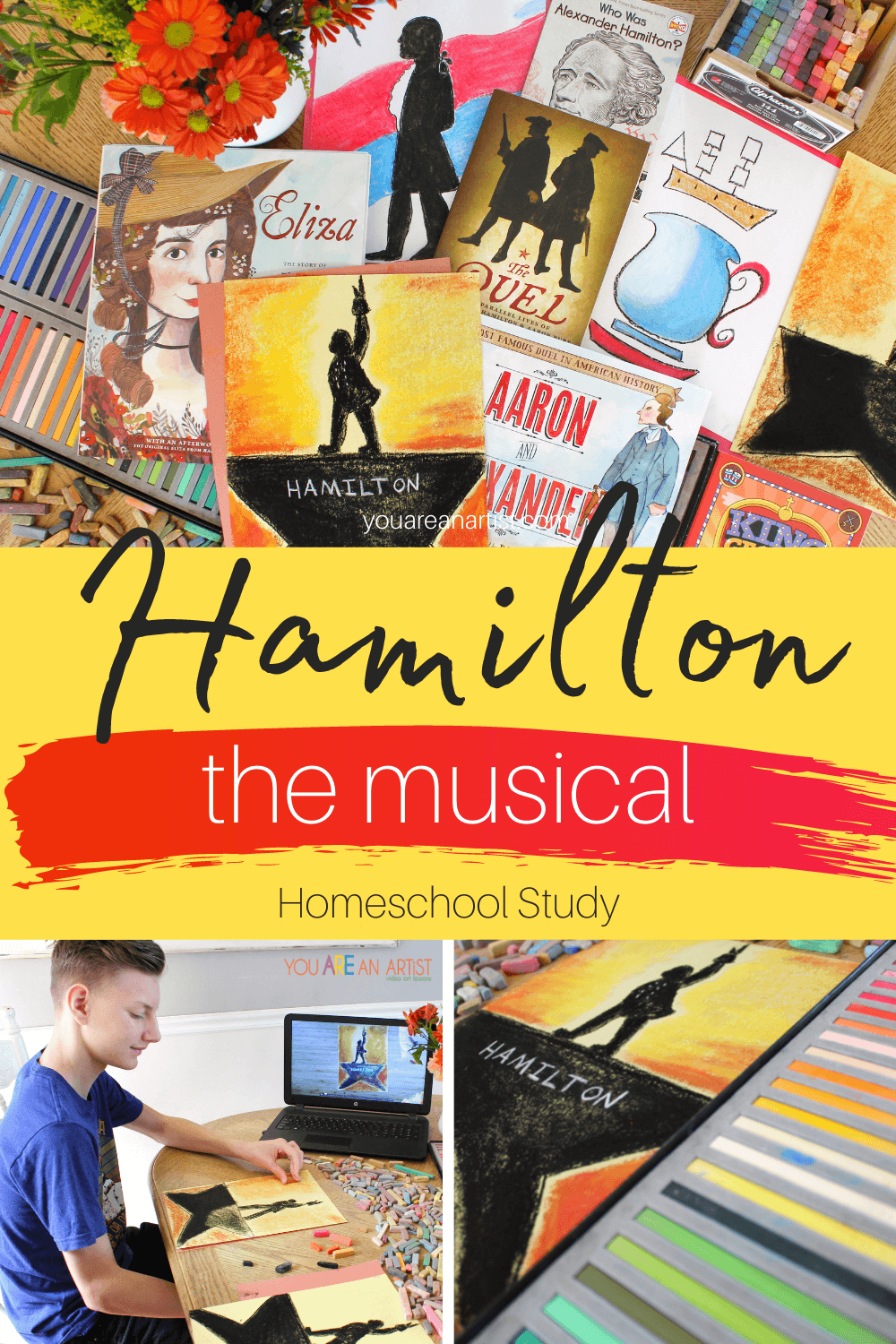 What Is Hamilton the Musical?
I was excited to watch Hamilton: An American Musical when it first came to Disney+. I had heard so many great things about this Grammy and Tony Award winner.
What is Hamilton?
It is a musical written by Lin-Manuel Miranda which follows the life of one of our founding fathers, Alexander Hamilton.
The musical is filled with rap and hip-hop that takes you back in time to show how Alexander Hamilton arrived in this country as an immigrant and became one of the most influential men in American history.
I thought I was the only one interested in watching the Hamilton musical. Still, within a few moments, the whole family was sitting beside me watching the story of Alexander Hamilton.
Hamilton is now a family favorite!
*Hamilton, the musical, does contain swear words and other content that may be viewed as inappropriate for children. I felt that my children's enthusiasm for history, reading, and music far outweighed my concerns. Please preview the content and use your best judgment on whether it is appropriate for your kids and family.*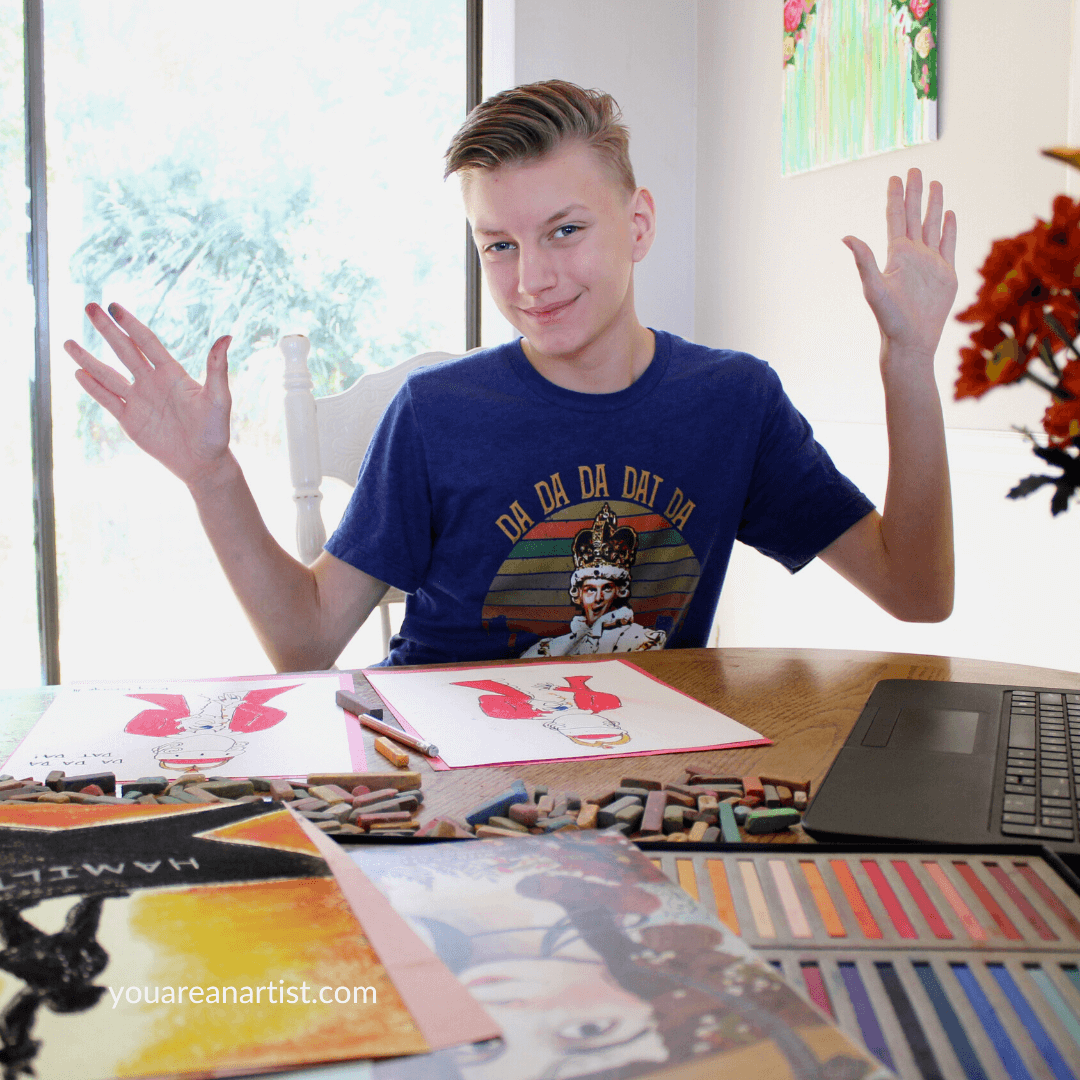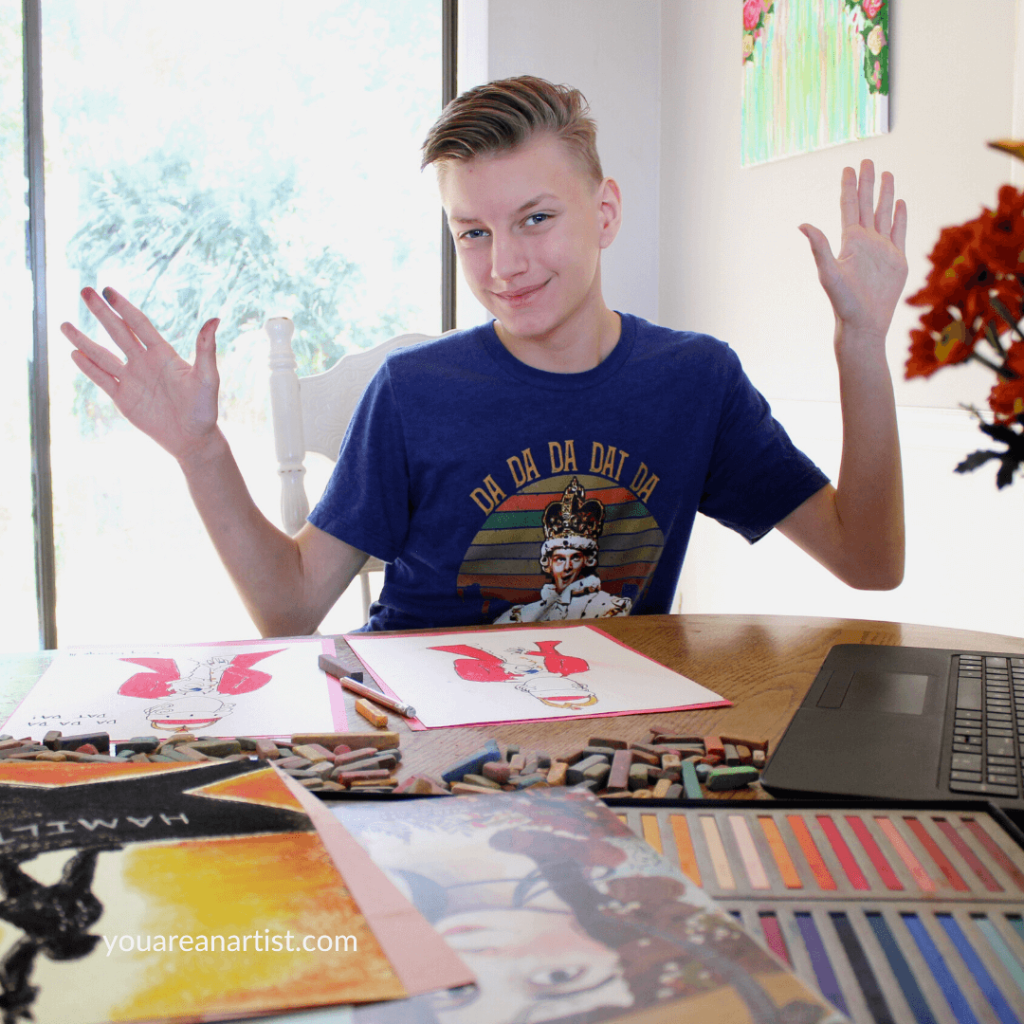 Adding Music And Art To Homeschool History
Folks, my son LOVES history. He's been obsessed with WWII for years, but with the introduction of the Hamilton musical, he has also become interested in the revolutionary war!
Why?
The musical brought the story of Alexander Hamilton to life! My son didn't realize that Thomas Jefferson and Alexander Hamilton didn't like each other. But after watching the show, my son wanted to learn more.
The American revolution was suddenly fascinating! Why did George Washington trust Hamilton? Was Aaron Burr truly a villain? Why did James Madison criticize Alexander's financial plans for the new country when he supported them at first? What about King George III? Was he really mad?
"THE TEN-DOLLAR FOUNDING FATHER WITHOUT A FATHER, GOT A LOT FARTHER BY WORKING A LOT HARDER, BY BEING A LOT SMARTER, BY BEING A SELF-STARTER."

Aaron Burr, Hamilton Musical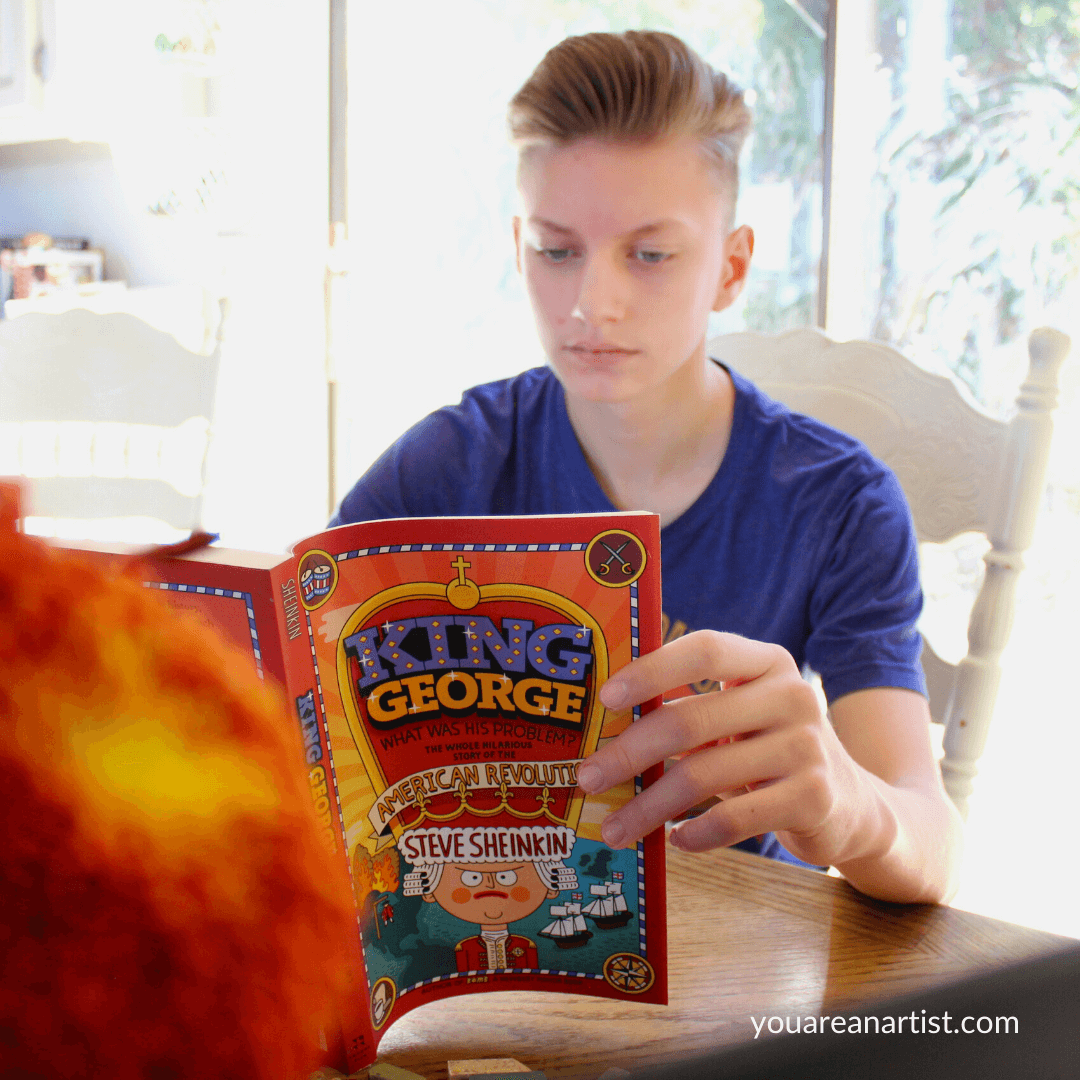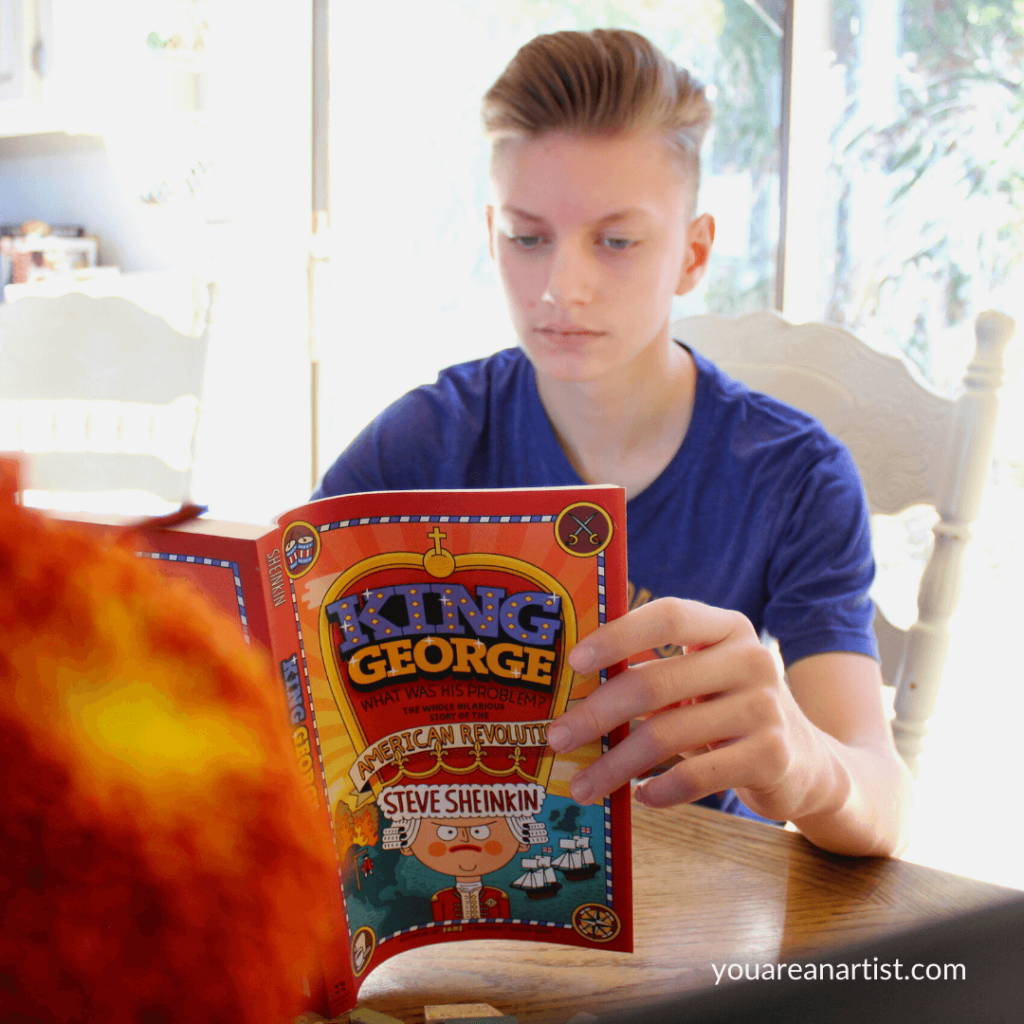 Imagine our delight when I discovered Nana had a Hamilton musical chalk pastel lesson AND oodles of lessons on American history that coincided with the revolutionary war and American presidents!
With the You ARE An Artist Clubhouse you have access to 700+ chalk pastel video art lessons, including:
George Washington silouette
Revolutionary War Uniforms – Continental soldier and British soldier
Boston Tea Party
13 Colonies – the gathering storm
The Constitution
Paul Revere
Three Branches of Government
Alexander Hamilton
King George, III
Thomas Jefferson
James Madison
George Washington
plus so much more!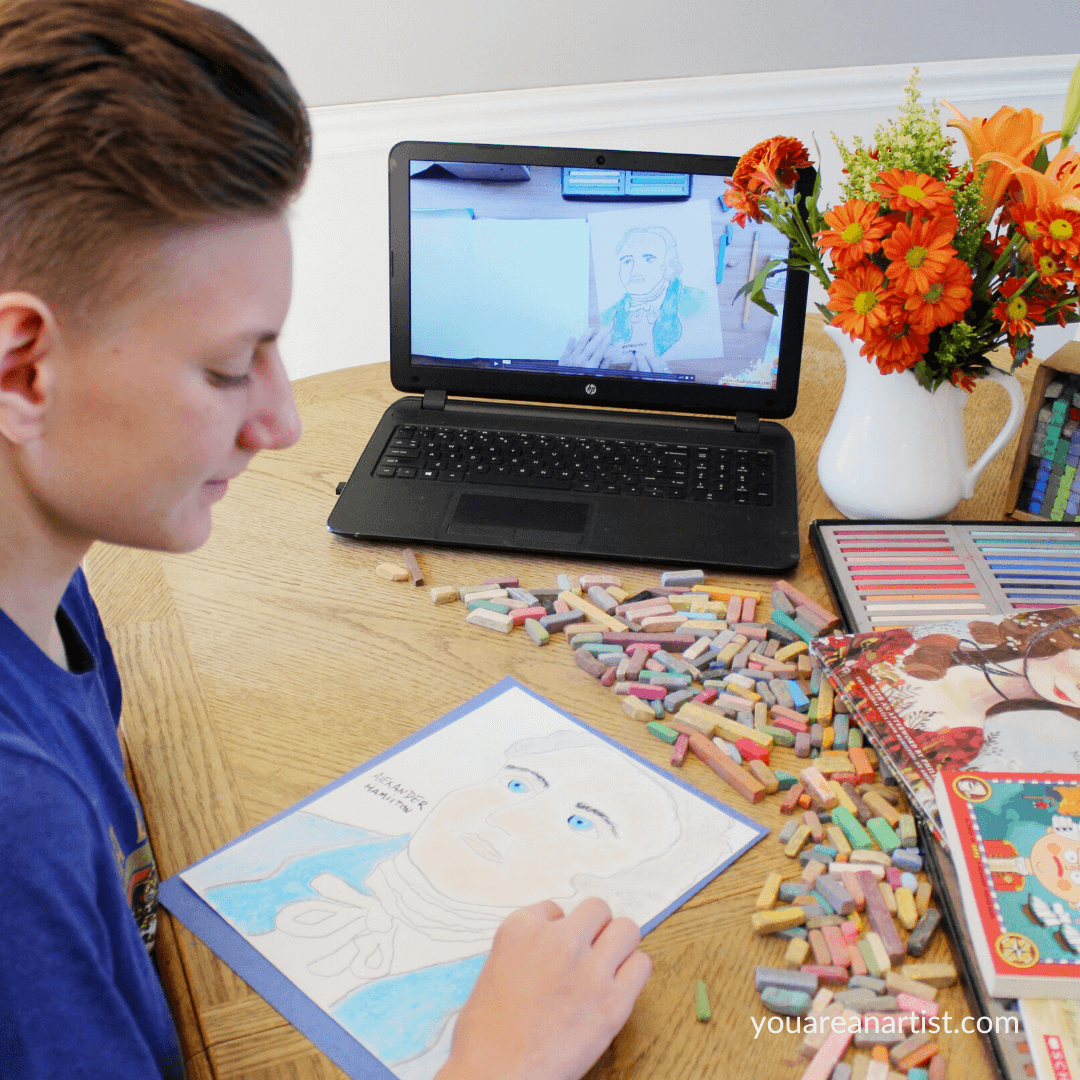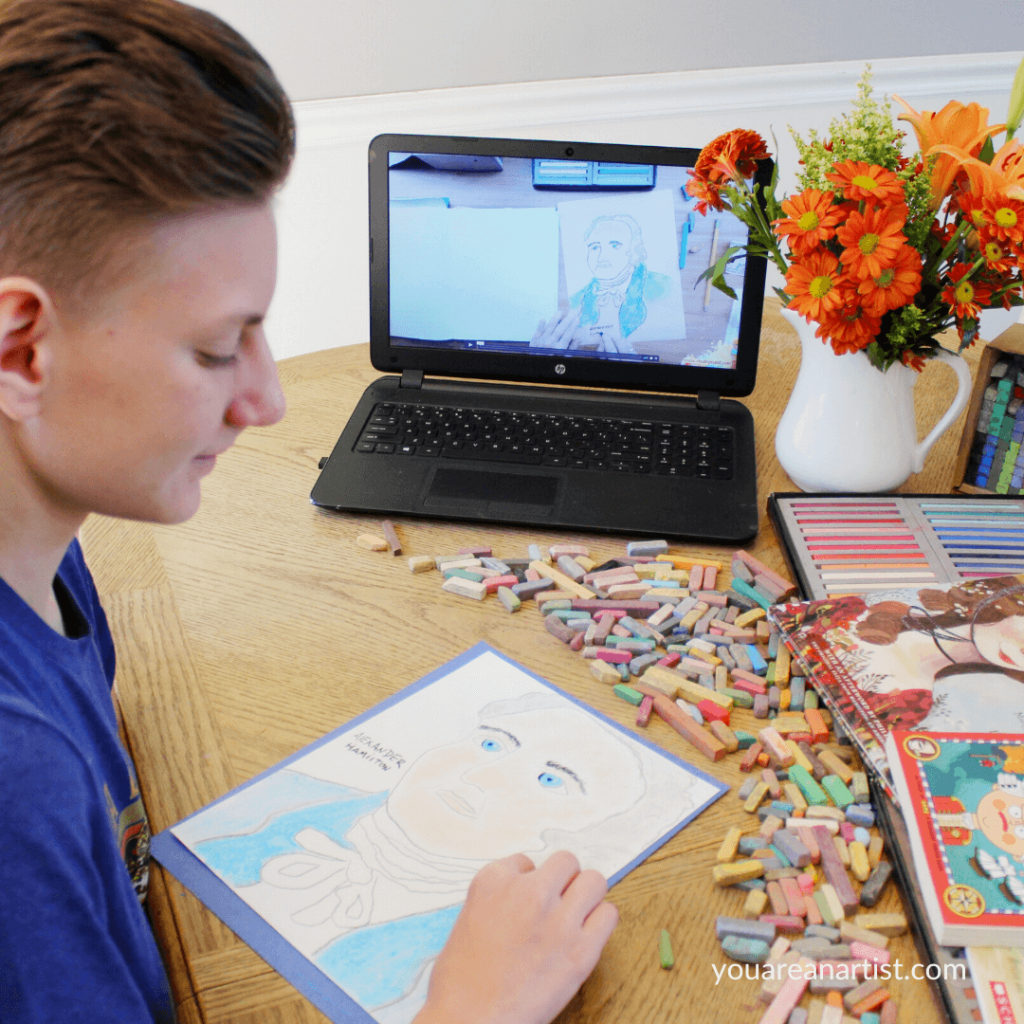 Hamilton The Musical Lessons
We listen to the Hamilton soundtrack in the car and when we're doing chores around the house. It's not uncommon for one of us to break out into song at random moments throughout the day.
"Da Da Da Dat Da Dat Da Da Da Da Ya Da!"
King George III is one of our favorite characters, and we have the t-shirt to prove it.
"AND WHEN PUSH COMES TO SHOVE, I WILL SEND A FULLY-ARMED BATTALION TO YOU REMIND YOU OF MY LOVE."

King George III, Hamilton Musical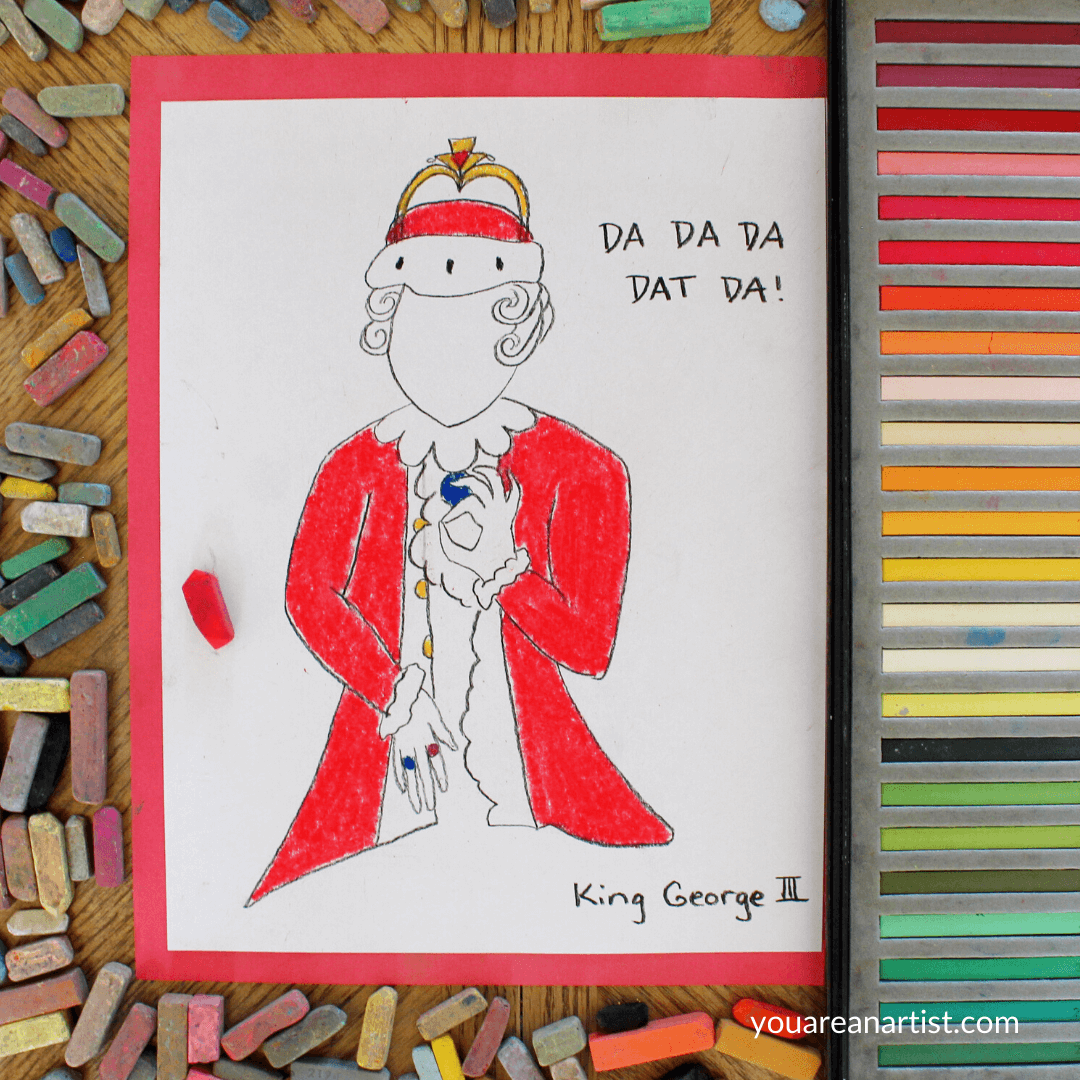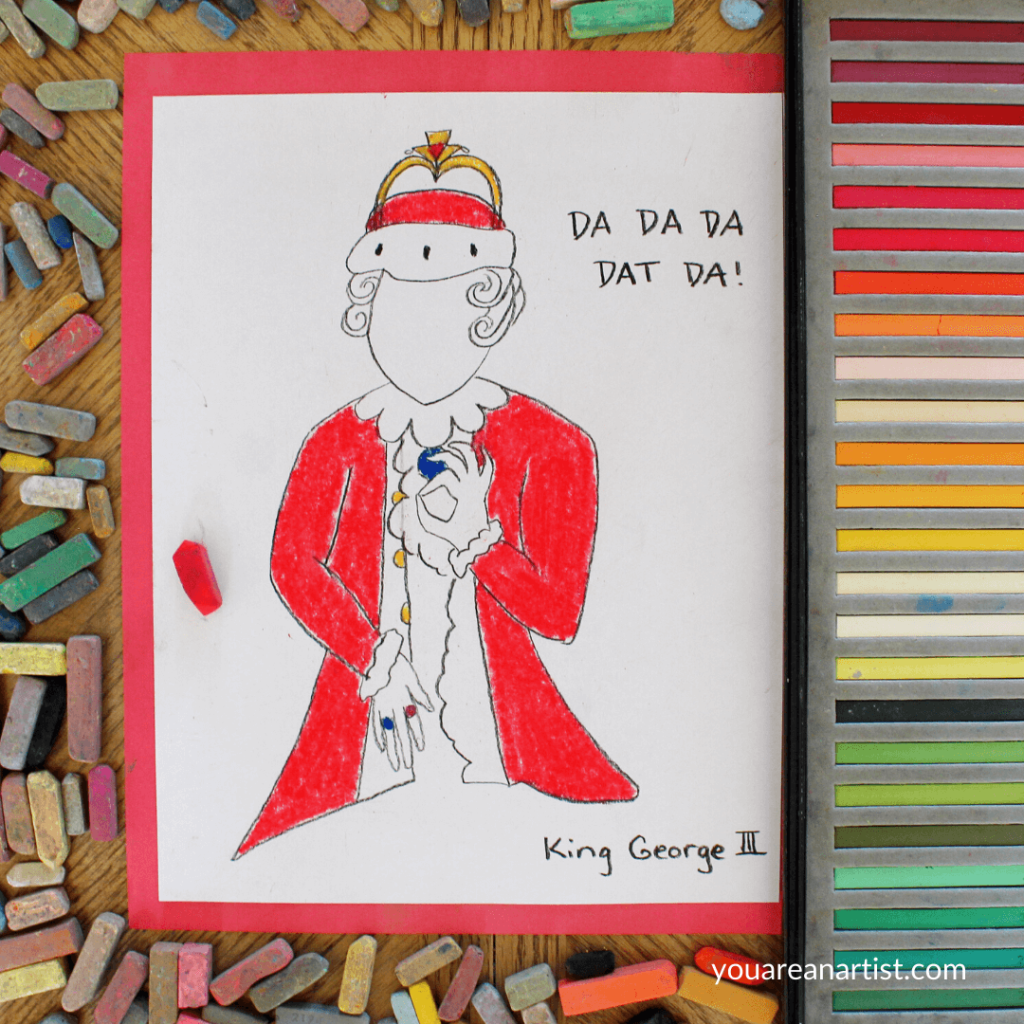 The Hamilton musical brought all of these historical figures to life in a fun way while also giving us an education in music and pop culture. We looked up the lives of the main characters as well as Lin-Manuel Miranda. There was so much to learn!
"I AM NOT THROWIN' AWAY MY SHOT."

Alexander Hamilton, Hamilton Musical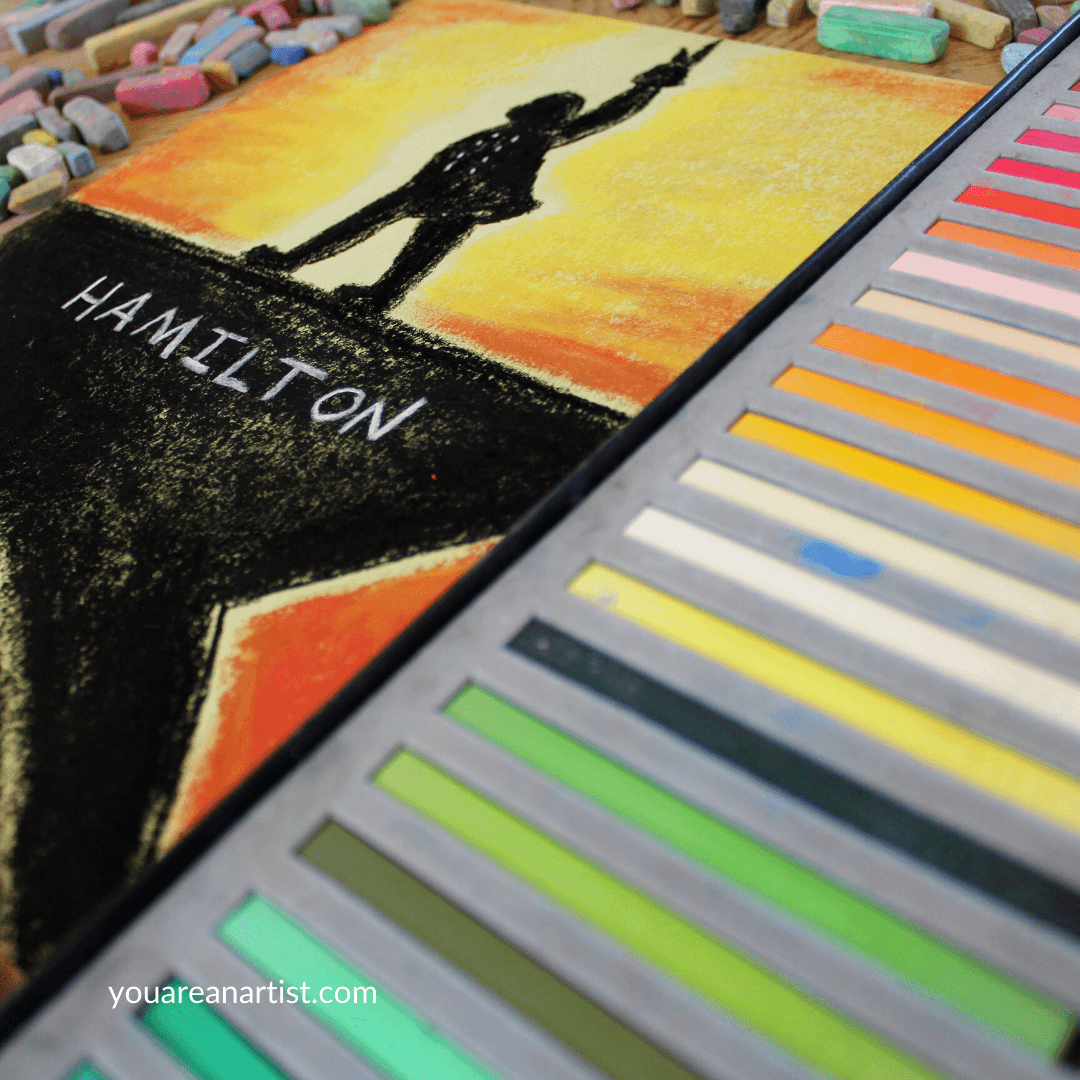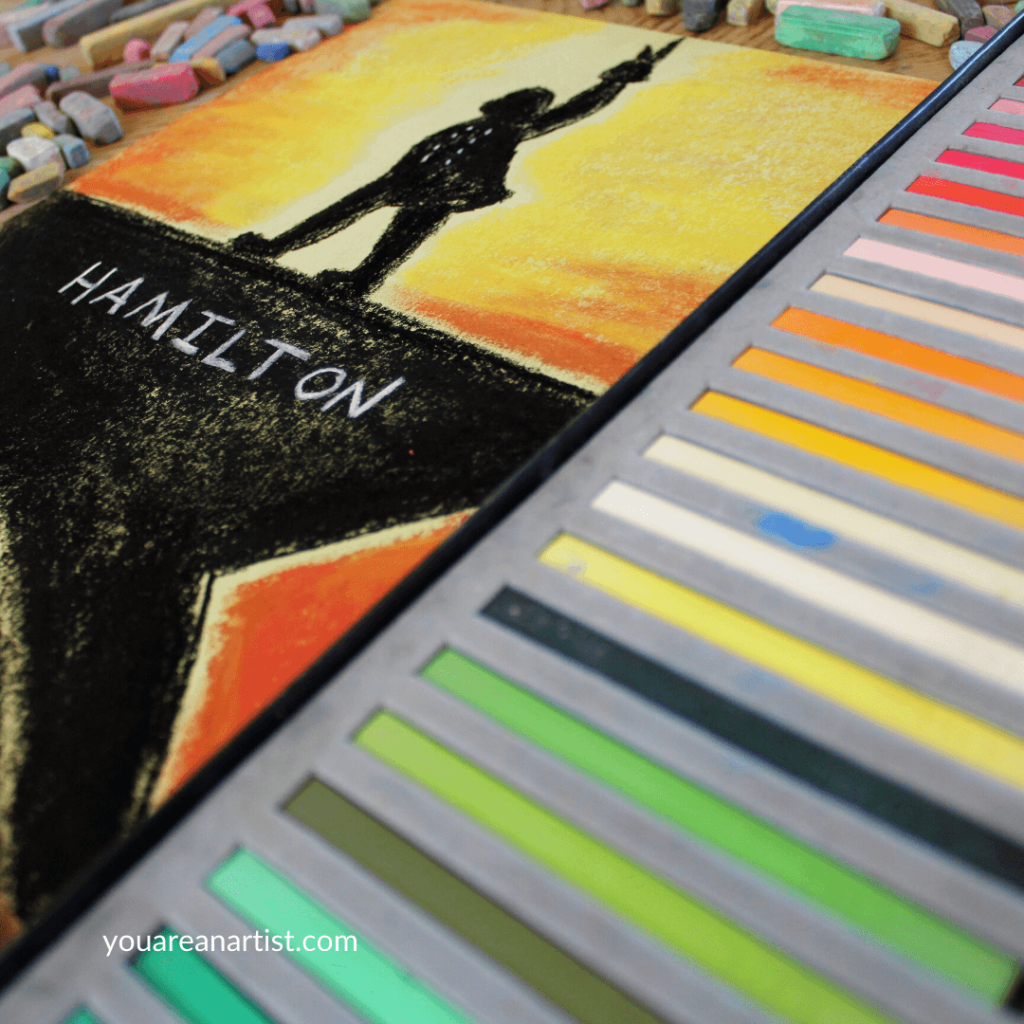 Hamilton The Musical Art Lesson for Your Homeschool
Enjoy Nana's Hamilton lesson with your American history homeschool studies! Suggested supplies:
Yellow construction paper, set of chalk pastels (our favorites are here), baby wipes or damp chalk pastels for easy clean up.
If you enjoy Nana's Hamilton video art lesson, please share a photo of your painting and tag @chalkpastelart on social media! Nana would love to see and to comment.
Related Resources For Your Homeschool History Study
History isn't black and white. It is shades of grey and usually told from the point of view of the winners. So, I like to pull information from multiple sources.
For my 9-year-old daughter we learned more about Hamilton with these books:
Eliza: The Story of Elizabeth Schuyler Hamilton
Aaron and Alexander: The Most Famous Duel In American History
For my son we used the books:
King George: What Was His Problem?: Everything Your Schoolbooks Didn't Tell You About the American Revolution
The Duel: The Parallel Lives of Alexander Hamilton and Aaron Burr
With both kids I used:
Who Was Alexander Hamilton?
DK Smithsonians Timelines of Everything
History Year by Year: The History of the World, from the Stone Age to the Digital Age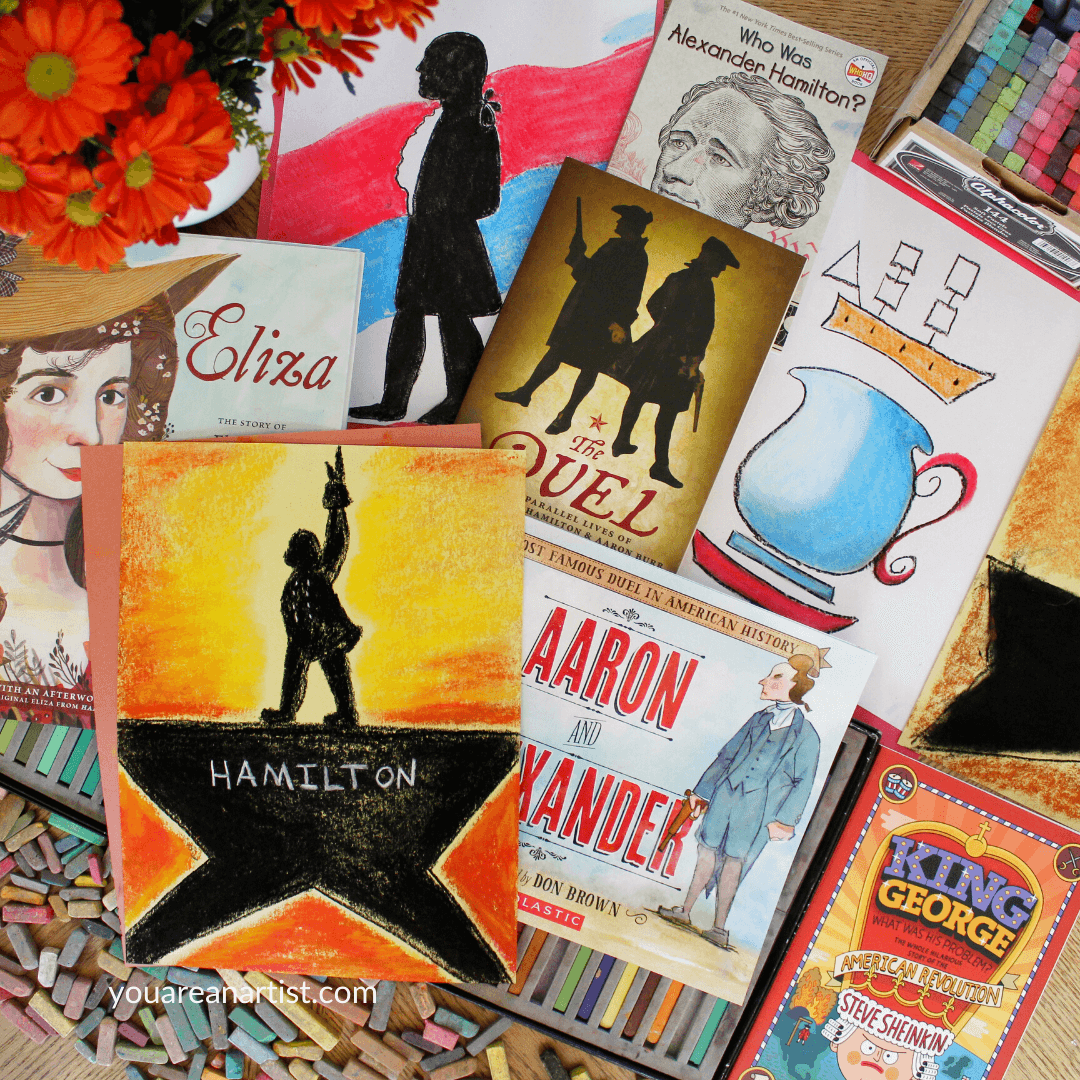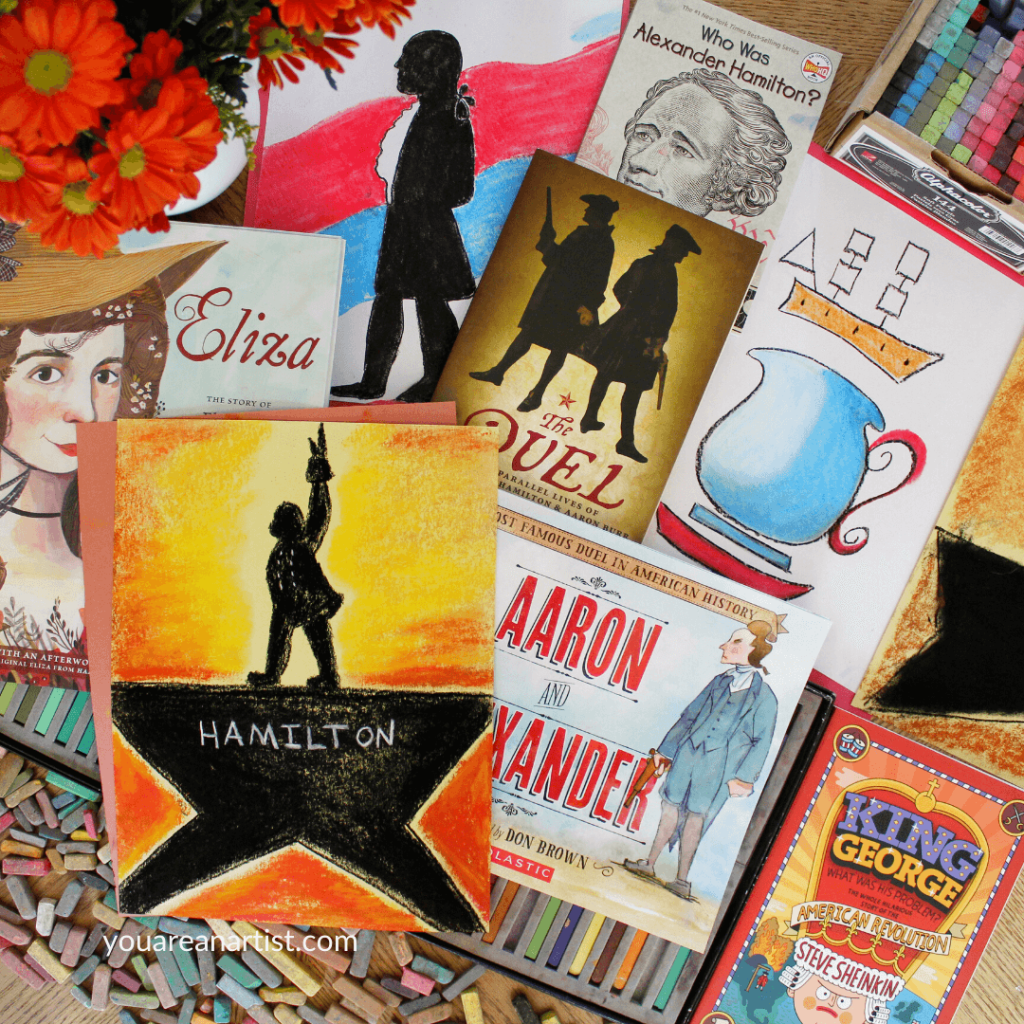 Hamilton The Musical Homeschool Study
We didn't just learn about Alexander Hamilton but many of the founding fathers, including their triumphs and faults. Combining music with art and books was a perfect way to make history hands-on and fun! It provided us with lots of topics and rabbit trails of interest. Nana provided excellent lessons with some of our favorite historical and musical characters of the revolutionary war that won't soon be forgotten.
"AMERICA, YOU GREAT UNFINISHED SYMPHONY, YOU SENT FOR ME. YOU LET ME MAKE A DIFFERENCE. A PLACE WHERE EVEN ORPHAN IMMIGRANTS CAN LEAVE THEIR FINGERPRINTS AND RISE UP."

Alexander Hamilton, Hamilton Musical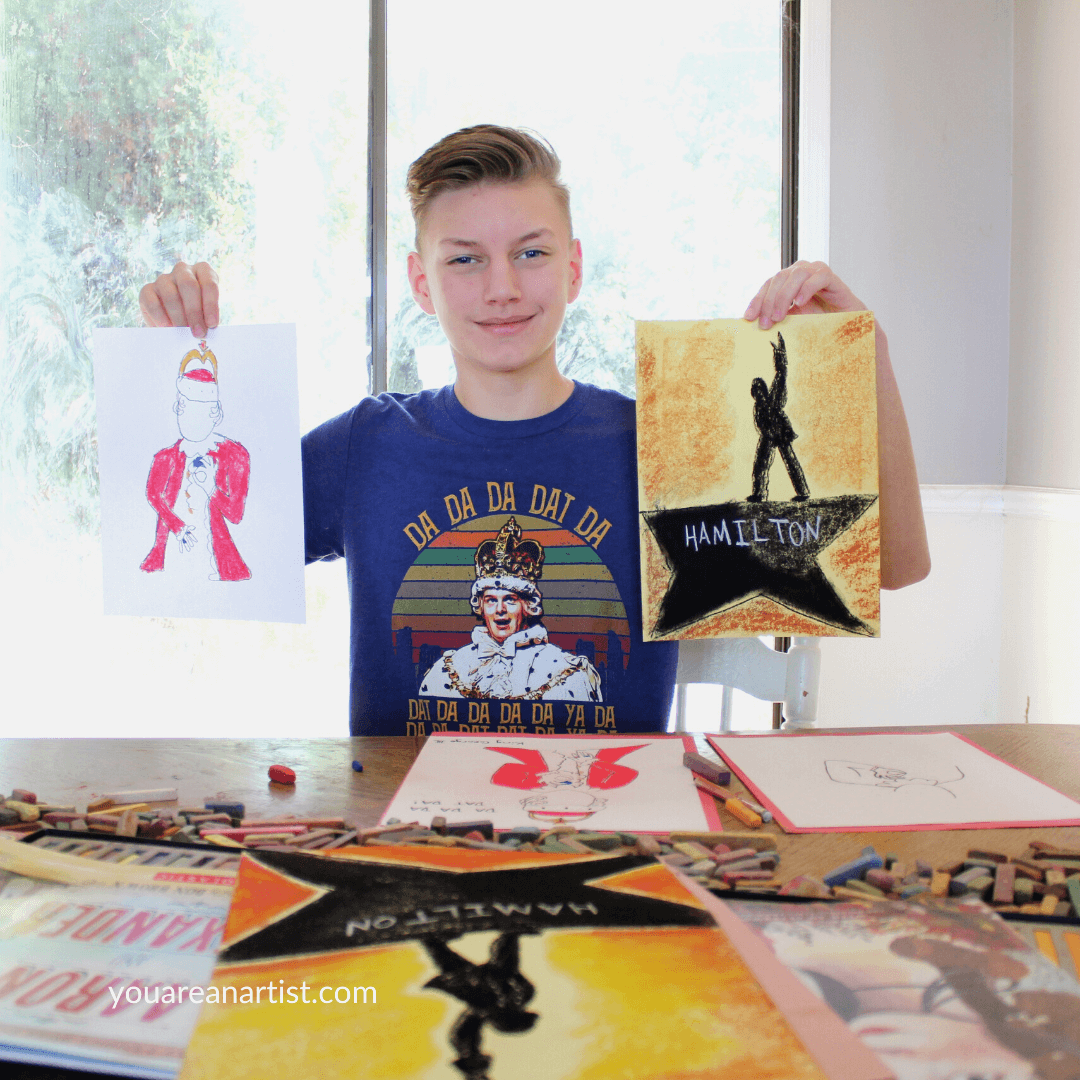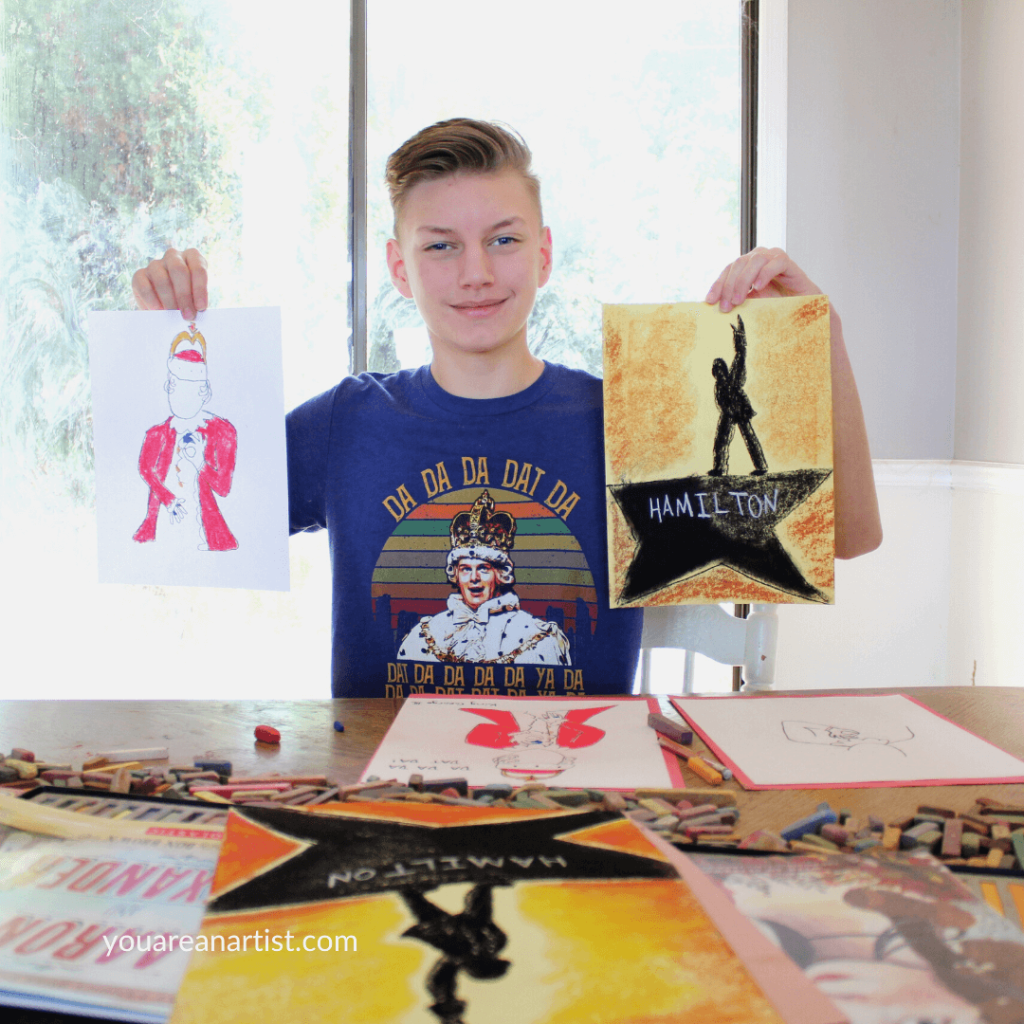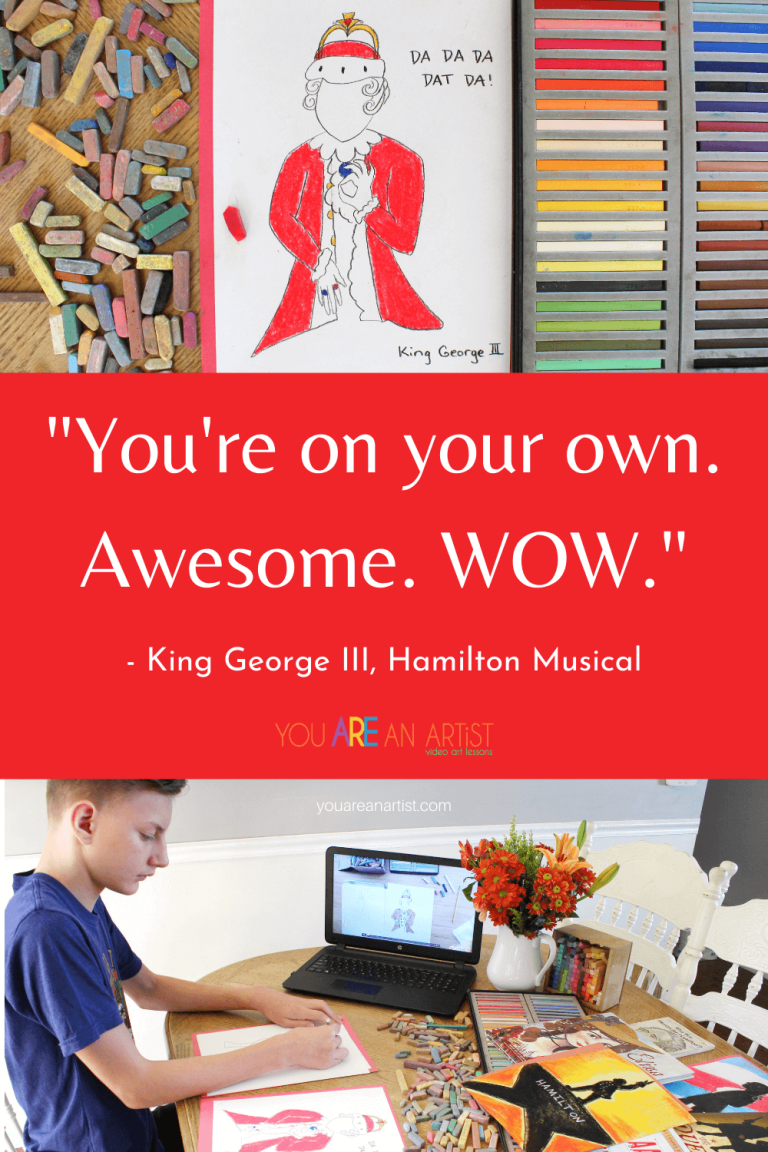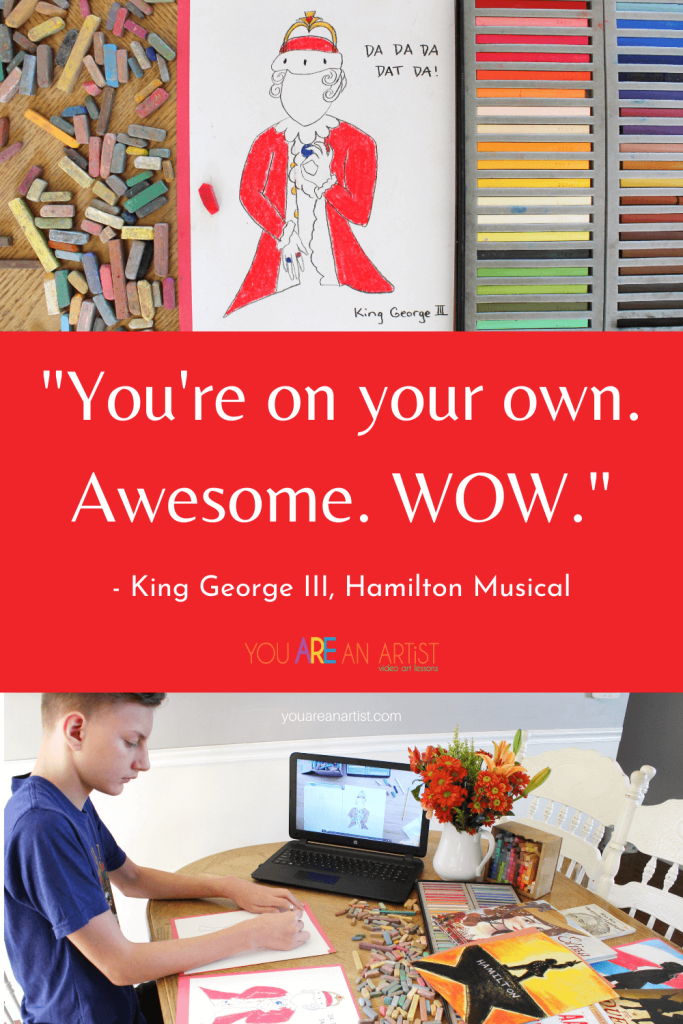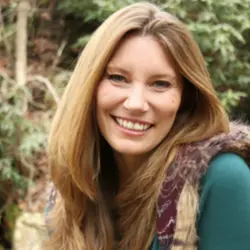 Erin is a writer, blogger, and homeschooler to two intense kids. Her blog is filled with information to help you explore a child led education while making meaningful connections with your children. Discover favorite read alouds, seasonal books, games, art projects, hands-on activities, and learn to just breathe through the ups and downs of life. She loves nature, farm life, good books, knitting, new pens, and hot coffee. Erin is a contributing writer for Weird Unsocialized Homeschoolers. Her work has also been featured on Simple Homeschool and Book Shark.