Use these medieval history lessons as a multi-dimensional way to bring history into full color for your children in your homeschool!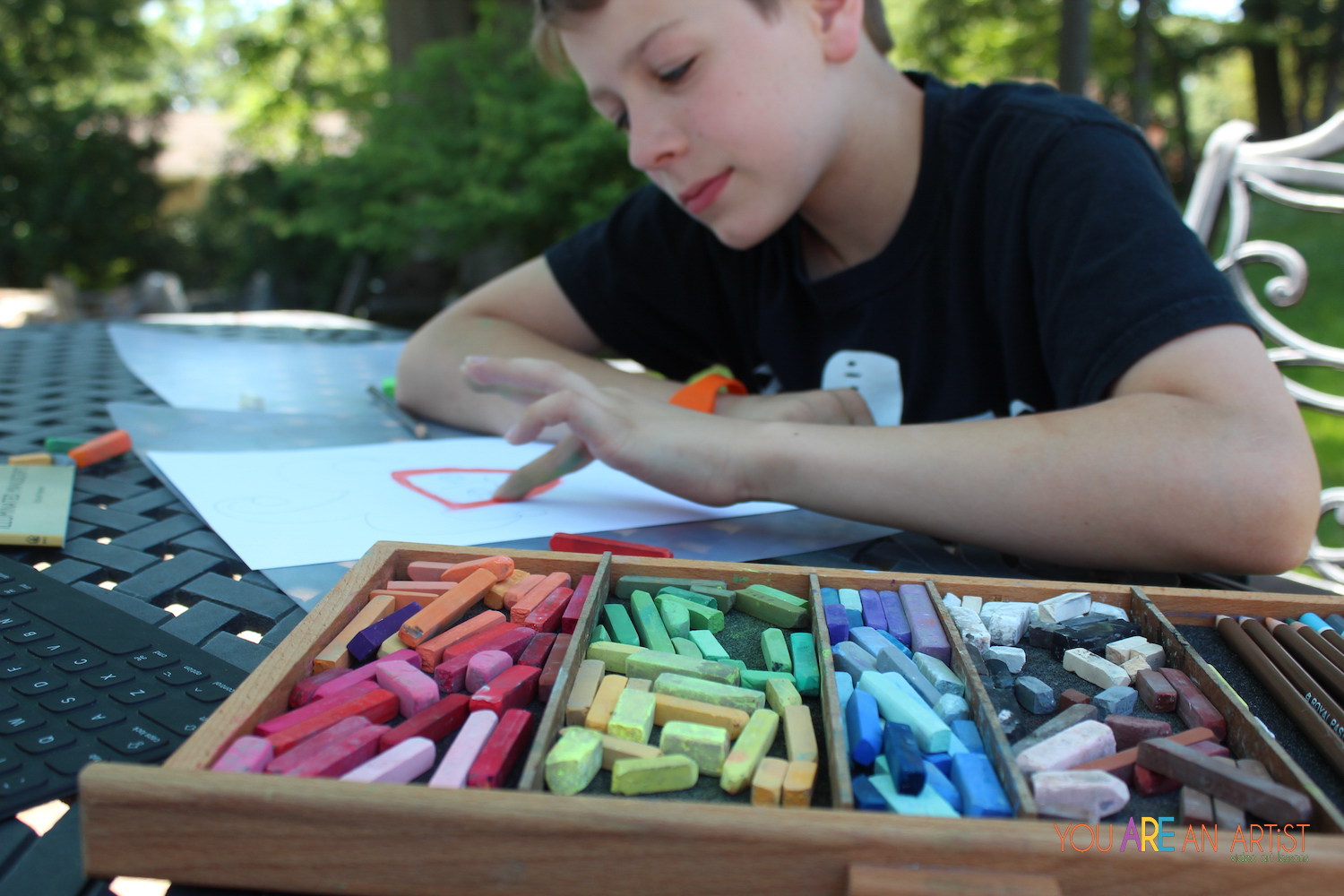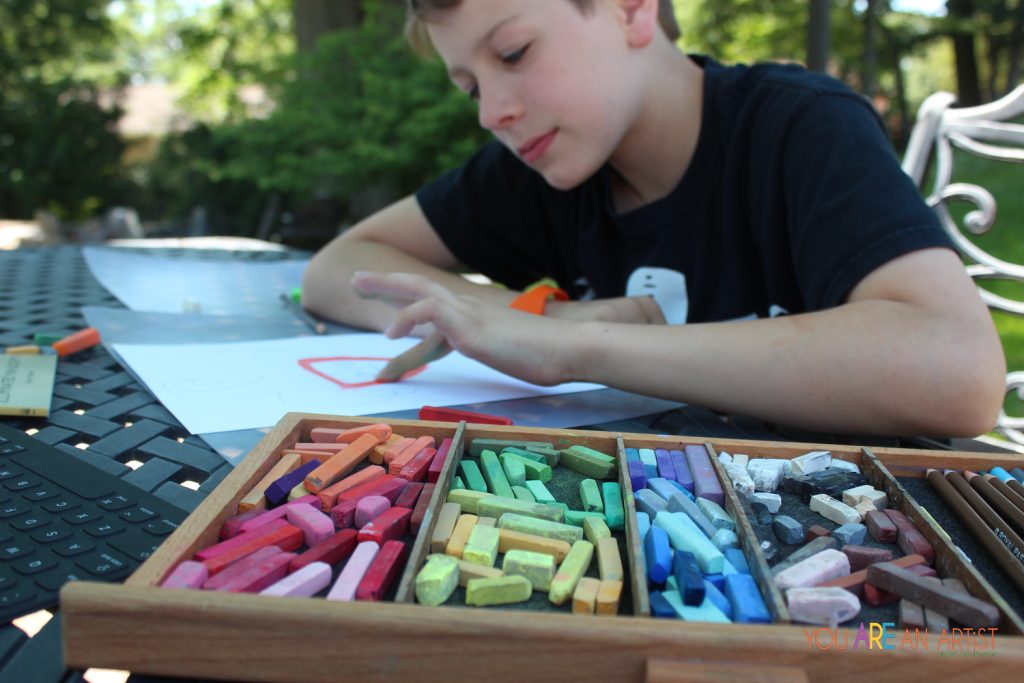 Medieval History Lessons In Your Homeschool
Why is medieval history so fascinating for children? Maybe it's the long-ago aspect. Perhaps it's the excitement of castles, knights, and dragons. Or maybe it's the idea of character and chivalry embedded in well-known and loved stories passed down through the centuries.
So much of our make-believe play, legends, and lore come from the medieval time period, making it a fascinating one to study.
While medieval alchemy isn't real, the opportunities to turn this historical time period into "learning gold" are absolutely available to you as a homeschool parent! Grab yourself a good booklist, a toy sword, and your chalk pastels, and dive in.
Medieval History Homeschool Lessons Your Family Will Love
I always like to start our learning with literature. Stories are a gentle way to introduce time periods, people, and events.
Begin your medieval history art lessons with a read through well-loved tales of this time period: Robin Hood, William Tell, King Arthur, fairy tales, and other classic books are all great options.
Then, you can draw some of these literary characters and scenes and unfold the true history of the Middle Ages for your kids.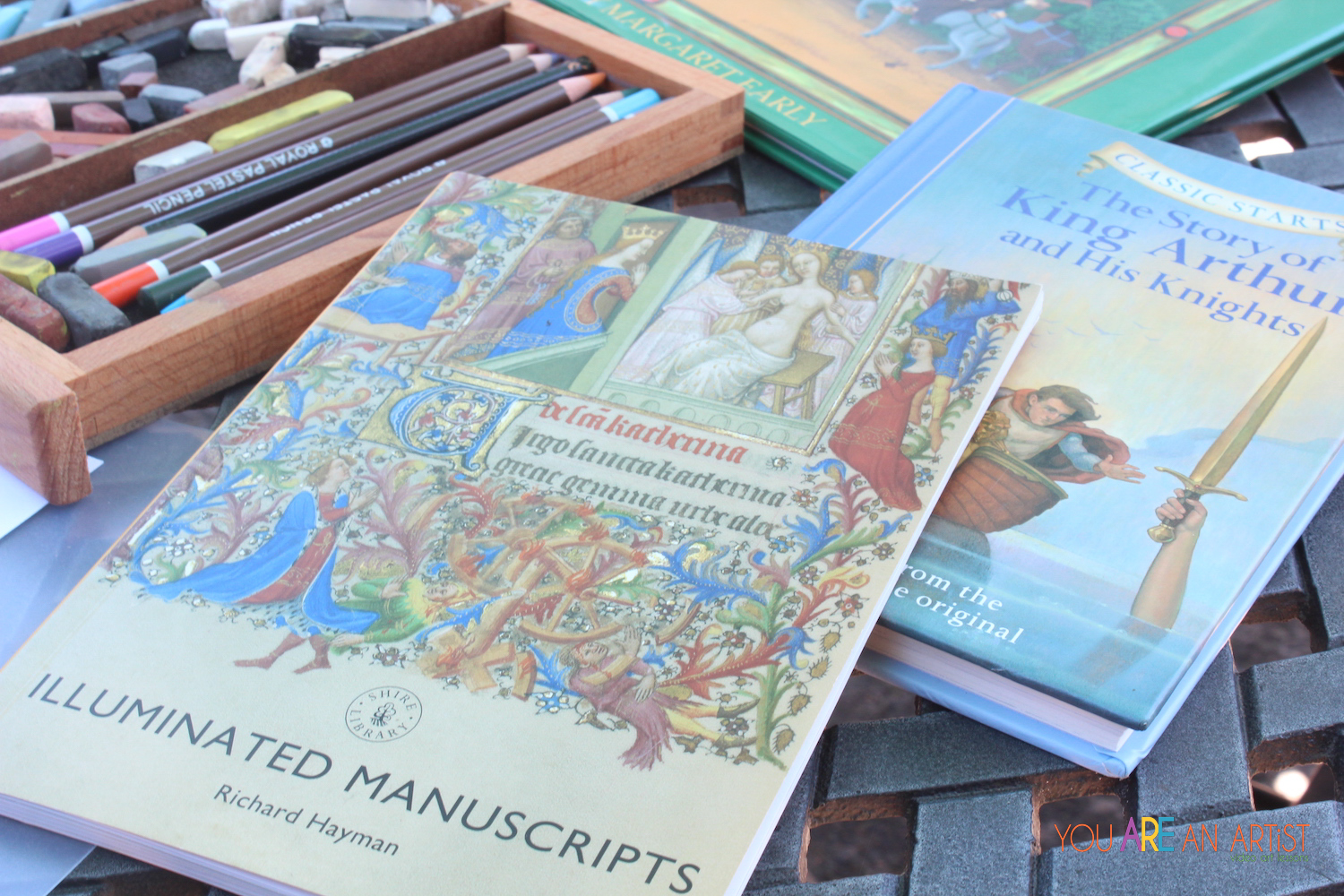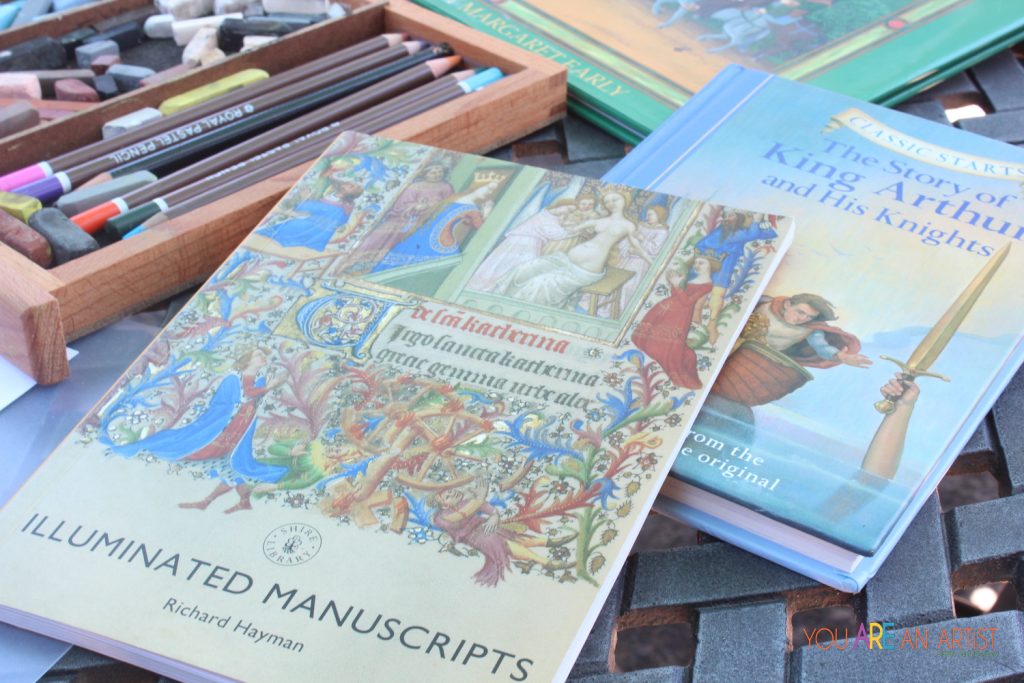 Robin Hood
Robin Hood is a book beloved by children and adults. We love this action-packed adventure and rooting for the underdog. Plus the story provides and excellent conversational jumping off point to talk about historical accuracy and ethical behaviors.
Read a children's version of this classic tale and then join Nana to draw Robin Hood in his classic green outfit with his ever-present bow and arrow!
You can even use the Court Dress lesson to create a Maid Marian for this literature-based art lesson.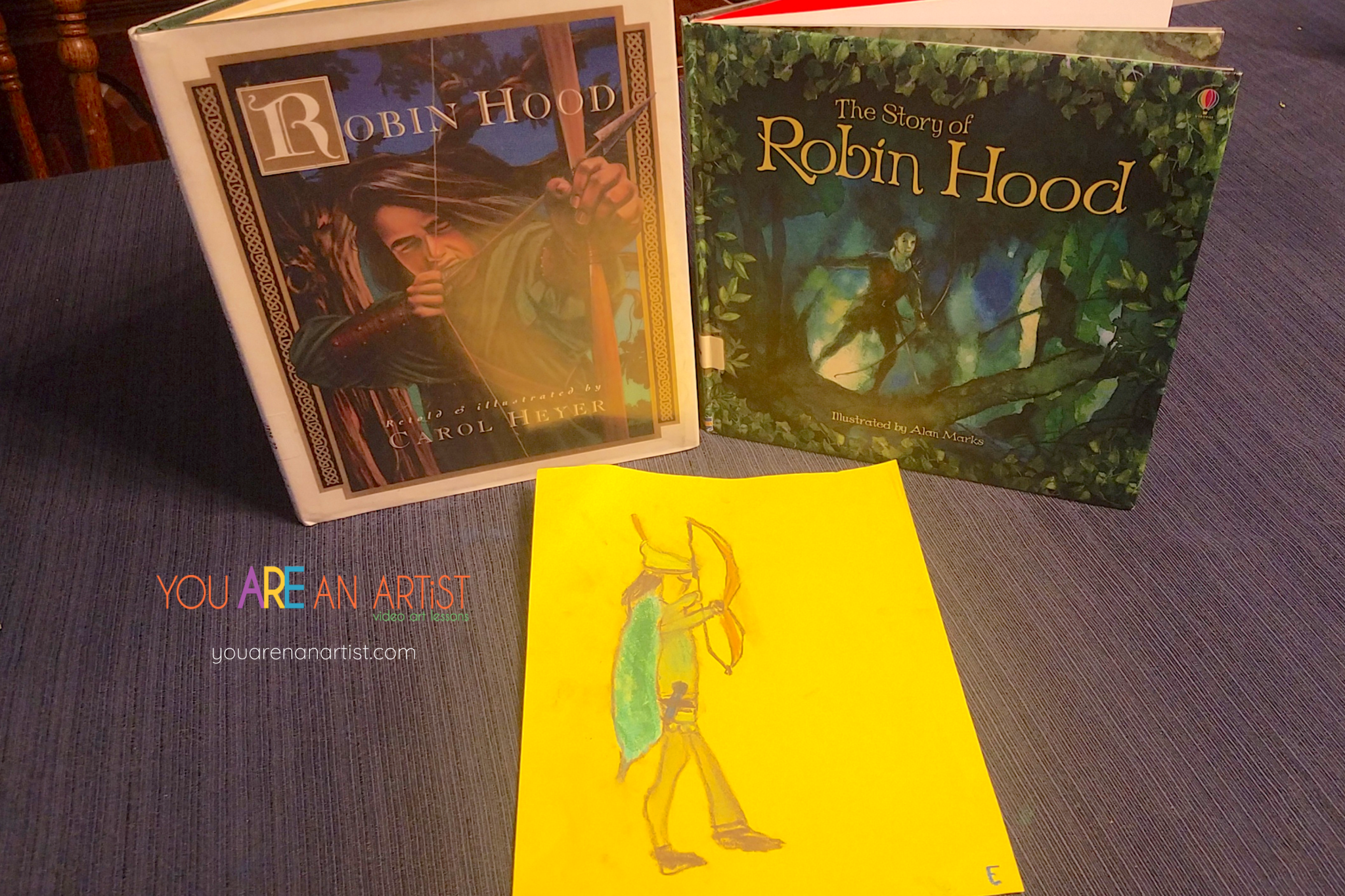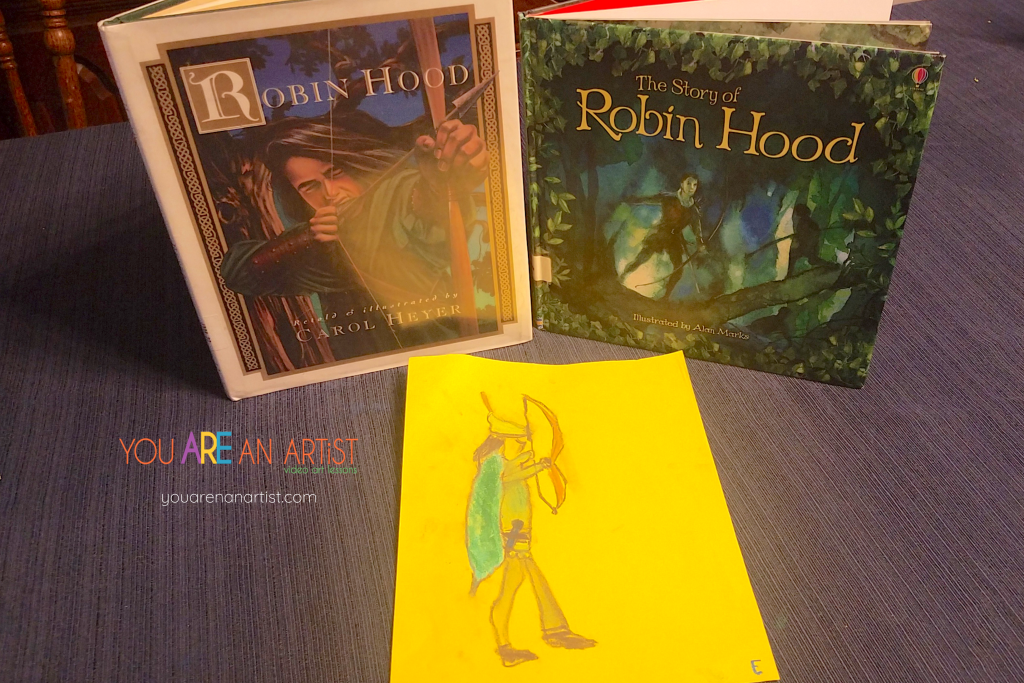 Medieval Castles
Monarchies were the government of the era, so a foray into court life is definitely in order!
Study architecture by painting a medieval castle and discussing how buildings have evolved over time.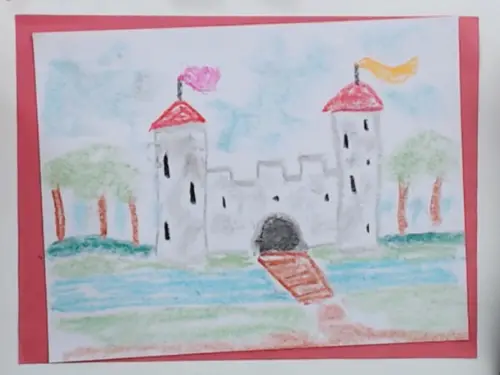 Cathedrals and Stained Glass
As architecture advanced during the Middle Ages, buildings became more elaborate. The church was the center of life and power for most countries in Europe, and their cathedral buildings demonstrated their importance and influence. A fascinating book to read alongside this art lesson is David MaCauley's Cathedral.
Painting stained glass windows with Nana is a colorful lesson everyone will enjoy creating and hanging on the wall.
Illuminated Letter
Take a short detour to talk about the evolution of printed books and materials. Illuminated manuscripts are both beautiful and an important part of history! Kids can imagine how reading and learning would have been different during a time when every piece of written material was elaborately created by hand. Make the connection between the cathedral lesson and church life, and the work of monks and priests to create and preserve written materials. The Illuminated Letter video art lesson can be a jumpstart to having kids illuminate their own initials and more!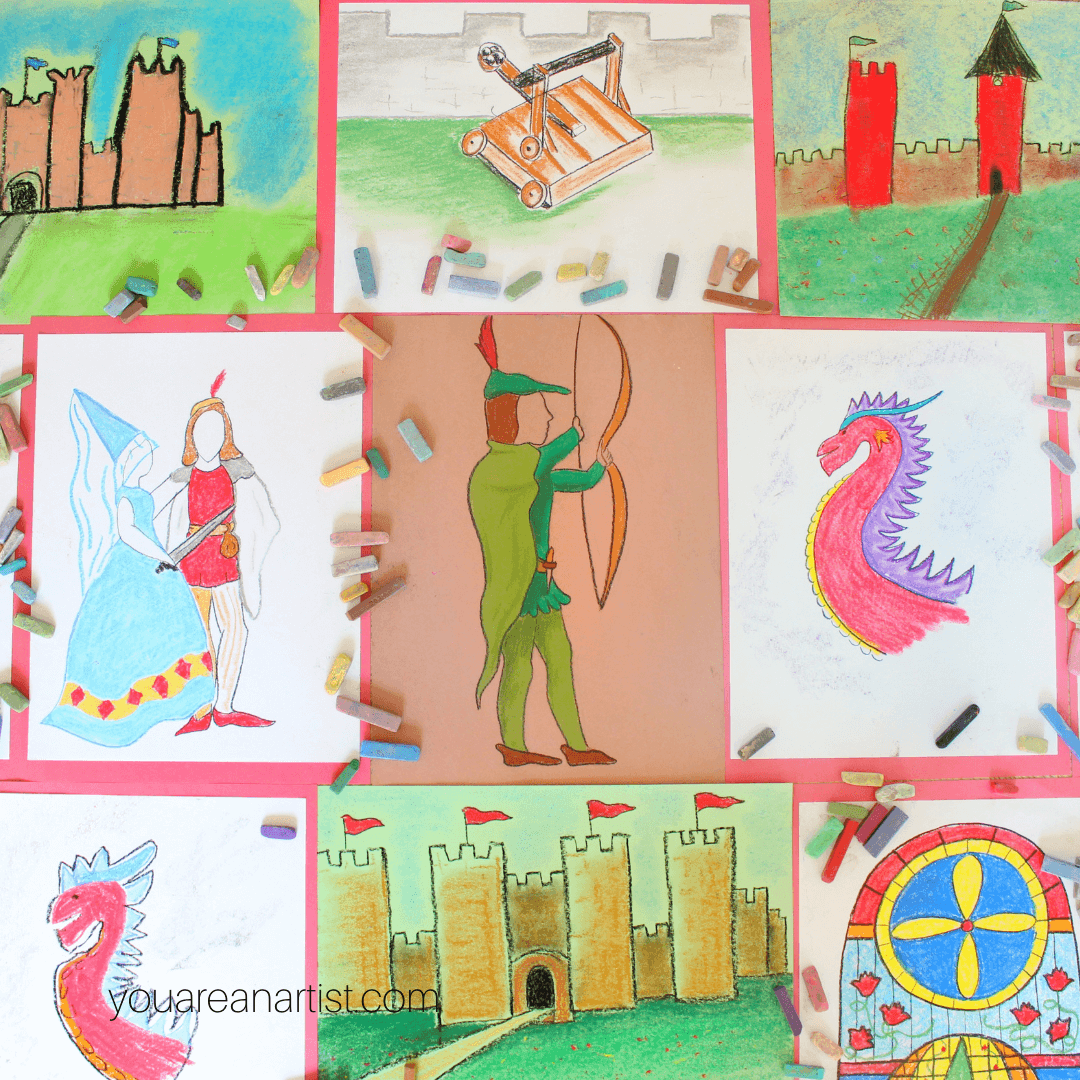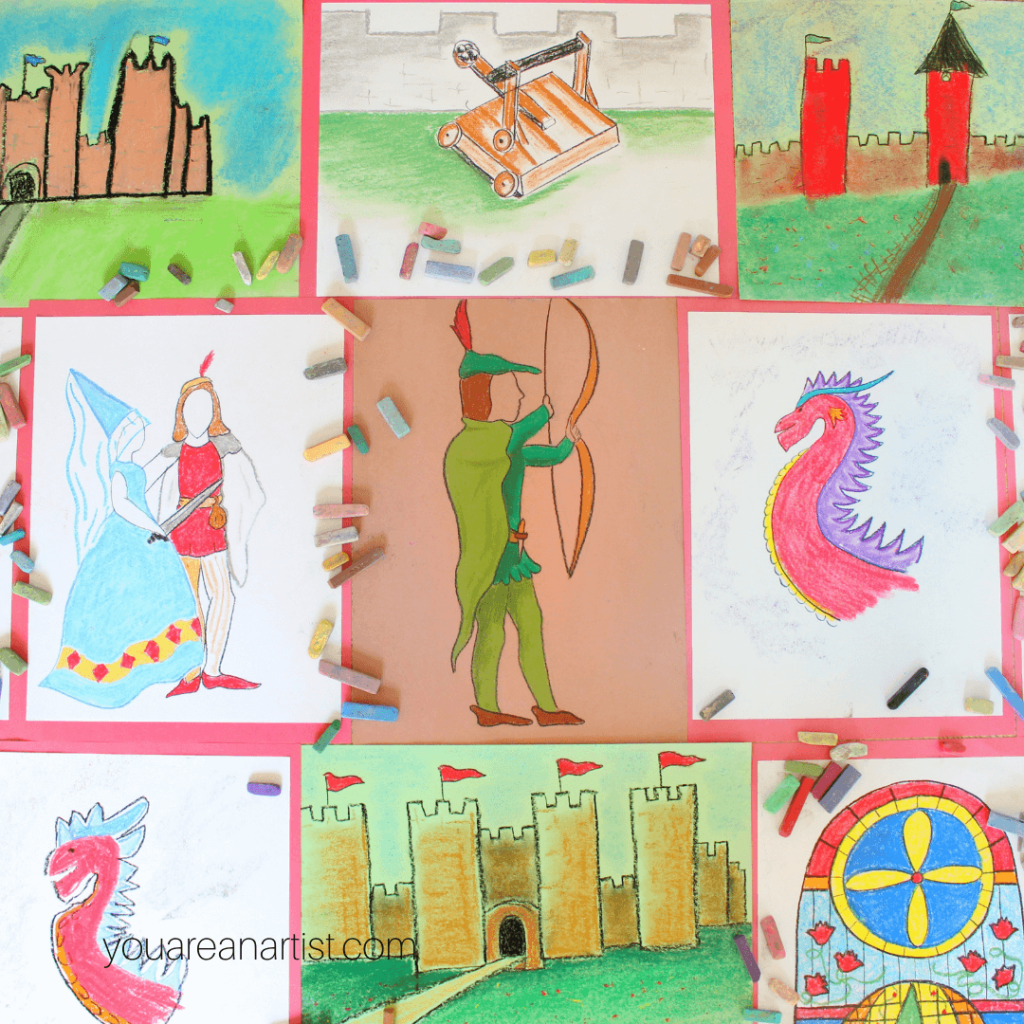 Knights, and lords, and ladies, oh my!
Paint each of these important peoples of medieval court life and learn more about clothing, court dress, social status, and life at court.
Of course, no one is more important than the King, so be sure to take time for the Crown drawing lesson!
Court Life: Lutes, Jesters, Gardens, and Banquets
Since courtesans spent months or years at the King's castle, entertainment was important. Lute players and jesters often entertained the wealthy lords and ladies.
My boys love telling jokes, juggling, and in general being silly, so the Jester art lesson was the first one they wanted to draw when we started talking about medieval times! My oldest even customized his with a fancy mustache!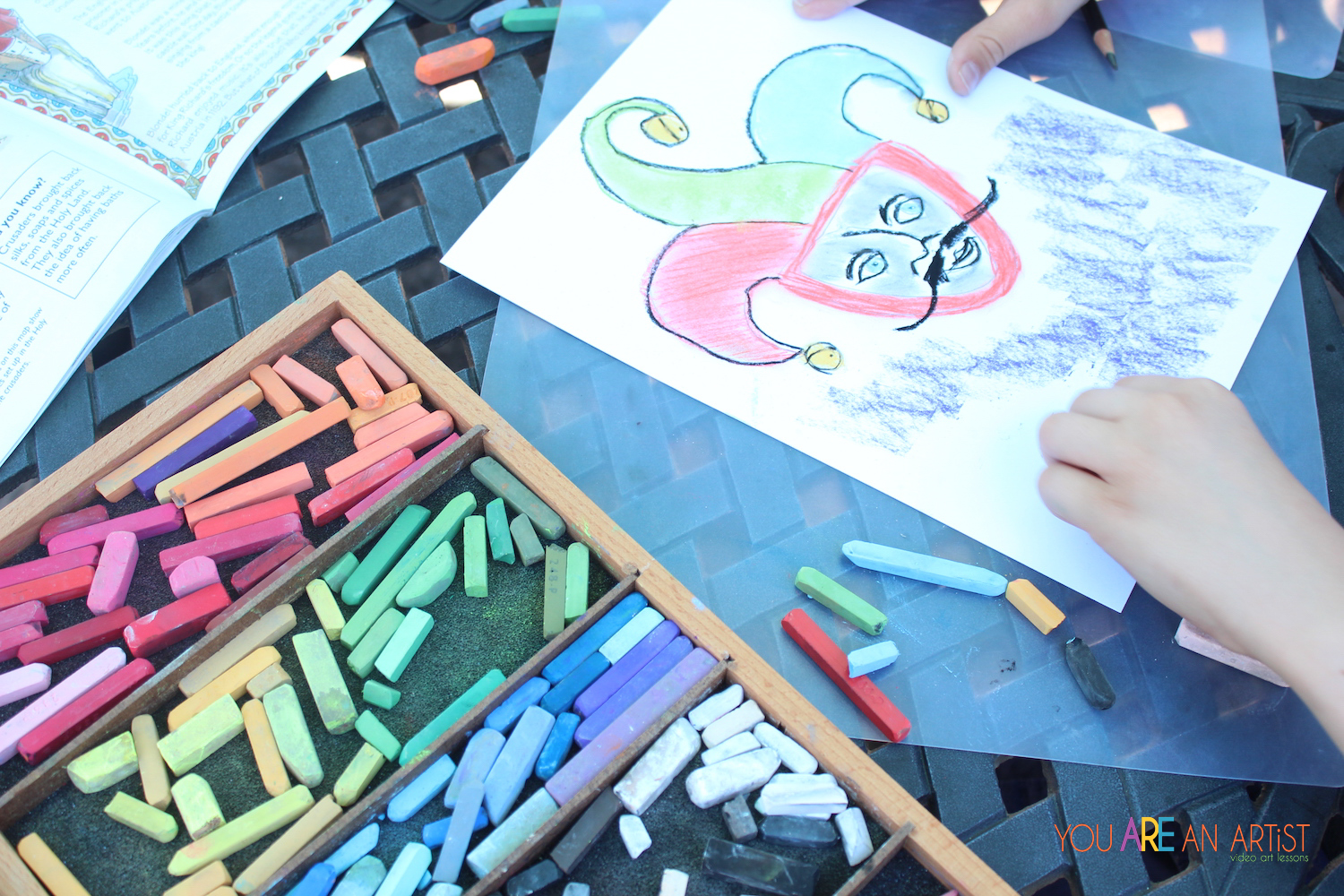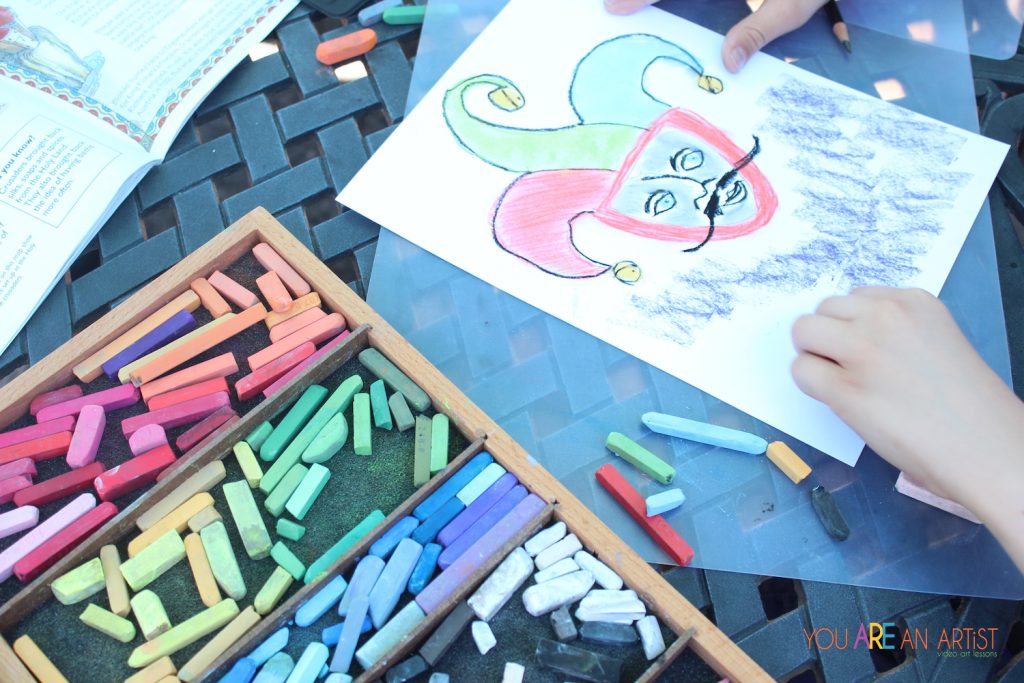 For leisure, you might walk through a medieval garden, and you could pick a bouquet to send a message to a friend or someone you liked—flowers in Medieval times held meanings of great significance, so be sure you pick the right blossoms!
A King or a Lord would often showcase their wealth by hosting extensive feasts at Banquet tables loaded with exquisite foods. Kids can learn and discuss how social status was indicated by where you were seated!
Festival Tent
If you lived in the country, you might attend a festival for your town or in the King's honor. Festival tents would pop up for these events. You might even find Renaissance Fairs in your area that replicate these events to go along with your festival tent chalk pastel art lesson on this time period.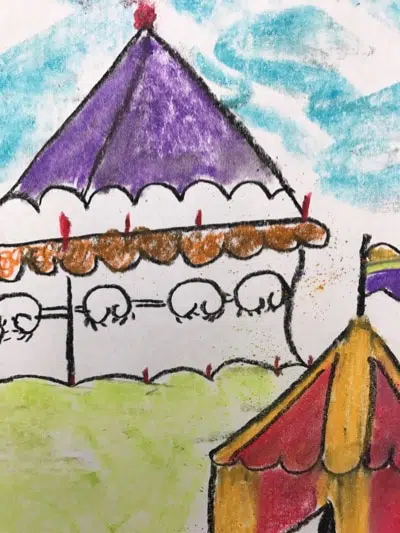 Falconer-Hawk
Sports started to become important during this time, and hunting was both practical and an exciting pastime. Falconry is a fascinating medieval sport to study and draw with Nana's Falconer-Hawk lesson.
Dragons
Of course, where there are castles and knights, there be dragons, right? Nana's colorful dragon art lesson is a fun and fantastical study.
What is so great about all Nana's chalk pastel art lessons is that although she always recommends great color combos, she encourages kids to be creative and self-select colors that appeal to them. So we ended up with a green dragon and a red one, too! I love that each of my boys got to show their personalities with this lesson!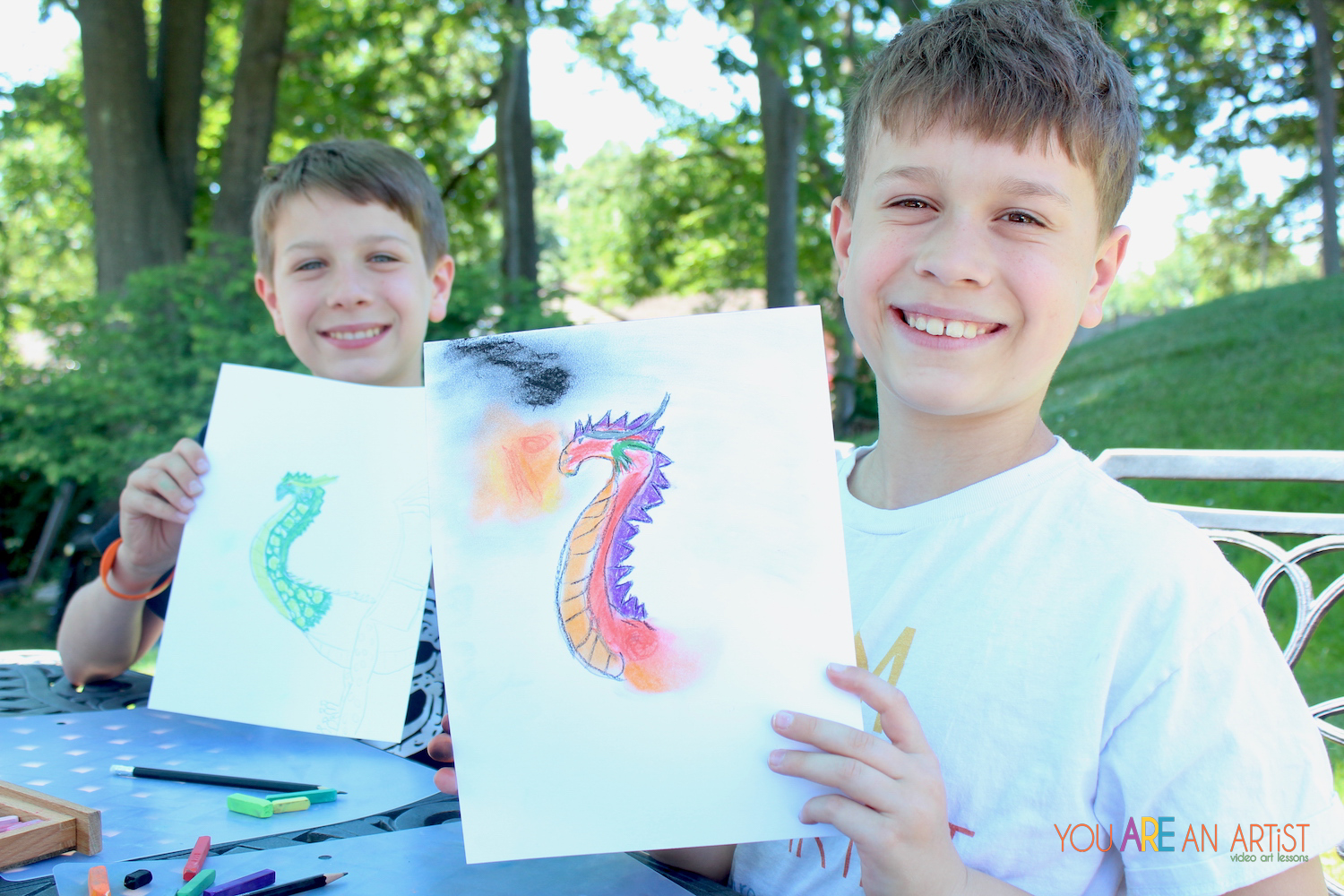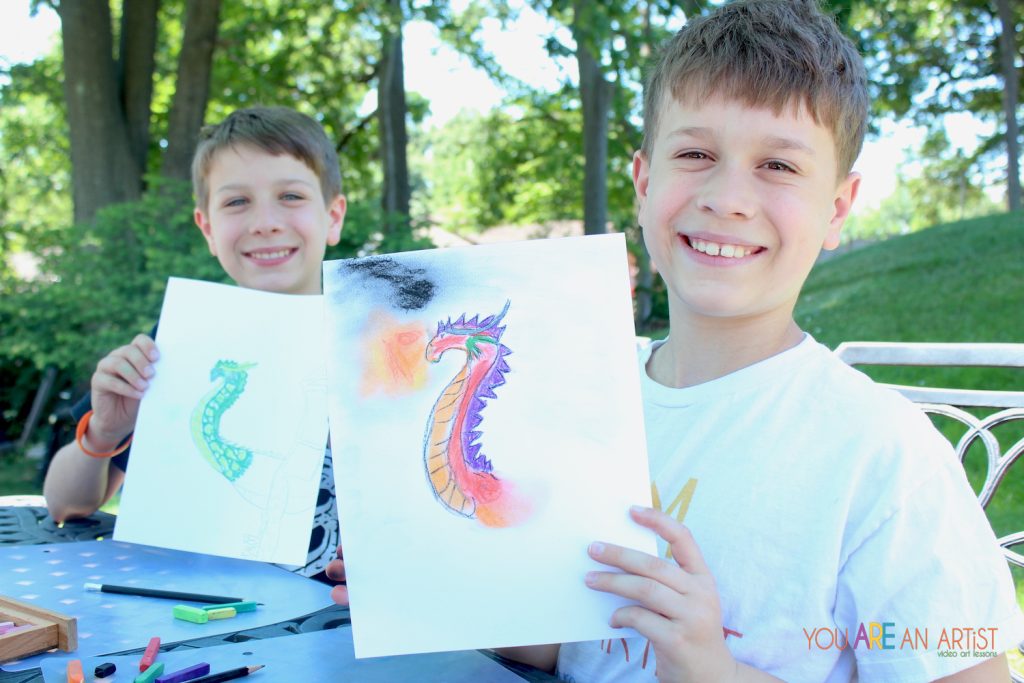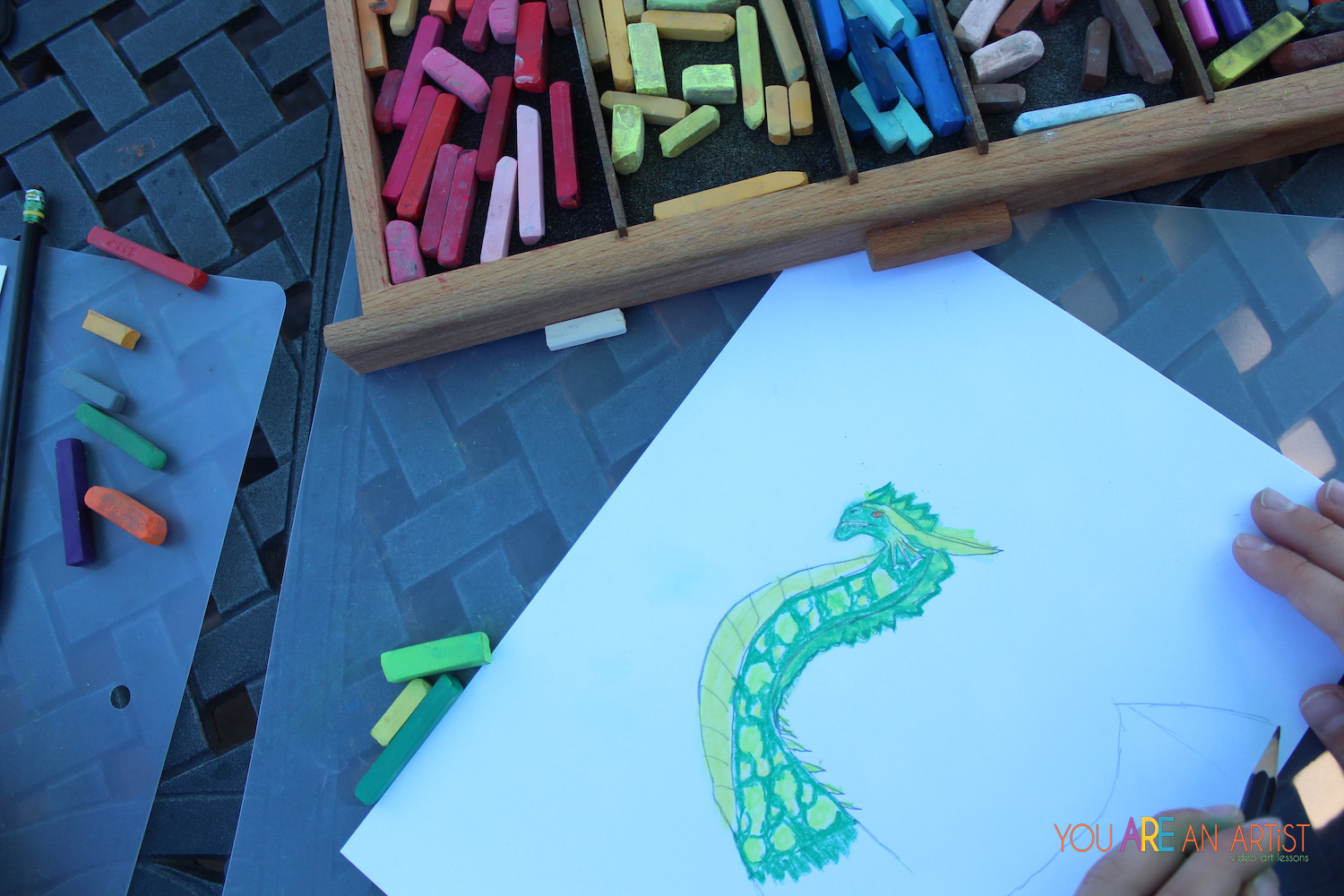 Crusade Banner
Besides fighting dragons, knights often traveled on Crusades. This simple lesson can illustrate how people identified their family through heraldry and other symbols.
The Knights Templar lesson is a great companion for the Crusade Banner as well.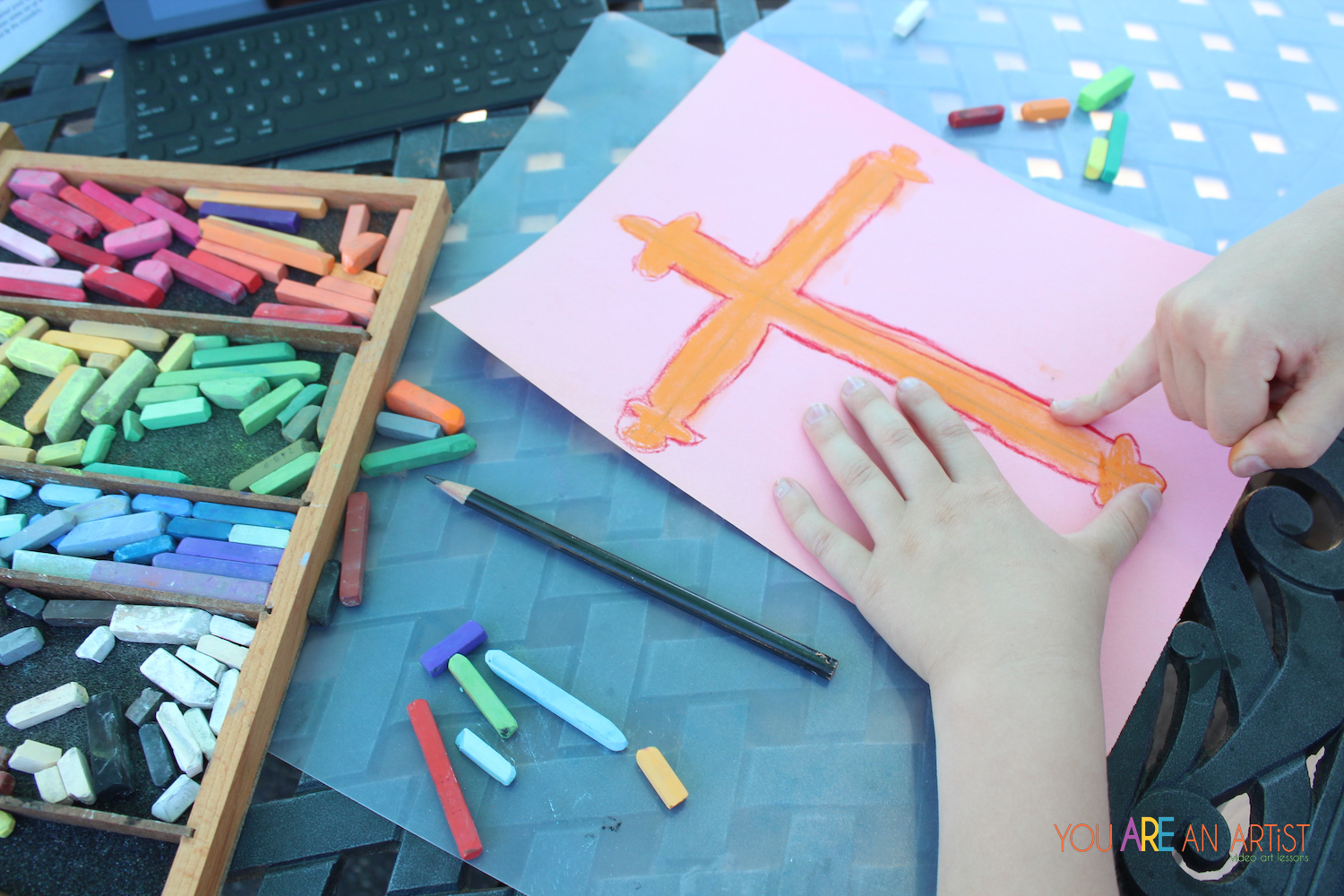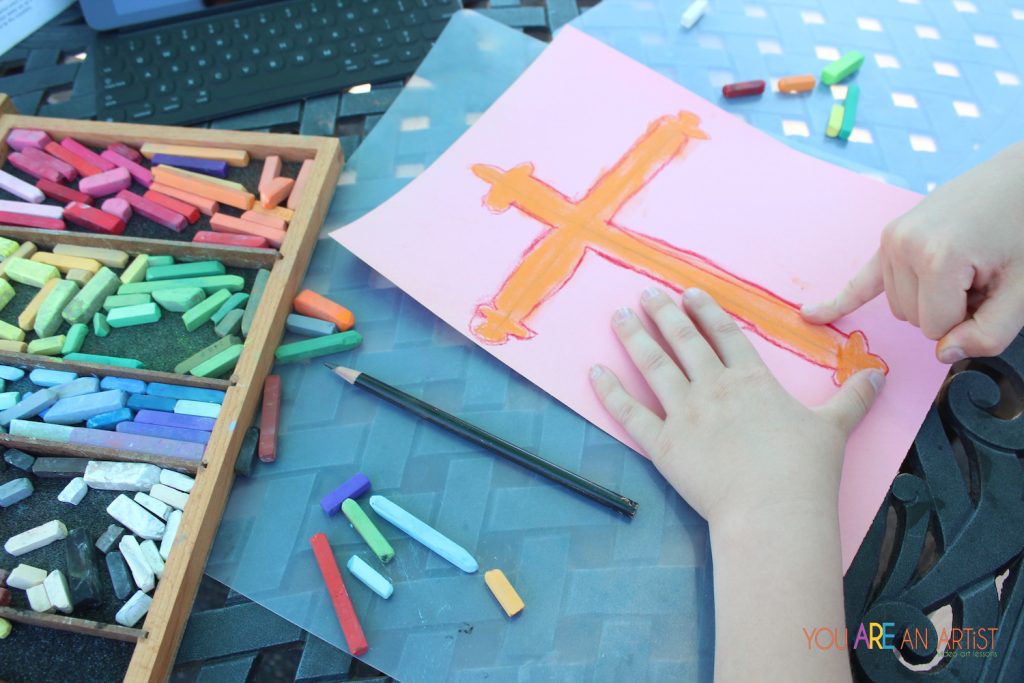 Weapons of the Middle Ages: Shield, Sword, Catapult
Pick your weapons wisely! If you are a knight in hand-to-hand combat, a sword and shield are essential. Of course the most famous sword is Excalibur, pulled from the stone. Be sure to read this story to your kids as well before or after you paint the famous sword in the stone!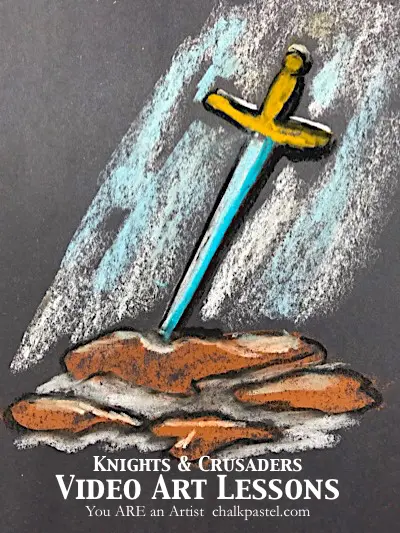 Armies often used large war machines like catapults to besiege castles and towns. After drawing a catapult with Nana, you can create your own catapult with popsicle sticks and cotton balls!
Famous People and Events
In addition to famous stories and fictional characters, medieval history contains true life people and events that kids can learn and draw. Joan of Arc is a strong female figure from this time period. The War of the Roses (remember how important those flowers were!?) art lesson explores England's own time of civil war between rival royal families.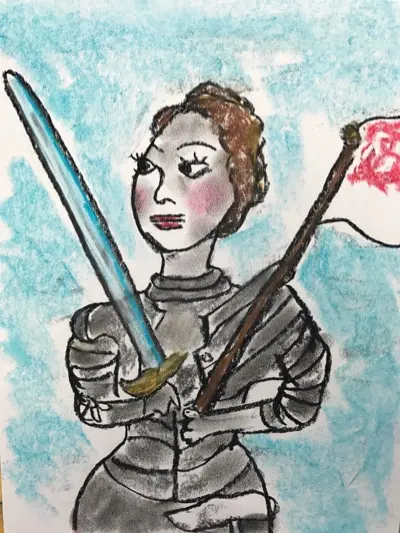 Viking Life
Sometimes we limit our medieval studies to England, because so many wars, peoples and events are well-recorded from that area. But the medieval histories of northern Europe is fascinating as well! Viking life and exploration can be an entire unit study of its own.
Draw a Viking ship and study their seafaring way of conquering and exploring new worlds.
Then draw a Viking helmet and discuss the differences between Viking warriors and knights. Comparing and contrasting civilizations creates the opportunity for deeper learning and discovery.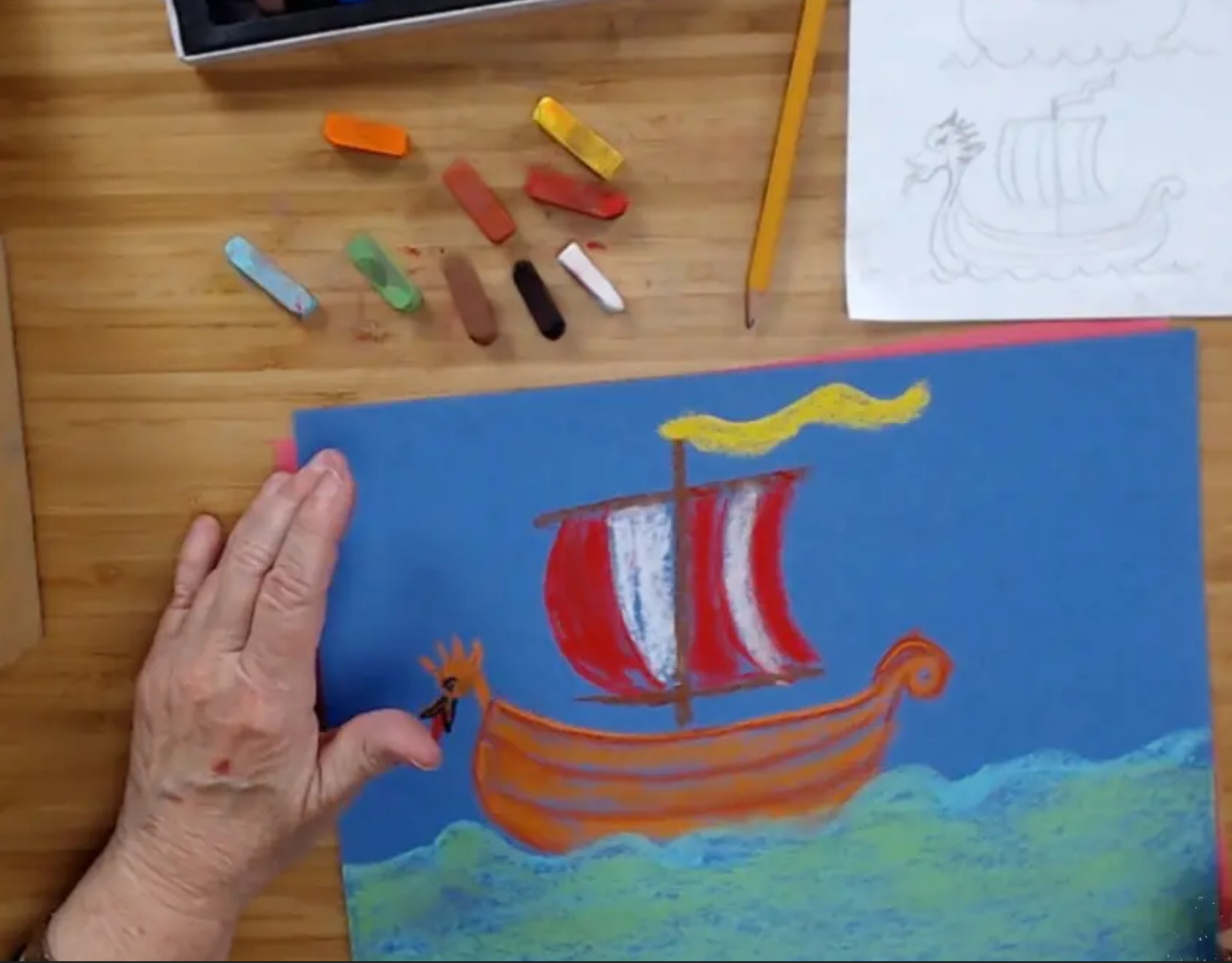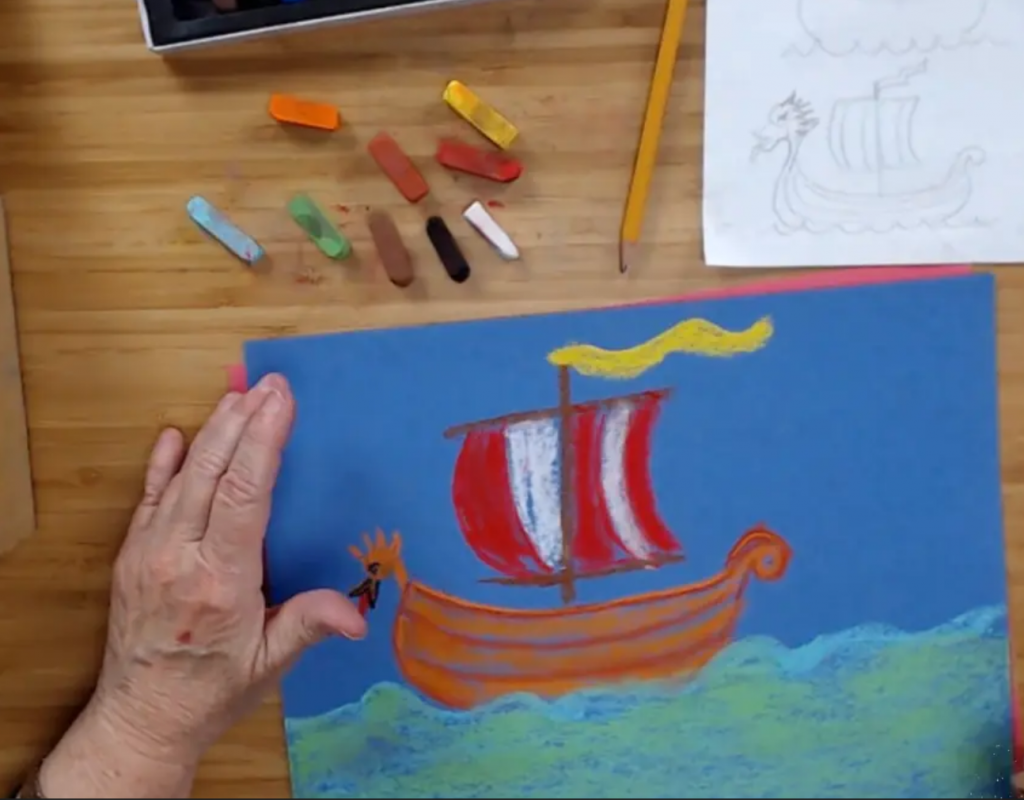 Additional Resources For Studying History In Your Homeschool
I'm sure you will find you simply have more and more questions as you study this time period. And that is exactly how true learning happens: one question leads to another, and your kids will be drawn into learning without even realizing it, because they will be so curious and fascinated by this historical time period.
For extra literature and art study, I created a Medieval to Modern Classical Morning Menu for homeschool morning time. Each month features two poems and a Picture Study work of art to study and learn more about this time period. Get a free sample here!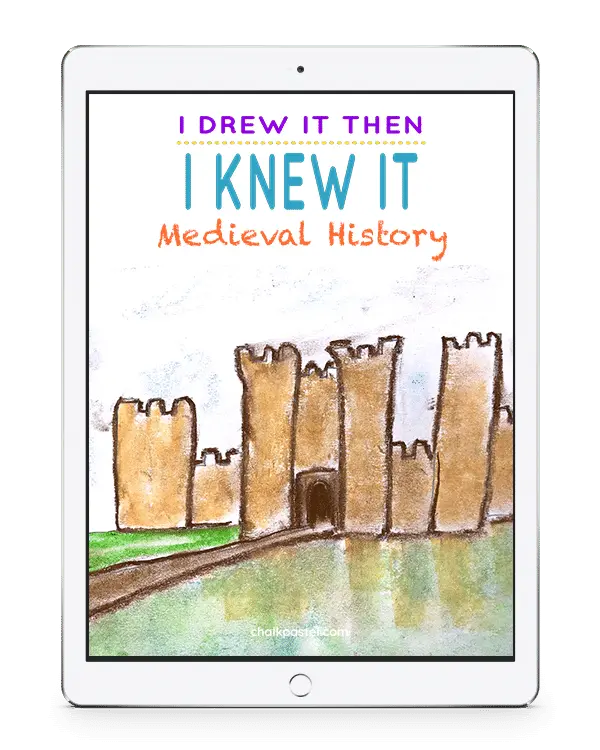 The I Drew It Then I Knew It Medieval History art lessons in You ARE an ARTiST Clubhouse membership come with a companion I Drew It Then I Knew It Guide that will help you pull together all these lessons for your kids. You will find:
Calendar planners
Biographies
Book Lists
Fact Sheets
Plus Lesson Overviews
Once you see how art can help you explore all the aspects of history, you will want to study history through art all the time!
Good news! You can, because the You ARE an Artist Clubhouse Membership offers you ALL the 700+ lessons taught by Nana. In addition to this long lineup of medieval history lessons, you can study:
Each of these has an I Drew It Then I Knew It Clubhouse collection of lessons with companion workbooks. You can access all these lessons all year with your Clubhouse Membership.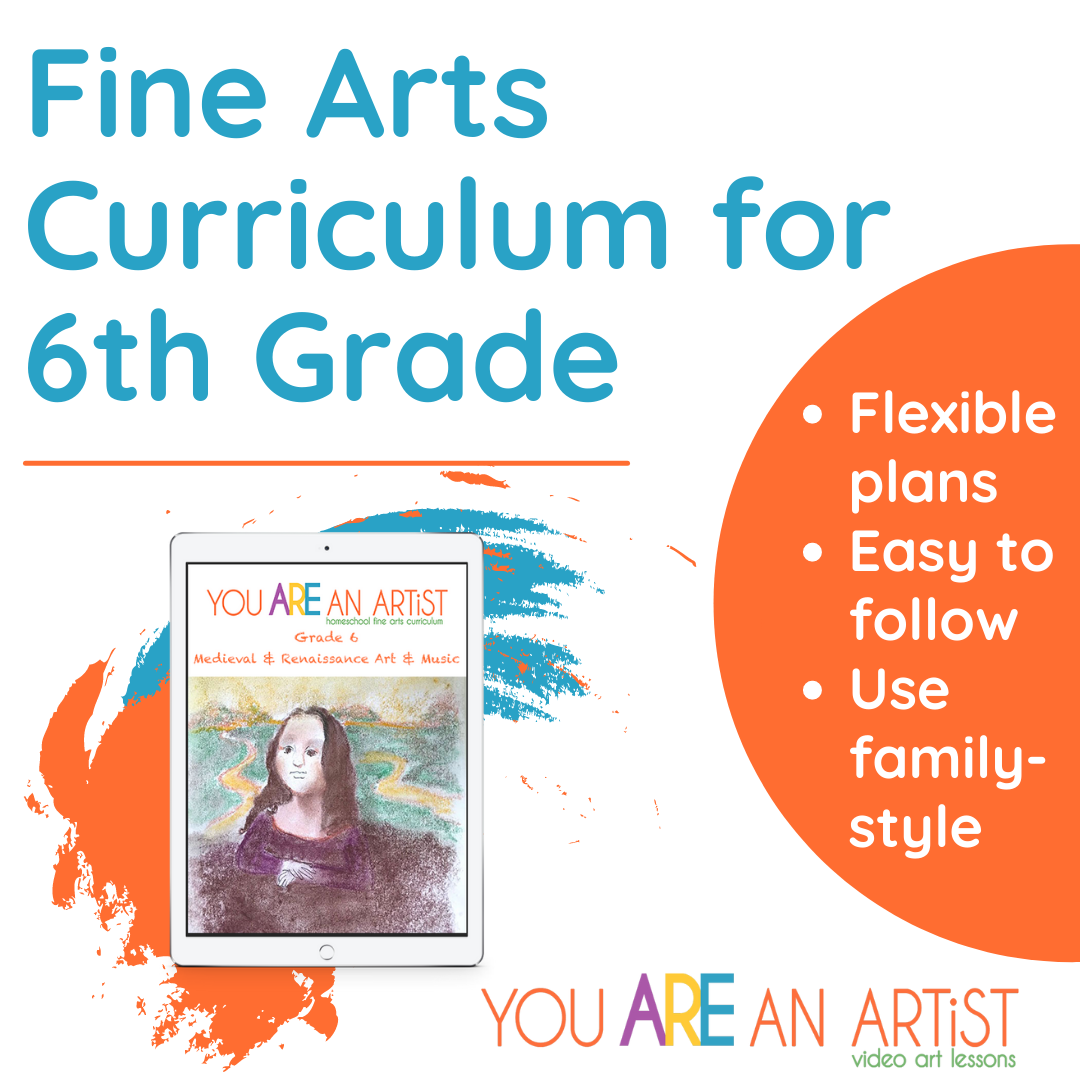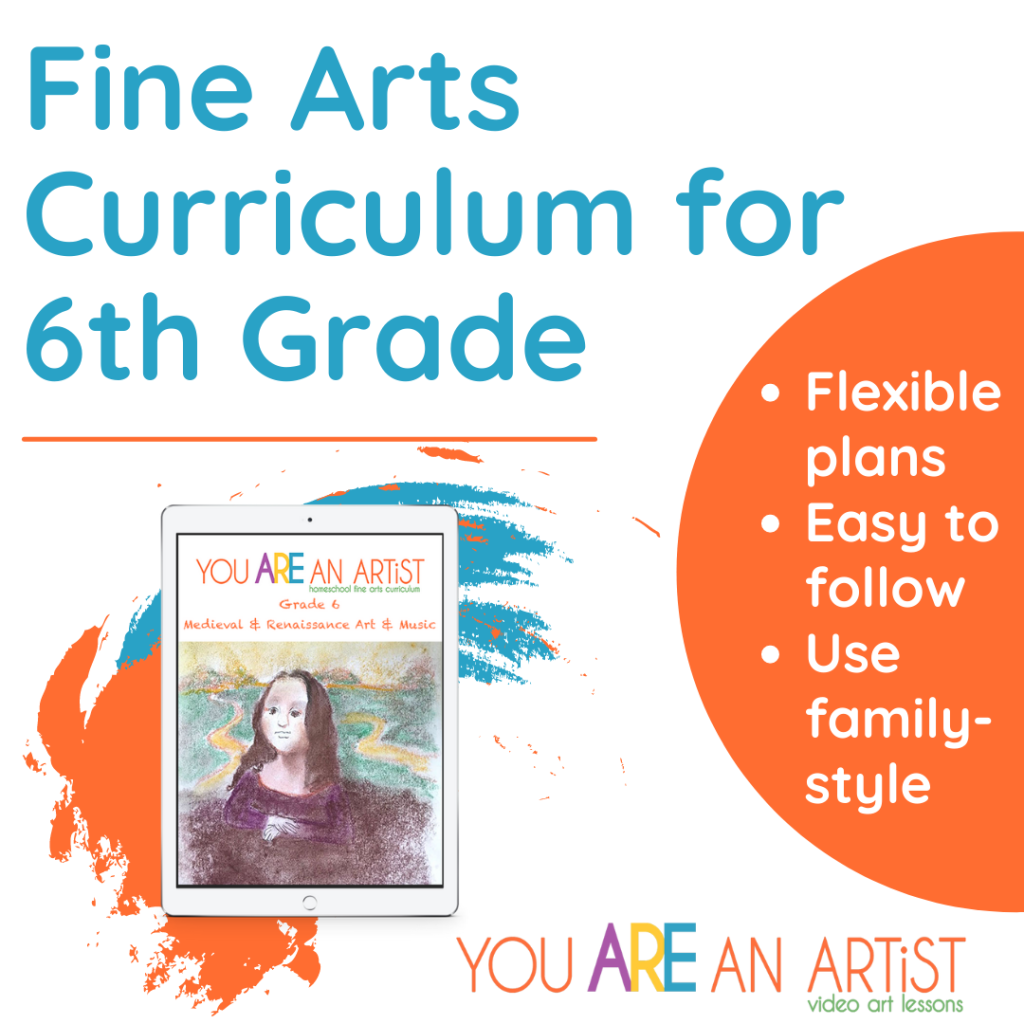 Medieval and Renaissance Homeschool Fine Arts
Leonardo, Raphael, Botticelli, Michelangelo, and more are all planned out for you to view and discuss with your whole family. Do you want to listen to a little Vivaldi, Bach, Handel, Mozart, and a few more composers during your school year? The homeschool plan is all outlined for you. You will have the freedom and flexibility to use You ARE an ARTiST Homeschool Fine Arts for your whole family and at a pace that suits your lifestyle. Homeschool Fine arts and music appreciation program for grade six has it covered.
Even better – You ARE an ARTiST Clubhouse members get 50% off all Homeschool Fine Arts titles!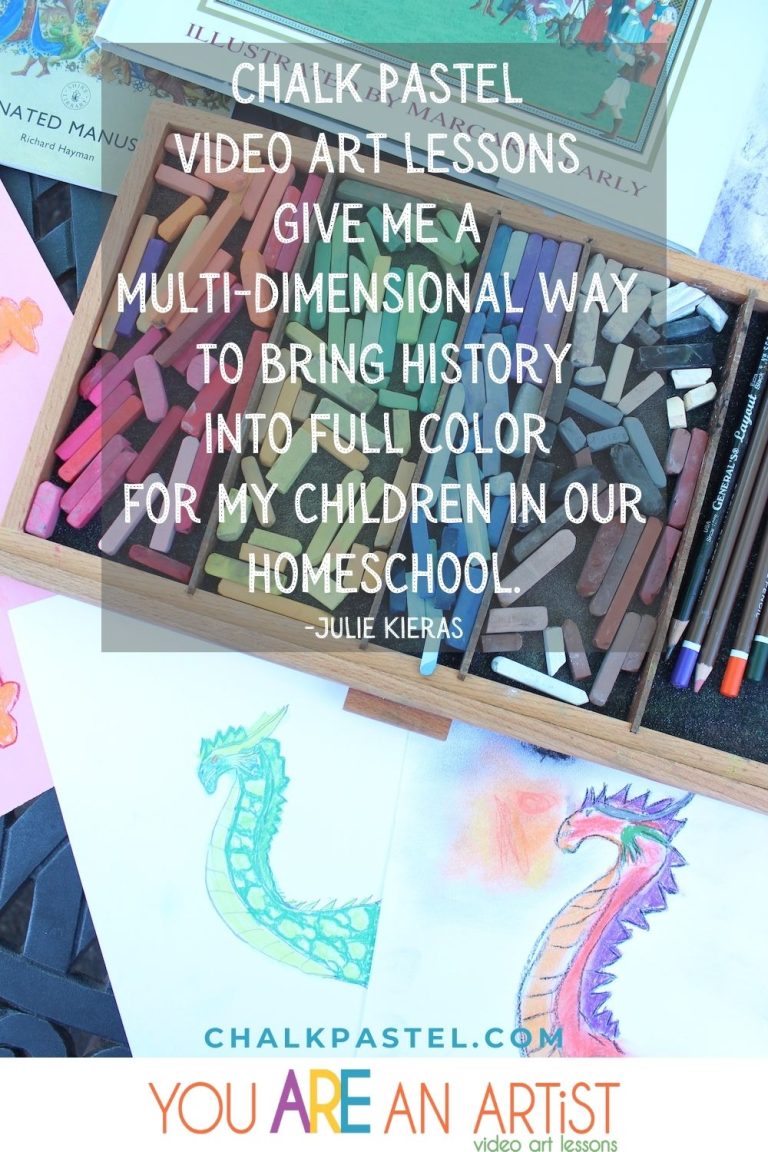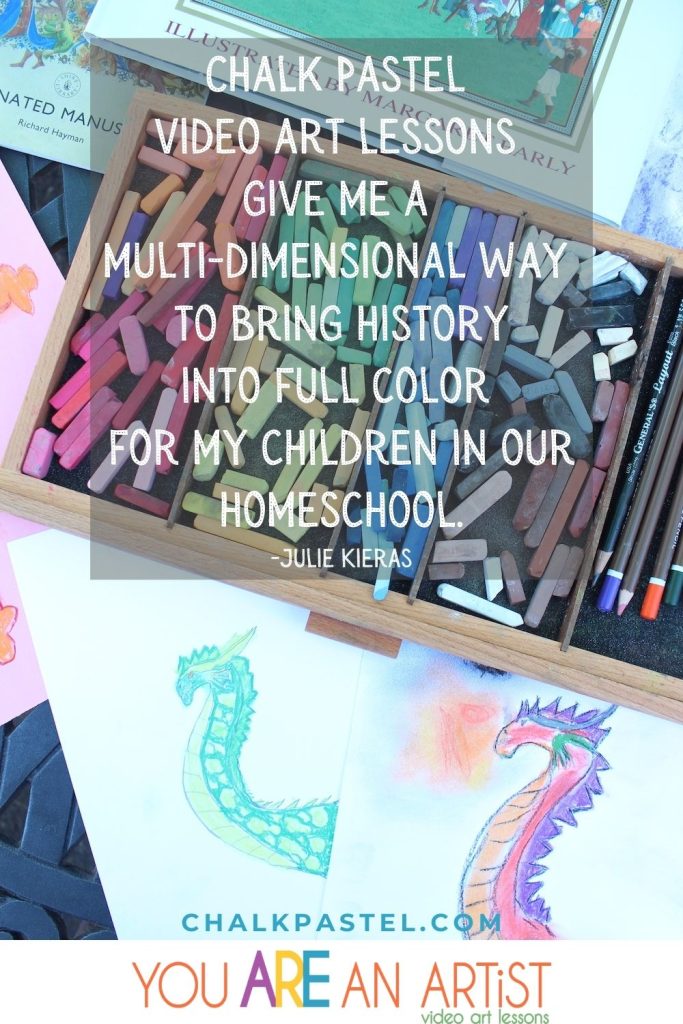 I have enjoyed knowing that I can pull up an art lesson at any time for any subject or topic in history without having to worry about availability or extra expense, because the Membership includes everything!
My boys never get tired of learning through art, because it gives their hands something to do while we learn. Not only are they gaining art skills and proficiency, but they are also adding facts and understanding as they paint away with their chalks.
I love how Chalk Pastel video art lessons give me a multi-dimensional way to bring history into full color for my children in our homeschool.
Bonus! When the lesson is done, we have beautiful artwork to share and hang around our classroom. These visual reminders of our lessons help us review and retell our learning long after we clean the chalk off our hands.
Medieval History Education Bundle
Julie of Happy Strong Home and Tricia of You ARE an ARTiST suggest this medieval history education bundle!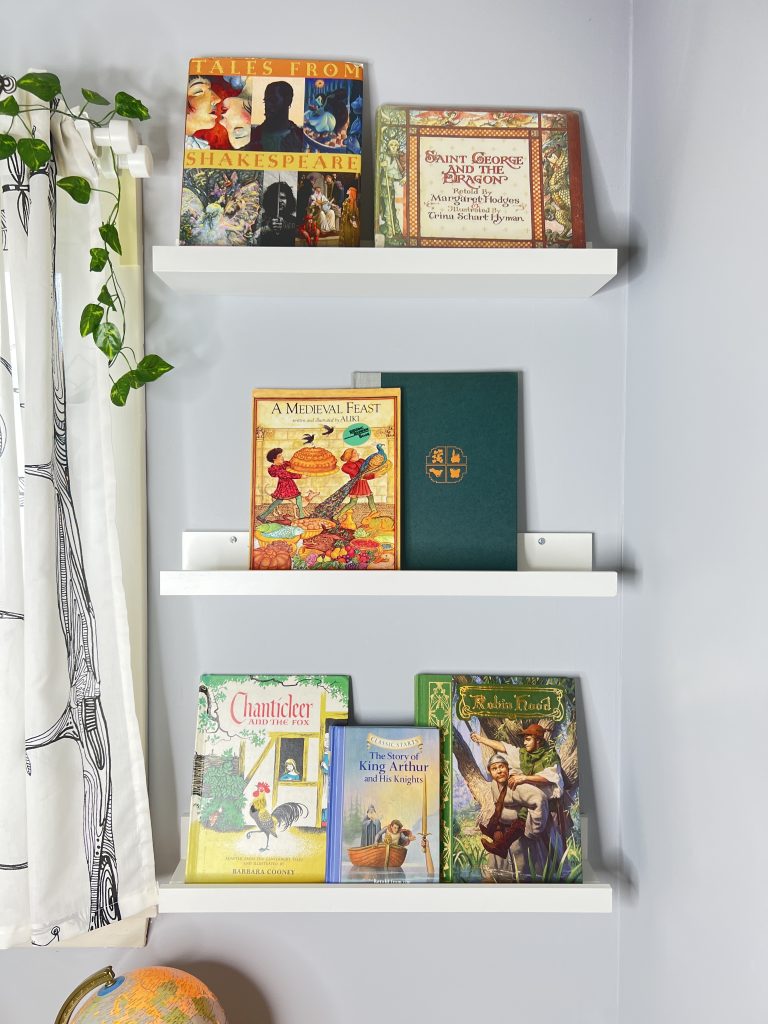 A stack of medieval books!
Saint George & the Dragon by Margaret Hodges
Classic Starts: The Story of King Arthur and His Knights
A Medieval Feast by Aliki
Tales from Shakespeare by Tina Packer
Chanticleer and the Fox by Geoffrey Chaucer
Robin Hood by Howard Pyle
Plus:
Prismacolor NuPastels color sticks, 12 count
Knights and Dragons TOOB Miniature Toy Figurines
And, when you enter you will receive:
A sample Classical Morning Menu from Julie Kieras of Happy Strong Home
Get Started in Chalk Pastel Art video lessons with Nana!
Giveaway closed.
a Rafflecopter giveaway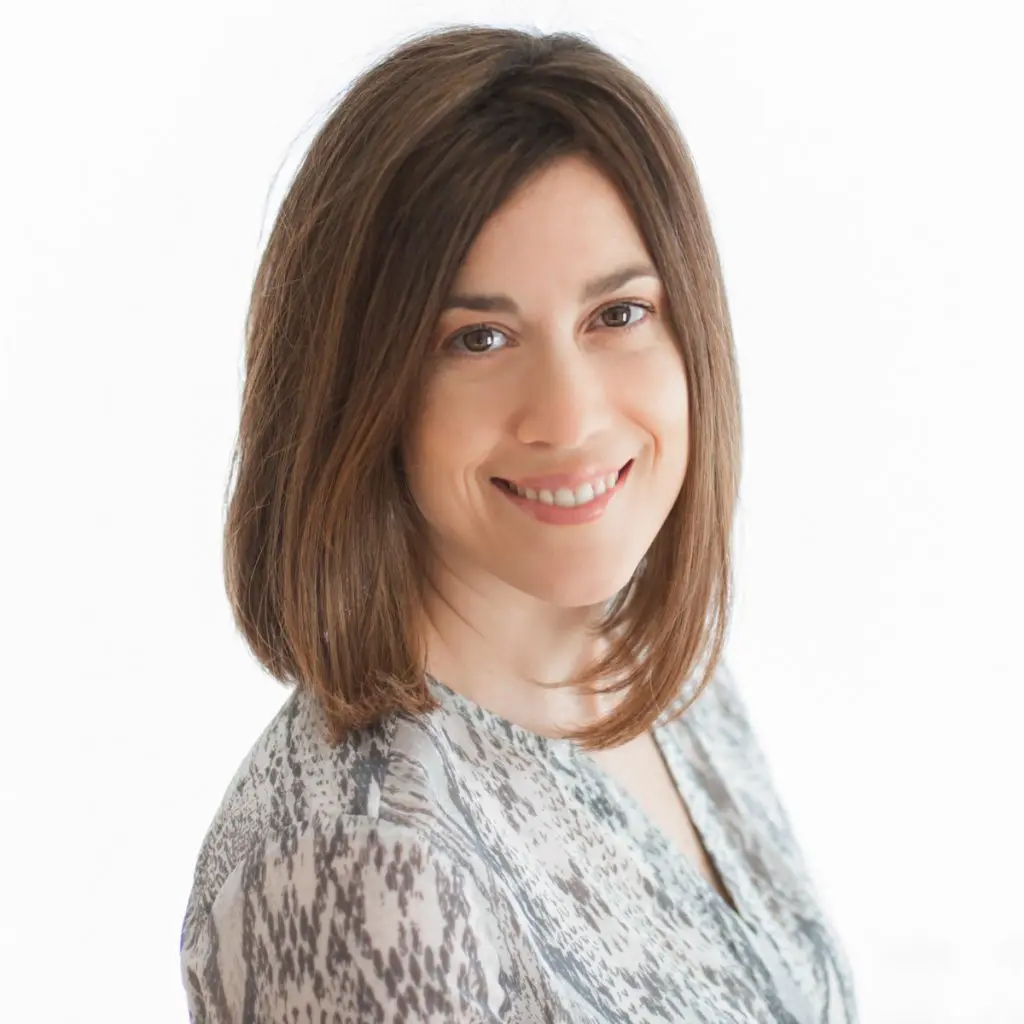 Julie is a teacher, writer and homeschool mom. Her blog Happy Strong Home shares encouragement for cherishing children, enjoying motherhood, and growing strong families. Discover homeschool resources, natural living tips, and family activity ideas. Julie has been featured on Million Praying Moms, The Old Schoolhouse Magazine, and the Melissa and Doug blog. She offers writing workshops and a "homeschool neighborhood" community to support parents in their homeschool adventures. Find Julie on Instagram to be the first to know when new workshops and community events are available.