Grade 12 High School Fine Arts Appreciation
$47.00
Homeschool Fine Arts Plans for Grade 12 includes Twentieth Century: Fauvism, Expressionism, Cubism, Surrealism, Abstract, Minimalism, Pop.
Description
The You ARE an ARTiST Homeschool High School Fine Arts art appreciation plans for the rhetorical stage of education were created to be used by high school students. It is organized in a four year history cycle. Provided in these plans are week by week suggestions for readings in The Annotated Mona Lisa and The Story of Painting. The plan also gives optional assignments for watching The Story of Painting  series.
Grade 12 High School Homeschool Art and Music Appreciation Curriculum Includes:
The plan makes use of online sources for viewing artwork for each time period studied. The links are provided to supplement your reading.
In addition to reading and viewing the artwork, the student is directed to write a one to two page summary for each time period or topic covered.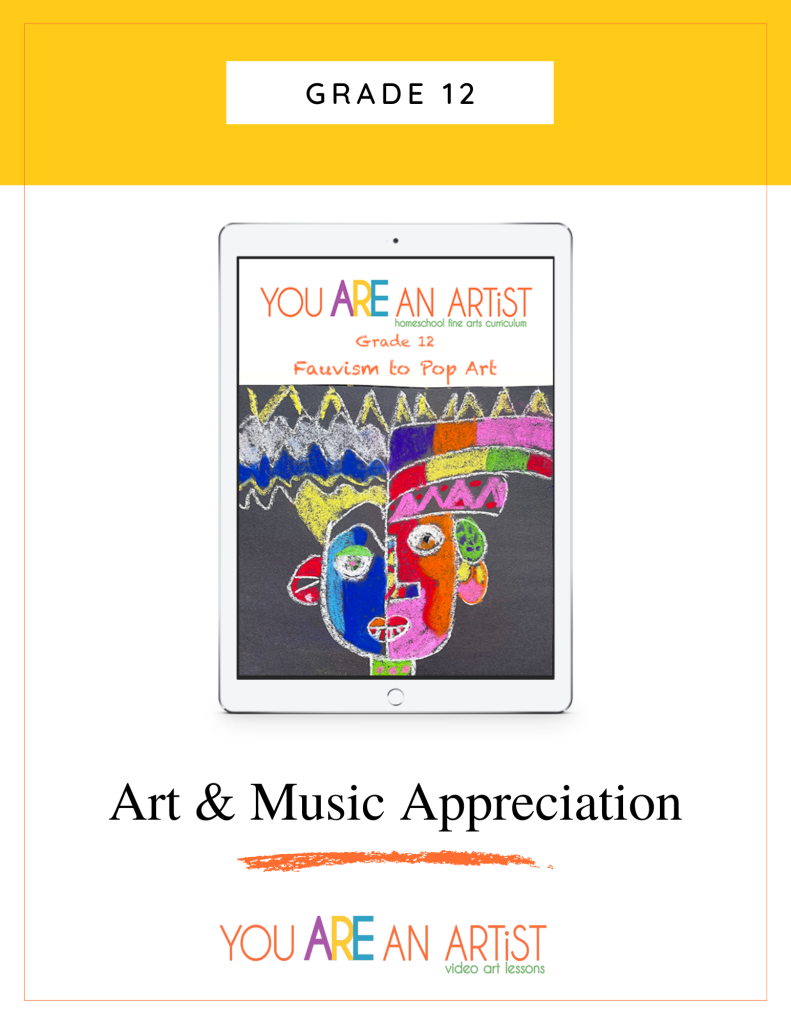 Homeschool Art Appreciation
Fauvism/Color – Matisse, de Vlaminck, Derain
Expressionism – Kirchner, Kandinsky, Klee
Cubism – Picasso, Braque, Gris
Dada/Surrealism – Miro, Schwitters, Dali, Magritte
Abstract Expressionism – Pollock, de Kooning, Rothko, Guston
American Art – John Sloan, George Bellows, Thomas Hart Benton, Edward Hopper, Grant Wood, Georgia O'Keeffe, Helen Frankenthaler
Minimalism – Donald Judd, Carl Andre, Dan Flavin, Robert Morris, Ad Reinhardt, Agnes Martin, Frank Stella
Pop Art – Rauschenberg, Johns, Warhol, Lichtenstein, Hockney
Spine Texts for all four high school years of the Harmony Fine Arts art appreciation plan are The Annotated Mona Lisa: A Crash Course in Art History From Prehistoric to Post-Modern and Sister Wendy's The Story of Painting.
Note: Nudity is found in all the resources scheduled for grade twelve. Please preview the materials to determine any adjustments your family may wish to make.
Homeschool Music Appreciation and Composer Study
Nine composers and 36 weeks of study to match year four in the homeschool history cycle
Carl Orff
Bela Bartok
Igor Stravinsky
Sergei Prokofiev
George Gershwin
Francis Poulenc
Aaron Copland
Dmitri Shostakovich
Leonard Berstein
Our music appreciation plan was created to be used by high school students that wish to have a program organized in a four-year history cycle.
The plan includes reading from Classical Music Experience and listening to the accompanying CD. The plan also includes listening to selections from the Classical Music Start-Up Kit volume 2. These two products are the foundation of the plan and can be used for all four high school years.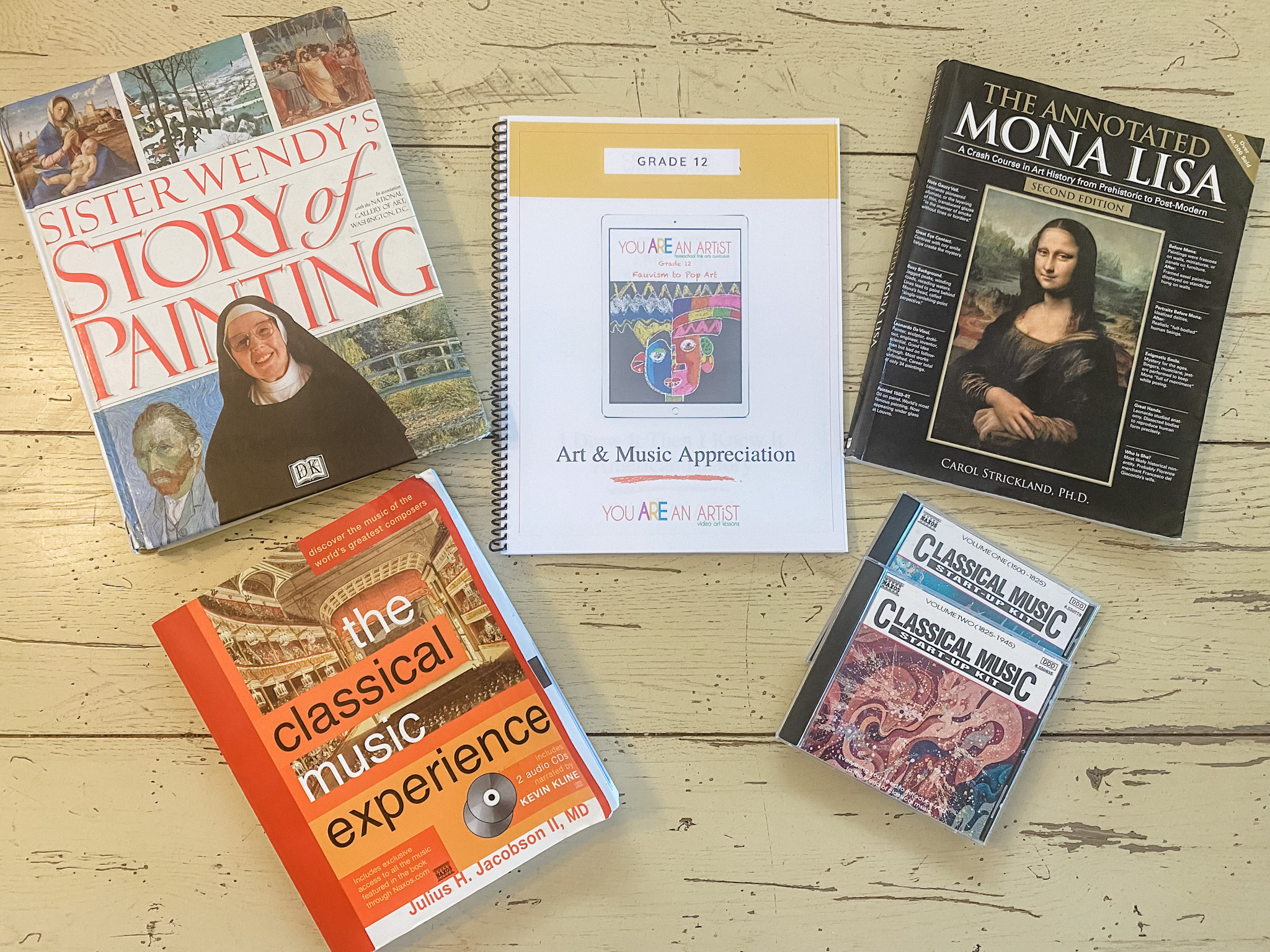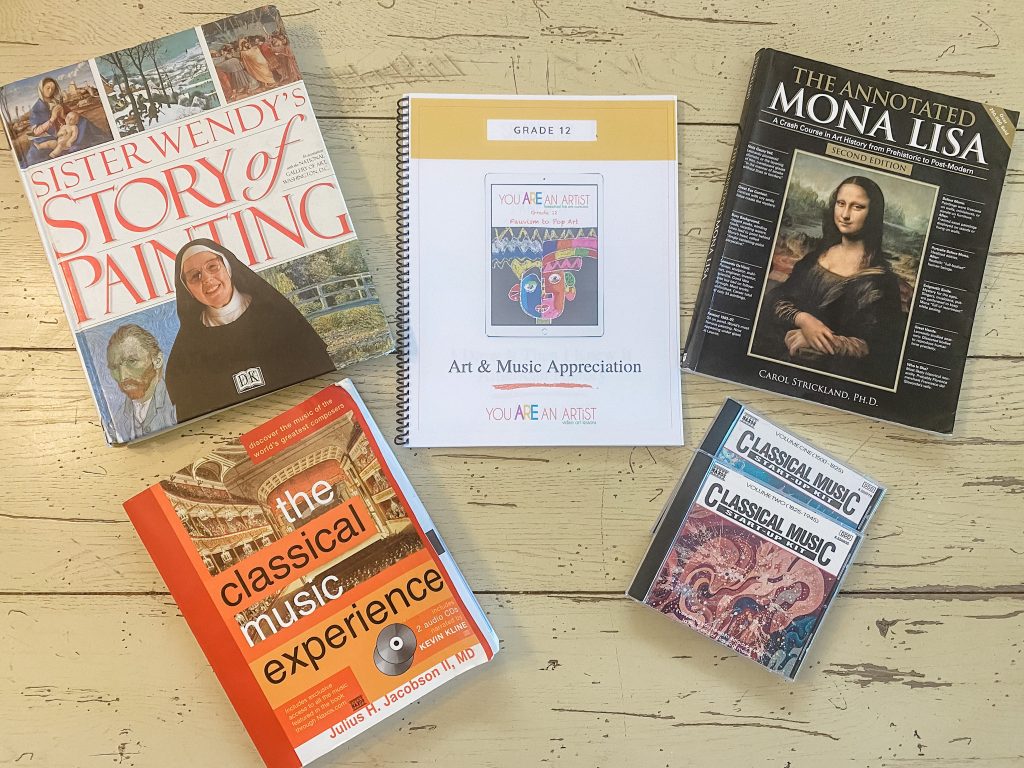 In addition to those two primary products, the plan uses online sources to compliment the book Classical Music Experience. There are multiple online resources to stream or purchase the required selections – Classicalmusicarchives.com, Naxos.com, Amazon Music, or the music streaming site of your choice. You can choose to use one of the online sources or none at all.
Your student will also write a one to two-page biography for each composer studied and then a one to two-paragraph opinion of the composer. The student may also keep a list of the musical selections he has listened to during the study period.
In addition to picture and music study, the plans offer additional art appreciation books, music, and podcasts that you can use as you have time available.
We also encourage you to incorporate hands-on art lessons with Nana. Children learn best by doing, and creating the art is always the most fun part!
By creating a habit of viewing paintings each week and listening to carefully curated music, your children can get to know a variety of artists and composers within a particular time period.
FAQs
*Please note: Homeschool Fine Arts curriculum is designed for use by one family. Please see co-op information under the Start Here tab.
The plans are listed by grade, but you can also use them family-style if you have multiple children at home.
*Some suggested materials may no longer be in print or no longer found as new items.
This homeschool fine arts curriculum includes suggestions for including Nana's video art lessons but her art lessons are not included in the pdf. Because of the nature of digital products, we do not offer refunds. All sales are final.