Grade 5 Ancient Art and The Orchestra
$47.00
Grade 5 Homeschool Fine Arts Plans include art studies of Ancient Art and an overview of the instruments of the orchestra! This title is also great for family-style learning.
Description
Topics include:
Prehistoric Art
Ancient Egyptian Art
Ancient Greek Art
Ancient Roman Art
Native American Art
Instruments of the Orchestra
Overview of Classical Composers from Vivaldi to Prokofiev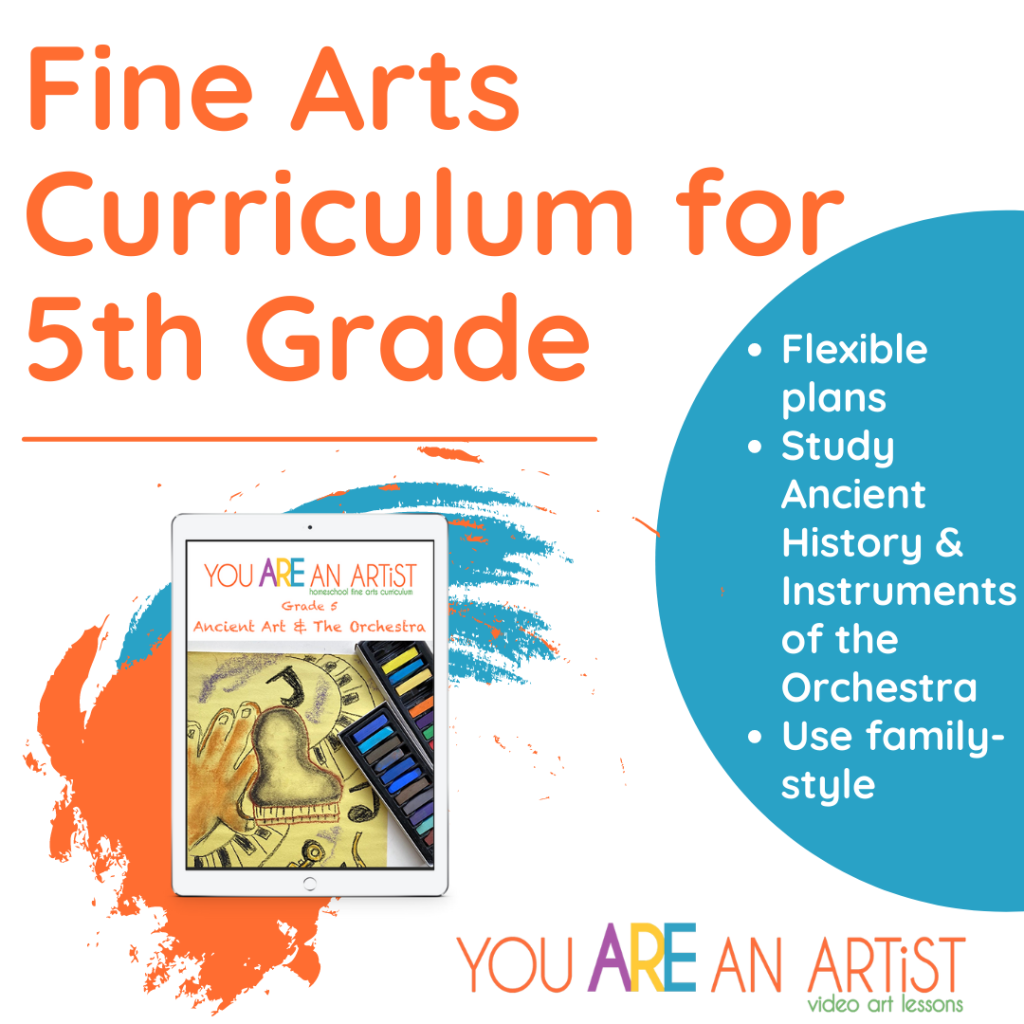 32 weeks of planned study, including 9 custom notebook pages and 19 coloring book pages.
Option one includes all links for every featured work to study.
Option two includes simple art activities to enhance option one picture study if you want a more complete art appreciation plan.
Option two suggests a step-by-step drawing book to go along with your study of Ancient Egyptian art.
Option three is a schedule for completing Artistic Pursuits Grade 4-6 Book One. Please note that the Artistic Pursuits book covers American artists and will not tie into Option One or Two.
Six images for art study included in the curriculum that you can print out to enhance your study of art.
Art Option 1: This option schedules artwork along with four art objects to view. All the artwork is linked to internet sources and you can view them online or you can print the paintings out to view and then add them to your art notebooks.
Art Option 2: This option will be art appreciation with a plan for learning to draw. Coloring pages for most of the art time periods are included in the back of these plans for you to print or copy.
Art Option 3: Option three will use Artistic Pursuits Grades 4-6, Book One for lessons in art appreciation as well as working with drawing pencils and ink pens. Please note that this book features American Artists and will not tie into your study of ancient art. NOTE: The Artistic Pursuits book scheduled in these plans is the Second Edition. If you get their current version of this book (Grades 4-5 Book 1) you will need to use the Table of Contents in the Artistic Pursuits to coordinate the lessons.
Composer Study:
The You ARE an ARTiST Homeschool Fine Arts for this level cover the instruments of the orchestra.
Each week will have a specific instrument or composer to listen to and learn about.
Music appreciation plans that include online listening, a study of the instruments of the orchestra, and an overview of classical music using the book, Story of the Orchestra.
View a Sample of Grade 5 HERE.
*Please note: Homeschool Fine Arts curriculum is designed for use by one family. Please see co-op information under the Start Here tab.
Read a review of Ancient Art and the Orchestra, here.