Are you looking to add some cozy winter art fun for your kiddos this holiday season? Chalk Pastels are an easy way to help kids get creative! Add a little hot cocoa or a sweet treat and watch as you warm those cold snow days right up with beautiful art and lasting memories!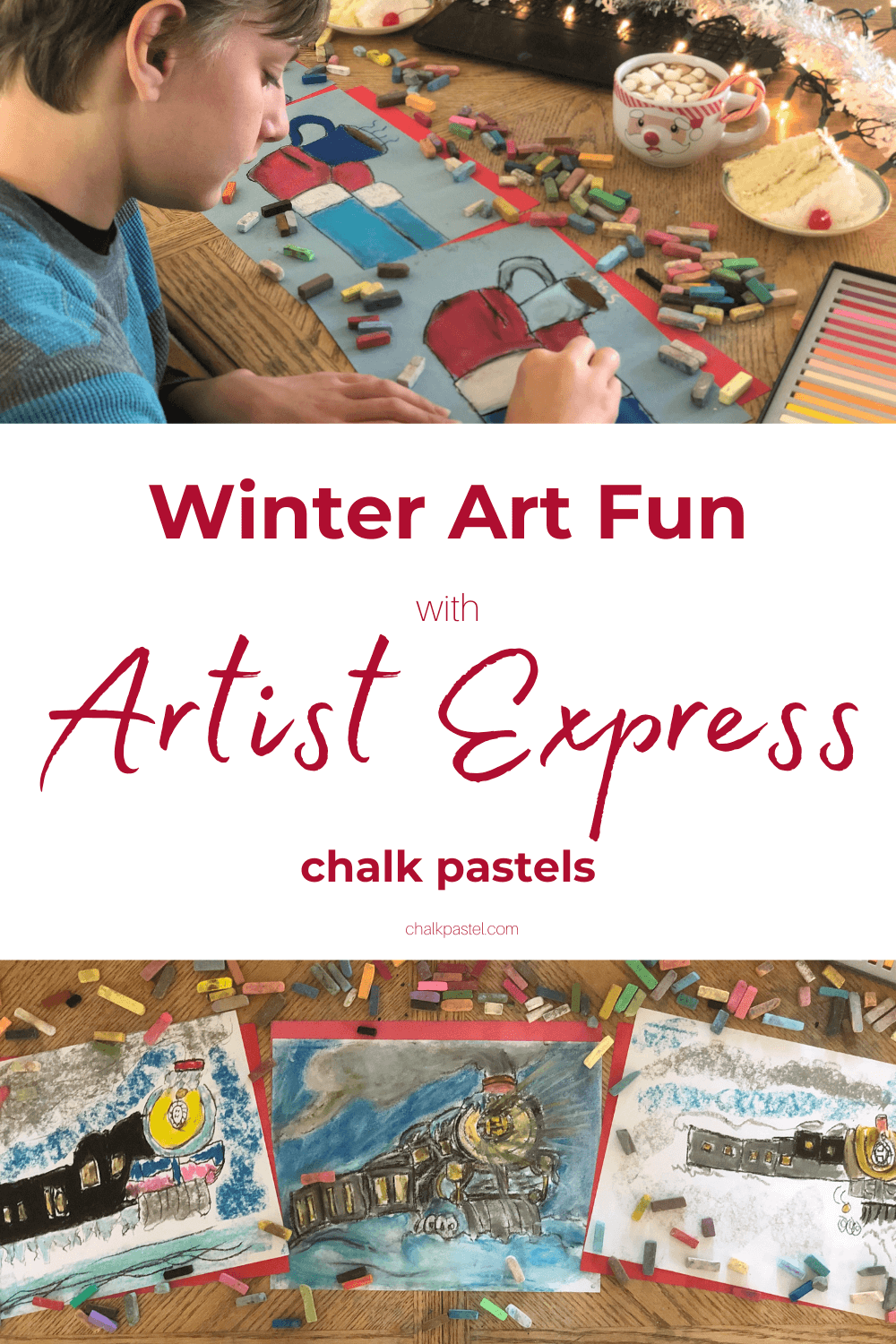 We have been adding Festive Christmas Chalk Pastel Art Lessons during the holidays for years. It's become a most treasured tradition. The kiddos always look forward to our holiday chalk pastels and togetherness. This year we were super excited to partake in the Artist Express lesson! Plus, the kid's Papa joined in as a special treat!
When Papa learned that our plan was to watch the Polar Express movie and then draw our own version of a train in the snow he asked if he could join in too! The kids were thrilled!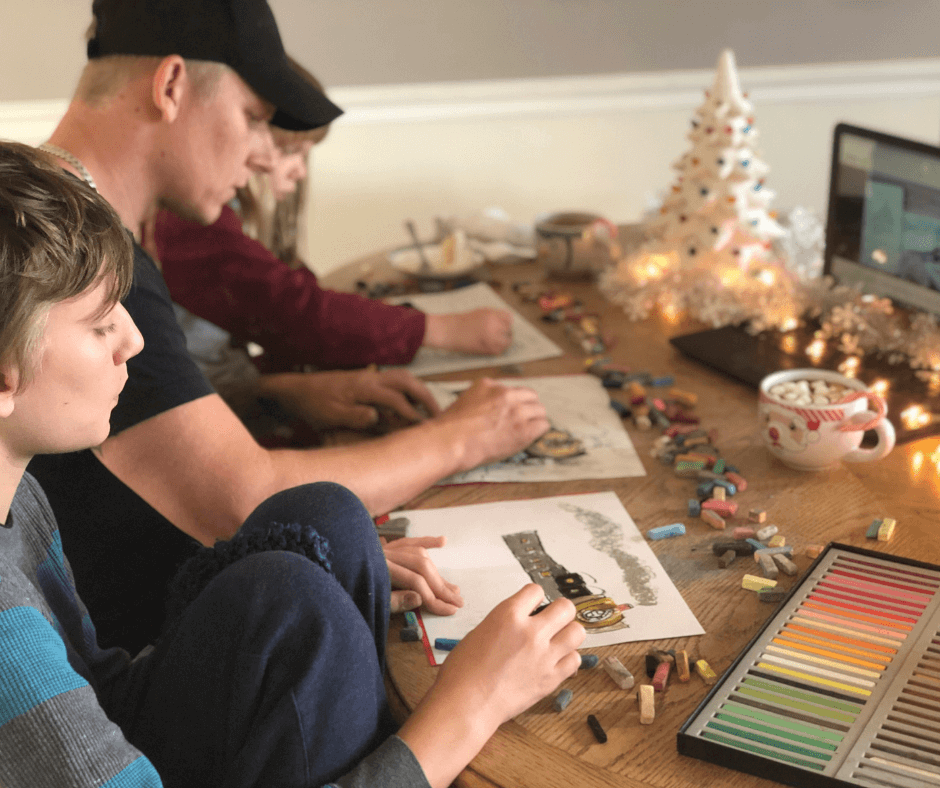 Winter Art Fun with Artist Express
If your children love the Polar Express book and/or movie, then they will adore chalk pastels Artist Express lesson!
But first, I like to set the table with Christmas lights, make some hot cocoa, and serve a special treat. We've had these chalk pastel traditions for years and the ambiance is part of the magic and fun. I want my children to have beautifully warm memories of the holidays.
It's ok if they don't like cocoa. Just pour a mug of their favorite beverage!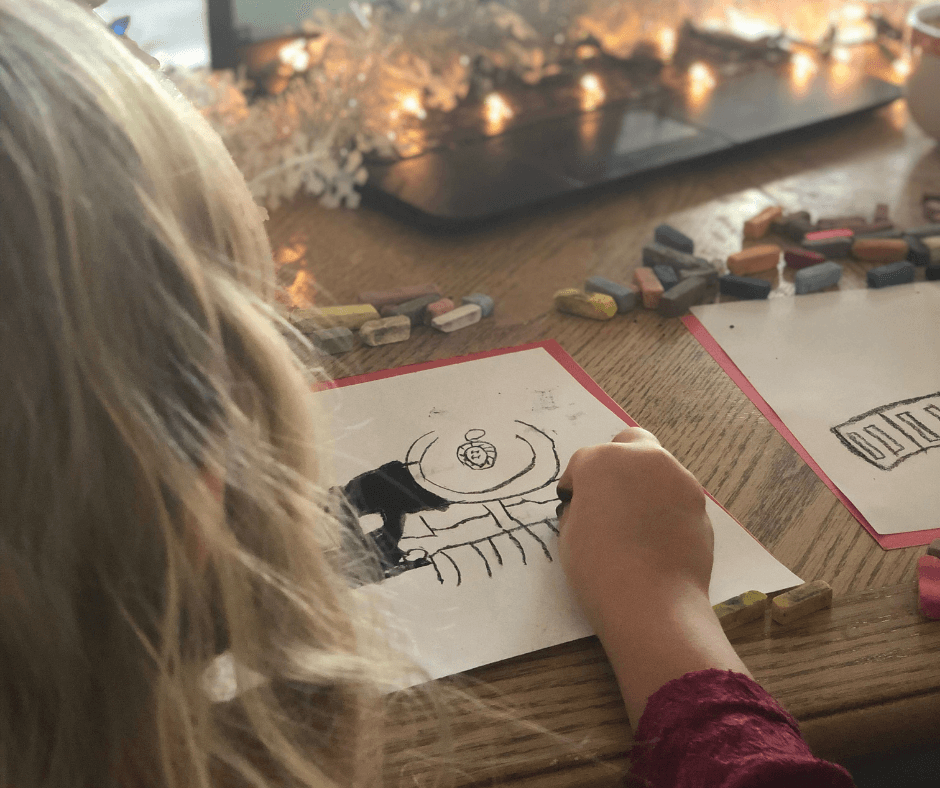 What better way to make lasting memories than by letting the children get creative and messy! That's why I adore chalk pastels. They are so easy to use that preschoolers through adults can have the best time making art with them.
With the Artist Express chalk pastel lesson Nana takes you step-by-step on an adventure drawing your very own locomotive in the icy north!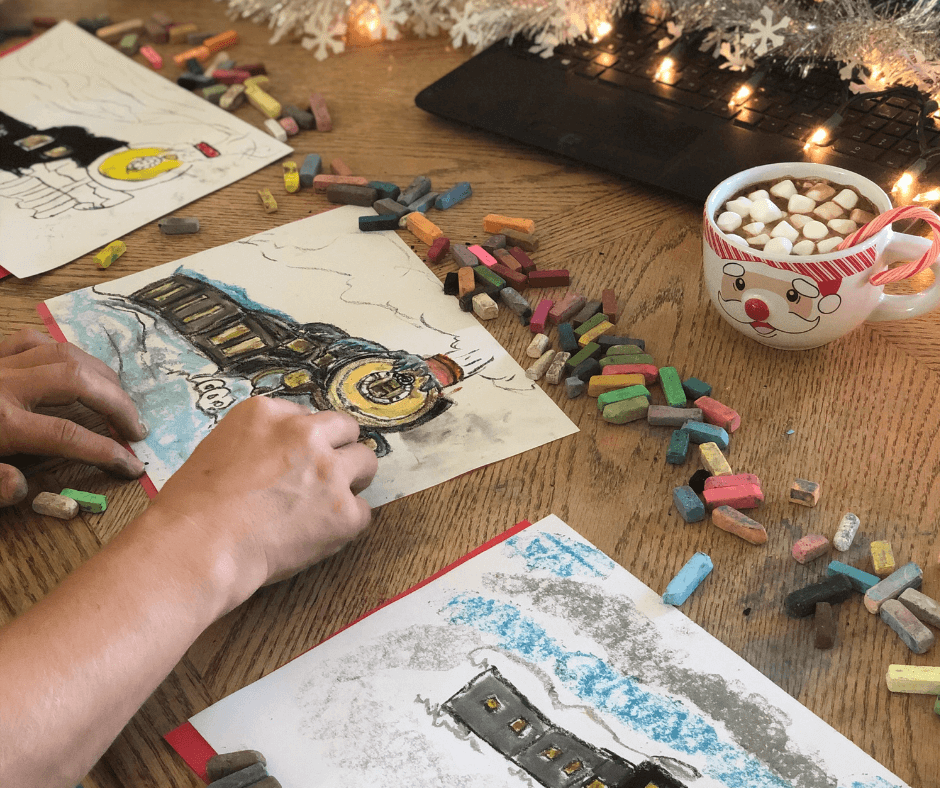 Winter Art In Our Homeschool
And oh! What icy locomotives were made! Not one looked like any other, but each was so special and unique just like each of us. One of the things I especially love about Nana is that she ALWAYS reminds your children that THEY ARE ARTISTS and that it's OK if they use different colors or add extra trees or mountains or whatever their hearts desire. It's OK to have smudges and lines. These are things that make each painting special and unique. These words are so helpful for young artists or perfectionist who may struggle when they feel their paintings don't look exactly "right." Nana is so encouraging!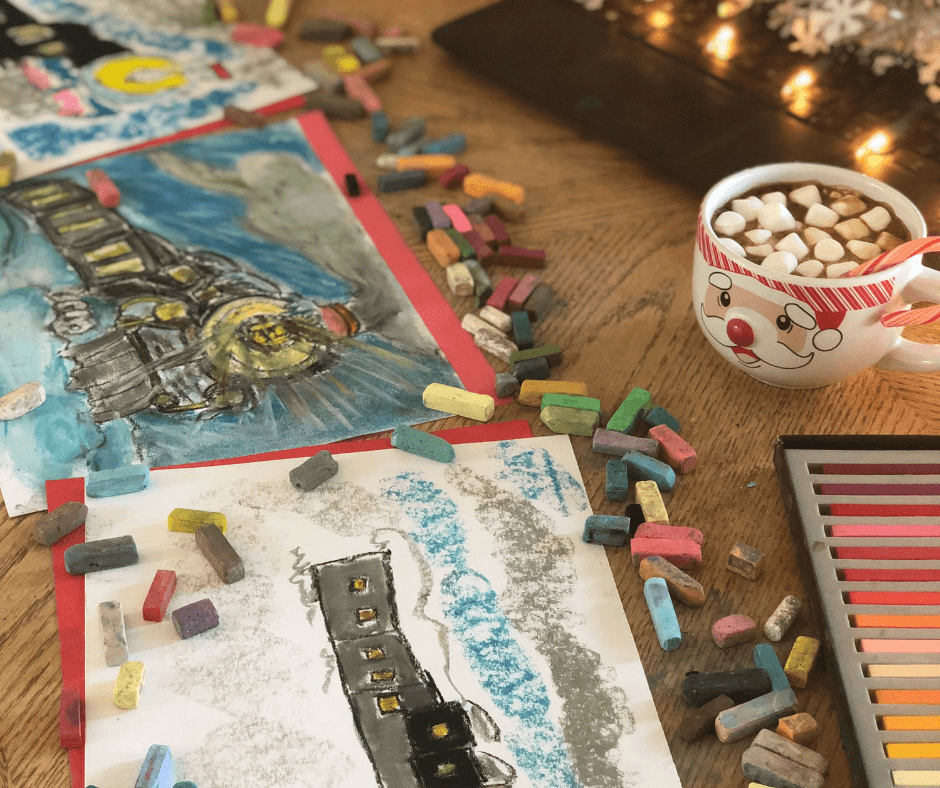 Chalk pastels and art in general have been a wonderful addition to our homeschool and our holidays.
But it was especially lovely being able to share our chalk pastel joy with Papa! It made our special winter art time even more special.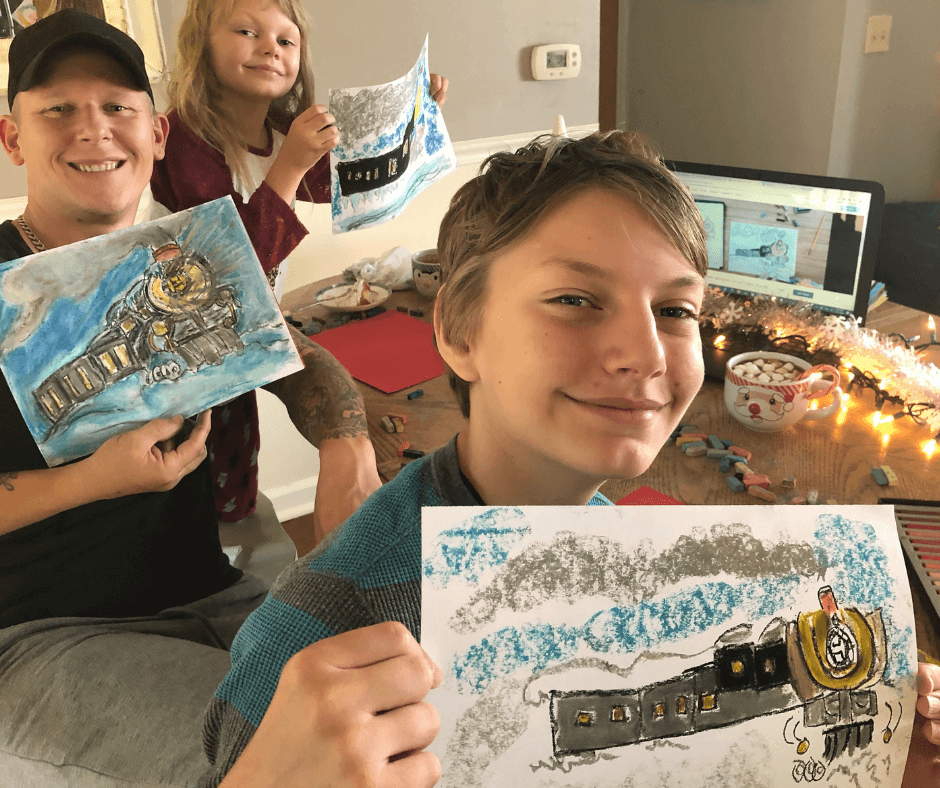 Winter and Holiday Themed Online Art Lessons
Did you know that the Chalk Pastels You ARE An Artist Clubhouse Membership has loads more Winter and Holiday themed art lessons? There are over 600+ chalk pastel lessons to choose from including these winter lessons:
Artist Express
Hot Chocolate
Mittens and a Mug
Frost
Icicles
Frozen Lake
Winter Forest Scene with Deer
Bird in Snow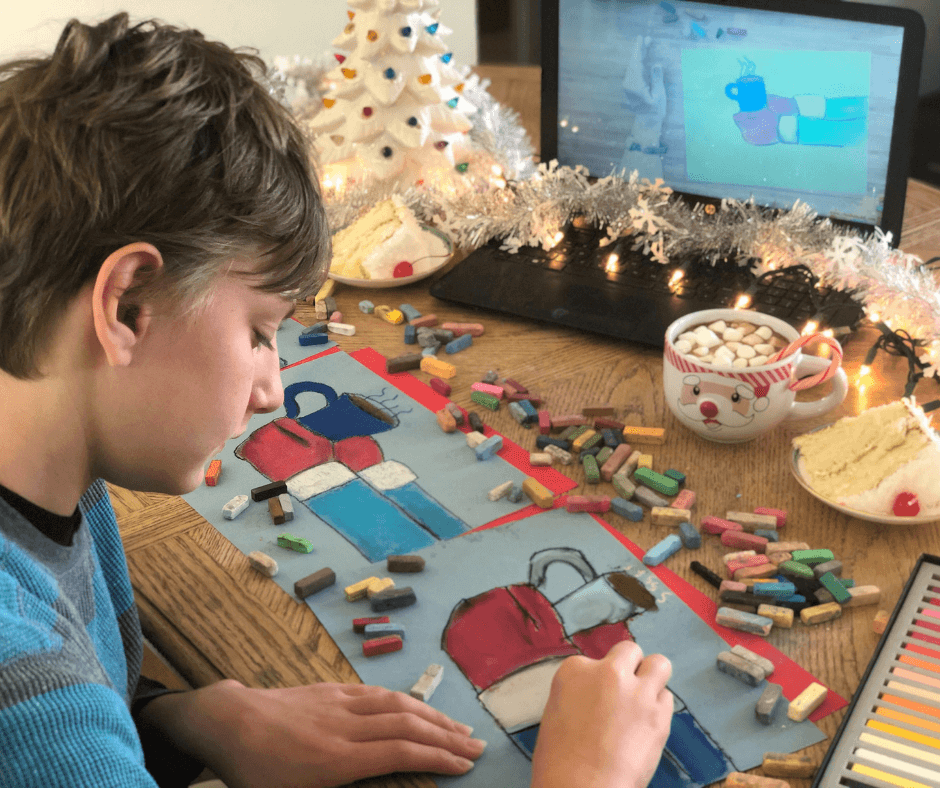 Christmas and Holiday Art Lessons For Your Homeschool
You will also have access to all the Christmas and Holiday Lessons including:
Christmas Star
Away in a Manger
Christmas Tree
Winter Fun
Gingerbread Man and Holly Leaf
Christmas Angel
What's Under Your Christmas Tree?
Christmas Ornaments
Christmas Lights
Nutcracker
Clara and the Christmas Tree
Sugar Plum Fairy
Chinese Tea Dance
Mouse King
Plus, so much more!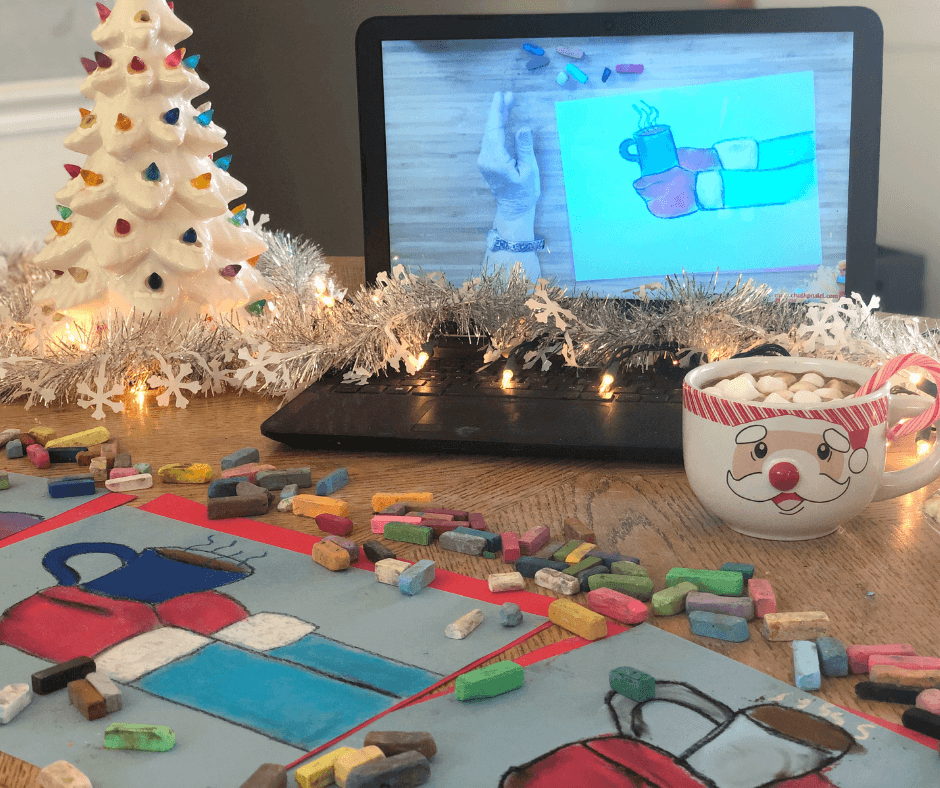 Winter Art Fun with Artist Express Chalk Pastels
Making holiday traditions warm and inviting plus easy on mom is a big checkmark in my book. Chalk pastels have proven themselves time and again as a fun and engaging art medium. The Artist Express lesson was a perfect addition to watching the Polar Express movie while enjoying a warm mug of hot cocoa. Chalk pastels will forever hold a special place in our family's winter and holiday fun.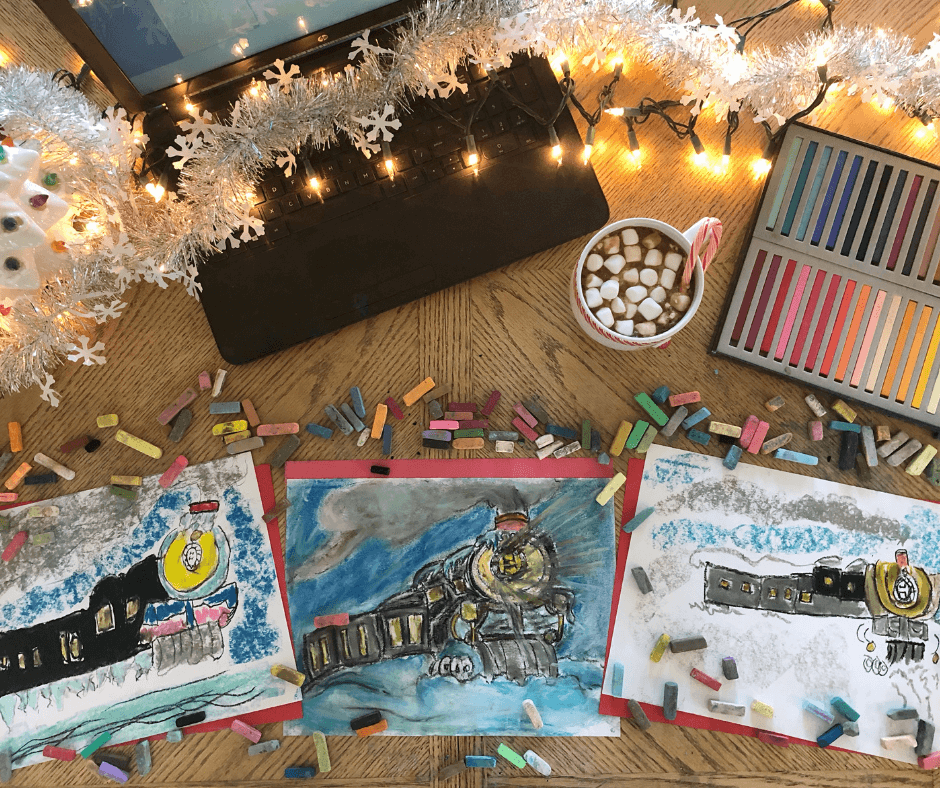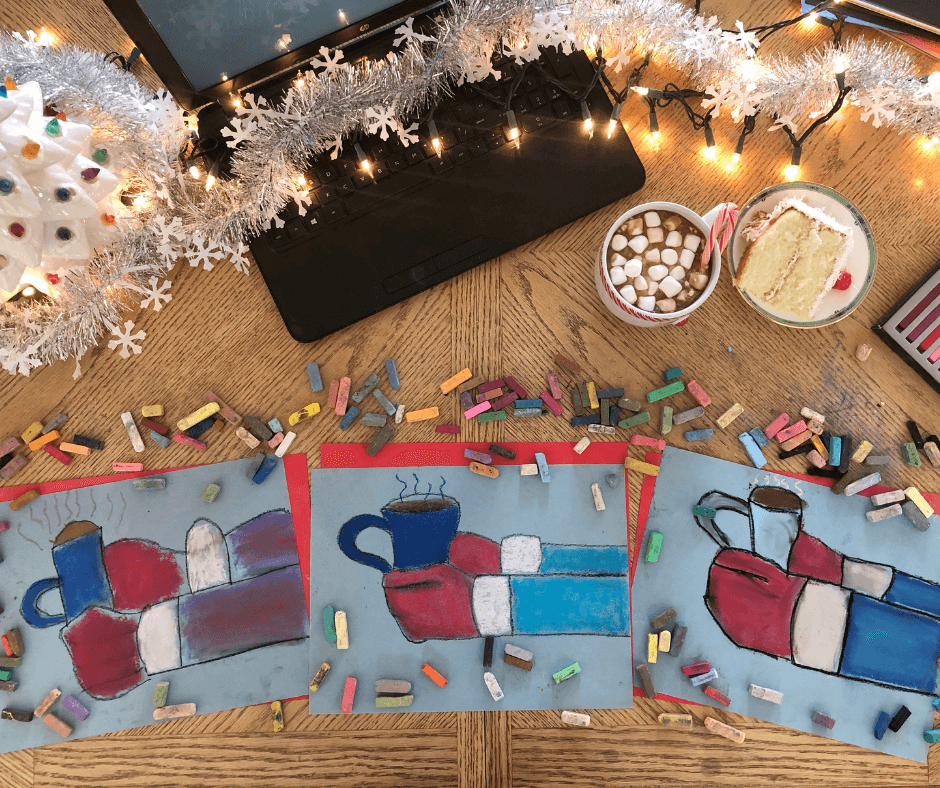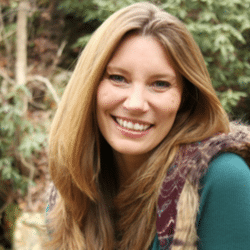 Erin is a writer, blogger, and homeschooler to two intense kids. Her blog is filled with information to help you explore a child led education while making meaningful connections with your children. Discover favorite read alouds, seasonal books, games, art projects, hands-on activities, and learn to just breathe through the ups and downs of life. She loves nature, farm life, good books, knitting, new pens, and hot coffee. Erin is a contributing writer for Weird Unsocialized Homeschoolers. Her work has also been featured on Simple Homeschool and Book Shark.