Thinking on your childhood days, what brought you joy on Mother's and Father's Day? Was it the heartfelt smile on mother's face while you fluffed the pillows to prepare her for a hearty breakfast in bed? Was it father's proud expression as you watched him close his eyes, make a wish, then blow on the puffy dandelion you handpicked, just for him? These Mother's and Father's Day art activities are perfect for making lasting memories.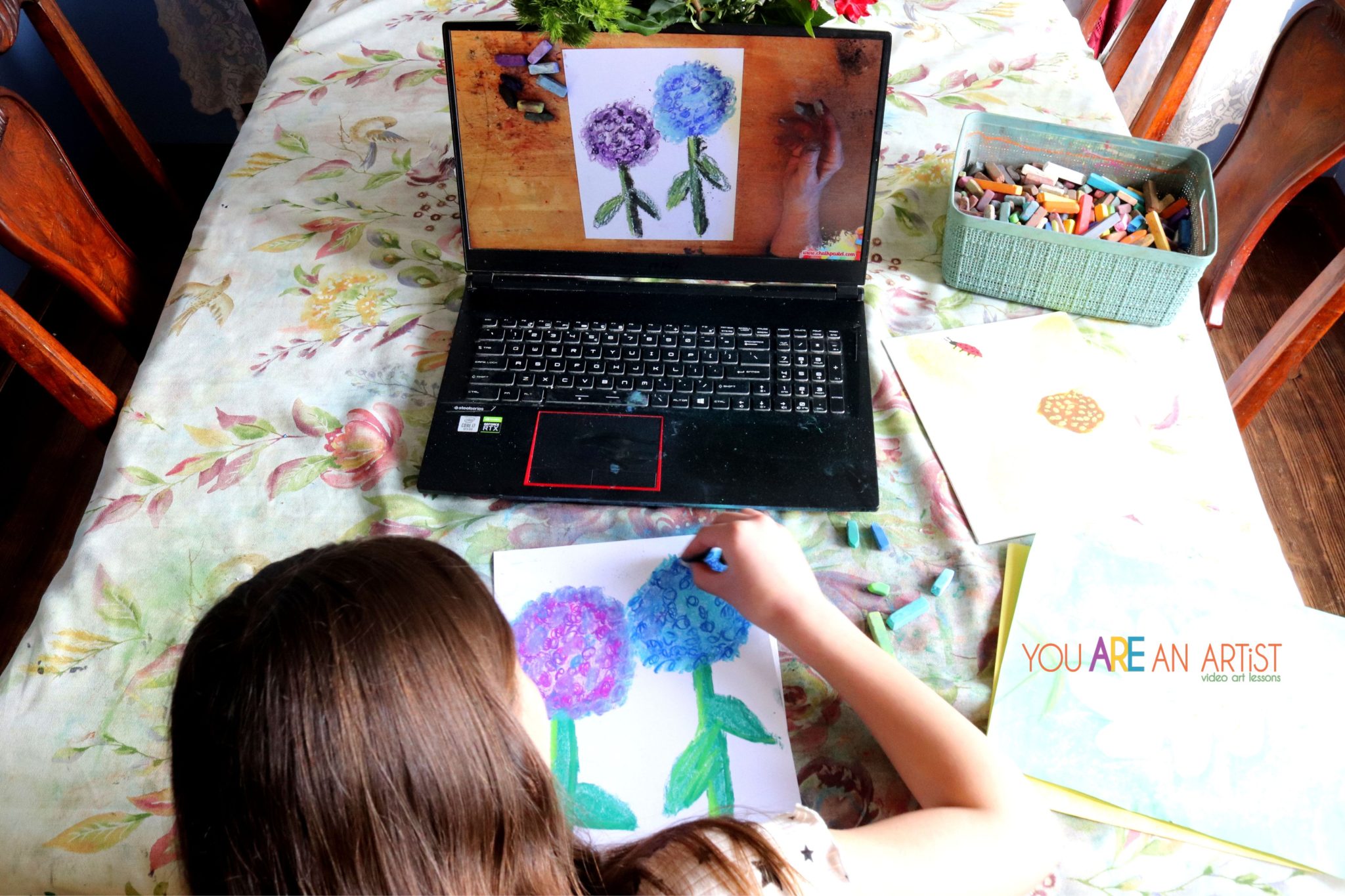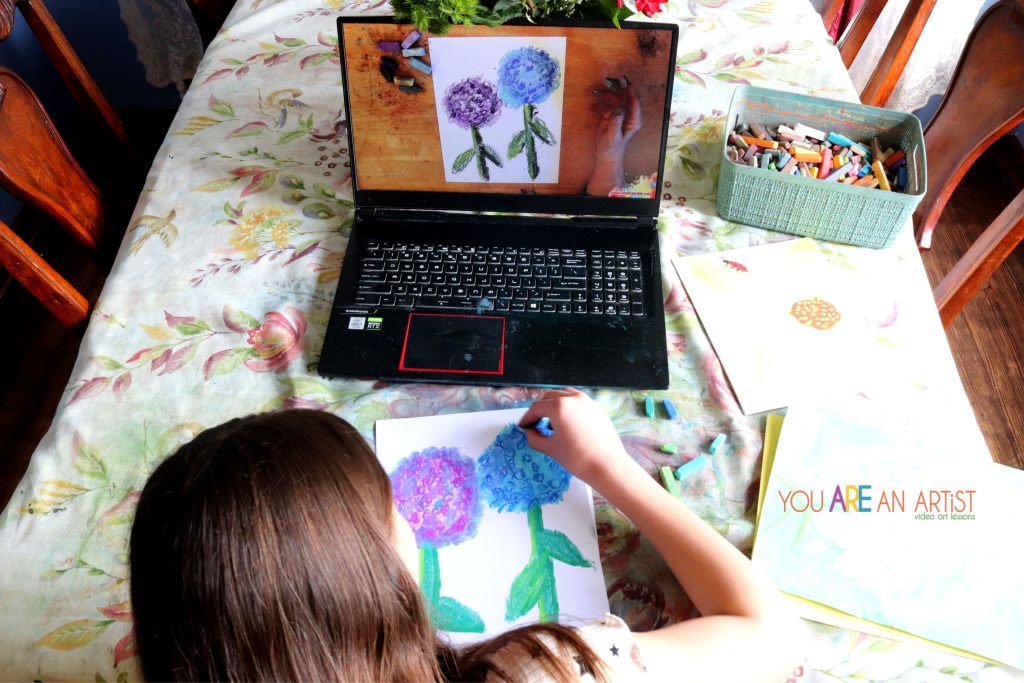 Mother's and Father's Day is such a special time for children and parents. Moms and dads are honored for the daily sacrifices they make for their children. Children have the opportunity to give thanks, and share how much they appreciate their parents. The joy given and received on this wonderful day is a life-giving experience.
Mother's And Father's Day Art Activities
Here at You Are an Artist, we offer creative ways to make this day special. Master Artist, Nana, has created bundles of praiseworthy lessons that will stir love, a lot of laughter, and bring color to your next Mother's and Father's Day.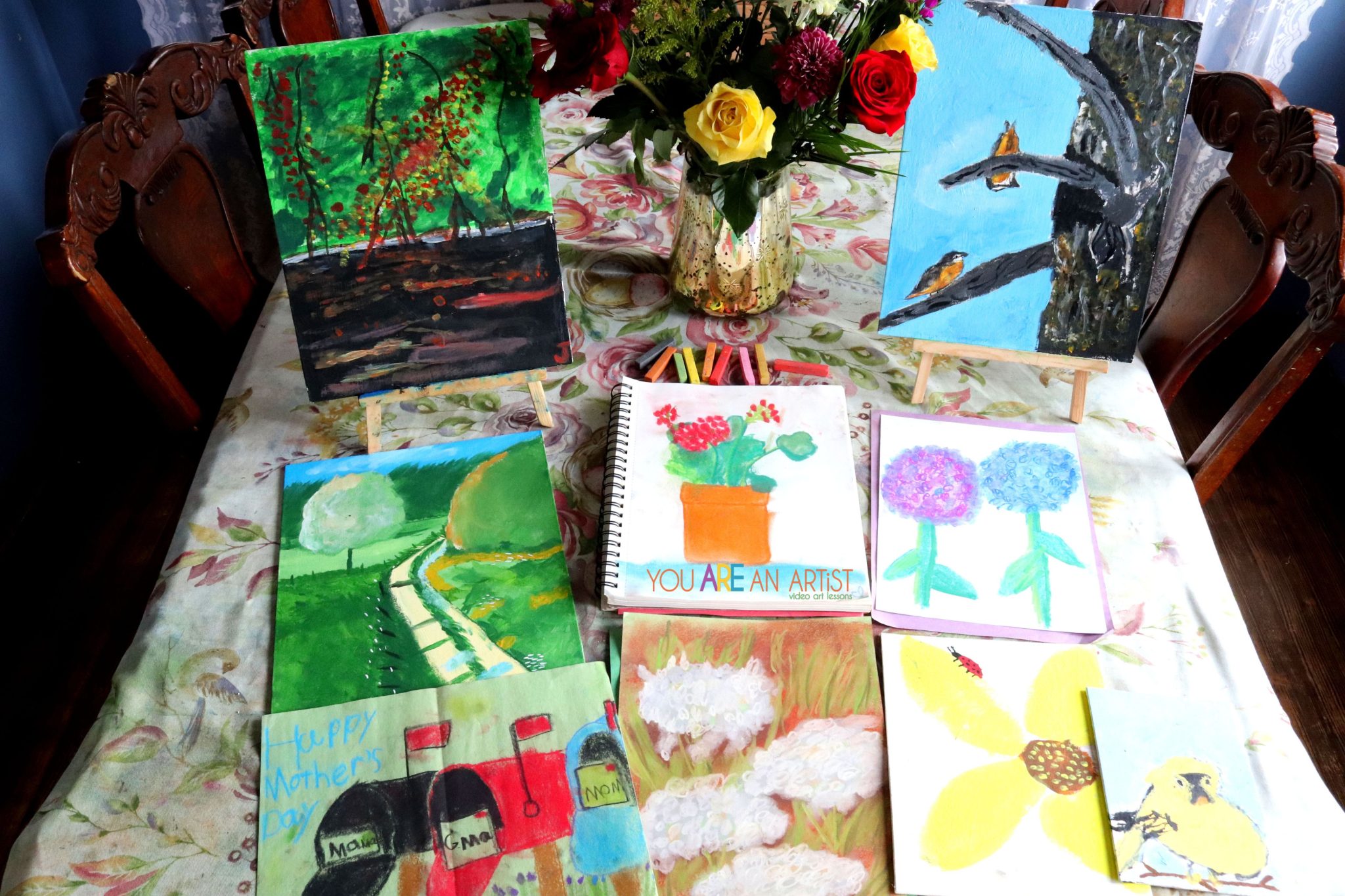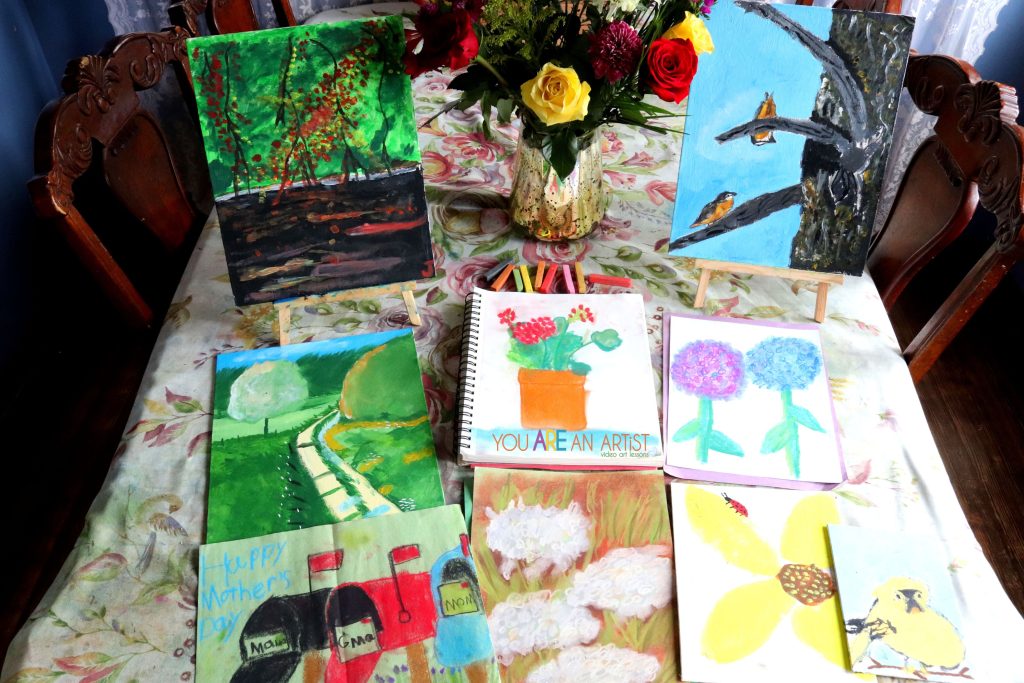 Mother's Day Activities For Kids
"It is woman who rocks the cradle of the world and holds the first affections of mankind. She possesses a power beyond that of a king on his throne."

~ Mable Hale, Beautiful Girlhood
A mother's unconditional love has impacted our world from generation to generation. Mothers have a strength that shine through their unwavering faith, sacrifices, and devotion to their children. Let's bring her honor by using our creativity. All you need is a few art supplies and a whole lot of love!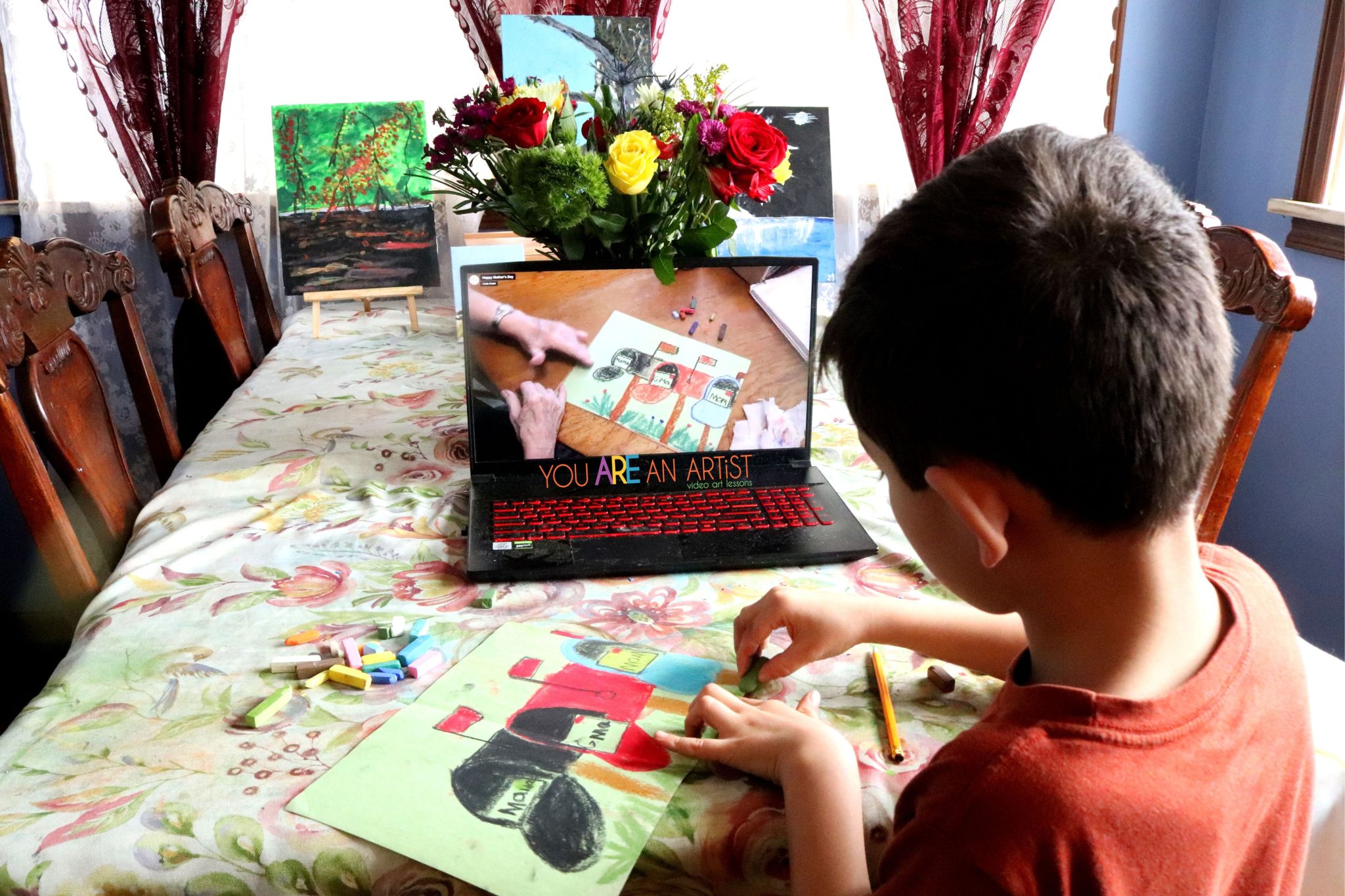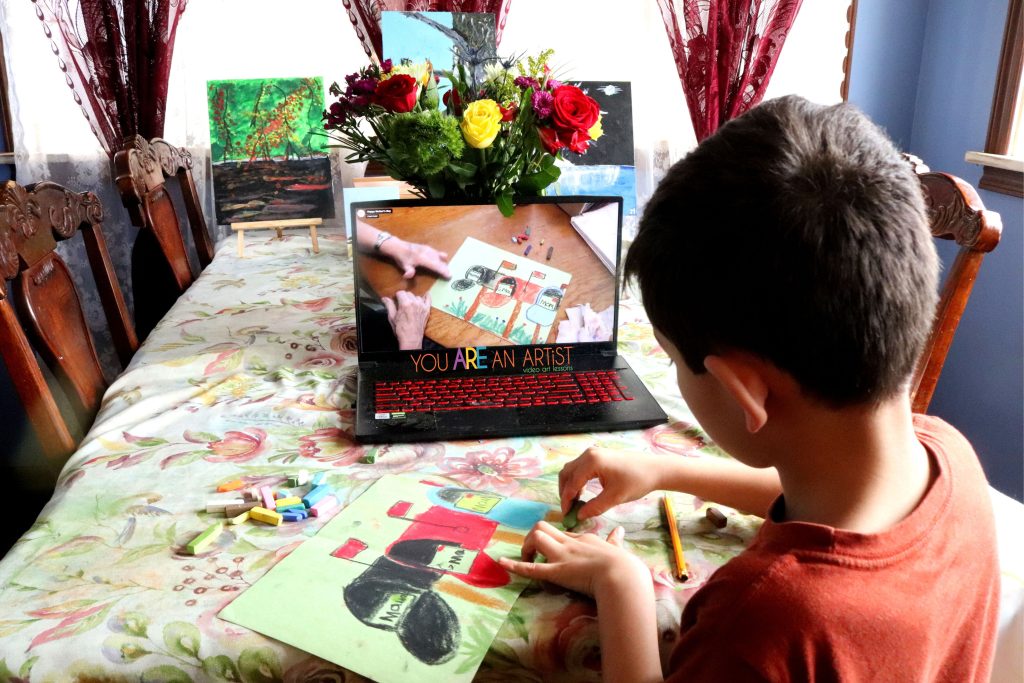 Paint Mother's Day mailboxes with Nana! Fold your paper in half to create a fun card! You can even leave a little handwritten note inside. Green construction paper and a few chalk pastels is all you need. Watch for mother's smiles as she opens this handmade card with joy!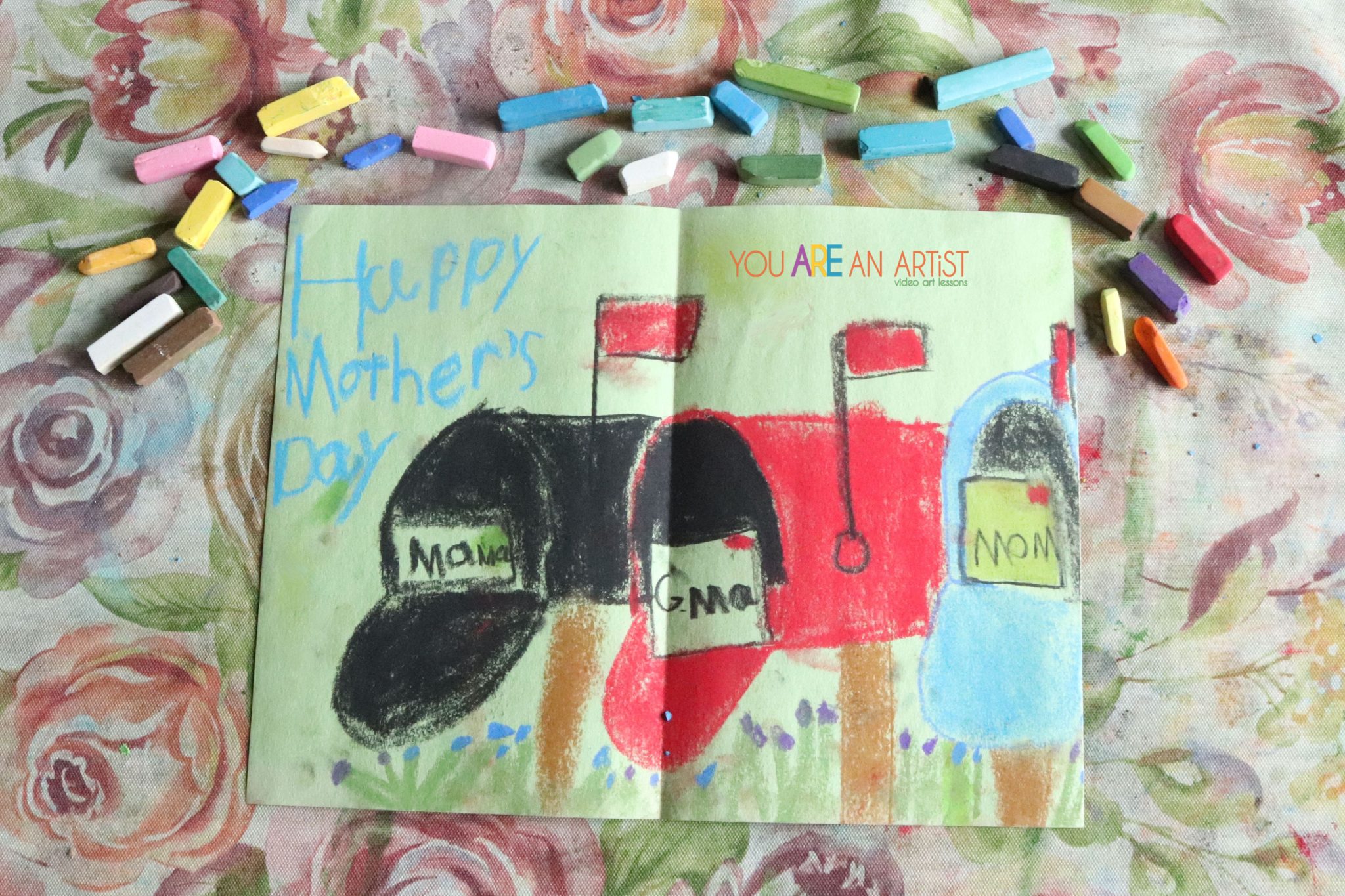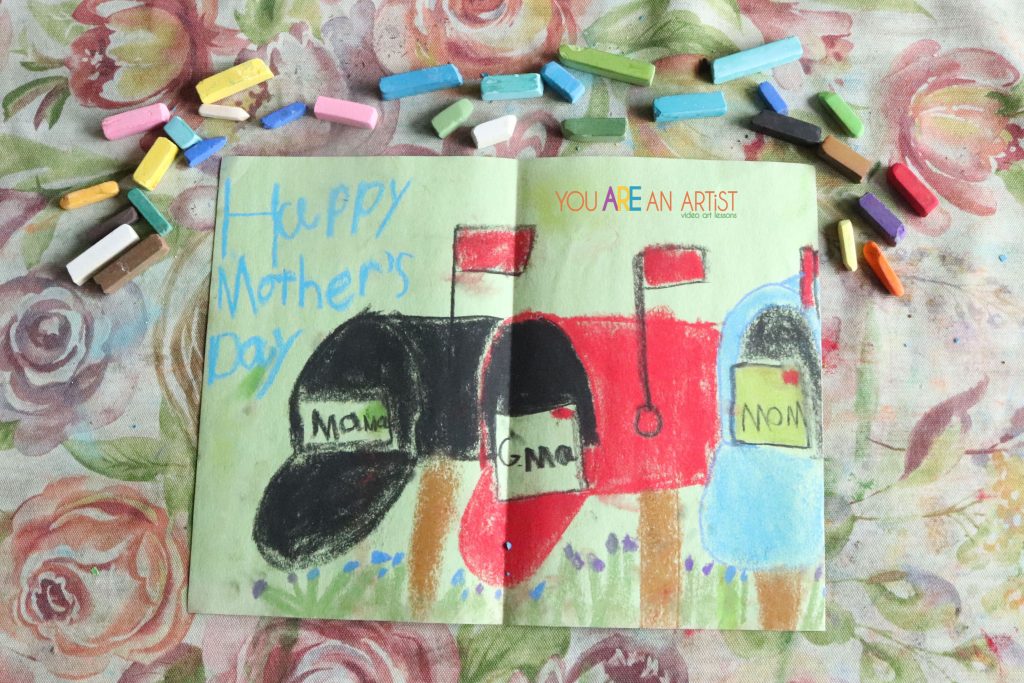 Mother's Day Gifts in a Mailbox
Does Mother love flowers? Nana paints fresh blooms mom will surely treasure. Add a favorite Bible verse or a letter on the back of your painting. Mother will cherish it forever!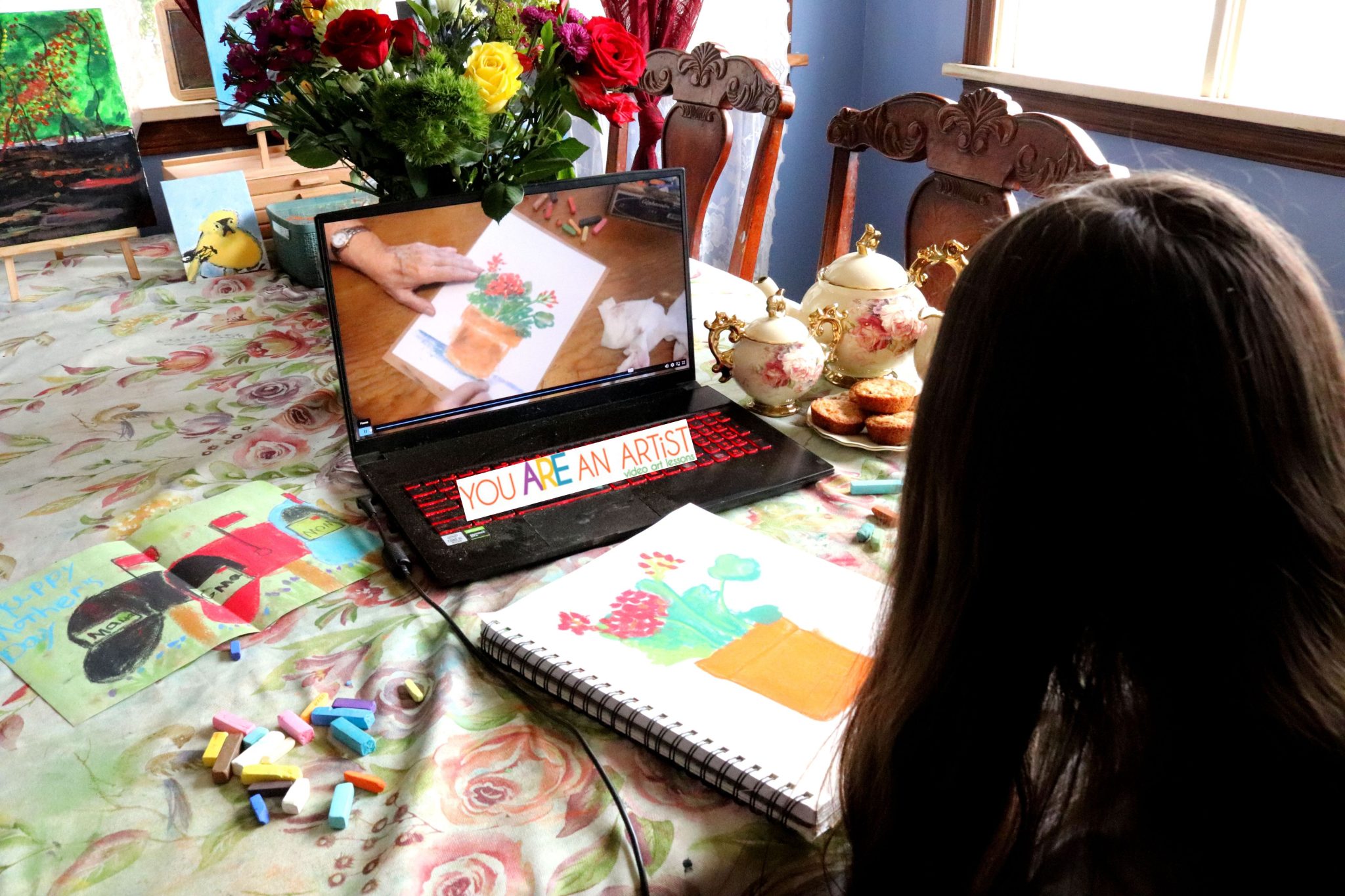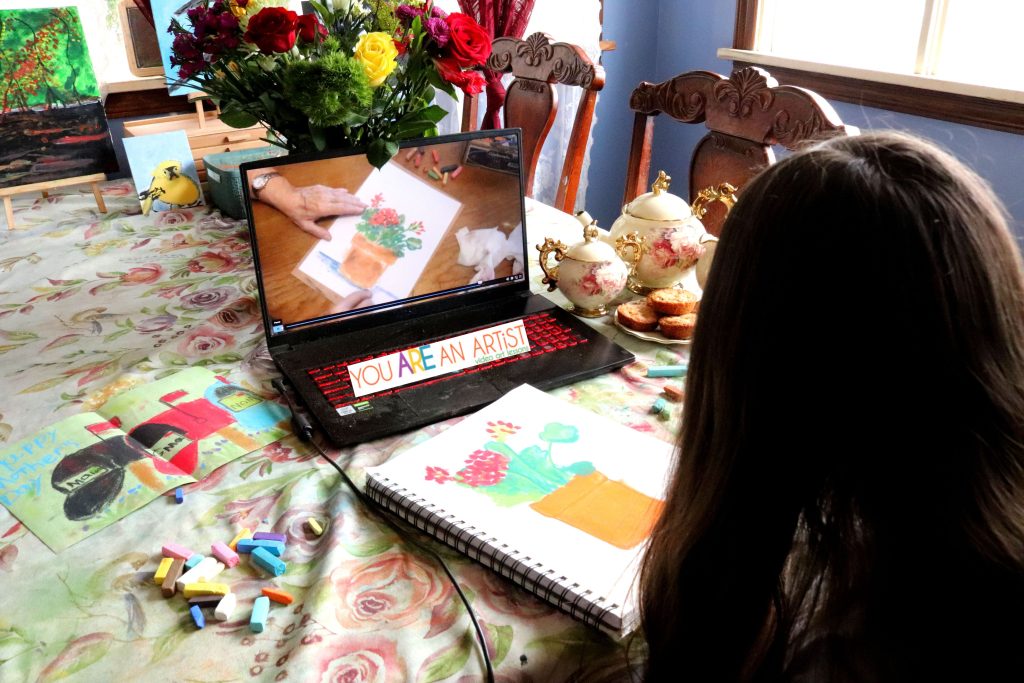 Geranium Flower Art Lesson
Discover Nana's family member whose favorite flower is the Geranium! Create buds and blossoms with beautiful red hues, browns, and greens.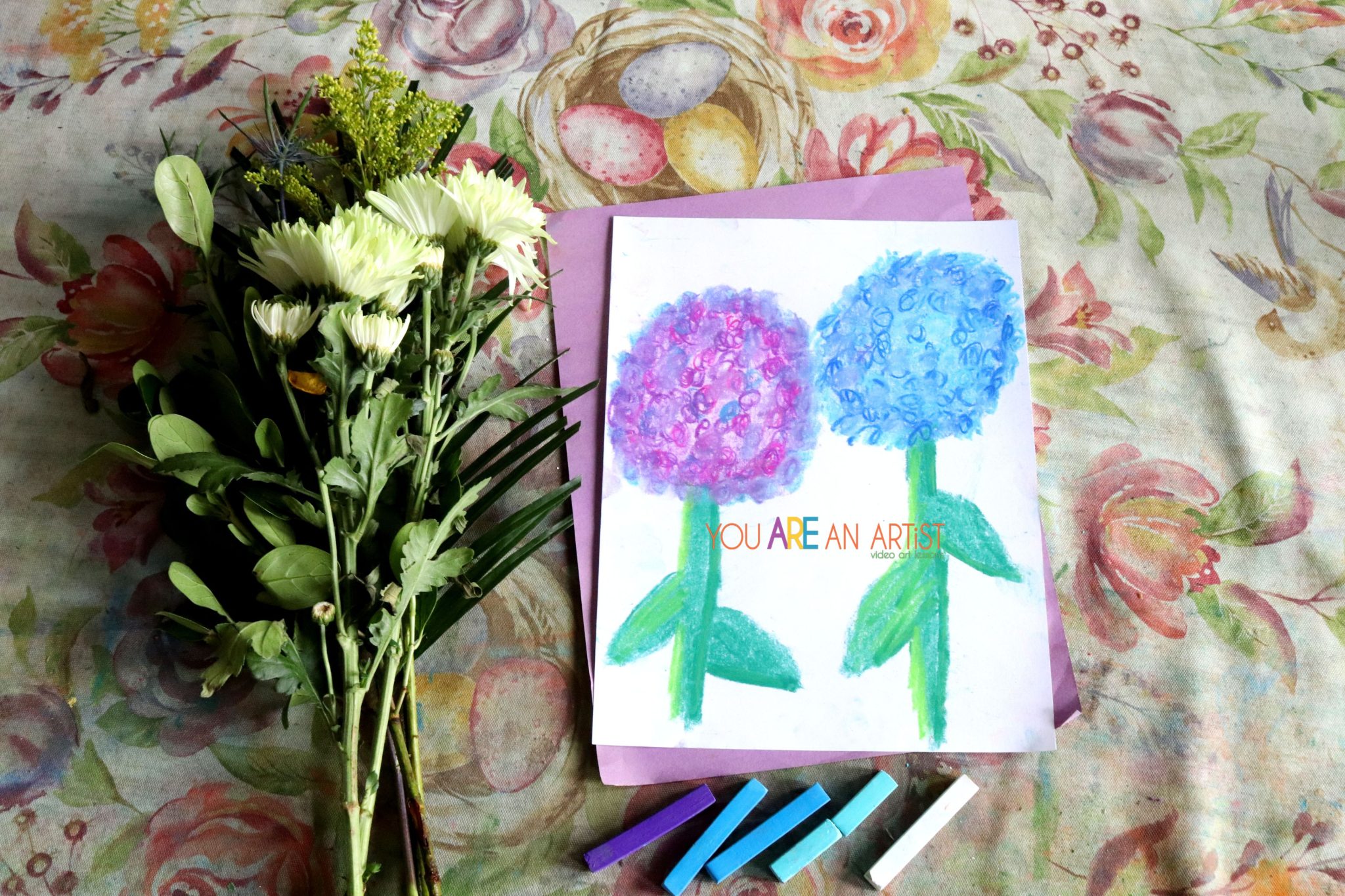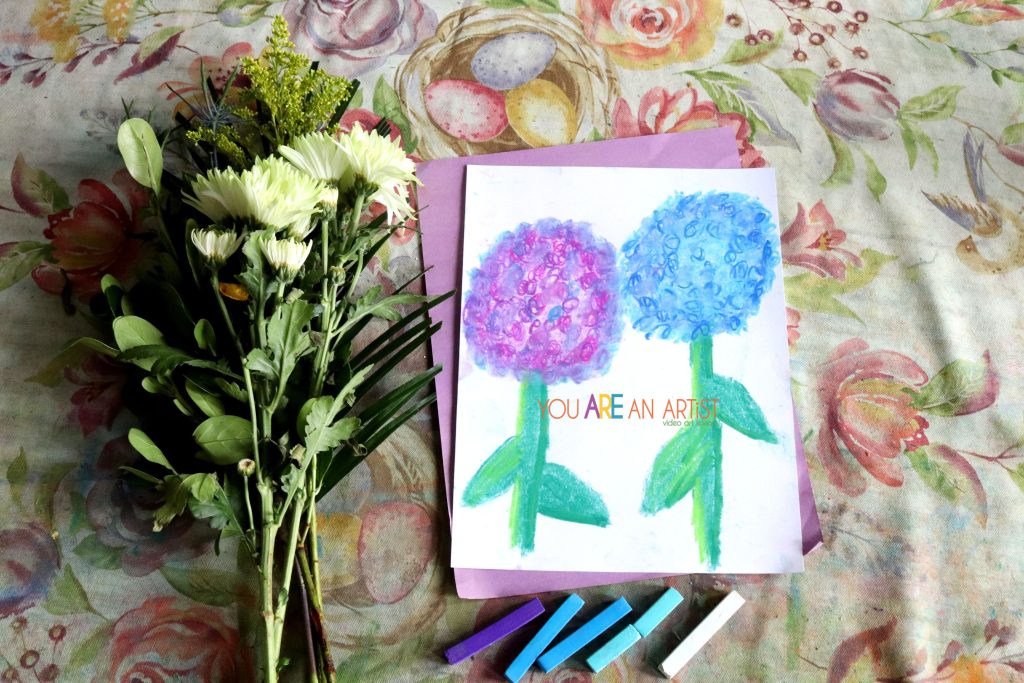 Give a Hydrangea Garden Flower Gift
You will need those purple and blue pastels for this one! I love the twin like flowers standing so graciously side by side.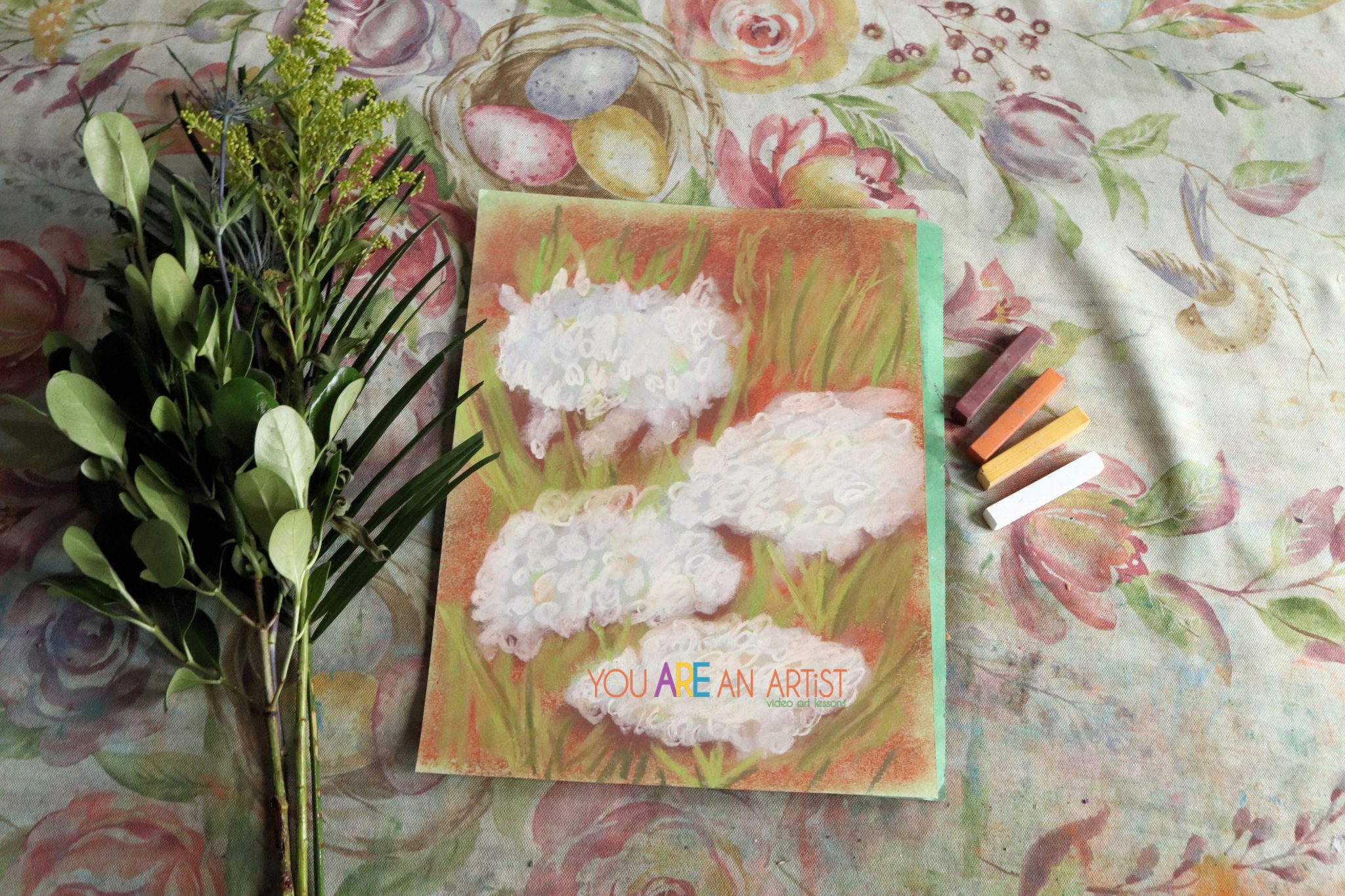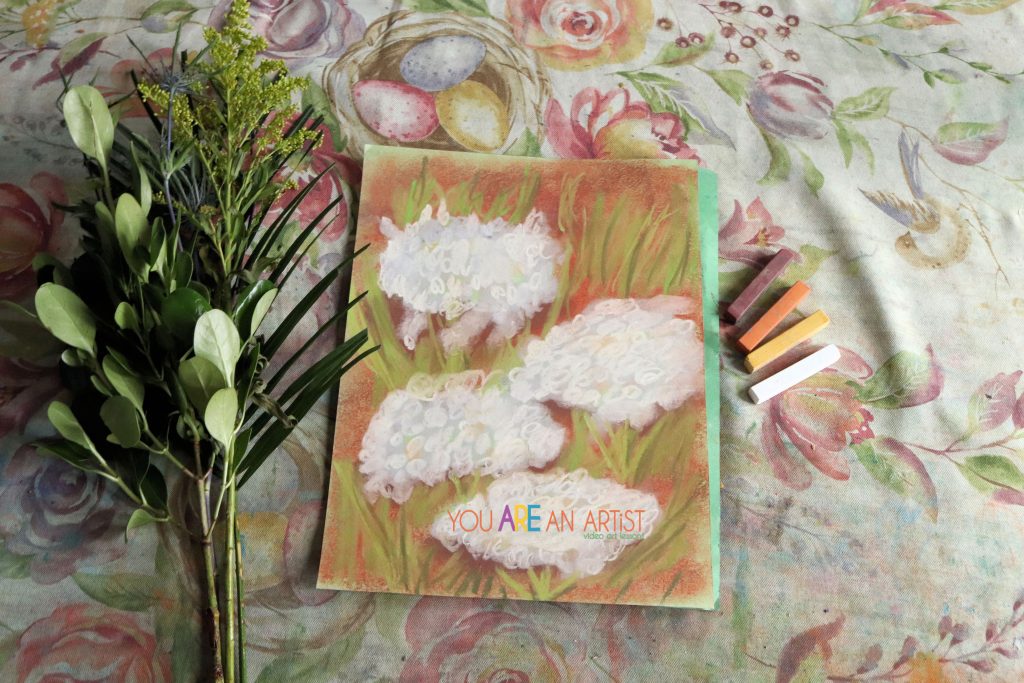 Queen Anne's Lace and a Virtual Flower Bouquet
The Queen Anne's Lace is a very detailed painting. Paint four blooms and learn the term "under painting" with Nana. These glorious lace like flowers make a charming painting and gift for mother.
Are you interested in more beautiful blooms for Mother's Day? Check out Nana's gorgeous Georgia O'Keiffe painting. The lily and it's delicate white petals will surely brightens mom's day!
Does mother need a refreshing? Erin's sweet post shares the ways she recharges her spirit through the gift of art.
How to Paint Acrylic Art Lessons to Give as Gifts
Did you know Nana offers lessons using acrylic paint? My children adore her acrylic lessons. They also make stunning gifts perfect for Mother's Day.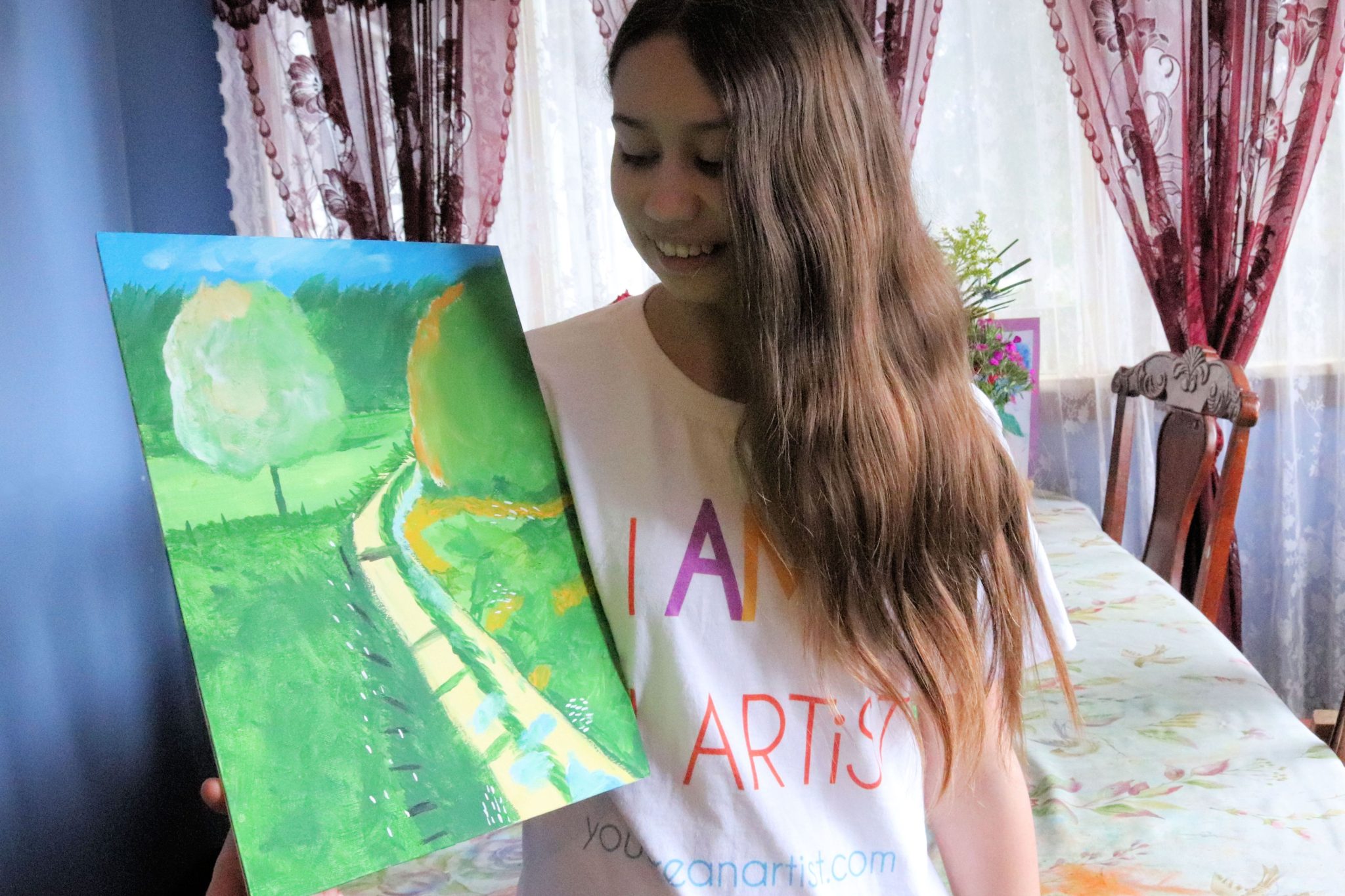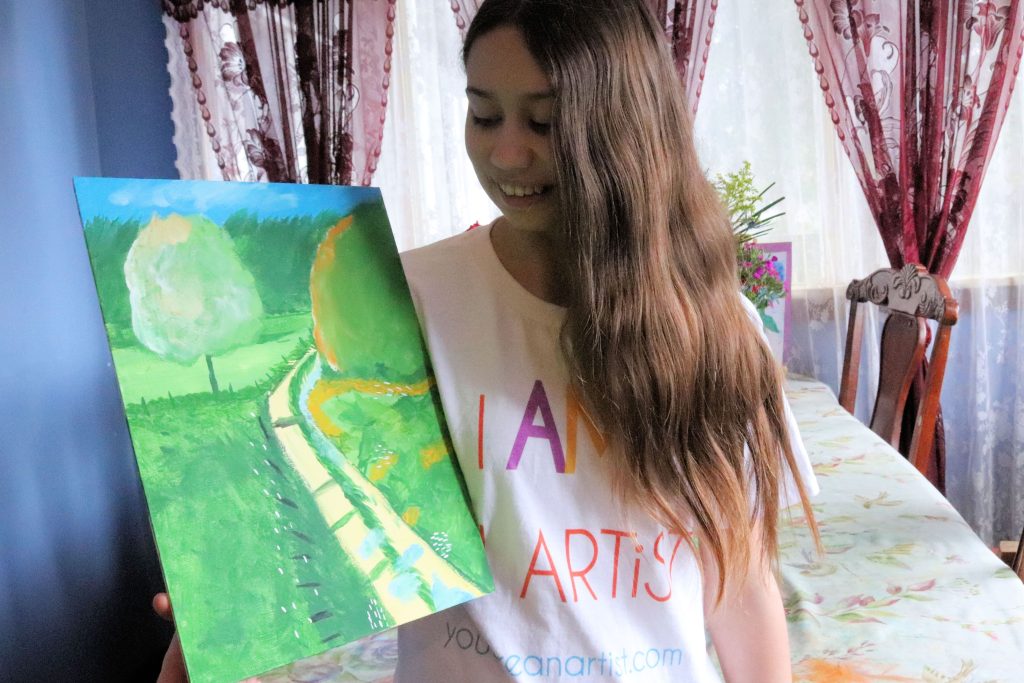 Summer Tree Acrylic
This is a pleasant painting called "Pavement Ends". It's bursting with green pastures and healthy trees. Looking upon the serene countryside brings peaceful thoughts of running barefoot in the green fields or taking a nice summer nap under a still tree. This is one of my favorites.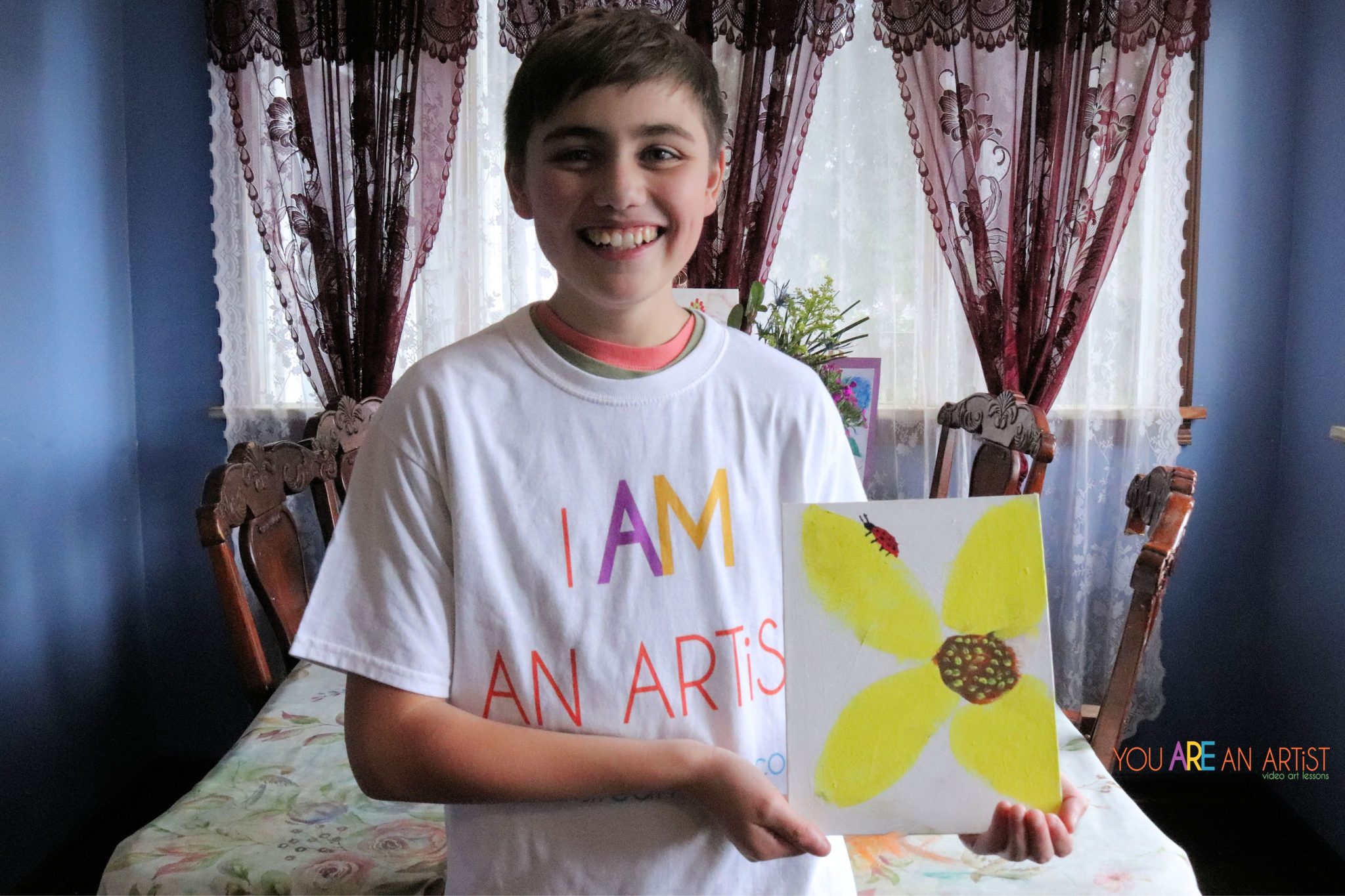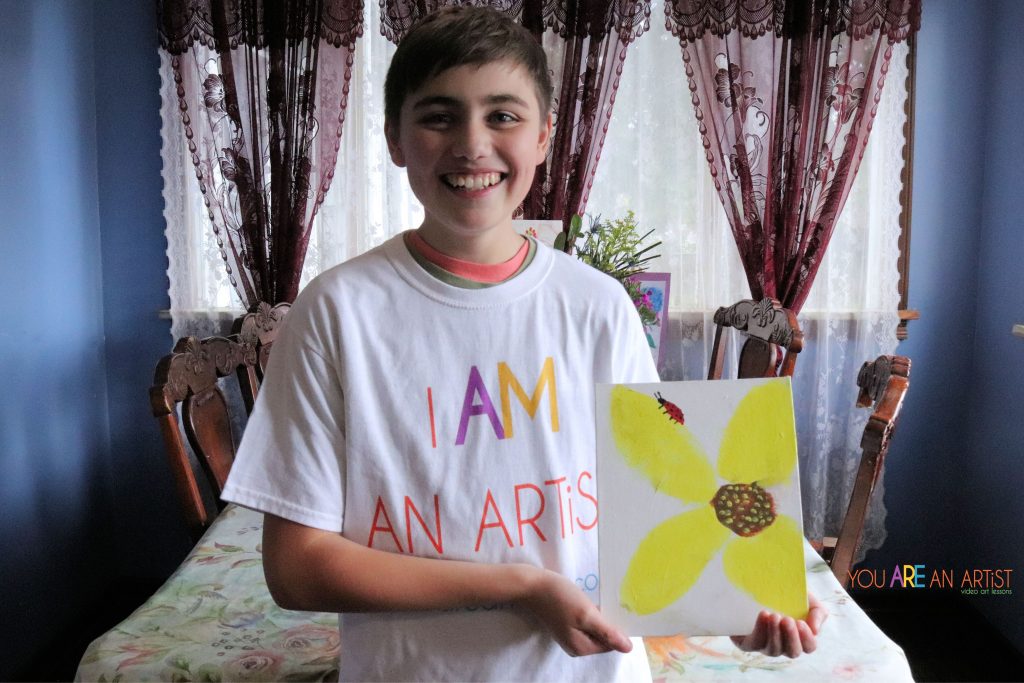 Sunflower Acrylic
Join Nana and her beloved paintbrush to paint this simple, yet bright yellow sunflower with a darling little ladybug. All you need is three simple colors and a tiny spec of black.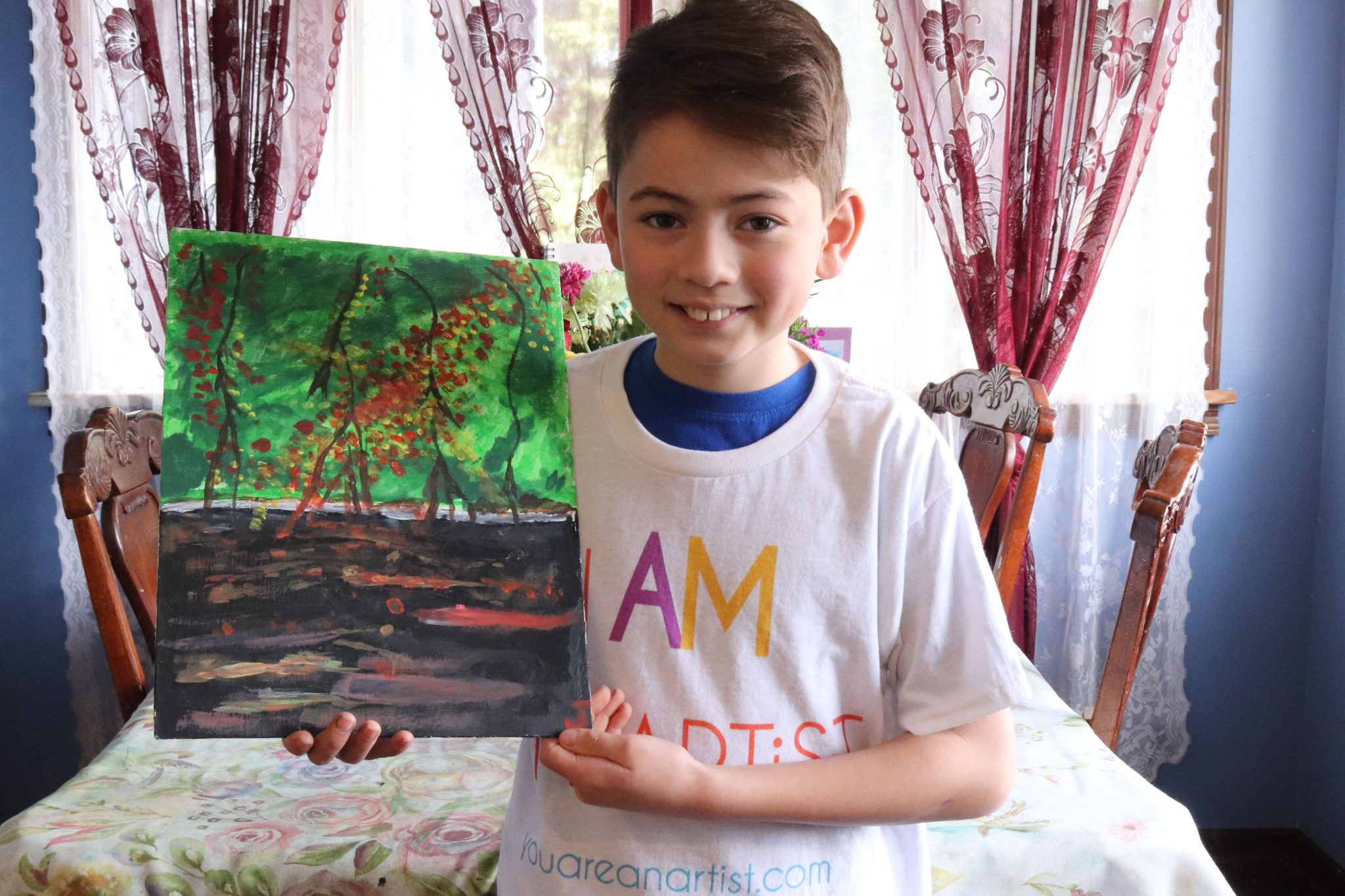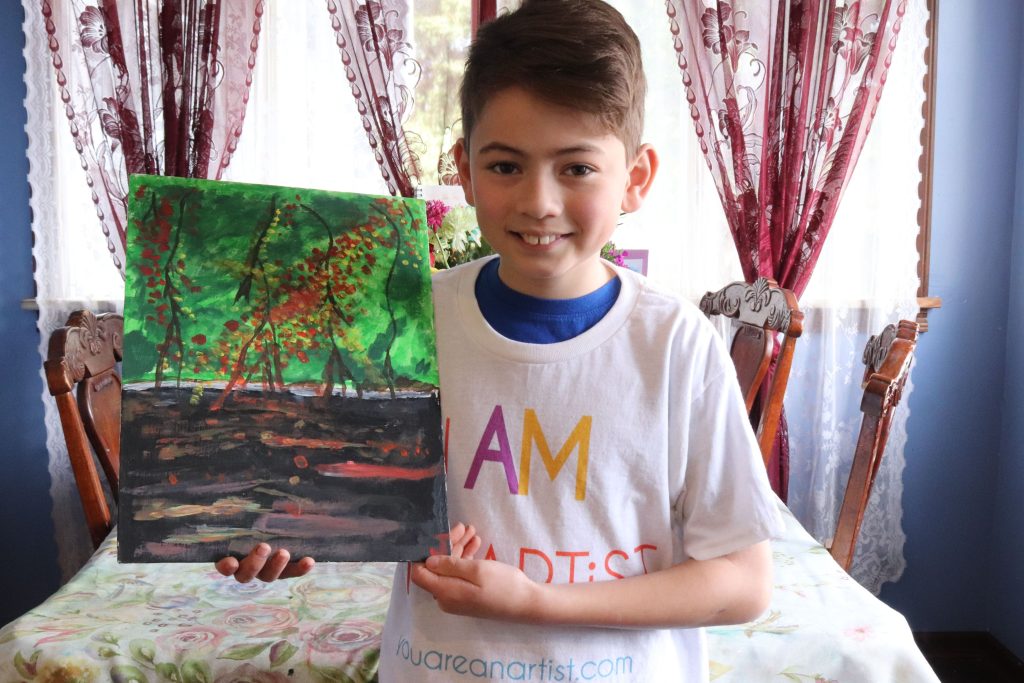 Fall Tree Reflection Acrylic
Sweeping leaves, a forest, and quiet waters speak softly of the reflections of fall.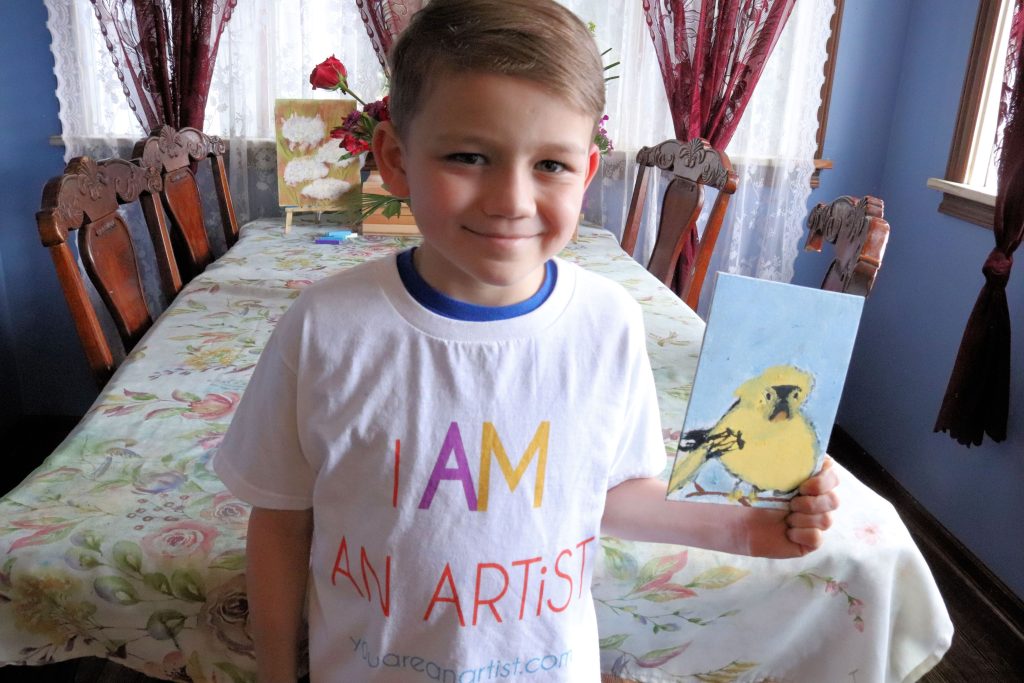 Goldfinch Acrylic
This is the most adorable Goldfinch! Another simple painting using simple colors. Great for beginners.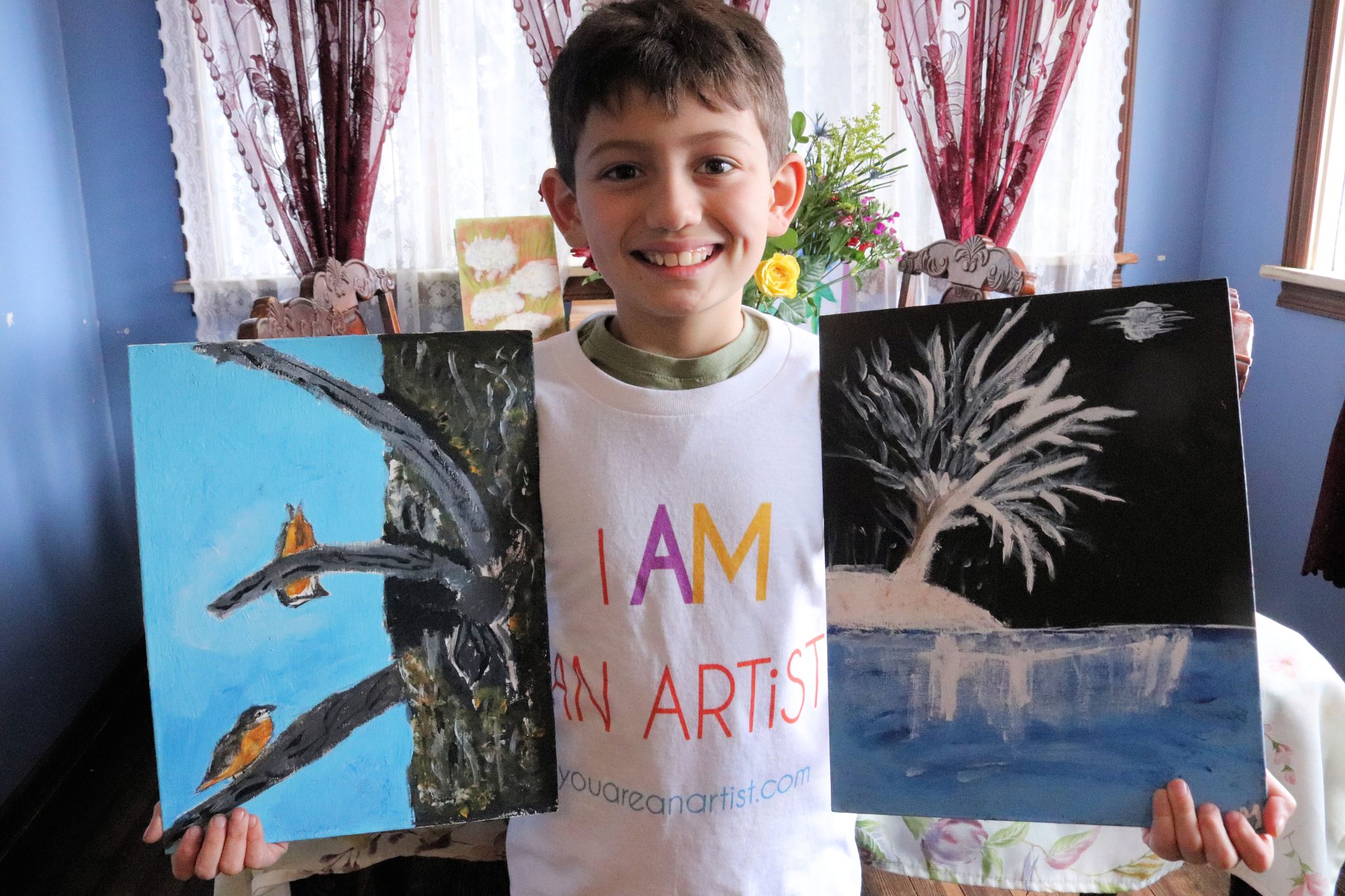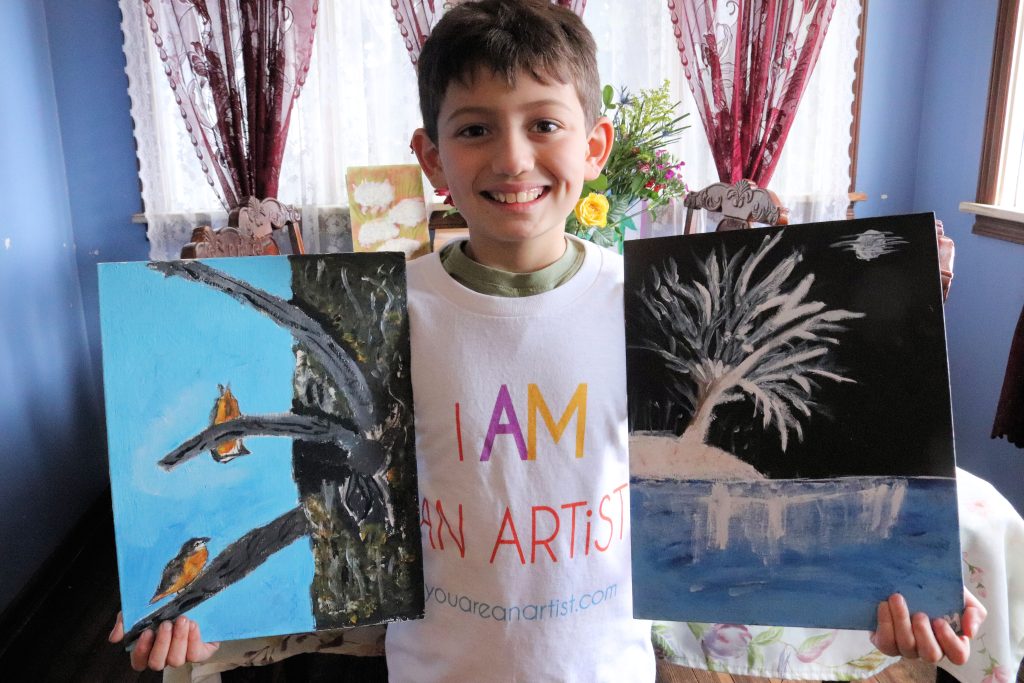 Backyard Birds Nuthatch
A squirrel hole, spots of snow, and "tiny birds with a big personality" take the heart of this painting. Nana not only does a wondrous job of teaching this lesson, but also describing the Nuthatch and their personalities.
My children either hand wrote a Bible verse, quote, or poem on the back of the acrylic paintings. Then they signed and dated it. What an absolute delight!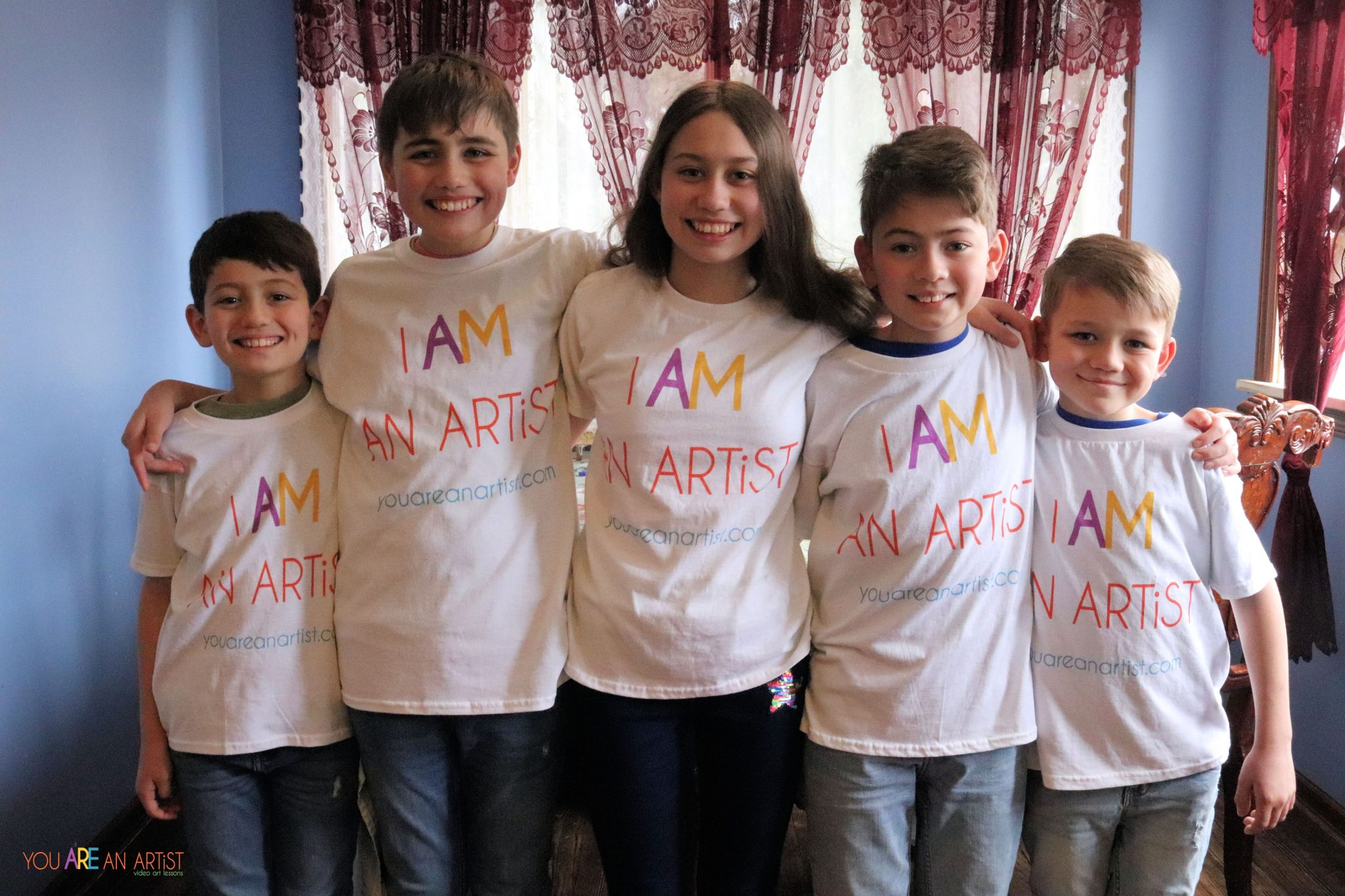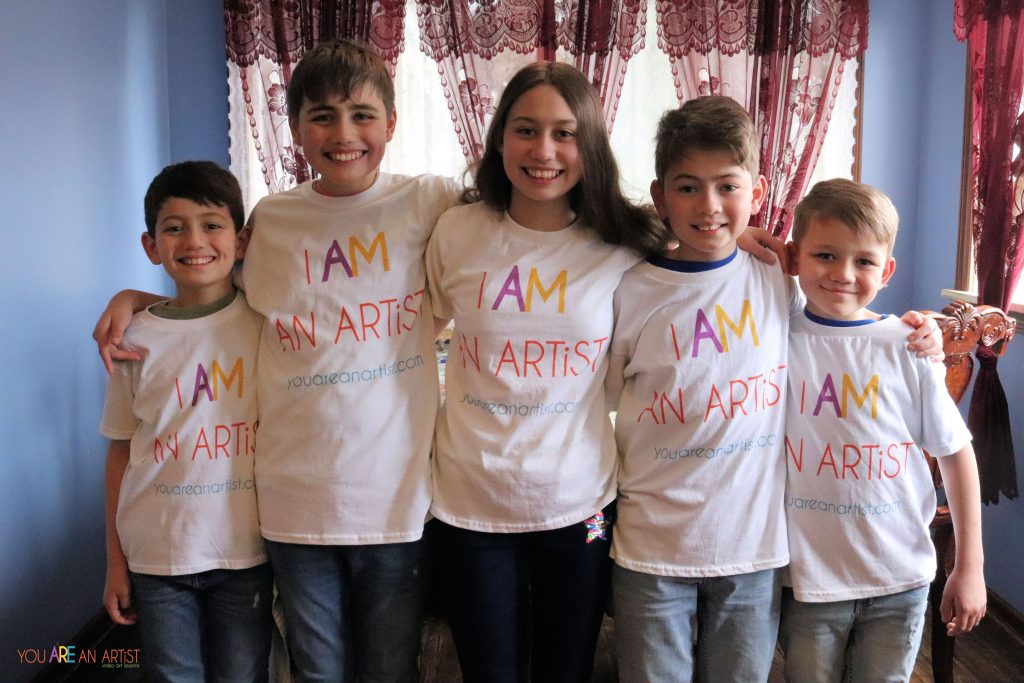 Bible Verse Ideas for Mother's Day:
Proverbs 1:8-9 "Listen, my son, to your father's instruction; don't neglect your mother's teaching; for they are a graceful wreath on your head, and beads for your neck."
Proverbs 31:25-28 "Strength and honor are her clothing; she is confident about the future. Her mouth is full if wisdom; kindly teaching is on her tongue. She is vigilant over the activities of her household; she doesn't eat the food of laziness. Her children bless her; her husband praises her: 'Many women act competently, but you surpass them all!'"
Proverbs 31:31 Charm is deceptive and beauty fleeting, but a woman who fears the Lord is to be praised. Let her share in the results of her work; let her deeds praise her in the city gates."
Psalm 127:3 "Behold, children are a heritage from the Lord, the fruit of the womb a reward."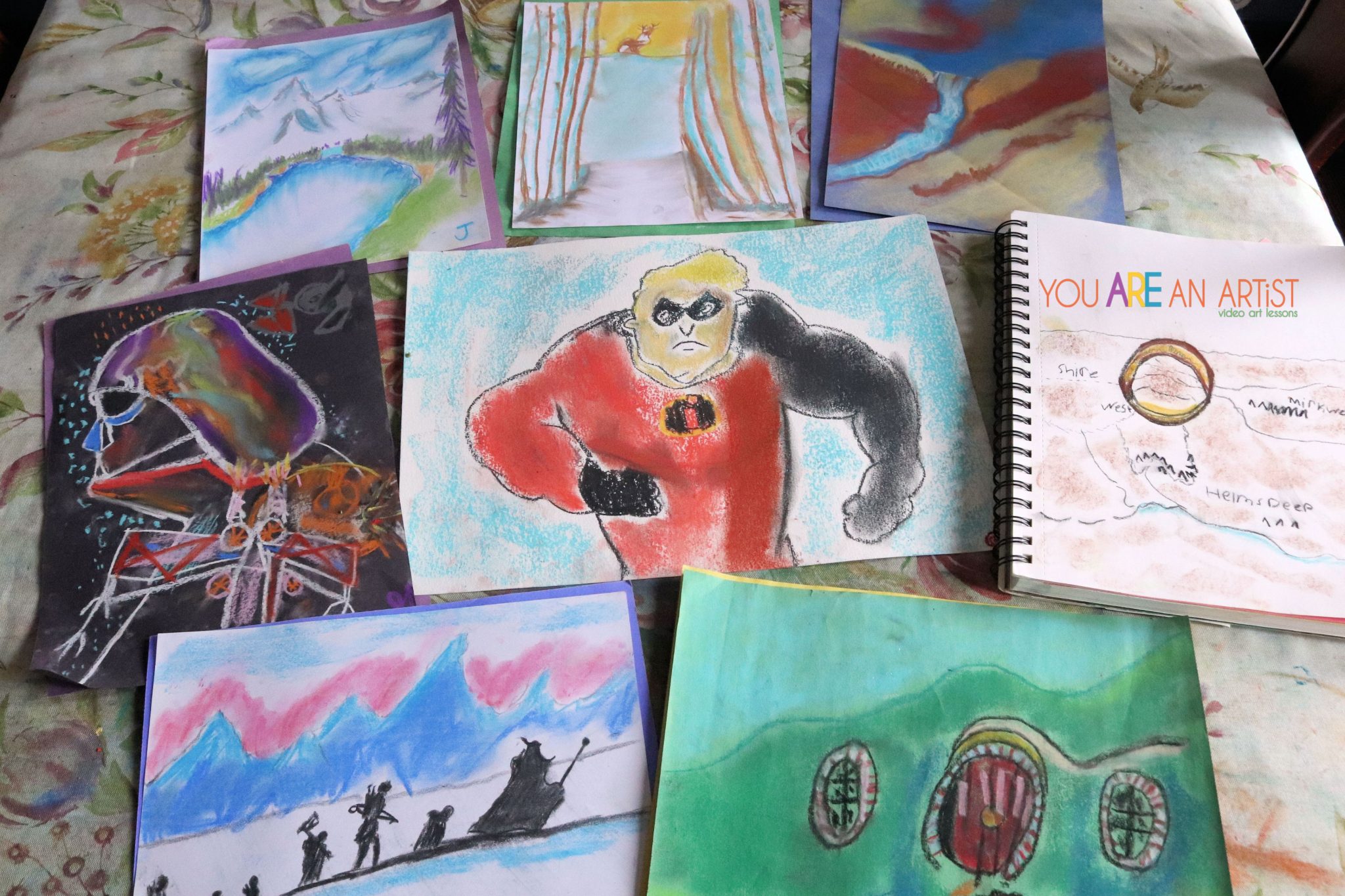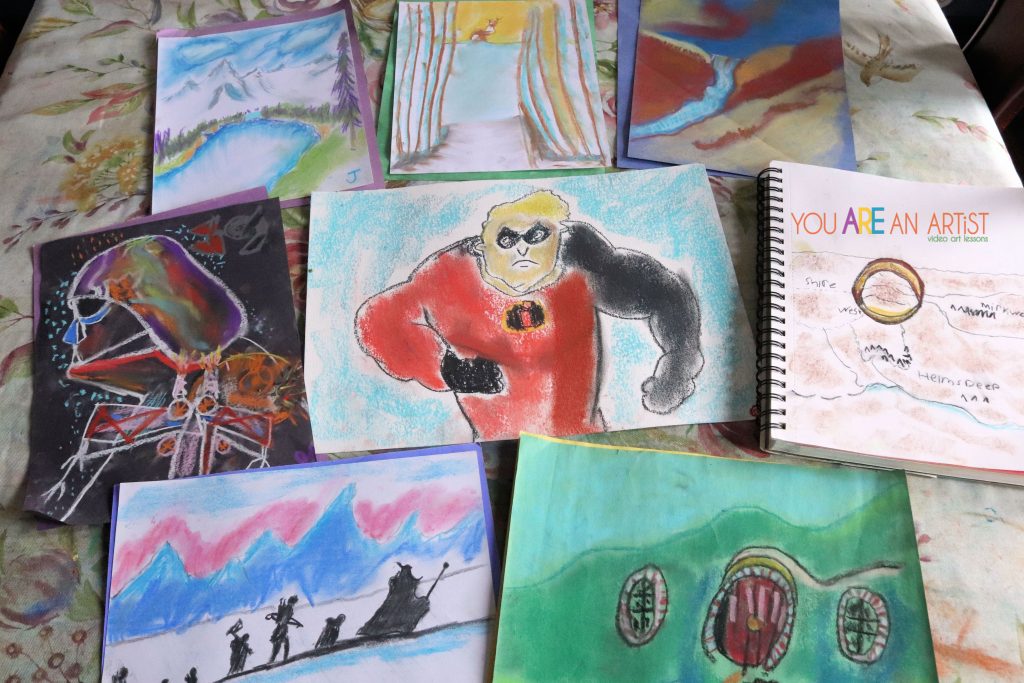 Father's Day Art Activities For Kids
"A good father is one of the most unsung, unpraised, unnoticed, and yet one of the most valuable assets in society."

~ Billy Graham
Fathers are incredibly important to the family unit. A man's willingness to provide for his family, love his wife, and train up his children in godly principles is worthy of honor. His desire to walk closely with Christ and lead his family deserves praise. Let's show our dads just how much they are respected and appreciated!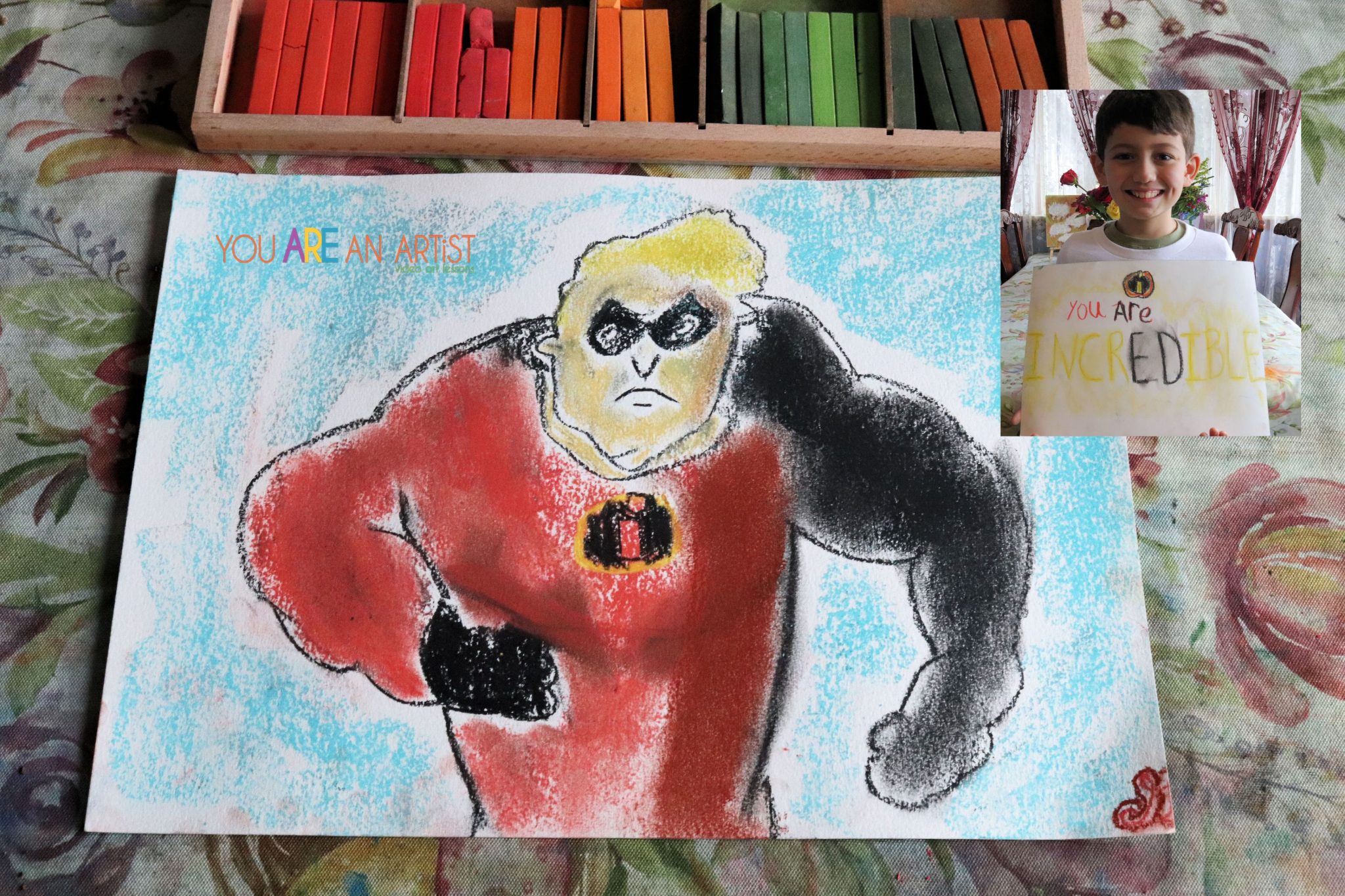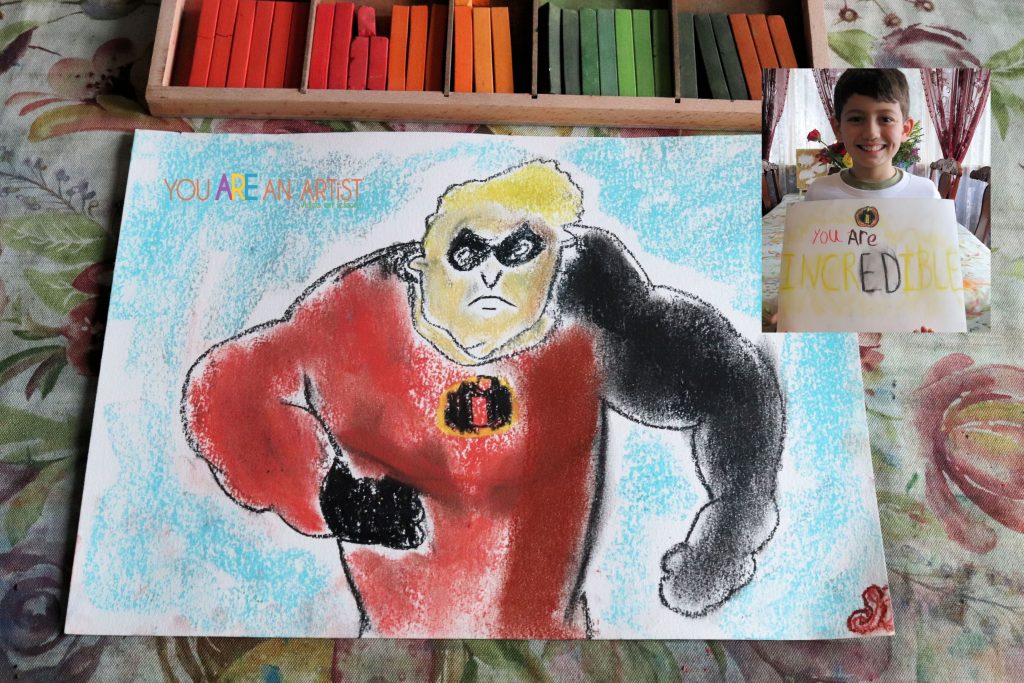 Do you have a dad that is simply incredible? Nana created a Mr. Incredible lesson perfect for Father's Day! My children wrote "You are INCREDIBLE!" on the back of the painting and signed their names. We used 9×12 construction paper for this one.
Is Dad into nature, hiking, or hunting? Chalk Pastel Art offers many art lessons that reflect scenic country sides and peaceful wildlife. All of the chalk pastel paintings listed below make charming cards. Simply fold your paper in half and follow Nana's art lesson. We chose a couple to make into cards and created haiku poetry to place inside. The rest of the paintings served as memorable Father's Day gifts.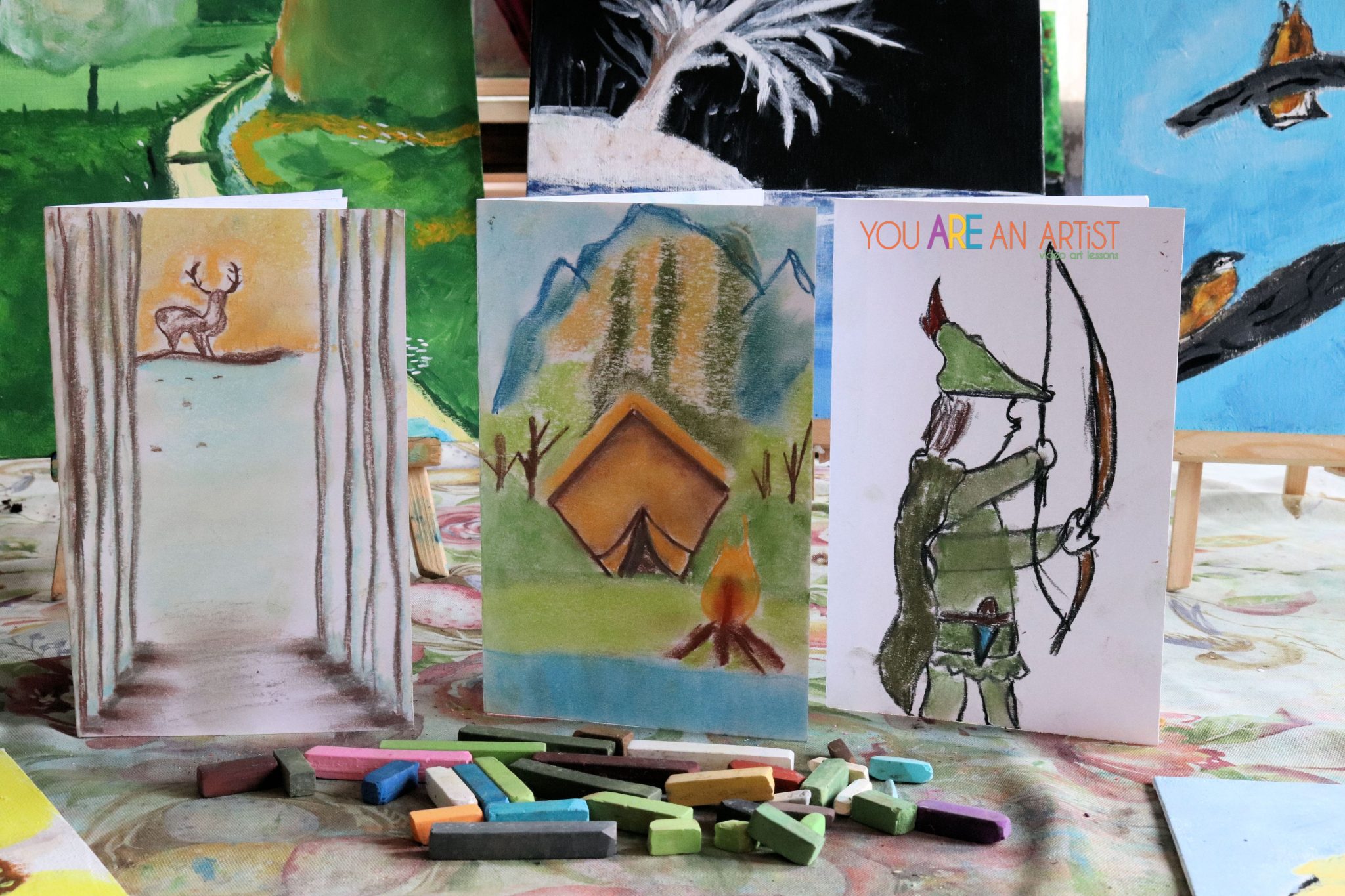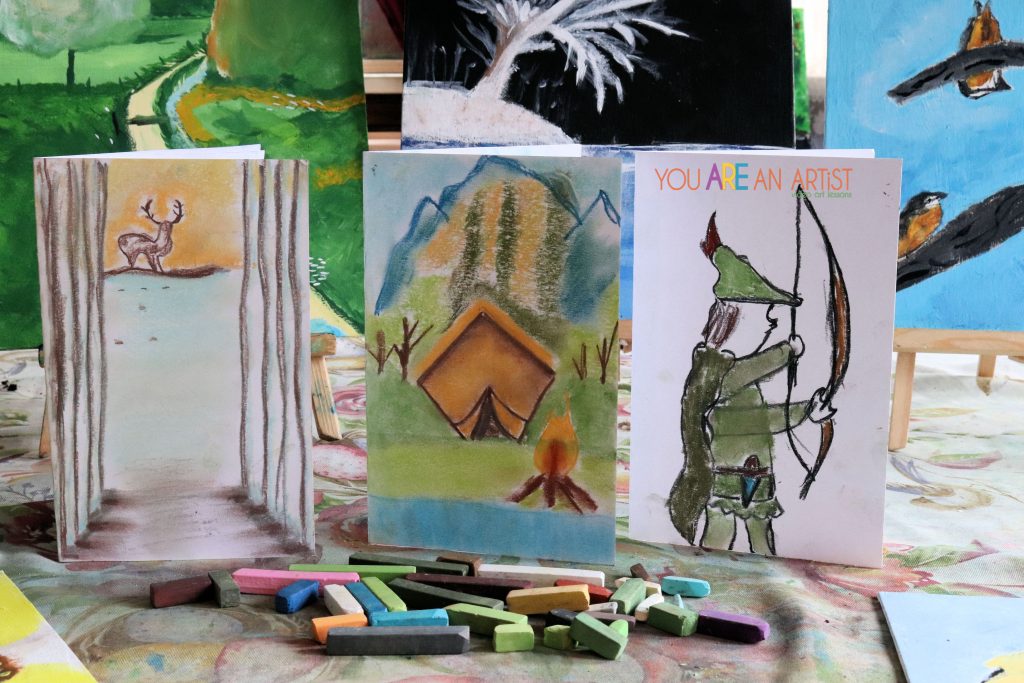 Draw a Winter Forest with Chalk Pastels
Do you see the proud buck standing tall among a wintry forest. Share this one with Dad on Father's Day and ask him about his hunting experiences. I bet he will love to share his stories!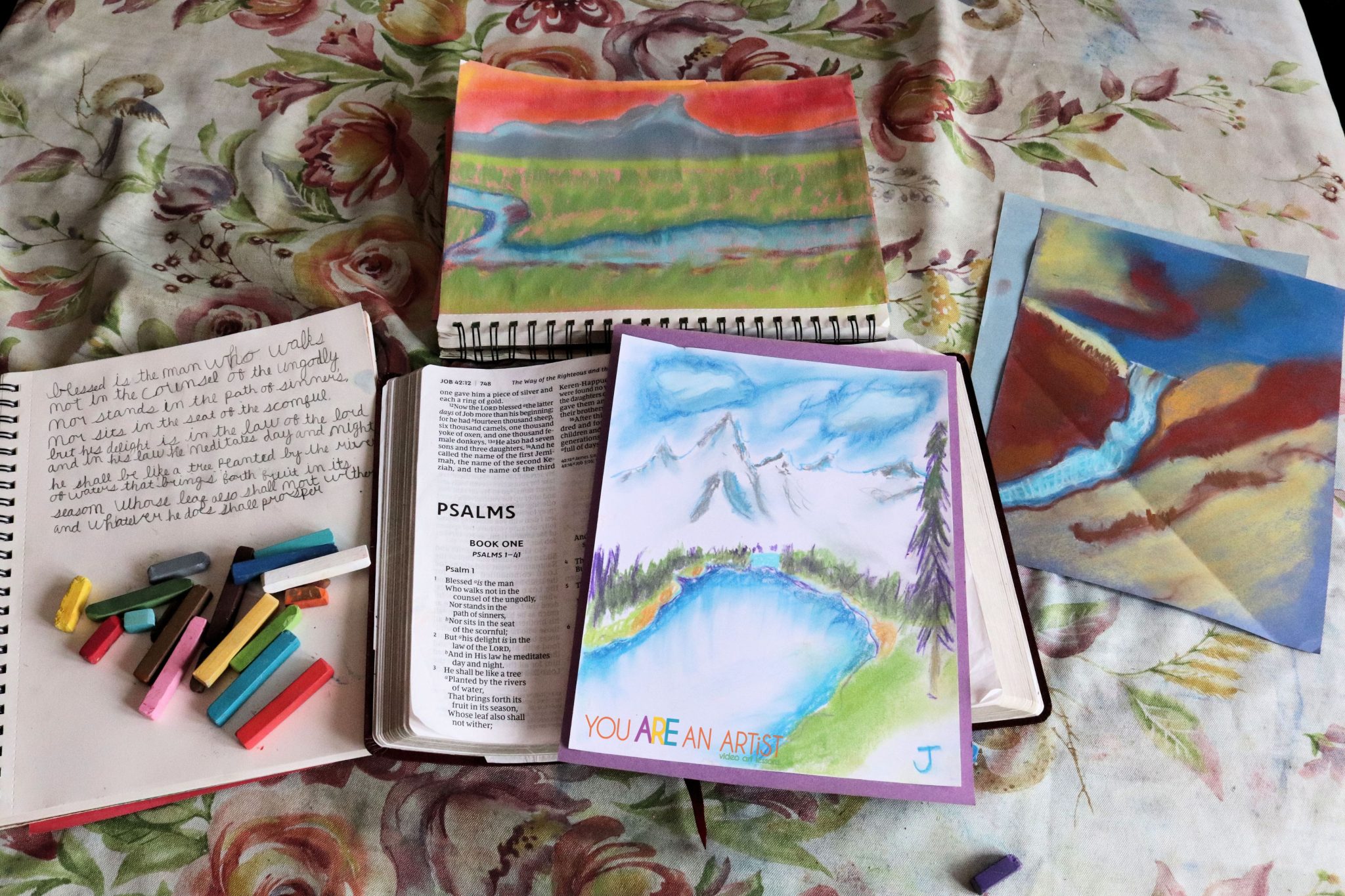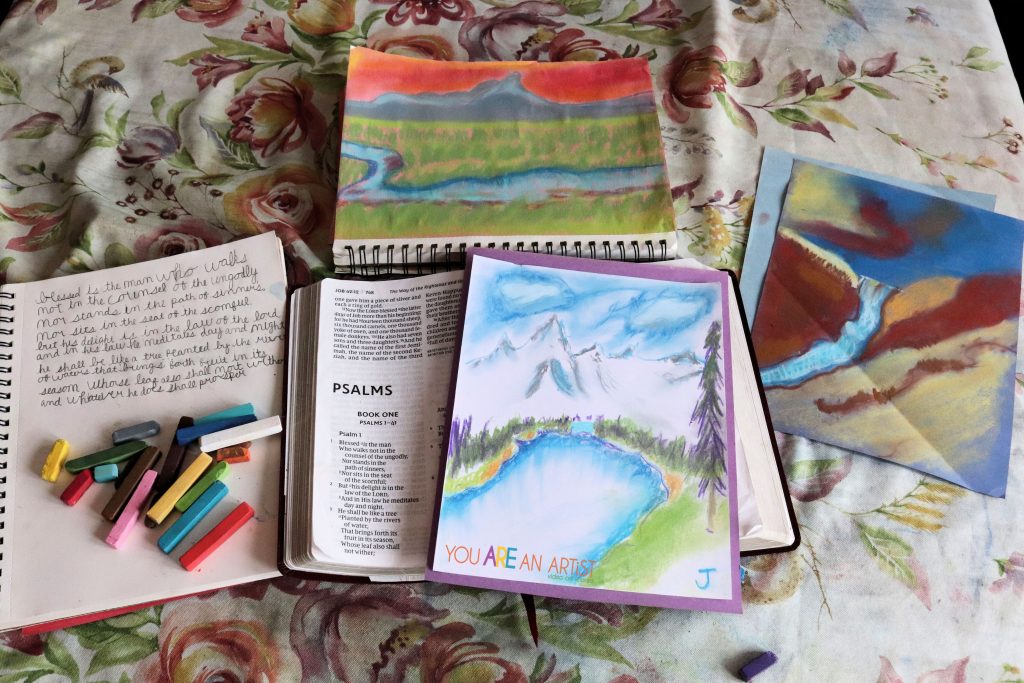 Bob Ross Art Lesson for Your Homeschool
Learn about one of Nana's favorite artist, Bob Ross. We found it interesting he used to be a drill sergeant in the military. Paint this grand mountain scene with Nana and watch the "happy little trees" come to life. You can also listen to Nana's Bob Ross podcast.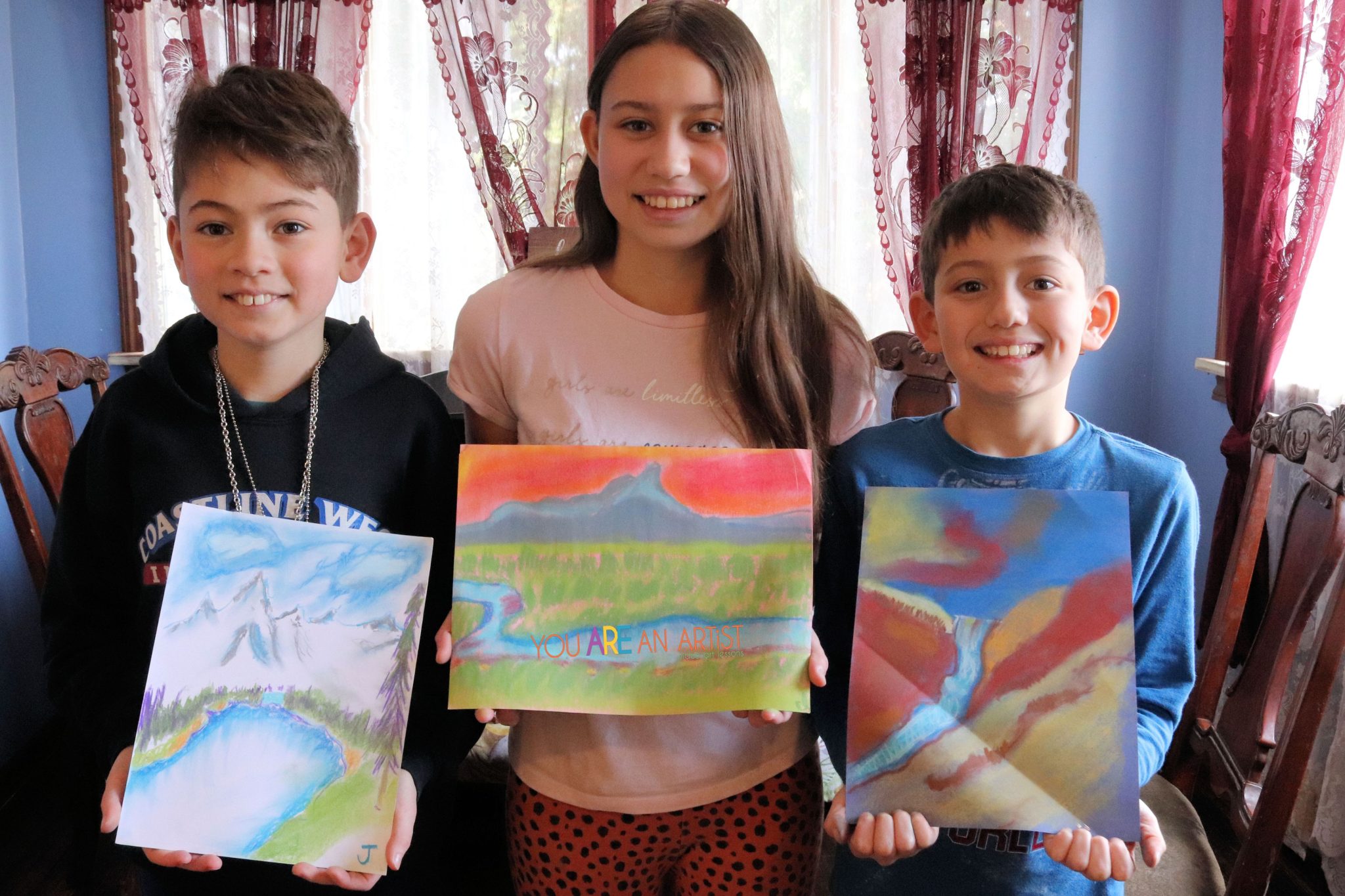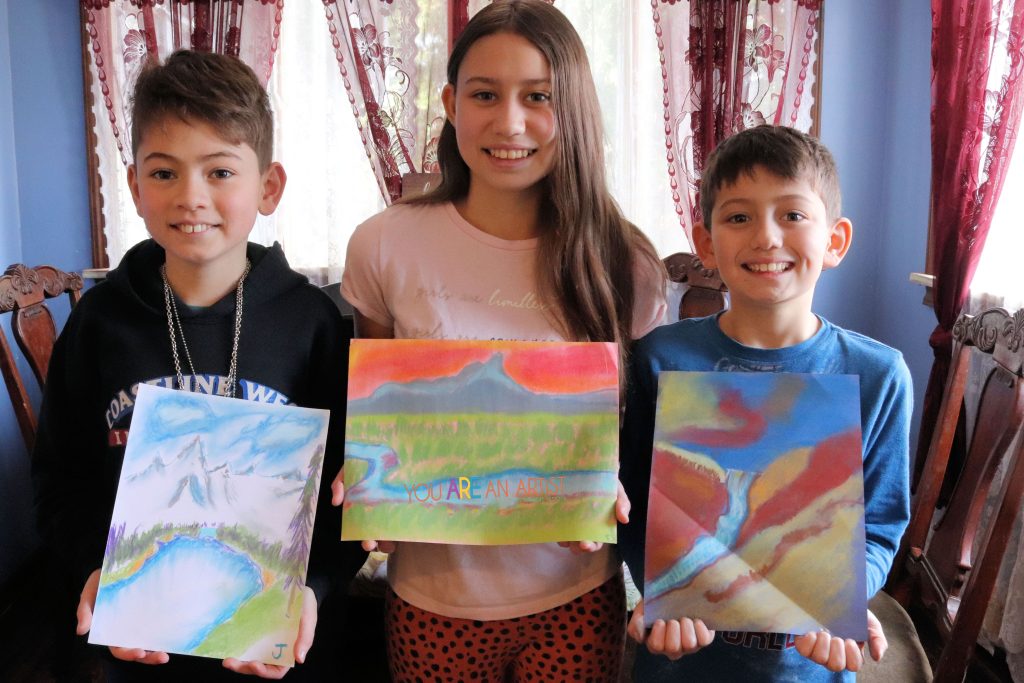 Grand Teton and Yellowstone Park Art Lessons
This is an American Landmark painting found in your Clubhouse membership. This is only one of many other amazing landmarks lessons that are available. Grab the colors of the sunset and set off with Nana to the Yellowstone Falls in Wyoming. Nana describes the falls "thundering down the mountain pass" and a wondrous place called Artist Point. A stunning painting!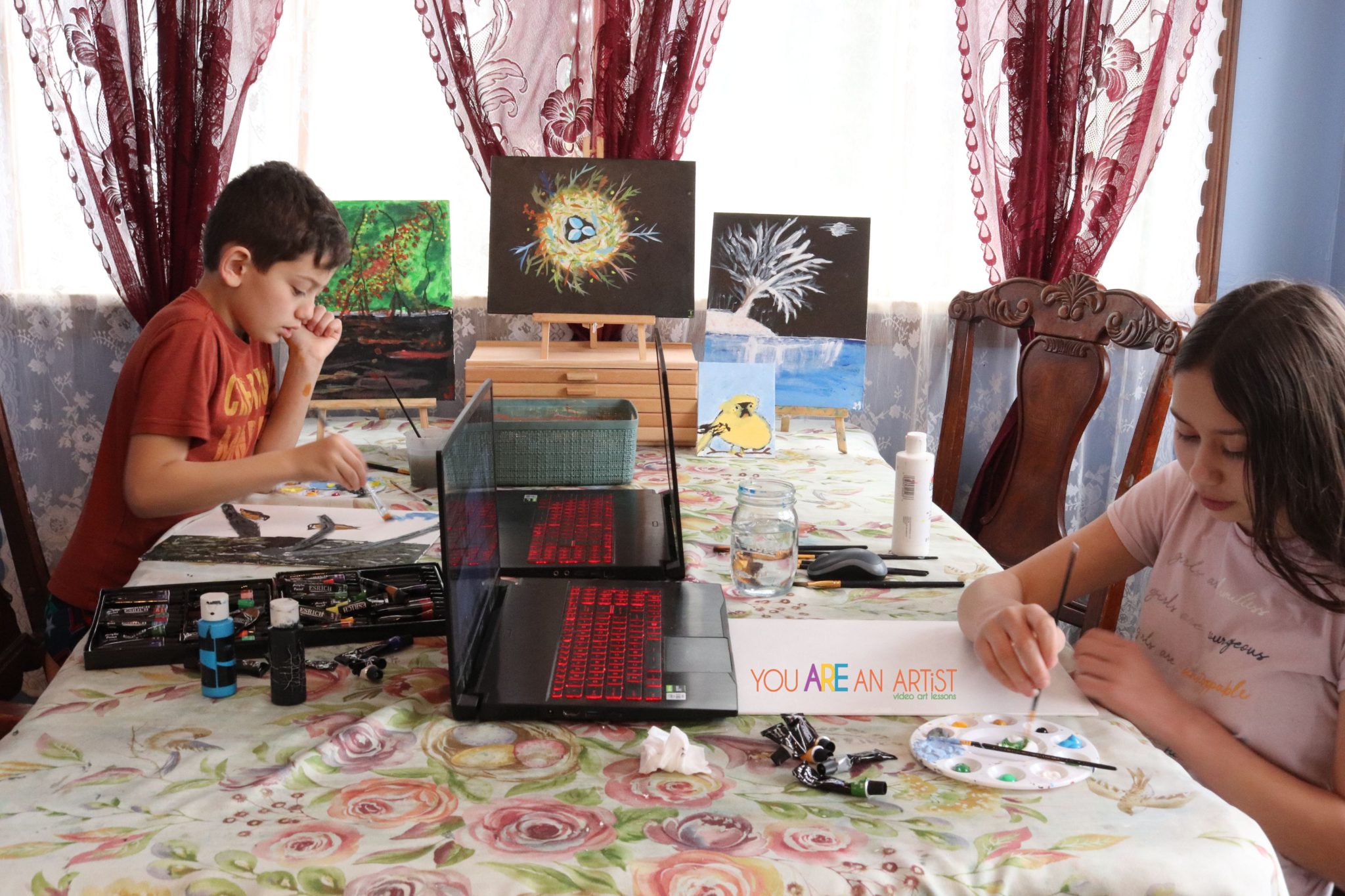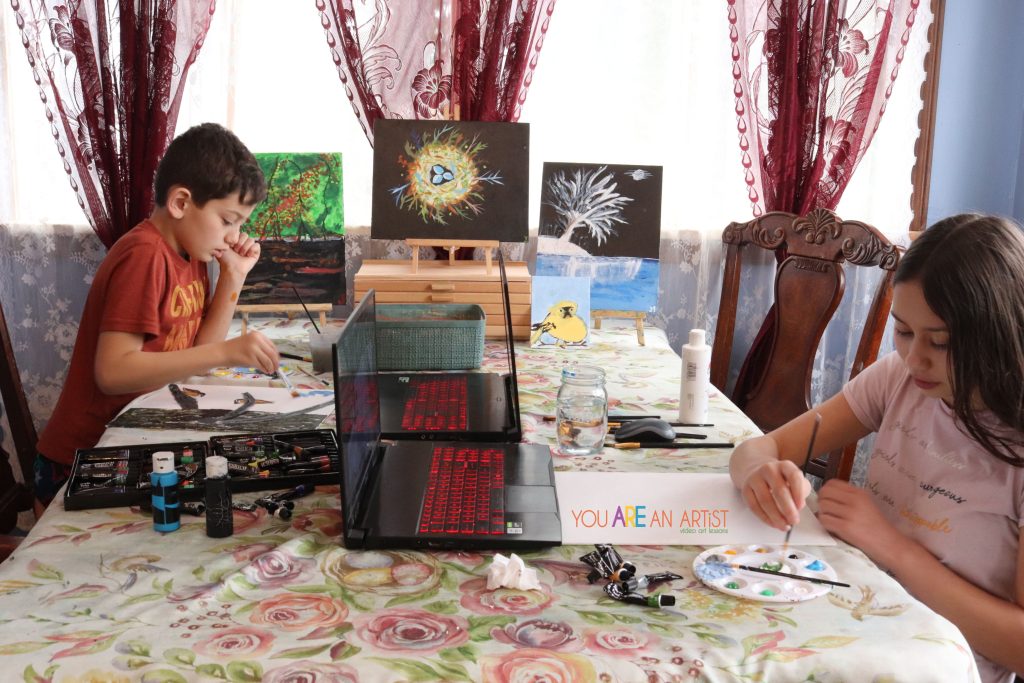 Winter Tree Reflections Acrylic
Paint a night time wintry scene with freezing cold water and a tree dressed in snowy white layers. This is a similar painting to the Fall Tree Reflection. Our little artist wrote Psalm 1:1-3 on the back of his canvas just for Dad!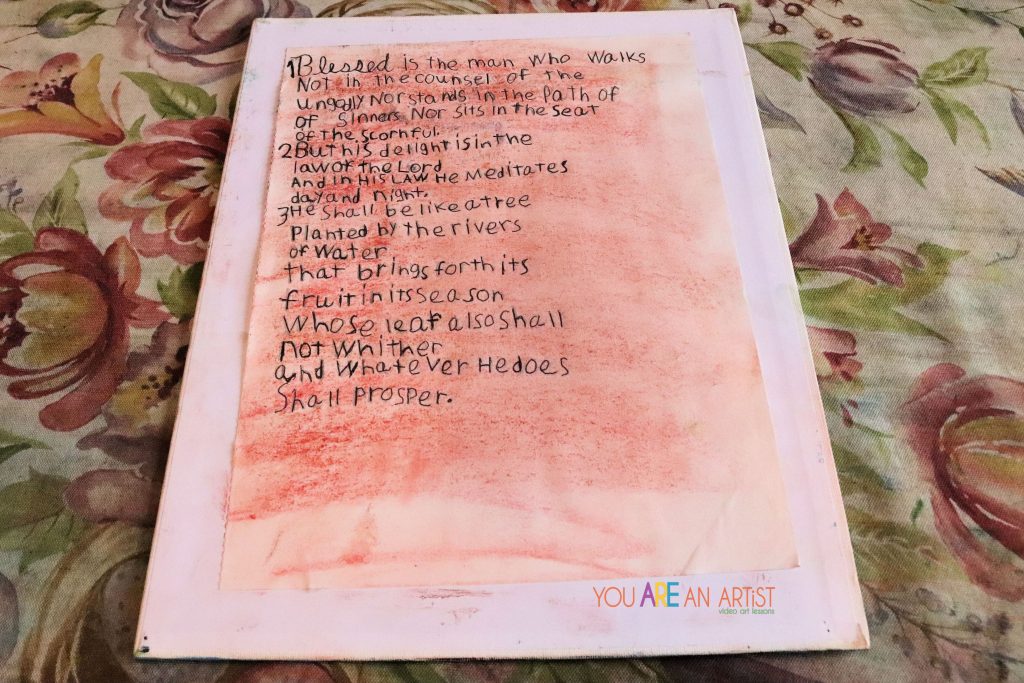 Bible Verse Ideas for Father's Day:
"Blessed is the man
Who walks not in the counsel of the ungodly,
Nor stands in the path of sinners,
Nor sits in the seat of the scornful;
But his delight is in the law of the Lord,
And in His law he meditates day and night.
He shall be like a tree
Planted by the rivers of water,
That brings forth its fruit in its season,
Whose leaf also shall not wither;
And whatever he does shall prosper." Psalm 1:1-3
"But as for me and my house, we will serve the LORD." Joshua 24:15
Your wife shall be like a fruitful vine
In the very heart of your house,
Your children like olive plants
All around your table.
Behold, thus shall the man be blessed
Who fears the Lord. Psalm 128:3-4
As a father pities his children,
So the Lord pities those who fear Him. Psalm 103:13
Make a Hobbit Themed Breakfast for Father's Day
Is Dad a J.R.R Tolkein fan? You know hobbits love to eat…even up to seven meals a day! Make a Hobbit themed breakfast for dad, invite a few hairy footed halflings, and present your Lord of the Rings chalk pastel art with his favorite Tolkein quotes written on the back!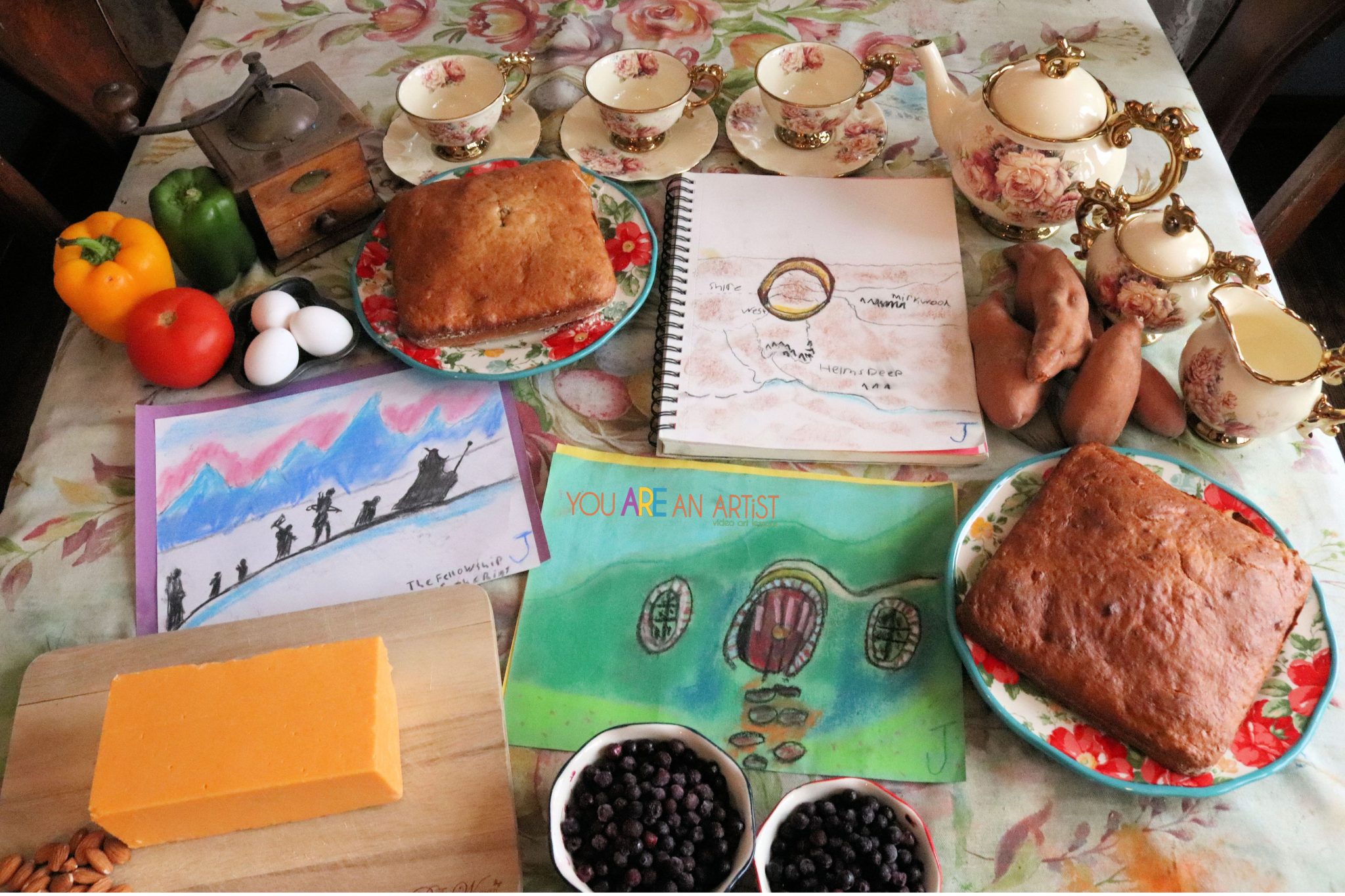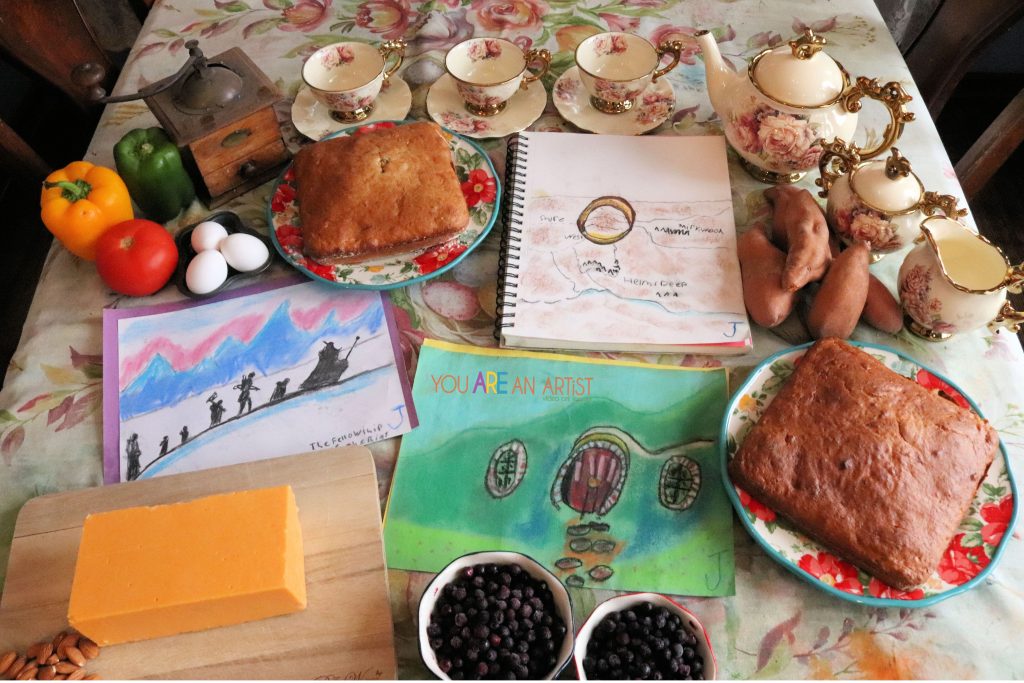 The Hobbit Art Lesson
Go on an adventure with Nana and visit a halfling's home. Paint luscious green grass, and a hobbit home among the meadows…and maybe you'll make it time for Elevenses or an Afternoon Tea! More on this favorite Homeschool Hobbit Art Lesson.
Going on a Lord of the Rings Adventure
Are you ready for an adventure with the Fellowship? Paint silhouettes of prominent characters and watch mighty Gandalf lead the way as they trudge through the snow among icy mountains.
The Ring, My Precious!
Nana sure has a love of reading and loves to visit many places through books! Join Nana on a long journey as you paint the renowned Ring and a vintage map.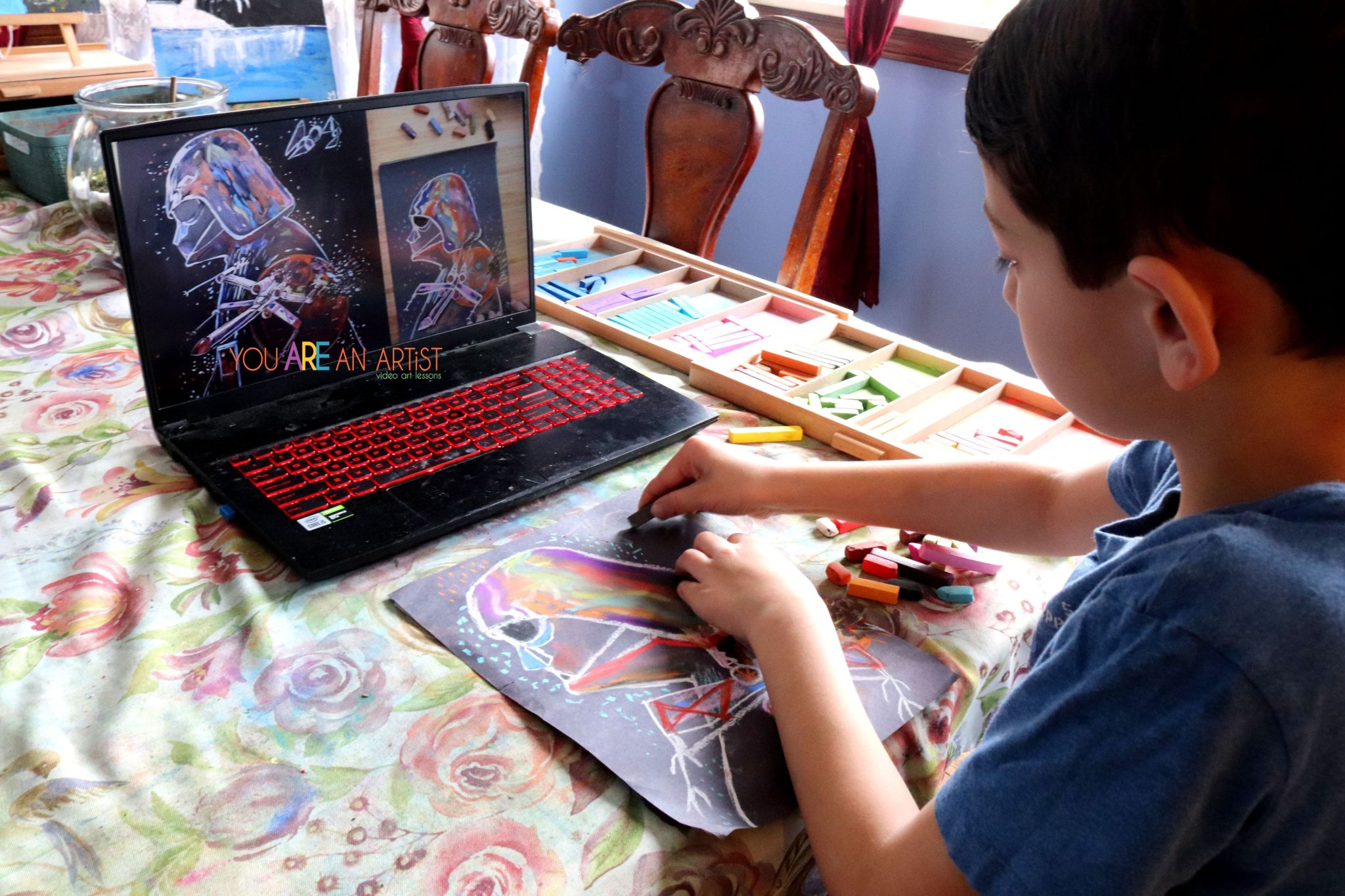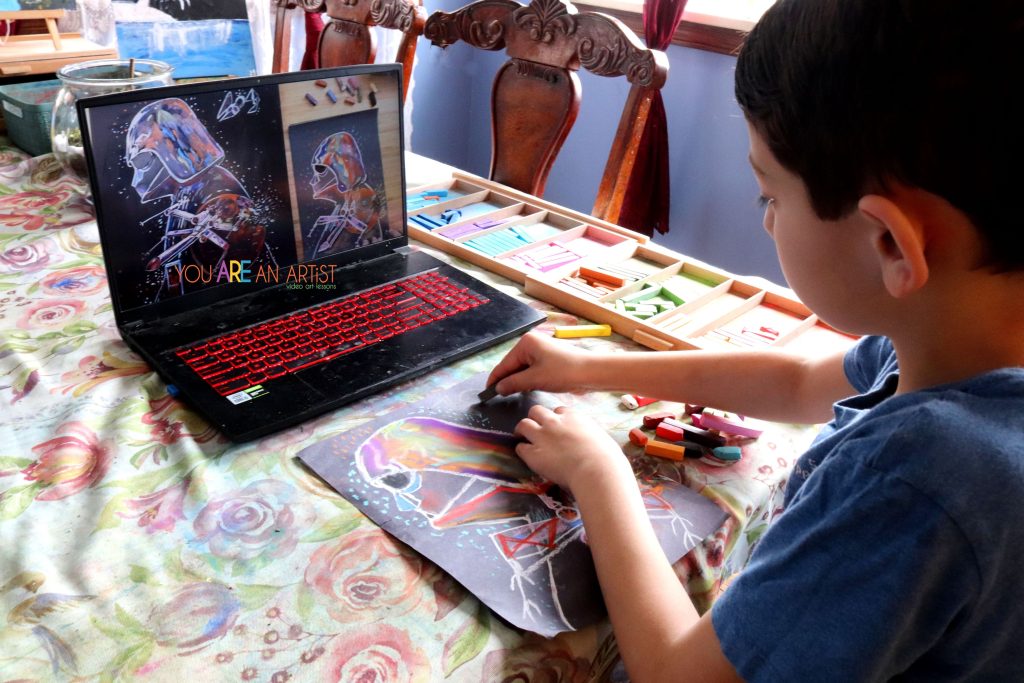 Father's Day Gifts for Star Wars Fans
"I am your FATHER!"…..does Dad love all the old Star Wars movies? Nana shares a colorful Darth Vader Abstract that dad would love for Father's Day! That's not all! Chalk Pastel Art offers even more Star Wars themed art!
The Gift of Art will forever sprinkle our hearts with joy. Some of the most cherished gifts are handmade with thought and love. Through Nana's artistry, your child has an opportunity to create and give in a meaningful way. We hope we have given you wonderful ideas to make Mother's and Father's Day special for you and your dear children.
Don't miss Nana's video showing you how to preserve and frame your chalk pastel artwork. This is perfect for gifting art for special occasions.
Would you like more DIY gift ideas or gift someone with a You Are AN Artist membership? Courtney shares wonderful gift ideas for homeschool moms and children!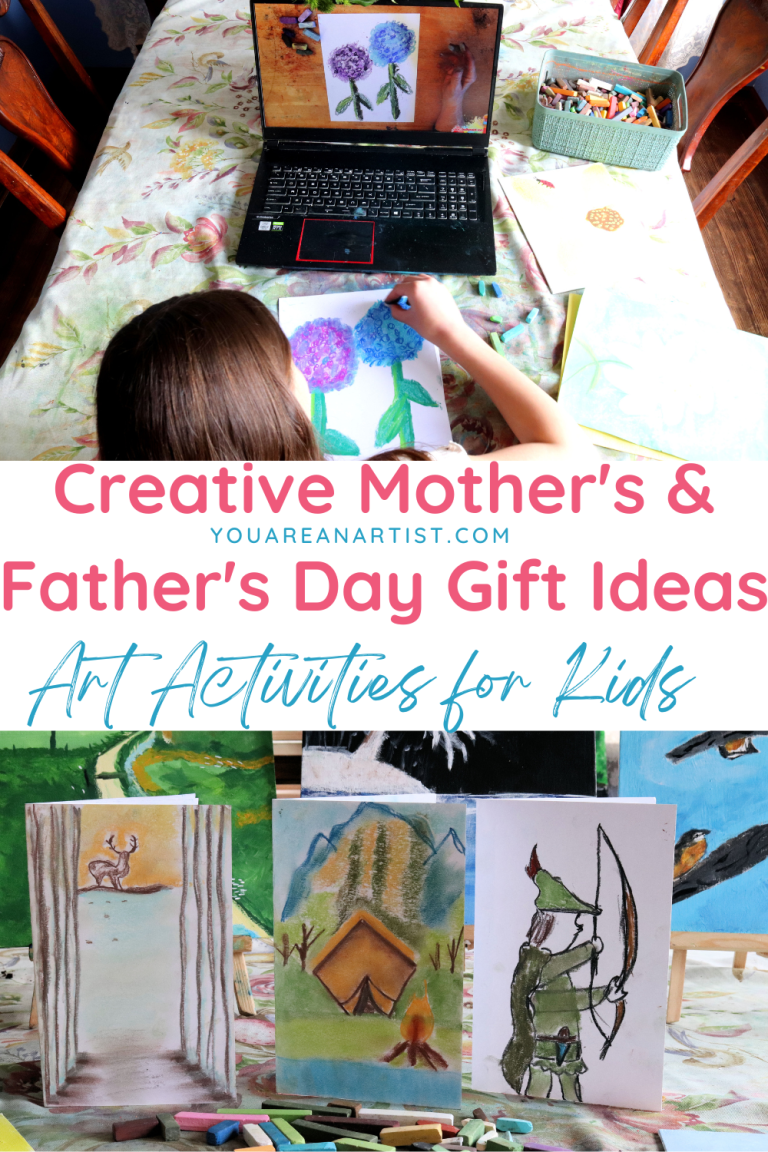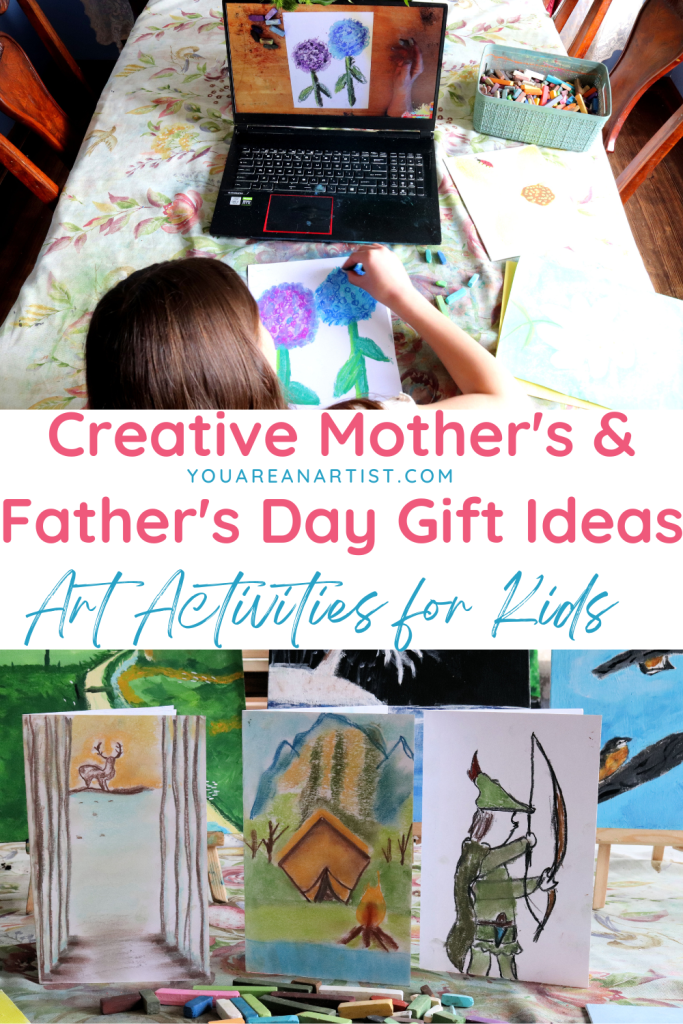 More Creative Resources For Kids
More than just Mother's And Father's Day Art Activities, Chalk Pastel Art offers many creative resources just for your children of all ages! From Preschool learning to Summer Camp to Shark Week, and Hymn Studies! Check it out!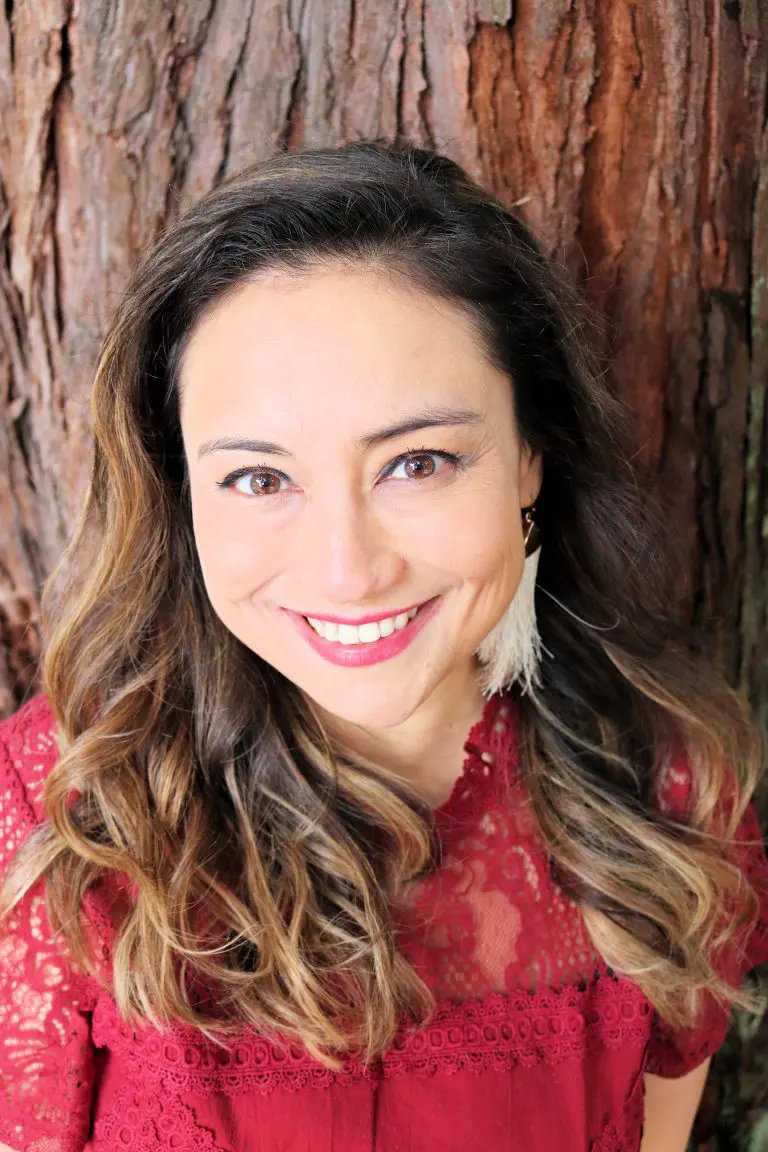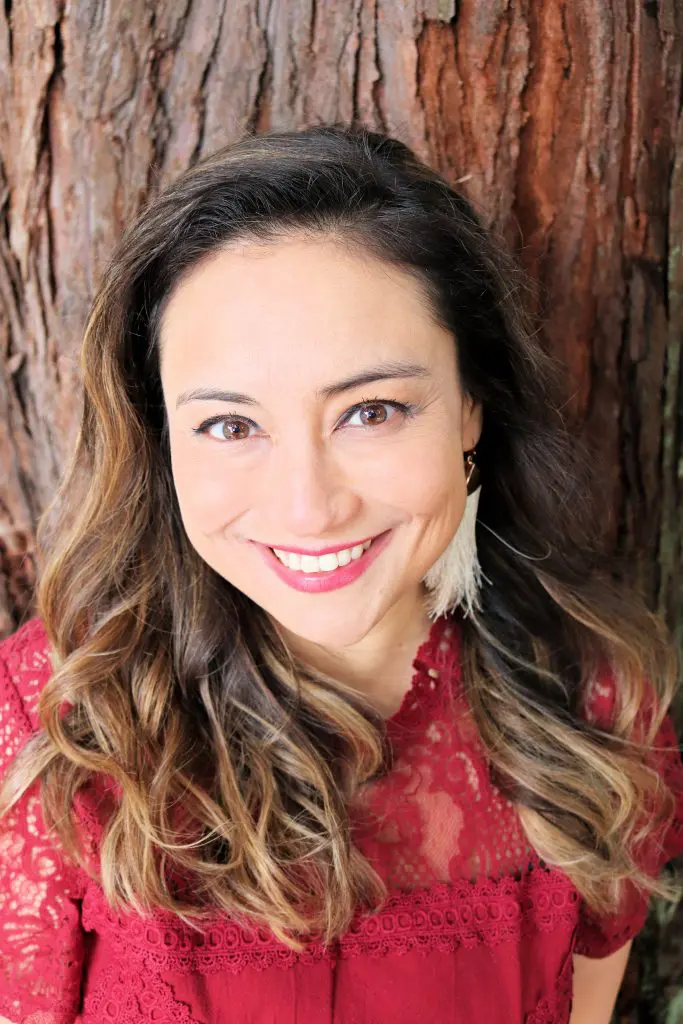 Jamie is the author of A Brown Bear's Language Arts Study, a literature-inspired homeschool mom of eight, and a former educator. She enjoys a bookshelf bursting with colorful picture books and children's stories of all genres. Indulging in a read aloud with all of her children around her is one of Jamie's favorite moments of her days. Be sure to find Jamie on Instagram and visit her blog, Treasuring the Tiny Moments Homeschool, to be encouraged by all her learning adventures with her wonderful family.