What a celebratory month July is! With these July homeschool art activities, you can celebrate Independence Day, Shark Week, blueberry month, famous authors birthdays, National Ice Cream Day, Moon Day and MORE!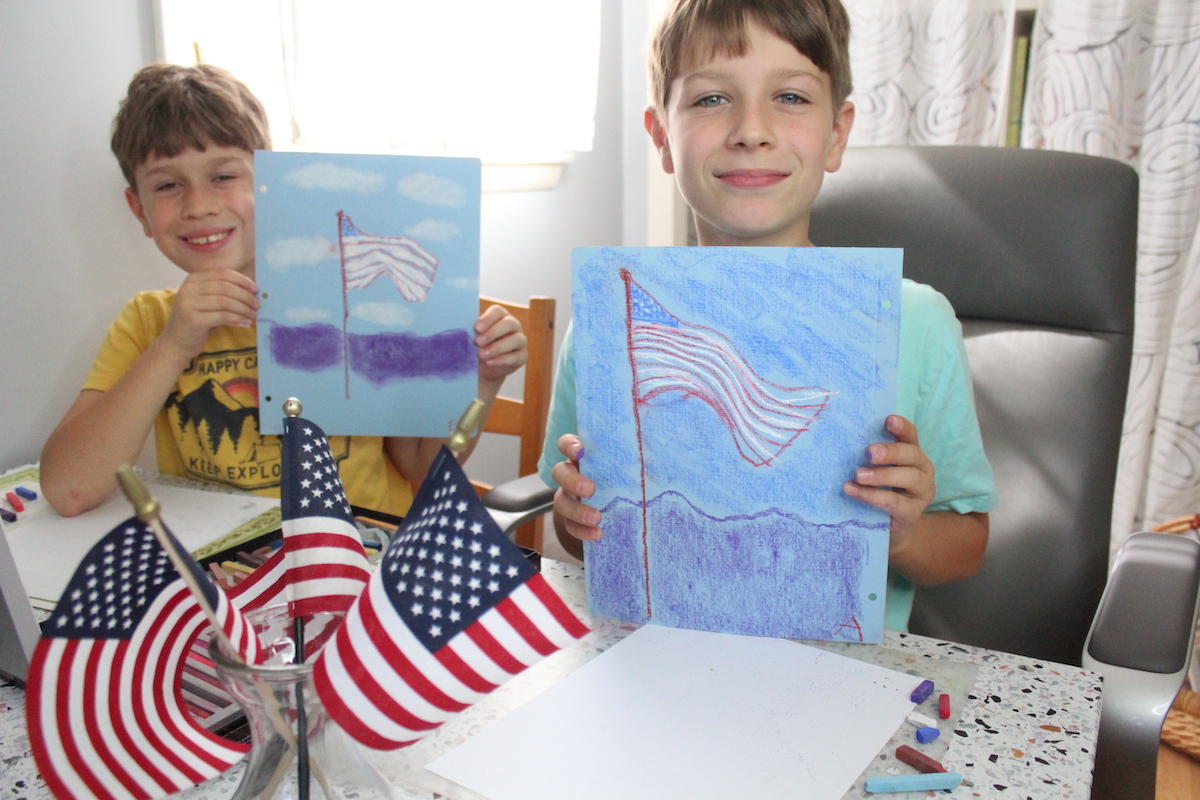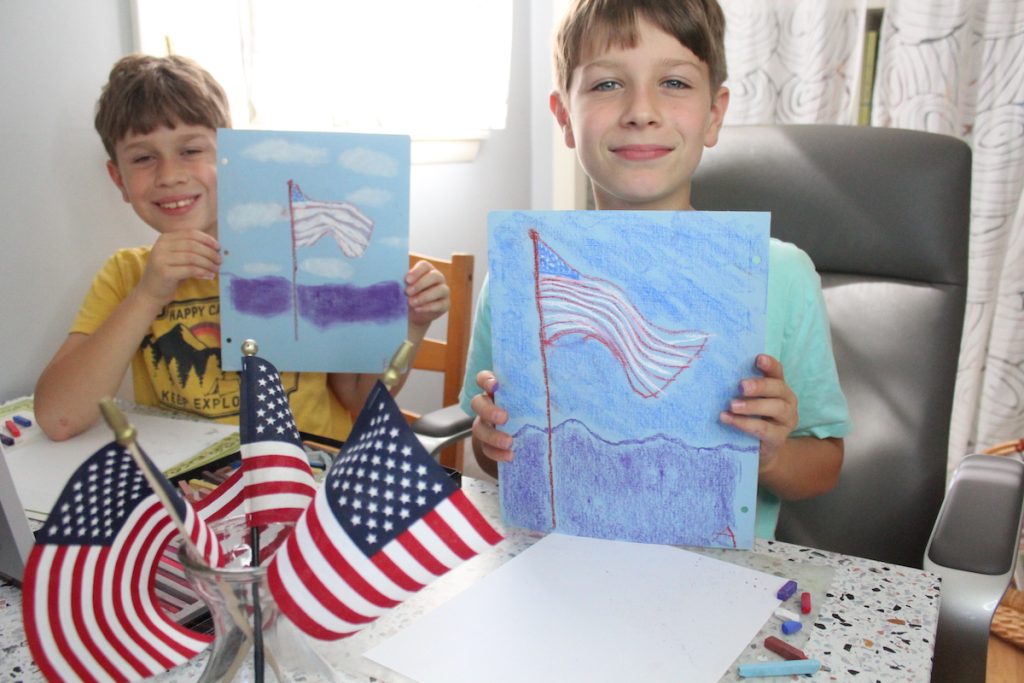 Some links may be affiliate links to resources we love. Please see our disclosure policy.
Independence Day Homeschool Art Lessons
American Flag Homeschool Art Lesson
The Art of Patriotism – These commemorations instill a sense of awe and pride in our country and its peoples. Even if there are parts of our shared history that we shouldn't be proud of, our people have overcome, adapted, and developed. This is a great opportunity to reinforce the core values enshrined in the Declaration of Independence, "that all men are created equal, that they are endowed by their Creator with certain unalienable Rights, that among these are Life, Liberty and the Pursuit of Happiness."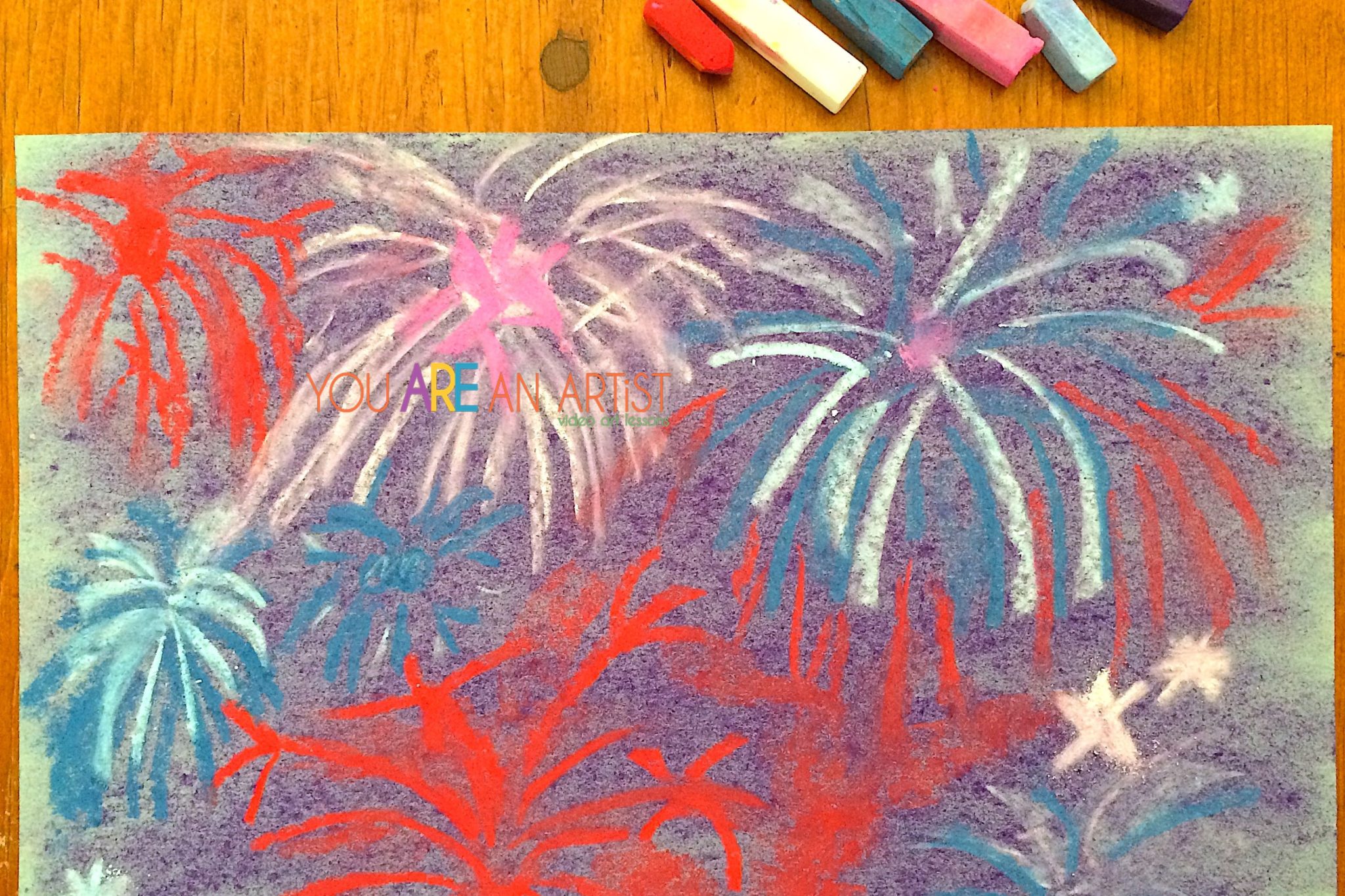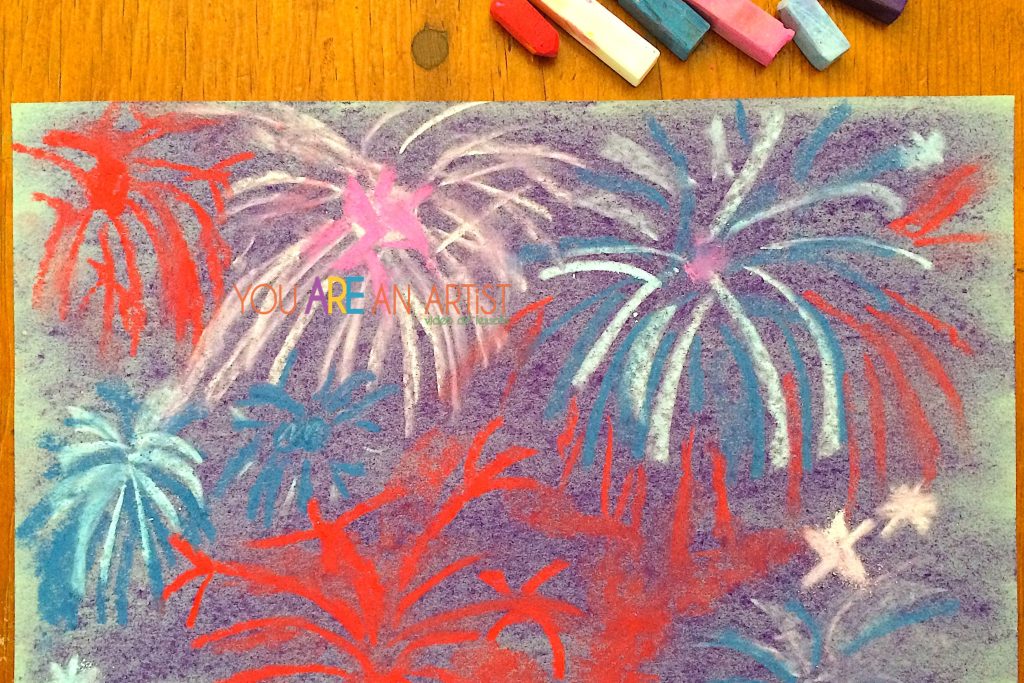 Fireworks Homeschool Art Lesson
An American Art Celebration – Who is ready for an American Art Celebration? History, art, holidays, maps and more! There is simply so much to celebrate. Scroll down to enjoy an American Flag art lesson. And take a look at all the lessons you can enjoy in the You ARE an Artist Clubhouse with Nana.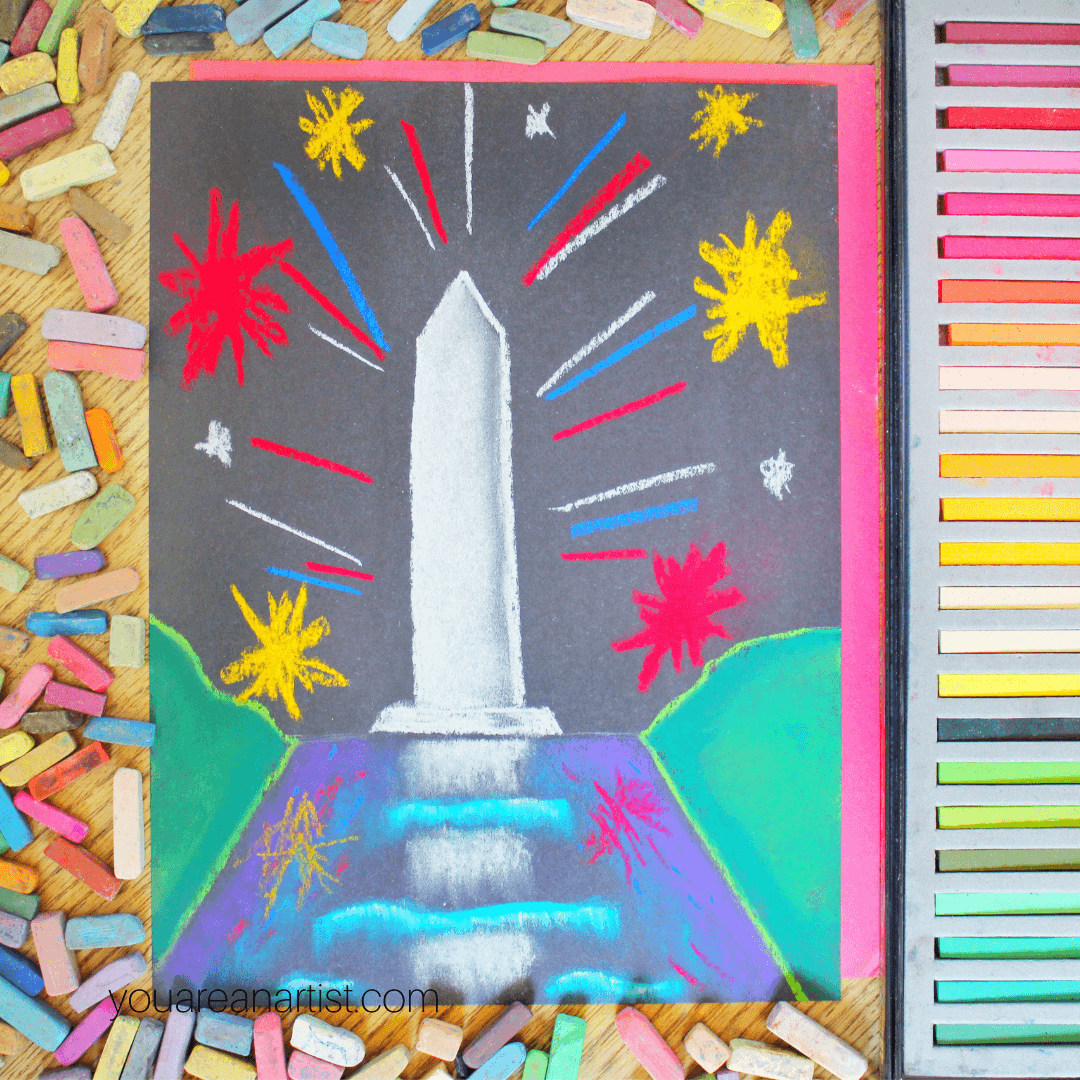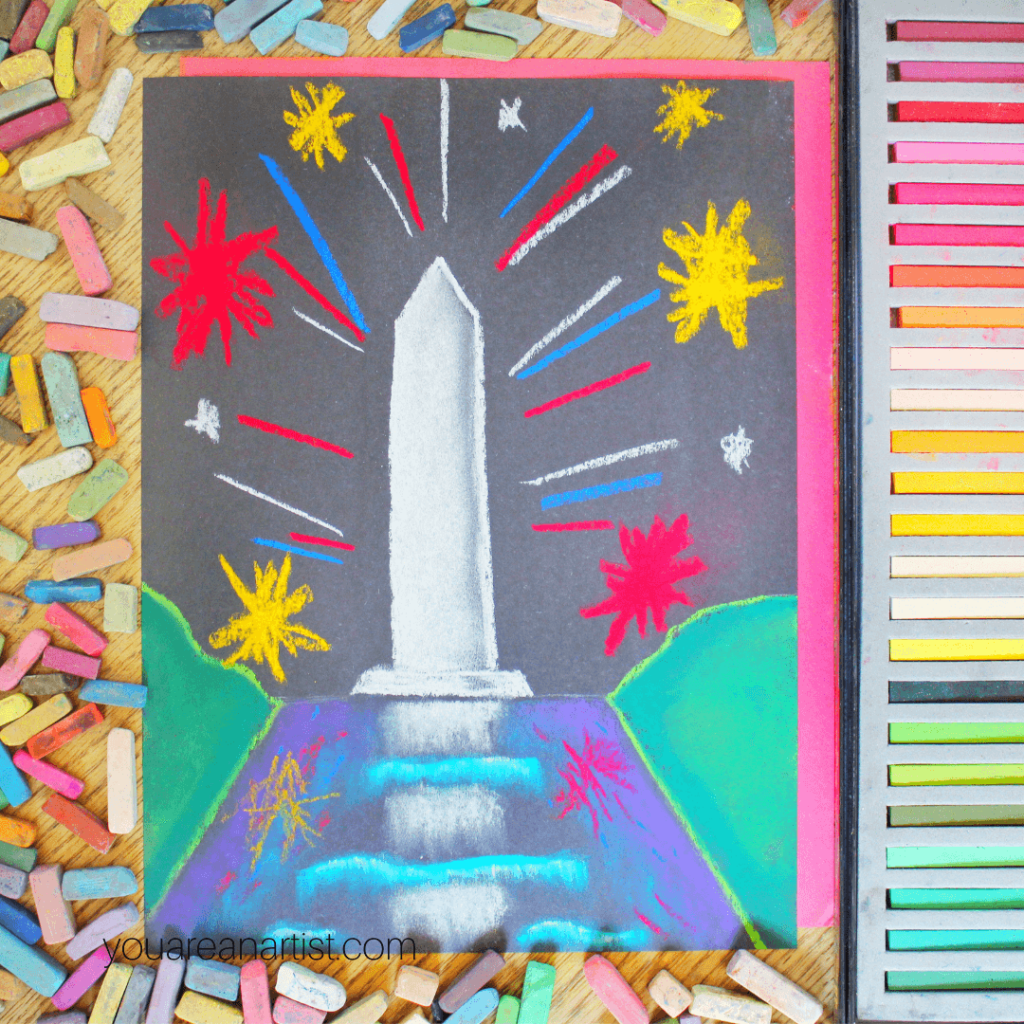 American Landmarks Art Activities
An American Landmarks Homeschool Study – Do you dream of trekking America's landmarks with your kids? Let Nana take you and your children on a trip around our great United States without leaving the comforts of your home. Trekking American landmarks with chalk pastels are as easy as walking to your kitchen table and setting out your chalk pastels with a pack of construction paper. Nana will do the rest.
No hiking shoes or sore feet required!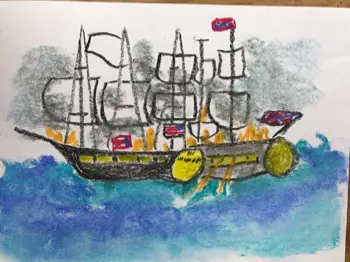 Find 13 Colonies Lesson Plans for Creative Kids, HERE.
USS Constitution Ship and the United States Constitution
Paint this famous and oldest ship in the US Navy! Then paint the United States Constitution in honor of our nation.
There is an entire set of homeschool art lessons on American History, but the Constitution lesson is perfect for Constitution Day. This painting is done in a simple manner that makes it easily achievable even for elementary-aged students. Chalk pastel projects are easily woven into your Independence Day celebration (or lessons) and reinforce themes of the Revolution.
Be sure to check out: 7 American Homeschool History Lessons Your Kids Will Love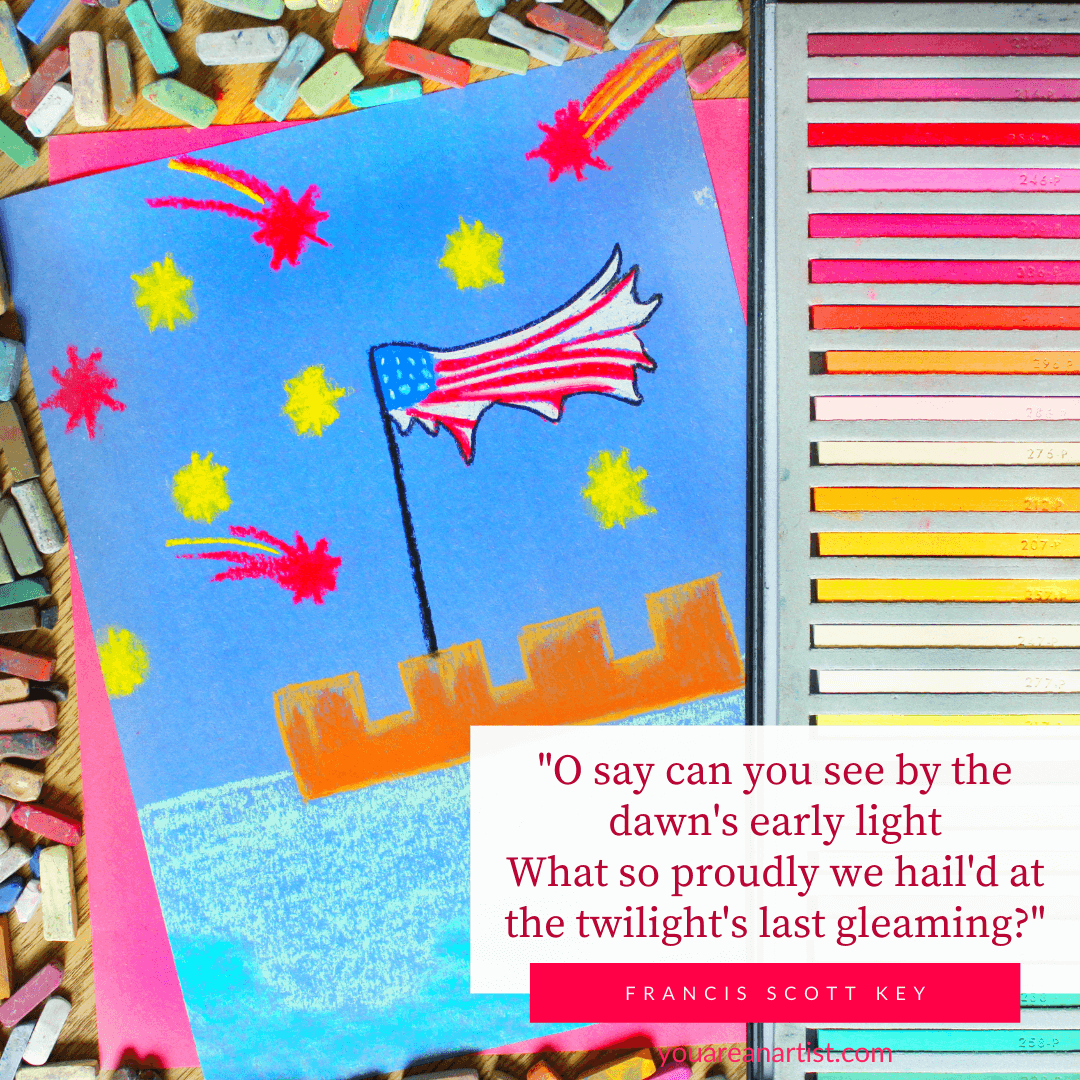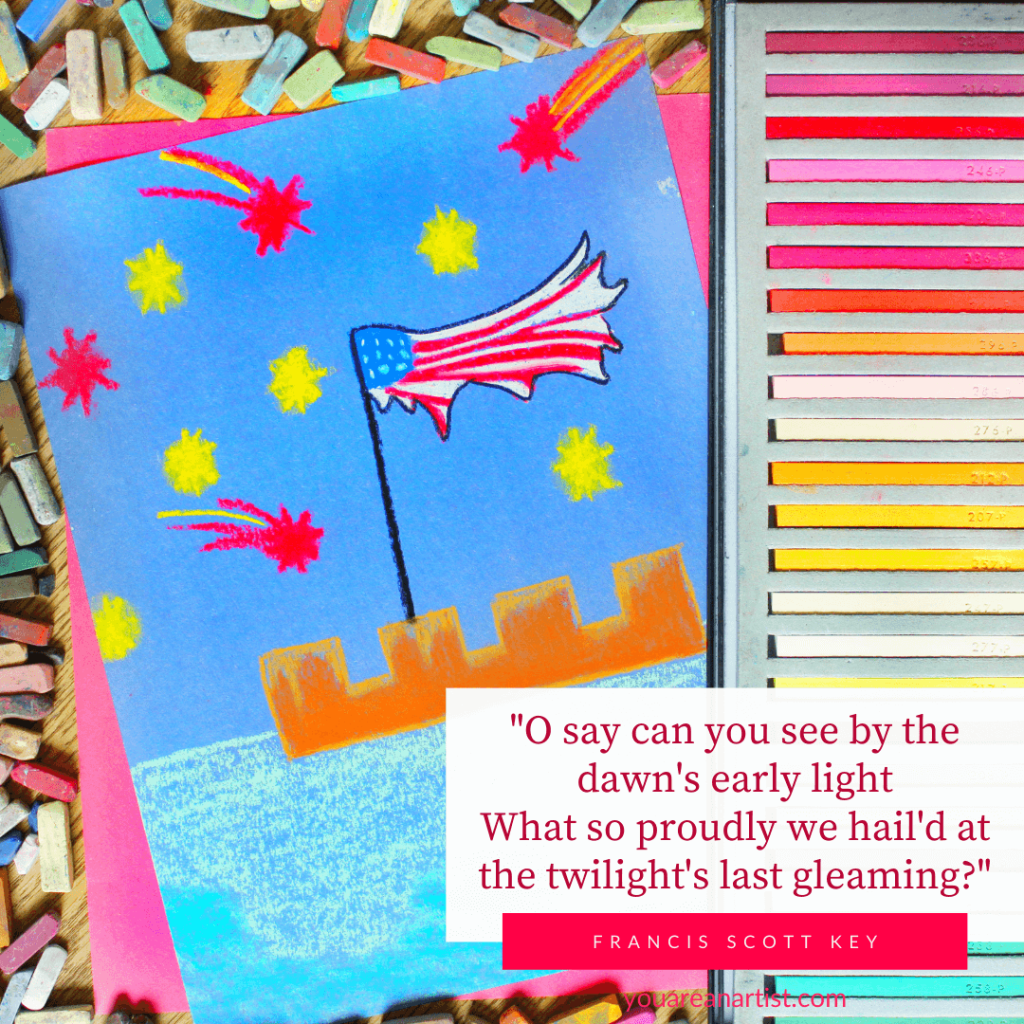 The Star Spangled Banner
The Star Spangled Banner by Francis Scott Key is another great lesson to enjoy for Independence Day or as part of your American history homeschool studies.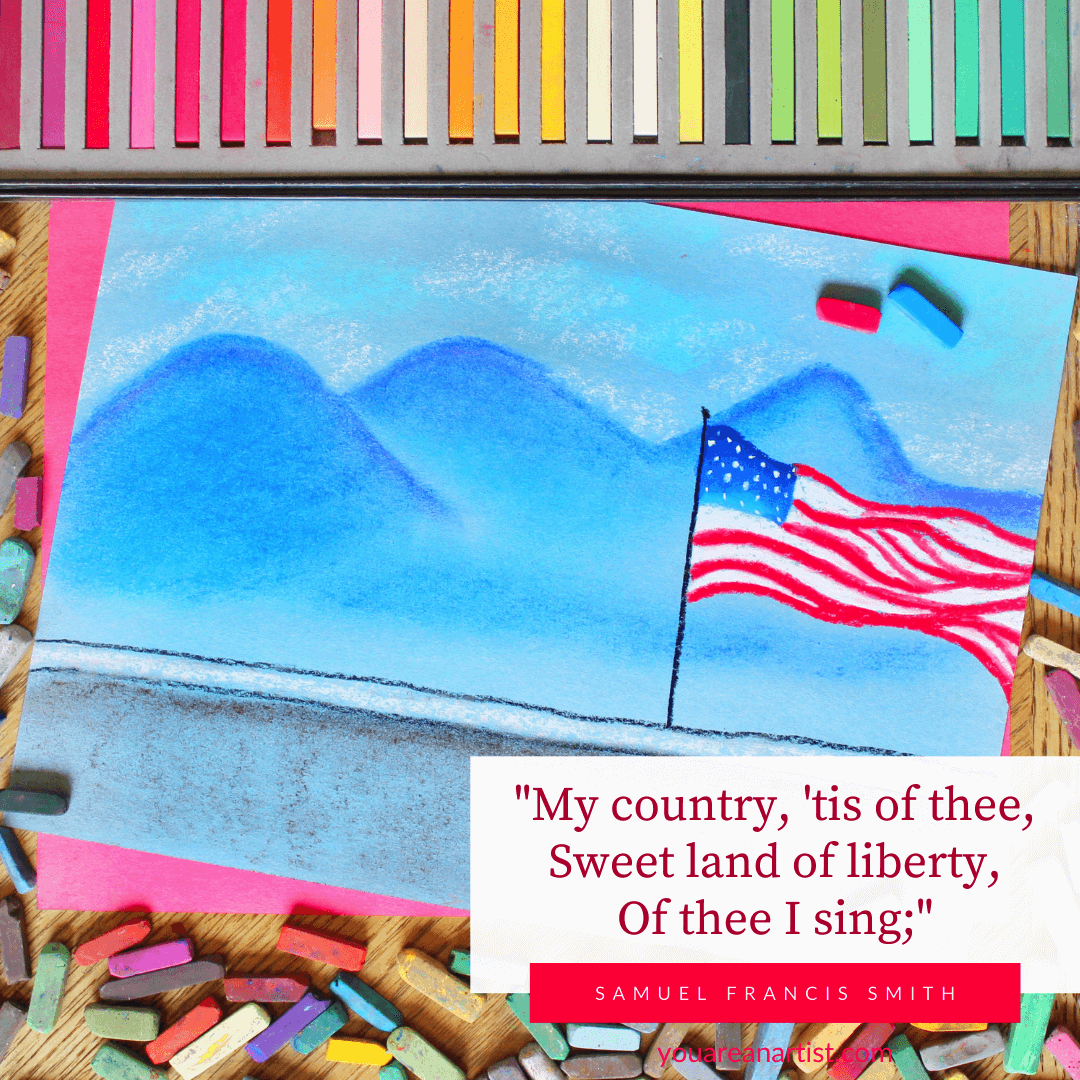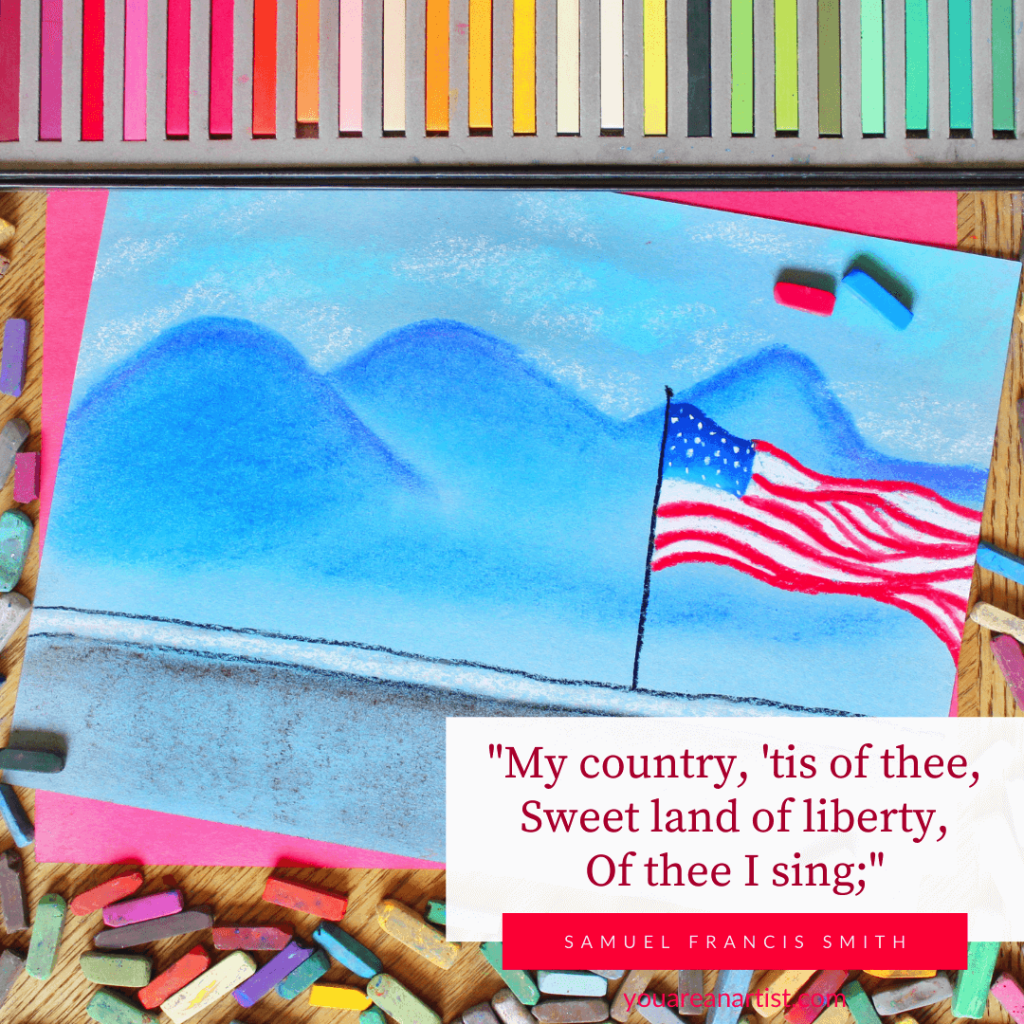 My Country Tis Of Thee and America the Beautiful Perfect for Your Homeschool Hymn Study
What can make a hymn study even more fun and powerful? Adding art to that study! Nana, here at You are an Artist, has done an entire course of art lessons that connect especially to hymns. This allows students to experience the songs in new ways and engages students that might not otherwise be interested in music. It's the art of hymn study!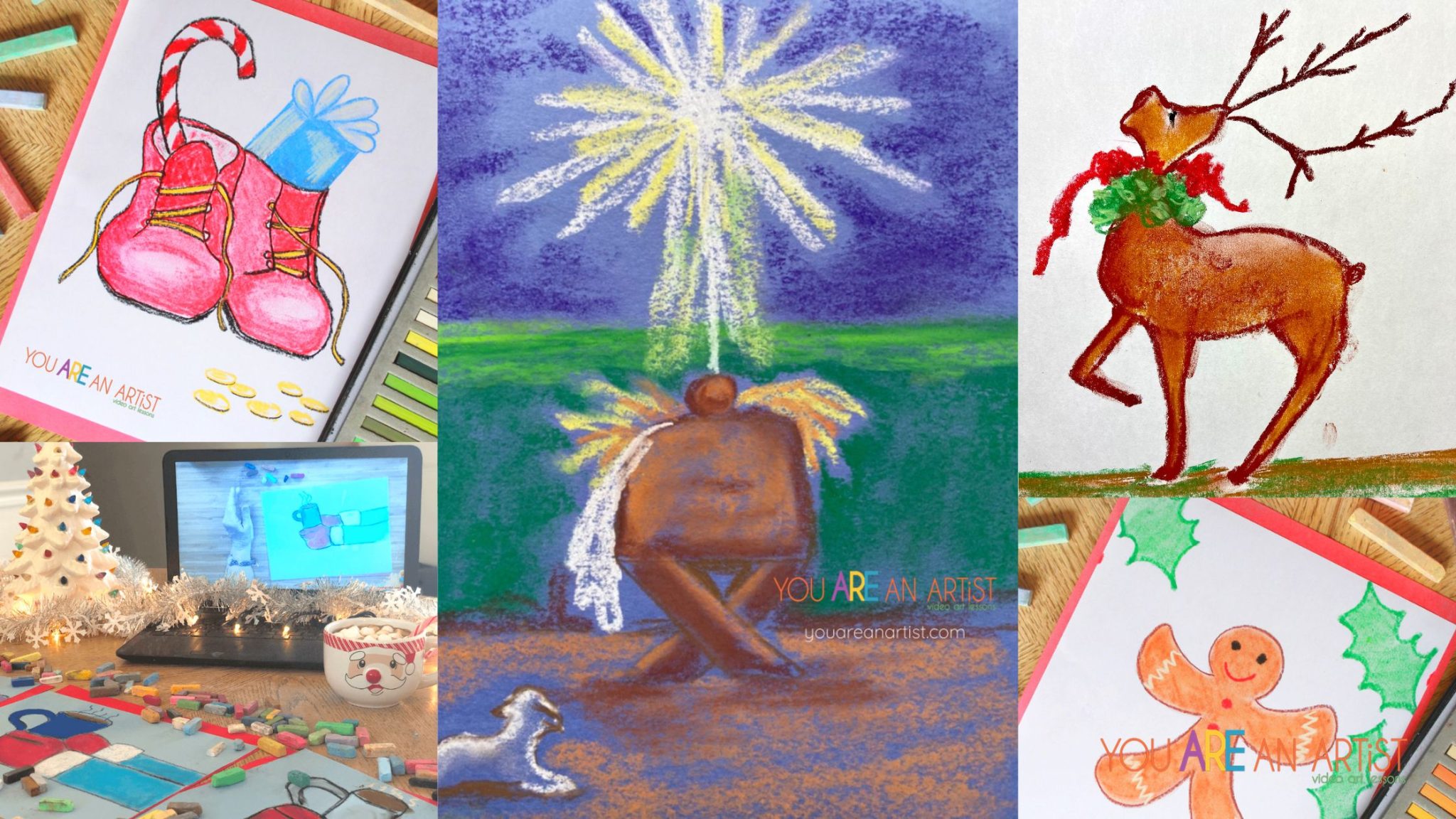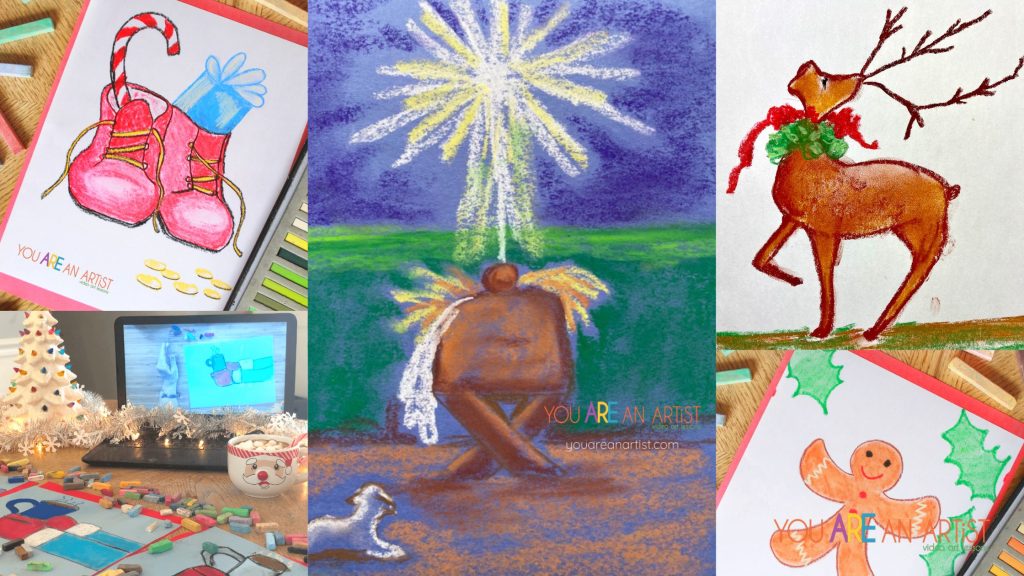 Christmas in July For Kids: Activities and Traditions to Enjoy!
My children and I have long loved celebrating Christmas in July. By July, the days are heavy with humidity and there are often pesky mosquitoes. So, planning something fun indoors that turns our thoughts to cooler days is just the sort of celebration we need!
These ideas will get you started. Just add twinkling lights and your own fun traditions to spark some wonder and imagination! Explore Christmas in July.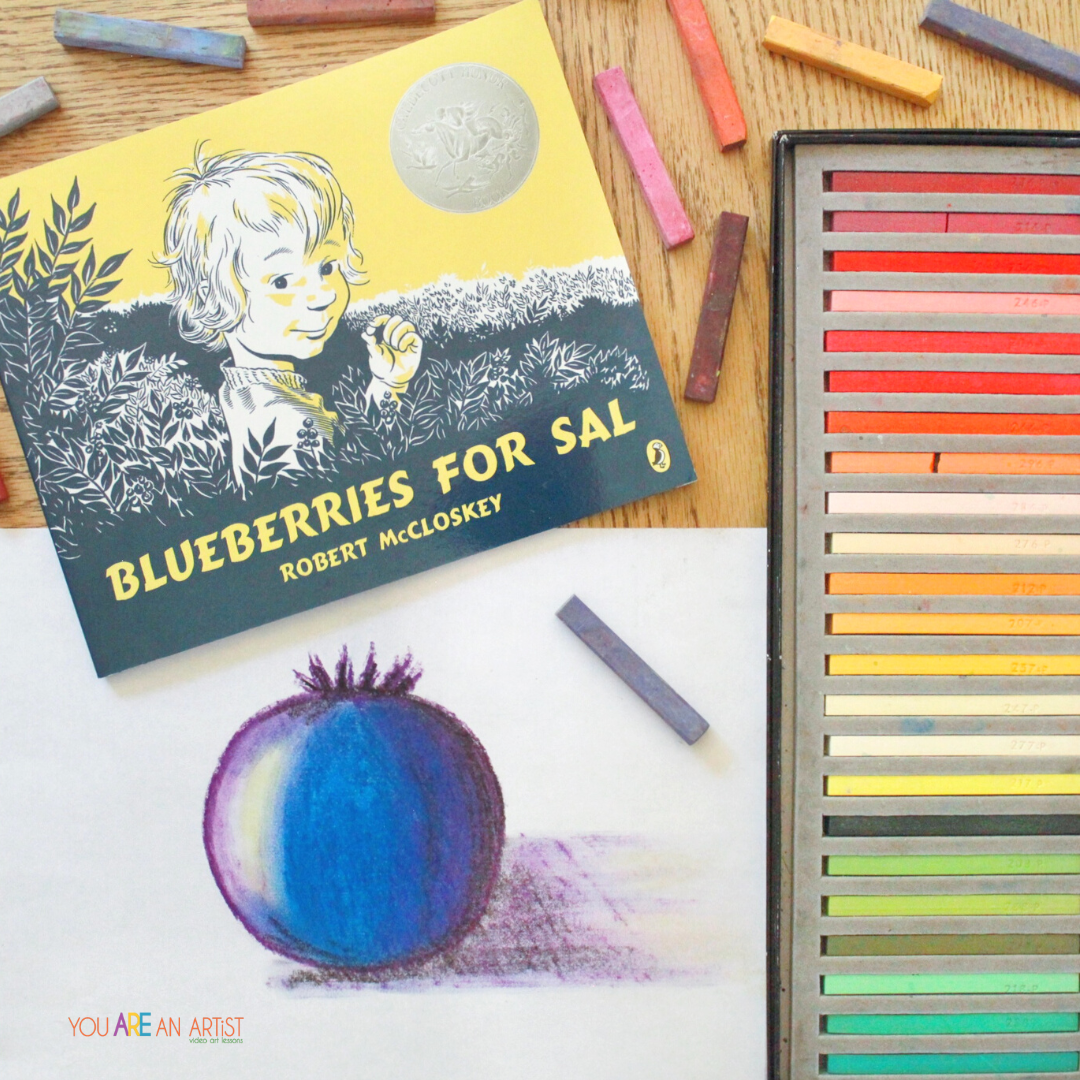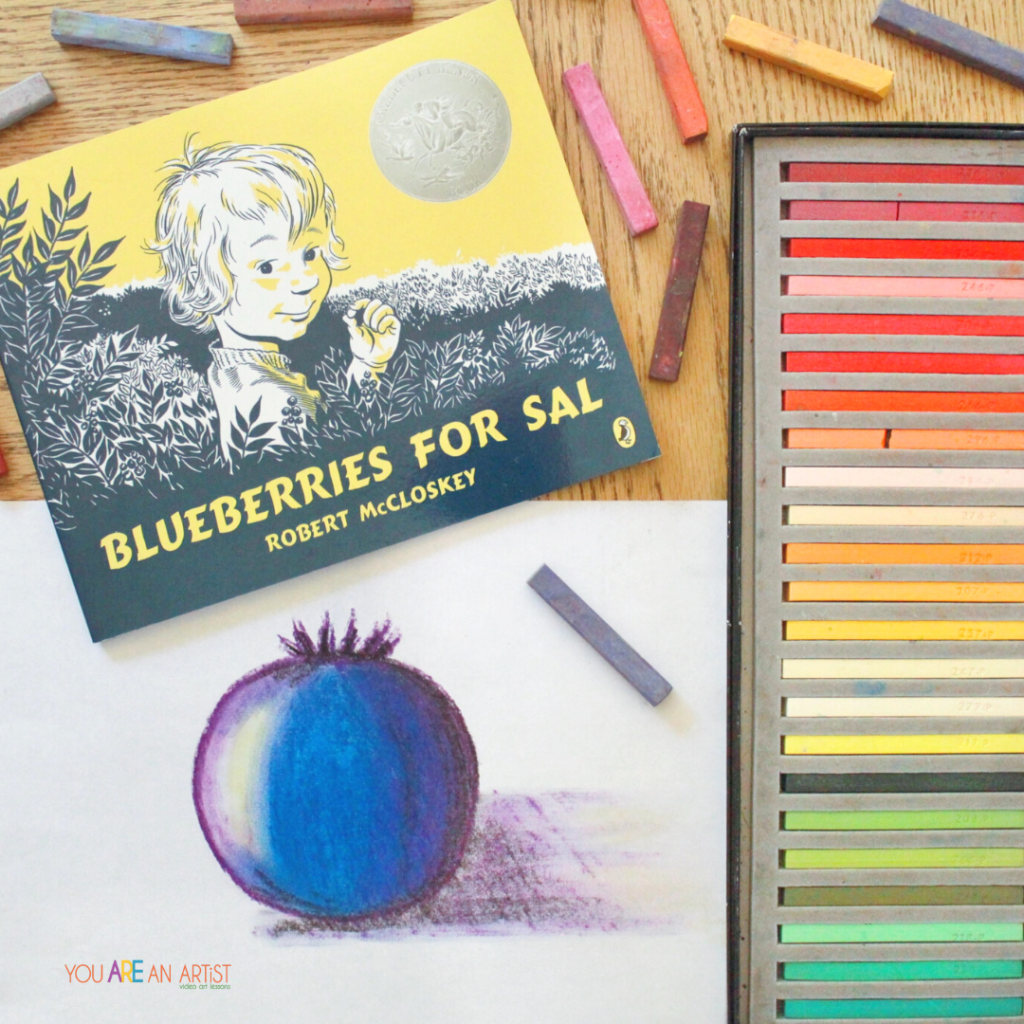 Blueberry Month
Are you picking buckets full of blueberries in July? Paint a blueberry with Nana and enjoy some follow up with a favorite book, Blueberries for Sal.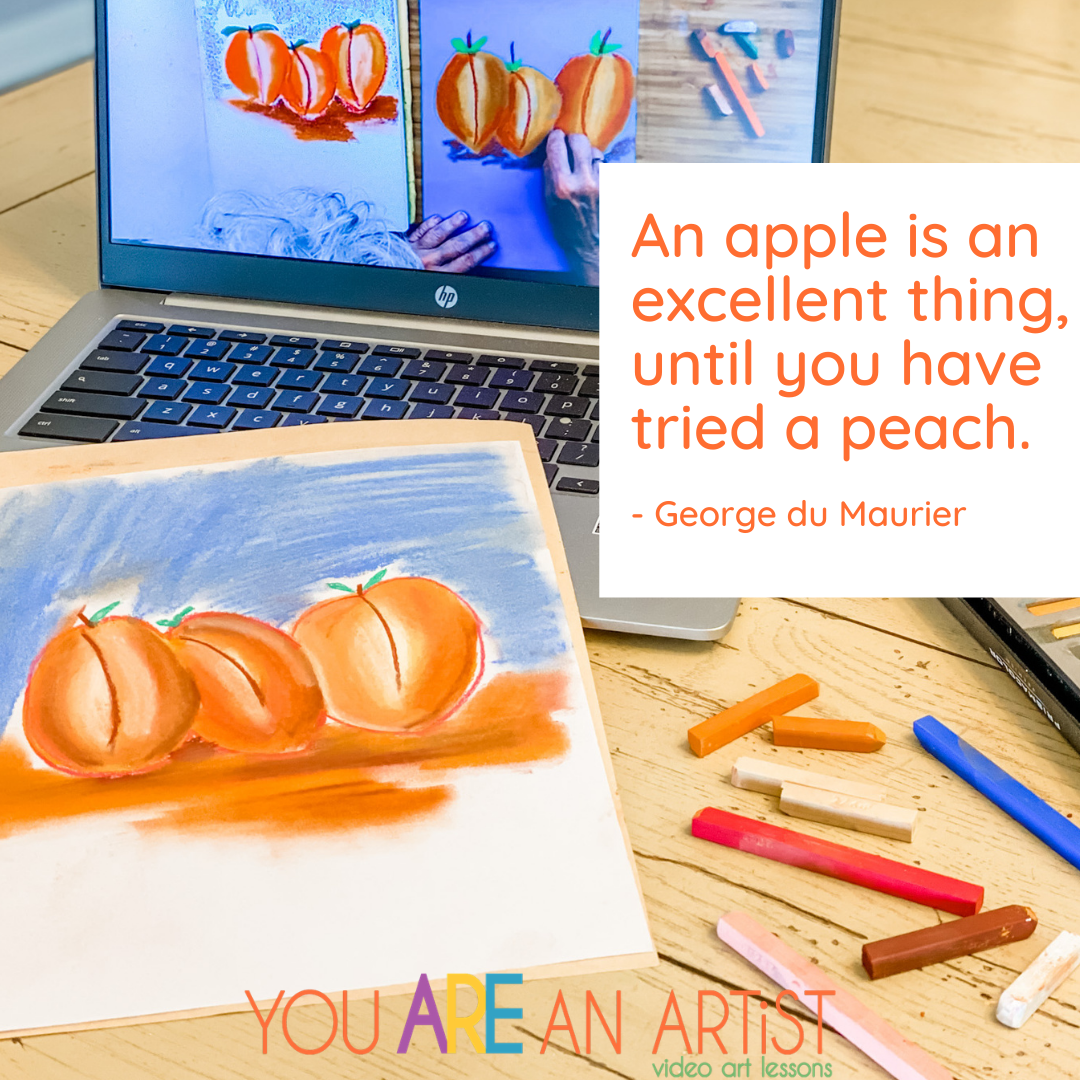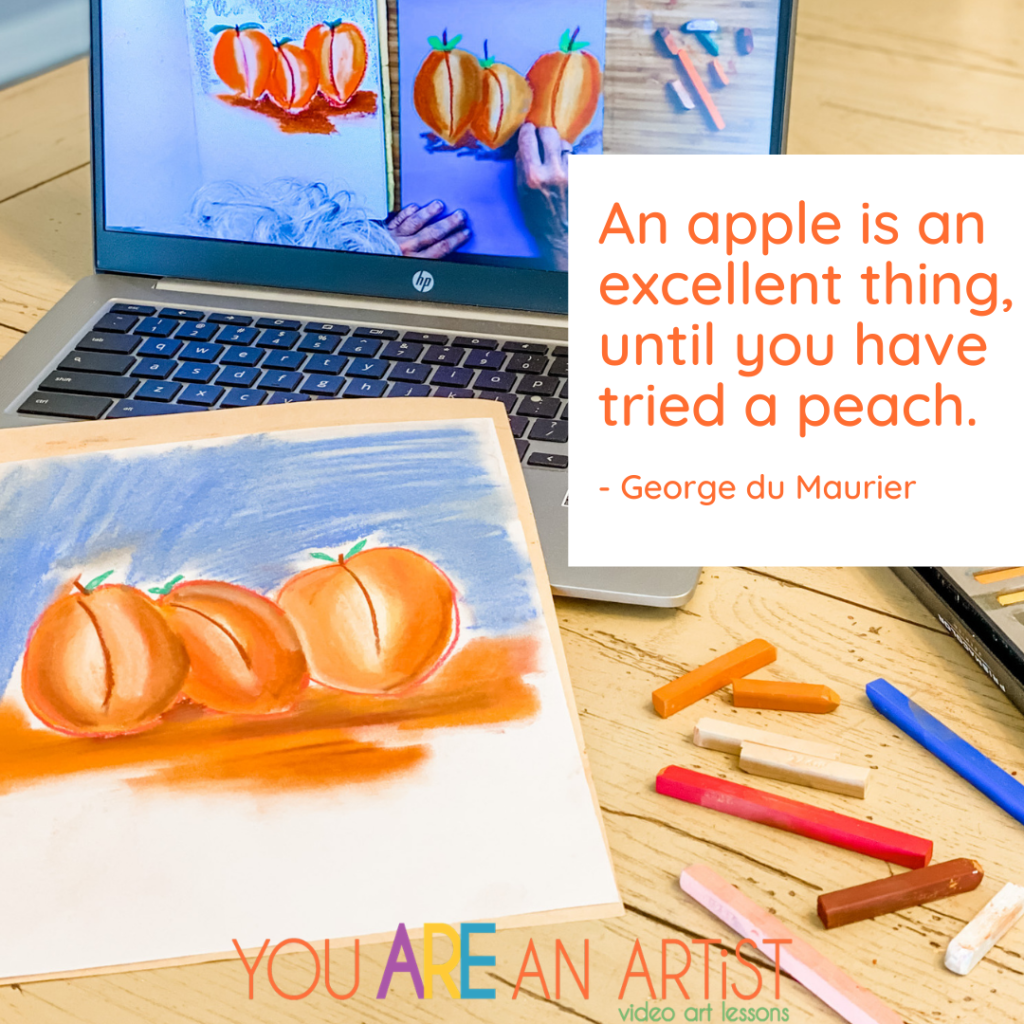 Peach Art Lesson
Paint a juicy peach in honor of summer's garden bounty!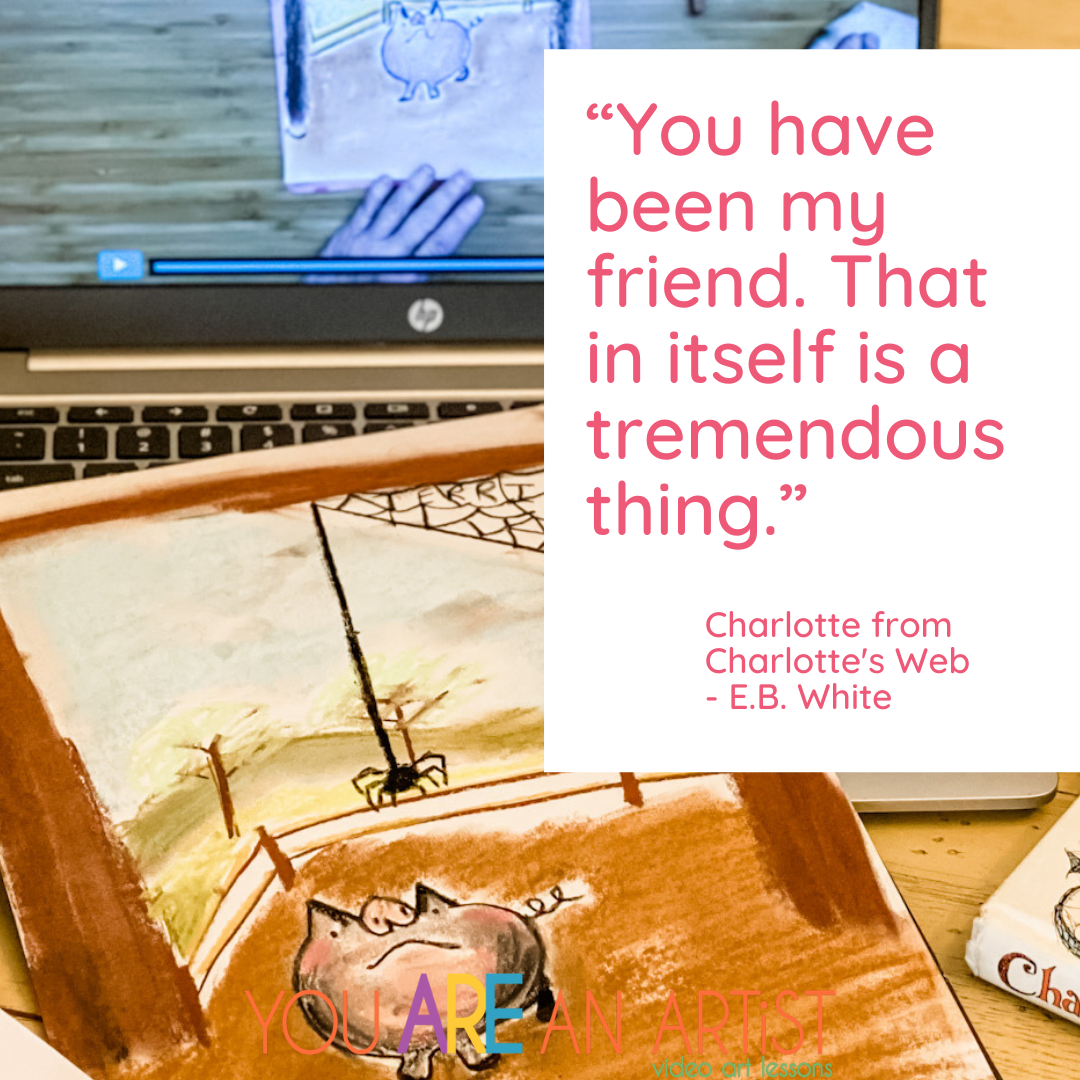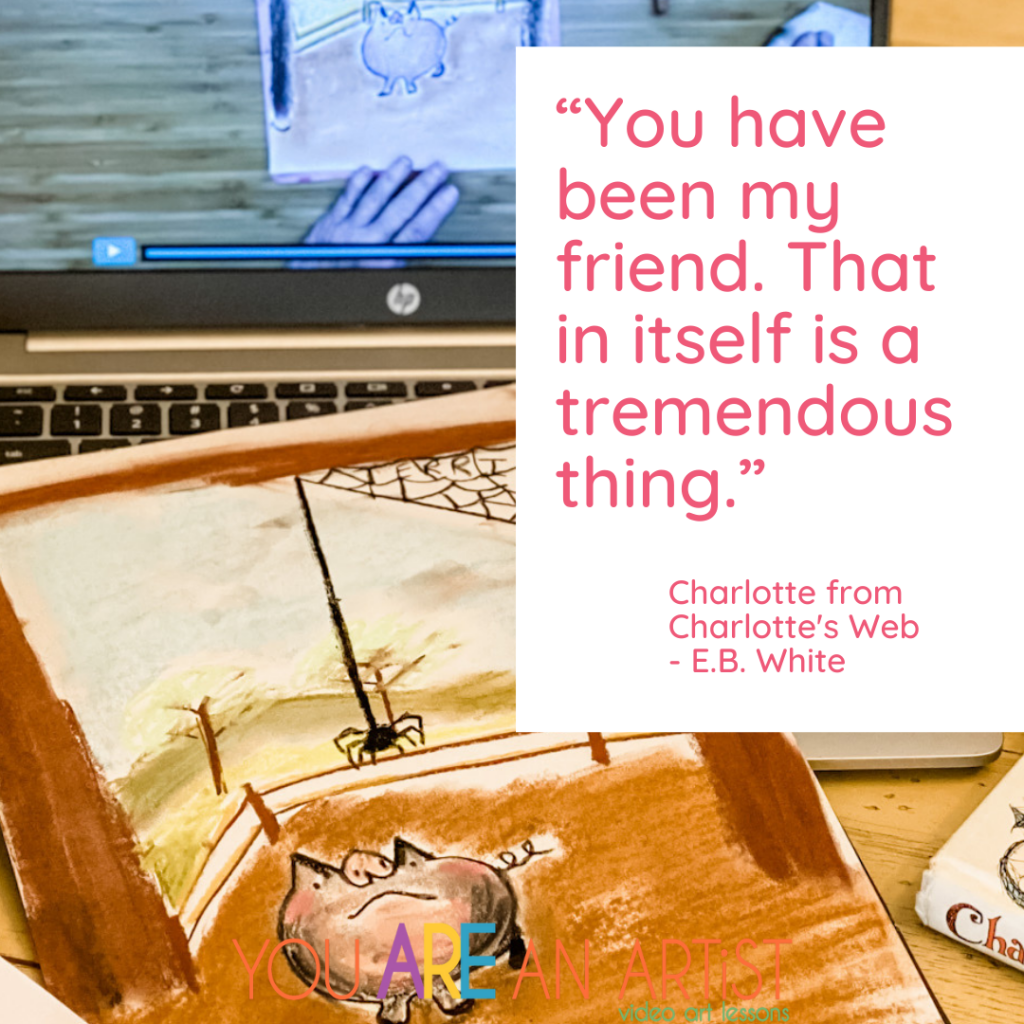 July Birthdays to Celebrate
Author E.B. White's birthday – End of book celebrations are not only an incentive to complete the book, but they are a great way to continue to grow a love for reading. If you have a child who is a reluctant reader or hasn't adapted to family read-alouds yet, you may want to think about adding in these hands-on homeschool art lessons from YOU ARE AN ARTiST.
Julius Caesar's Birthday – Paint Julius Caesar with Nana! And find more ideas for ancient history studies in Julie's Art for the Classical Homeschool Family.
Henry David Thoreau's birthday – If you are craving simplicity in life or homeschool, this is a lesson you may want to use. You can adapt it to your own homeschool however it fits best. We love to decompress with tea and literature, so tea time is fitting for Thoreau's "I Went To The Woods" Art Lesson.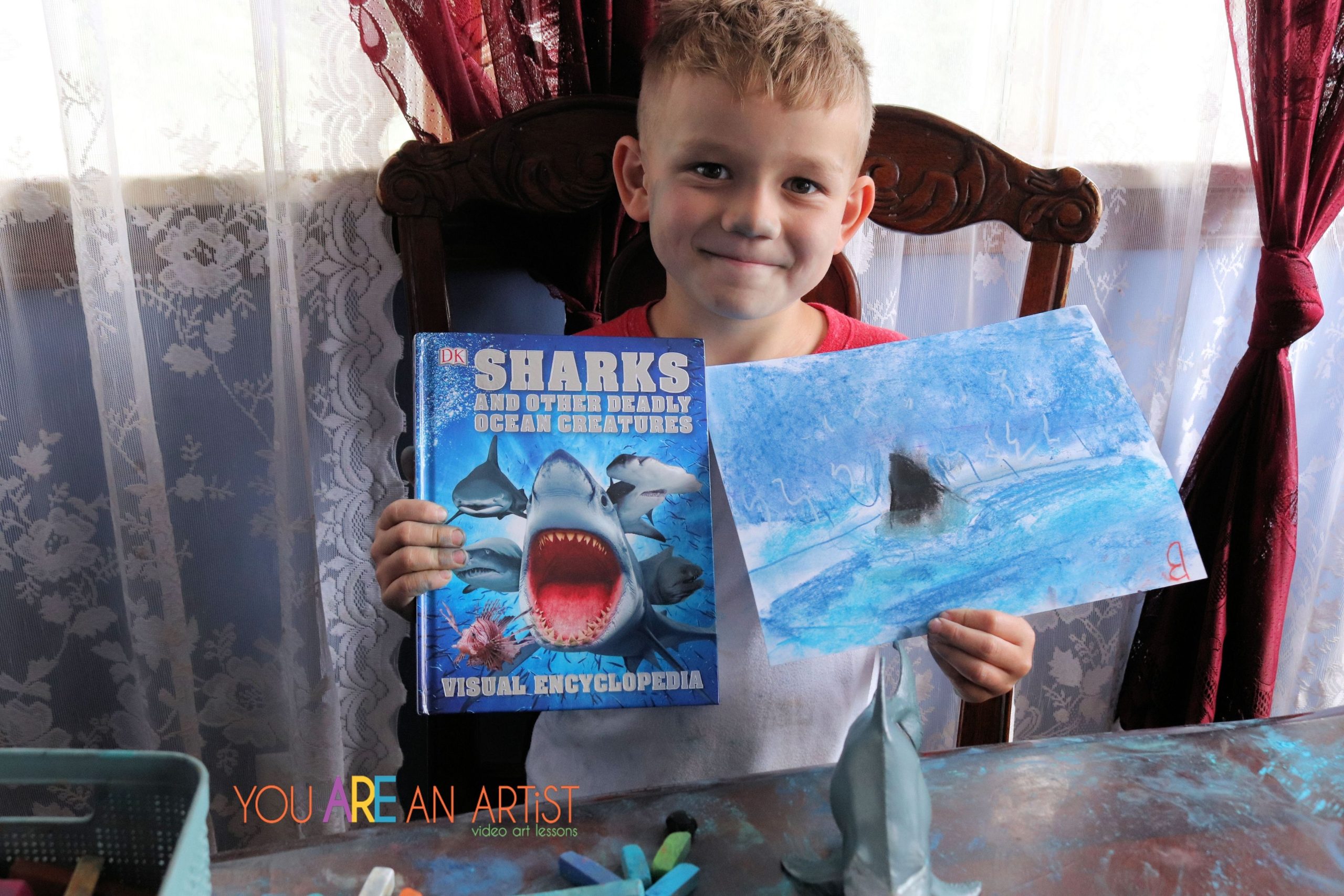 Shark Week for Your Homeschool
Nana has a NEW Shark Tracking Map art lesson you will love! Another to add to her HUGE series of beautiful sharks in the You ARE an ARTiST Complete Clubhouse. Enjoy a Shark Week Homeschool Unit Study for Kids!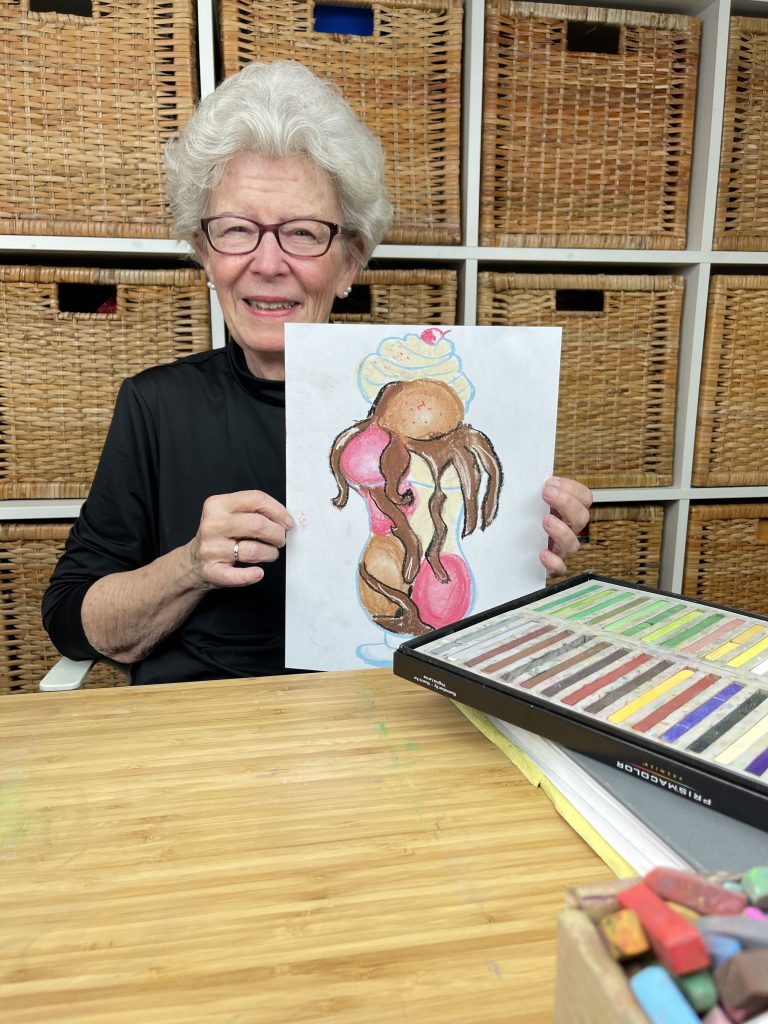 National Ice Cream Day
What a yummy holiday to celebrate! With Nana's lesson you can paint YOUR favorite flavors – and add all the toppings and sprinkles you would like!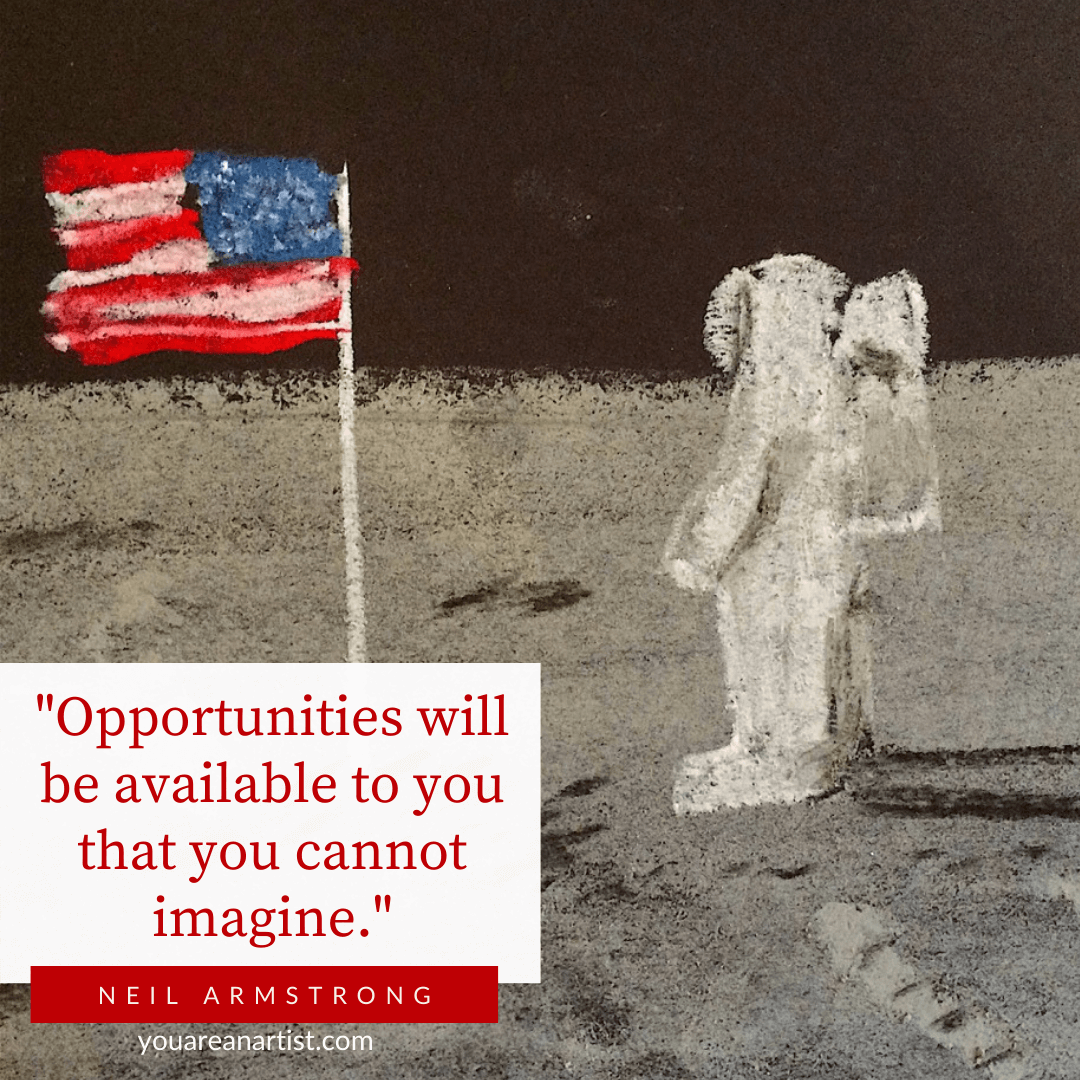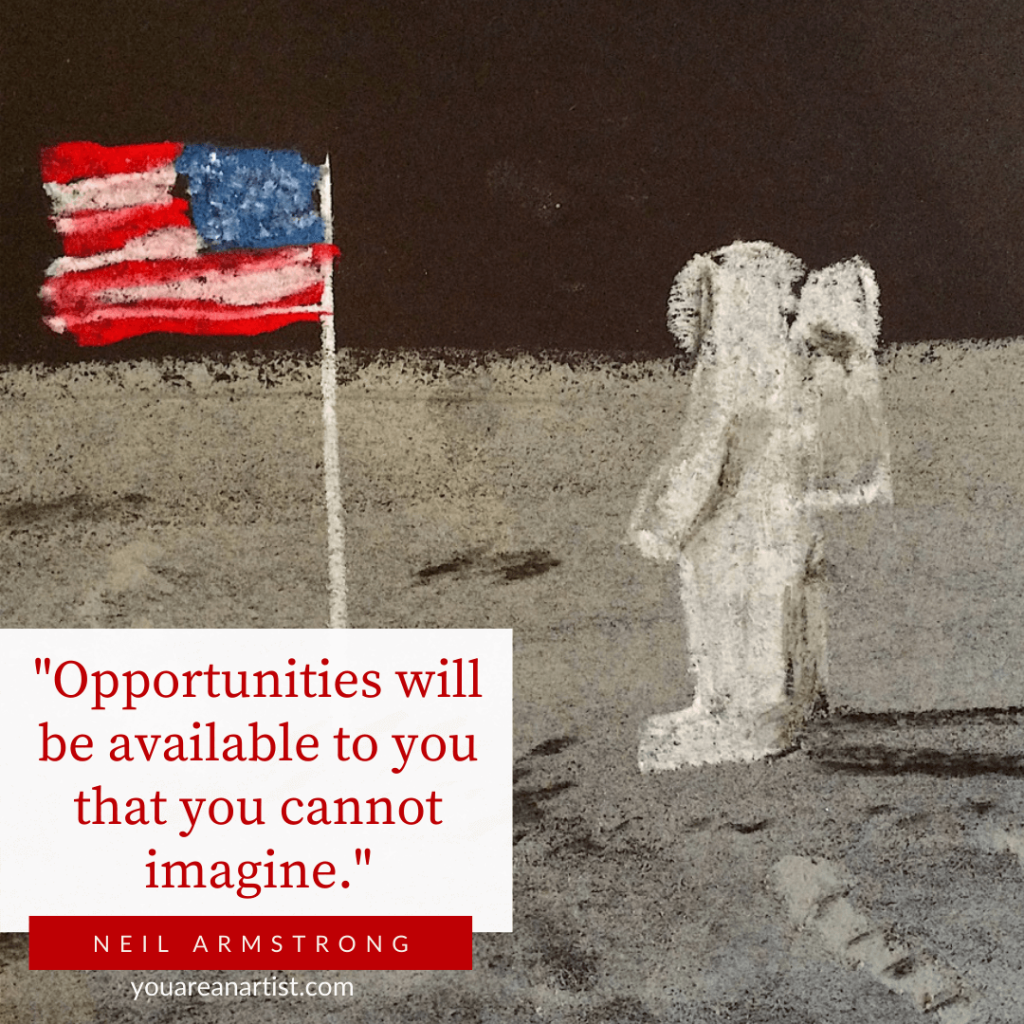 Moon Day – Anniversary of Moon Landing
This is a perfect time of year to learn about the moon in your homeschool. Here is everything you need to create a homeschool moon missions unit study that will blast off!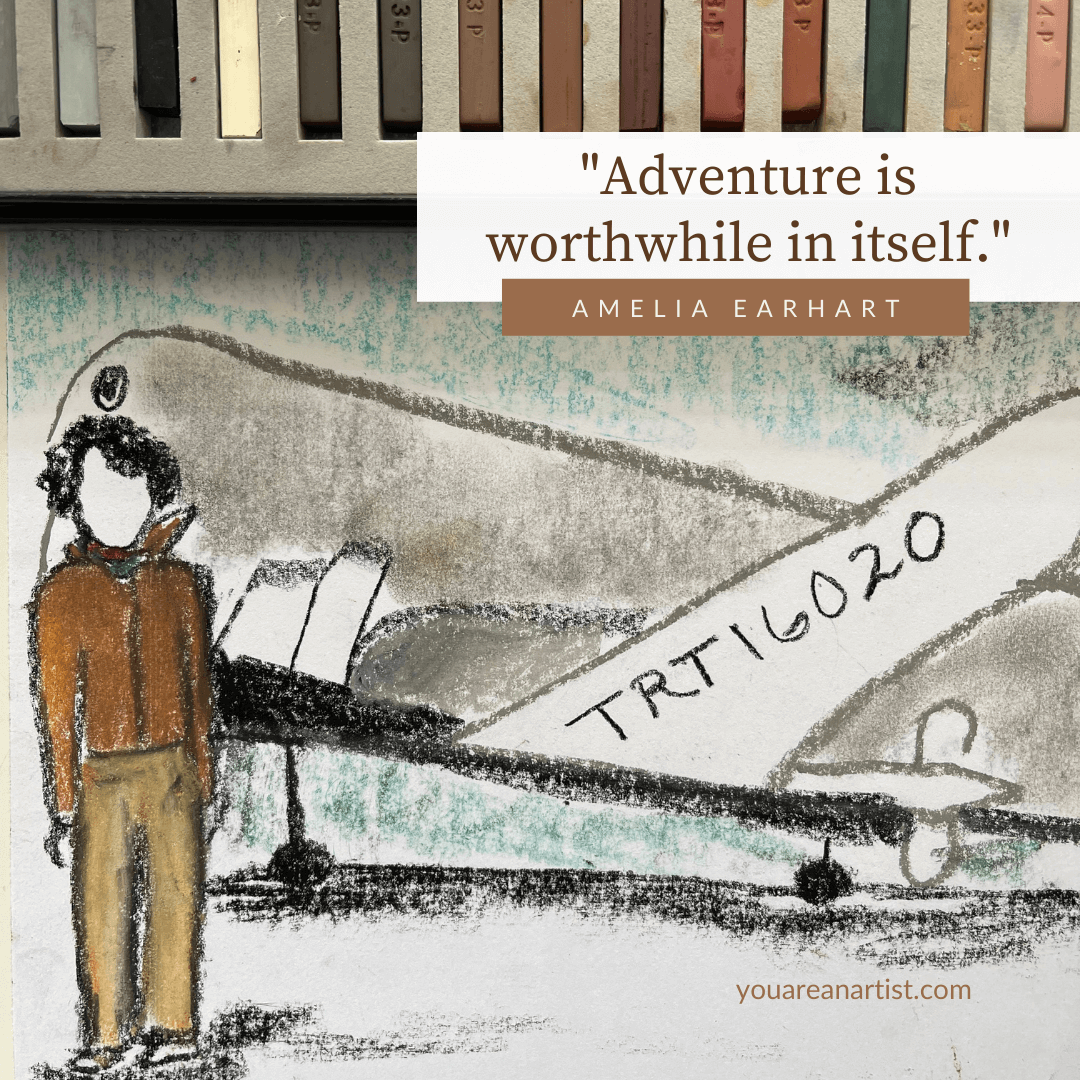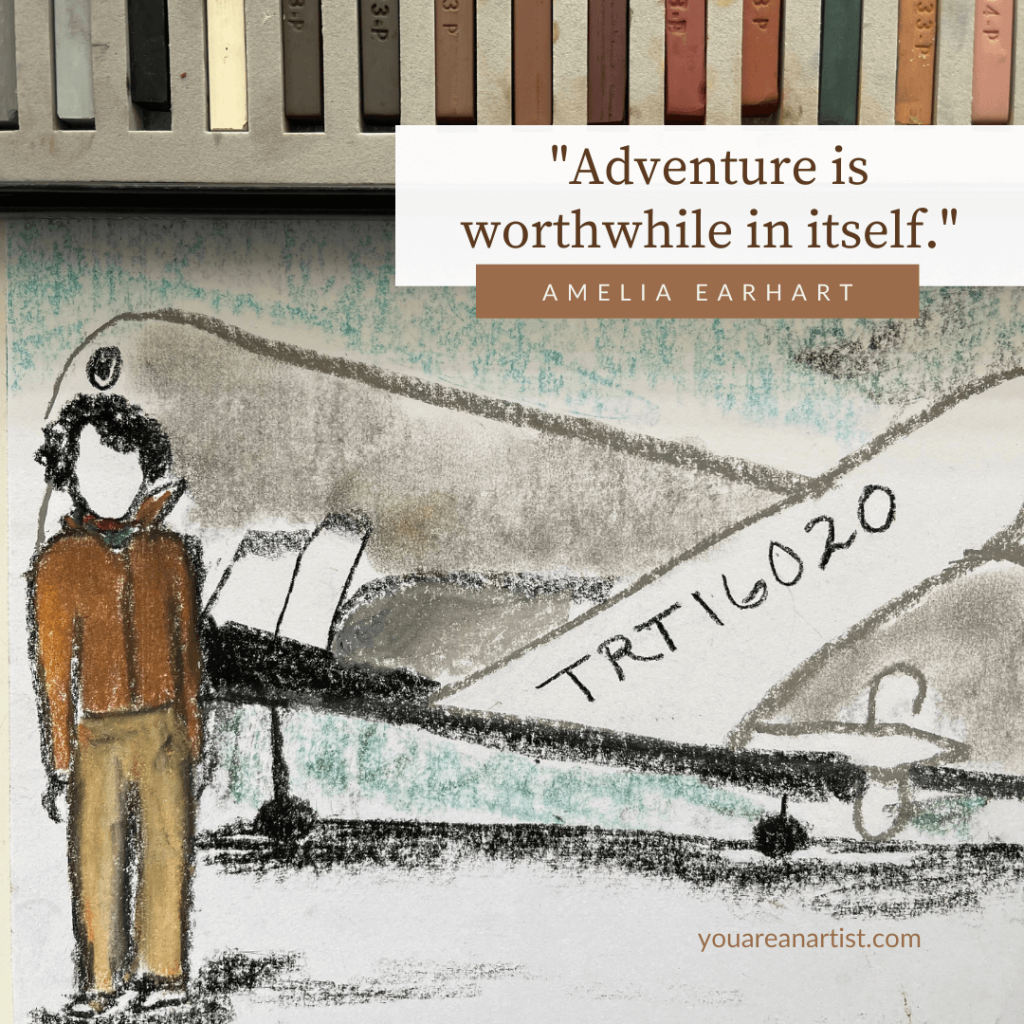 Amelia Earhart Day
With the Wright Brothers, Amelia Earhart, Neil Armstrong and more, you can take flight in your homeschool with these famous aviators activities.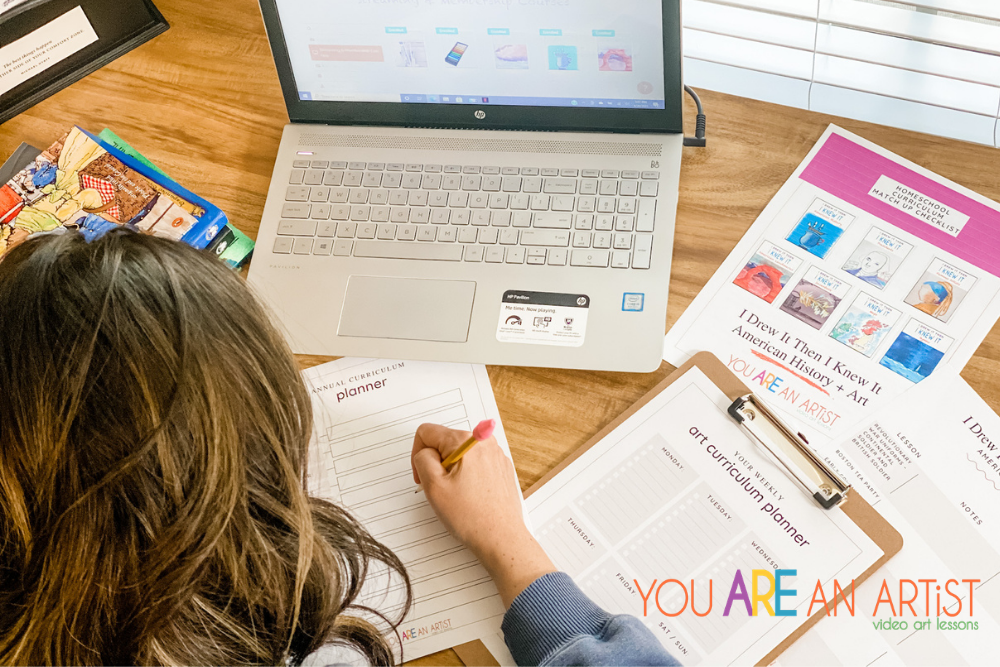 Planning for the New Homeschool Year?
Do you know what one of the most skipped subjects is when it comes to homeschooling? Art! Can you believe it? For some of us, skipping art is unimaginable. Whether you enjoy art in your homeschool daily or weekly, creativity is essential to your homeschool's health. As you plan your homeschool year out and make careful curriculum choices, don't forget to include art. Here are 5 reasons not to forget art and why you need to begin including art in your homeschool regularly.
Art Activities for Every Month of the Year
Look ahead to ALL the art activities for homeschooling you can enjoy every month of the year: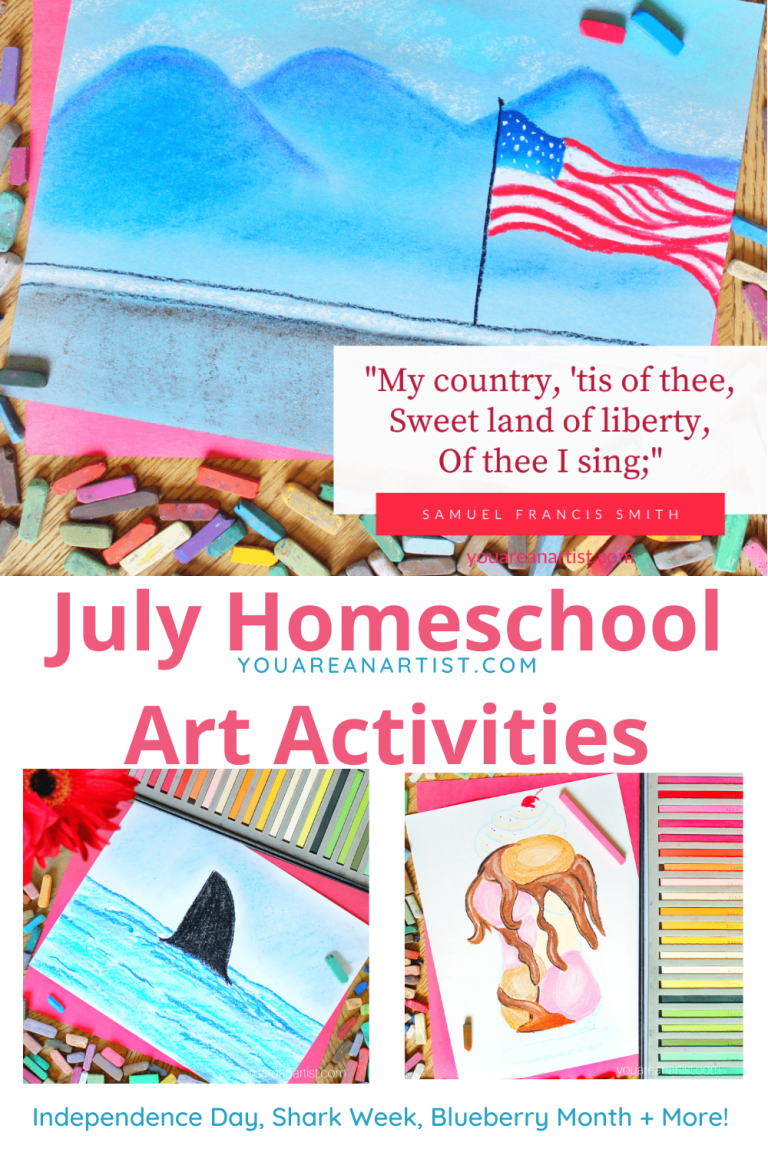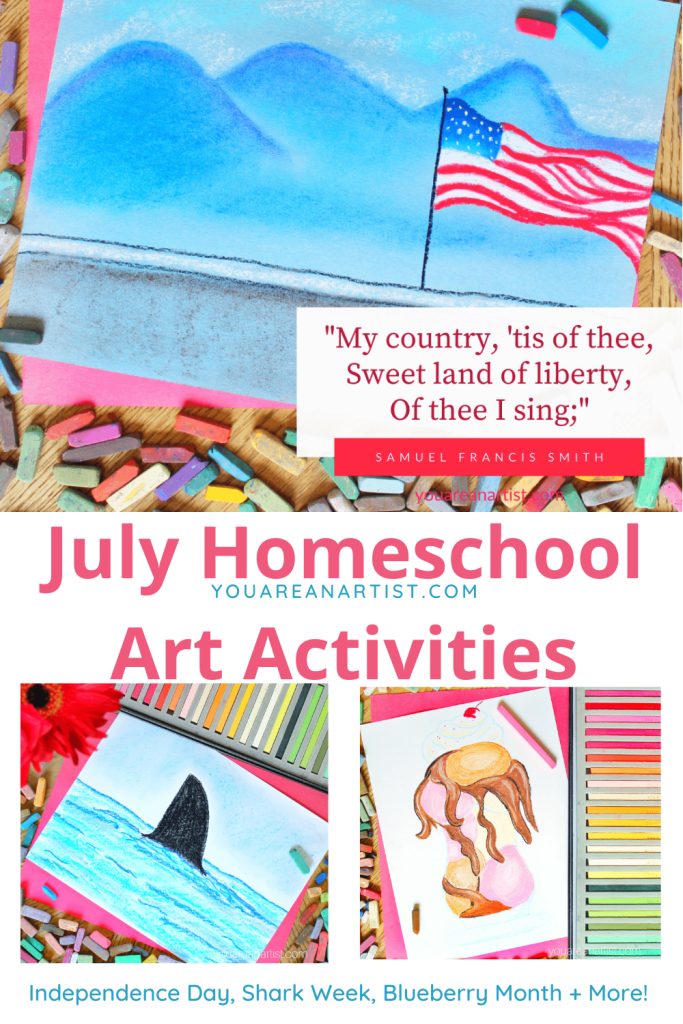 July Homeschool Art Activities
There is simply SO much to celebrate in July! Nana has all of these July Homeschool Art Activities ready for you in the You ARE an ARTiST Complete Clubhouse, along with 800+ video art lessons and an art lesson calendar with art for every day of the year!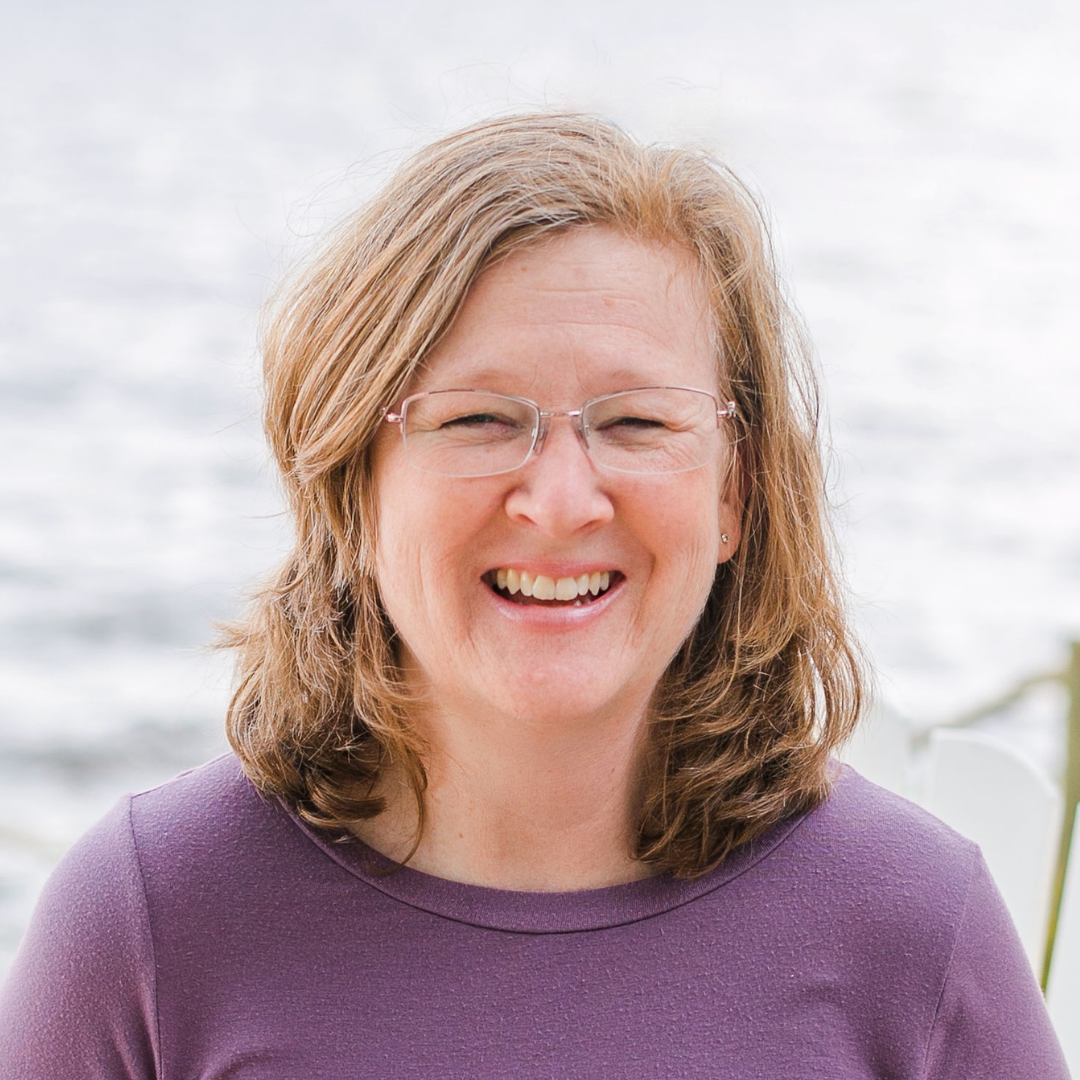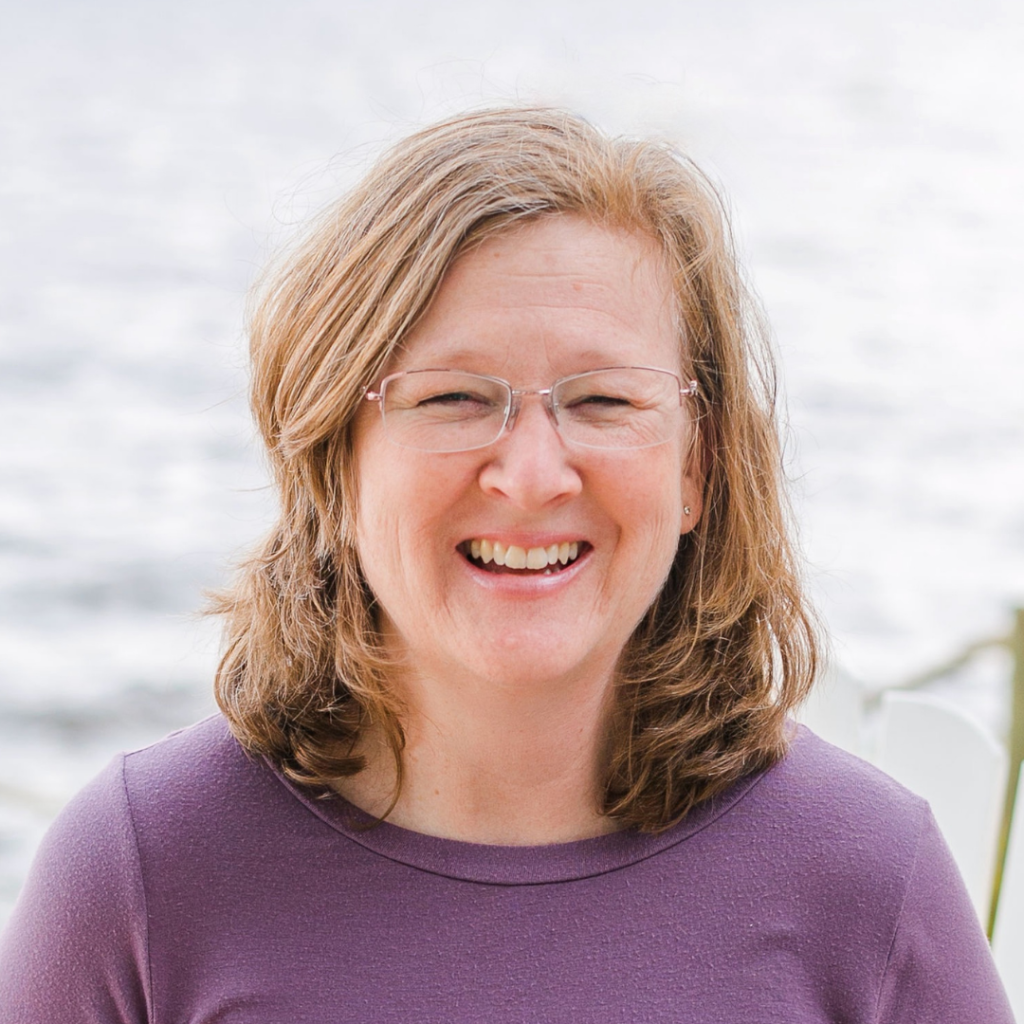 Growing a love of art at You ARE an ARTiST is a multi-generational passion! Tricia is Nana's daughter and a mama of five children. Nana shared the fun of her first chalk pastel art lessons with her grandchildren around Tricia's kitchen table. Homeschooling since 2000, Tricia has seen the fruits of home education with three homeschool grads so far! She shares the art and heart of homeschooling at Your Best Homeschool and is author of the book, Help! I'm Homeschooling! She and her husband, Steve, are also owners of sister sites Homeschool Nature Study and The Curriculum Choice.