Art is an exceptional activity for strengthening parent-child relationships. With the crispness of the fall air and the rustle of fallen leaves, it is a great time to explore fall art with your kids. Using chalk pastels you can create both beautiful artwork and lasting memories while nurturing your connection.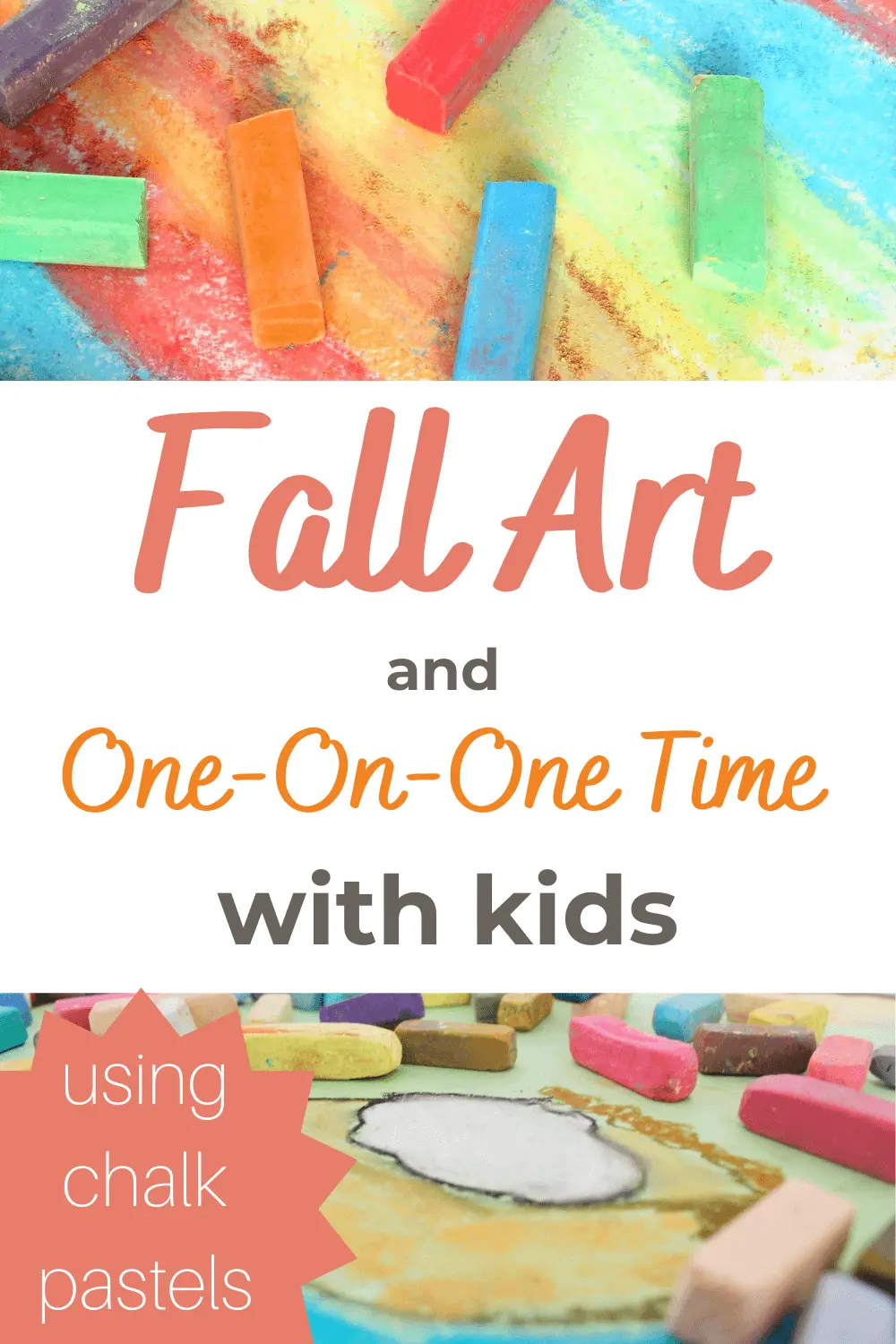 Pie, Chalk Pastels, and One-On-One Time
"Can we just eat pie and color with chalk pastels?", my daughter asked.
Why yes. Yes, we can! I mean why not? The idea sounded lovely.
"Woohooo! Girl Time! Just you and me!", she exclaimed loudly.
My 7-year old's face lit up like the sun when I agreed to pie and art. Just the two of us. She calls this our girl time. I call it our one-on-one time.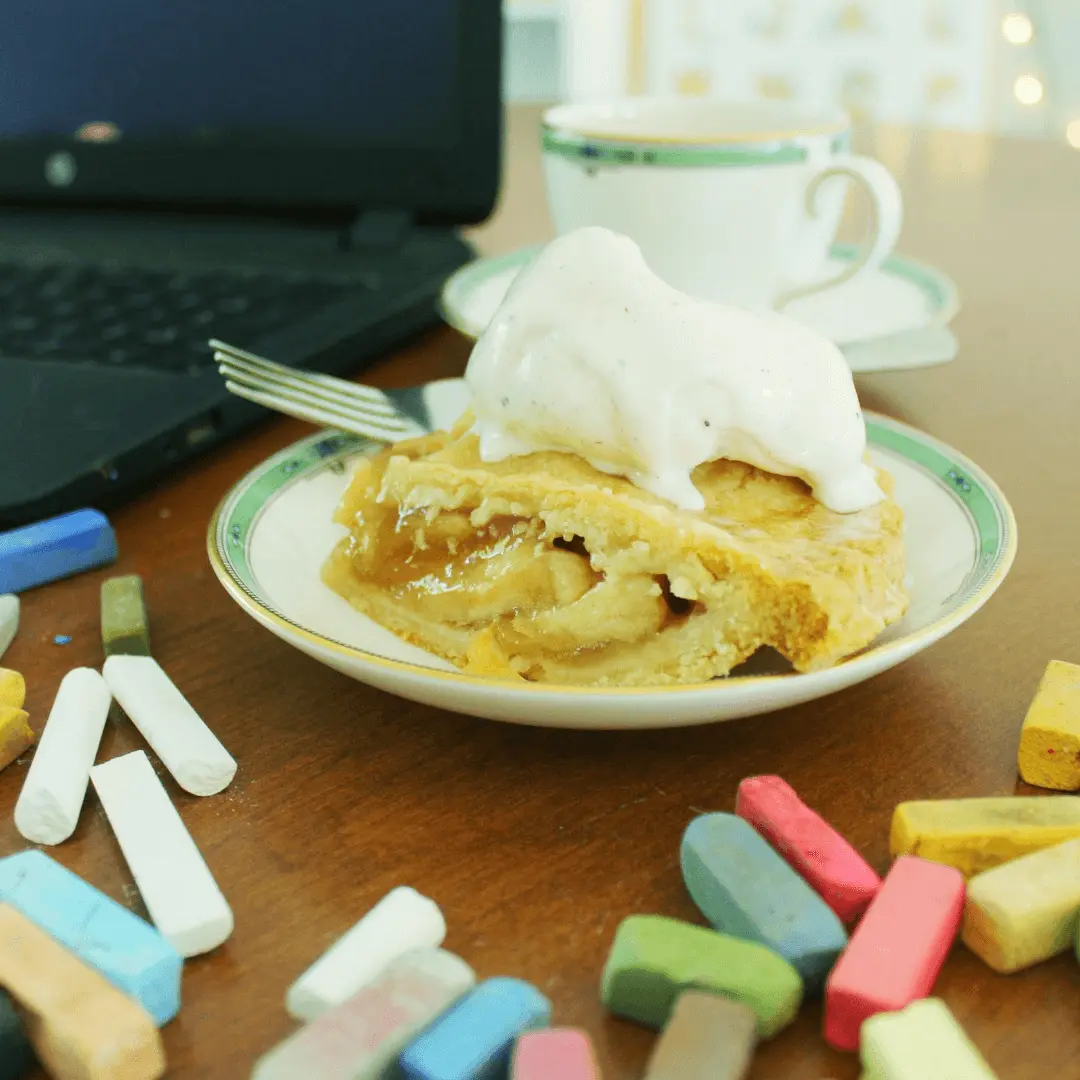 Fall Art and One-On-One Time with Kids
Do you make space for one-on-one time with your kiddos? Spending quality time together is a wonderful way to build your relationship. It can be just a few minutes of uninterrupted time talking about their favorite things, playing a beloved board game, even cooking a meal together. It's a crazy busy world out there, but our kids need us to connect with them in meaningful ways.
For us, it was an afternoon of apple pie, ice cream, apple cider, and fall art chalk pastels! Art is my daughter's love language. She eats, breathes, and lives for art. She is constantly creating, drawing, and coming up with new ideas. So, for me to spend this time with her doing what she loves is quite special and it strengthens our mother-daughter bond.

Luckily for us, Papa had just brought home an apple pie from the bakery. I dug around in the freezer until I found the vanilla ice cream. And then to top it all off I made some apple cider too. I served all of this on our poetry teatime tea set. It just made everything feel a bit more special.
All that was needed now was our chalk pastels, construction paper, and of course our beloved Nana from You ARE An Artist!

My kids and I have adored Nana for years! When we mention Nana, we always must clarify if we're talking about my mom OR chalk pastels Nana! It's a delightful problem to have. That's because Nana has been a part of our family and homeschool journey for years! Ever since we first discovered Chalk Pastels back in 2017! That's saying something, folks!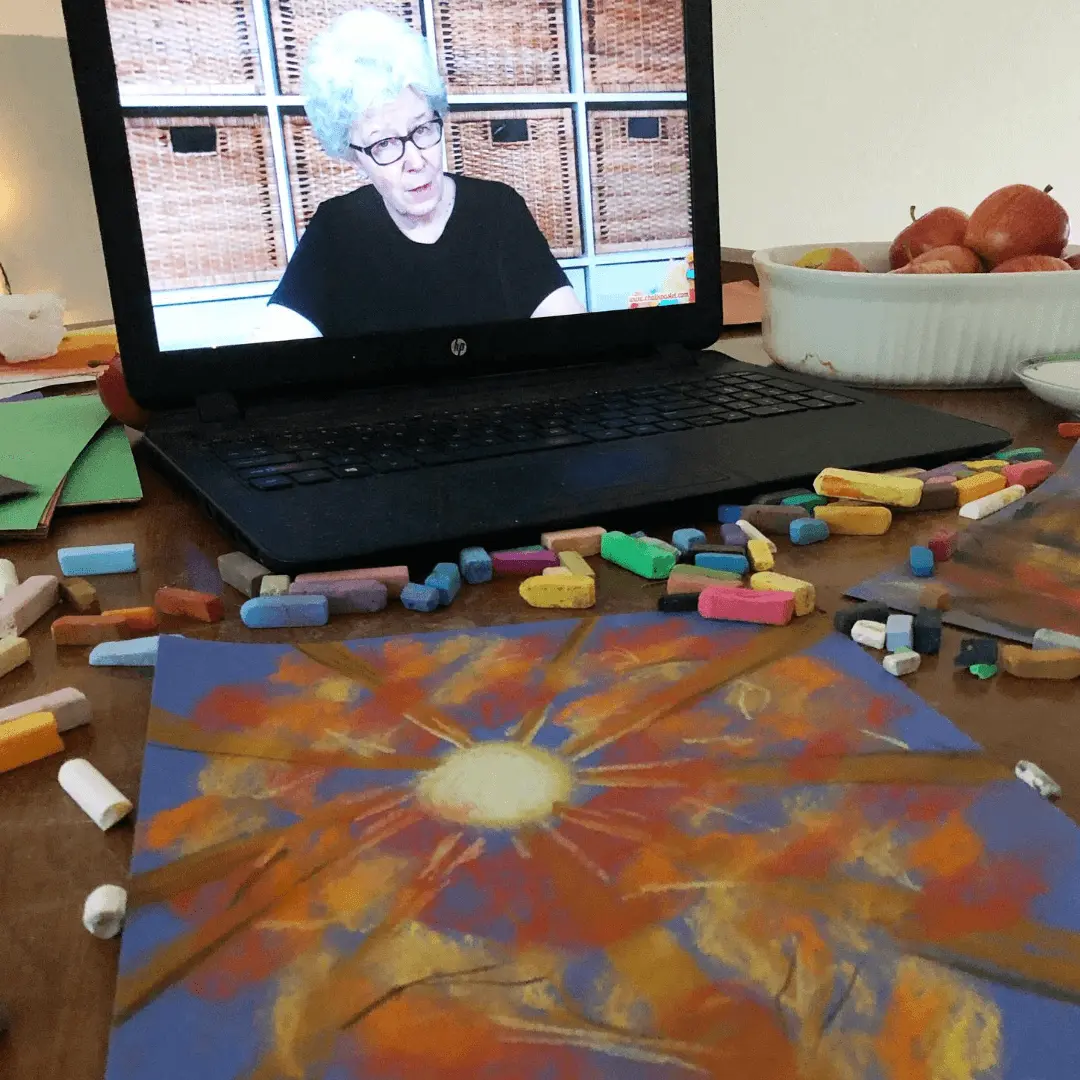 My daughter was over the moon excited to get to eat apple pie and ice cream while drawing apple pie with ice cream with Nana! Nana is the best at reminding us that there are no mistakes in art and that we are always an artist.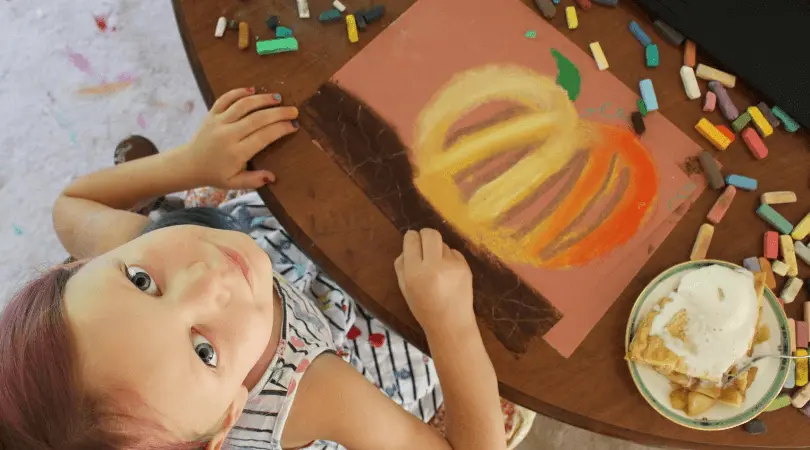 The only thing that could have possibly made this better might have been real pumpkins and candied apples in addition to our apple pie and ice cream. The reason? She got to draw those too!

Fall Art with Chalk Pastels
When we got to the campfire and roasted marshmallows, she declared that we must start a fire in the firepit and make campfire s' mores!
Maybe tomorrow…She had already had enough sugar for one day, ha!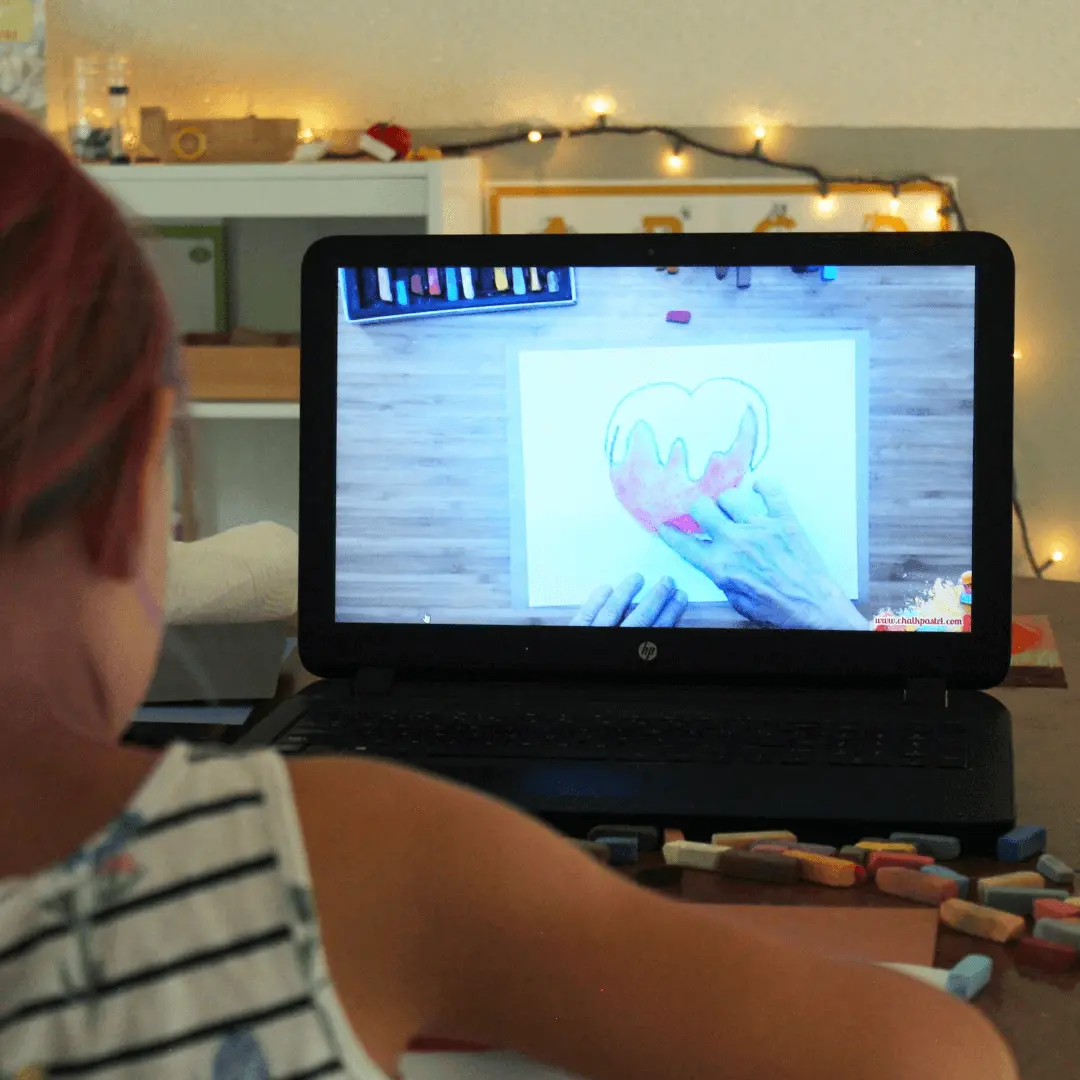 Fall Art Using You ARE An Artist Clubhouse Membership
In all the years we've been doing chalk pastels I don't believe we've ever done the same lesson twice. That's because there is 600+ chalk pastel lessons available through the Clubhouse membership!
Did you know that with the You ARE AN Artist Clubhouse Membership you get a bank of art lessons to choose from for ALL ages! Here is a sampling of the fall-themed art that we had access too:
Acorn
Apple or Pumpkin
Apple Pie and Ice Cream
Brilliant Fall Trees
Caramel Apple
Fall Leaf
Fall Nature Walk
Fall Trees

Fall Trees acrylic
Fall Tree Reflection
Fall Tree Reflection

acrylic

Fall Walk in the Woods
Little Church in the Woods
Mittens, Scarf and Hot Chocolate
Pumpkin Patch
Roasting Marshmallows Around the Campfire
Thanksgiving Table Turkey
Wind in the Tree
But the Fall Art Lessons are wonderful too if you're not interested in the Clubhouse membership but you are interested in trying some fall art.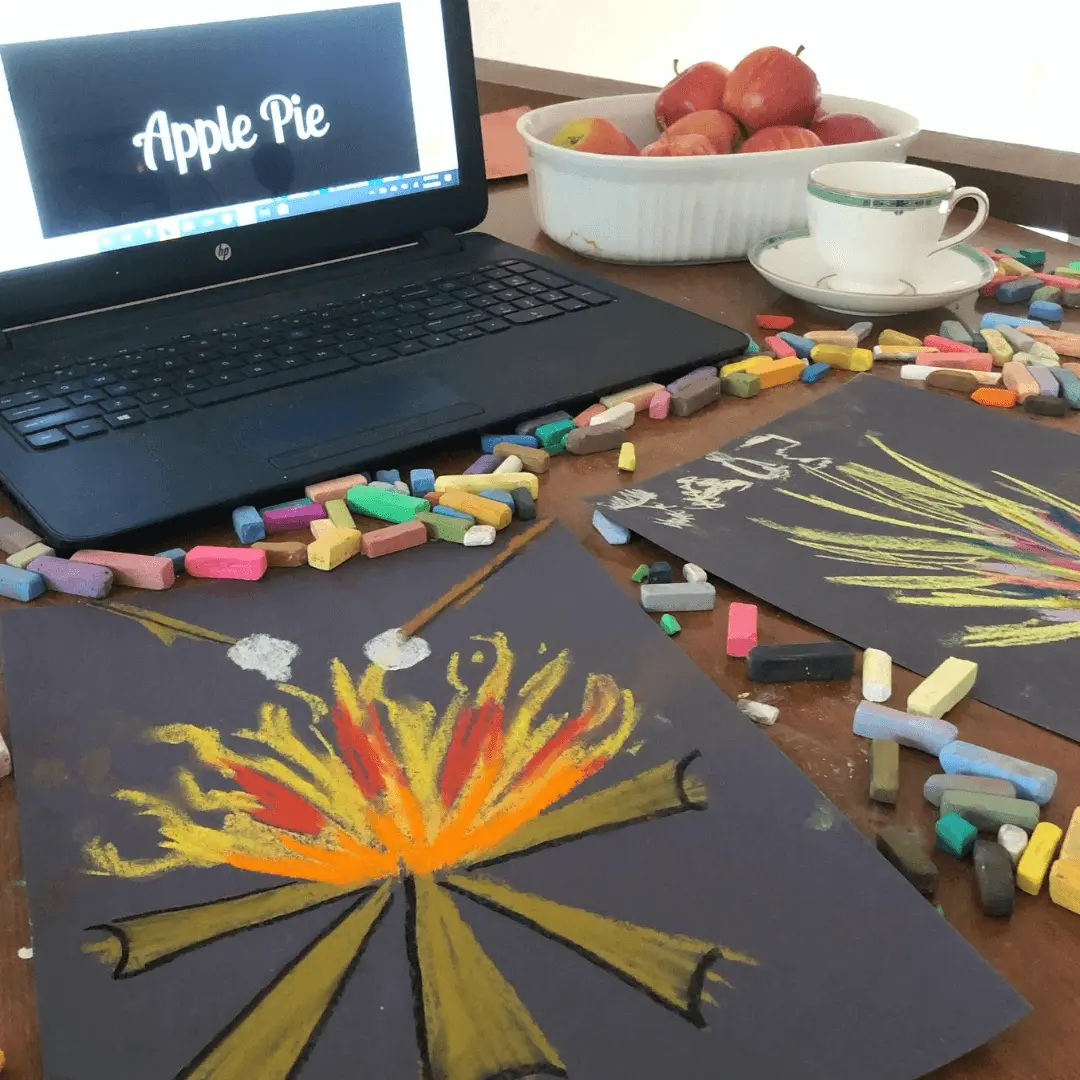 Wonderful Moments with Fall Art
This quality one-on-one time together eating ice cream, enjoying apple cider, and creating art together is priceless. The chalk dust on our hands was nothing compared to the joy in our hearts. If you have a kiddo that loves art, even if you don't, give the simple chalk pastel a try. You may be surprised at just how easy they are. I wouldn't trade these fall days of one-on-one time for anything. They are worth their weight in pie.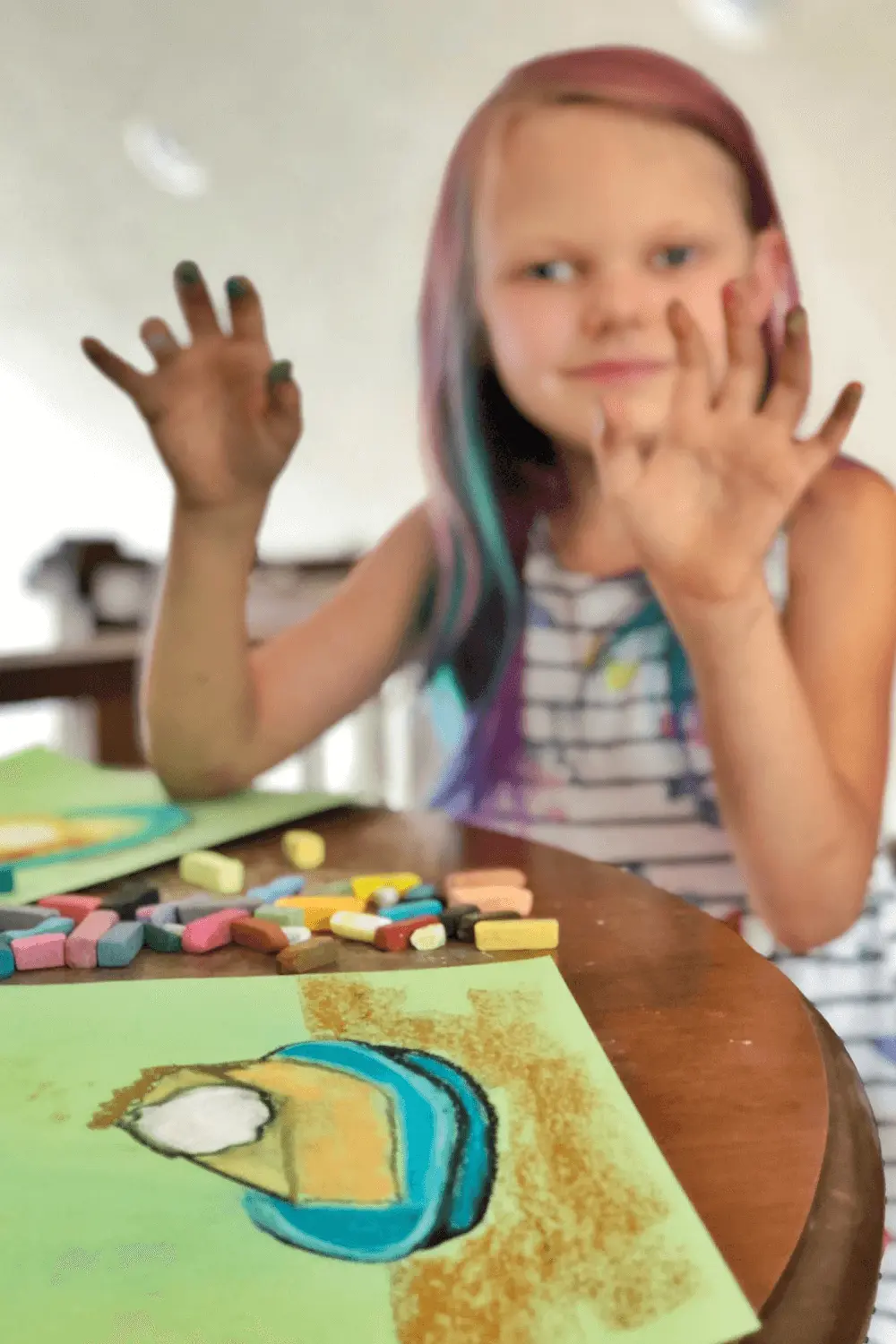 Erin is a writer, blogger, and homeschooler to two intense kids. Her blog is filled with information to help you explore a child led education while making meaningful connections with your children. Discover favorite read alouds, seasonal books, games, art projects, hands-on activities, and learn to just breathe through the ups and downs of life. She loves nature, farm life, good books, knitting, new pens, and hot coffee. Erin is a contributing writer for Weird Unsocialized Homeschoolers. Her work has also been featured on Simple Homeschool and Book Shark.